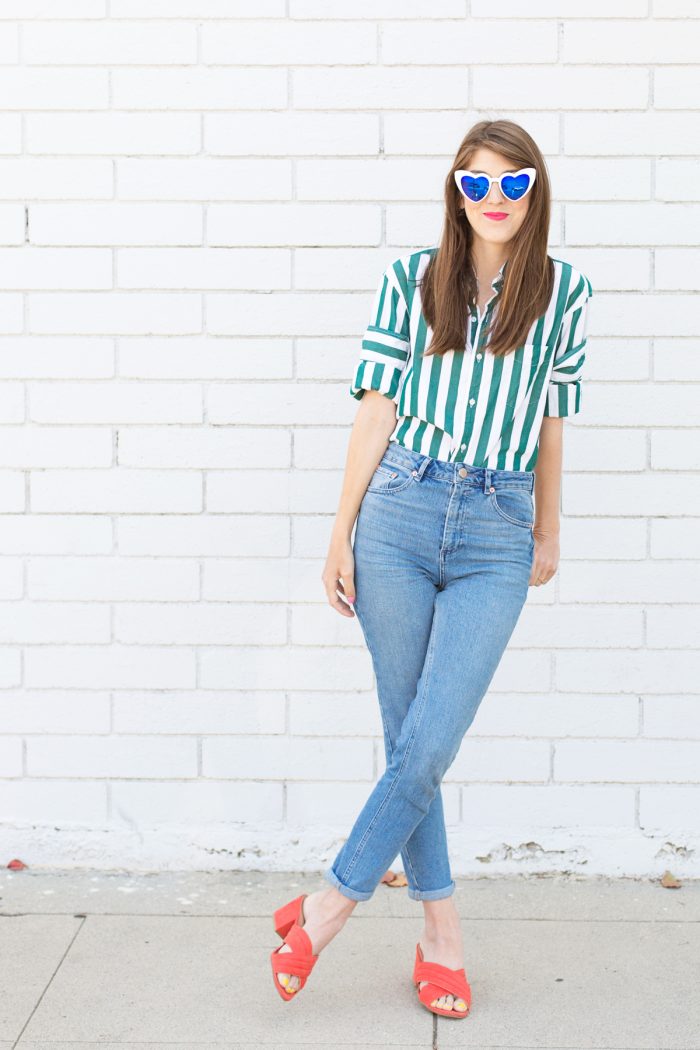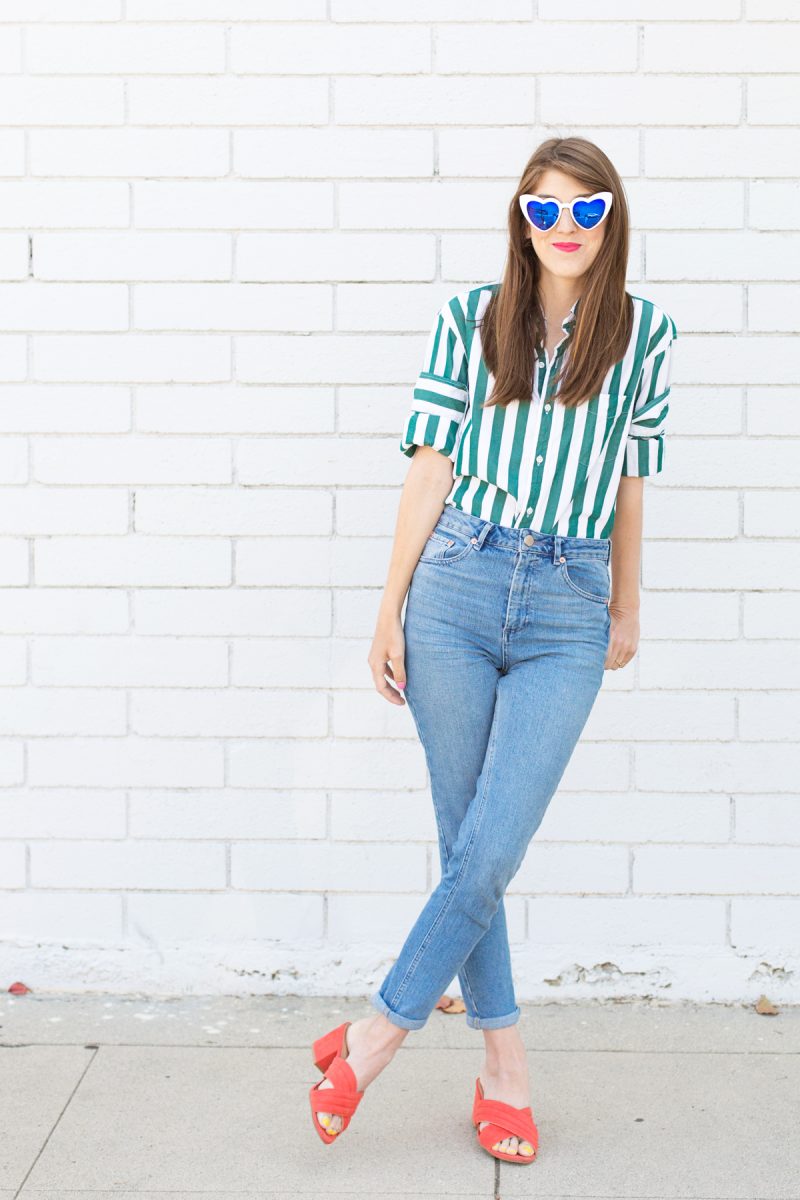 A button down is the item in my wardrobe I grab most. I can dress it up, down, wear it over a tee or dress, with shorts or jeans. It is so versatile and is one of the items where you have the potential to get the highest cost per wear. Today, I'll show you seven ways to style a button down so you can do exactly that!
These style ideas will allow you to play with the size of your shirt, and to style it for all seasons and occasions! Take it from the office to a night out, or just on a weekend errand. Let's get started!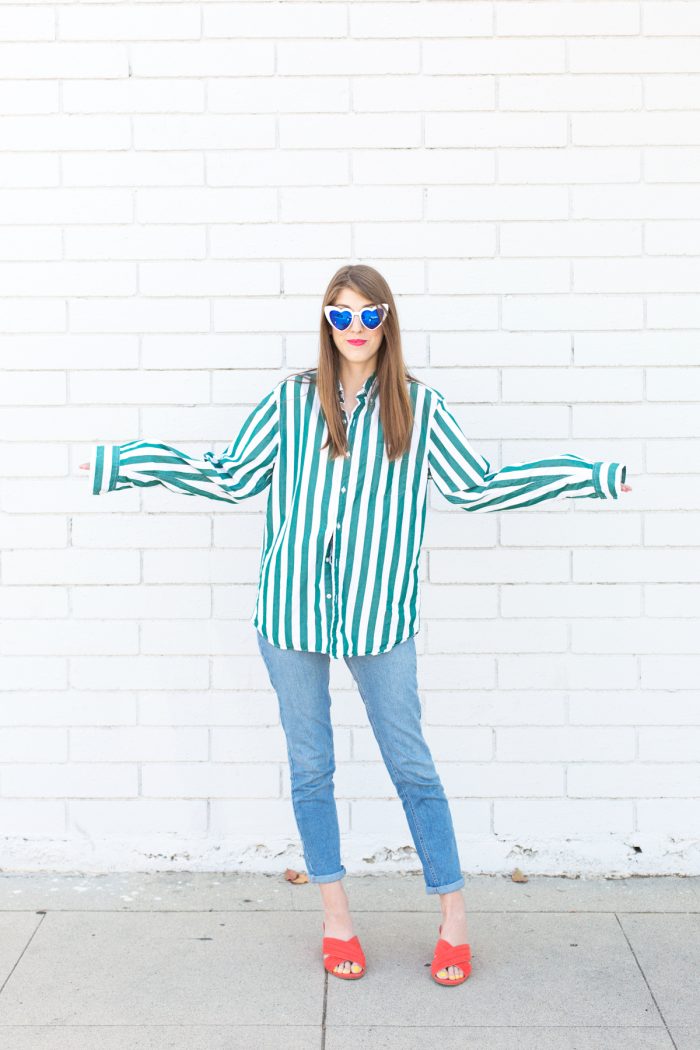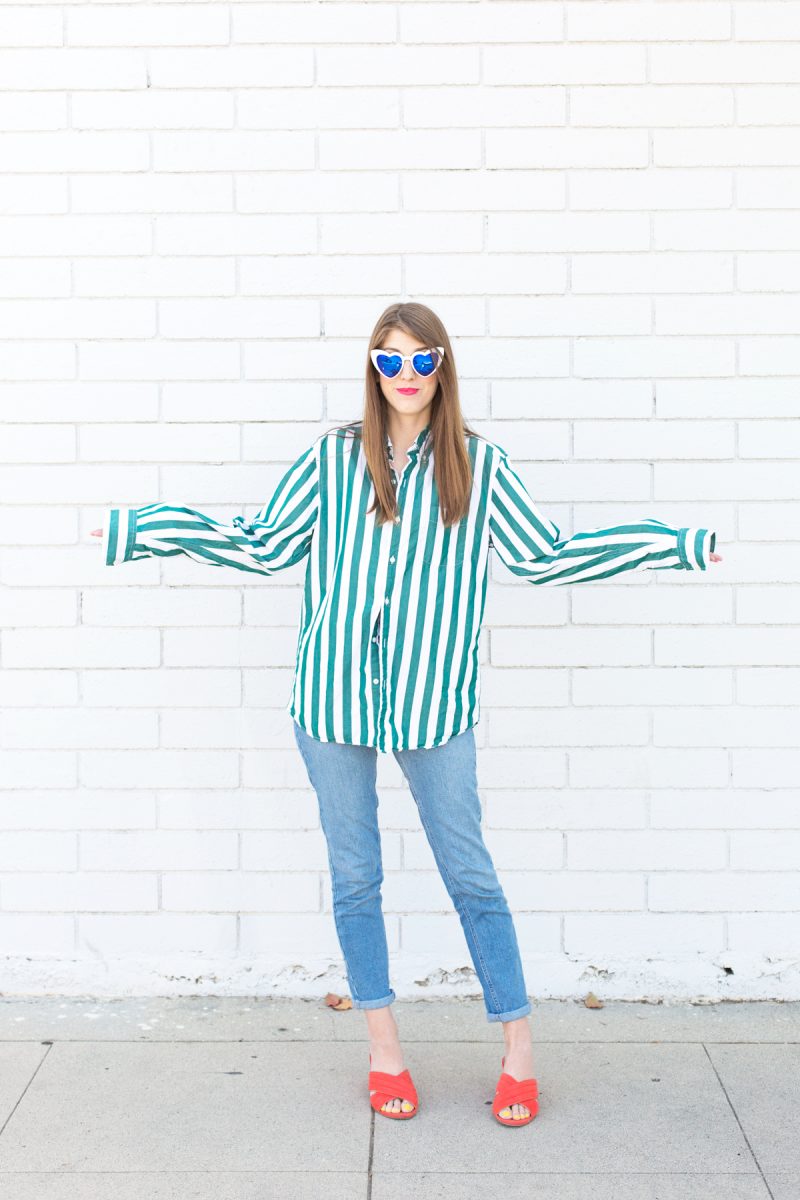 Tips for Buying the Perfect Button Down Shirt
First, I must tell you I have found the perfect button down. It's the J. Crew Men's Slim Secret Wash shirt. It doesn't RIDE UP like many women's ones do (What IS that, anyway!?) and isn't weirdly fitted in the waist and doesn't have slits on the sides that make it less versatile. And they are constantly releasing new patterns and colors. Something for everyone!

Real quick, I want to discuss the sizing of the secret wash shirt. All of the ones I own are the "slim" cut of the shirt. There is also a regular cut which would give you a little more room in the chest if you need it. Keep that in mind if you're ordering!
Above (green stripe) is the medium. Sometimes, an oversize fit is nice in a button down. With a good cuff (we'll show you how below!) it gives a great boyfriend-style look with jeans.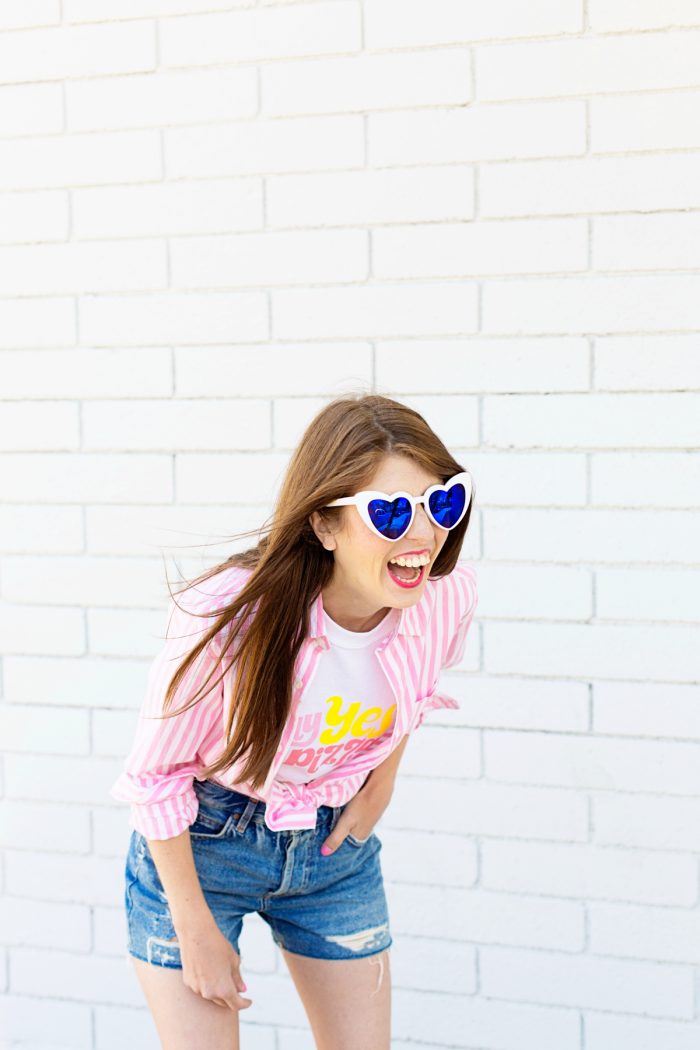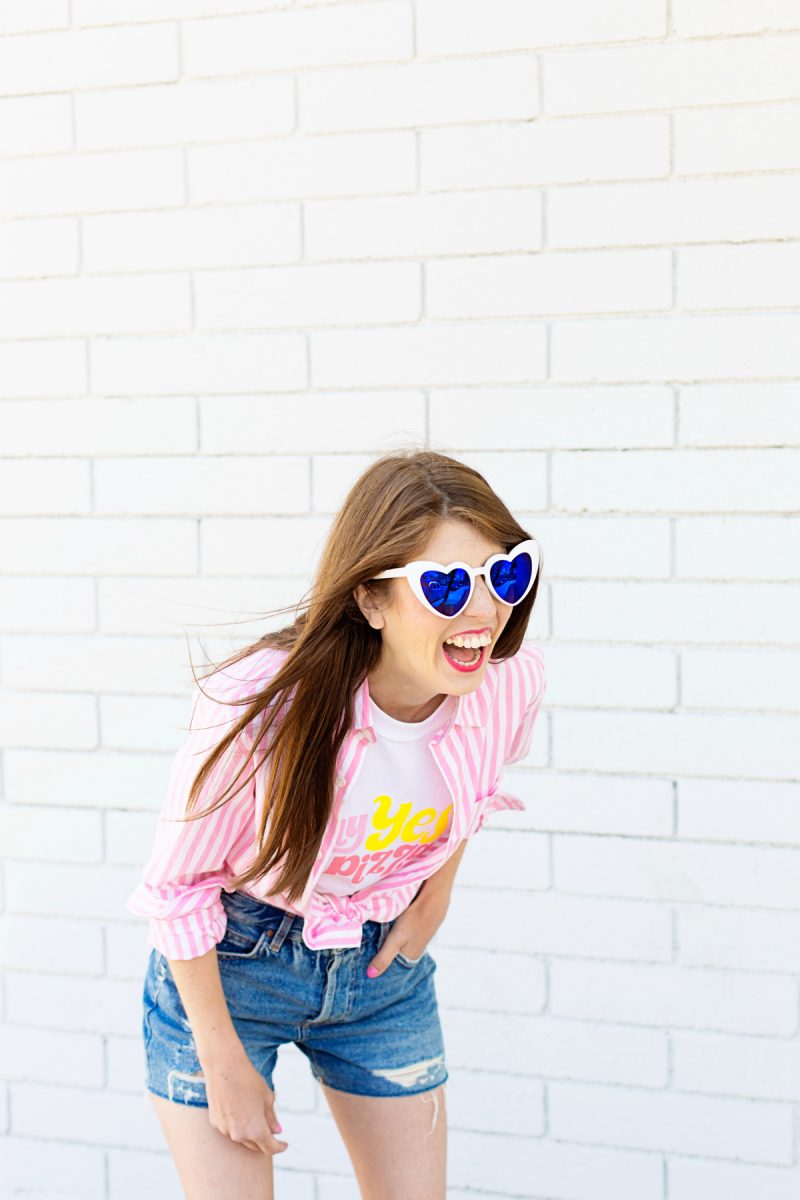 The pink stripe and purple are extra smalls. This one fits me best overall (shoulders and body) and what most of the ones I own are. If I were planning to only wear the shirt tied in the front, I'd go for a small because it gives me just a little more fabric to work with when tying.
I hope that helps when you're figuring out your size and style preferences!
Cuffed + Half Tuck with Jeans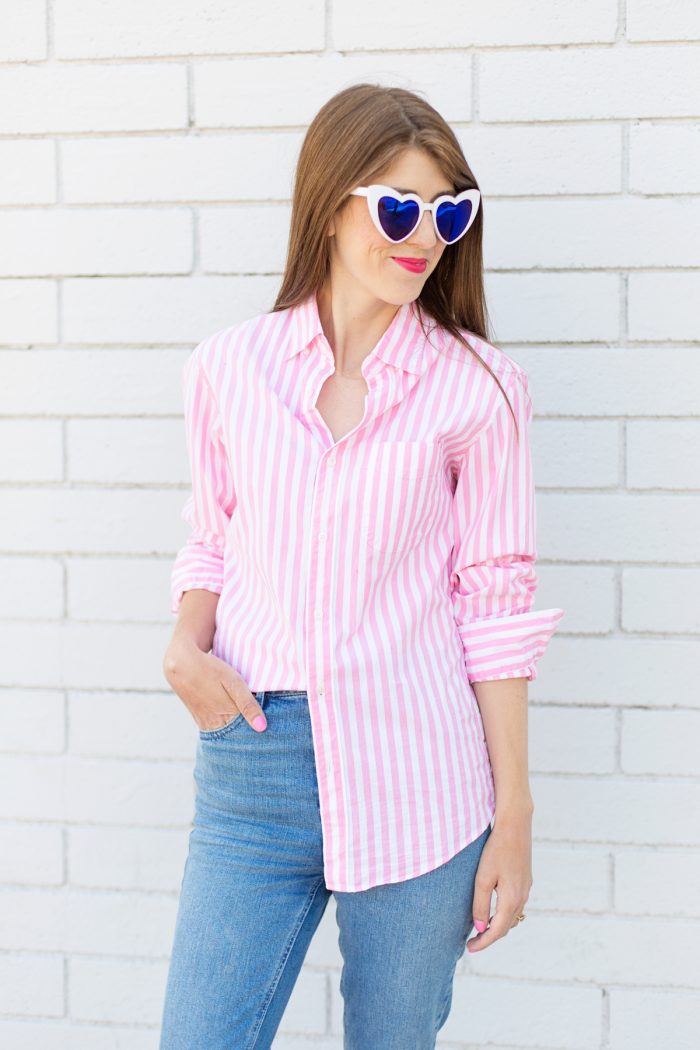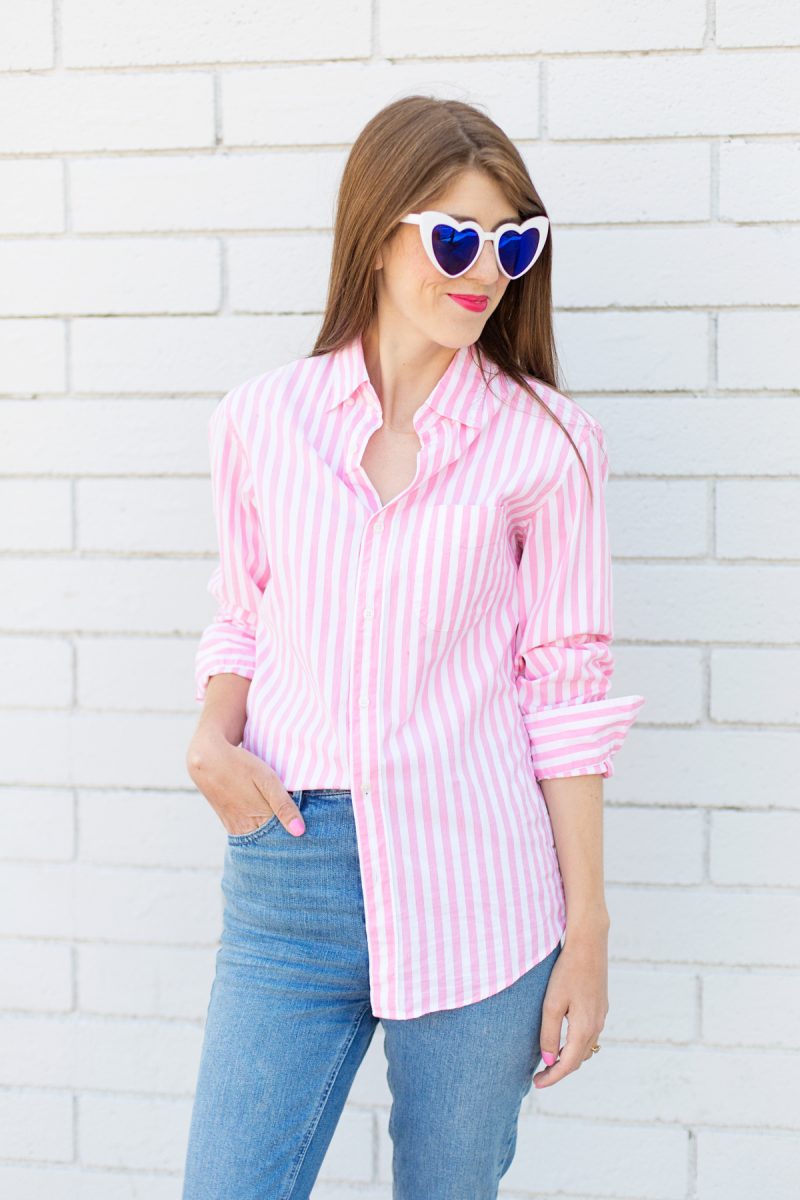 First up, let's talk about how to cuff. You can simply roll your shirt cuff but this way below gives a much more casual look, like you didn't even TRY!
I recommend cuffing your shirt before you put it on. It's easier that way! But either works.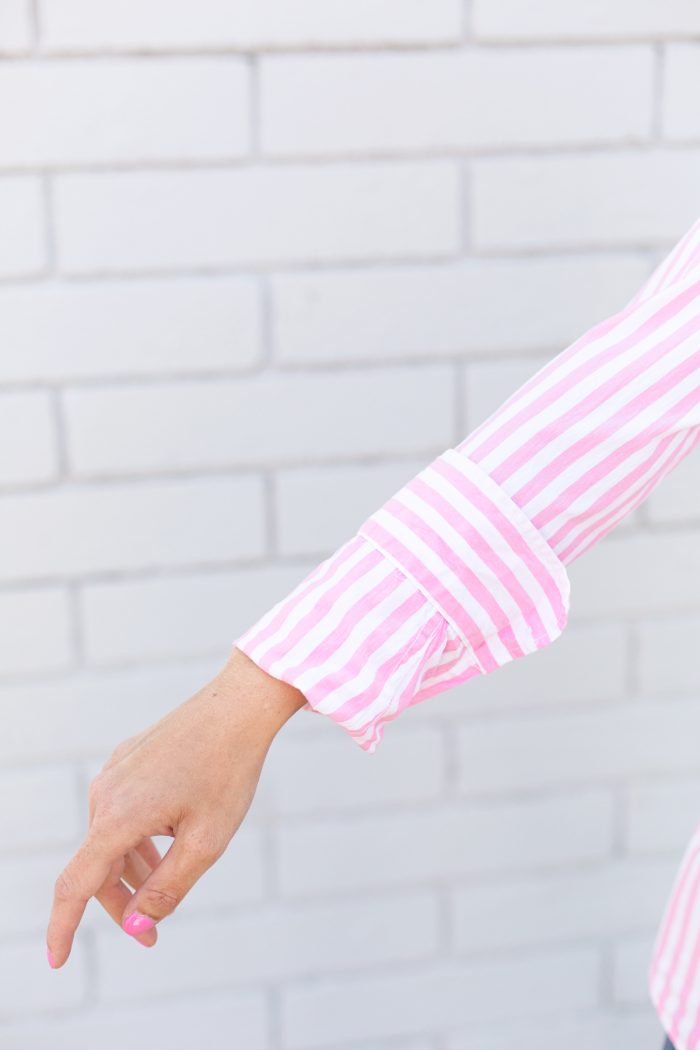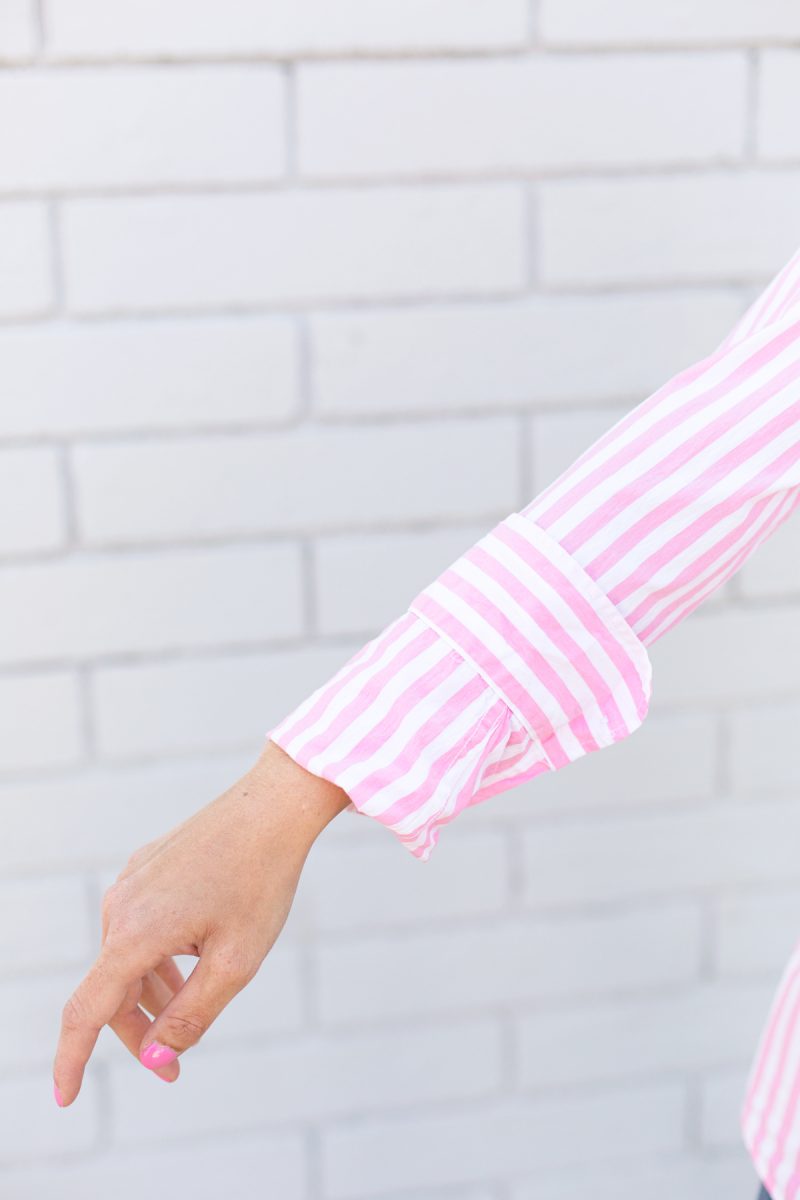 You'll want to fold your shirt so the cuff hits about where you want the final length. From there, you'll roll the sleeve up until it hits or overlaps the cuff. You can leave the cuff itself sticking up above or fold it down and mess around with it to get the look you like! This cuff is repeated for almost every outfit in the post.
After getting your cuff down, try pairing it with a half tuck like we did above. This is the most "effortless" way to style the shirt with jeans. You simply button the shirt down to where your pants hit, and then tuck in one side.
Front Tuck with Jeans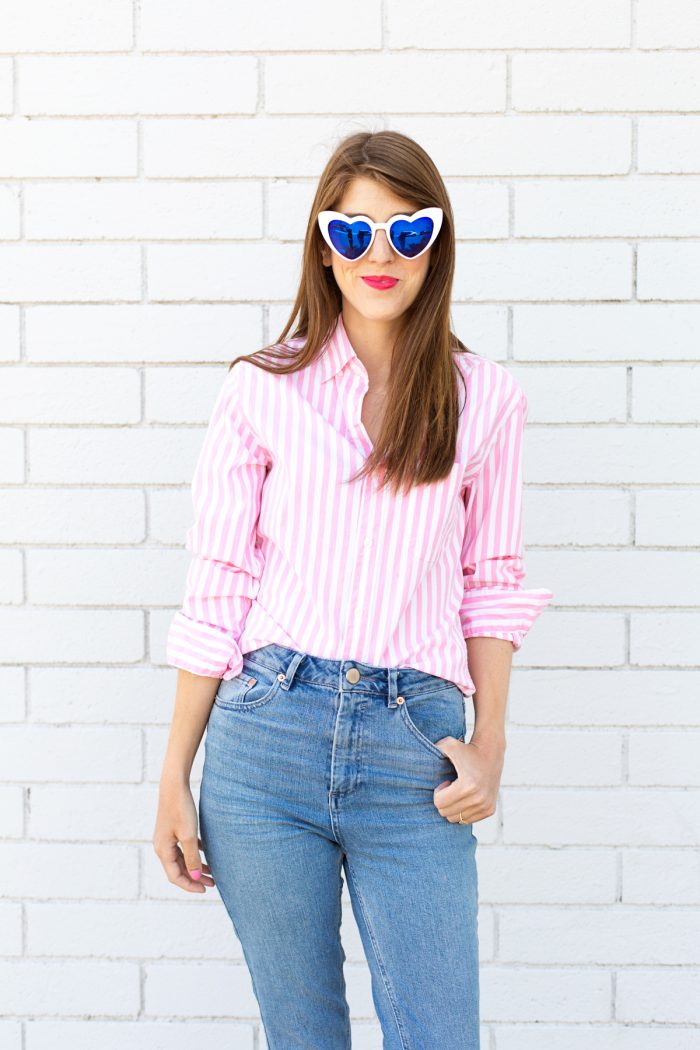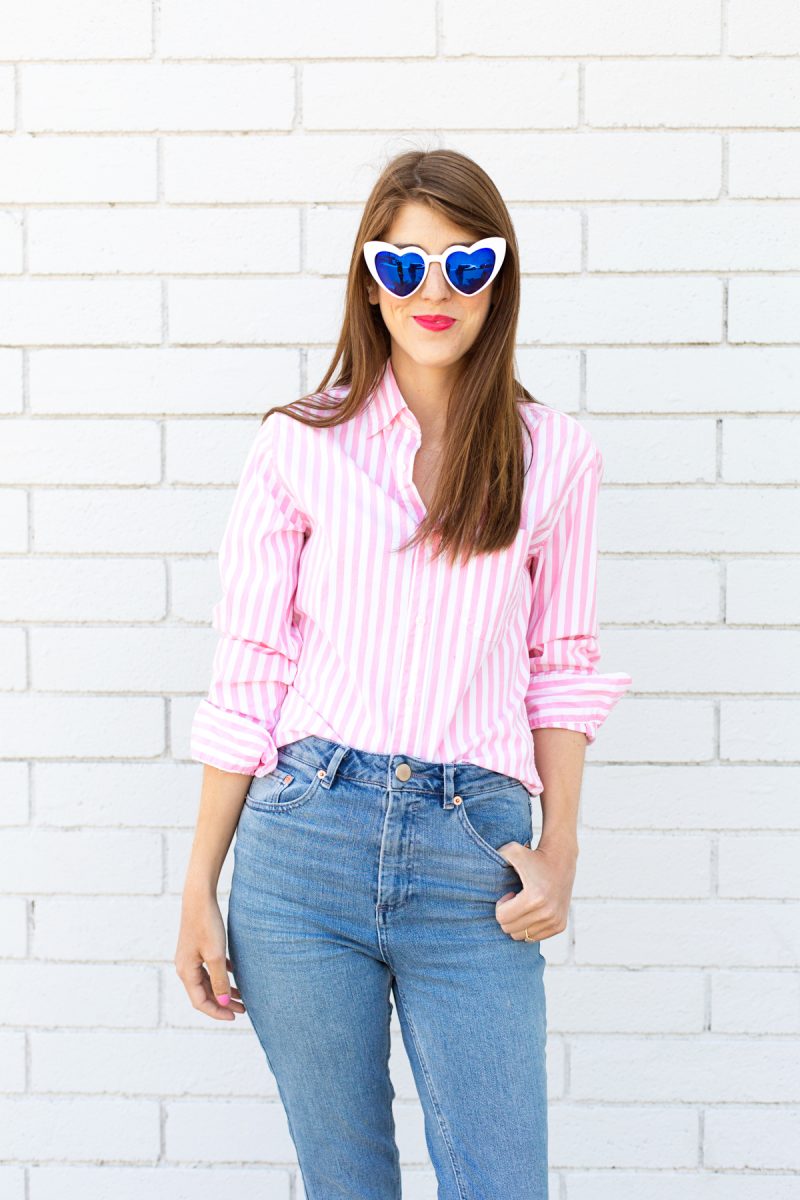 There's an art to the full tuck, did you know!? Doing it the "right" way helps make the shirt feel more fitted and fit better and smoother into whatever you're tucking it into.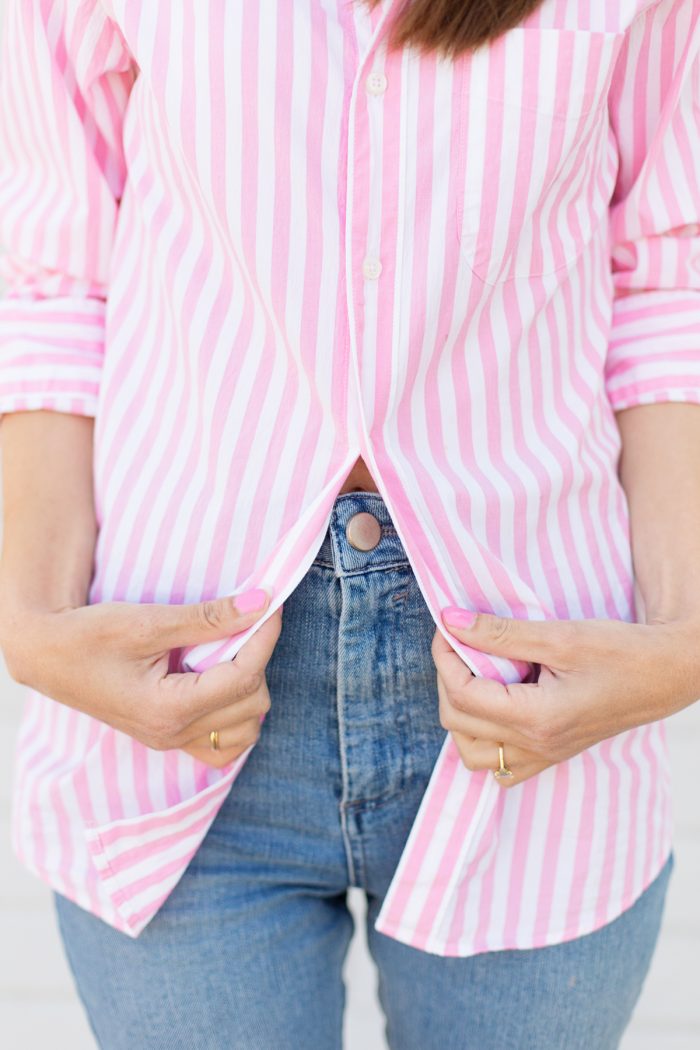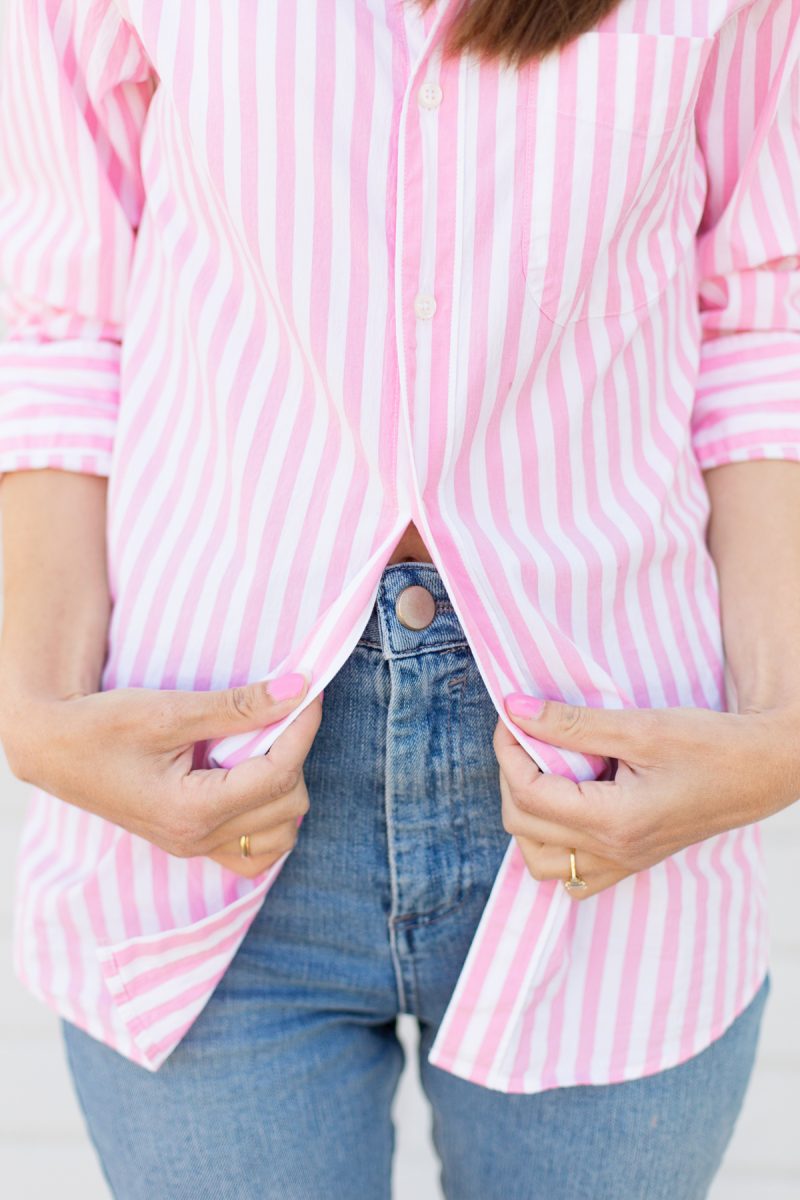 First, button the shirt down to the top of your jeans. Then fold the entire bottom of the shirt under in the back, until the length sits right at the bottom of the waistband of your jeans.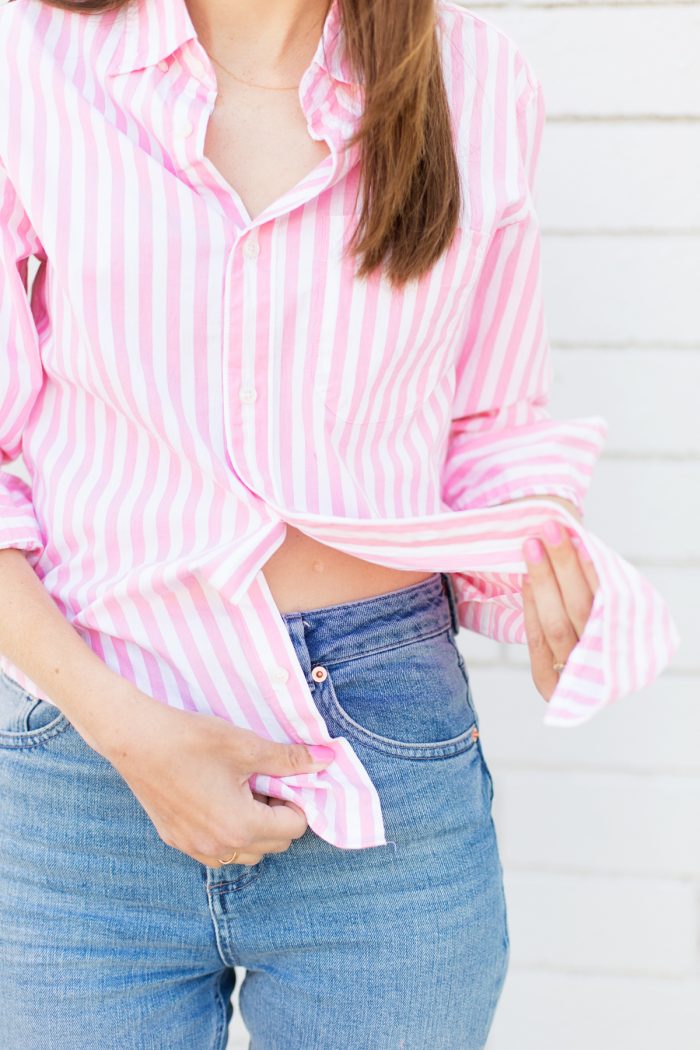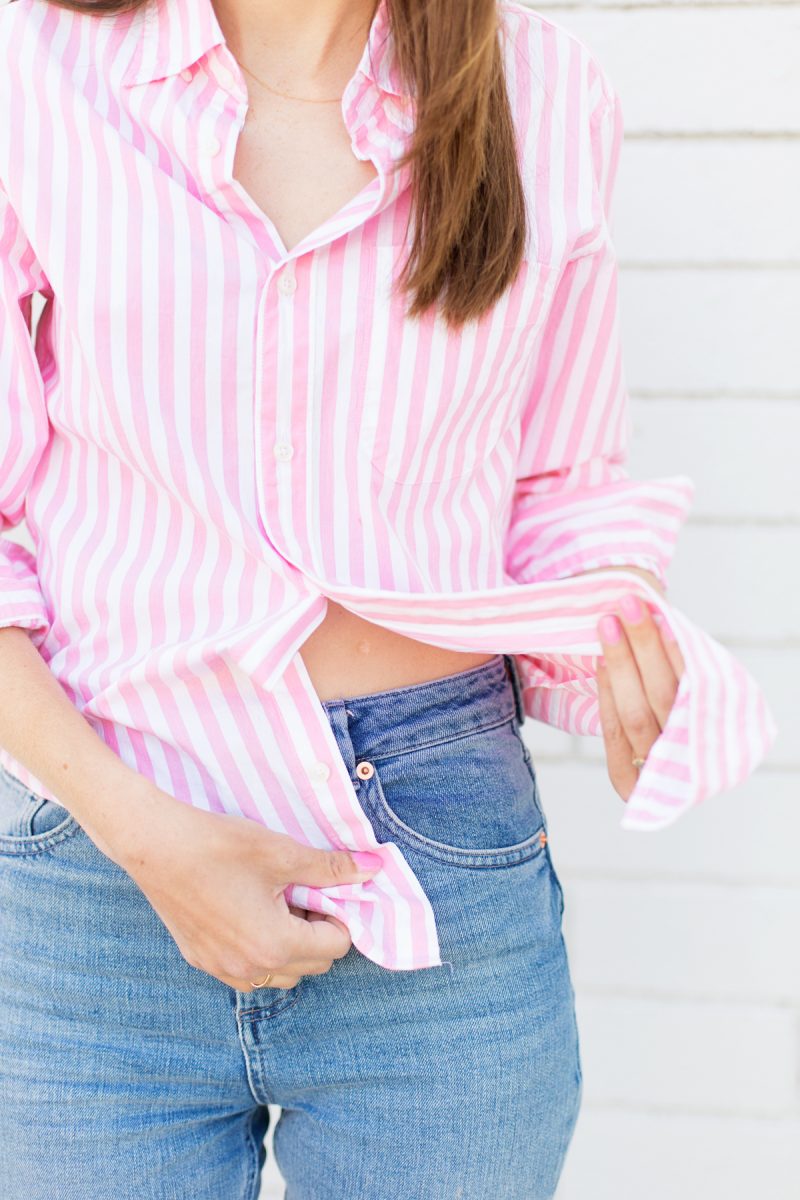 Take one side of the shirt (the one that is underneath when buttoned), cross it to the other side of your body and tuck it into your jeans. Last take the other side and cross it the opposite way and tuck.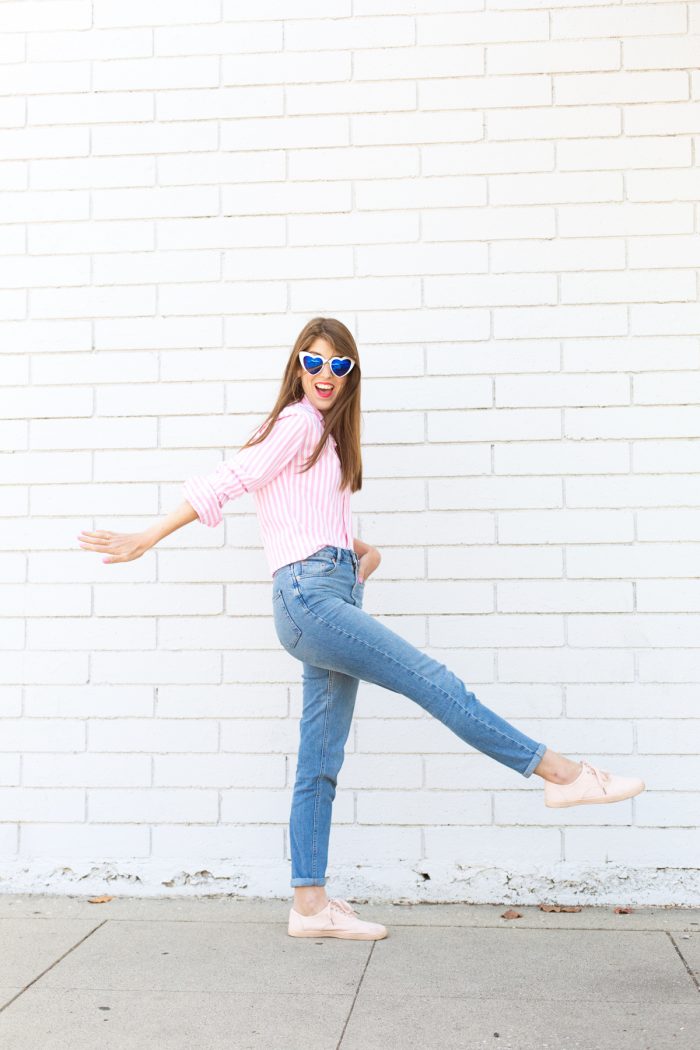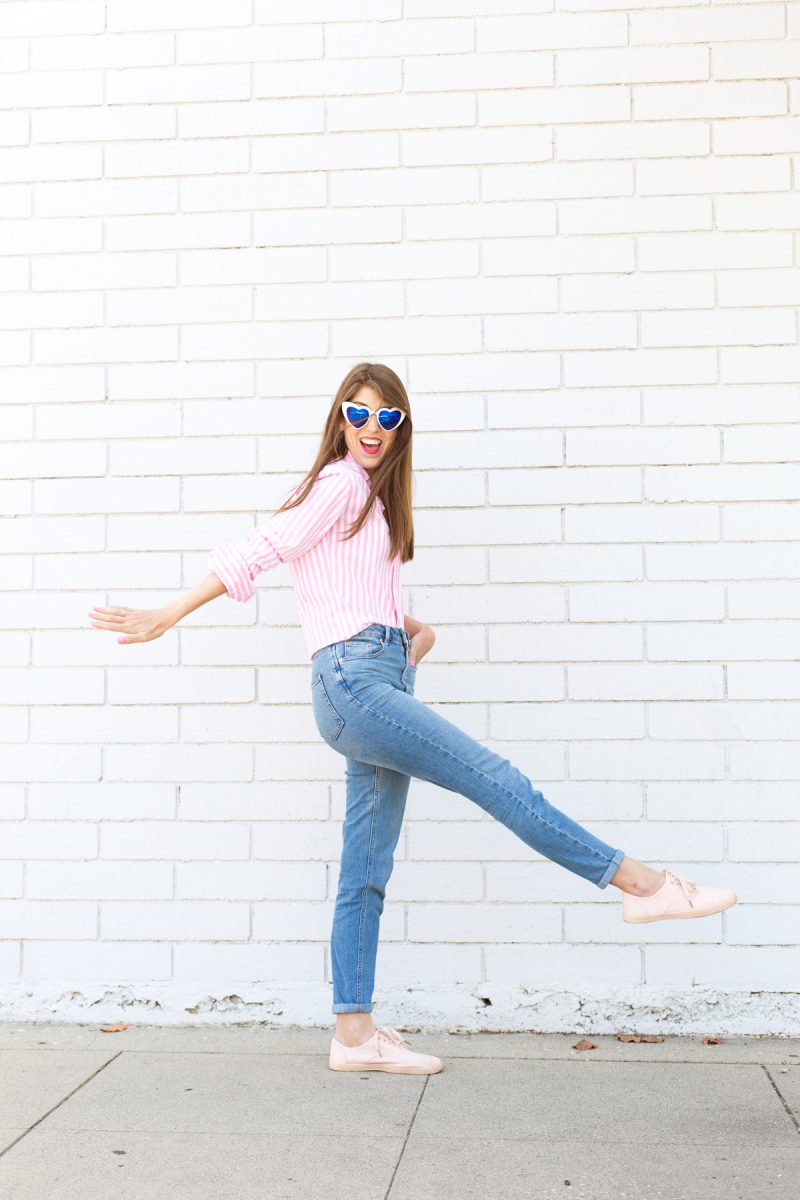 Short Sleeve Cuff + Full Tuck with Jeans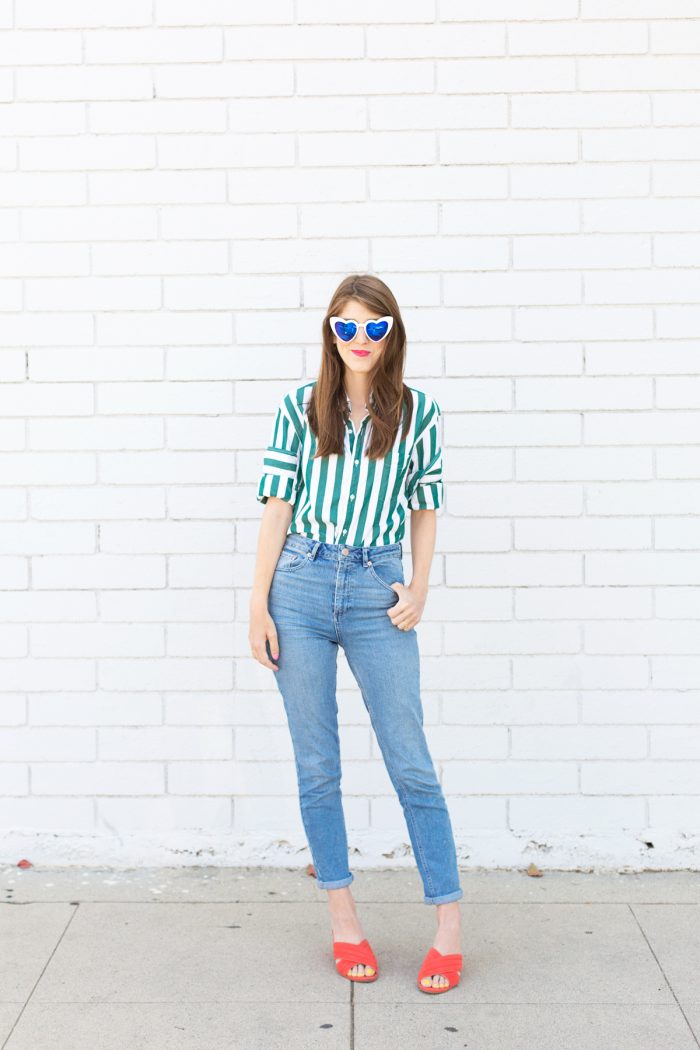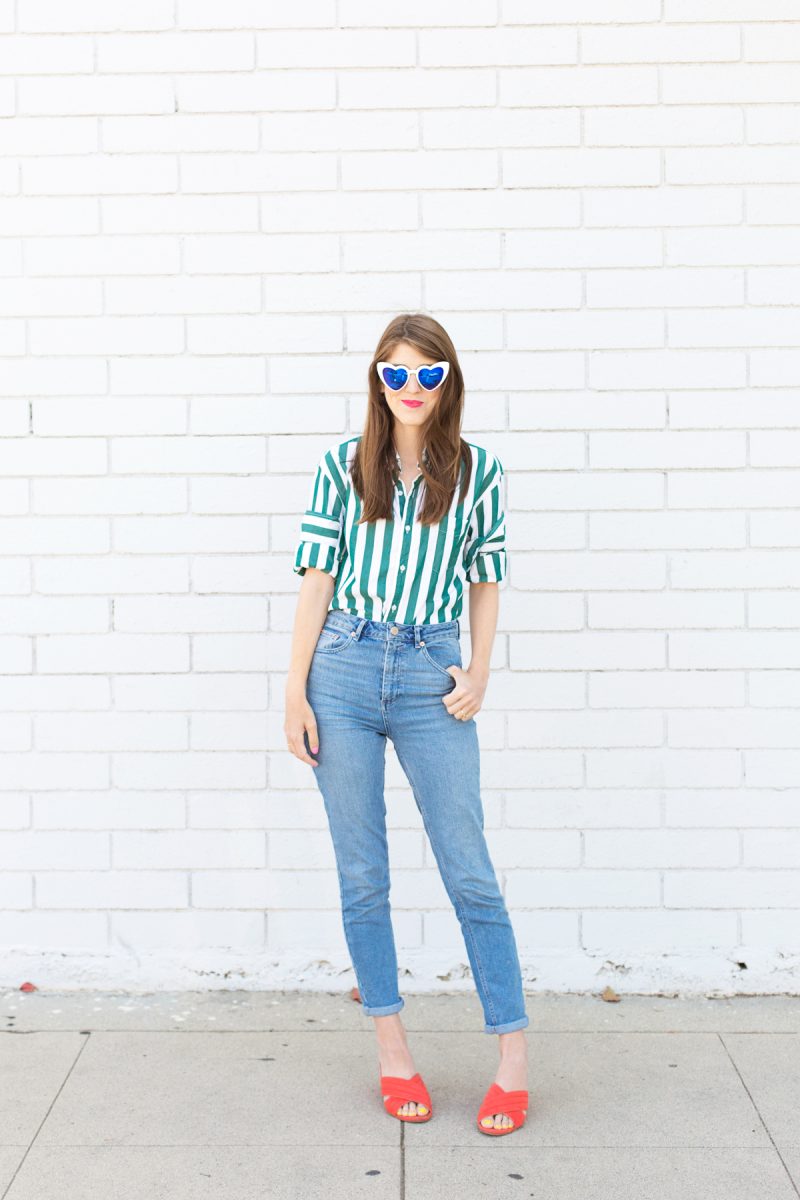 The tuck on this one is simple, you button the shirt to where the button of your jeans hit and then tuck the entire shirt in, crossing in front as mentioned above if you need a little extra help "cheating" the fit of it.
For this look, I wanted to talk more about the shorter sleeve cuff. This is a great option for a shirt that's a lot bigger than you'd like, because it pulls the sleeve in a lot.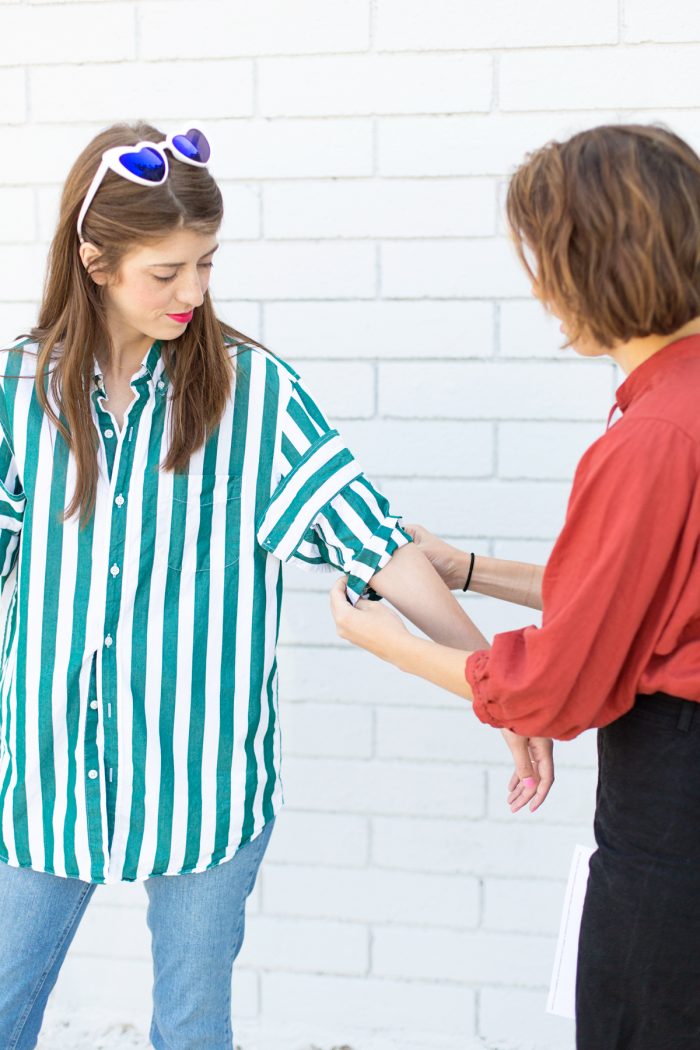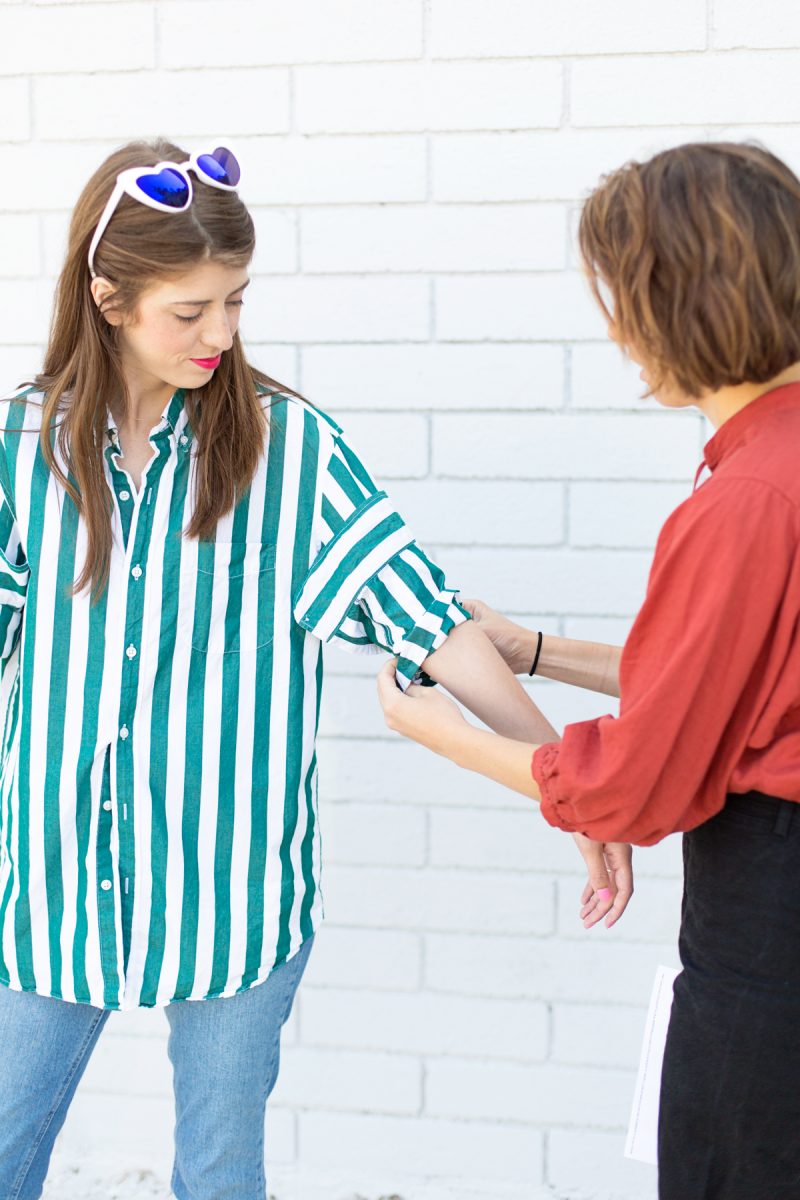 Similar to the other cuff, you will fold the sleeve of the shirt up, this time having the cuff land above your elbow. Then roll the sleeve until it hits the bottom of the cuff. Fold/adjust as desired!
Front Tie with Shorts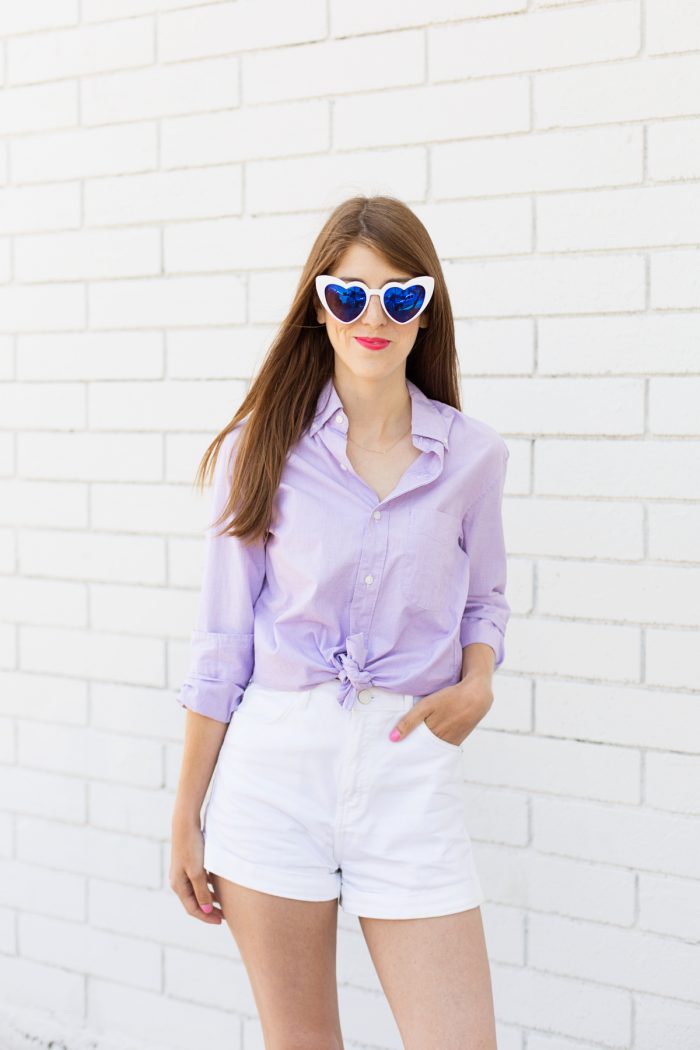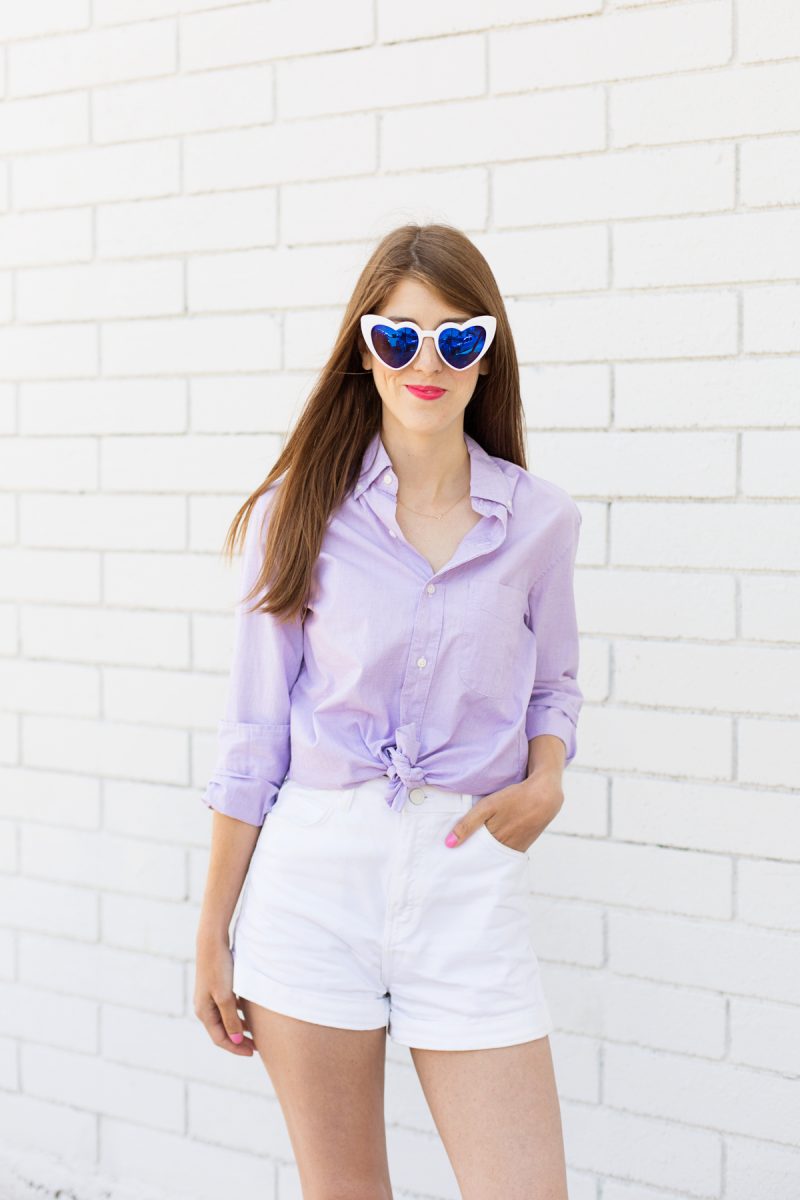 My favorite way to wear this shirt, the tie!!! I love this because it's the most casual look and is so versatile.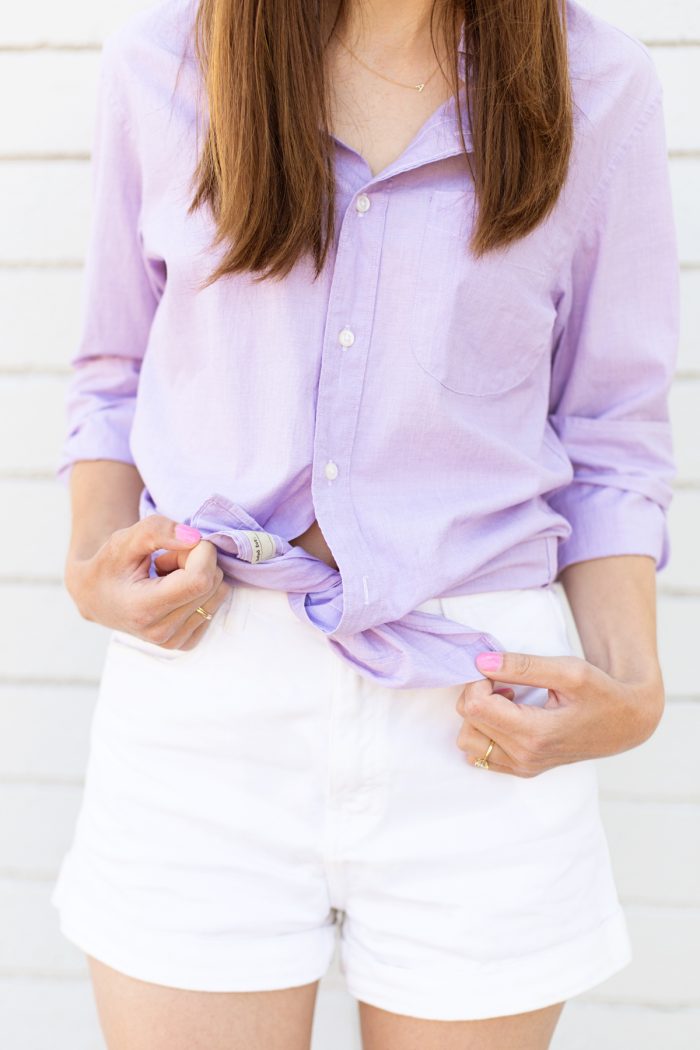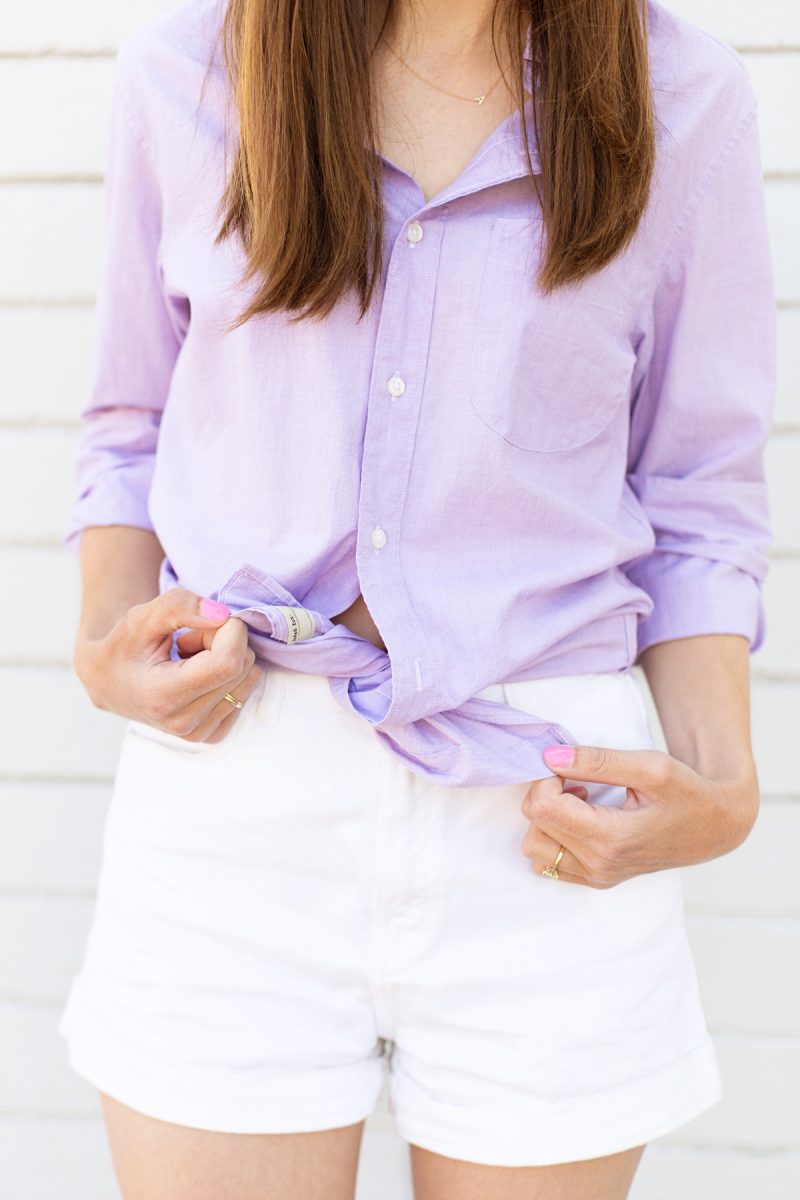 When you try to tie your button downs have you gotten something that looks like the above? With that weird gaping hole so you see your belly button? Yep, there's a trick to prevent that.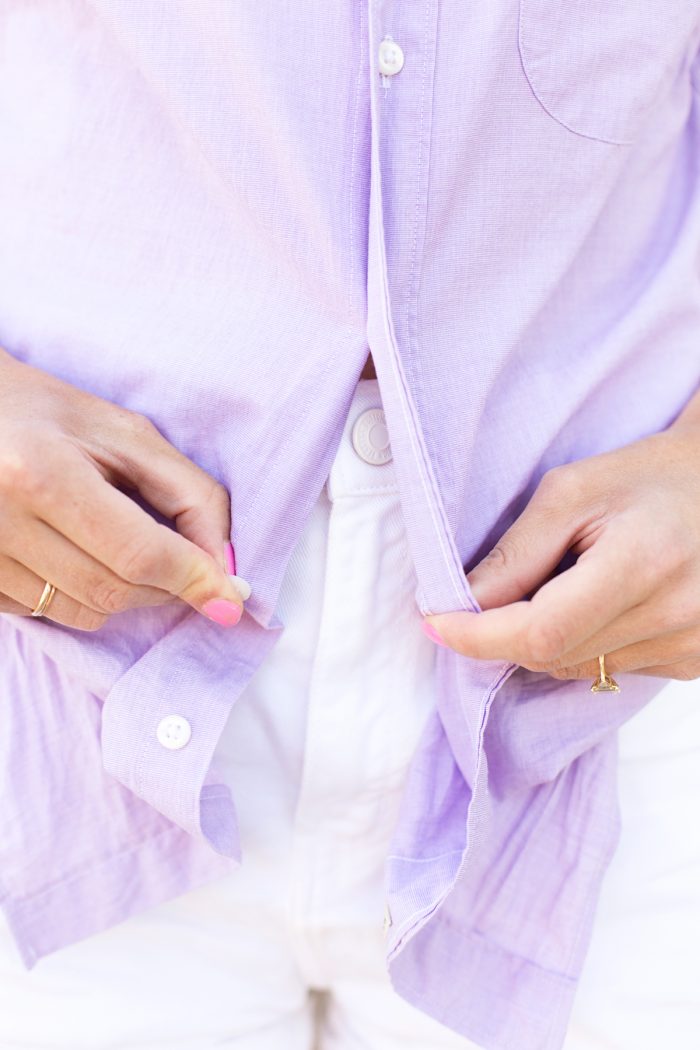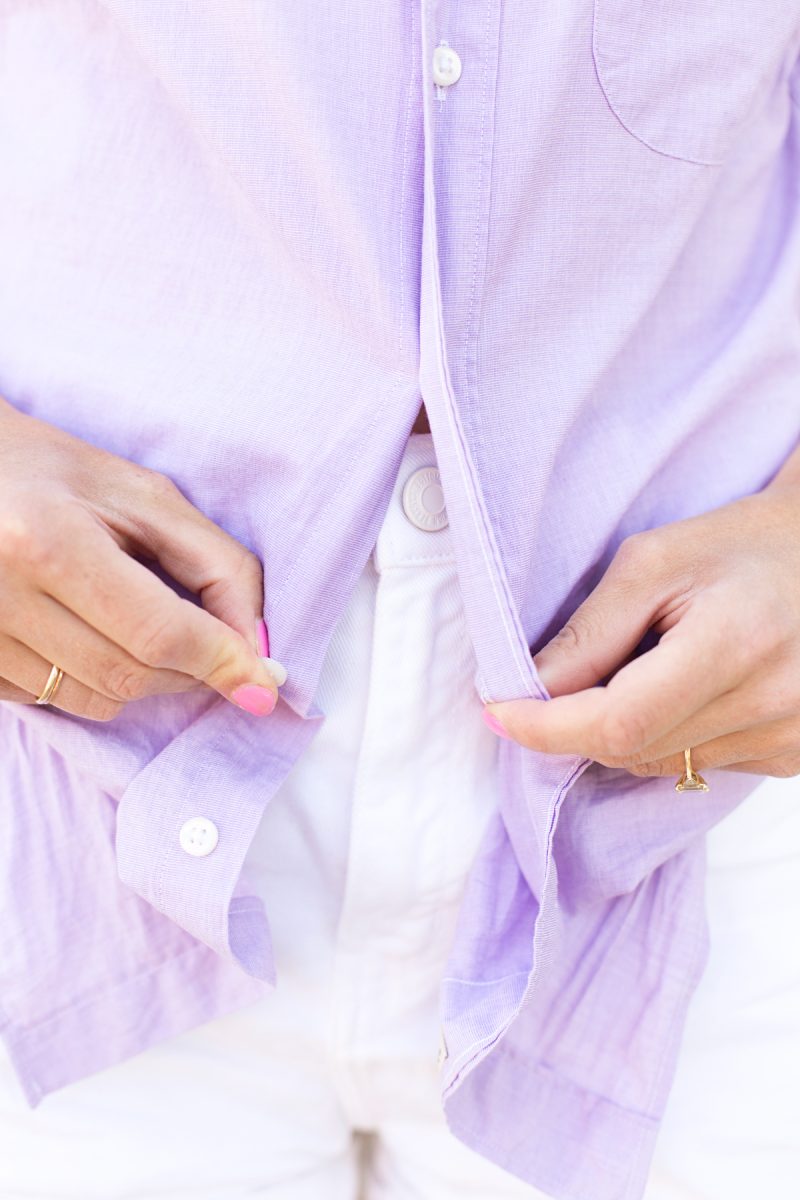 Here's how to tie it! Button the shirt down one button below where the shirt hits the top of your shorts/pants. It'll feel like you buttoned it too far, it's supposed to!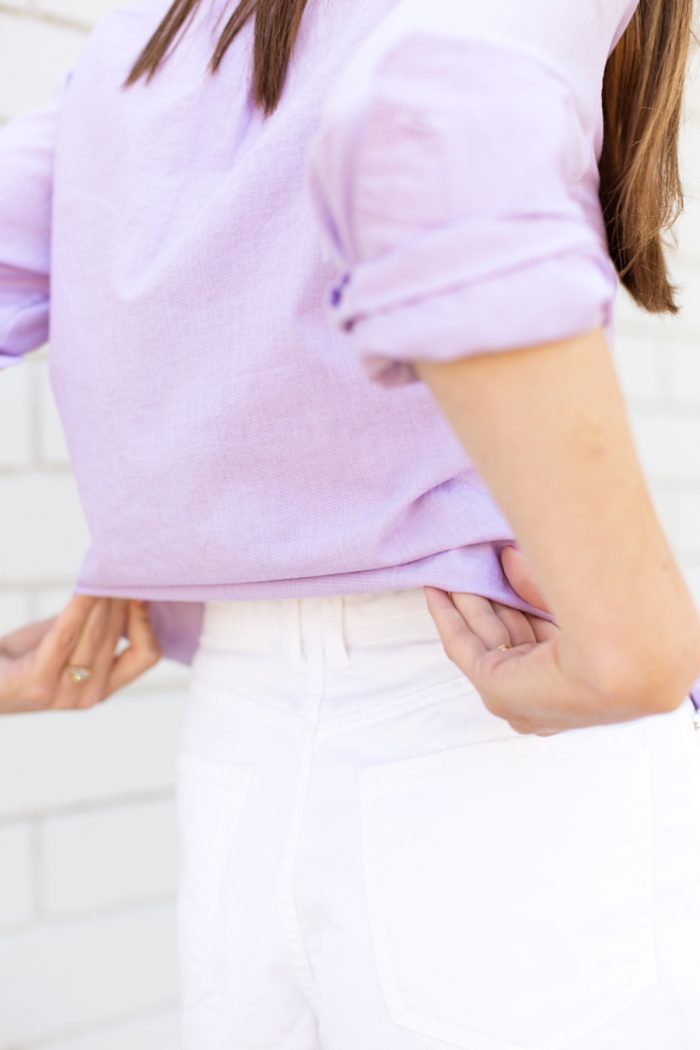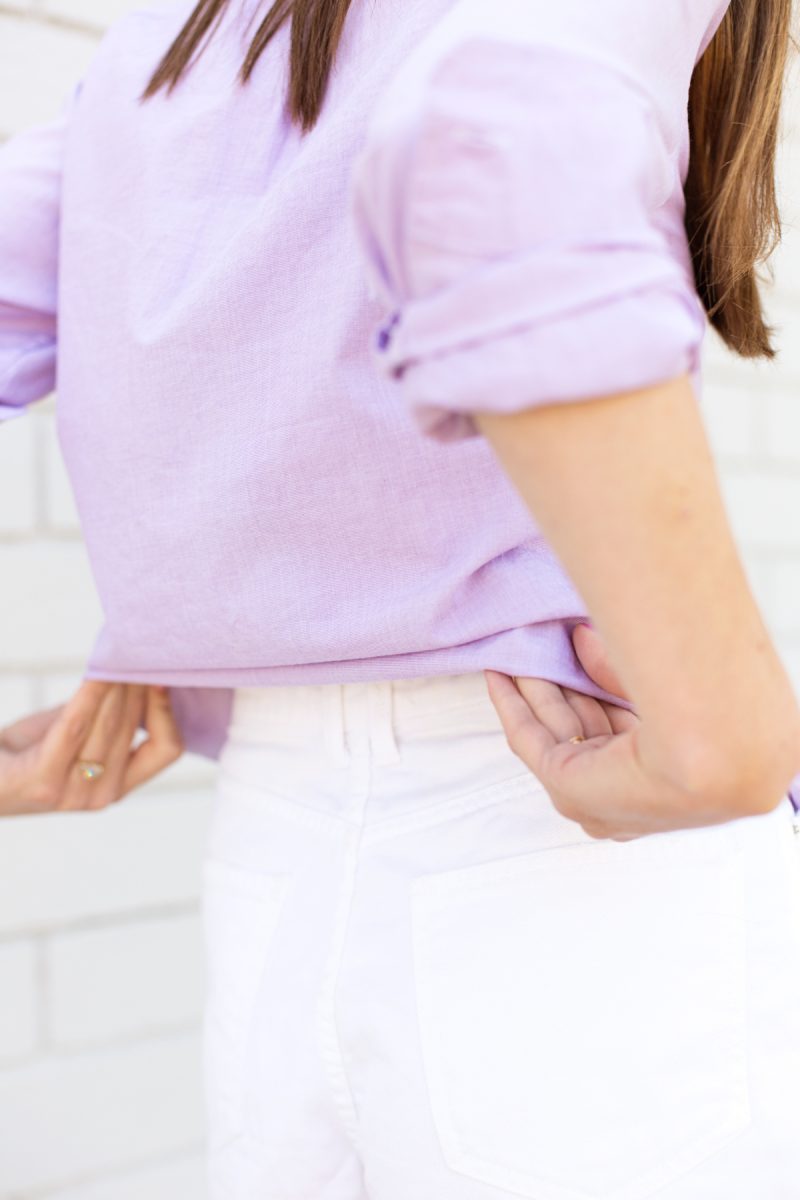 Then, fold the entire shirt under until the length hits the bottom of the waistband. The folding will give you more fabric to work with when tying which is key. Gather one side of the shirt in each hand and cross in front.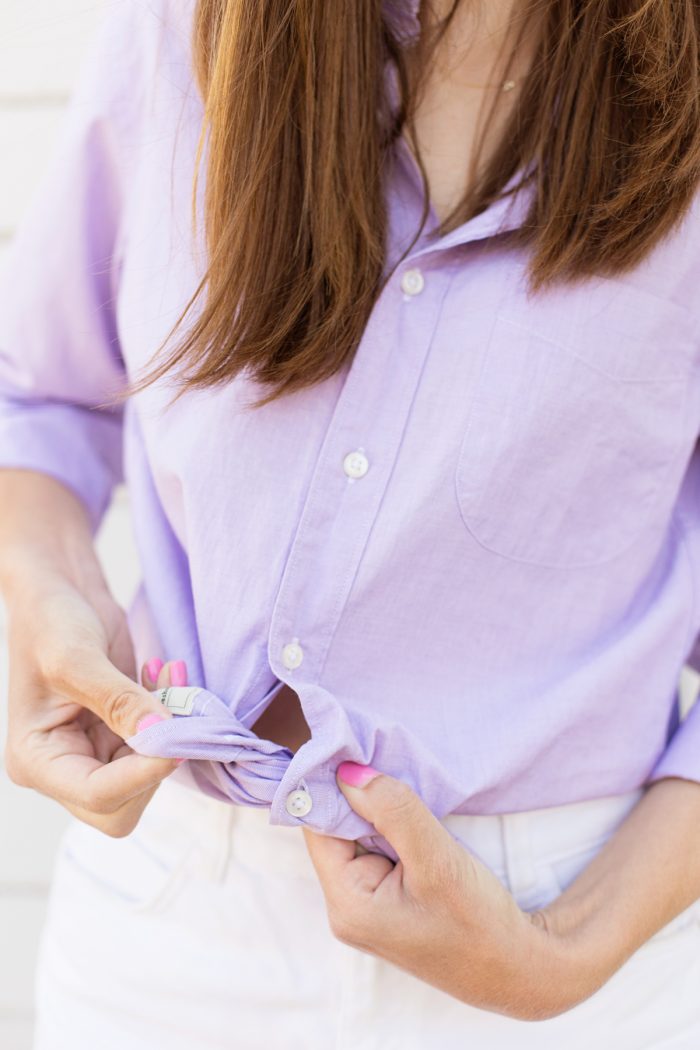 Then pull one side through the hole in-between the bottom two buttons you buttoned. Finish by tying a second knot as you normally would. BAM! No weird gap!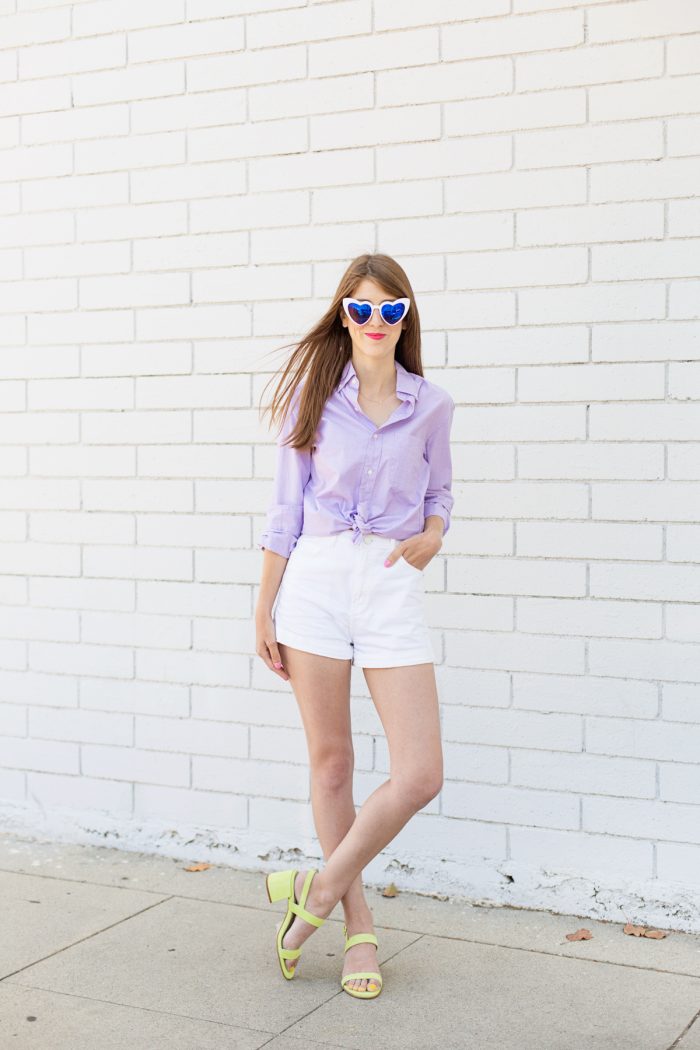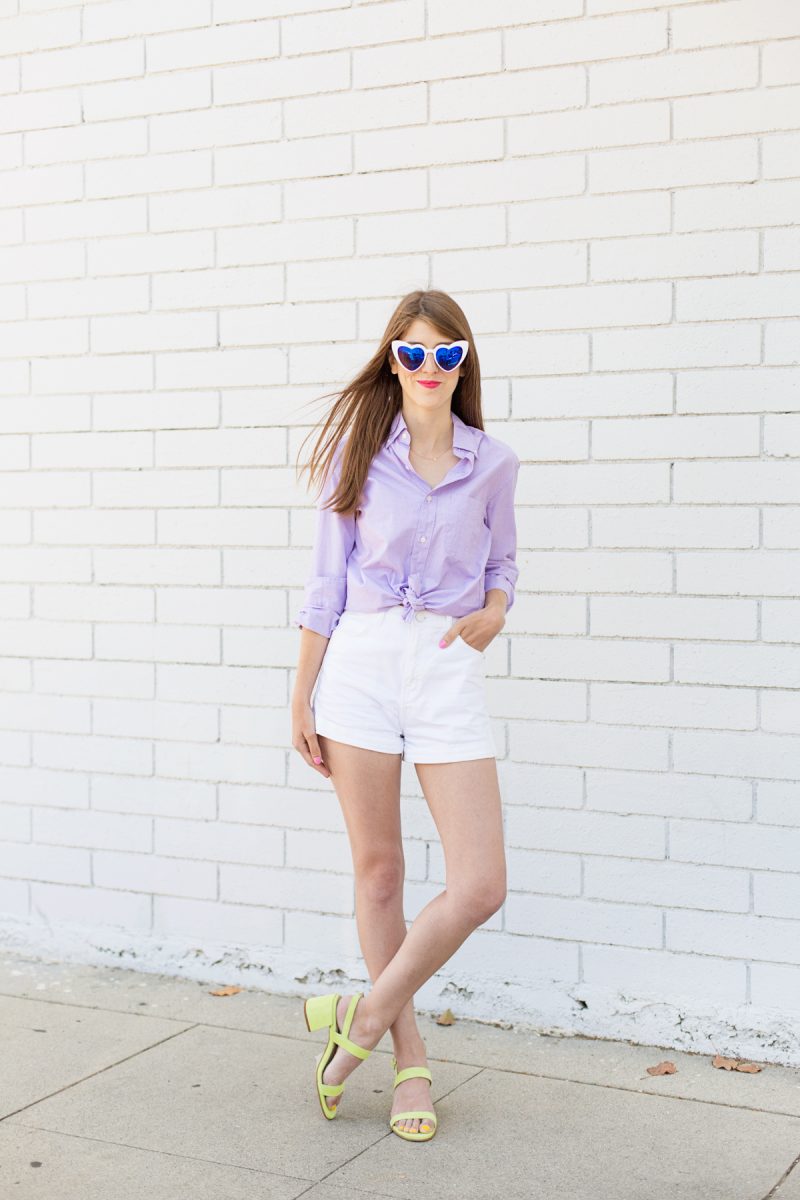 Open Front Tie with a Tee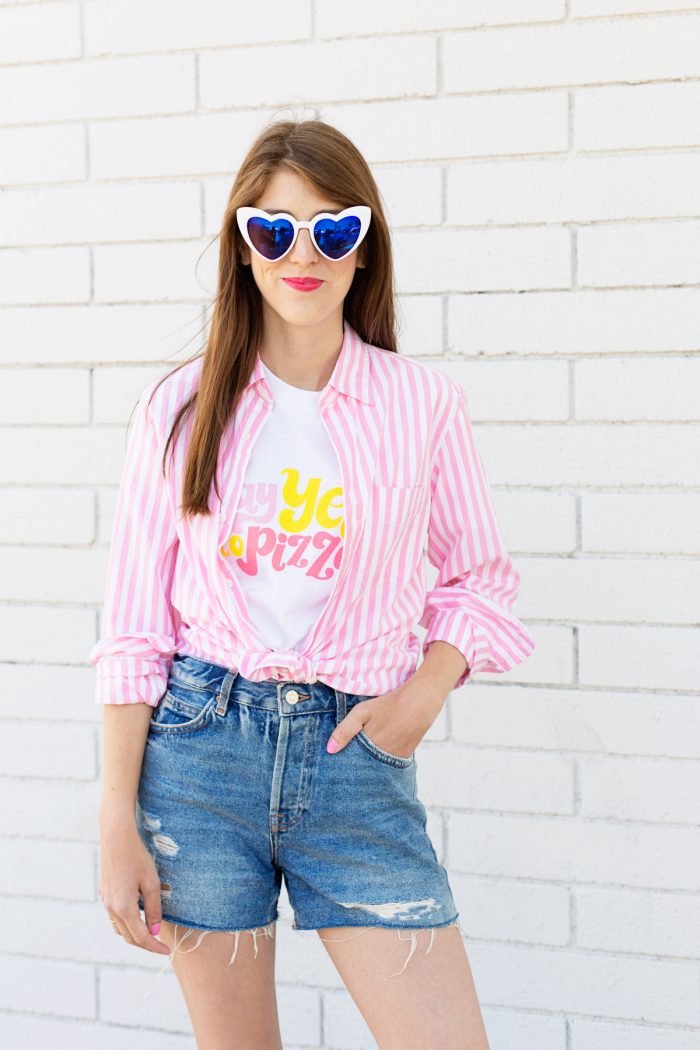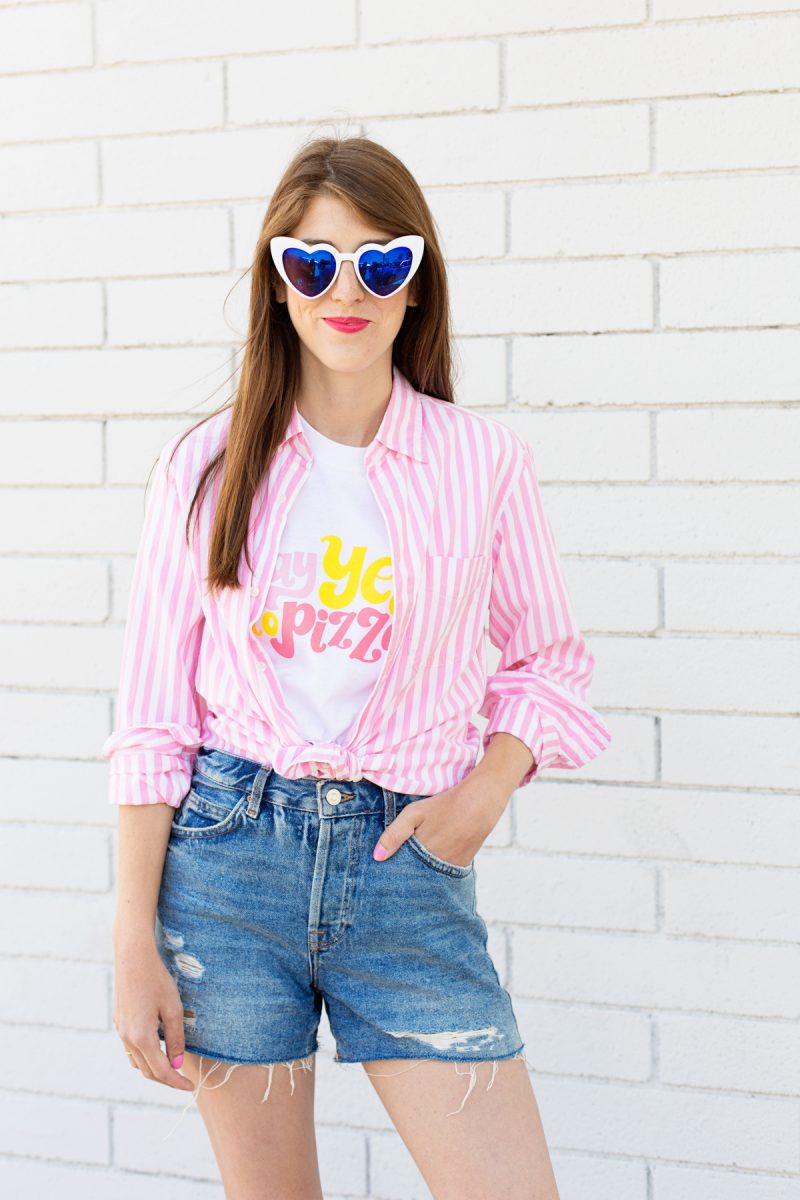 A second really great way to wear the shirt tied for a casual look is over a t-shirt (A pizza t-shirt!? Mhm…) Put the shirt on overtop of a t-shirt and instead of buttoning it like above, fold the bottom under so you have the most fabric possible to work with, but just tie a regular knot. You won't have the weird gaping hole issue here since the shirt isn't buttoned at all. This is great for that in-between weather when it's too hot for a sweater but too cold for just a t-shirt.
Open Front Tie Over a Dress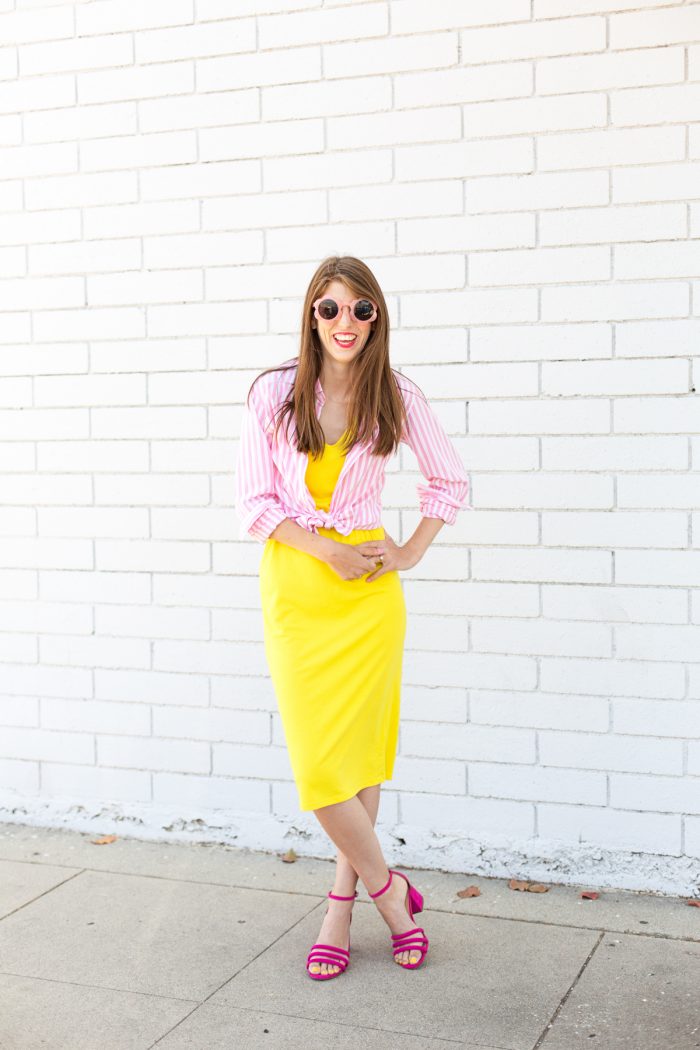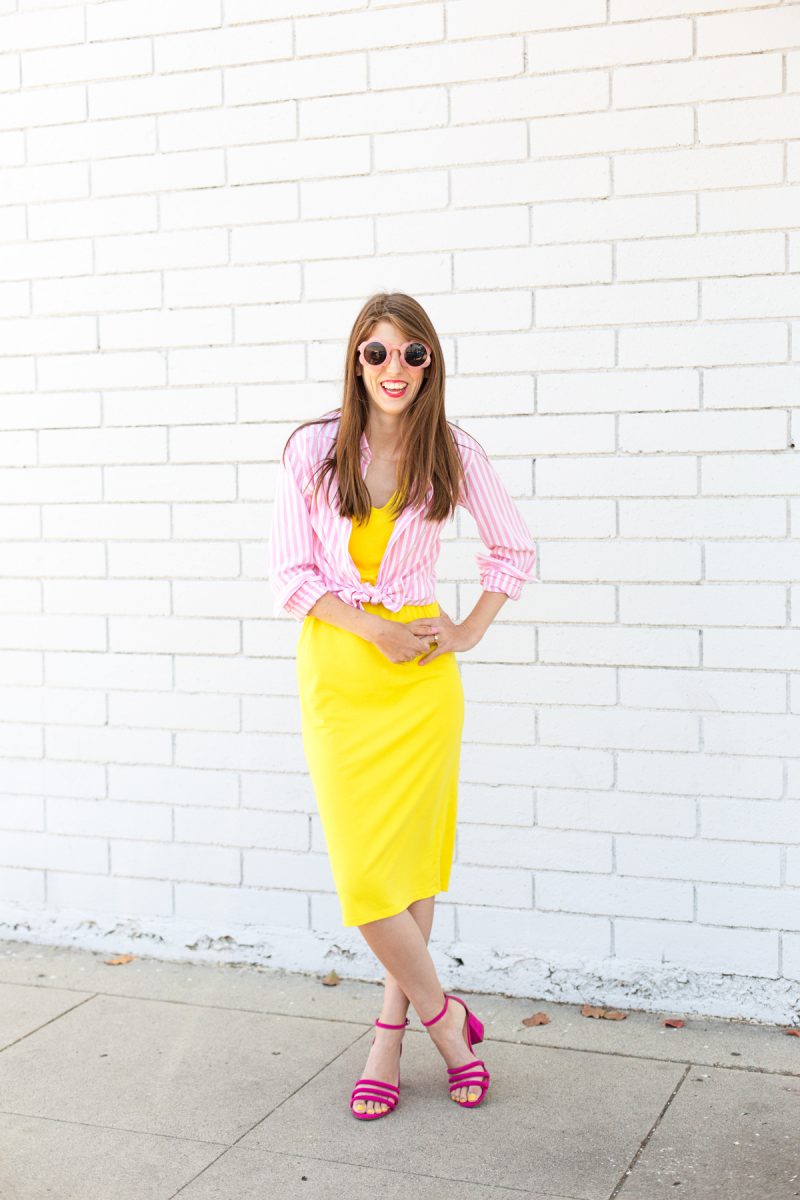 Just like the t-shirt look, but over a dress! This instantly makes a dress feel more casual, which I love. You can wear this shirt tied over a dress that's a straight cut like this, or that has a fitted bodice and A-line or flared skirt.
The Cuff with Overalls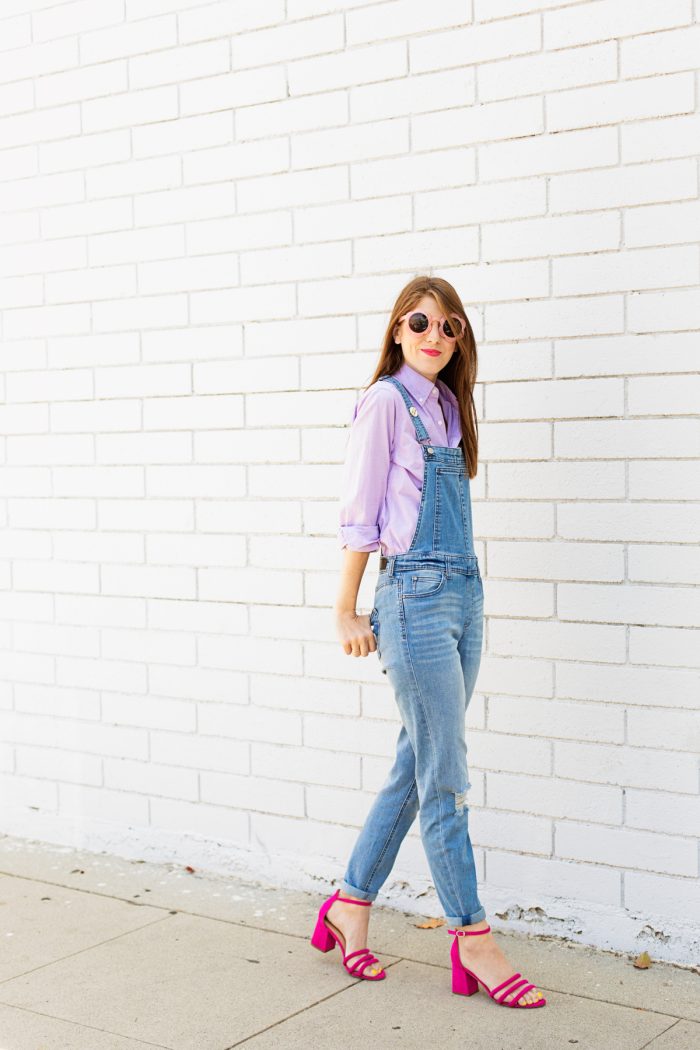 Last, overalls!! I love wearing the solid and striped versions of this shirt with overalls. This is where this particular shirt is great because the casual material and loose fit doesn't make it ride up like a lot of other button-downs would under overalls! You could do a regular cuff or even the shorter cuff with this, both would be so cute!
Photos by Jeff Mindell
I hope these tips and tricks help inspire you guys to style this (or any!) button down for more casual looks!! If there's one thing I've learned, it's that no matter how much my style changes, I always gravitate to a button down as a wardrobe staple. I'm going to link all of my favorite patterns and colors of this shirt below for you! Remember all of the ones I have are the *SLIM* cut, make sure you select that before picking your size if you want the same fit!
More Styling Tips