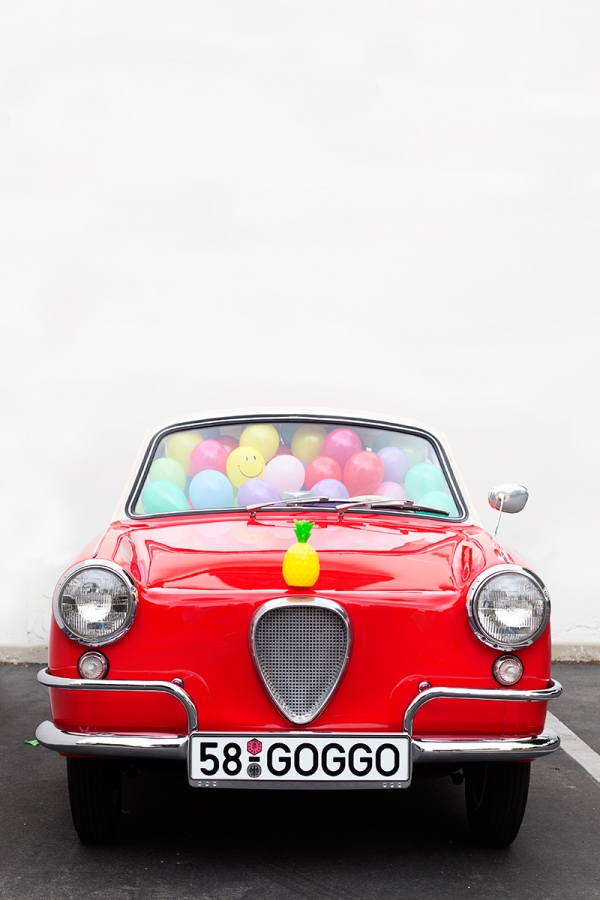 DREAMS are being realized today, folks! DREAMS! No, I'm not going all Oprah on you and giving you all a car (Sorry, guys.) but I AM showing you how to TRICK out your current car with a hilarious, absolutely necessary DIY hood ornament. Don't tell me you haven't ever daydreamed about tricking out your car with a disco ball. I know you have, admit it.
You see, Autotrader approached me and was all "We want you to create a hood ornament to make your readers feel drivetastic, just like shopping on Autotrader makes you feel!" And I was all "DONE." Because what could make your car feel more systematic, HYDROmatic, automatic…. Why, it's #DRIVETASTIC…. than a funky piece of hood bling? Guys, you can even enter to win one! More on that below.
This was also a great excuse to fulfill my life goal of FILLING A CAR WITH BALLOONS! Let's do this.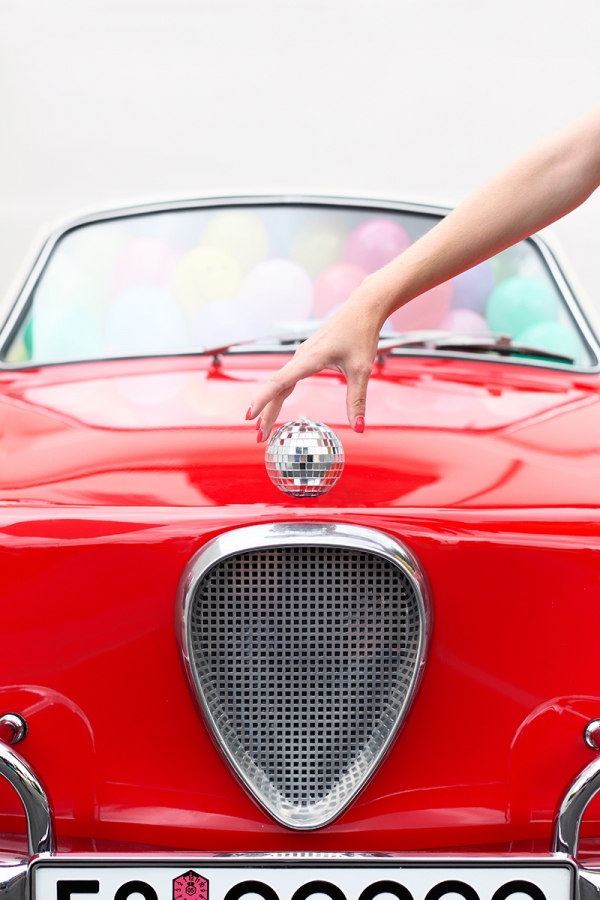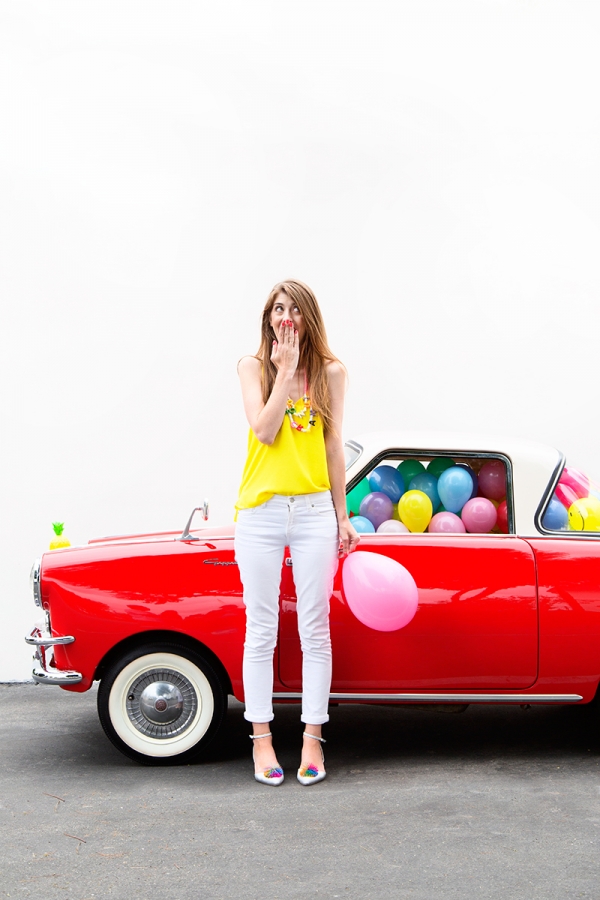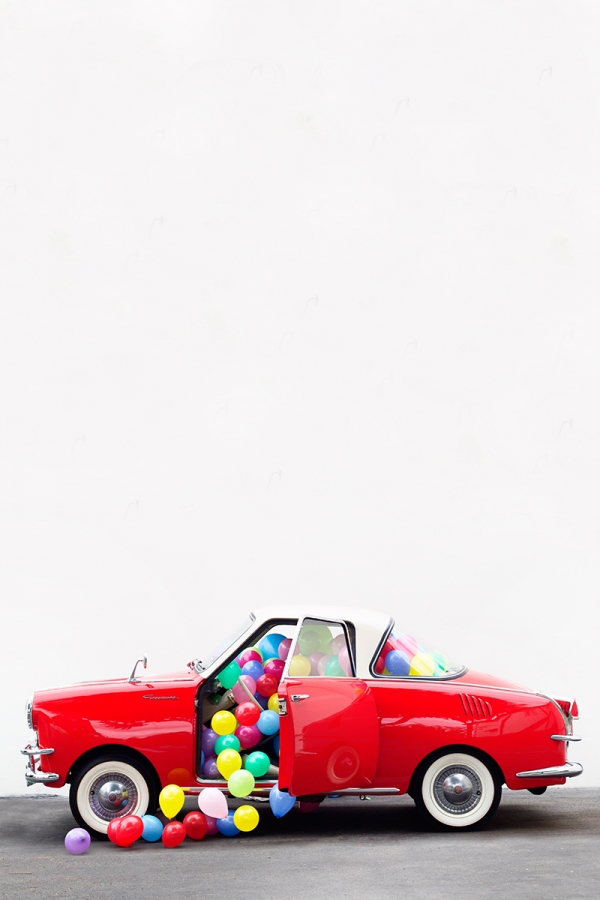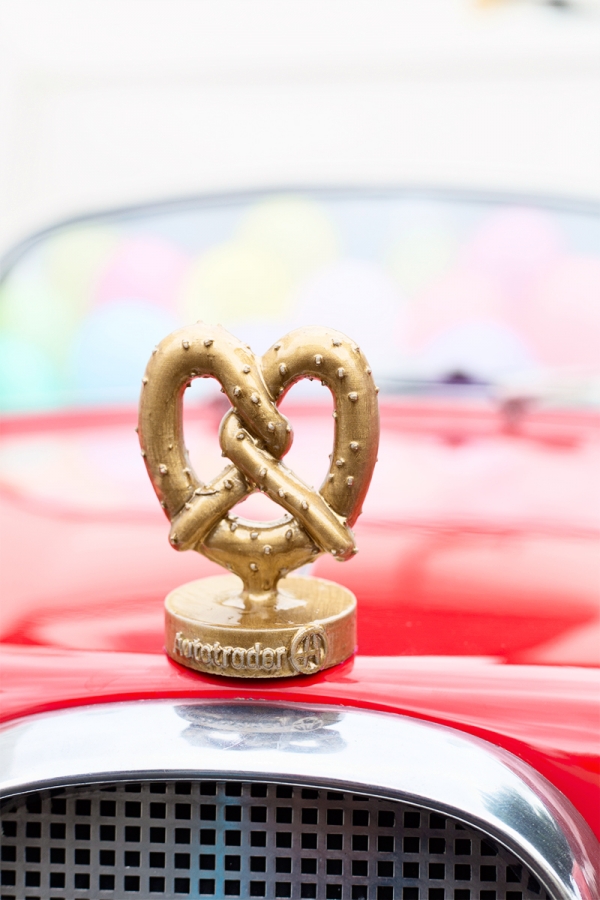 First, let's talk about Autotrader because you're probably thinking, "Drivetastic? HAHAHA! Buying a car actually gives me nightmares." I totally agree(d). Jeff and I currently share a car but know that our time is limited on that, so we were pretty excited to learn more about Autotrader through this process. They're a car shopping and selling site and they are all about convenience. As in, you can search by specific feature (like heated seats for this always-cold gal!) and even set up alerts on your phone (perfect for my husband who's phone is his other wife). When the time comes, I'm pretty darn excited to go this route instead of the "Run all over Los Angeles and strike out" route we've gone in the past. Game ON! But now back to those hood ornaments….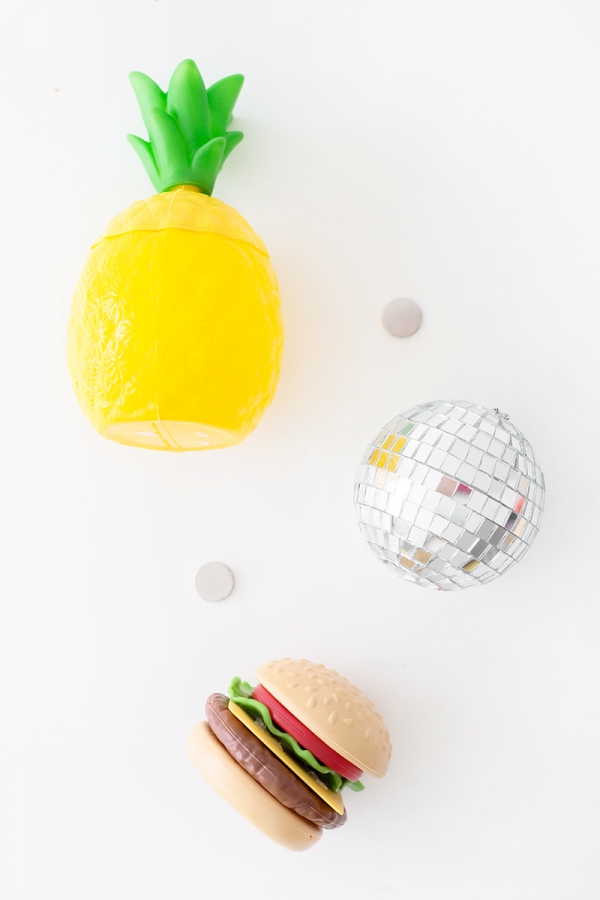 Super Magnets or Rare Earth Magnets*
Strong Glue – Like E6000
Object**
*If you're concerned about the magnet scratching the paint, I recommend placing a small piece of felt between the magnet and the car. If you're using the right magnets, it will be strong enough to still hold through the felt! Alternatively, if it's just for a prank/joke, you can use a removable putty/clay to attach it.
**The best objects are going to be light but sturdy, like plastic. And they should have a smooth surface on the bottom for which to secure it to the car with. Here's what we used: Pineapple Cup, Toy Burger, Disco Ball, Gumball Machine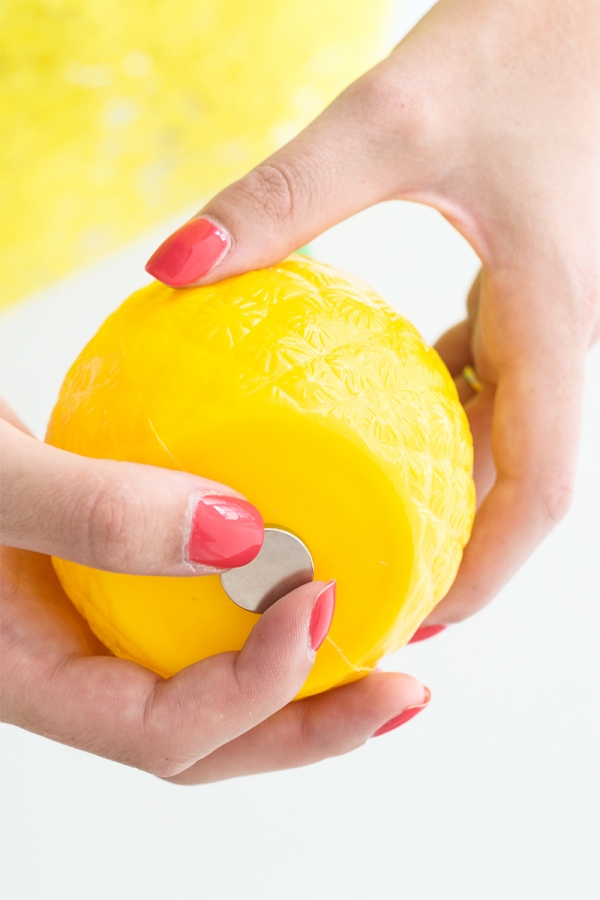 1. Glue your magnet to a flat, smooth surface on the bottom of your object and hold in place until set. Then, allow to set/dry completely according to instructions on the glue's packaging.
2. Attach the hood ornament to the car with the magnet and have a BLAST. Sure, these might not be the most practical or functional car bling, but they are perfect for a birthday surprise, graduation prank, tailgating party or any other event where your car needs to be looking it's FINEST!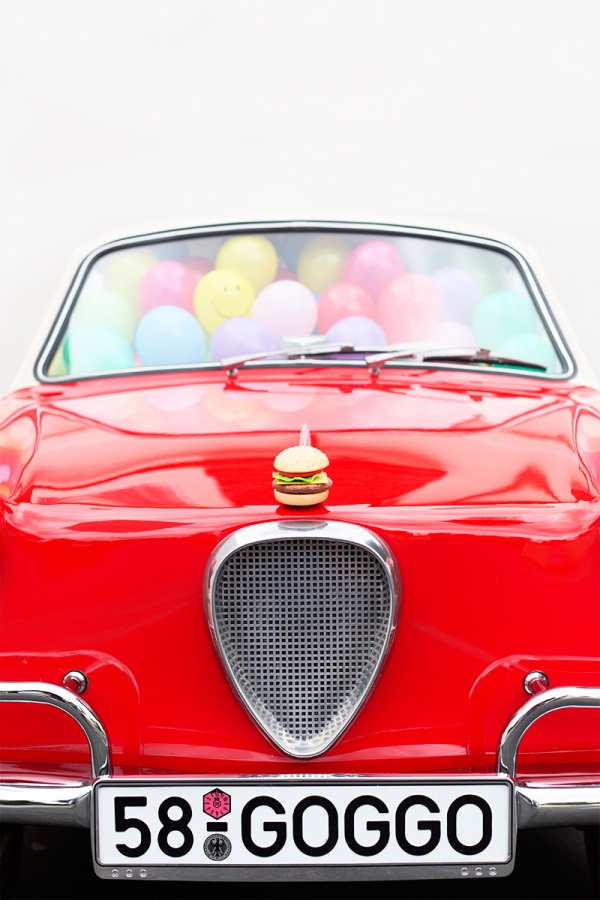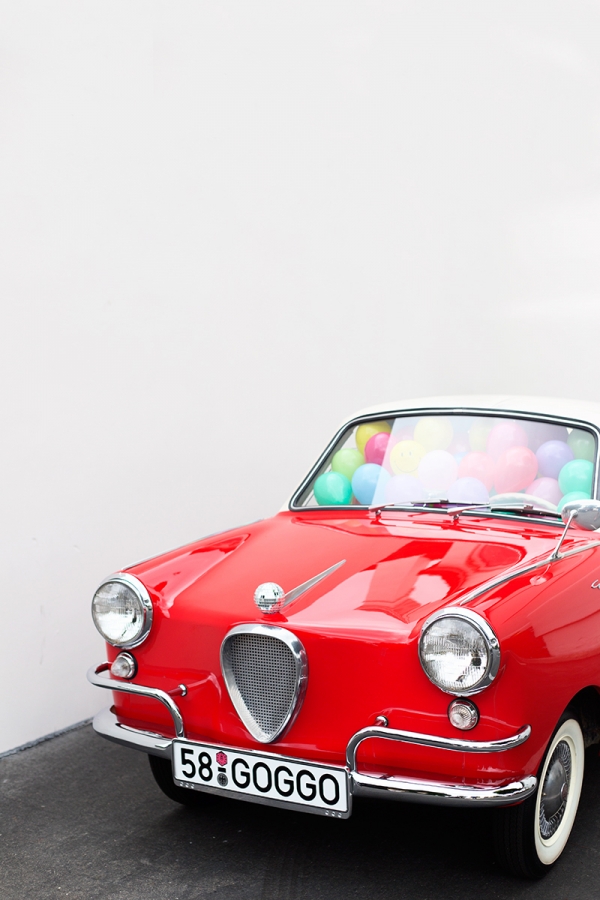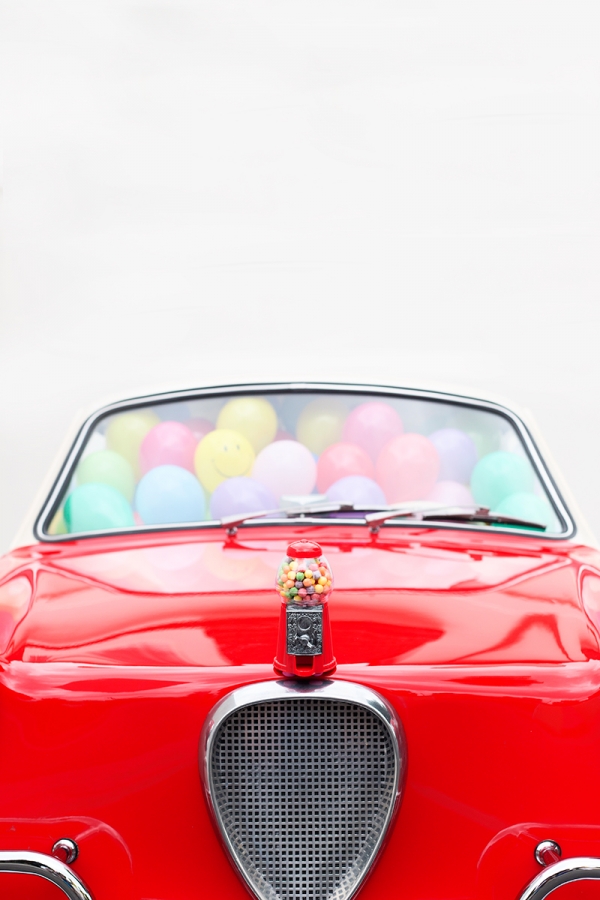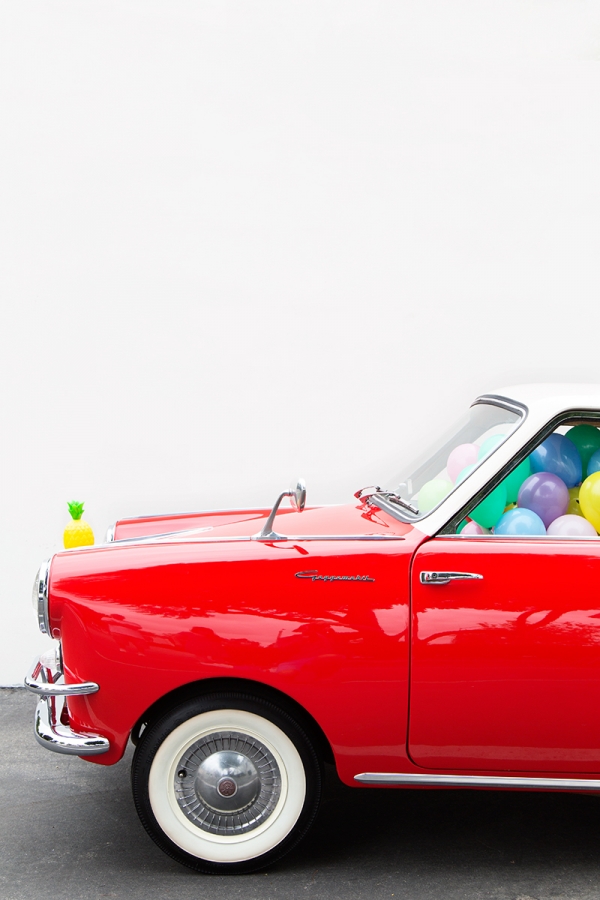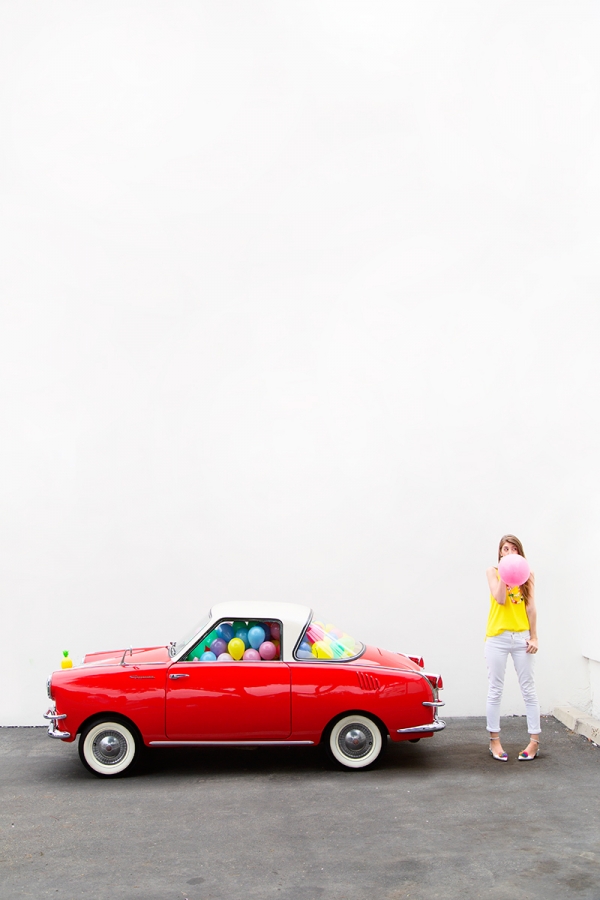 Photos by Jeff Mindell | Styling + Creative Direction by Kelly Mindell
So I gotta know, what would YOU put on your car's hood!? Tell me. If you want to enter to win yourself a schnazy hood ornament of your choice (the possibilities are ENDLESS), follow along with Autotrader on their social channels (Facebook, Twitter or Instagram!) and use the hashtag #DrivetasticSweepstakes to enter!
This is a sponsored post by Autotrader. All opinions expressed in this post are unbiased and based on my personal view.