It's fringe time for this week's second DIY project from Kellyn's rainbow birthday party! I'm not quite sure what to call this, other than awesome, so I went with vertical fringe garland! Really its just a simple, short fringey garland that looks great as a backdrop or dangling from a party sign! I'm pretty sure it is required to use it alongside Jenny's amazing giant fringe garland. They're very similar to make, but can serve quite different purposes. And if you ask me, you can never have too much fringe at a party!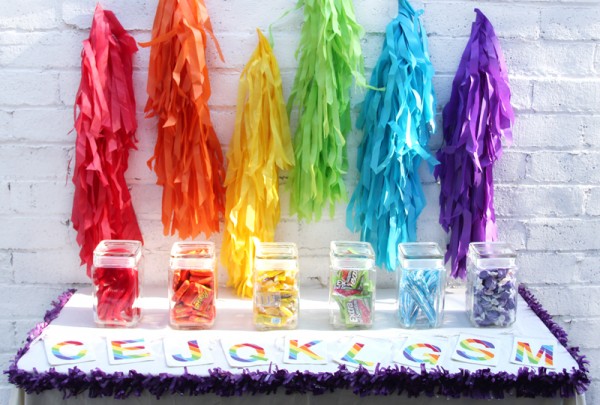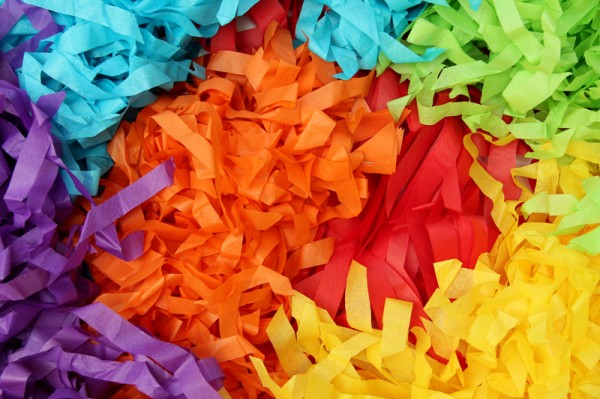 Supply List:
Tissue Paper (Four full sheets for each garland, the bigger sheets work best, mine were 20×26″) or Crepe Paper
Stapler
Scissors
To Make:
Stack four sheets of tissue paper on top of each other and fold them in half, the long way.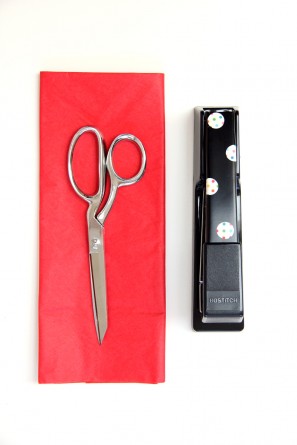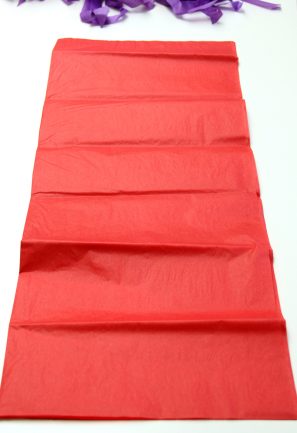 Staple all along the folded edge. Starting at the bottom, cut diagonal lines from the edge toward the stapled fold.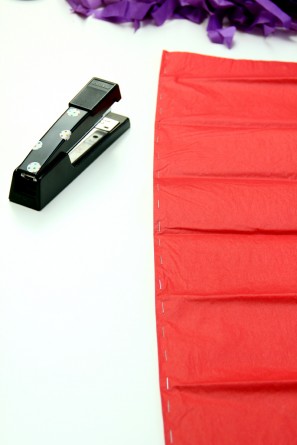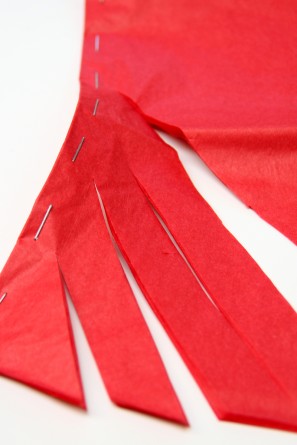 You'll do this all the way up until your diagonal cut hits the top edge of the fold. All of your cuts will of course be different lengths, but this is what makes it interesting when it hangs! Set aside the leftover "triangle" from your final cut and fluff up your fringe garland.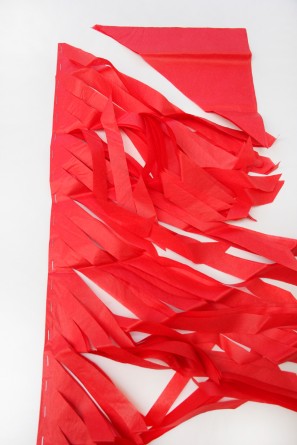 You can easily hang these by taping to the wall or surface along the stapled edge then fluffing the fringe to cover! I hung each color at a different height and created a backdrop for the party's candy bar.

All Photos by Studio DIY
Looking for more color to love? Don't miss all the rainbow birthday party posts!
Kellyn's DIY Rainbow Birthday Party
DIY Rainbow Monogram Favor Bags
DIY Vertical Fringe Garland
DIY Rainbow Birthday Lawn Sign (Coming Thursday!)
Rainbow Birthday Party Tips (Coming Friday!)
Looking for more DIY projects? Check out the Project Gallery and Free Printable Gallery!