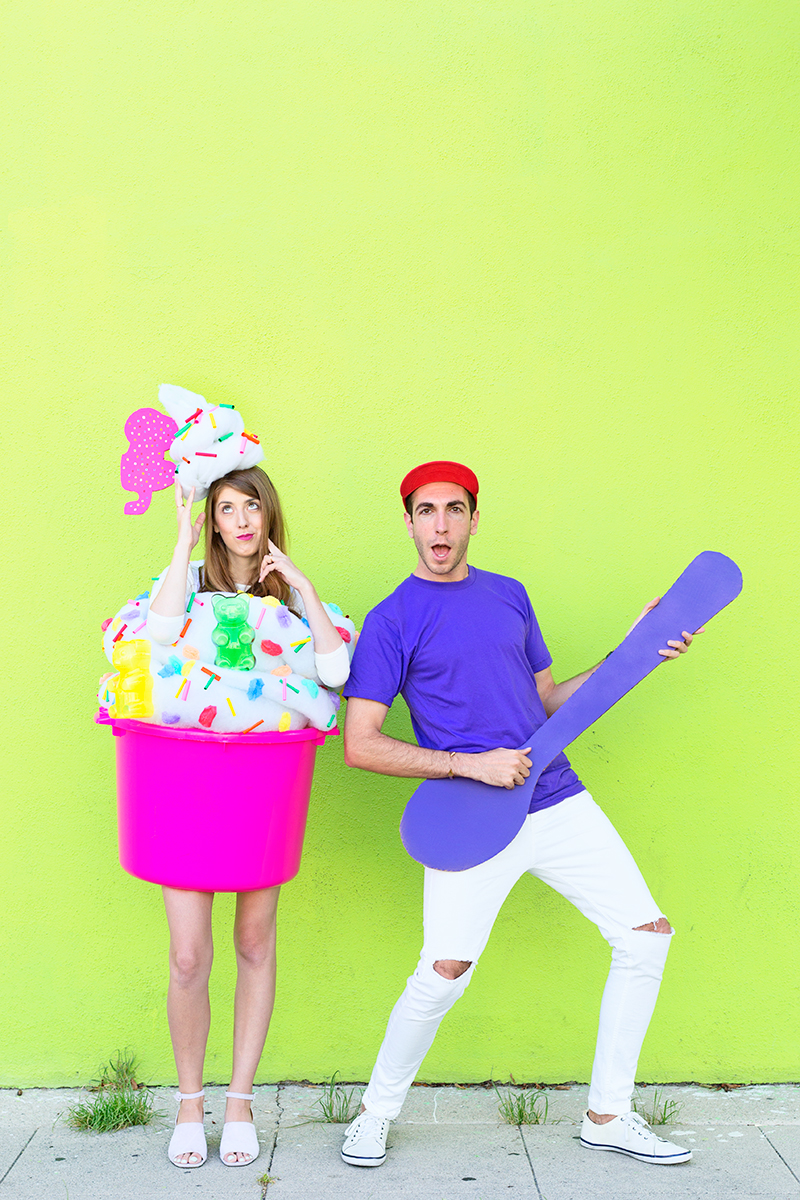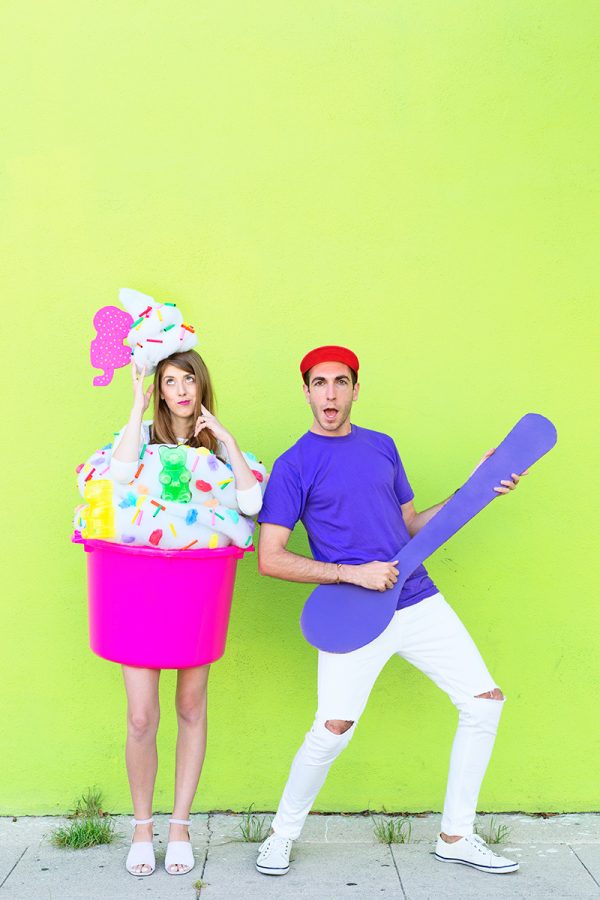 Since Halloween is tomorrow and it's too late to share another tutorial but also how do I even talk about anything besides Halloween because it's all I can think about… thought this was an appropriate question!
With Arlo in the picture now, I've been doing lots of daydreaming about all the costumes we'll think up together!! And I've been doing a lot of reminiscing about all of my own childhood costumes and wanting to live up to the bar my mom set with her handiwork on them!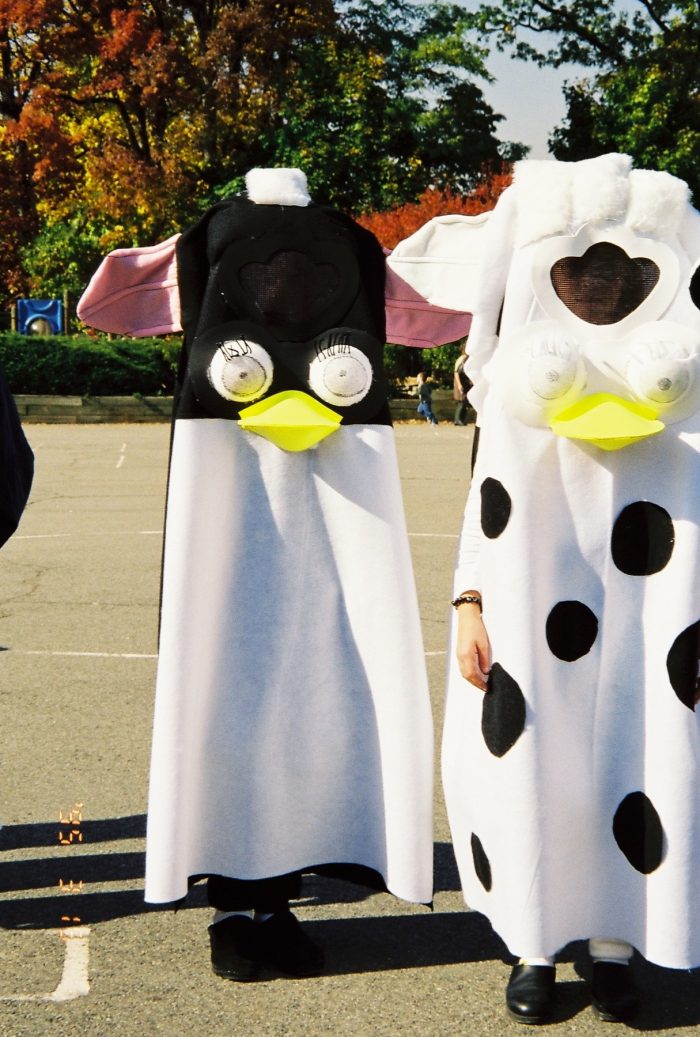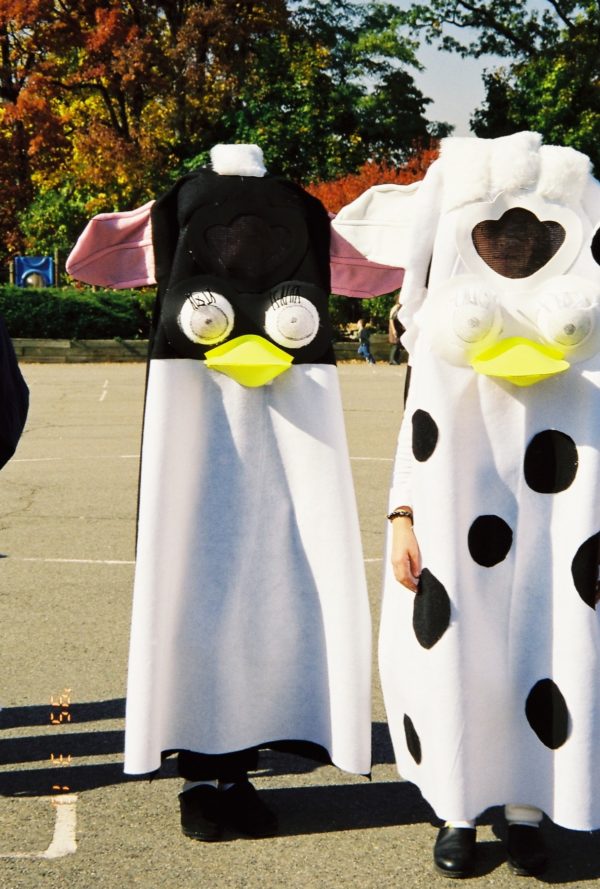 I've talked a lot about some of my faves. My Furby costume being the top one. This was my favorite because it was a joint effort between my best friend, Michelle, and our moms. We thought of all sorts of ways to make the different pieces come to life. I vividly remember not knowing how to make the "sensor" because it had to be see-through and breathable so we wouldn't die in the costume. Haha! One day, I walked past my mom's needlepoint and was like "MOM!!!!!! We should use needlepoint mesh!!!!!" And so we did.
Of course, a lot of people had no clue what we were. Which is crazy because c'mon HOW ACCURATE is the depiction!? I got a lot of penguin (Ok, fine…) or skunk (but… they don't have beaks?) and my friend (who was a spotted furby) got a lot of "Cow?!" Again… cows with beaks, people!?
I thought it would be fun to ask some fellow creatives and entrepreneurs what their favorite or most memorable costume was and there are SO many good stories. Check them out below!
Cyn Moreno, Set Decorator and Digital Content Creator, on doing the Cabbage Patch dance: I think my most memorable costume was when I made and was my childhood Cabbage Patch doll. I didn't completely think it through when making it and I could barley see in it! The head was really heavy. I think I had about 10 spools of yarn in it. So I had to walk super straight so I wouldn't fall. Haha!! But I loved it!! When I went out people just went nuts and wanted to take pictures with me. Girls would come up to me and tell me what cabbage patch doll they had as a kid. At one point I went to a bar and the crowed chanted for me to dance the cabbage patch dance. I of course gave in and ended up on top of a table dancing. It was hilarious and totally worth it and I think someone even threw a couple of dollars as me. Haha!
Ellen Bennett, Founder and CEO of Hedley & Bennett, on her on-the-fly costume: In 2015 (age 27) I went as a bunch of grapes not only because they're a super fun color, shape, and delicious, but I love a good DIY costume. As a business owner it can be hard to find the time to costume shop and go all out. This year Casey (my fiance) and I stopped at Joanne's fabric store on the way to a Halloween party! I bought a bag of balloons and blew them up in the car. When we parked Casey helped me safety pin them to a yellow dress, and I got some green tulle for the leaves at the top of the bunch. No one knew it was a very on-the-fly costume, and it was a total hit.
Elsie Larson, Founder of A Beautiful Mess, on #twinning with her sister: Emma's and my favorite halloween costume was when our mom made us matching My Little Ponies!
Chelsea Foy, Founder of Lovely Indeed, on getting crafty when her parents weren't home: In 5th grade, one day when my parents weren't at home, my sister and I decided to get crafty and make my costume without their help. I was a Duracell battery. We cut head and arm holes out of a box and painted the whole thing to scale using a 9 volt battery as a model. Favorite costume ever.
Maria Lichty, Founder of Two Peas & Their Pod and Co-Founder of Sweet Peas Meals, on letting her kids pick her costume: I let my boys pick my costume every year. So far I've been a funky chicken, a cookie, Darth MOM, and this year…wait for it…I am going to be a Walrus! Yep, lucky me:) They aren't homemade, but hilarious:)
Julie Blanner, Founder of lifestyle blog Julie Blanner, on being afraid to sit down: My mom once dressed me as the Fruit of the Loom grapes. I couldn't sit all day in fear of popping. It was almost awesome as my Nerf ball boobs and blonde wig when my mom dressed me is Dolly Parton.
Alex Michael May, Creative Director, on her rhinestone dreams: So my most memorable costume was dressing up as a figure skater when I was around 9 I think. I dreamt of those sparkling rhinestones for MONTHS, and that sparkly pink costume was the stuff dreams are made of. Think Swarovski for says and maribou feather deatils, with a little chiffon skirt. I skated around my living room in socks every night and still remember running to the door every day after school to see if my costume had been delivered! In reality, I was an awful skater and the outfit gave me a perma-wedgie and showed my undies, but I didn't care. I felt like the ice queen.
Ashley Rose, Founder of Sugar & Cloth, on being her mom's dream costume: I went as an actual life size plush, 3-D Hershey's kiss (shoutout to my childhood neighbor for custom making that) because my mom was/still is obsessed with Hershey's kisses.
Courtney Quinn, Founder of Color Me Courtney, on her multiple costume changes: When I was a kid, I would average between 5-8 costumes a year for halloween. I was a competitive dancer, so I always had between 10-20 great costumes from the year before that I wanted to show off. I remember planning out each of my outfits and always having too many to choose from, so I would decided to do them all! I would start the night in one costume, do a tour of my neighborhood collect candy and com back and change. By look 2 I would skip the candy bag and just basically make another neighborhood lap, once again showing off my costume. I did this between 5 and 8 times treating halloween like my own fashion show! Some of my greatest costume hits included a roller girl waitress with roller blades, the pink power ranger, a barbie super hero, a spider, jane of the jungle, every disney villain ever, and of course minnie mouse.
Now tell me… What is your absolute FAVORITE Halloween costume you ever wore??? Alternatively, your most memorable (maybe you hated it!?) or most embarrassing (parents have a way of doing that… haha!)!? Ya know, I'm not picky! I just want to chat costumes!!! Let me know below!!
SaveSave