How about two personal posts in one week!? Can we handle this? It's been just about two months since we got engaged, and I wanted to start sharing a little bit about our wedding here on the blog. I'm not 100% positive how I'll share about the wedding as we go down the line, whether it's here or elsewhere, but as of now I'm planning to post about once a month, with an update and even a few questions for all of you that have already gotten hitched! It's going to be another wordy post, so brace yourselves! And I'll tell you right now, I'm going to be honest about the good and the bad of being engaged and planning a wedding. But first I figured, how better to kick this off than with our proposal story!?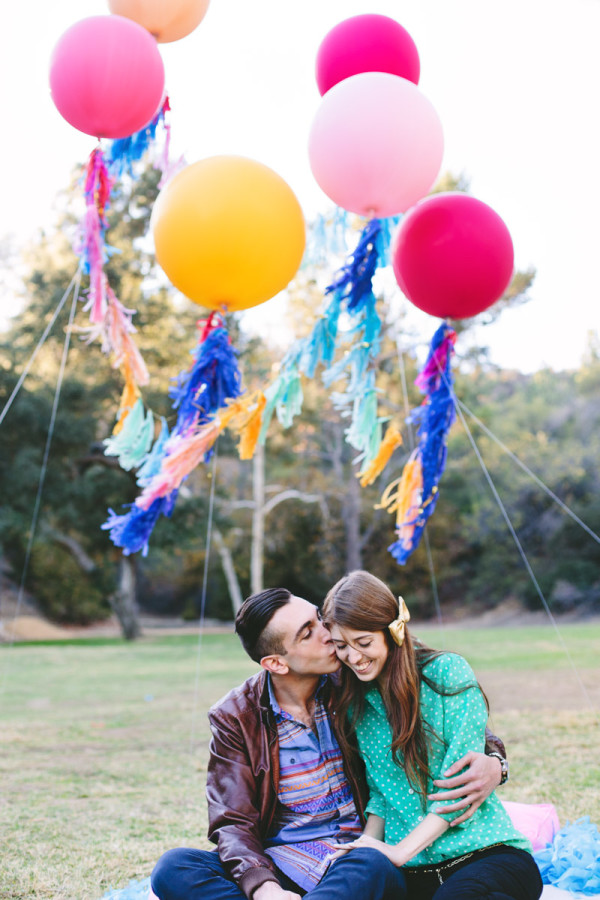 First, a little background on us! Jeff and I officially "met" our senior year of high school (I say "met" because we come from a pretty small town, so everyone knows who everyone is!). We were both voted best dressed and that kind of kicked everything off. Ha! About six months into our relationship, it was time to head off to college and I went to LA, while Jeff went to DC. We did the long distance thing for a year, before I realized the school I was at wasn't right for me and so I transferred to DC. After another long distance bout while Jeff studied abroad in London, we graduated and moved to LA! We've now been together for 6 1/2 years and, well, it was about time to get engaged, no!?
I've been dropping hints to Jeff for a little while that I've always dreamed of a balloon-filled engagement. I usually get weird looks when I say this, but my favorite movie is Patch Adams. Remember it? There's a scene where Patch fills a room with balloons and, well, ever since I saw that I've had it bookmarked in my mind. Lucky for me, Jeff took the balloon hints pretty well. And he recruited the one, the only Jihan of Geronimo Balloons to help him make my dream proposal happen! (Unbeknownst to me, of course. I was 100% convinced he would never propose. And I let him know it. Not my proudest moment, folks! But nobody tells you how hard the period between ring shopping and actually getting the ring is! Let me tell you: It's hard. At least for impatient people like me.) Now, for how it all went down!
I would like to preface this with the fact that I am virtually 100% impossible to surprise. I always figure things out, without trying, mind you. I love surprises. My best friend Lauren was in town, and surprise got engaged to her now-fiancé Mike while she was here! The four of us went to Trails in Griffith Park for lunch the day they were headed back home and Jeff decided to "take the long way" out of the park. I was pretty confused as to why he was doing this, but never really thought much of it. So, we went up around the hills and as we were coming back down, I spy a glorious, amazing Geronimo Balloons mirage in the park. Of course, in my mind, this is normal, and I exclaim… "OH LOOK! It's Geronimo!" And then Jeff pulled the car over and parked.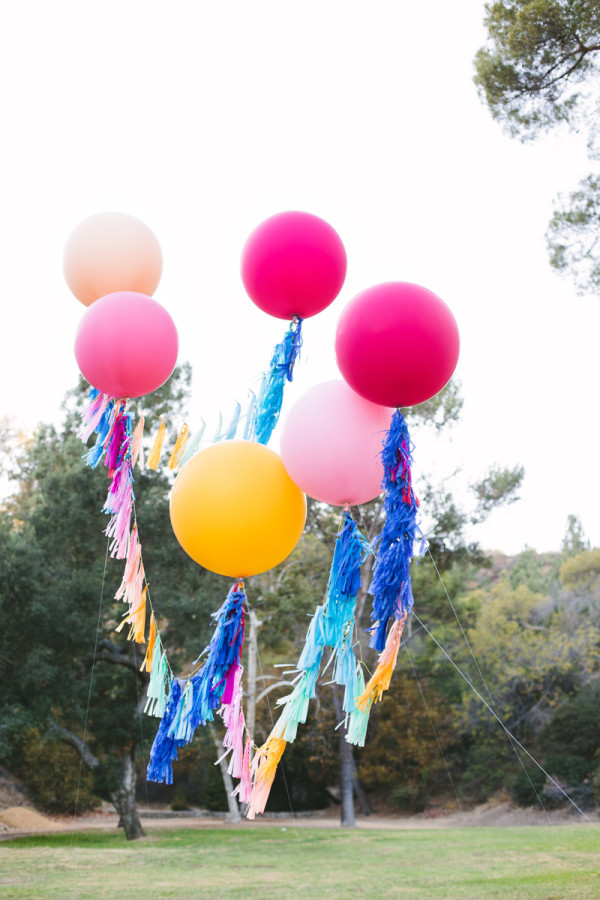 Everyone got out of the car, except me, I was frozen. At that point, I knew. And I was in shock. Like I said, I love surprises, but I never really get to experience them because of my perpetual figuring-it-out issue/talent. Jeff finally got me out of the car, and walked me up under the canopy of balloons AND THEN…. I don't remember anything. HA! Isn't that terrible? I was a sobbing, overwhelmed mess and all I remember is him getting on one knee, with the most beautiful ring ever, and me saying YES! Please tell me this has happened to someone else!?!? I'm sure what he said was beautiful and meaningful, but man… I really needed a transcript after the fact!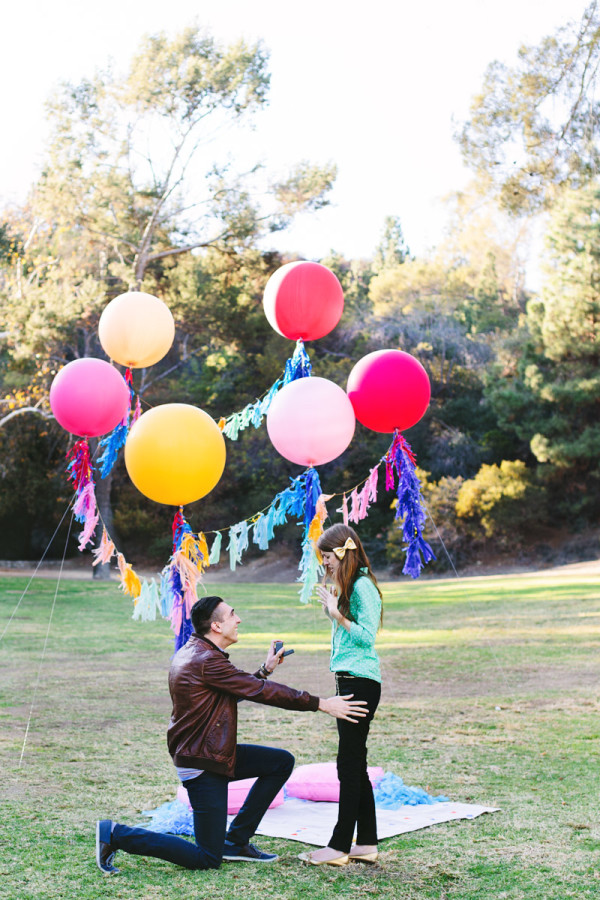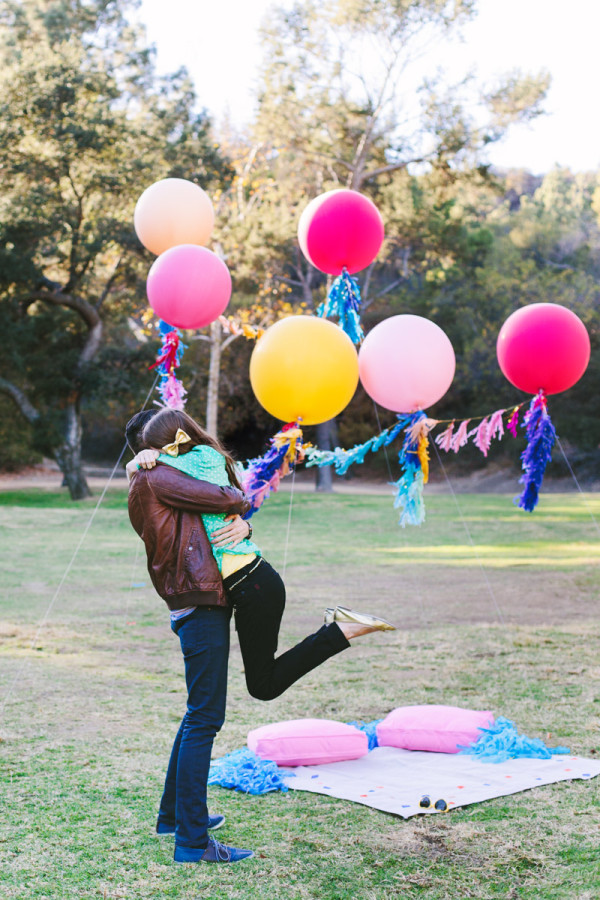 After it was said and done, I notice that in addition to Lauren and Mike witnessing this, Mary is there capturing the whole thing, my sister-in-law Eileen is there hiding in the trees, and Jihan and her sweet team are watching from afar too! The next few minutes were filled with crying, hugging and thanking everyone for helping pull off what was probably the first REAL surprise of my life, and obviously one of the best and most memorable days! It was amazing, and it really was my dream come true. Nevermind the fact that I was now ENGAGED to the love of my life!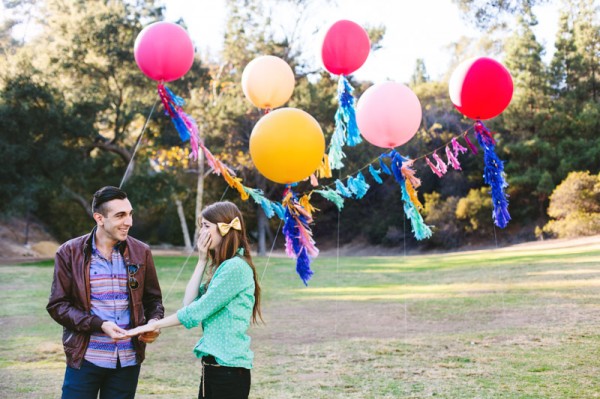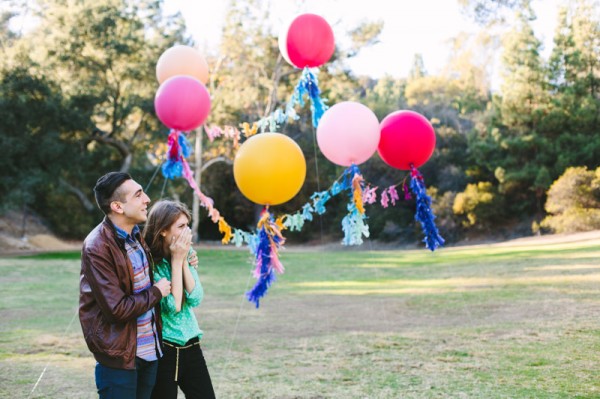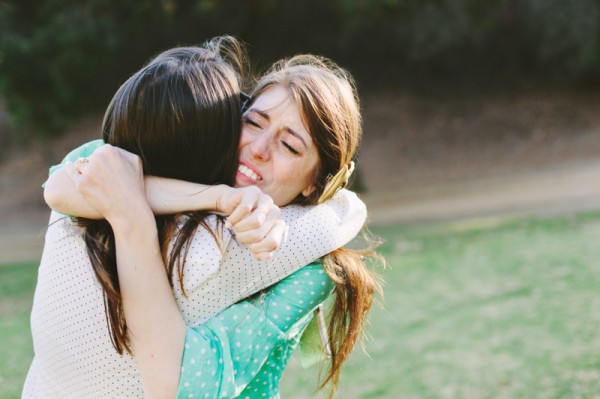 Guys. I didn't waste any time getting started on the wedding planning, let me tell you! Jeff always told me he was afraid to propose because of the wrath of wedding-planning-Kelly that would unleash. I've been reading wedding magazines since before I met him, and used to work in the industry back in DC, so he was kind of right! Within 24 hours, I had emails out to my wedding dream team… and guess what? They are ALL. IN. Here's a bit of the scoop on what we've done so far, how we feel about the wedding planning process, and a few questions for you guys! Help!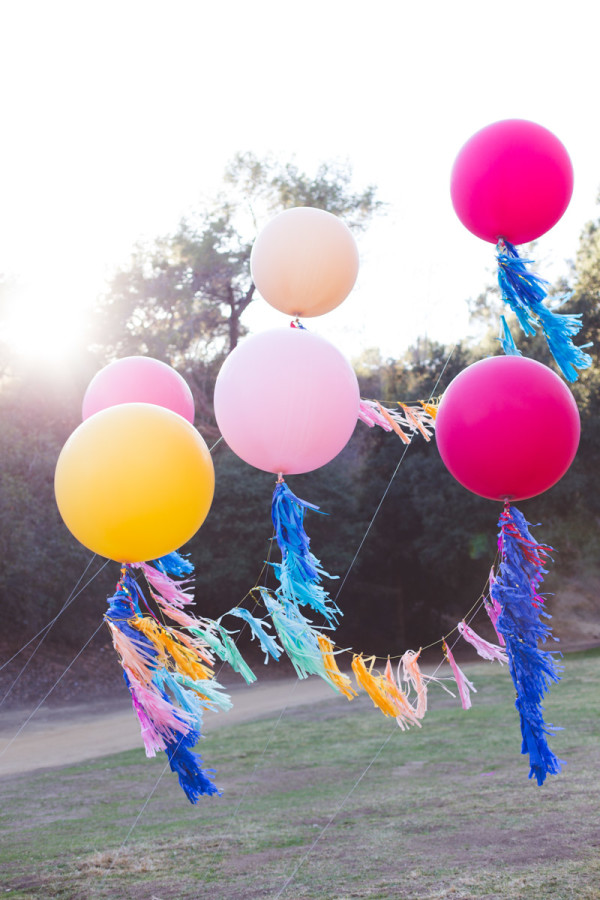 The Basics
We knew we wanted a Palm Springs wedding. We both love the area and vibe in PS, and thought it would be a better destination than LA for our guests, who will largely be traveling from the East Coast and Mid-West. I have always dreamed of a summer wedding, but summer in Palm Springs would probably lead to me passed out in my dress in 115 degree heat, so fall it is! We'll be having a fall wedding in Palm Springs, with about 150+ guests. And probably the biggest point of all that I should bring up, and shock some of you with…. Our wedding will not be a "DIY Wedding." Will I DIY a few things? Of COURSE I will! But after working in this industry, I know the value of hiring professionals, and that is just what I plan to do. Since I DIY my brains out all the time, I want our wedding day, and wedding week, to be as relaxed, fun and stress-free as it can be, which means I'll be putting down my glue gun and letting the pros handle everything!
(I should note here that I think DIY weddings can be so awesome for the right couples, and they can be great money savers if done well! It just isn't right for us!)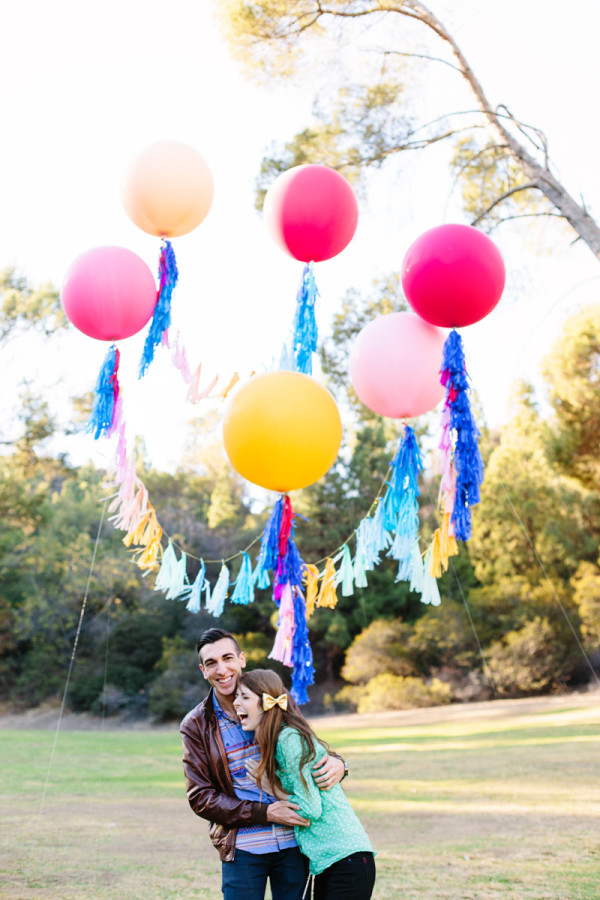 What We've Done
– First things first, we hired a wedding planner! I have always admired the work of Bash, Please and how their weddings incorporate unique, awesome elements but always seem timeless too. We do not want a trendy wedding. We are so excited to be working with Melissa and her team, and are so grateful already for their expertise.
– We hired a photographer, too! We've known for years and years that we wanted film photography for our wedding. The light and the feel of film photos really blows my mind, and is exactly what we're looking for in our photos. Ever since working in the industry in DC, I've had my eye on Katie Stoops. I've told her and told her, expect a call when I get engaged and I wasn't kidding. She was my second email, and she was IN! Yes!!!
– We hired a floral designer! Decor-wise, flowers are my number one priority. I want flowers everywhere, and I want them to be the main element of decor. Lucky for me, I used to work for the most amazing, sweet floral designer Holly of Holly Heider Chapple Flowers and she has, I kid you not, asked me every time I've spoken with her since when we were getting engaged and when could she finally do my wedding flowers!? She was in Russia at the time teaching a floral design class, but that didn't stop me from getting in touch to share the good news! She is in too, and I could not be happier!!!!!
– We got Jihan on board! After being such a big part of our proposal, we knew Geronimo needed to make a big ol' appearance at the wedding. I am ridiculously excited to see what we can create together!
– We picked a date, and then we picked a date again. When you go in to your wedding with several vendors you just have to have finding a date that works for everyone is infinitely harder. We settled on one, had a venue contract in hand, and then found out the weekend we picked was Gay Pride weekend in Palm Springs. Unfortunately, this meant hotels were filling up and reluctant to giving us room blocks, and with 150 people needing a room, that wasn't going to fly! So we went back to the drawing board and finally picked another date.
– And then! We booked a venue. We knew a few things when looking for a venue: We wanted the entire wedding outdoors. We really didn't want a hotel, as we are interested in alternative catering options than what hotels typically offer. We wanted a venue that had distinct ceremony, cocktail and reception spaces. Guess what? WE FOUND IT! We'll be getting married at a private estate called La Chureya. It is absolutely beautiful and the second we walked on the property we knew it was the one.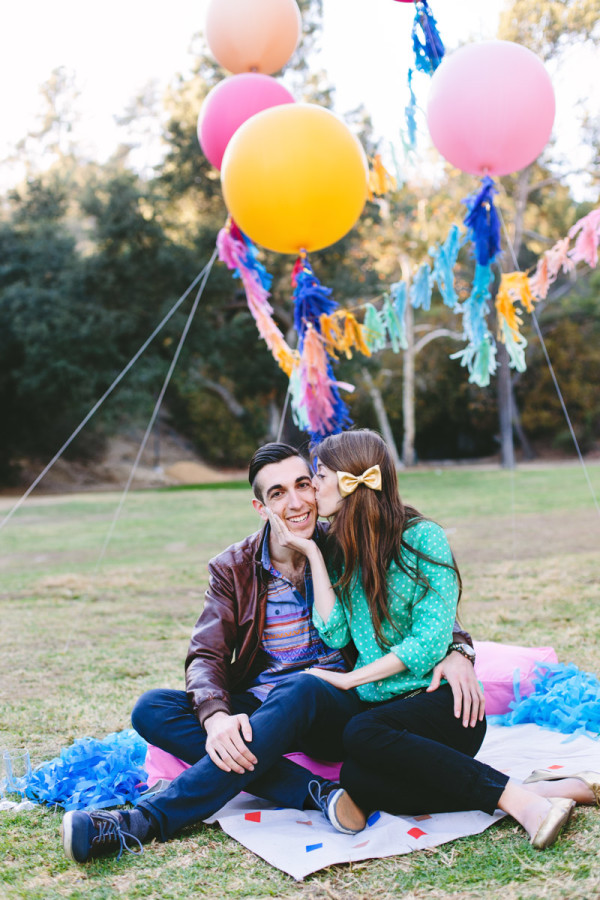 What We Need to Do
– Hotels! We are locking in hotel buyouts and room blocks to ensure we find affordable (but awesome!) hotels for our guests to stay in, easier said than done in Palm Springs.
– We need to start looking at catering options. We want something non-traditional, and something that speaks to California. We're thinking fresh, light, maybe even Mexican food!? I can't wait to really start pinning this down. But Jeff will be taking the lead on this one. Food is his game.
– We need to find a DJ. We want our wedding to be a giant dance party. Enough said.
– We need to get our Save the Dates underway, since everyone is coming from so far. This is probably the decision that intimidates me the most. I looooveee paper. I love letterpress, I love gold, I love watercolor, I love a lot. Stationery says so much about what to expect at the wedding, so this decision will be a tough one for me!
– We need to get a design plan going! Believe it or not, I don't have a clear vision for the wedding design. I know the style of flowers I love, and I know there will be gold involved, but this is one of the reasons we hired Bash. I need someone to help hone my design ideas into something cohesive, and that's their specialty!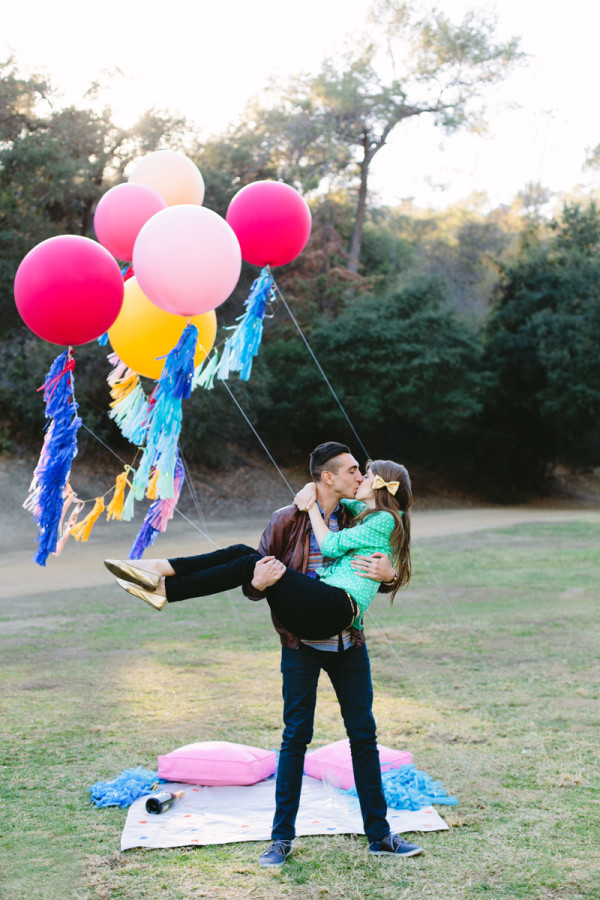 How We're Feeling About It
I won't lie. We've threatened to elope approximately 173 times already. Nobody really tells you until you're engaged how utterly miserable it is getting the guest list figured out. The politics, I tell ya! Sheesh! I think most of it is past us now though, thank goodness. The date change was also very stressful, but we're signed on the dotted line for one now. Phew! We're pretty excited about our list of to-dos, Jeff with the food, and me with the design elements. He always told me I could handle everything but the food, but it turns out he really wants to be involved in it all! Which I love (and kind of knew would happen). Luckily, we've been on the same page with every decision so far, and that's really been great!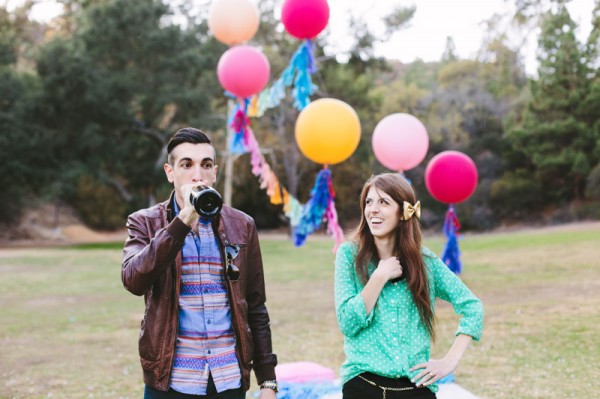 Help! (Or, Questions for You Hitched Folks!)
Honeymoon Destinations! I would love your insight and suggestions on honeymoon spots. Here's what were looking for: A beautiful resort with an amazing pool that we (ok, I. This one is really just me) can sit next to and not move, Water sports (Yeah, that would be just Jeff. "I really just want a jet ski," says Jeff), A Spa (Again, Jeff.), A town we can walk to and experience not as a tourist. Ok, we're both on board with that last one. We are not set on going on our honeymoon right after our wedding, though it would be great if we could. We've tossed around The Greek Isles and Portugal, but want to ensure that we are able to really relax and not feel like we have to tour and see everything. We've also thought about more exotic destinations, though with my medical history, we don't want to go to some place super, super remote. The more unique the destination though, the better! So, do you guys have any suggestions!?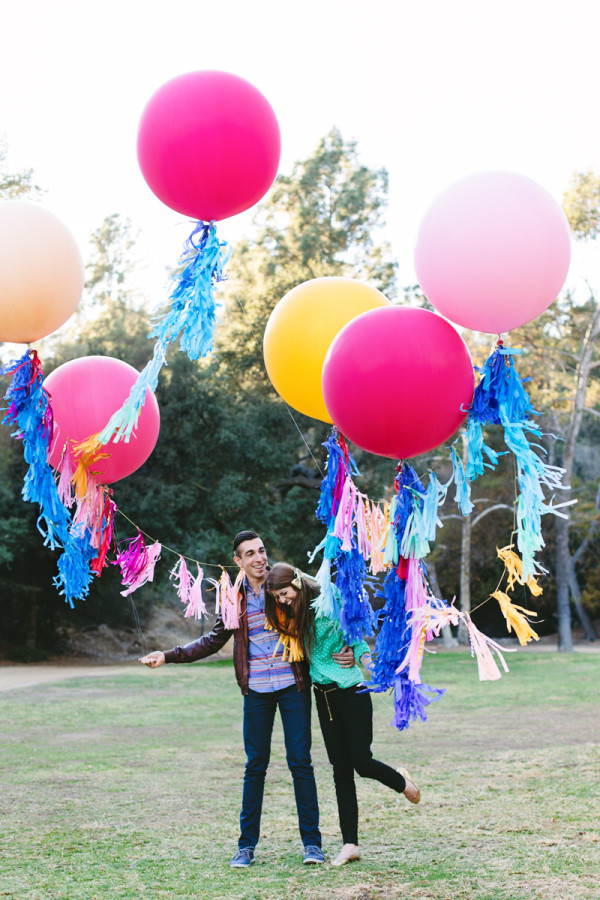 Phew! I'm going to set a record this week for these lengthy posts! But I had to get you guys all caught up! I'm excited to share my planning experience with you all, and a few wedding DIYs along the way, too!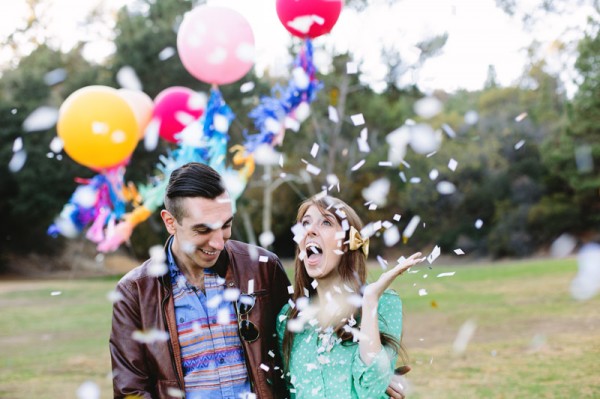 All Photos by Mary Costa Photography
In the meantime, you can follow along with wedding updates via our #meetthemindells hashtag on Instagram, Twitter and Facebook. And, you can check out my ever-growing wedding Pinterest board.