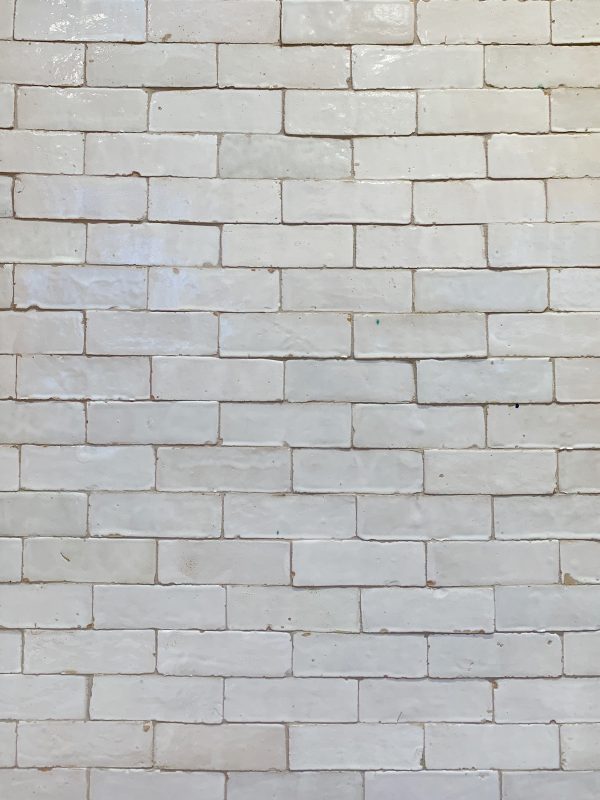 Remember this post I wrote a few weeks ago? Well, just THROW IT ALL AWAY! Ha! Ok, not all of it, but the kitchen has taken a major turn. All good things, all good things!
As you know, the plan was to do a really pretty deep mustard on our Semihandmade cabinet fronts. I picked out the perfect color that I loved and we got the cabinets painted just before we left on our Disney trip. While we were gone, our team installed the tile and finished the floors, among other things.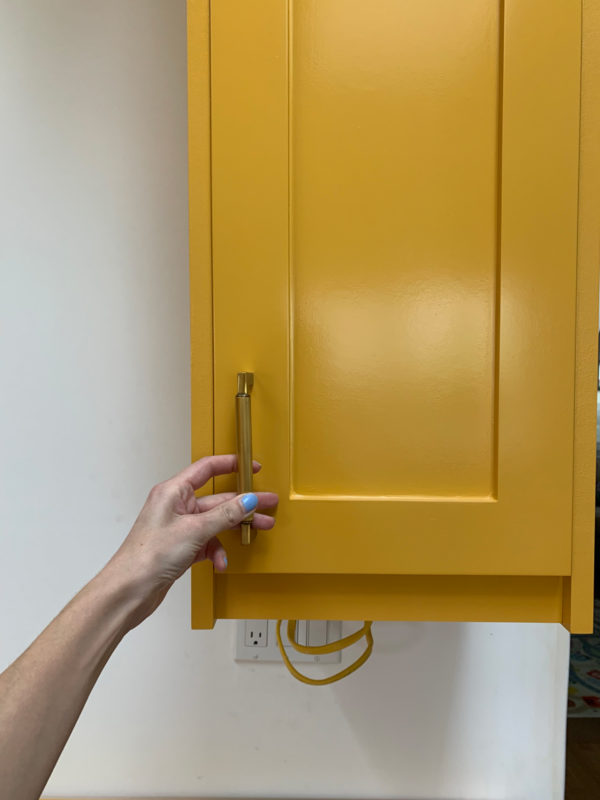 And when I got back to see it all together, it just wasn't working. I sat with it for a few days (Ok, I only really sat with it for a few hours. I pretty much know immediately whether I like something or not!) and decided we had to make a change. The floors were the main issue, though also the one thing we couldn't change. The way the natural stain took to the new hardwood (versus the original in the majority of the house) was justtttt enough of a difference to REALLY throw off the yellow on the cabinets. I tried testing out a few different yellows but they either ended up being too light, too bold or too close to the shade of the floor. And back to square one I went!
Side note: I'm not gonna lie, I'm dreading the "I told you so!" comments. Ha!! I'm stubborn but I'm working on it! 😉 A lot of you were skeptical on the yellow, which is fair, it's a hard and polarizing color. But I still want to go on record and say that with the right light and the right floors the yellow would have been amazingggggg and I still have high hopes to try it again in the future. For this space, though, it just didn't work. RIP!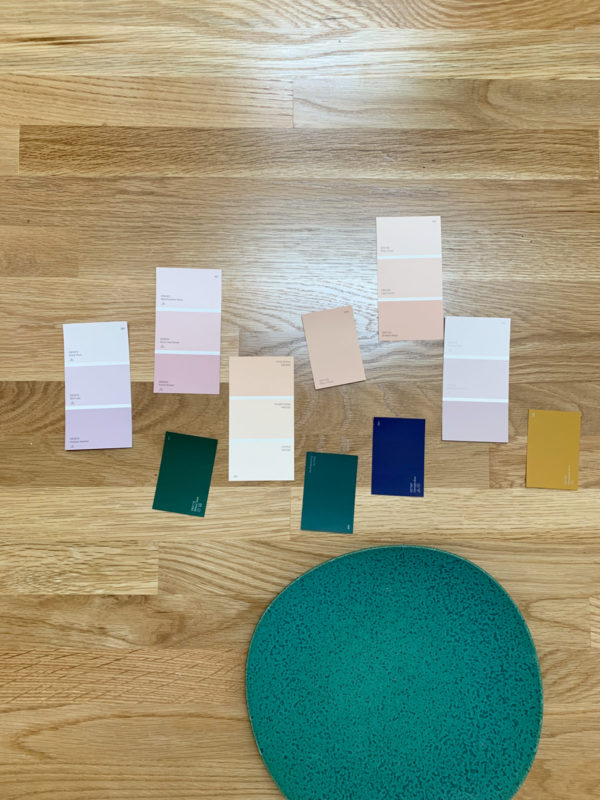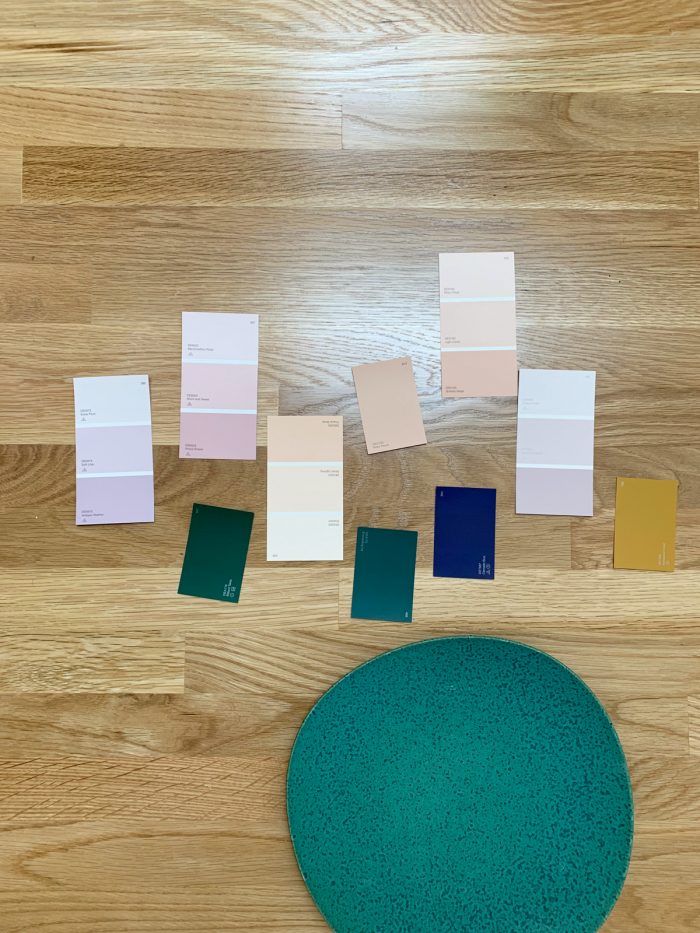 The next step was to test one billion other colors, from blues to teals to greens to purples to peaches to pinks. The deep jewel tones felt like TOO MUCH to be all over, and I didn't like the idea of splitting the top to be white and bottom to be a color with the cabinet layout we have. Jeff quickly ruled out purples, too, and the peaches felt too close to the wood tones.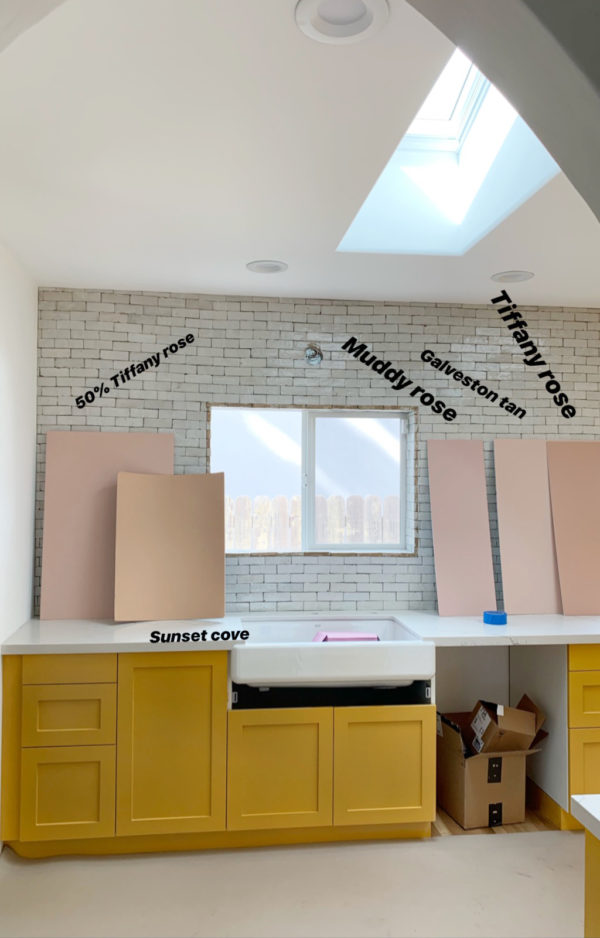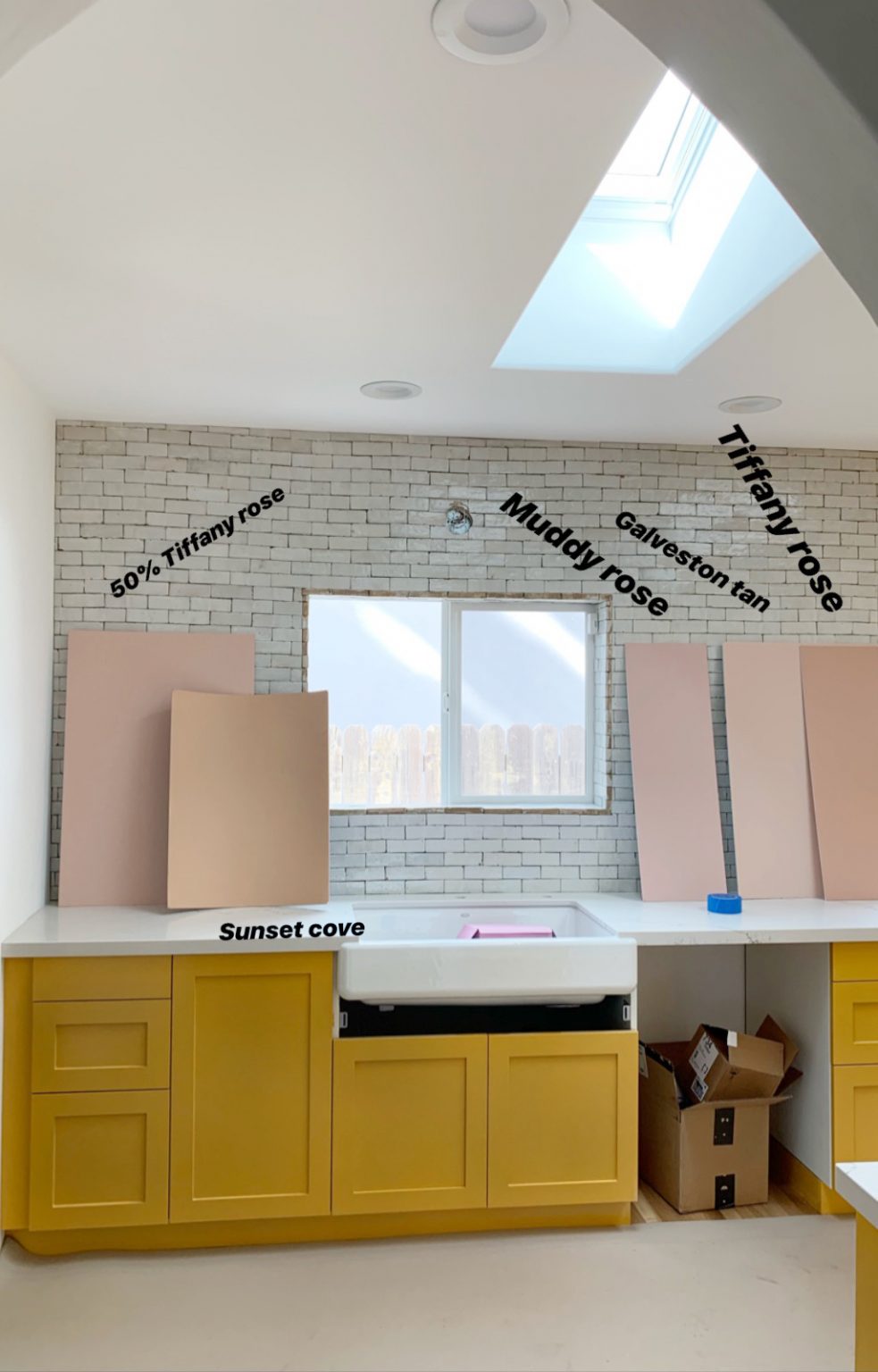 So we finally landed on pink (shocker, I know!) and then tested one billion shades until…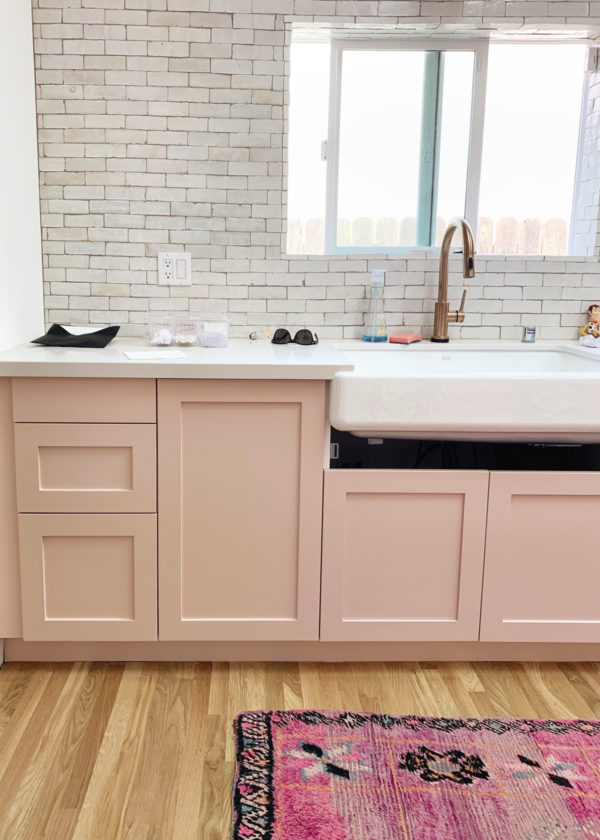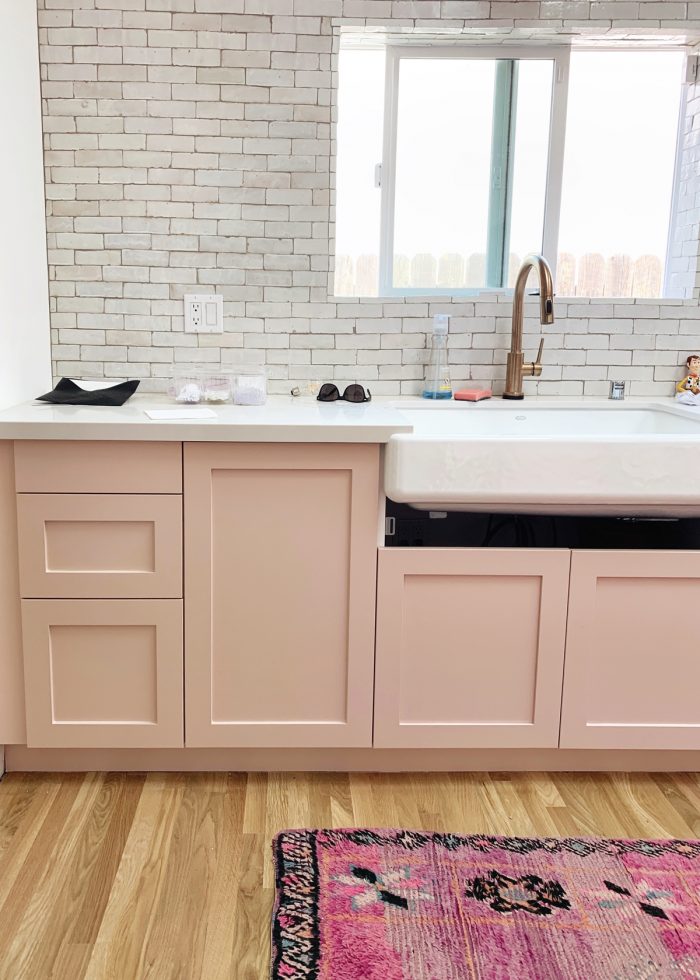 We picked the perfect one. Yep, the lightest, dustiest, almost mauve-y shade of blush. It's actually called Galveston Tan from Dunn Edwards, to be exact.
And I really, really LOVE it! I was hesitant about doing pink because it's already so present in the house, but the fact of the matter is the house is small and this helps the various connecting rooms (that now feel like one with the new arch!) flow well together. Pink is almost my "neutral" that connects the home and allows the various pops of other colors in each room to stand out even more. Plus, somehow Jeff and I can only seem to agree on pink as a color for this house (no joke!!), so here we are.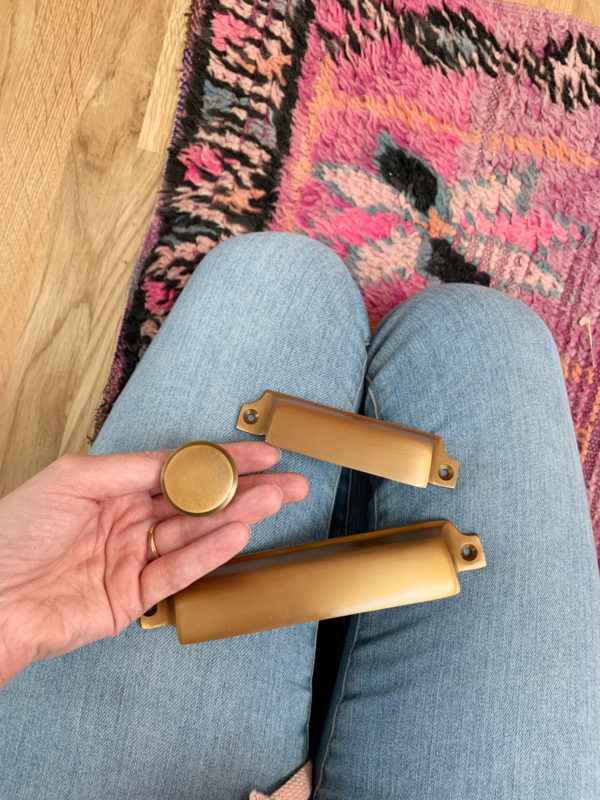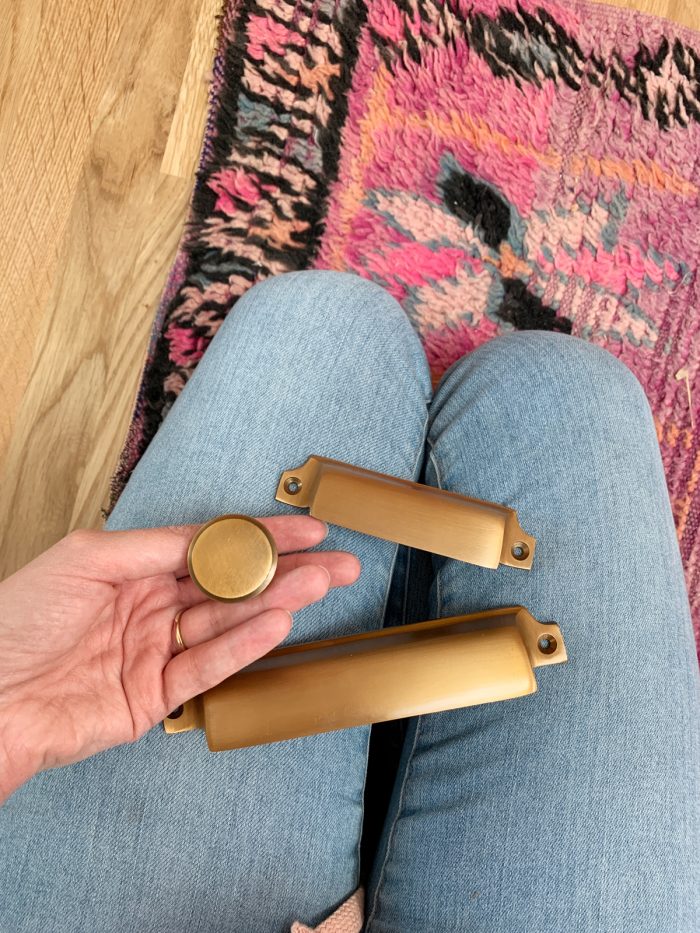 The change in color set off a change in the handles (the ones I previously picked felt too modern with the light pink) and the light fixture (the pinks pulled out different hues in the tile then the yellow did and threw me for a loop!) but the good news is I think the same rug still looks great so PHEW! Jeff was relieved. 😉
We're nearing the finish line over here on this project and I cannot WAIT to share the final result. I also can't wait to get these oak shelves up (they're also from Semihandmade, where we got our cabinet fronts, by the way!) and fill them with all SORTS of colorful dishes!!!!!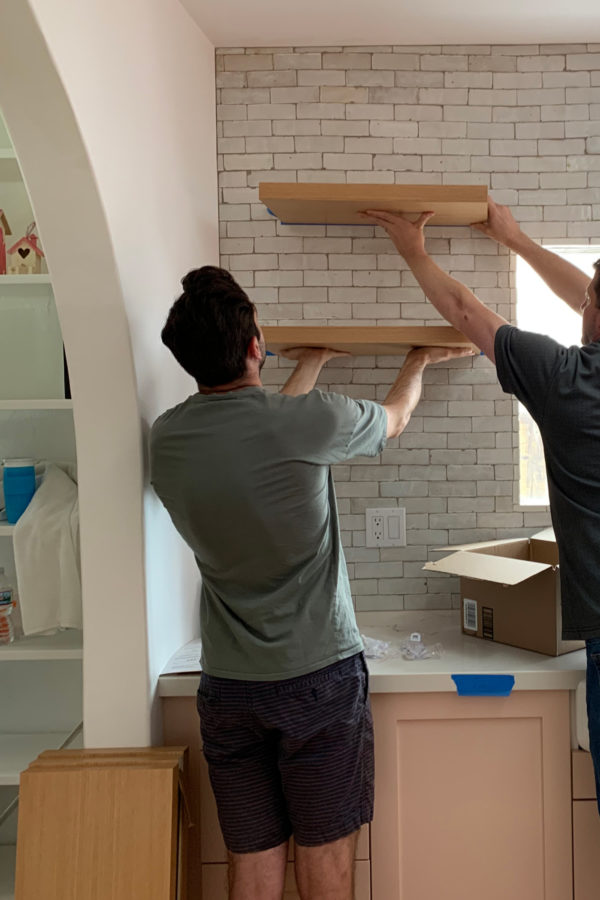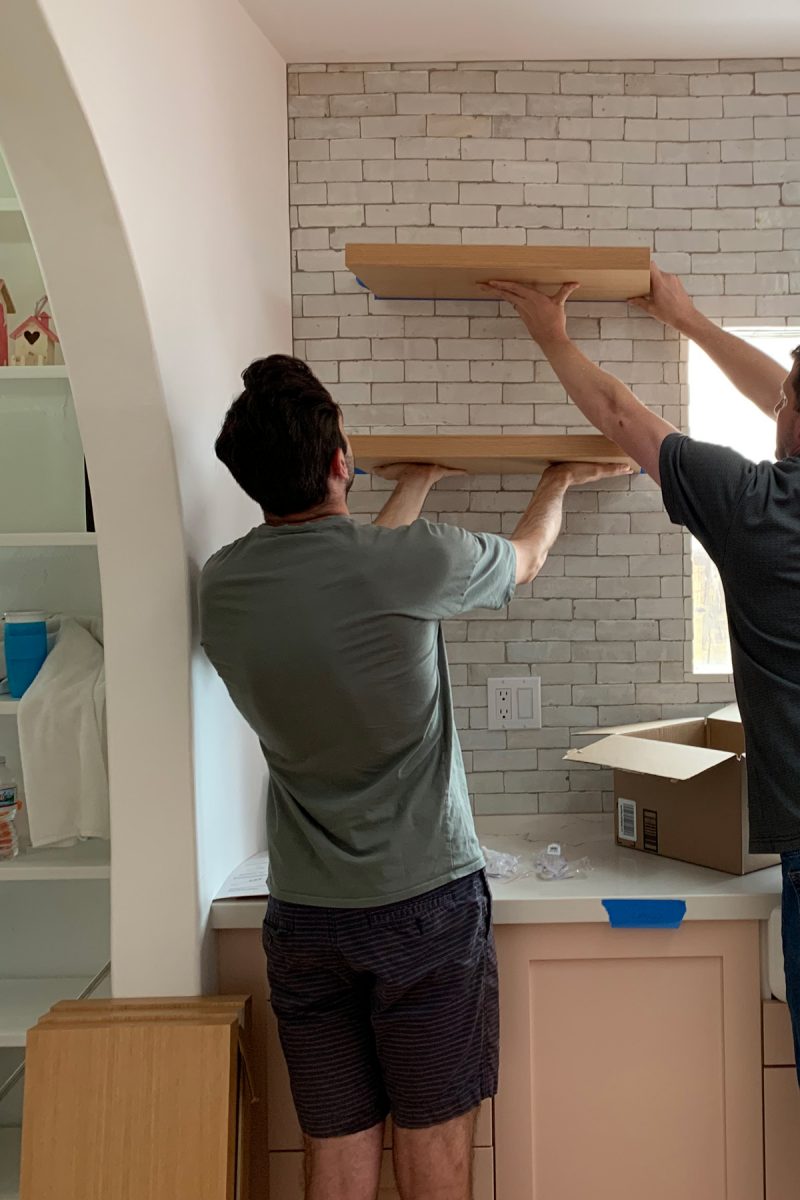 As someone who does not pivot well after getting a "vision" stuck in her head, I'm really happy with the new direction we've taken on the kitchen!! It's so light and bright now and a super happy spot to be in.
Before I wrap up this update, I need to give a shoutout to my interior designer friend, Jess of Taylor + Taylor, for dashing over to my house to help weigh color options after I texted her in a panic. You have to check out some of their recent projects over here.
I learned a lot through this change of plans, especially about picking and testing paint colors… would you guys like to see a blog post on that topic specifically?? I could write a novel!
Let me know below, and stay tuned in just a few short weeks for the final reveal!!!