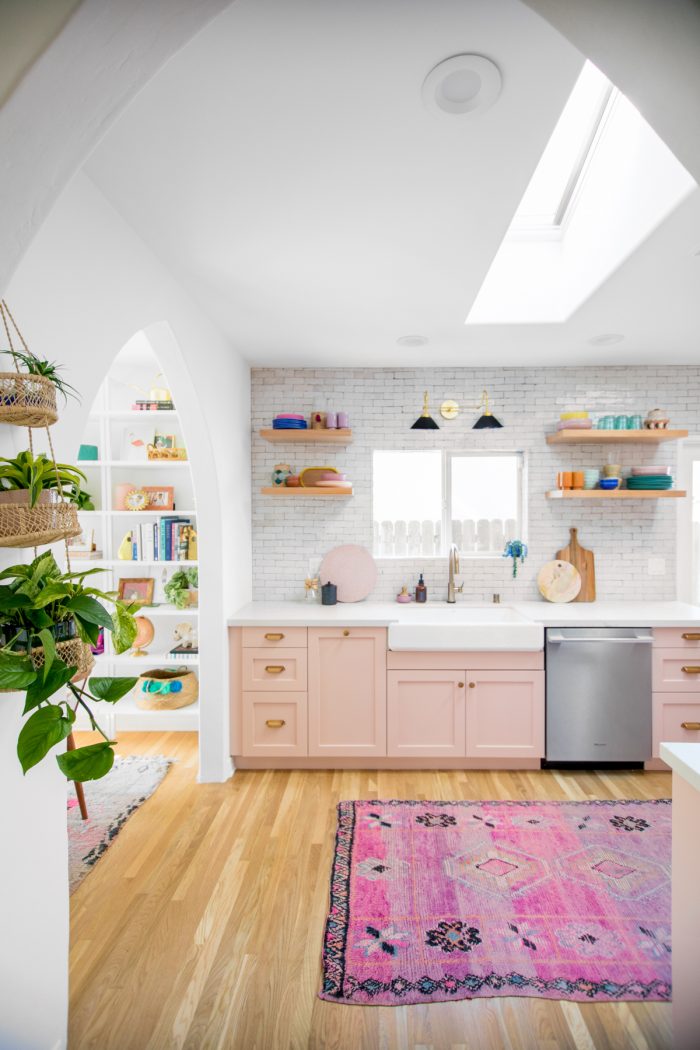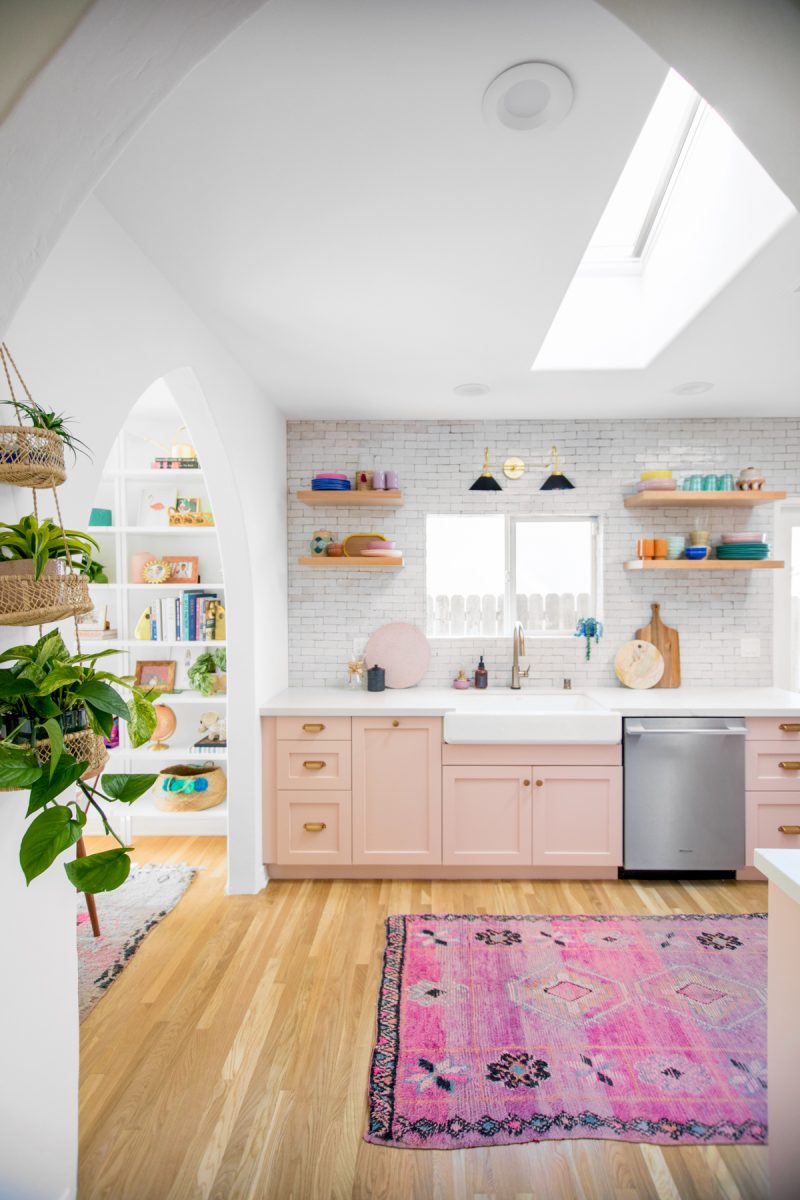 This post was sponsored by Whirlpool and they generously donated products in exchange for coverage on the blog. All content and opinions are that of my own!
KITCHEN REVEAL TIME!!!!!! I think I've gotten messages every week since we moved into this house asking me when I was going to re-do the red and orange kitchen. Ha!! Well, I feel pretty lucky that I got to team up with Whirlpool to finally make it HAPPEN! It feels so good, between the color change, appliance upgrade and opening the new arch the whole house feels bigger and more functional. We wanted our kitchen to check a few boxes. We wanted it to be bright, airy and fit our style… but still be re-sale friendly and we wanted it to be more functional for our family, so we could enjoy more time together.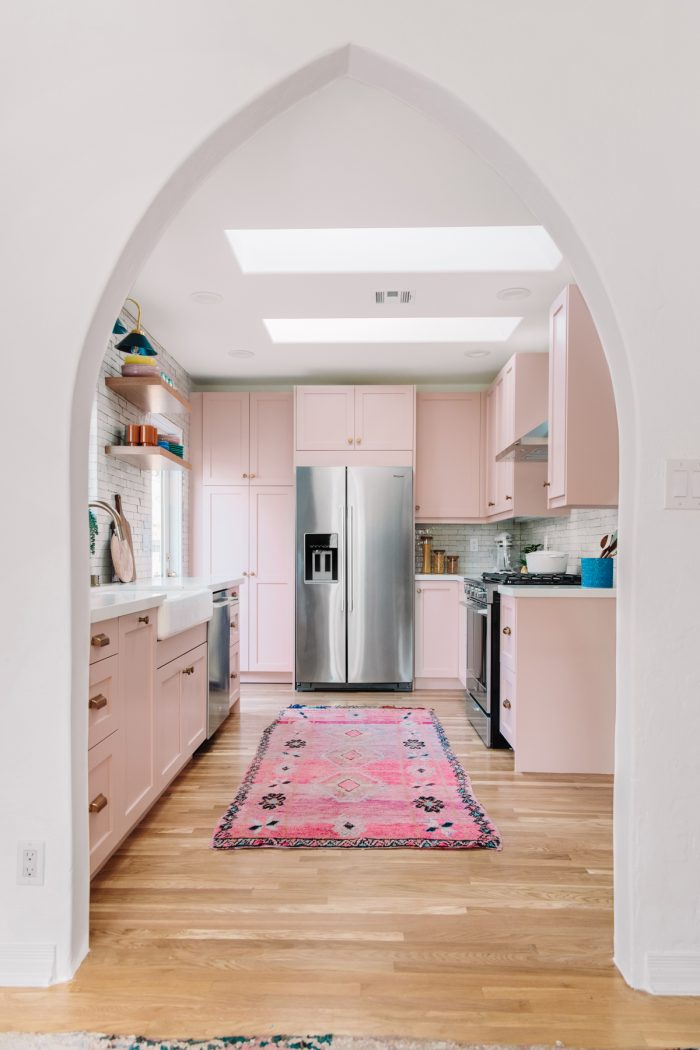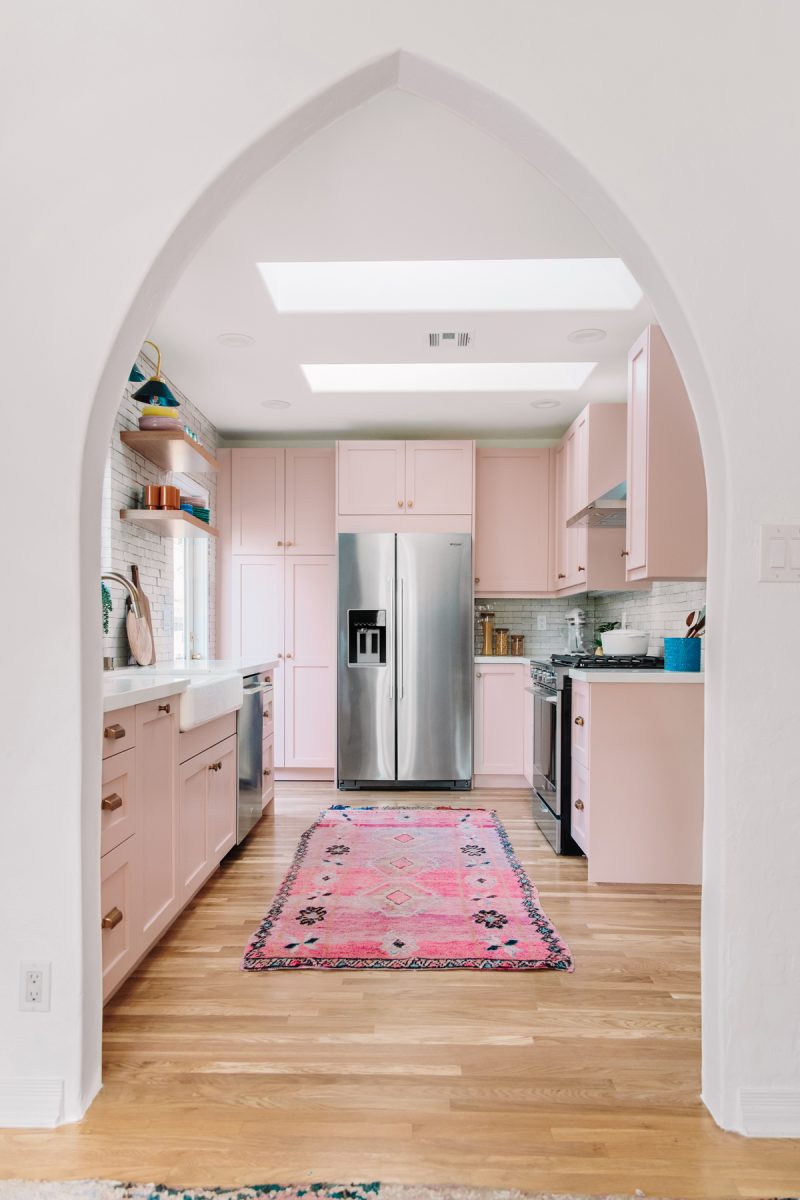 I'm going to breakdown every little detail of this new space below but first, some before and afters because it's a pretty darn good one.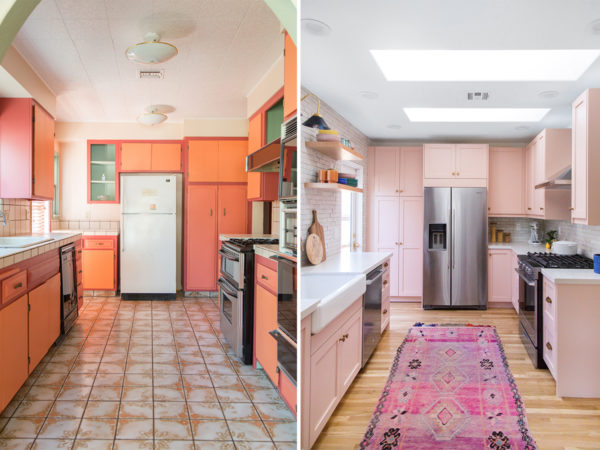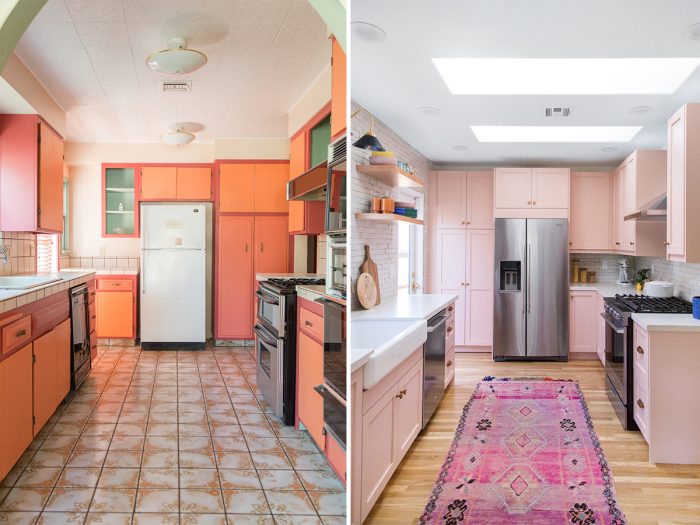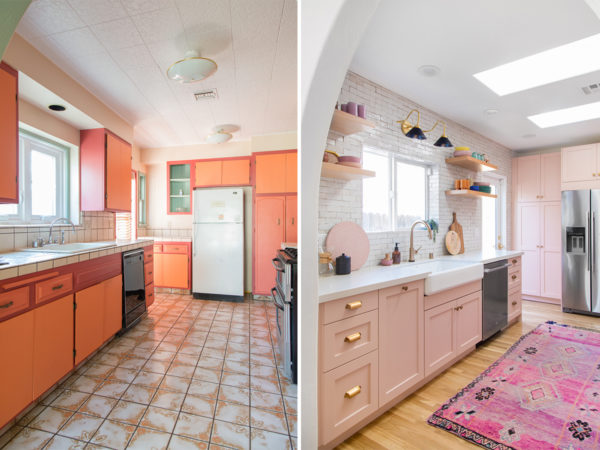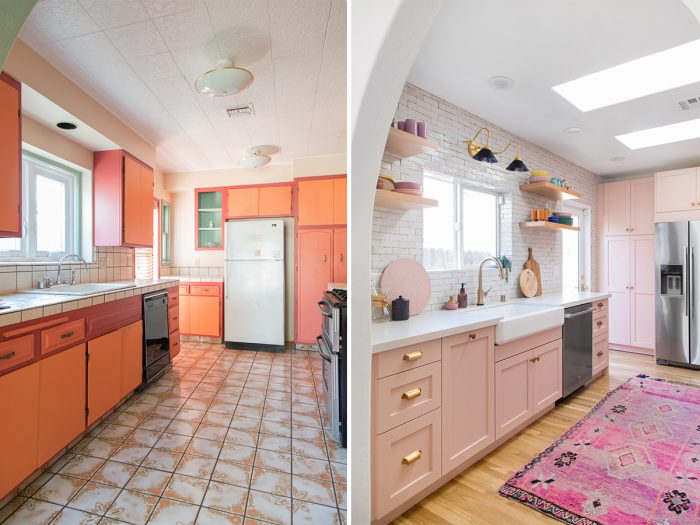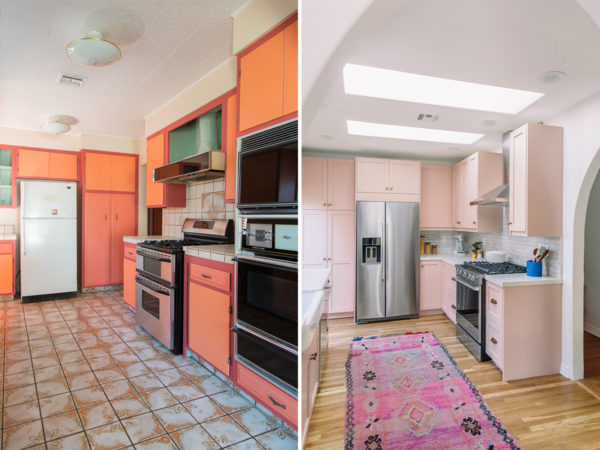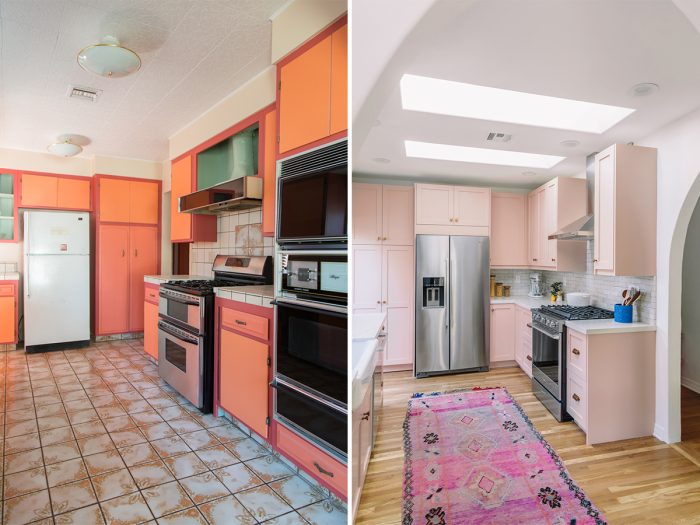 Can you even!?!?! Ha! Bye red! Bye orange!! Here we go with how it all went down….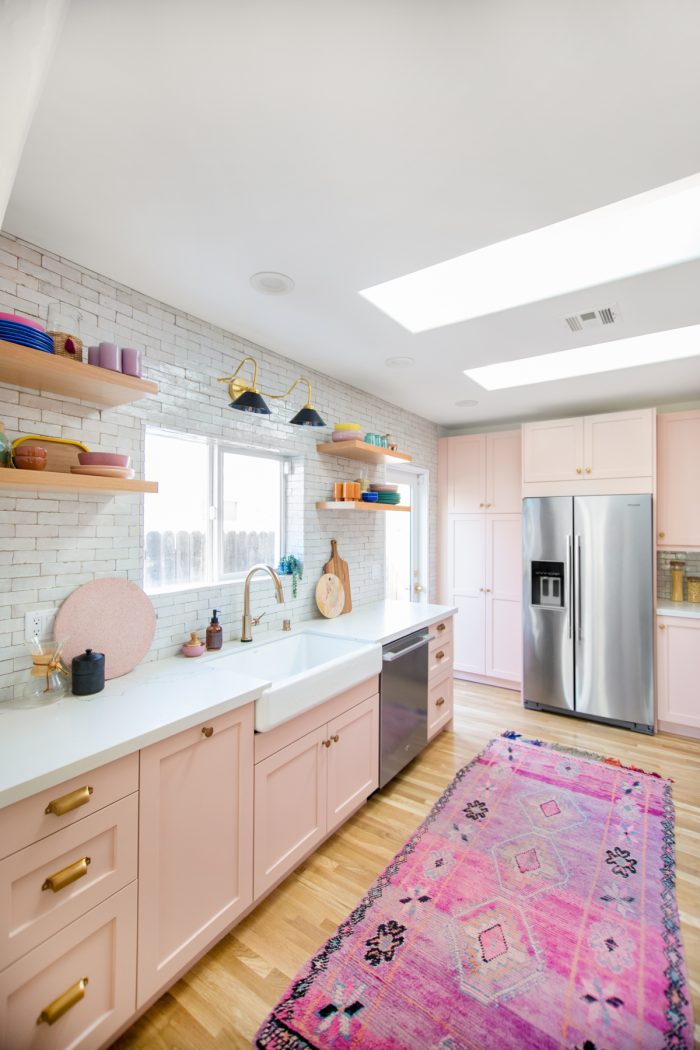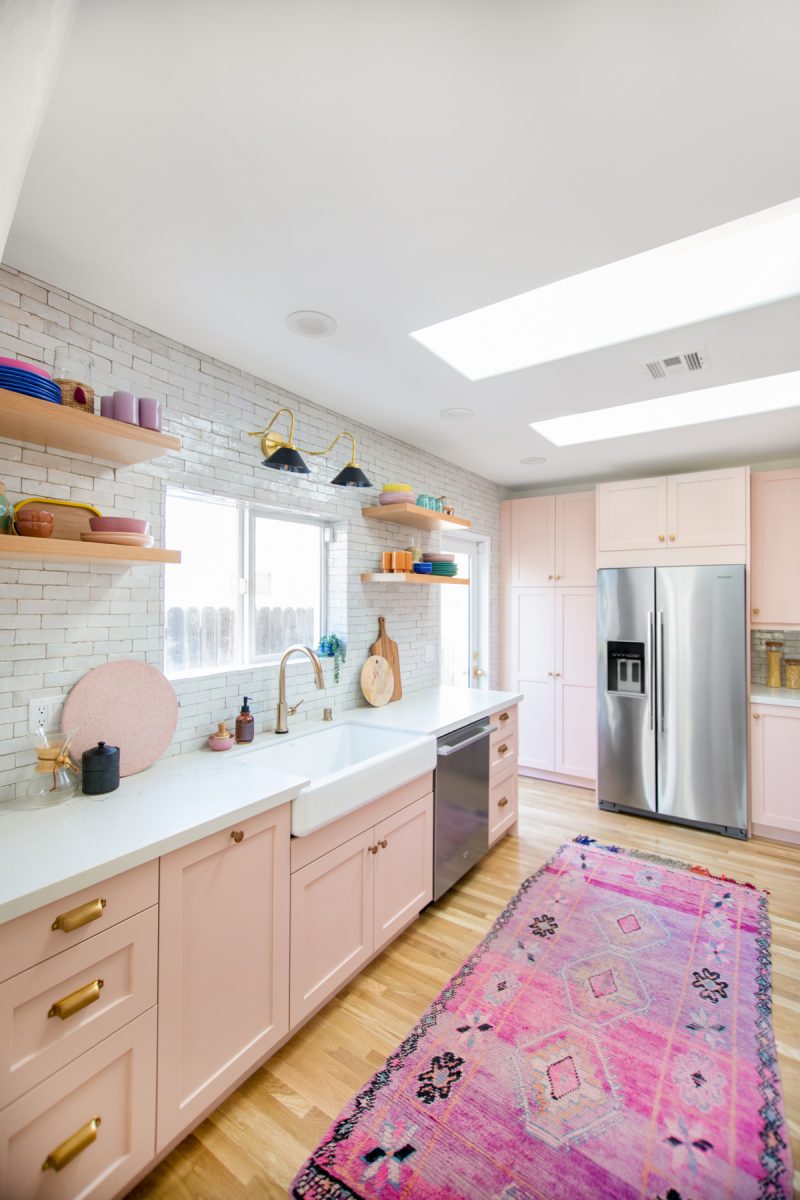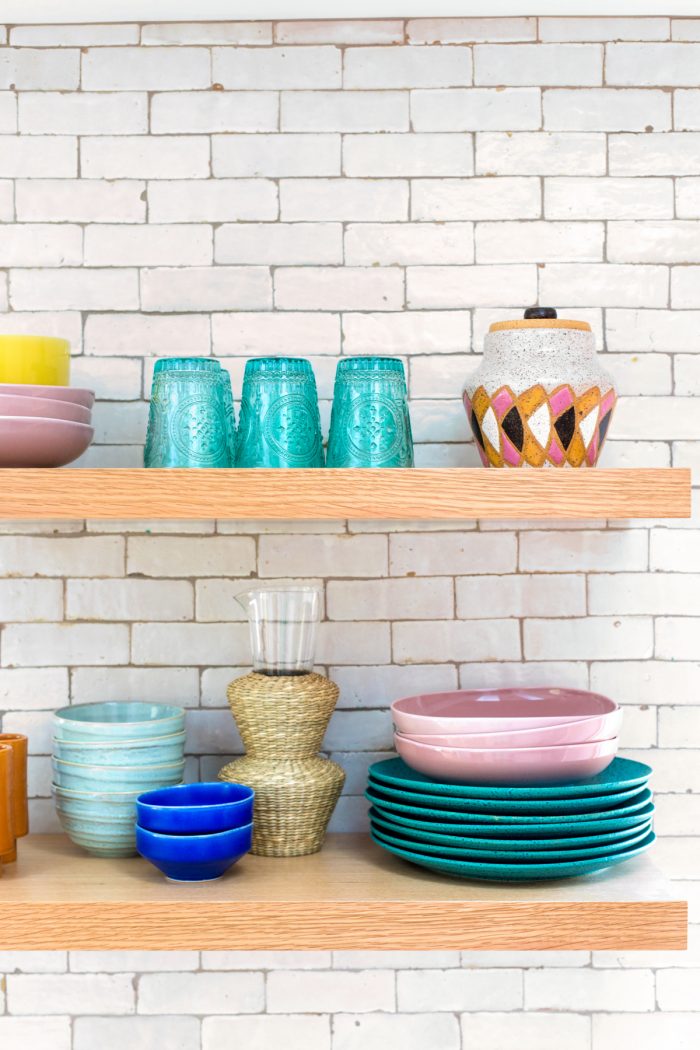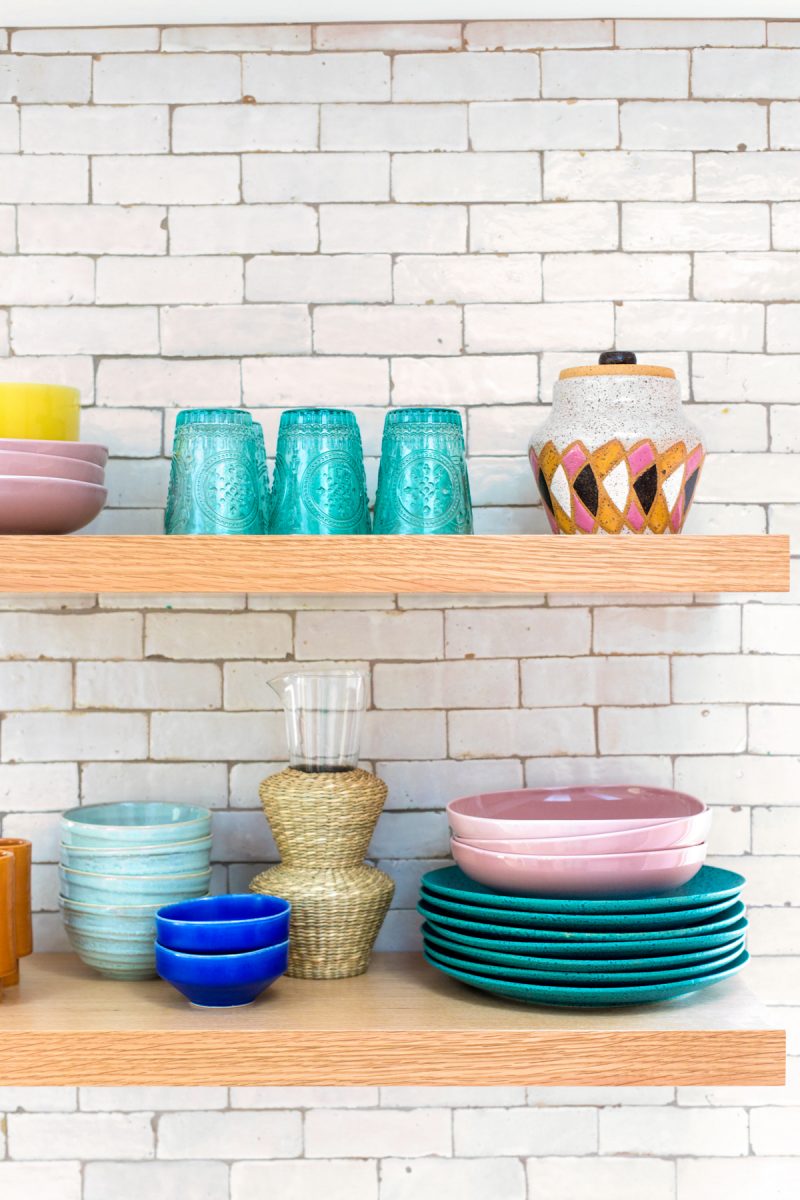 Picking The Right Appliances
First things first, our previous kitchen had a dishwasher that fell apart almost every day, a fridge that didn't close properly and two ovens that didn't even turn on. After a year and a half with that situation, having new appliances feels like a DREAM.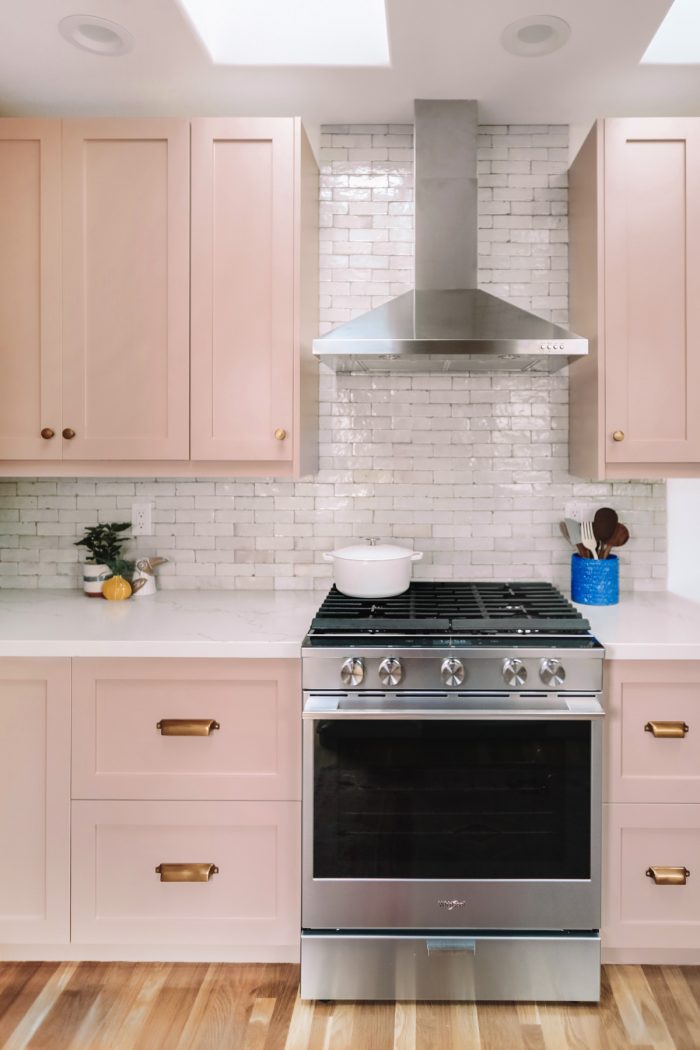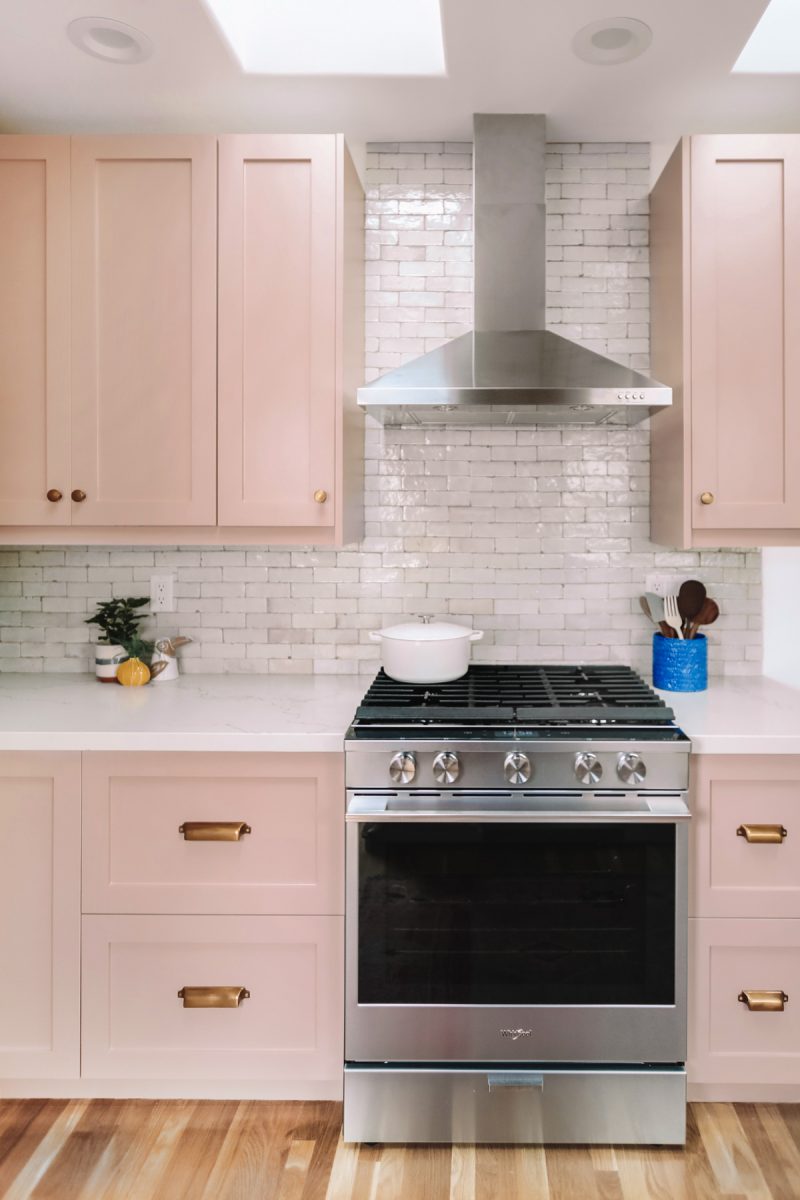 We went with Whirlpool's stainless steel contemporary handle style across all our appliances, including the highlight of our kitchen… the Whirlpool® Smart Range! It feels like living in the future, honestly. I can control it both from my phone (via the Whirlpool® app) and with voice commands via our Google Home*. That means, I can pre-heat it while giving Arlo a bath, and turn it off while getting him in his PJs. Features like that are SO life changing for parents of little ones who need alllll your attention always. Oh, and did I mention the screen has a lock? Also very key.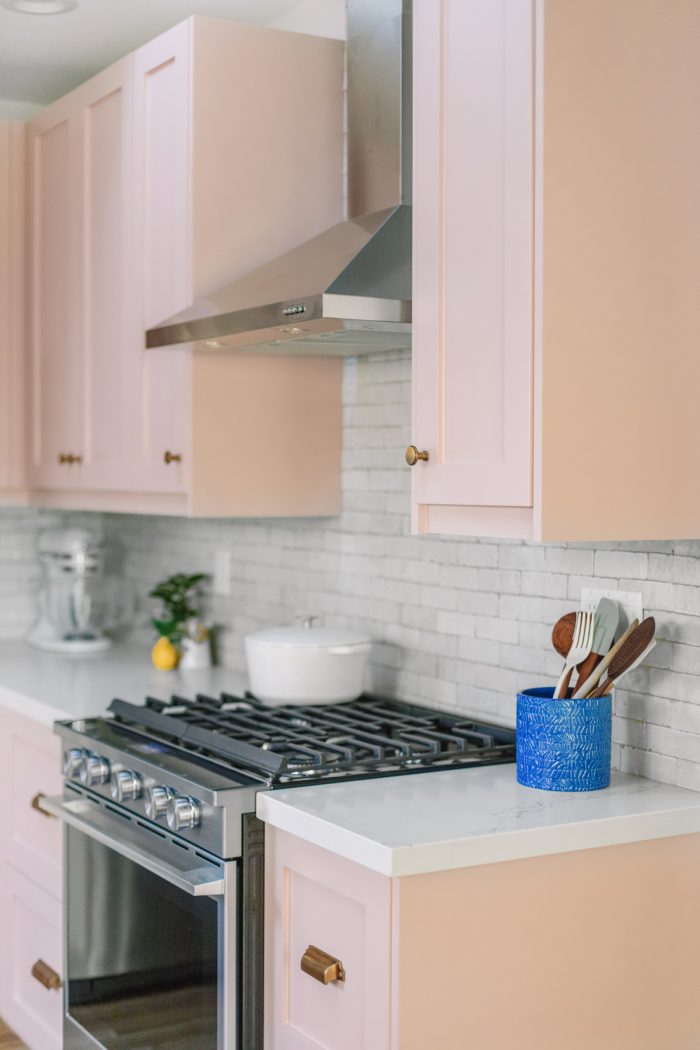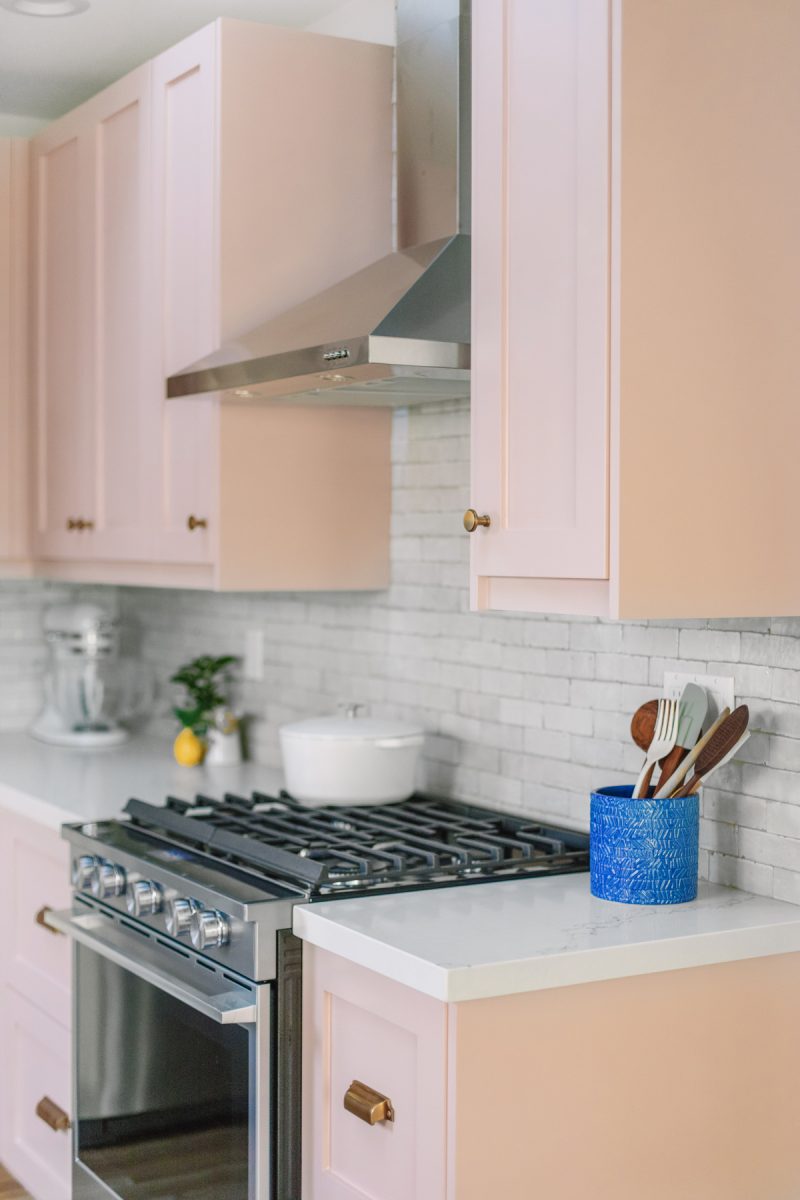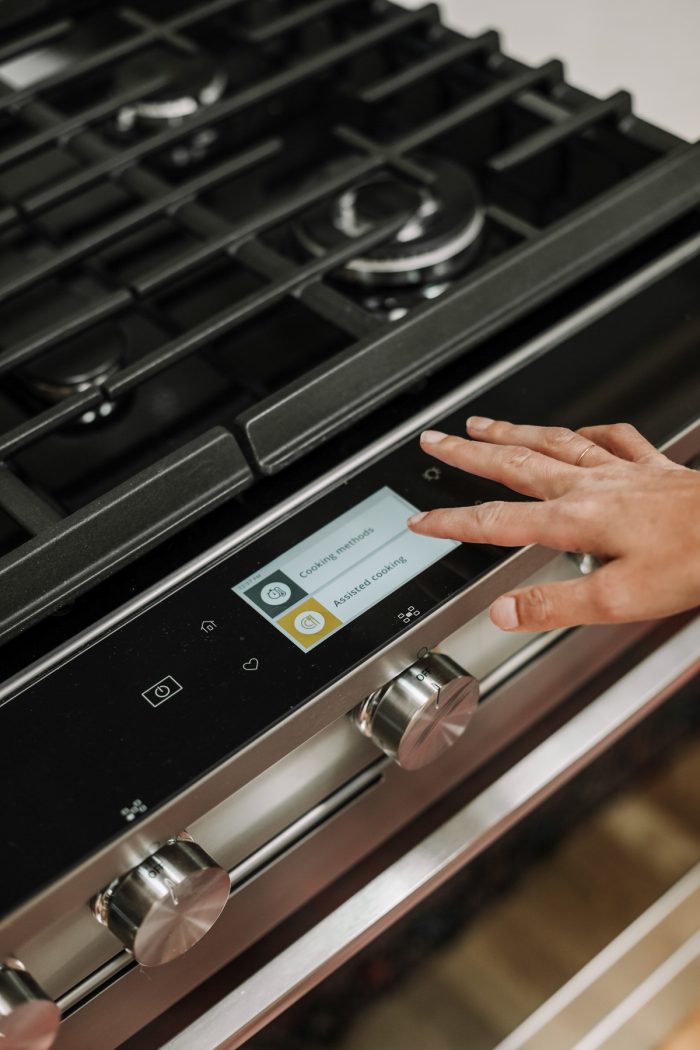 The Smart Range also works with Yummly to provide guided recipes, with step-by-step instructions that will be sent straight to the smart range to help us cut routine steps so that I can get dinner on the table quickly.** I've talked a lot about how Jeff and I aren't exactly gourmet chefs so this will take a lot of the guesswork out of making dinner! And from a non-"smart"-but-still-awesome perspective, the cast iron grates are hinged so they easily lift up for cleaning!! We've never had an oven that had a fifth/center burner before either and with the added griddle option, we've used it almost every day to warm tortillas or make quick breakfast/lunch options for Arlo!
We chose the Whirlpool® contemporary hood to pair with it, and I love the look of it so much. But if you're trying to save some space and want a microwave option above your range, Whirlpool has a smart microwave that looks super sleek too!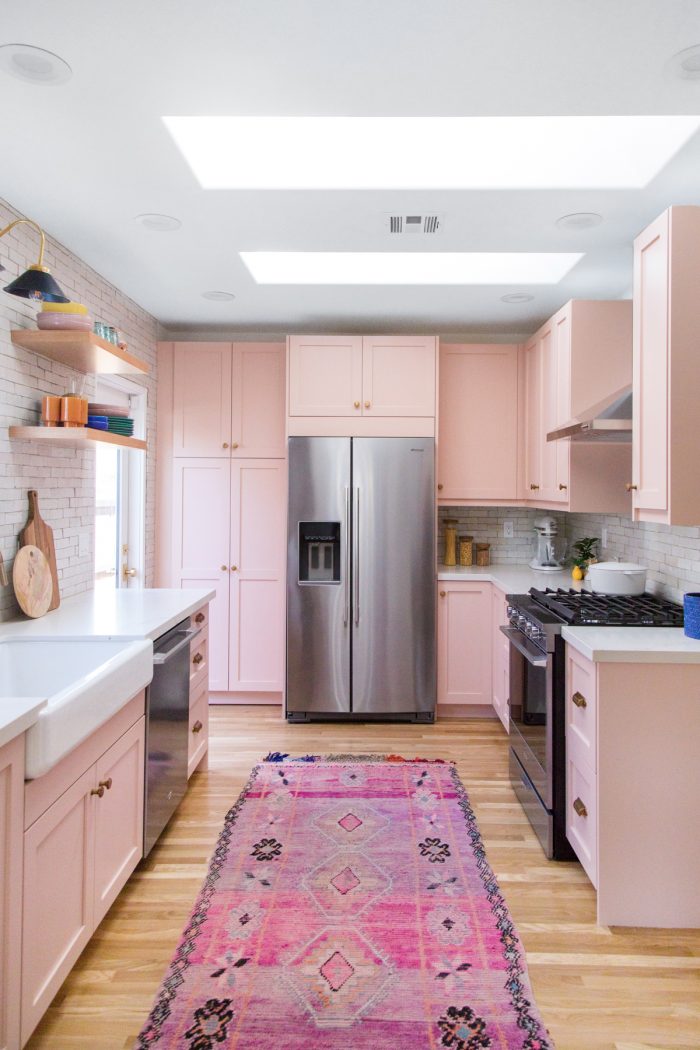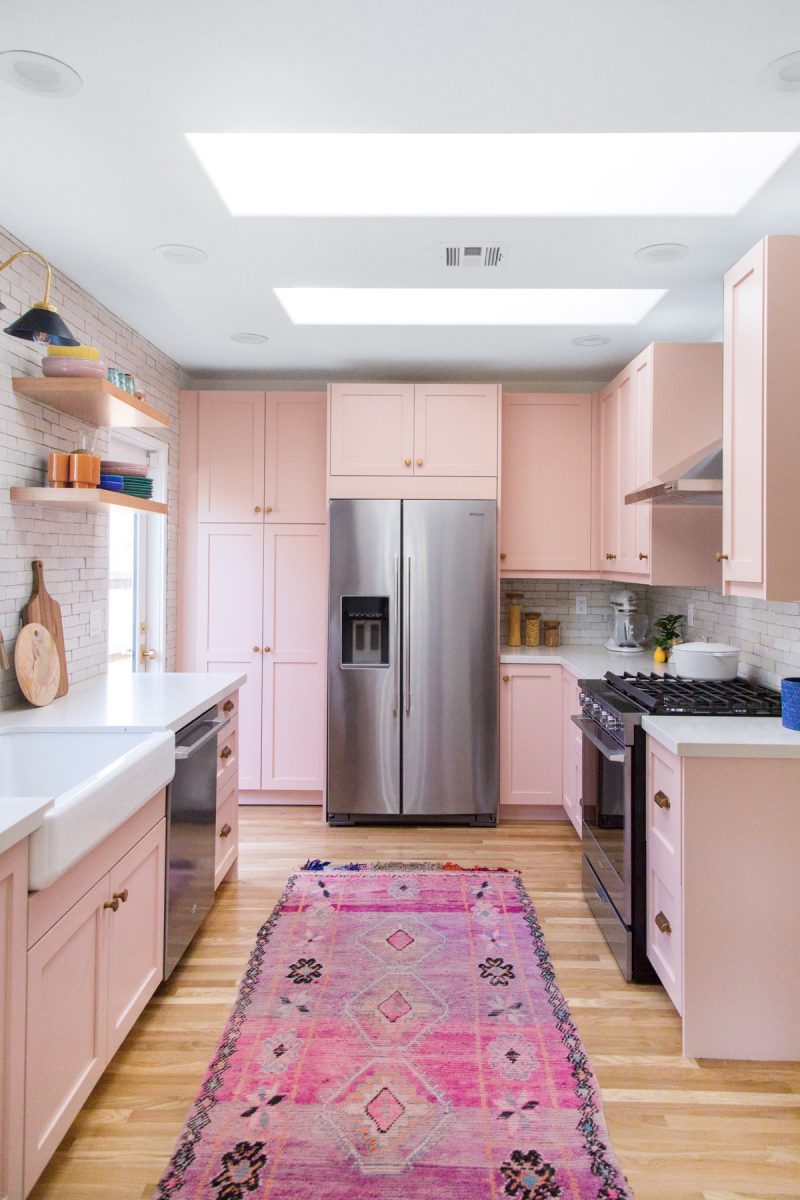 Moving on to the other appliances, the Whirlpool® side-by-side refrigerator we got is counter depth which is a great option for those of you with tight spaces like us! It also has a lock for the water and ice features. Are you sensing a (toddler) theme? Haha!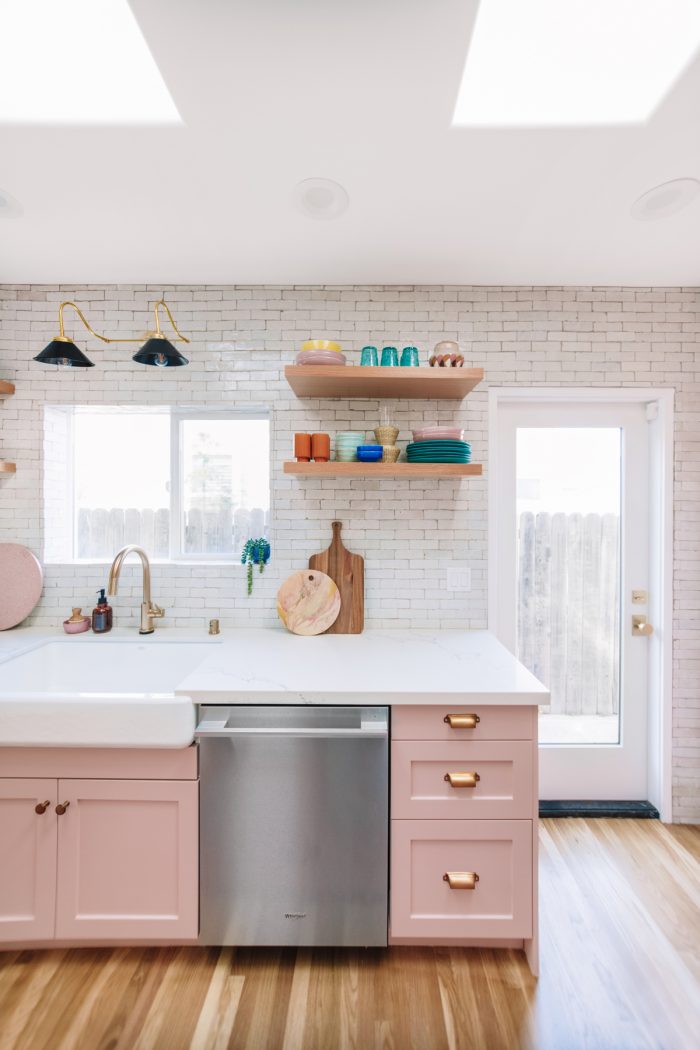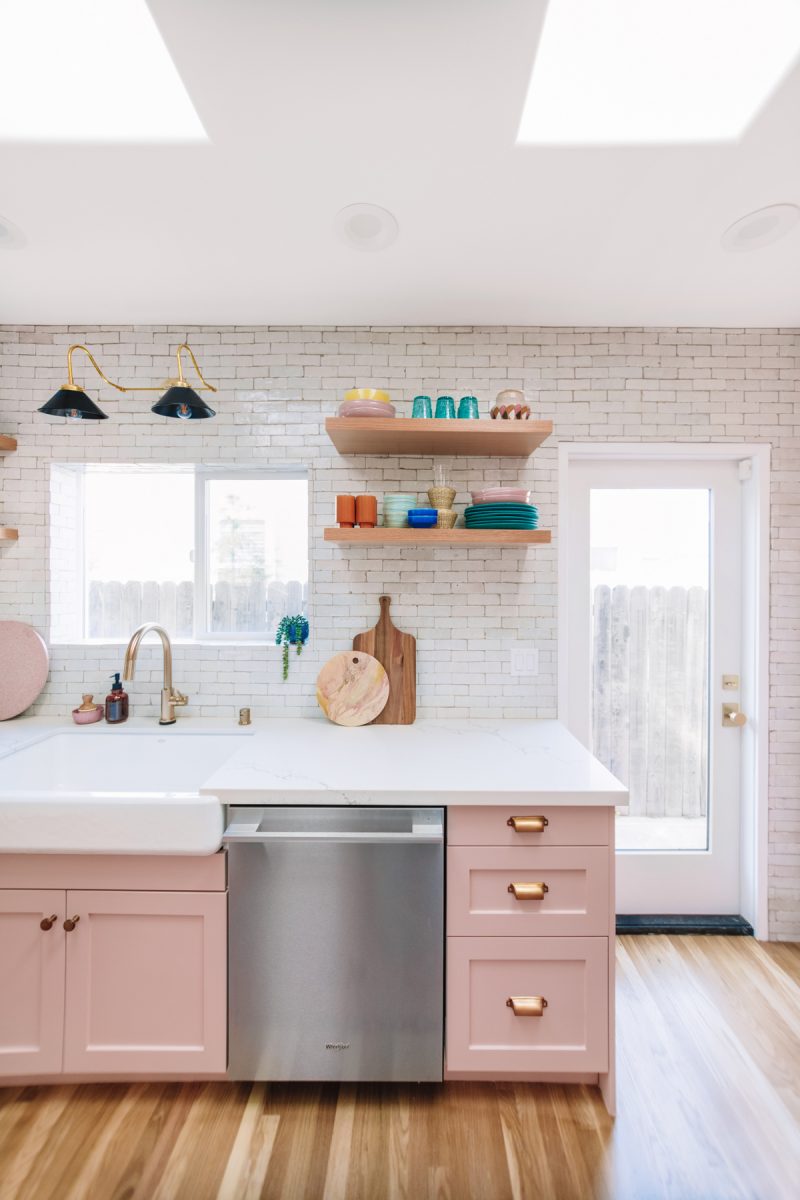 The smart dishwasher we got can be controlled from our phones too, through the Whirlpool® app, so we can start it even if we rush out of the house and forget*. In addition to that, it has a third level rack which gives us so much more space to load in those random items that don't fit. The one-hour wash cycle option is great on those days that you forget you ran out of, well, everything. Is that just us? And the plastics cycle, which runs at a lower temperature, has been in rotation for Arlo's various snack containers!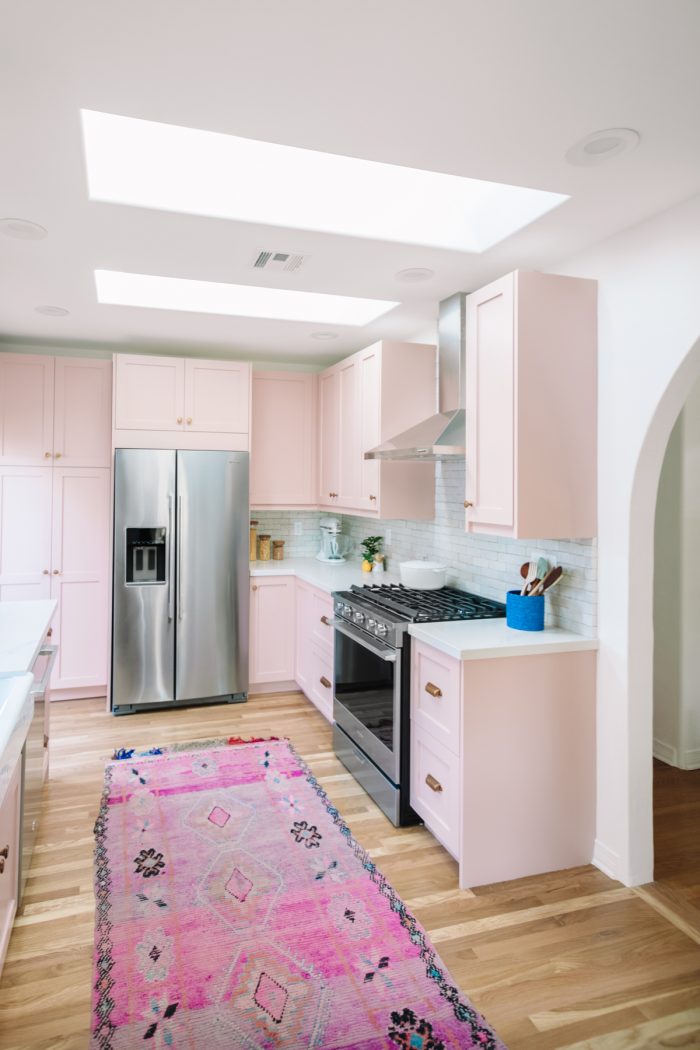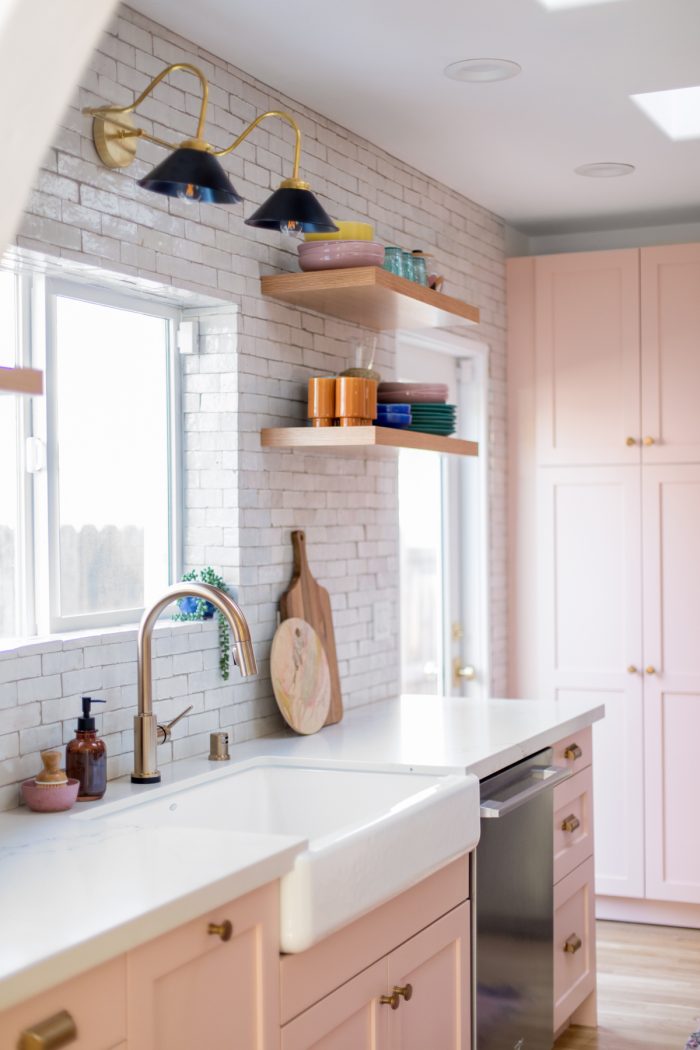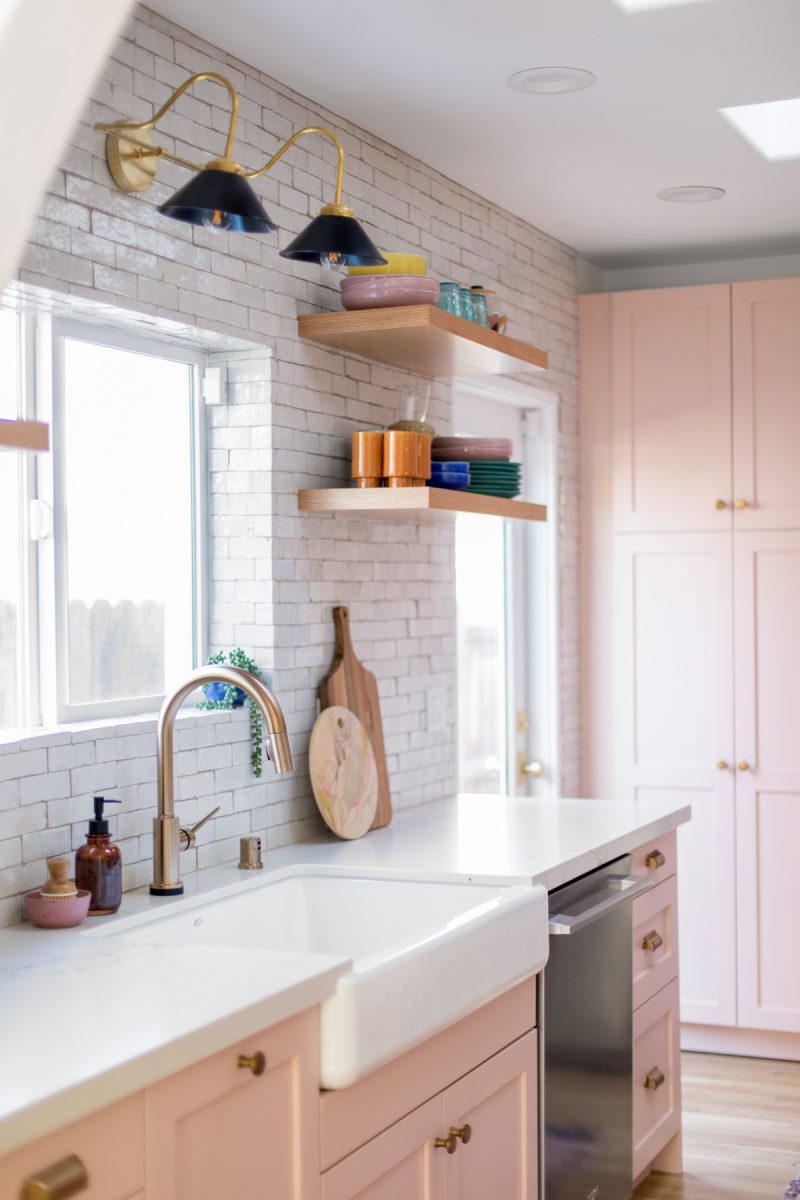 Finding the Right Cabinets, Drawers and Shelving Mix
If you get a chance to live in your kitchen for awhile before renovating it, I highly recommend that. It helps you realize what you do and don't use, and what you do and don't like. Game changer for us! We found that we really missed having large drawers like we did in our apartment, so we went with almost entirely drawers for our lower cabinetry.
The previous kitchen felt really closed-in and "heavy" with the amount of cabinetry it had, so we decided to leave the wall above the sink open for open shelving instead. We knew we could manage this because we had so much extra cabinet space in the previous kitchen, so storage wasn't a concern. Having the space on the wall makes the room feel SO much lighter and more open and it allowed me to add in all the color I wanted with various plates and dishes that we'll use for entertaining. Our everyday tableware will live in a cabinet, for easier upkeep.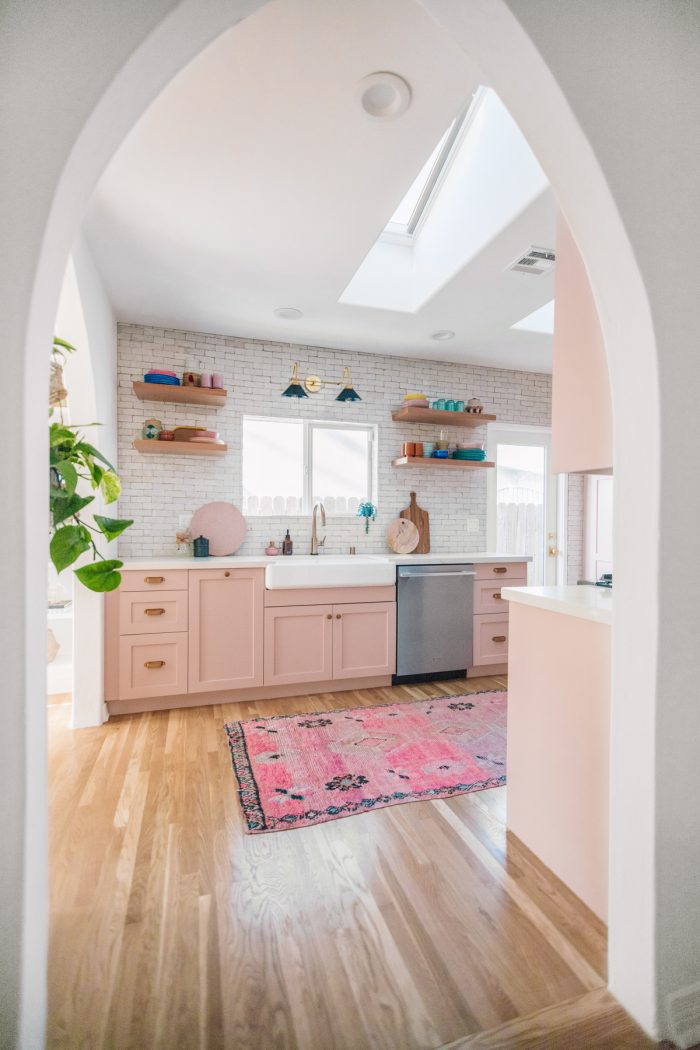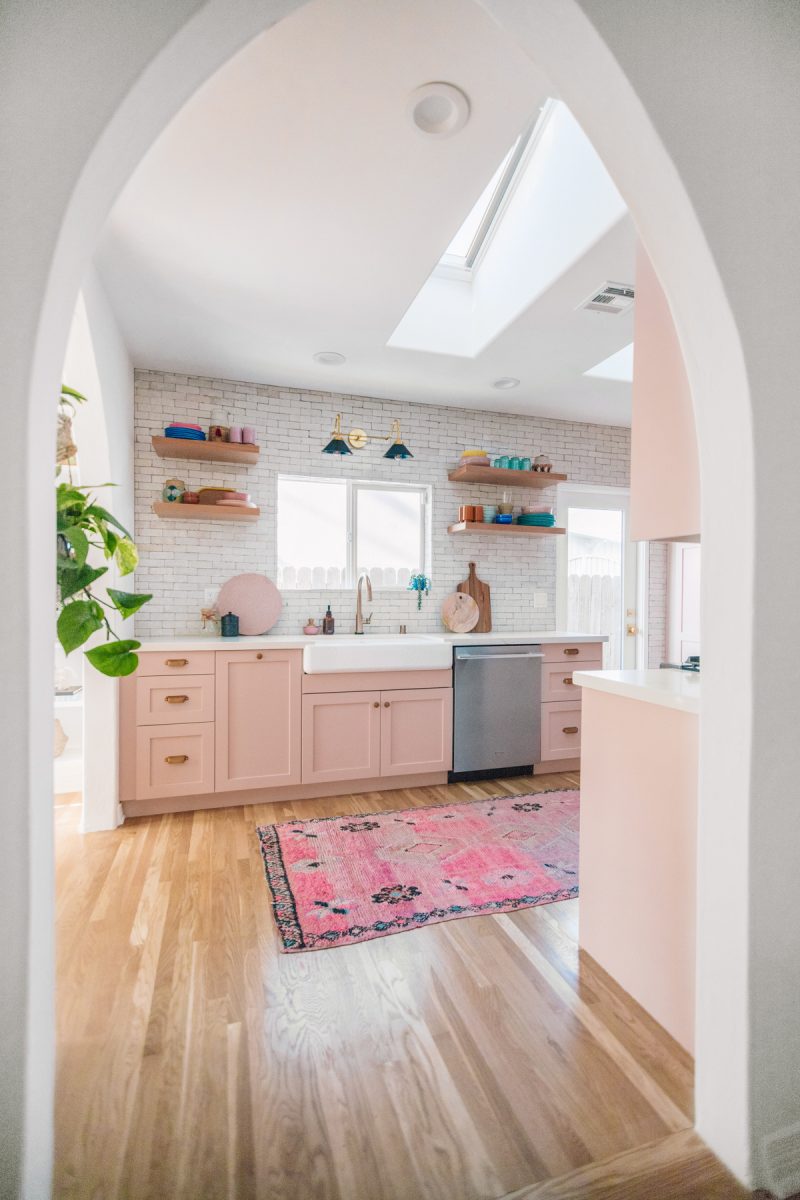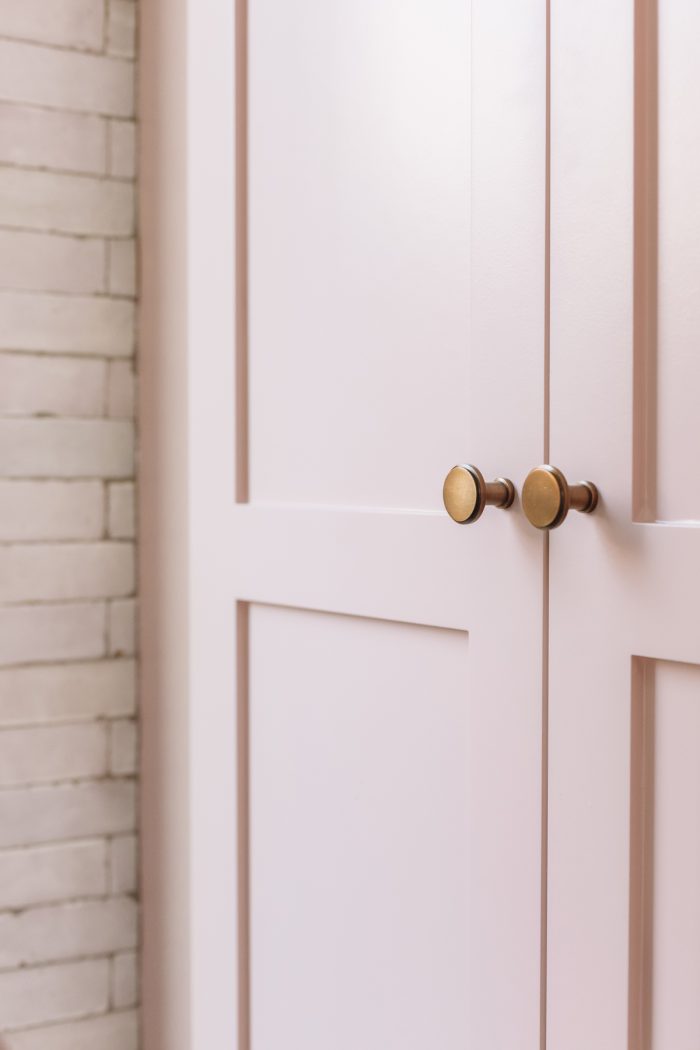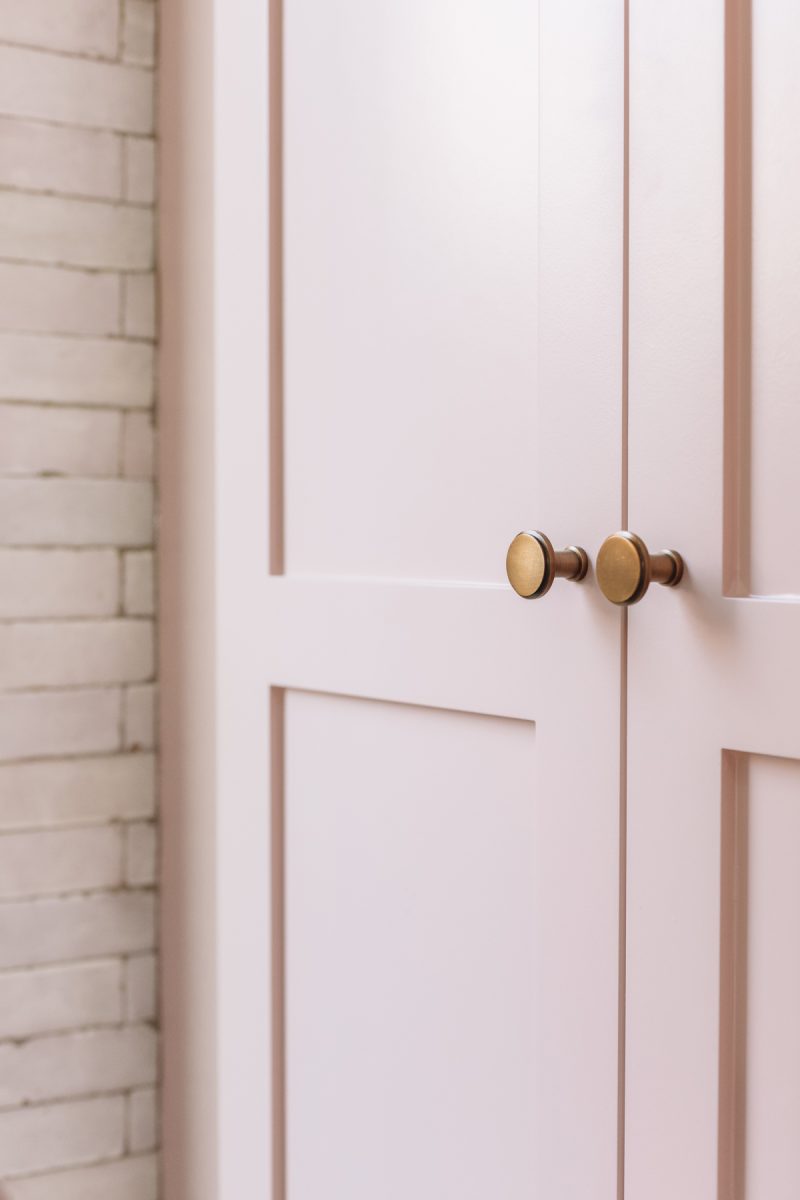 For all of our cabinetry and shelving, we went with the IKEA system for it's affordability and then added Semihandmade DIY shaker doors and custom oak floating shelves. That meant, we could totally customize the color of the doors and size of the shelves to make it feel like a completely custom kitchen but at a much better price point and on a much quicker timeline. The quality is stunning and gives an instant upgrade to the look of the pre-fab cabinets. SUCH a great option if you're in the market for new cabinets.
The color we went with is Dunn Edwards' "Galveston Tan" which reads as a beautiful dusty blush in the room. It's subtle and looks SO good with the shaker style fronts. Plus, it really complements the tones in the oak shelving and floors.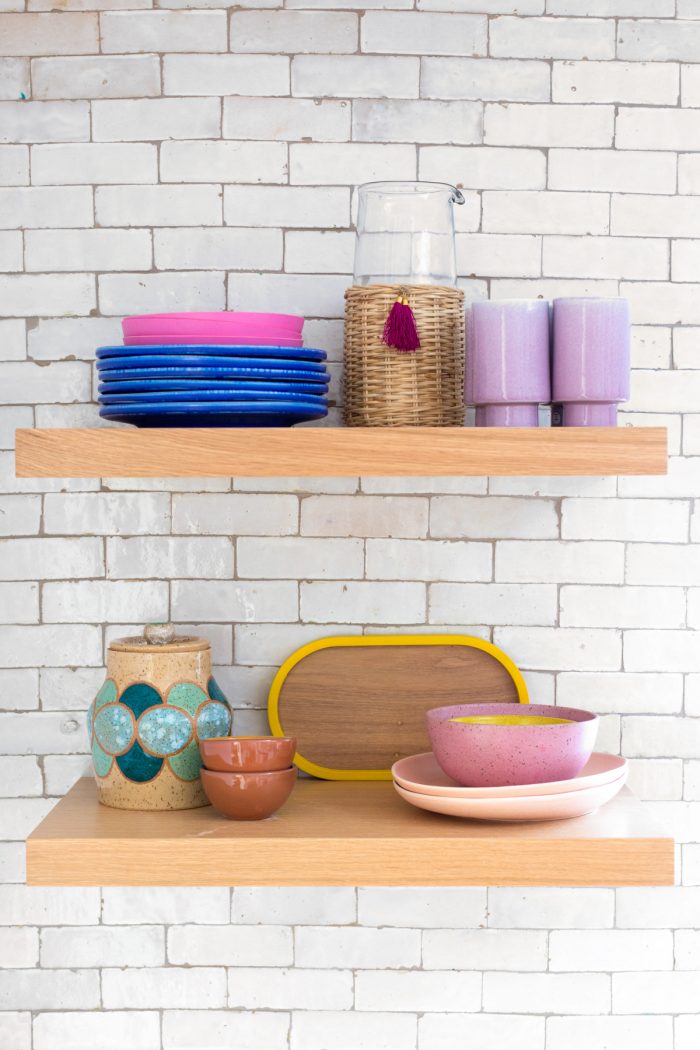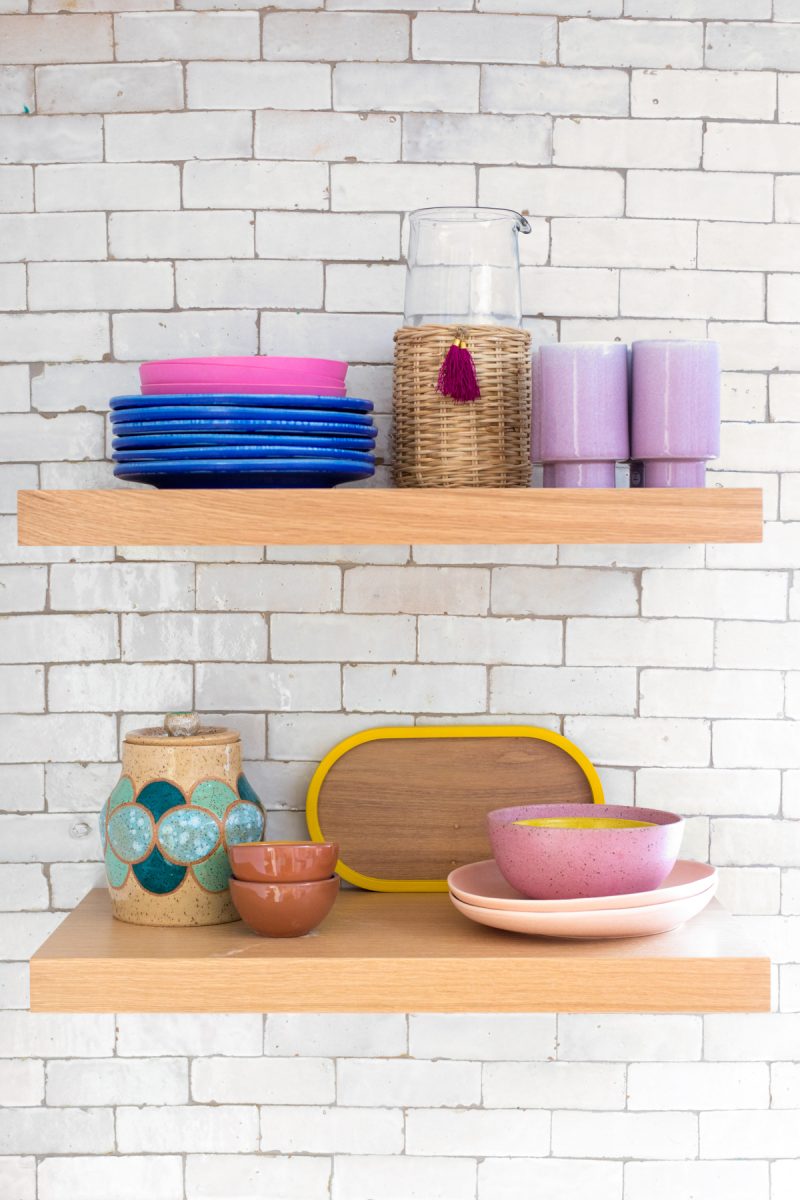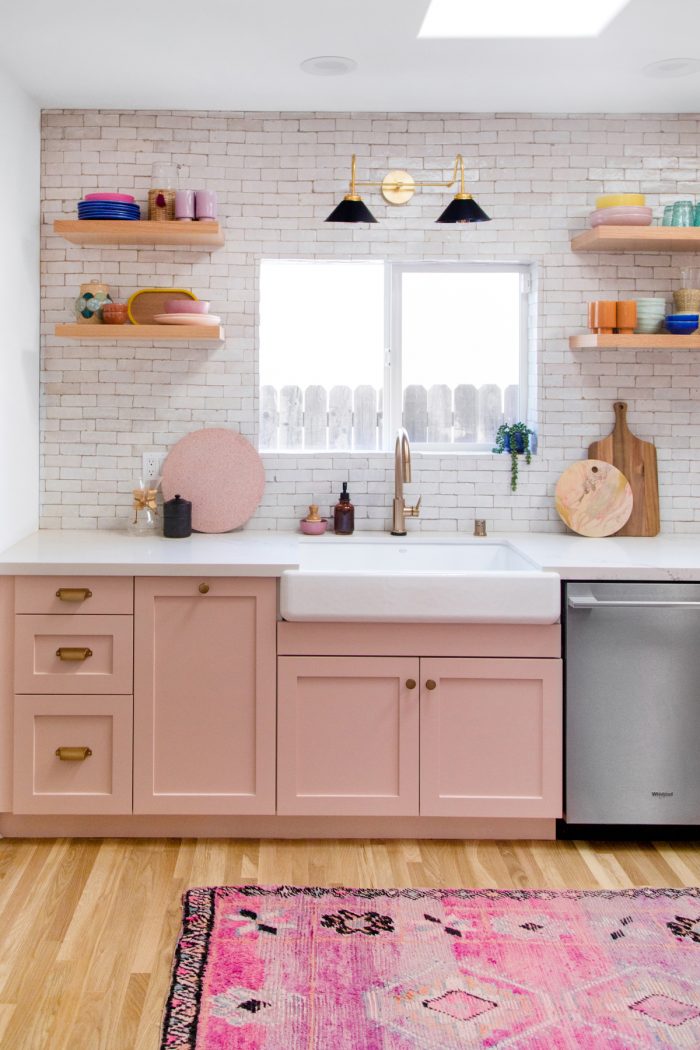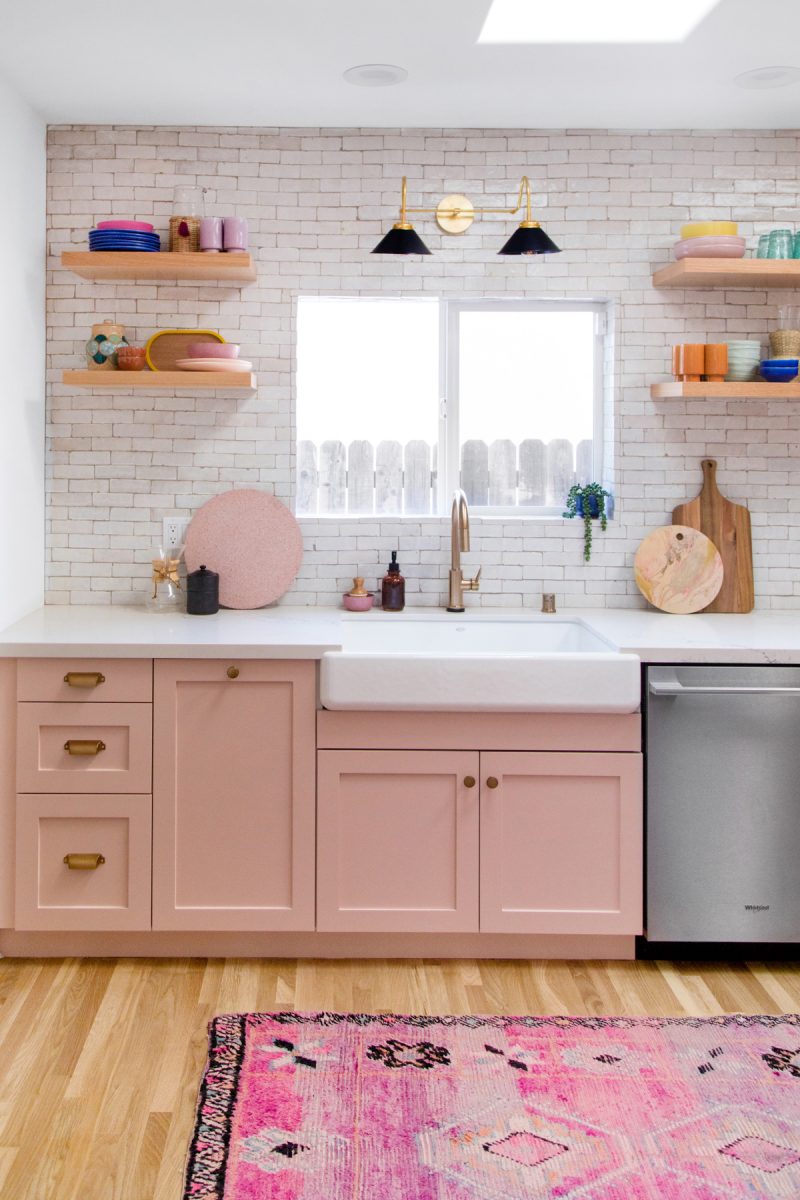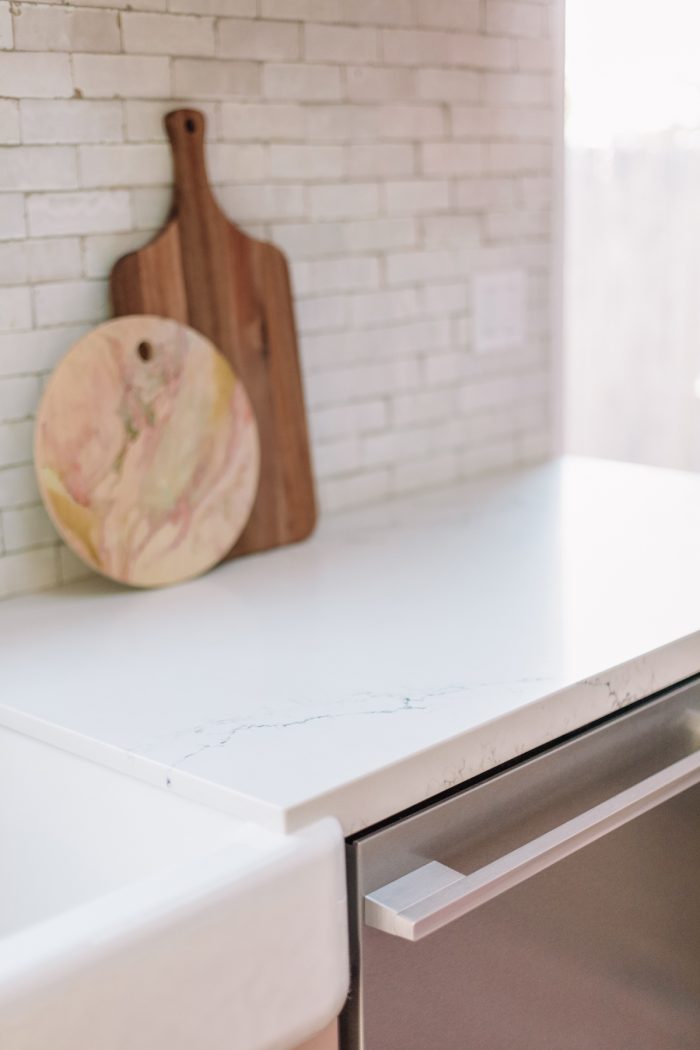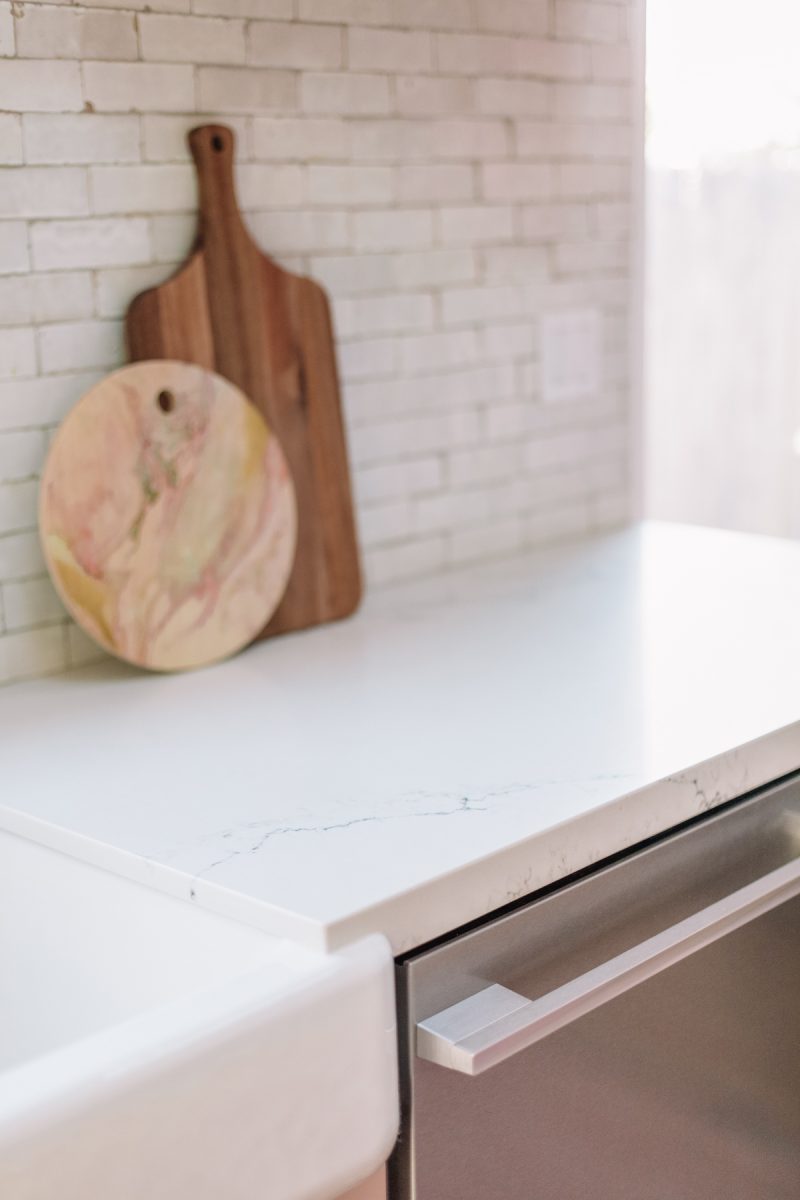 Combining Style and Functionality
Style and functionality is a kitchen must have! We already checked the boxes on appliances with the Smart Range and the counter-depth refrigerator. But we also thought about it with our countertops and tile. We went with a quartz countertop, Caesarstone "Statuario Nuvo" to be exact, which gives the look of a marble counter but with little to no maintenance. Can I get an AMEN!?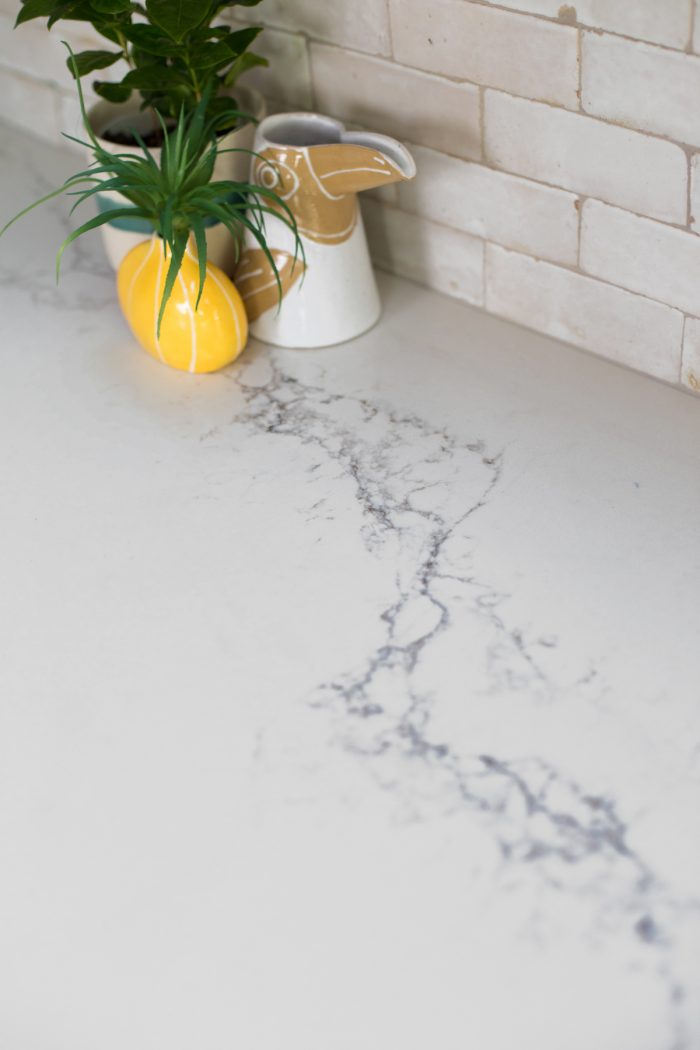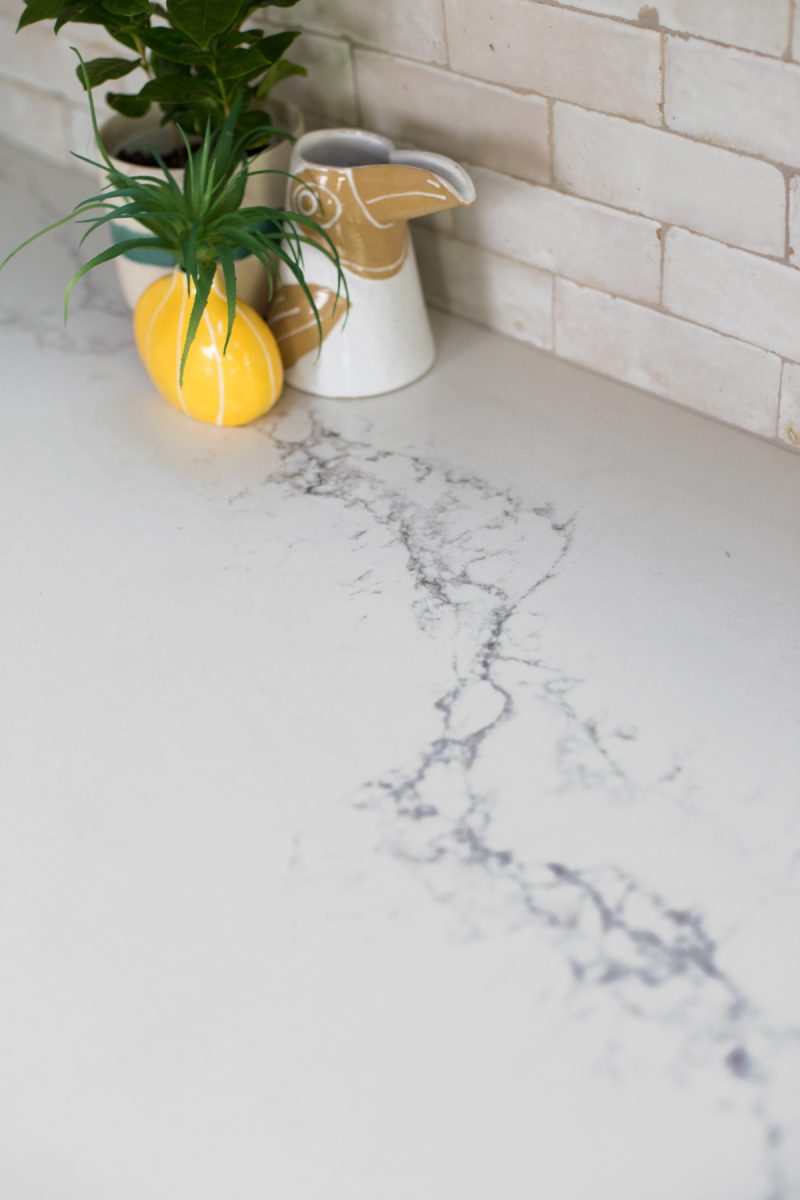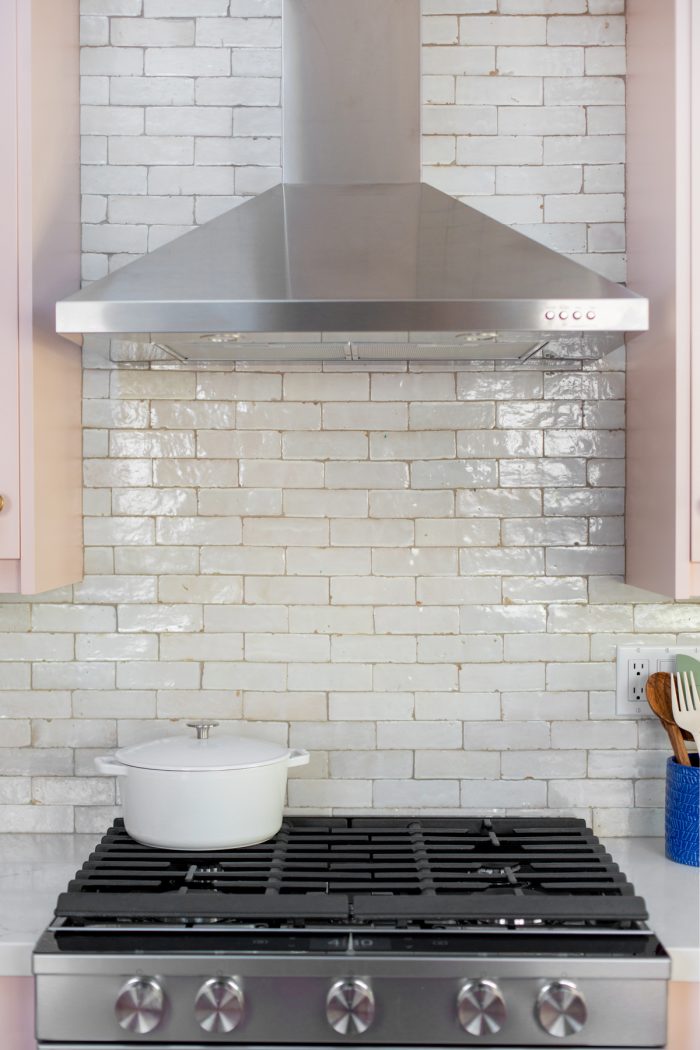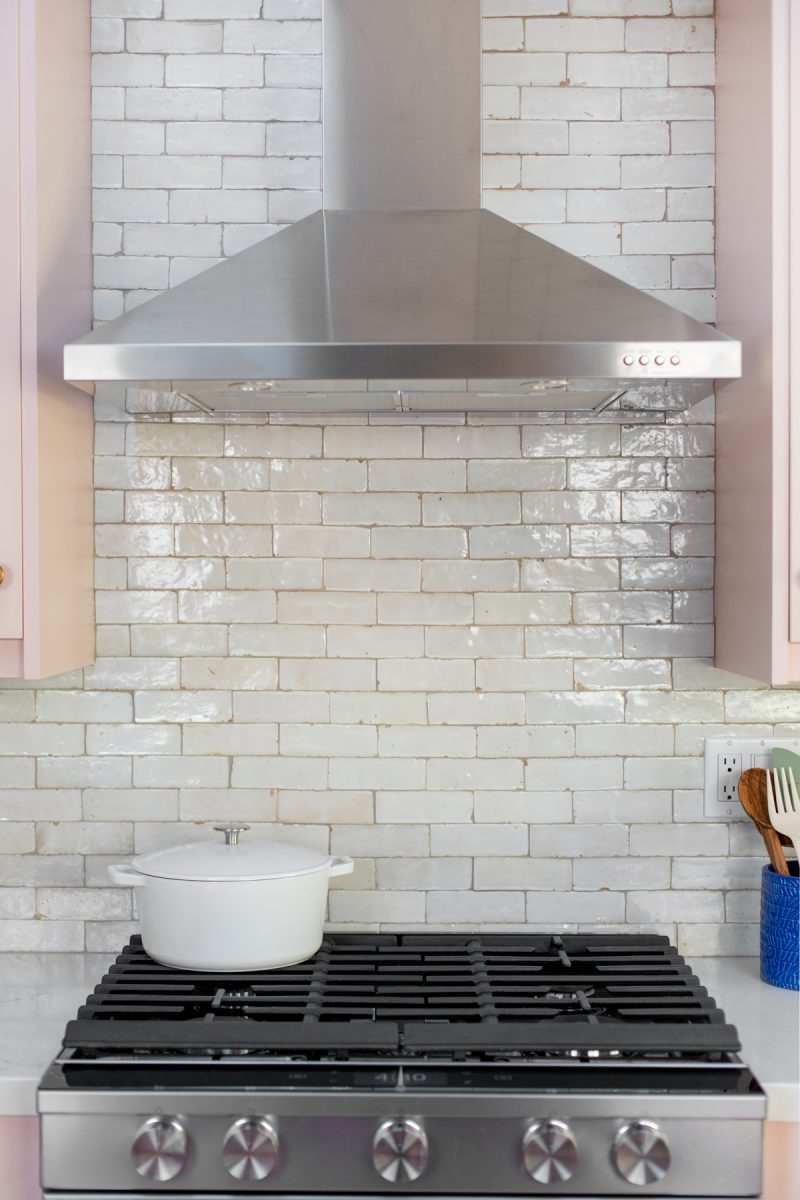 Same goes for the weathered white zellige Cle Tile we installed for the backsplash!!! One of the best decisions I've made! It looks stunning, with the subtle variations in the tones and shapes of the tile giving it so much depth, but still wipes clean SUPER easily. We ended up doing the entire wall behind the sink in tile and it acts as a focal point of the room. On the other side, we tiled the entire wall behind the Smart Range and hood and it's the gorgeous combination!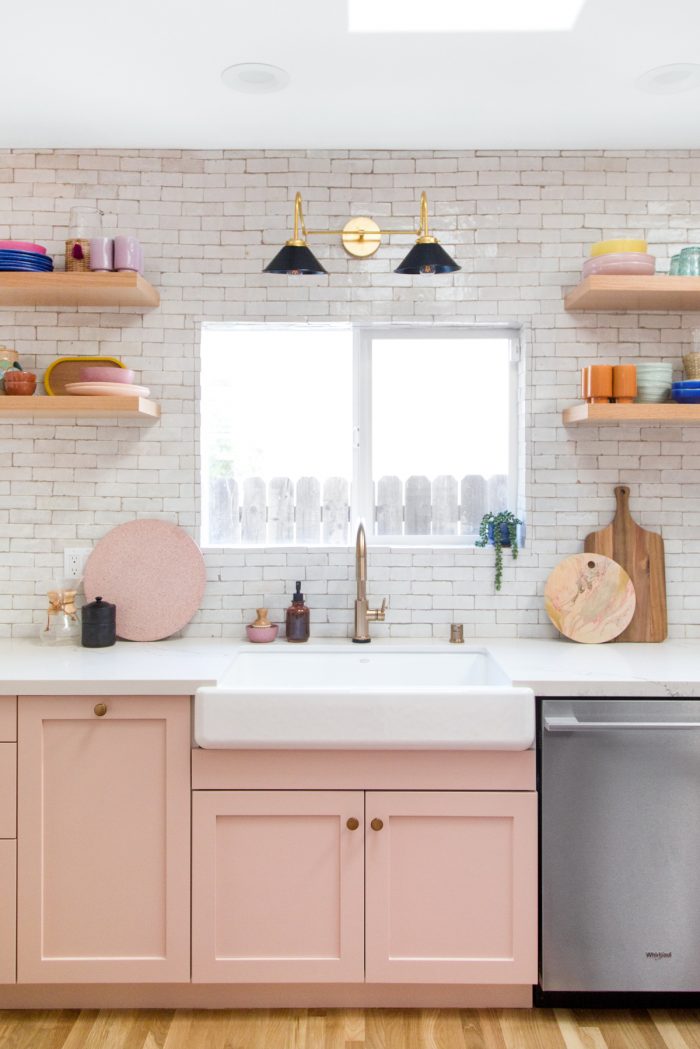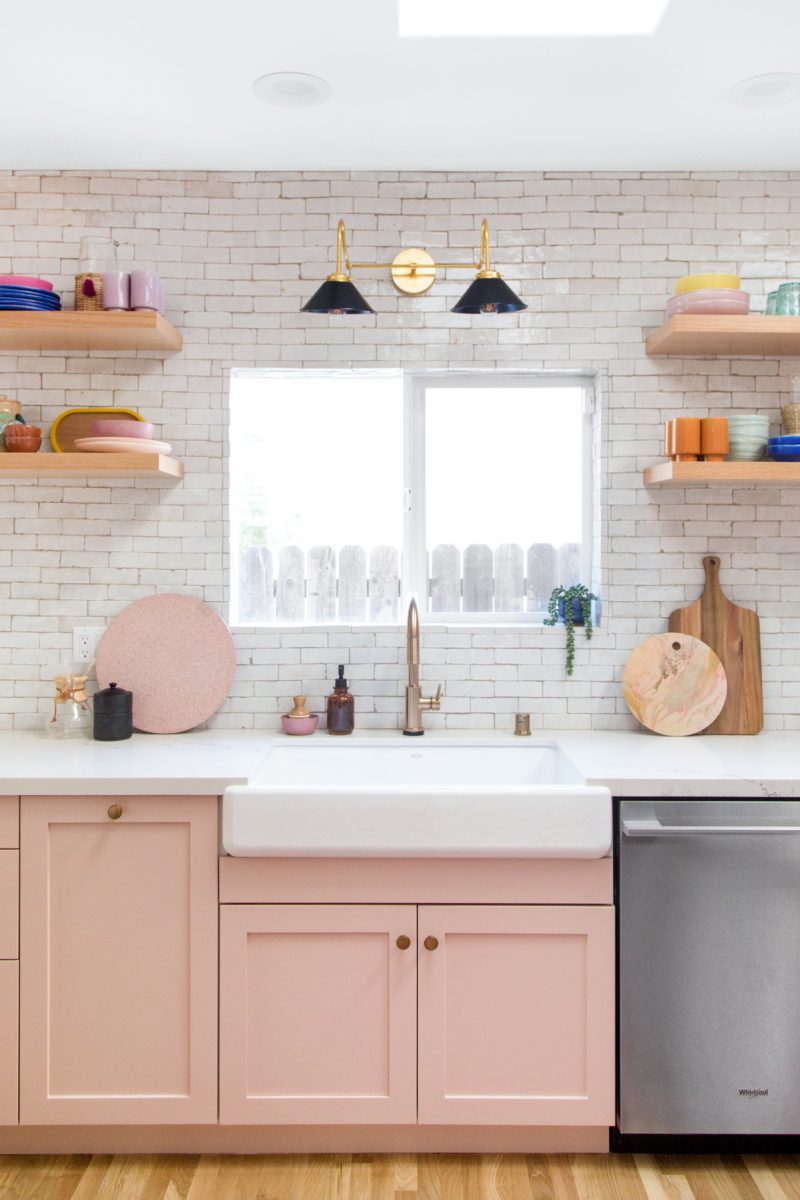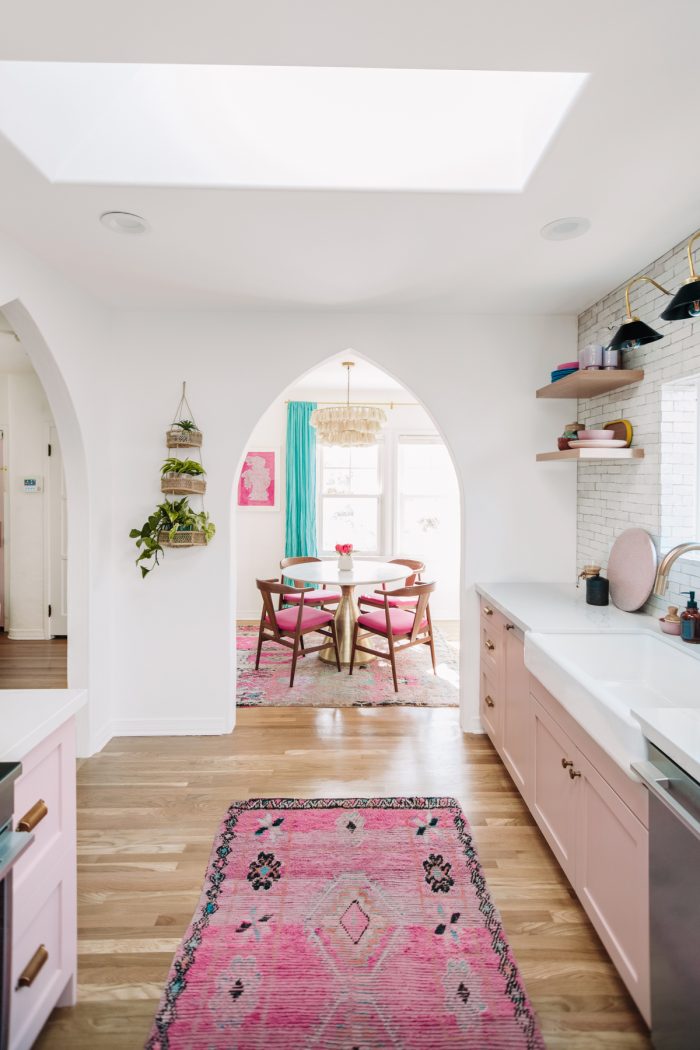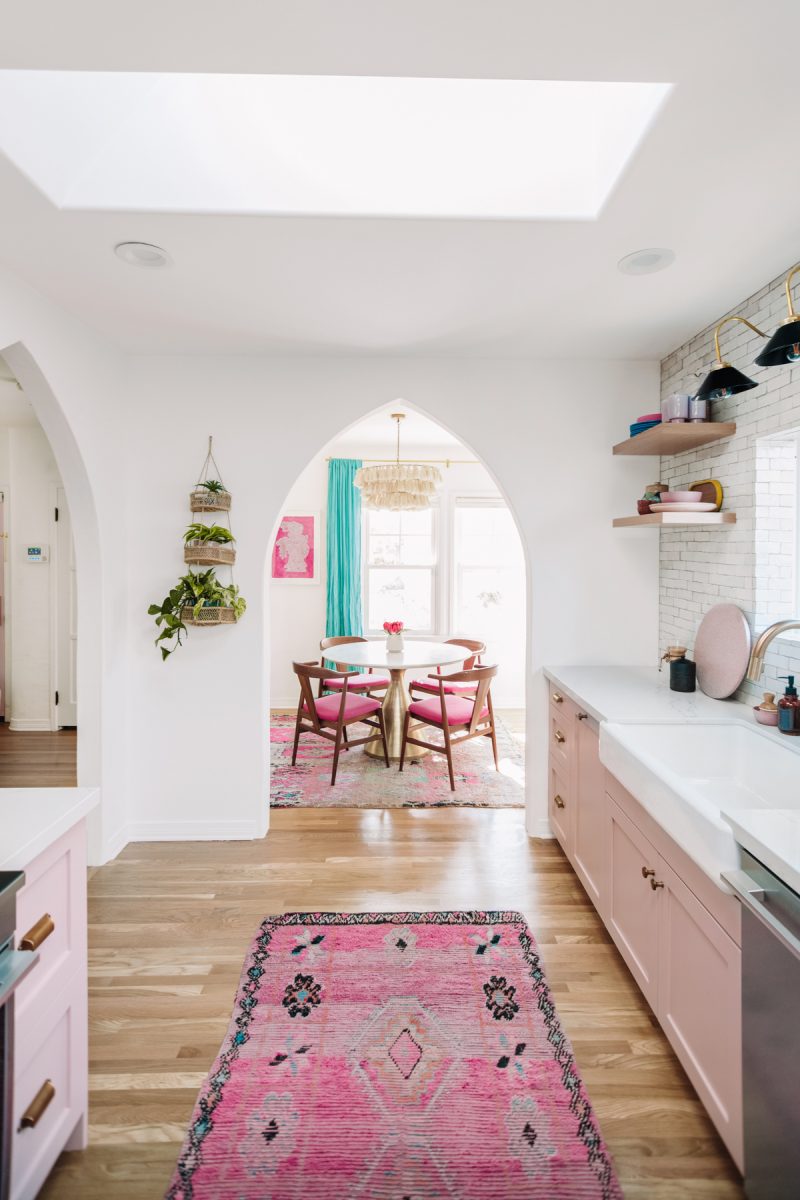 Kitchen Lighting: Day and Night
Ya need good lighting in the kitchen! We have FIVE sources of light in our kitchen, here's a quick breakdown: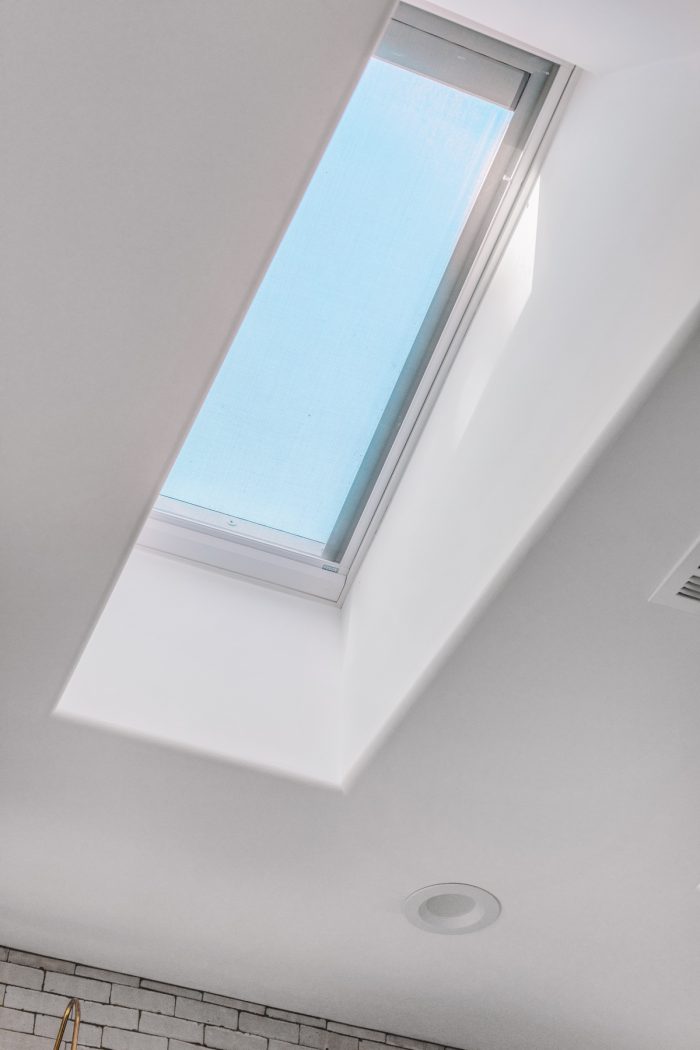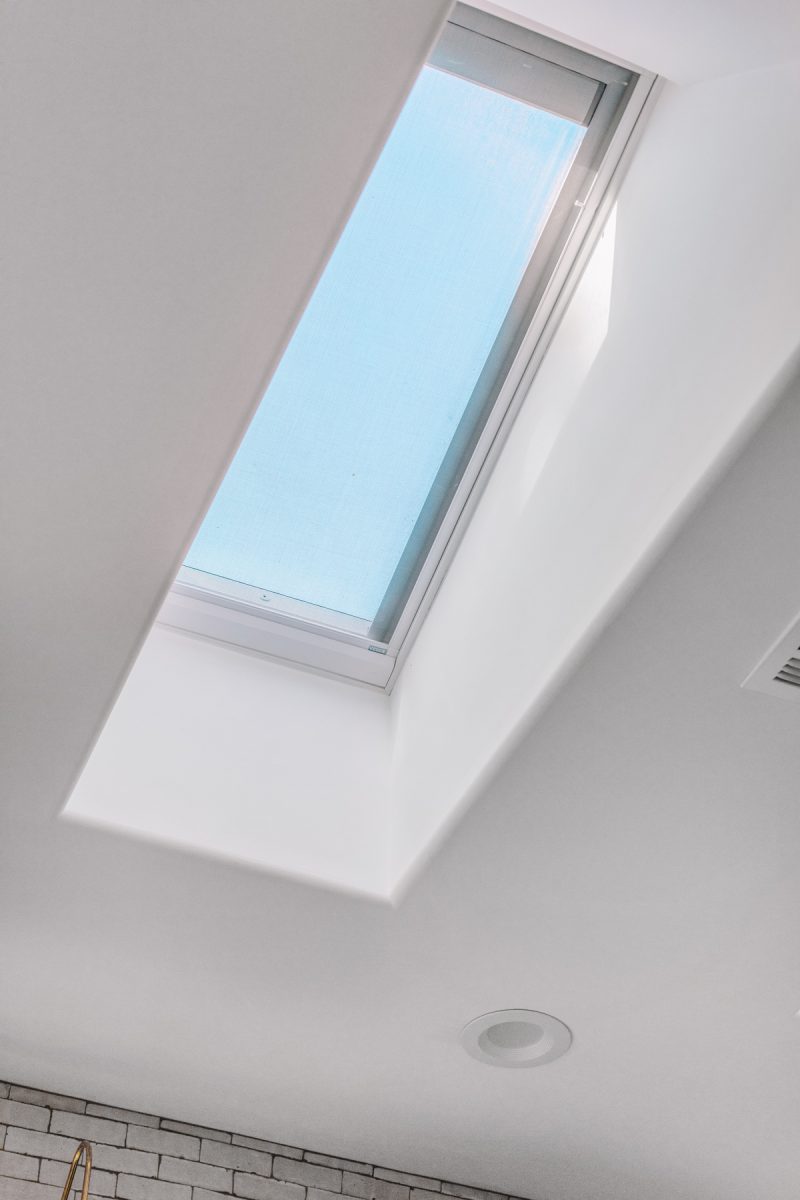 Daytime Light: We replaced the window and door in our kitchen with ones that had more glass and sleeker frames so that we let in as MUCH light as possible. Even just that small change made a huge difference! Then, we added two Velux skylights which made this room go from one of the darkest in the house to one of the brightest. And the ceiling feels ten times taller!! They have shades as well, for when we need to control the amount of light we let in, and both the shades and skylights can be opened from our phones!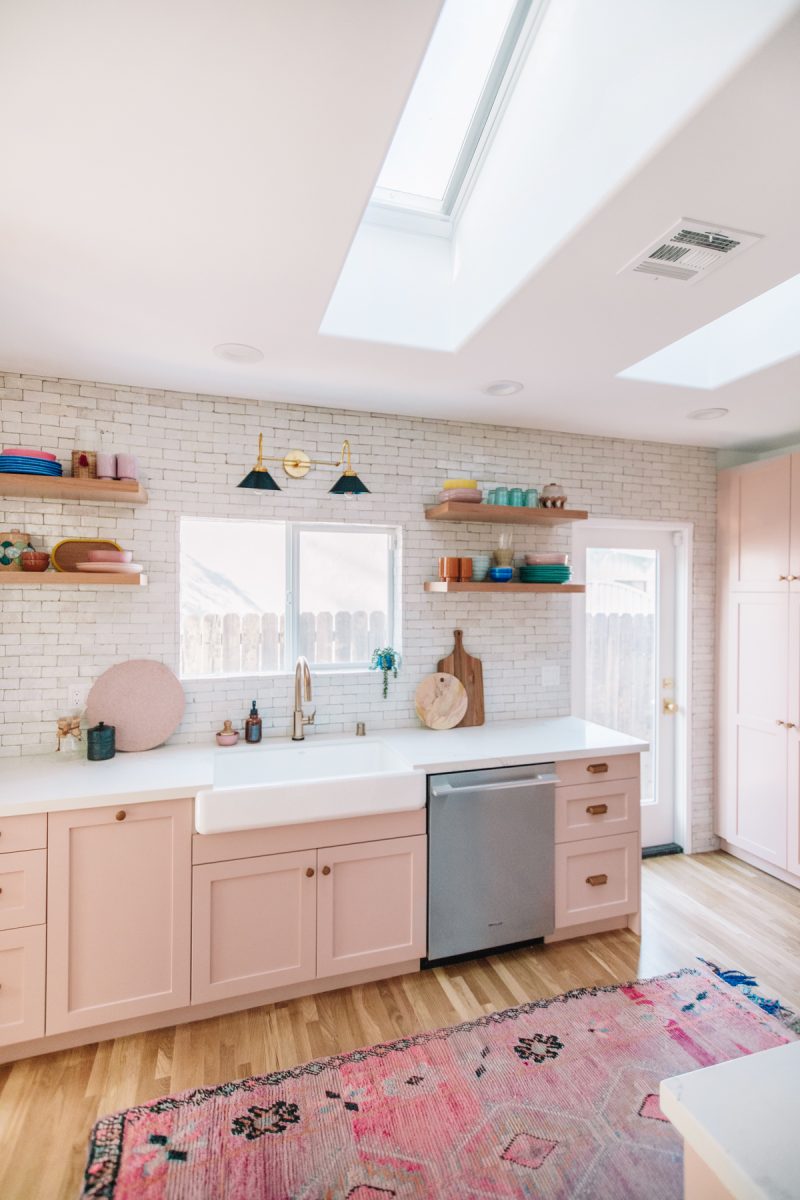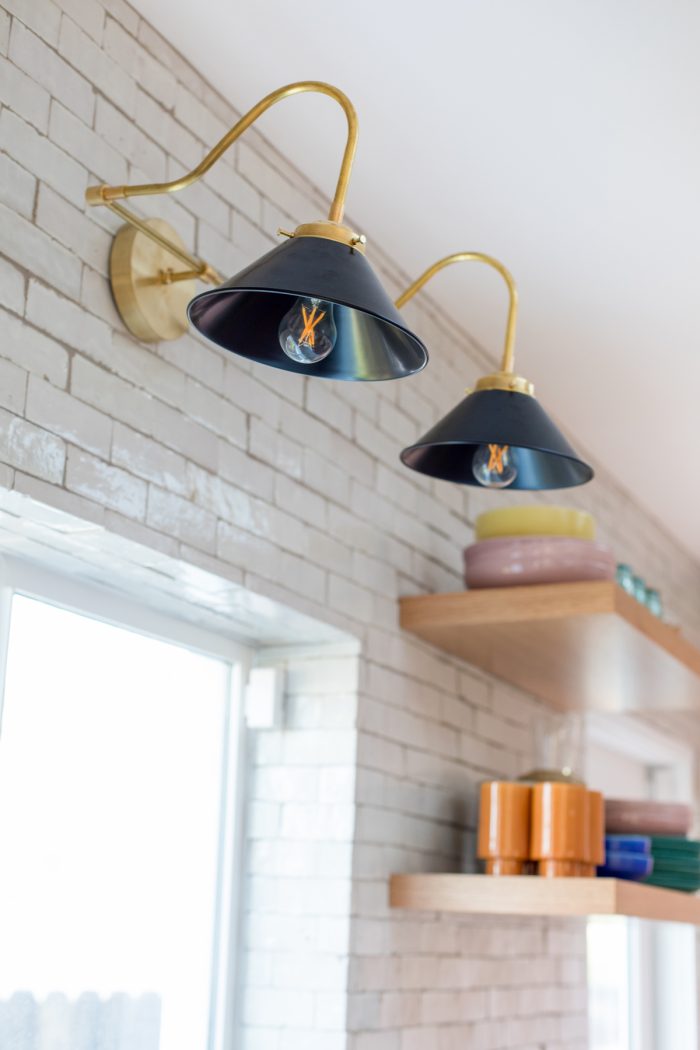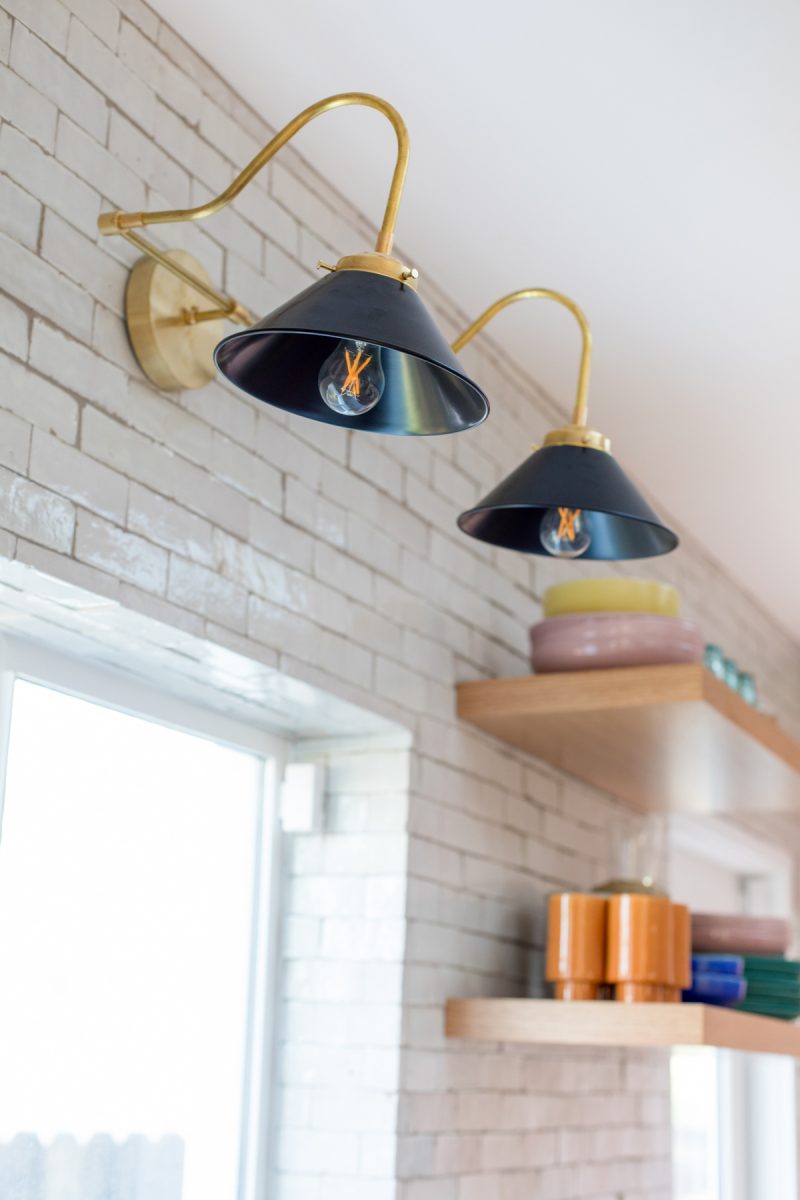 Evening Light: At night, we have the option to choose between three different light sources. First, the standard recessed lights which we put on dimmers (a MUST if you ask me!) and give us overall, even light across the kitchen to work in. Then we have under cabinet lighting, this is great to use late at night when we're popping in and out of the kitchen after dinner and don't need to leave the powerful overhead lights on. And last, the Sazerac Stitches sconce over our sink. This acts both as a major design element (I know, it's black!? But I love the contrast of it against the tile, and how it picks up the black in the rug!) and as an extra source of lighting for washing dishes and all that good stuff.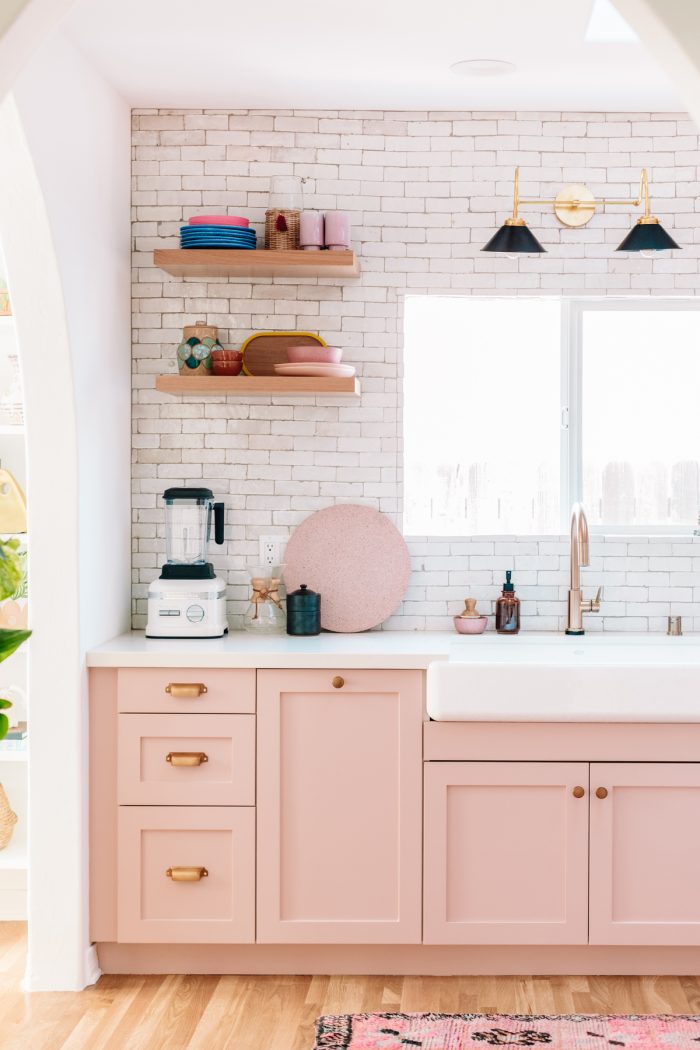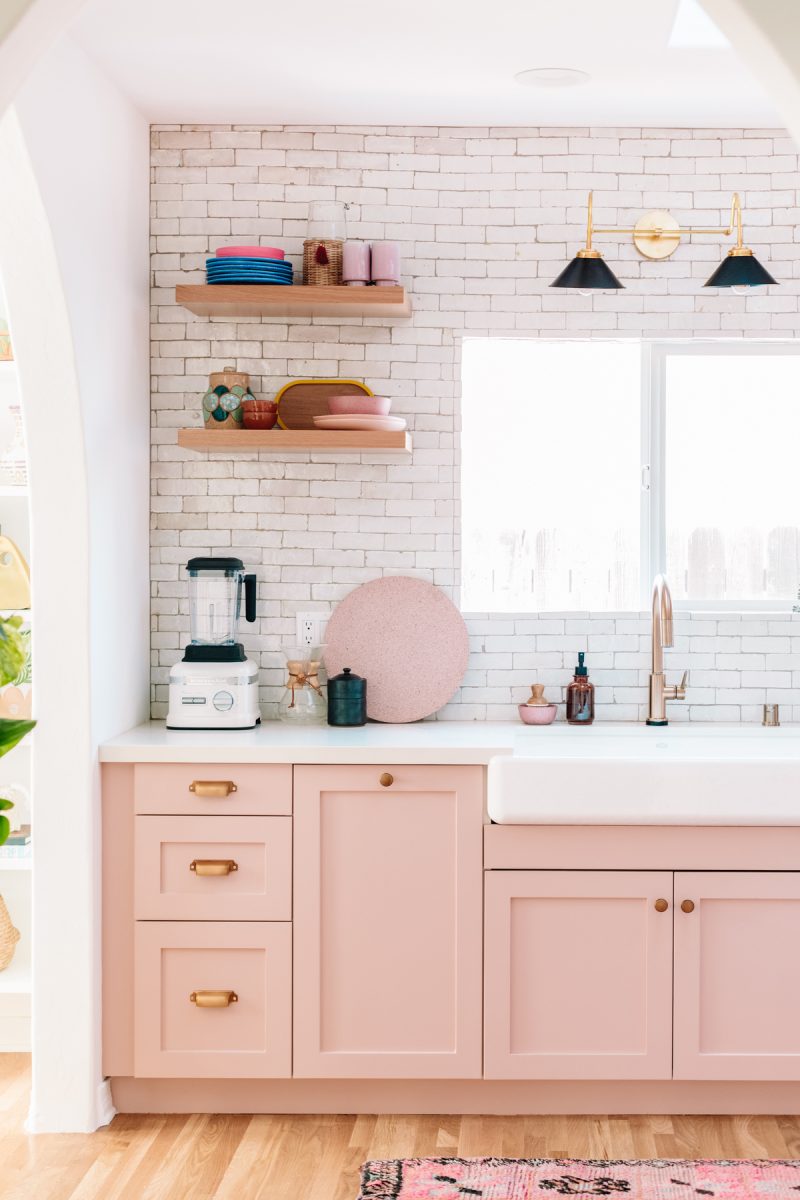 Finishing Touches
Because this kitchen has limited counter space, we keep most of our specialty kitchen items and small appliances hidden away in drawers that we can easily pull them out of. Even though I'm a "more is more" person, the less you can have on your countertops, the better if you ask me. It gives your eye some visual space to breath, and of course gives you more room to cook.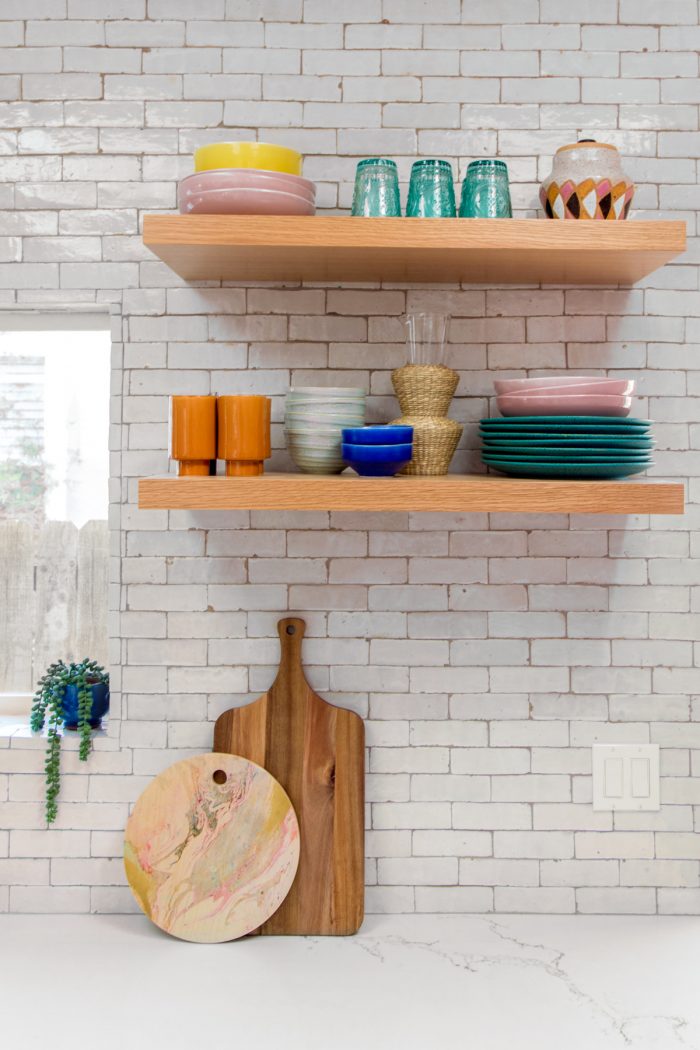 That said, don't be afraid to add a few cutting boards or platters leaned against your wall. These are often awkward to store in a cabinet or drawer, but they do a great job of adding some visual interest to your countertops without taking up too much space at the same time.
Not surprisingly, I added a rug. This can be a controversial choice, and I'll report back in a few months about how it's going but I just can't stand a space without ANY softer textures in them. Plus, a lot of people don't know this but small moroccan rugs CAN be washed in your washing machine! So there ya go!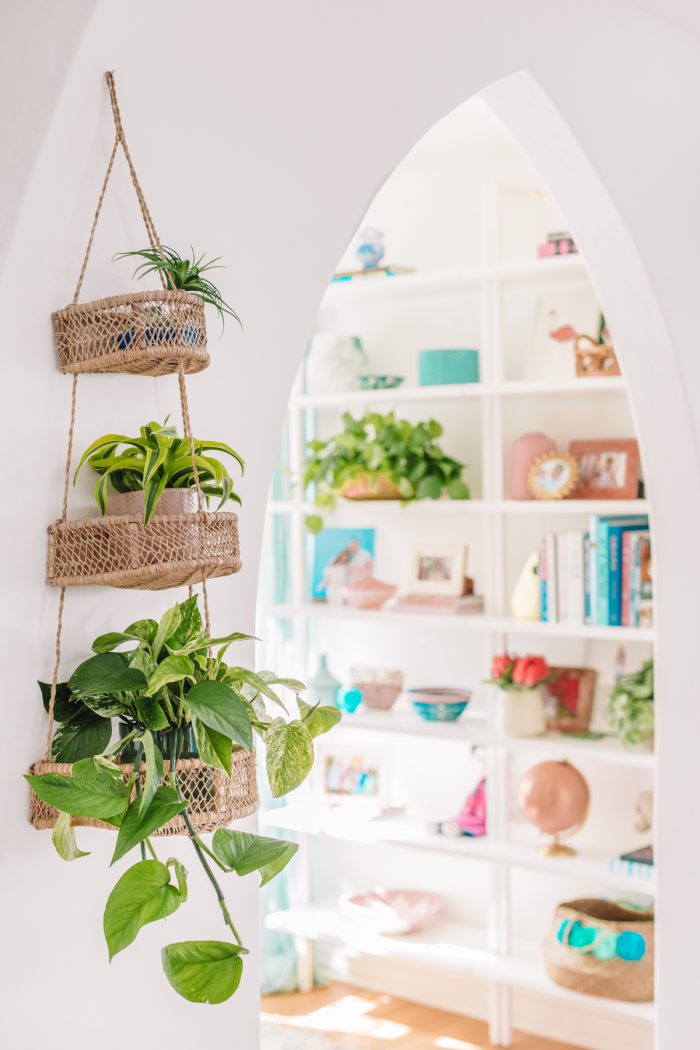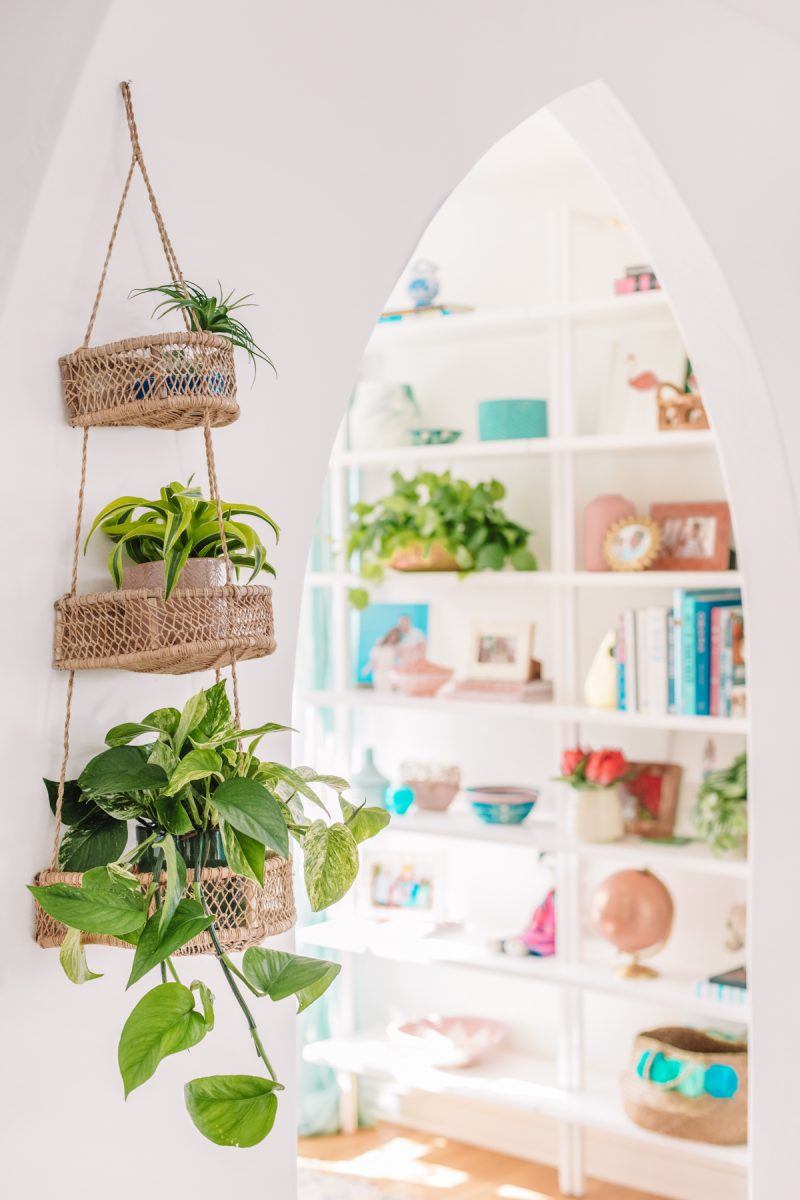 And one final touch to always consider… plants! They add so much warmth and texture to a space, especially in a kitchen where the lines and surfaces are often very hard and cold. We had an awkward little wall in between the arches that we filled up with a hanging basket turned tiered planter and popped a couple small plants on the counters too. Jeff is now in charge of them, since I kill basically all plants instantly. Haha!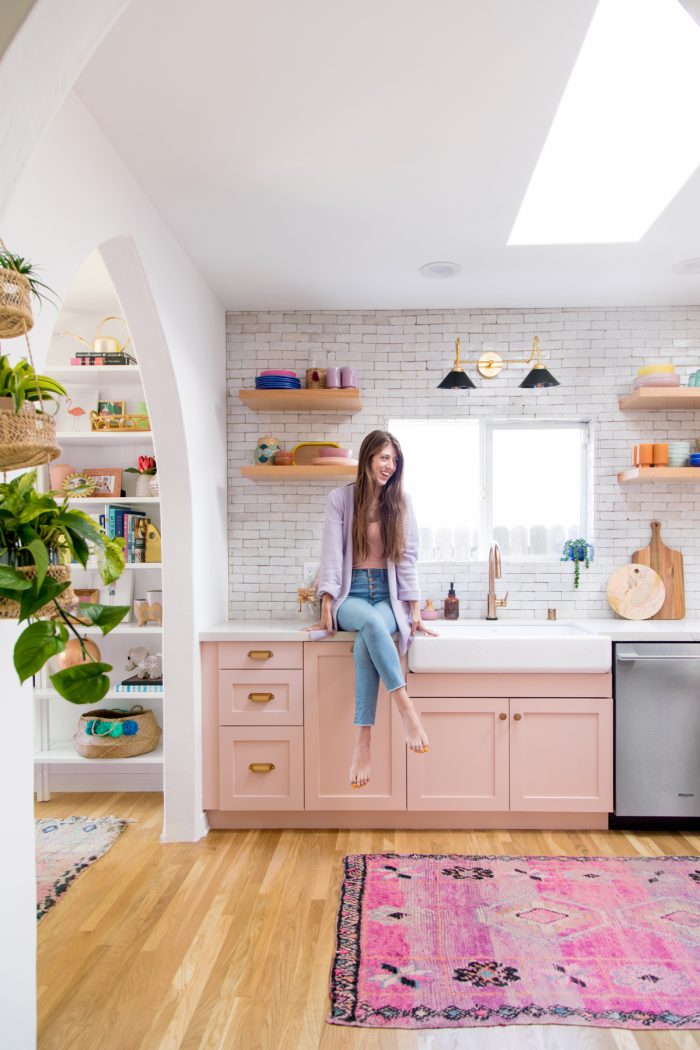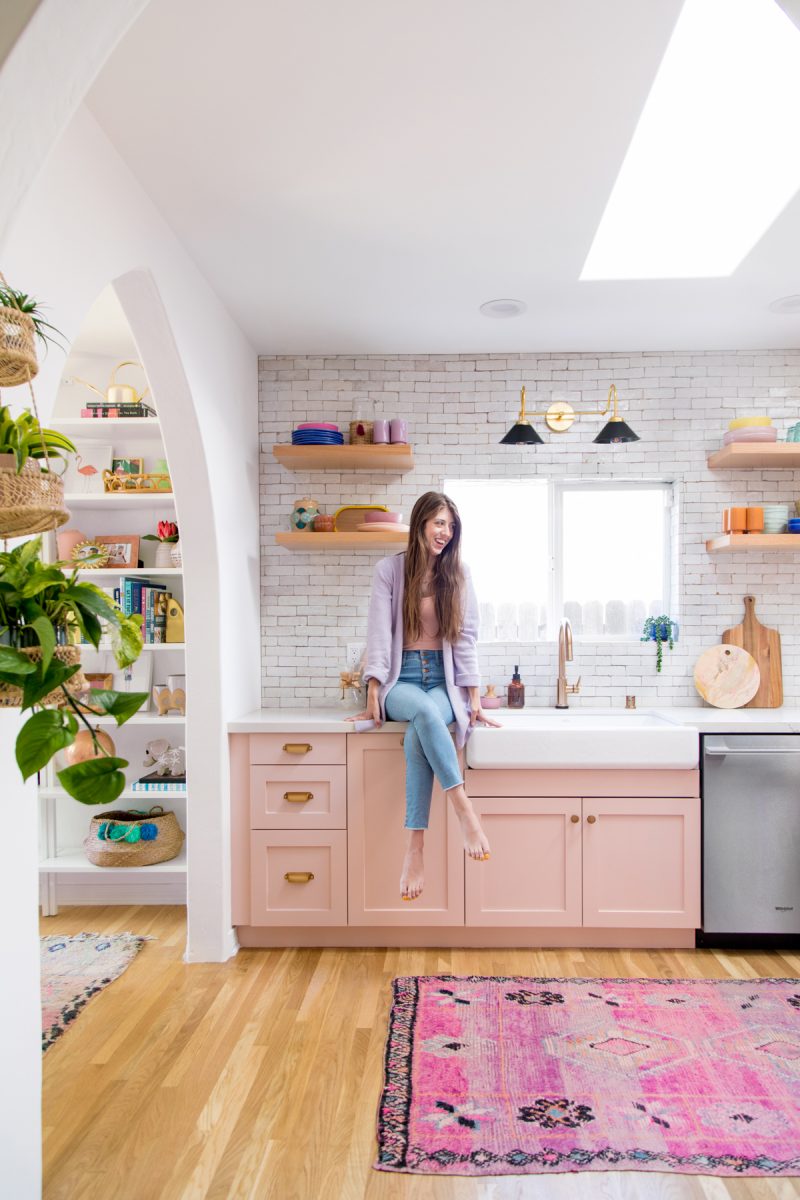 Photos by Jeff Mindell
Appliances
Whirlpool® Counter Depth Side-by-Side Refrigerator | Whirlpool®
Smart Slide-in Gas Range |Whirlpool® Contemporary Range Hood | Whirlpool® Smart Dishwasher
Small Appliances
KitchenAid® Stand Mixer *** | KitchenAid® Blender ***
KitchenAid® Food Processor ***
Permanent Fixtures
Cabinets: SEKTION Cabinet System | Cabinet Fronts: SemiHandmade DIY Shaker Fronts***
Cabinet Paint Color: Dunn Edwards Galveston Tan***
Hardware: 6″ Brass Pulls | 4″ Brass Pulls | Brass Knobs
Tile: Weathered White Zellige Tile*** | Countertops: Caesarstone Statuario Nuvo***
Shelving: SemiHandmade Oak Floating Shelves***
Skylights: Velux Solar Powered "Fresh Air" Skylights***
Sconce: Double Valmont Sconce***
Sink | Faucet | Air Gap
Kitchen Decor
Rug: Vintage from Soukie Modern | Tiered Hanging Basket
On the Shelves (left side):
Blue Dinner Plates | Pink Dessert Plates from Gretel Home | Seagrass Carafe
Lavender Ceramic Cups | Turquoise Pattern Jar
Mini Dipped Bowls | Lavender Bowl from Pigment
Yellow Rimmed Tray | Pink Bowl | Peach Plates
On the Shelves (right side):
Yellow Bowl | Pink Low Bowls | Mint Tumblers
Pink Pattern Jar | Burnt Orange Ceramic Cups
Mint Bowls from Anthropologie (Similar) | Blue Mini Bowls
Seagrass Tiered Carafe | Teal Plates
On the Counters:
Chemex | Black Canister | Terrazo Platter from Pigment
Wood Dish Brush | Pink Bowl | Soap Dispenser
Pink (Faux) Marble Cutting Board | Wood Cutting Board from Target (Similar)
Pasta Jars | Planter from Pigment | Toucan Measuring Cup
Dutch Oven | Utensil Holder
And there it is. It feels so good and already, in just the few weeks since it's been done, it's made us enjoy this house of ours SO much more. The time we're spending in the kitchen is so much more efficient, thanks to Whirlpool's smart technology and enjoyable as a family, thanks to the open floor plan the new arch created. I couldn't love it more!!!! Now we just need to complete the living room and our interior living space will be officially DONE! As always, stay tunedddd!
*WiFi & App Required. Features subject to change. Appliance must be set to Remote Enable for remote control ca capabilities. Details and privacy info at whirlpool.com/connect.
**Select recipes only. Look for recipes labeled 'Guided' in the Yummly® app.
***Thank you for supporting the sponsors and partners who support us. Read more about my editorial policies here.