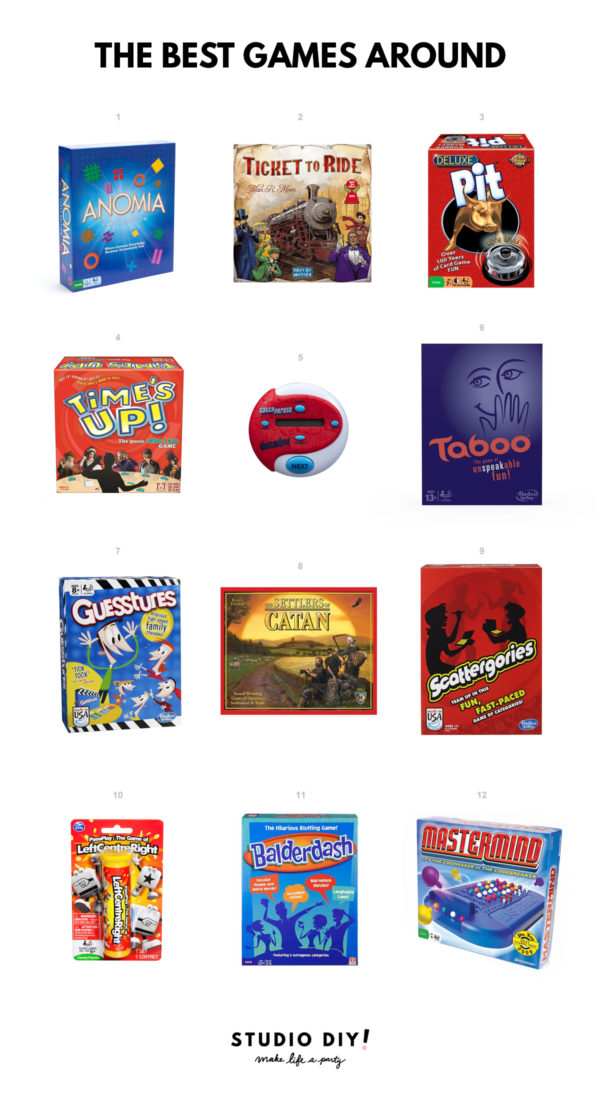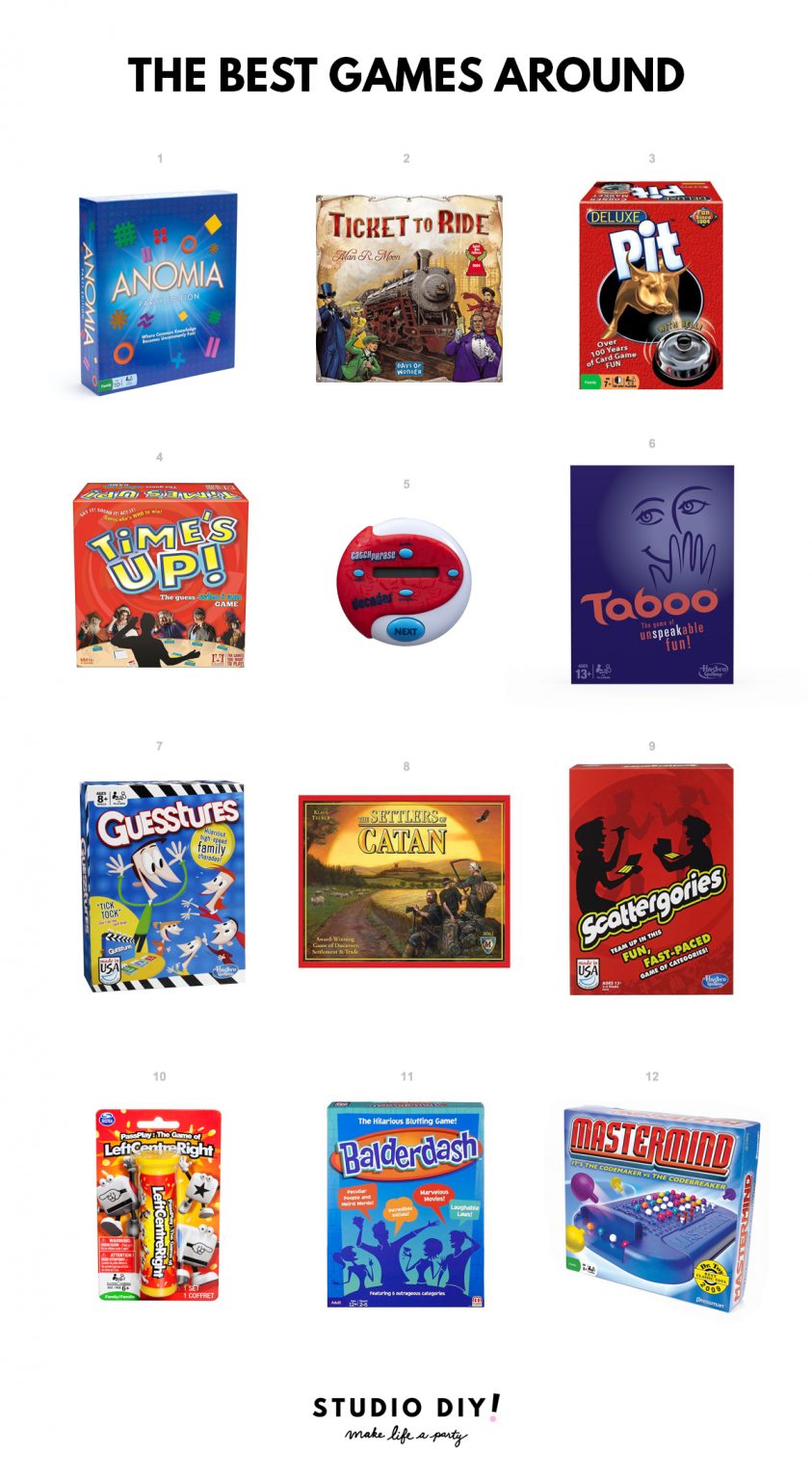 I know this might not seem like a typical Studio DIY post, but what you may not know about me (and my family) is that we. LOVE. games. In fact, we've never had a family gathering/holiday/dinner without them. We are all very competitive (and stubborn) and it makes for some very loud and awesome game sessions.
We all rented a house once in San Diego, there were 18 of us, and it was the first time Jeff was really immersed in the entire Lanza clan. And he survived! He may have brought ear plugs, but he survived! AND he married me afterwards! Phew. Anyway, I thought it would be fun to round up the best games around, according to my family, myself and my BFF Lauren, too.
No. 1 Anomia
(There's also a Party Edition, we play the regular one!)
This is a new-to-me game that my sister-in-law, Eileen, discovered. She has a knack for finding the best games. This game tests the plethora of random information your brain stores, under pressure. It's a card-based game and when two people flip cards that match, it's basically a race to who can name an item with the random category (like "types of bagels" or "horror movies"). It's great for kids, too, as most of the categories are common knowledge!
No. 2 Ticket to Ride
This is a strategy game, and a favorite of my brother John. There's a bunch of different versions but I've personally only played the Europe version. You collect cards and create train routes, trying to get to your destinations as well as getting the longest train and other bonuses. It's all about your strategy, and if you play with people who play dirty (raises hand), you gotta step up your game and look out for yourself! Also great for older kids, as well!
No. 3 Pit
This is my personal favorite, and Jeff's least favorite. (Ha! This is where his ear plugs come in.) In this game, it pays to be LOUD! Your goal is to try to corner a market by getting all the cards of a certain commodity. How do you do this? By yelling and screaming the cards you want to trade. Kind of like how you'd imagine the stock exchange to be! This game is best played with a rowdy group!
No. 4 Time's Up
This is a favorite of my brother Brett. It's a charades based game with different historical and fictional characters and the rules for for what kind of clues you can give to your teammates with each round.
No. 5 Catch Phrase
This is a true Lanza classic. We even have the old-school, non-electronic version! Which we all happen to think is the best version. This game is like hot potato, where you get the game console and have to get your teammates to guess the word your describing before passing it to the next person. You don't want to get caught with it in your hand! We have a lot of hilarious rules, that my Dad often breaks, like no dinosaur arms (when being passed to) and NO acting things out or rhyming. Your hands must remain on the game at all times!
No. 6 Taboo
Another "guess the word" type game, Taboo is extra fun and challenging because the three obvious clues/words you'd use are forbidden!
No. 7 Guesstures
(There's also an electronic version!)
A classic charades game, in Guesstures you have to try to act out four different words while the timer ticks away! It's very fast paced and, again, fun for a rowdy group!
No. 8 Catan
Catan is a favorite of my brother Mark, and it's another strategy-heavy game. It's all about resources, trading cards and building roads and settlements. Similar to Ticket to Ride, you have to watch out for yourself you don't get sabotaged! This game is a bit longer, but really fun, and best for a smaller group.
No. 9 Scattergories
Scattergories is probably the game I'm strongest at! You get a list of categories and then roll a letter on a dice and have to list out items for reach of those categories that start with that letter! All while a timer is ticking, of course. The hitch is, if you write down the same answer as someone else, you both lose the point! So it's all about having the most unique answers you can think of.
No. 10 Left Center Right
This game is all about luck, for you gamblers out there! (Raises hand again.) We play with quarters, but the game comes with chips too. Each turn, you roll three dice that tell you whether you'll pass a chip/quarter to the left or right, or keep it yourself. However is the last one with chips left, wins! Super simple, perfect for all ages, but really fun.
No. 11 Balderdash
I. Am. TERRIBLE at this game! But Jeff is so good at it, and the rest of my family absolutely loves it. Essentially, one player calls out a crazy bizarre (but real!) word and the rest of the players have to write a definition for it. Then the first player collects them all and reads them aloud, along with the real definition, and everyone has to guess which one is the actual definition! It's really fun if you're a group of readers/writers and pretty hilarious, too.
No. 12 Mastermind
This is a strategy game, and a favorite of my friend Lauren, which makes sense because it is SO her. It's face paced, logic-based game where you have to crack a code as quickly as possible. It's simple and straightforward, so kids can play it too!
So tell me, what are your favorite games!? We're always looking for new ones to test out at family gatherings! And if you're looking for a new one… definitely check out one of the above! They're all pretty darn fun.
p.s. DIY Donut Twister!