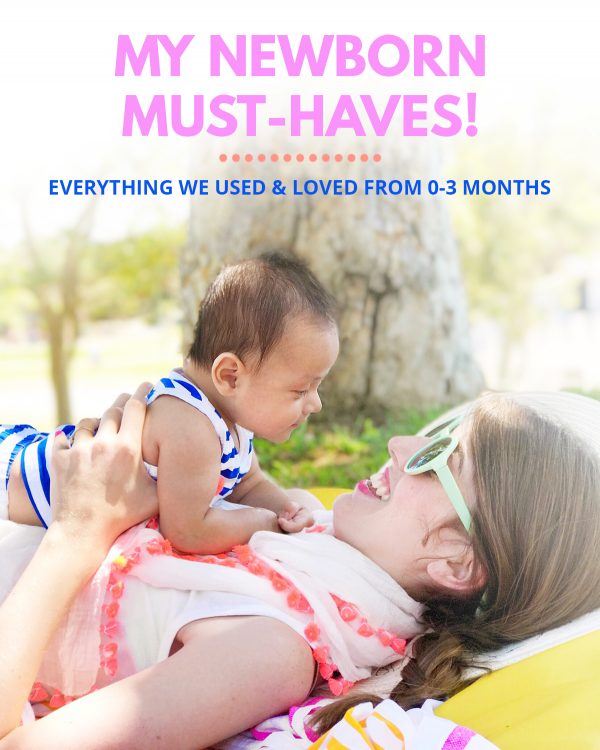 As Arlo fast approaches four months (*cries all tears*) I wanted to put together a list of all my "newborn must-haves" AKA the things we used from the day we brought him home through three months old. And I wanted to do it while they were all still so fresh in my mind so I could share why we loved them or needed them! Some are your standard items and some are items I had never heard of before becoming a mom!
Quick side note: You'll notice that most of these links are from Amazon. Ha, could my shopping habits be more obvious? Well today is actually Prime Day which means there's some huge sales going on for Prime Members, including some of the items below!! If you aren't yet a Prime member and are expecting or adopting, I highly recommend you do the free trial + hop on it! I can't tell you how many times we've placed a desperate order in those first few months because of the two day delivery. Plus the Prime Now feature available in most major cities delivers in two hours!! Yes, hours!! Anyway, if you're thinking about any of these items… today's a good day to save a buck! Alright, onto the list!
Feeding
Dr. Brown's Bottles: We had heard these were the best bottles for babes with gas and this was definitely true!
Microwave Sterilizer Bags: We dealt with thrush (a mouth infection) with Arlo and they taught us how important it was to sterilize bottles every time to avoid it coming back! So we wash with warm water + soap and then pop them in these!
Drying Rack: If you use the above bottles they have a zillion parts! This is perfect for holding all the little parts while they dry!
Formula Dispenser: This is the best thing ever! You can pre-measure the amount of formula you need so you can 1) take it with you when you're out or 2) not have to be measuring scoops at 3am when you're delirious!
Brita Pitcher: We keep a pitcher of water on the counter just for A's bottles so it's always ready to go!
Air-tight Food Container: The formula we use doesn't come in air tight containers so we use one of these to store it!
Burp Cloths: Arlo is a master spitter-upper. We go through A LOT of these. I recommend getting a bunch unless you like doing laundry 18 times a day! =)
Sleeping
SNOO*: I've mentioned this a few times but this bassinet has been a lifesaver for us. It is a big investment. Honestly for us, since we chose to sleep-train Arlo, we don't use the sound/motion feature that often anymore. The best part for us has been that it keeps him strapped in place because he is so active, when he sleeps elsewhere he is ALL over the place.
Moses Basket: This was a gift for my BFF and it was where Arlo took almost every single nap for the first month. We liked it because we could set it on the floor and be able to see him easily. We also love it because we can easily take it with us to my brothers or a friends house if he needs to sleep elsewhere.
Baby Bjorn Pack & Play*: This is what we brought with us to Palm Springs for Arlo to sleep in and also what he sleeps in when he's at the studio. I love it because it folds up so easily and compactly into it's carrying case (we plan to bring it on our first plane trip this fall) but is still big enough for him to use for a good while.
Owlet Monitor*: This thing is the only reason I sleep at night. It monitors A's heart rate and oxygen levels. He wears it every night and then we charge it during the day. It has a base station that flashes green when all is normal and sounds an alarm when something is abnormal. It also hooks up to your phone so I can see his numbers even if I'm in the other room!
Zip-Up Swaddle: We never had luck with a velcro-only swaddle so we use this zip one because he can't punch his way out of it!
Video Monitor: I did a lot of research on monitors and settled on this one. We love it! The picture is really clear and you can zoom/move the camera easily. The battery does die relatively quickly on the monitor but it hasn't been an issue for us since we usually just keep it plugged in!
Bathing
Blooming Bath Flower: A neighbor gave this to us and we LOVE it! It sits right in the sink and makes everything all nice and cozy while we bathe him. He loves baths now!
Tubby Todd Hair & Body Wash*: We've used this on A since his first bath at home! It smells so good!
Tubby Todd Body Lotion*: We use this lotion after every bath mostly as an excuse to stare at his cute butt for an extended amount of time but also it smells great. 😉
Hooded Baby Towel: It has ears! Enough said!
Travel + On the Go
Fawn Design Diaper Bag/Backpack: I feel like 90% of the moms I know have this diaper bag. I like that it looks like a regular bag, it's great quality and fits everything we need it to fit! It also has the option to wear it as a bag or a backpack.
Reusable Snack Bags*: We use the small one for his pacifiers and keep a larger one in the bag for dirty diapers!
Pacifiers: Arlo still is unable to hold a pacifier in his mouth. We've tried pretty much every single one (including the wabunubs) and this is the one most likely to stay in his mouth!
Pacifier Clips: Since Arlo does not keep a pacifier in his mouth, this is essential for us. Haha!
Solly Baby Wrap: This was the only guaranteed way to get Arlo to sleep during witching hour those first few weeks. We also took him out pretty early on and kept him in this so he was nice and close and not exposed to too many germs! It's so cozy, you can fold it up and stuff it in the diaper bag and it's my favorite way to wear him.
Baby Bjorn*: This is the more traditional carrier we use and we really like it! It's more structured and substantial so if you're needing to take it on and off a lot, this is easier than the wrap which requires more time. Arlo is just starting to be able to face out in it and Jeff loves that, as does baby A!
Car Mirror: This one is pretty large and makes it super easy to see Arlo in the backseat!
Travel Changing Pad + Wipe Container: I can fold/unfold this pad with one hand, fit a few diapers inside and the wipe container, plus it's big enough when unfolded that if I have to change him on the ground, he doesn't touch the ground at all!
Playtime

Momaroo*: Starting at around 6 weeks, Arlo fell in love with the Momaroo. Prior to that, he'd take an occasional nap in it but after 6 weeks.. he just LOVED hanging out in it and staring at/chatting with the black and white plush things that hang above it. Still does!
Play Gym: Another gift and our second guaranteed thing to keep him entertained so we can fold laundry, eat, etc. He L-I-V-E-S for this thing and I have several friends who've said the same about their babies!
Oball Toy Ball – This is one of the only toys Arlo can really grab hold of and play with since it is light and the pieces are narrow, perfect for tiny hands! He LOVES it!
Hello, Garden Bugs High Contrast Book: A friend gifted this to us and Arlo was mesmerized looking at the black and white pictures. It was the first book he really interacted with!
Diapering + Healthcare
Windi Pipe: One of you guys recommended this to me early on and what a LIFE SAVER it was. I recommend talking to your pediatrician before using it, but essentially it's a little pipe that helps to relieve them of gas. Before we found the right formula for A, we would have DIED without it. (Gas drops didn't work for him.)
Nose Frida: Baby noses get stuffed so quickly because they're so little! We use this to clean out Arlo's. It sounds gross but is weirdly fun and addicting? Ha! Arlo actually laughs along with me now when we use it!
Saline Drops: We put a few drops of this in his nose before using the Frida to help loosen stuff up!
Changing Pad + Pad Covers: Not much to say here, but you're gonna need it! Haha!
Munchkin Diaper Pail*: Necessary. And this one isn't ugly, it's pretty sleek and blends in. Yay!
Diaper Pail Refills: Bags for the diaper pail. Good to have extras on hand!
Pampers Swaddlers: Our fave diapers we've tried! He was in the newborn size for quite some time and is now in size 1! They have a line down the front that turns blue when it's wet!
I also have to say, perhaps the BEST gifts we got when Arlo was brand new was food. We had no time to cook since we were learning how to keep a small human alive so having food delivered was hands down the best thing that happened to us. A few people gifted us credits to Munchery, which is a meal delivery service that delivers already prepared meals. Everything we got was really good and they had dessert and breakfast stuff you could add on too! It was nice to feel like we were having a few more "home cooked" meals versus just take-out. You can get $20 in credit when you place your first order here! (p.s. That is an affiliate link but this is not sponsored, I just really loved it!)
Ok, that's a wrap! Any other items you loved in those first few months? Please note I didn't include any clothes because I've gotten so many Q's about baby A's clothes that I'm going to do a separate post on that too!
Items we were generously gifted are marked with a *, all opinions are my own and if the item is on this list I genuinely loved it!
SaveSave
SaveSave
SaveSave