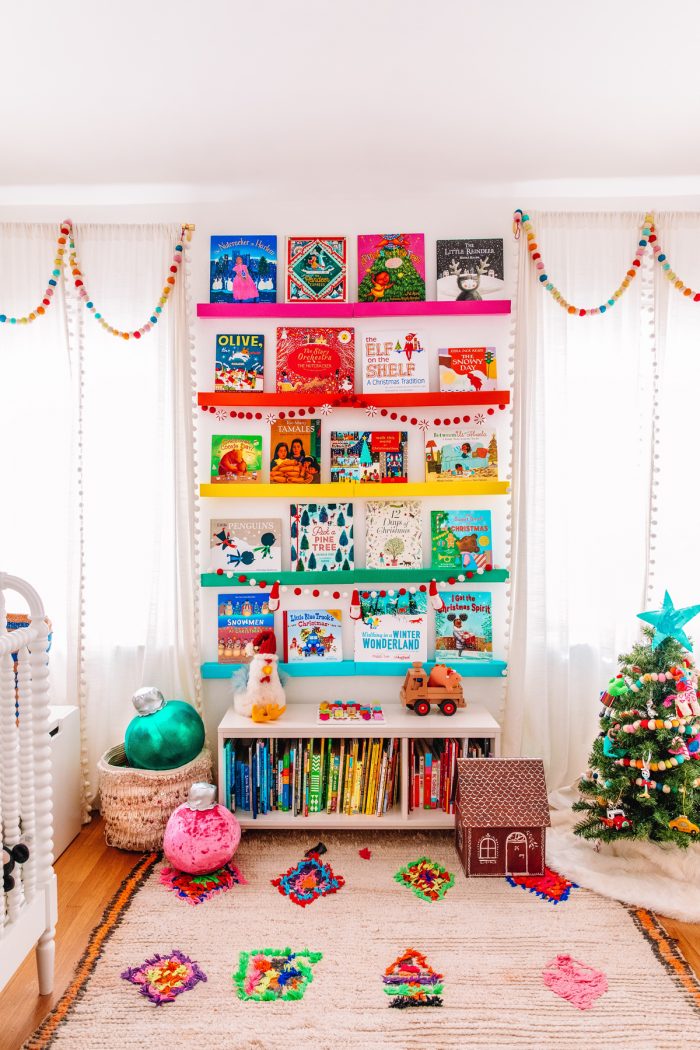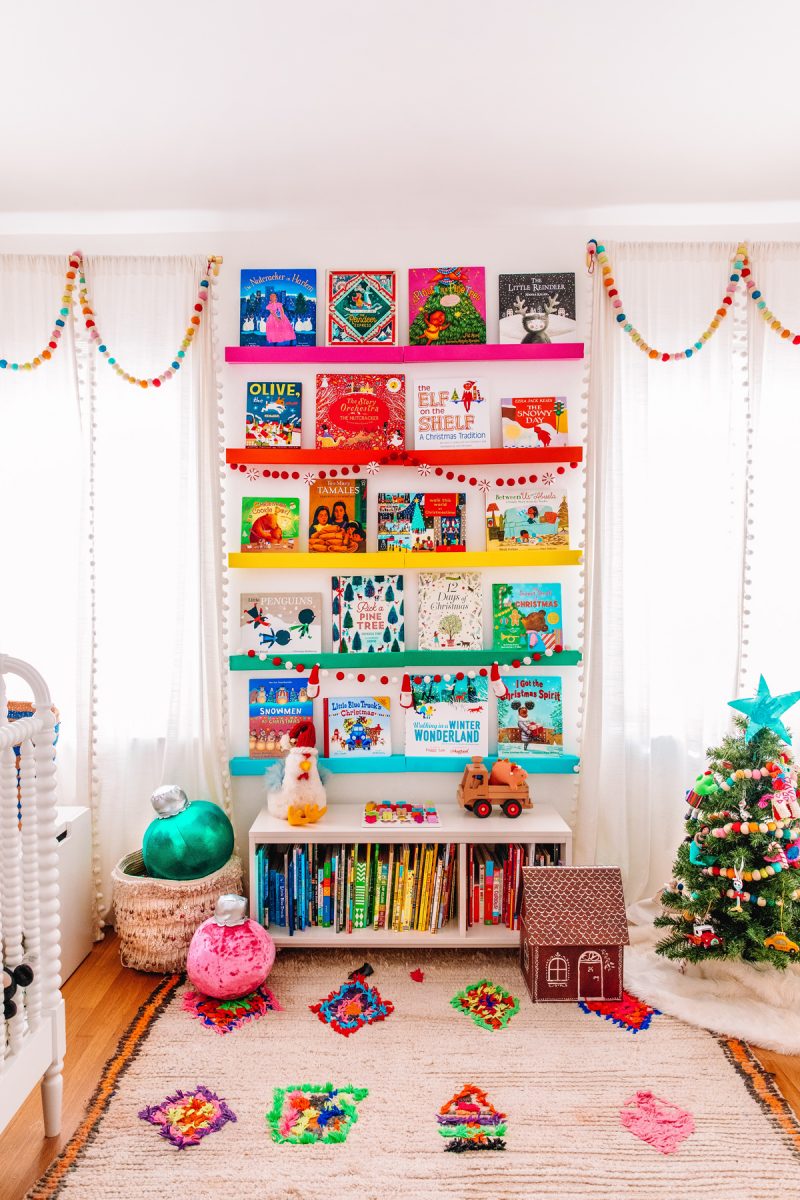 Every year, we add a few new holiday books to our library. It's such a fun thing to collect and pull out of storage year after year.
I wanted to share a few of our favorite holiday books for kids, many of which were recommended to us by YOU guys initially. So thank you for that!! A lot of Christmas centered but there's a few that just celebrate winter overall, too. If you have any other faves, I'd love to hear them below!!
Favorite Christmas & Holiday Books
The Nutcracker in Harlem by T. E. McMorrow, Illustrated by James Ransome: This book is so beautiful, it's set in NYC and is a jazz-inspired re-imagination on the classic The Nutcracker and the Mouse King story!
Last Stop on the Reindeer Express by Maudie Powell-Tuck, Illustrated by Karl James Mountford: You know I'm a sucker for an interactive book! This one has little doors and openings that lead you, literally, through the cutest Christmas story!
A Piñata in a Pine Tree by Pat Mora, Illustrated by Magaly Morales: This is a latinx take on the 12 days of Christmas song and the illustrations are so beautiful and colorful! Each page has the pronunciations alongside the Spanish words used in the book, plus a glossary at the end for all the meanings and a page with sheet music if you want to play the song!
The Little Reindeer by Nicola Killan: Bought this book because the illustrations were just too pretty but the story is actually a super fun one to read aloud too!
Olive The Other Reindeer by Vivian Walsh, Illustrated by J.otto Seibold: Probably one of the top recommended books in the IG survey I did! It's the cutest little story about a dog who thinks she's a reindeer and helps save the day!
The Story Orchestra: The Nutcracker, Illustrated by Jessica Courtney Tickle: This is the COOLEST book. There's a spot on each page to press and it plays a bit of the song from each act of the Nutcracker. It's Arlo's favorite of our books now and oh man, I just adore it so much. SO SO SPECIAL.
The Snowy Day by Ezra Jack Keats: This one isn't Christmas specific, just winter! It's a really cute, simple story about *you guessed it* a snowy day and since Arlo doesn't really get that in real life, I love reading to him about the magic of it! Makes me sad sometimes that he won't have snow days himself!!
Christmas Cookie Day by Tara Knudson, Illustrated by Pauline Siewert: Arlo's favorite Christmas book this season, hands down. It's a super simple board book all about the art of making Christmas cookies and giving them to the ones you love! We're going to try to make some of the cookies they make in the book (it actually has a recipe on the back!) and I can't wait!
Too Many Tamales by Gary Soto, Illustrated by Ed Martinez: Several of you recommended this book to me and I'm so glad! I love that it is all about a Christmas tradition and while it's a bit too advanced for Arlo this year, I've been reading it in bits and pieces to him because it's such a great and funny read!
Walk This World At Christmas Time by Debbie Powell: This book is WONDERFUL! It takes you around the world and explores how different countries celebrate the holiday. I love learning about other traditions and celebrations, and all the little facts are hidden behind flaps so it makes it extra fun for kiddos too!
Little Penguins by Cynthia Rylant, Illustrated by Christian Robinson: I love how simple this story is and there's something about it that just DRAWS Arlo in. One of his most requested reads. And it's another beautifully illustrated pick, too! Note: This is just a winter story, not a Christmas story!
Pick A Pine Tree by Patricia Toht, Illustrated by Jarvis: Hands down, one of my favorite books of all time. I just LOVE IT and it's so fun to read. It's all about choosing and decorating a Christmas tree and I just think it is so well written, and the illustrations are so adorable and I love that explains something that we'll do every year so perfectly!
12 Days of Christmas by Lara Hawthorne: This book goes through the classic Christmas song with beautiful illustrations on each page. It also has a hidden pictures page at the very end where you have to find all the symbols from the song!
The Sweet Smell of Christmas by Patricia M. Scarry, Illustrated by J.P. Miller: Another highly recommended book by you guys! It's SCRATCH AND SNIFF!!! That's really all I need to say.
Snowmen at Christmas by Caralyn Buehner, Illustrated by Mark Buehner: We love this series (the Halloween version is one of our faves!), and this one is a fun story about a boy imagining how snowmen celebrate Christmas! They have hidden pictures on every page too, which makes it extra fun to read!
Little Blue Truck's Christmas by Alice Shertle, Illustrated by Jill McElmurry: This was the book we gave to Arlo last year with a note in it and he still loves it. We love the whole Little Blue Truck series because any excuse to make animal noises and look at cars is a win win in this kid's book. And this one has a light page at the end that REALLY seals the deal.
Walking in A Winter Wonderland by Richard B. Smith and Felix Bernard, Illustrated by Tim Hopgood: I love this book because you can sing to it! It's just the lyrics to the song alongside beautiful illustrations, but if you have a kid who loves music like mine, they'll LOVE it.
I Got The Christmas Spirit by Connie Schofield-Morrison, Illustrated by Frank Morrison: Bought this one the second I saw it recommended by The Conscious Kid. It just arrived and I already love it so had to include. The story is all about a little girl experiencing the holiday season and it's another really fun one to read out loud.
A Note About Shopping for Books!
I've started to use Bookshop.org when I share links for books in my blog posts. I like Bookshop because they contribute to independent book stores. I find their shipping (assuming the book is in stock) is often just as fast as Amazon, too.
If you shop through my general links above, a portion of the profits go to a general "pool" which is divided among independent bookstores across the country. I do use affiliate links when sharing books, so I make a small percentage if you purchase through my links (at no additional cost to you). You can also search on the site to find a local-to-you-bookstore through their links so that the profits contribute directly to that book store.
That said, shopping directly with a bookstore is always the best way to support them and they need all our support right now. So, if you see a book you love above, you can also consider calling your local book store (or going to their website) and seeing if they have it and buy it direct! Bookshop is simply an easier way for me to make these books accessible for everyone.
Of course, shopping local used bookstores is a great and sustainable way to shop too. Simply call them and see if they have what your looking for at the moment or if they can put you on a list should they get that title in!
If you have any other holiday books you love, I'd love to hear about them below!