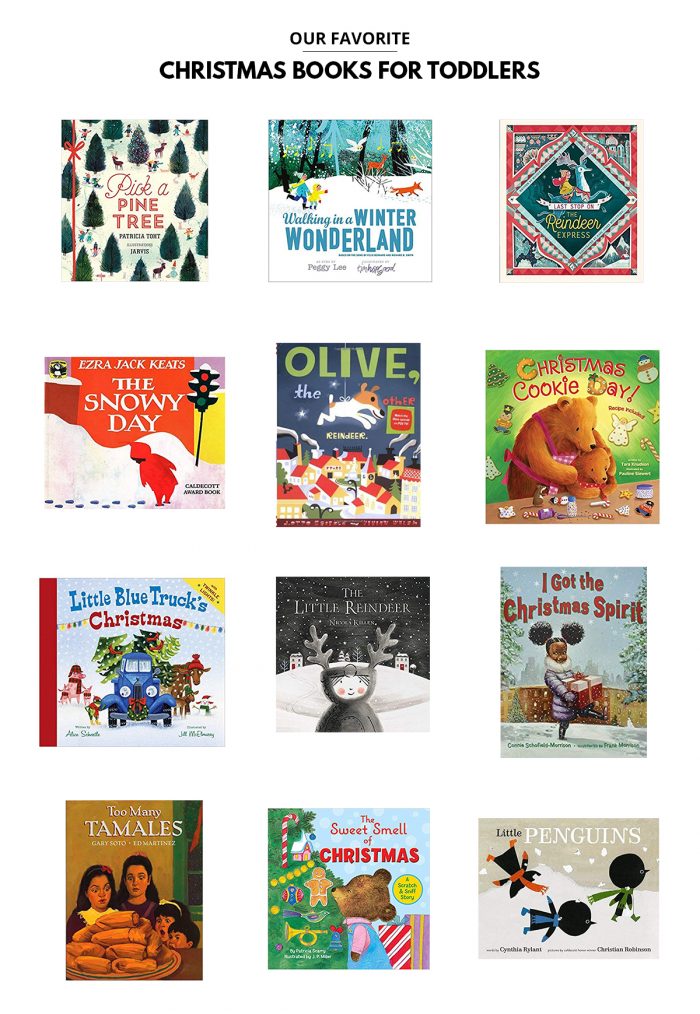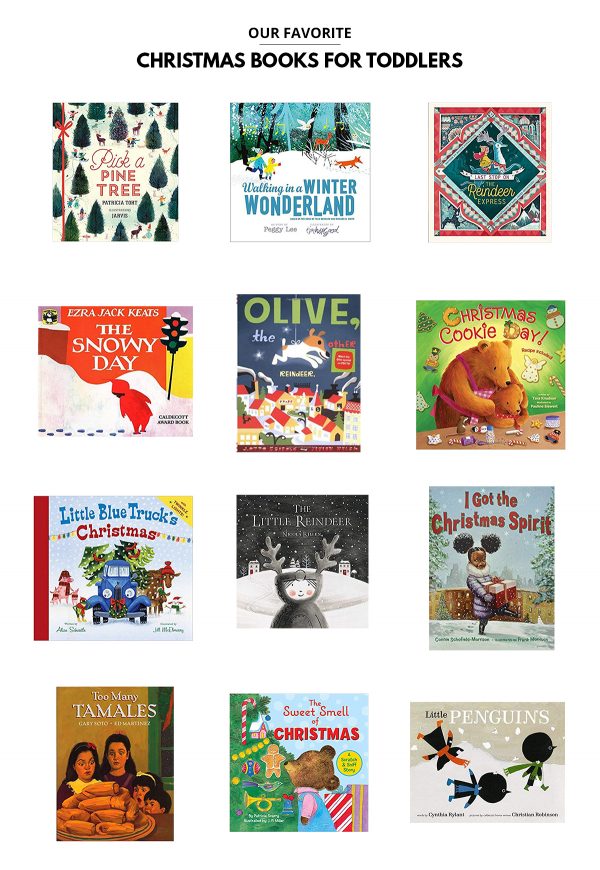 We really built up our Christmas and holiday book library this year and Arlo is LOVING IT! So am I, obviously. I wanted to share a few of our favorite ones that we've read, many of which were recommended to us by YOU guys. So thank you for that!! A lot of Christmas centered but there's a few that just celebrate winter overall, too. If you have any other faves, I'd love to hear them below!!
Pick A Pine Tree by Patricia Toht, Illustrated by Jarvis: Hands down, one of my favorite books of all time. I just LOVE IT and it's so fun to read. It's all about choosing and decorating a Christmas tree and I just think it is so well written, and the illustrations are so adorable and I love that explains something that we'll do every year so perfectly!
Walking in A Winter Wonderland by Richard B. Smith and Felix Bernard, Illustrated by Tim Hopgood: I love this book because you can sing to it! It's just the lyrics to the song alongside beautiful illustrations, but if you have a kid who loves music like mine, they'll LOVE it.
Last Stop on the Reindeer Express by Maudie Powell-Tuck, Illustrated by Karl James Mountford: You know I'm a sucker for an interactive book! This one has little doors and openings that lead you, literally, through the cutest Christmas story!
The Snowy Day by Ezra Jack Keats: This one isn't Christmas specific, just winter! It's a really cute, simple story about *you guessed it* a snowy day and since Arlo doesn't really get that in real life, I love reading to him about the magic of it! Makes me sad sometimes that he won't have snow days himself!!
Olive The Other Reindeer by Vivian Walsh, Illustrated by J.otto Seibold: Probably one of the top recommended books in the IG survey I did! It's the cutest little story about a dog who thinks she's a reindeer and helps save the day!
Christmas Cookie Day by Tara Knudson, Illustrated by Pauline Siewert: Arlo's favorite Christmas book this season, hands down. It's a super simple board book all about the art of making Christmas cookies and giving them to the ones you love! We're going to try to make some of the cookies they make in the book (it actually has a recipe on the back!) and I can't wait!
Little Blue Truck's Christmas by Alice Shertle, Illustrated by Jill McElmurry: This was the book we gave to Arlo last year with a note in it and he still loves it. We love the whole Little Blue Truck series because any excuse to make animal noises and look at cars is a win win in this kid's book. And this one has a light page at the end that REALLY seals the deal.
The Little Reindeer by Nicola Killan: Bought this book because the illustrations were just too pretty but the story is actually a super fun one to read aloud too!
I Got The Christmas Spirit by Connie Schofield-Morrison, Illustrated by Frank Morrison: Bought this one the second I saw it recommended by The Conscious Kid. It just arrived and I already love it so had to include. The story is all about a little girl experiencing the holiday season and it's another really fun one to read out loud.
Too Many Tamales by Gary Soto, Illustrated by Ed Martinez: Several of you recommended this book to me and I'm so glad! I love that it is all about a Christmas tradition and while it's a bit too advanced for Arlo this year, I've been reading it in bits and pieces to him because it's such a great and funny read!
The Sweet Smell of Christmas by Patricia M. Scarry, Illustrated by J.P. Miller: Another highly recommended book by you guys! It's SCRATCH AND SNIFF!!! That's really all I need to say.
Little Penguins by Cynthia Rylant, Illustrated by Christian Robinson: I love how simple this story is. Arlo's attention span is forever limited and this is one I can basically guarantee we'll get through! It's another beautifully illustrated pick!