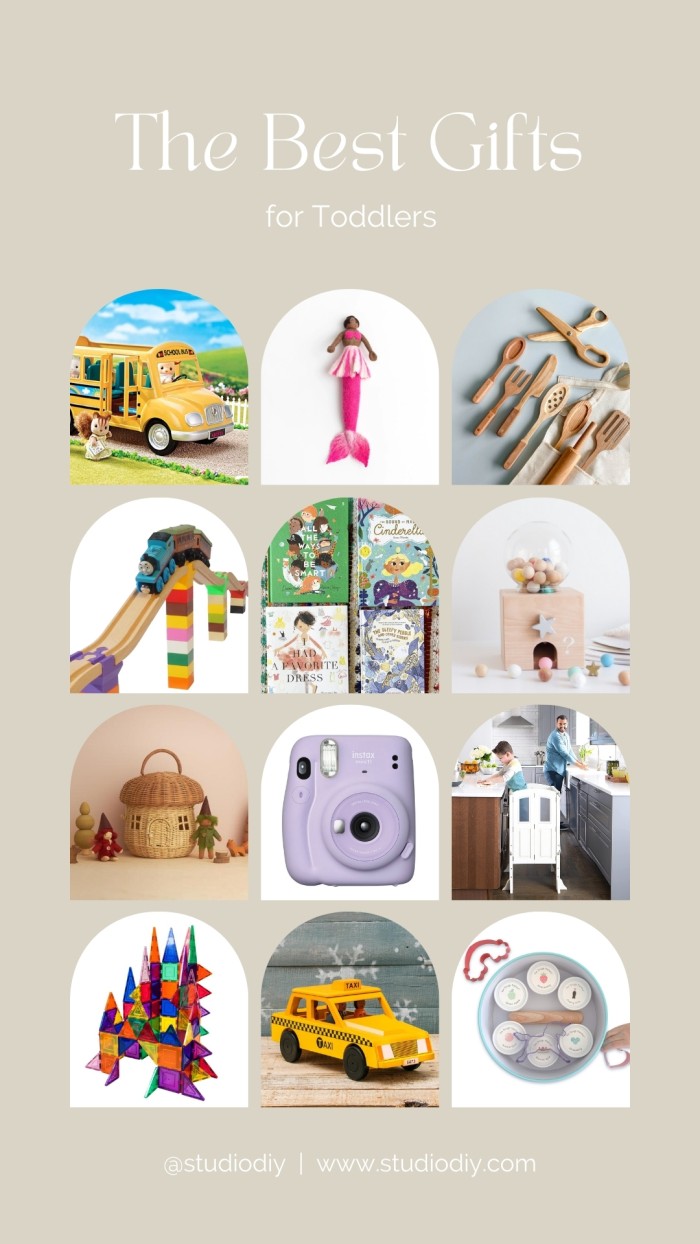 Toddlers are just the busiest, aren't they? Always on the move, always curious. These are some of the best gifts for toddlers I've found because they're something they might not already have, or things that will build upon a toy they already have and love!
All of these gifts are tried and true by my own former toddler (now preschooler) and his friends. Here we go!
Gift Ideas for Toddlers
Calico Critters School Bus: Our #1 played with items are our collection of figurines or "characters" and this bus is great because you can load all sorts of figurines on it!
Mermaid Doll: Mermaids are a big deal around these parts, and I'm sure we're not alone! These dolls are so sweet, and would make beautiful room decor too.
Kitchen Tools Set: We love making dinner with our toddler and this play set allows him to make his own pretend food, too!
Duplo/Train Connectors and Spiral Connectors: THESE ARE SO COOL!!! We haven't gotten ours yet but they allow you to turn Duplos into risers for your train sets so you can build them into swirly ramps or bridges, etc. I am the MOST excited about this gift this Christmas!
Book Subscription: We've had a book subscription before that we love, but I've been looking for one from a small business to support instead. This one looks awesome, as does this one!
Mushroom Basket: Gave this as a gift to my niece and it was a HUGE hit. I believe it will be back in stock soon, sign up for notifications!
Bingo Game/Gumball Machine: We have the regular gumboil machine version of this and Arlo looooves it. Now I want this Bingo version so we can play it as a game!!
Instax Camera: We let Arlo take one of these on our family walks and he has so much fun snapping pics and watching them develop!
Magnetic Tiles: Without a doubt, the most common response I get when I ask what three year olds are into is Magnatiles which makes this, in my opinion, the very best gift for toddlers. There's a bunch of different brands, and they all work together. We builds all sorts of things with them. They're pretty awesome!
Scented Play Dough Set: We LOVE this play dough! The sets make such great gifts.
Kitchen Helper Stool: This has been in several of my gift guides. It is the most used item in our home. It allows Arlo to help cook, play in the sink/wash hands, it is WONDERFUL and I love it. This one folds up which is extra awesome!
Wooden Taxi Cab Similar to the bus, love that you can put characters inside.
What are your kids into these days?