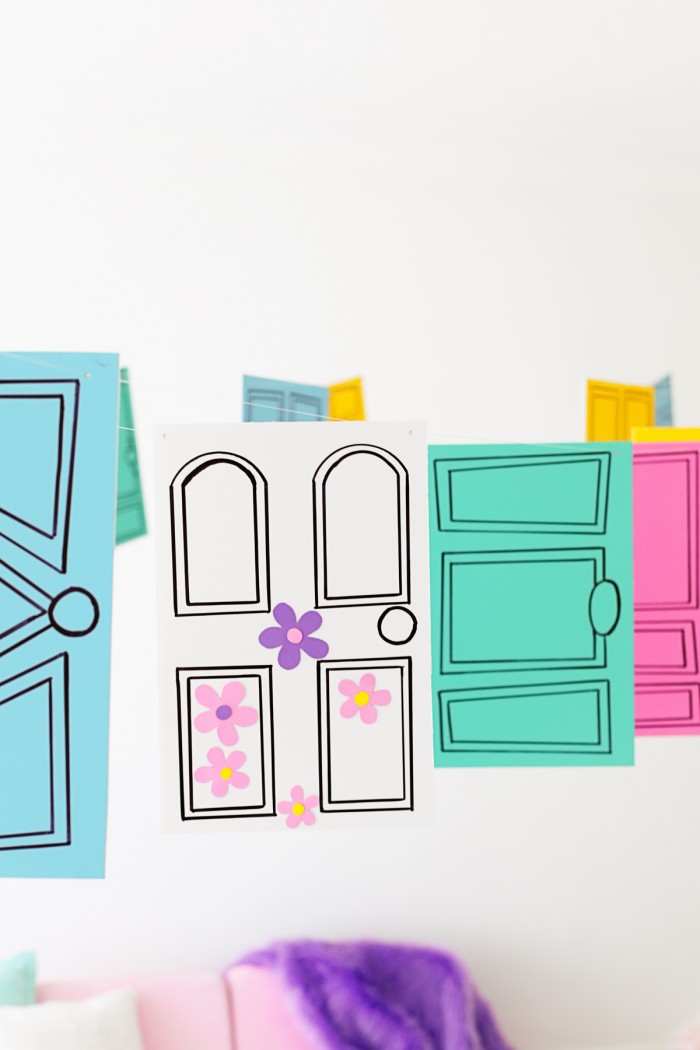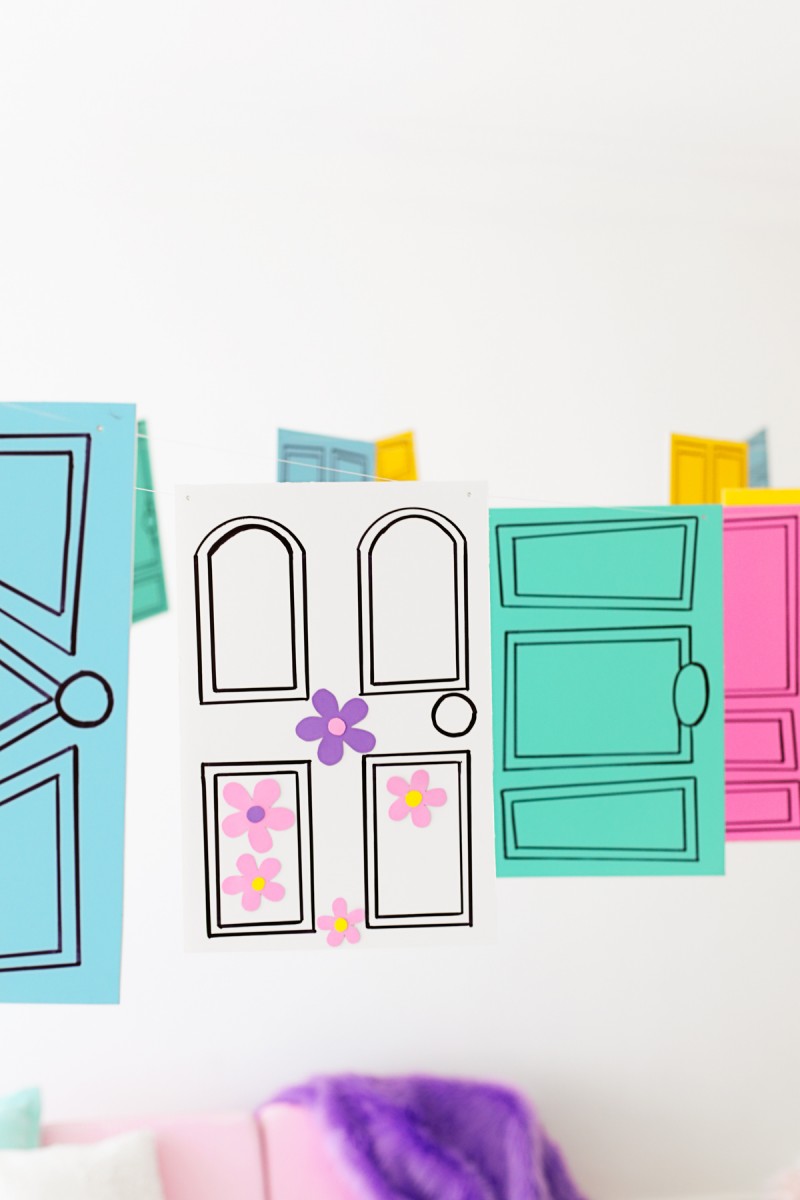 We love Monster's Inc in our house, and Monster's University. And with the new Monsters At Work show, some of you may have little ones requesting Monstropolis inspired birthdays! Am I right? Today I wanted to share a few Monster's Inc birthday party ideas to help you make it happen!
From cupcakes to decor to party favor ideas, try these Sully and Mike Wazowski inspired ideas to make your little one's Monster's Inc party come to life!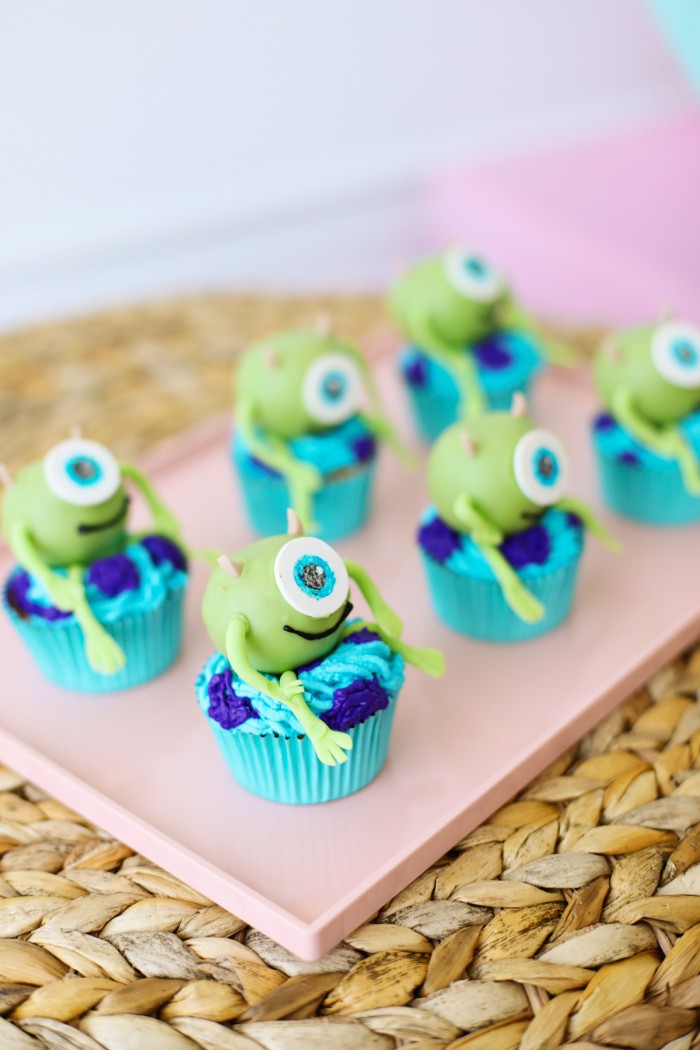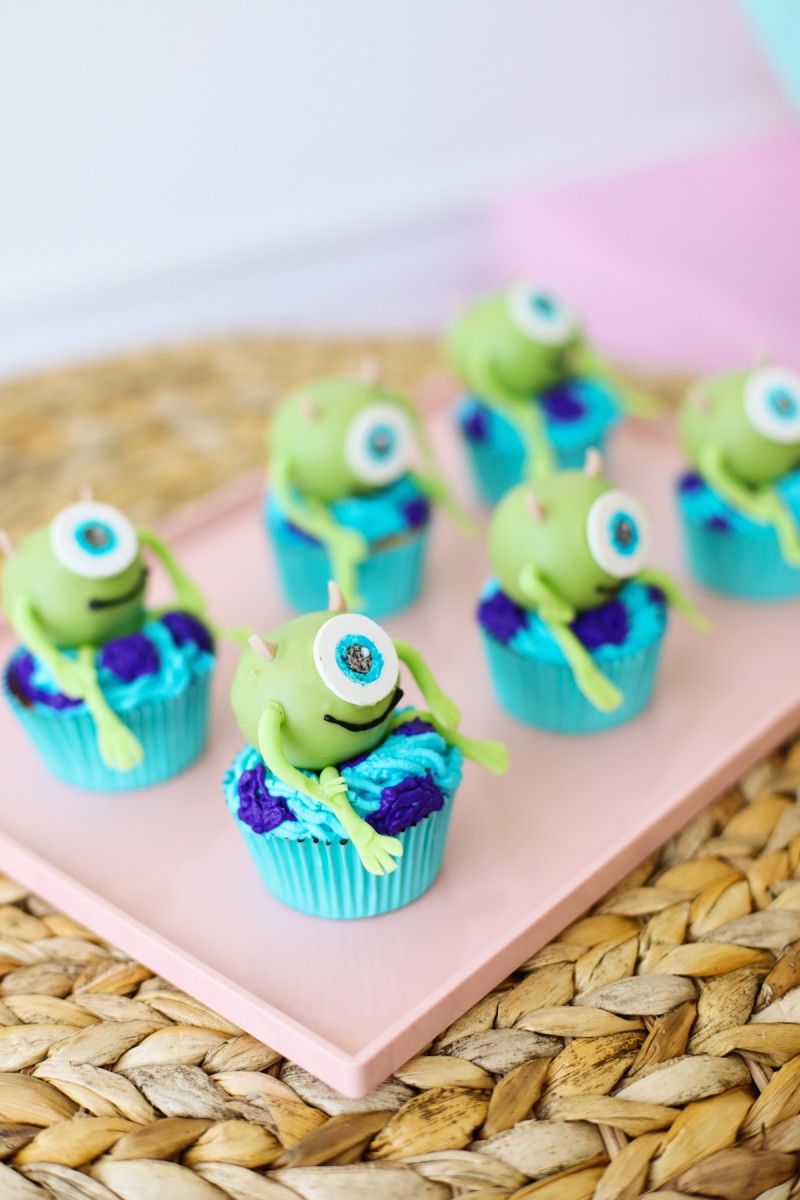 Color Palette Inspiration
I loved using the Monster's Inc ride (pictured above!) as inspiration for the color palette of this. The bright hues of green, blue and purple from Sully and Mike mixed with the pastels of the doors.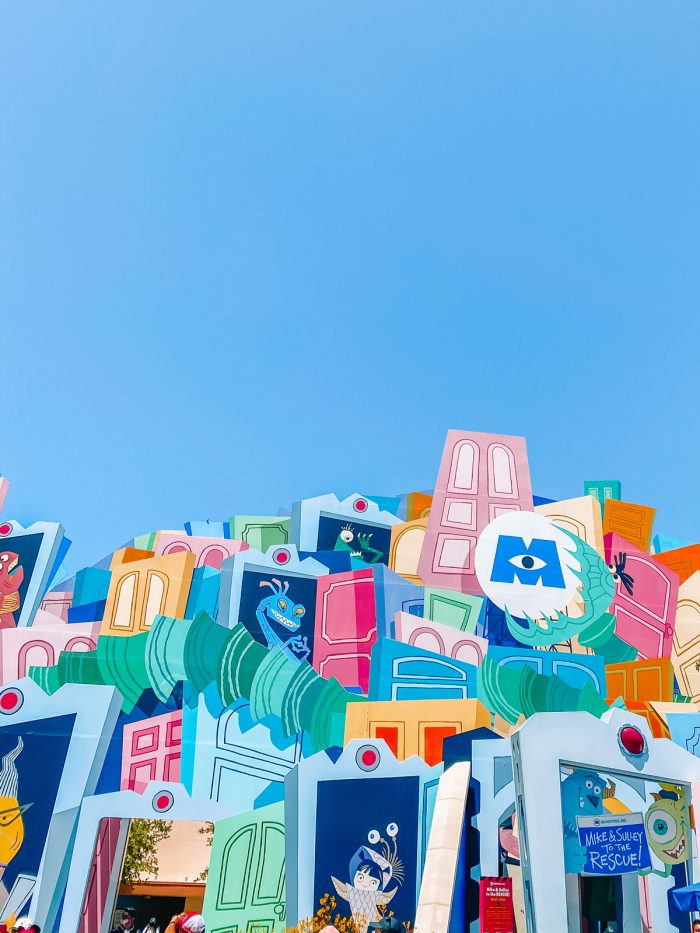 This way, you can use solid color partyware or plates you already have, in all these fun colors!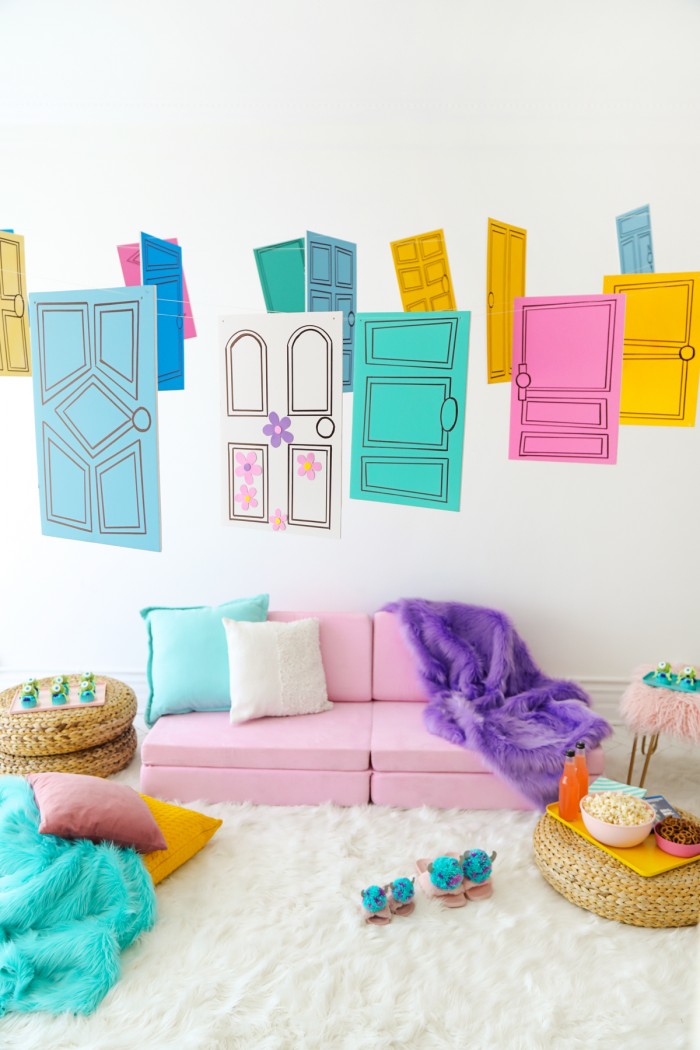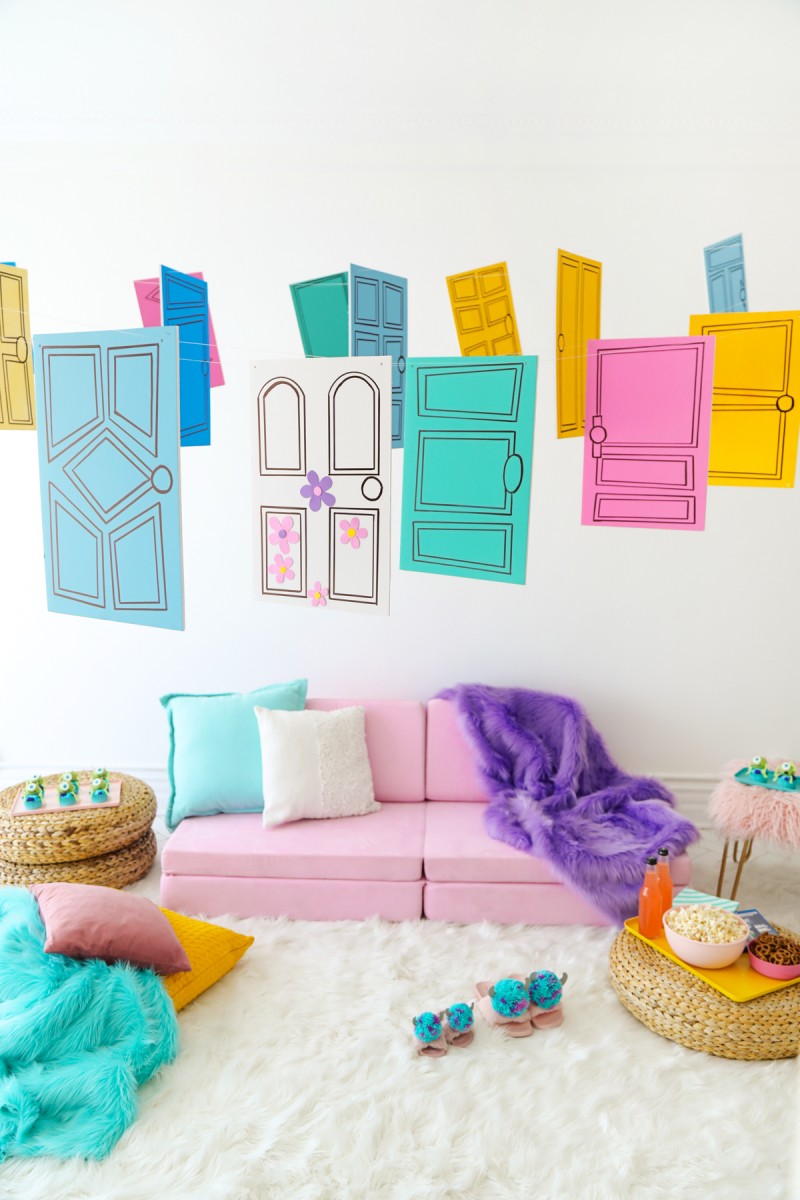 How To Make Monster's Inc Doors
There's nothing more iconically Monster's Inc than all the doors they enter the human world through. They are so fun, whimsical and colorful in the movie… and make for great decor for a party! Try making some out of foam core and hanging them above the party as bunting or behind a dessert display.
Make these doors in three easy steps:
Cut sheets of colorful foam core into fourths using an x-acto knife (cut through one layer at a time for an even cut!).
Use a ruler to draw designs with a black marker as desired. Use ours as inspiration! Don't forget the door knob!
To hang: tape fishing line to the back of each door and hang as desired!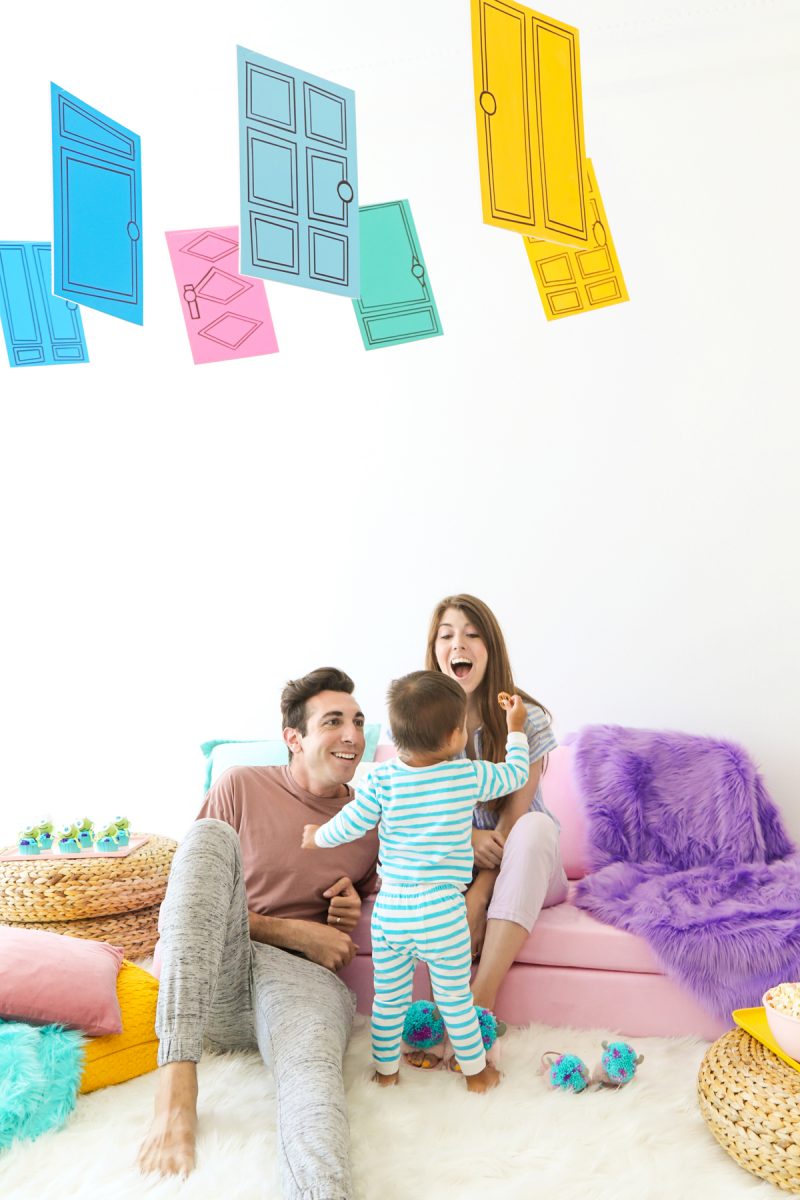 Mike Wazowski Cupcakes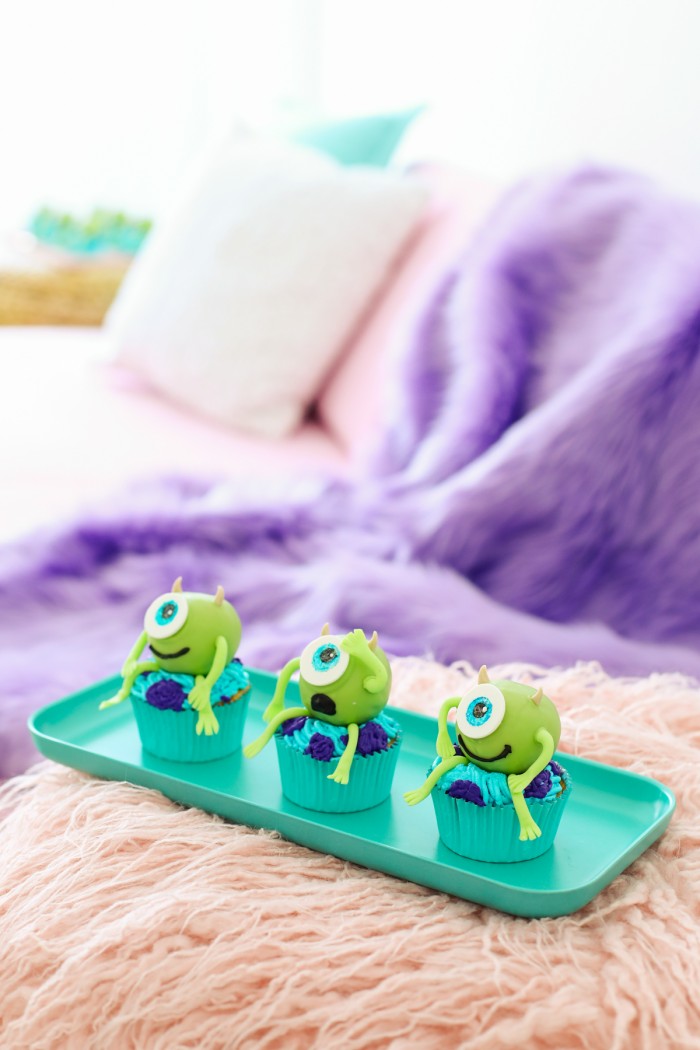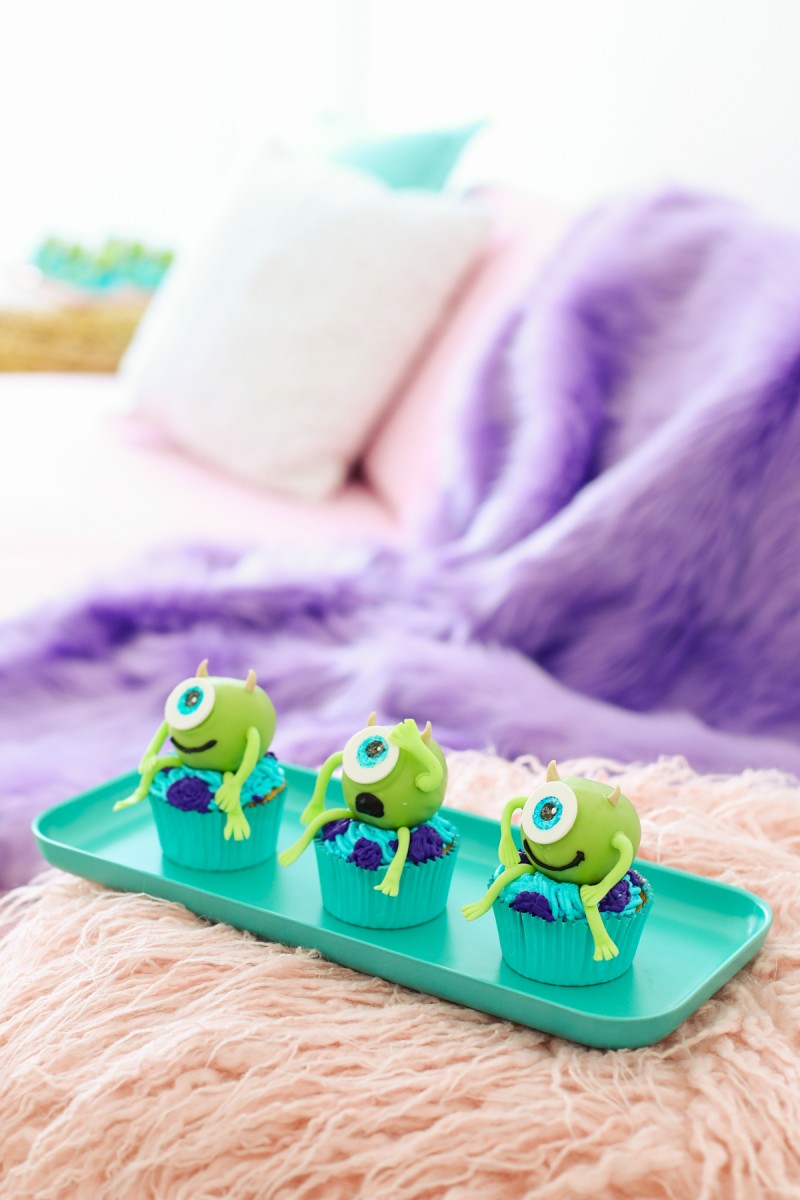 Everyone's favorite little monster, Mike Wazowski, can be easily made like a cake pop and sat atop a monster-decorated cupcake!
Here's what you'll need:
Cupcakes frosted as desired (to frost yourself like ours, use this tip!)
Box mix cake mix
Can of frosting
Green chewy candy or fondant
To make these Monster's Inc cupcakes:
Make cake balls with your favorite box mix and icing.
Melt green candy melts and dip the cake balls in them to give them a green coating.
Use a white candy melt and edible markers for Mike's eye. Adhere it to the cake ball before the candy melt coating dries!
Soften a green chewy candy, like Airheads, (or use fondant if you prefer!) and roll them into arm and leg shapes. Attach to the cake ball with a dot of candy melt coating.
Draw a mouth onto the hardened candy melt coating with decorative icing or an edible marker!
Set them atop homemade or store-bought cupcakes! (To give the cupcake icing a furry texture, use a grass tip!
More Monster's Inc Birthday Snack Ideas
Add edible eyeballs or eyeballs on toothpicks to sandwiches, pizza, a fruit or cheese plate and more!
Sour gummy worms
Chocolate bars that look like doors!
Drinks in yellow cupcakes decorated like scream canisters (Or just get a scream canister for the birthday kiddo!)
Juice boxes wrapped to look like doors, or with eyes to look like monsters!
How To Make Sully Yarn Pom Poms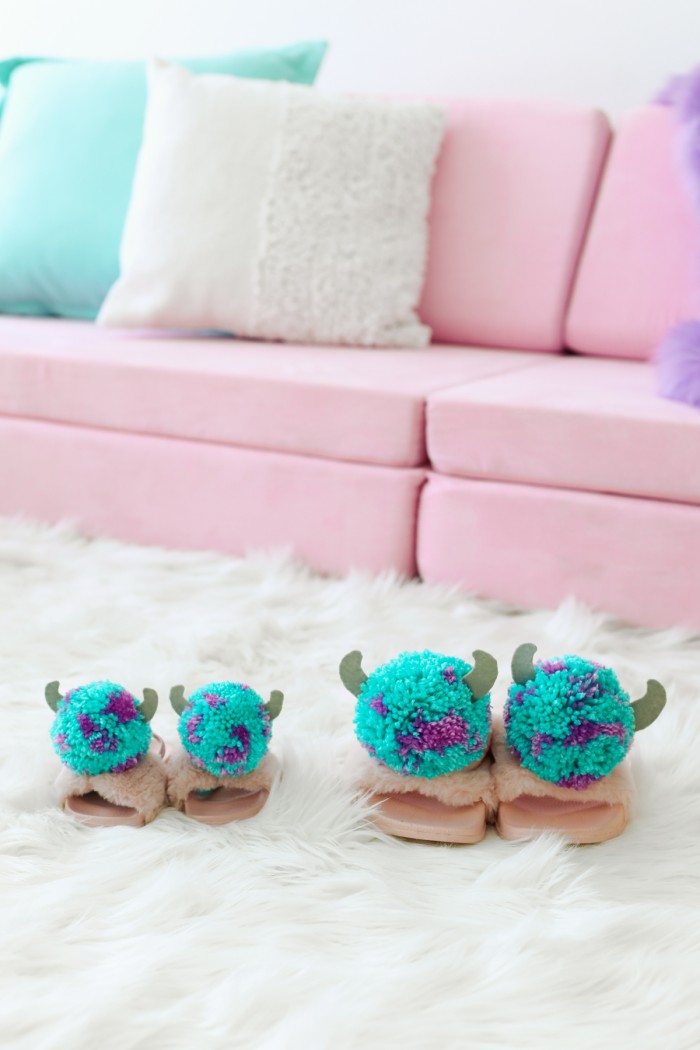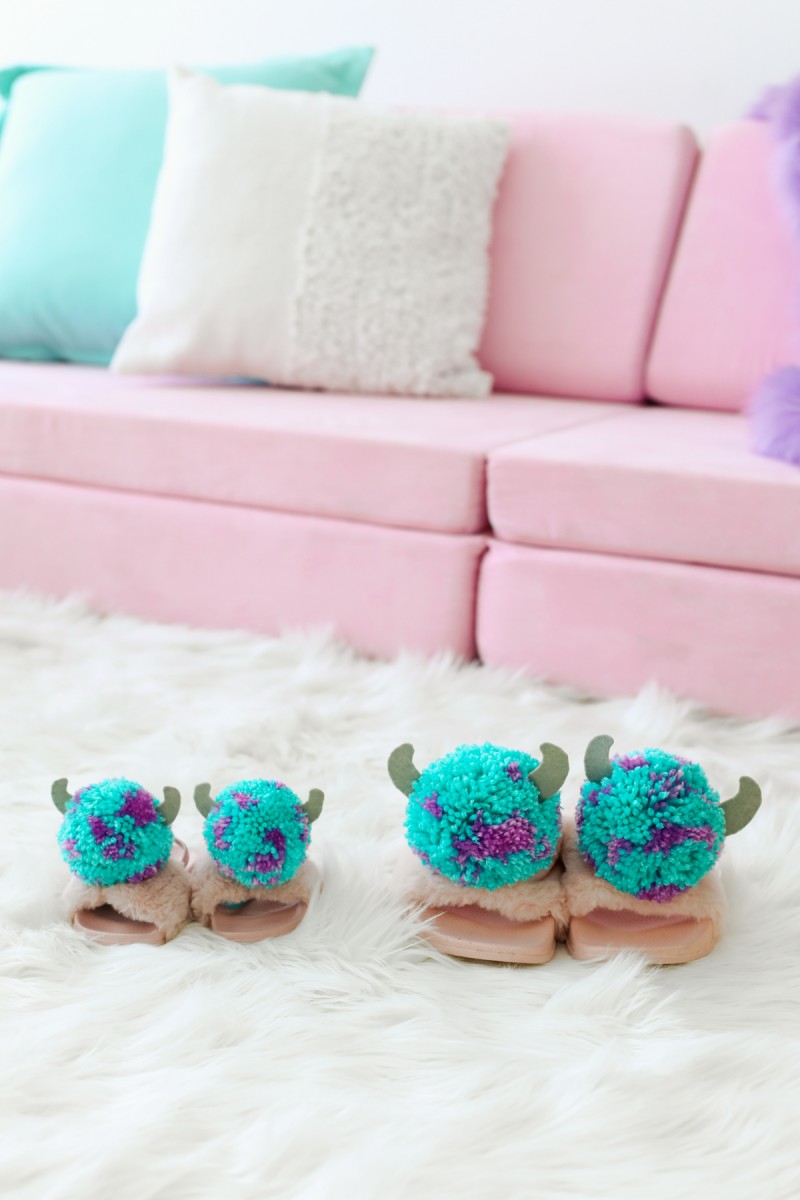 Yarn pom poms are always a hit! They make a great party activity, look cute as Monster's Inc party decor or if you're having a sleepover… turn them into slippers for a favor for each guest!
To make James P. Sullivan inspired yarn pom poms:
I recommend using a pom pom maker for this project.
Wrap the pom pom maker with primarily blue yarn, but wrap a few sections of purple as well to create his "spots."
Follow the instructions on your Pom Pom maker to finish and cut the pom pom (they vary).
If adding to a slipper, use hot glue to permanently attach them to the top of a slipper or a long piece of yarn to temporarily attach them!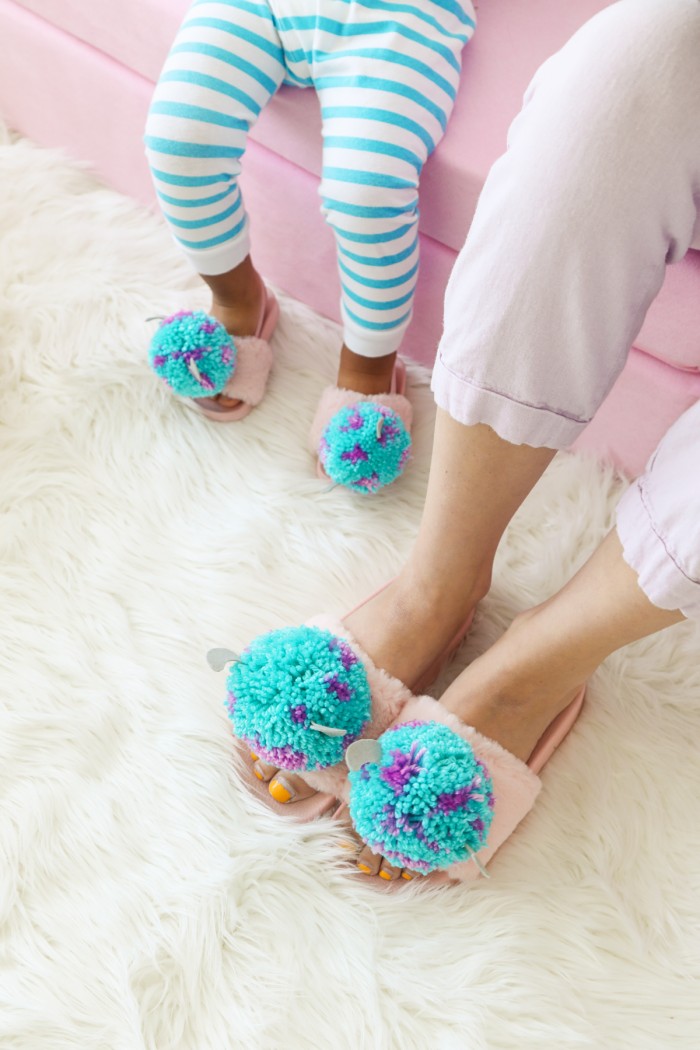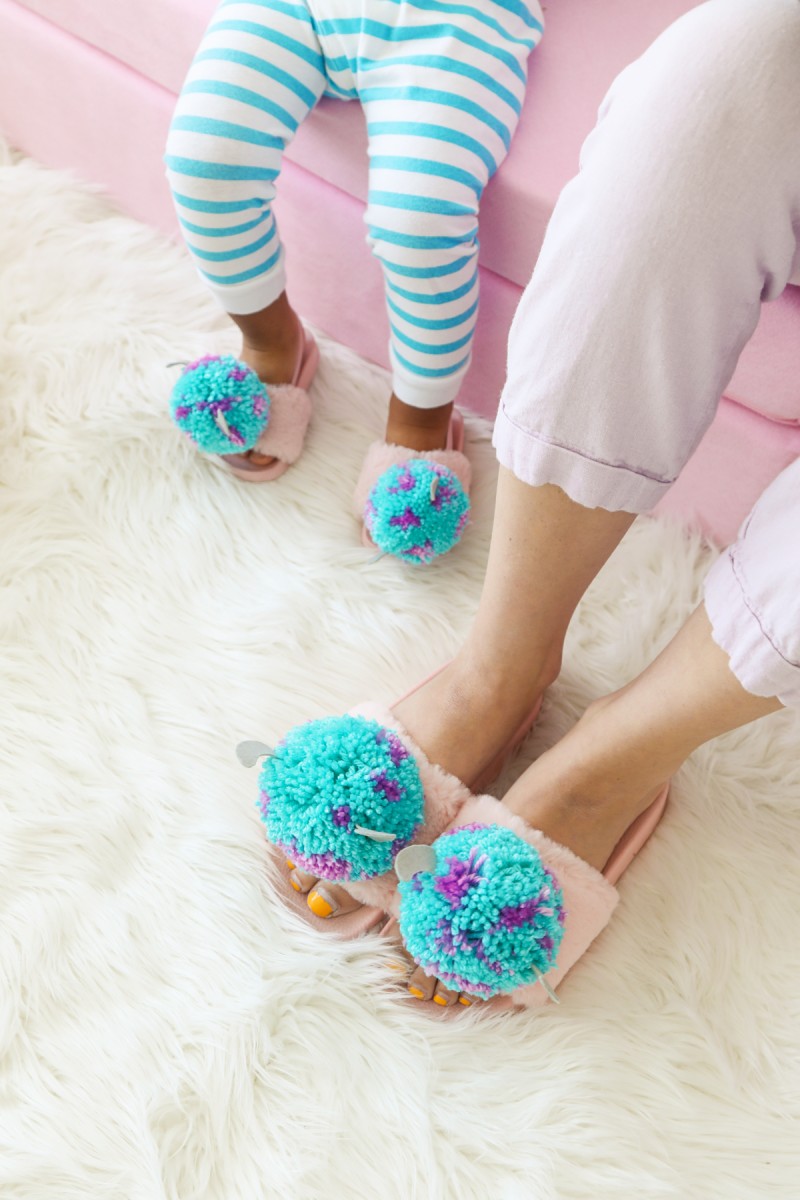 Make It A Movie Night!
If your little ones are old enough, turn the party into a movie night! Play Monster's Inc, Monster's University or Monsters At Work on the TV or a projector outside and make popcorn and other fun movie snacks to go with it.
Set up a couch (or Nugget!) with colorful pillows and furry blankets to add even more monster inspiration to the space!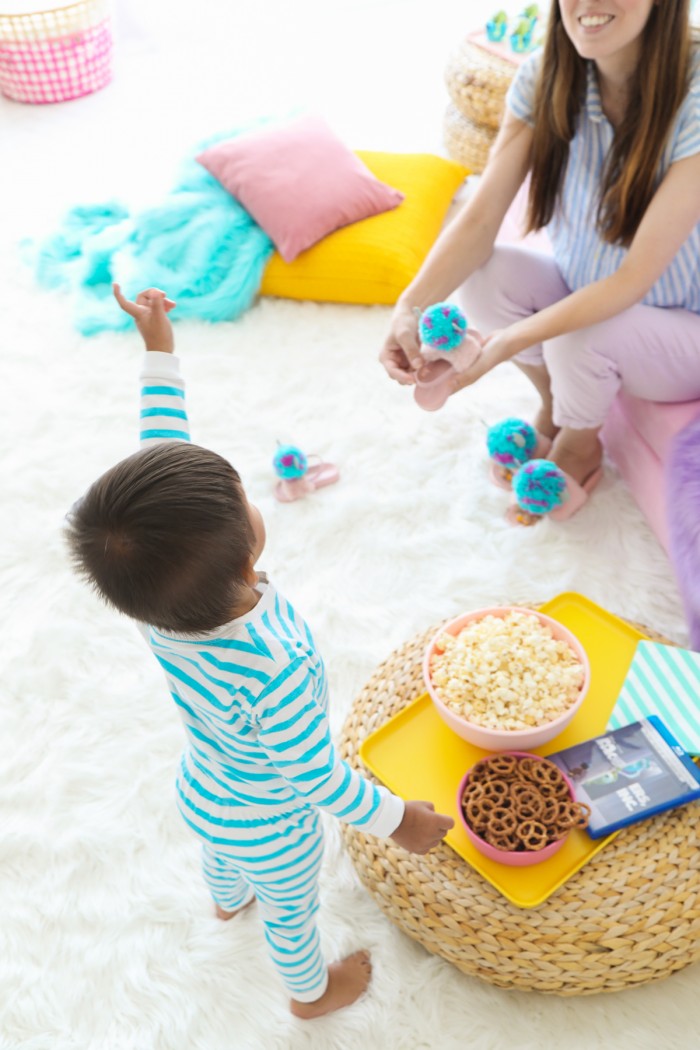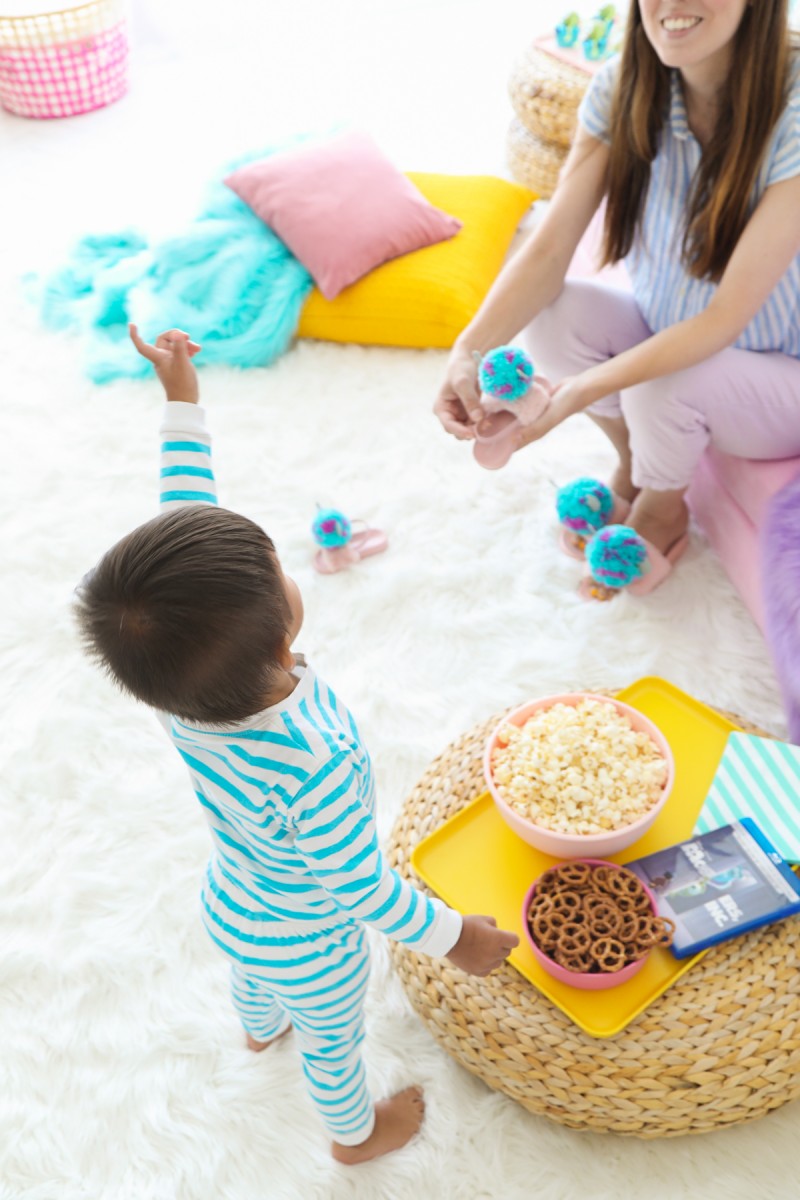 Monster's Inc Party Supplies, Toys & Apparel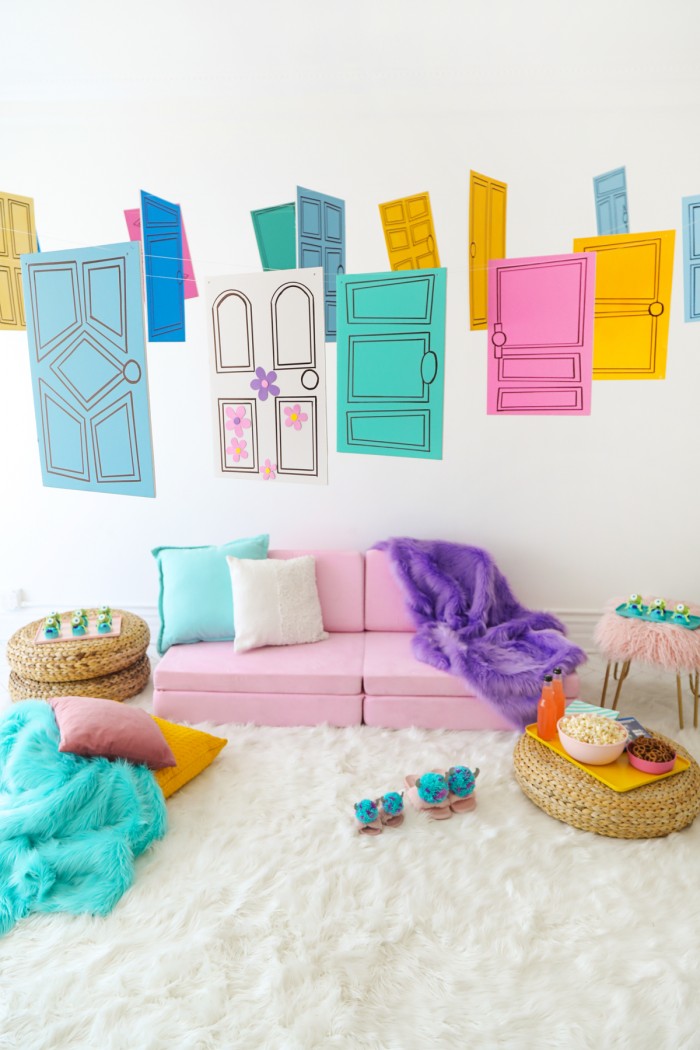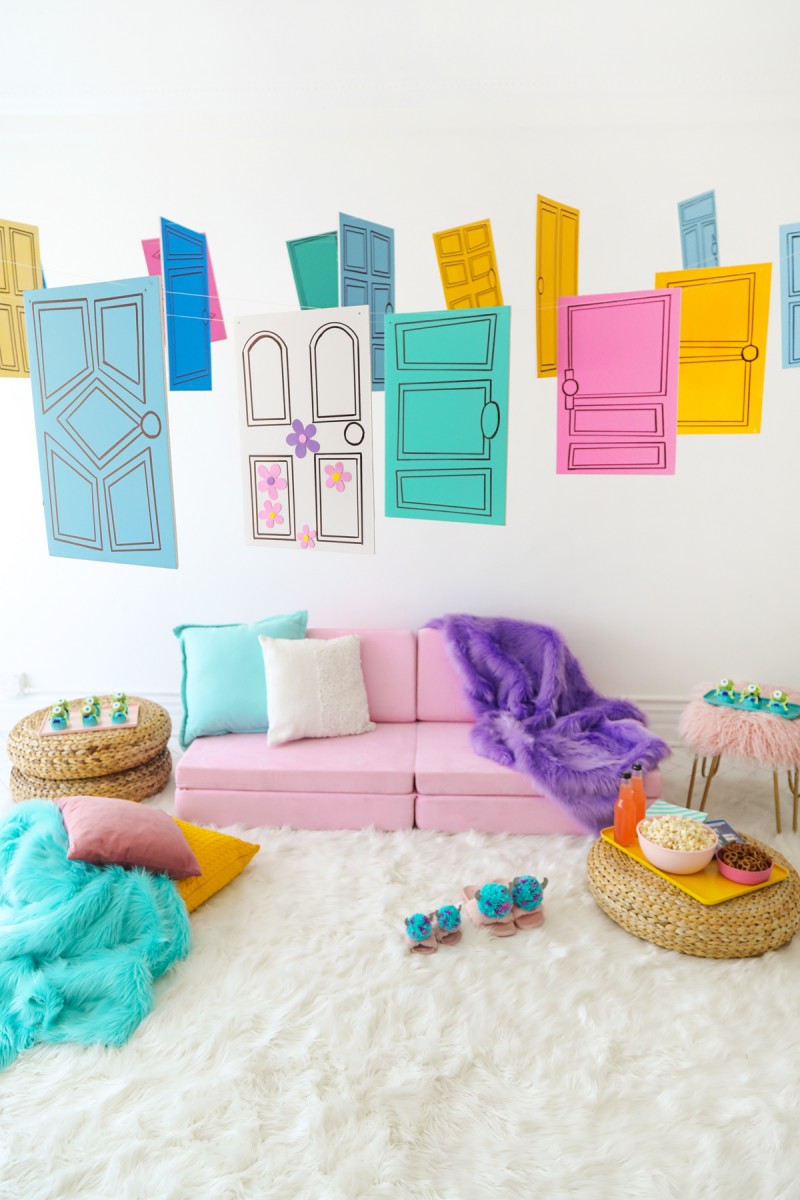 Photos by Jeff Mindell
We'll always love this movie in our house, and it makes for such a fun and silly party theme!
SaveSave