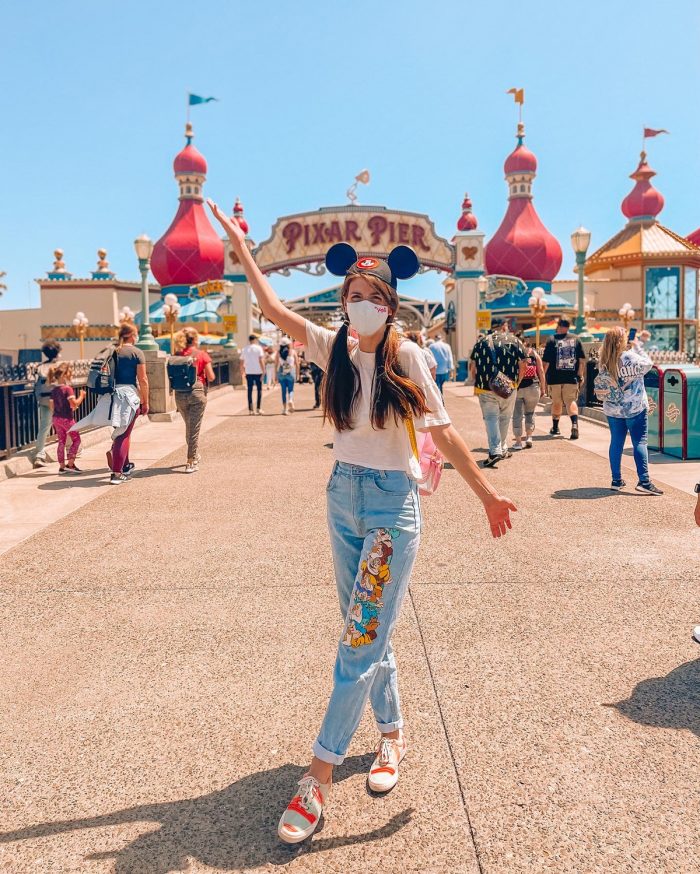 We recently went back to Disneyland for the first time in 17 months! It was SO wonderful and magical to be back, even with the extra Covid precautions in place.
Since Disneyland has re-opened, things look quite different so I wanted to share all of my tips after our visit. I'll discuss parking options, safety precautions, food ordering and availability and more. Hope these are helpful to those of you planning a trip!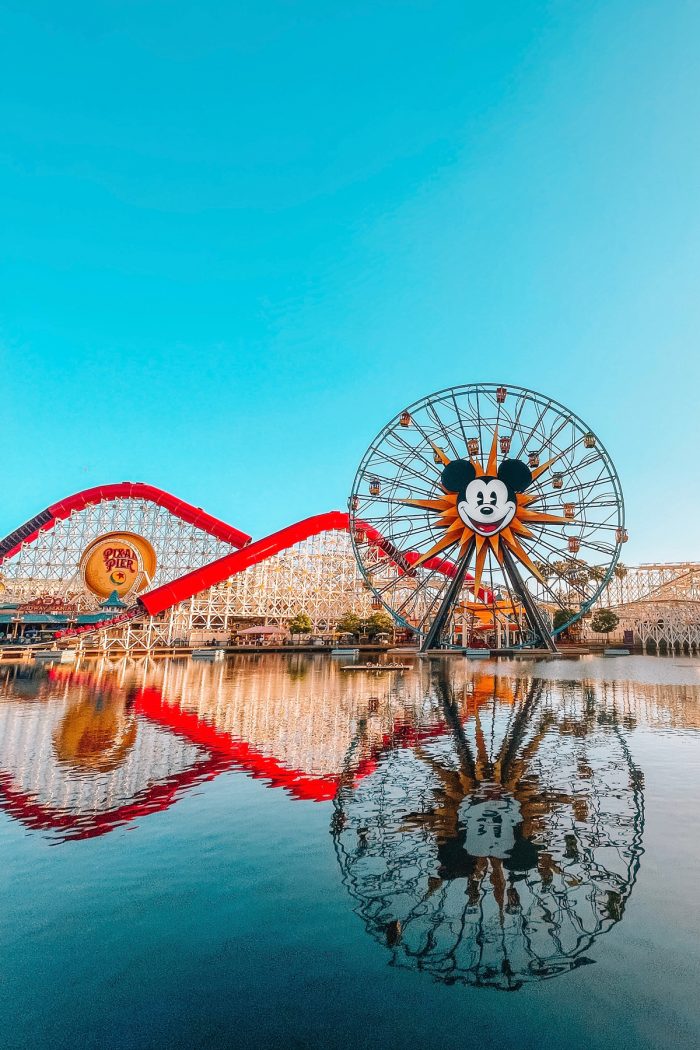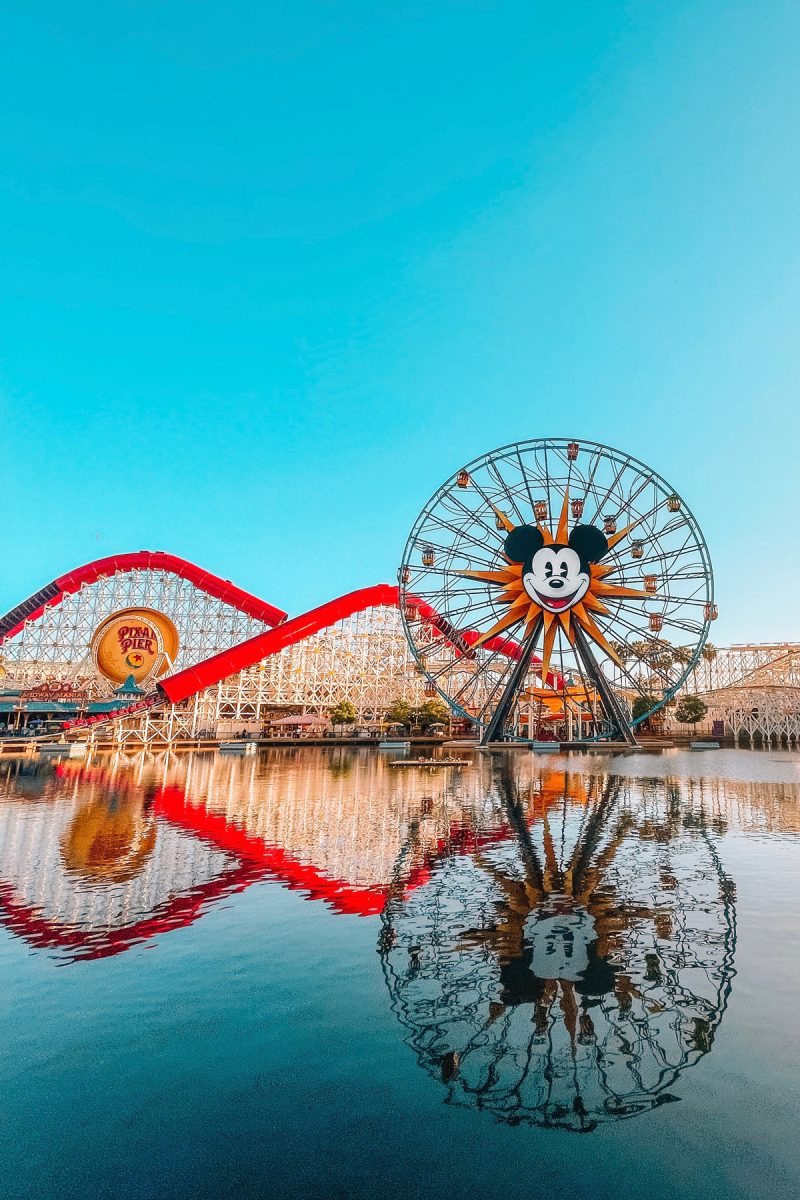 Who can go?
As of right now, only California residents can go to Disneyland. They are opening up the park to non-residents staring June 15th. Please respect the rules.
Parking
Currently the only on-site parking option is to park at the Mickey & Friends lot. The tram is not running to take you from the lot to the park, so you have to walk. The walk is about a half mile I believe? People who park in Mickey & Friends go through temp checks and security at a different place than people walking into the park from elsewhere.
We do NOT like the Mickey & Friends lot on a normal day, and heard mixed things recently as well so we decided to avoid it and park at a hotel. Here are two options:
The Anaheim Hotel
They are currently offering a $15 parking option if you show them this flyer. We mis-read the signs and thought the lot was full when we arrived so we didn't park there but it seems like the best option. It is right across the street from the Harbor Blvd entrance to Disneyland, so you just park and walk across the street and into the park.
Residence Inn
They weren't advertising Disneyland parking but we ended up parking here at the last minute by chance. It is about a block further than the Anaheim Hotel but still a very short walk. It cost $30 but we had no issue paying with just a credit card on the way out at the machine. Bonus: There's a Coffee Bean right next to the hotel where Jeff got coffee since we figured the line at Starbucks in Disneyland would be long.
When leaving the parks, we just walked right out the same entrance we came in. I heard if you stay until closing, getting in and out of Mickey & Friends can be a nightmare, so there's yet another reason to consider parking elsewhere!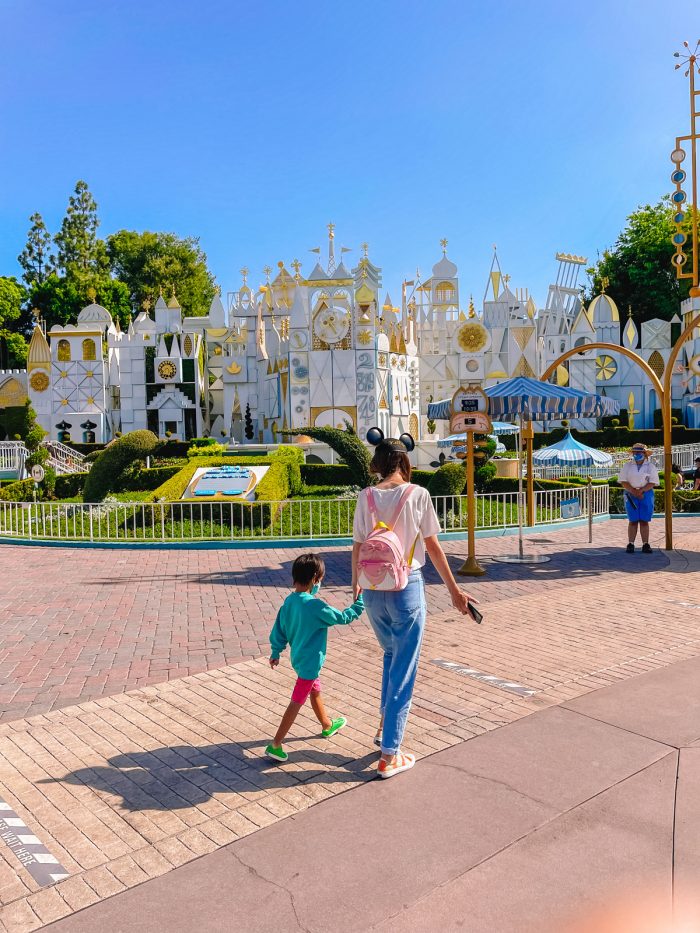 When To Get There
When I surveyed people I heard all different opinions on when to get there but here is what we did:
We parked at the Residence Inn around 8:15. We got coffee and walked over to the park, arriving around 8:30. There was a very long long for temperature check but it moved FAST. We were through temperature check, security and to the gates in about 10 minutes. This, to me, is the biggest benefit of parking elsewhere… you get to use a different temp check/security area than everyone coming from Mickey & Friends.
Since there is no rope drop ceremony, the park often opens earlier than 9am. We were able to walk right in and start riding rides. We rode Snow White first (about a 10-15 minute wait), then walked right on to Small World, Roger Rabbit and Gadget Go Coaster. Then we hopped over to Tea Cups (5 minute wait) and Alice in Wonderland (10-15 minute wait). We did all of this by 10:15am.
Getting there early and being able to get on so many rides (especially Snow White since it was recently refurbished and more in demand now!) was worth it 1,000%.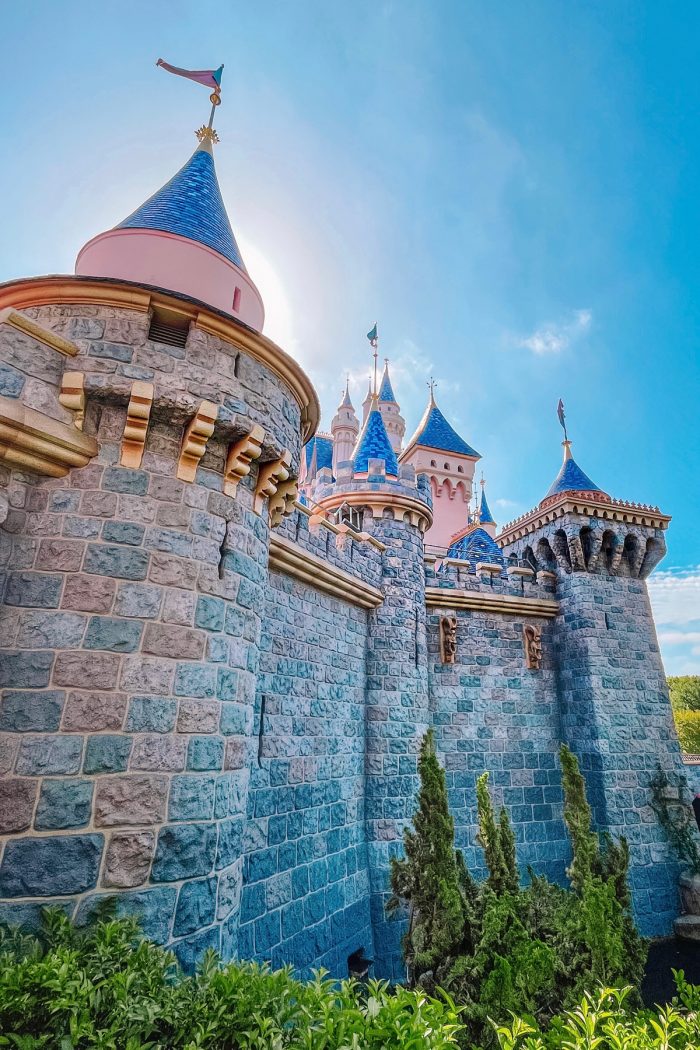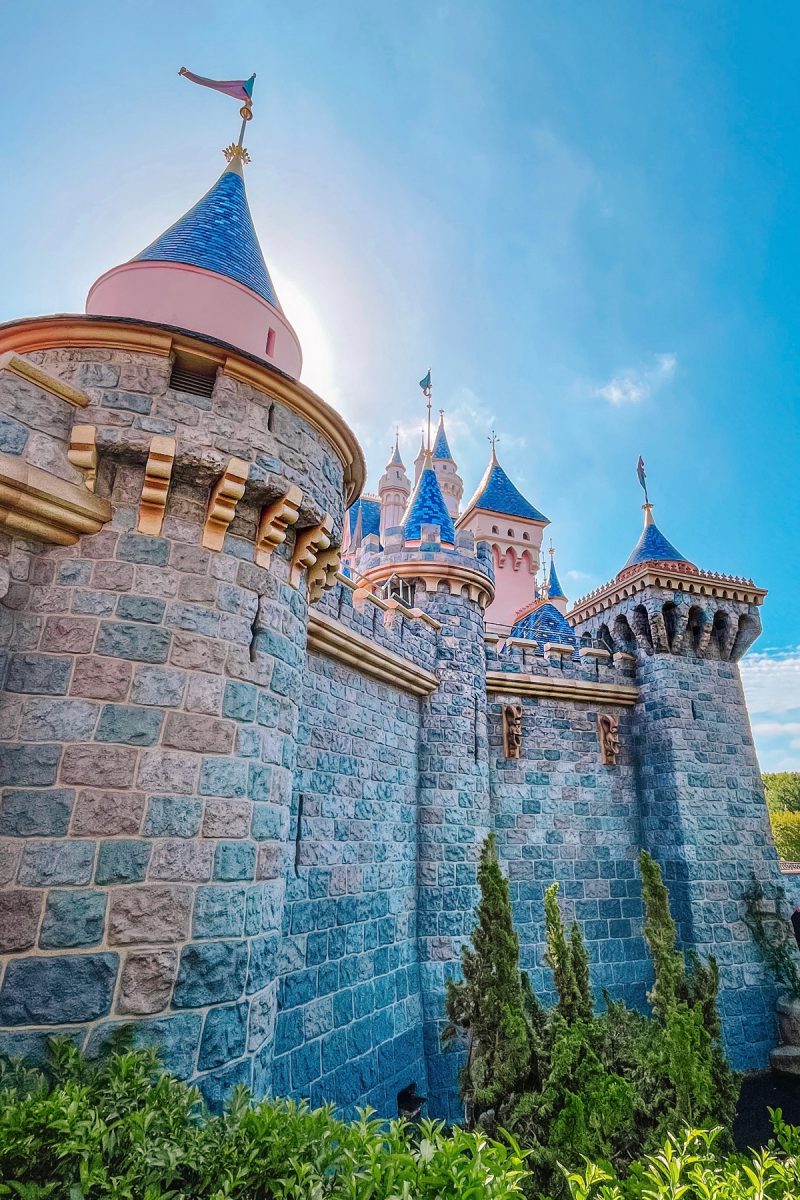 Which park should I do first?
With current protocols, if you are buying park hopper tickets, you have to pick a park to start in when you make your park reservation. You cannot switch to the other park until after 1pm.
We started with Disneyland because there is more rides for Arlo to do there. It was quite empty up until 10:15 and then it got busier. I have heard that DCA is even more empty in the mornings, since most people want to go to Disneyland first but can't speak from experience personally.
I would pick the park that has either 1) your biggest priority ride or 2) the most for your family to do. Either way we felt like we did just about everything we wanted to do in Disneyland and switched parks right after lunch to DCA and felt like we got to do everything we wanted to there as well, aside from the Cars ride (which always has the longest line).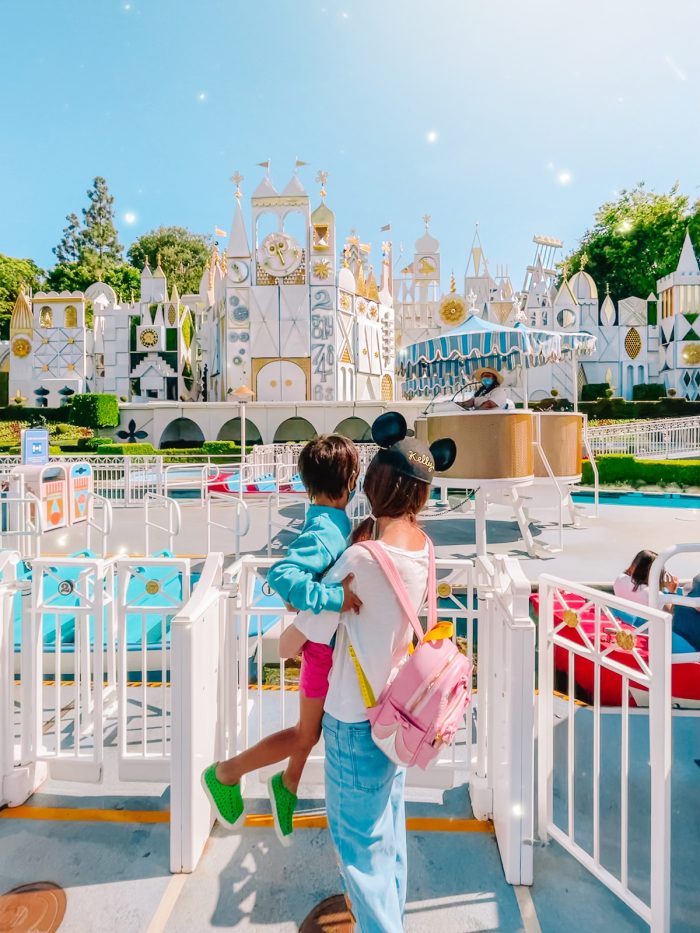 Switching Parks
As mentioned above, if you have a park hopper ticket, you have to pick a starting park when you make your park reservations. Then, after 1pm you are allowed to switch to the other park.
After that, you are able to freely go back and forth between parks assuming neither has reached full capacity (35% currently). I ended up going back over to Disneyland to get pretzels around 4pm and had no issues getting into the park or back into DCA after.
Download The App
You need to have the Disneyland app downloaded to your phone. It allows you to order food (more on that further down in the post), check wait times and you can connect your tickets there so you have everything digitally. Don't go without downloading the app!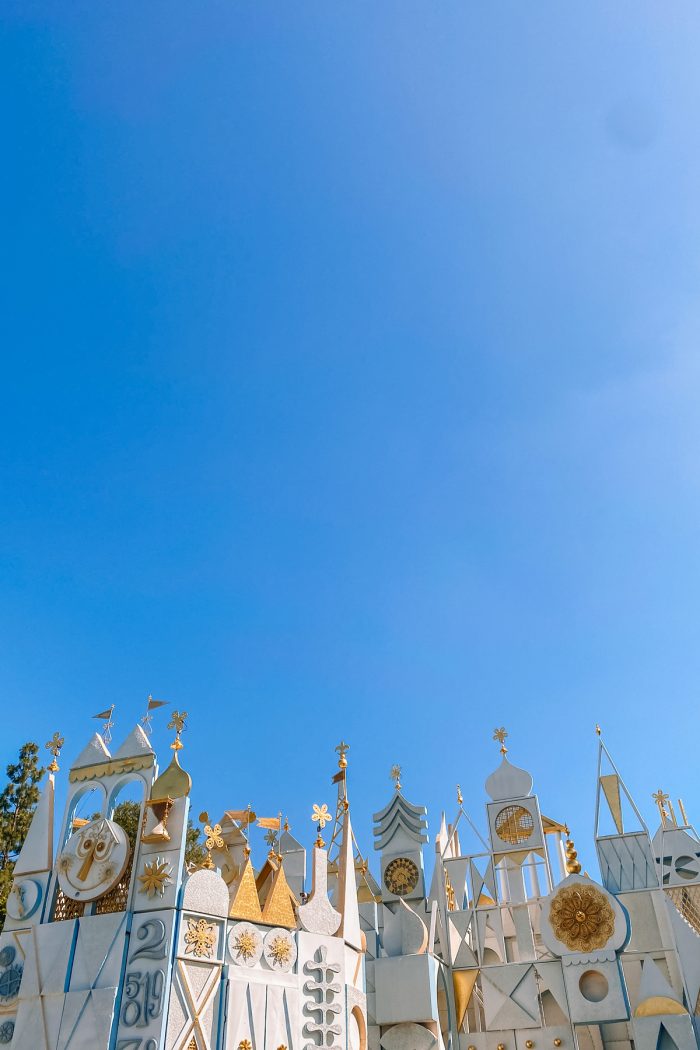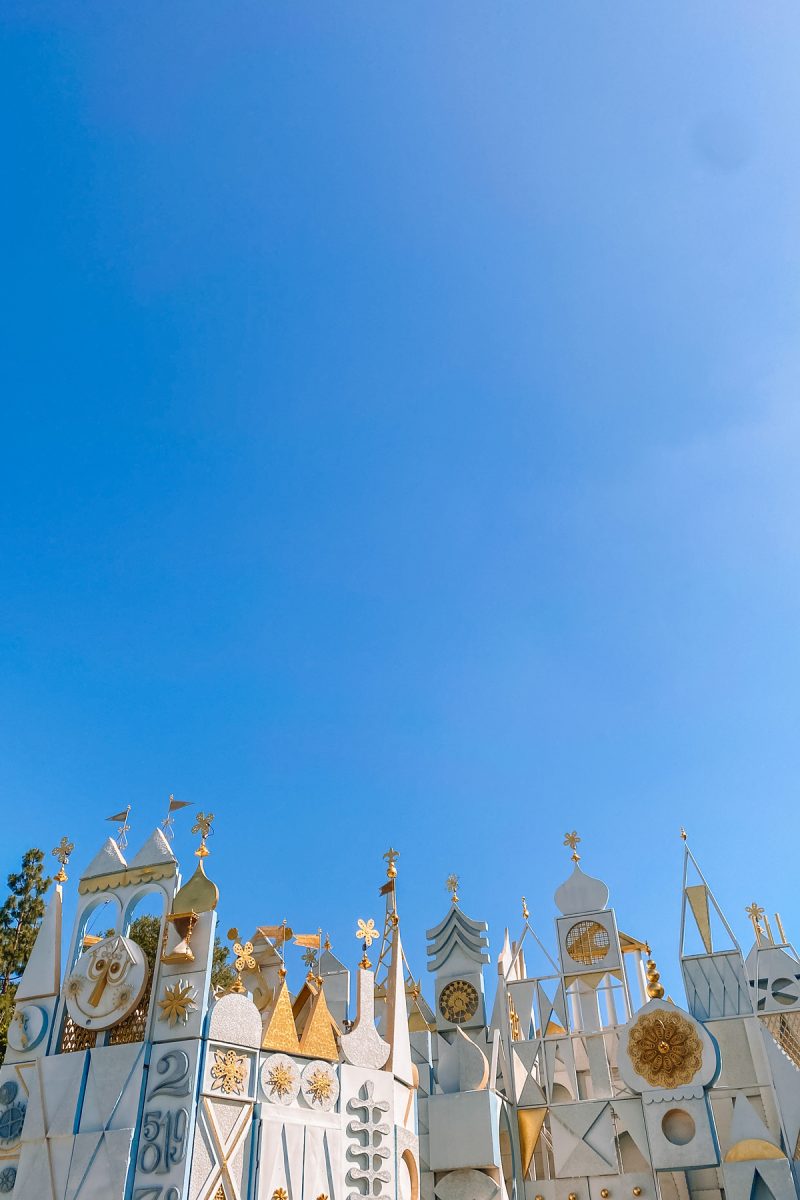 Covid Safety Measures
Temp Checks & Security
The first check point you go through now is a temperature check (before security). It is no contact, the barely even get close to you to be honest! They just point the thermometer at your head and move you through. I think it took 10 seconds TOTAL for all three of us.
Then you go to security. Security is largely the same as before but there is a plexiglass partition between you and the person checking your bags. You slide your bag under the partition, they check it (wearing gloves) and then hand it back to you. Then you go through the metal detector and are done!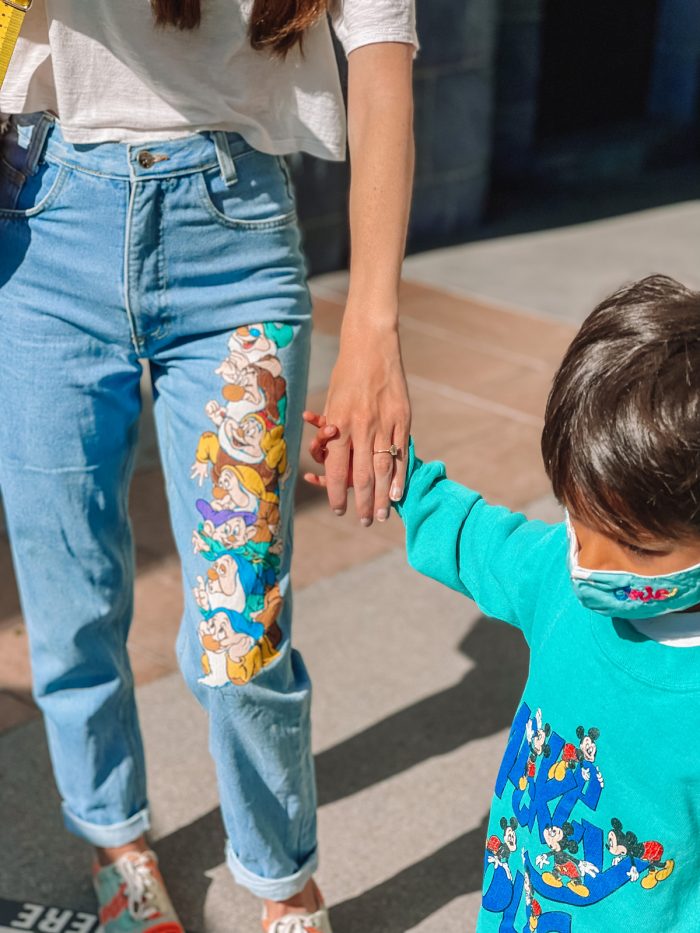 Masks
Masks are required at ALL times for ALL guests ages 2 years old and older. If your child does not have a mask on when entering the temp check line, they will ask you to confirm that they are under 2, otherwise they are required to be in a mask.
The only time you can remove your mask is when you are eating and drinking and that is only allowed in designated eating areas. These are marked very clearly and are EVERYWHERE. Most benches and curbs are designated eating areas. Eating and drinking is NOT allowed in line or while walking through the park.
I saw Cast Members enforce this several times, although there were still some people not listening to the rules as to be expected I suppose. Please listen to the rules and respect the Cast Members working to make the experience safe for everyone.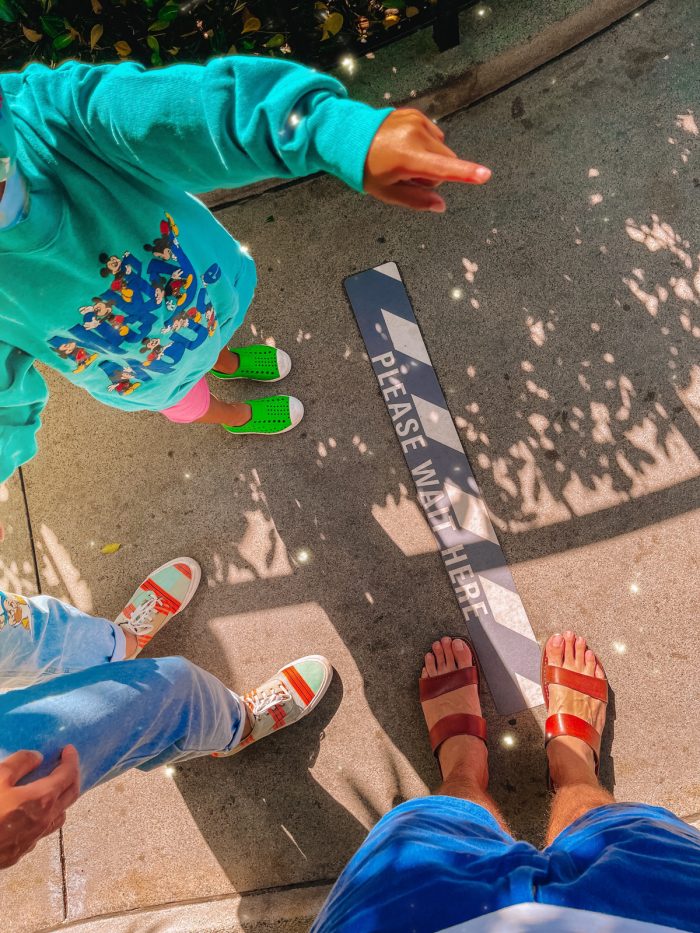 Distancing
Any time you are in line for anything (entrance, food, rides), there are markers spacing everyone out by six feet or more. It is VERY clearly marked and very easy to distance. Unfortunately, not everyone abides by the markers but many (most) do.
Tables are spaced out to be at least 6 feet apart and benches are marked so that there are spaces between your group and the next.
All rides are spaced out, you either get your own "car" or there is someone in the first row or back row. It depends on the ride but every ride has a strict policy in place.
There is really no distancing happening while walking around. Some parts of the park are less crowded and you can distance but in crowded parts of the park you are definitely not distanced from other people. Because everyone was in masks and we were always moving during these parts, I felt ok. If someone is stopped (to watch a ride or check their phone, etc.) people were pretty good about not standing on top of you, but while actually walking around, there was no distancing.
Sanitizing & Sanitizing Stations
From what I saw, the rides were not being sanitized between each rider. There are however hand sanitizing stations on the way in and out of each ride, as well as positioned throughout the park near trash cans. They are EVERYWHERE. So we just sanitized on the way out of each ride. They are no-touch, you just put your hand under and the sanitizer comes out. EASY!
There are also several sinks positioned outside throughout the park if you want to do a full hand wash.
As the epidemiologists I follow remind us constantly, COVID is spread through the air so it did NOT worry me that they don't sanitize between riders. The sanitizing is a nice added measure and honestly keeps away other germs too which is great!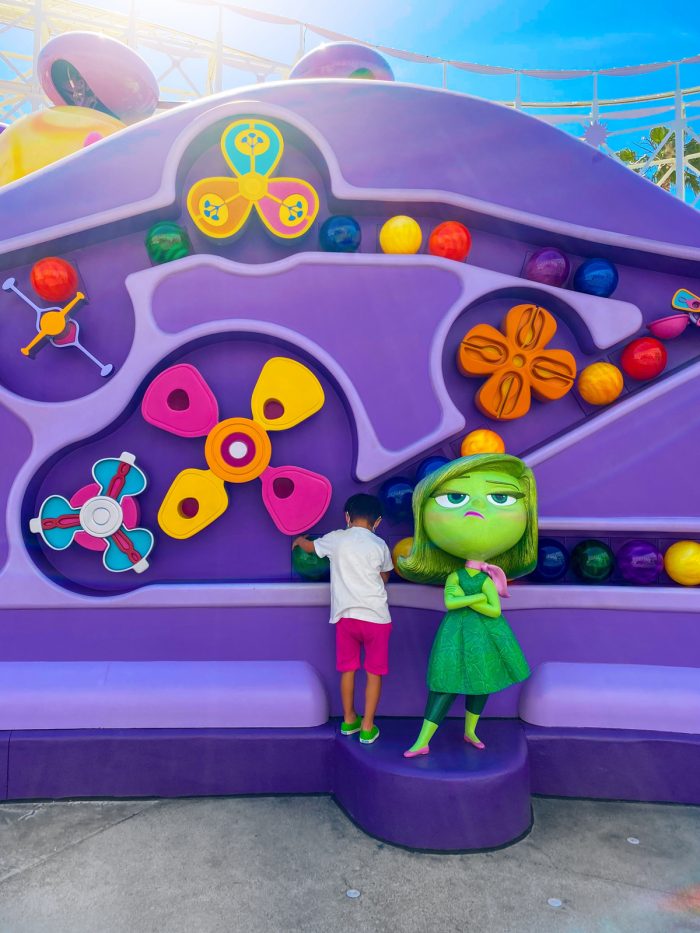 Crowds
The park is currently at 35% capacity. Pre-Covid, we usually went to the park on non-peek weekdays. To us, the capacity felt about the same as it did on one of our normal pre-Covid days. It is definitely less crowded than busy weekends, summer, spring break, etc. but did not feel significantly less crowded than a normal weekday.
As mentioned, there were parts that felt more crowded than others, but in general everything felt safe. Because they are not doing any character greetings or parades, nobody was gathering so you never got "trapped" in a crowd like you could before. People were generally always moving or keeping to themselves.
Food
We did not do any sit down restaurants so I can't speak to that. I'll speak only to pick-up places and snacks here!
Meals
Almost all meals (aside from hot dogs and a few other carts) must be ordered online via the Disneyland App. Not all restaurants are open and menus are limited. Arrival time slots to pick up your food CAN fill up quickly so I recommend ordering all food when you first arrive to the park. You can also place orders before arriving to the park, but only during park hours.
If you wait, you may have to wait several hours before your food will actually be ready. DO NOT RECOMMEND that especially with kids, ha!
On line for one of our first rides, I placed a lunch order and a dinner order and then I didn't have to think about it all. When we were ready to eat, once our arrival window was open, we just hit a button and they prepared our food. One of us waited in line while the other found a table, picked up the food, and ate.
Snacks & Treats
Snacks are trickier. Many of the snack carts are NOT open. SOME snacks are available only via the Disneyland App and some are available for walk ups. Here's a few notes to help get you started:
Churros, popcorn and ice cream: Available for walk up throughout the park. We walked right up to churros (no line) by Midway Mania in DCA.
Mickey pretzels: These were ONLY available in one place: the Ship to Shore Marketplace in Fronteirland in Disneyland. Because they were only available there, and it was a walk-up, there was a big line. And honestly, it wasn't the best Mickey pretzel I've ever had. May be worth skipping.
Dole Whip, Jolly Holiday Bakery & Margaritas: Some treats like the ones I just listed are available only via mobile pre-order on the app. My best suggestion is to just check on your favorite snacks ahead of time so you can plan accordingly! If there's something you want that is pre-order only, reserve your arrival window in the morning so you don't miss it!
Sweet Treats (Cake pops, toffee, etc): These are still available as usual in the candy shops near the front of each park (Trolley Treats in DCA and Candy Palace in Disneyland), so you can just walk in and buy them normally. There was a limited selection. (i.e. they only had Minnie cake pops, usually there are 2-4 different characters/flavors)
NOTE: A few people have told me that even if you pre-order, some items will sell out before your arrival window. If you want a very popular item, I'd suggest getting it earlier in the day than later!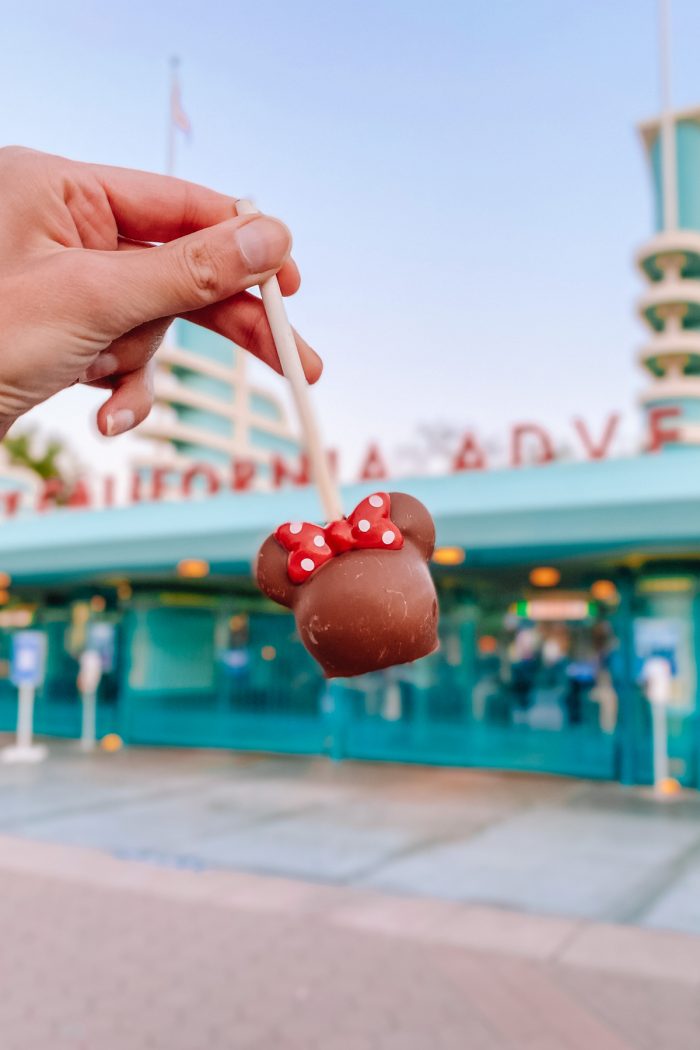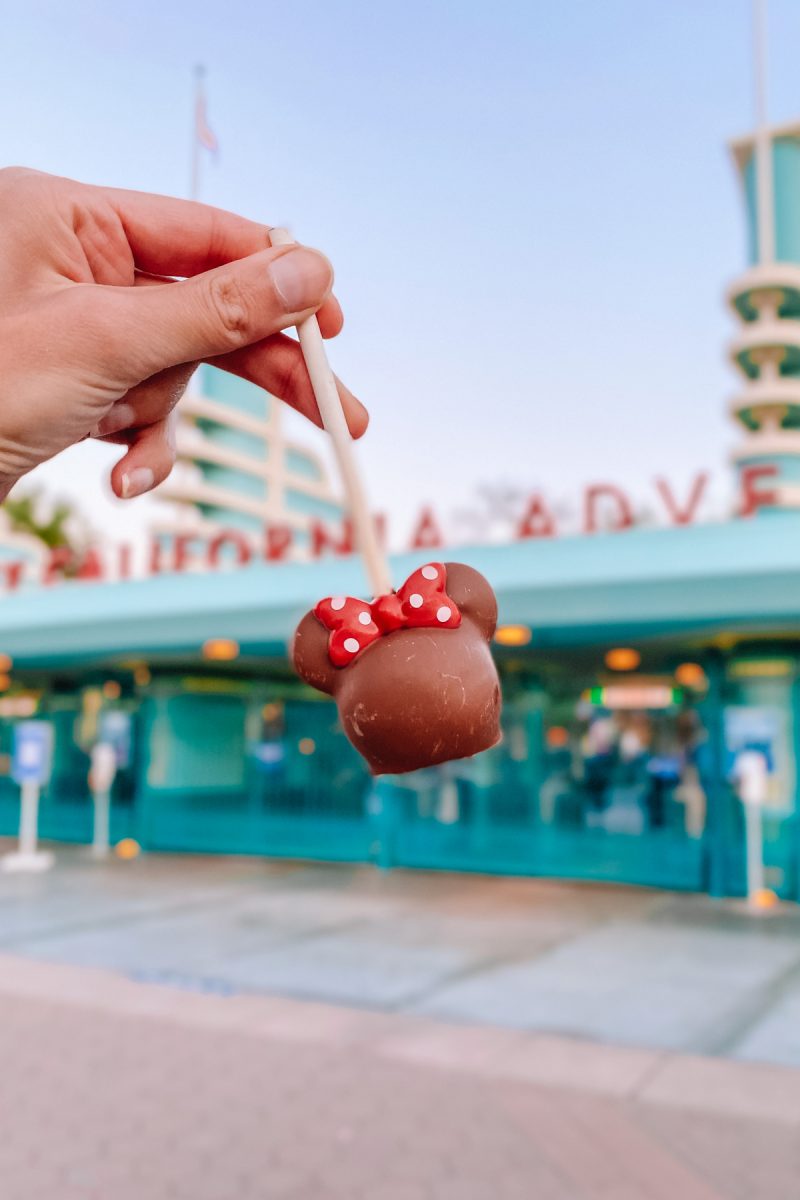 Dining Areas
There are TONS of dining areas in the parks. This is the only place you are allowed to take your mask off. Every area is clearly marked with a "designated dining area" sign. This includes tables, benches and some curbs.
The hardest part was finding a lunch table in Fantasyland for us, but you pretty much just have to ask someone if they are finishing up soon and if you can have their table. Then just hang out until they leave.
Pacific Wharf in DCA is where we had dinner and there were tons of tables available then.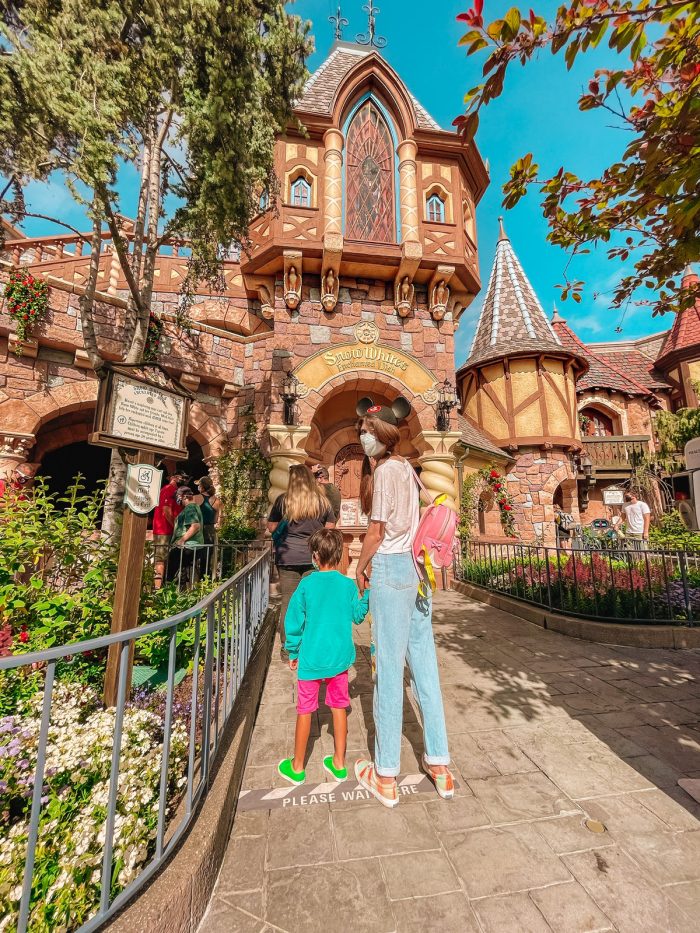 Wait Times & Line Protocols
Use the Disneyland App to check wait times. They are generally pretty accurate, though sometimes the line moves faster which is great!
All lines are distanced and outside now which means finding the end of the line can be a bit confusing. Generally, there is a Cast Member with a sign standing at the end of the line so just look for that person. Lines look CRAZY long but they move fast.
We actually loved this set up because we are so used to waiting outside and then also having to snake around inside in line but for this, once you got to the entrance to the ride you pretty much just walked right through and on to the ride instead of waiting more!
Overall, before 10:30am the lines in Disneyland were all very short or non-existent. Afterward that, the wait times in both parks seemed very similar to what they were pre-Covid on a normal weekday. I'd say average was 20-30 minutes with more popular rides being 45-60+.
We were in the park until 8pm and I'd say MOST popular ride wait times didn't start to dip a bit until around 7:30pm that night.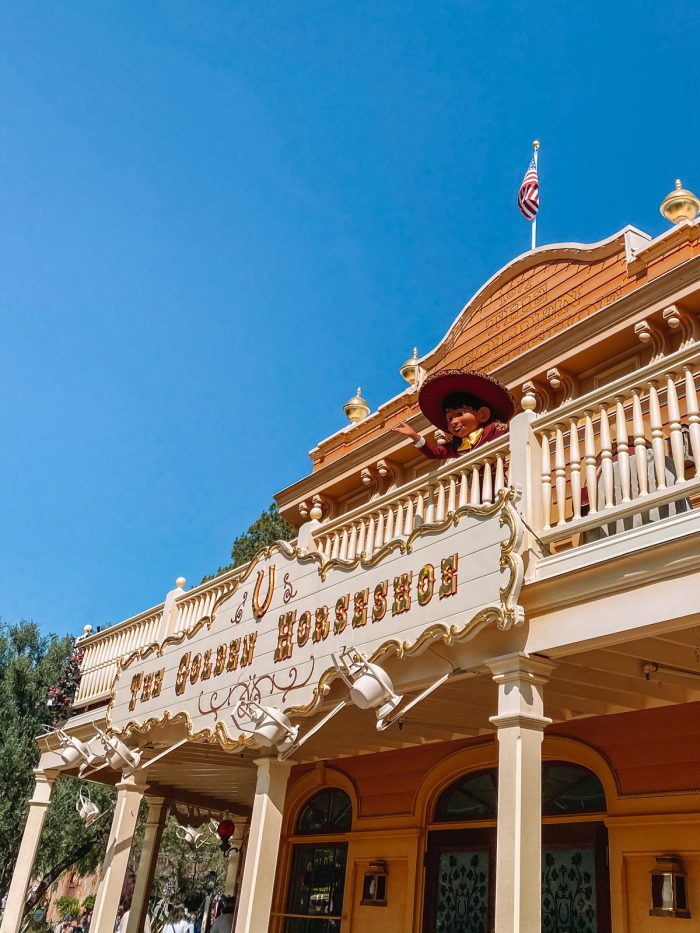 Character Greetings
There are no close-up Character greetings happening right now. There are, however, characters stationed throughout the park that you can interact with from a distance. I thought this was a great set-up! These are always changing but here's a few we came across:
Mickey & friends at the train station at the Main Street entrance to Disneyland
Mickey & Minnie in Toontown (at their houses) in Disneyland
Woody & Miguel at The Golden Horshoe in Fronteirland in Disneyland
Alice on the way to It's A Small World in Disneyland
Princesses at the Royal Courtyard in Disneyland
Mickey & friends near Carthay Circle restaurant in DCA
Woody on Pixar Pier, near the games, in DCA
Nick Wilde (Fox from Zootopia) near Little Mermaid in DCA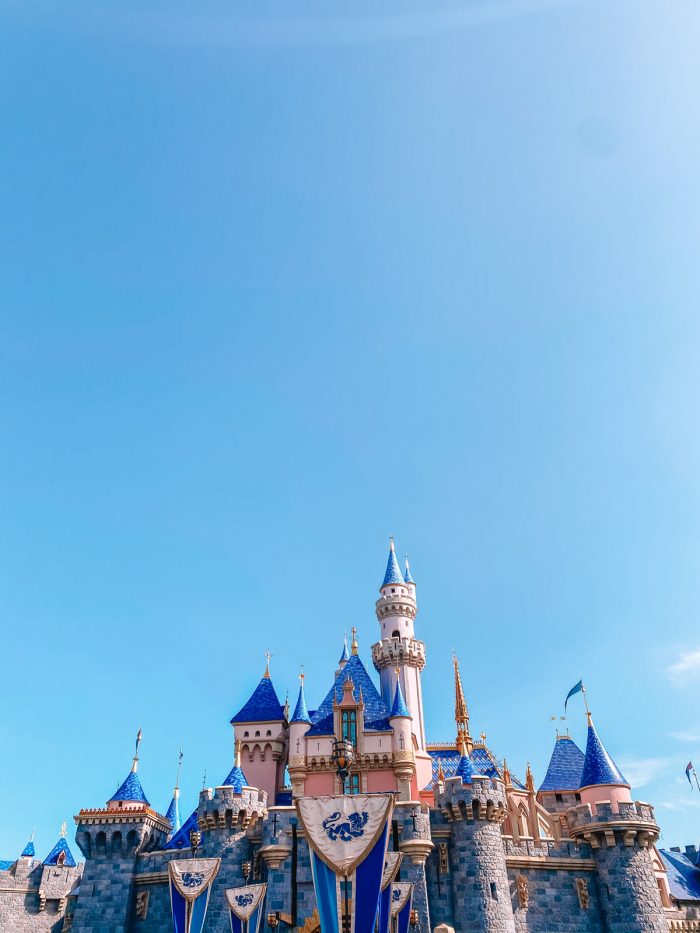 Shows & Parades
Shows and parades are not currently happening as they encourage crowding. The only "show" type attraction I saw that was happening was Turtle Talk with Crush. Note: the atrium that usually plays Disney movies/songs outside of Turtle Talk with Crush is not currently open unless you are headed to that attraction.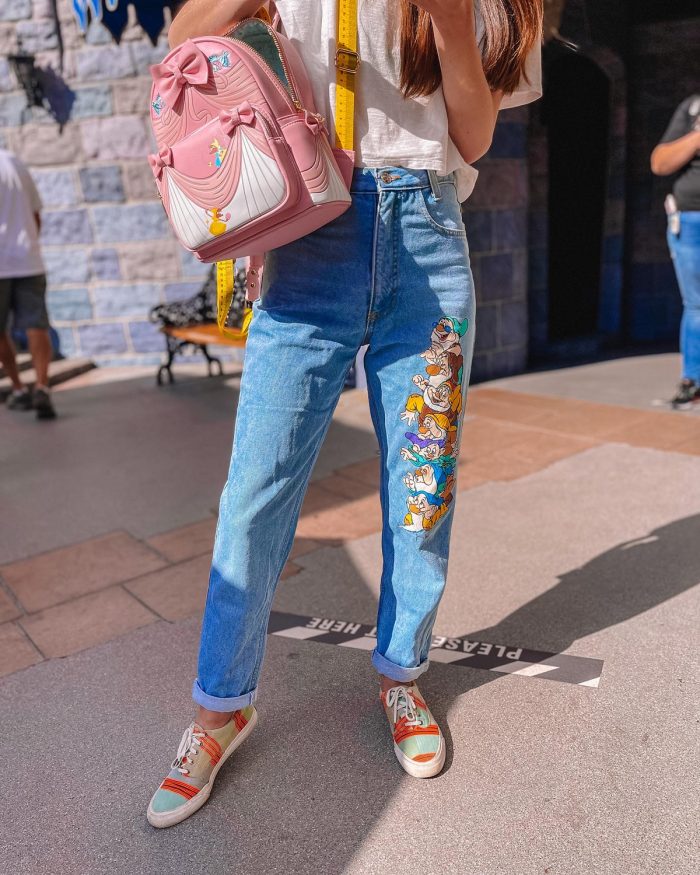 What To Bring
Stroller: We always bring our big stroller, we LOVE having it and using it to store all our stuff. We had three small backpacks with us (one with clothes, one with snacks and one with other essentials). We left the clothes & snacks ones under the stroller when we went on rides and I carried the other with me with all our valuables, phones, etc.
Snacks: We don't really ever travel without snacks but since food can be harder to come by on a whim now, I definitely recommend bringing some snacks with you to have on hand.
Water bottles: We each brought a reusable water bottle. Disneyland has several water bottle refill stations and while I only passed one (the one in Tomorrowland near Autopia entrance), it appeared to be open!
Backup charger: Because the Disneyland App is so important now, I recommend bringing a back up charger. If you don't have one, Disneyland has a Fuelrod backup charger service where you can rent a charger and exchange it at the kiosks within Disneyland for a fully charged one whenever you need! It's great. I recommend asking a Cast Member what kiosk locations are currently open.
Hand sanitizer & Wipes: Even though there are stations everywhere and they were wiping down tables often, I liked having my own of both to do so as needed!
Extra masks: In case anyone's mask gets dirty, lost, wet, etc bring an extra mask or two for everyone to have on hand!
Change of clothes & layers: We always bring layers because it's cool in the morning and cools off at night. We always bring extra clothes for the kiddo and sometimes even a change of clothes for us just in case!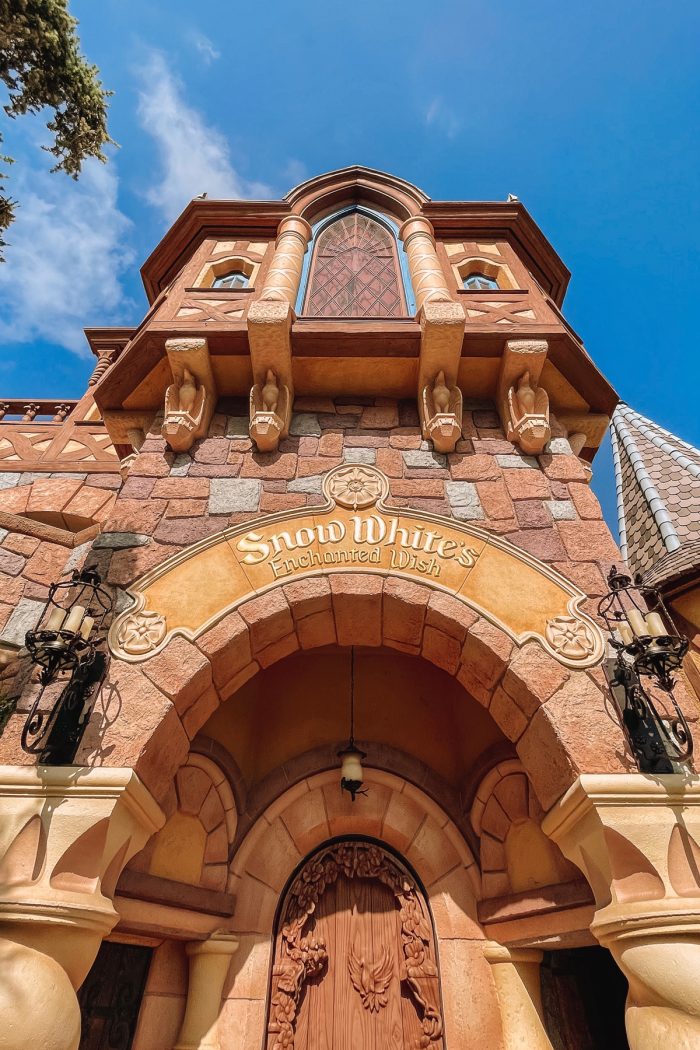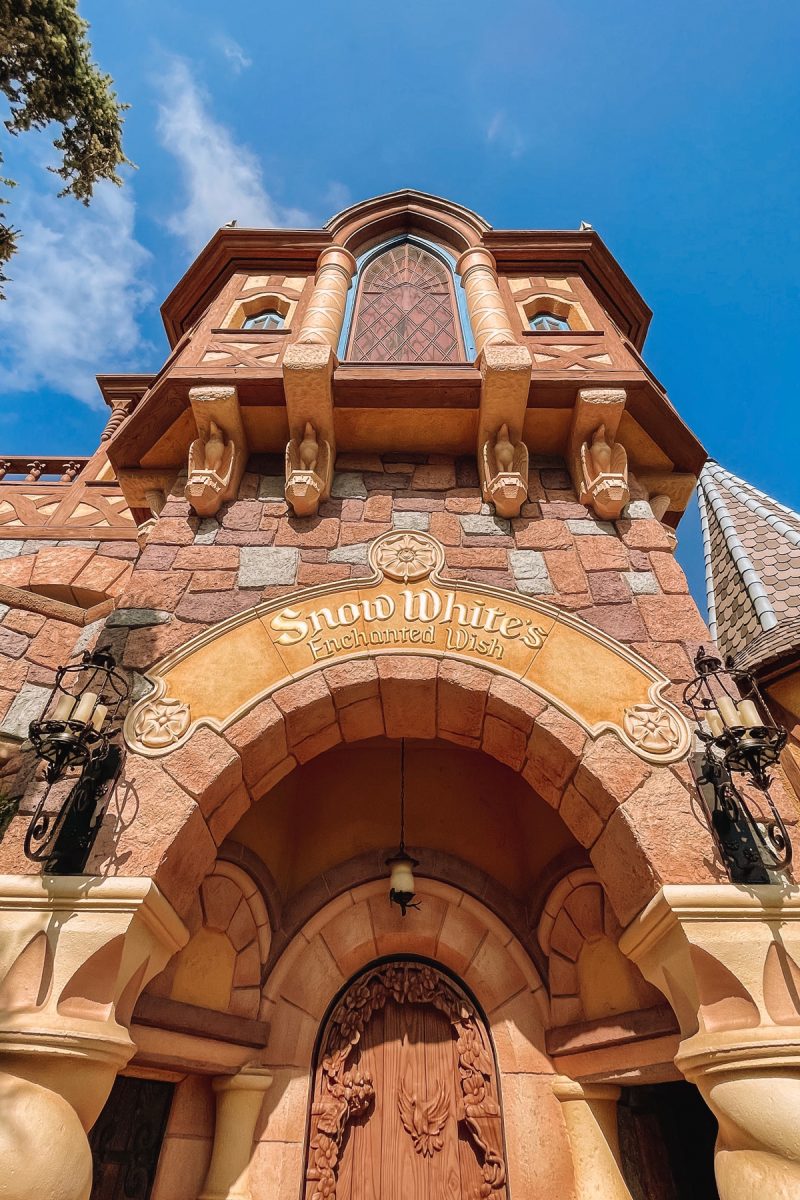 Rides We Rode
Not Covid specific but since I always get asked, here's our favorite rides that are currently open. For reference: our son is four and is now 41″ so he was able to go on some of the 40″+ rides! ** indicates a don't miss one (in our opinion!)
Disneyland:
It's A Small World**
Mad Tea Party**
Alice in Wonderland
Dumbo**
Snow White's Enchanted Wish**
Peter Pan's Flight
King Arthur's Carousel
Casey Jr. Circus Train
Autopia
The Many Adventures of Winnie the Pooh
Haunted Mansion**
Pirate's of the Caribbean
FYI: We also went on Roger Rabbit's CarToon Spin for the first time, which was too rough for 2/3 of us, lol! And Gadget's Go Coaster, which went WAY faster than I expected for a Toontown ride. Little dude did NOT like it.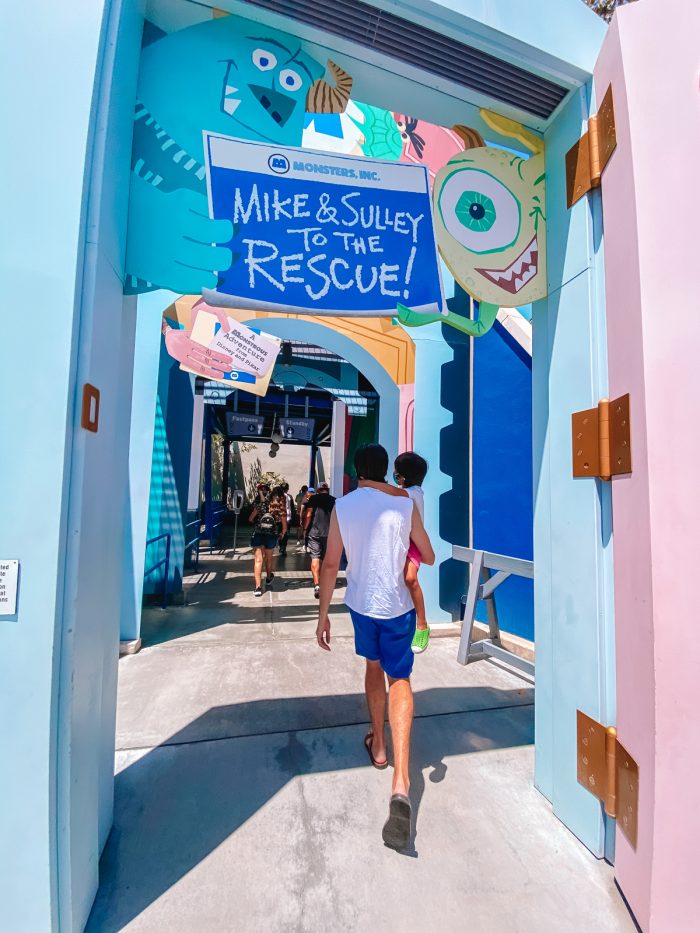 DCA:
Monster's Inc Mike & Sulley To The Rescue**
Toy Story Midway Mania**
The Little Mermaid – Ariel's Undersea Adventure**
Jessie's Critter Carousel
Inside Out Emotional Whirlwind
Jumpin' Jellyfish
Soarin' Around the World**
We finally cleared the height requirement for Radiator Springs Racers but the line is almost always over an hour so we didn't get to try it! If you want to go on this ride, go to DCA as your first park and do this first thing.
Legacy Passholder Discounts
If you were previously a pass holder, you have the option to still get Passholder discounts! We weren't aware we had to do this in advance and our discount code did not automatically link to my account, so we weren't able to take advantage but you can get all the info for connecting yours here.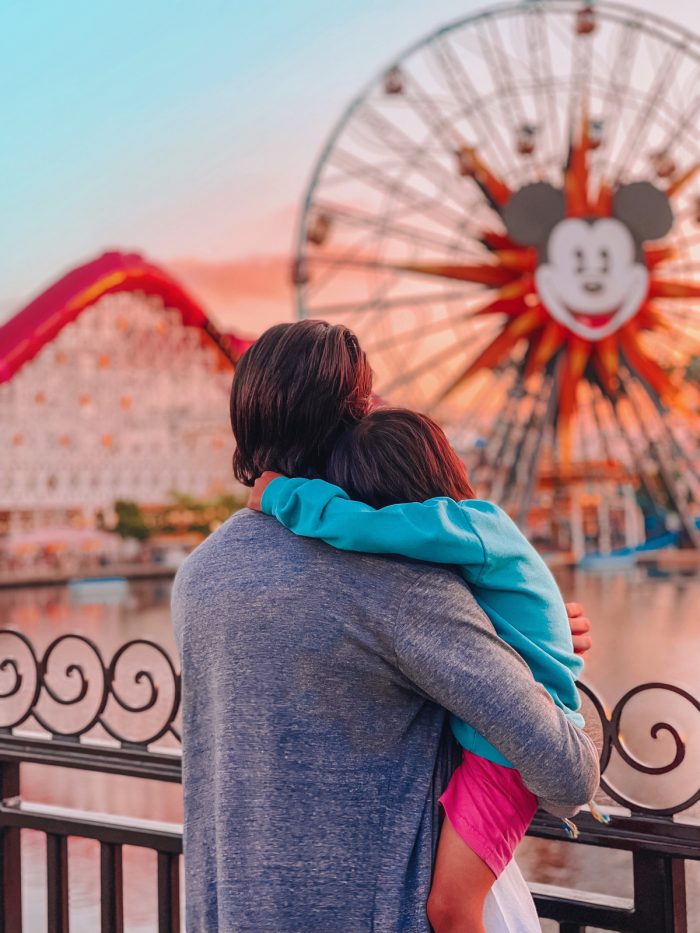 Our Overall Experience
We had a GREAT experience overall and felt safe with the measures they had in place. Most people respected the rules. While we missed the shows and parades, we were able to ride so many more rides and felt the lines while not drastically shorter than usual were more likely to move quicker than the listed wait time than they were on previous trips. Maybe that's just because we didn't have to do all the extra waiting inside!?
We had no issues with the food ordering process and were able to try/eat everything we wanted to by planning in advance!
It was SO NICE to be back and see all the Cast Members again and to see their dedication to keeping us safe. We made sure to thank every CM we interacted with, we are so grateful for them!!
We felt like none of the new safety measures hindered our experience and the magic at ALL!
p.s. While not all tips will be relevant during this time, I wrote another tip about going to Disneyland with a one year old here!