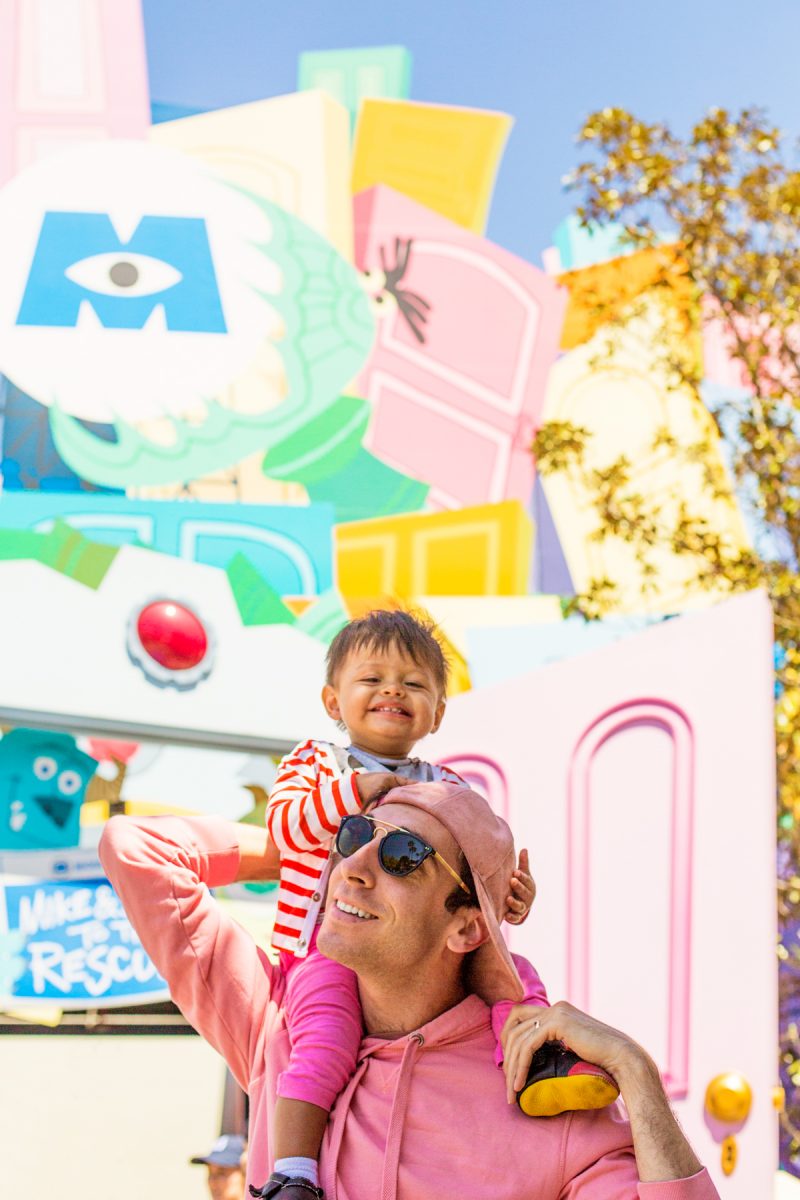 Last month we became DISNEYLAND ANNUAL PASSPORT holders!!!!! It was actually a Christmas gift from our families and we finally went for it. While we were at Disneyland, I got a LOT of questions from you guys about how Arlo did, any tips we had and if we thought it was worth it to take him so young. The answer is YES! He loved it. We learned a lot about lowering our expectations because doing Disneyland with a one year old is way different than just the two of us, but it was BEYOND fun to see it though his eyes.
I put together all the things we learned on this trip, along with our recommendations for hotels and age-appropriate rides, and I will update it as we continue to learn more. I had no idea how many MAJOR Disney fans we had out there following along with us and it makes me ridiculously happy. So many of you are planning trips!! DISNEY FOR LIFE!!!!!!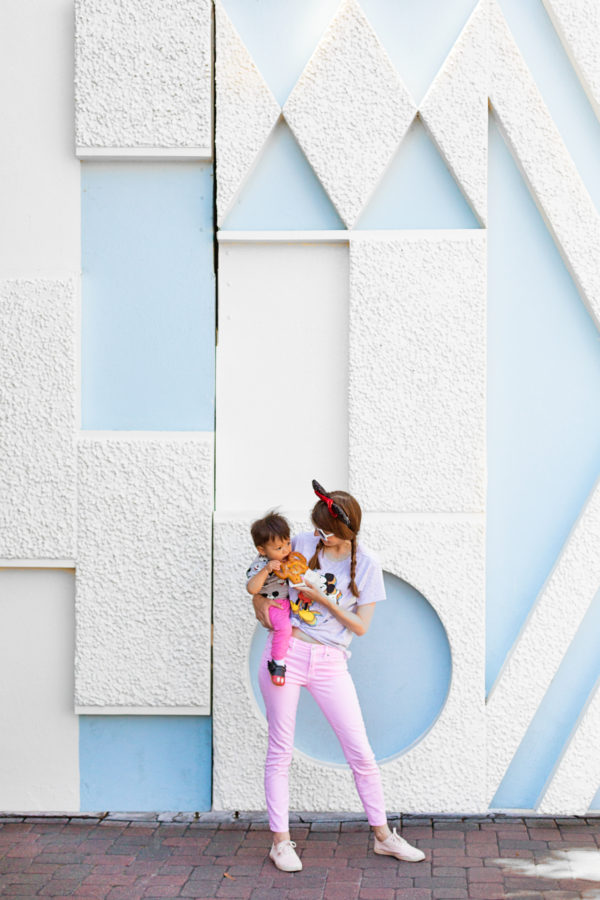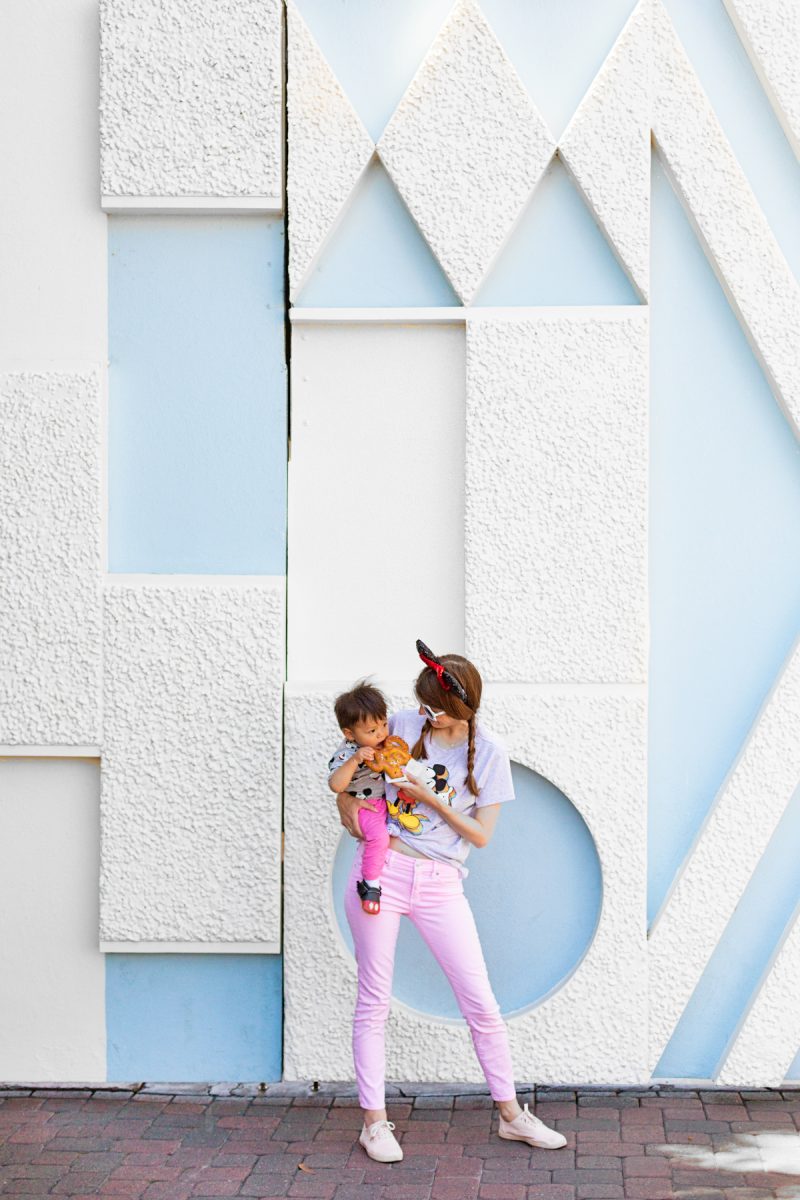 The Best Disneyland Hotels
If you have the budget to stay on property, your best bet is to stay at The Grand Californian. This was the MOST recommended hotel to us. It has a direct, private entrance to the park so you can easily pop back to your room for naps and then right back into the park afterwards. Plus, there's nothing like the magic of a Disney-branded hotel. And the opportunity for Mickey waffles. DUH.
If you're on a budget, I highly recommend the Homewood Suites which is where we stayed. It was PERFECT! We got a studio suite and it had a full kitchen which is awesome with kids. We also liked it because the room was a bit larger so we were able to put Arlo around the corner to sleep and we could still function/move around in the other part of the room. They have full suites too, if you want to really take advantage of the separate sleep space option. Breakfast was included and WiFi was free, my two key determining factors when picking a hotel! And the icing on the cake is it is ONE block from the Toy Story parking lot for Disney. All you do is walk out the door of the hotel, around the corner into the lot and hop right on the Toy Story shuttle to Disneyland. SOOO easy!!! I couldn't recommend it more.
Our Fave Disney Gear
If it's your babe's first trip, I highly recommend getting ears at the park and getting them embroidered. It's our favorite keepsake for Arlo. Several stores do this, we had Arlo's done at the Mad Hatter on Main Street. They have the biggest hat selection for adults if you want one too!
But if you want to stock up on some more affordable Disney items before your trip, I like to hit up H&M for Disney gear. They always have a rotating selection of Disney baby clothes and adult items too! I love Freshly Picked's Disney moccs for shoes! And The Daydream Republic has really pretty mouse ears if you want something non-traditional!
Must Bring Necessities
In addition to our standard diaper bag items, here are the things we frequently reached for during our trip:
-Sunscreen
-Water
-Snacks (We all like mini protein/energy bars, string cheese, tangerines and pretzel crisps.)
-Layers – California is cold in the morning and at night. Bring layers you can easily add and shed as the day goes on!
-Blanket – I was wishing I had one while we waited for the parade.
-Small Activities/Activity Clutch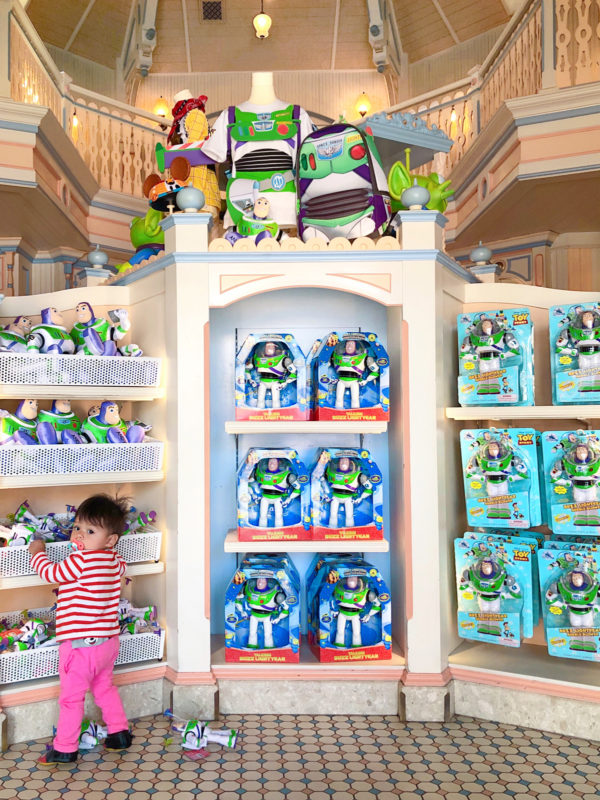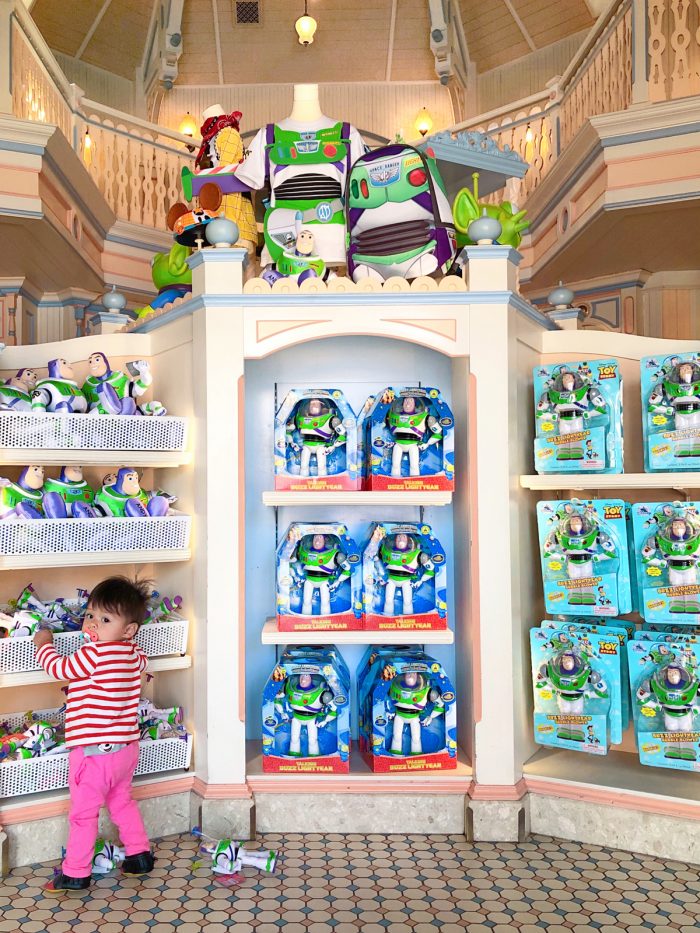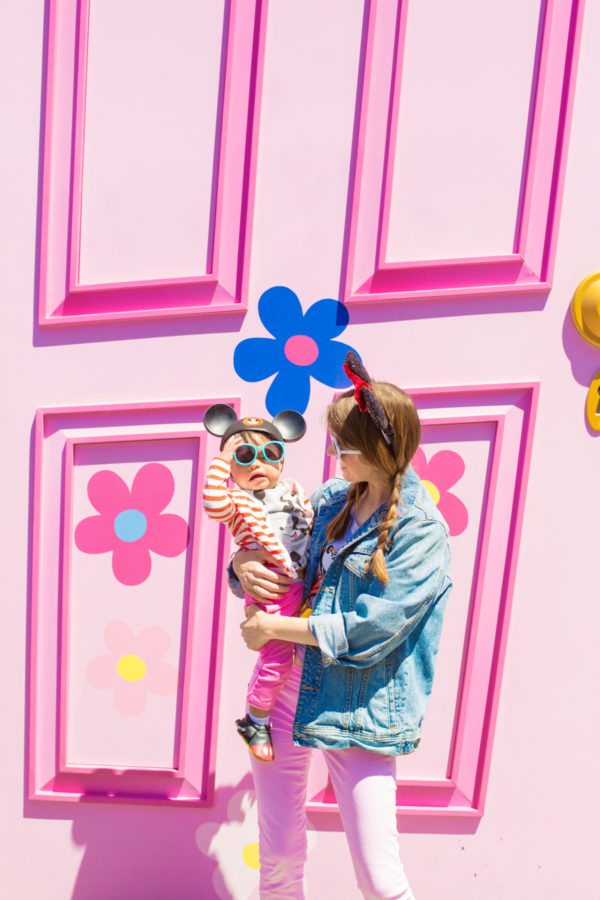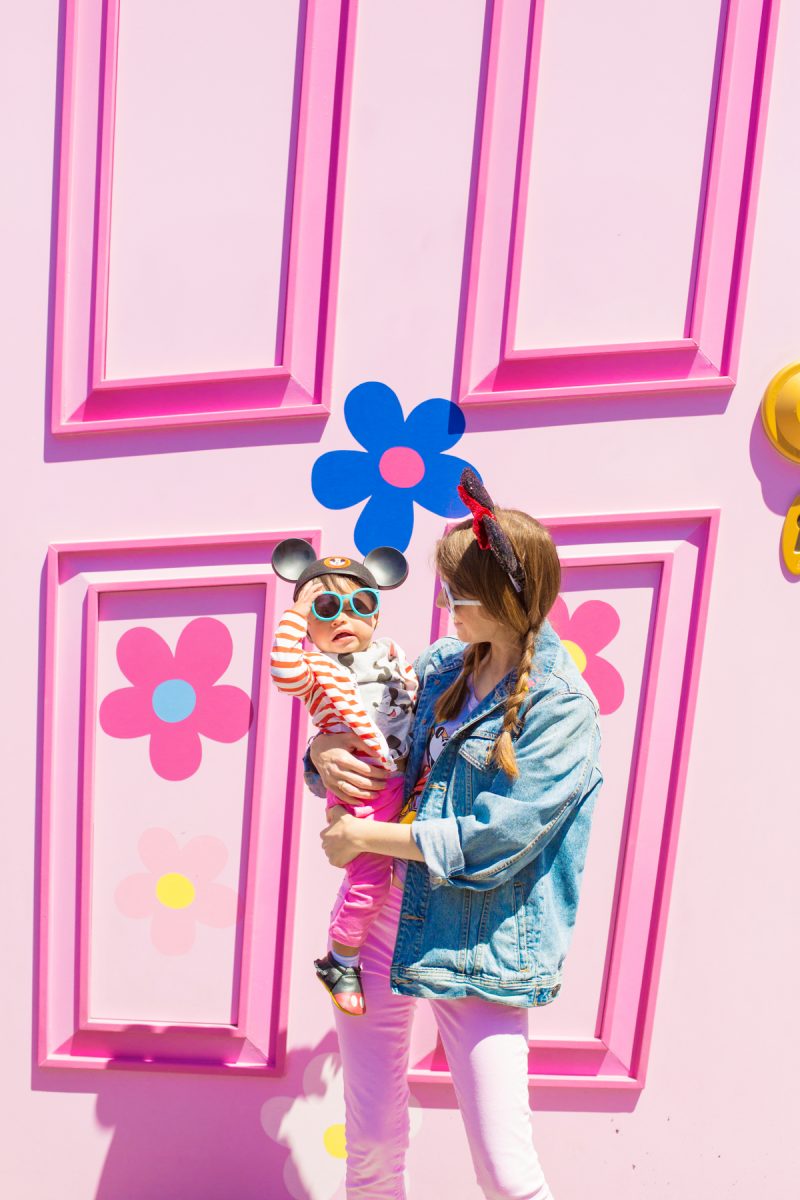 Lower Your Expectations
If you've only ever done Disney before kid-free, immediately lower your expectations for how many things you'll do in a day. We hit three rides total over two half days and felt really good about that! We spent the rest of the day walking around, seeing the parade, enjoying the Animation Courtyard (more on that below) and just showing Arlo the sights. If you have a more patient child than we do, you may be able to accomplish more, but this worked for us!
Consider Half Days
We intentionally planned to spend only half of each day at Disneyland because we didn't want to push Arlo. We are local and we're Annual Passport holders now so this was possible for us, as we didn't feel the need to cram in TOO much. We were really glad we did this! We arrived and checked into our hotel early, put Arlo down for a nap, then got him up around 2pm and headed to the park. We stayed until about 8pm. Then, the following day, we got up early, arrived as the park opened and left shortly after lunch time. Arlo napped in the car on the way home.
Arlo is not a good stroller napper (yet). And he's also miserable if he doesn't nap. This schedule ensured he had a a good nap each day which was key to our survival.
Easily Collapsable Stroller
I learned a lot taking a Disney shuttle for the first time, alone, with Arlo. First and foremost, consider bringing a stroller that is easily collapsible and compact. We had our large stroller and it was really hard to carry it plus Arlo and his diaper bag alone. Next time, I'm planning to bring the new travel stroller we got as it folds up easily and compactly for hopping on and off the shuttle. Plus, you end up leaving your stroller unattended frequently when boarding rides so it's best to not bring your fanciest one, just in case! That said, we did love the under-stroller space of our large stroller for storing our bag, souvenirs, etc. So you gotta pick your priorities there!
Baby Care Centers
I've admittedly never been to one, but each park has one. The center has a nursing room, changing room, feeding area, microwaves, and a seating area for you to just cool off in with your littlest ones if need-be. Every single person I've talked to has told me it's a GREAT resource if you need a quiet space to feed or change your babe so I wanted to include it even though I haven't been!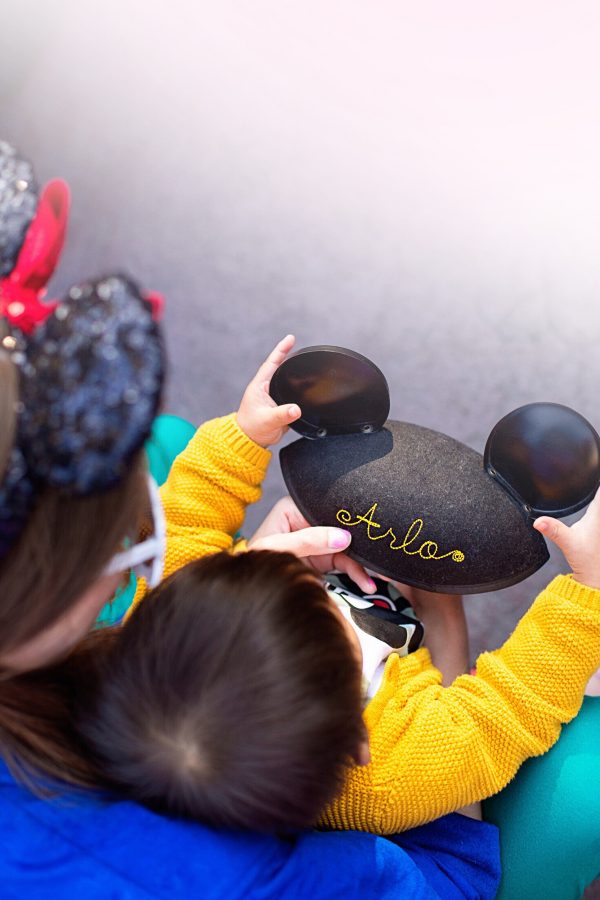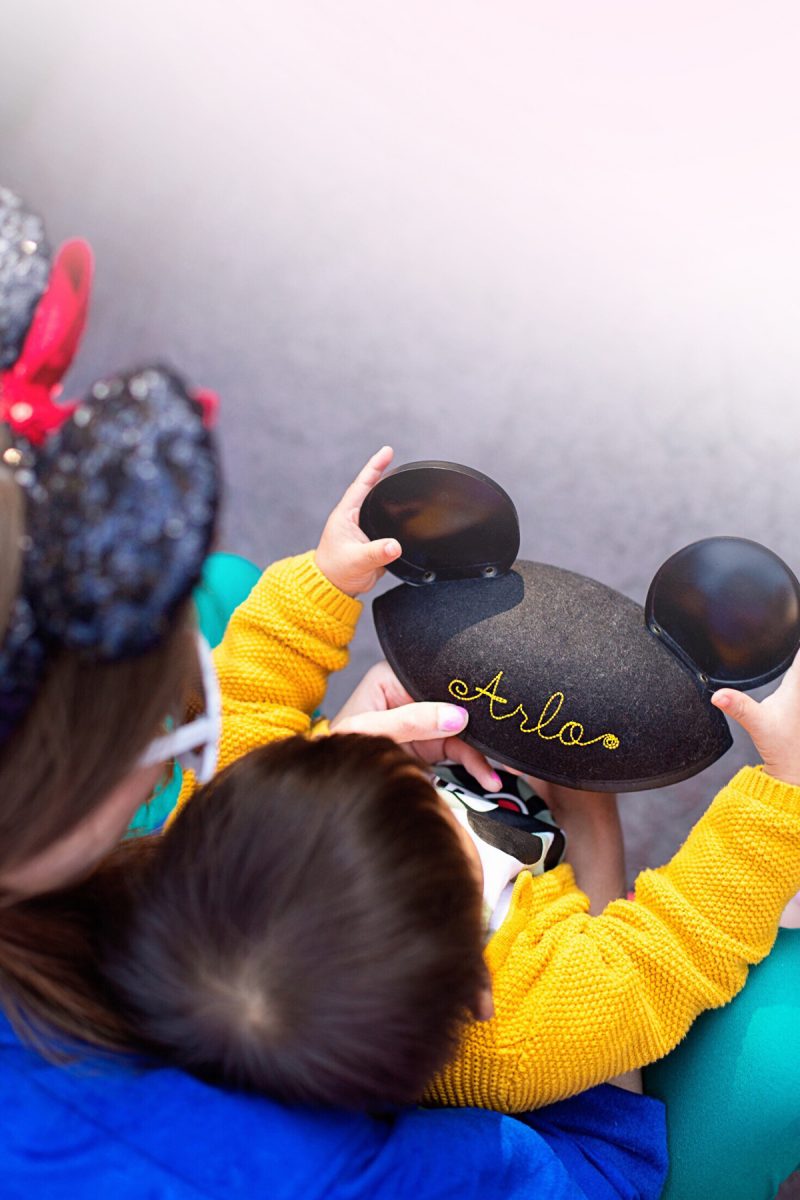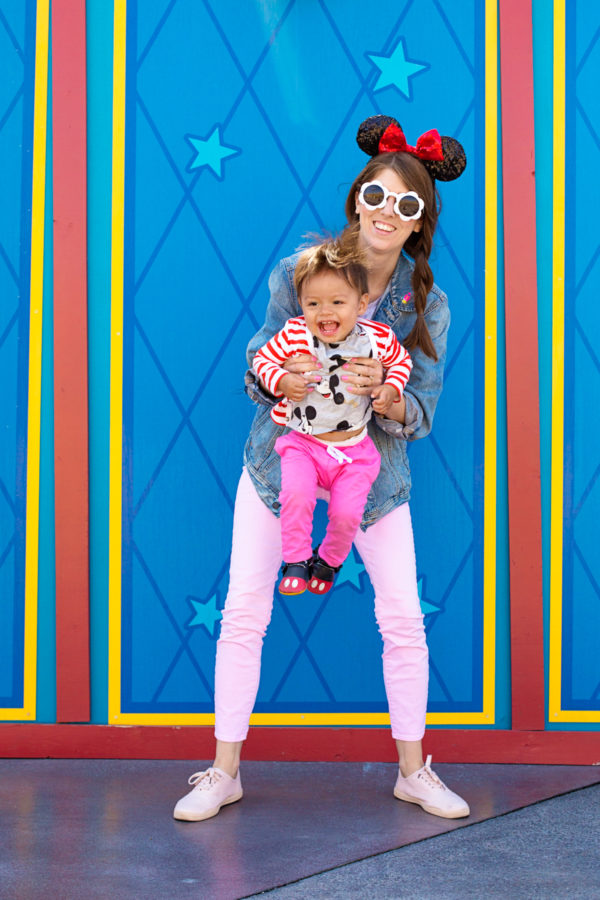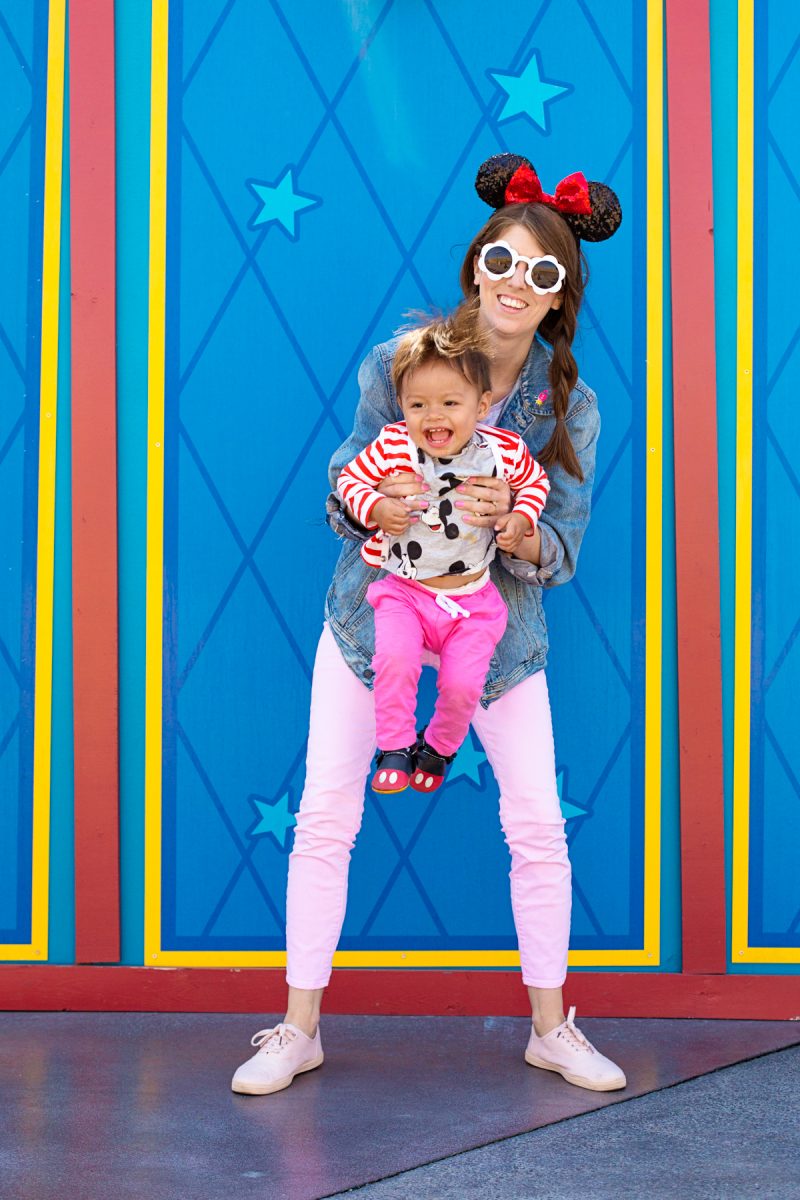 One-Year-Old Friendly Favorite Rides
SO many rides at Disneyland are one-year-old friendly, so if you can work your magic around the lines, you have lots of options! They can go on any ride that doesn't have a height restriction. You just hold them in your lap! Some of our faves…
On our trip, we hit Astro Blasters (Disneyland) and Toy Story Mania (California Adventure, and my all-time favorite ride!) because they were baby-friendly but also fun and interactive for us (they both have game components!). Arlo loved them both. IF you want to do Toy Story Mania, make that your very first stop, right when the park opens. Or try for a fast pass first thing. FYI The Pier is under construction so the fast pass station for it is actually outside the Little Mermaid ride!
The walk-on, ride-along rides (that's what I call them??) are another great option! That would include the classics like Snow White, Peter Pan, Winnie the Pooh, Monster's Inc, etc. Sadly, those all tend to have crazy lines. HOWEVER! For some reason The Little Mermaid Ride in California Adventure seems to have much less of a line so try to hit that one! We did and it was another fan fave for Arlo!
Find Short Lines with The Disneyland App
Arlo's patience maxed out at about a 20-25 minute wait in line for a ride. If you download the Disneyland app, you can see what the lines are like for all the rides in the park before heading for them. This is KEY!!!! It's pretty accurate and you can see if it's even worth the treck over to a ride before making it.
If lines are super long, there's always Fast Pass but remember a lot of those go quick too and you have to get them first thing in the morning!
The Animation Courtyard
Located in Hollywoodland at California Adventure, this is an indoor atrium that is filled with giant screens. They play a variety of classic Disney songs alongside clips that show the animation process from the accompanying movie. It is my FAVORITE part of Disneyland and has been forever. (The Animation Academy is right off of it, my other fave part, but not really one-year-old appropriate! Haha!)
It's a great place to go if you need a break from the heat and/or if you need a good cry. I cry every time! If you still have a crawler like we did and aren't a super germaphobe, it's a great place to let them crawl a bit too. (Are you all gonna judge me for that? Haha!) Arlo loved looking at the screens, dancing to the music and having a few minutes to have a little space from us since he was either stroller-bound or arm-bound the rest of the time.
The Pixar Play Parade
I'm not a parade expert (I'll update this post if I become one) but here's my two cents… my one year old is not the kind of kid who would sit and wait for two hours like the rest of Disney does. Not gonna happen. So I recommend finding a spot about 45 minutes before the parade starts even if it means you have to stand for the parade. Most of the time, you can sit while you wait and frankly, the littlest ones can see better when you're standing and holding them anyway. I brought Arlo's "busy clutch" (AKA one of our clutches that has an old wallet with used gift cards in it, washi tape, sunglasses and a calculator… quiet but busy toys, basically!) and we just hung out on the ground and played with that.
If you can fit a blanket in your stroller/bag, bring one. It'll make your wait more comfy. We didn't have one and wish we did. Once the parade started, we stood up and Arlo LOVED it. L-O-V-E-D!!
Catching the Characters
I found the Disneyland App wasn't as accurate with Character appearances as it was with line times. Your best bet here is to talk to a cast member in the park and ask them about the exact character you want to see. REMEMBER! Each Character is only allowed to stay out for 20 minutes so if you aren't towards the front of the line, they may leave before you get up there. There's rotating Pixar Characters at Pixar Pals at Paradise Gardens in California Adventure right now, so you'll almost always catch someone there. And Mickey, Minnie, etc. are frequented throughout both parks. But always ask and move quickly when you find out where a character is going to be!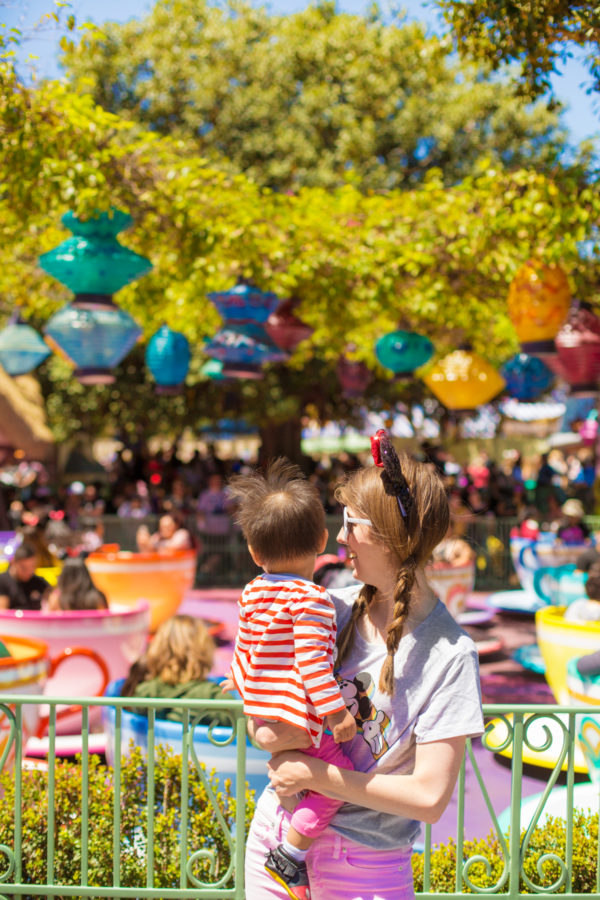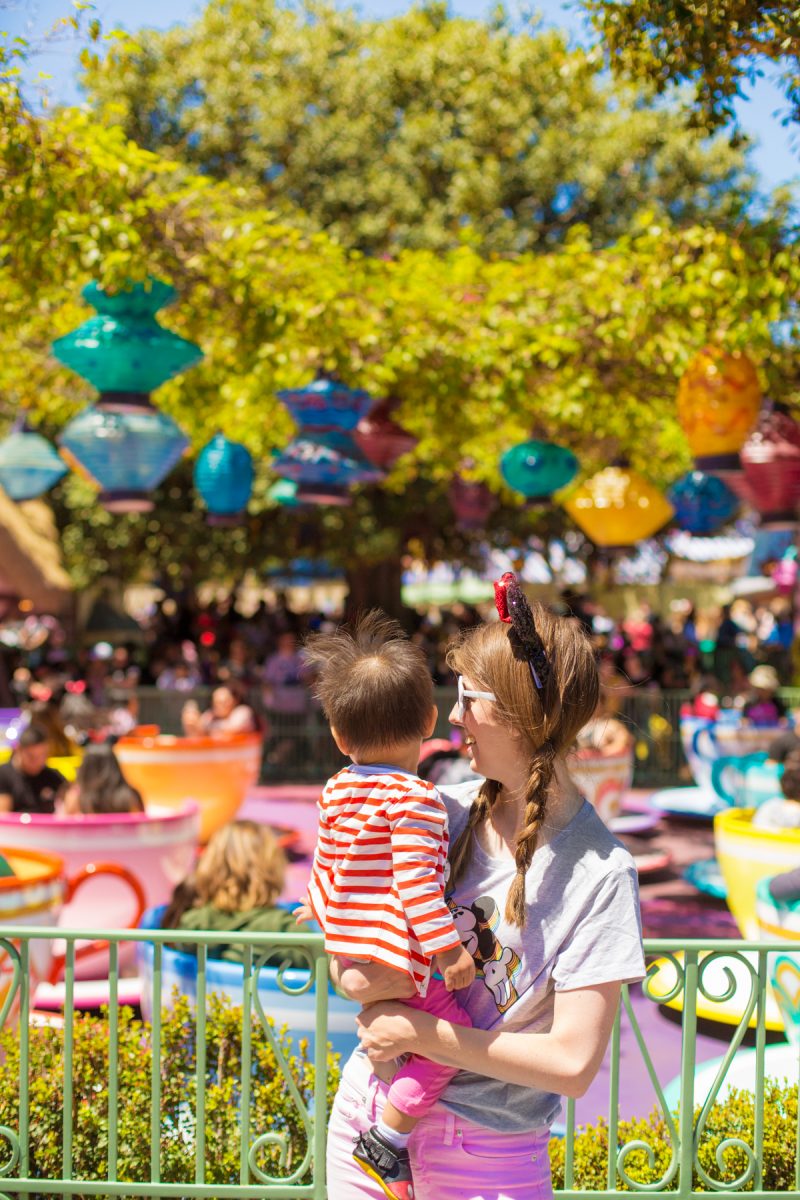 Photos by Jeff Mindell
And there's our tips!! Like I said, I'll add more as I learn 'em. We're already planning another half-day trip for this Friday!!
SaveSave
SaveSave
SaveSave
SaveSave
SaveSave
SaveSave
SaveSave
SaveSave
SaveSaveSaveSave
SaveSave
SaveSave
SaveSave