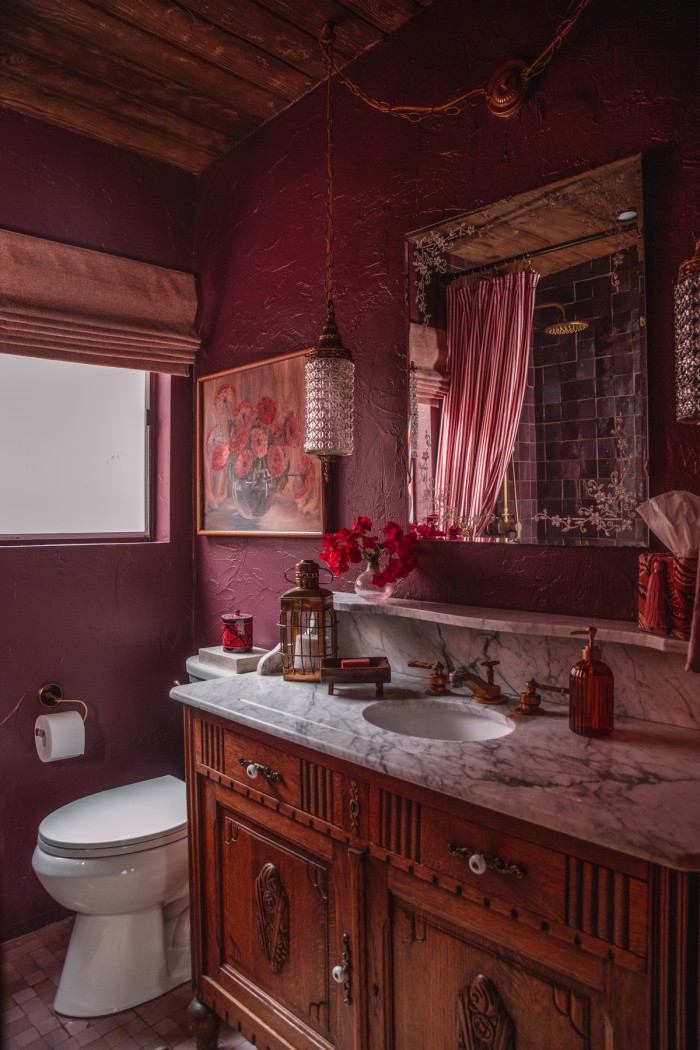 It's quite clear I use a spectrum of shades of pink, yellow and green as staple colors in my designs. But I wanted to throw a new-to-me color in the mix for this home—plum!
This purple bathroom has sold me on using deep plum, eggplant and wine tones in future spaces. It feels so rich and moody and does happen to pair well with my favorite pink shades too.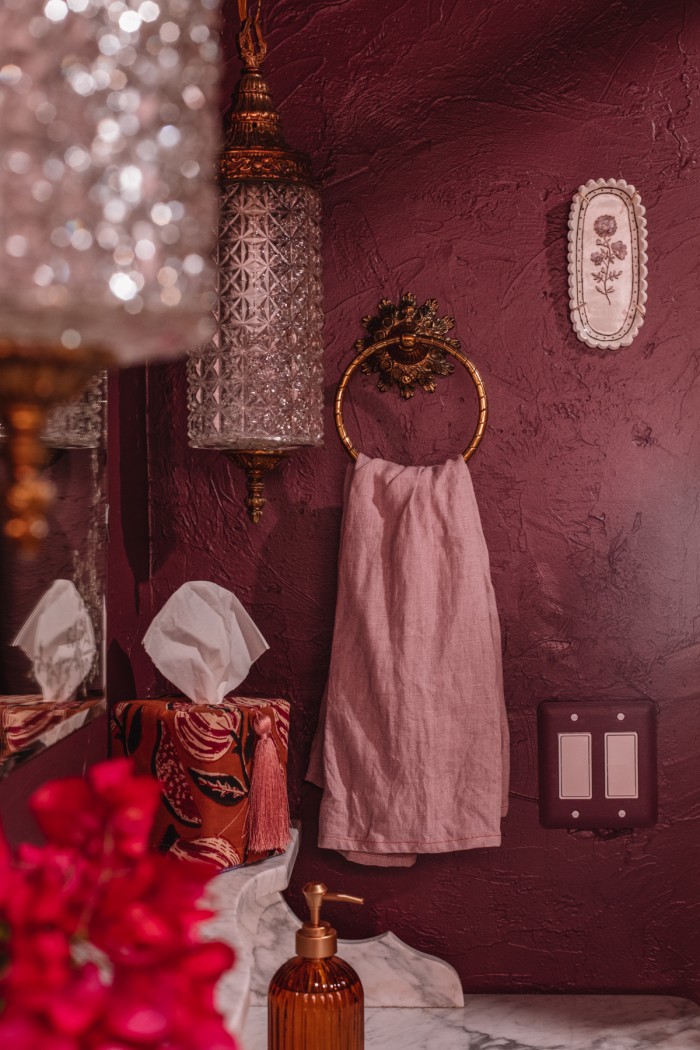 My favorite other addition to this space was a hint of red! It's unexpected and adds the surprising pop this space needed.
Before & After
Here's where we started with this bathroom. It had a soffit along the ceiling, an awkwardly placed light above the toilet and a mirror that didn't align well with the vanity.
We decided, like our primary bathroom, to keep the layout intact for budget purposes, but upgraded everything else.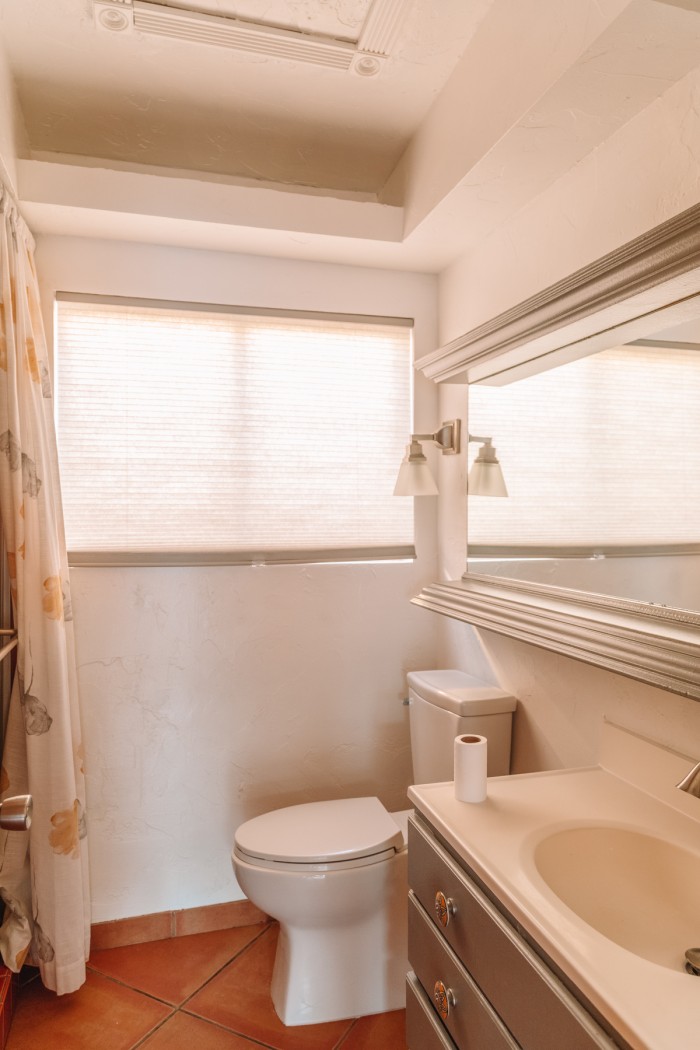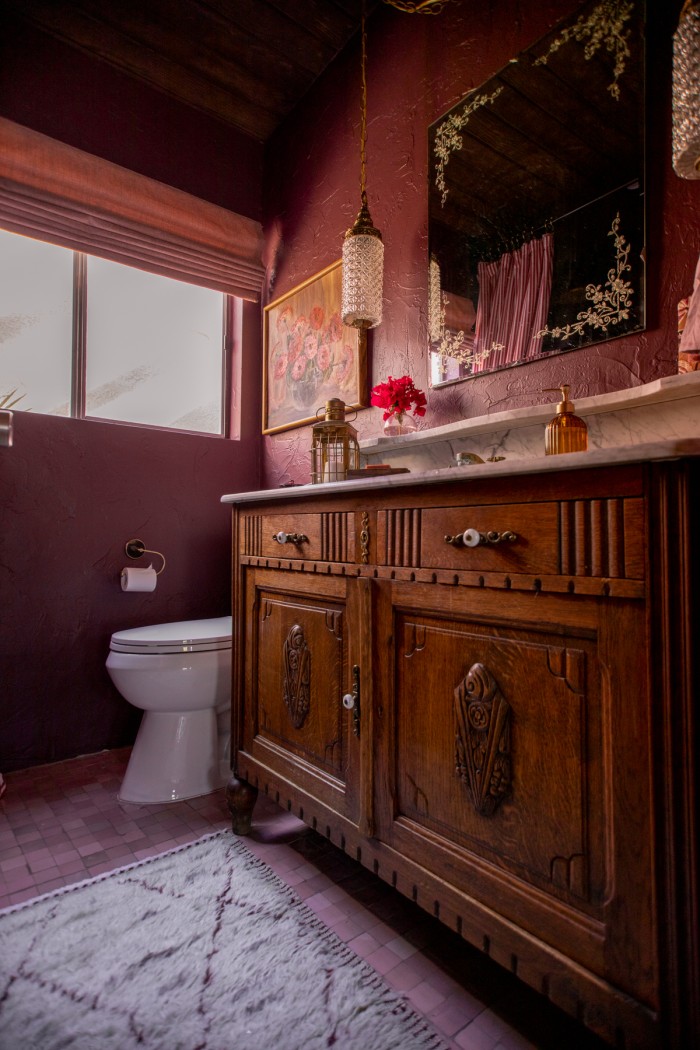 And below is where we landed after removing the soffit, relocating the wiring and turning an antique dresser into a vanity, which I'll discuss more below!
Here's a before shot of the original shower. It had both a door and a shower curtain, neither of which were in good shape. Again, we kept the layout as is…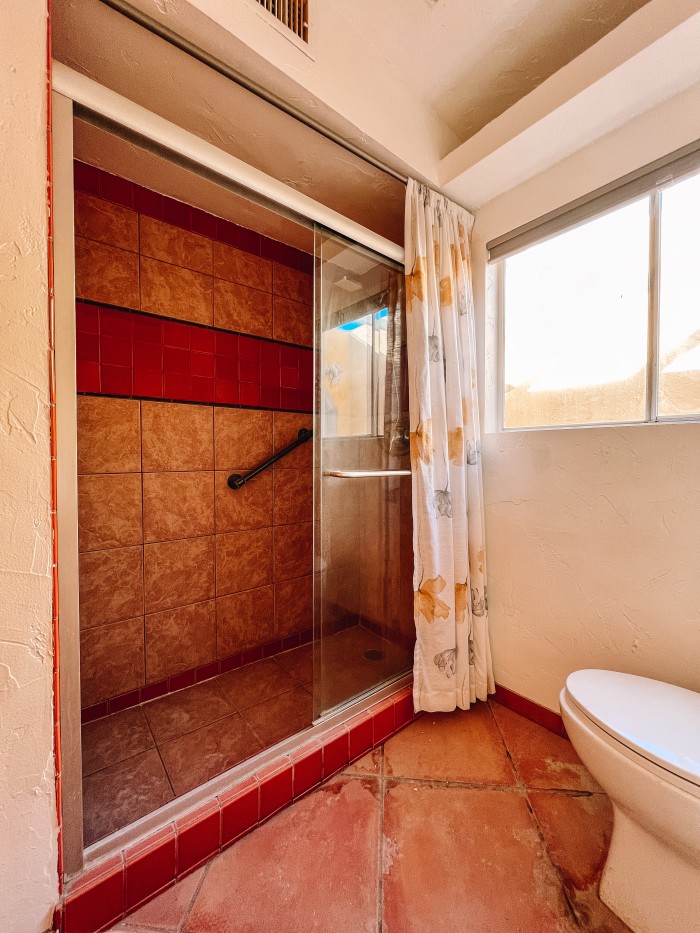 But turned it into the below with new tile and hardware!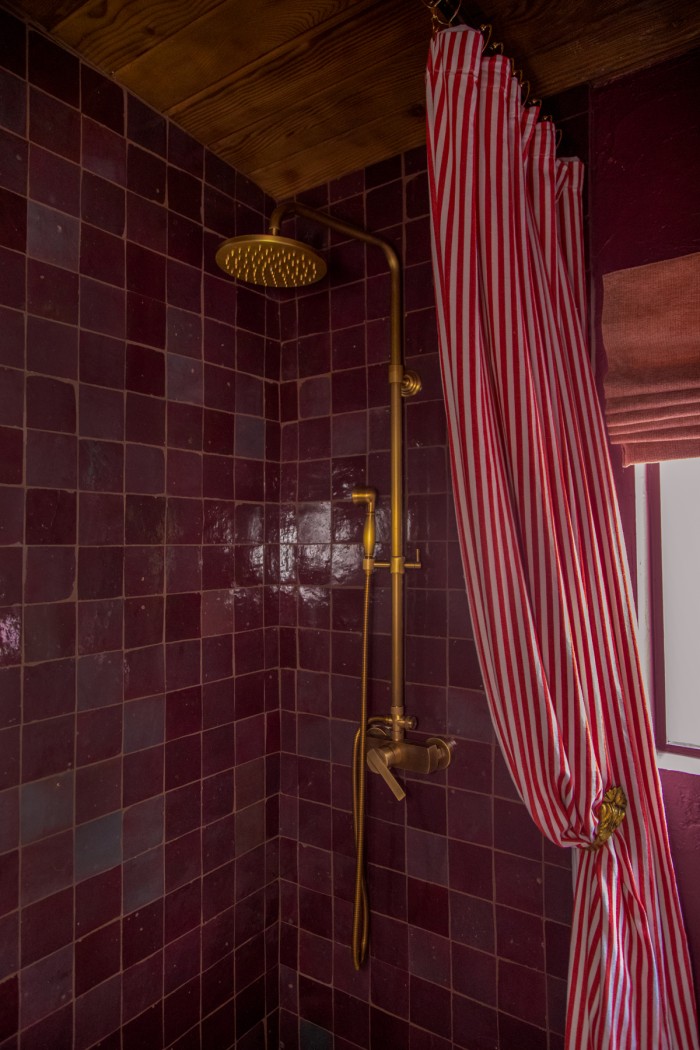 Choosing the Color Scheme
This eggplant tile was the kickstarter for this entire purple bathroom. I loved the variation in colors and how dark and moody it was. So different from some of the more vibrant tile I've used in the past!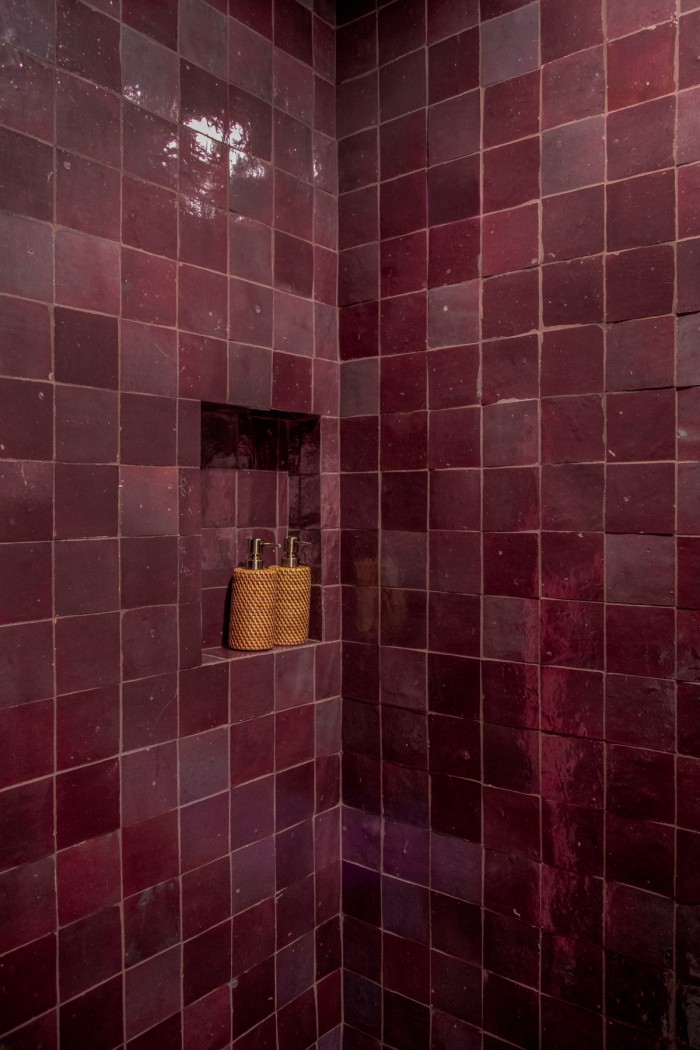 Eggplant Zellige Tile | Rattan Soap Dispenser
From there I knew I wanted a monochromatic look for the paint, but I hadn't quite determined what accent colors I wanted to incorporate.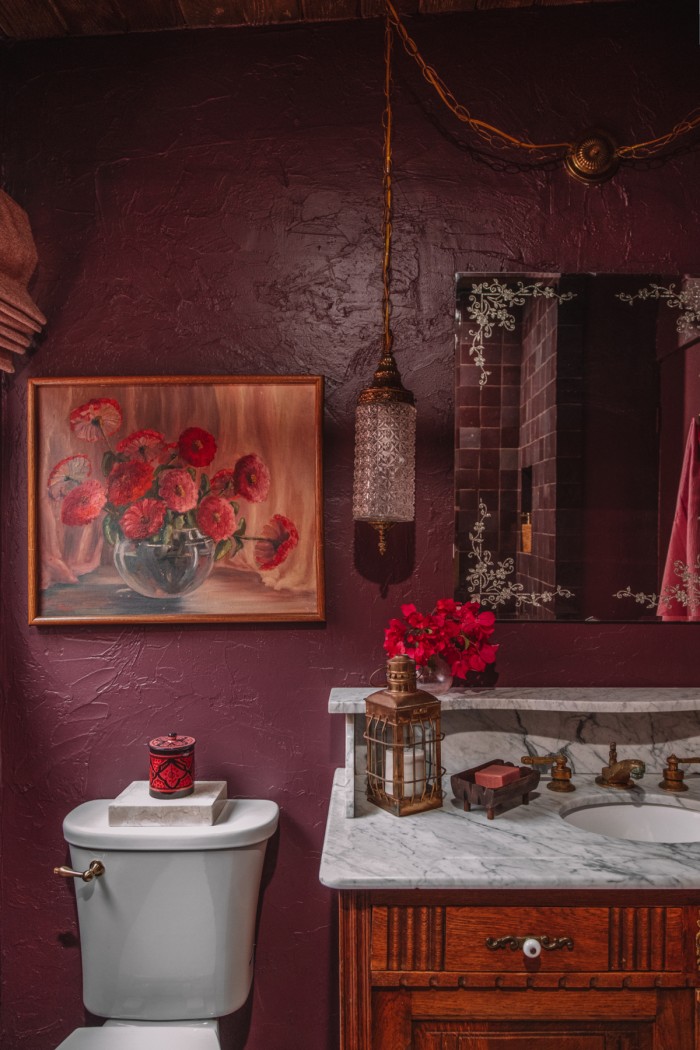 At one of the flea markets I frequent, I stumbled upon this floral painting and knew that it was the perfect inspiration piece for the rest of this space. I loved that it had shades of pink, red, burgundy, mauve and more.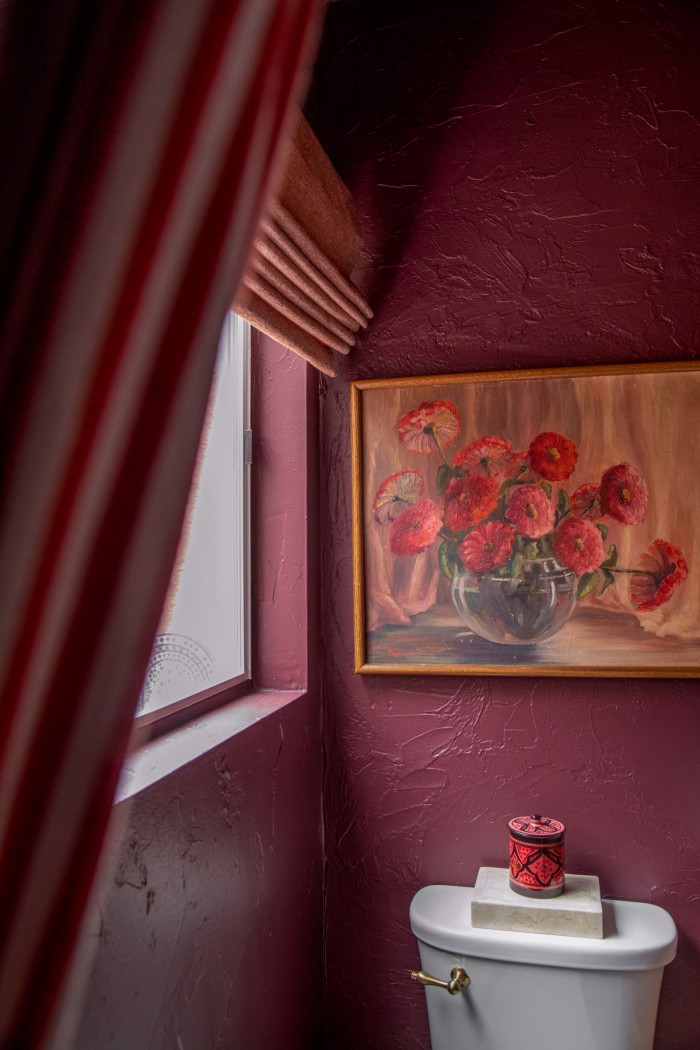 I pulled the muted pink tones into the roman shade and the pink zellige tile floor which was actually leftover from a previous bathroom renovation project where we weren't able to use it!
And then, I took a big risk and went with a red stripe for the shower curtain! I love how it turned out.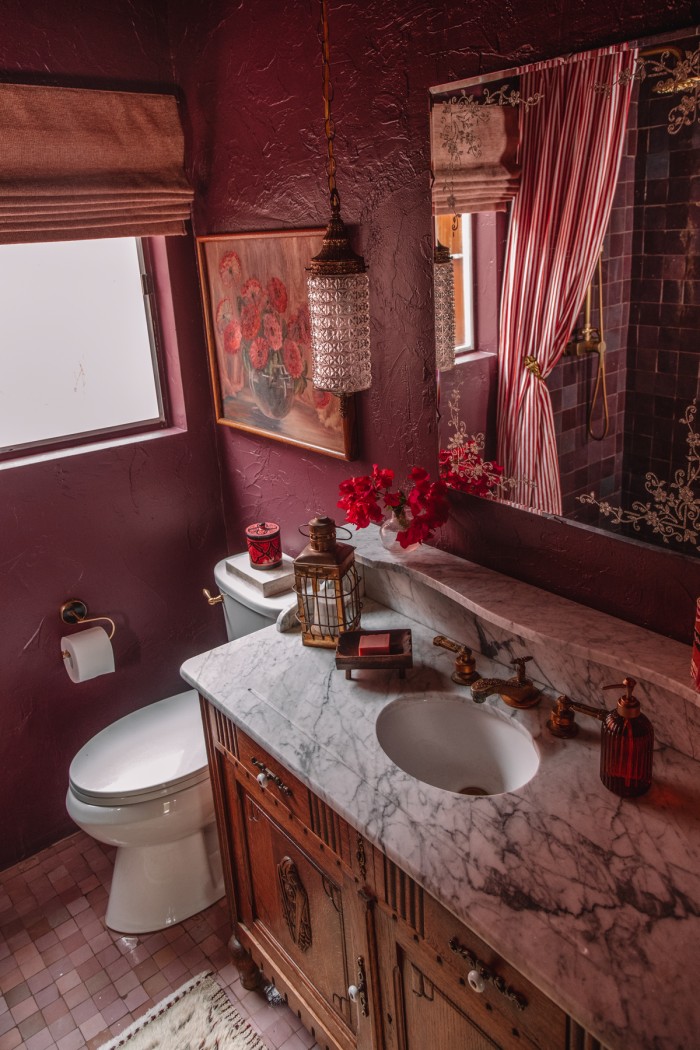 Our Antique Dresser Vanity Conversion
I had previously seen people convert antique dressers into vanities and was itching to try this for myself. I found a beautiful antique wood and marble buffet from one of my favorite antique sellers, Heirloom Vintage Shoppe, that had the most beautiful details and even already had a marble top!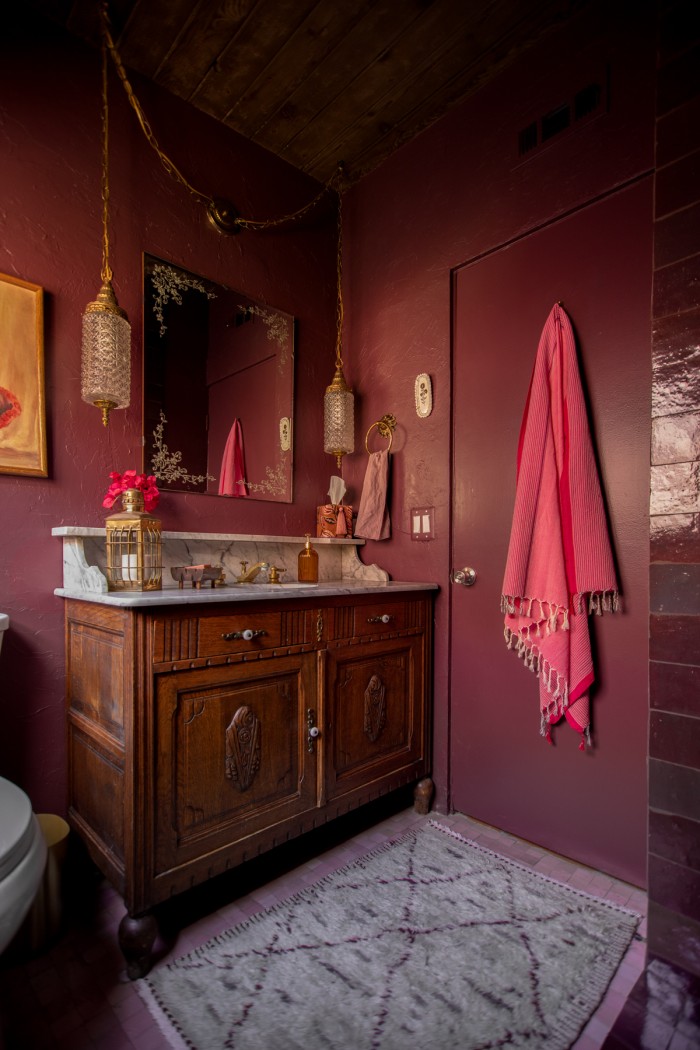 To do this antique dresser vanity conversion, we had our contractor's team remove the marble top and cut a hole for a (tiny but mighty!) sink I had purchased.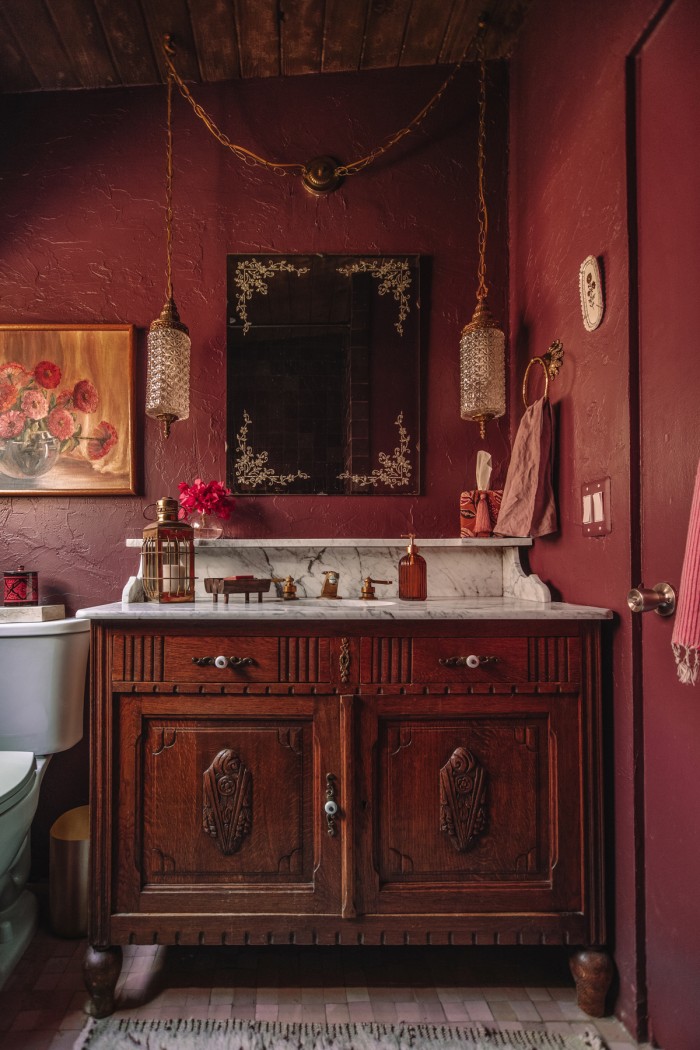 Then, knowing I needed a low profile faucet to clear the built in marble shelf, I happened to find a vintage brass faucet that couldn't be a better fit. Our team had to work to get it functioning properly due to it's age but they did and I love the patina it has. Feels so in line with the age of the piece!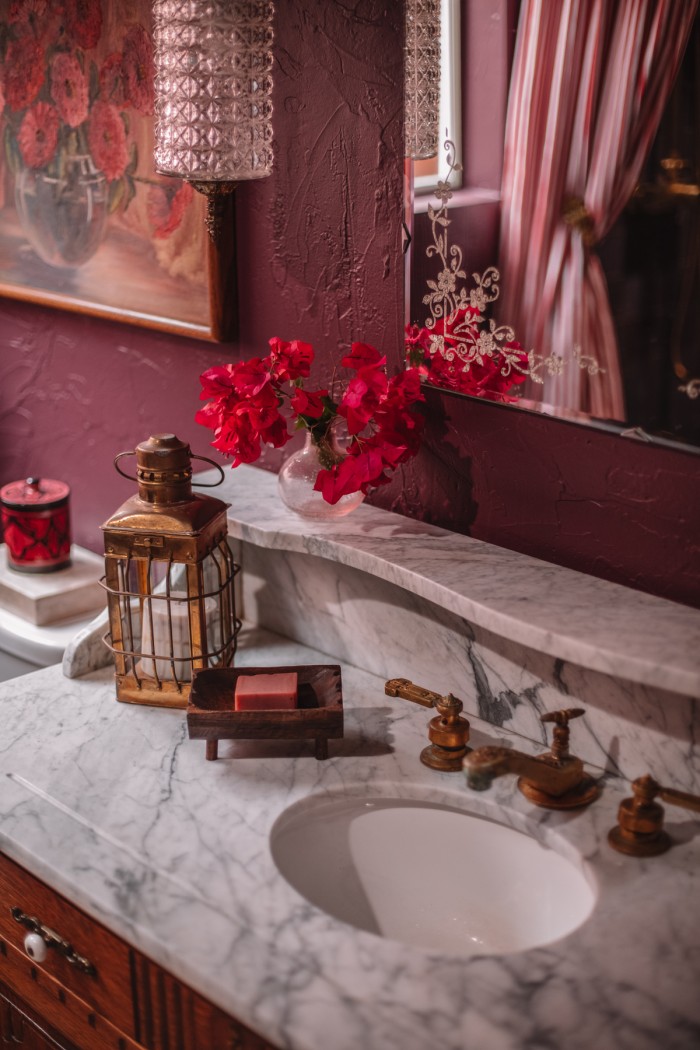 Lastly, in order to make room for the plumbing, they removed the fronts of the drawers from the drawer boxes and simply placed the fronts back in on their own. So they are permanently attached to the piece in a faux-drawer style.
Incorporating Second Hand and Vintage Finds in a Bathroom
Just about every other decor element of this space is vintage as well.
The crystal pendants are a flea market find that I had rewired and split into pendant-style sconces.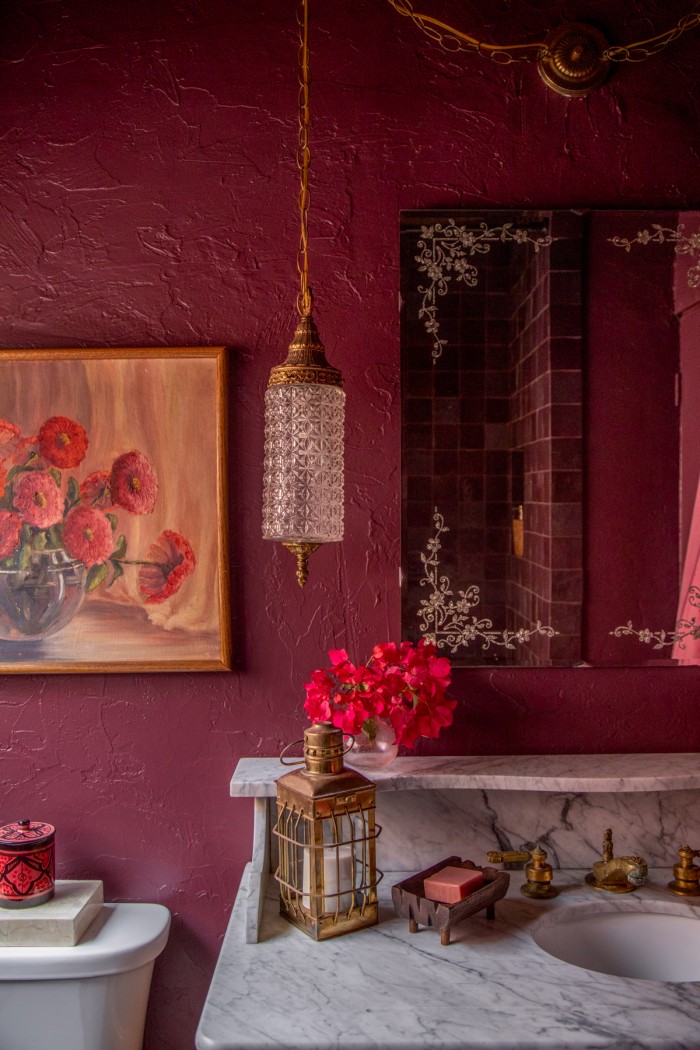 I ended up really wanting to lean into floral motifs for this space so the pendants surround an antique mirror with stunning floral etching. Even the towel ring is a vintage decor find.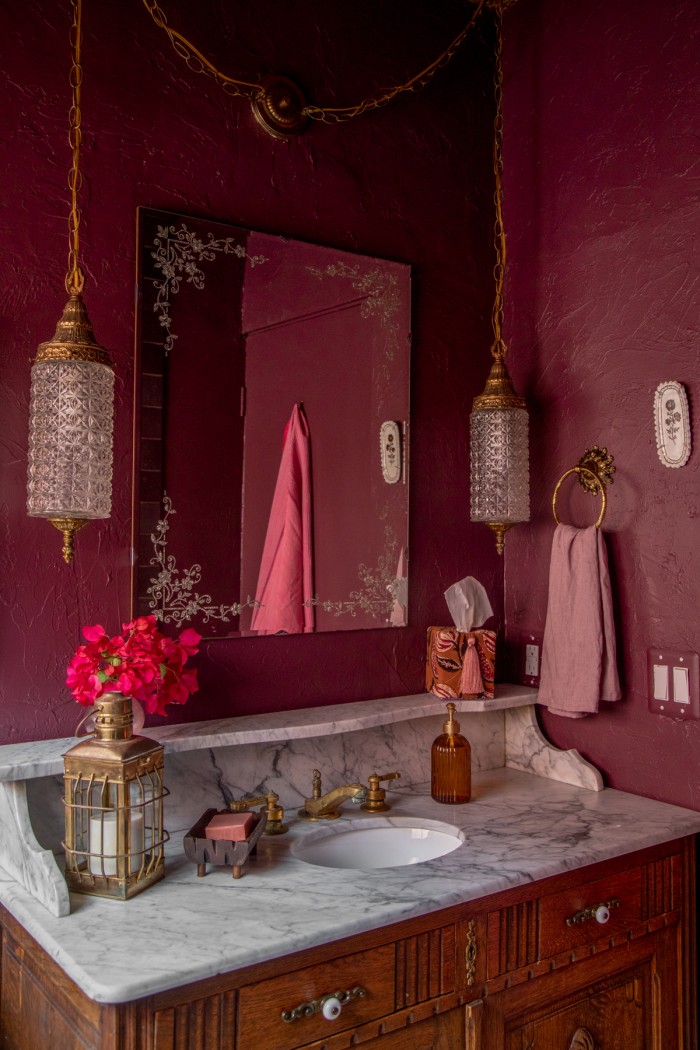 For budget, texture and spacial reasons, I wanted to stick to a curtain vs glass door for this shower. To bring one graphic element into the space, I chose a red and white stripe pattern.
This textile was actually a duvet cover I found at a flea market, and cut and sewed into a shower curtain! Red and white stripes are one of my favorite patterns. They seem to stand the test of time, and to me feel unexpected in the best way in this space!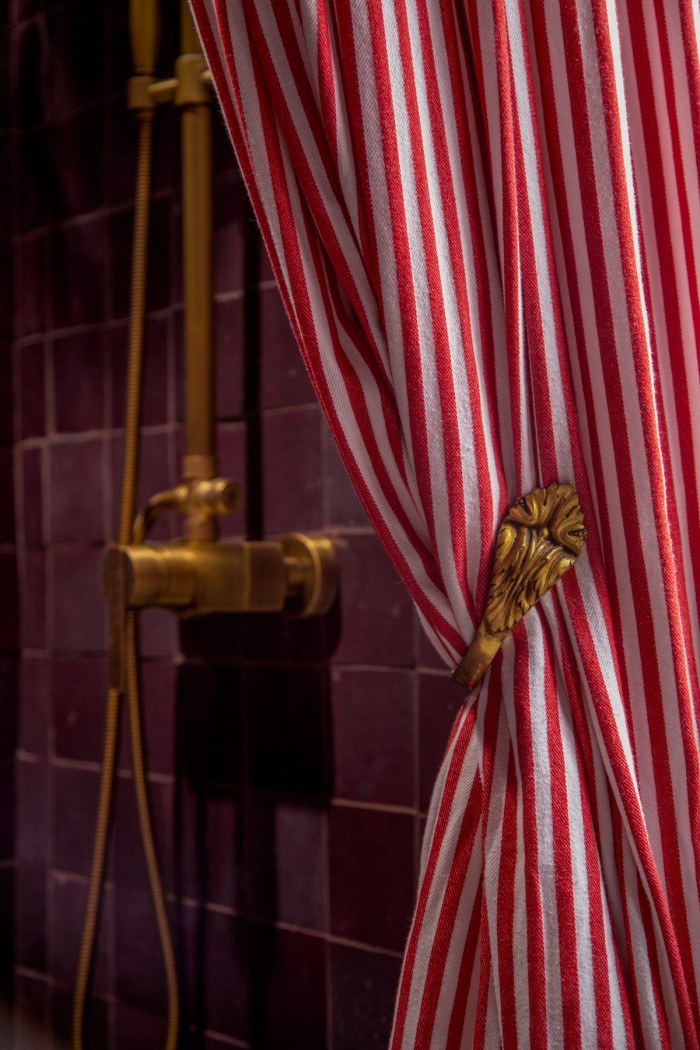 Shower curtains often get a bad reputation because they can have plastic liners or just "hang" there and not feel intentional. But I disagree! With a few simple upgrades, like a cloth liner (that can be washed!) and a unique tie back, they can feel quite elegant.
This tie back is an antique French swan neck curtain tie back that hangs down on the wall when not in use, and adds just a touch of charm to this graphic curtain.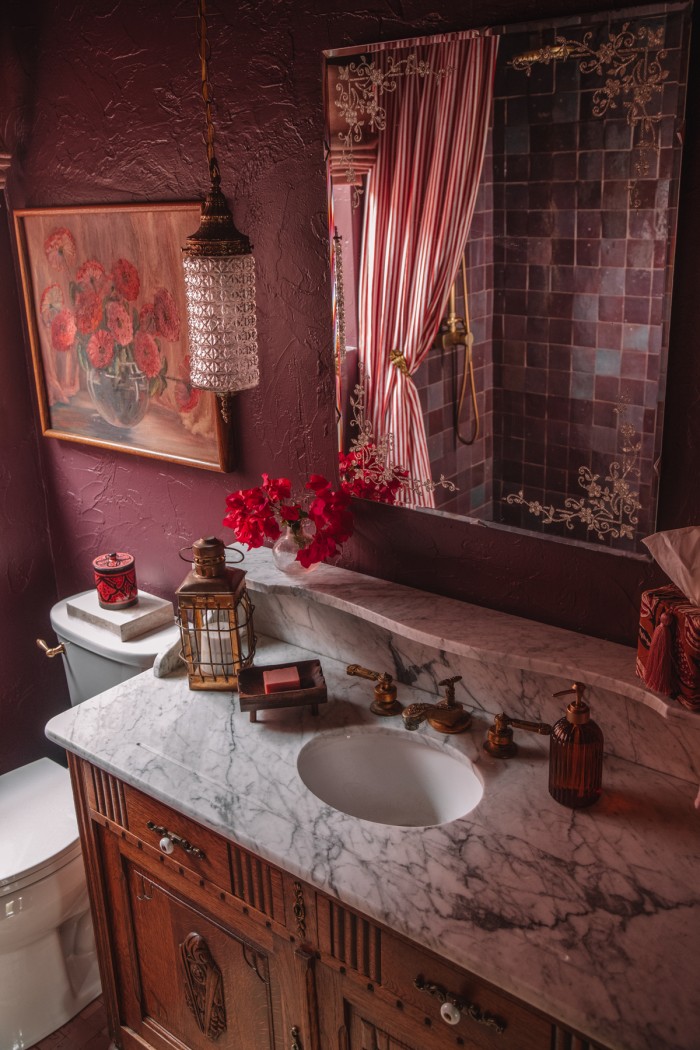 This bathroom is small, but I think in small spaces, they are often perfect for deep, dark and moody palettes. Embrace it!
Photos by Jeff Mindell, Design by Kelly Mindell
Purple Bathroom Source List
Paint Color: Wine Stain by Dunn Edwards*
Eggplant Zellige Tile: Villa Lagoon Tile
Vintage Rose Zellige Tile: Cle Tile
Brass Exposed Shower System Rain Head Shower: Homary
Antique Buffet: Heirloom Vintage Shoppe
Toilet: Home Depot
All other decor items in this space are antique, vintage or second hand!
Studio DIY contains affiliate links. This means that we may receive a small commission on sales of products that are purchased through links on this site, at no additional cost to you. Product gifted to Studio DIY is indicated with an (*).