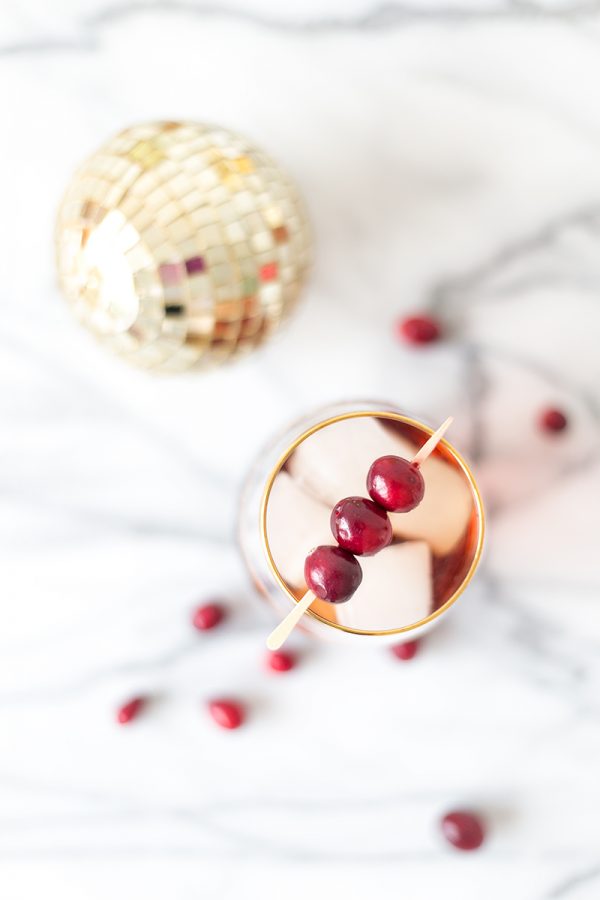 Whether you're throwing a big holiday party or just ready to spend Christmas Eve with a cocktail in hand, we've got ya covered today! These two drinks aren't your average Christmas drinks, thanks to the mixology skills of Bourbon & Goose, so your guests (and you!) are in for a refreshing surprise! Black currant, pear, apple, moonshine… gang's all here! We brought along my new SodaStream Play for the ride, giving these babies a little fizz and sparkle. Let's do this!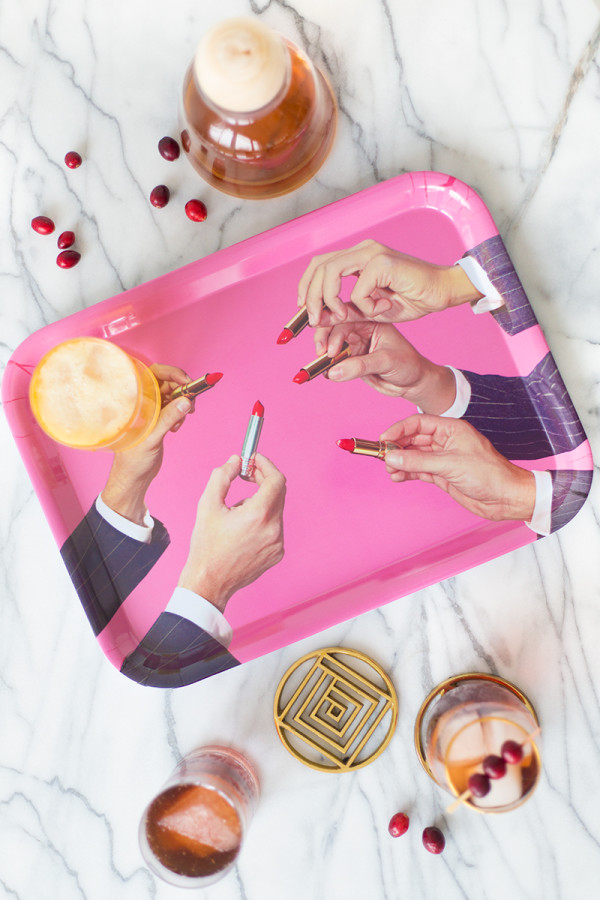 Jeff has been wanting a SodaStream forever. And let me tell you, I support this. The guy goes through sparkling water like it's nobody's business and with this schnazy carbonating machine all we need is plain ol' water to make our own bubbly variety! It's also pretty entertaining watching the bubbles when you simply press down to carbonate it… you know, if you're still a 5 year old inside like I am. This would make a great gift (Merry Christmas, Jeff!) and for those of you shopping for folks who love customization…. they can order custom skins for the machine after receiving it! We played around with some of the dozens of flavors they sell to jazz up the drinks. There's a berry drink with cranberry, black currant, pear and rum… and an apple drink with apple, moonshine and a little caramel rim. DELISH!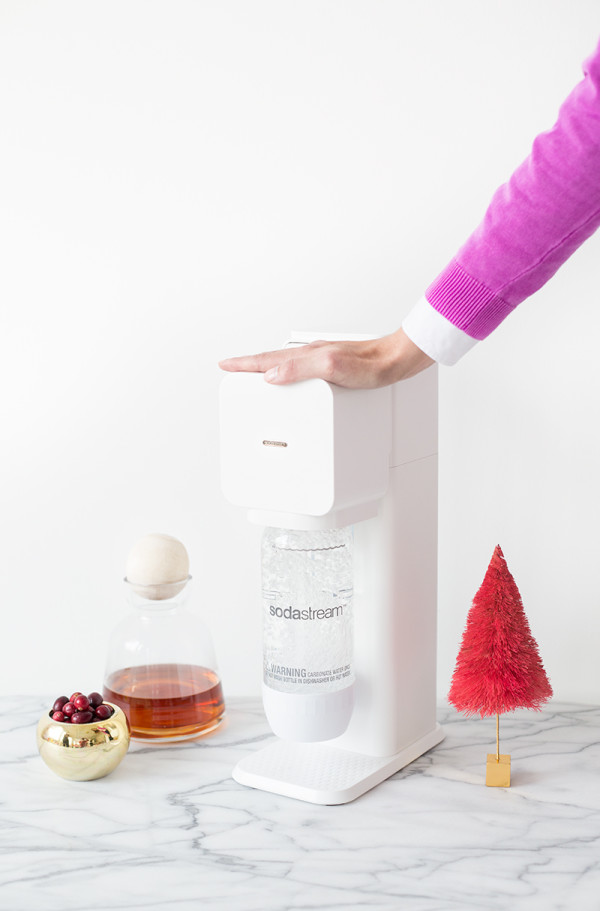 1 shot of black spiced rum
1 tbsp of balsamic vinegar
1/2 shot of fresh cranberry juice
SodaStream Sparkling Naturals Black Currant Pear flavor
Ice
Before we dive into the cocktail, prep your SodaStream Sparkling Black Currant Pear using the directions that come with the SodaStream and flavor bottle. Now fill a highball glass full of ice. I'm a firm believer of the more ice, the better cocktail. Next add your balsamic vinegar and black spiced rum. Lastly, tilt your glass and slowly pour in the SodaStream Sparkling Black Currant Pear. Give your drink a gentle stir and voila, you have yourself a tasty treat!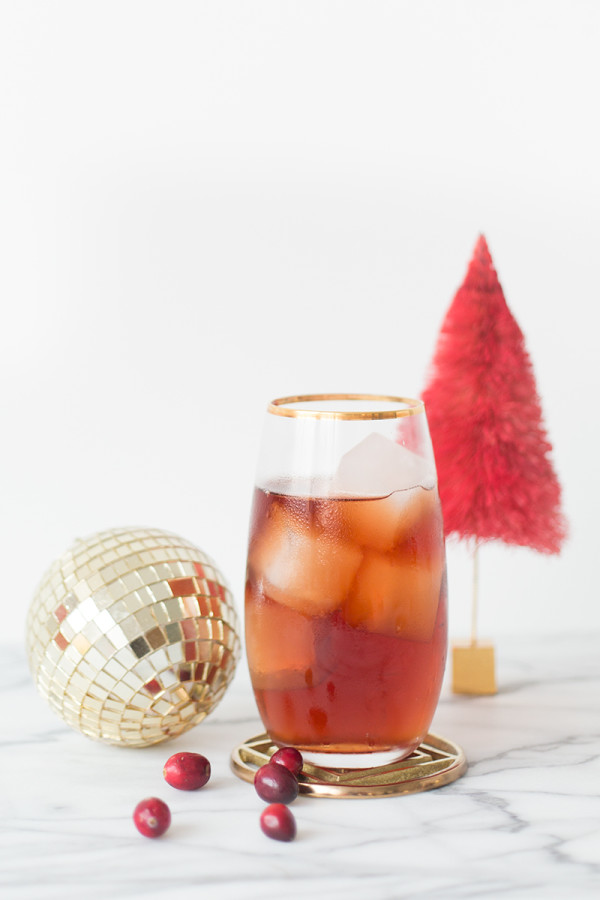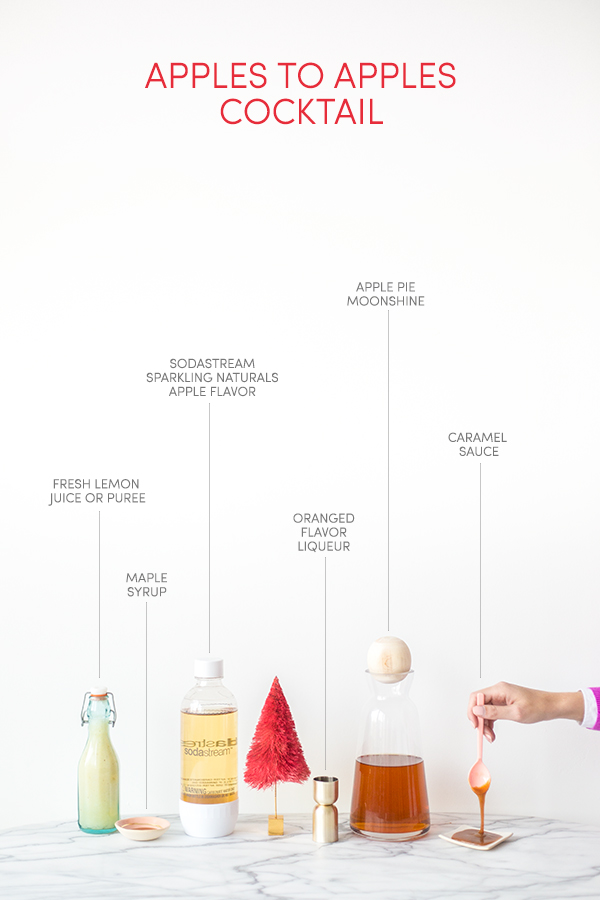 1/2 shot of Apple Pie Moonshine
1 shot of fresh lemon juice
1 teaspoon of maple syrup
1/2 shot of Cointreau orange flavored liqueur
SodaStream Naturals Apple flavor
Ice
Caramel Sauce (optional, to rim the glass)
Moonshine is pretty heavy on its own so I wanted to create a drink that was friendly enough for all. First prep your SodaStream Sparkling Apple using the directions that come with the SodaStream and flavor bottle. Rim the glass with caramel sauce, if desired. Next, fill a lowball glass full of ice. Now add your lemon juice, apple pie moonshine, maple syrup and orange liqueur to the glass. Lastly, slowly pour your freshly made SodaStream Sparkling Apple into the glass. Stir and serve!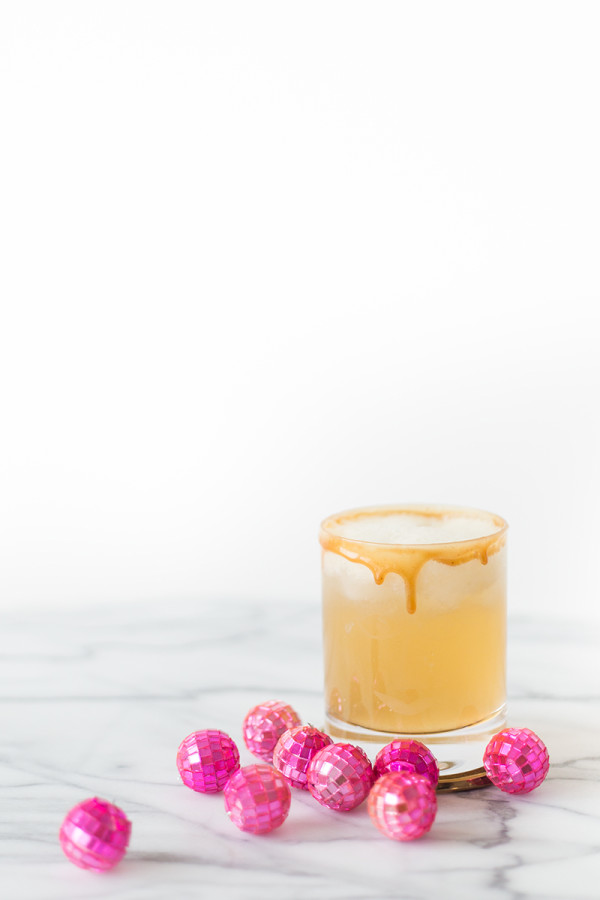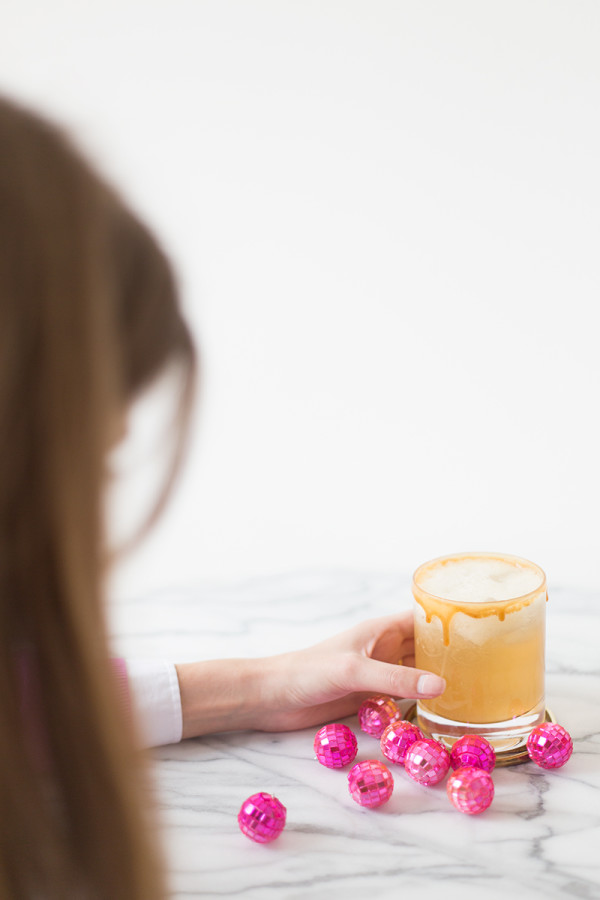 All Photos by Jeff Mindell
Now all you need is a little mistletoe and some Christmas cookies and you have yourself a sparkling holiday cocktail party! (Sorry, I couldn't resist.) Cheers!!
Photography: Jeff Mindell
Cocktail Recipes: Bourbon & Goose
Styling + Creative Direction: Studio DIY
Sources: Tray / Decanters / Gold Rim Glass / Bottlebrush Tree
This is a sponsored post by SodaStream. Thank you for supporting the sponsors that keep the Studio DIY party going! Read more about my editorial policies here. All reviews/opinions expressed in this post are unbiased & based on my personal view. Drink responsibly.