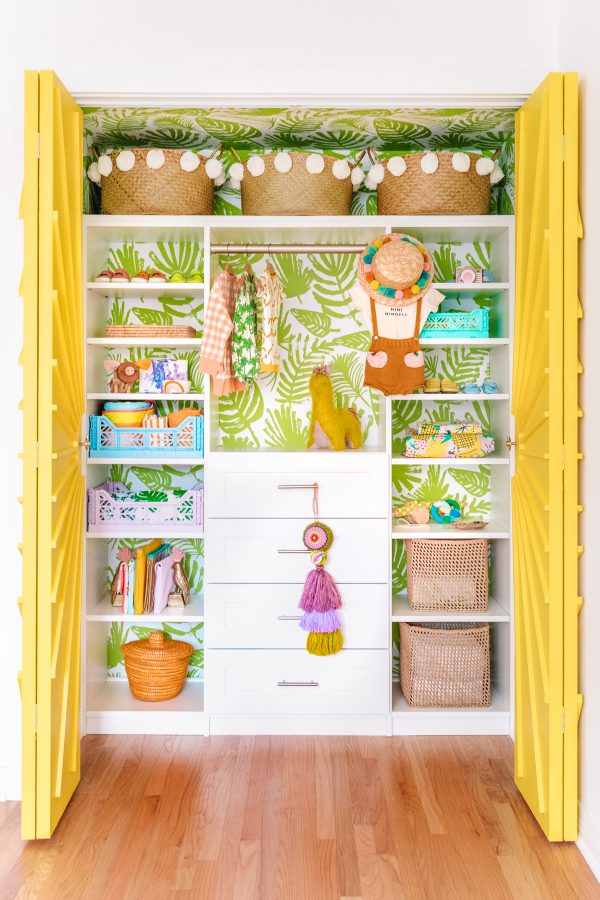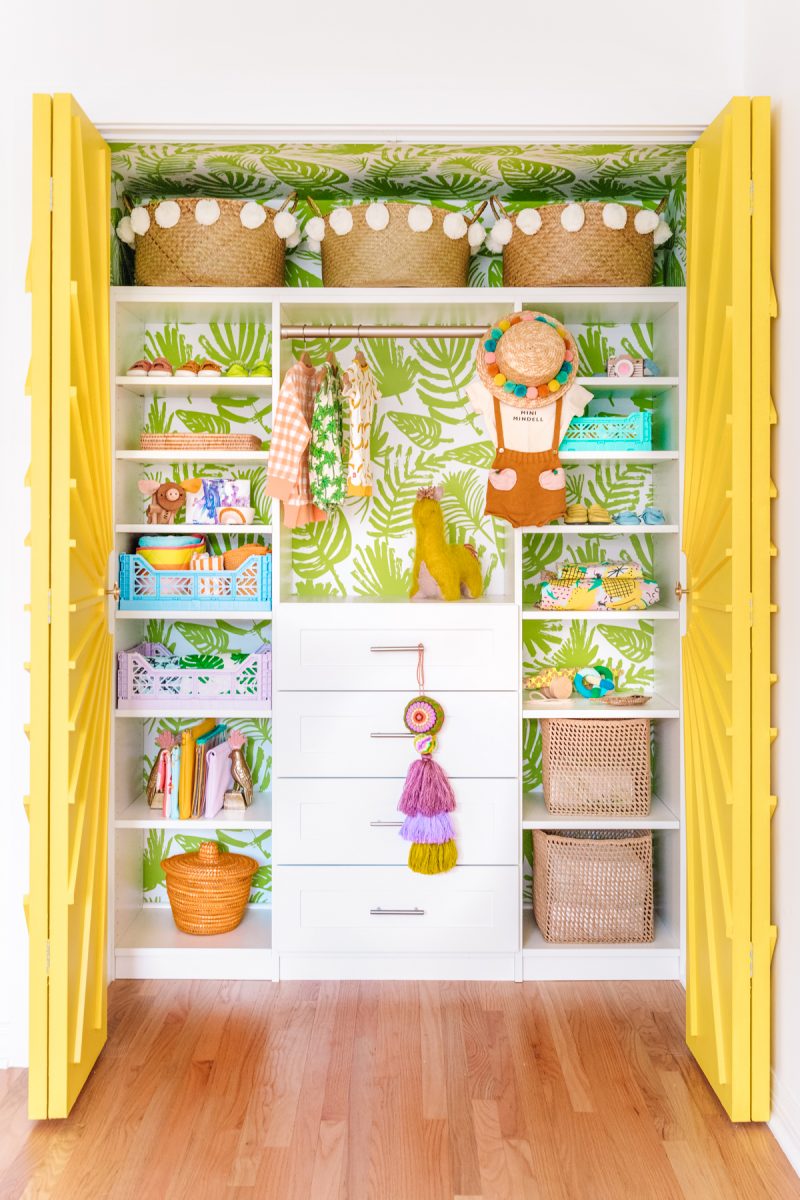 Meet our new nursery closet!!
When we brought Arlo home, his first room was a closet in our one bedroom loft apartment. I still remember the day I walked in the door, a few weeks before Arlo's due date, and Jeff surprised me by converting the only closet we had into a tiny space for our soon to be son. It was such a special little spot, and we honestly didn't need any more room that that.
Two months after Arlo was born, we bought our first home and now as we prepare for our second adoption, things look quite different. We are now incredibly lucky to have an entire room for this little one to call their own… and it's actually the biggest room in our house, ironically. Ha! This time around, we've been trying to check as many "to-do's" off our list since we'll be juggling newborn life and toddler life and won't have nearly as much time. And while most of the room is still just storage, we thought we could at least tackle the closet! And I wanted to share the full reveal with you today!!!!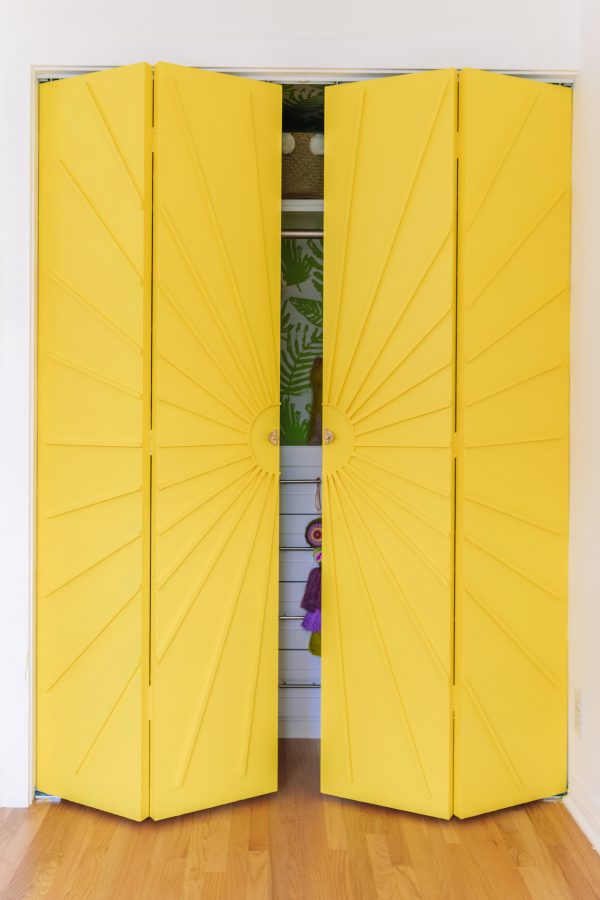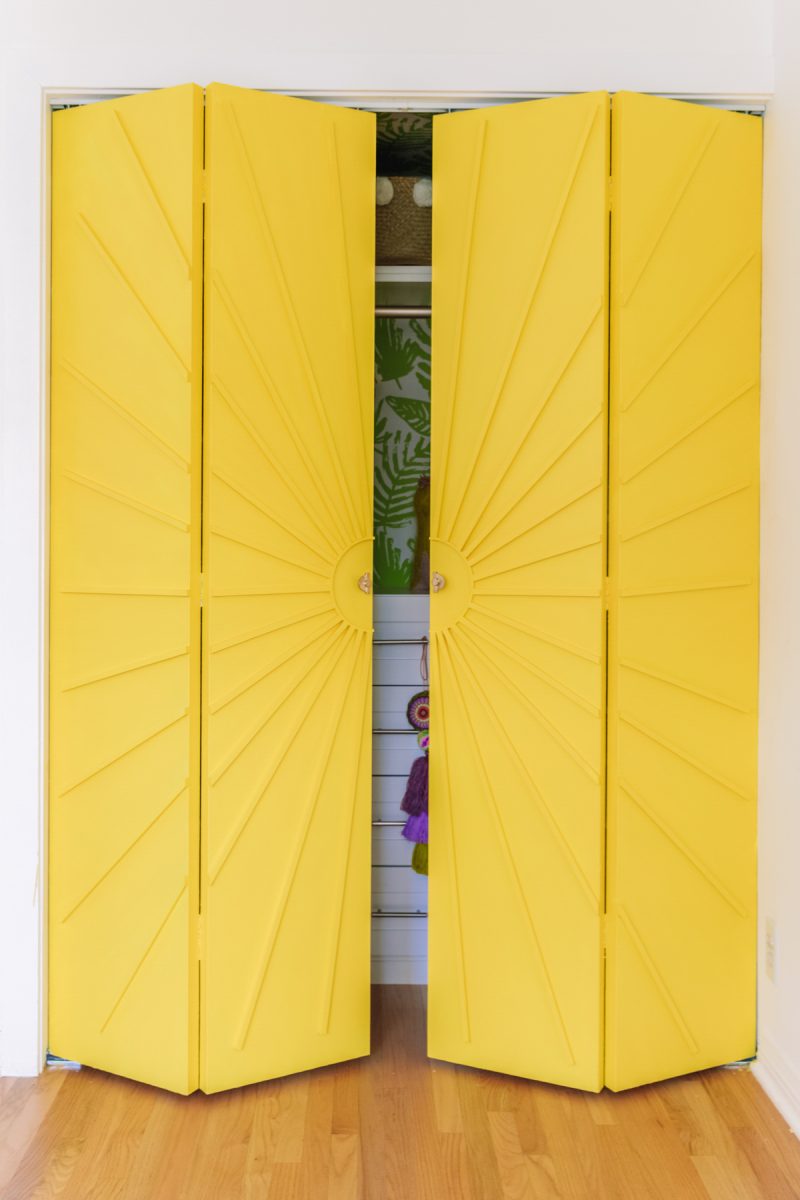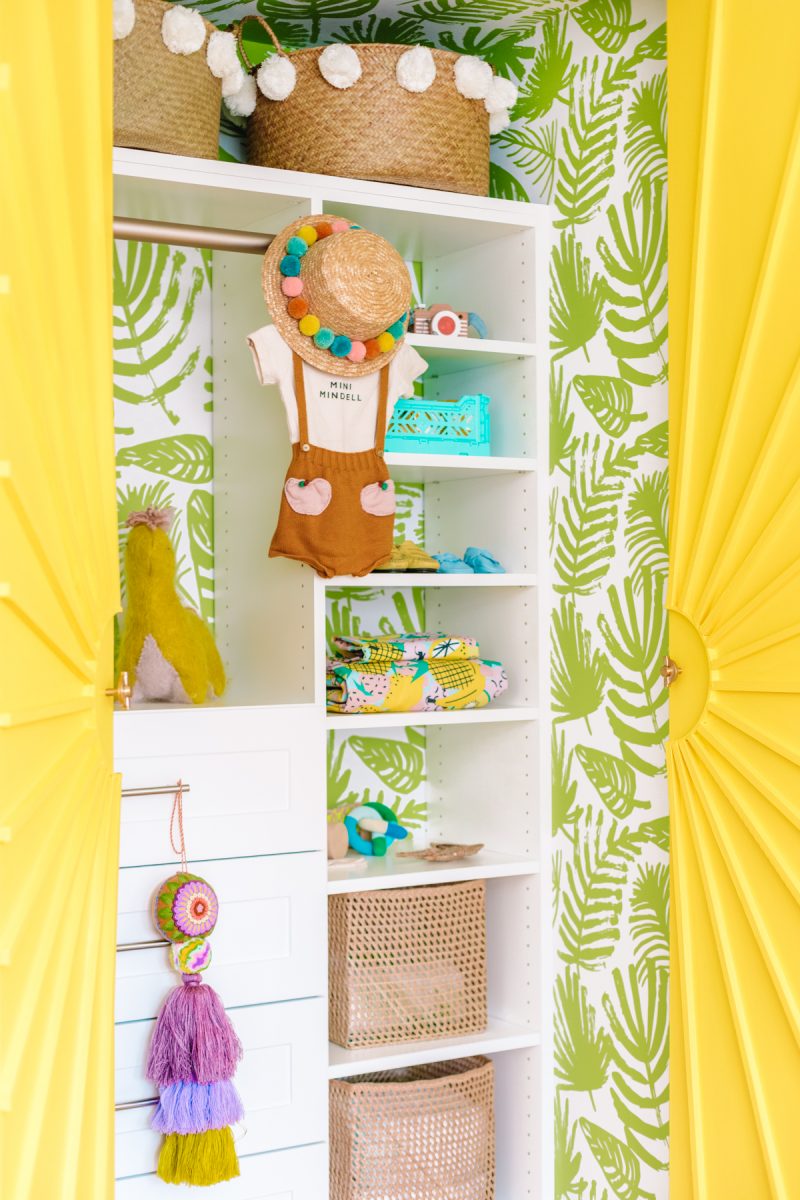 The Decor + Design
First, the decor! I've had SUCH a vision for this room, since the day I finished Arlo's room. I wanted it to be summer-y, tropical and filled with sunshine (quite literally). I wanted to mix in more pastels and prints, whereas Arlo's room was primarily bold and graphic.
I wasn't sure I wanted to commit to wallpaper for the actual room just yet but the closet seemed like the PERFECT space to add a punch of pattern! I worked with Chasing Paper and went with this one, designed by Jordan Sondler! We did it on the walls and the ceiling. The quality is AWESOME and the wallpaper is removable so it's a great option even if you're in a rental! I LOVE how it turned out!!!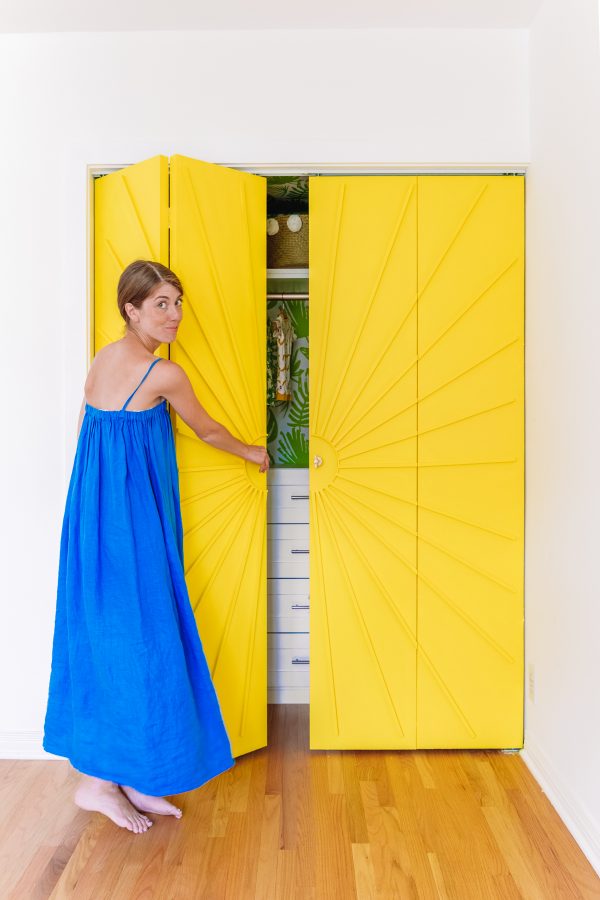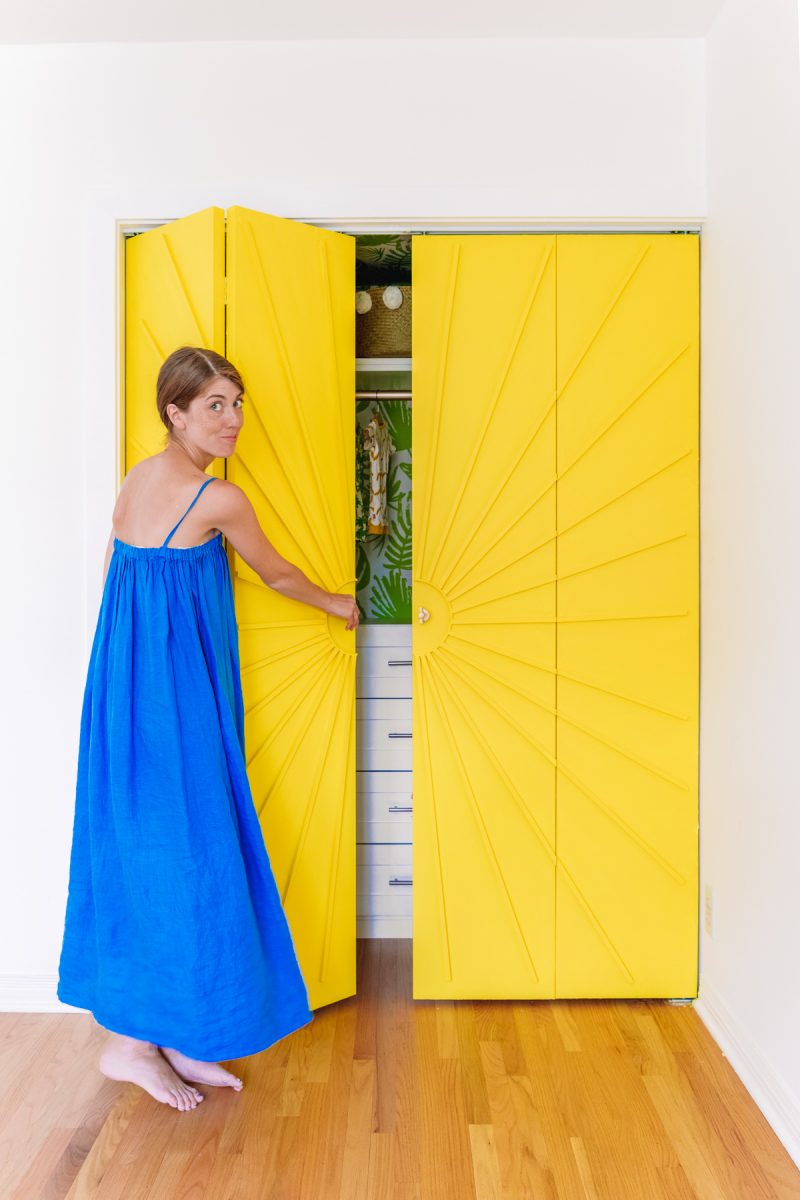 Here's where we started, by the way…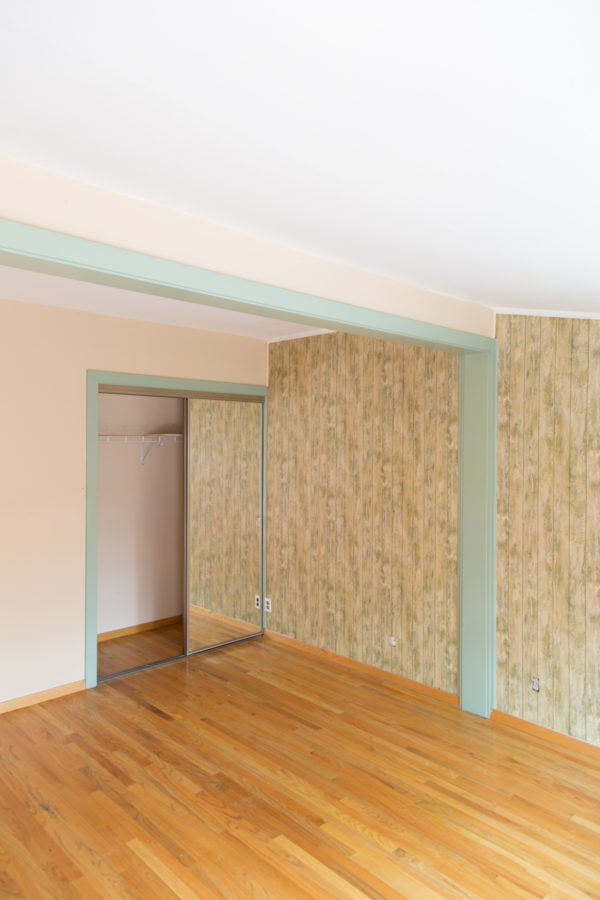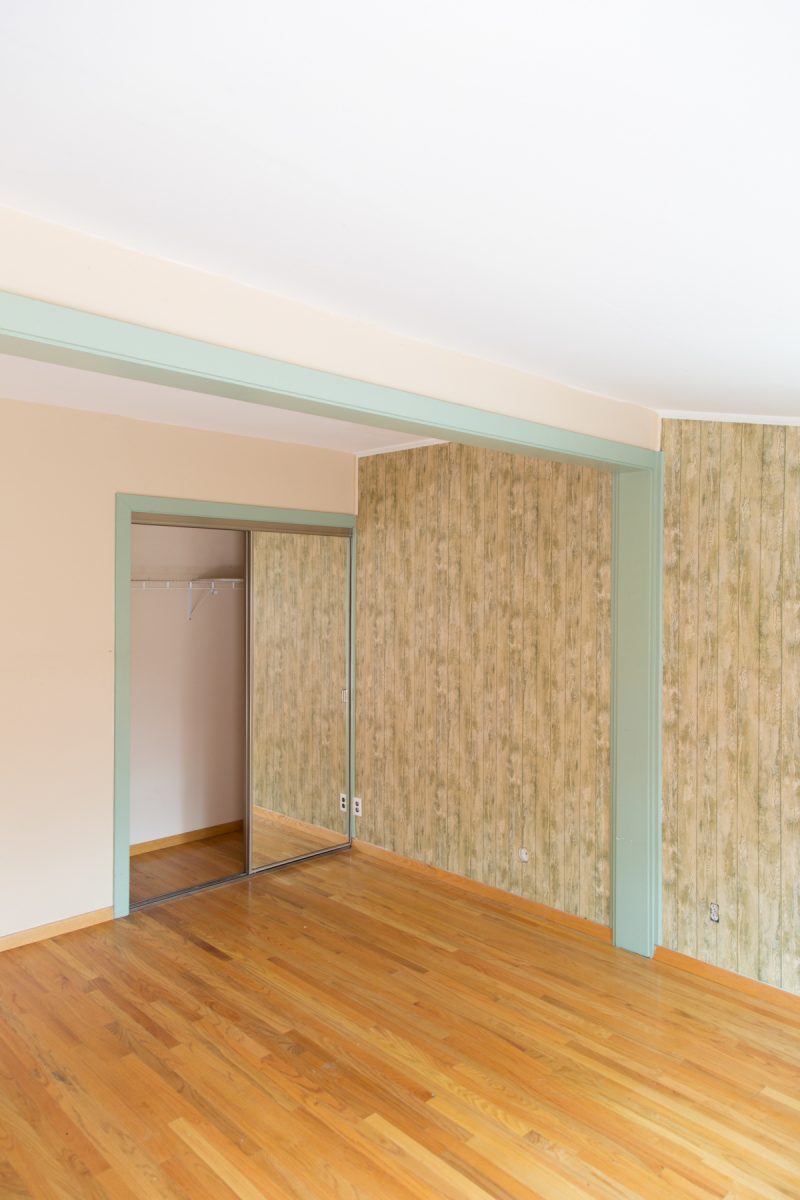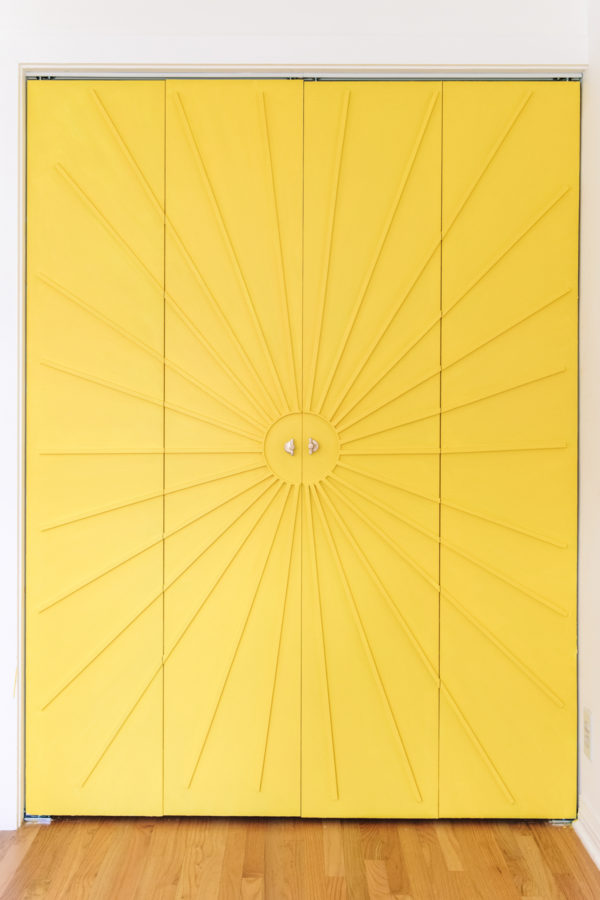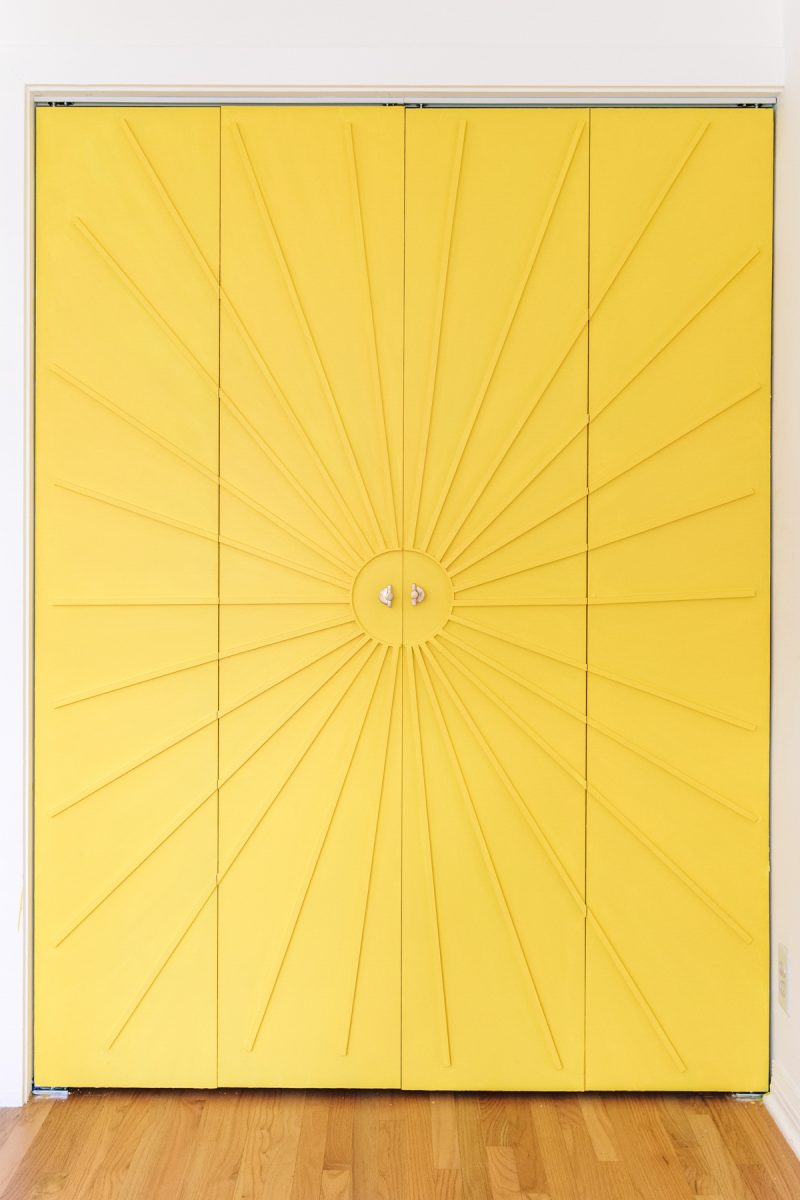 Sunburst Closet Doors
After seeing tons of these sunburst screens on front doors here in Los Angeles, I had this vision for recreating it on bi-fold doors after replacing the ugly mirrored ones the house had when we bought it! After much debate, I went classic sunshine and painted them a bright yellow!
You can get the tutorial for the sunburst bifold closet doors here!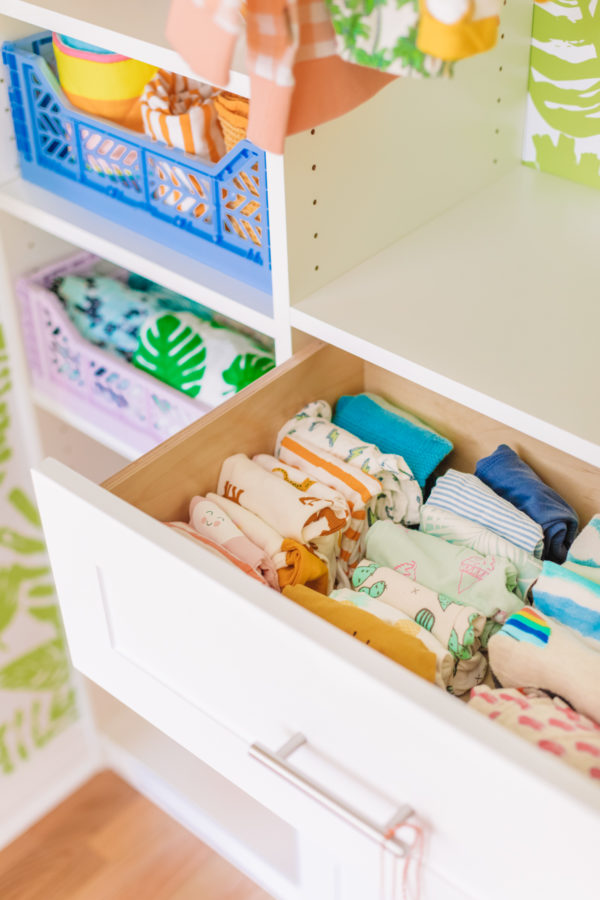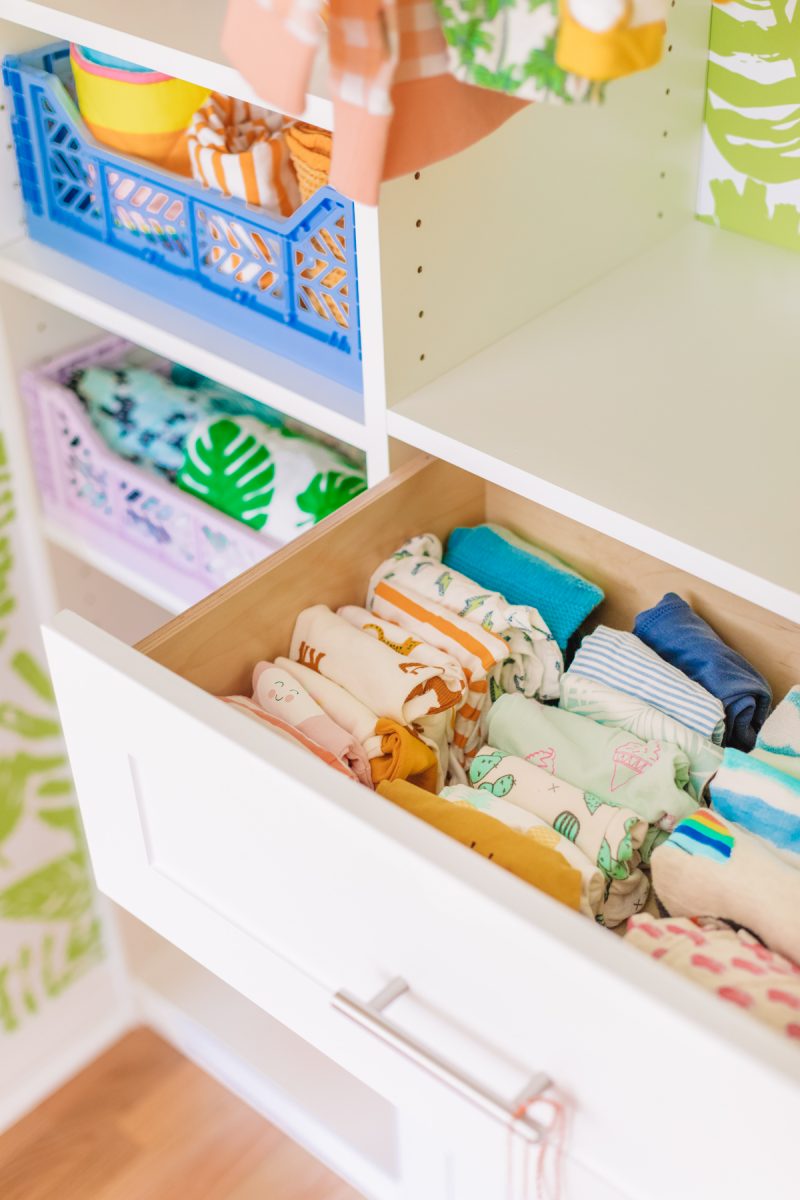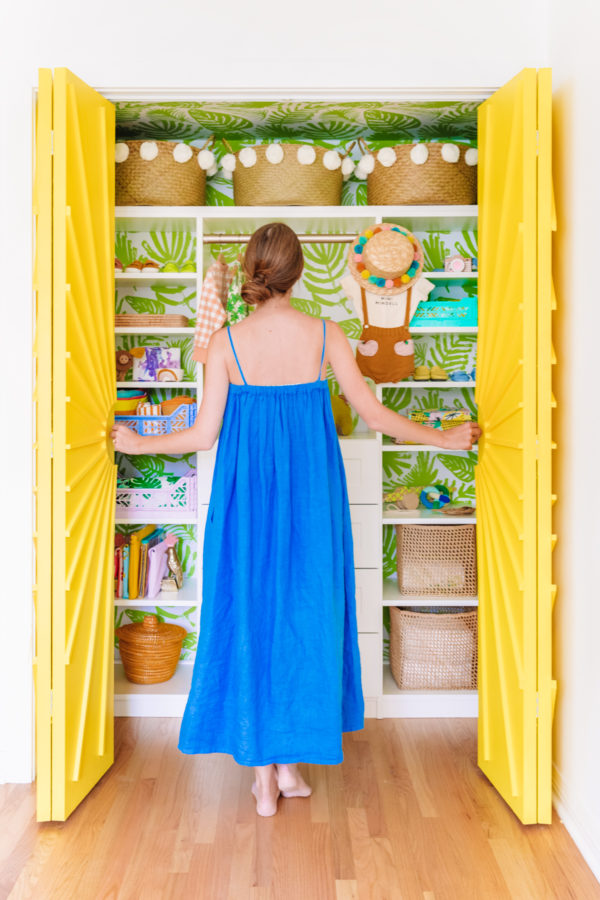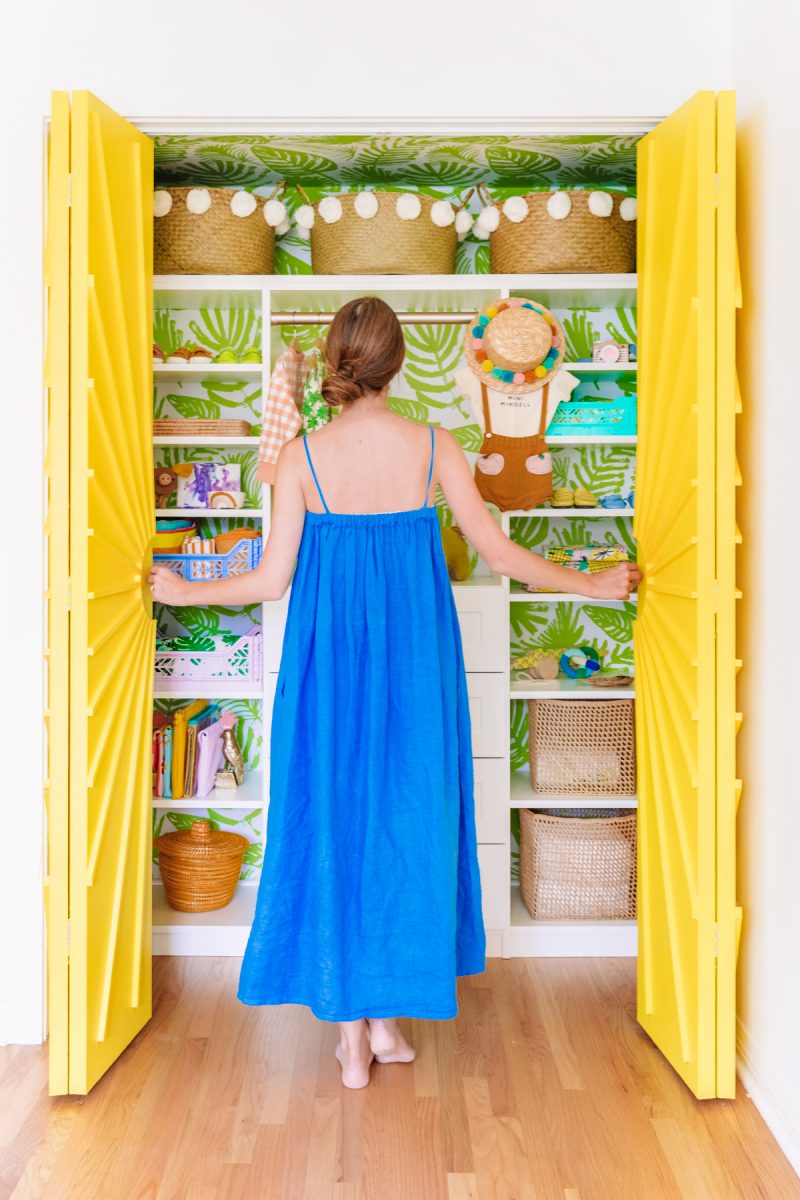 Making Kid Closets Functional
Kids closets are SO different than adult closets and we were super excited to build this with a little one in mind. We have ZERO shelves in Arlo's room/closet and it has resulted in a lot of stuff just getting dumped on the floor and stuffed in awkward corners. We also always wish we had more drawer space, and never find we need as much hanging space as we have since we find it easier to just fold stuff instead of hang!
So we designed this space with that in mind, TONS of shelves (that can be moved around as needed) and a few extra drawers for excess stuff that doesn't fit in whatever dresser we eventually have! We worked with Tailored Living and they totally custom built out the space. We had such a great experience!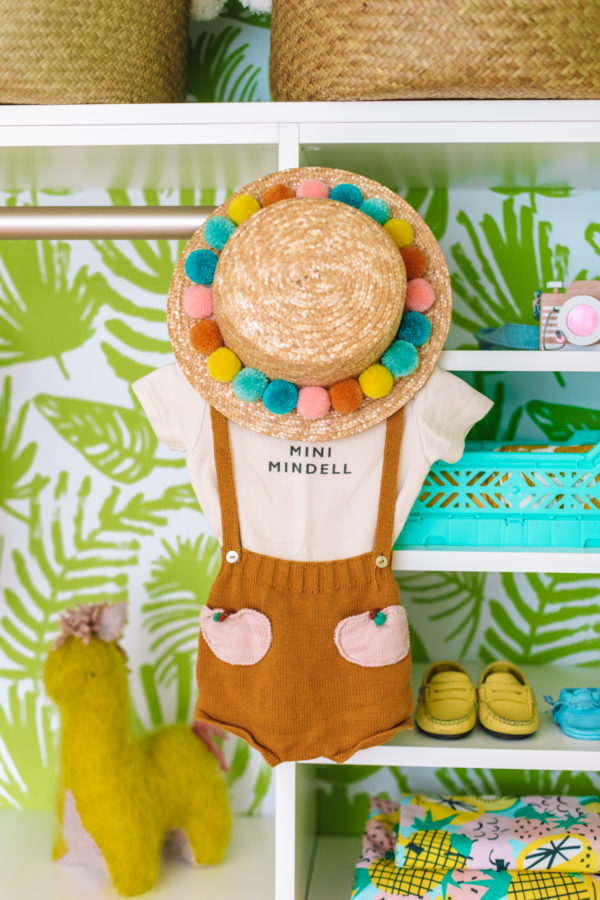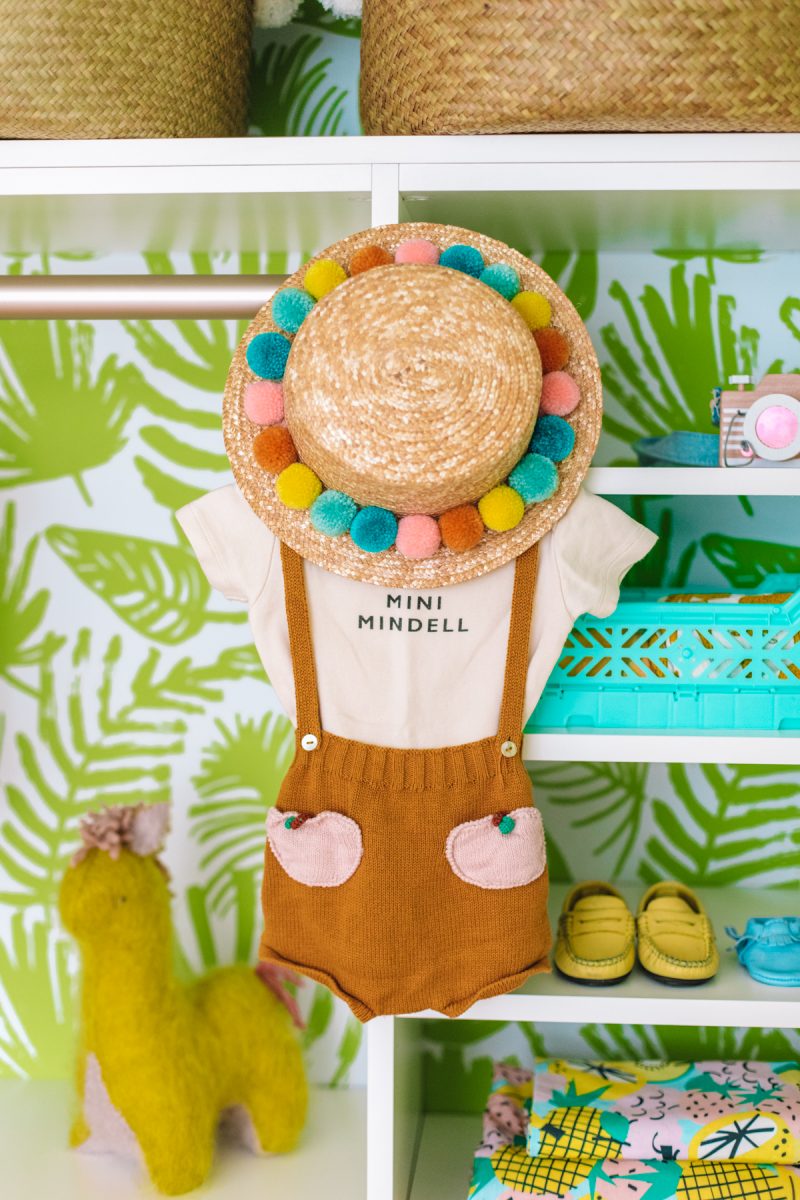 My fave little feature is the valet hook that pulls out, so we can prep outfits for the next day, or hang a diaper bag or backpack as we're filling it for an outing or trip.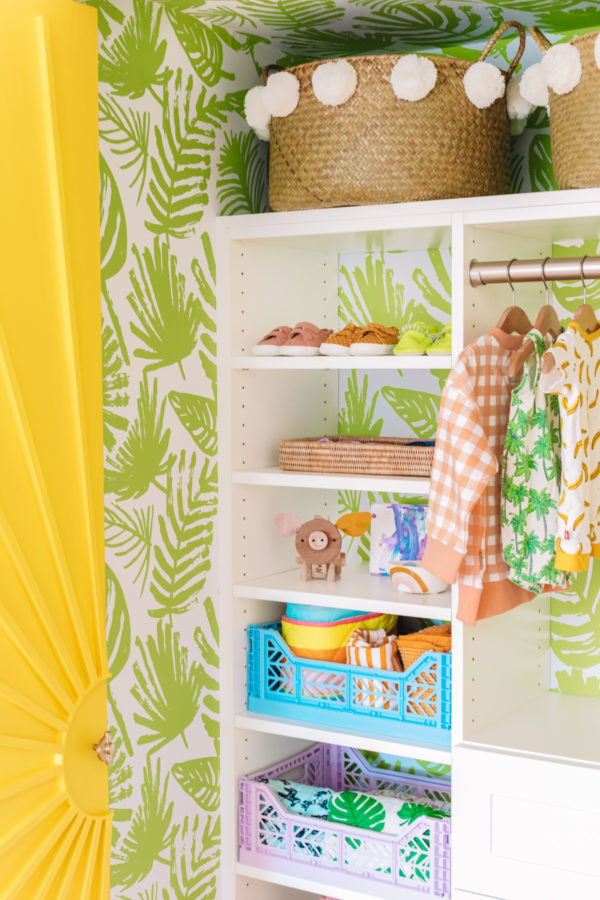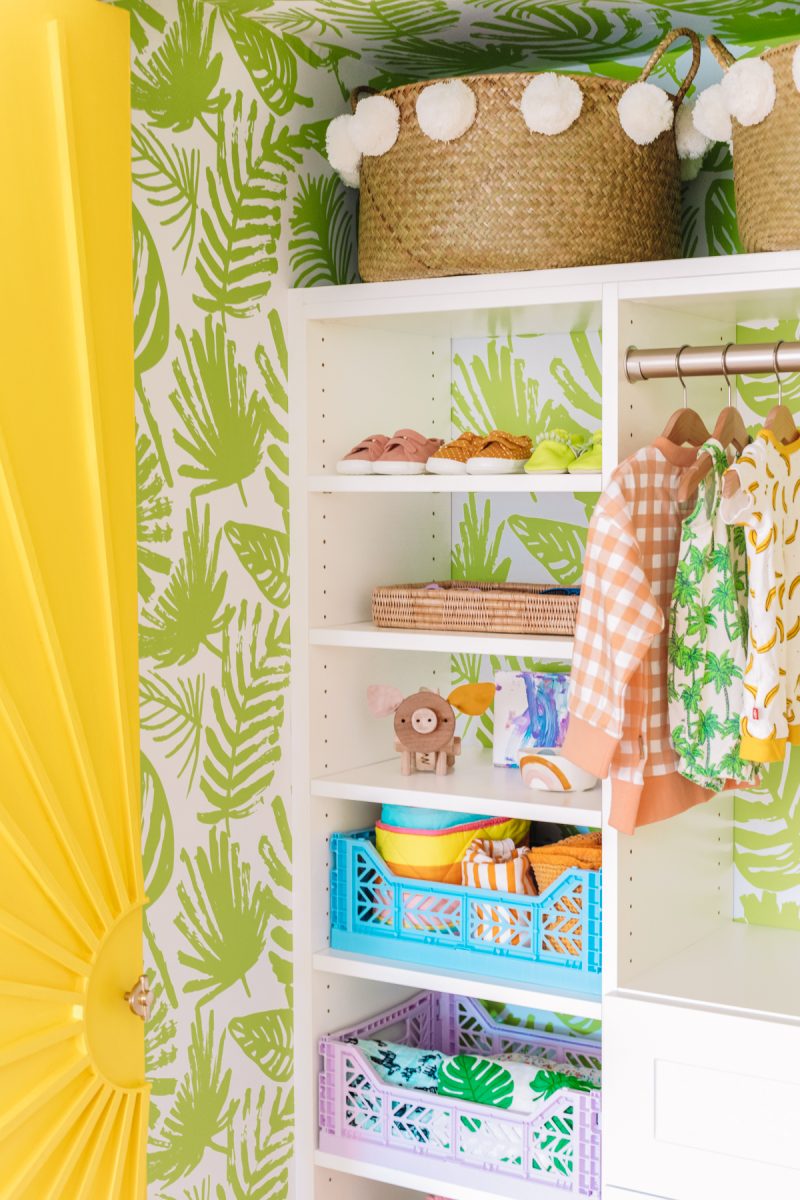 I collected a ton of baskets and crates to store things like blankets, burp cloths, diapers and wipes. (All things that are currently dumped on Arlo's closet floor!)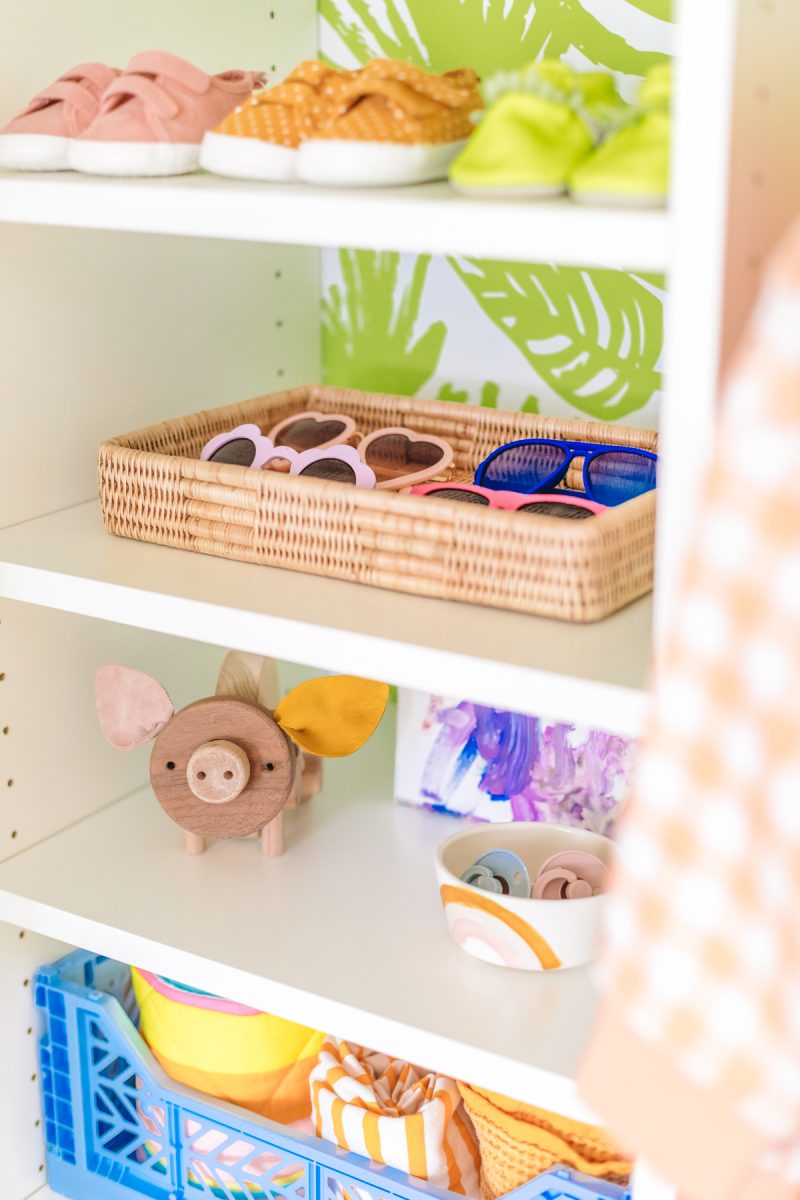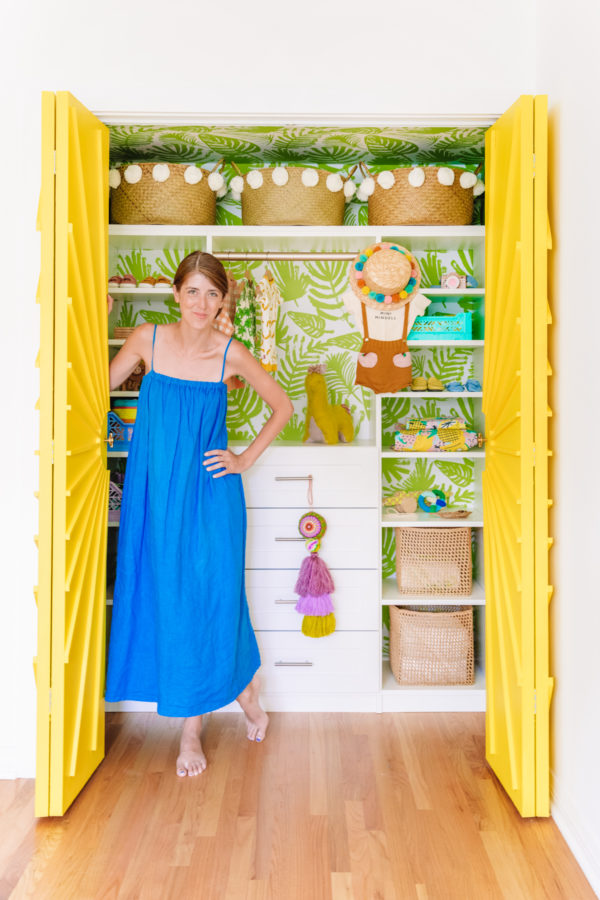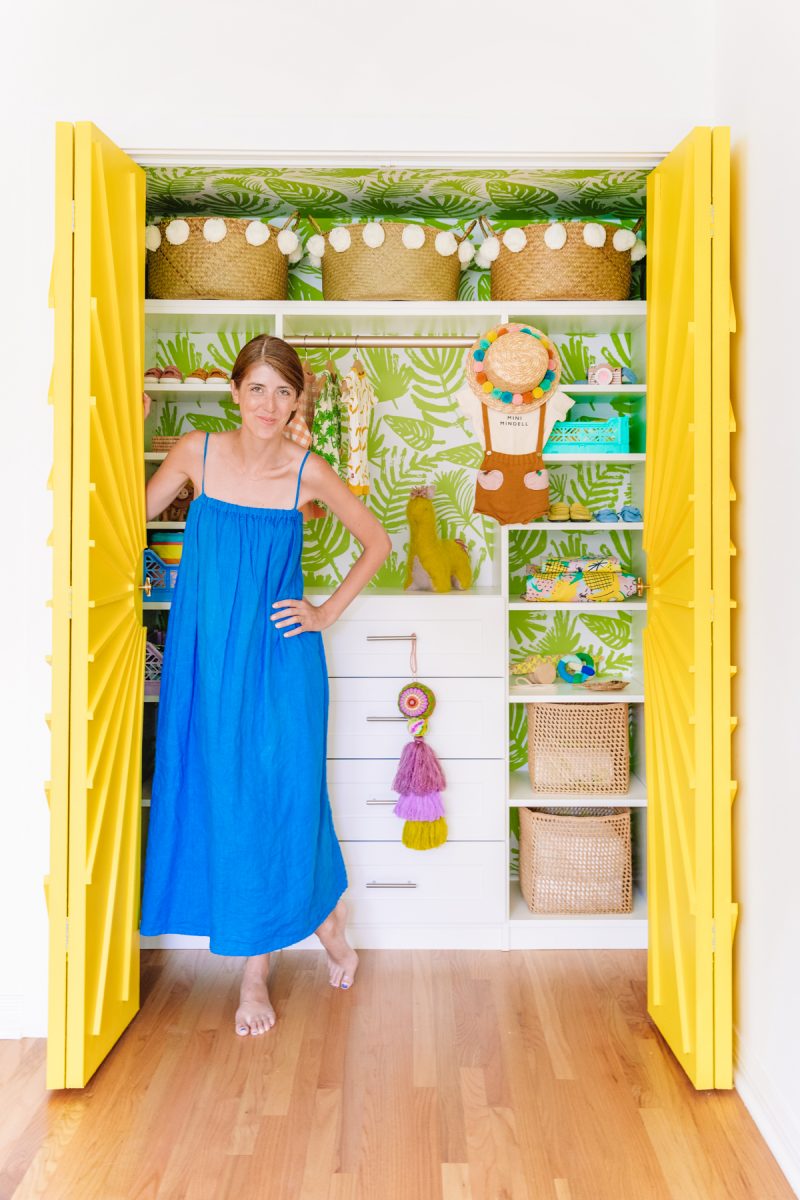 Photos by Jeff Mindell
And there ya go. It seriously feels SO good to have this done ahead of time, because I know it's something we never would get around to once we have to juggle two kids!
Sources
Built In Drawers, Hardware, Shelves and Hanging Rod: Tailored Living*
Wallpaper: Chasing Paper*
Paint Color: Dunn Edwards Radiant Sunshine
Pom Pom Baskets | Rattan Tray
Open Weave Basket | Yellow Lidded Basket
Colorful Crates | Door Handles
Bird Book Ends | Yarn Tassel
Pom Pom Hat* | Peach Pocket Romper