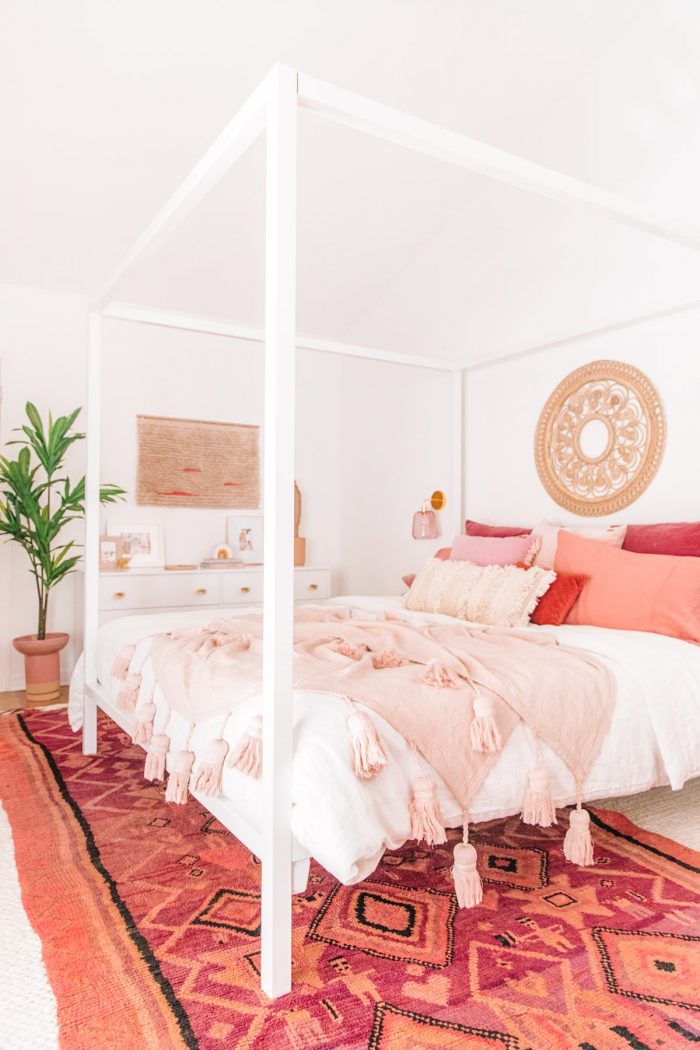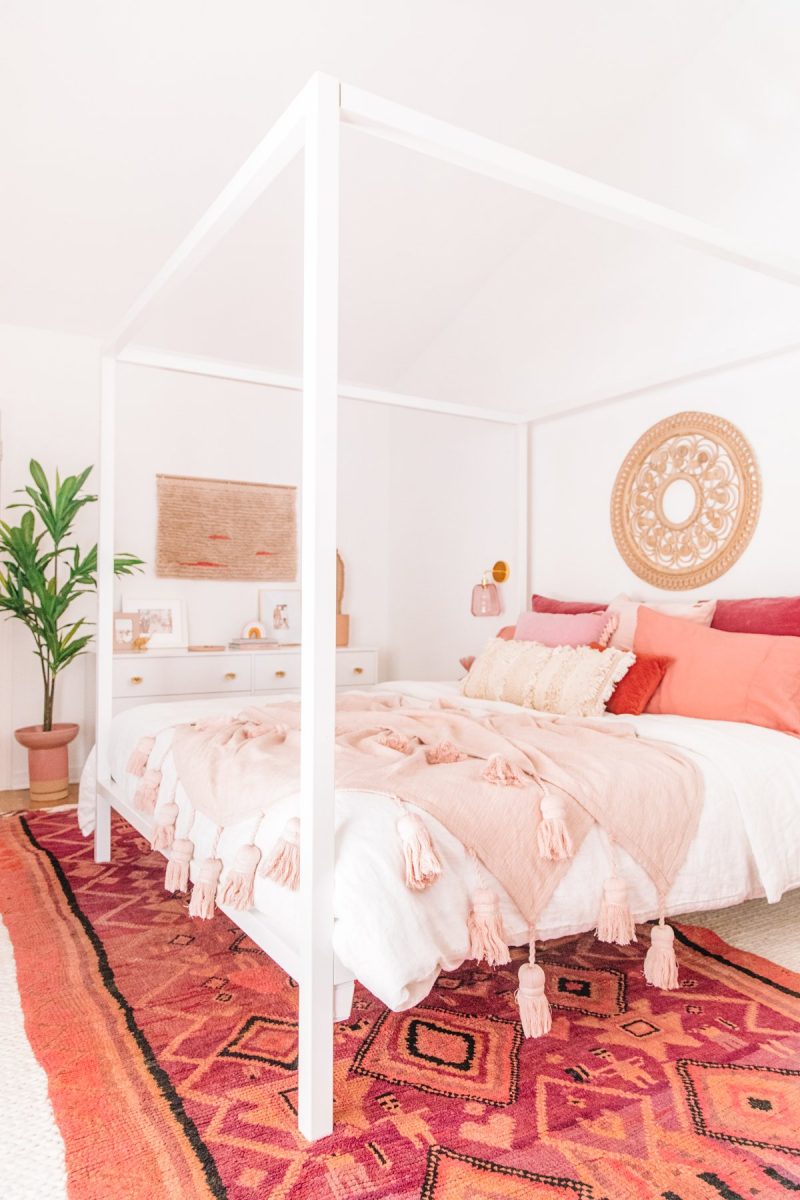 I am so freaking excited about this room!!!!! I've just really been enjoying taking my time on each room in our house and really waiting for every *perfect* piece to make it's way into our lives. So finally, I'm ready to reveal our main bedroom! This room was probably the most disgusting in the house when we bought it, covered in stained carpet, with a weird kitchenette off the back (now our closet!). As a result, it feels especially awesome to have it DONE!
I wanted the room to be light, bright and relaxing so we focused on lots of whites and neutrals with only one "pop" of color, varying shades of soft peaches and pinks. You can see the before and after below along with probably a few too many photos of every detail. It's so hard to narrow!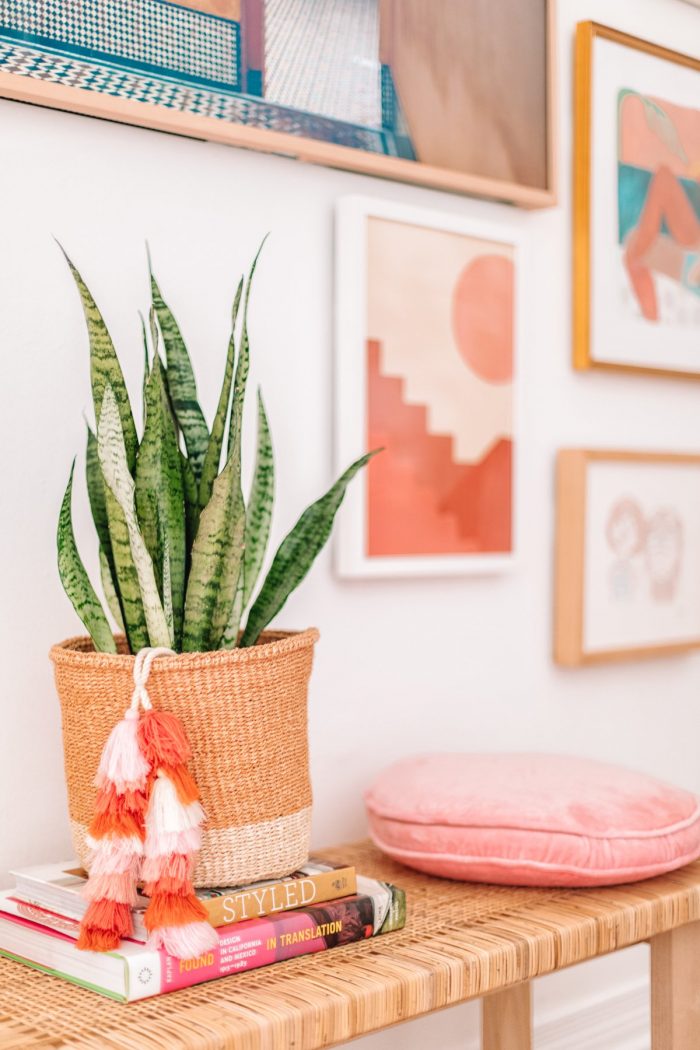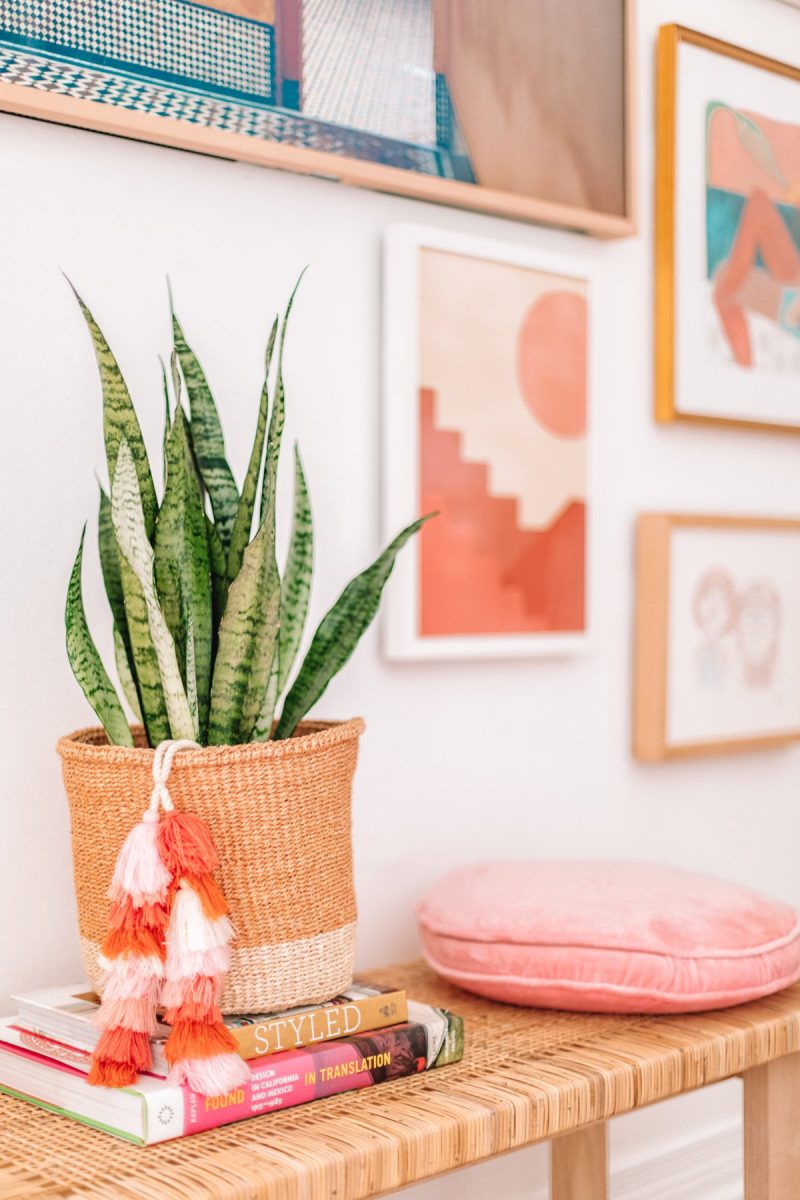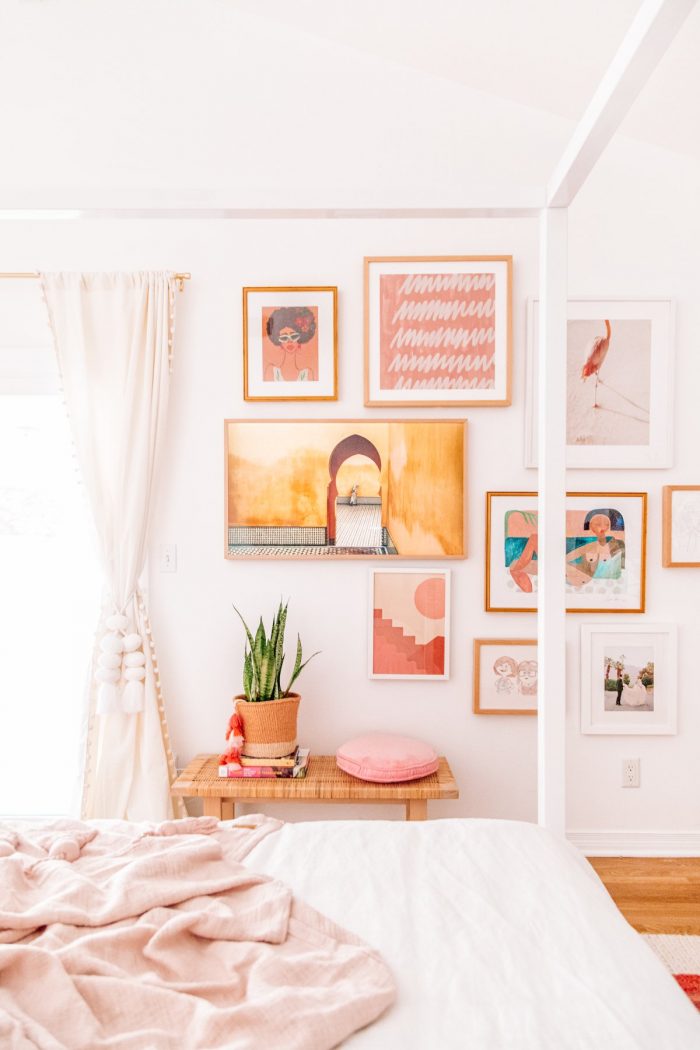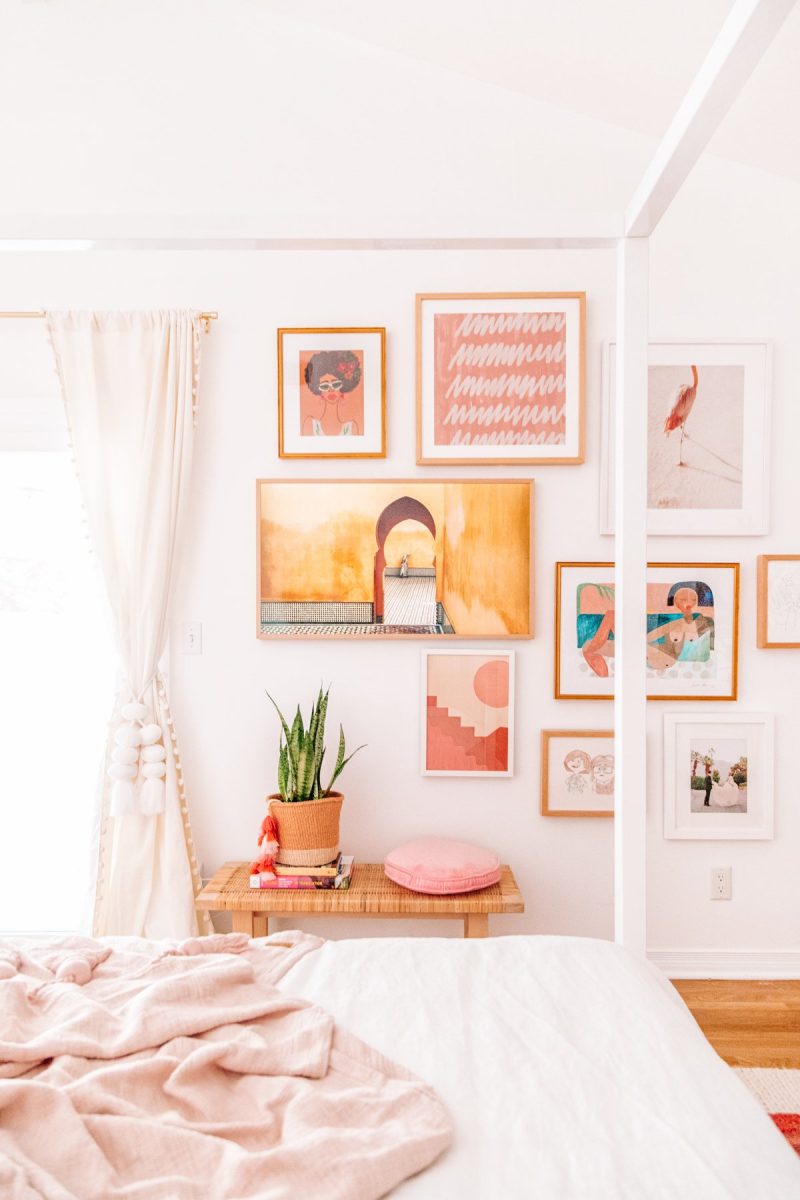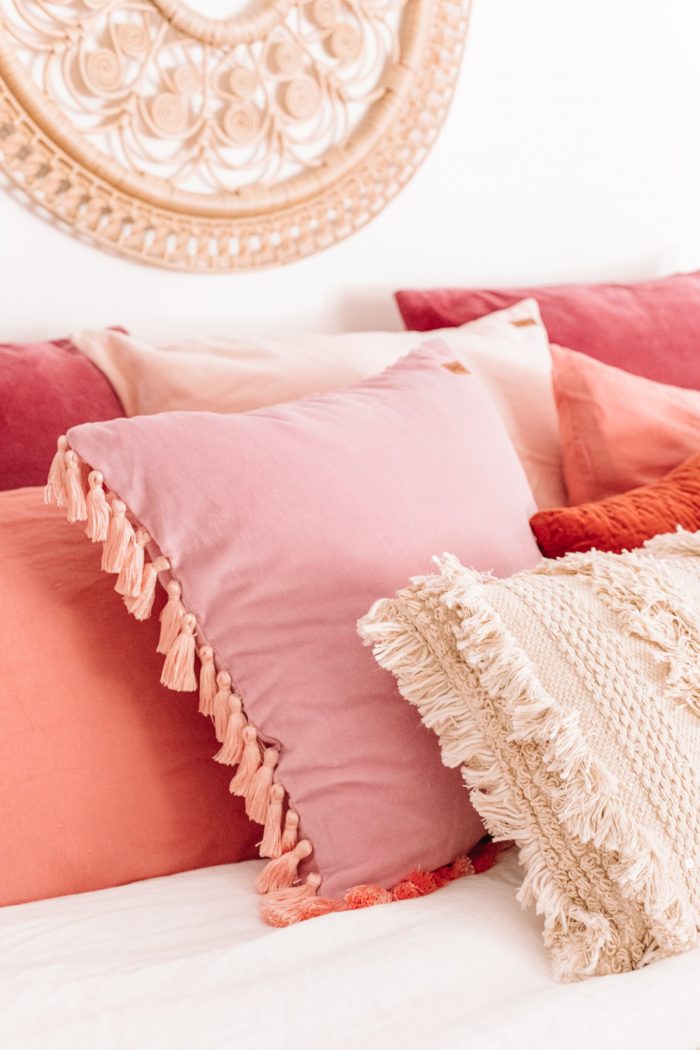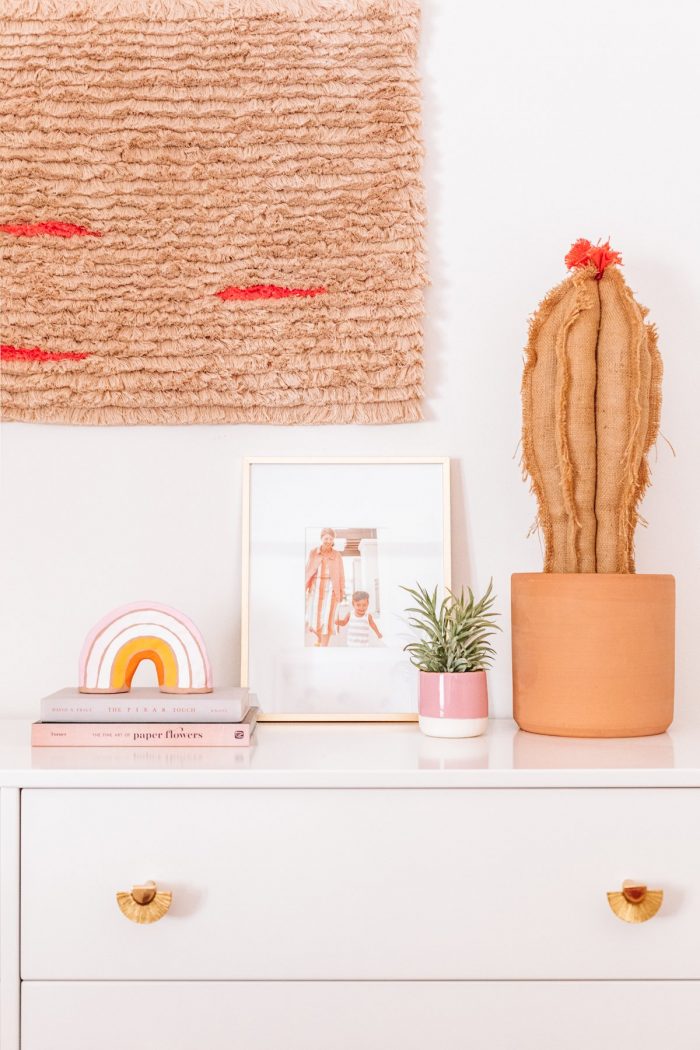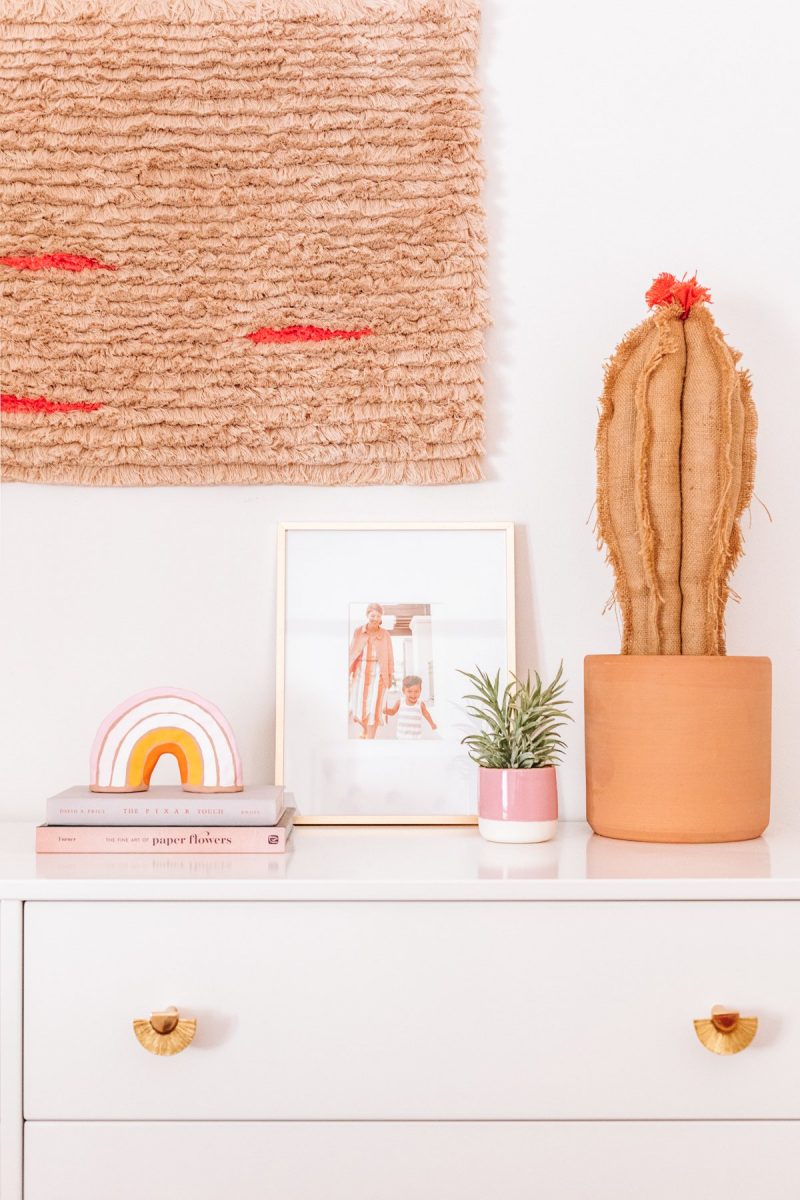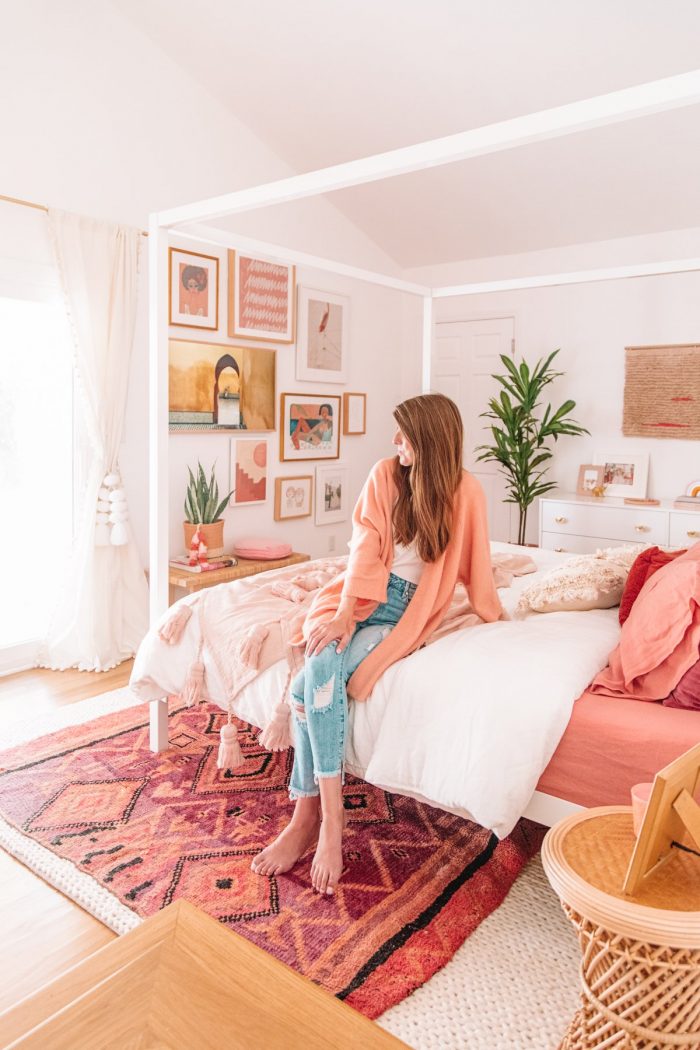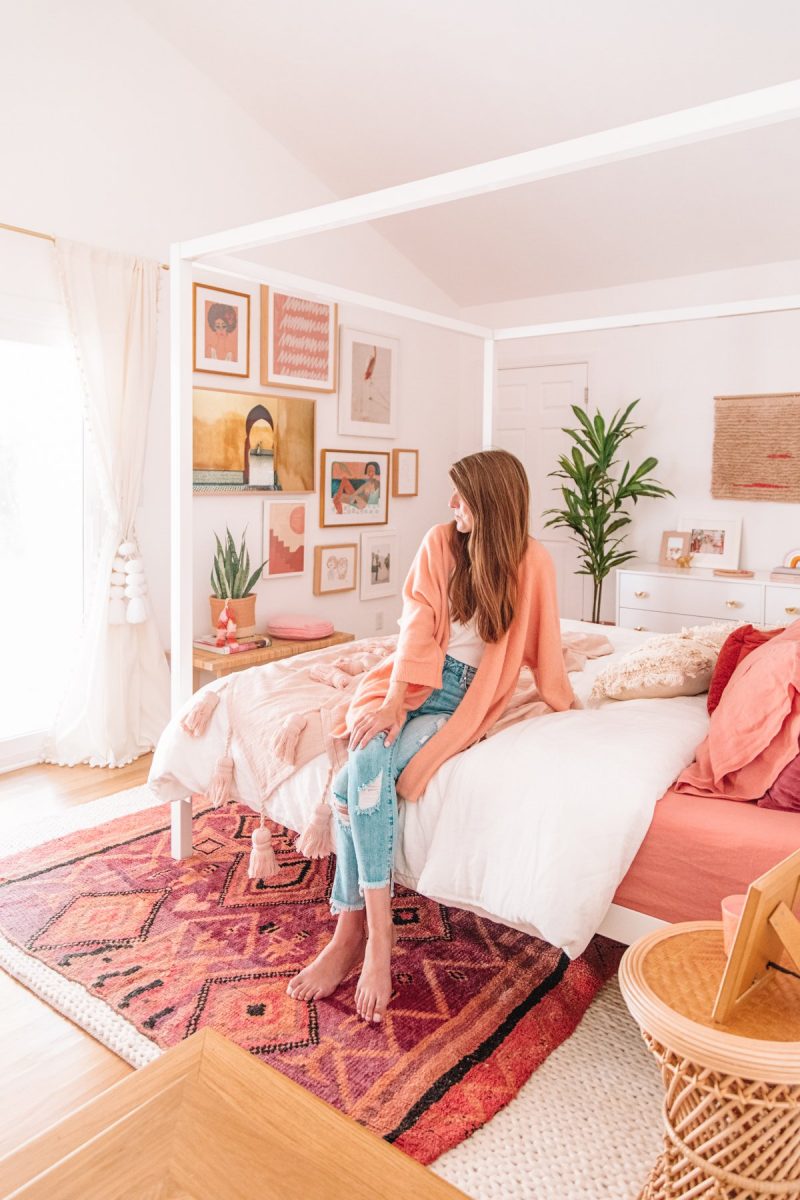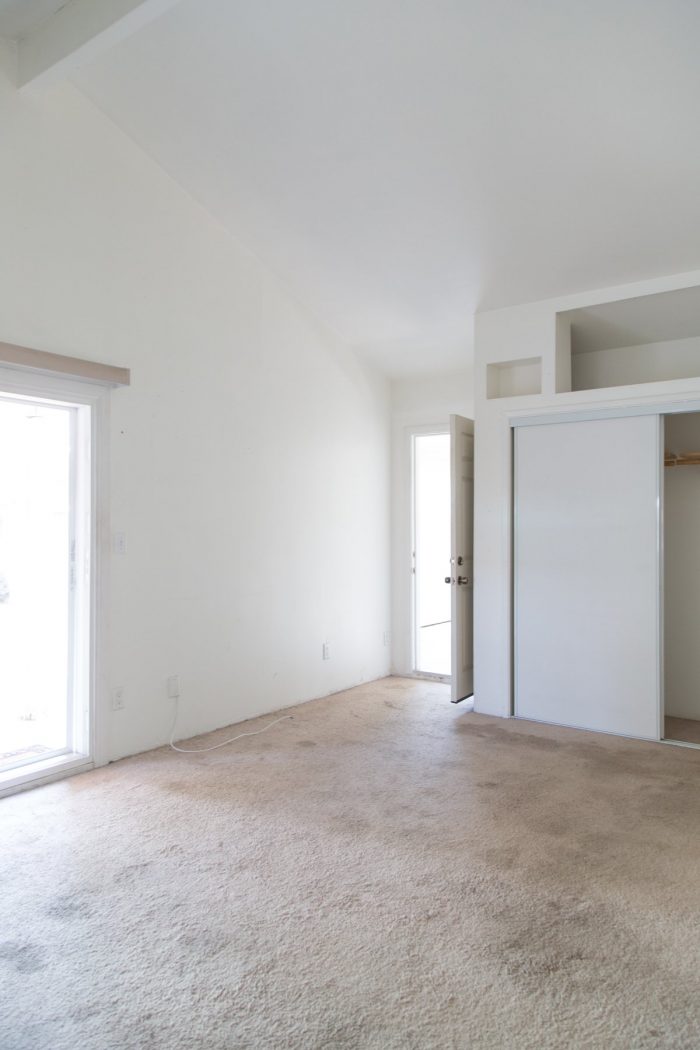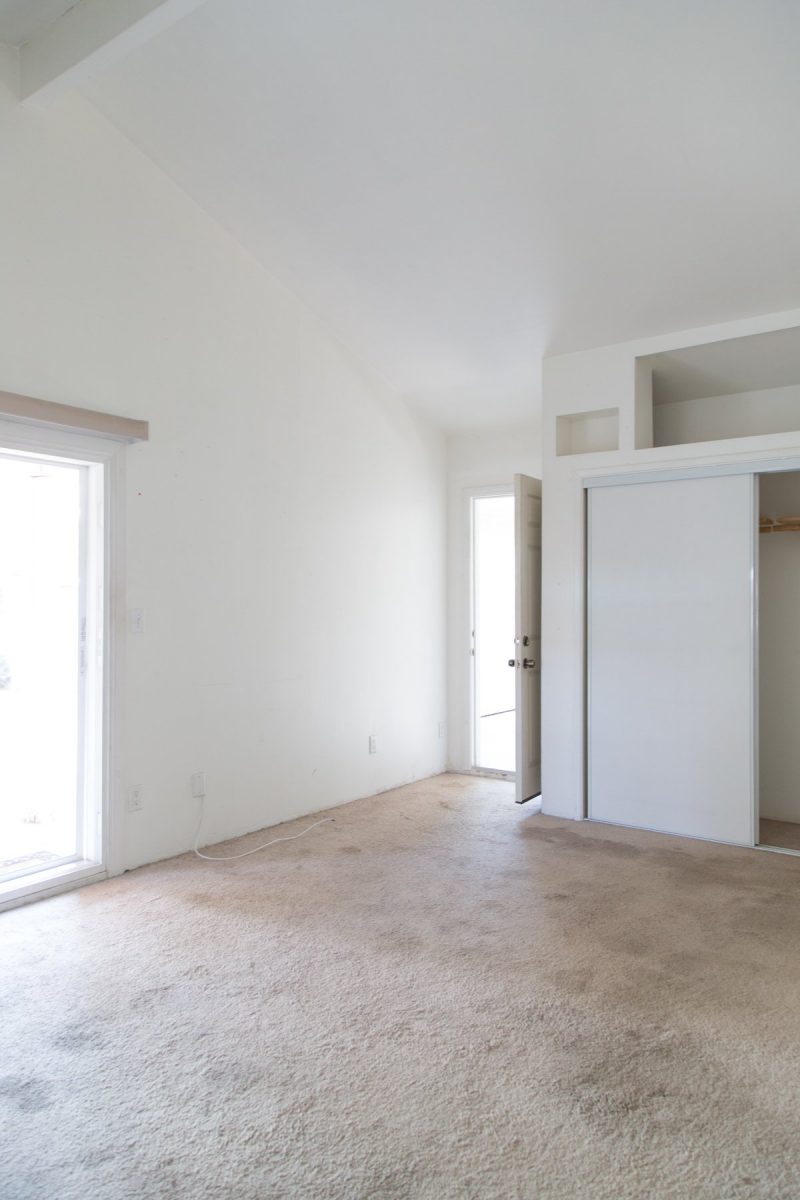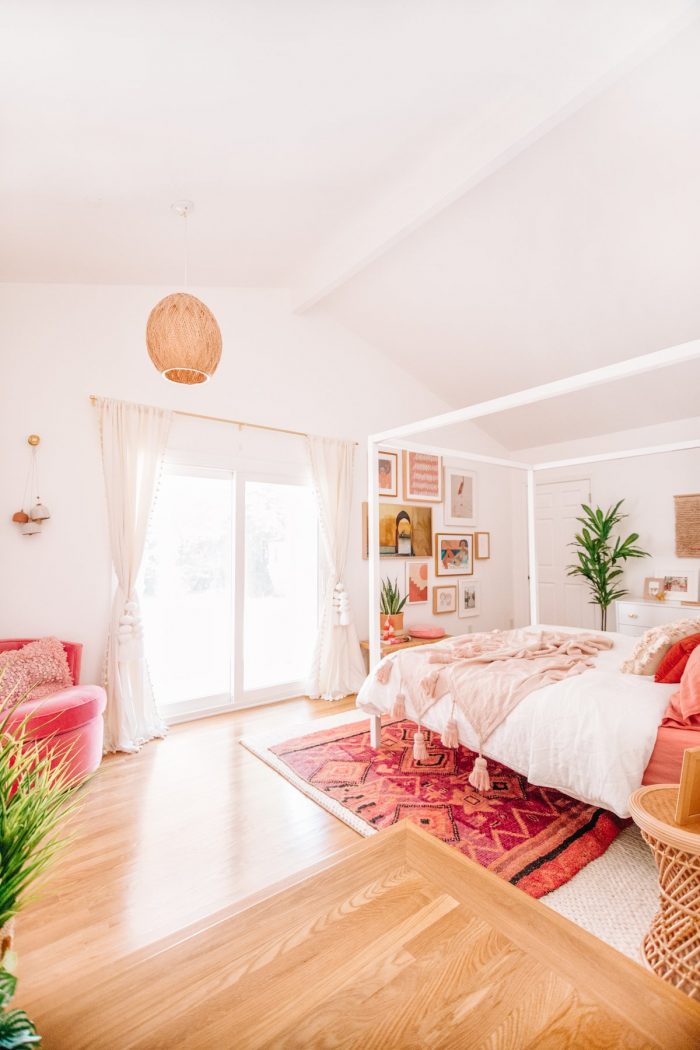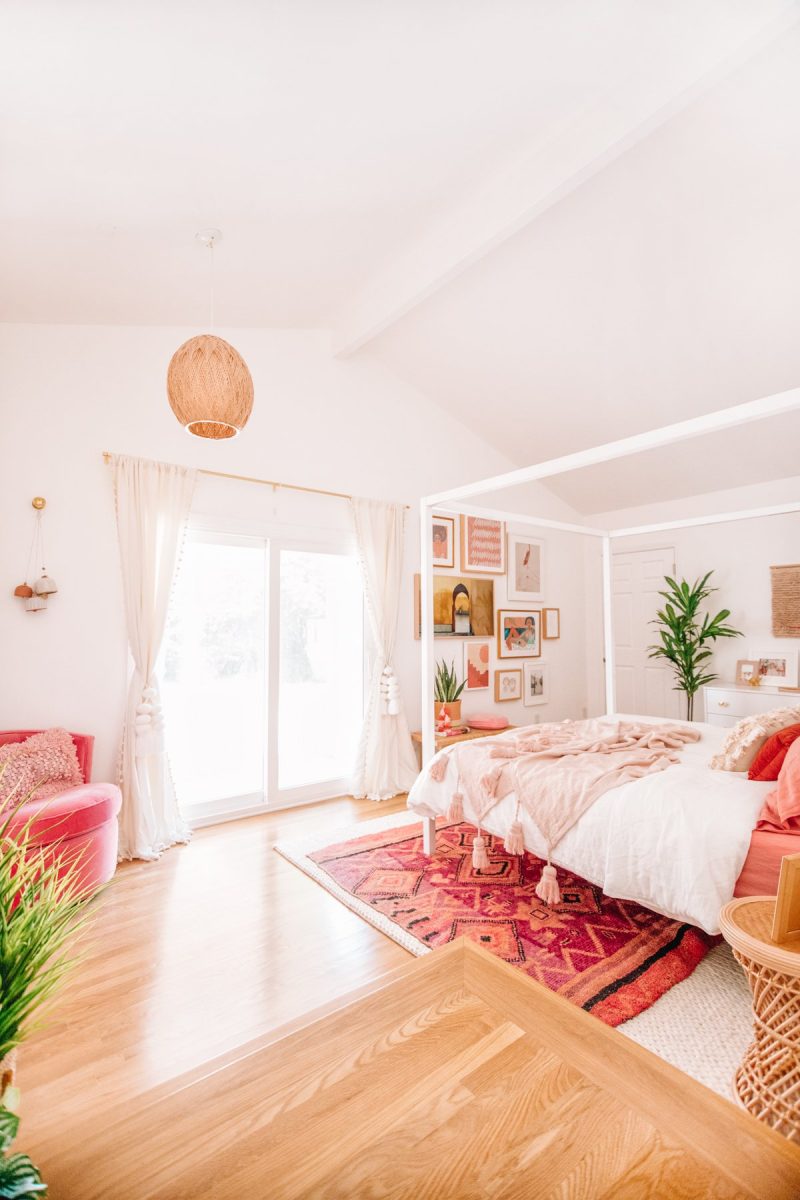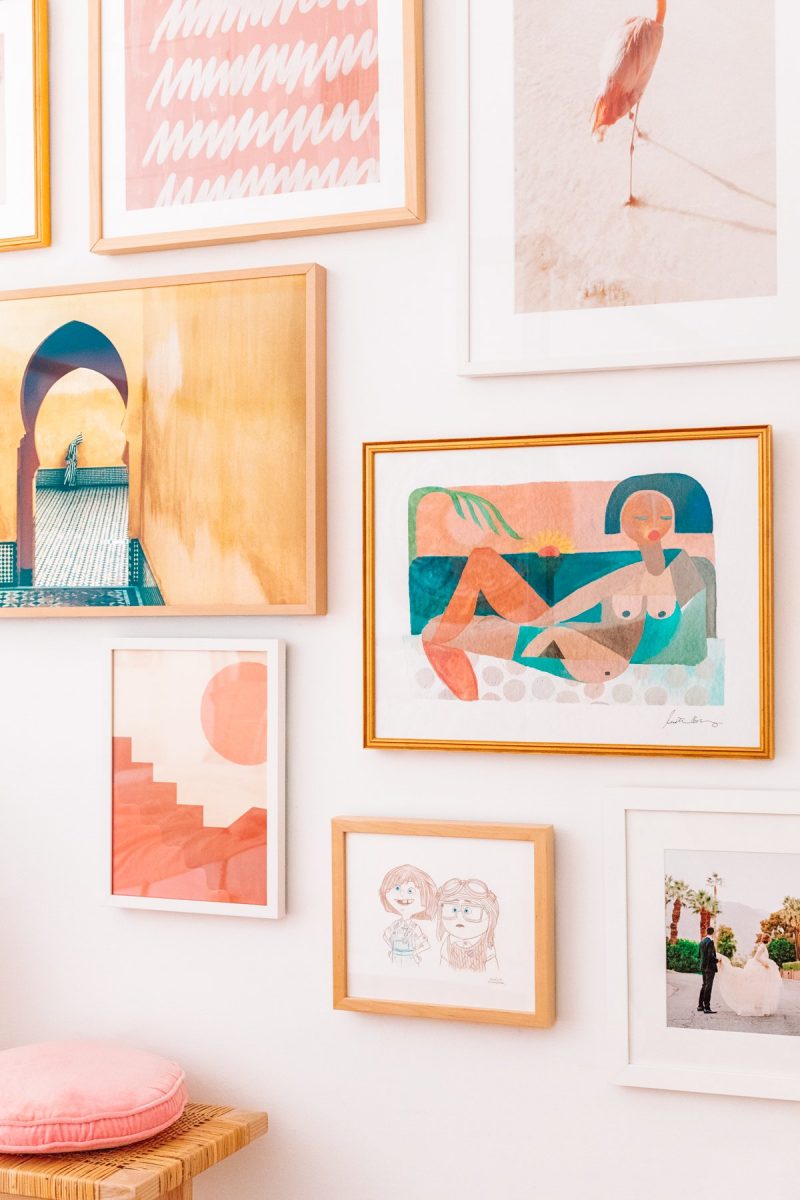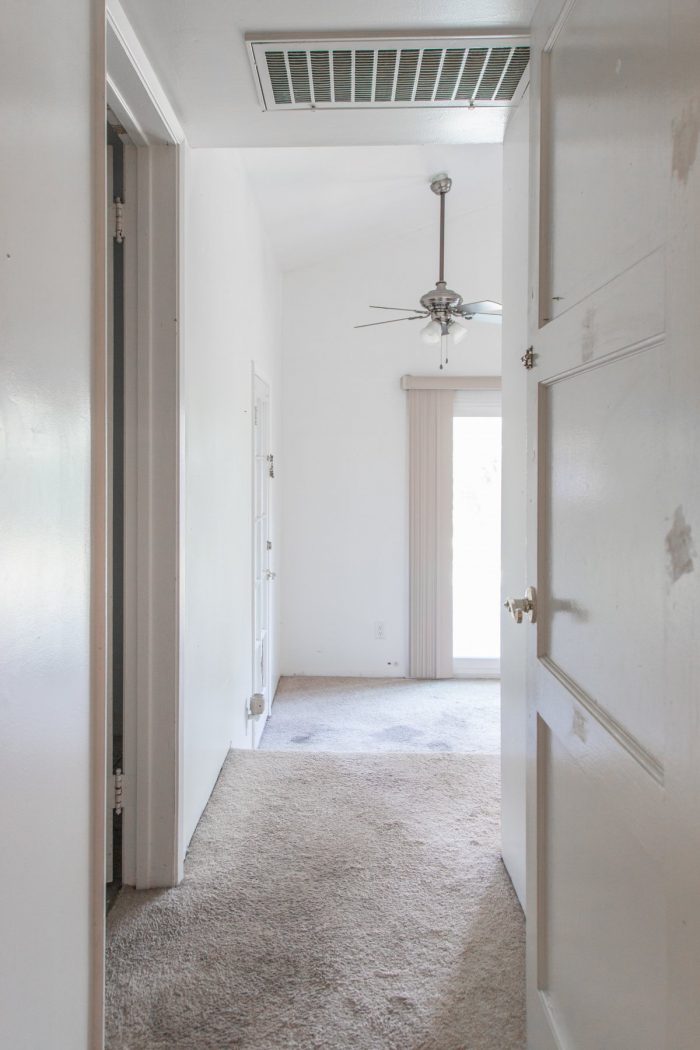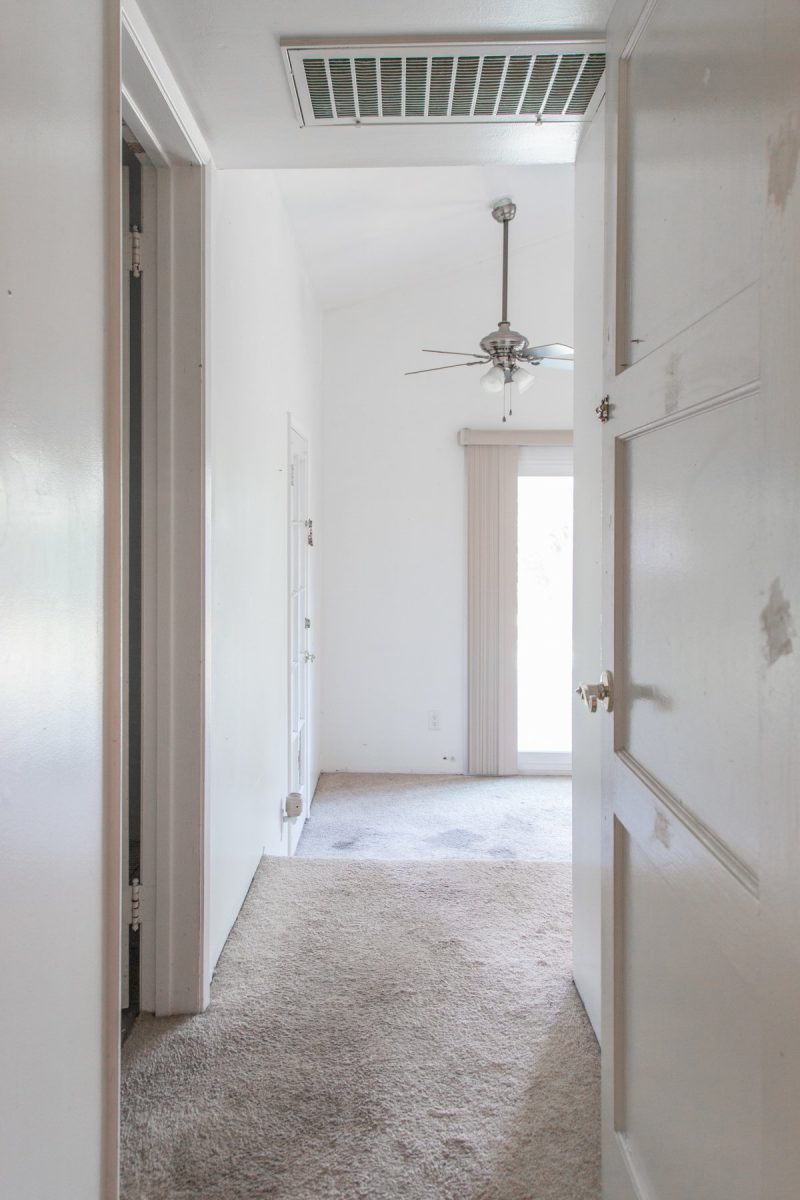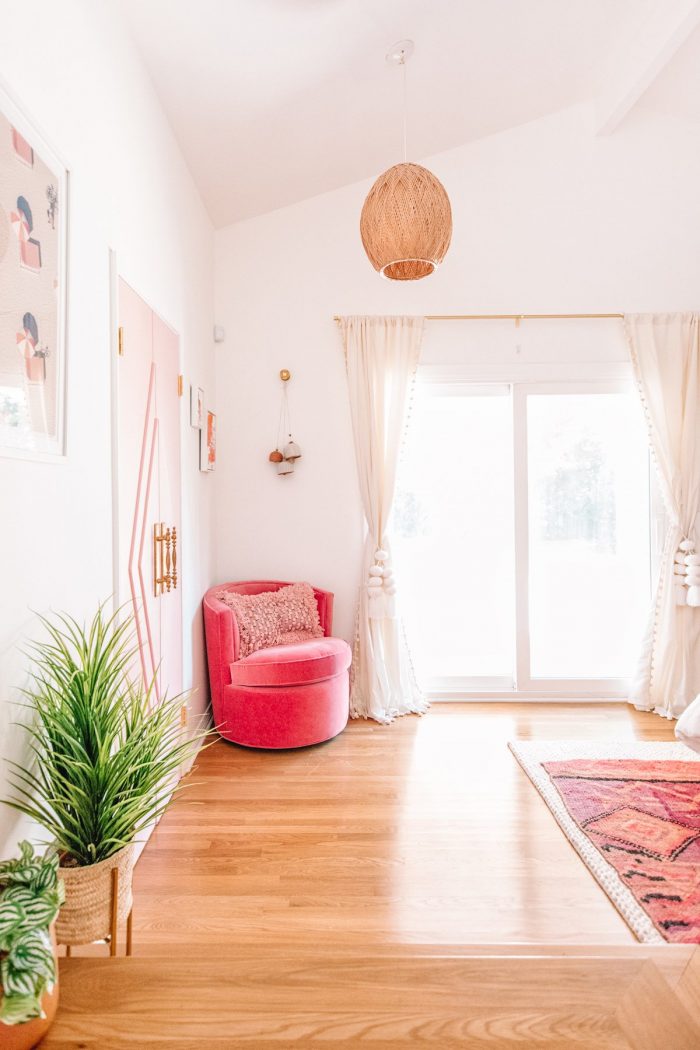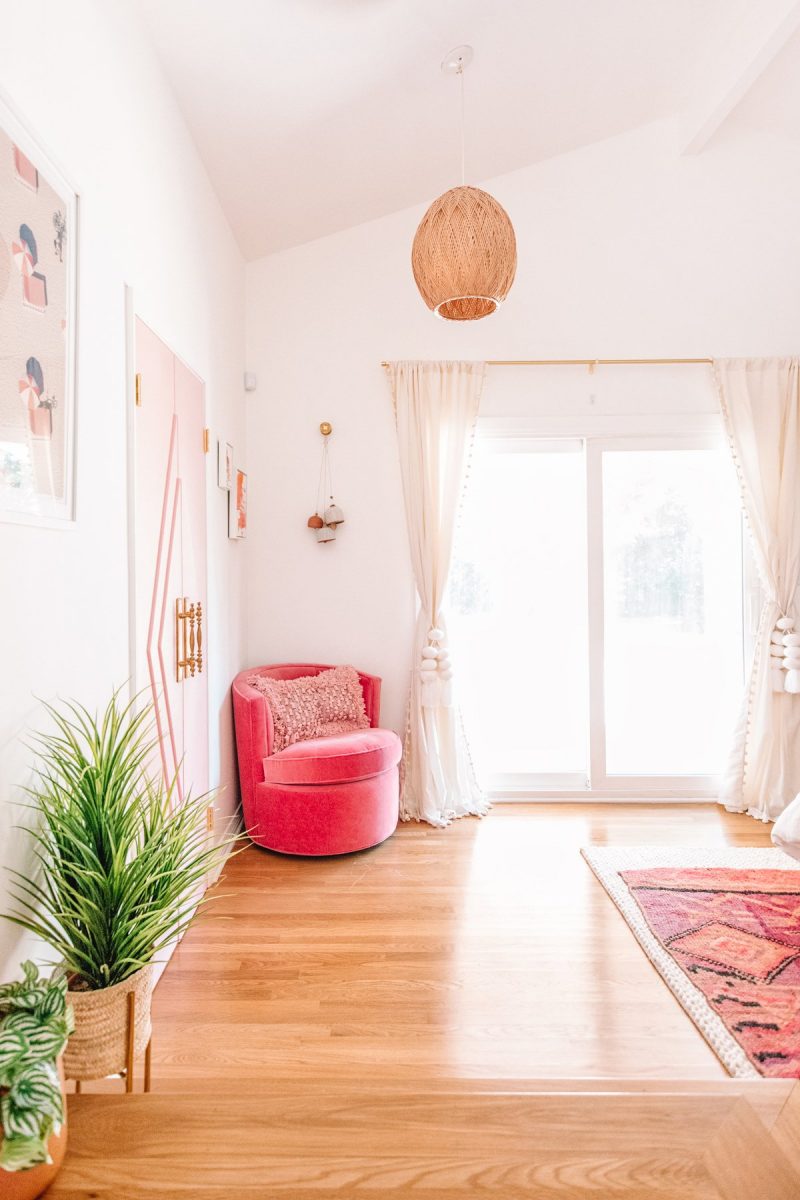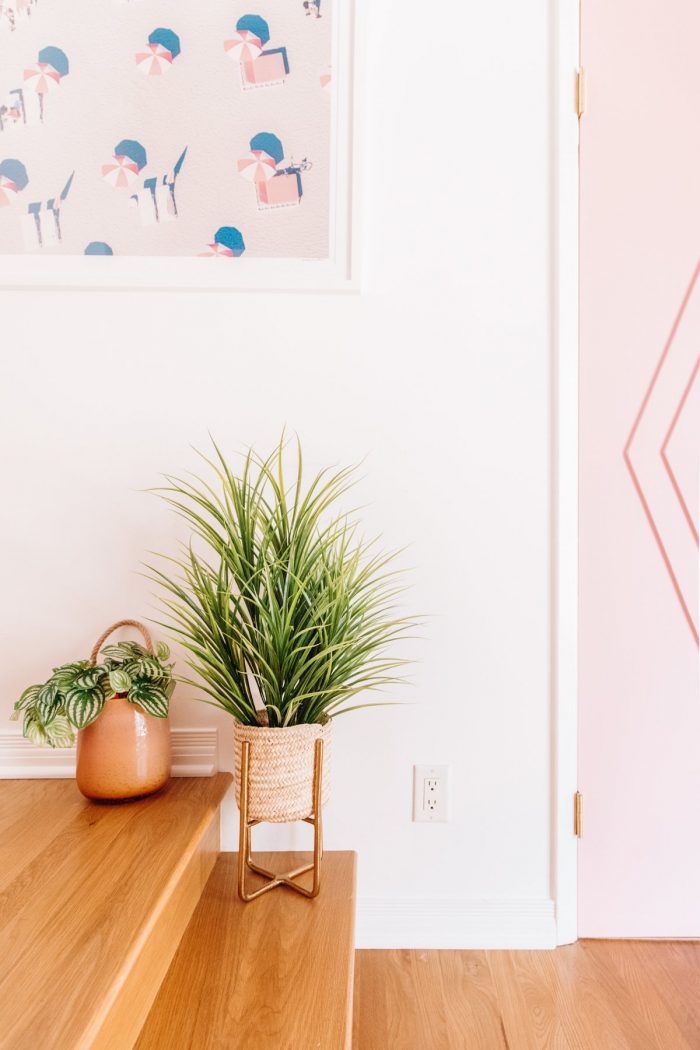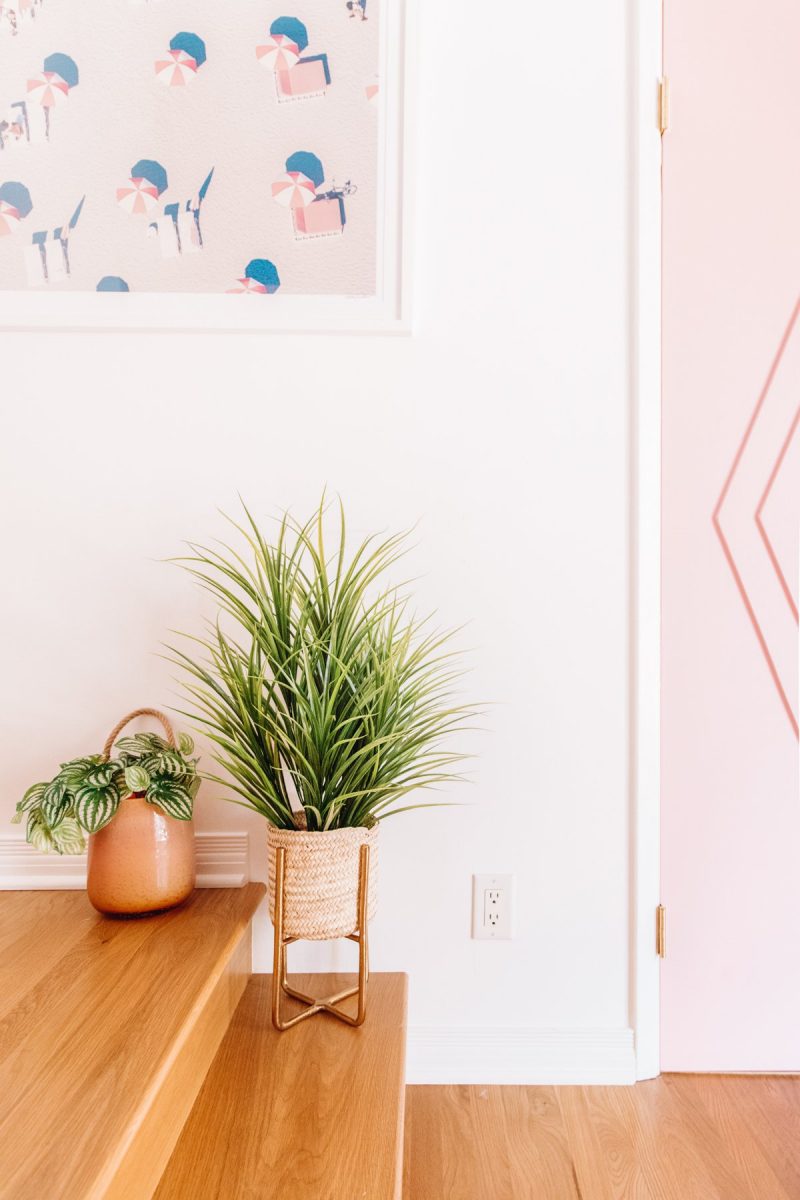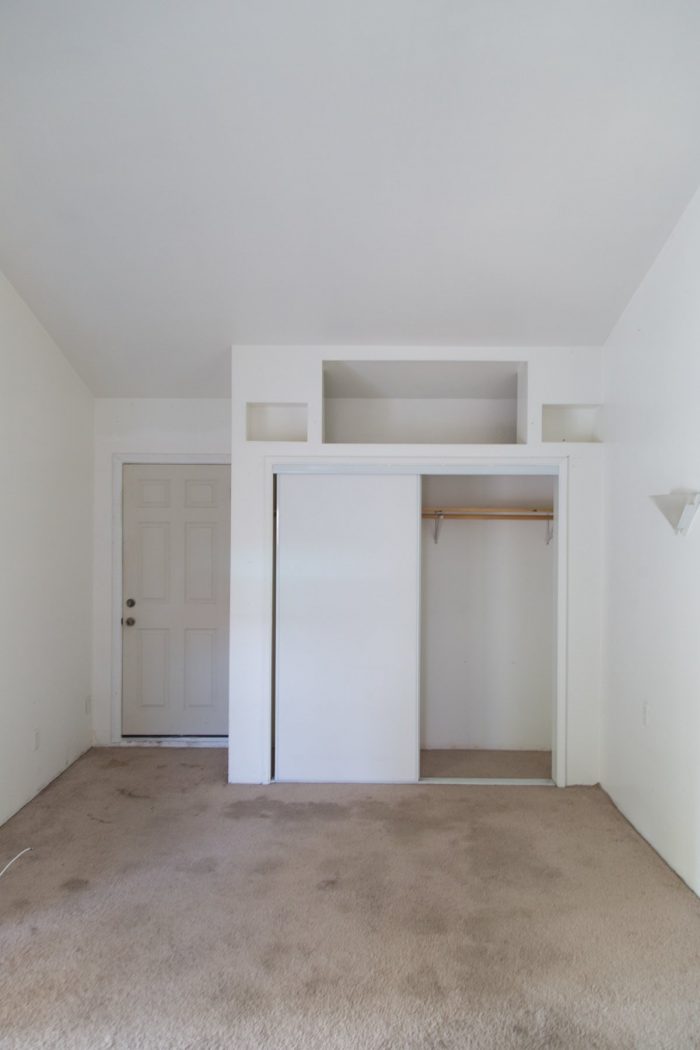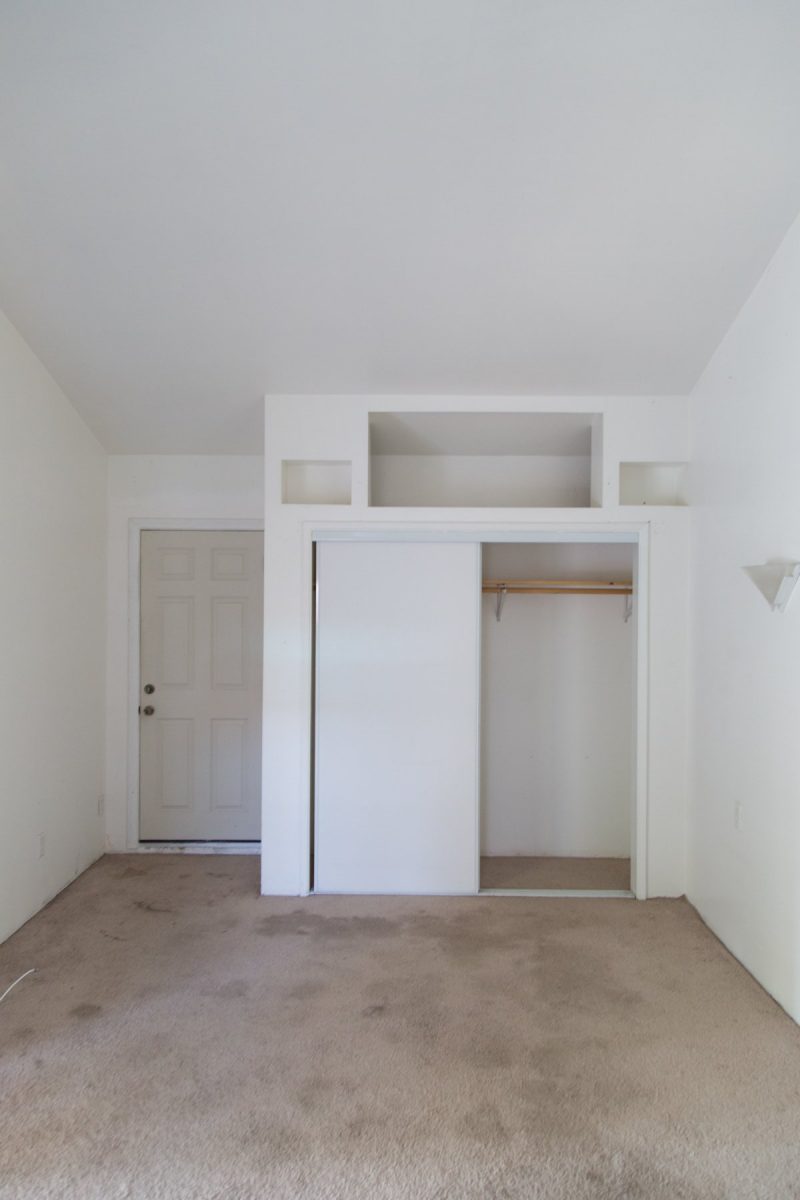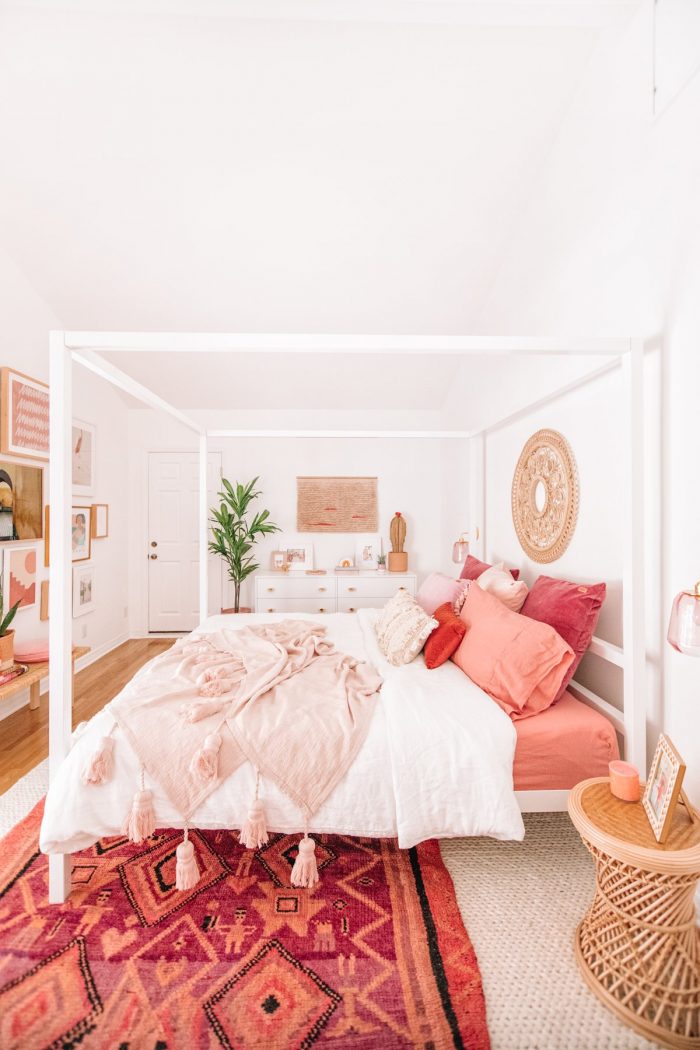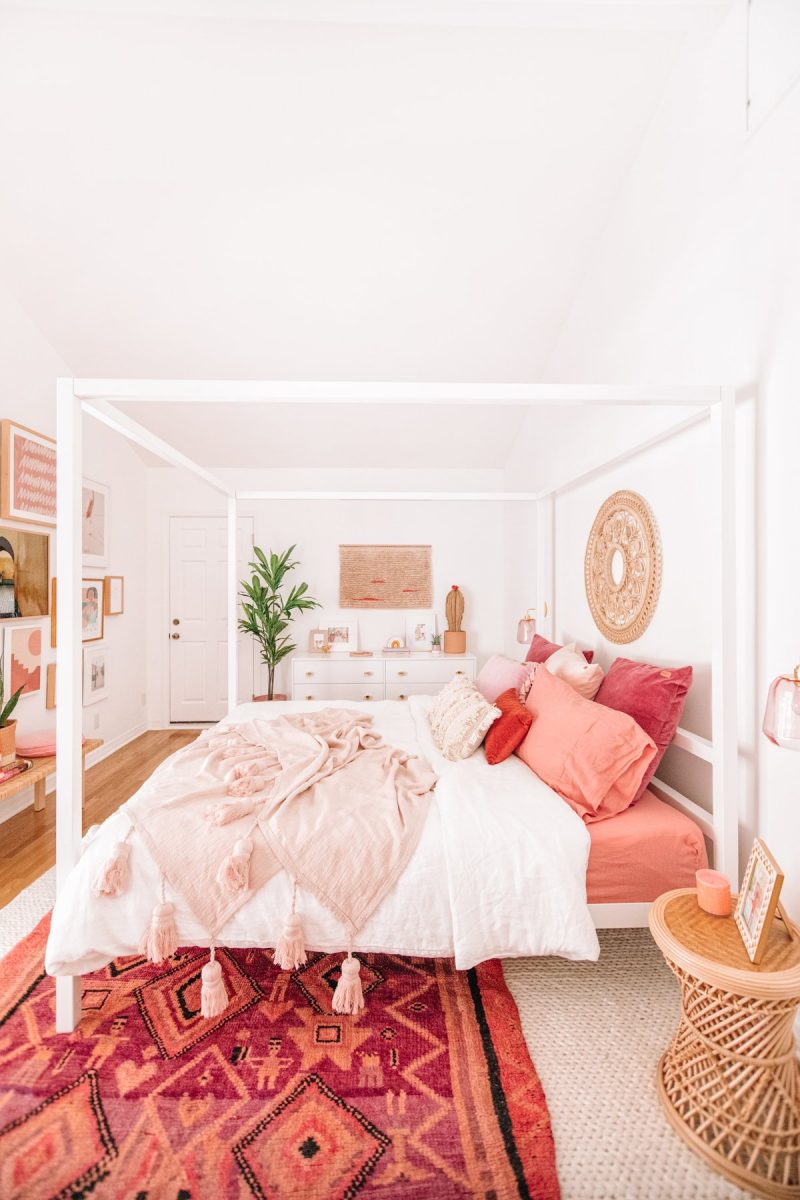 This room is the perfect marrying of Jeff and my styles. We worked with Room & Board to anchor the room with more structured pieces, like the Architecture bed, and than I layered on layers of texture and rattan. Similarly, we got this gorgeous structured dresser, but added brass textured handles. I love how it all came together here.
All of our bedding (sans one or two pillows) is from Kip & Co. They're an Australian brand but recently launched in the U.S. too (HALLELUJAH!) and they are my absolute favorite bedding source. They have the most GORGEOUS linen and velvet pieces in all sorts of shades. The quality is beautiful and honestly their photos are freaking stunning.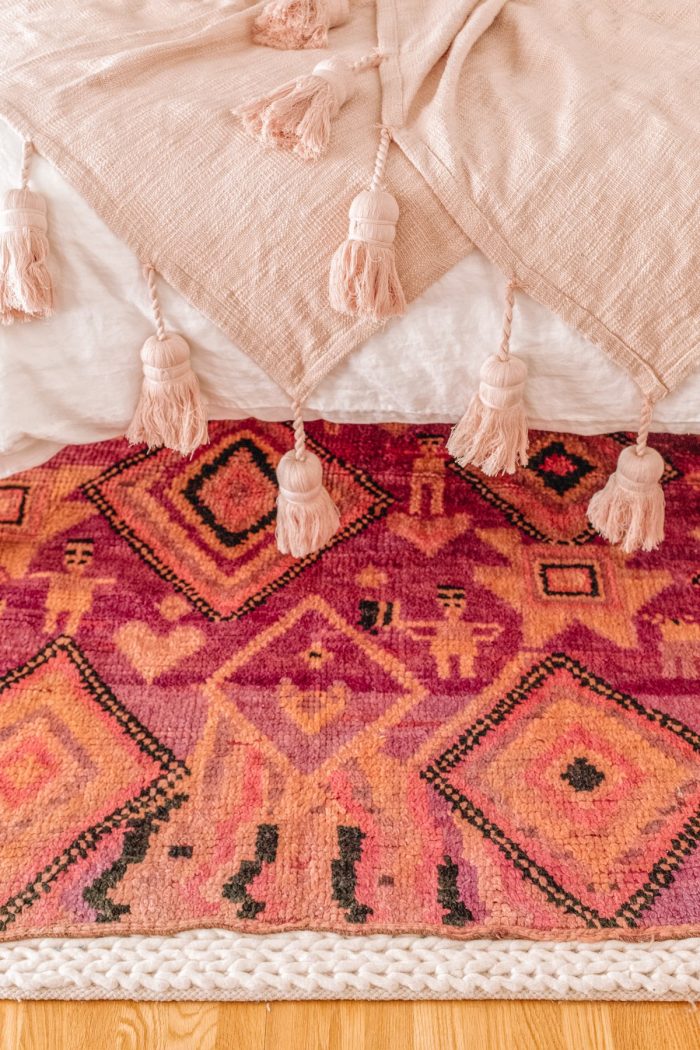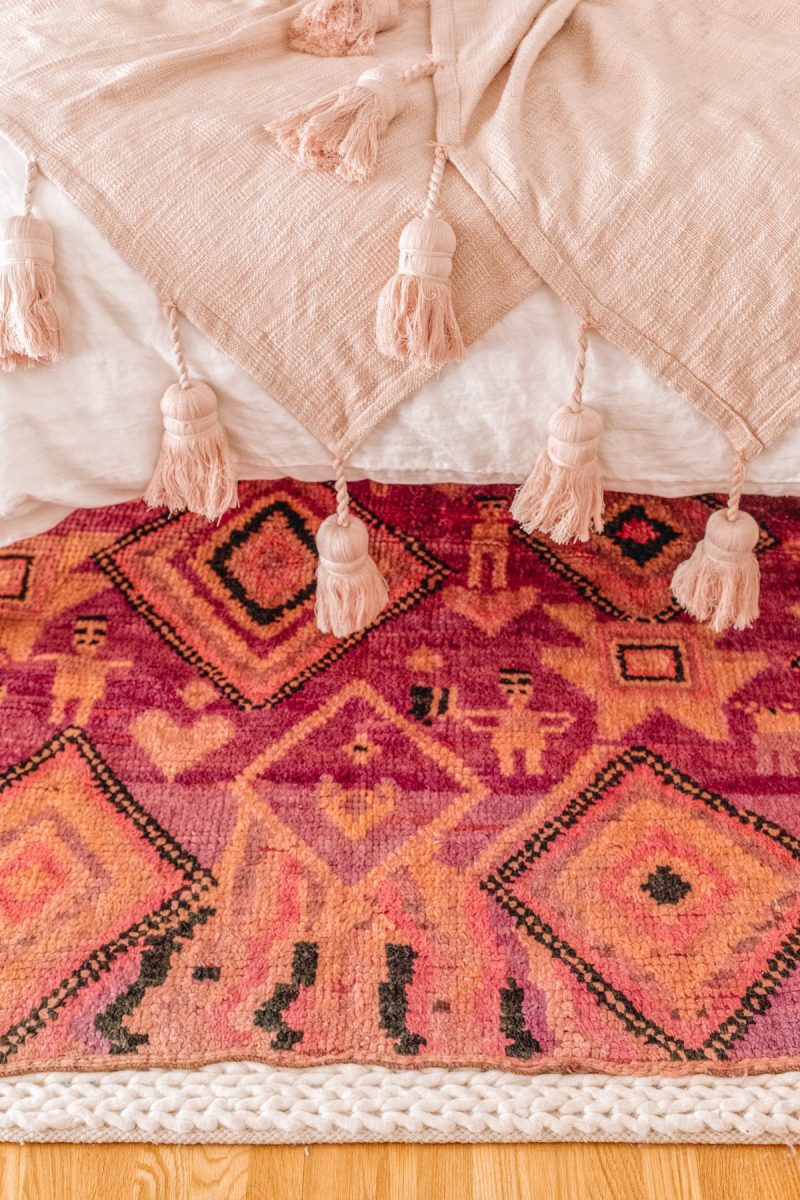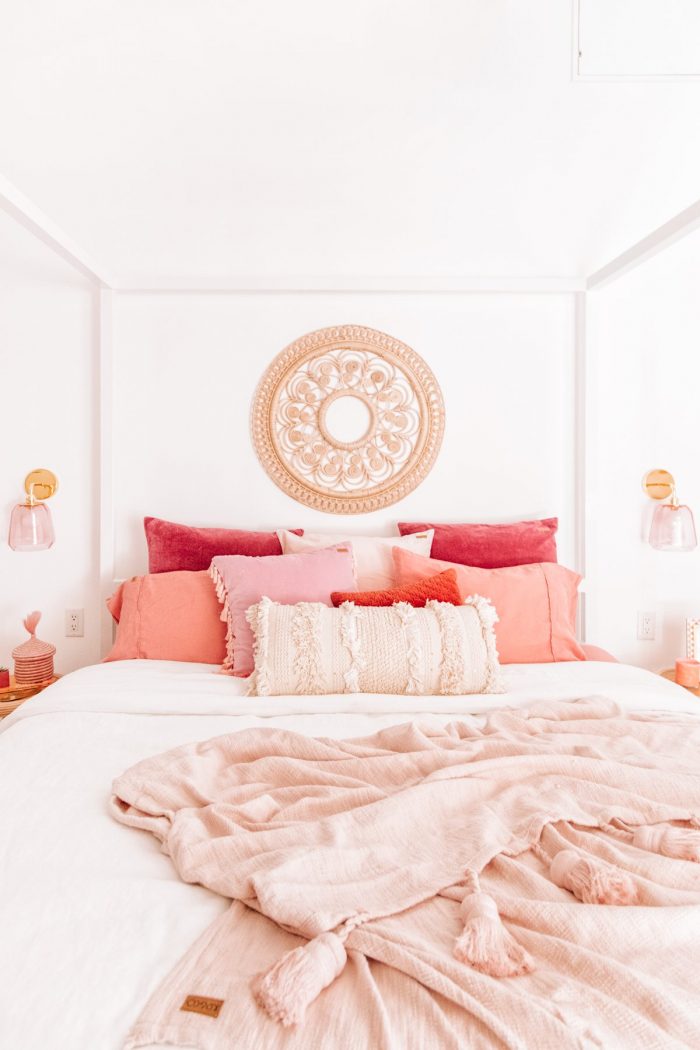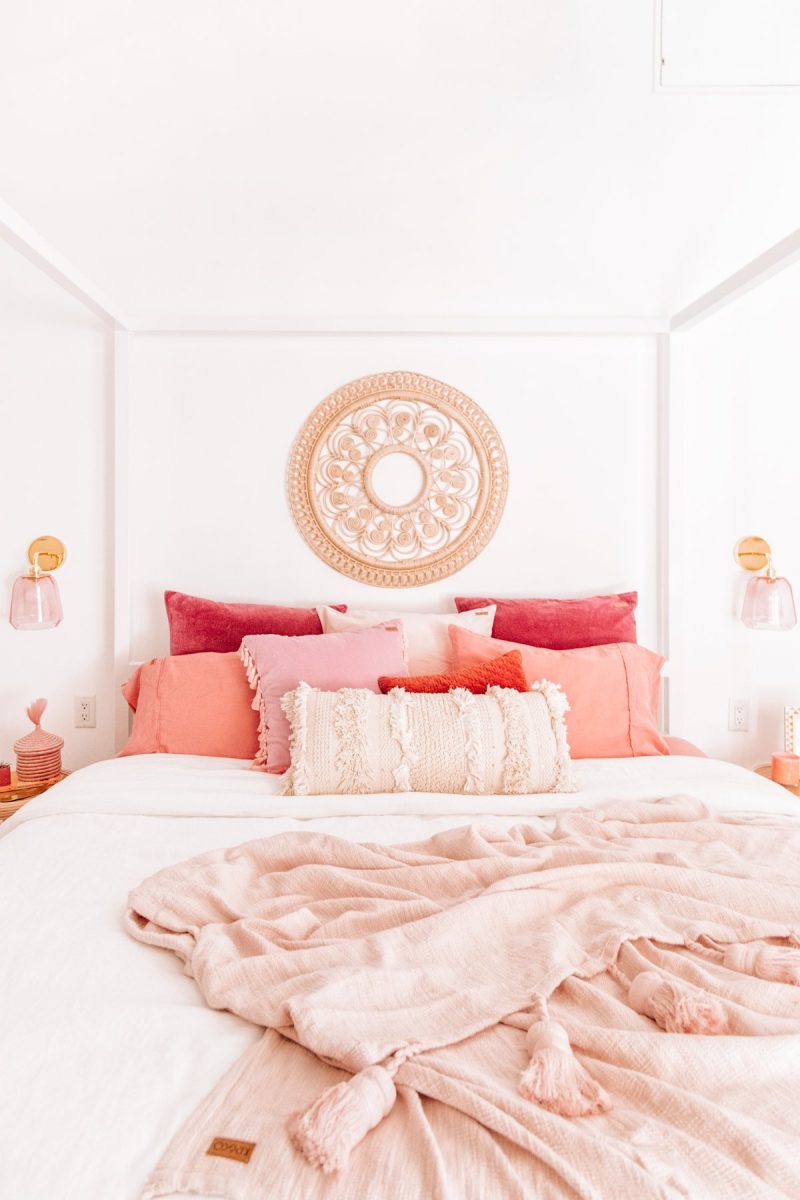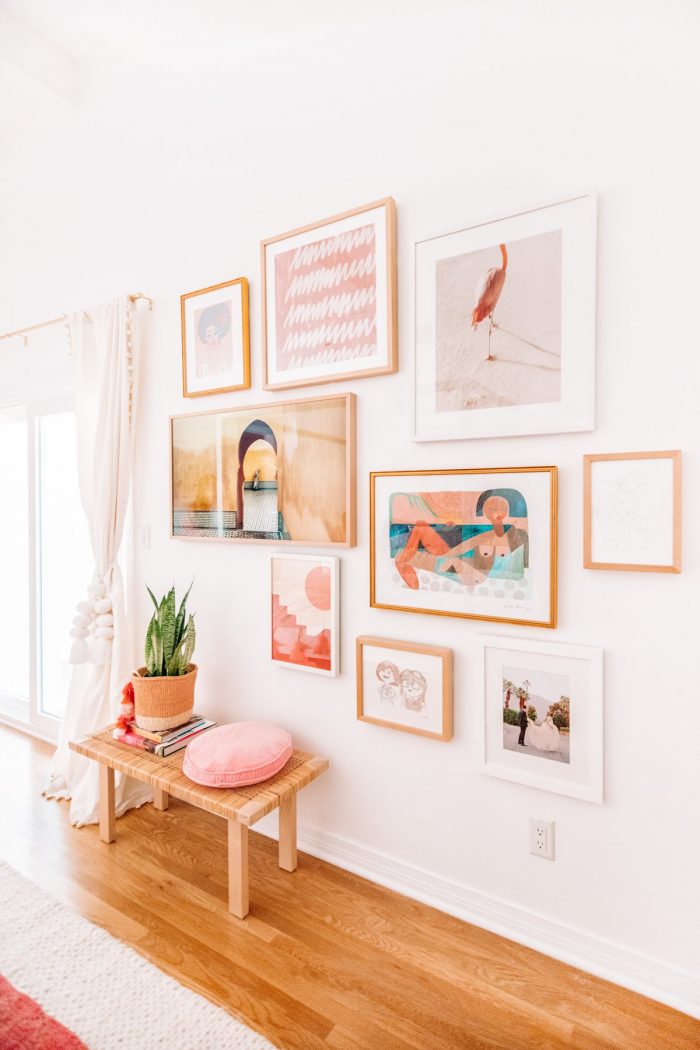 Across from the bed we decided to put together a gallery wall surrounding our TV. And yes, that large moroccan print you see up there is actually a TV, the Frame TV. This TV is my prized possession and literally worth every penny, in my opinion. Say what you want about TVs in the bedroom, but we love TV and it's how we unwind so it was non-negotiable. The fact that this one looks like an art piece when it's off is UNREAL. I don't think I'll ever be able to have a regular TV again.
Framebridge helped us out with the art we needed framed which was great because almost every piece we got was a strange size. They custom frame each piece so you don't have to worry about fitting it into a non-fitting frame. And for the first time ever, I mix and matched the frames a bit and really like how it turned out!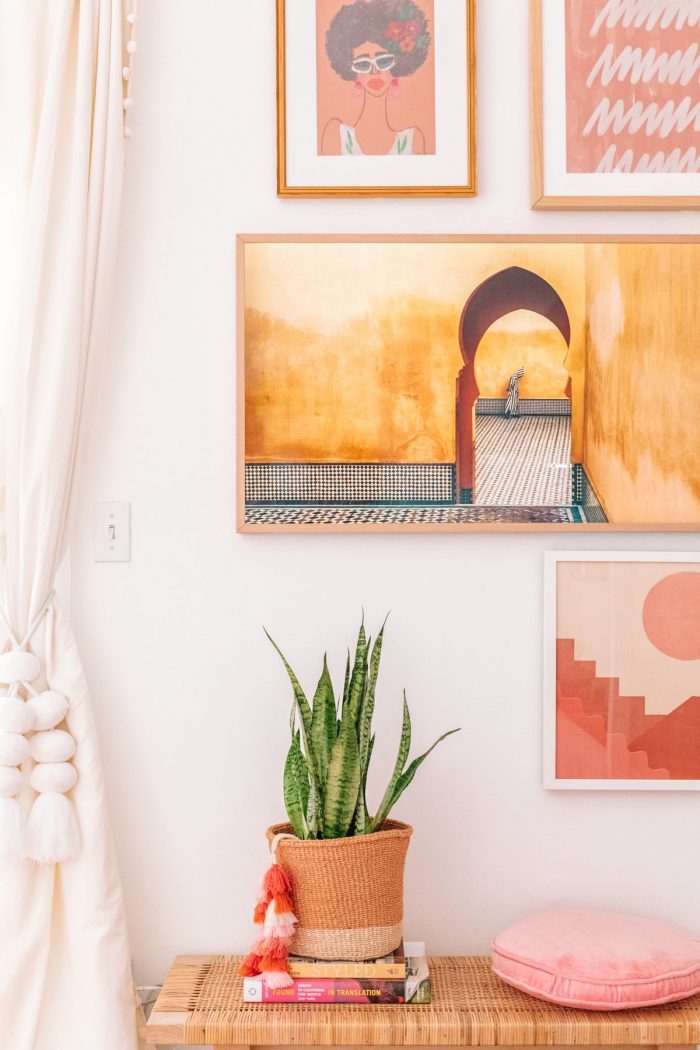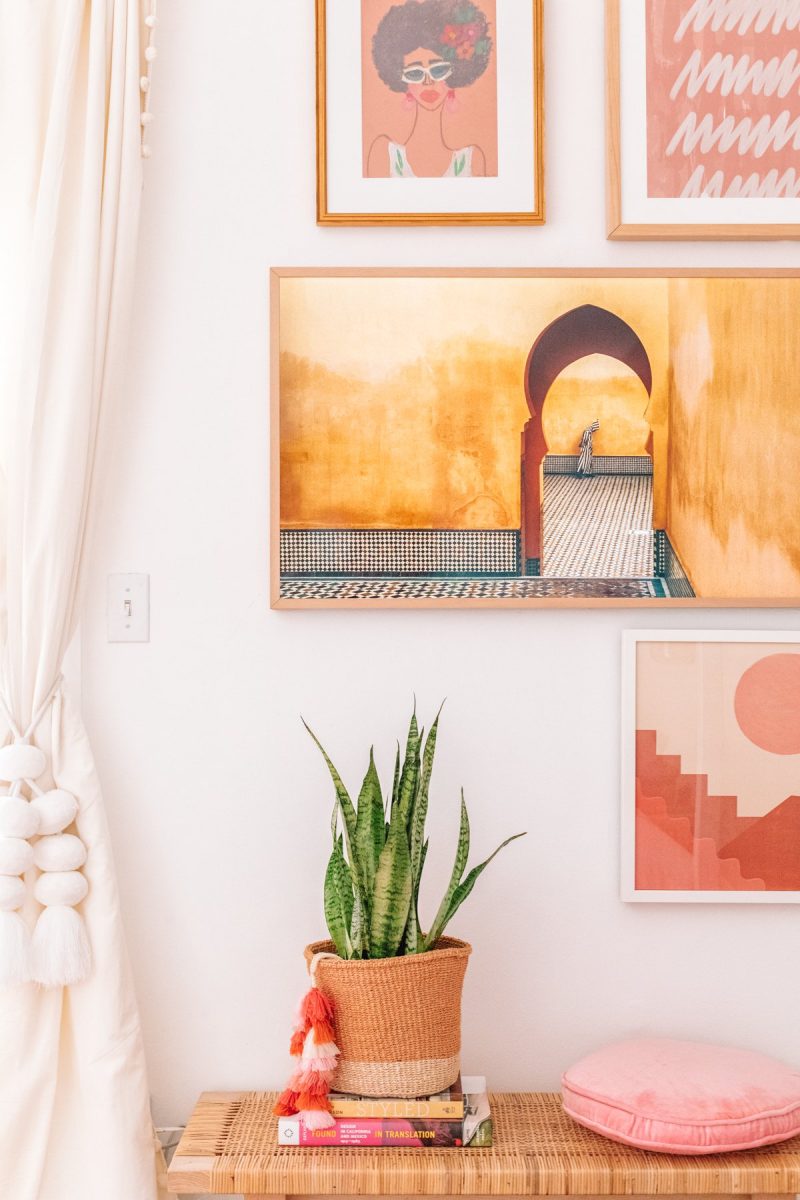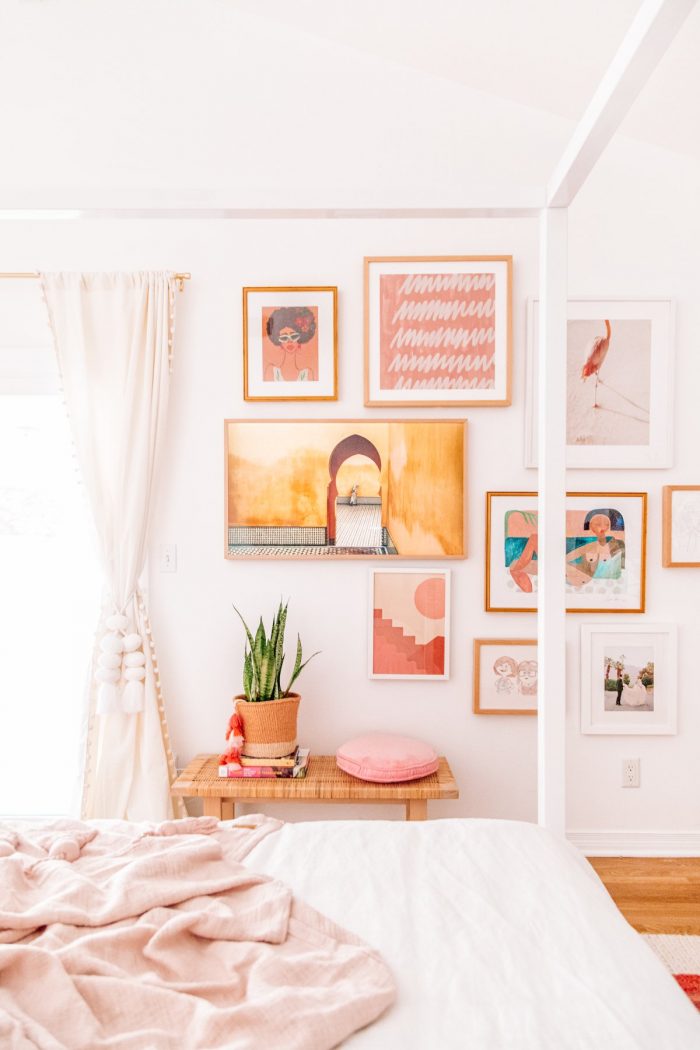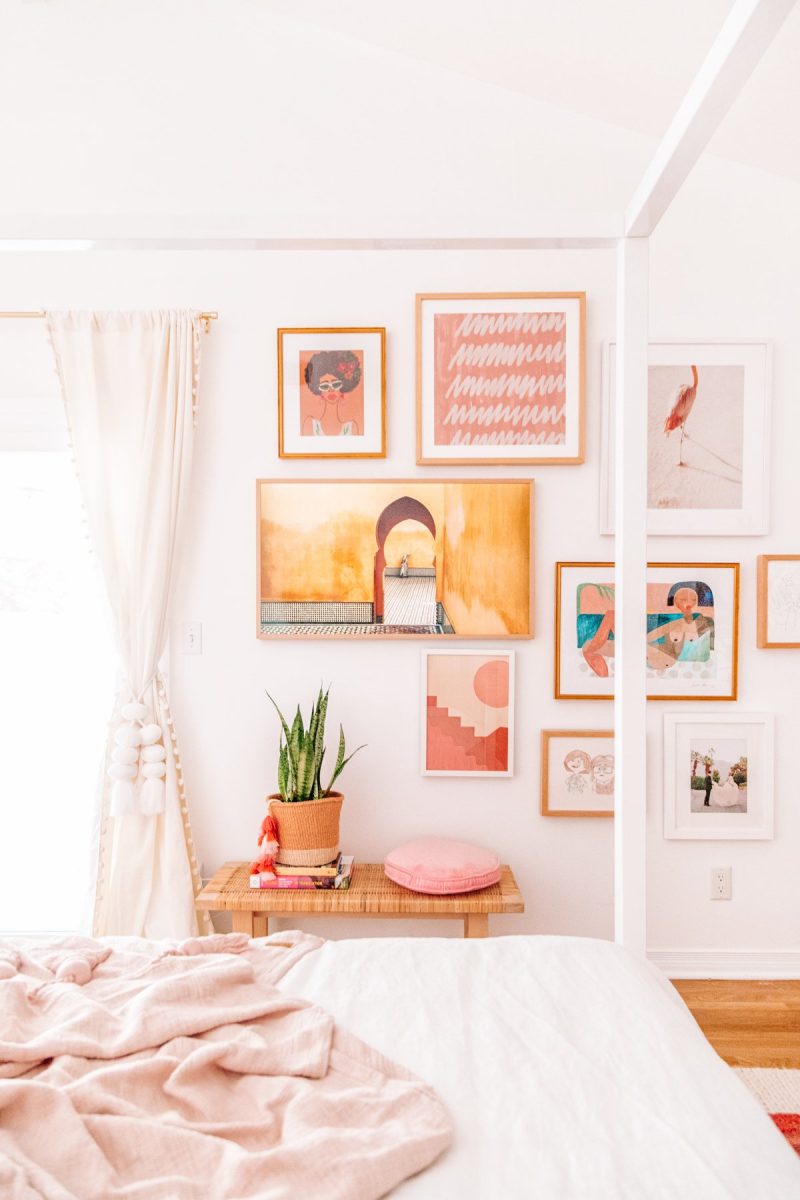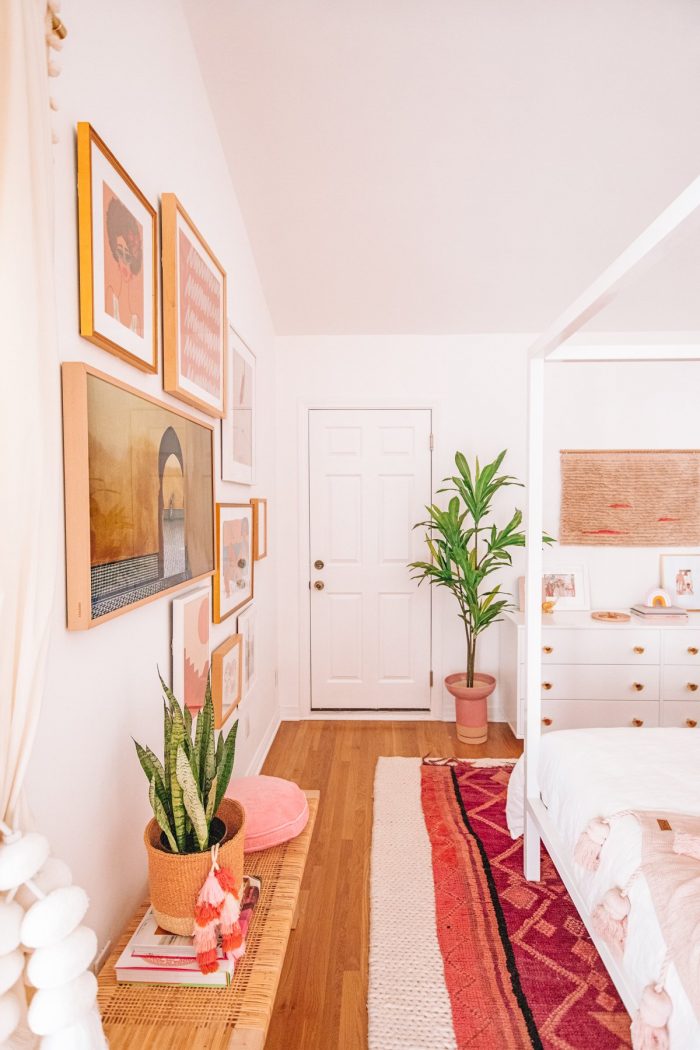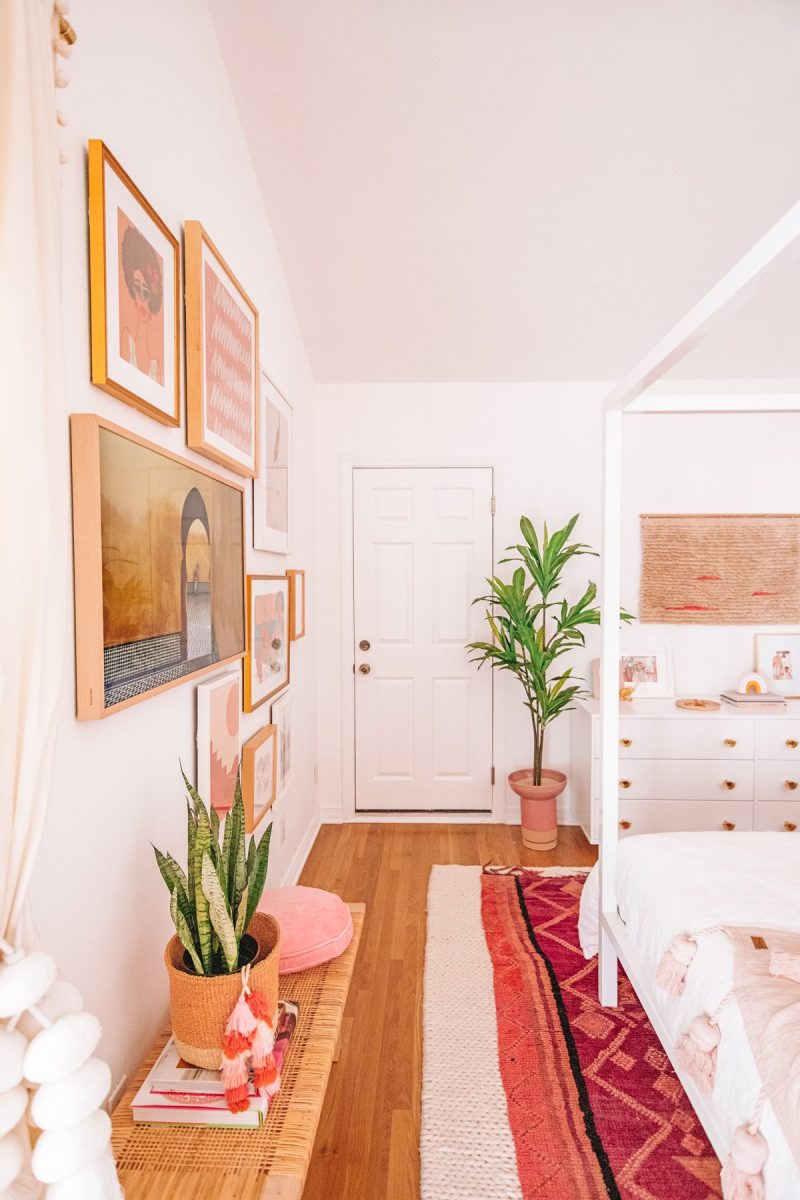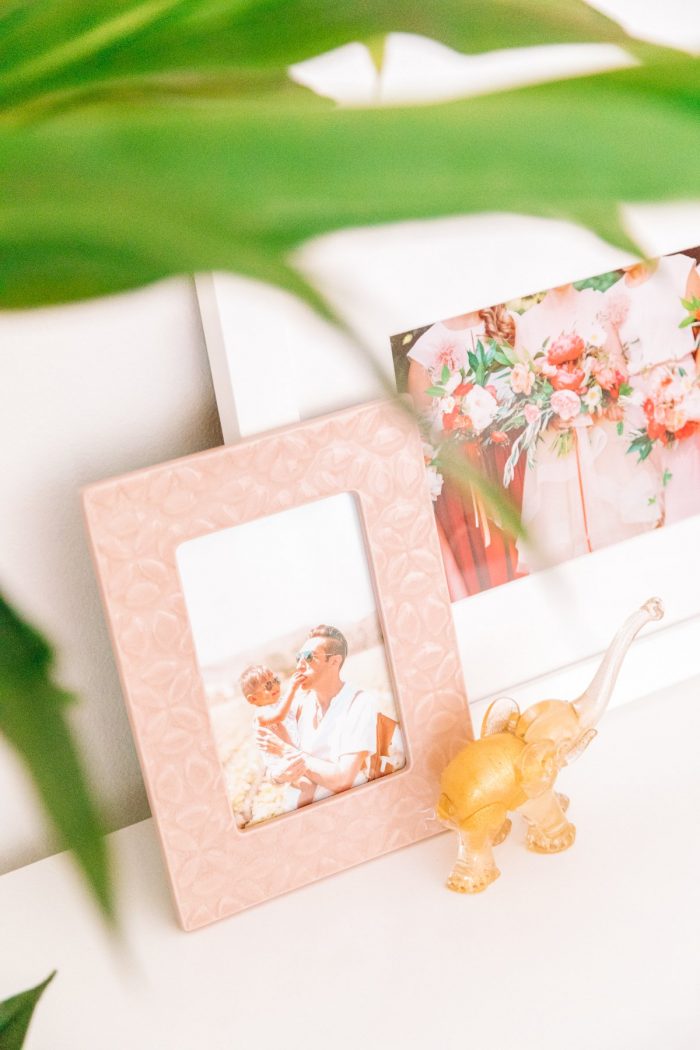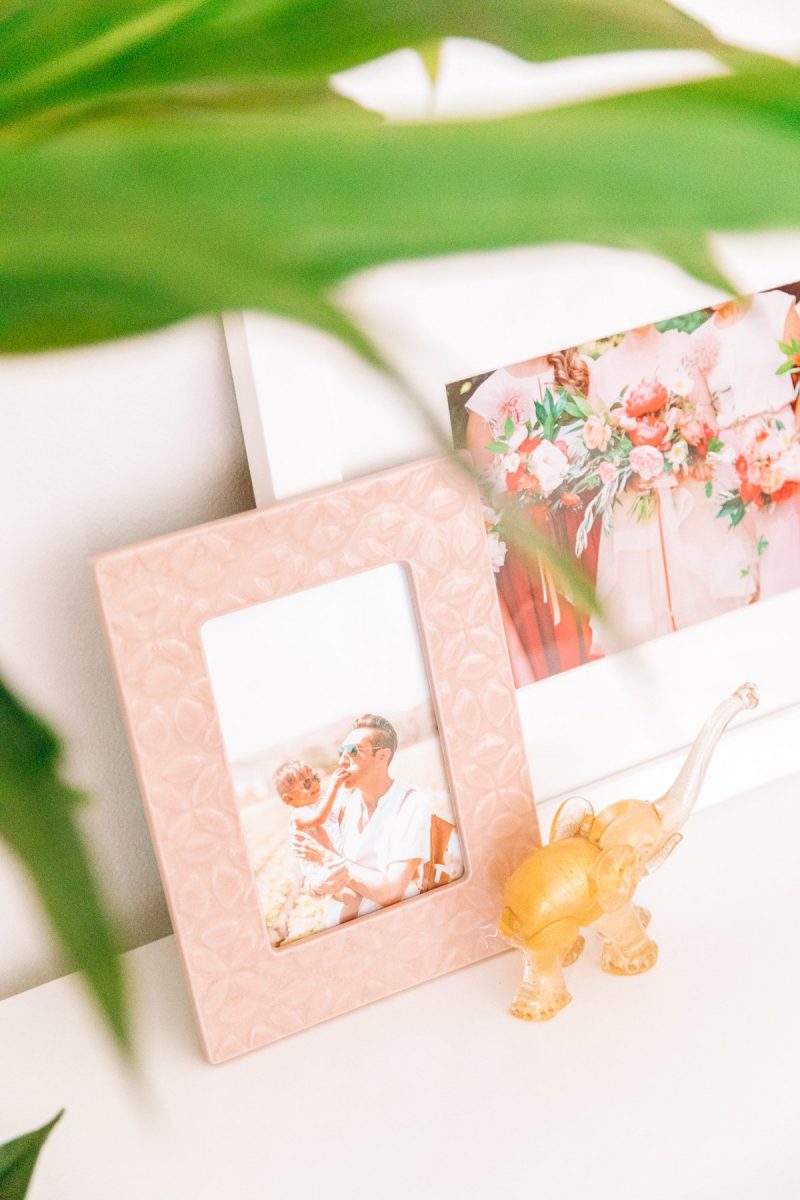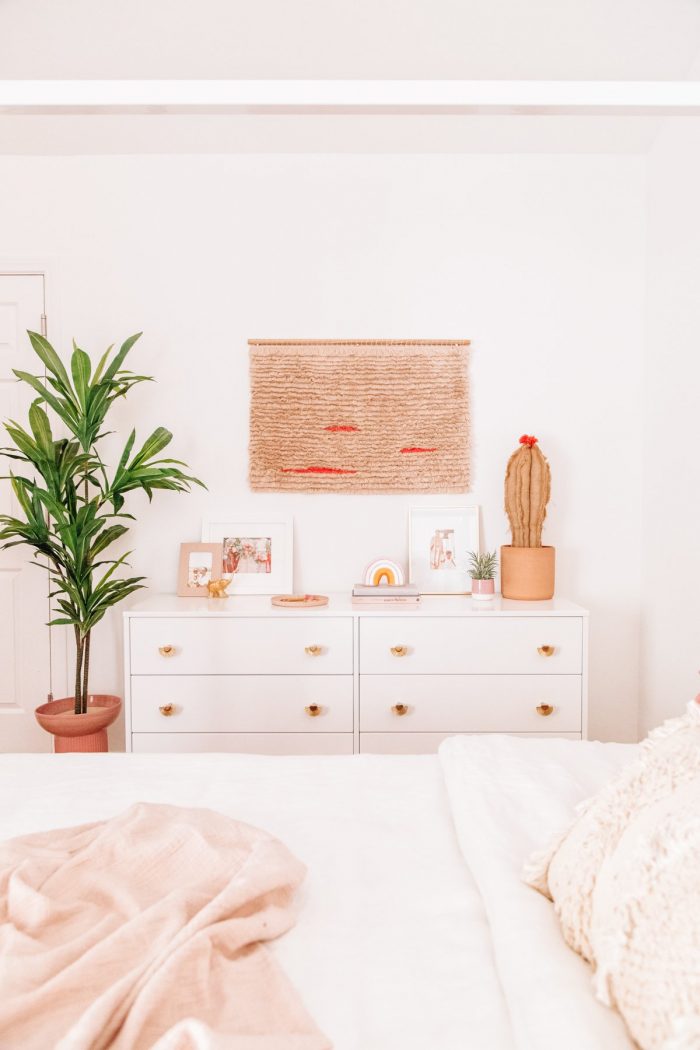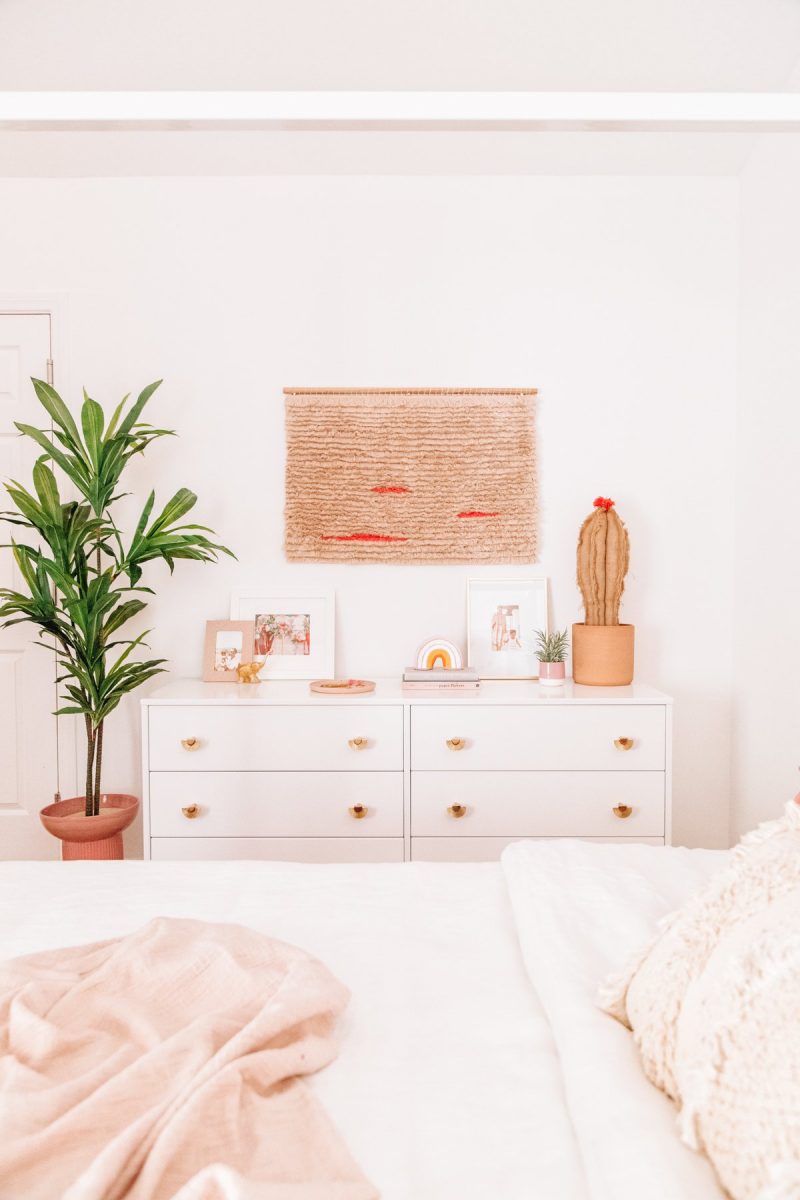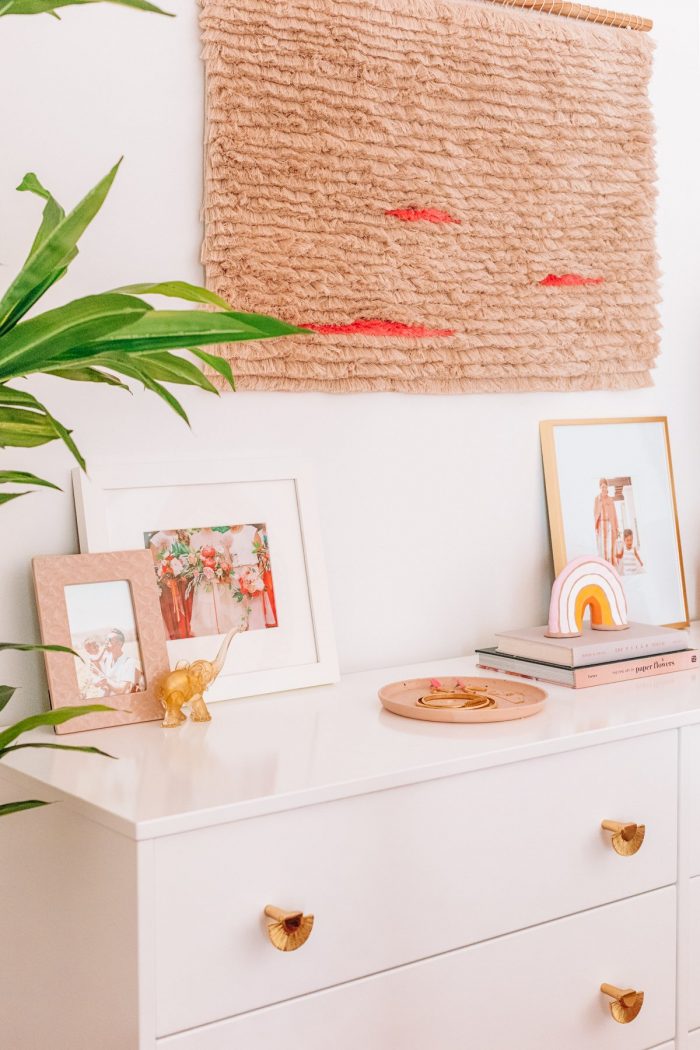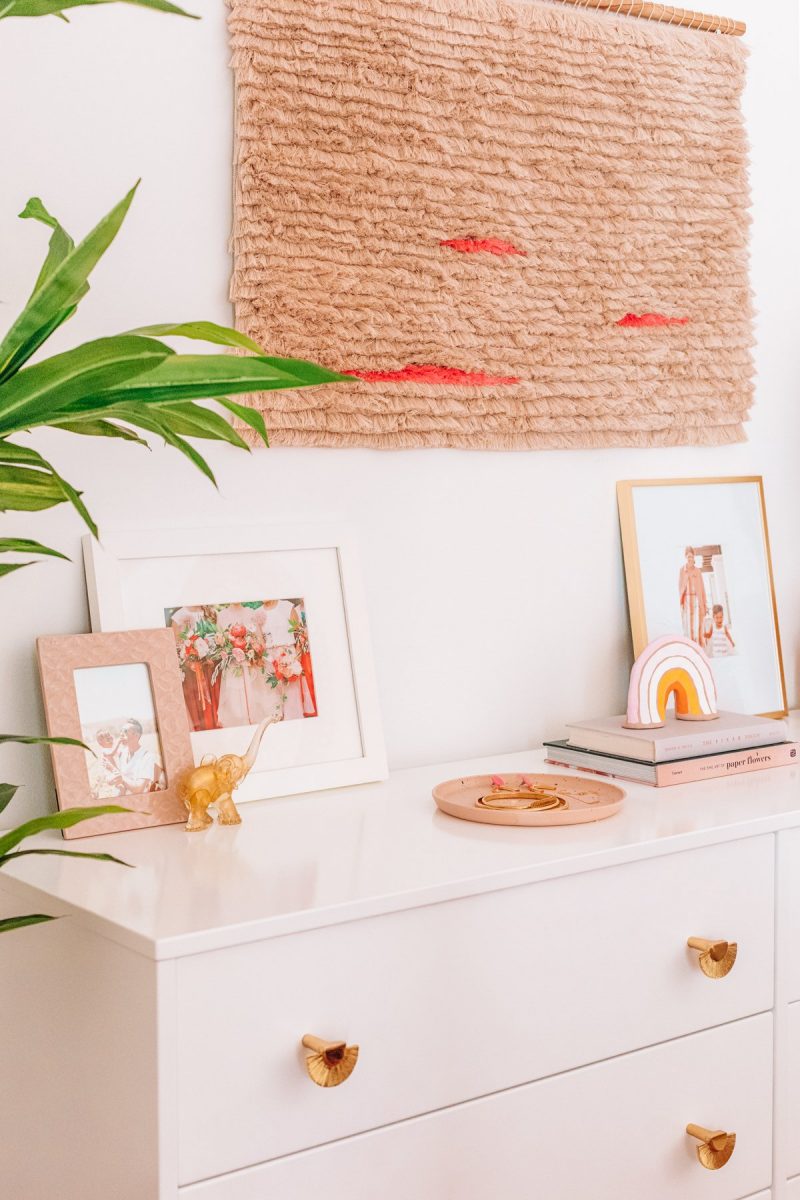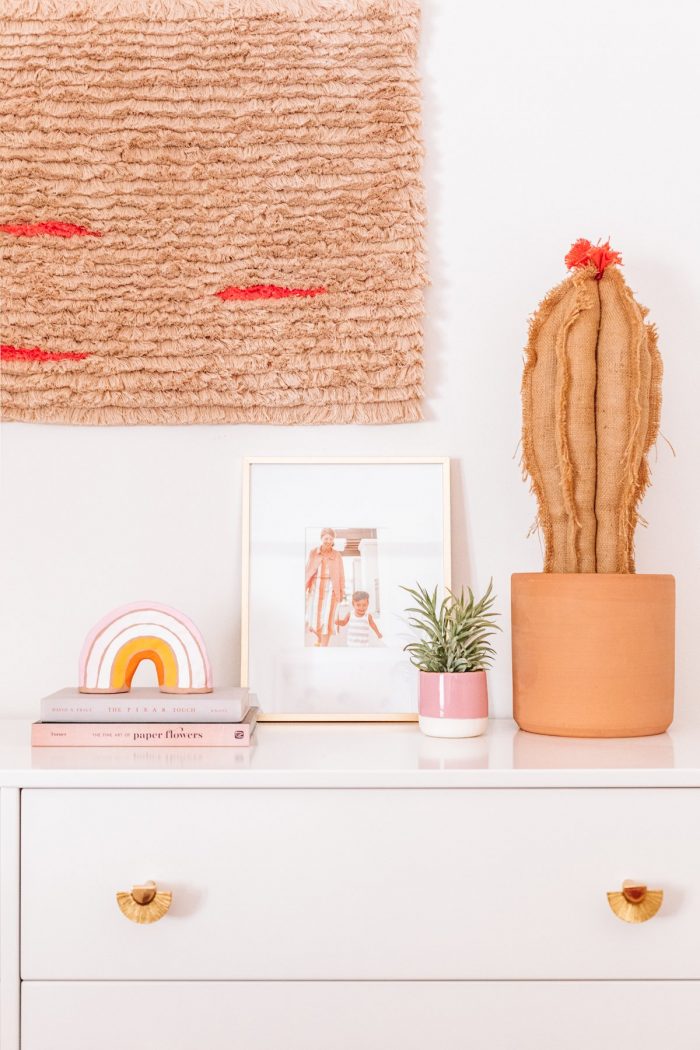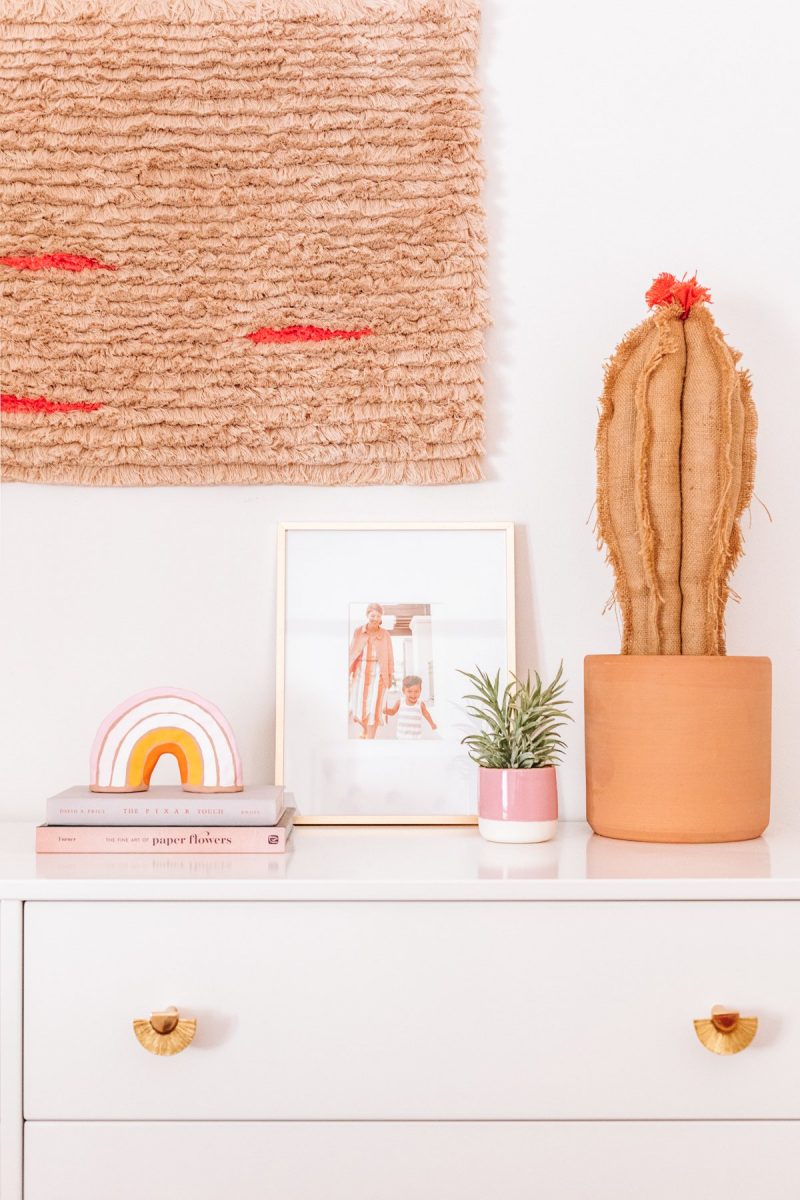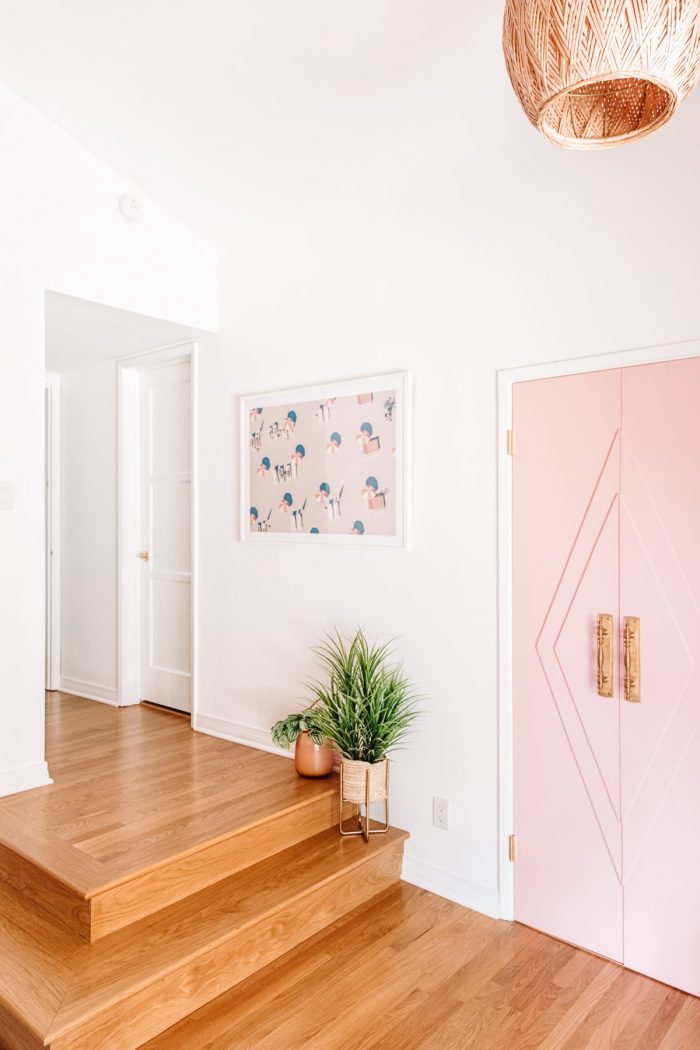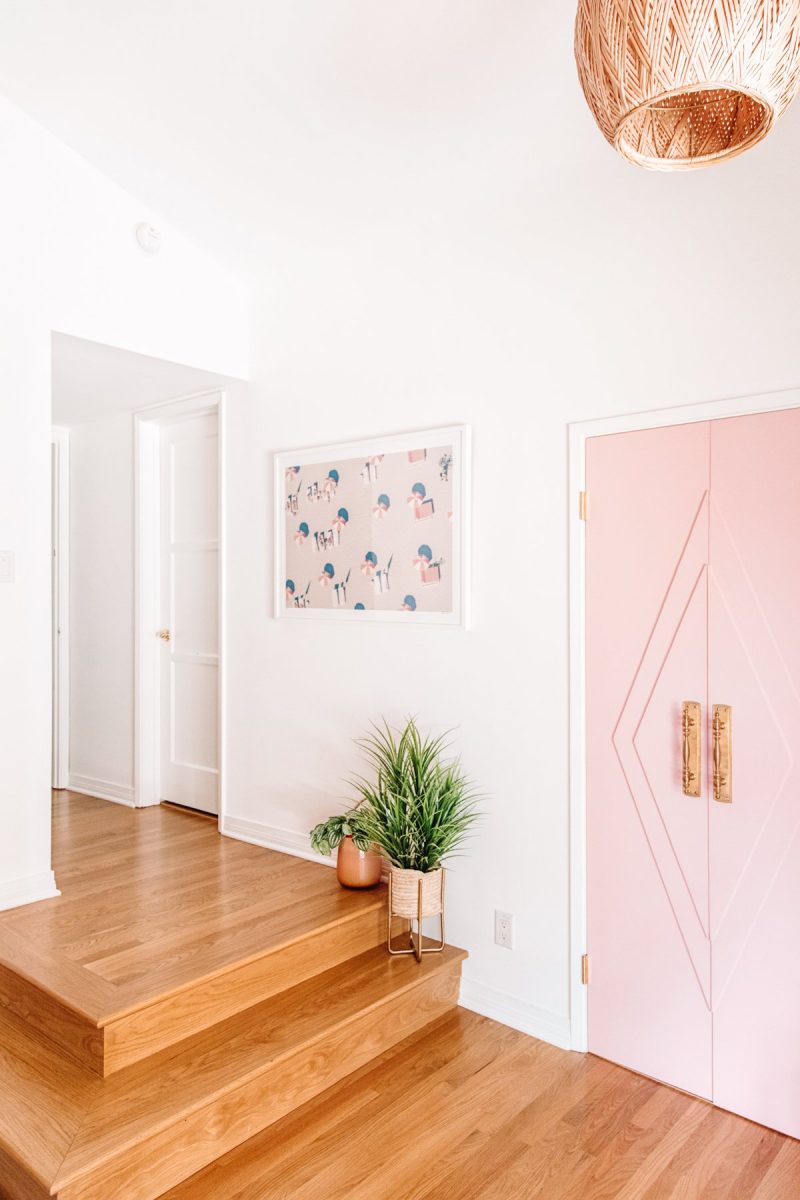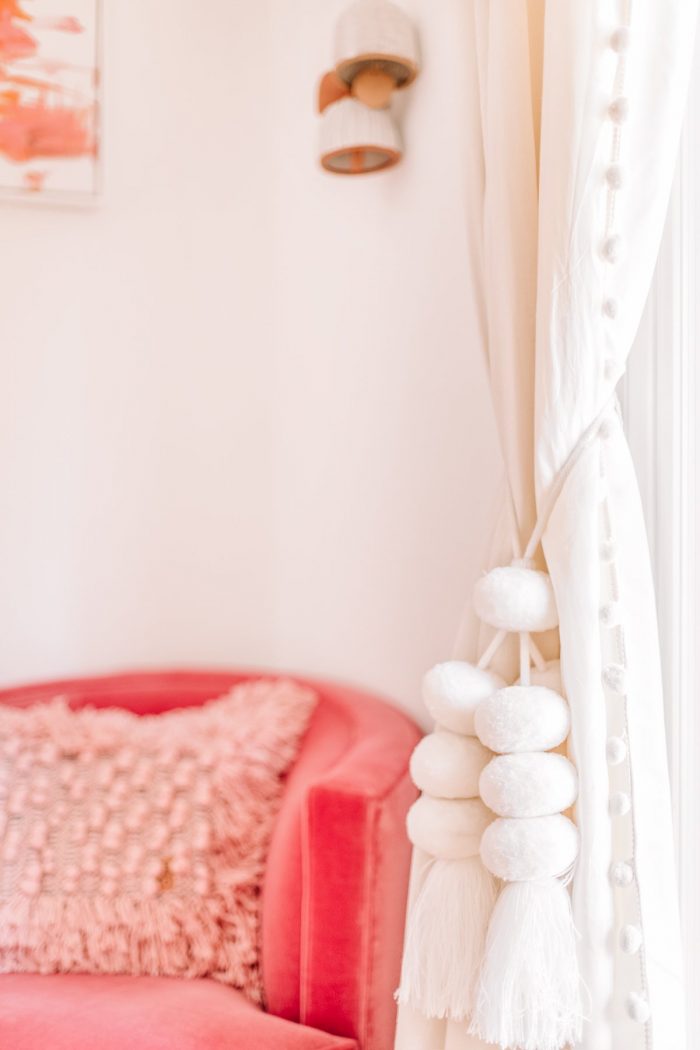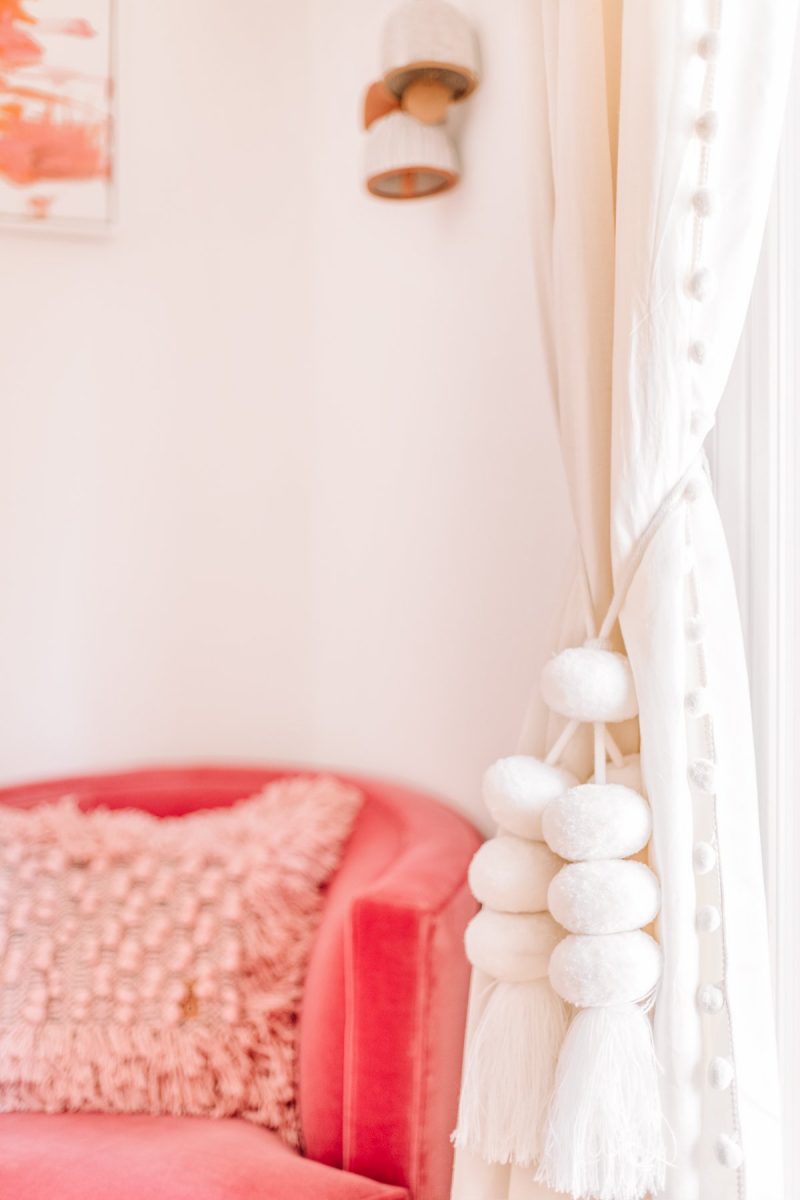 We also hung a couple pieces Arlo painted because how could we not!? I love that some of his very first artwork now lives in our room. And also can I get an AMEN for the difference that rattan shade makes compared to the (very weirdly placed) ceiling fan we started with!? Yesssss!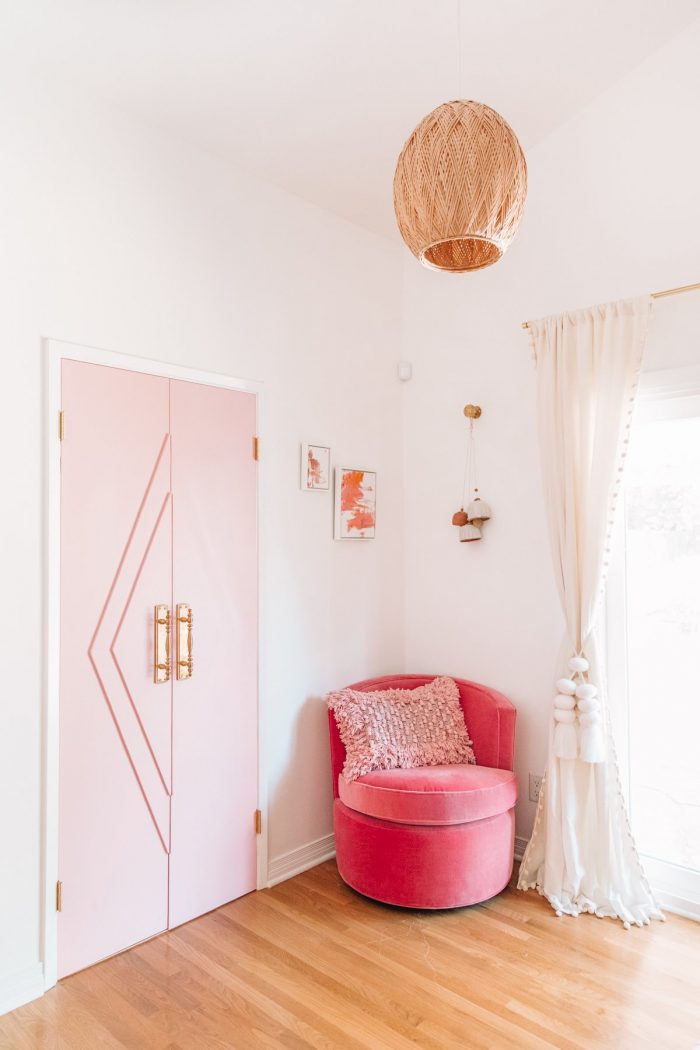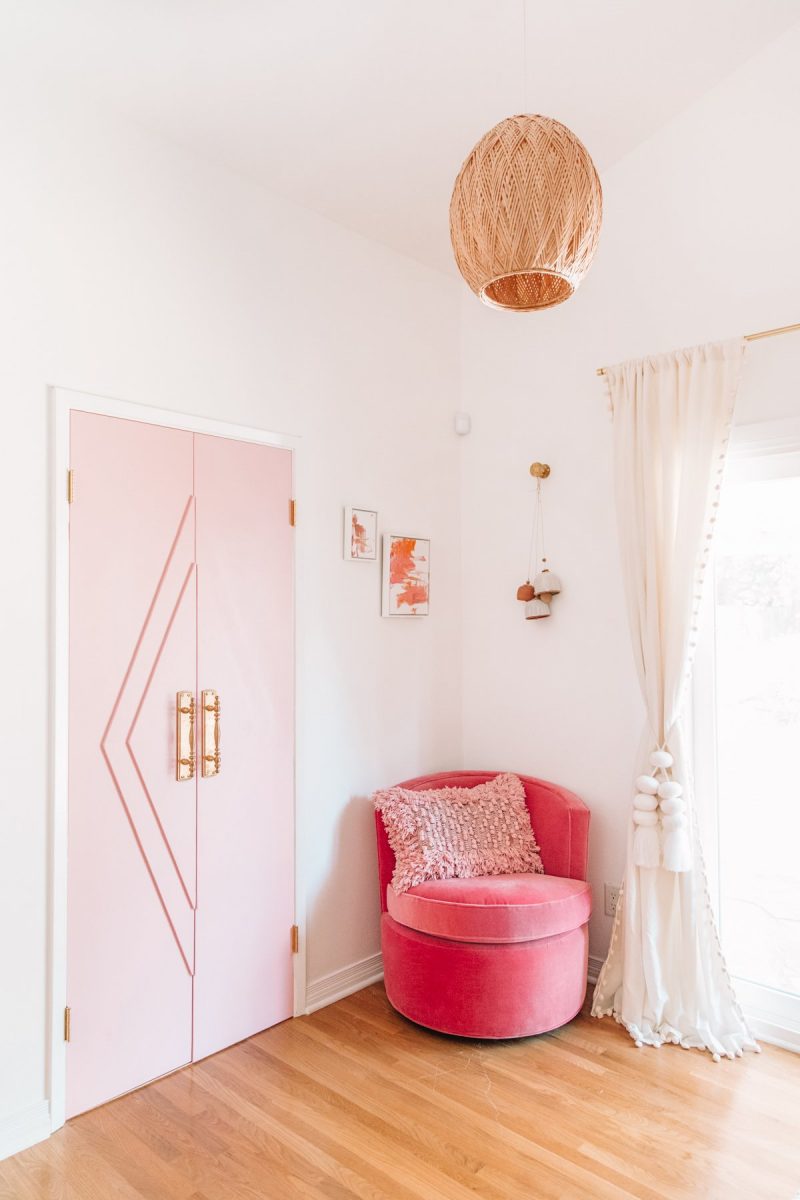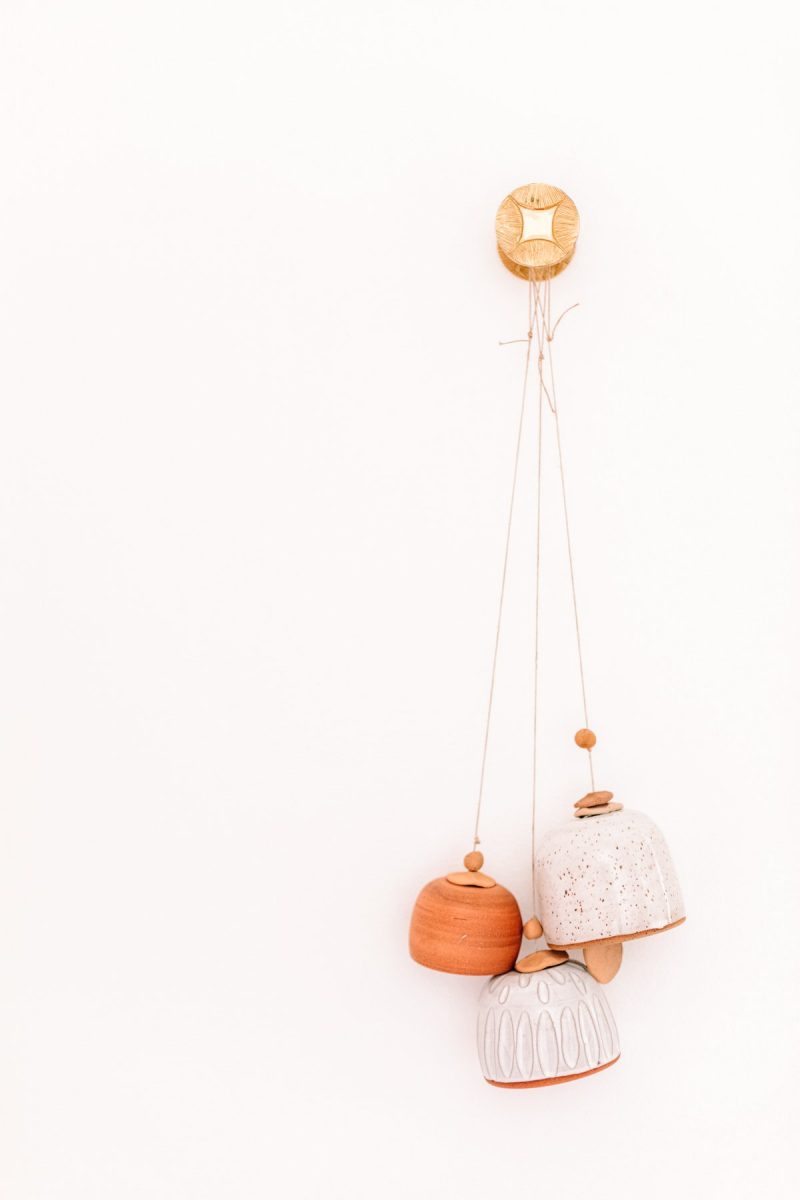 What else… oh! I layered rugs for the first time ever here too. The vintage moroccan rug from Coco Carpets is the first item we picked for the room actually and set the palette. It's so beautiful and we were told it tells a children's story with the little people motifs it has within it's design. Since the room is pretty large, and since we wanted it to "pop" more, we decided to layer it on top of a thick cable knit rug. I'm so happy with it!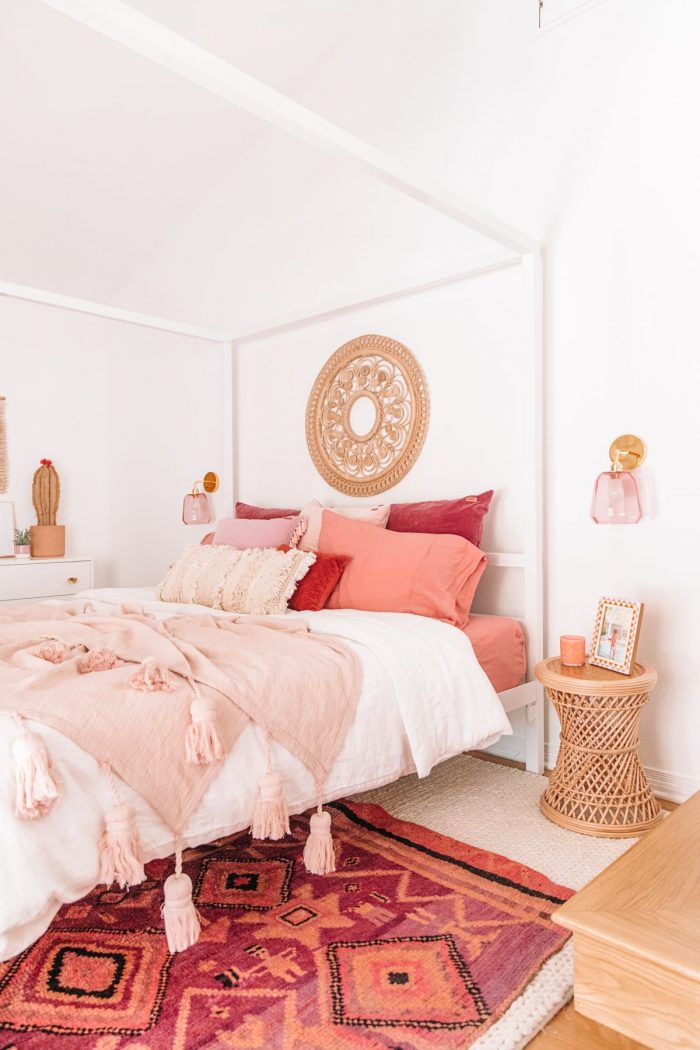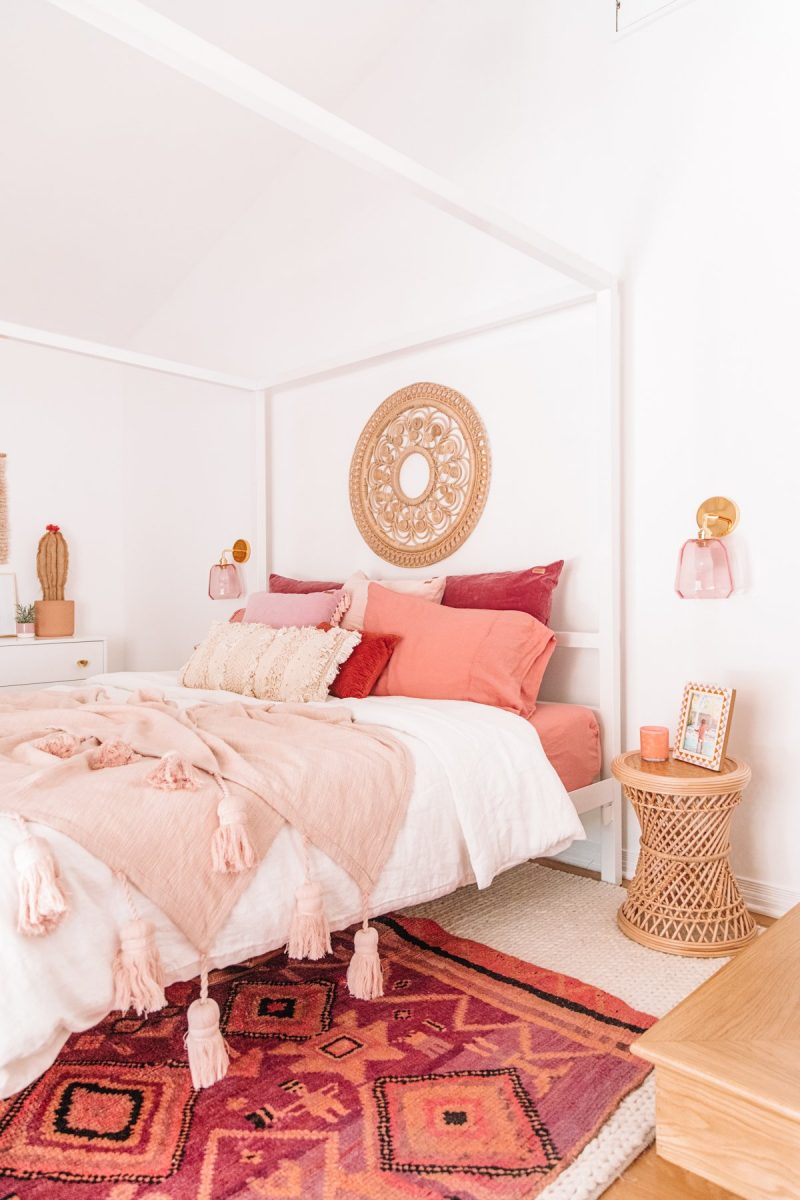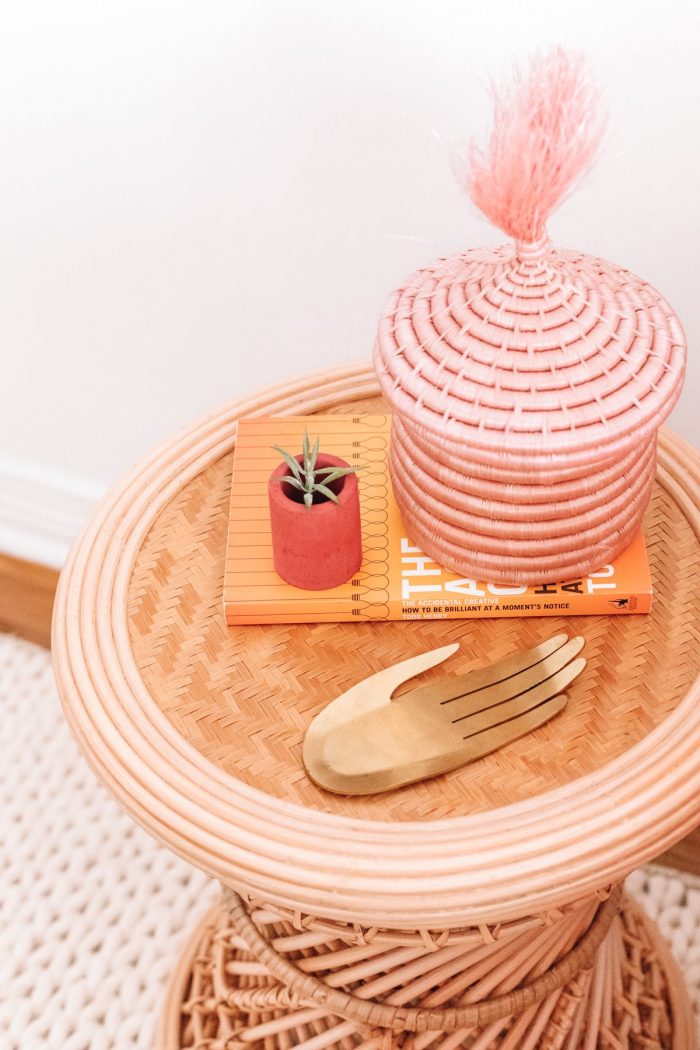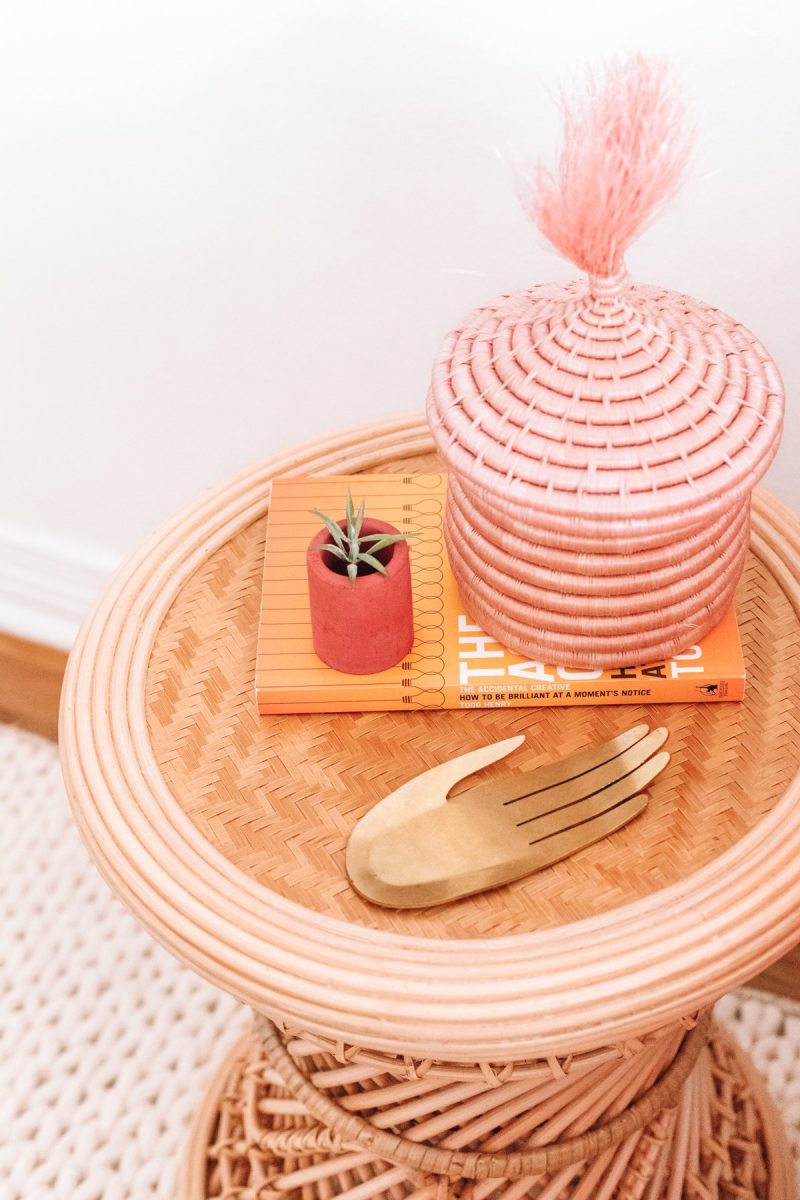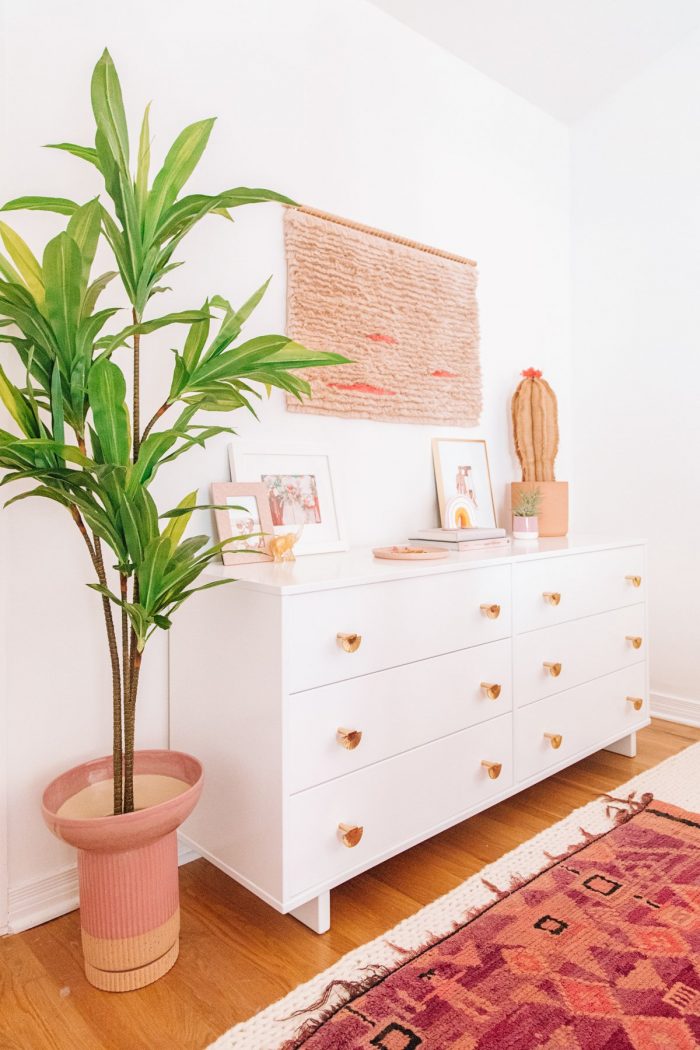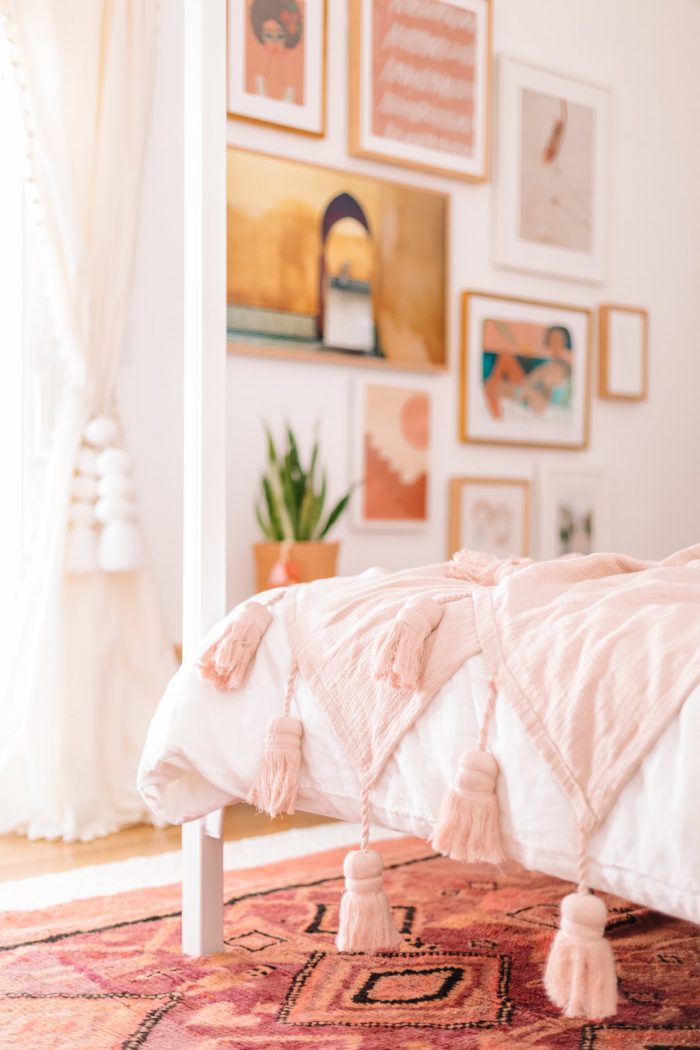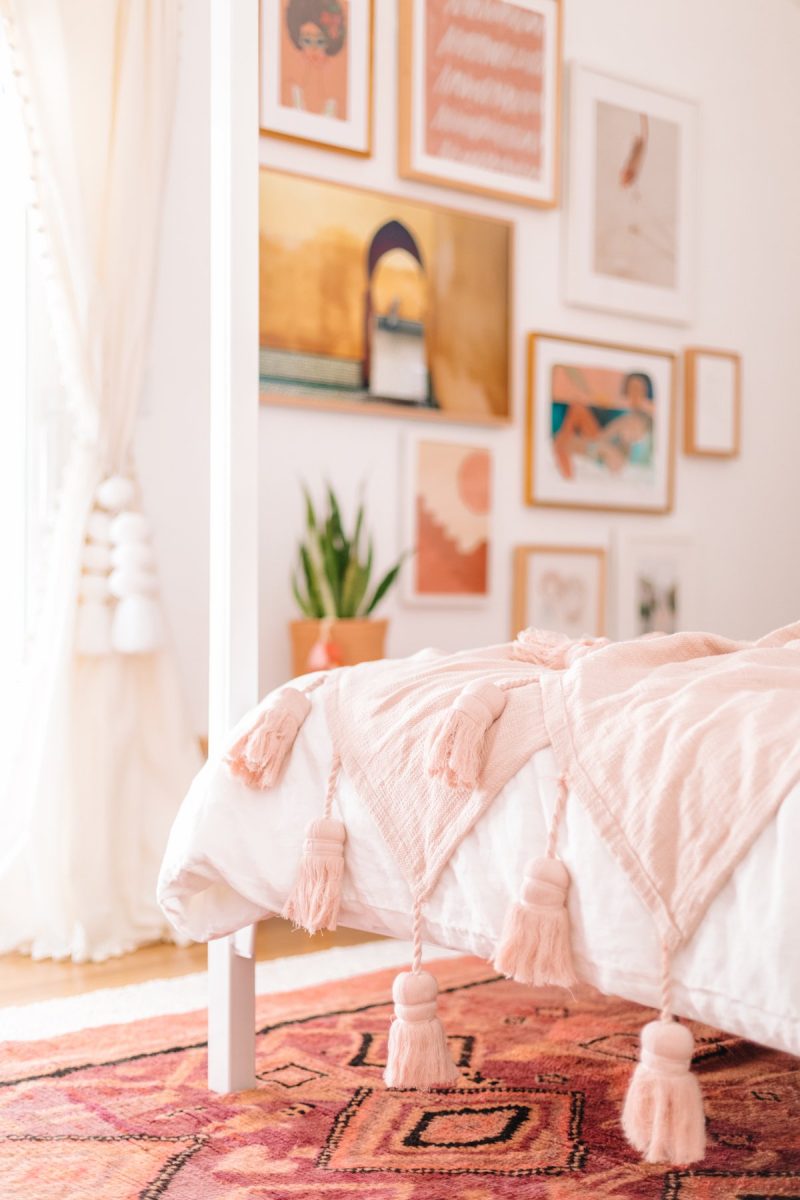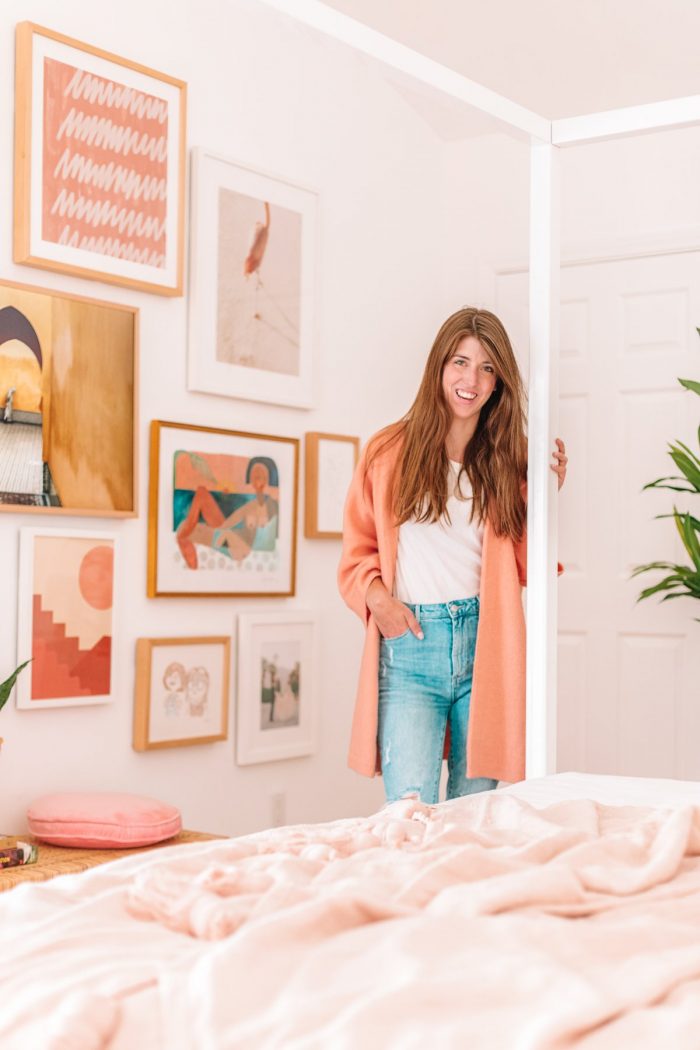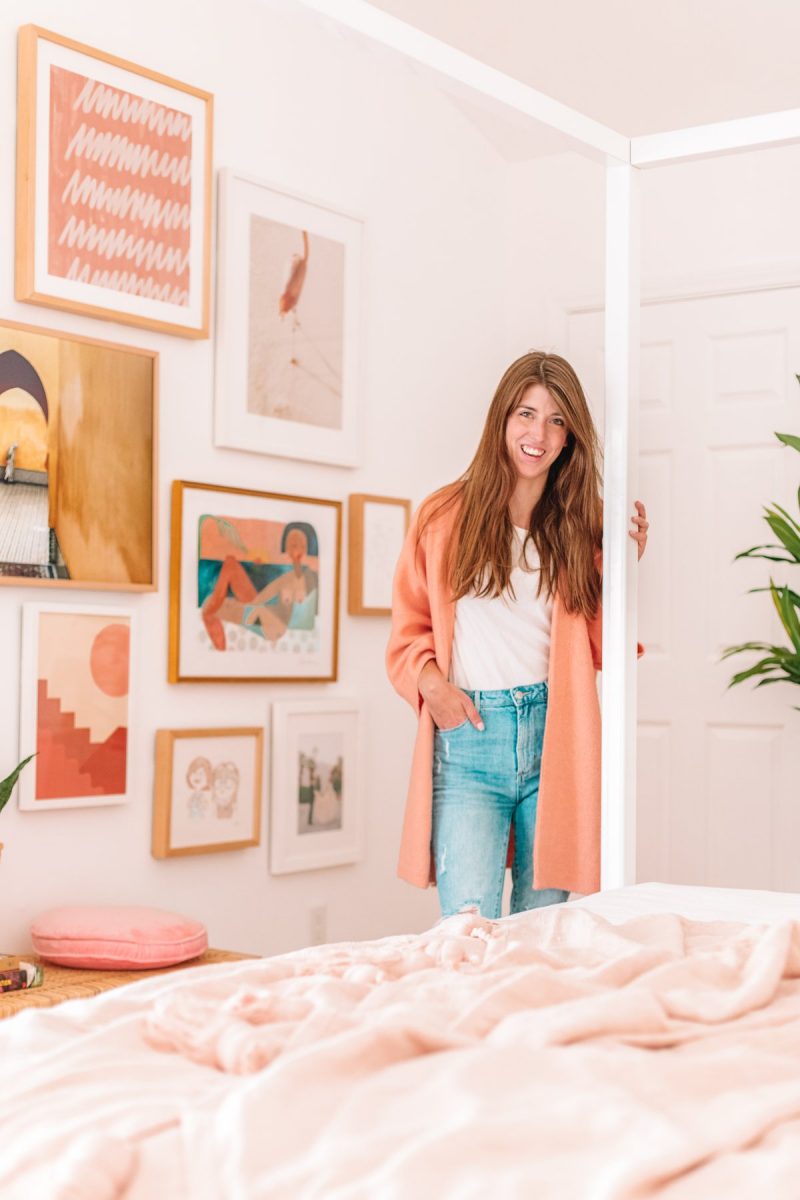 Photos by Jeff Mindell
Furniture Sources
Architecture Bed* | Otis Swivel Chair* | Moda Dresser* with Graham Dresser Knobs | Rattan Night Stands | Woven bench from a discontinued IKEA collection, but here are two pretty alternatives!
Wall Decor + Art Sources
Gallery Wall: Girl with Sunglasses by Bouffants & Broken Hearts | Static Print by Almost Makes Perfect | Flamingo by Arielle Vey* | Family Line Drawing by Arnold & Bird | Nude Beach by Justina Blakeney | Muralla Print from Clare Nicolson | Up Illustration from Disneyland | Wedding Photo by Katie Stoops
All Frames in our Gallery Wall by Framebridge*
(We used this white, this gold and this light wood. Plus this canvas style for Arlo's art!)
Frame TV with Birch Wood Frame | Umbrellas by Gray Malin* | Paintings by Arlo =) | Peacock Wall Hanging from The Family Love Tree (sold out, but similar items here)! | DIY Fringe Wall Hanging | Ceramic Bells on Graham Wall Hook | Pink Triangle Frame | Pink Embossed Frame
Decor Sources
Bedding + Pillows: White Linen Duvet Cover* | Coral Linen Sheets* | Tassel Throw Blanket* | Velvet Euro Pillows* | Velvet Tassel Pillow* | Orange Velvet Pillow | Ivory Fringe Pillow | Pink Penny Round Cushion | Fringe Pillow (pink is sold out)*
Rugs, Curtains + Lighting: Cable Knit Rug | Moroccan Rug | Pendant Light | Wall Sconces | Pom Pom Curtains | Pom Pom Tassel Curtain Ties | Brass Curtain Rods
Plants + Other Decor: Gold Plant Stand from Target (similar) + Basket | Orange Lantern from Anthropologie (similar) | Two Tone Basket Planter | Tassels from Pigment | Ceramic Floor Planter from Urban Outfitters (sold out, here's a similar one!) | Faux Tree | Standing Rainbow | Cactus | Ceramic Rainbow | Ceramic Plate | Brass Hand Dish | Pink Lidded Basket | Closet Door Tutorial
Another Mindwelling room in the books! What do you think!?
The final piece of our main suite, the bathroom, is being demoed as we speak!!! Stay tuneddddd!
*An asterisk indicates an item that was gifted to us in exchange for inclusion in this reveal! All opinions are my own.
SaveSave
SaveSave