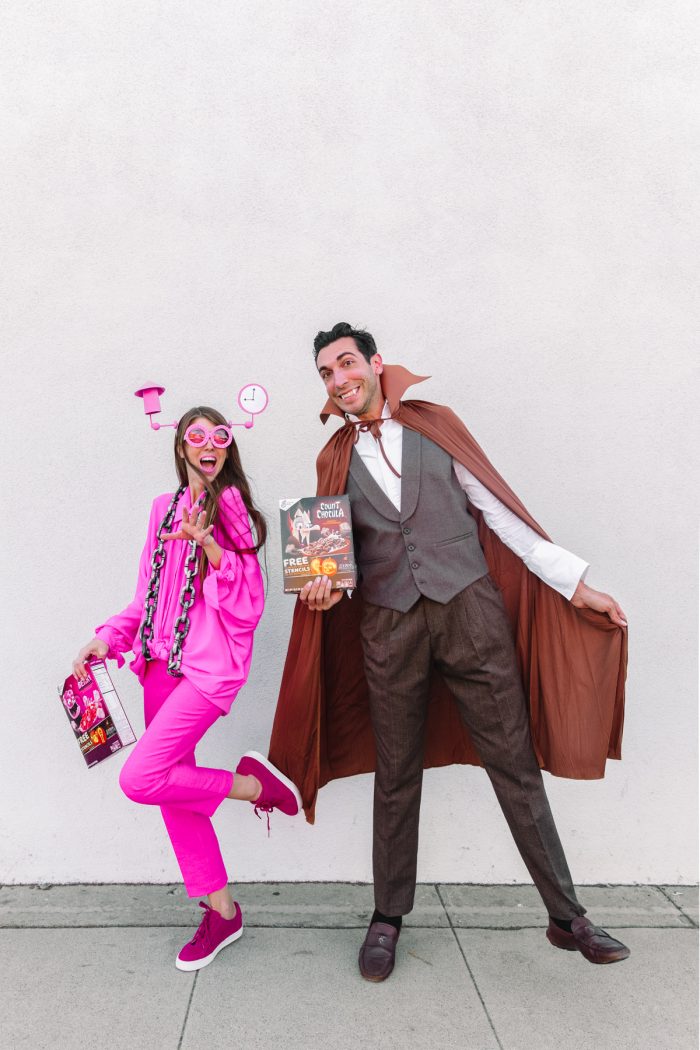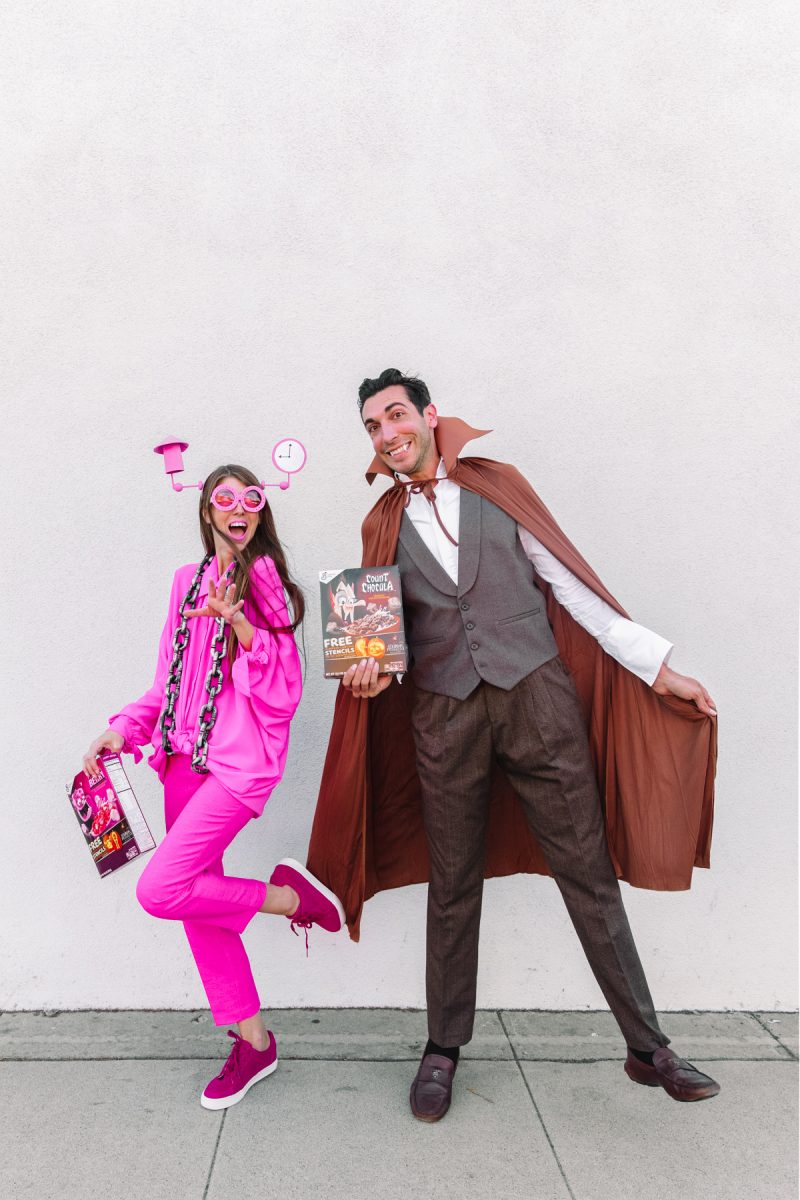 Oh man, this project was SO FUN! This Halloween Season, General Mills Cereal asked me to create real life DIY costumes of their classic, staple, MUST HAVE for Halloween Monsters Cereals!!! The reason I got into doing DIY costumes in the first place was because I loved figuring out how to break something iconic like a food, object or (in this case!) monster down and make it easy to recreate in real life. I created three different costumes for the three cereals: Franken Berry, Count Chocula and Boo Berry! For a limited time, the Monsters Cereals are in stores now, just in time for Halloween!!!
This would be such a great group or family costume. You could even make mini goodie bags filled with the cereals, store them in the box and carry it around all night handing them out! Reverse trick-or-treating, style! How fun!!
Broke down how to make each one of them below!!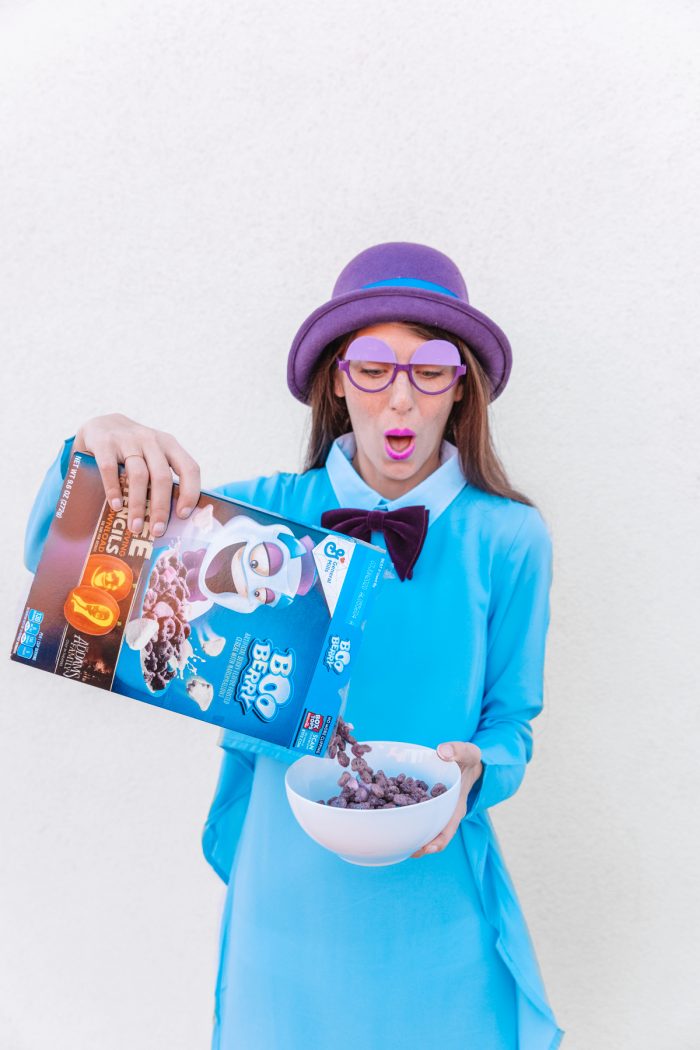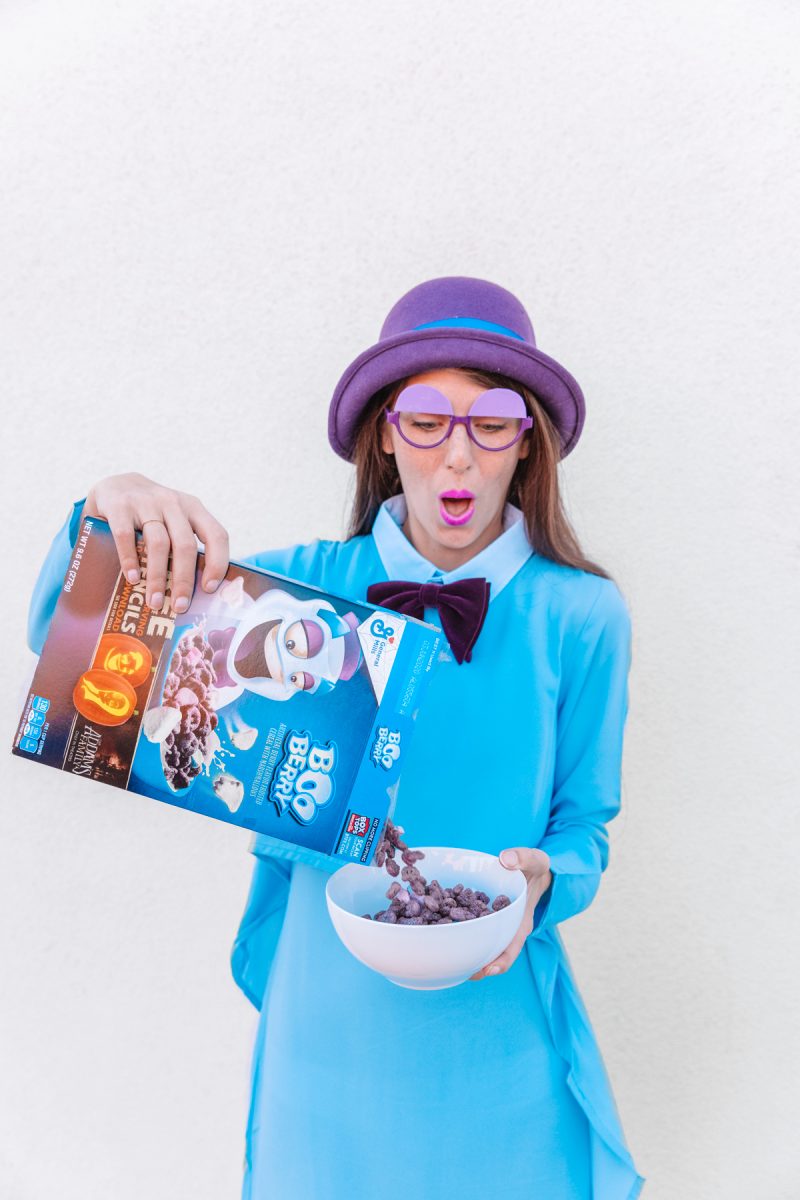 Franken Berry Costume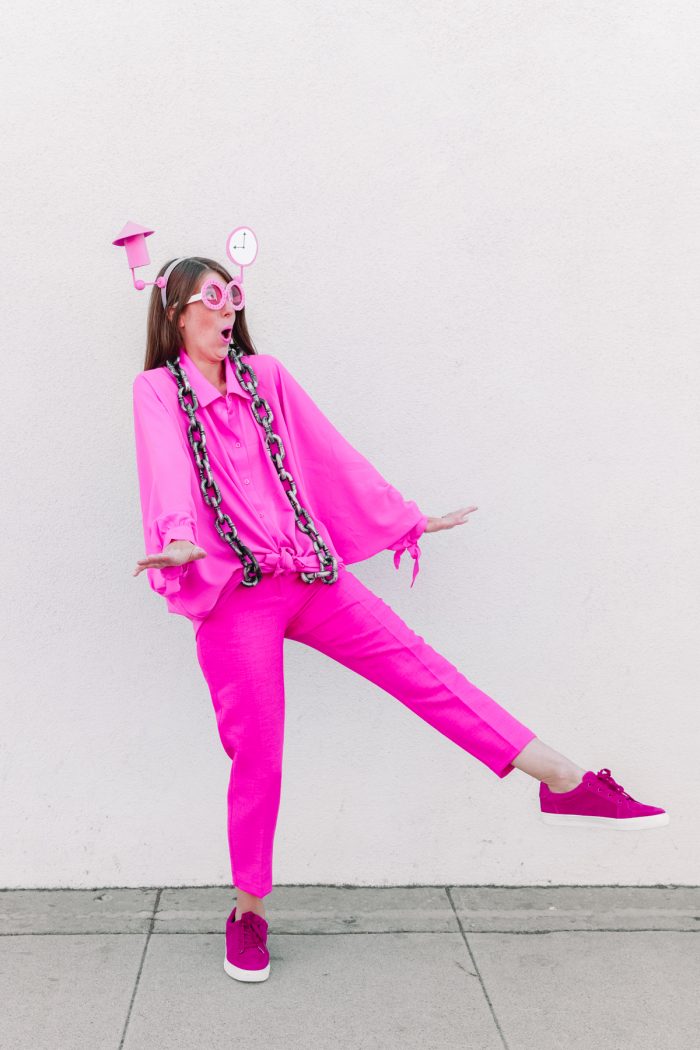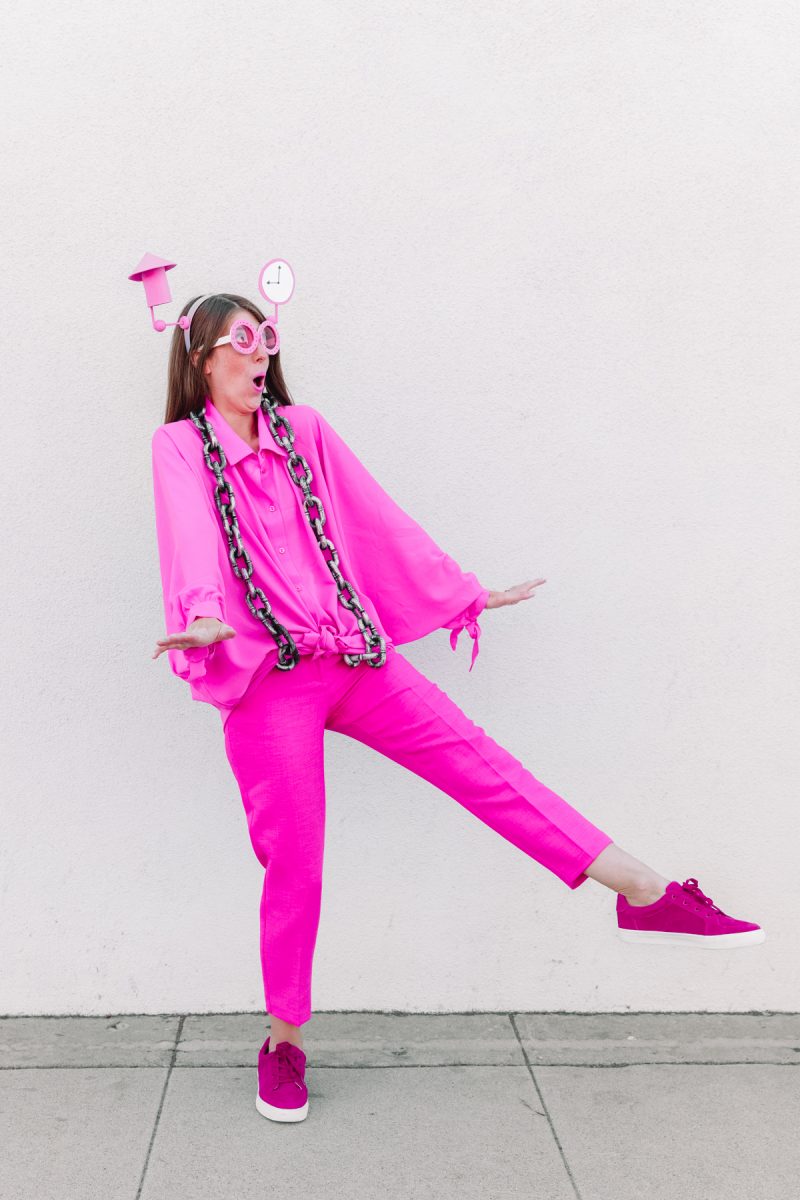 Supplies Needed
Step-by-Step Tutorial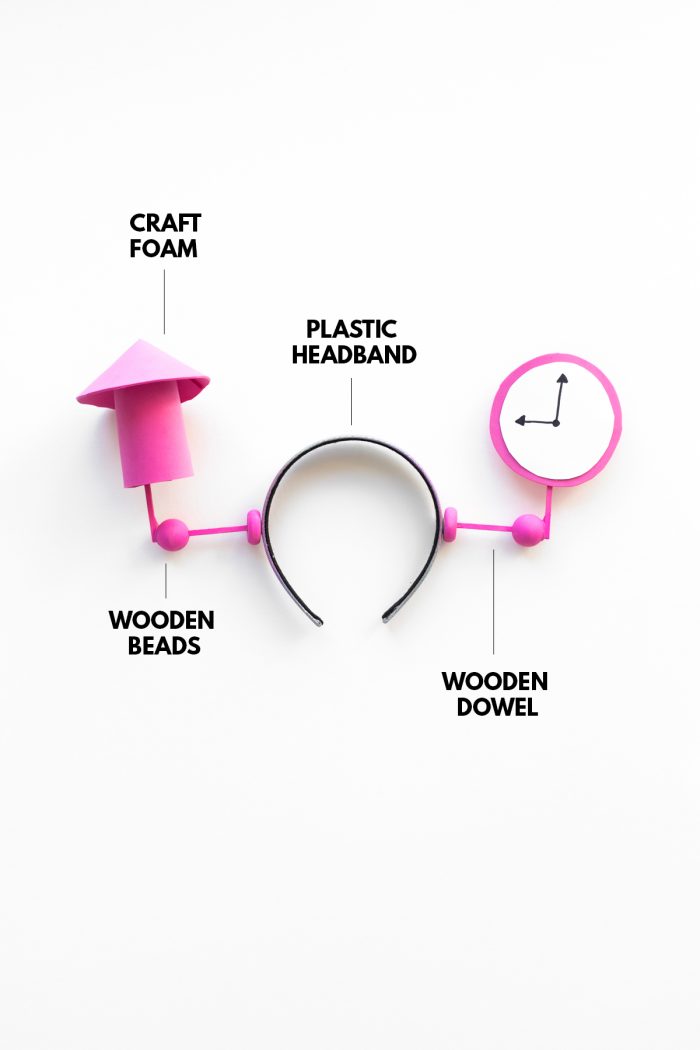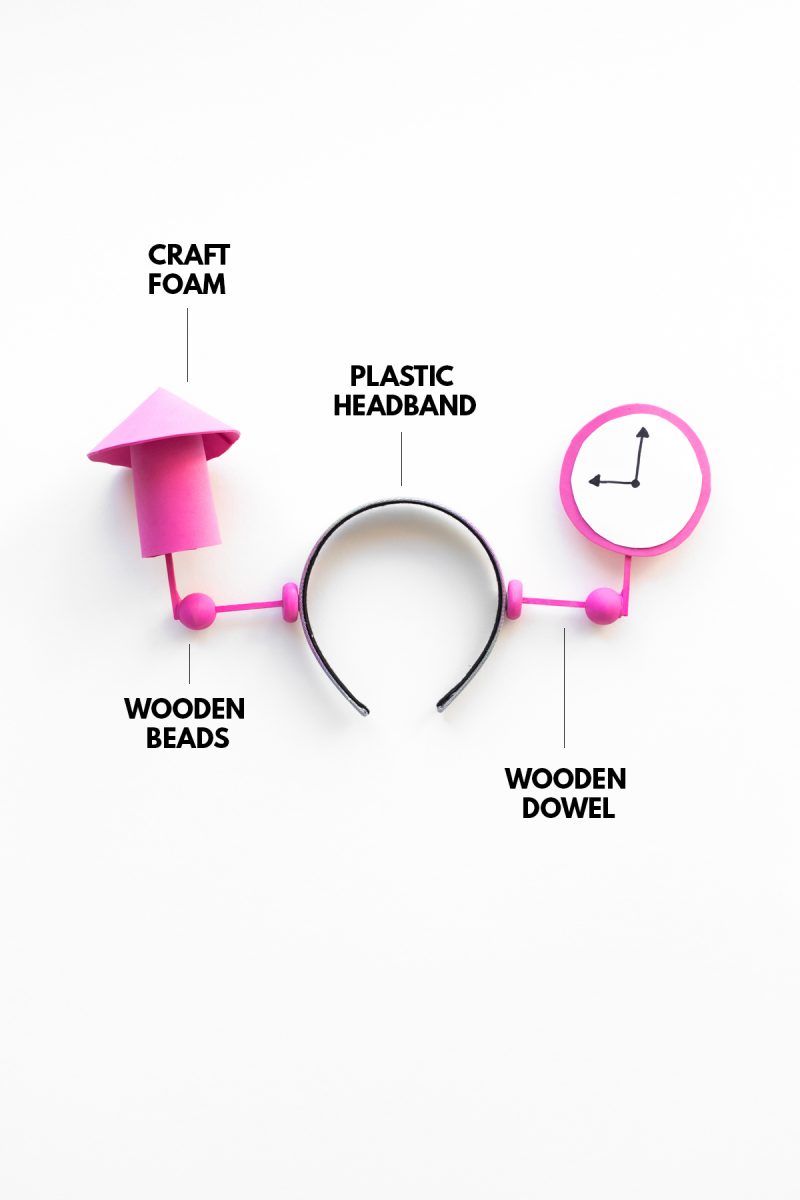 To make the headband, paint two wooden dowel(s) and wood beads pink. Let dry.
While drying, cut out the following shapes from your pink foam: one 4″ circle, one 5″ circle and one 7×3.5″ rectangle. Cut one 3″ circle out of white craft foam.
Roll the rectangle into a cylinder and hot glue to secure. Cut a slit from one side of the 5″ circle into the center and overlap the cut pieces, forming a cone shape. Hot glue to secure. Glue the cone on top of the cylinder.
Use your black permanent marker to draw clock hands at 3 o'clock on the white cylinder. Hot glue on top of the 4″ pink circle.
Cut your wooden dowel(s) into two 4″ pieces and two 3″ pieces. Hot glue a wood disc to one end of the 3″ piece and a wooden ball to the other end. Repeat with the other 3″ piece. Then, glue the 4″ piece to the other side of the wood bead (perpendicular to the previous wooden dowel you glued). Repeat with the other 4″ piece.
Glue the foam shapes you created onto each of the wooden dowels.
Finally, glue the wooden discs to each side of you headband. Done!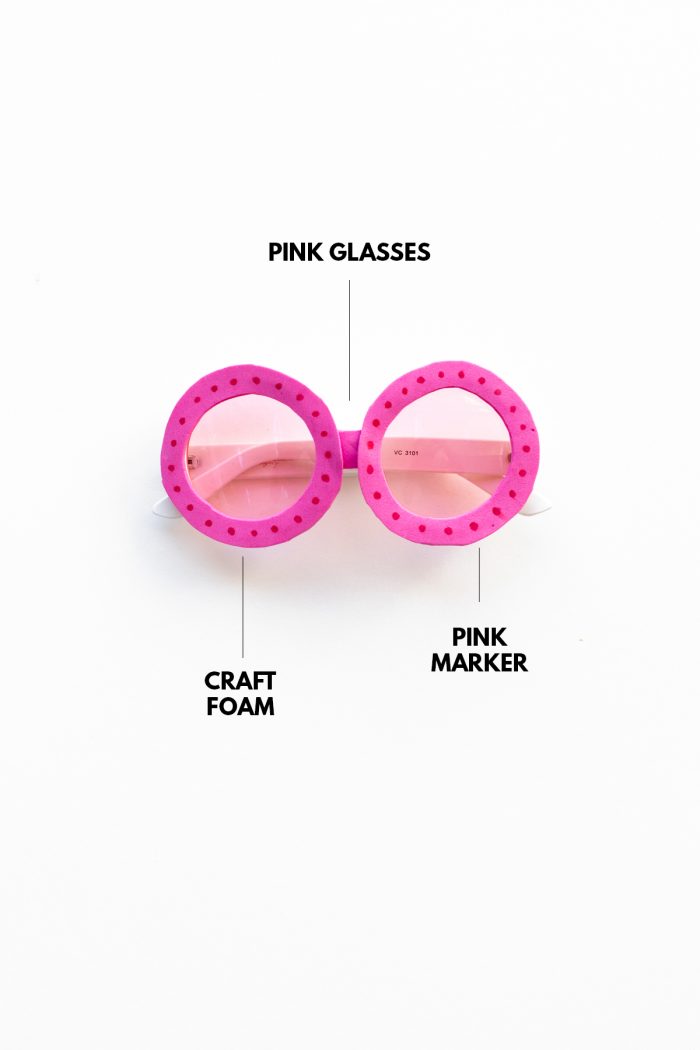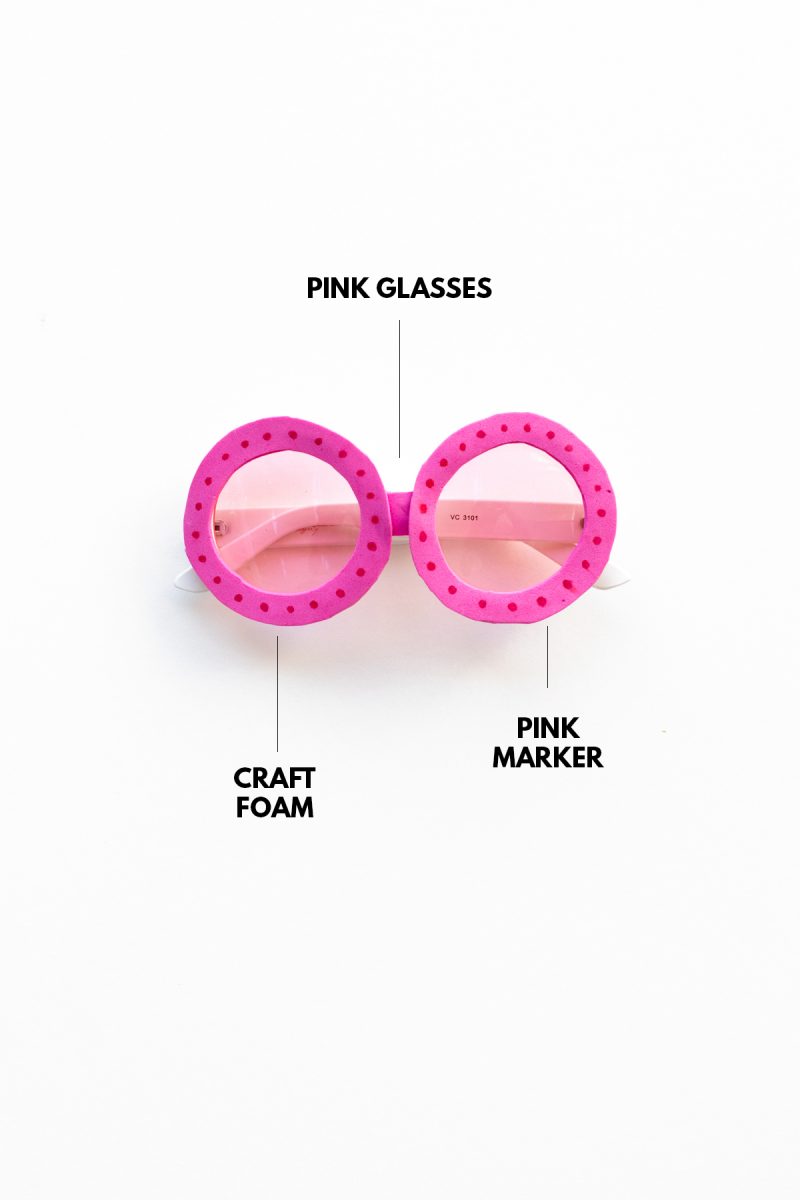 Cut out two circles that are just slightly bigger than your sunglasses rims. Use a hot pink marker to draw dots all around them. Hot glue to the rims!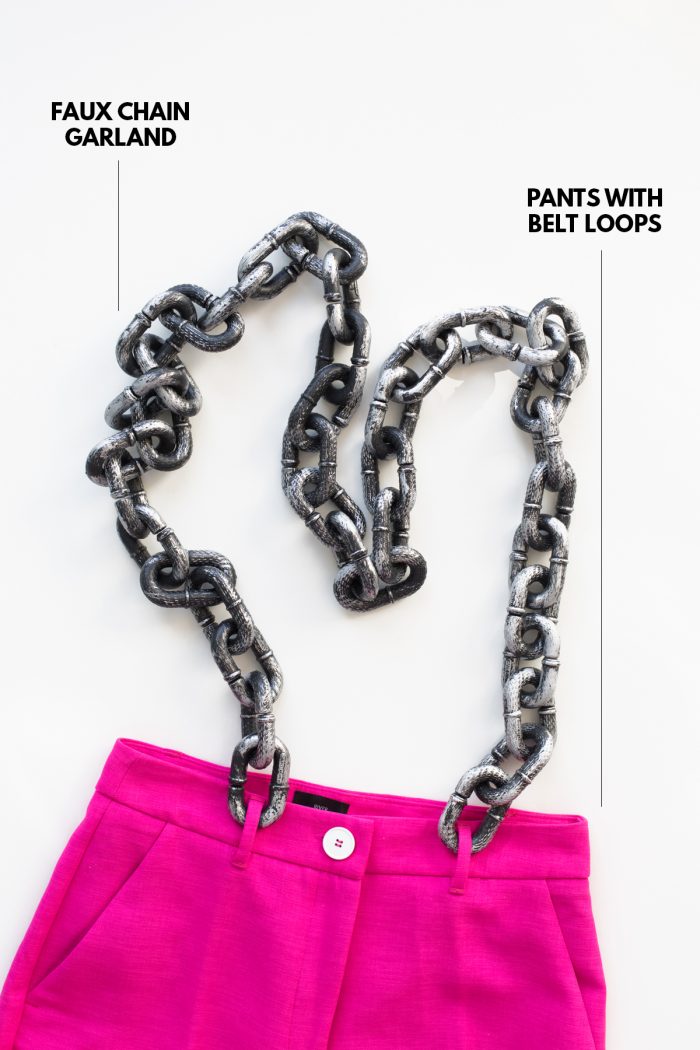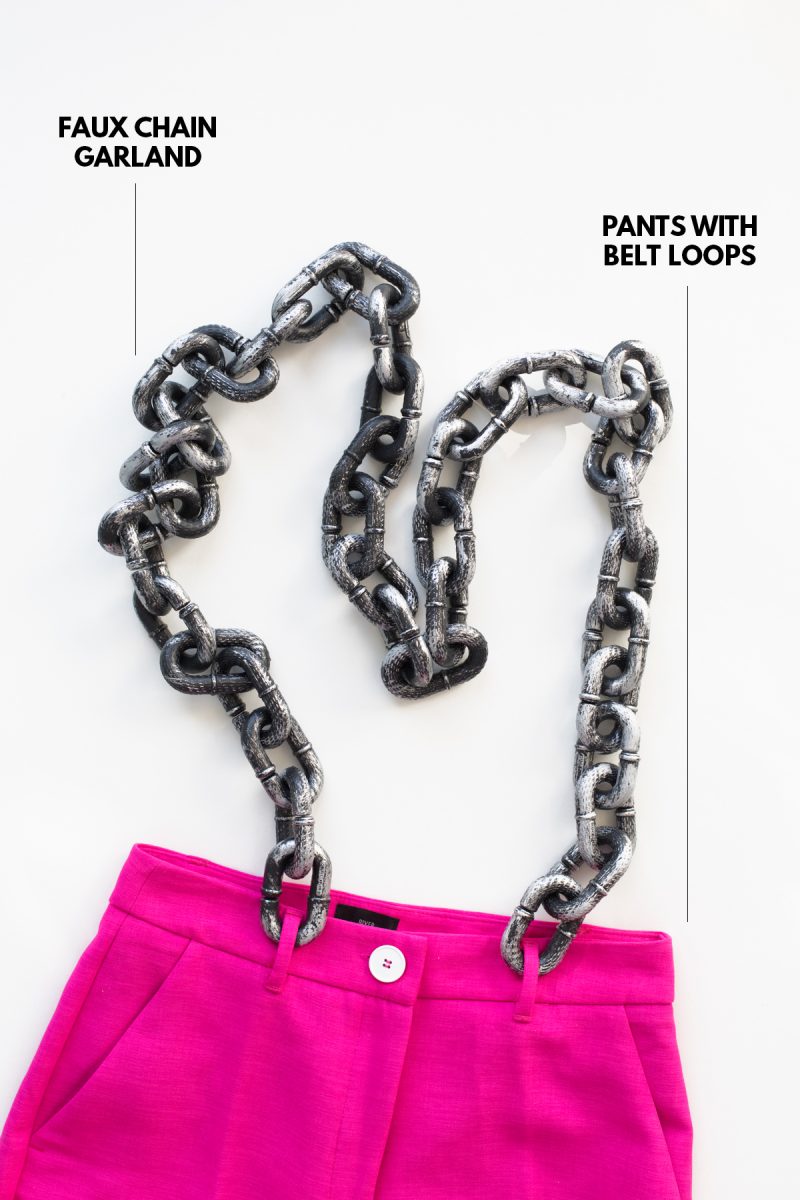 If the plastic chain garland you bought doesn't already have openings in the chain links, carefully use scissors cut a slit in the ones on the ends.
Put on your pink outfit, hook the links you cut onto the belt loops and slip it over your head to create "suspenders" and add the glasses and headband you made! Grab a box of cereal and tada, you're Franken Berry!
Count Chocula Costume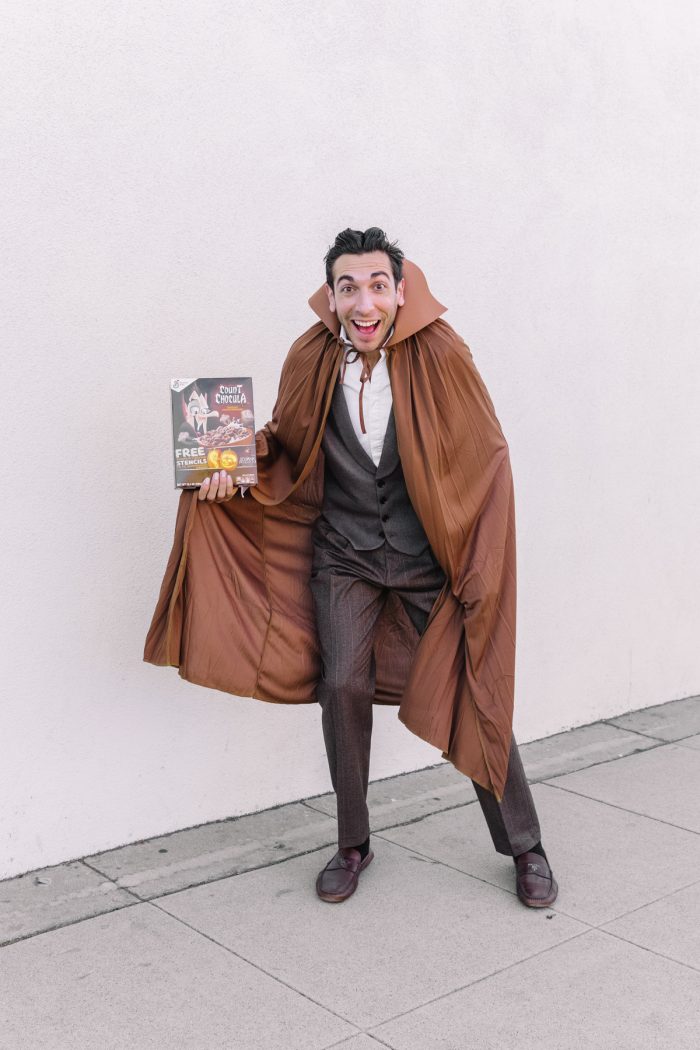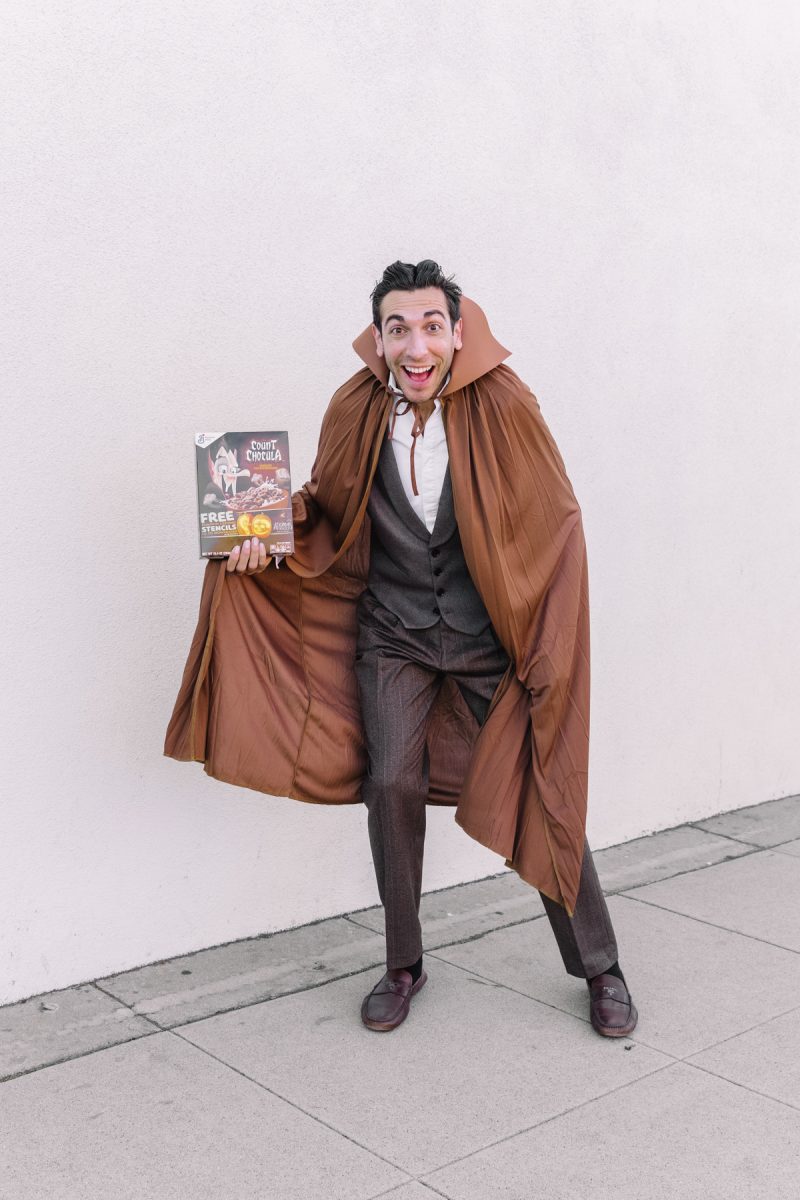 Supplies Needed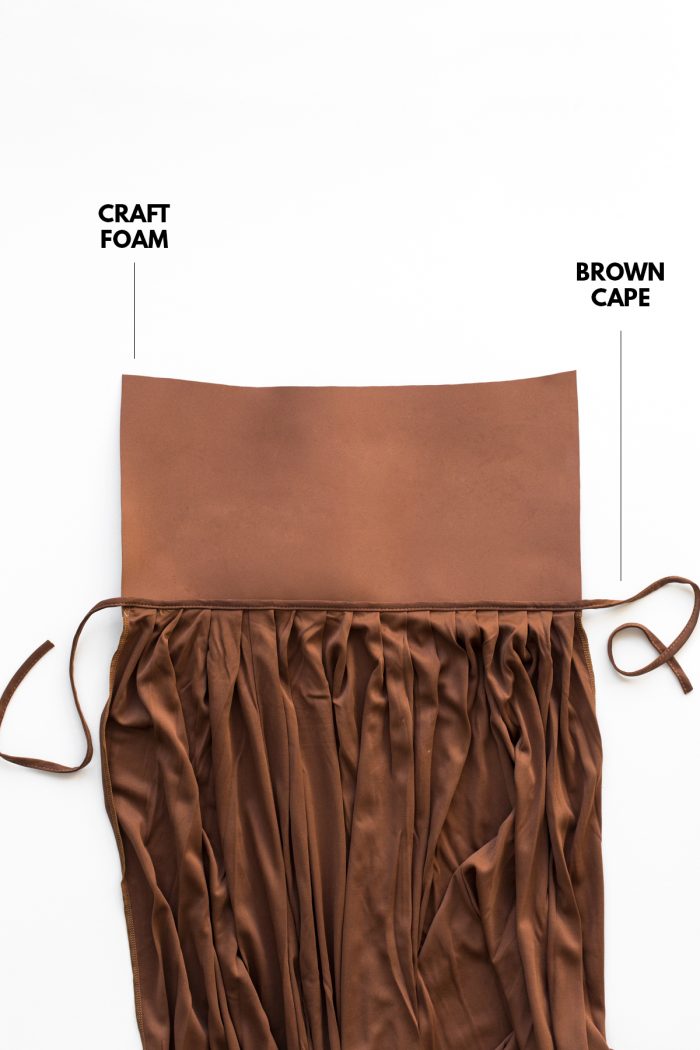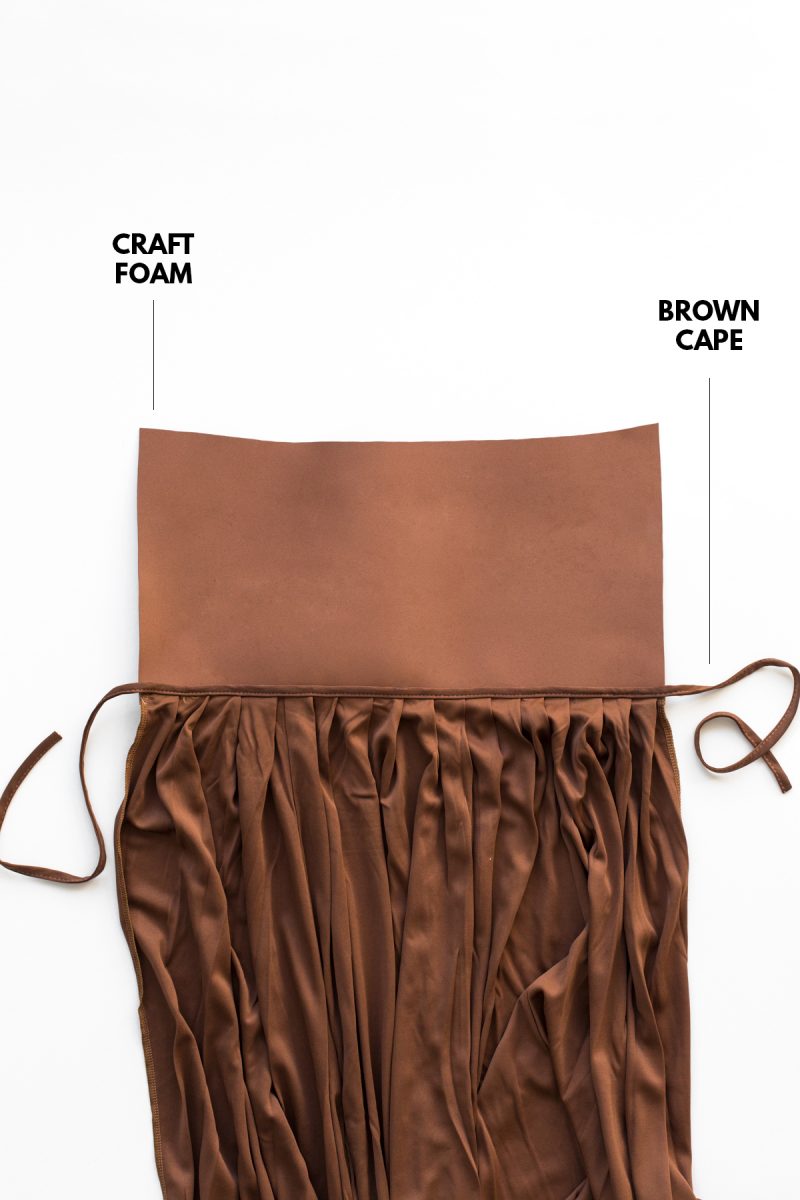 Cut your craft foam so that it is the same length as the top of your cape and 9″ tall.
Cut a slight curve into one long side of the foam.
Glue the long, straight side to the top, inside of your cape.
Put on your outfit, pop in your fangs, spike your hair in signature Count style and tie on your cape.
Fold down the top of the foam slightly to give it that exaggerated collar look. Grab a box of cereal and tada, your Count Chocula!
Boo Berry Costume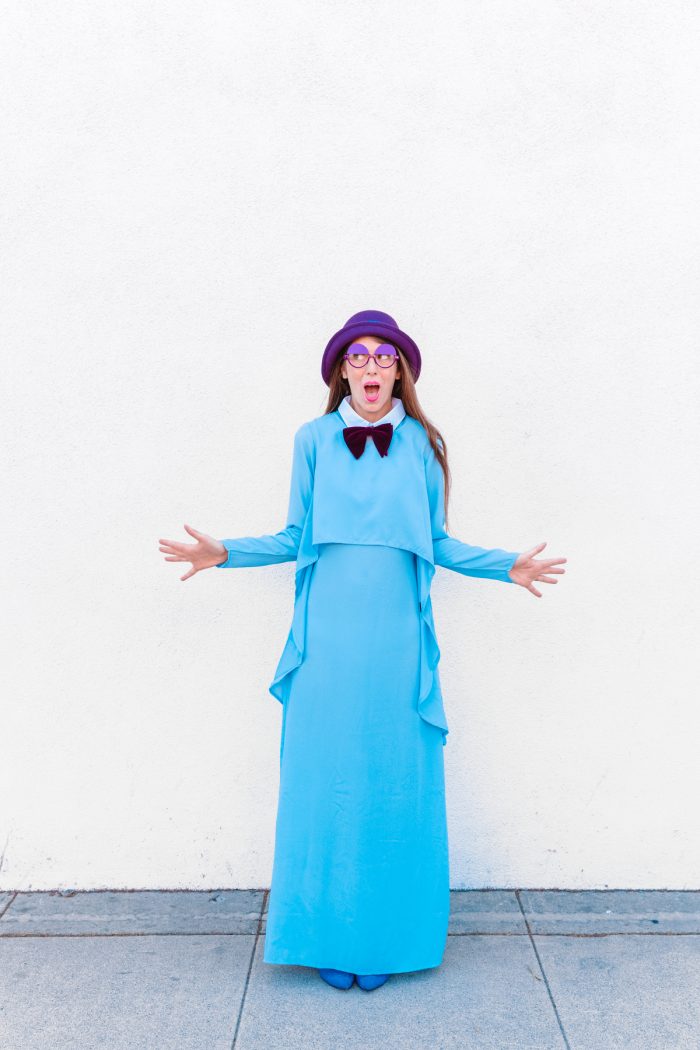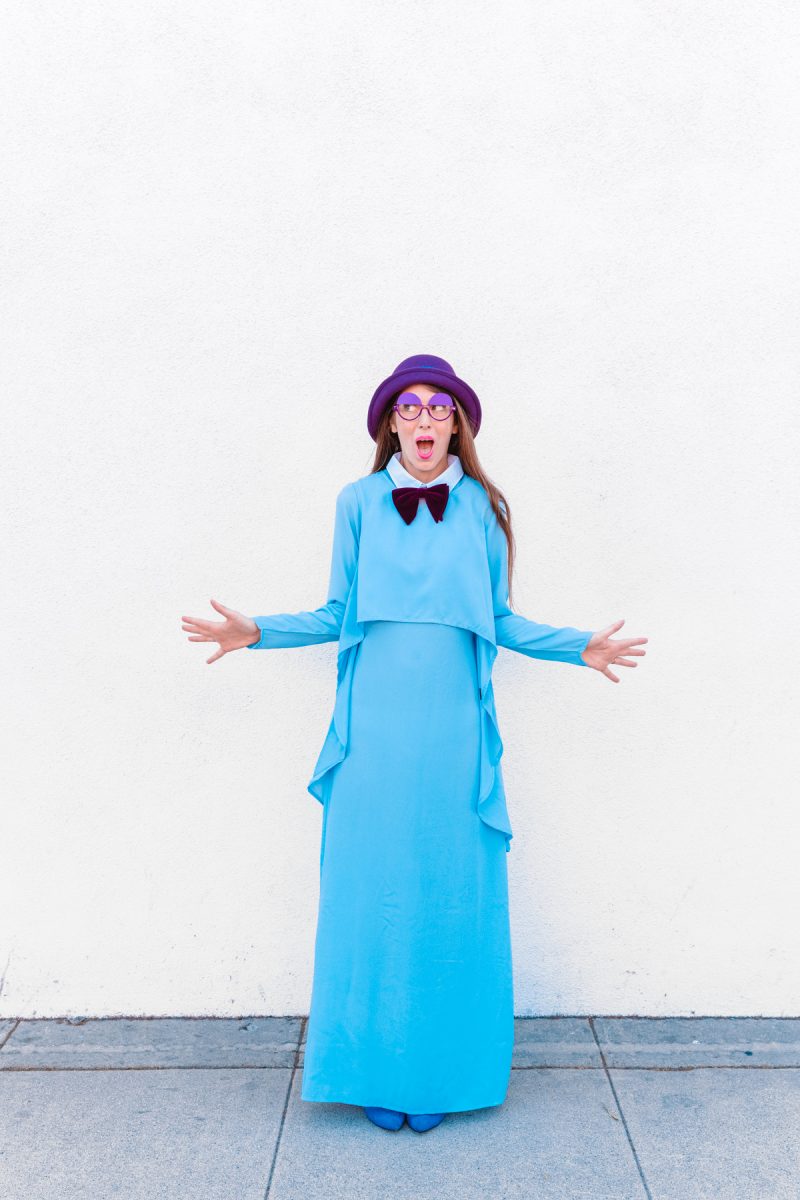 Supplies Needed
Step-by-Step Tutorial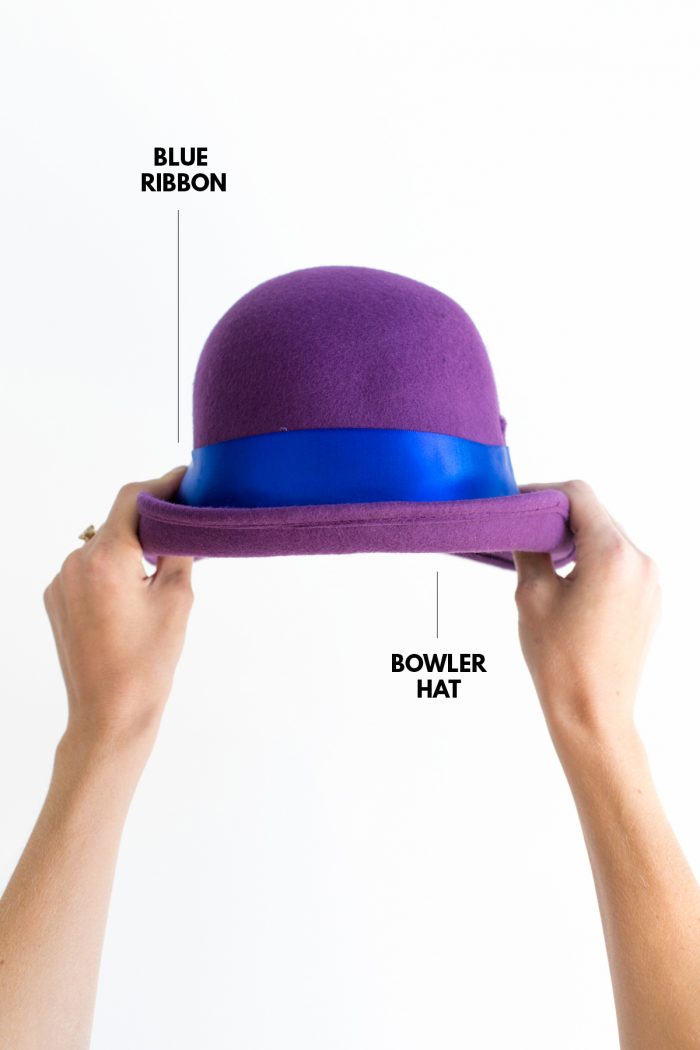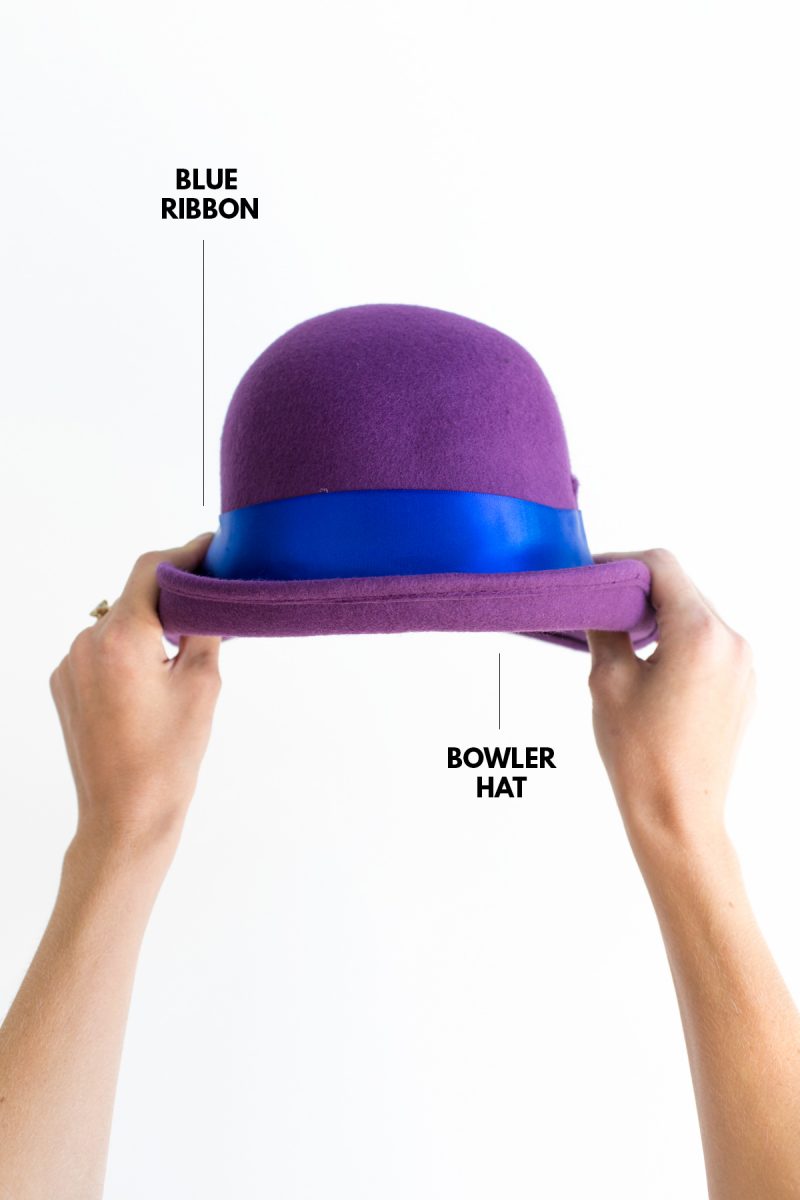 Cut a piece of blue ribbon to fit around the base of your bowler hat. Hot glue in place.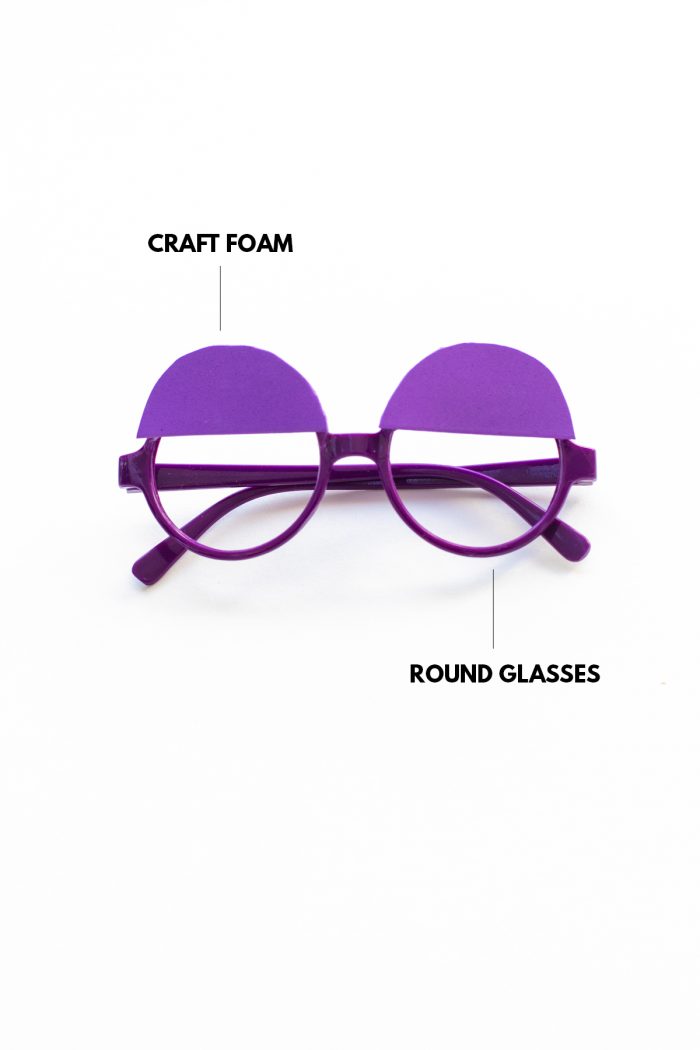 Trace the outline of one of your glasses' lens onto the foam. Cut out and cut in half. Glue each half to the top of your glasses!
Put on your blue outfit, your purple bowtie, hat and glasses! Grab a box of cereal and tada, you're Boo Berry!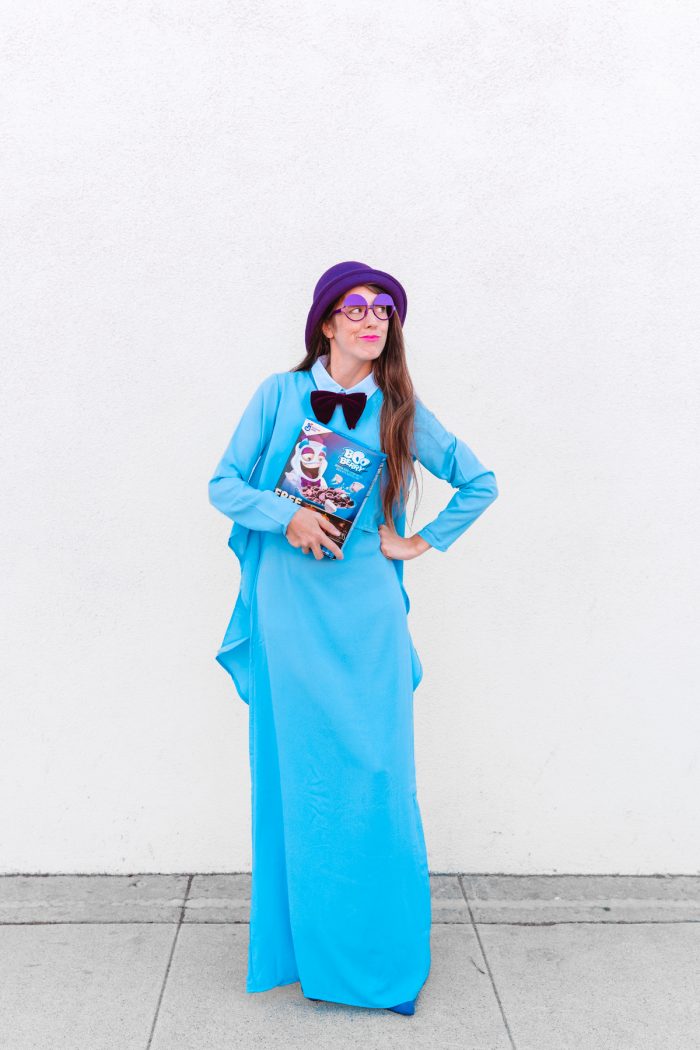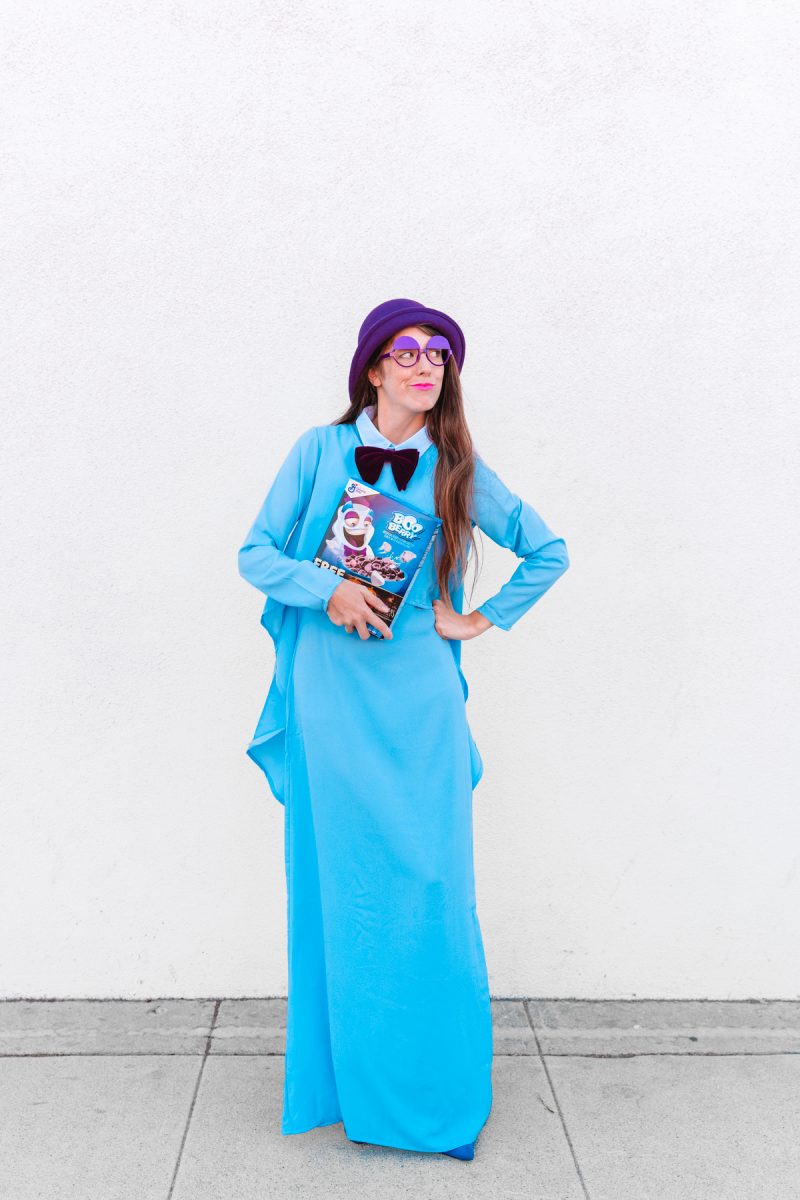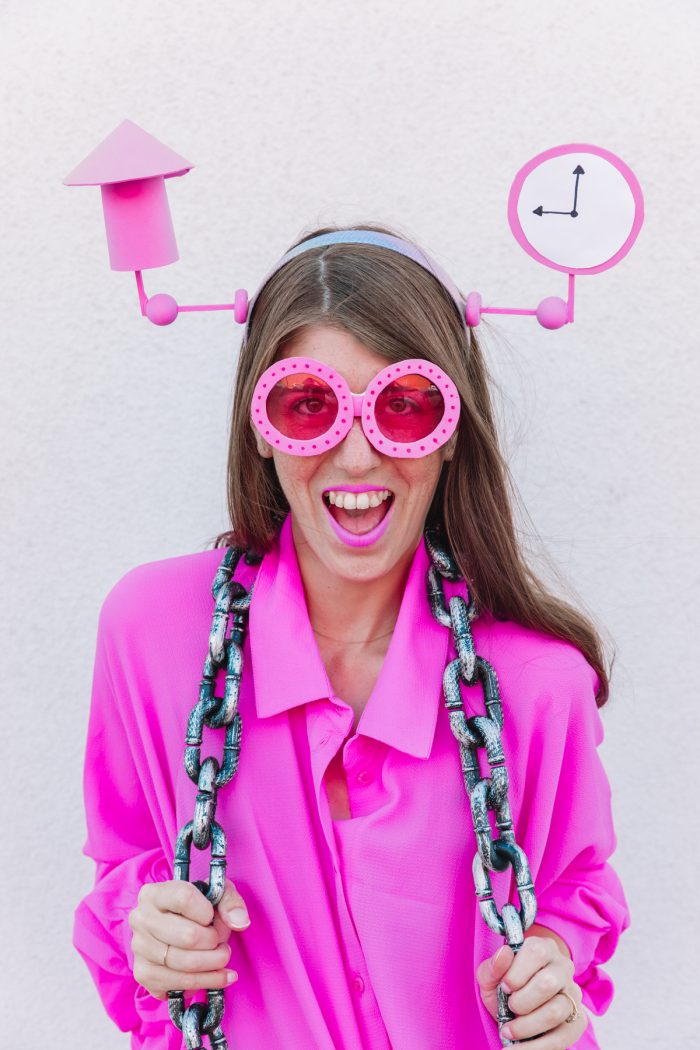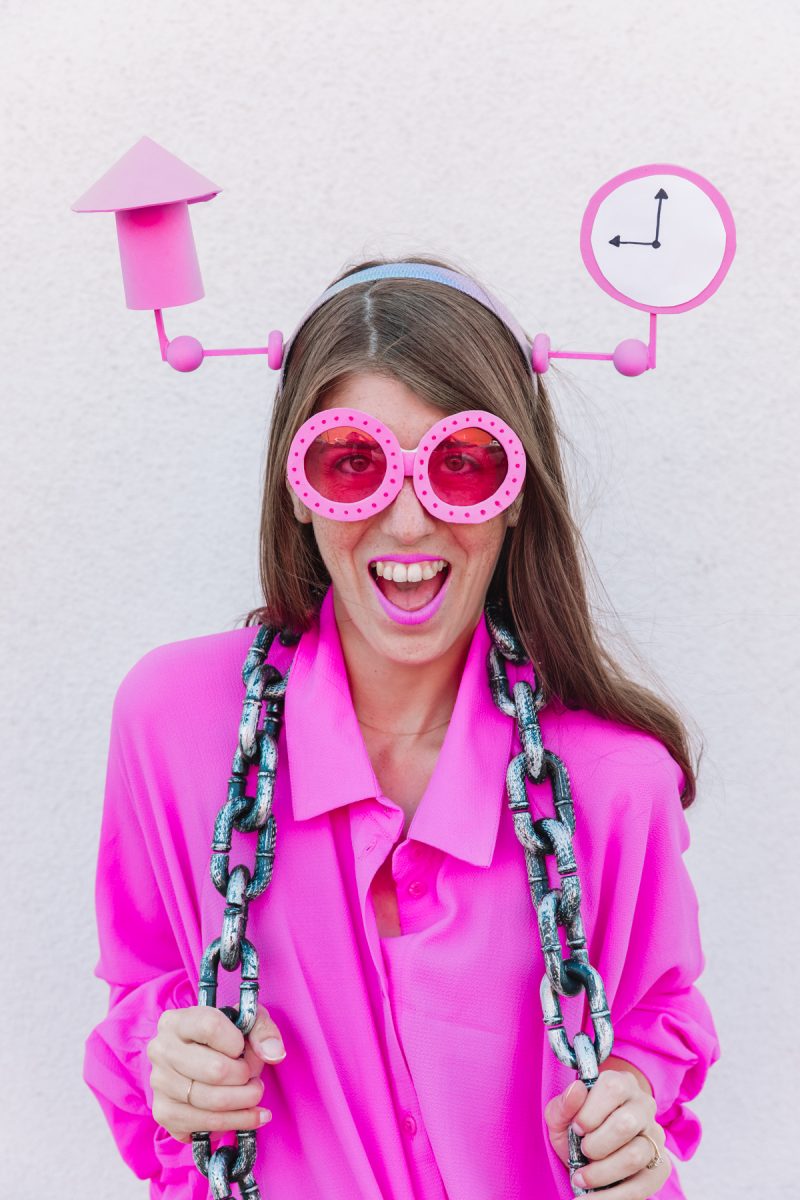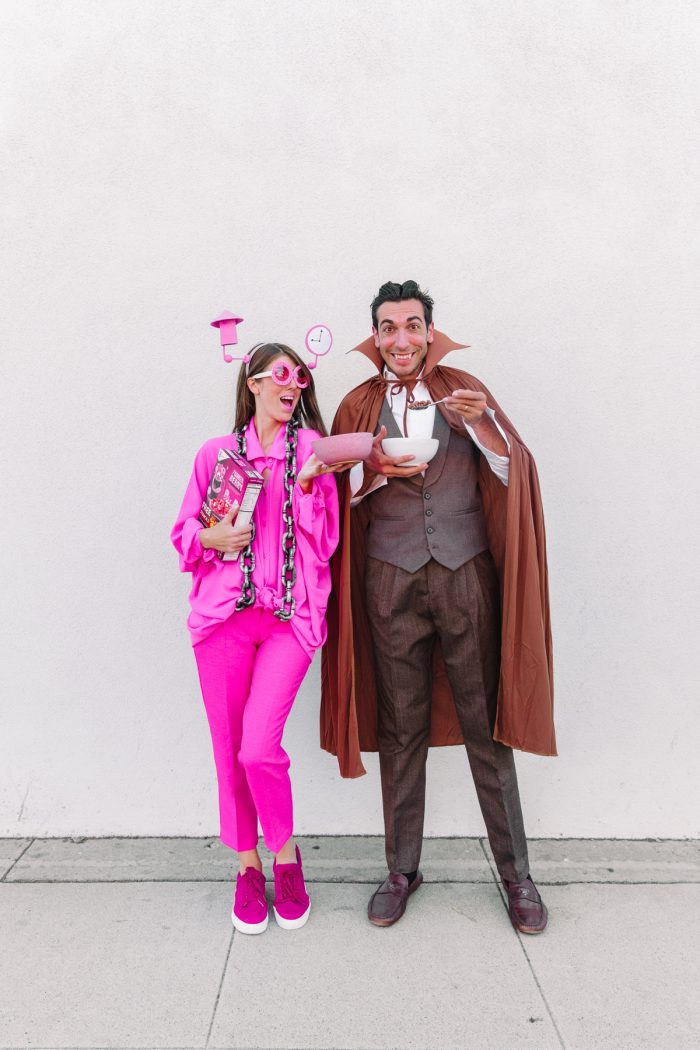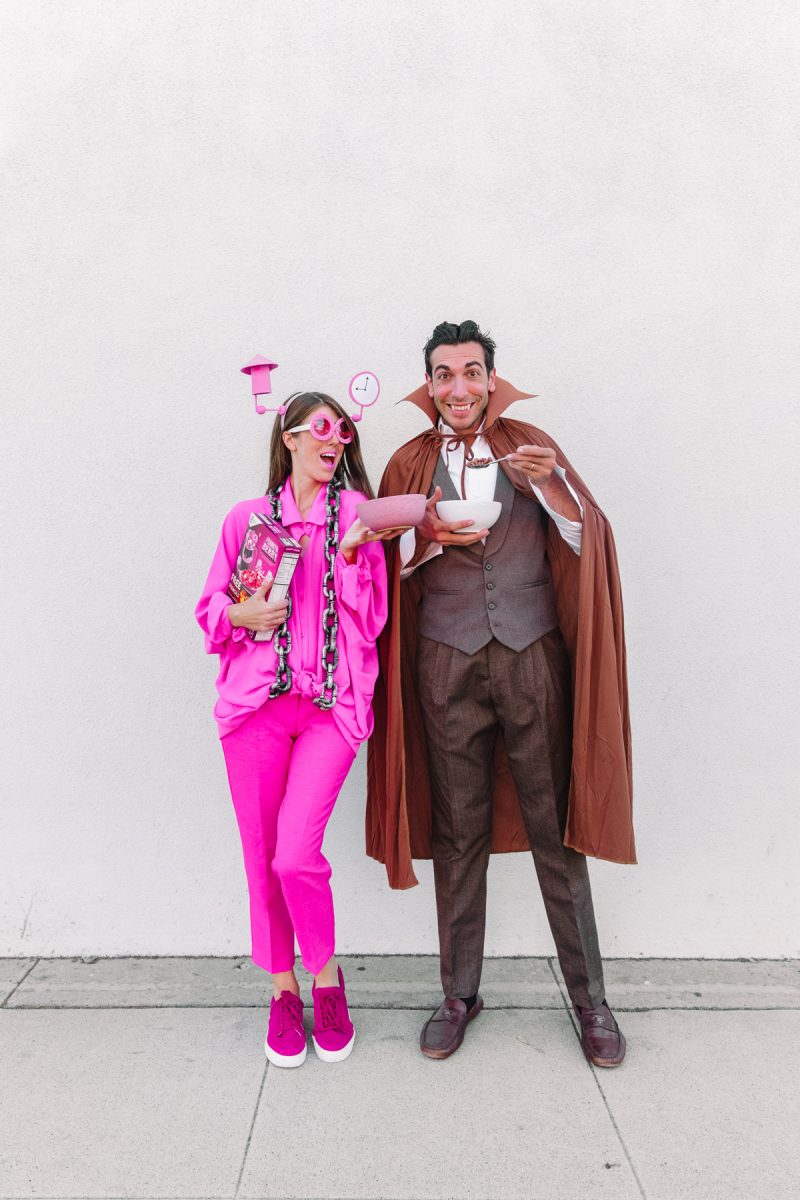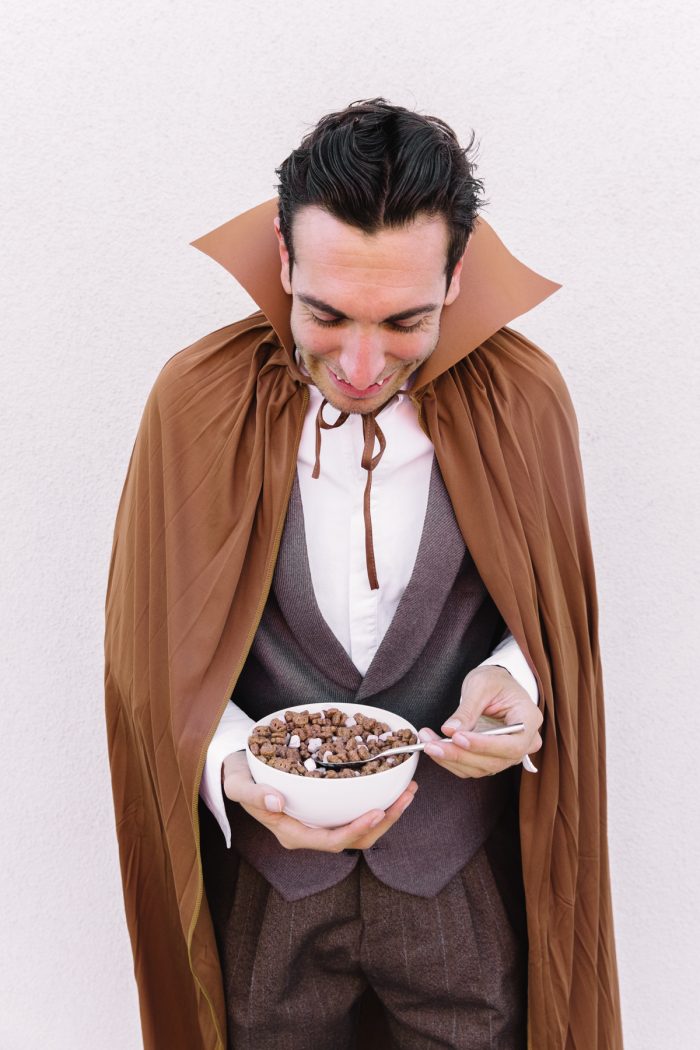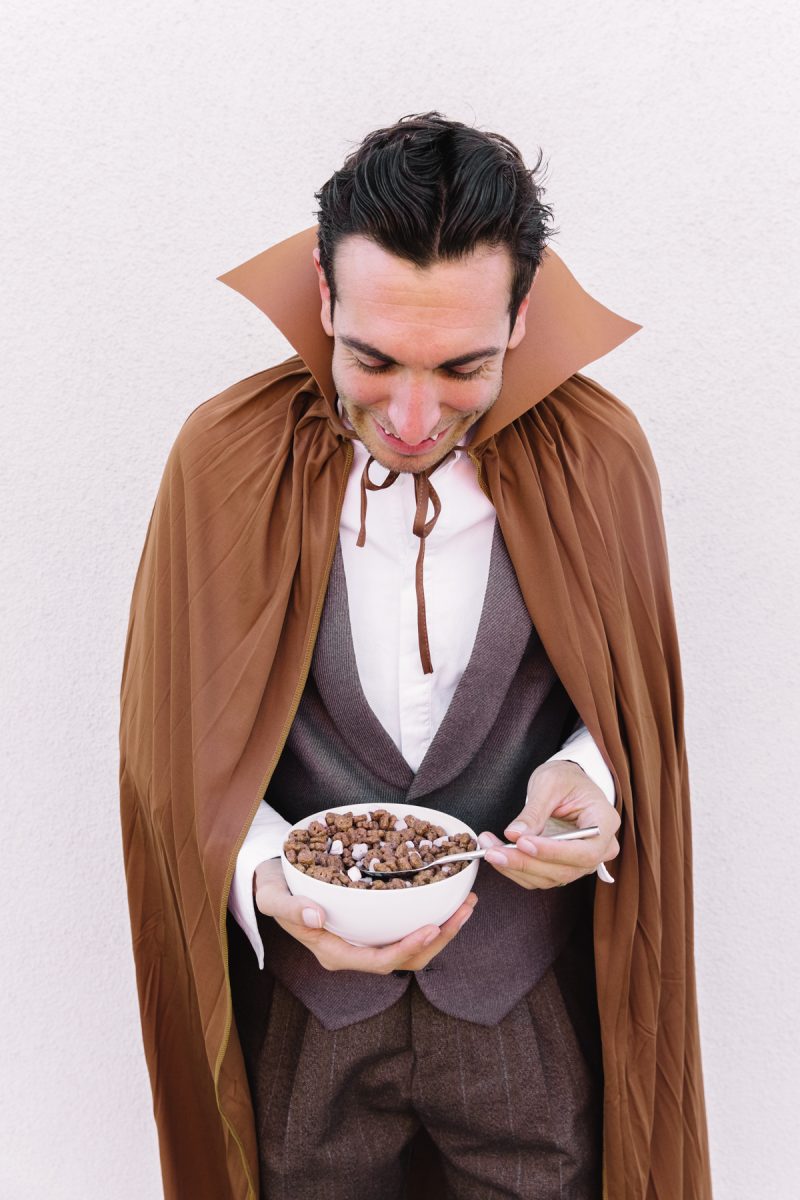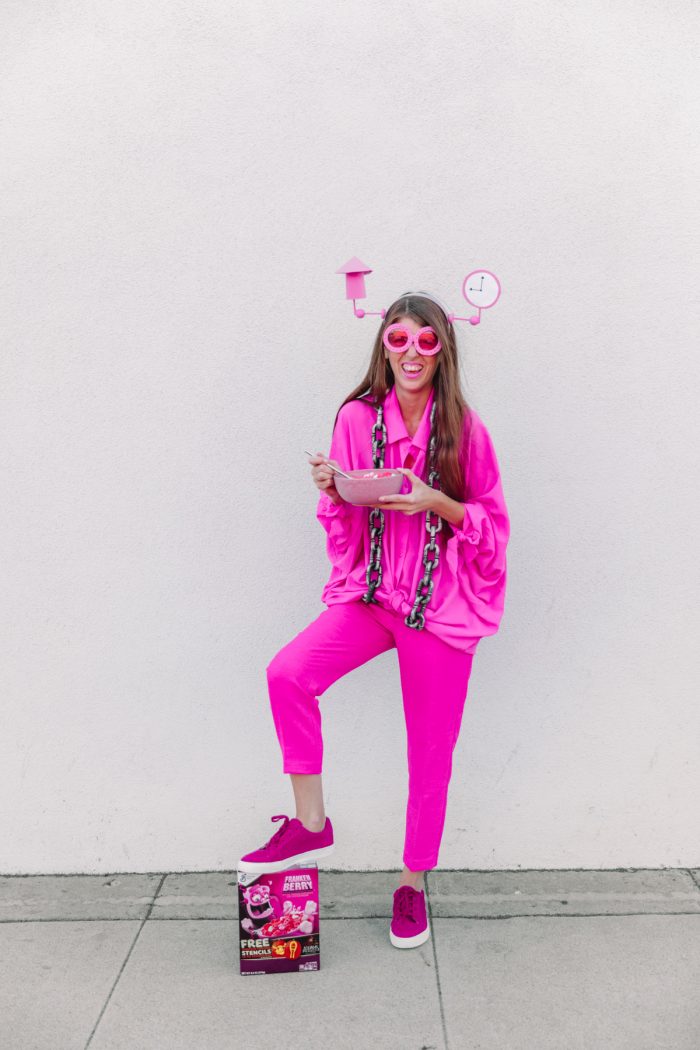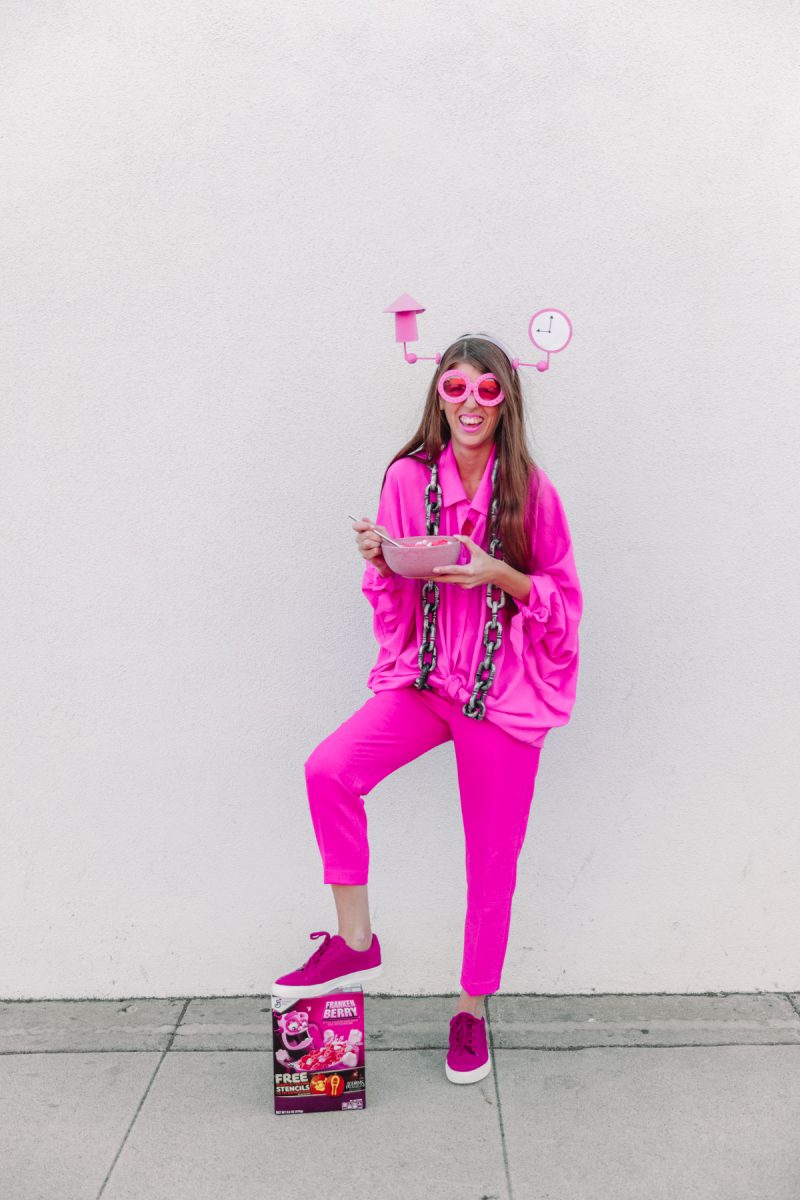 Photos by Jeff Mindell
Do you have a favorite one of these cereals!? So much nostalgia wrapped up in these boxes (they've been around for 40 years!!!)… go grab one of the new boxes at your local grocery store!!! Thank you to General Mills Cereal for giving me this fun Halloween challenge!!!! And to add more Monsters fun to your Halloween, check out www.monstercarving.com!
This post was created in partnership with General Mills Cereal. All content and opinions are that of my own! Thank you for supporting the sponsors that keep the Studio DIY party going! Read more about my editorial policies here.