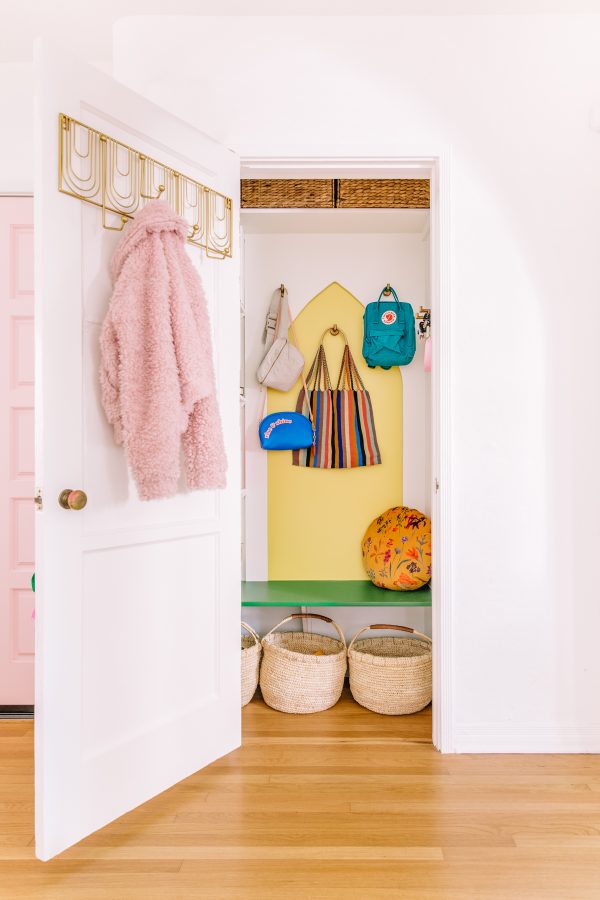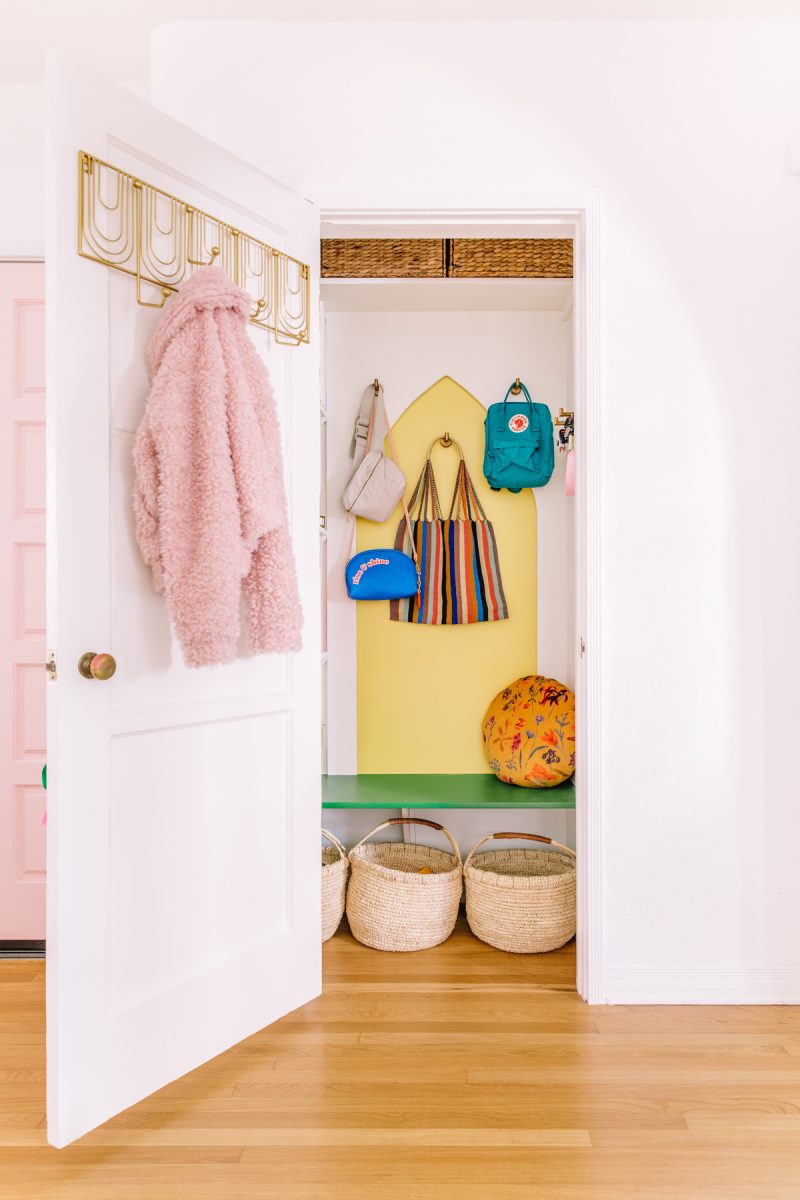 This post is sponsored by Ace Hardware. I received compensation and product, but all opinions and content are my own.
This entry closet has been the bane of my existence since the day we moved into our house! We don't have an entryway or mudroom, or really any entry space. Our front door opens right into the center of our small living room and it's something that you don't realize is inconvenient until you live in it.
Since coming to that realization, it has been my mission to turn our entry closet into a miniature mudroom and we finally DID. The previous set up, with just a rod and one oddly placed shelf was not working for us, and the drawer unit we shoved in there was just collecting junk and leaving us with little room for important things like shoes and our collection of reusable bags.
So when Ace Hardware approached me about tackling a project with their newest Clark+Kensington paint palettes, I knew this HAD to be the spot to test 'em in. And here we are!! I'll walk you through how we turned this space into a functional area for our family, and how we gave it some character and personality with color.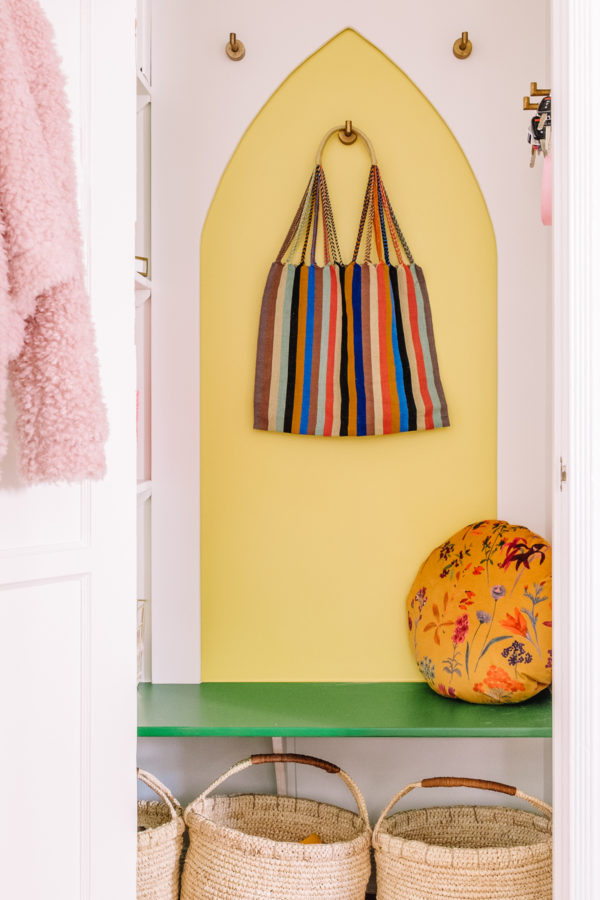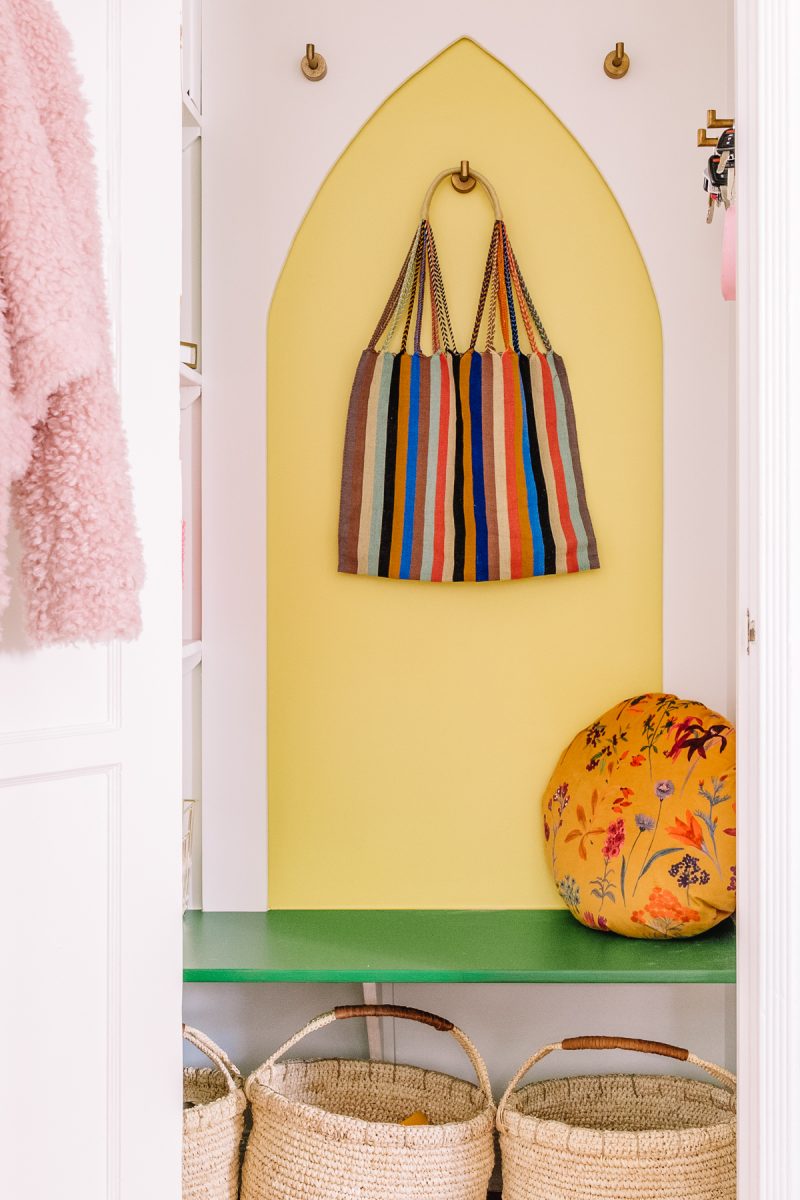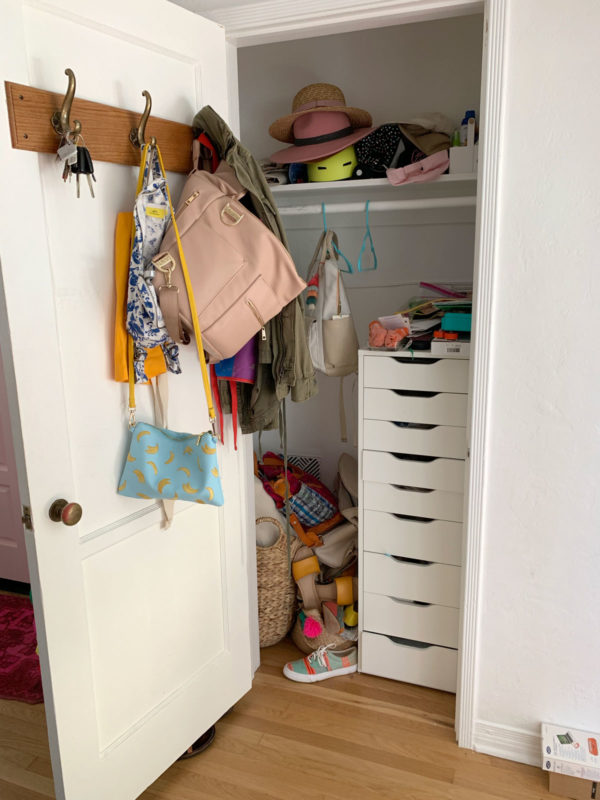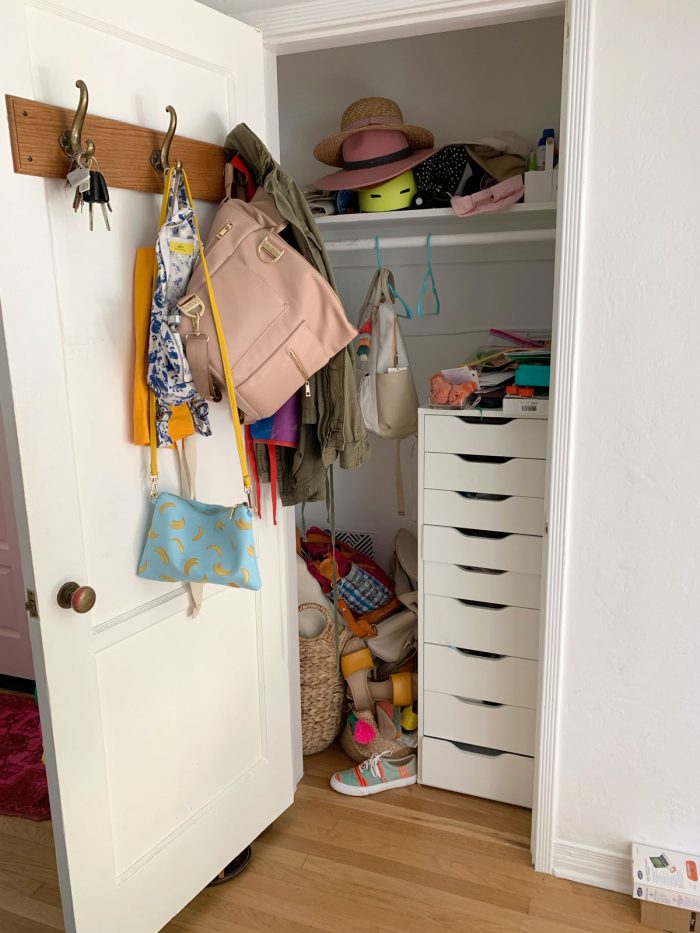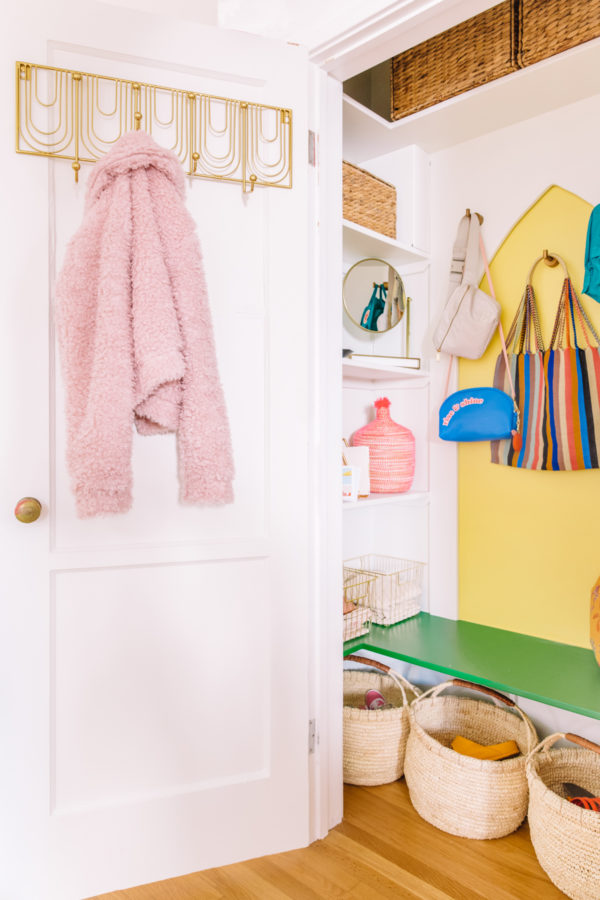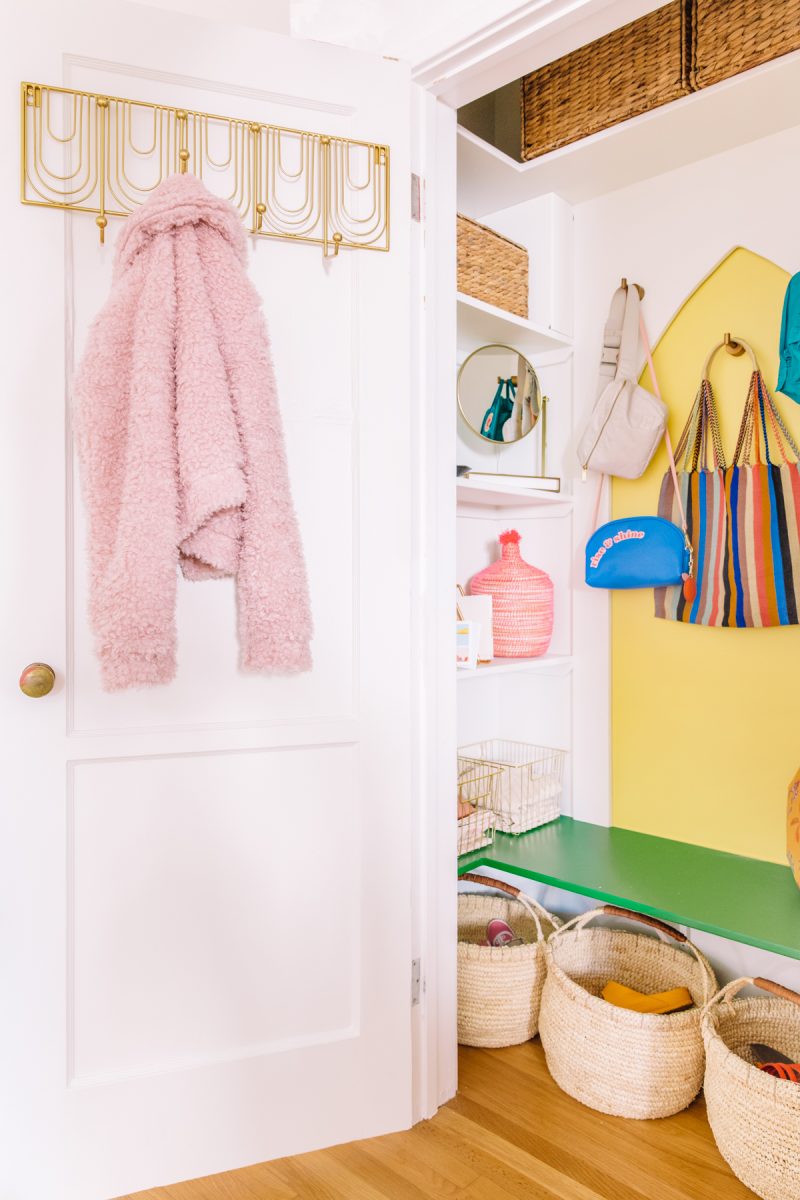 Priorities For A Functional Closet
Look at that before and after!! Mildly embarrassing to put that "before" on the Internet. Ha!
When I was thinking about the new space, and what my priorities were for it, I landed on the following:
A bench for Arlo to use to put his shoes on, with shoe storage for each family member underneath to keep things organized
Shelves for key things like mail, sunglasses and sunscreen
Hooks for keys, bags and coats… and plenty of them
Some element of character, to tie into the original details throughout the rest of the house
I started sketching out ideas and loved the thought of adding some shelves into the space that extended beyond the door, maximizing that awkward spot. I also decided to raise the existing upper shelf so that we maximized our hook storage. And to add that element of character, I decided "What's ONE more arch!?" and thought it would be super fun to make a mini replica of the arches in the room inside here. Like a secret surprise when you open the door!
We brought in our amazing handyman, Oscar, to help us bring this whole thing to life and once he confirmed that my sketches could actually be brought to reality, it was time to pick paint colors!!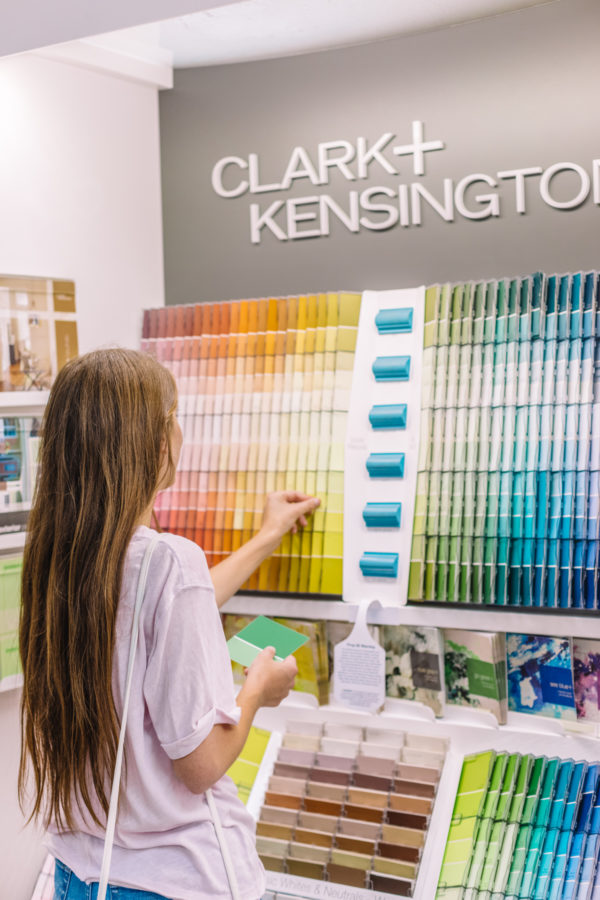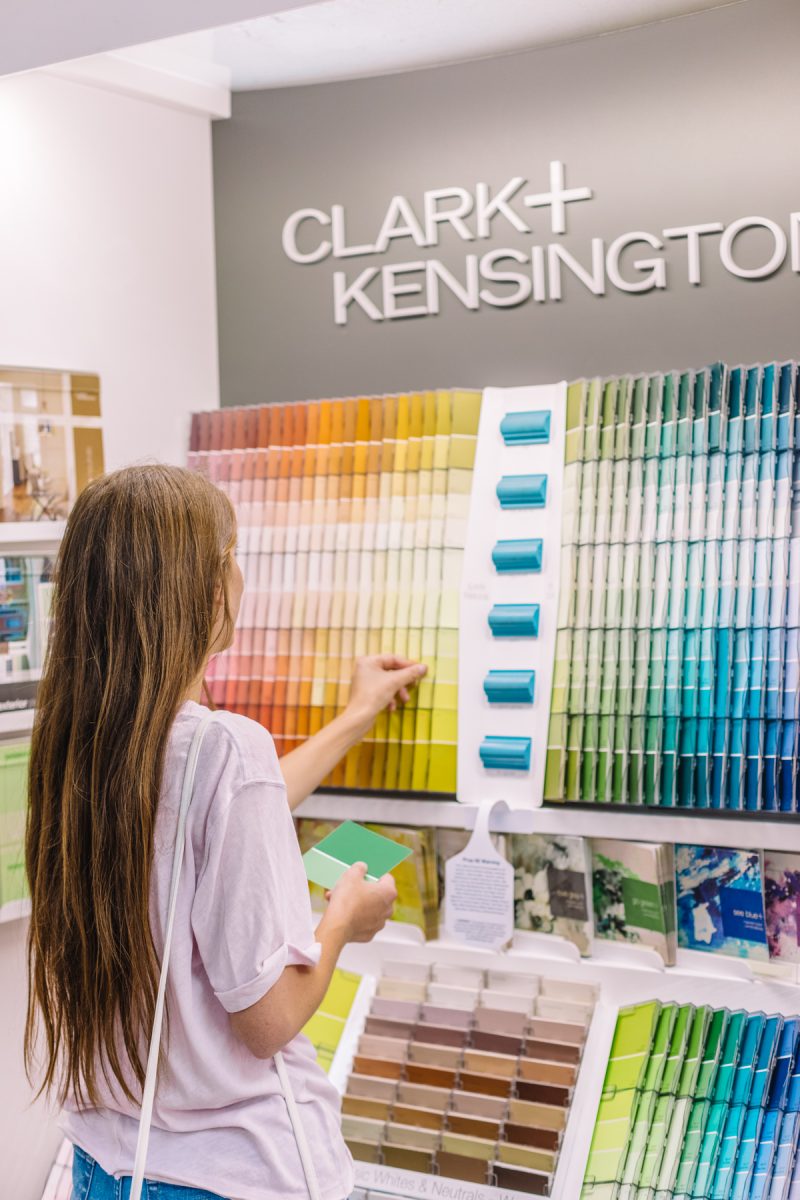 Adding Color to Small Spaces
I went to the local Ace Hardware to see some of the new palettes in person. (Did you know most Ace Hardware stores are independently owned by local entrepreneurs in your community!? Pretty cool.) I zeroed in on Clark+Kensington's new Natural Home palette which is bright and sunny and incorporates a lot of botanical hues. I ended up going with "White Opal CW-C6" for the base of the closet, with "Citron 21B-5" behind the arch and "On The Green 29C-7" for the bench to add two bold pops of color!
A lot of people shy away from using color in a small space, but I think the opposite! It's a great way to go even bolder with color because it won't be as overwhelming nor as big of a commitment. Closets and powder rooms are the perfect spaces to have some fun with your decorating!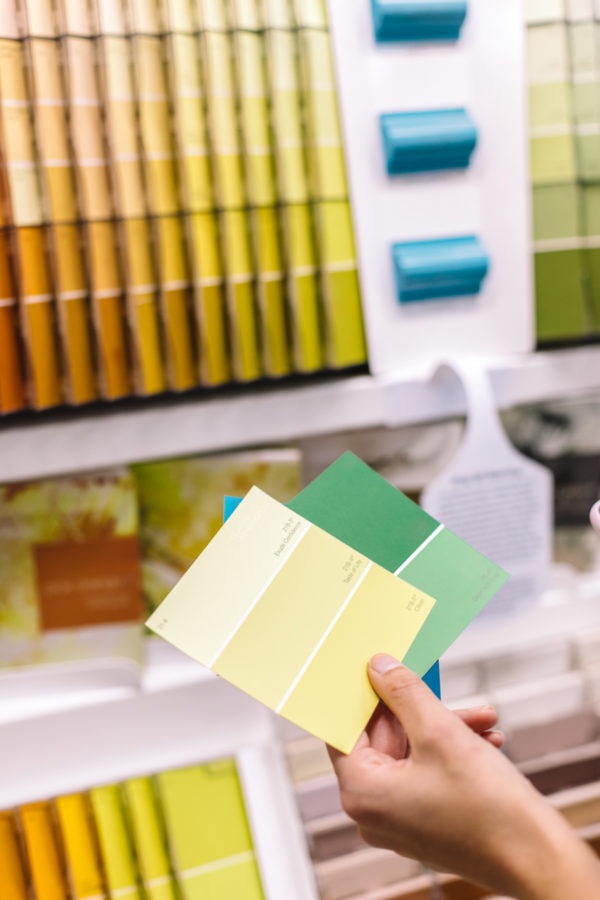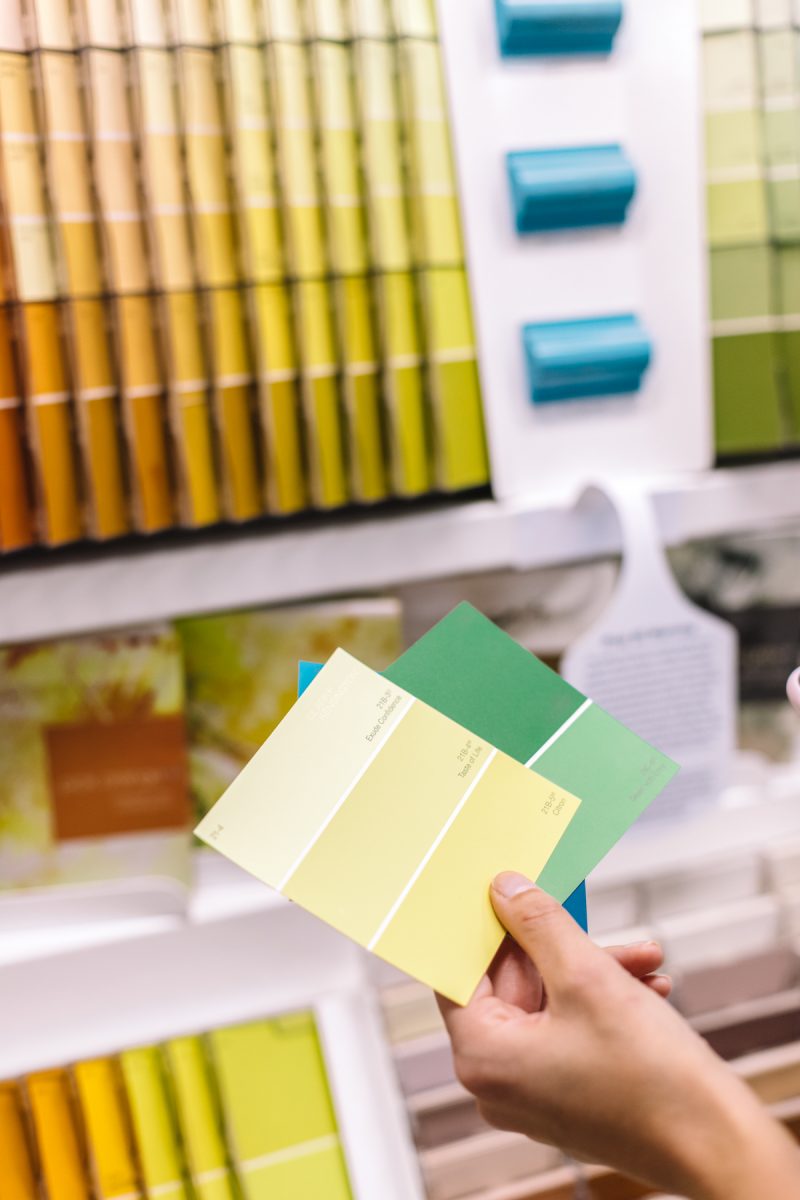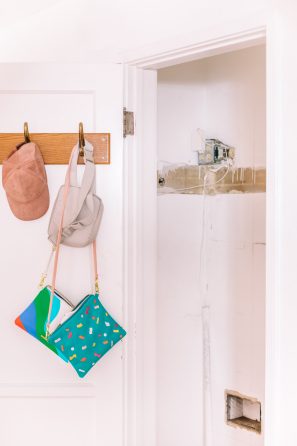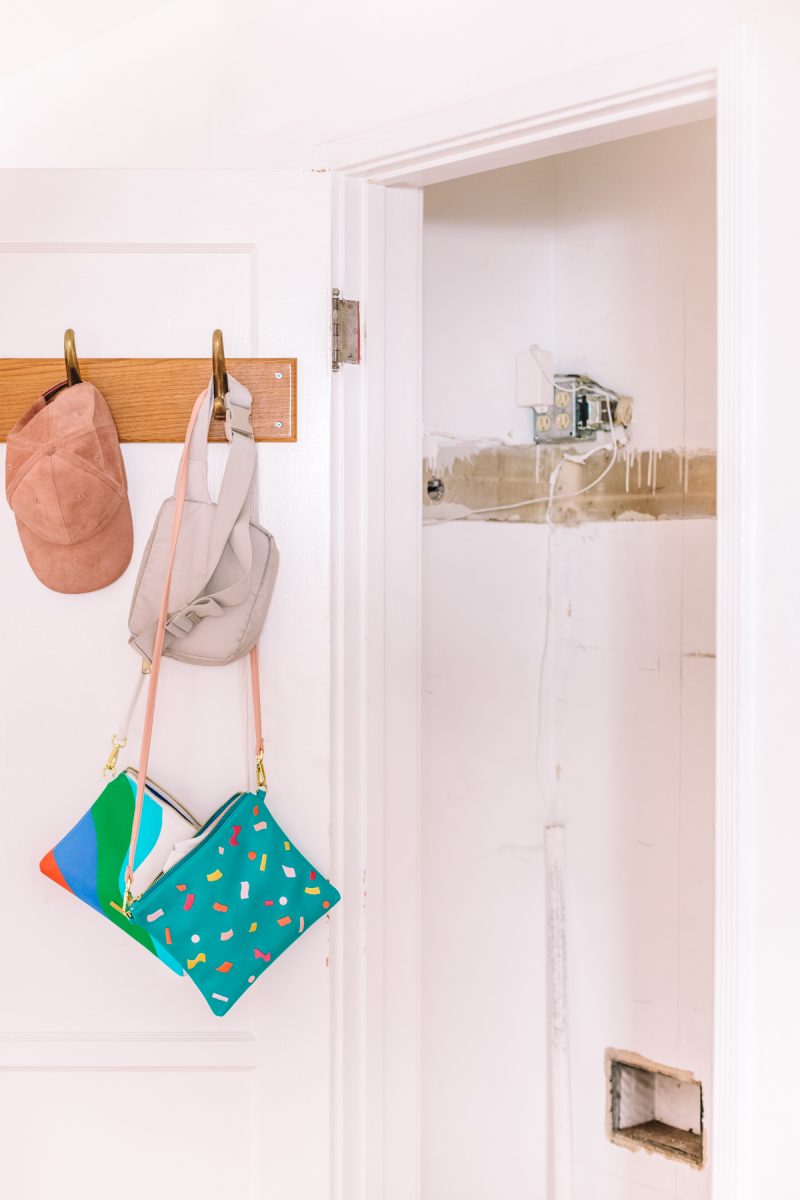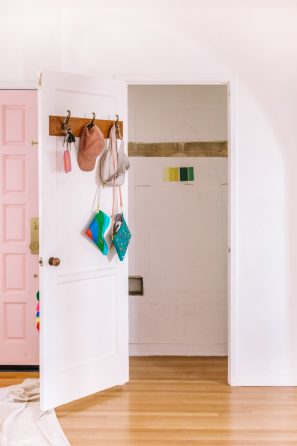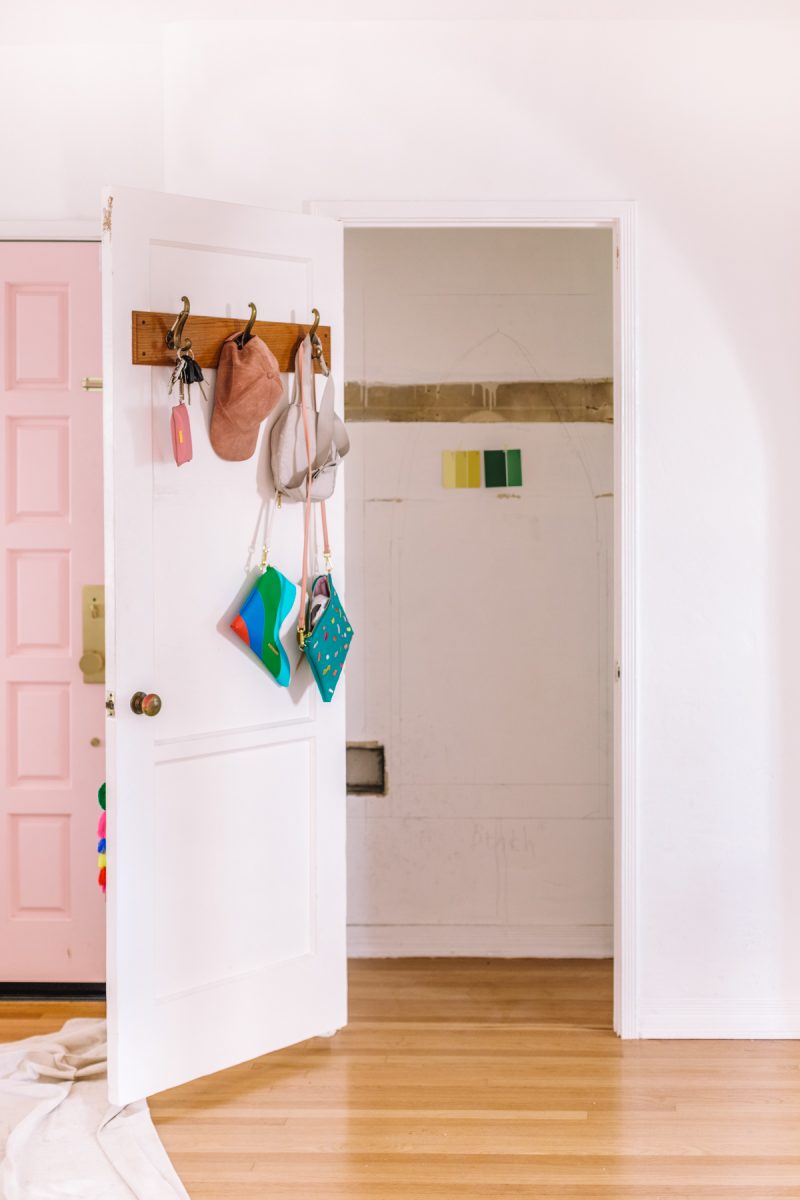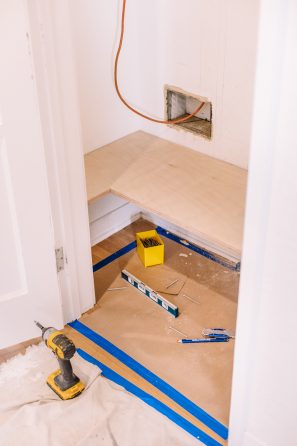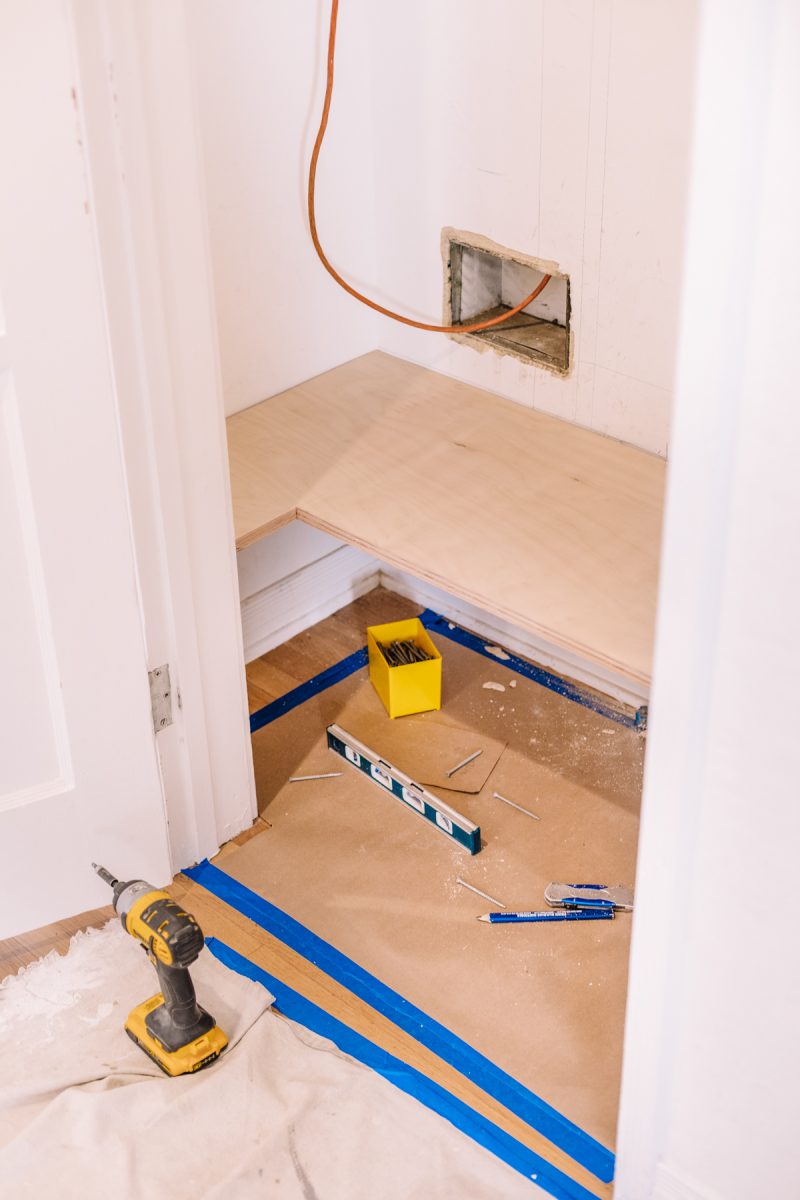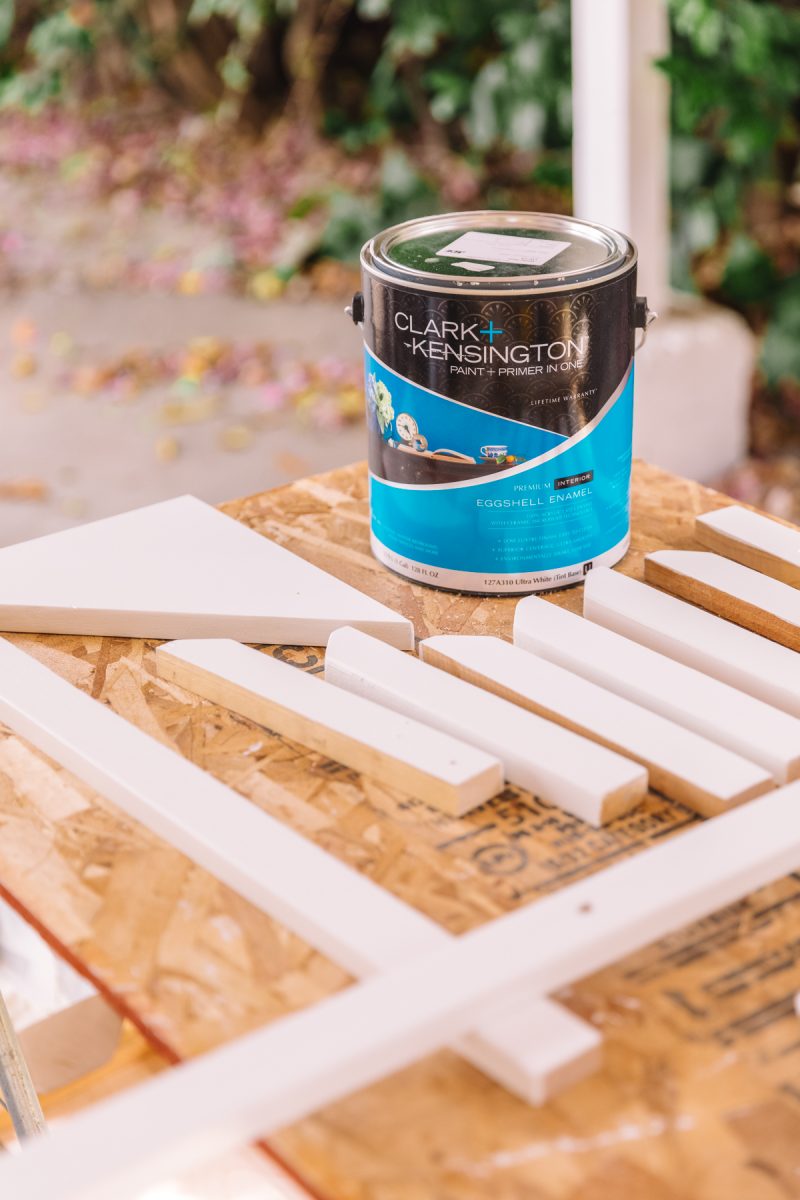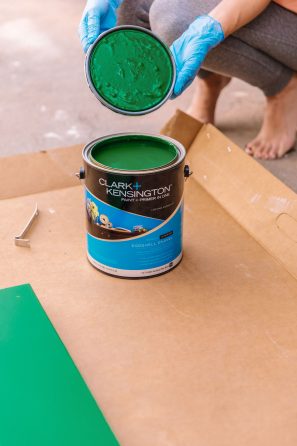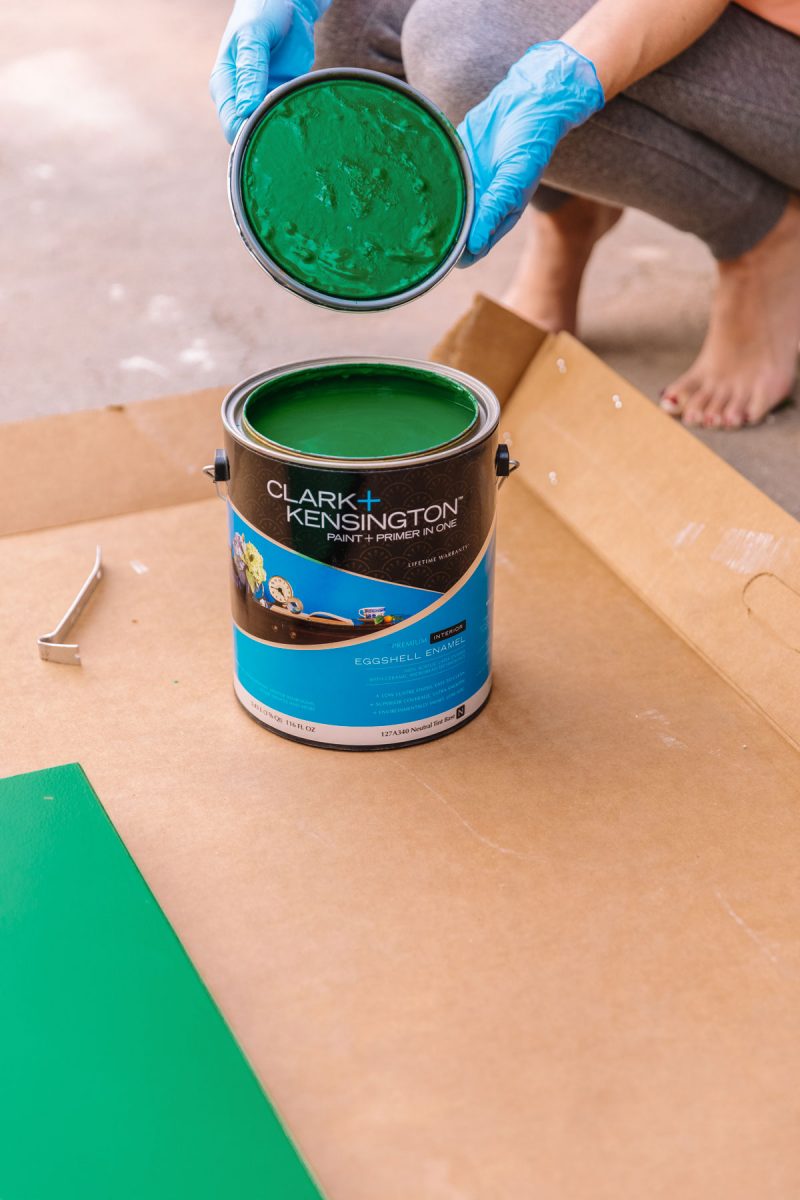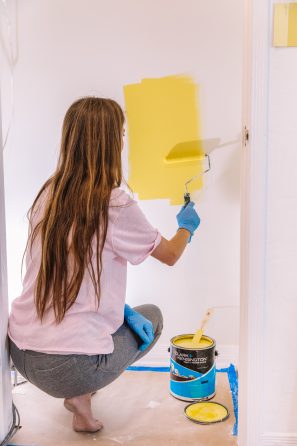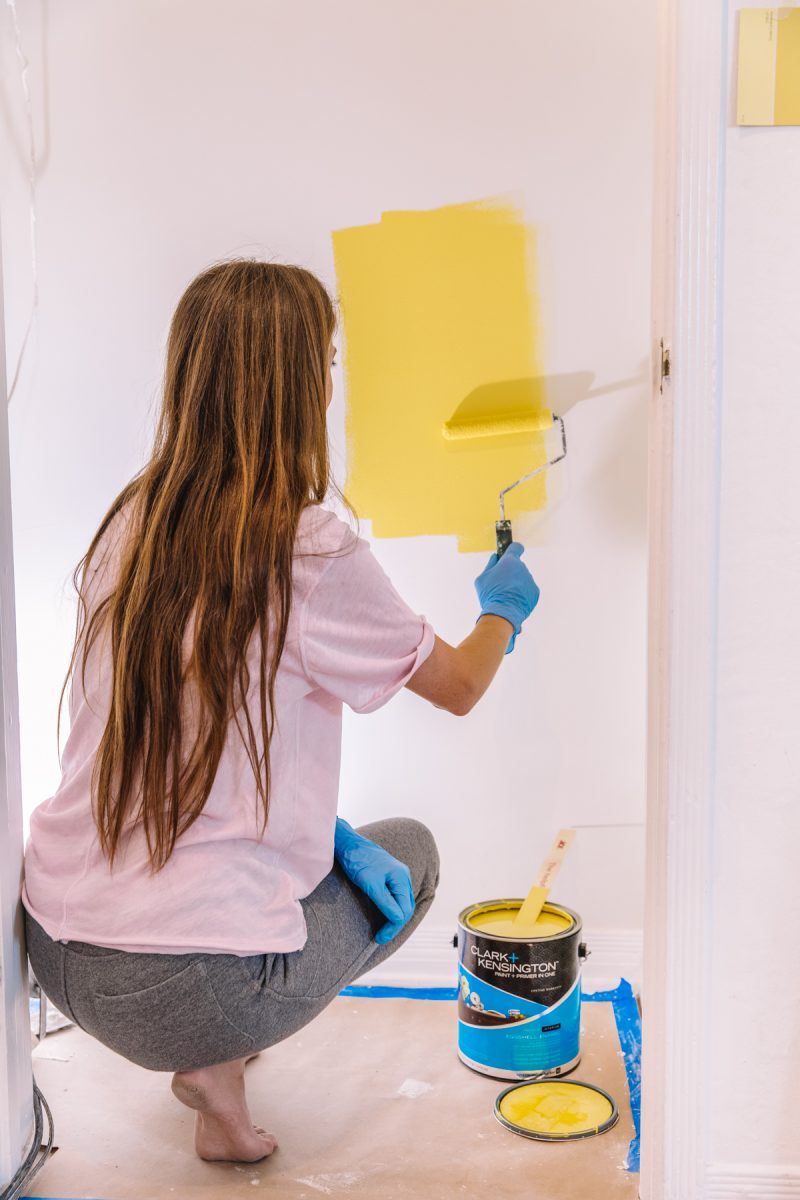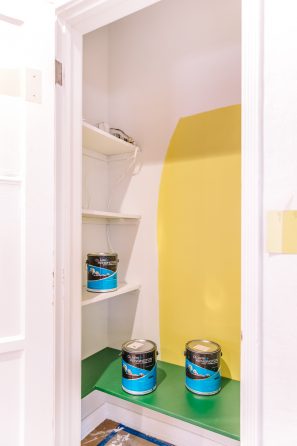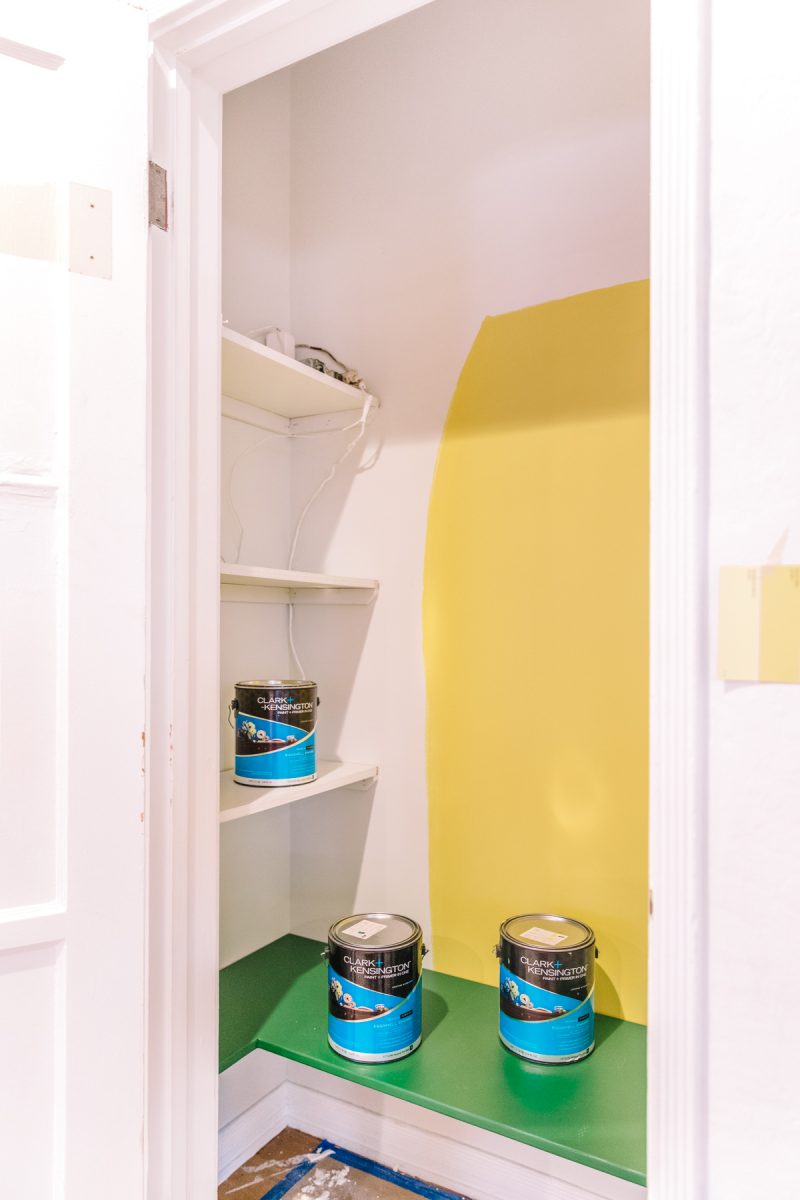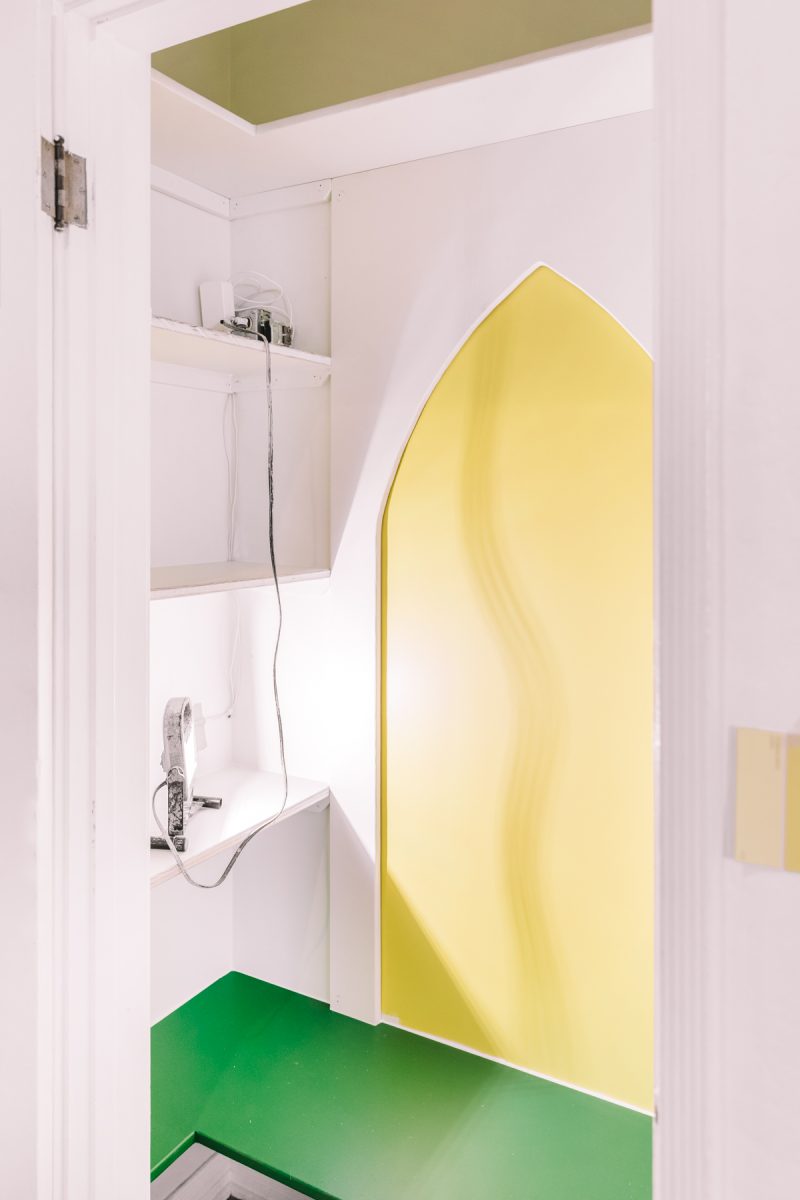 Adding Character + Shelving To The Closet
We brought in an electrician to remove all the old wiring, and then Oscar started by removing all the old shelving and rods, followed by patching and smoothing out the walls before painting them with White Opal.
We did a light sketch of the new plan, to mark where the bench, shelves and arch would go. Then he measured, cut and installed the bench and shelving. For pieces like this, it's easiest to paint before you put them in the space! Clark+Kensington is an all-in-one paint and primer so there's no separate primer required! "On The Green" is such a great punch-y green and I love how it breaks up the white!
Once those were in place, we painted the wall that would fall inside the arch with the warm "Citron" color. Oscar then custom cut and installed the arch to perfectly match our existing ones!! He used 5/8″ wood for all of the pieces in the closet.
Finally, we touched up the paint and Oscar surprised us with a removable box to hide the remaining (ugly) outlet that we had to keep in the closet! Then it was time to fill out the functionality of our new space!!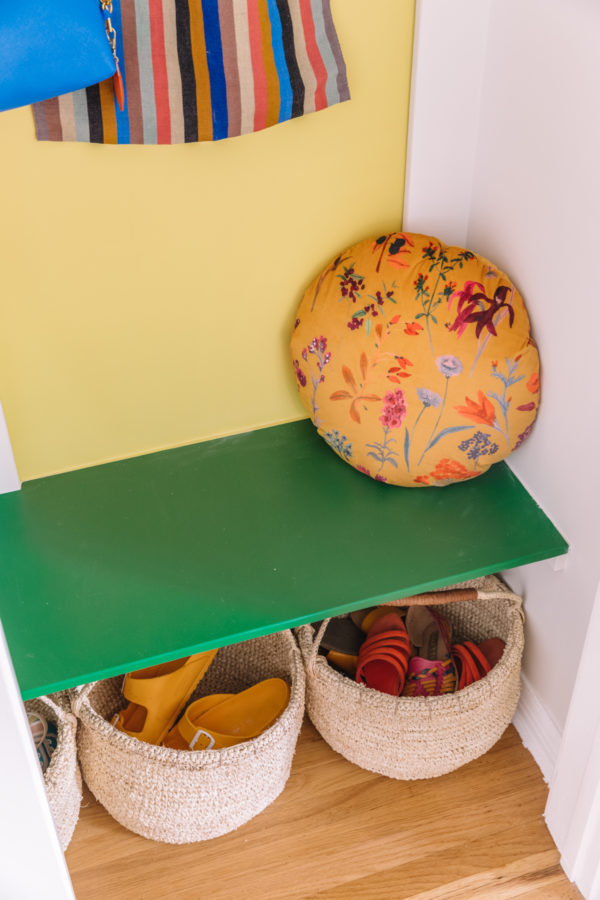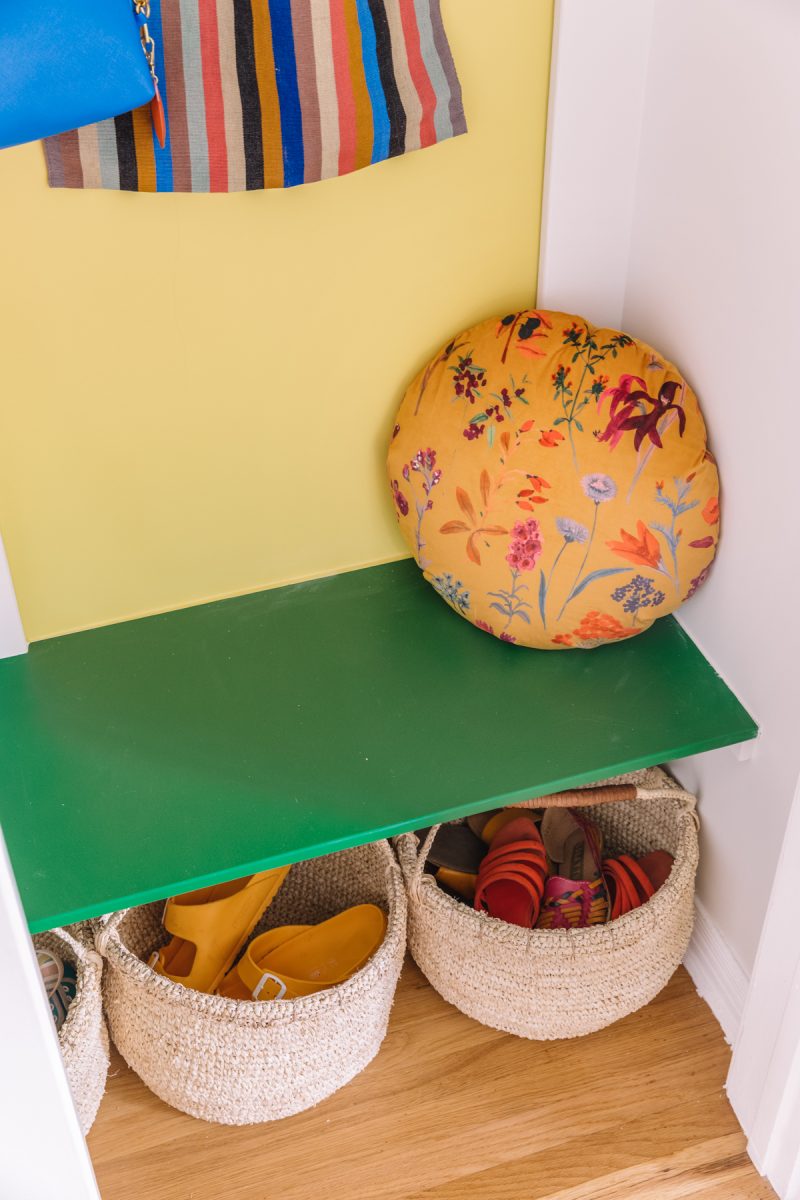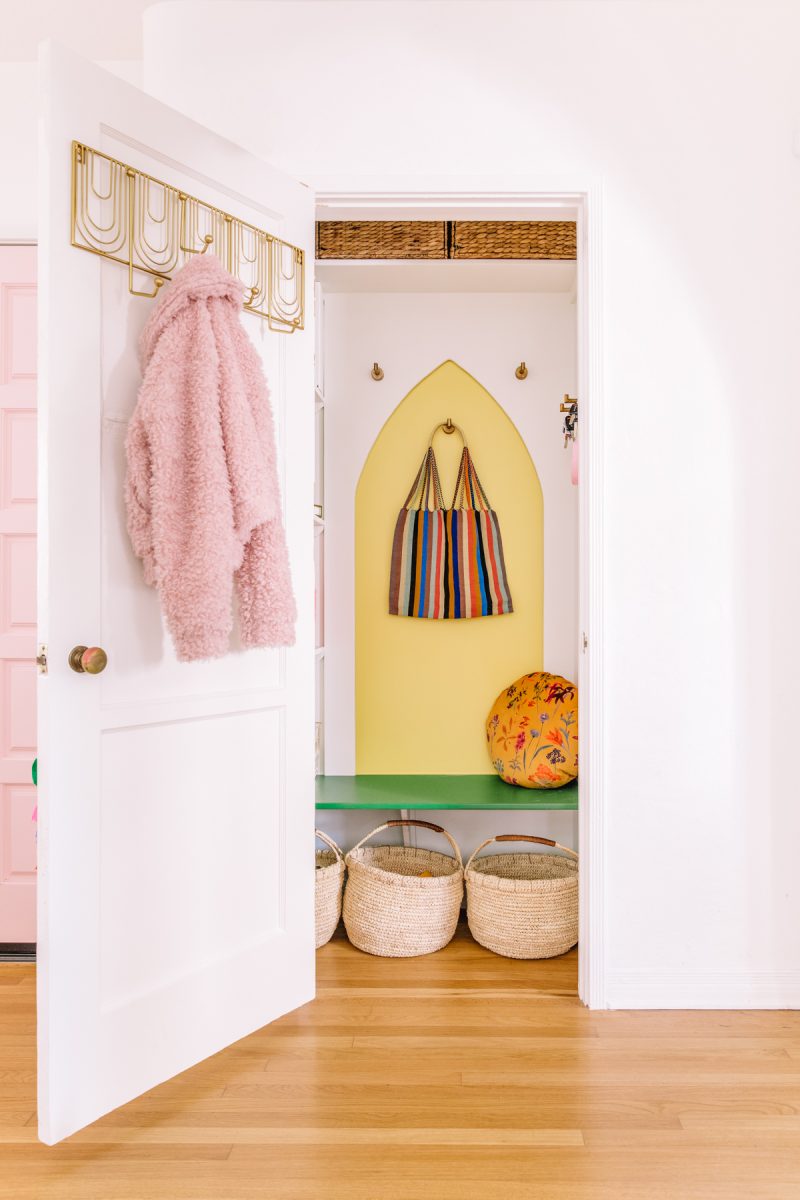 Important Closet Storage Considerations
I debated SO much about whether to do shelves or baskets for shoes, as our previous one basket didn't go too well for us. Ultimately, I decided that baskets were still the way to go… we just needed more of them! Now we each have our own basket and it's working MUCH better.
For hooks, I picked simple ones that weren't too bulky, so they could fit our keys (on the side wall) as well as bags (on the back wall). We'll each get a hook so there's no confusion. I love how the Citron color in the arch frames out that center hook!!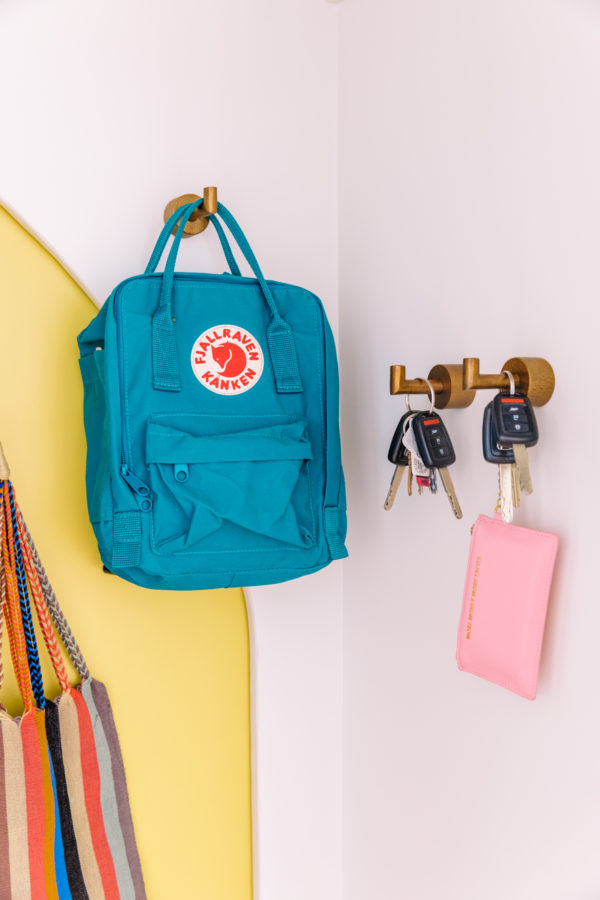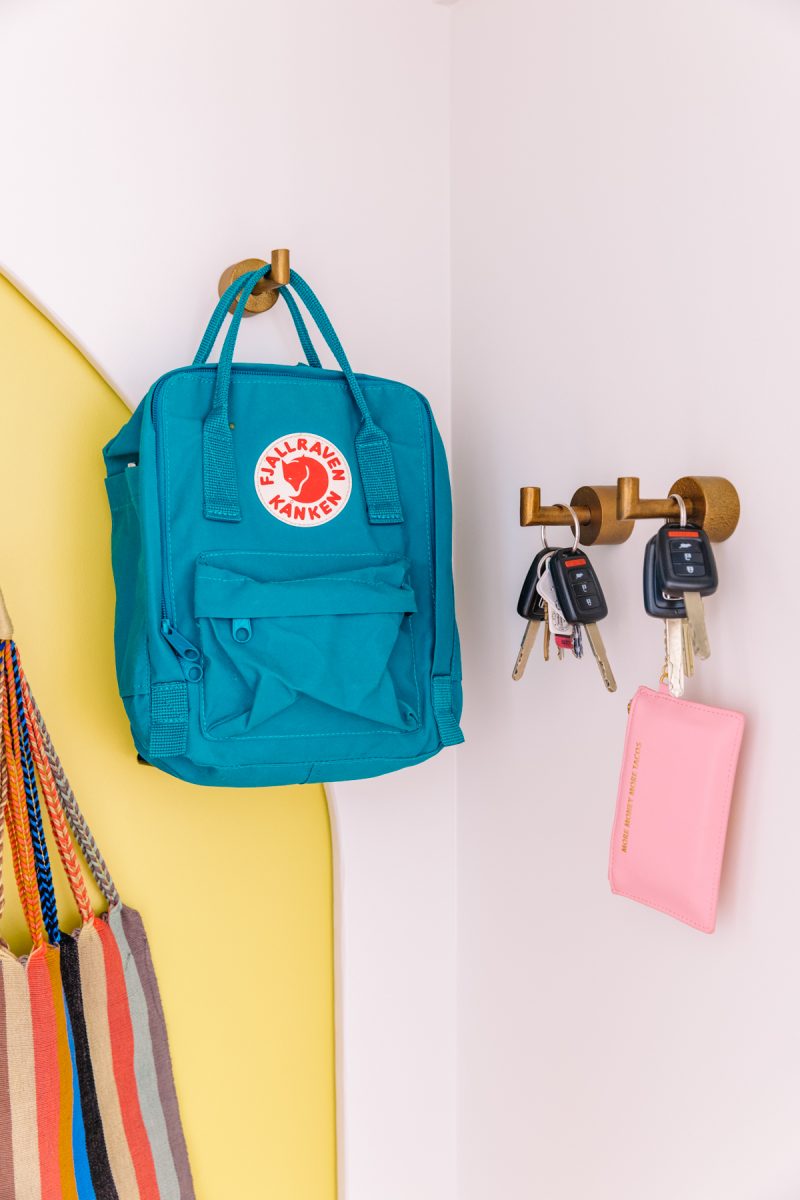 It's so important that everything has a spot if you want to keep things organized, so I was really intentional about what we put on the shelves. We have a basket for sunscreen and bug spray, a tray for sunglasses (with a mirror, since we don't have another one close to the front door! It really comes in handy!!), and a proper holder for sorting our mail so it doesn't just land on the counter. I also added a couple of baskets below the bench to store our reusable bags. Handy baskets on the high shelf hold things we don't use as often, like off-season items and travel bags.
On the door, we added a coat rack which we'll use for our coats as well as for any guests to store their coats or bags if needed!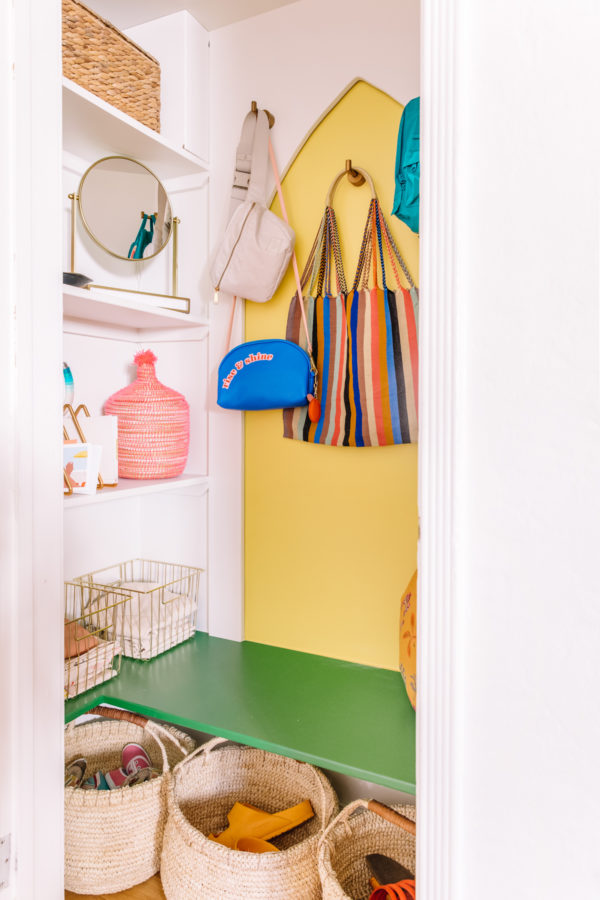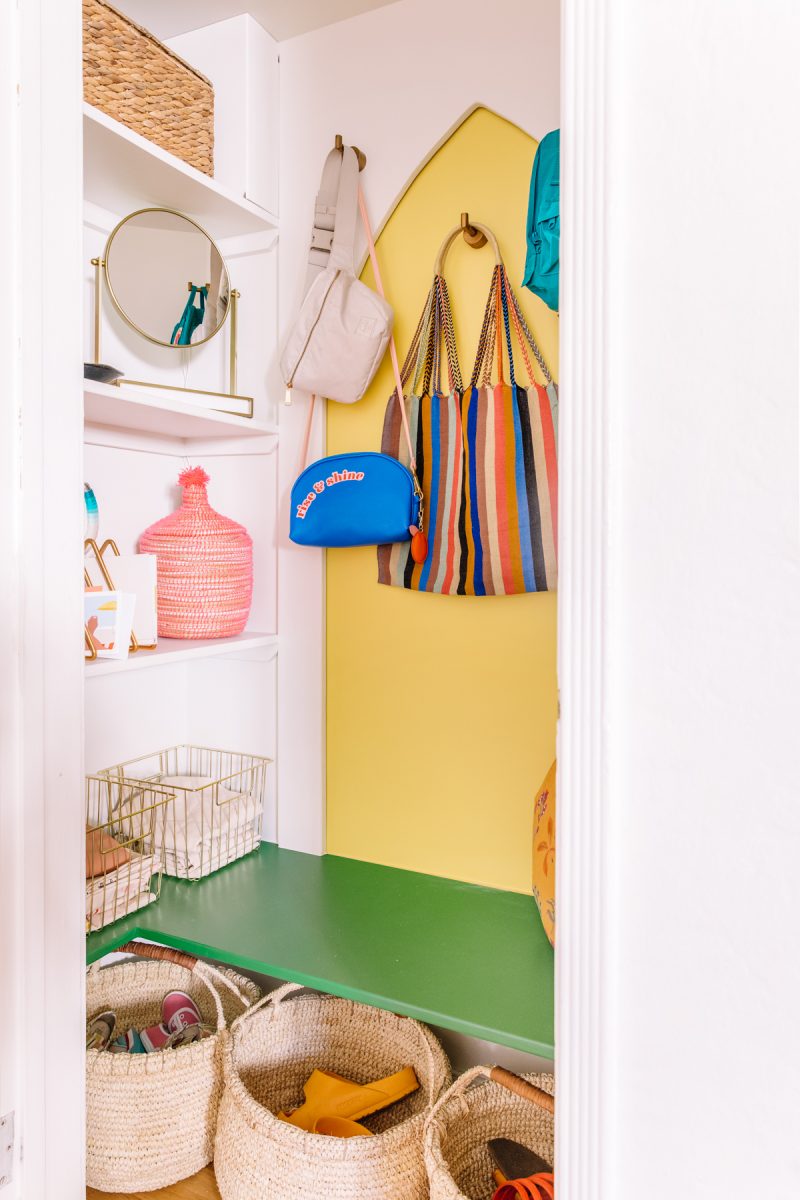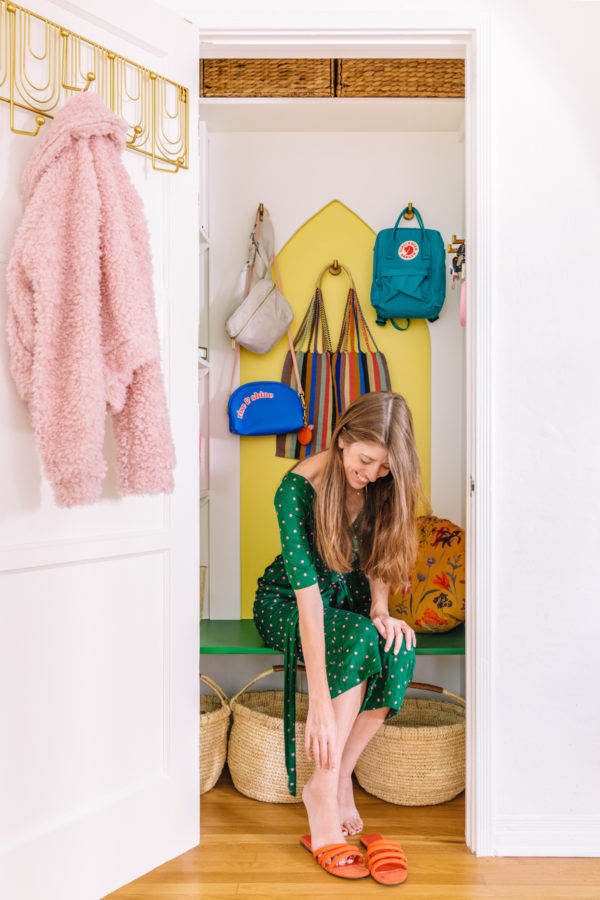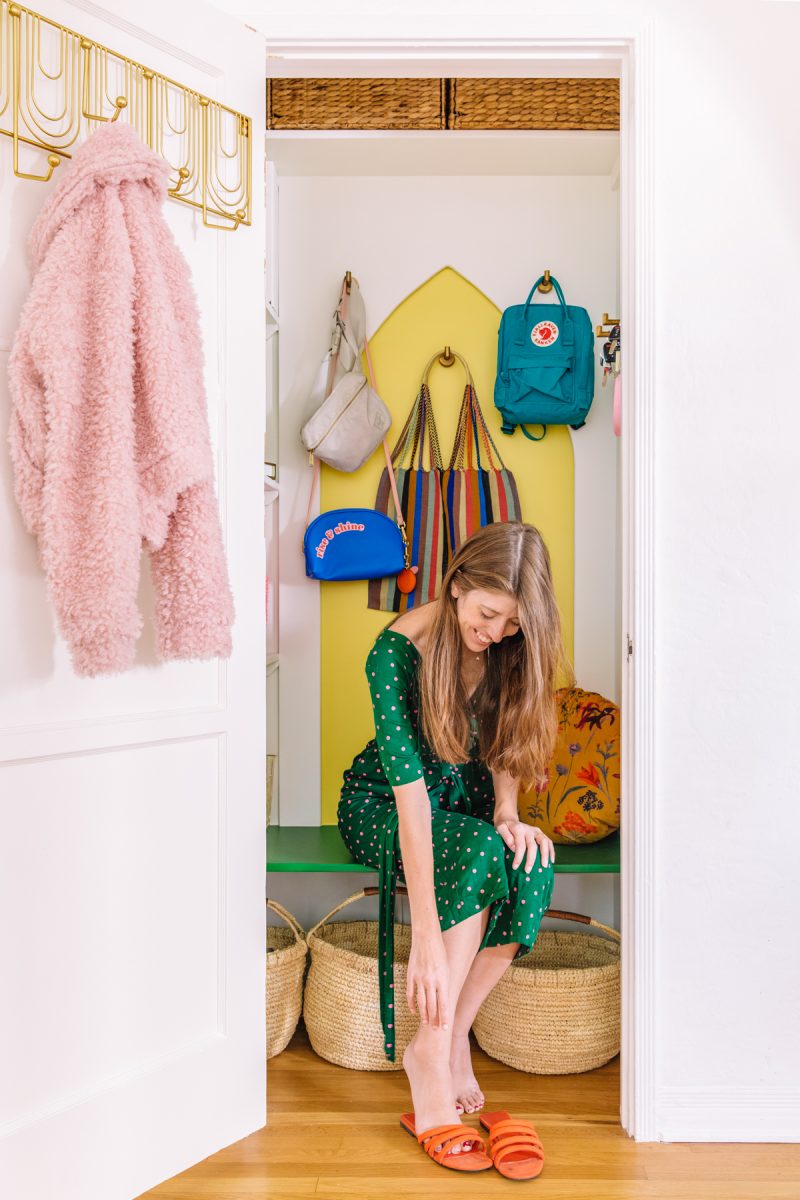 Photos by Jeff Mindell
I feel on top of the WORLD having this project done!! Every time I opened the closet to dig out my shoes from under our piles of stuff, I would be so frustrated. Now everything has a place and we're set up for success!!! Sometimes you have to make the best of the (small) space you have, and not be afraid to punch it up with a little color too!!
If you want to check out the palette I used for this project or any of the other Clark+Kensington color palettes, you can do so right here in Ace Hardware's Paint Studio!