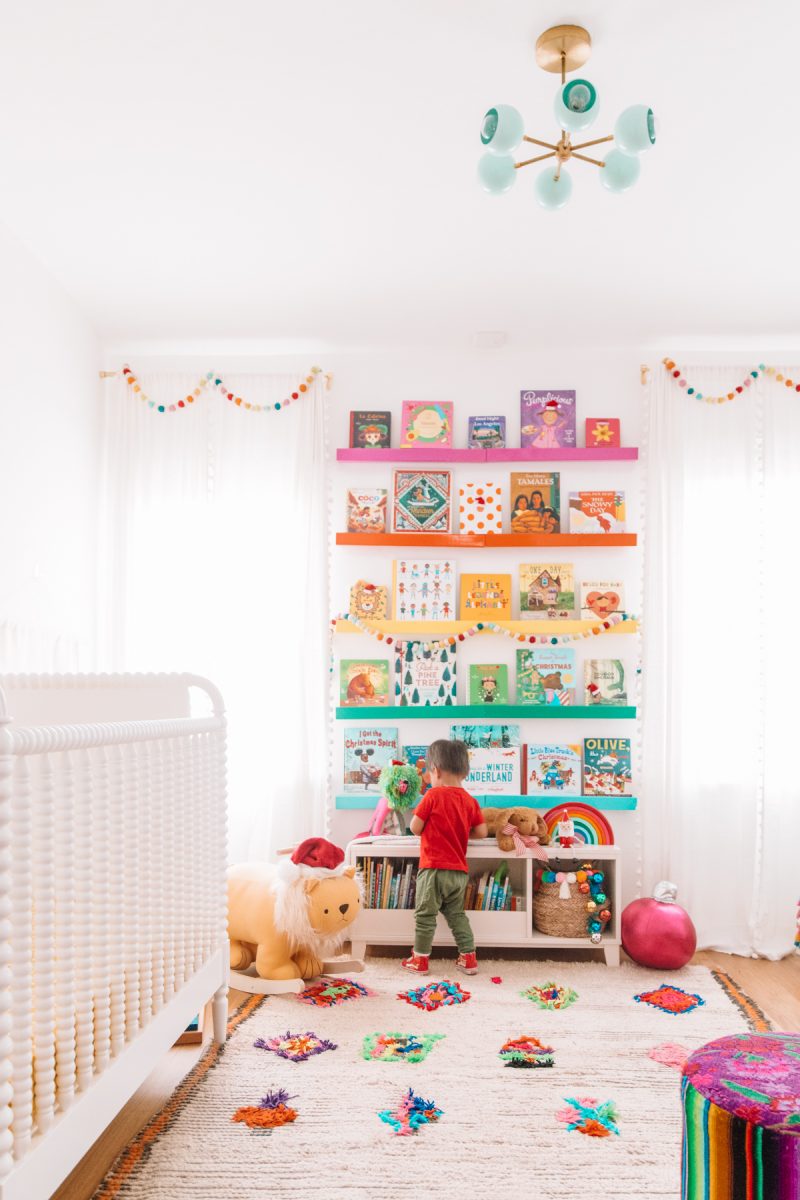 My 2019 toddler gift guide has arrived!! Gift giving is something I really, truly love. Picking out the perfect gift for someone is such a joy!!! As a result, most of my gift guides consist of items we already own and love, or ones that are on our current shopping list for our toddler.
Wherever I can, I love to support small businesses or businesses that give back, or find toys that are made sustainably or that will have longevity, especially when it comes to toys that can pile up so quickly! I hope to encourage you all to do the same, so I've included many here amongst a wide array of price ranges and types of toys.
Take a look and I hope you find something you and the toddlers in your life will love!

Photo by Jeff Mindell | Graphic by Meagan Knight for Studio DIY
Unique Toddler Gift Ideas
1. My Family Builders: Anything that stacks and, better yet, actually magnetizes together so it doesn't immediately fall apart: WIN!! Love these family blocks and that you can build all different people and members of your family!
2. Rattan Doll Crib: Is this not the CUTEST thing you have every seen!? Whenever we ask Arlo if he wants a baby brother or sister he says "I hold it and put it in the crib?" Figured he could get some good practice in with this one. 😉
3. Wooden Toy Coffee Machine: Arlo is obsessed with getting "coffee" with Jeff and also with serving us pretend coffee, so I KNOW he'll love this.
4. Plush Doll (See also #15!): We got Arlo a Moana doll but it's super heavy so he's not that into it. He loves putting his stuffed animals to sleep and I think he'd be really into dressing a doll up! A portion of each doll sale is donated to Save The Children to support global education initiatives.
5. Rainbow Wood Blocks: We've had these since Arlo was born. They are an investment, but have such longevity. He loves using them to build "castles," parking garages for his cars, and tunnels around his train tracks. I love them because they're pretty. 😉 These rainbow wood house blocks are pretty awesome too.
6. Knitted Hand Puppet: We've acquired a strange rubber lizard puppet that Arlo thinks is hilarious, this is a MUCH cuter option that would likely have the same effect! 😉 These puppets are hand-knit and each purchase supports the artisans at Kenana Knitters in Kenya.
7. Wooden Magnets: We have the travel set of these magnets on our fridge at all times. There's all different versions (letters, animals, etc.) and they're all well designed and great quality!
8. Acrobat Toy: Anything that moves up and down, in a repeating motion, etc. is a hit. I love this acrobat one, but I also found this car one if that's more your kids jam!
9. Sea Plane Toy: Now that we have a bath tub again, Arlo has been LOVING it and I know this toy will be a hit! It is also made from recycled milk jugs!
10. Dump Truck: Since sand/dirt is a fave of our toddler, been meaning to get him a dump truck! Like the sea plane, this one is made from recycled milk jugs and perfect for him to dig in the yard with!
11. Kitchen Helper / Learning Stool: I've linked this in a few gift guides now but I will SHOUT IT FROM THE ROOFTOPS! This is the most used item in our home. The best investment ever. We use it daily to eat breakfast, bake cookies, cook dinner, have snacks, play in the sink, wash hands. It is awesome, and this one is collapsible so even better!
12. Wooden Climbing Toy: We're excited to get one of these climbing toys for the playroom soon! This company has SO MANY stunning options. Note: I think they *just* closed holiday orders, but it's great to keep in mind for future gifts!
13. Wooden Name Puzzle: I always think these wooden puzzles are great gifts, especially for a niece/nephew/cousin/friend's kid etc. This company has REALLY pretty color options, too!
14. Fruit + Veggie Play Food: "Restaurant" is a popular game in our house and I love that these teach a life/kitchen skill!
15. Travel Outfit Set (See also #3!): This set goes with the doll I linked above. That tiny suitcase KILLS me!
16. Night Light Pillow: This is an unsung hero in our house. I bought one at a craft show, and Arlo holds onto it every night while we read books! You tap it and it lights up and changes colors so I put it on while we sing lullabies too and he just loves looking at it!
17. Wooden Fishing Game: Bought this for Arlo on a whim and he loves it, and is really good at the game too!
18. 3-Wheeled Scooter: This will be one of Arlo's big presents from his grandparents this year! Our friends have one and he really loves it since he can be completely independent on it. From all the reviews I read, this one seems to be the most recommended, comes in a ton of colors too!
19. Funny Faces Magnet Activity: Arlo had a blast making a bunch of jack-o-lantern faces at Halloween with a sticker kit and I love that this is a similar concept, but reusable!
There ya have it!!! You can find even more ideas in this recent favorite toys for two year olds post I did so be sure to check there too! If you're looking for children's book ideas, which make great gifts, check my past round-ups of our faves here.
And of course, the word "toddler" spans a wide age range of kids, so use your best judgement and follow manufacturer recommended ages when purchasing and using any of these toys with your kiddos!!
And last, remember, small businesses often have longer shipping lead times so if you're planning to support any of the smaller companies linked above, the sooner you order, the better!!
*This post contains affiliate links if you click some of the links here and make a purchase, I may get a small commission at no additional cost to you! As always, I only support and recommend products I love and/or have tried myself. Thank you for supporting them, too!