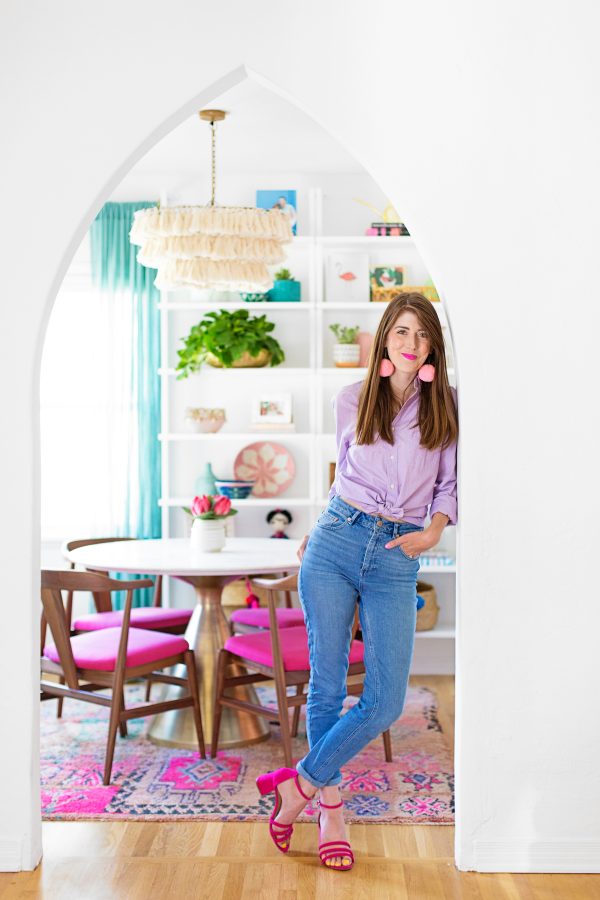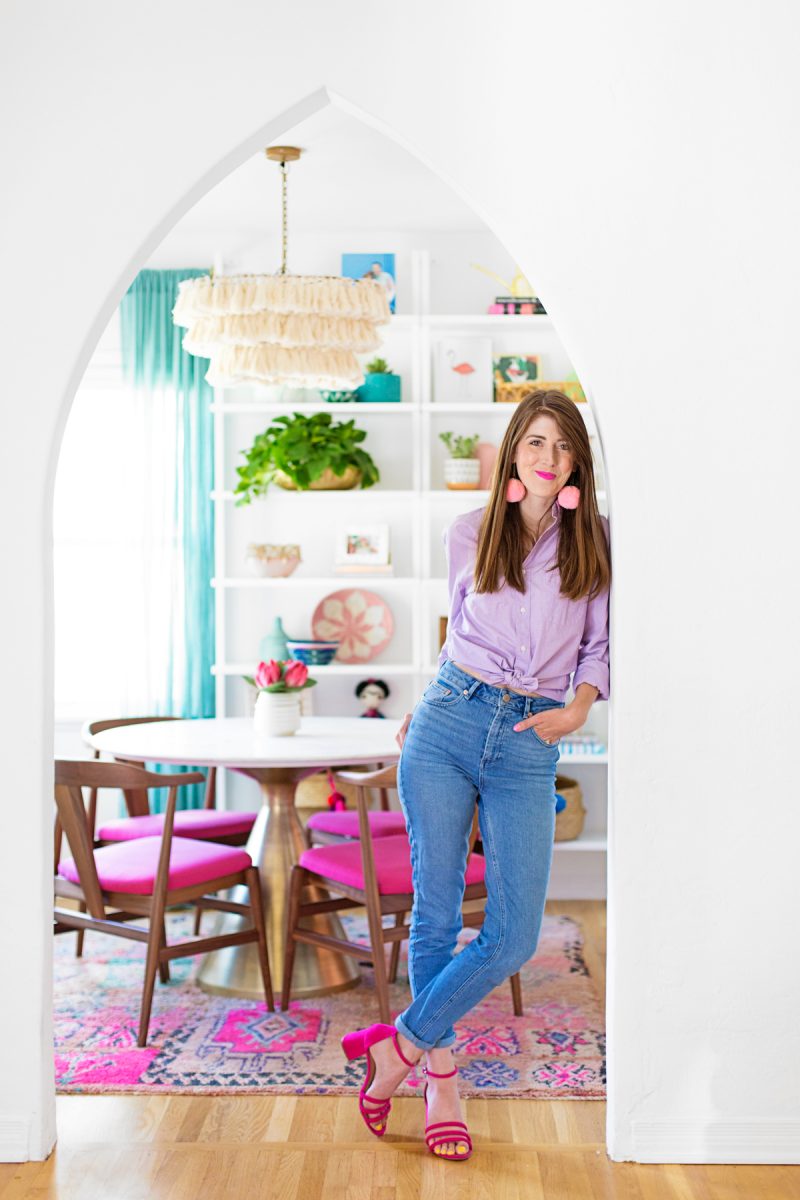 I've been getting lots and lots of questions lately about what home renovation projects we're working on now that I've been jumping around between talking about the master bathroom, kitchen and nursery #2! Some of you thought you missed a reveal (Nope, I'm just slow at finishing rooms!!) and some are wondering what's next. So I thought it would be fun to list out alllllll the projects we've done and need to do at The Mindwelling and where we're at with each. And I'll be sure to come back here and update this post as we finish them!
Perhaps this will inspire you to make a project list of your own, too. I'm not gonna hold myself to all these timelines, but it is nice to put a timeframe on them and at least work towards that! Here we go.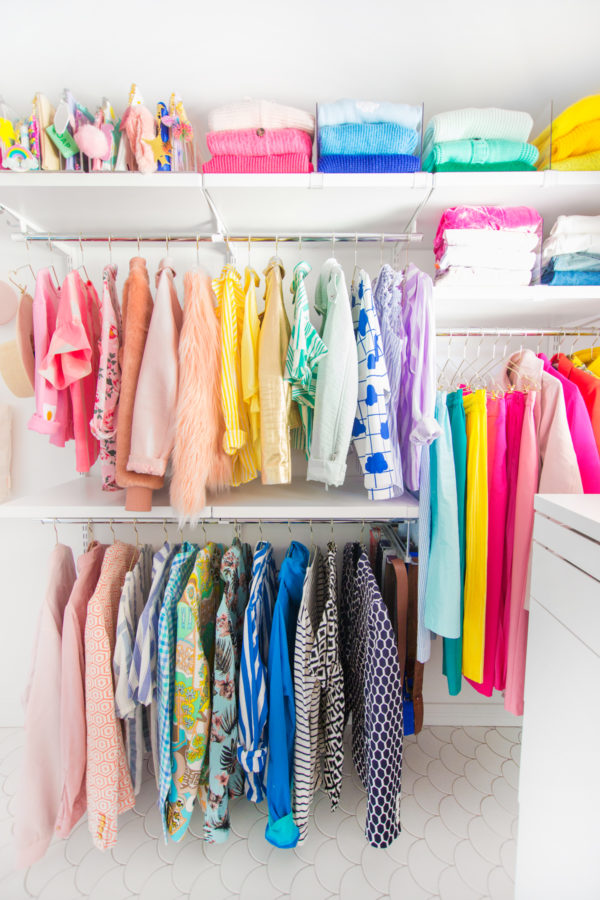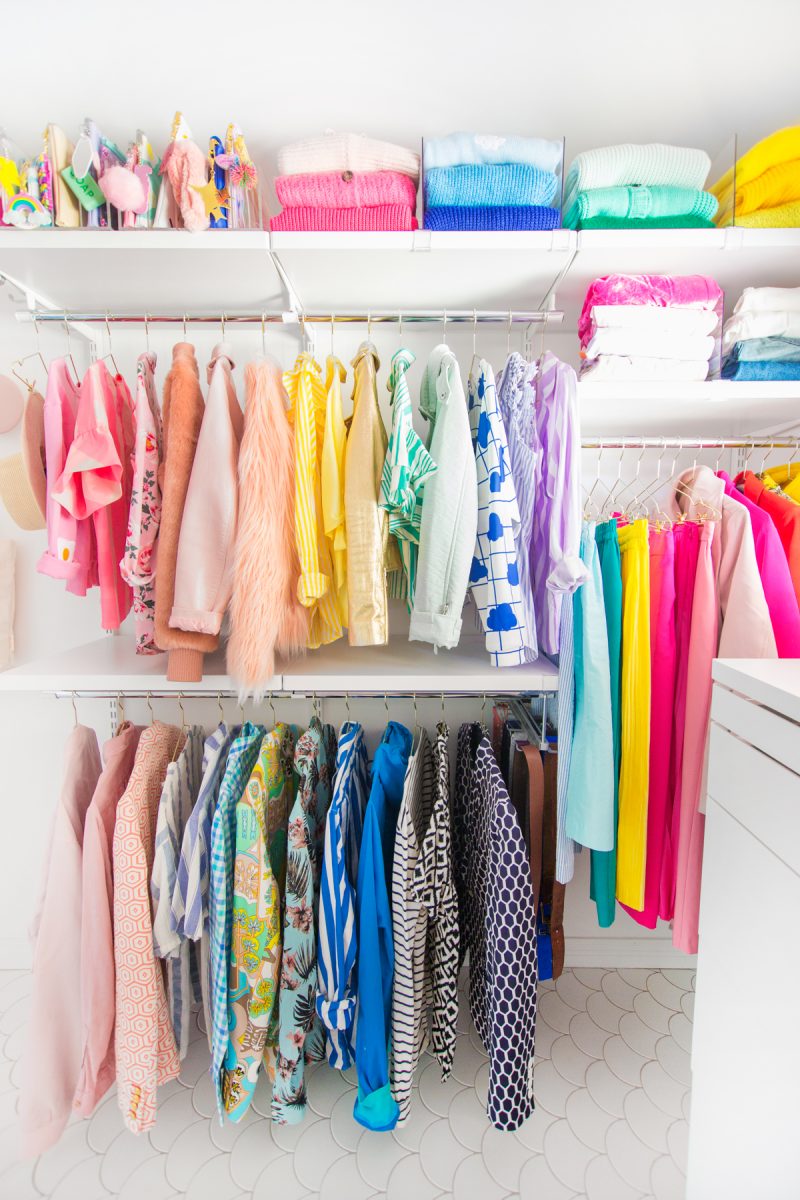 The Home Projects We've Done So Far
New (or re-finished) Floors, Roof, Air Conditioning + Interior Paint
Completed: July 2017

This was the fun stuff that cost us a billion dollars before we even moved in. The house needed a new roof and new air conditioning system, oh and it had termites and rats. Hooray! Everything has been solved, though we seem to have a rat that thinks our attic is the most happenin' spot in town… so that's been fun. =) We also had to refinish the original floors as there was a lot of damage from pets previously living in the house, and rip out carpet in the master bedroom and add new hardwood to match the original there. We then gave everything a fresh coat of white paint! We used Dunn Edwards "White."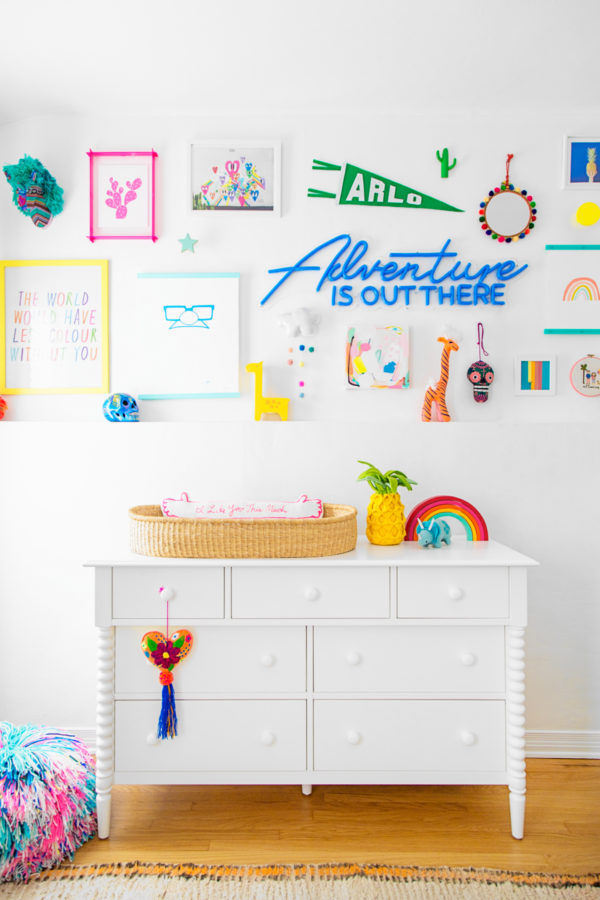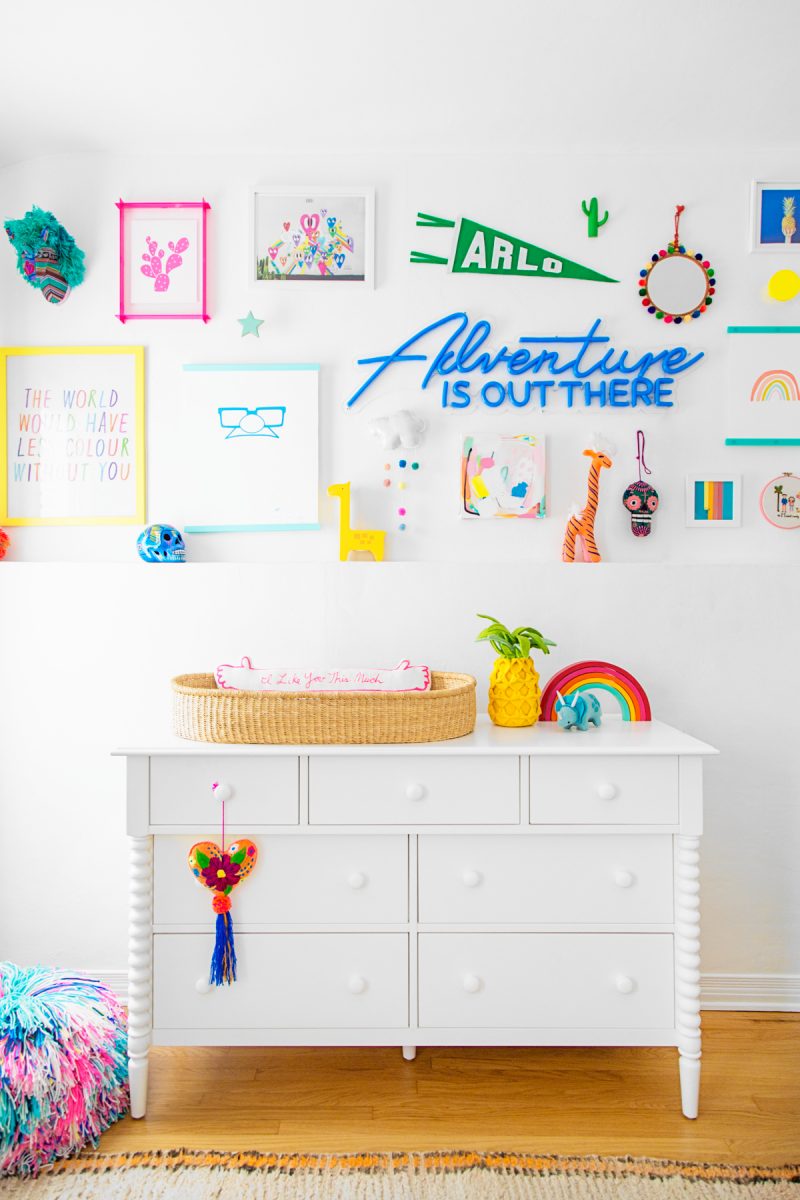 Arlo's Room (Our First Nursery)
Completed: January 2018

The first room we did in the house and still my favorite! His room didn't need any additional work to it after the above overall updates, and it already had that amazing built in ledge and rounded walls. We did paint the back of his door yellow, which is one of my favorite hidden details in the house and remove the ceiling fan because I hate them. (I can't stand wind blowing on my face!)
See the full reveal and source list here.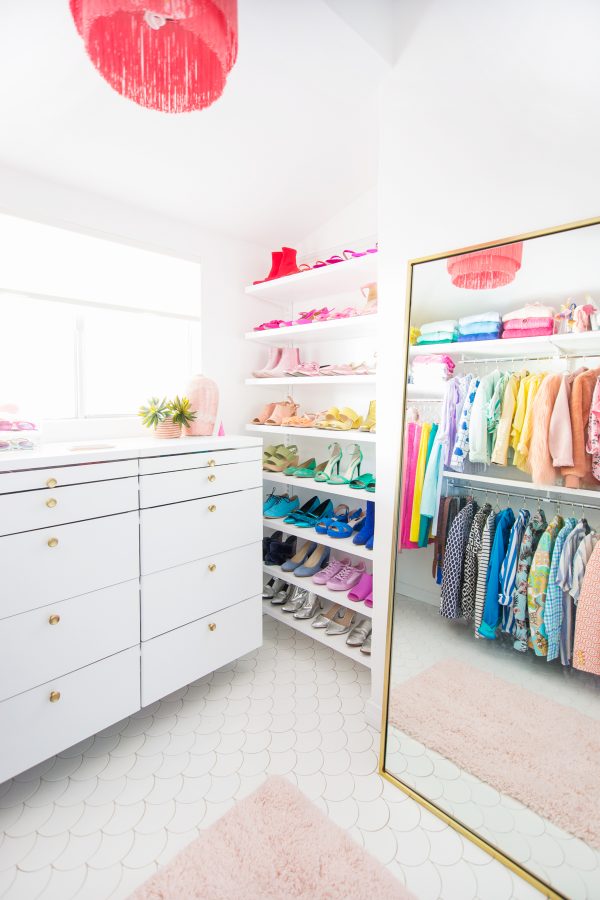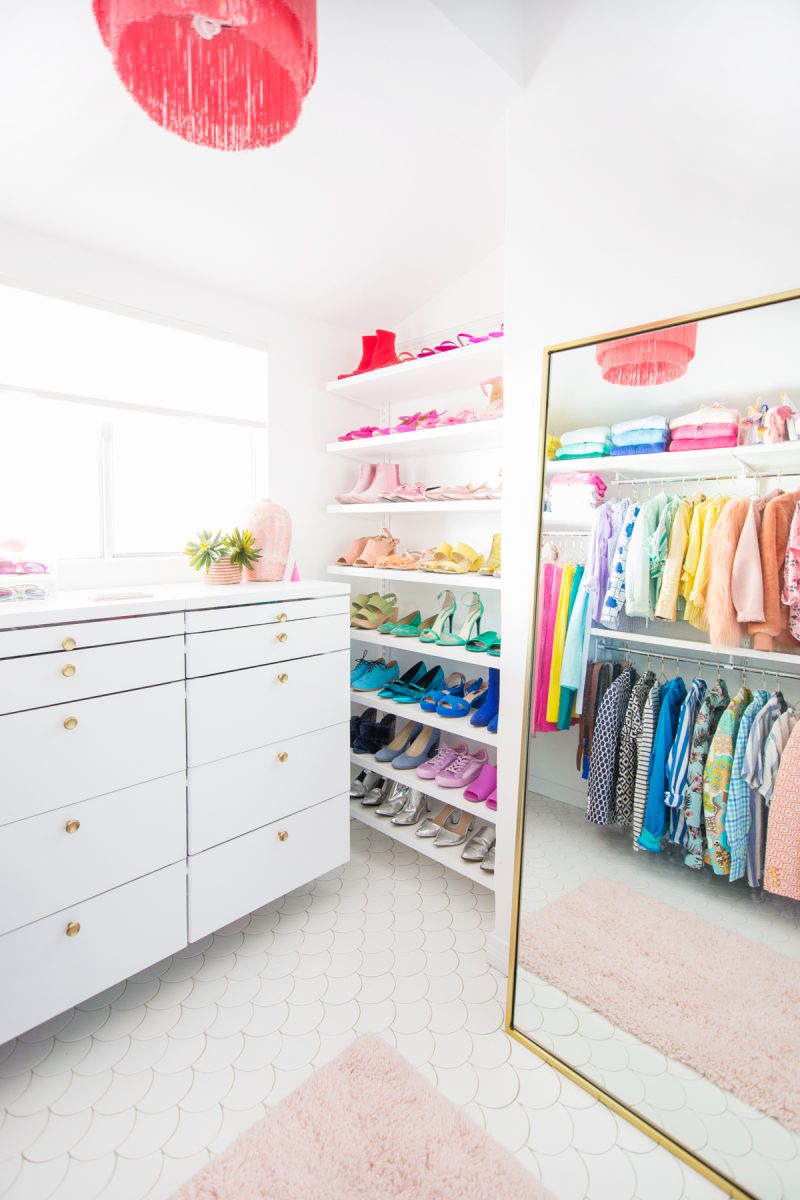 Converting A Kitchenette into A Master Closet and Laundry Room
Completed: February 2018

The master bedroom was an addition (we're not sure when it was added!) and was used as a separate rental unit, therefore it had an un-insulated porch-turned-kitchenette attached to it. The space was quite large so we decided to fully convert it into a walk-in closet and laundry room and it's the best decision we made! If you ever have the chance to have laundry in your closet, DO IT! It's so nice.
See the full reveal and source list here, the before photos and plans here and ten organizing tips that saved our closet here.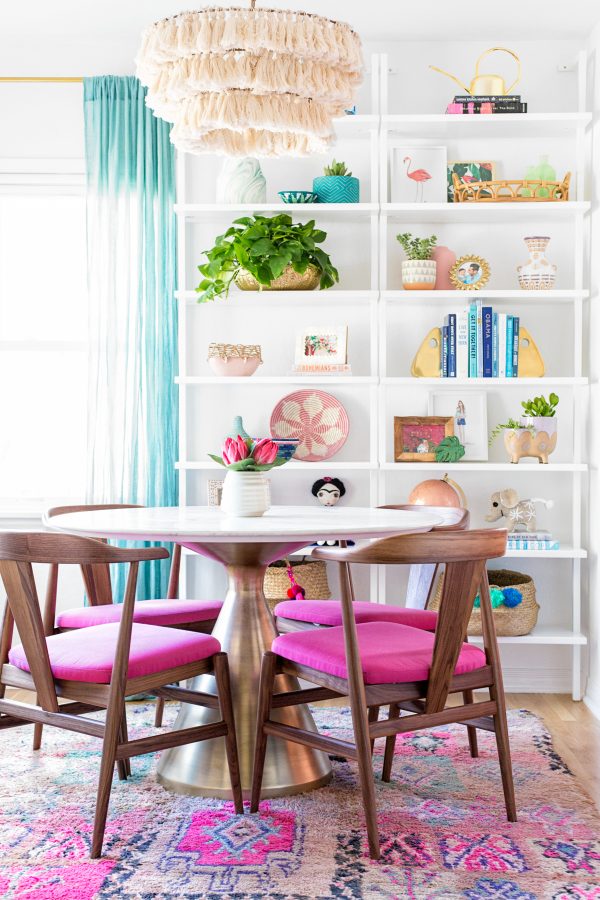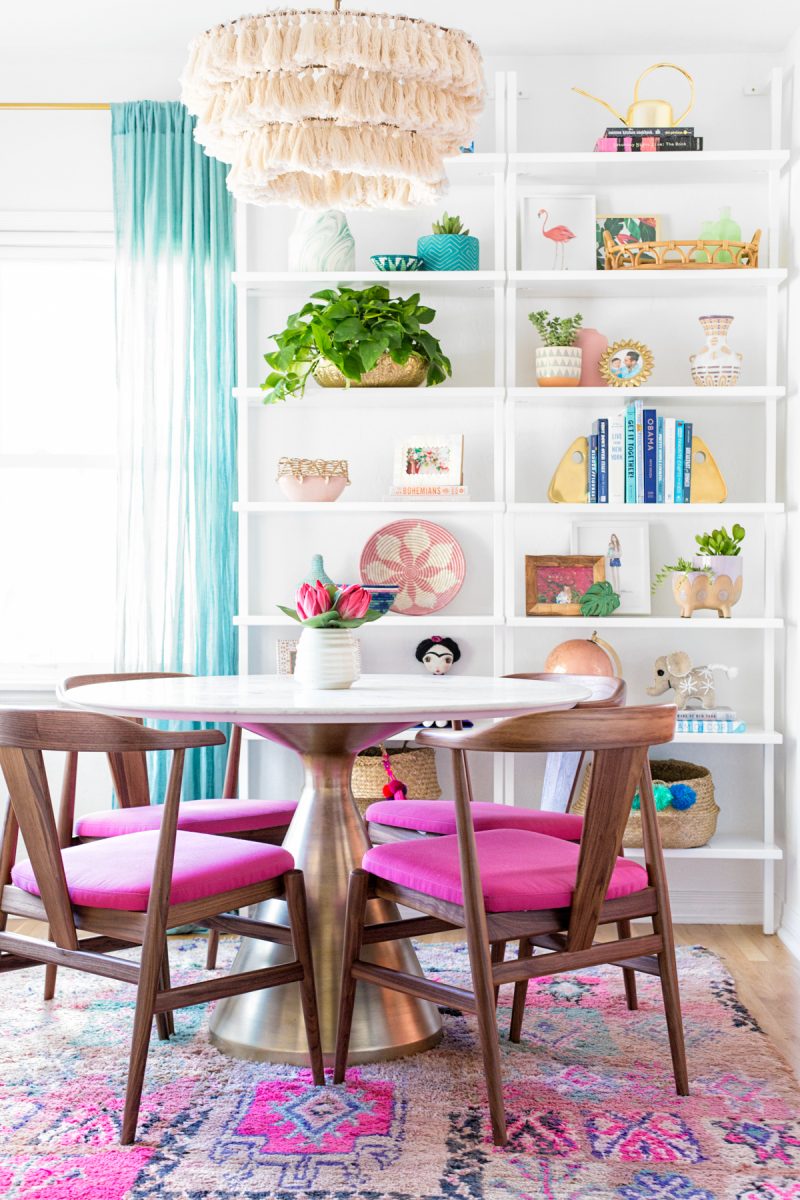 Dining Room
Completed: April 2018

The second room we completed was the dining room, which is also the smallest room in our house. I made a last minute decision to add floor to ceiling bookshelves which was a risk since the room is so small, but it really grounded the room and made it feel like a living space and not just a pass-through nook with a table in it!
See the full reveal and source list here.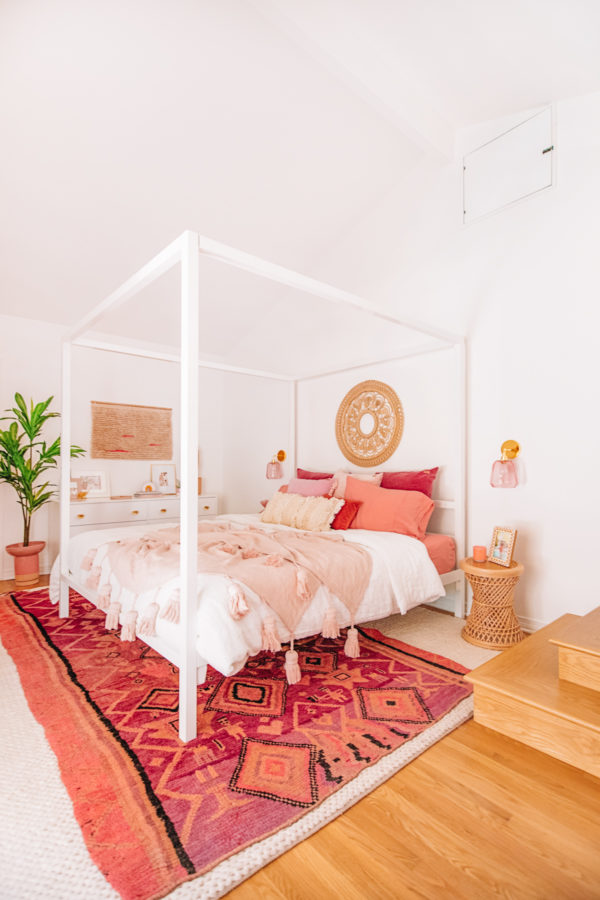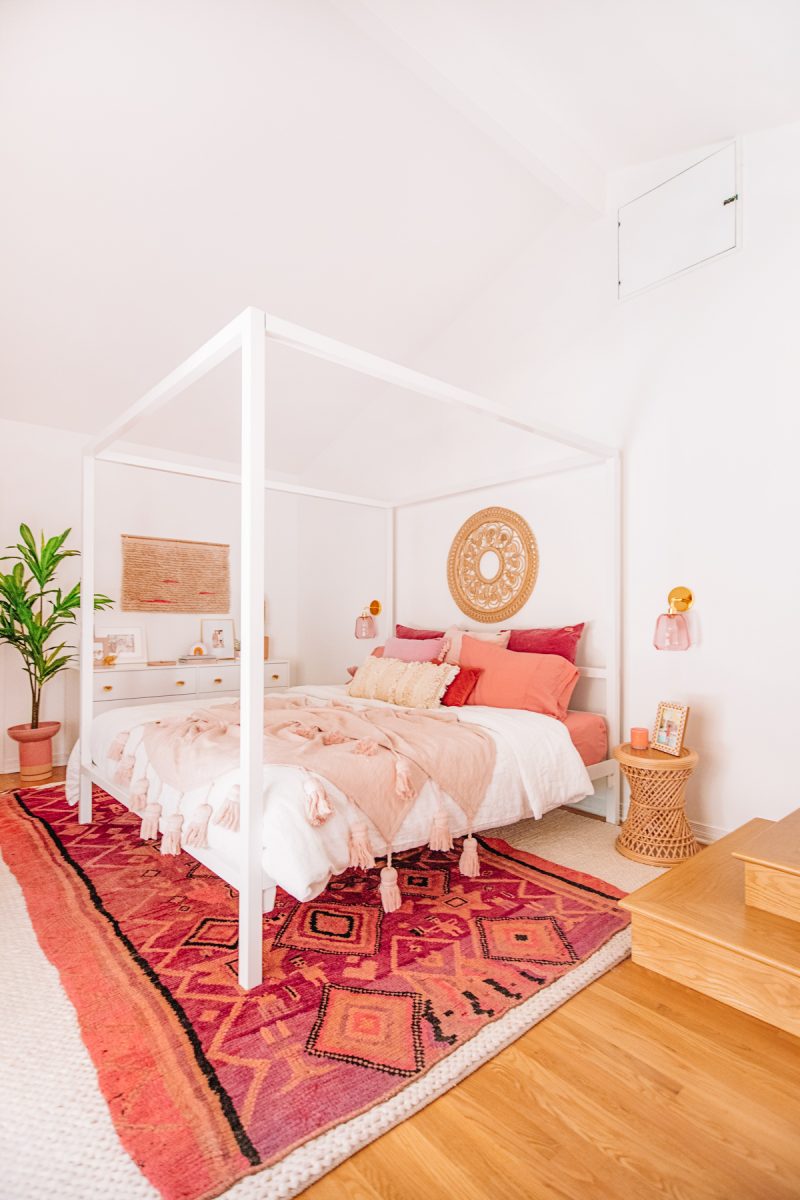 Master Bedroom
Completed: September 2018
After ripping out the VERY stained carpet and replacing it with hardwood, we also removed a makeshift small closet that was built on one side of the room since we were building out the walk-in on the other side. This made the room feel so much bigger. We also took down the ceiling fan and replaced it with a light fixture and replaced the non-functioning sconces the house came with.
See the full reveal and source list here.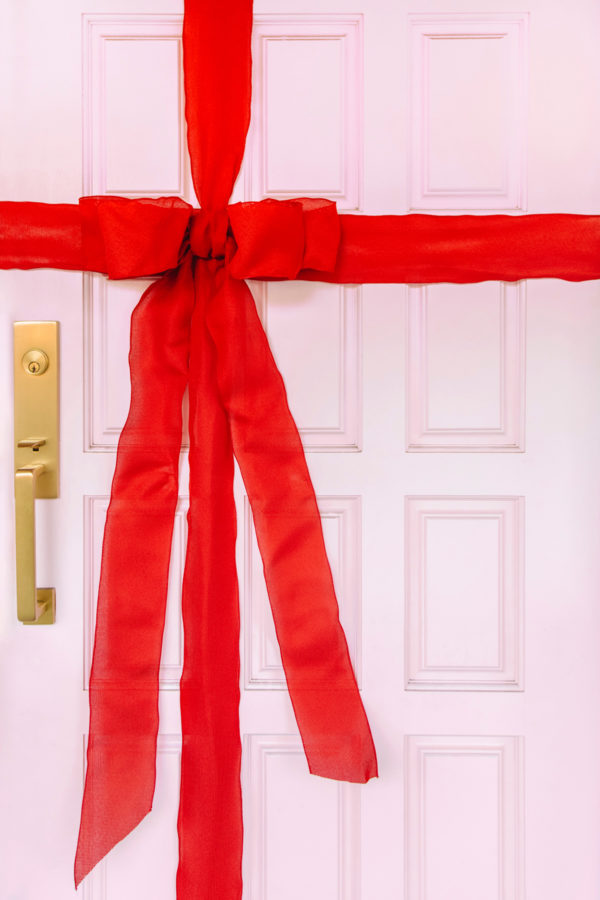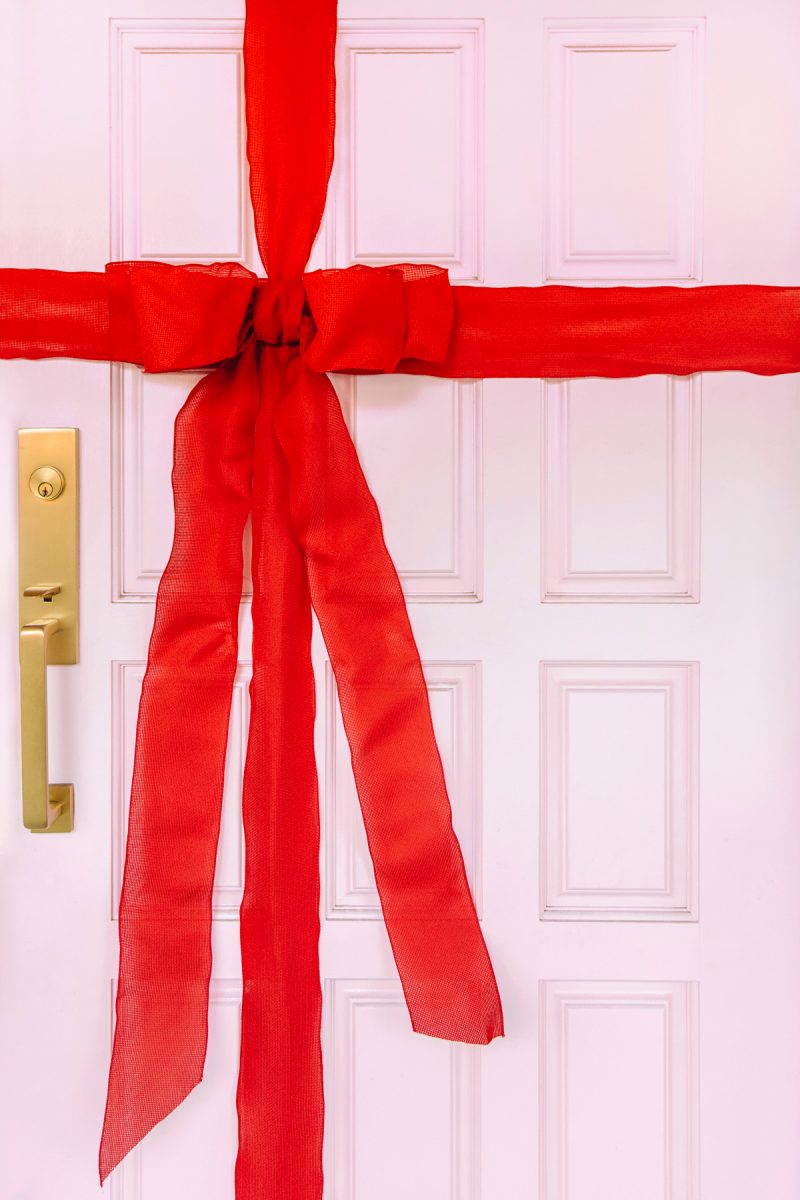 Exterior Updates
We don't really show the outside of our home for privacy reasons but we painted the entire thing about a year after moving in, replaced the front door and added a hanging chair on our porch. We have a LONGGGG way to go on the exterior of this house but it was a start!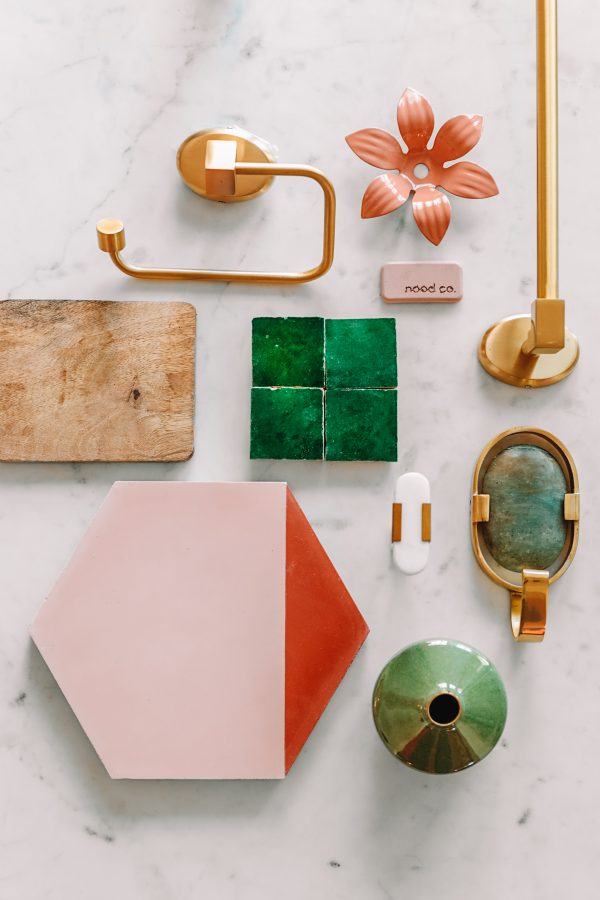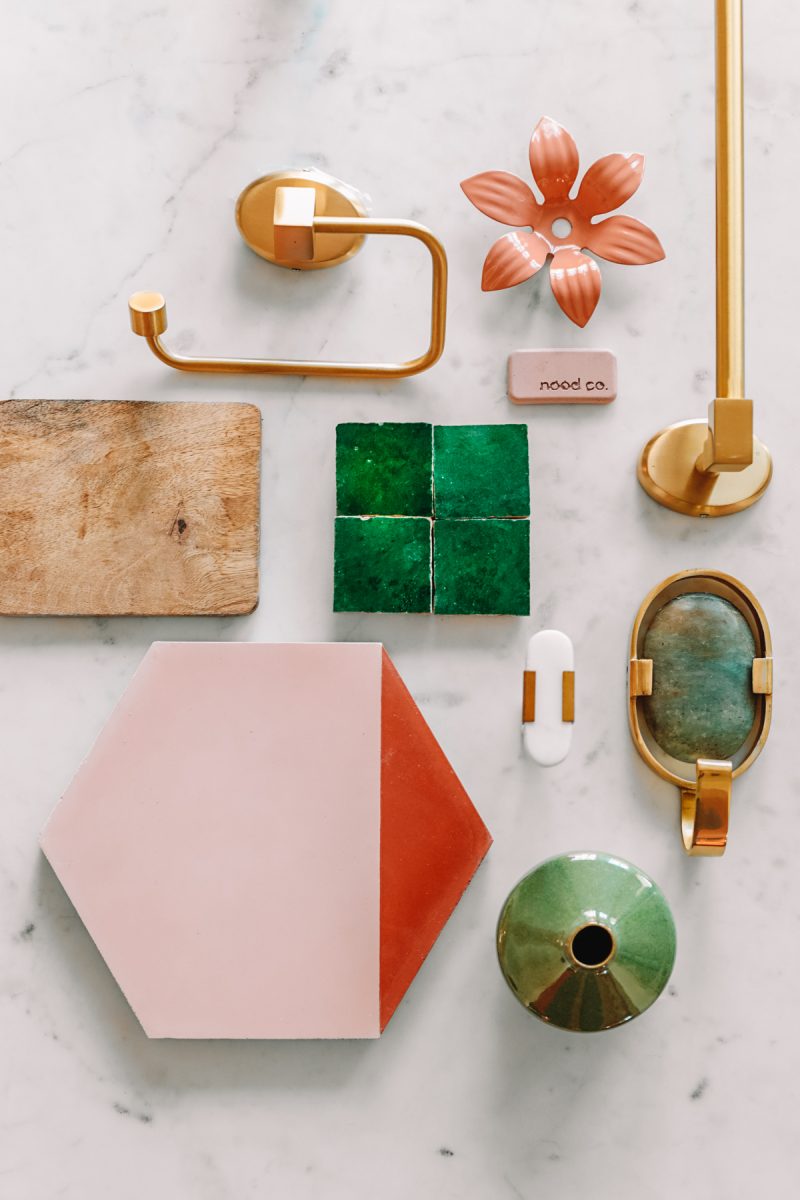 In Progress Home Projects
Master Bathroom
Completion Goal: February 2019

The master bathroom was unusable when we bought the house. The toilet was, literally, falling into the floor and the bathtub didn't work. We did quick fixes (like a new toilet/temporary floor situation) and got the tub to work most days, but in September we finally began the full renovation of it! And then it took three times longer than we thought. The renovations wrapped up right at the beginning of 2019. Now it's taken me 6 wrong rugs and 17 wrong baskets to style it, but we are THIS close to finishing it and will reveal it soon!
In the meantime, check out the "before" photos here and the mood board for the design here.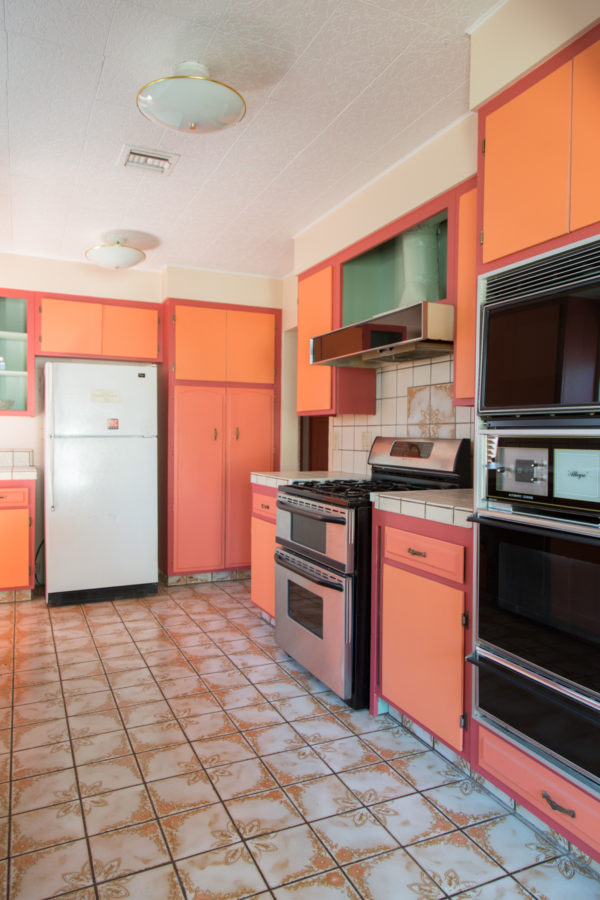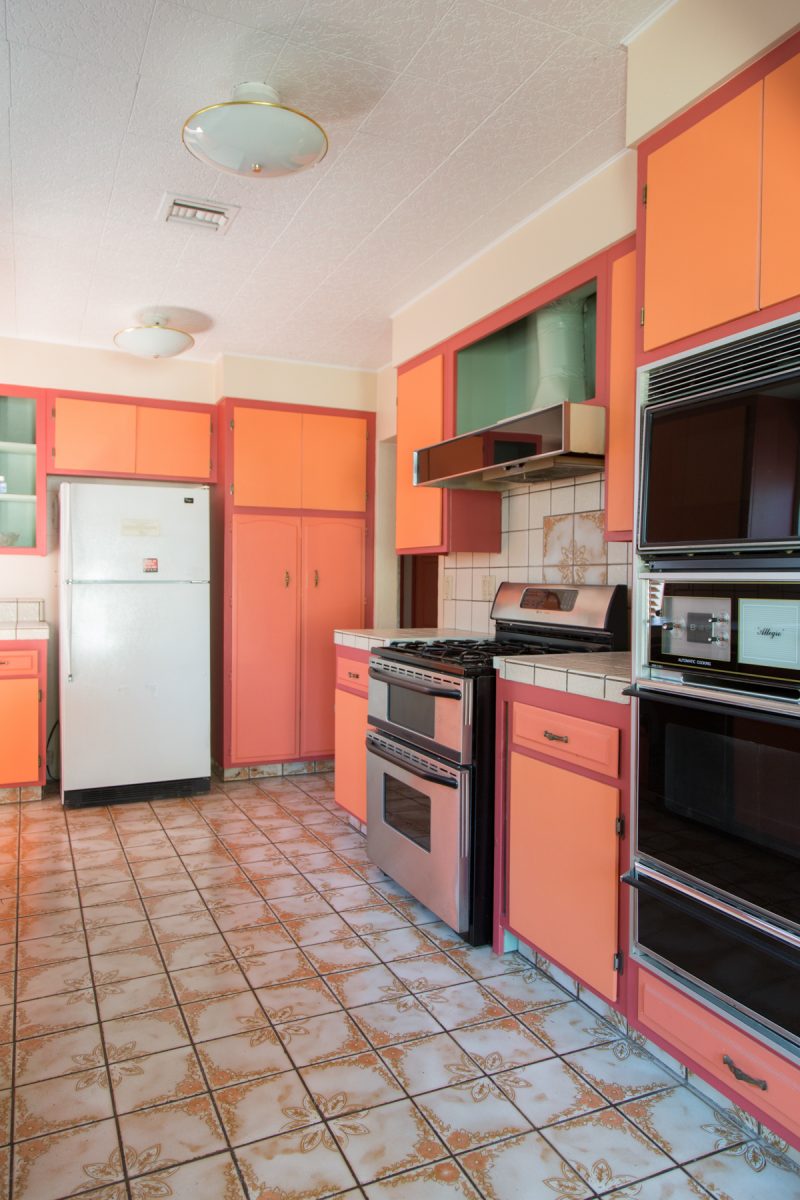 Kitchen
Completion Goal: March 2019
The most unexpected project of early 2019 is the kitchen! This is the biggest (indoor) project we needed to tackle but we got an opportunity to do it sooner than expected so we jumped on it! Lots of you have become fans (or fellow haters) of the infamous green/red/coral kitchen on Instagram but it is no more. What you didn't see was the fact that none of the drawers fit into the spots they were supposed to be in, they were all lined with scraps of the tile from the floor, the countertops had the deepest grout lines I've ever seen, there were two non-functioning ovens and a non-functioning manual microwave and the dishwasher was held together with electrical tape. It was time. =)
Right now we have no kitchen, but the progress is moving FAST on this one and we should be sharing the reveal with you this spring!!
In the meantime, check out our layout plans and sketches here!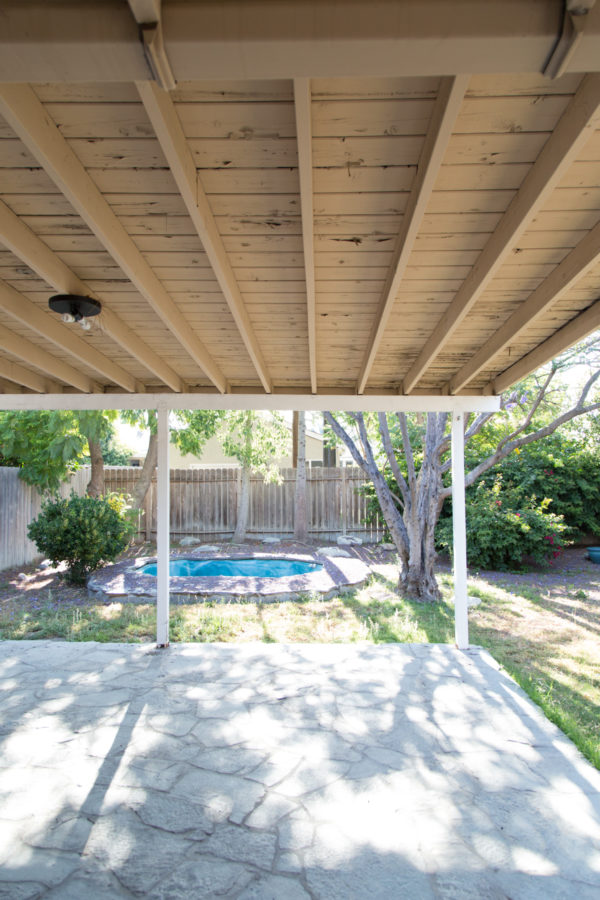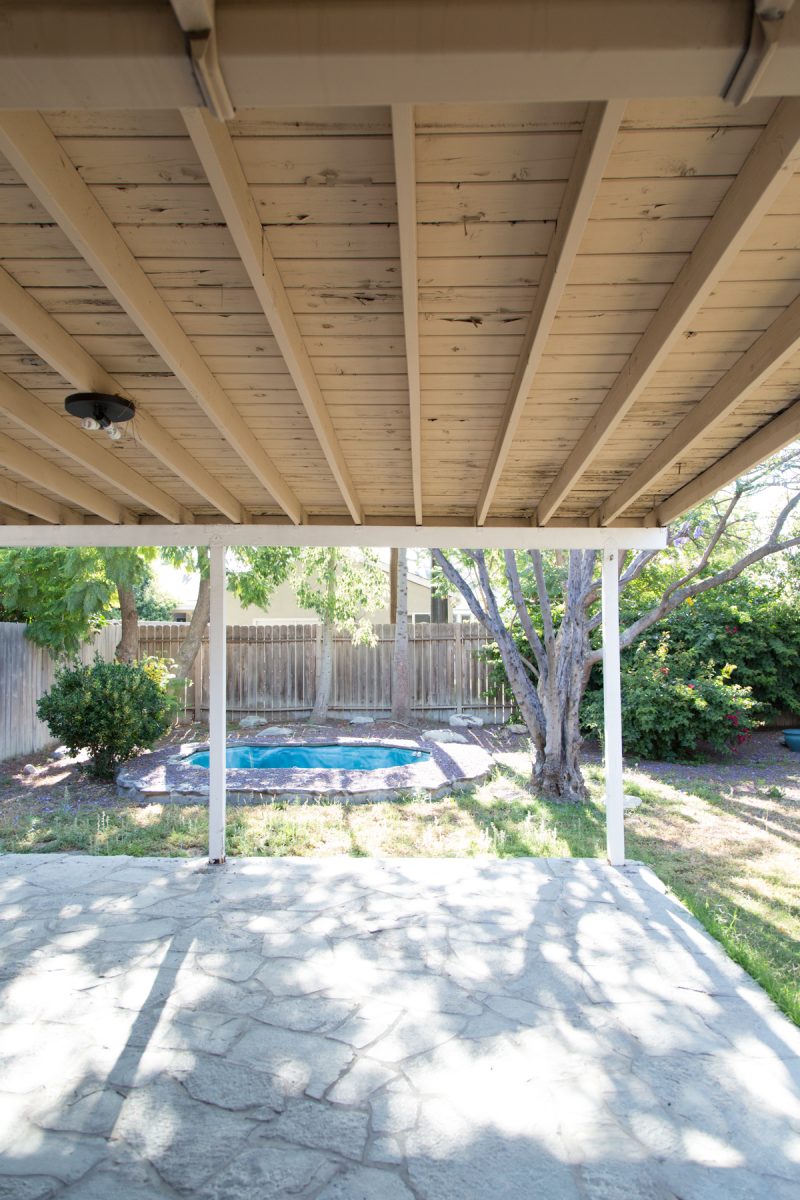 Projects We Still Need To Do
Backyard
Completion Goal: Summer 2019

Outside of the charm of the details in this house, we bought it for the backyard. It's huge. We haven't used it in almost two years. Fail. Fact of the matter is, it's not super usable and kind of a death trap for toddlers currently. We said we'd have it done by Arlo's first birthday (LOL) and then Arlo's second birthday… which is now less than two months away so. ARLO'S THIRD BIRTHDAY IT IS! Ok but for real, we are starting to demo some of the items like the non-functioning 12 person hot tub and the crumbling pergola this month so we're getting there!! We have big big plans but I'll save those for a separate post.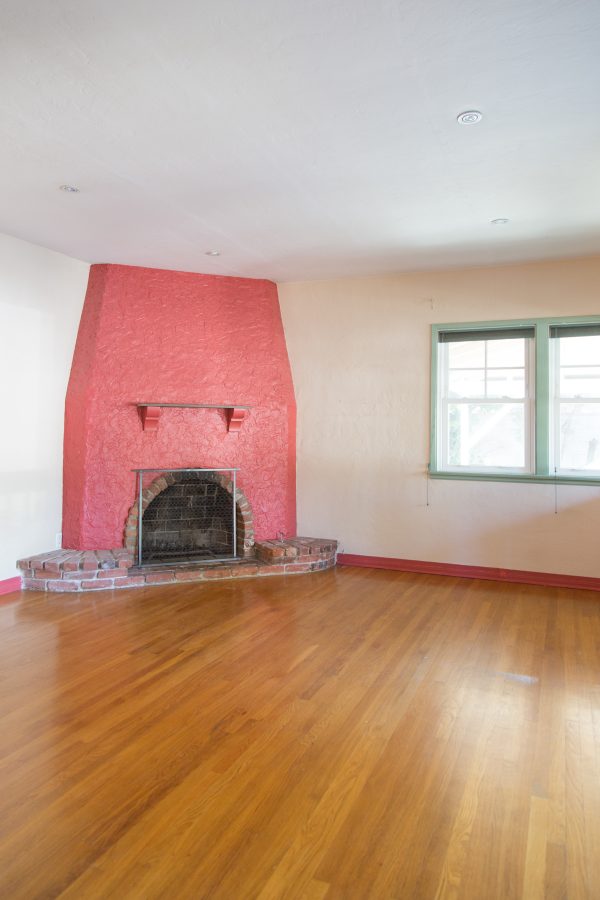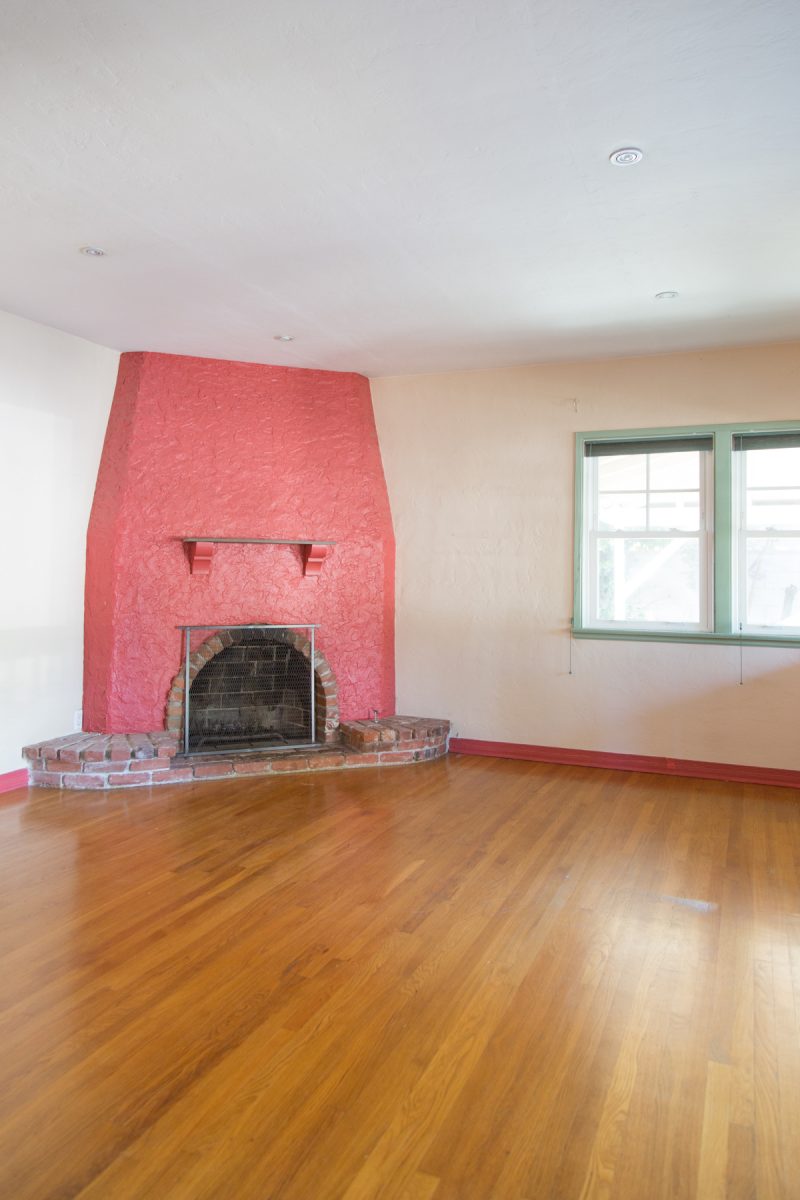 Living Room
Completion Goal: Spring 2019
When we moved to LA, we bought the biggest, comfiest couch on clearance and we love it so much. But it is almost the same size as our ENTIRE living room now. And Arlo has ripped two giant holes in it. So we are finally getting ready to move on and make over the room we use the MOST in the house! Now that the kitchen is wide open to it, I have even more reason as I don't want to stare at an ugly room from our beautiful new kitchen!! So this one is the next interior project I'm tackling. It's RUG TIME!!!!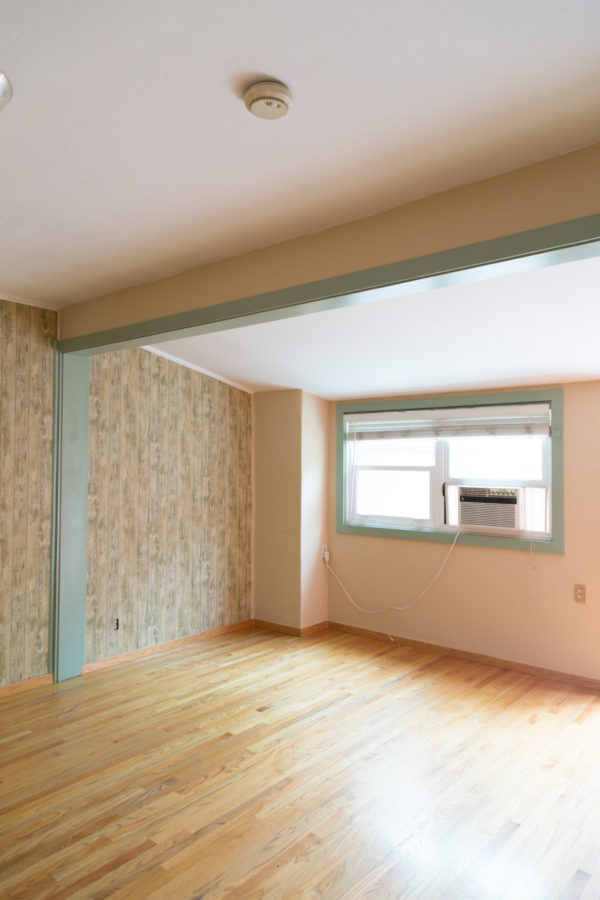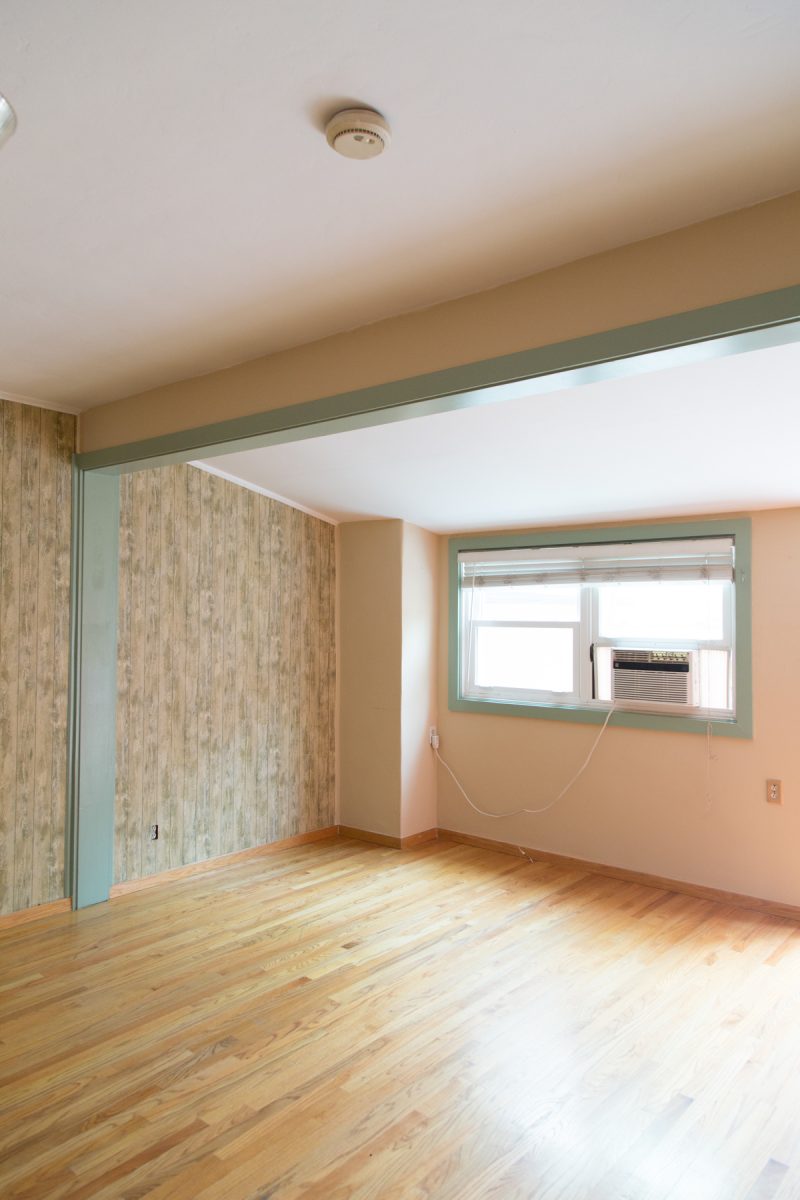 Second Nursery
Completion Goal: Summer 2019
Unlike our first adoption, where I was super superstitious about preparing for a baby at ALL, I've realized with a toddler in tow, there's no way I'll have time to decorate a baby room once we have two kids running around so I've decided to go ahead and start decorating the nursery later this spring, regardless of where we are in the adoption process. I'm SO SO excited about it!!!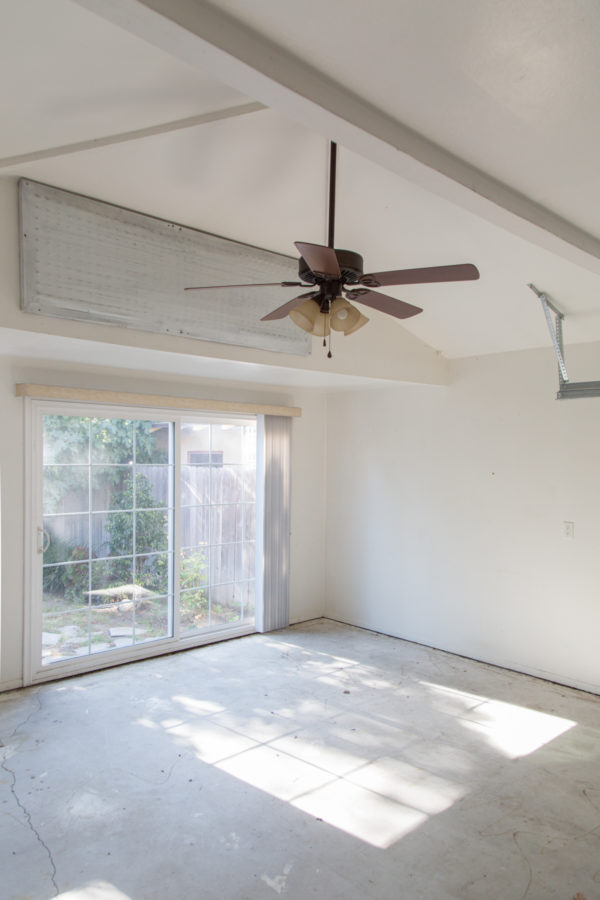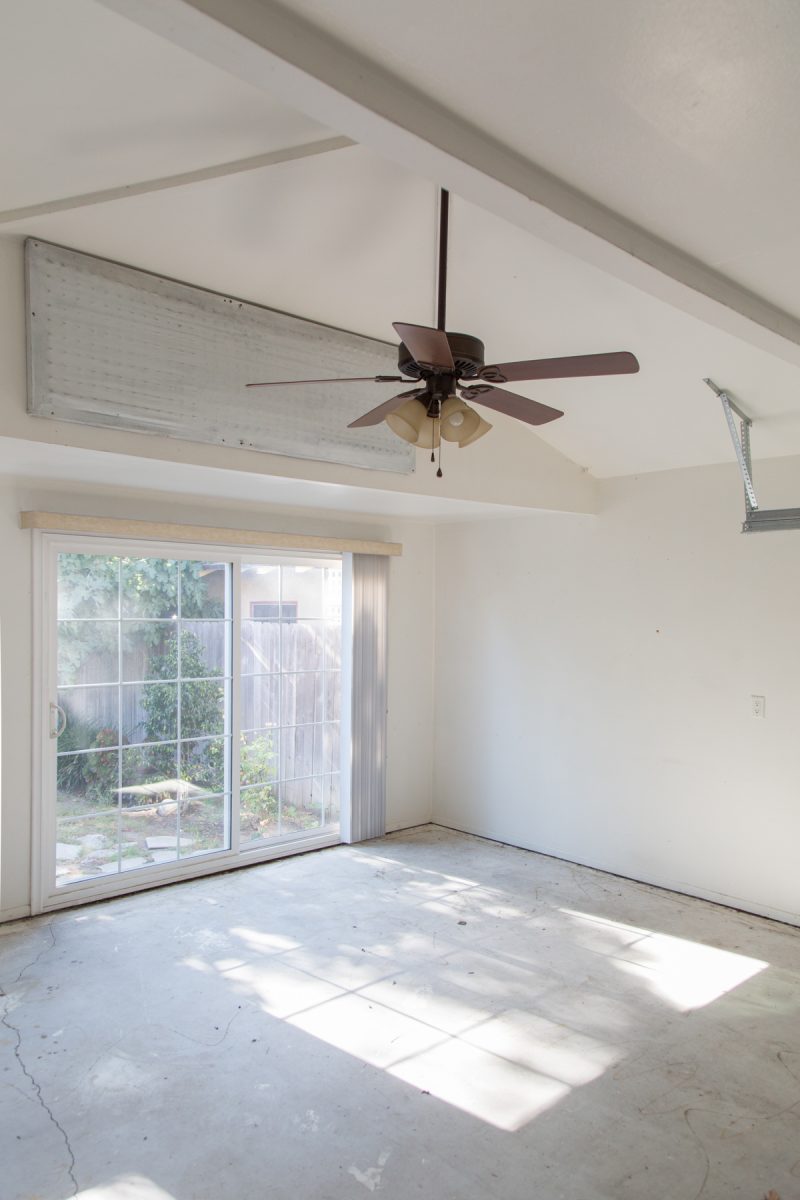 Converting the Garage into a Playroom
Completion Goal: Fall 2019
I'm so anxious to get to work on converting our garage, but we've decided to do a pretty bare bones renovation to it instead of adding a bathroom and full build-out like we originally hoped. Mostly so we can get it done and enjoy it. The garage is already partially converted, so we just need to swap out the garage door, drywall and add some sort of click-lock flooring on top of the cement. And then, of course, DECORATE!! We'll be sectioning off the front third of the garage to remain as storage, and the rest will be play space! I am brimming with ideas for it!!!!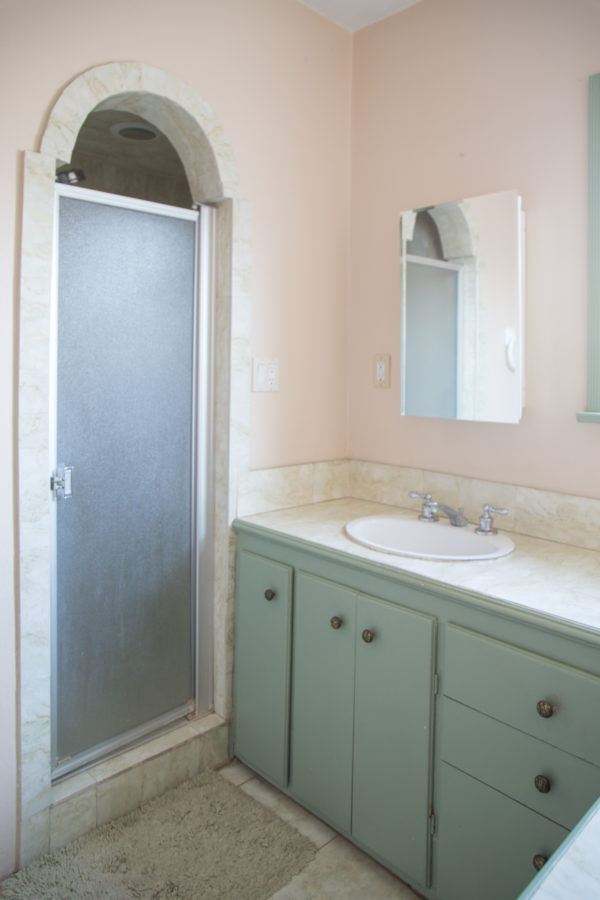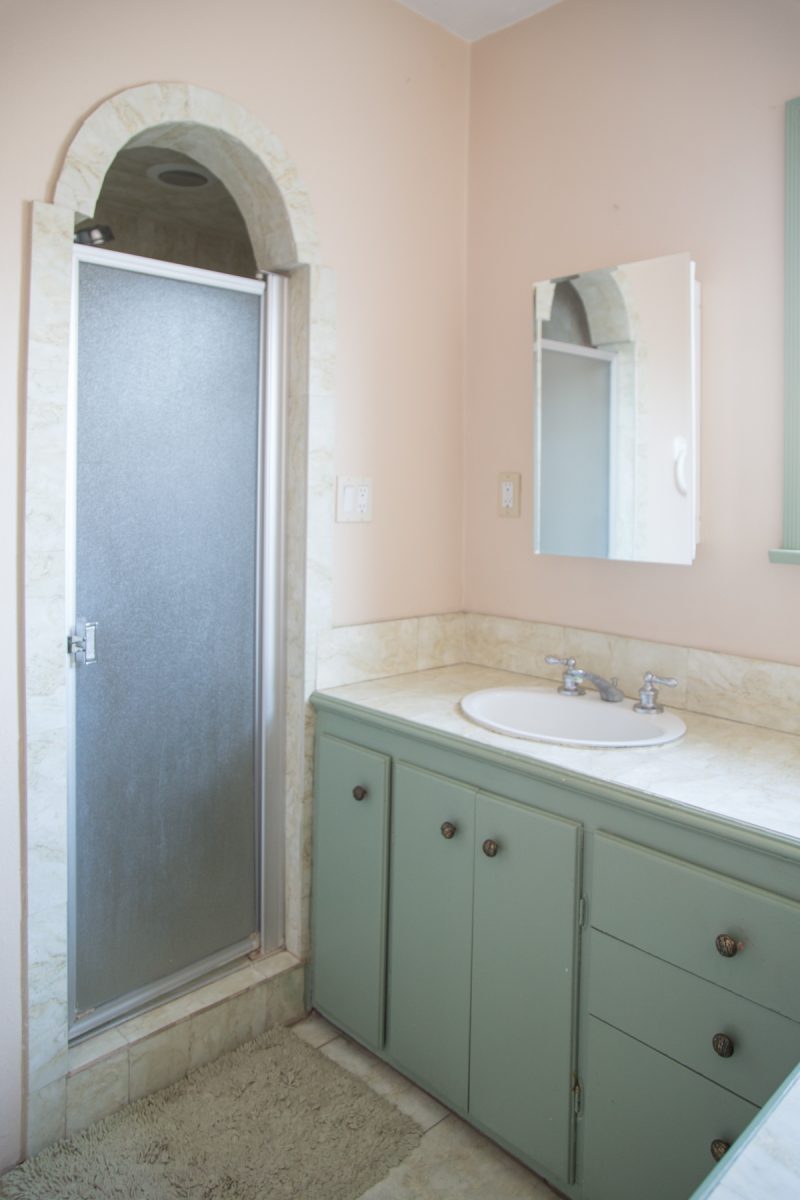 Kid's Bathroom
Completion Goal: Late 2019 or Early 2020

The kids/guest bathroom in our house is completely functional so we're lucky we don't have to rush to get this done. We'll be adding a bathtub to this room for re-sale value, though we actually love that Arlo knows how to shower now. There's a lot of dead space in the room right now, so we'll definitely need to change up the layout a bit, unlike the other rooms we've renovated where we've been able to leave the plumbing as is. I can just see the money pouring out the window now! Ha!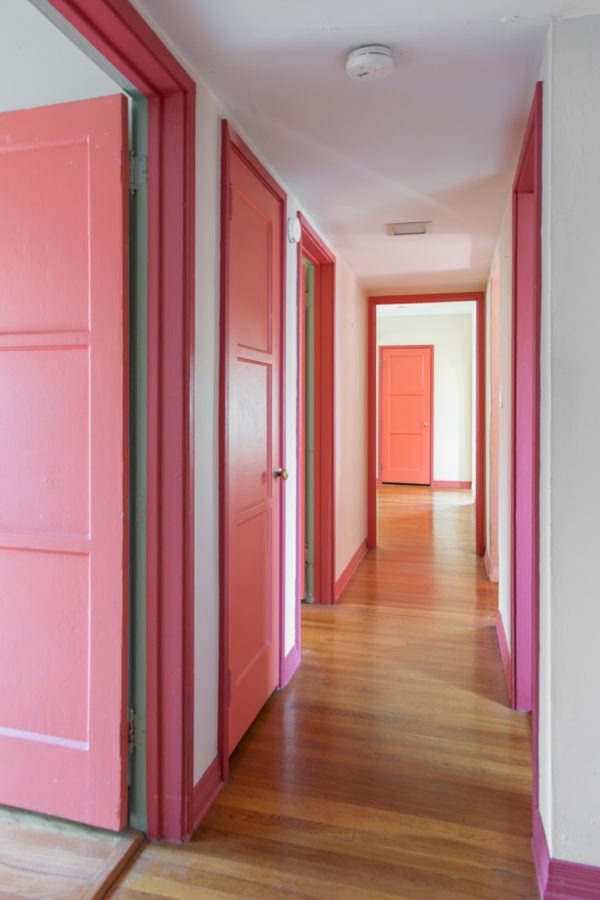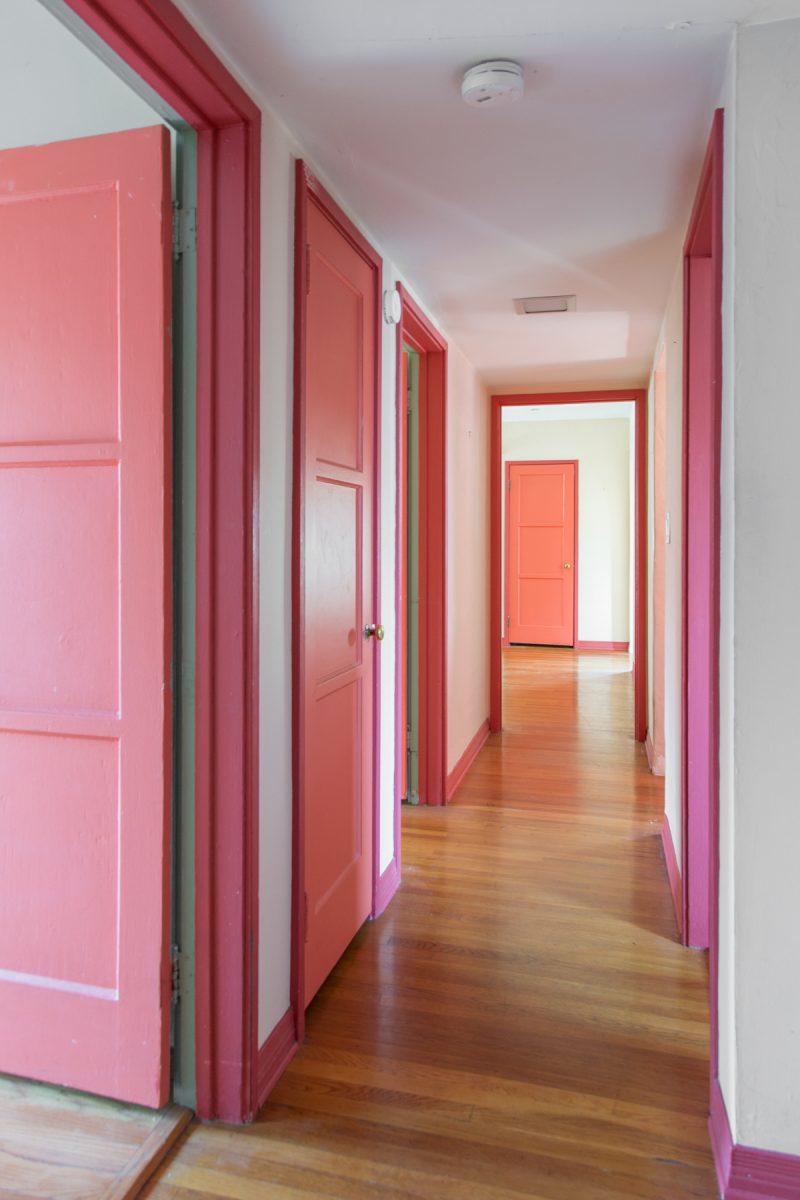 Hallway
Completion Goal: Summer 2019
Hallways are so underrated but have so much potential!!! I really want to nail down a runner for this space and get a more family photo-oriented gallery wall going. I'm really bad about adding family photos in the house, mostly because I just prefer art but I think it's important for Arlo to see more family pictures so I'm gonna work on a good hybrid of the two! We're also going to add some sun tunnels I think, to add more light. They've done WONDERS for our bathroom.
Front Closet
Completion Goal: Fall 2019
We have a great sized closet right next to our front door and it could be SO much more utilized if we put the time into making it more functional. Since we don't have an entryway/foyer (*cries all the tears*), our living room becomes a dumping ground for stuff when we walk in and I'd love to make the closet the (organized) dumping ground instead.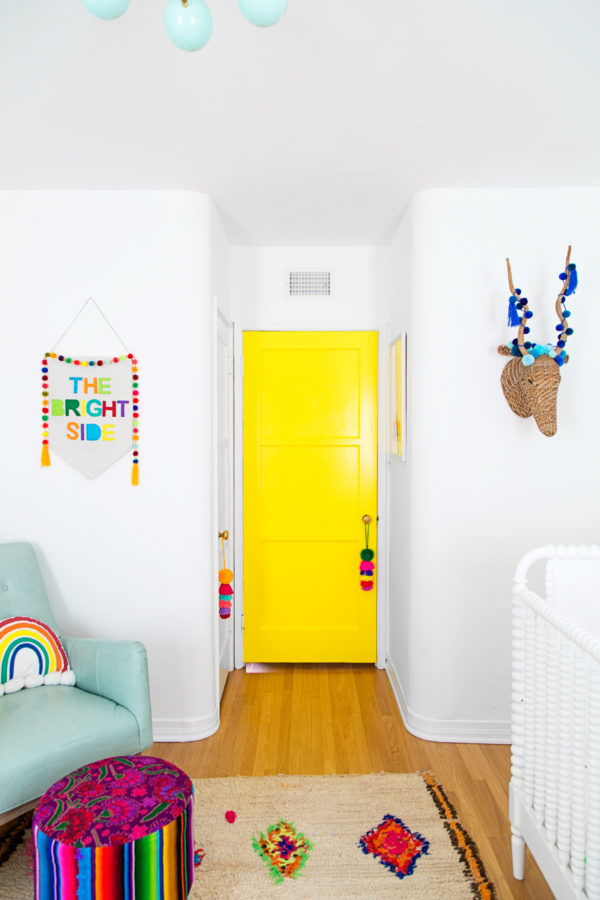 Arlo's Closet
Completion Goal: Fall 2019
Arlo has the worst-laid out closet (it's narrow and crazy deep) and we don't even really use it as a result. SO, I want to turn it into a little fort for him instead! I was obsessed with this little space my best friend had as a kid under her stairway that we could crawl into so I envision some sort of reading nook hidden behind the clothes hanging in the front. Kids rooms are so much more fun than real people rooms!!
Front Yard
Completion Goal: Sometime in 2020 (Hold me to this, you guys!!!)
I'd like to apologize to our neighbors for how hideous our front yard is. It's real bad, you guys. But I just don't want to spend money on it because in general the front of the house is not my style and I don't really know what to do with it that I'll actually like. So this is dead last in priority though I'm sure the neighborhood would prefer if I made this more of a priority than finding a runner for my hallway. 😉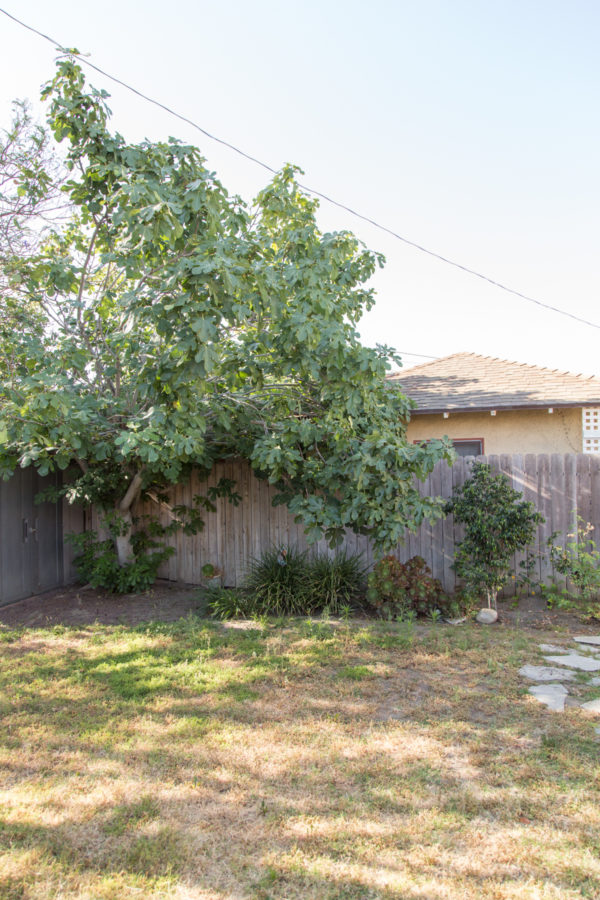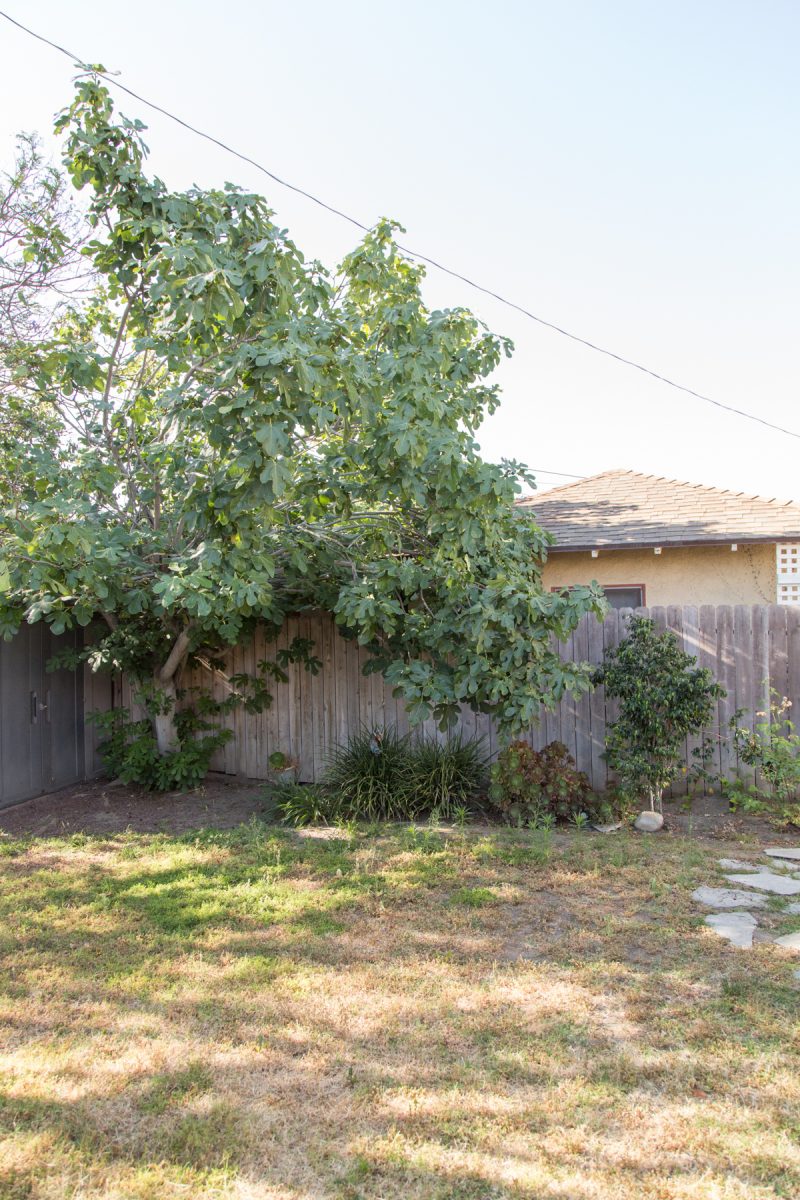 So there's where we're at you guys!! My big goal when I made all these personal changes for 2019, along with spending more time with my family, was to make this house my number one focus. Perhaps that's why this schedule sounds kind of aggressive. We're also very lucky that renovating our house also kinda counts as "work" and I don't take that for granted.
Would love to hear what kind of home projects you're working on this year!?!?! Any big renovations? Small updates?? I'm looking forward to when I get to the "small updates" stage of this house. Haha!