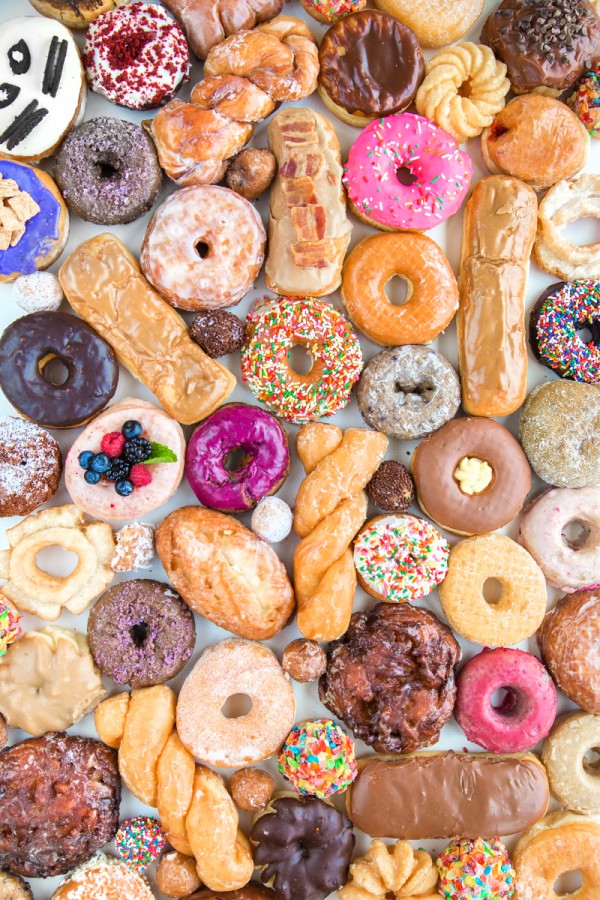 Welcome to the 2015 DONUT WEEK! We'll be counting down the days until National Donut Day with donut DIYs, recipes and of course the annual donut giveaway (!) later this week, but I thought it appropriate to start with the basics. You know, a little lesson, if you will, about these beloved pastries and all the glorious varieties they come in. Since you all loved the LA cookie guide so much… you know we had to do a donut one too! We sampled donuts from 12 of LA's famous donut shops and are sharing the best ones to try at each, along with another awesome map from Kate to take on your own donut adventures! So consider this one part Donut 101 and one part LA's Best Donuts. Are you READY!?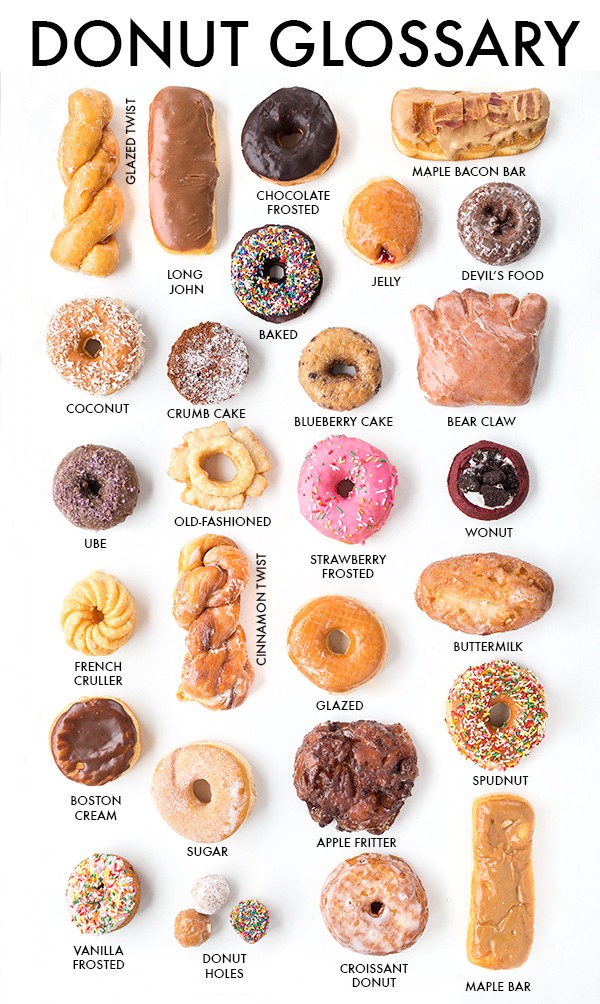 Donuts have a long and often disputed history and origin, but there's a few pretty interesting accounts of it right here and right here, if you'd like to read it! I'm going to fast-forward to today, where there are dozens and DOZENS of types of donuts. We put together a glossary of donuts, showing all the different types we found.. different shapes, different dough, different glazes, different frostings, different toppings. But let's start with the greatest debate…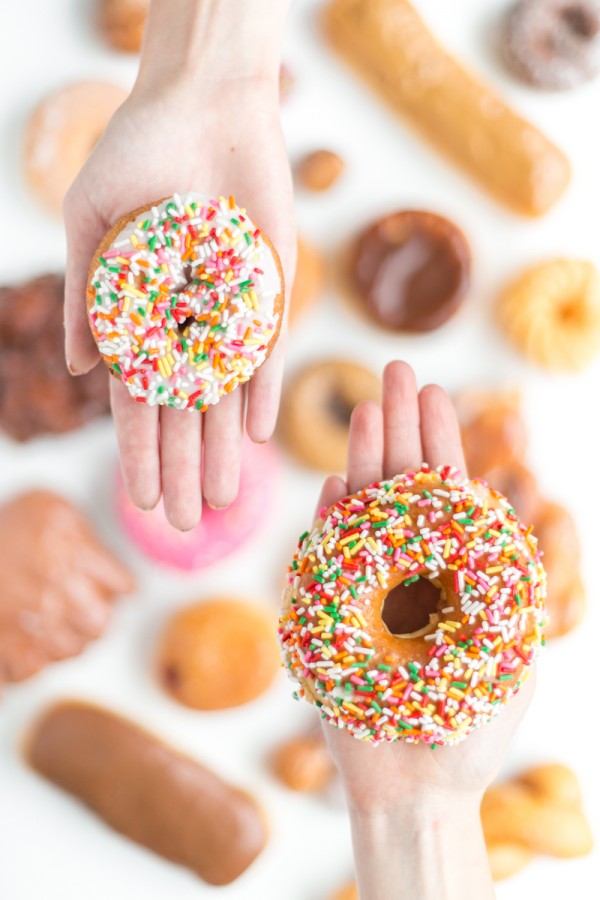 …Cake (left) vs. Raised (right). Raised donuts are made with a dough, using yeast as their leavener. They are lighter, fluffier and larger. They take longer to make (more steps involved!) and are the basis for classics like jelly-filled, glazed, long johns, apple fritters and more. Cake donuts are made with a batter, using baking powder or soda as their leavener. They're denser and crumbly and are the basis for classics like old-fashioned, buttermilk and blueberry cake. Both types of donuts are fried.
So, are you Team Cake or Team Raised?
I am 100%… team cake! My personal favorite donut is a glazed devil's food cake donut. As a cake lover through and through, I like the dense crumbly texture of the cake variety. Though, I'm an equal opportunity donut employer and I'll certainly eat 'em all if you put them in front of me. 😉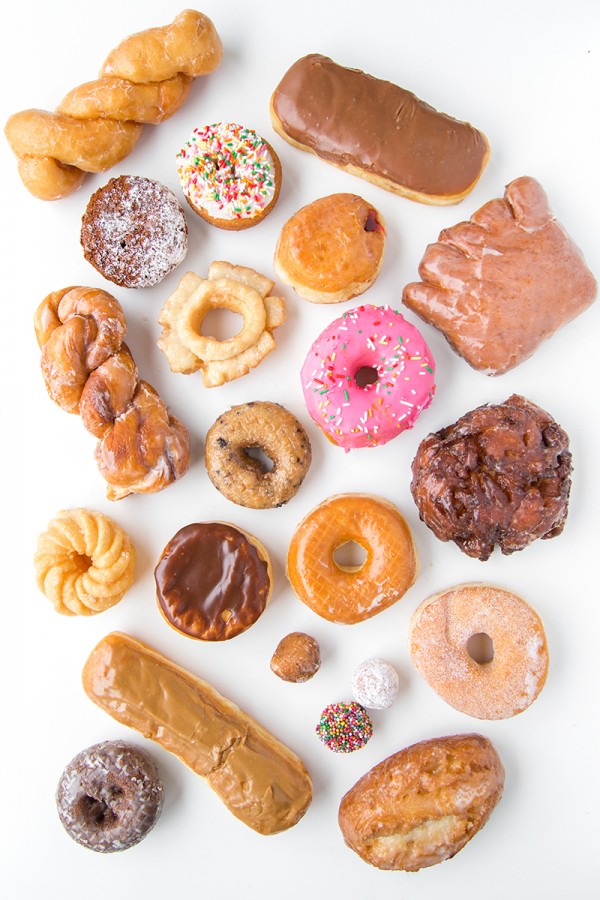 With the recent donut phenomenon, there's been an onslaught of new "fancy" donuts (below) invading the classics (above). Everything from cereal topped to red velvet to peanut butter filled to baked donuts to hybrids like the wonut (waffle-donut) and the croissant donut.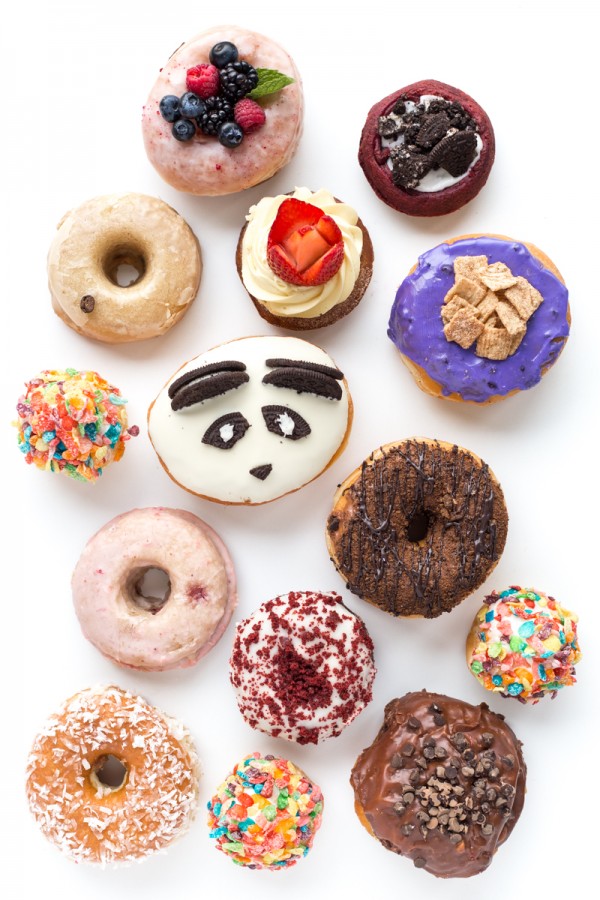 Los Angeles is infamous for its dense concentration of independent, mom-and-pop style donut shops. It seems like every couple blocks there's a donut shop tucked away and I LOVE that about this city. So, we used Los Angeles as the backdrop of our research and hit 12 different shops to round up and try out what they had to offer. We asked the stores what their most popular donuts were, and we threw in some of our personal favorites, too. So if you're visiting LA, or if you live here, here's our guide to where to get your donut on!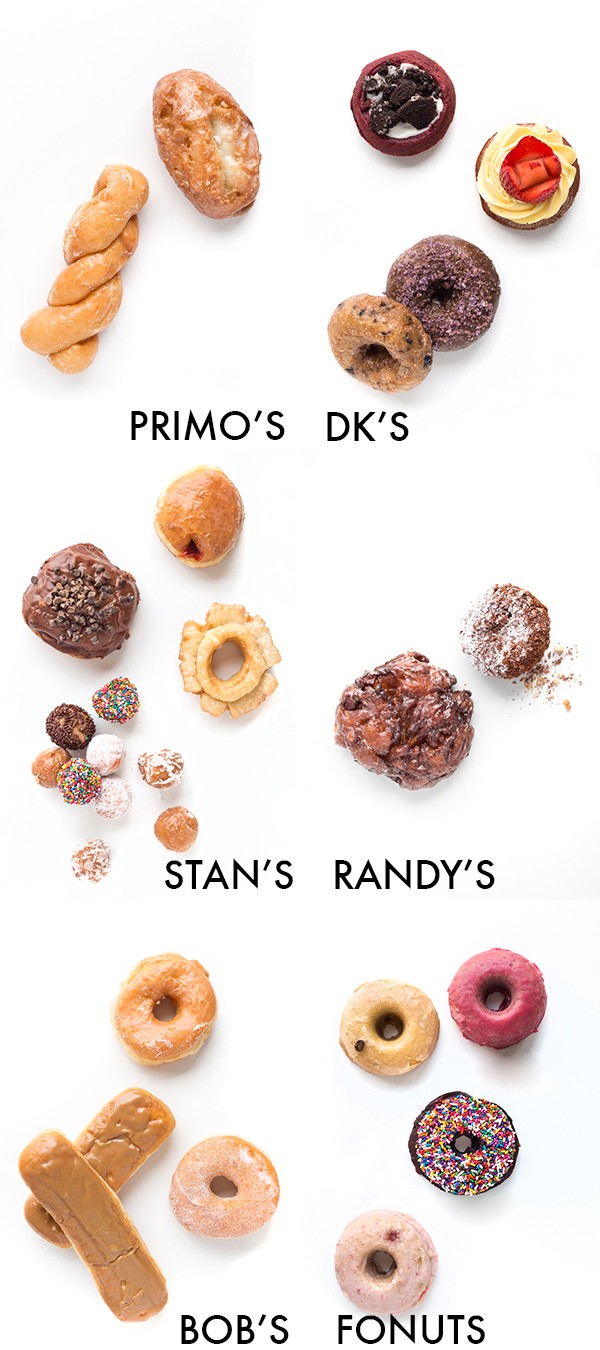 Primo's Donuts
Best Sellers: Buttermilk and Glazed Twist
Our Fave: The buttermilk floored all of us. It was quite possibly the most gasp-inducing donut of the day.
DK's Donuts
Best Sellers: Ube Donuts and Wow-nut (Waffle Donut)
Our Fave: The Ube donut is made from a purple yam widely used in the Philippines for desserts and was the one we were most anxious to try. It. Was. So. Good. A friend recommended the blueberry cake and it was yum too!
Stan's Donuts
Best Sellers: Peanut Butter Donuts and Jelly Donuts
Our Fave: Samantha and I share a love for peanut butter, so we were VERY into this donut. There's a reason why this is the most popular, folks! I'm also, always, partial to some donut holes.
Randy's Donuts
Best Sellers: Apple Fritter and Crumb Cake
Our Fave: Jeff + I hit Randy's (Yes, the one with the giant donut sign!) whenever we make an airport run and we're pretty huge fans of the apple fritter.
Bob's Donuts
Best Sellers: Glazed and Beignets
Our Fave: Bob's is one of the few places in LA that sells my favorite donut, glazed devils food cake. Not to play favorites, but that one is probably my favorite donut in the city.
Fonuts
Best Sellers: Strawberry Buttermilk and Blueberry Earl Grey (Not Pictured)
Our Fave: First, a note! Fonuts donuts are baked, not fried. They have vegan and gluten free options, too! I love the strawberry buttermilk and I am also partial to the gluten free chocolate with sprinkles. It's super rich, but light at the same time? Yum.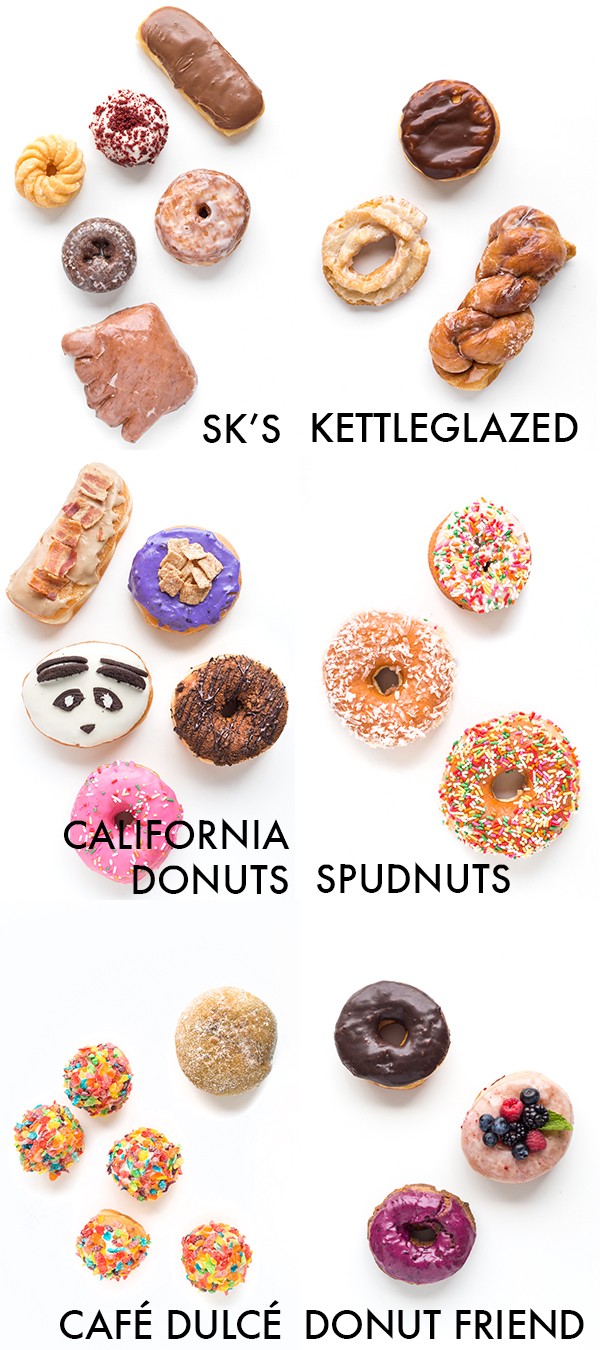 SK's Donuts
Best Sellers: Croissant Donut and Red Velvet
Our Fave: Can you go wrong with a red velvet donut? NO. They have a bunch of croissant donut varieties, but I like the plain best. Not a donut, but my brother swears by their croissants.
Kettleglazed
Best Sellers: Croissant Donut (Not Pictured) and Boston Creme
Our Fave: They make a s'mores donut which is fantastic. Also, if you're into looks, this is one of the cutest places on the list!
California Donuts
Best Sellers: Simpson's DOH-nut (Strawberry Frosted) and Maple Bacon
Our Fave: Samantha thinks they have the best croissant donut in the city. I'm head over heels for their peanut butter cup donut. They also have a signature panda donut called the "Steppie" which is too cute to resist! Their seasonal specialties, like the Girl Scout cookie one above, aren't to be missed.
Spudnuts
Spudnuts look like regular donuts but they are made with potato flour, so they are a kind all of their own! They have a slightly different texture so go with a raised donut here to see if you can taste the difference!
Café Dulcé
Best Sellers: Green Tea Donut and Donut Holes
Our Fave: The fruity pebbles donut holes were some of the lightest donuts I've ever had! Great little pick-me-up. Be warned: They don't start putting out donuts until 10am and don't typically have their full selection until 12pm. We went early so we weren't able to try as many as we'd have liked!
Donut Friend
Best Sellers: DIY Donuts (Not Pictured)
Our Fave: As you may remember from this post, you can build your own donut at Donut Friend! You can pick your donut, filling, glaze and topping. It's a really fun experience and totally worth trying out! Of course, they do have pre-made varieties too, and awesome punny names to go with 'em.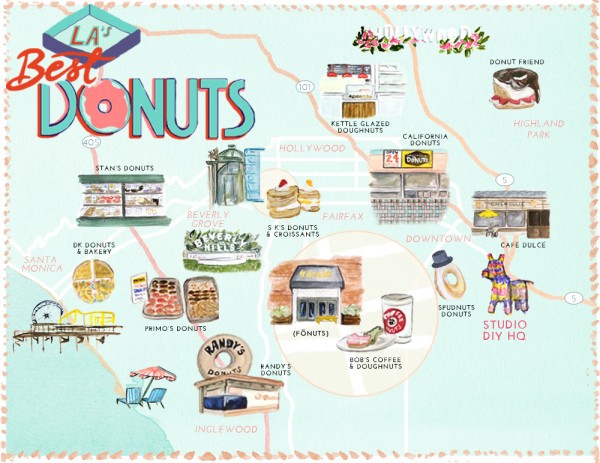 Kate made us this awesome map so you can map out your donut tasting excursions! You can click HERE to download it and print it to take along the way.
Photos by Jeff Mindell
And there you have it! A big ol' guide to the best dessert (Breakfast?) on the planet. Now, tell me… what is YOUR favorite donut?
Be sure to follow along on Instagram and share YOUR donut adventures this week with #donutsdeserveaweek!