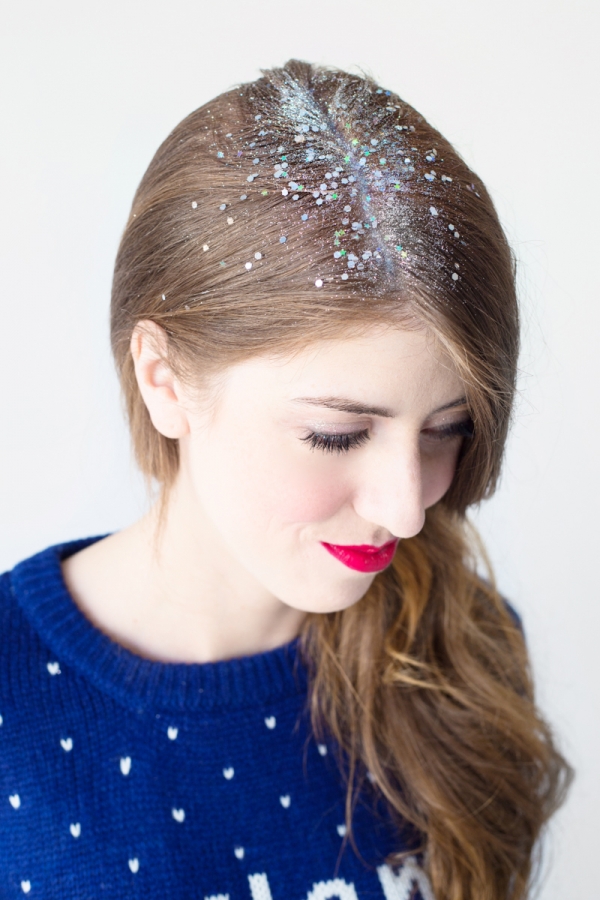 It's holiday par-tay season!! Tacky sweater parties, office parties, Christmas day celebrations, New Year's Eve! PHEW! And that means you need outfits. And accessories. And hairstyles. And D ALL OF THE ABOVE! We teamed up with Living Proof to help get you holiday ready, quite literally, from head to toe! Each of these looks are fun and festive, and each hairstyle is quick and easy since… ain't nobody got time during the holidays!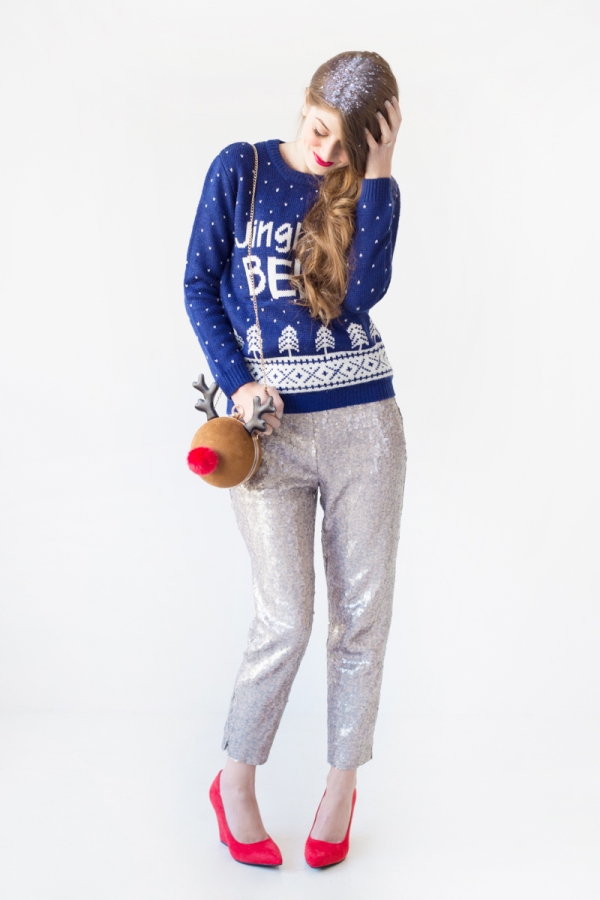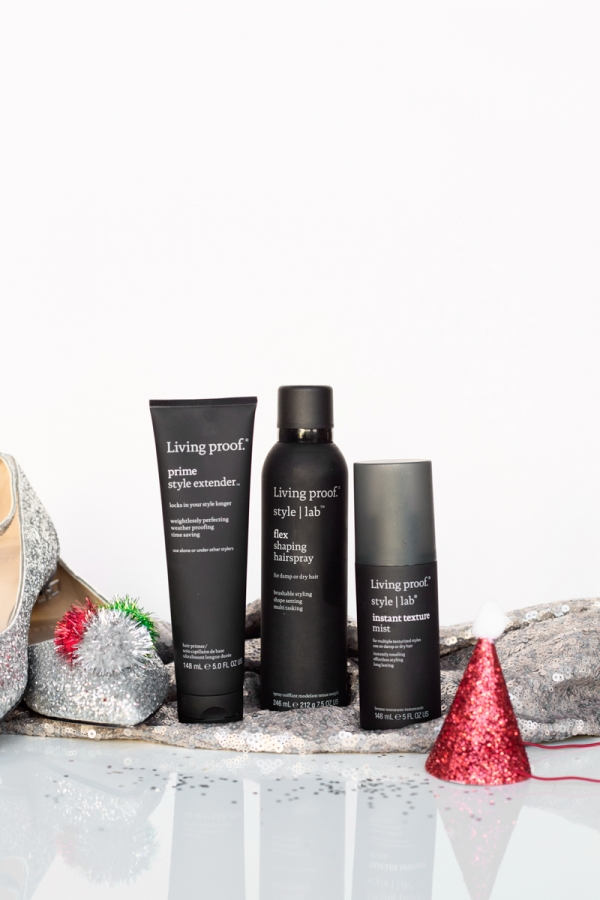 We used Living Proof products for each of these styles and I have to say, it's always nice when a product looks as good as it works! Ha, I'm a sucker for good branding. They are all about solving your hair problems and we used this handy product selecting tool to help find the products we needed for my specific hair type. And if you're like me and you're not a hair expert, it's super helpful. I was really happy with everything we tried, and random, but… everything smelled SO good. Now here's the deets on our three looks!
For the Glitter Roots:
Living Proof Prime Style Extender | Living Proof Flex Shaping Hairspray | Living Proof Instant Texture Mist | Glitter! (Just from the craft store!)
Stefanie, my go-to hair guru from Page Beauty, pulled my hair into a low ponytail and added texture with the Instant Texture Mist. This might be my favorite product we used, I loved the texture and body it added to my hair! For the glitter roots, she added a small amount of the Prime Style Extender to my roots as a base and sprinkled in three different kinds of glitter. Finally, Stef used hairspray to set the glitter in place and I was good to go!
For the Outfit:
Sweater (Sold out, other fun ones here and here!) | Sequin Pants | Purse | Heels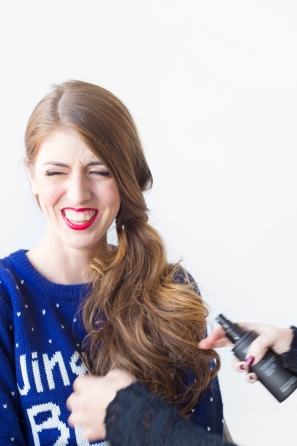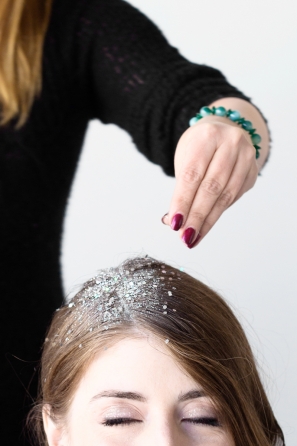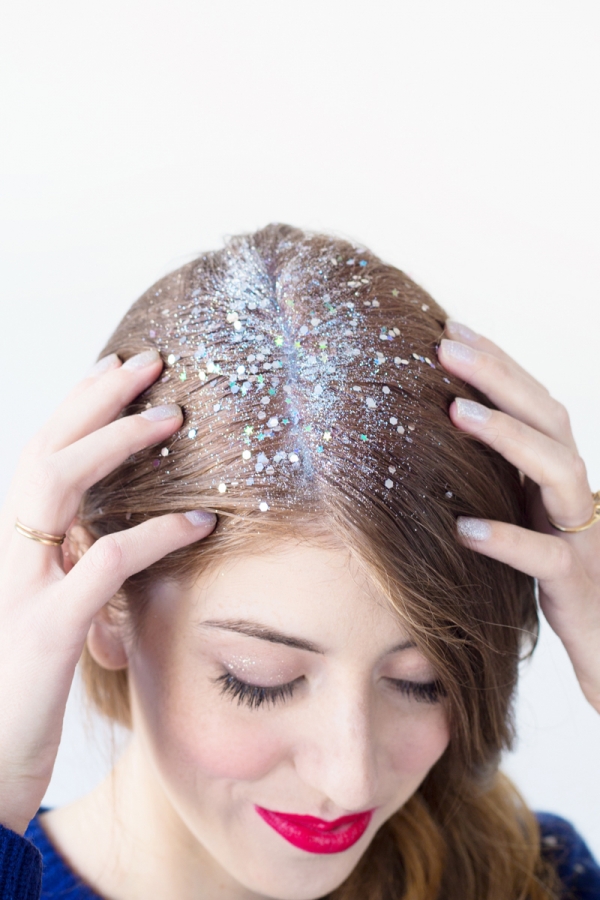 And how about Christmas Day? Not sure what you do, but most of my Christmas is usually spent hanging on the couch with family, eating cookies and opening presents. I want something comfy but cute, since my dad is an infamous candid photo taker! 😉 We went with a little overall action and a half-up top knot.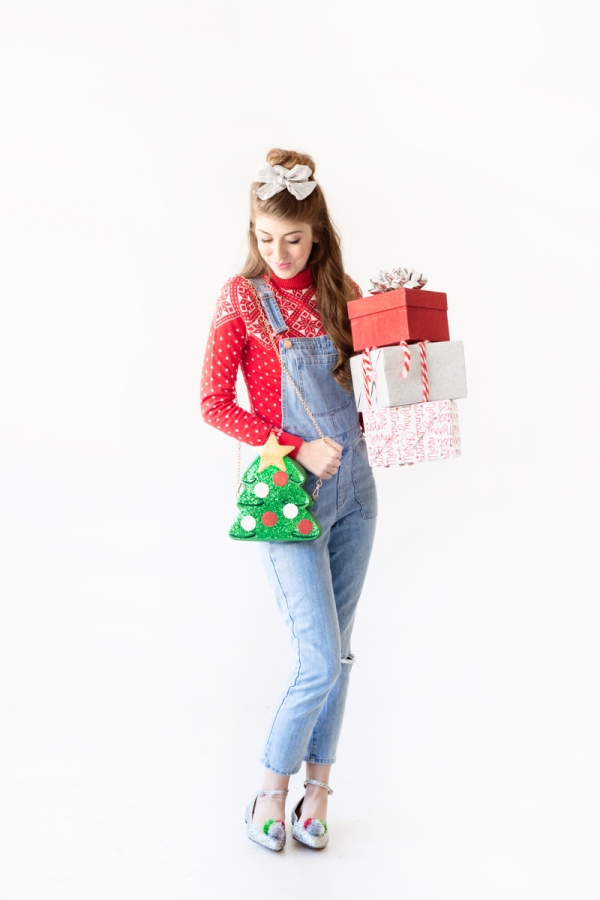 For the Half-up Top Knot:
Living Proof Prime Style Extender | Living Proof Perfect hair Day Dry Shampoo | Living Proof Flex Shaping Hairspray | Twist Scarf
We kicked this style off with the Perfect hair Day Dry Shampoo which, for the record, all the girls in the office have been RAVING about, myself included. It's the perfect option for those of you who stayed up too late on Christmas Eve and are feeling extra un-enthused about washing your hair. *HAND RAISED* It smells REALLY good, and it also doesn't leave a residue like a lot of dry shampoos do on darker hair. Ok, done gushing now.
We put my hair half-up in a top knot and set it with the Prime Style Extender and hairspray to make sure it'd last all day through many rounds of caroling and Christmas cookies. To finish it off we wrapped a twist scarf around the bun and put a bow on it. Yep. Always put a bow on it. #lifelesson
For the Outfit:
Sweater | Overalls | Purse | Shoes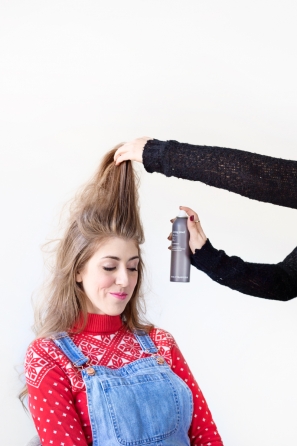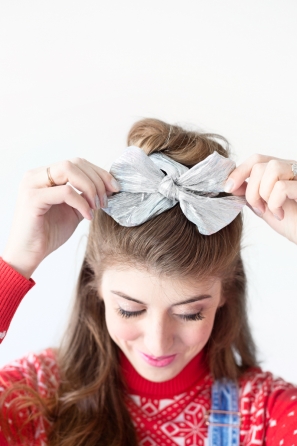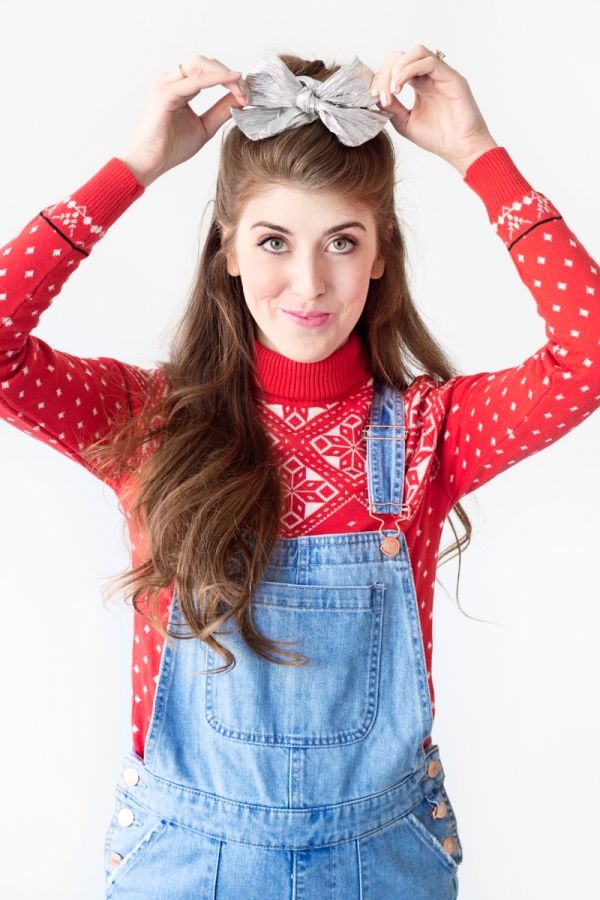 And finally… New Year's Eve! More is ALWAYS more on New Year's Eve so we've got sequins, we've got (faux) fur and we've also re-purposed a Christmas gift topper as a hair clip! WAM BAM BOOM!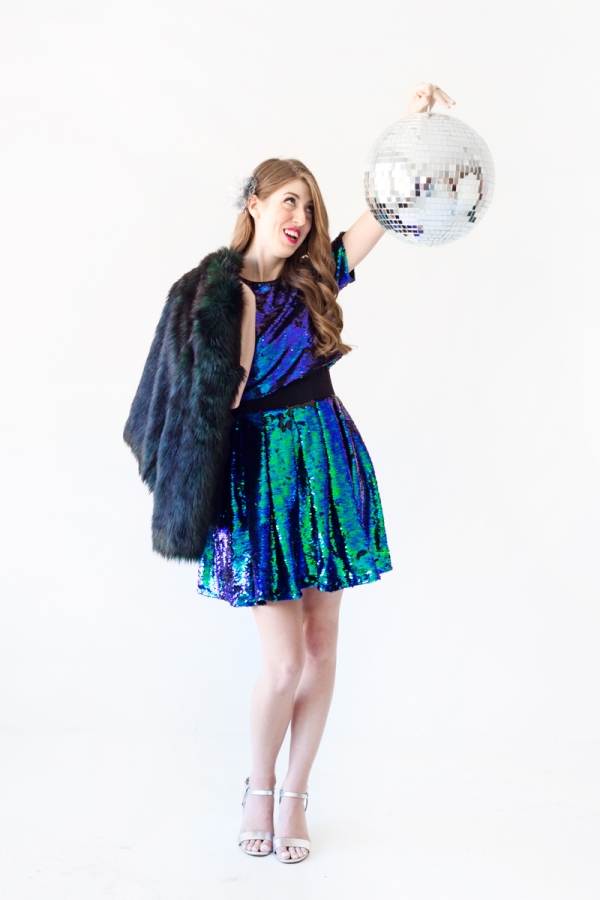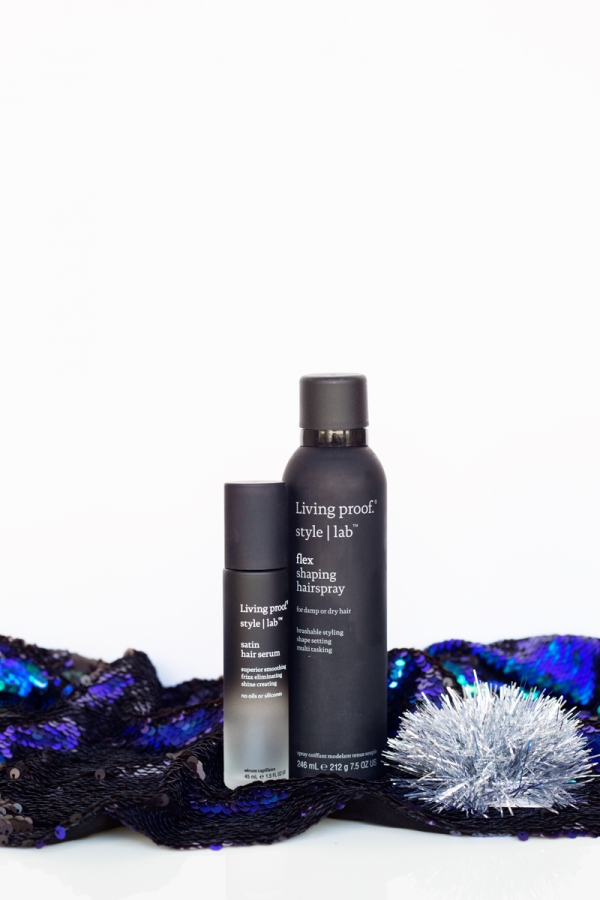 For the Glam Waves:
Living Proof Satin Hair Serum | Living Proof Flex Shaping Hairspray | Tinsel Gift Topper
We were going big with the outfit here so we kept the hair simple and glam with just some big ol' waves! Stef used the Satin Hair Serum to smooth out my ends and give a little extra shine. She used a bobbi pin to secure the tinsel gift topper in my hair for a little flair!
For the Outfit:
Sequin Dress | Faux Fur Coat from H&M | Heels
Photos by Jeff Mindell | Hair by Stefanie Cuesta for PAGE Beauty | Makeup by Emily Oliver for PAGE Beauty
What holiday events are you attending this year?! Whatever it is, I hope it involves sequins. And glitter. Always glitter! 😉
This post was created in partnership with Living Proof. All content and opinions are that of my own! Thank you for supporting the sponsors that keep the Studio DIY party going! Read more about my editorial policies here.