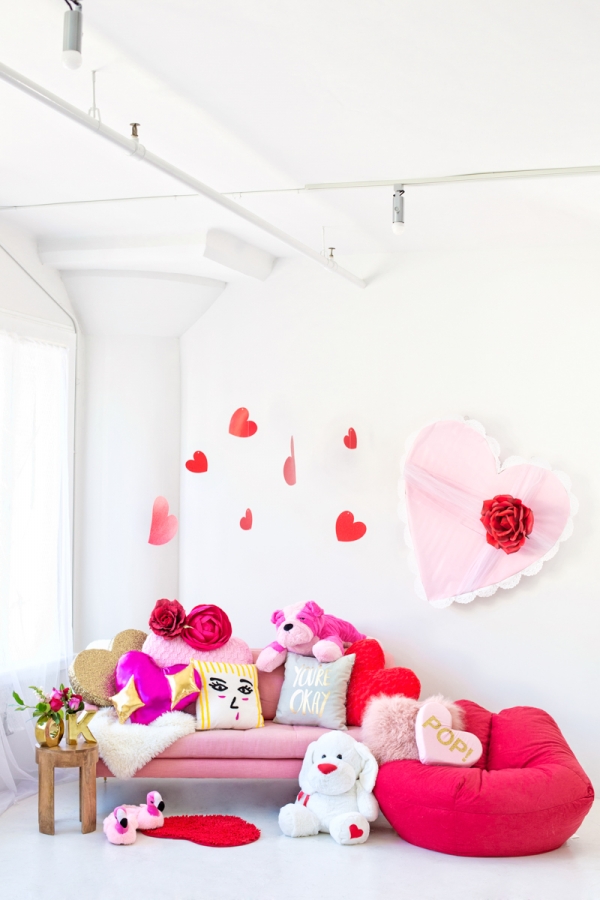 I feel like a lot of our fondest childhood memories probably stem from slumber parties? Movie marathons, junk food, girl talk, MASH (PRINTABLE ALERT!) and (obviously) a giant vintage chocolate box! I mean, can we just go back to the good ol' days? Well, today, we are taking you there!!! We've actually got three days worth of posts to help you throw the best Galentine's Day slumber party EVER! But today we'll give you the deets on the food, entertainment and pillow par-tay!
We worked with one of our new graphic design pals, Danielle DeLorenzo, to make some pretty amazing printables… including a movie marathon poster of all your chick flick faves!!!! I think it's gonna have a permanent place at the HQ, it's that good.
(Click through for the full source list for everything shown here, the printables and the recipes… and stay tuned for some of the decor DIYs!!!!)
First things first. Food. You probably need to order a pizza, yes? That's what we always ate. But we've got dessert covered for you here. We went with the two staples: chocolate chip cookies and brownies, but with a new twist!!!
BFF Chocolate Chip Cookie Cake
I used this mold that I found at Target and a tub of store-bought cookie dough, though you could use your own fave recipe! I used about 1 to 1 1/2 cups per side of the heart. Grease the mold and then press the cookie dough into the pan, making sure you fill each point/corner/curve. Place the mold on a cookie sheet and bake at 325 degrees for about 15-18 minutes (time will vary based on how thick you make your cookie cake) or until the cake is golden brown. Remove from oven and let cool completely. Once cool, invert to remove from mold. If it does not remove easily, carefully peel the mold back. Place on cookie sheet to decorate! I just used store-bought cake decorating frosting!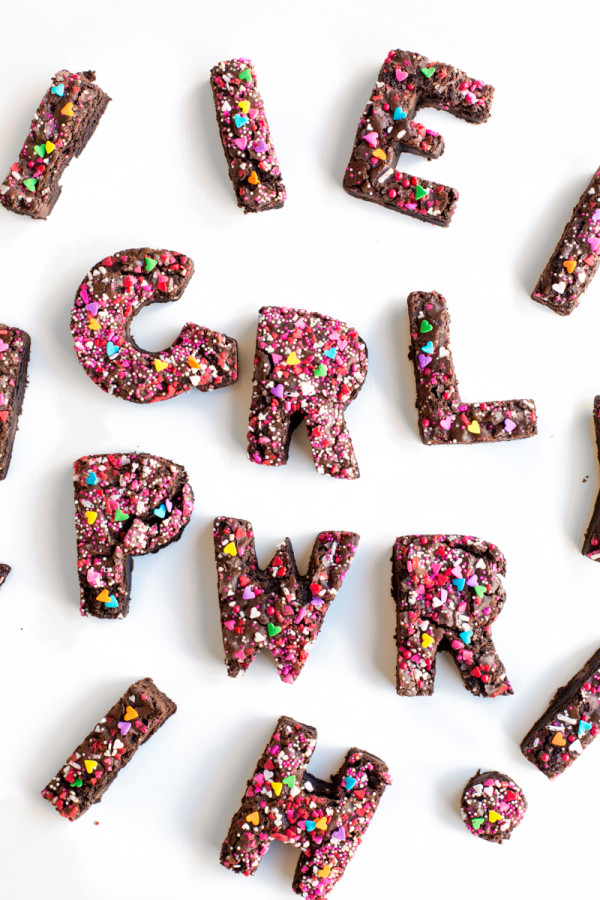 Sprinkled Brownie Phrases
Another store-bought hack! I used boxed brownie mix! Grease and line the pan with parchment for easy removal after baking! After I poured the batter into the pan, I sprinkled an assortment of sprinkles over the top. THEN I baked as directed in a 9×9″ pan. Remove from oven, let cool completely, then remove from pan using the parchment. Cut out letter shapes using large letter cookie cutters. I got about 8 letters per 9×9 pan of brownies!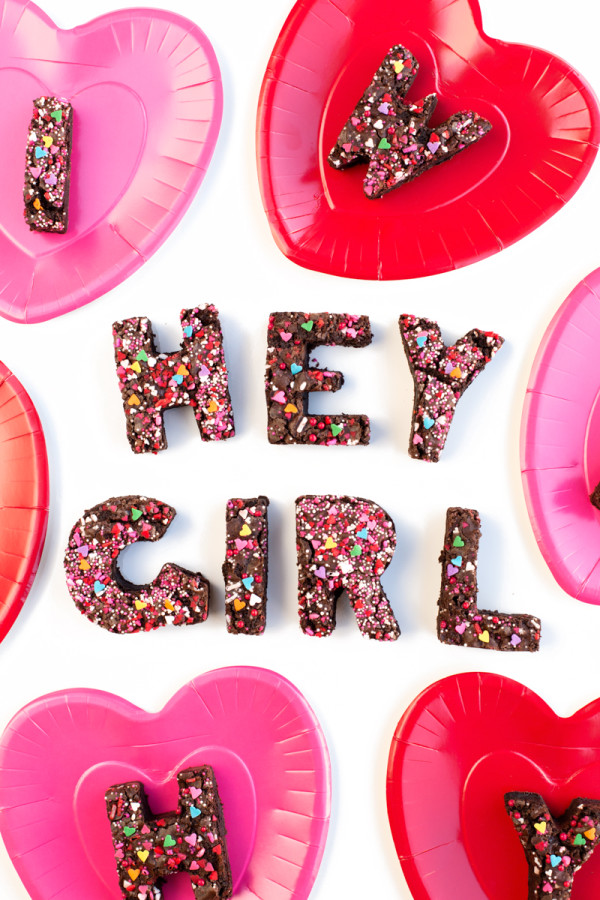 Now on to entertainment. More staples: Chick flicks, throwback games and a little crafting action. DUH!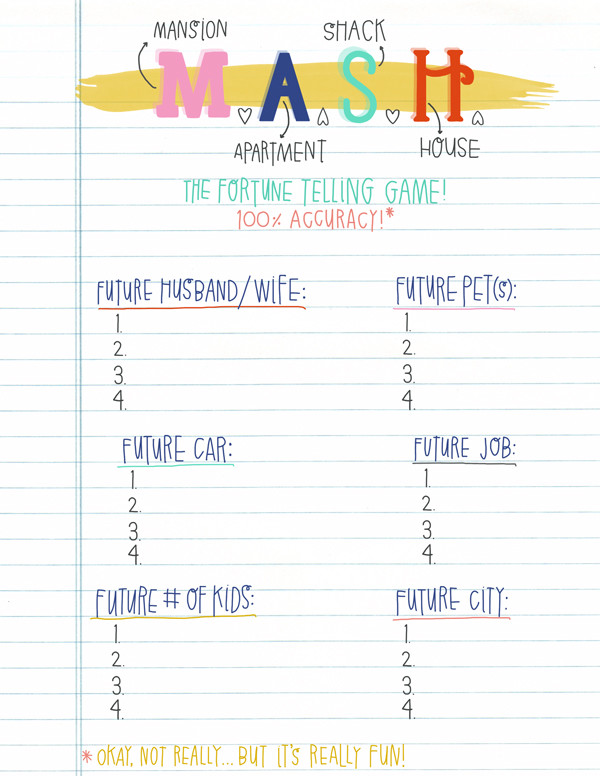 MASH Game Printable
How. Many. Times. Did you guys play MASH in middle school!? EVERY DAY? Spoiler alert: It's still fun as an adult! Danielle created this AMAZING printable that even looks like it's on lined notebook paper. We're dead over it.
Click HERE to download the MASH game printable!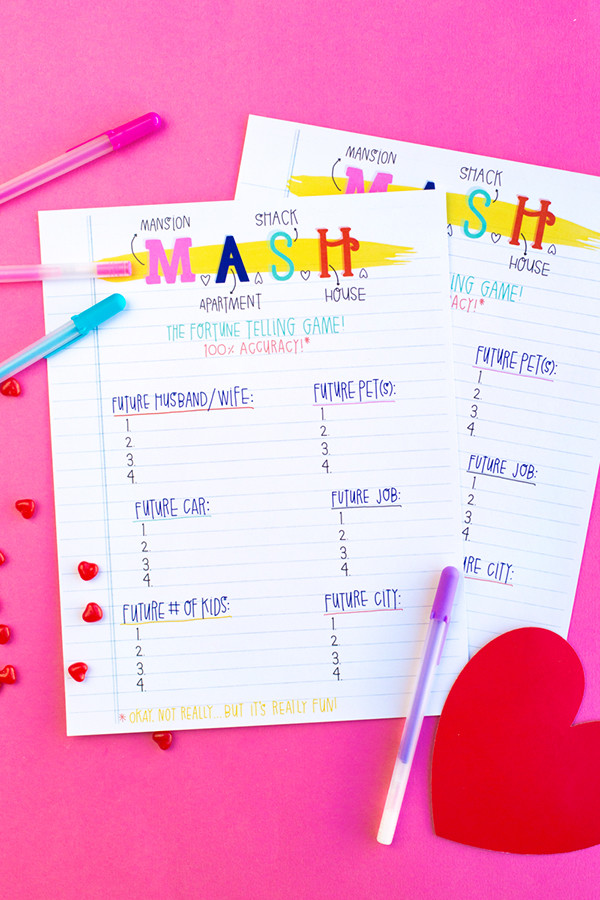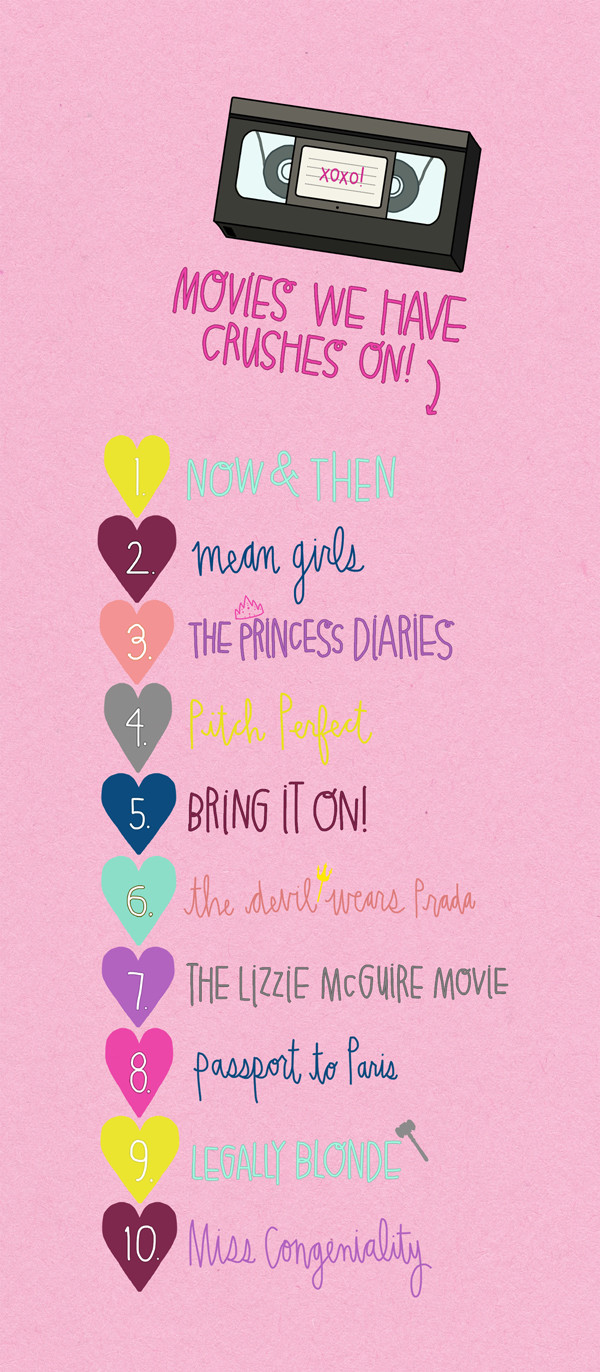 Chick Flick Movie Marathon!
Time to break out all the old favorites and we've got a line-up of (some) of our all-time chick flick MUSTS! (There was really too many to choose from though.) So your gal pals can know what they're in for, Danielle made this fun printable movie poster with the agenda!!!!
Click HERE to download the Chick Flick Movie Line-up Poster!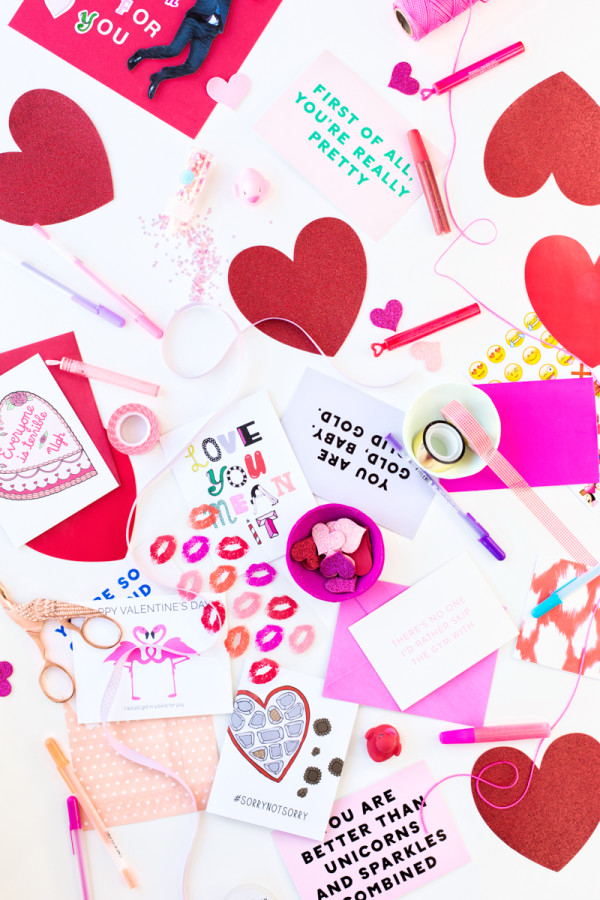 Craft-Your-Own Galentine
Gather up a bunch of fun cards, cardstock, stickers, glitter glue, gel pens and washi tape and have a craft session to make Valentines for each other, your co-workers, anyone! Check here and here for some inspiration or check out some of our ready-to-buy faves you see above:
Compliment Cards | #SorryNotSorry | Everyone is Terrible | Flamingos | Emoji Stickers
Pillow Par-tay!
Every sleepover needs a comfy cozy movie-binging, junk food-eating corner. Round up all the pillows in the house and throw a giant stuffed animal or two in there. We also added a lips beanbag because… IT IS AWESOME! Hang some inexpensive hearts from the party or dollar store from the ceiling if you're feeling super fancy.
Lips Bean Bag | Pink Couch (Custom) | Sequin Heart + POP! Heart Pillow | You're Okay Pillow | Face Pillow | Fluffy Pink Heart Pillow | Fluffy Red Heart Pillow | Furry Pink Pillow + Furry White Throw from West Elm | OK Vases | Red Heart Rug | Flamingo Slippers
We'll be sharing the DIY for the giant vintage box of chocolates and that emoji heart pillow later this week!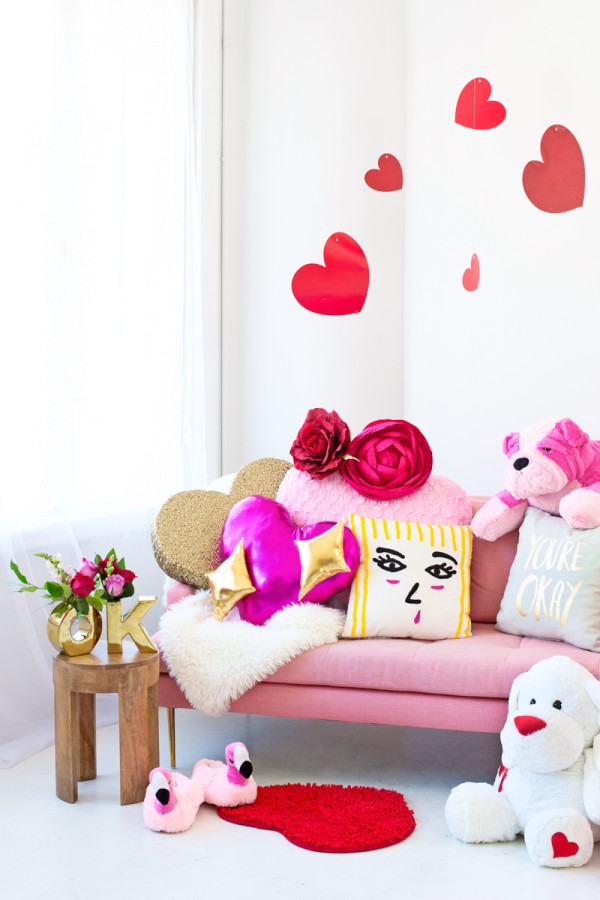 Oh, and in case you were wondering. I'd be married to James Corden, we'd have four kids, a dog and live in a shack in New York City. I'd drive a pink cadillac and be a Beyoncé back up dancer. So, basically MASH predicted my dream life.
Photos by Jeff Mindell | Printables by Danielle DeLorenzo | Styling by Annie Steward + Kelly Mindell | Creative Direction by Kelly Mindell
p.s. My heart-patch sweater is sold out but you can find similar here and here, and I'm wearing these overalls! My flats are from Target! All other sources are tagged within the post above! =)
So be sure to stay tuned tomorrow and Thursday for the emoji pillow + giant tacky box of chocolates DIY! Eeeeep!! Had so much fun with this one. I highly recommend you make it happen in real life, too. 😉