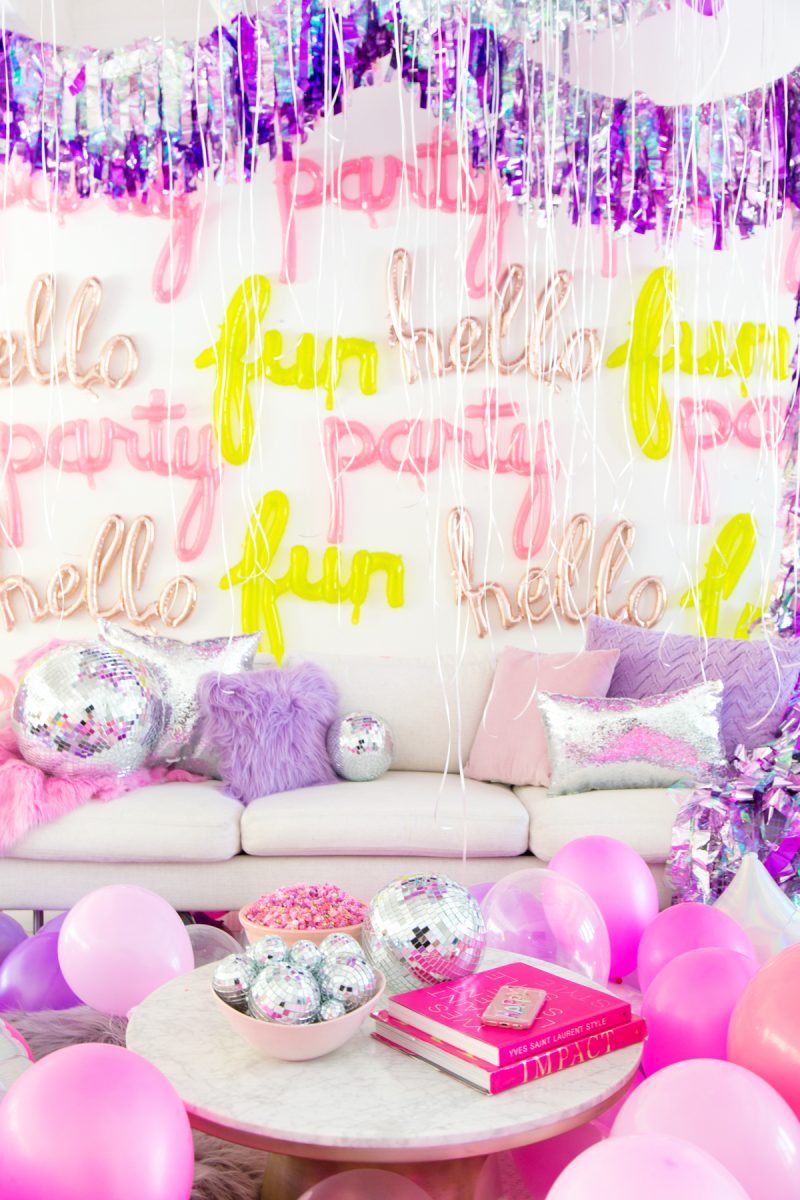 I have been D-Y-I-N-G to share this party with you!!!!!!!!!!!! It's by far my fave from the ones we dreamed up in Palm Springs because it basically feels like we turned our rental into a giant barbie dream house!!!!
Awhile back, I asked what parties you guys were planning this year and one of the MOST common ones was a bachelorette. I started thinking about how fun it would be to have a big slumber party with all your best girl friends and just FILL the whole thing with balloons. So we created this holographic neon slumber party complete with frosé (more on that soon!), a balloon wall and a confetti pillow fight!!!!! Oh and about one million disco balls.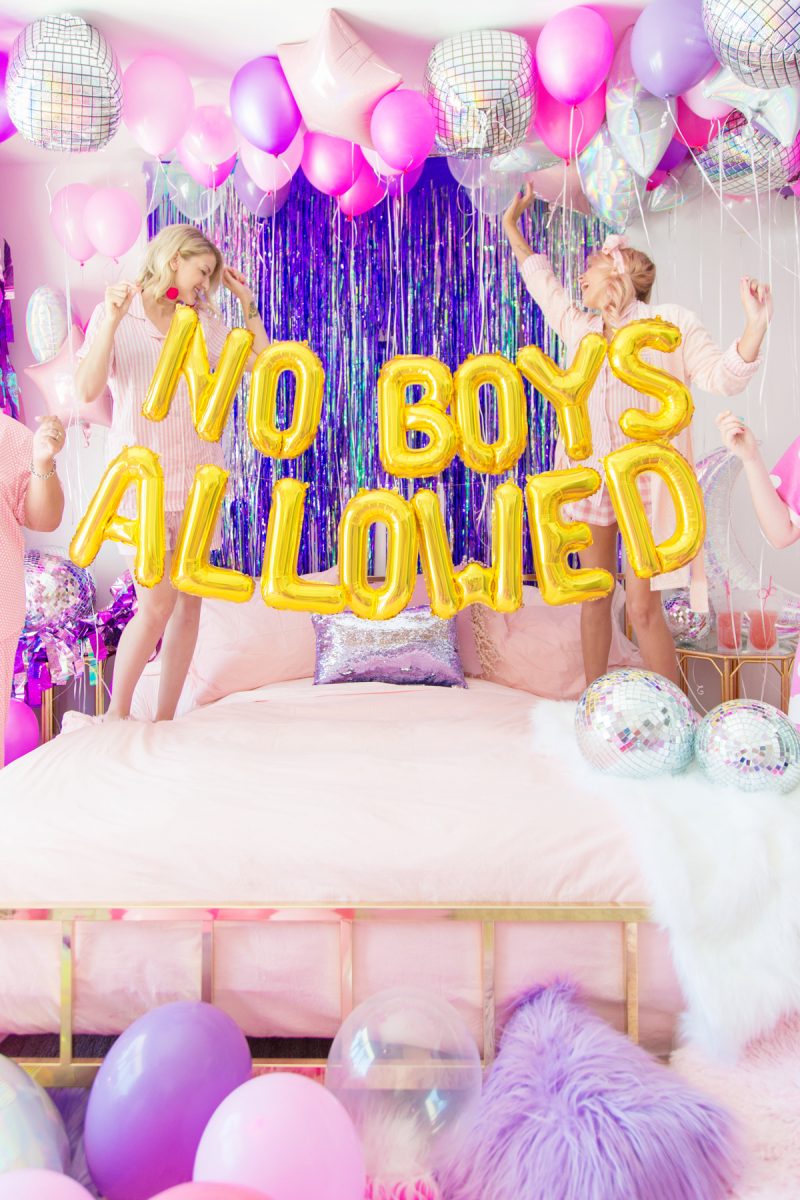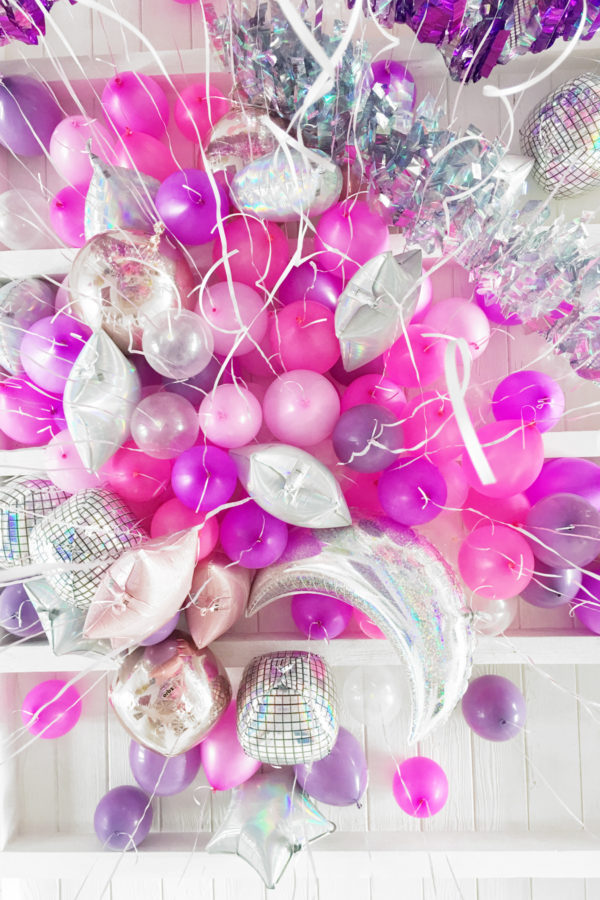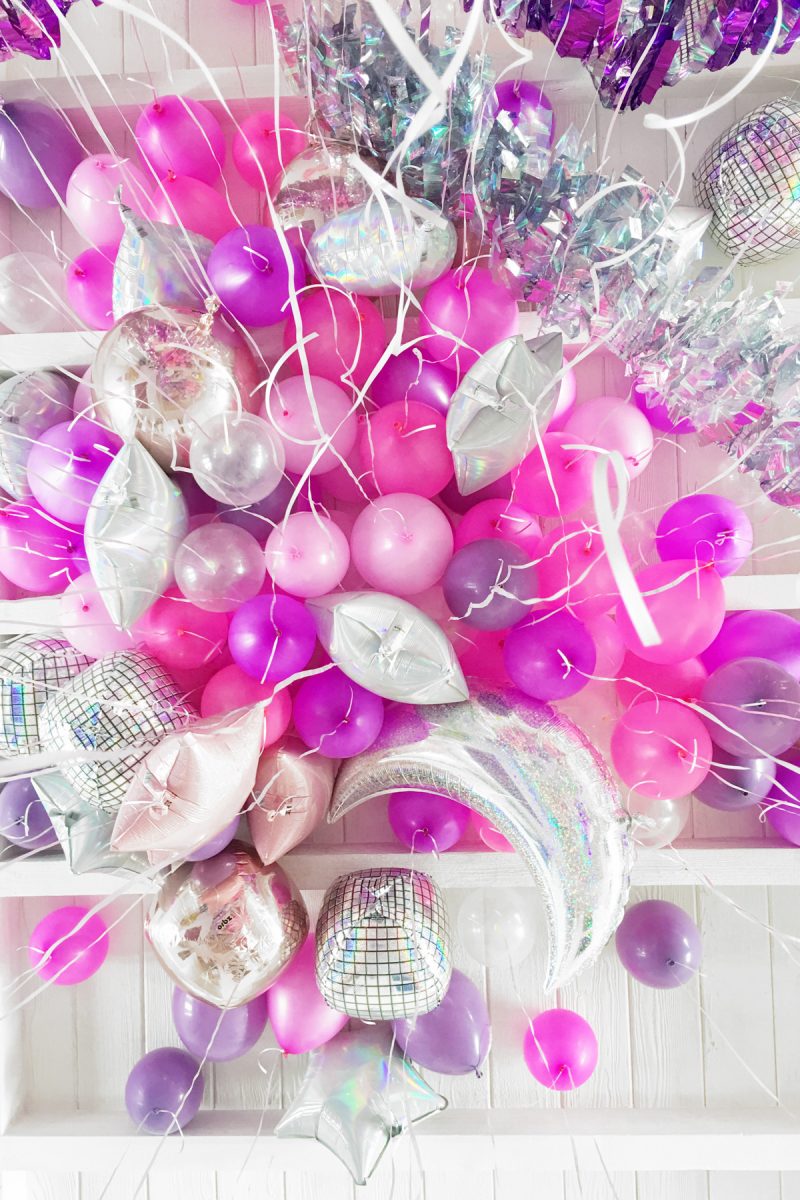 If you're doing a vacation rental for a party or bachelorette, the easiest way to make an IMPACT is to fill the ceiling with balloons! You can buy a portable helium tank at most Targets or have balloons filled at a party or grocery store. Tie each with iridescent ribbon and it seriously is ALL you need. But in case you want 467 other ideas… allow me to provide you with them…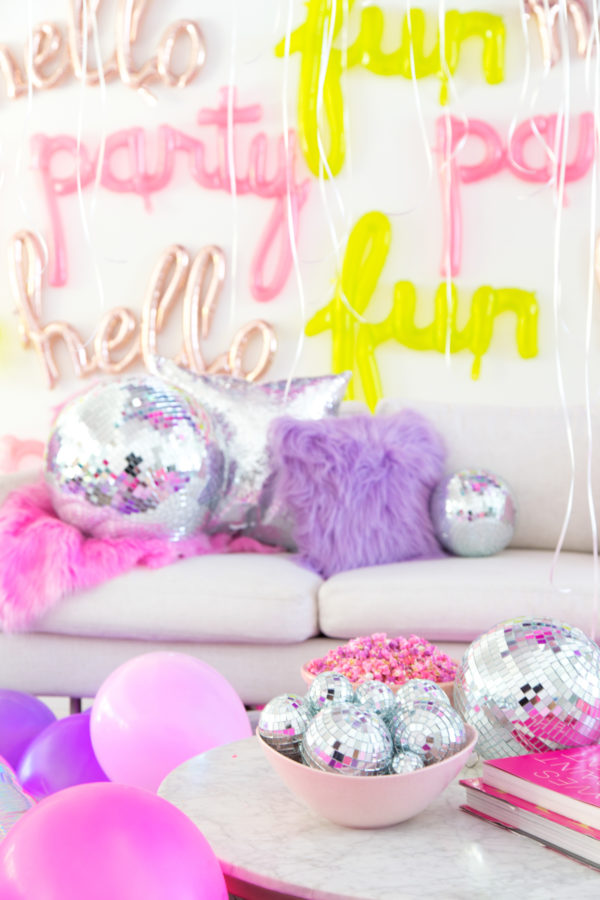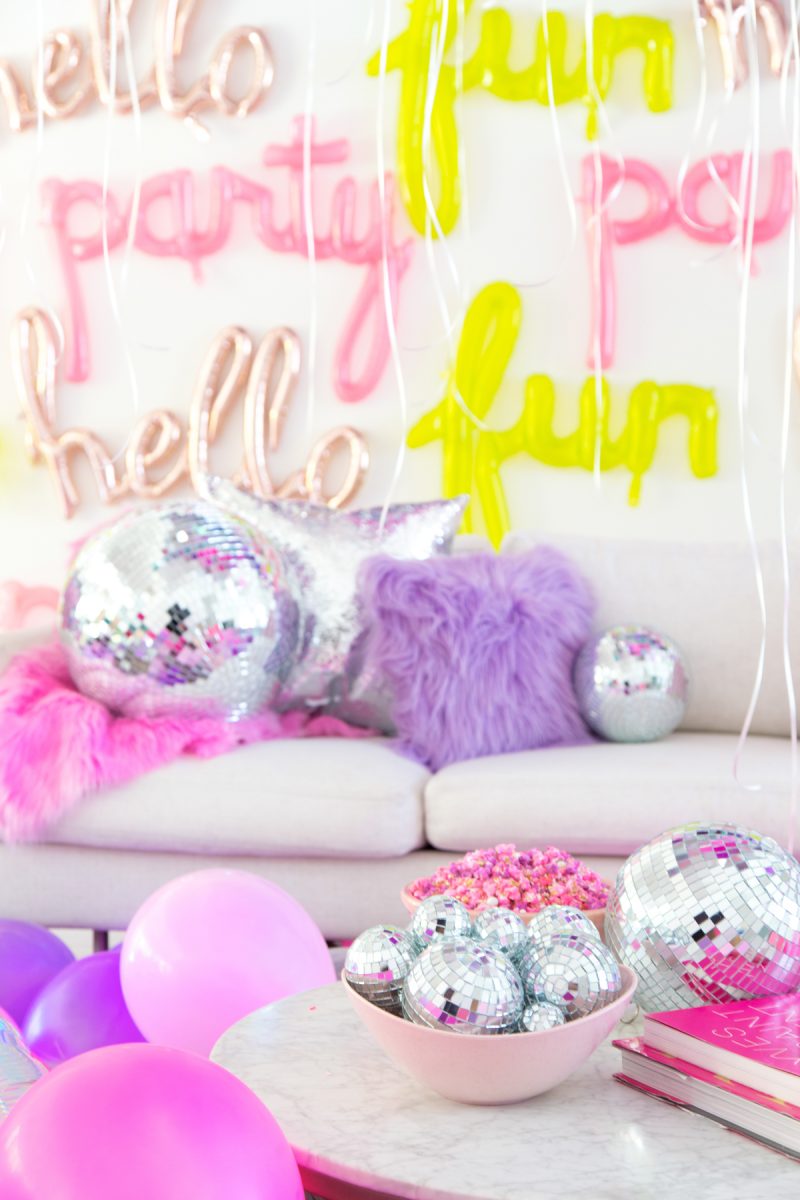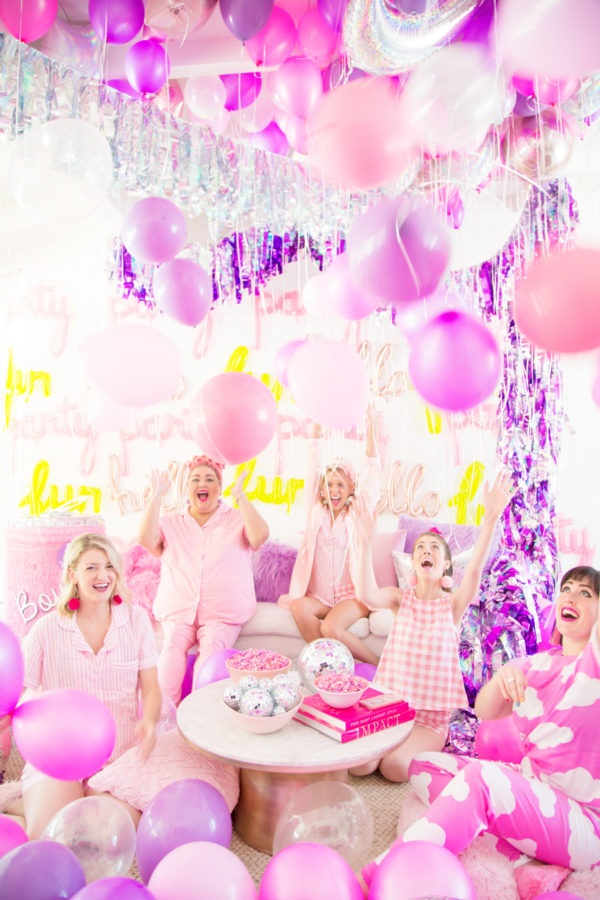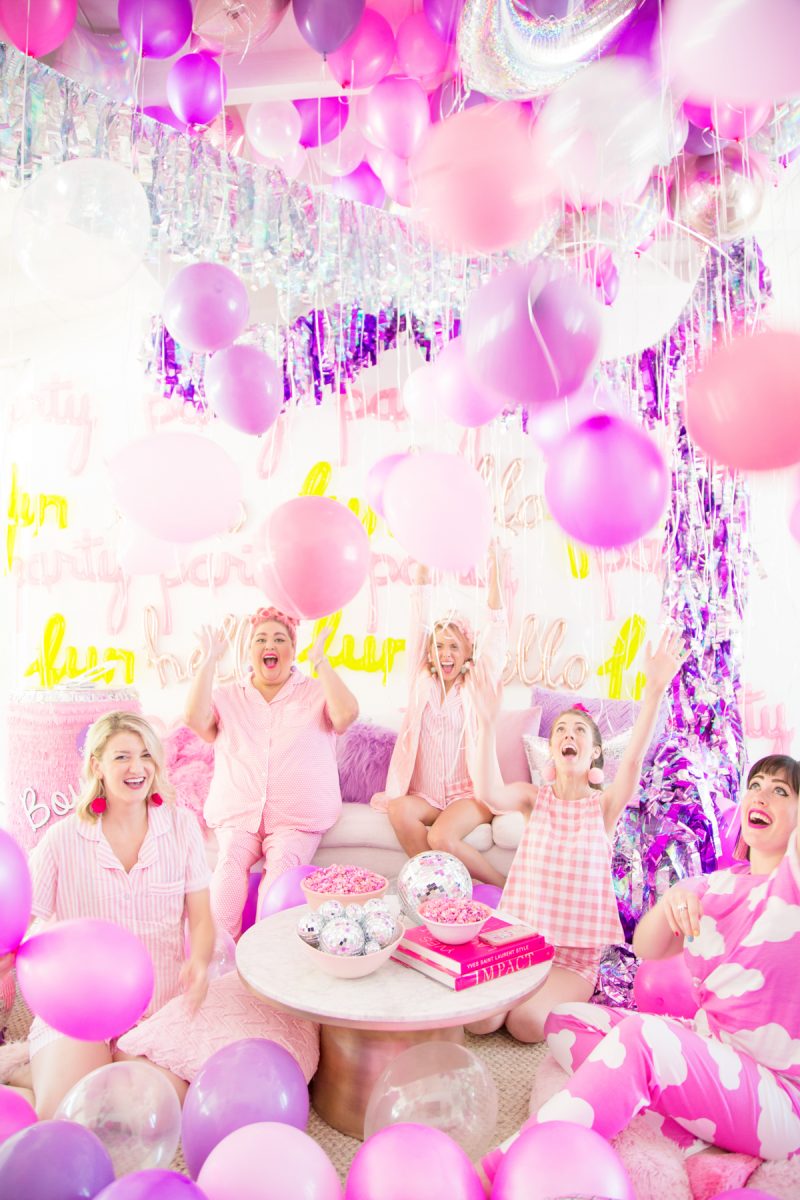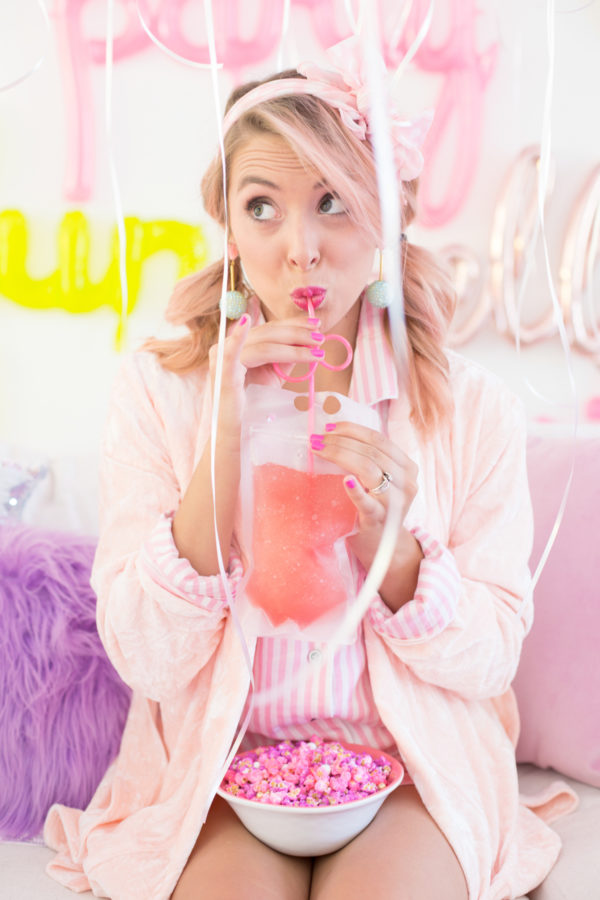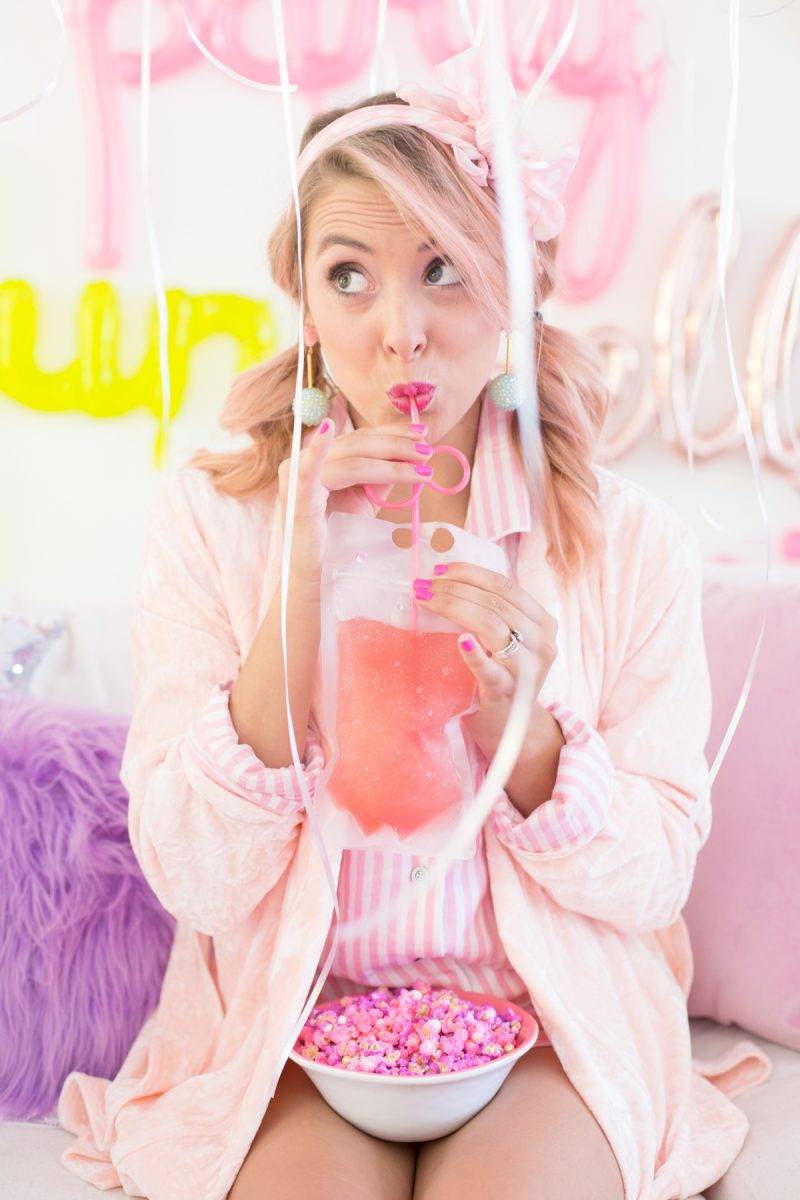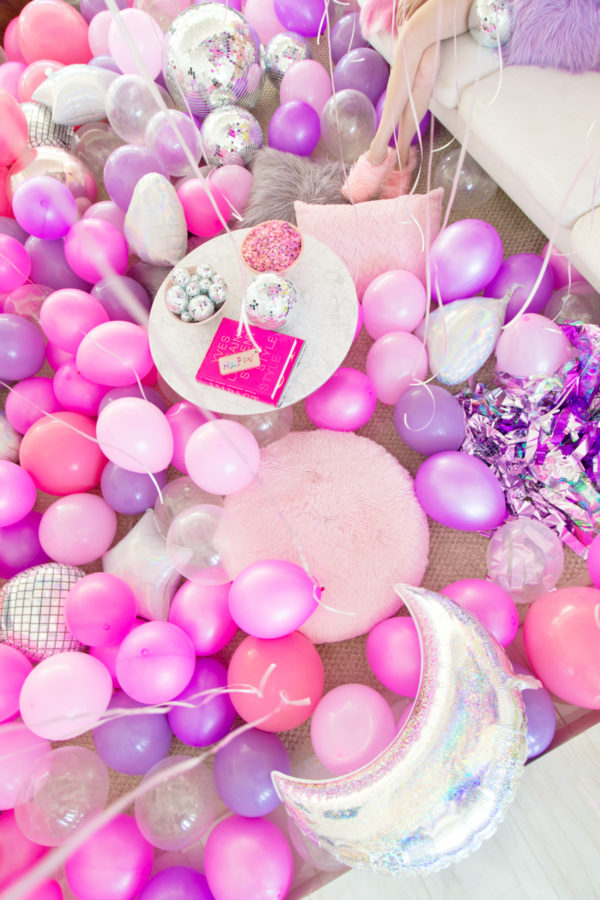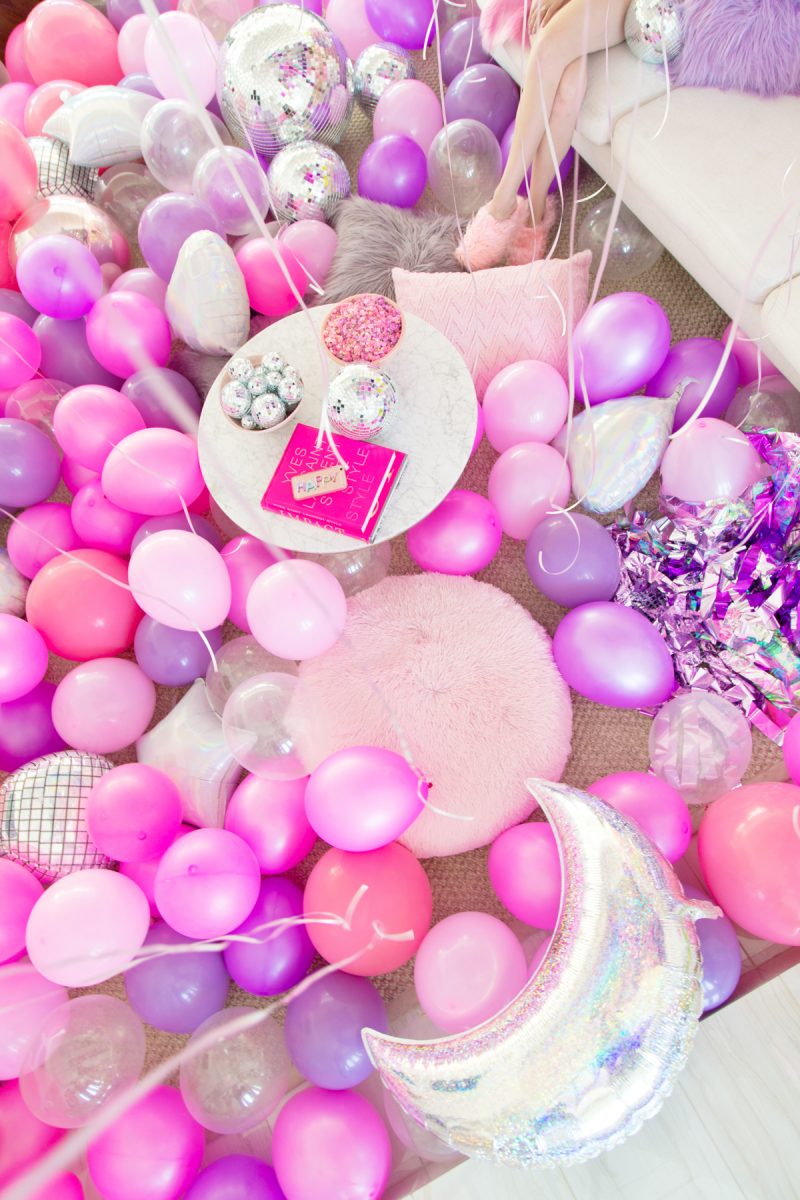 If the budget doesn't allow for helium, snag a balloon pump and fill the floor instead! p.s. Don't worry, that boy tears piñata tutorial is comin' at ya soon!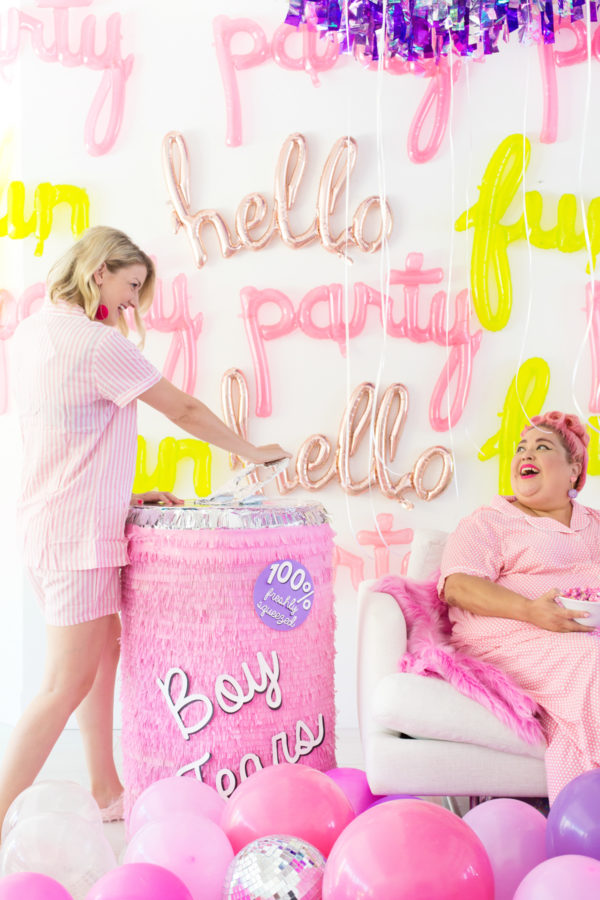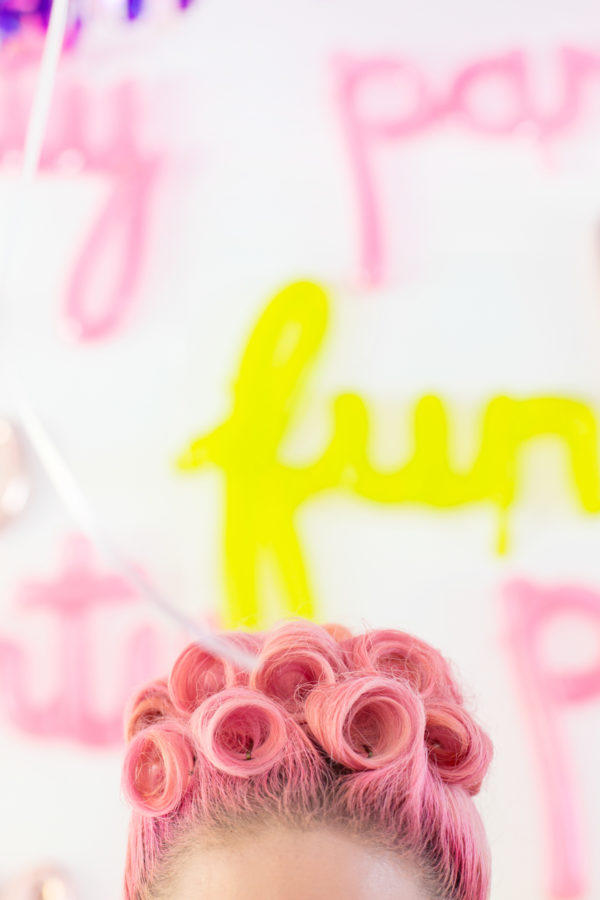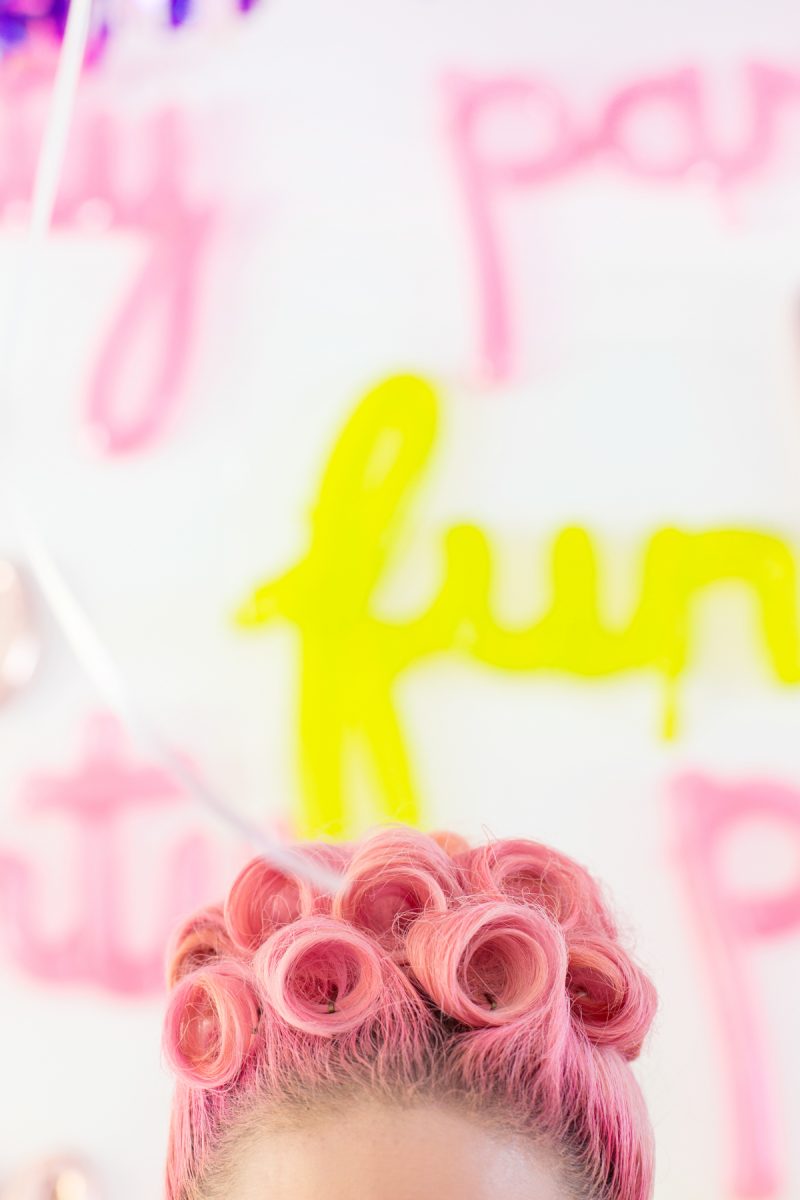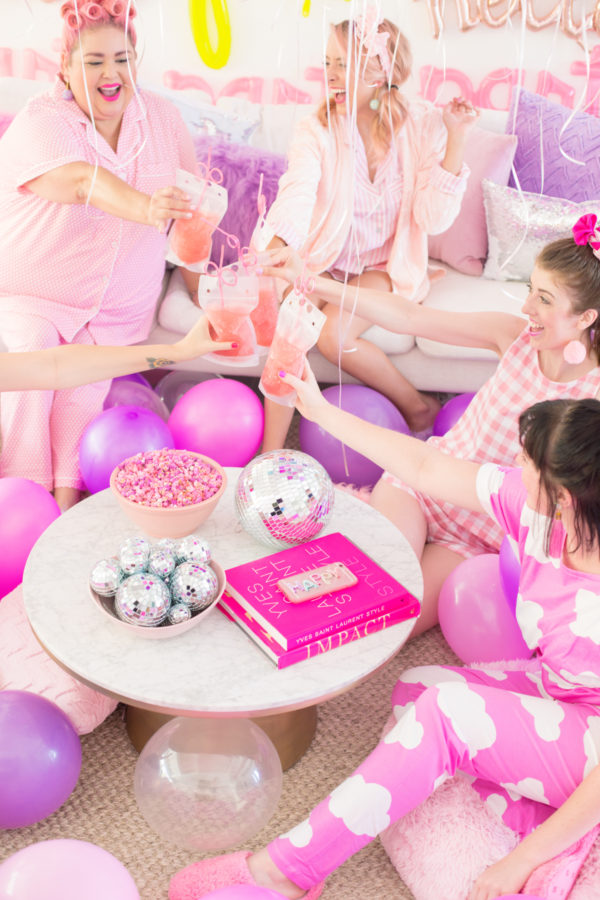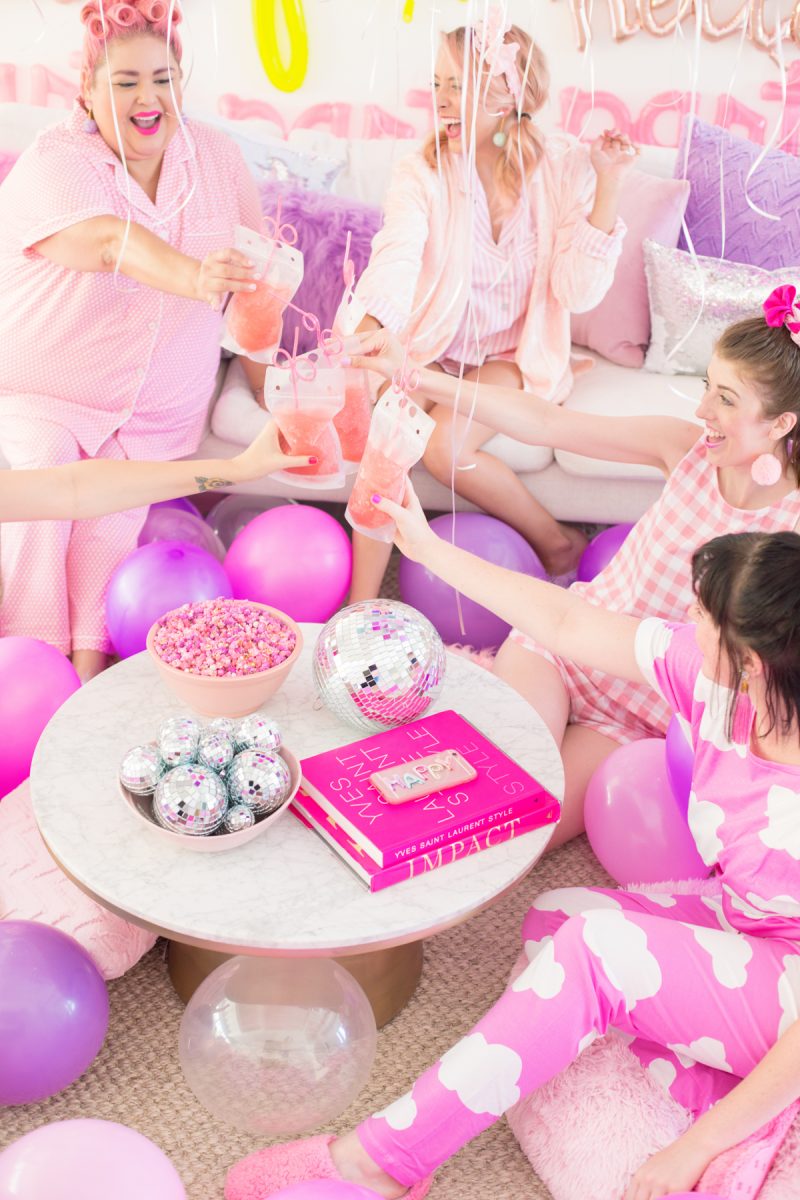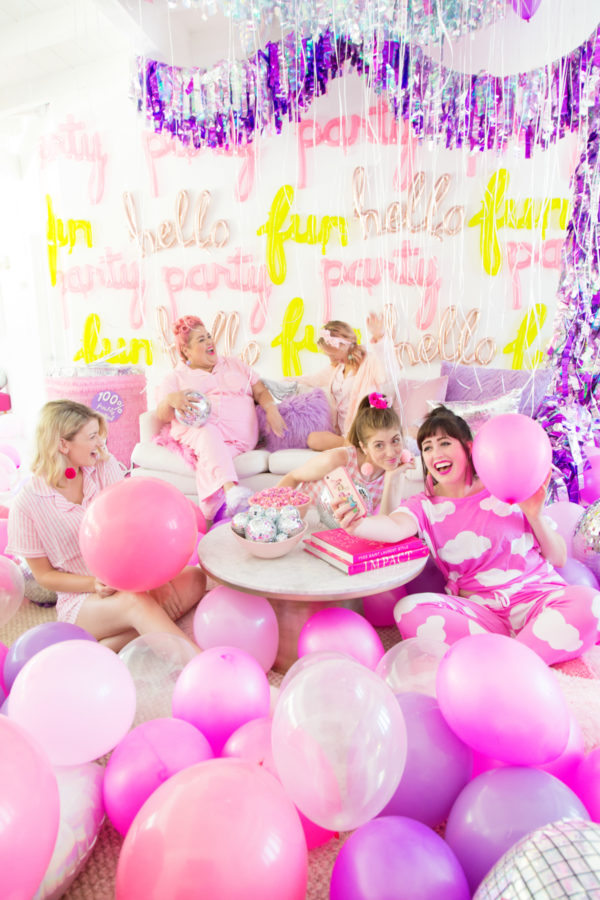 Now let's talk about this script balloon party wall! We sell four of these script balloons in the shop and we thought the idea of turning them into a statement wall or photo booth was PERFECT for this! Now, if you're doing this at your house, you can tape them on with command strips or painters tape, or if you're in a rental, you can tape them to fishing line and then just secure the fishing line to the wall. We just inflated each one with air and then laid them out on the ground in the pattern we wanted. Then strung them up!
I'm obsessed with the pop of green neon in that "fun" balloon amidst all the other pinks and metallics!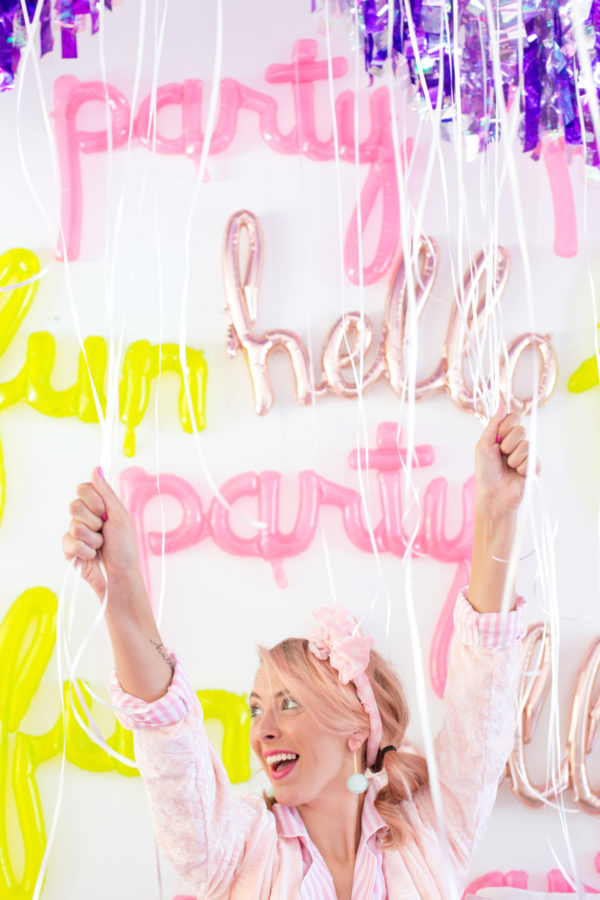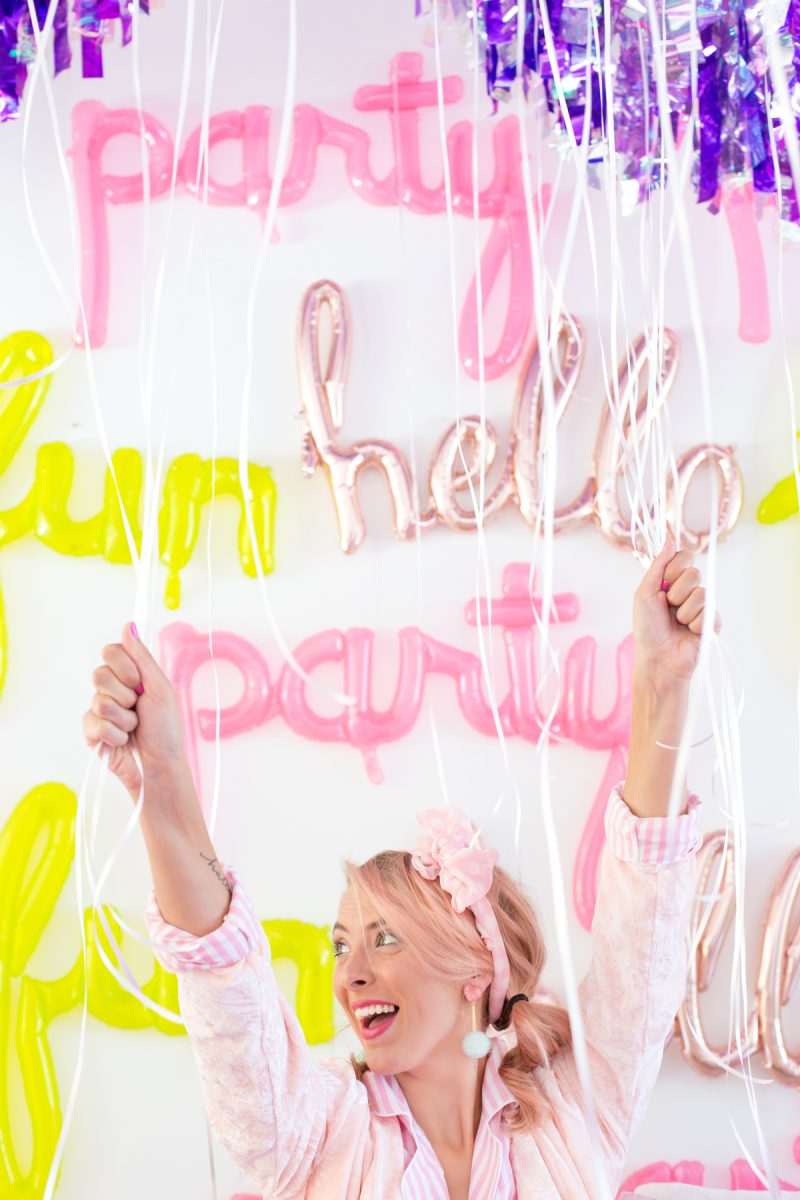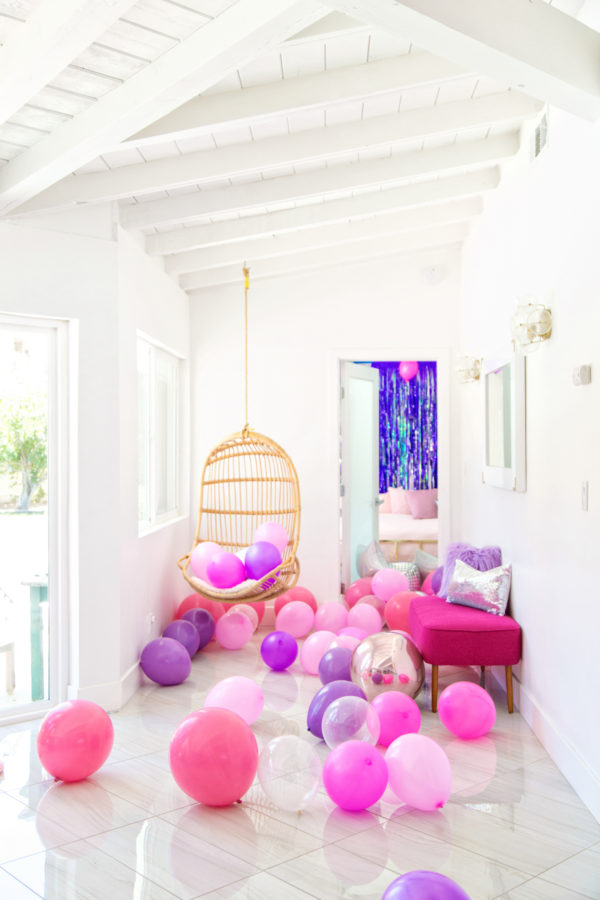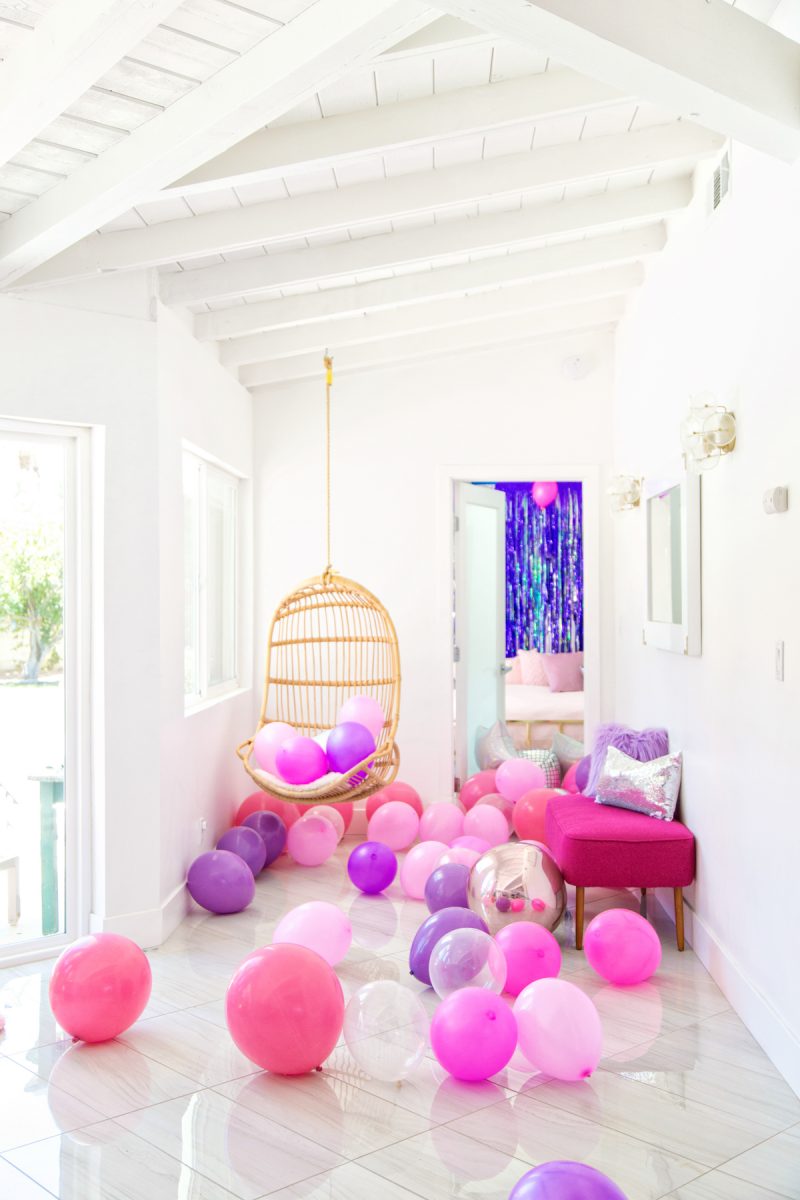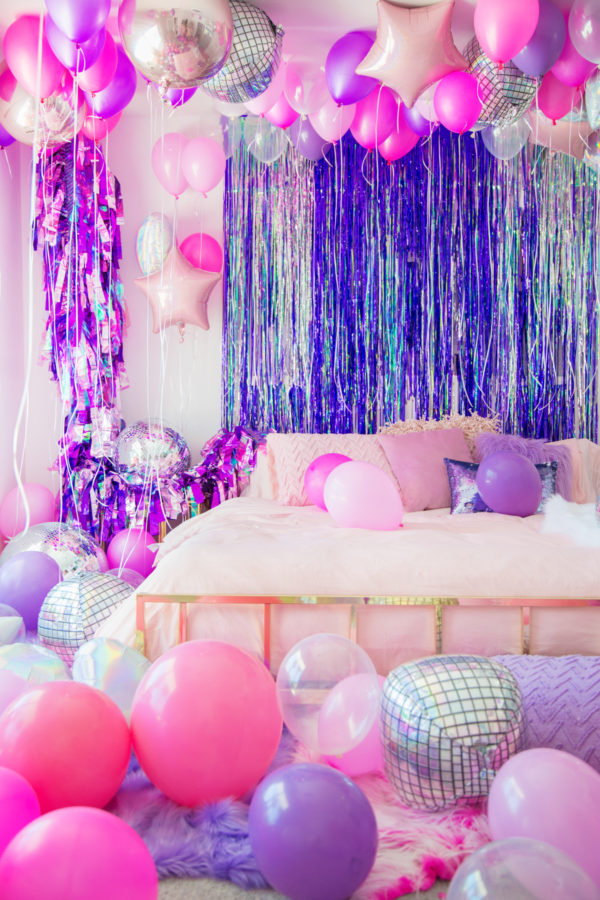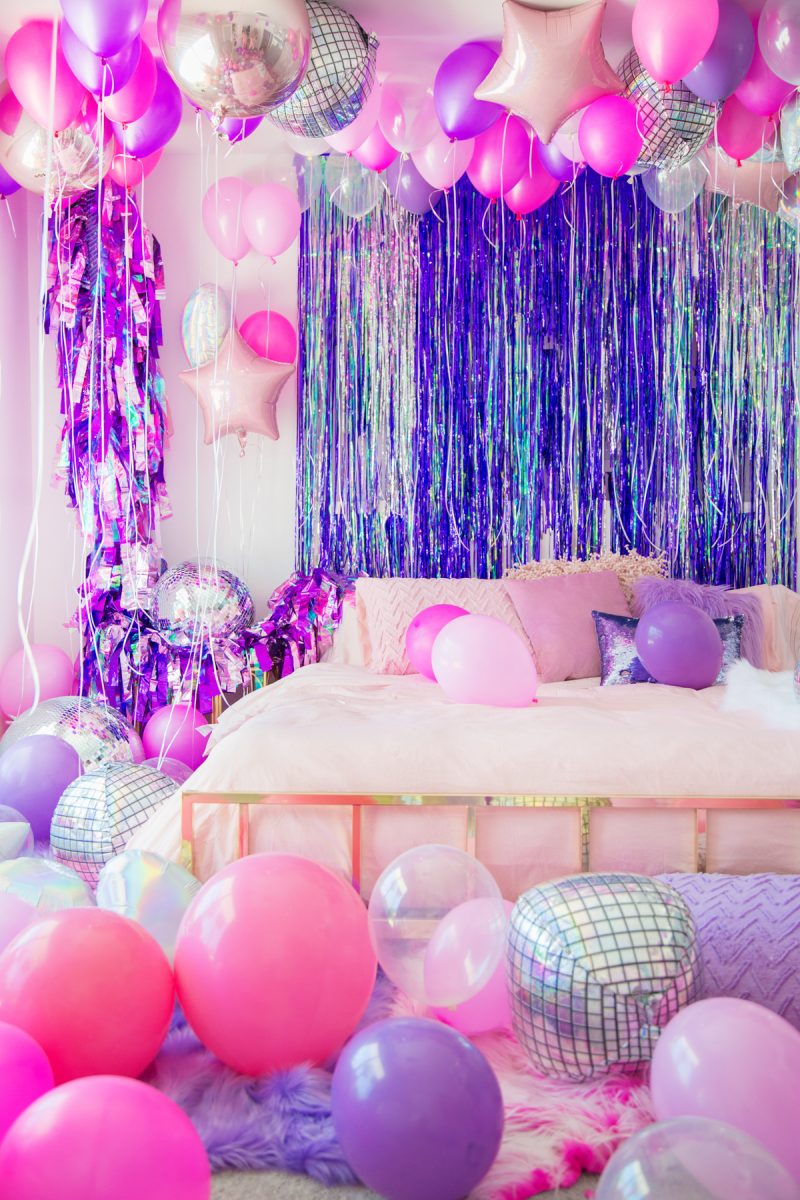 Fringe curtains go a long way for covering up anything you may need to! Or, if you just like 'em as decor, you can secure them around a curtain rod to add a little more fun to a window!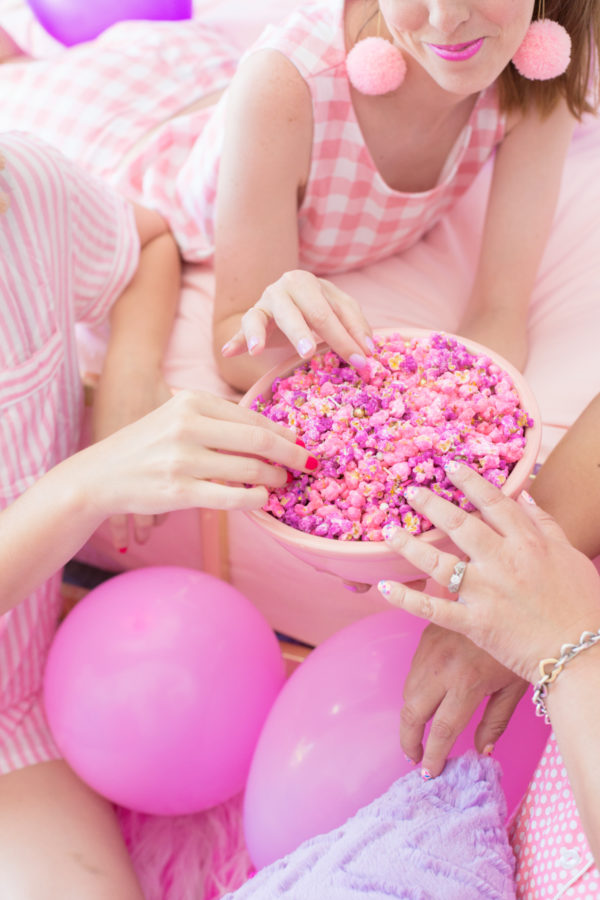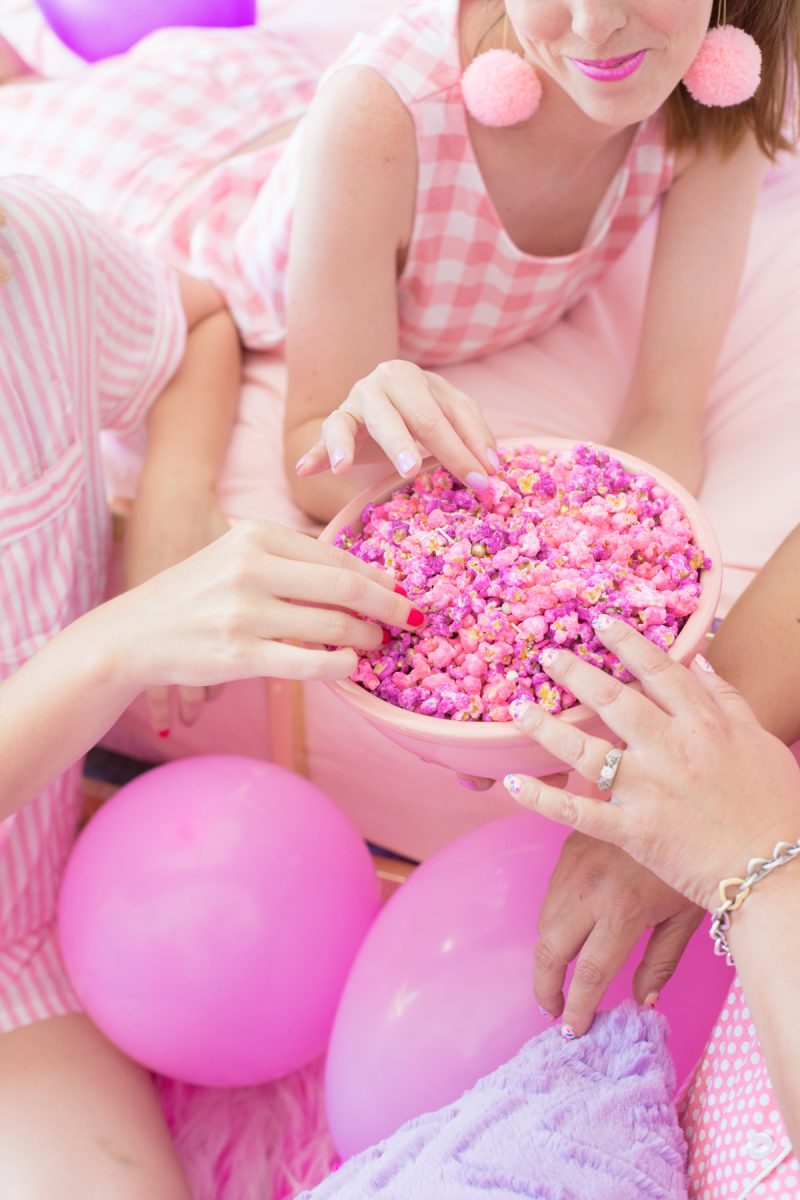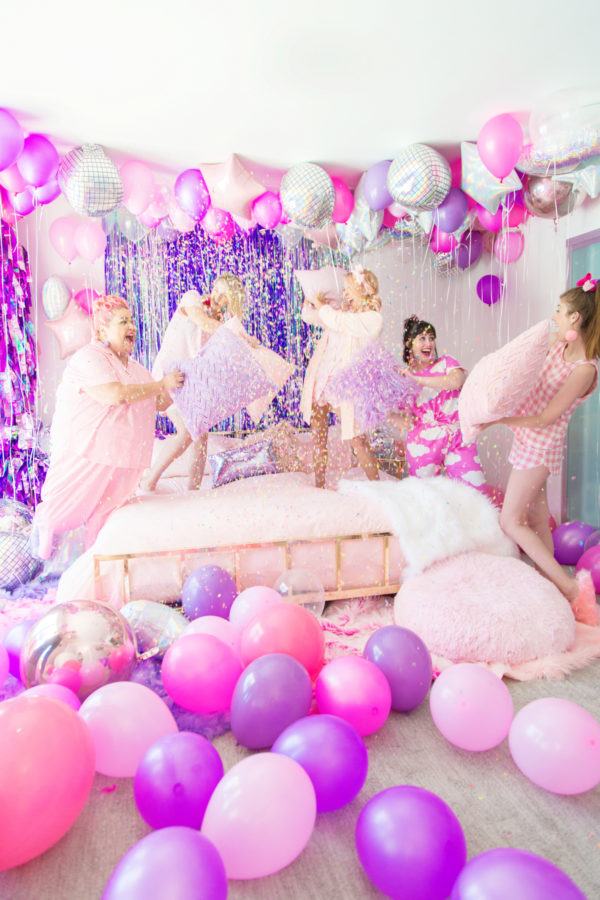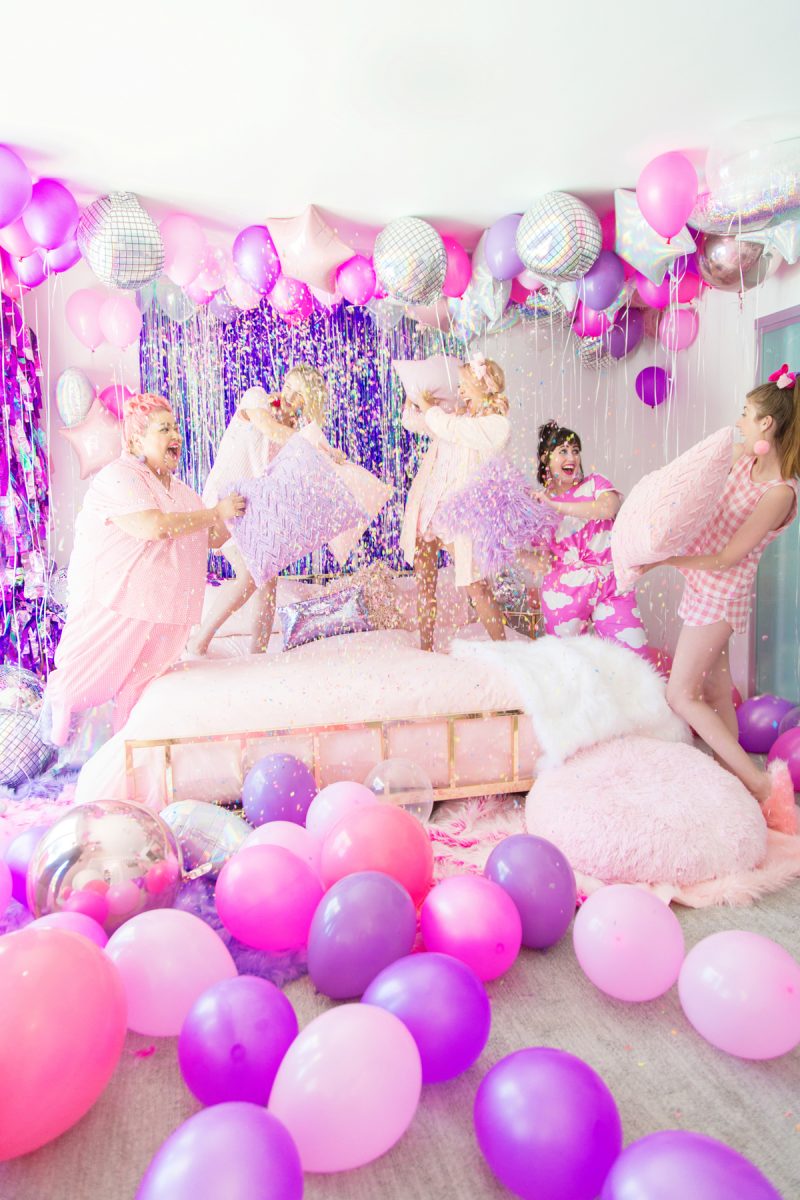 A confetti pillow fight has been a DREAM of mine for years. NO TIME LIKE THE PRESENT, LADIES! No, it's not fun to clean up. But it's worth it! Fill each pillowcase with a couple handfuls of confetti and throw some on the bed too. Then… well, thanks to 5th grade sleepovers/annoying younger brothers, you know the rest!
psst.. Providing fuzzy slippers for each gal/guest is such a great idea too! Perfect favor/souvenir.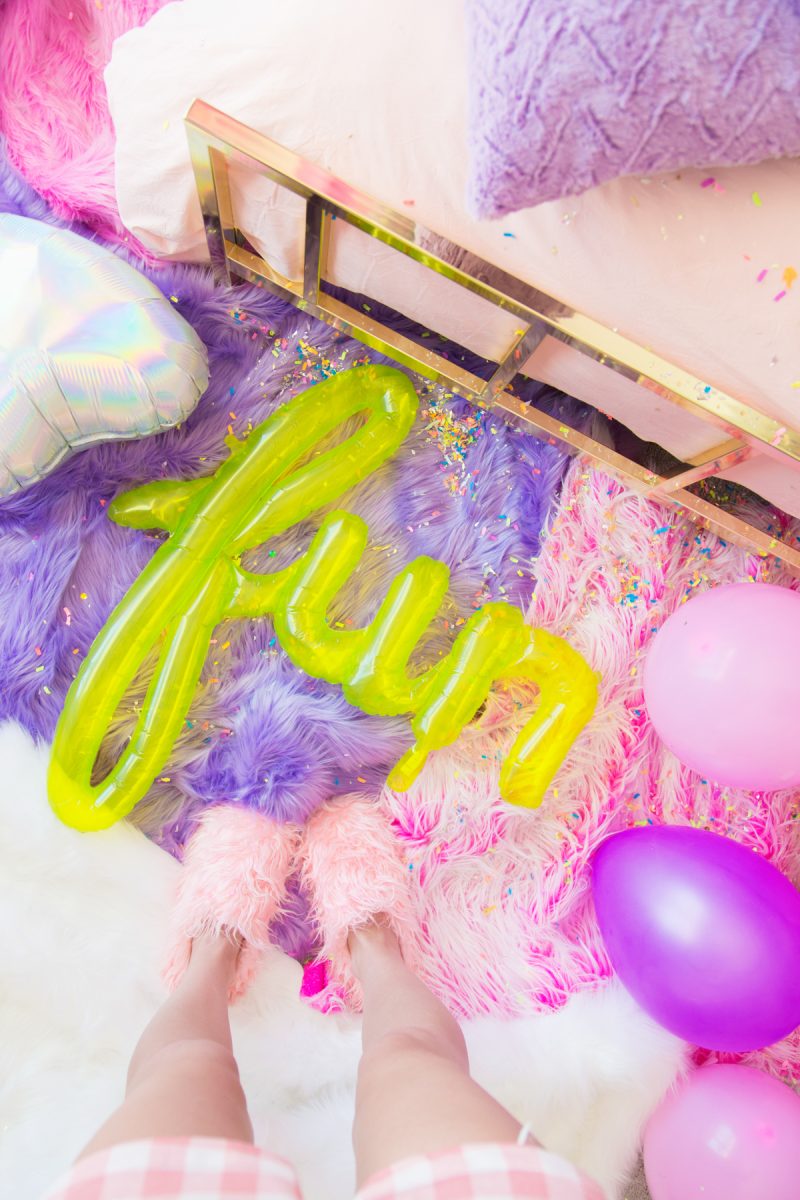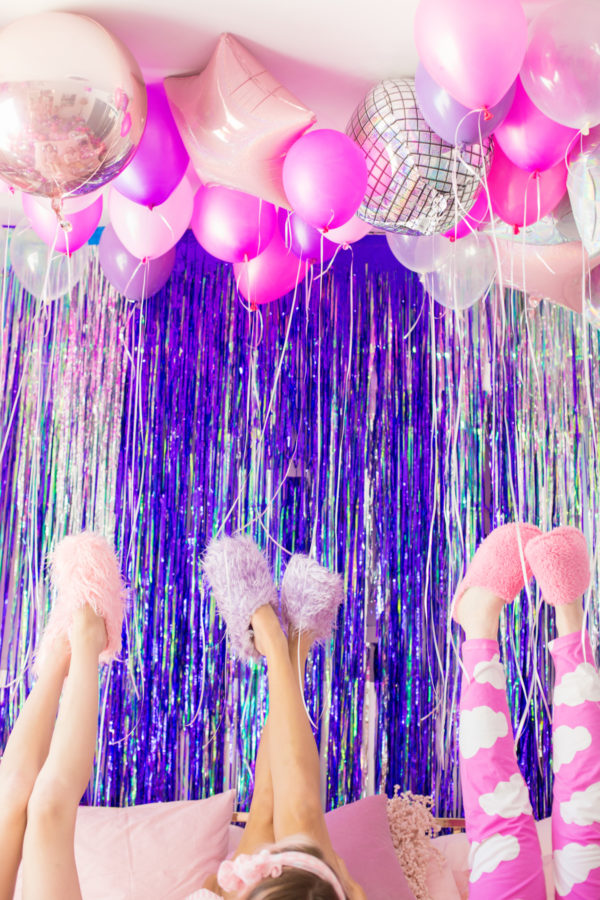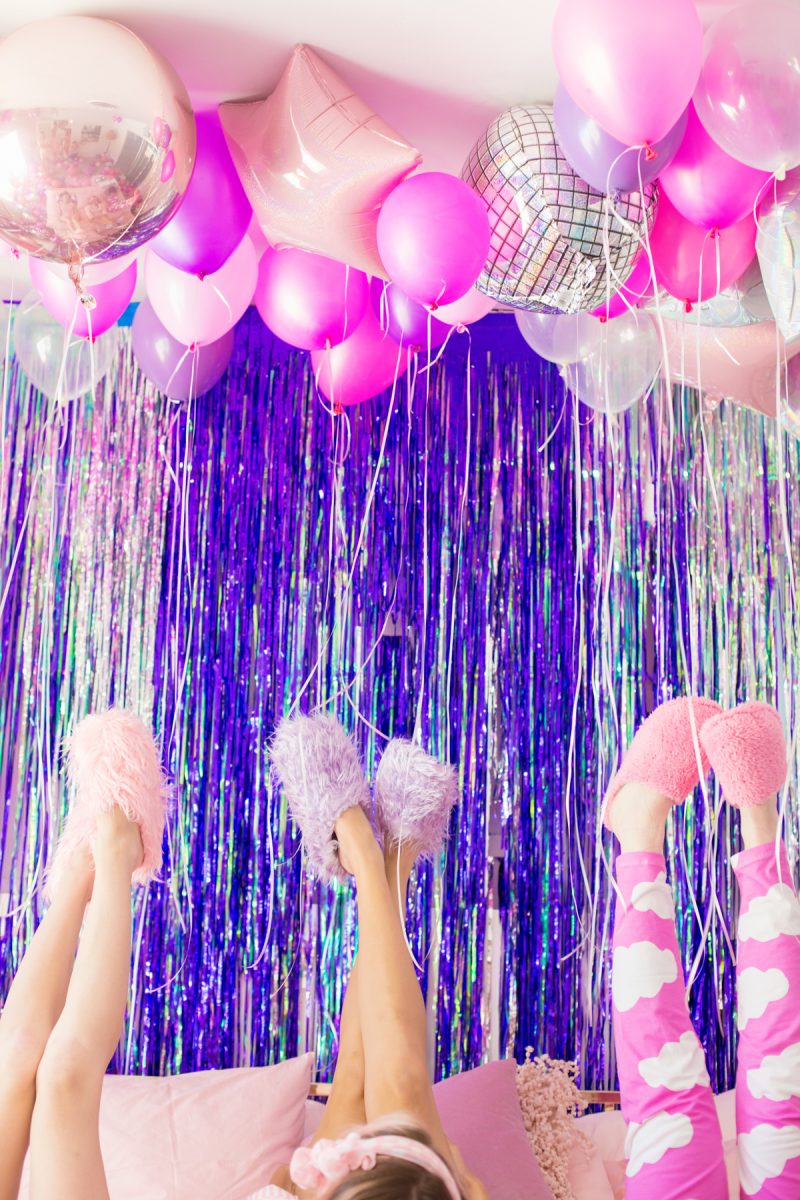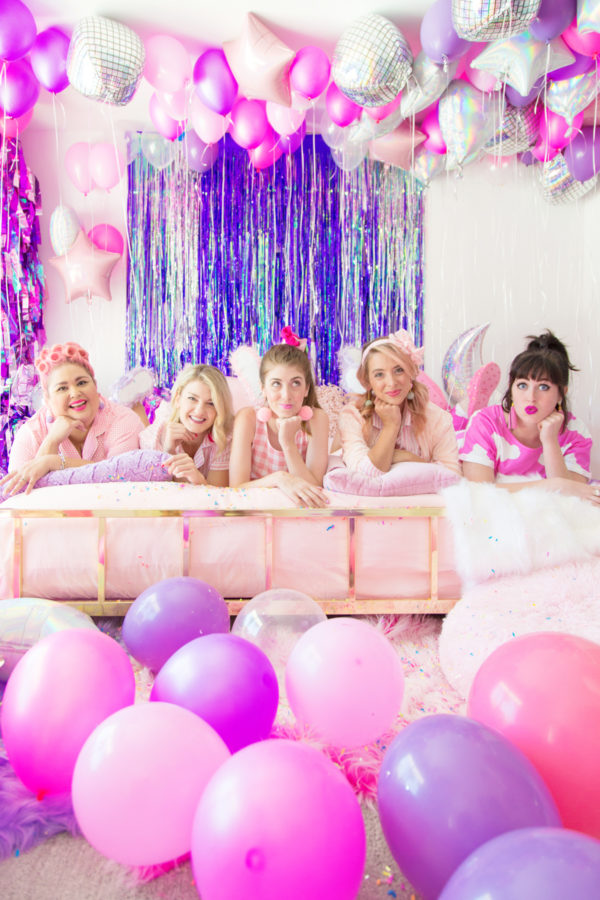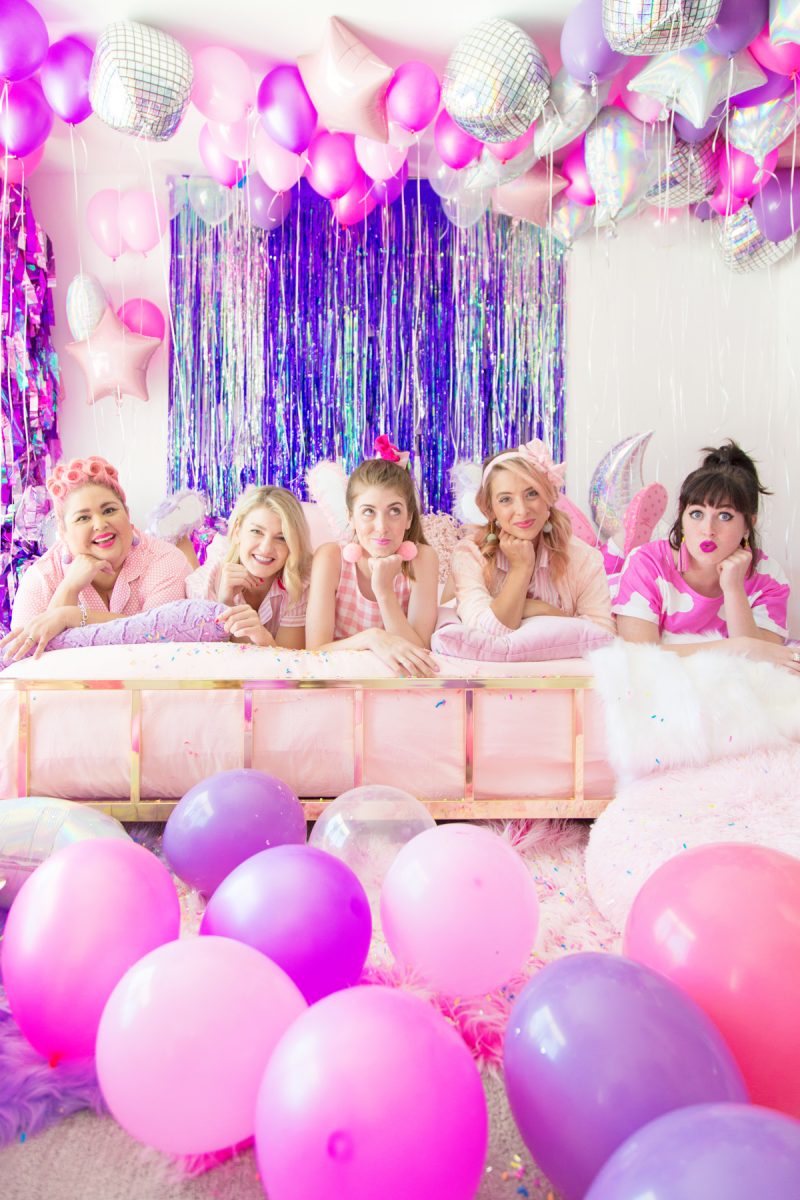 Photos by Jeff Mindell
Creative Direction: Kelly Mindell | Art Direction & Styling: Cyn Moreno
Food Styling: Theresa Rountree | Production Manager: Samantha Martin
Models: Jenna | Cortney | Tisha | Leslie
SOURCES
Palm Springs Rental Home: The Harlow House
Balloons
Holographic Moon | Iridescent Heart | Iridescent Star | Pink Dazzler Heart
Disco Ball | Rose Gold Orb | I Believe In Unicorns Party Pack | You Turn Ne-On Party Pack
FUN Script | PARTY Script | HELLO Script | No Boys Allowed Phrase Pack
Balloon Pump
Decor
Silver Fringe Wall Hanging | Purple Fringe Wall Hanging | Iridescent Fringe Wall Hanging
Purple Faux Fur Throw | Pink Faux Fur Throw
Purple Faux Fur Pillow | Pink Faux Fur Pillow | Silver Lumbar Pillow
Rattan Hanging Chair | Gold Metal Bed | Pink Duvet Cover | Pink Sheets
Marble Coffee Table | Pink Upholstered Bench
Confetti
Clothing + Accessories
Pink Fuzzy Slippers | Purple Fuzzy Slippers | Gingham Pajamas (similar)
Cloud Pajamas | Striped Pajamas | Polka Dot Pajamas
Velvet Robe | Pom Pom Earrings
What do you guys think!? I think this may top the charts as my favorite shoot to date, which is a question I get a lot. I'm so obsessed with how everything turned out. It really felt like a dream world in there!!!! Hope it inspires you to throw your own slumber parties/bachelorettes/girls weekends!!!
A HUGE thank you to our team for continually knocking it out of the park!! It takes a village and we had a pretty darn awesome one.
(p.s. Tutorials for the boy tears piñata and frosé juice pouches! The fringe ceiling decor and candied popcorn coming soon!)