Remember a few months back when I held a super fun birthday surprise giveaway!? Well in case you're new to these parts, I chose five readers who would receive a special birthday surprise from me for their next big day! One of those lucky folks, Jessica, had a birthday last week and I kept my promise! Since really all I ever want on my birthday is a piece of cake, but I didn't think she'd appreciate me shipping her one of those in the heat of summer (Ha!), I decided that a birthday cake piñata was in order! A funfetti one at that. Duh. I had so much fun crafting this up for Jessica and I'm so glad she loved it to. If you want to make your own cake piñata you can just go right on ahead and read how!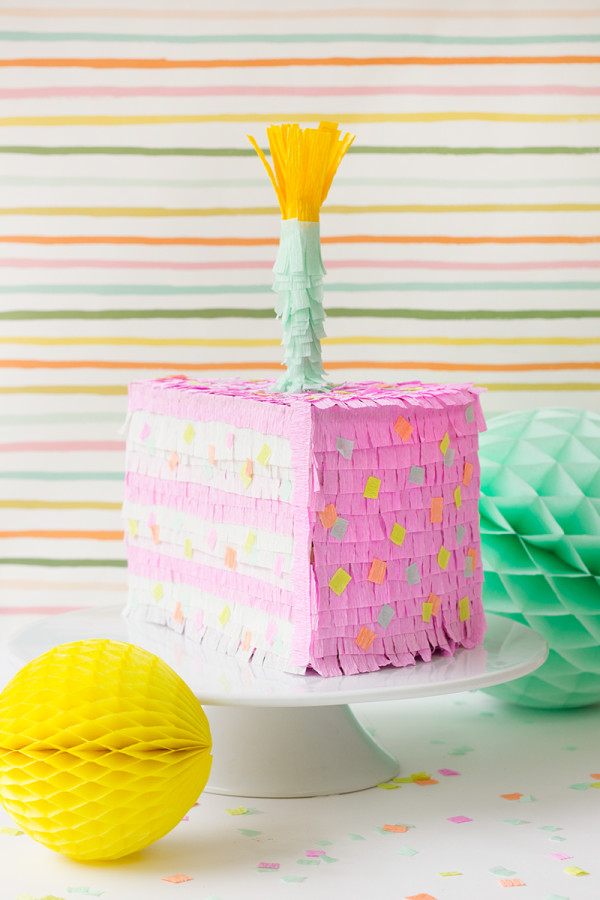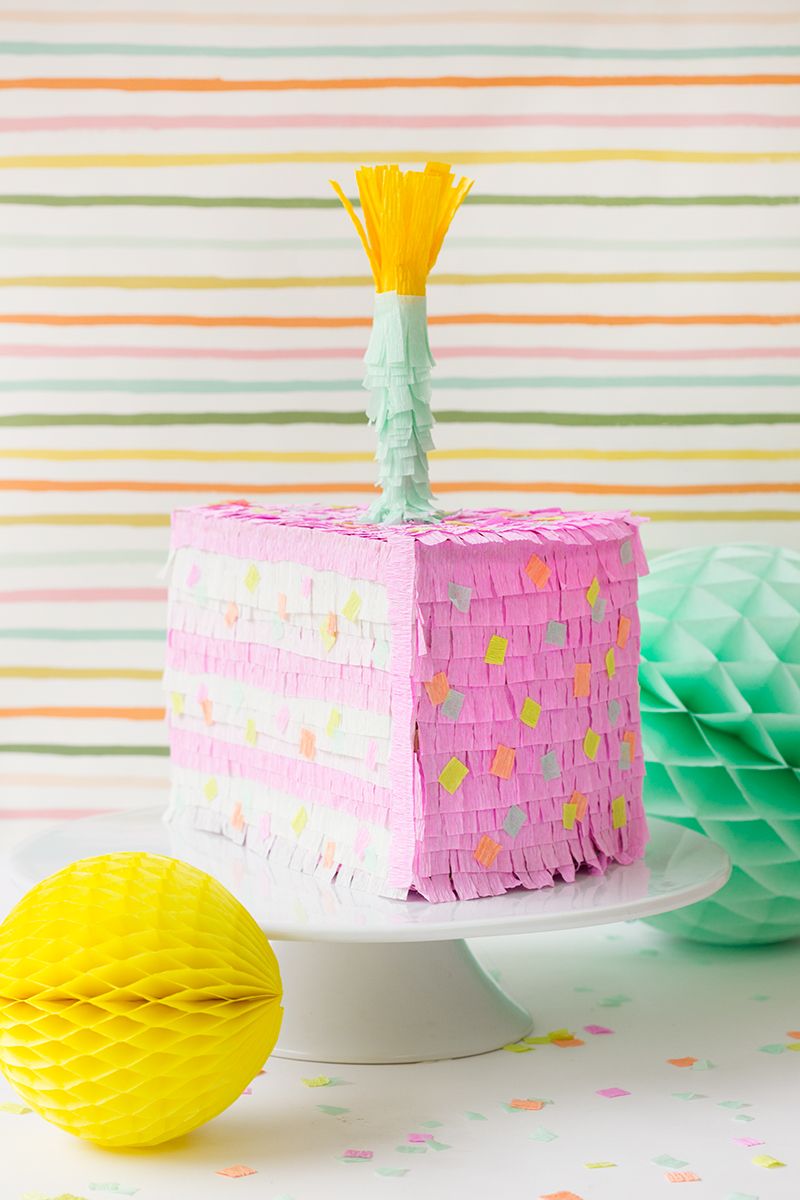 Hip hip HOORAY!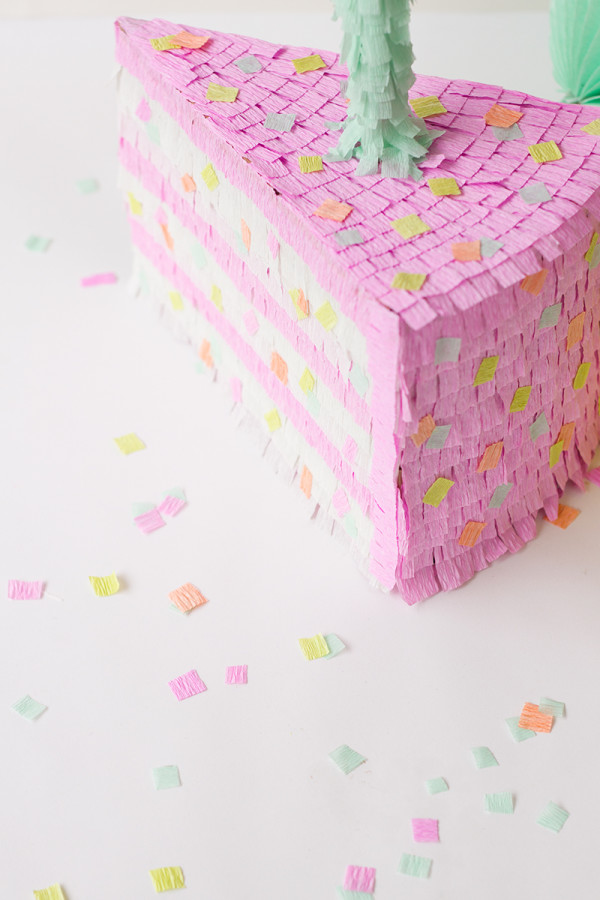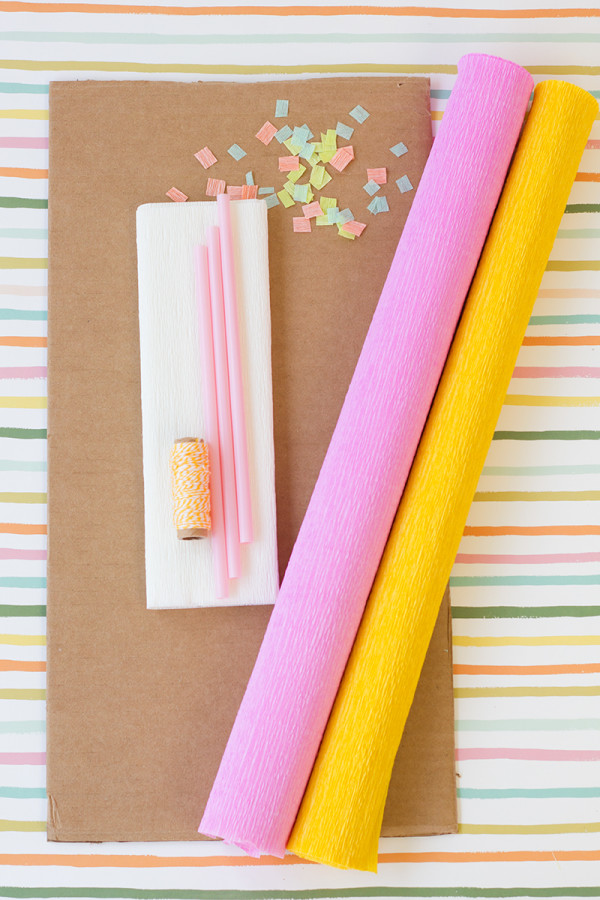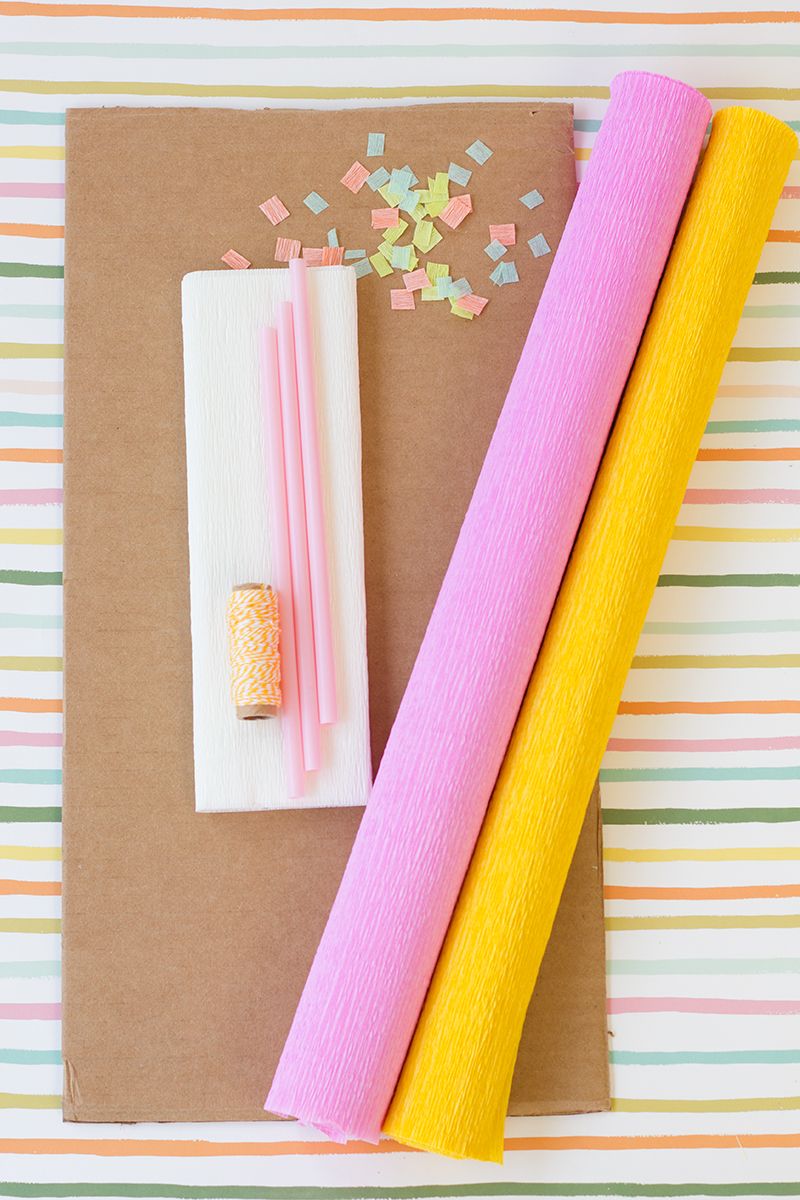 Cardboard
Crepe Paper
Straws
Twine
Tape
White Glue
Hot Glue
Scissors
Awl
First you'll need to cut out your cardboard pieces. You'll need to triangle shapes with one curved edge, two rectangles (the same length as the long sides of your triangles) and another rectangle the same width as your curved edge and the same height as your other rectangles. Phew, got all that!? Cut a small hole or flap in center of one of your triangles so you can fill your piñata easily.Now we need to tape them all together! Start by taping the two rectangles to the two longer sides of one triangle. Then tape those to the other triangle.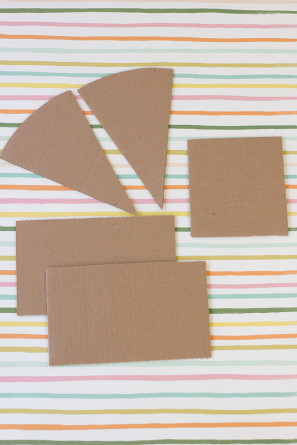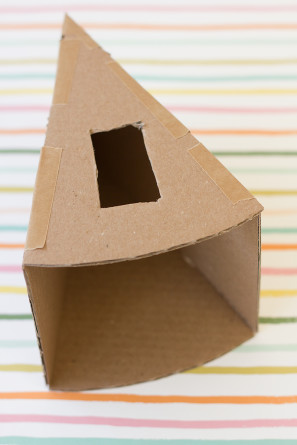 Then tape on the final rectangle, bending it slightly as you go so it curves around with the curved edge. (I accidentally cut the flap all the way off when I was cutting my hole so I just taped it back on.)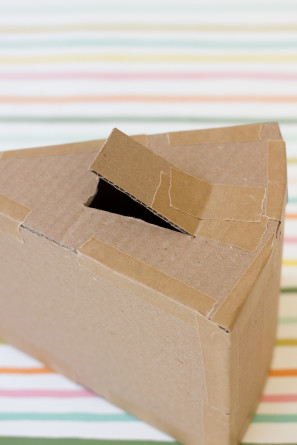 Now cut some fringe! I used white for the "cake" and pink for the "frosting." Starting at the bottom of the long rectangle sides, use your white glue to glue strips of fringe along the sides of the cake.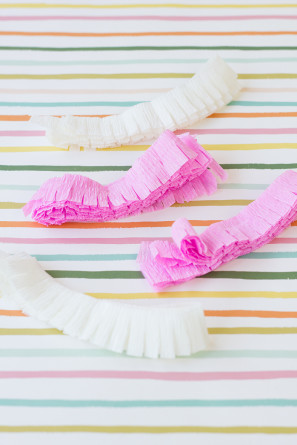 I made my cake three layers by layering several rows of white below a few rows of pink, and repeating that two more times (ending with pink at the top). After you get your sides all fringed up, cover the entire back in your frosting color.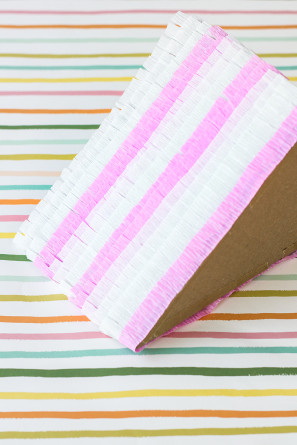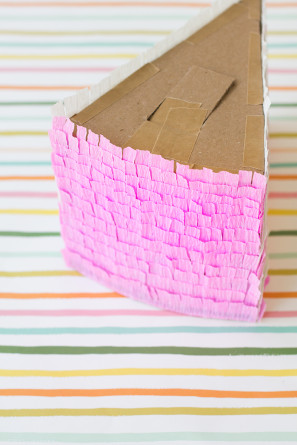 Then do the same with the bottom and top of your cake slice. A few tips… I added a solid piece of crepe paper to the tip of my triangle as it's hard to get good fringe coverage in such a small area. then I just layered my fringe over top of it as I glued it on. I glued separate pieces onto the flap I made for filling the piñata so it was still openable (Word?).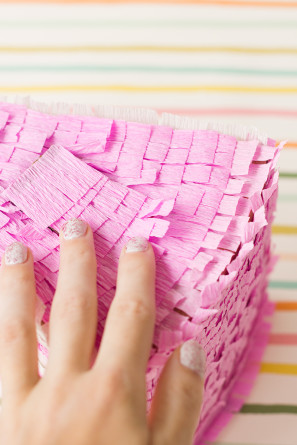 Guys! It's time to make some sprinkles! Funfetti really is the best kind of cake, right? So I cut some tiny pieces of crepe and covered my cake and my frosting with them! To attach the sprinkles, you can use glue, double stick tape or glue dots.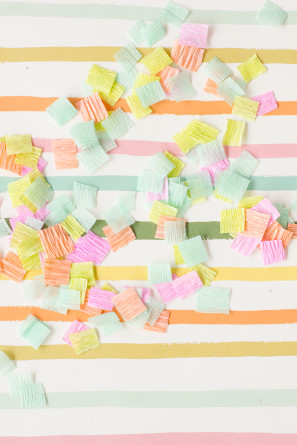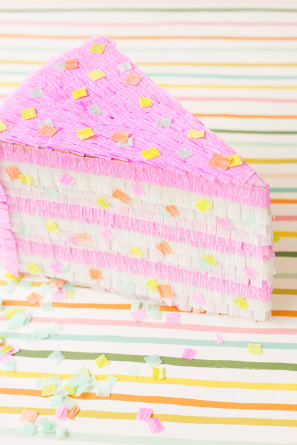 Let's make that birthday candle. This is how the piñata will hang, too. I used three large straws from Ikea and cut them to the height I thought was appropriate. To one straw, tape a doubled up piece of twine that is long enough to form a loop and reach through to the bottom of your piñata. Then tape all three straws together with the twine in the center.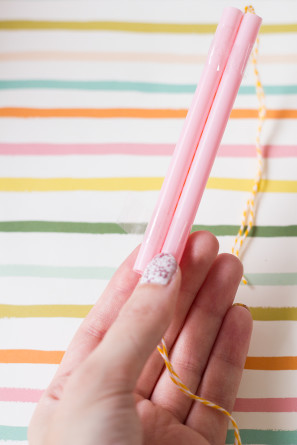 Fringe a piece of yellow crepe paper and wrap it around the top of the straws, securing with tape. Then start at the bottom with another fringed piece and wrap it all the way up, taping occasionally as you go, until the straws are completely covered. Add a bit of glue to secure it at the top.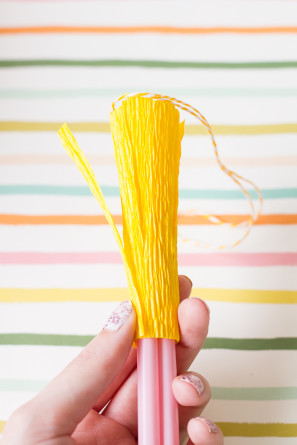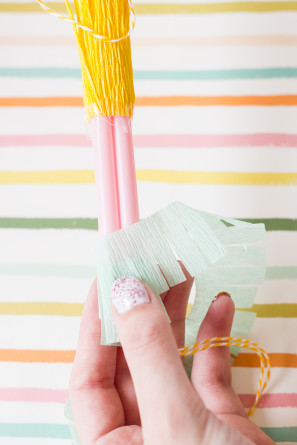 Use an awl to poke a hole through the top of your piñata. You'll want this to be slightly towards the back of your cake slice so that it hangs evenly and not lopsided.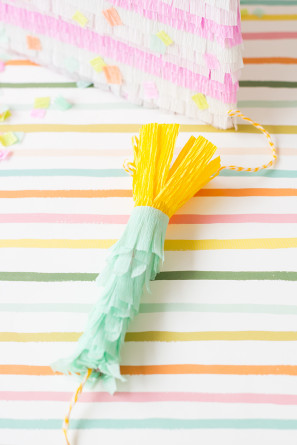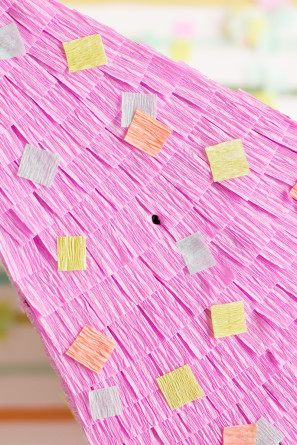 To attach your candle to your piñata, string the twine through the hole. Use an ample amount of hot glue to glue the candle to the pinata and hold it until it is completely dry and secure. Then reach through the flap in the bottom and grab the string. Tape it to the inside of the piñata for double security.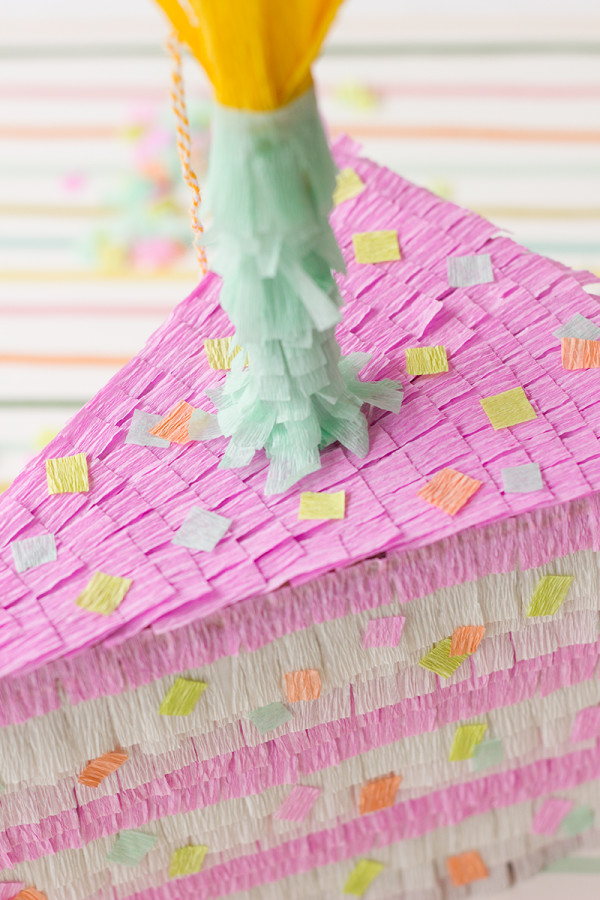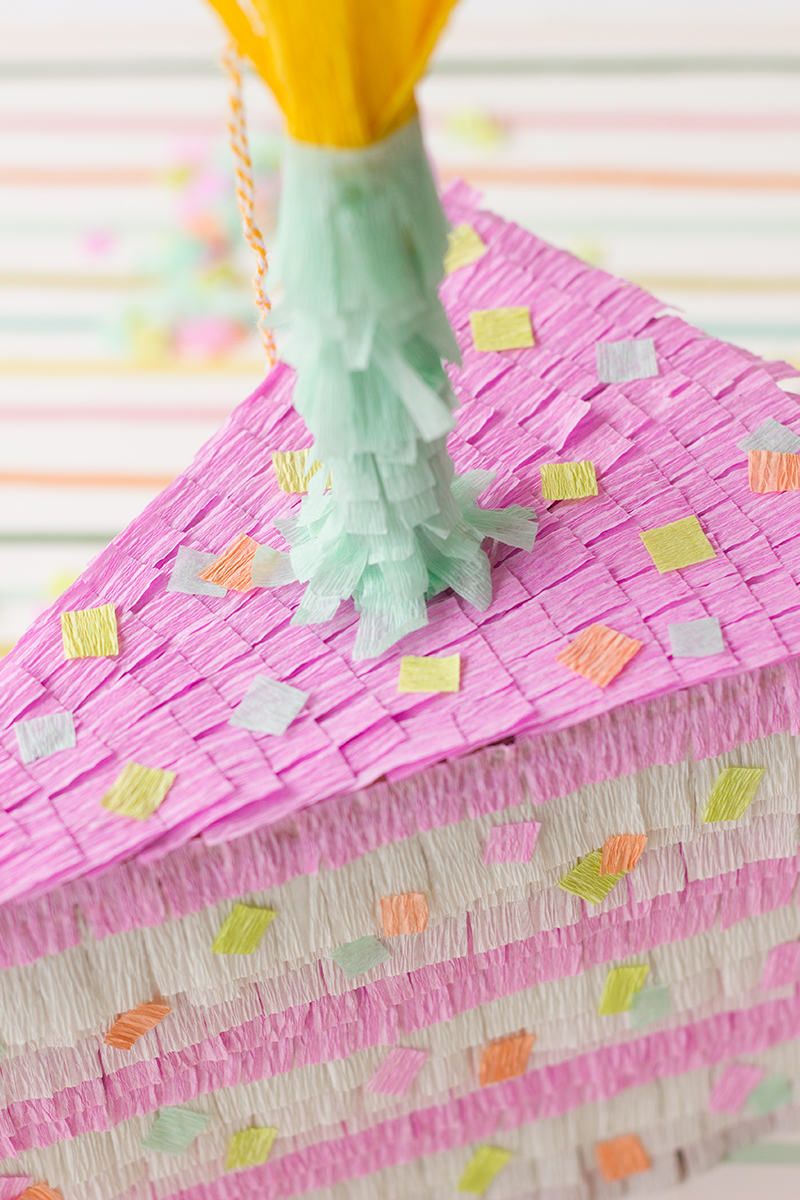 Fill this guy up with goodies and treats and send it on it's way! Or hang it up and let it get smashed to pieces. Ha, pieces!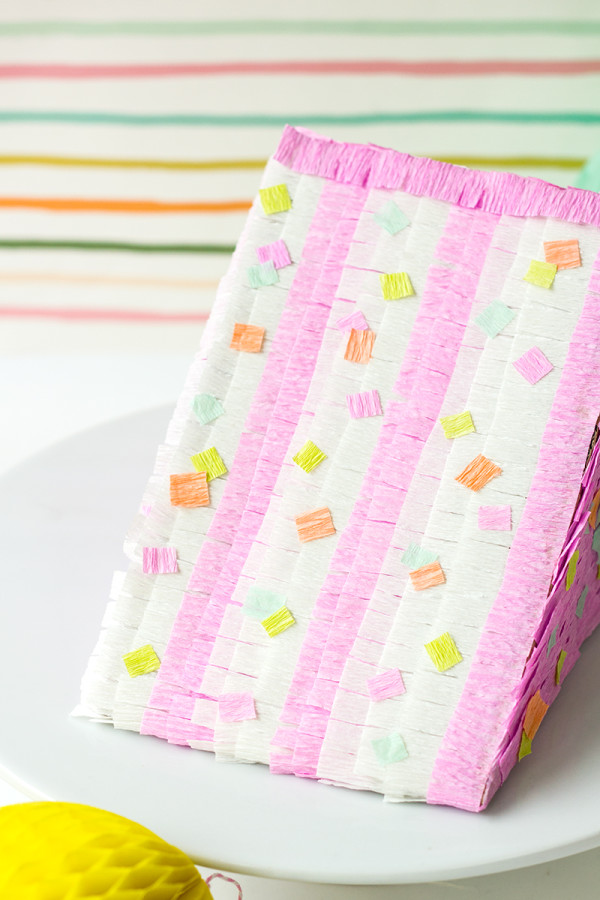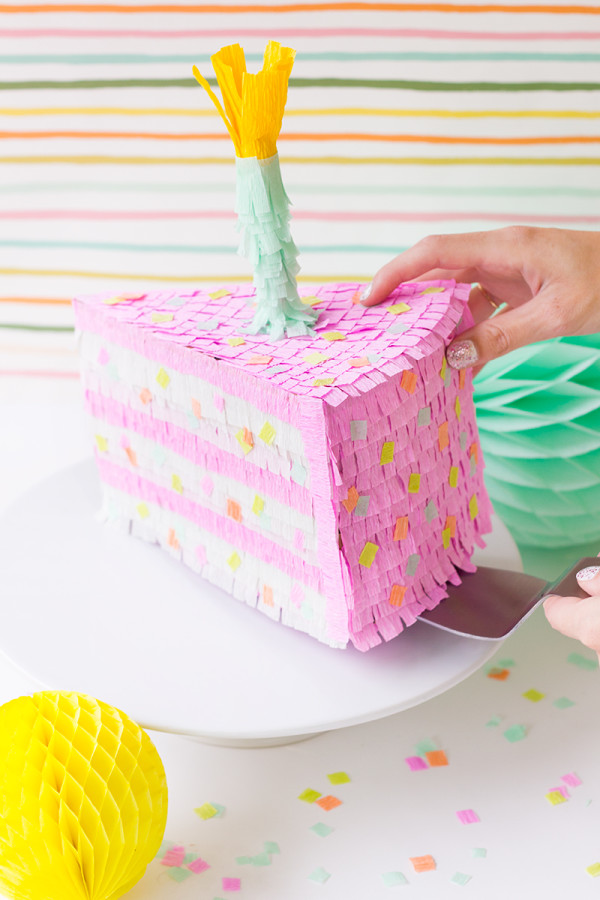 All Photos by Studio DIY
Happiest of birthdays, Jessica! Hope it was filled with lots of real cake, too!
Head on over here for more birthday DIYs and more DIY piñatas too! And for more DIYs all around, head right on over here!