EXCITEMENT! Today's post has me smiling SO big! I finally get to share with you how I asked my bridesmaids to, well, be my bridesmaids PLUS I have a free printable for you from the ah-mazing Floating Specks and an AMAZING giveaway with Ban.do! Ever since I spotted the Ban.do Girl Talk bobbis, I knew I wanted to incorporate them into asking my bridesmaids and I am so BEYOND thrilled with how everything turned out! Get the full scoop on everything below, and then get to entering that amazing giveaway of Ban.do goodies!!!
It was really really important to me to do something special when asking my maid of honor and bridesmaids to stand by me on the big day. None of them are local and I didn't really just want to do a phone call, mail is much more my style! I knew I wanted to include a little gift within it, and that's why the bobbis were so perfect! They did double duty! Ban.do was on board and when I asked Nicole of Floating Specks to my printable vision into a reality, she was game too! And MAN did she deliver!!!! We came up with an accordion folded card that held the bobbis and slipped right into a little matchbox. Perfection! So if you're gettin' married and want to do the same, check out the how-to and download the printables below!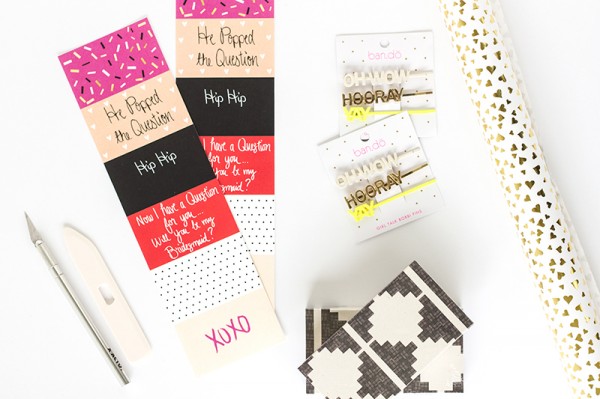 To download the BRIDESMAID free printable, click here!
To download the MAID OF HONOR free printable, click here!
Free Printable Bridesmaid Card (Download Link is Above!)
Ban.do Oh Wow/Hooray/Yay Bobbi Set
Large Matchboxes (Mine were similar in size to these
, but I purchased mine locally at Urbanic.)
Wrapping Paper
Confetti (Optional, but not really…!)
X-Acto Knife
Ruler
Bone Folder
Double-stick Tape
Total Cost per Bridesmaid: About $22
1. Download and print the card. Using a ruler and bone folder, score along line where the different colors meet. Then use your x-acto knife to cut small slits in the first, third and fifth card for the bobbi pins. I recommend laying the bobbi pins on top first to measure where you want the slits, then cutting!
2. Slip the bobbi pins through the slits.
3. Now get your matchbox ready. Cut a piece of your wrapping paper so it is the width of the matchbox, and long enough to wrap around the entire matchbox sleeve, with enough to overlap about a half-inch at the end. Then use double stick tape to adhere it to your match box.
4. Fill the inner box of the matchbox with confetti and fold up your card, accordion style, inside of the box. Slip it inside the re-covered outter sleeve. If mailing, slip it inside another box with some fun colored tissue and send it on it's way!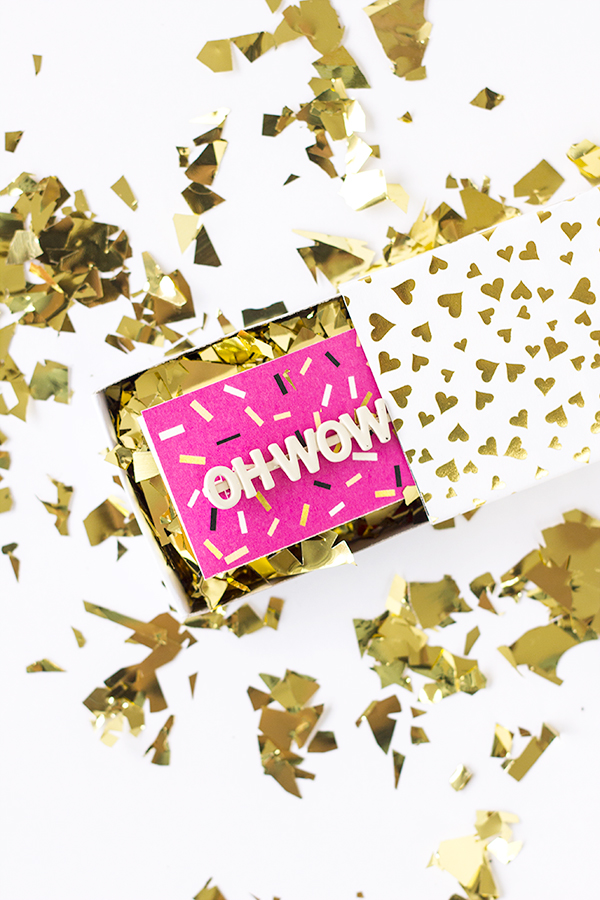 I'm happy to report that all the ladies loved them and said "yes!" I'll share more about who they are, along with how we asked the rest of the bridal party, in our next wedding update. Coming soon!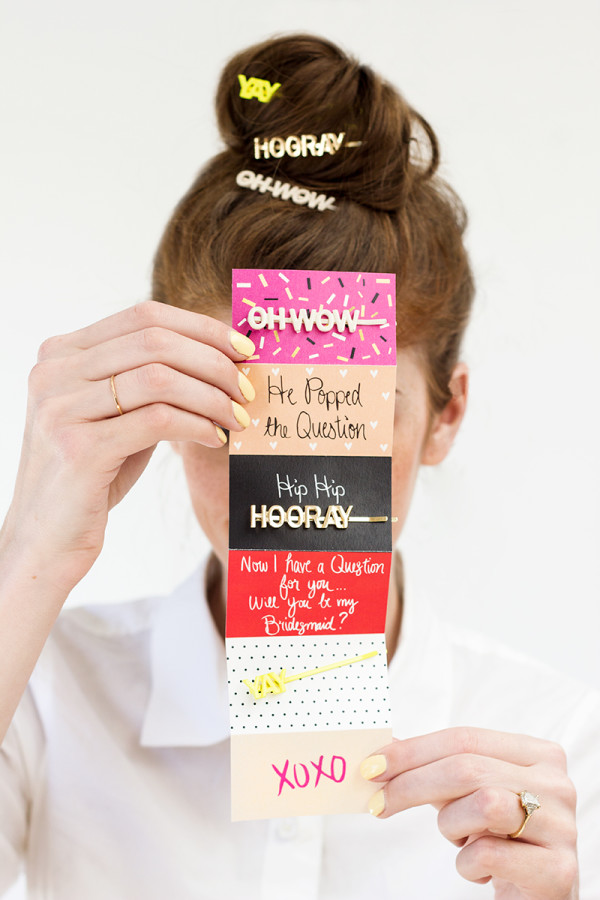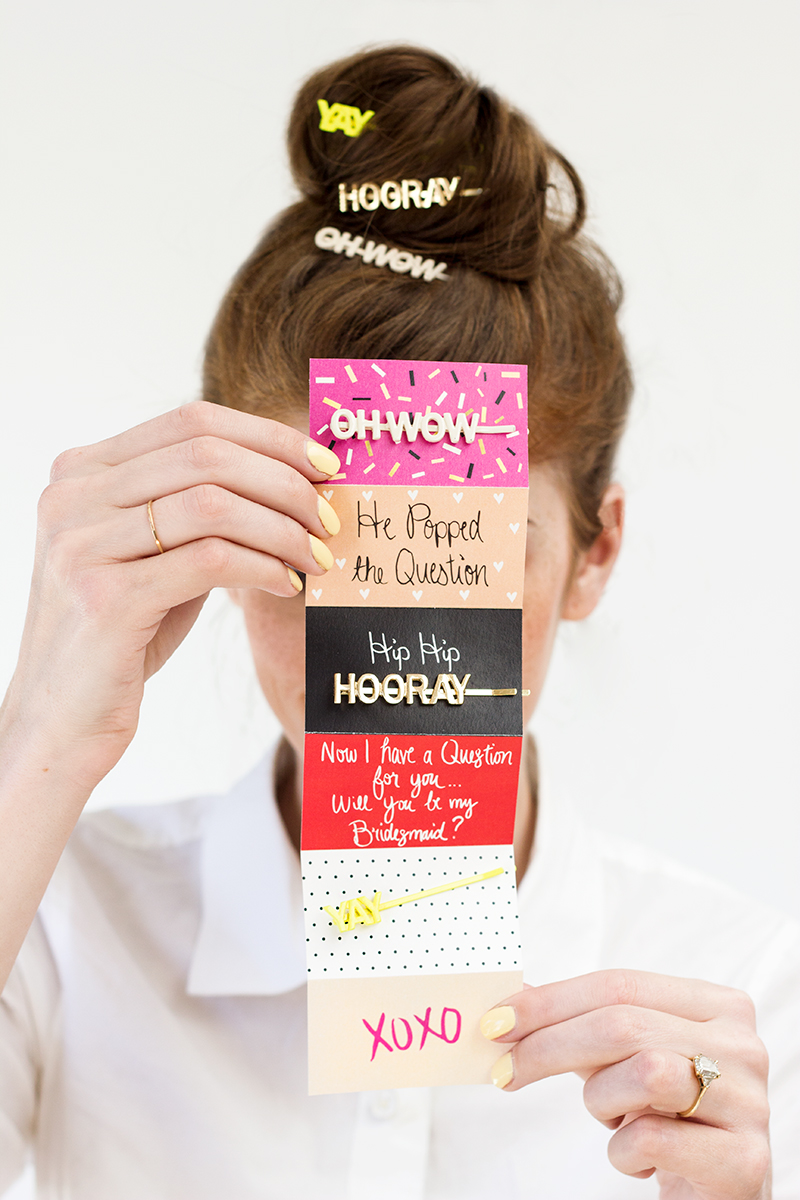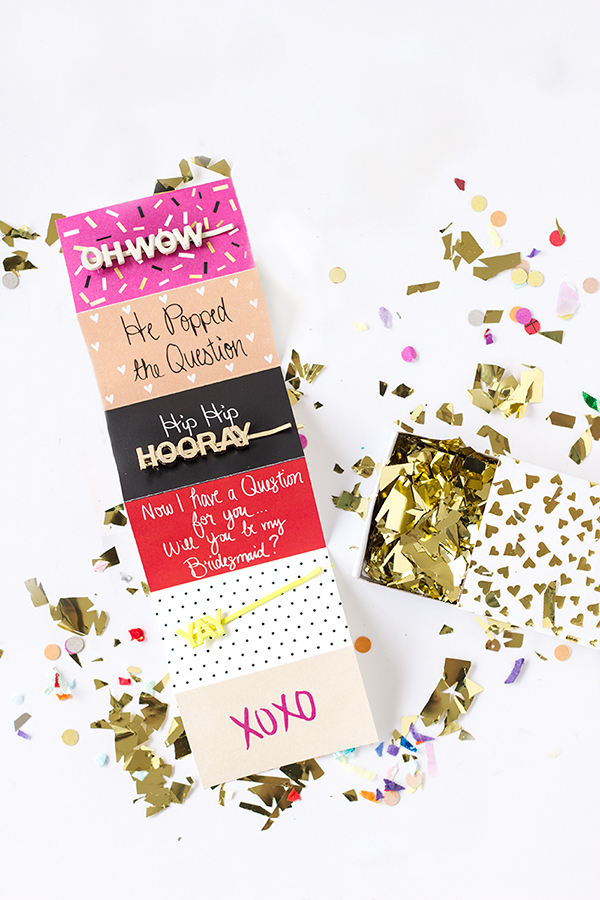 Free Printable by Floating Specks, Bobbi Pins c/o Ban.do, All Photos by Studio DIY
A huge thank you to Nicole for bringing my vision to life (and making it way better than I ever imagined!) and to Ban.do for supplying the perfect gifts for my 'maids! But now… for that giveaway!!!!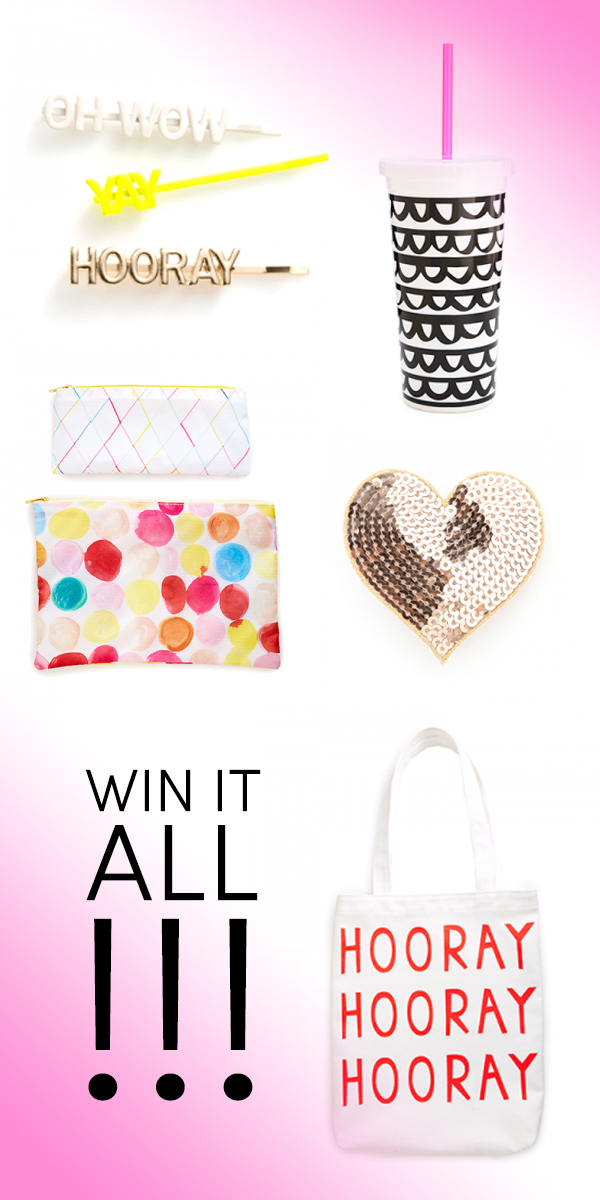 Oh yes, all of the above is up for grabs! WOOT! Use the Rafflecopter below to enter to win:
Girl Talk Bobbi Set / Sip Sip Tumbler / Carryall Duo / Mini Heart / Hooray Tote
Open to USA residents only. Giveaway ends April 9th, 2014 at 11:59pm pacific!
This post was done in partnership with Ban.do but all opinions are my own!