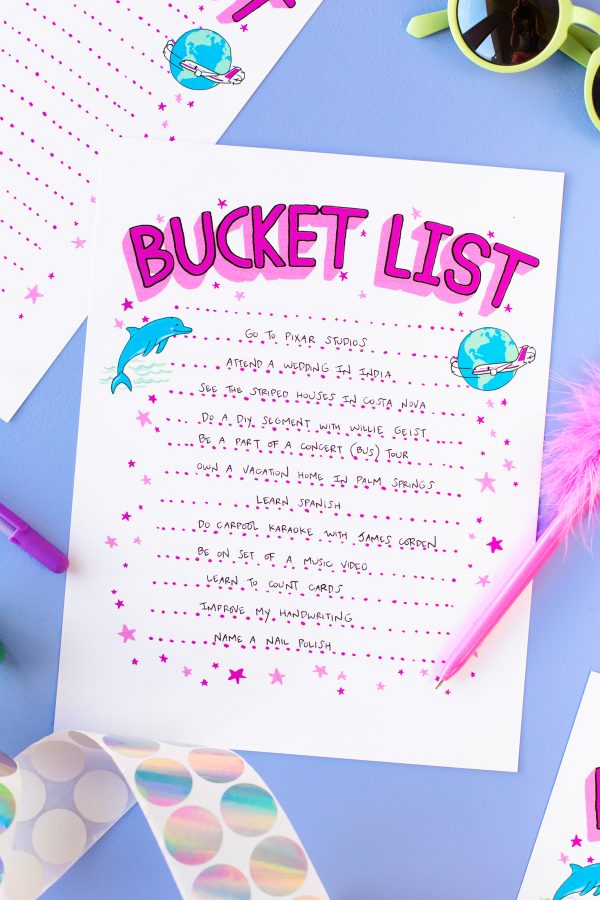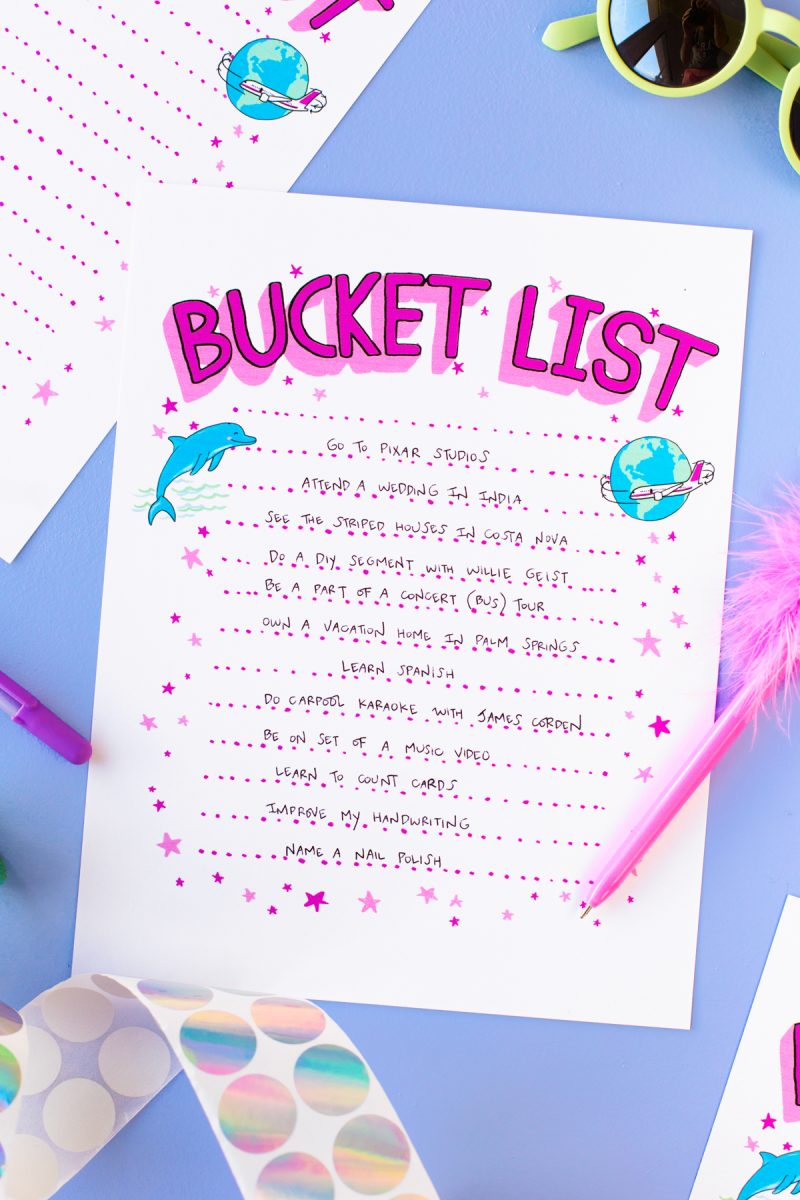 Do you have a bucket list? Either written down or just kind of floating in your head? I always say things are on my bucket list and thought it would be so fun to share some of mine here and hear some of the things on yours too! And we even made a really fun printable so you can write down your list if you want to.
I know everyone's bucket lists look very different. Mine consists mostly of fun and silly dreams that I'd love to achieve. A few are practical but mostly, they're just things that would make me so darn happy to do. You won't see major life goals of mine like "have a big family" or "give back" on my list because those are more overall aspirations for my life.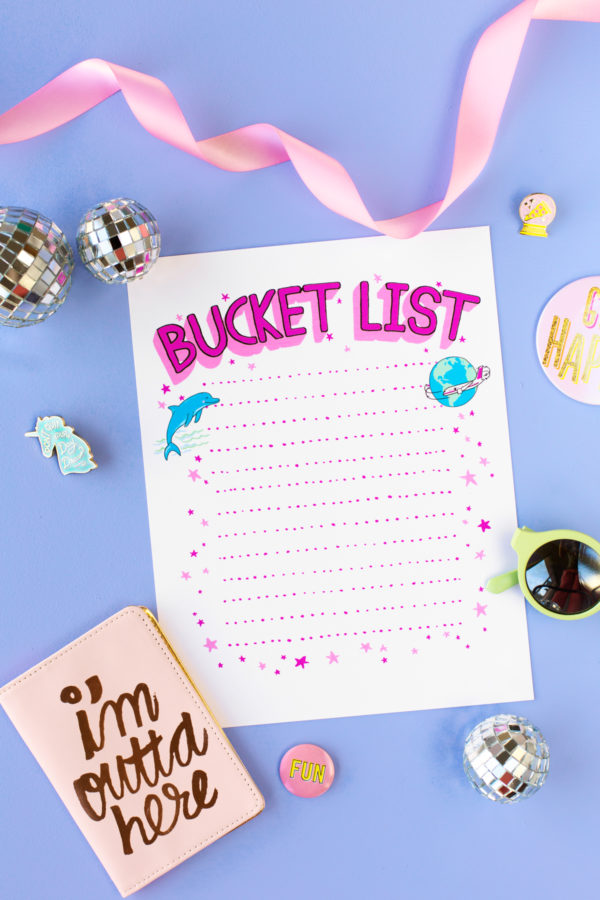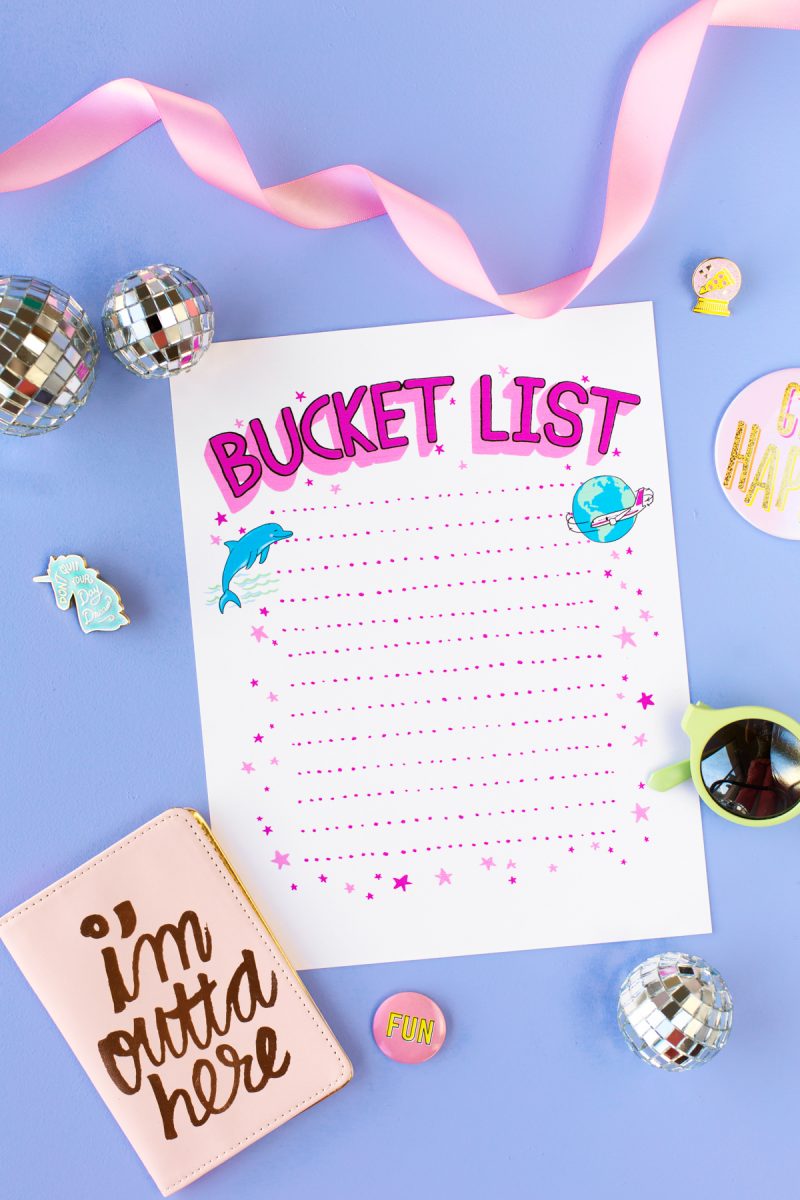 1. Visit Pixar Studios: You guys!!! This one I actually crossed off my list in 2015 which is still completely mind blowing to me. Pixar is notoriously a studio that does not have tours or allow visitors unless you know someone. Jeff and I had made it our life mission to meet someone that worked at Pixar so we could go see where our favorite movies are made. And lo and behold, this career of ours placed my #1 bucket list item right in my lap.
It was the best trip ever and if you weren't following along at the time of that trip, we went for the premiere of The Good Dinosaur which as most of you now know was the inspiration for our sweet baby Arlo's name. This trip topped the list as one of my favorite things I've ever done. I can't believe I got to walk the same halls as John Lasseter.
2. Visit India (+ Attend a Wedding): I like to travel, but am very much a homebody, so you won't find my list bursting with travel destinations. Really there's only a few places I really feel like I have to see (everything else would just be a bonus!) and India tops that list by far. For as long as I can remember, I've had a fascination with India and all the cultures, colors, religions that make it what it is. I have to go. I just have to.
And if we're really getting down to it, my dream is to attend a wedding there. I am floored by the multi-day celebrations, the traditions, the attire, the colors. I would give anything to be lucky enough to experience one first-hand.
3. See the Striped Houses in Costa Nova: Years ago, I came across a photo on Pinterest of these amazing striped buildings. I dove into a rabbit hole trying to find where it was and it turns out, it's a village in Portugal. I must go. I tried to convince Jeff to go on our honeymoon, but he opted for the mozzerella + pasta of Italy instead (can't blame him, ha!). At some point in my life, I want to see these buildings in real life.
4. Do a DIY Segment with Willie Geist: This became infinitely harder when Willie left his position on the weekday Today Show, BUT he still hosts Sunday Today so there is STILL HOPE! Hey Today Show, call me?! 😉 Ha, as you know, I have a ridiculous crush on Willie Geist. I mean, his family has nightly dance parties. HOW DO YOU NOT LOVE HIM!? Anyway, if I'm ever lucky enough to get to be in Studio 1a, I hope Willie Geist is the one walking through a DIY piñata or unicorn food tutorial with me.
5. Be a Part of a Concert (Bus) Tour: I have such a fascination with those behind-the-tour documentaries. You know, like the Katy Perry one? Ha! Are you judging me? I would never ever, ever want to be on the road for a living, but I would absolutely love to be a small part of just one concert bus tour. Yes, specifically via bus. I love the idea of traveling all around with the same people, working super hard and just having a total blast. Maybe that's only in the movies but, whatever. I want to do it.
6. Own A Vacation Home in Palm Springs: This is a part of Jeff and my five year plan and probably the most realistic of all the items on my bucket list. We love Palm Springs, in case you hadn't heard, and definitely want to own a second home there some day so we can pack up the fam and escape the city as often as possible!
7. Do Carpool Karaoke with James Cordon: Ok, so this one is a real reach but I so admire what James Cordon has done with Carpool Karaoke. And while I don't have any hit singles, and really can't sing to save my life, I still would like to be given a chance to do backup for James Cordon on some Avenue Q, Moana or Spice Girls tunes in the passenger seat.
8. Learn Spanish: Another practical one! Go me! I can't tell you how much I regret not learning a language when I was younger and now, with Arlo in our lives, learning Spanish is more important than ever to me. I have an incredibly hard time learning languages so it will be an extreme uphill battle but I am determined to figure out a way, even if it takes me twenty times as long as I know it will take Jeff.
9. Be On Set of a Music Video: Apparently this introvert has a fascination with the entertainment industry? I want to be on set of a music video. I'll do whatever! Get coffee, clean the floors, design sets (hint hint, anyone hiring? ha!), it's another industry I am completely fascinated by and I would love to see how something as complicated as a music video comes together. I also just really enjoy watching synchronized dancers in action so perhaps I should amend this to say the video must include some form of that. 😉
10. Learn to Count Cards: I've loved to gamble ever since my babysitter taught me poker one summer with candy. And I also have a freakishly good memory. Therefore, I would like to learn to count cards because I think I would be good at it. I don't necessary want to get beat up for actually doing it a la the movie 21, but I think I would be really good at it. When we went to Vegas recently and had a blackjack lesson, I asked the casino manager about it and he actually didn't kick me out like I pictured. Ha! He said it's not as complicated as you'd think and more people that you'd believe do it.
11. Improve my Handwriting: I'm so self conscious of my handwriting. It's ugly and barely legible. (In fact, I had Annie write out my bucket list because I was too embarrassed to write it myself. HA!) I would really love to find a way to improve it drastically. I mean, how will I ever sign autographs for cleaning the floors at my music video gig if I don't have better handwriting? There are a ton of classes out there for brush lettering, calligraphy, etc. but not for just practicing and improving handwriting. All advice welcome.
12. Name a Nail Polish: Similar to my love for baby names, I love nail polish names. It's my not-so-secret dream career to name nail polishes for a living. It's the perfect marriage of puns and colors, both things that I'm pretty obsessed with.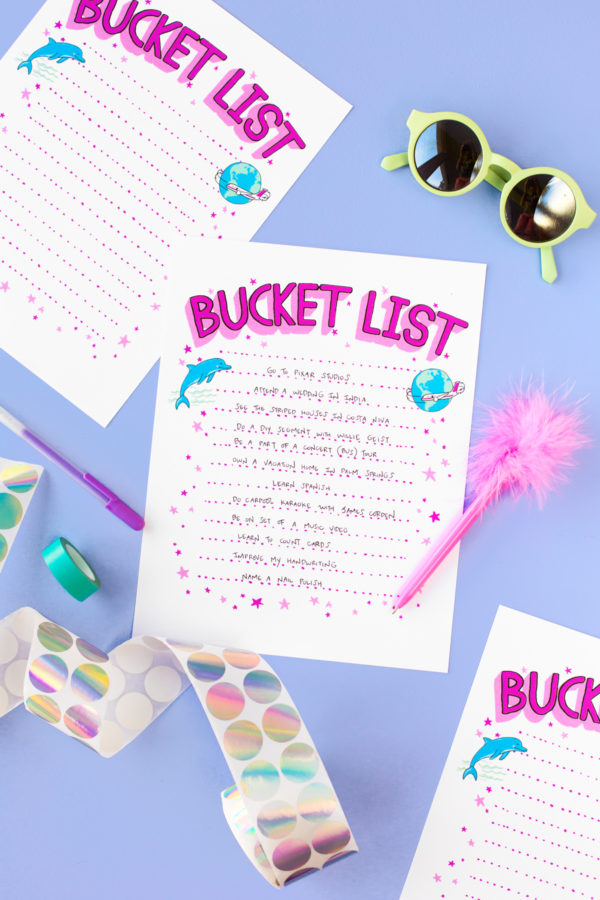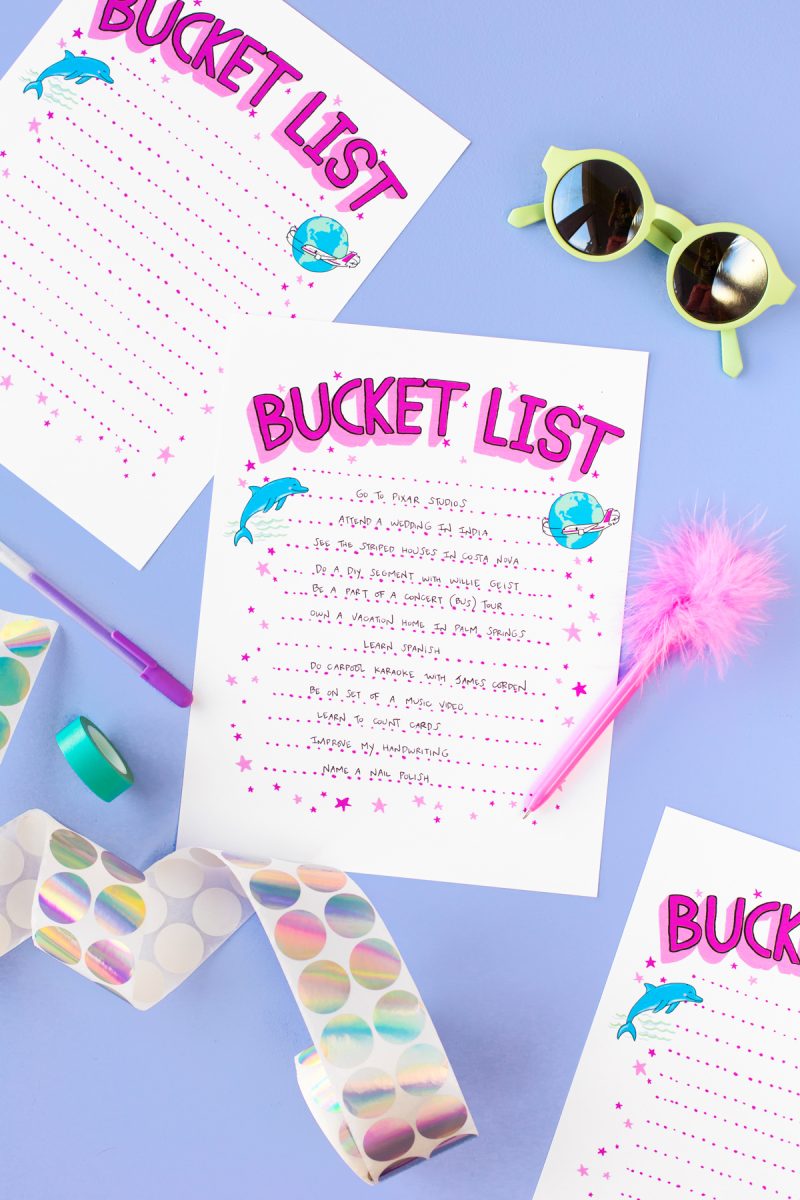 Photos by Jeff Mindell | Graphics by Katy Jones
Click here to download the free printable bucket list worksheet!
So there you have it! My silly-but-awesome-to-me bucket list. Tell me below what some of the top items on YOUR bucket lists are! I find it SO fascinating to hear other people's!!