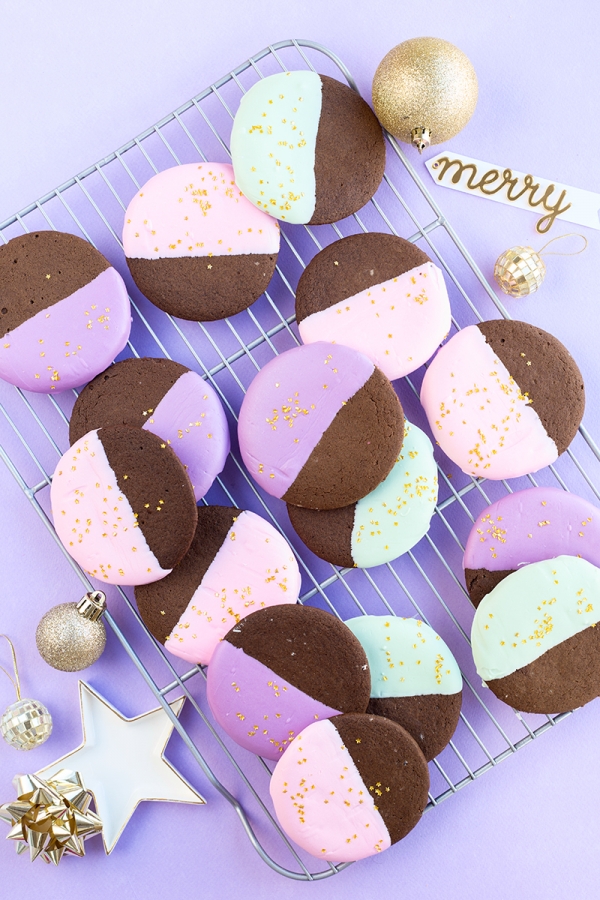 Ooooh yeahhh! We teamed up with a bunch of our blogging buds today for a virtual cookie swap! For our little contribution to this Internet par-tay, we made some color dipped gingerbread cookies! These cookies are so delicious, it would be hard to swap them! Except all the other recipes look just as good so… more is more! We've also got some super cute printable tags from our girl Floating Specks for those of you hosting your own cookie exchanges! Be sure to scroll to the bottom to check out everyone's yummy treats!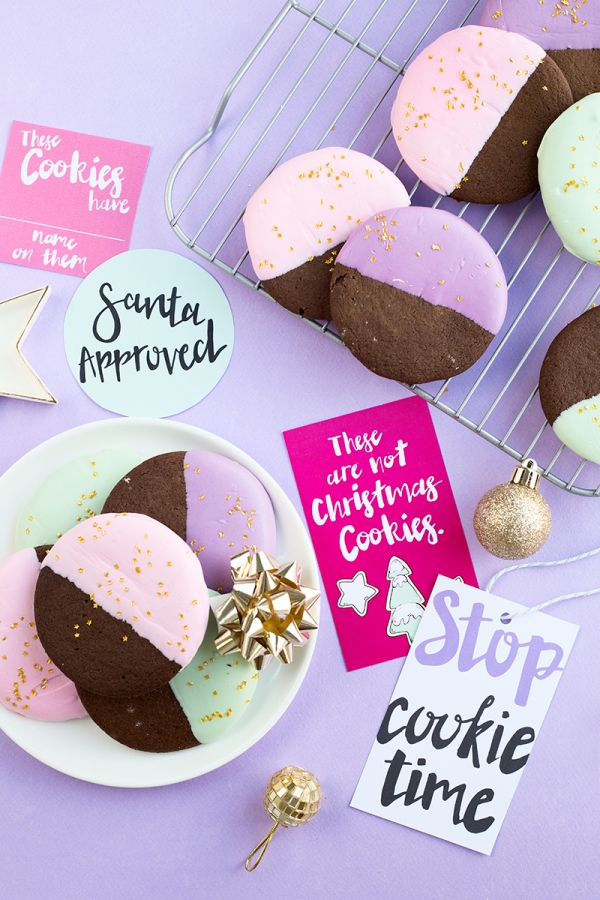 Click HERE to download the cookie swap printables!
Print them on cardstock and use as tags on cookie boxes, or on label paper to use as stickers!


Makes about 30 Cookies
3/4 cup butter, softened
3/4 cup brown sugar
3 1/2 cups all-purpose flour
1 tablespoon baking soda
2 teaspoons cinnamon
1 1/2 tablespoon ground ginger
1/4 teaspoon ground clove
1/4 teaspoon salt
2 teaspoons vanilla
1 cup molasses
1/4 cup milk
Candy Melts in Desired Colors
Gold Star Sprinkles
1. Cream together the butter and the brown sugar.
2. Whisk together the flour, baking soda, cinnamon, ginger, clove, and salt.
3. Combine the molasses, vanilla and milk.
4. Add 1/3 of the dry ingredients to the butter mixture. Mix till combined. Add in half of the milk mixture. Mix. Repeat till the dry and wet ingredients are incorporated, scraping down sides of bowl as necessary.
5. Place 1/3 of the dough between 2 sheets of wax paper. Roll out to 1/4 inch thick. Repeat with remaining 2/3 of dough. Place all 3 (with wax paper) into the freezer to chill for at least 1 hour, up to overnight.
6. Preheat oven to 350 degrees F.
7. Once the dough has chilled, remove wax paper from both sides and place onto a lightly floured surface. Using a cookie cutter or biscuit cutter, cut out desired shapes. Combine scraps to re-roll and freeze.
8. Place cookies on parchment lined baking sheet and bake for 8 to 9 minutes.
9. Let cool completely.
10. Melt candy melts according to package instructions and dip half of each cookie in the color. Sprinkle with gold star sprinkles. Place on a wire rack until set.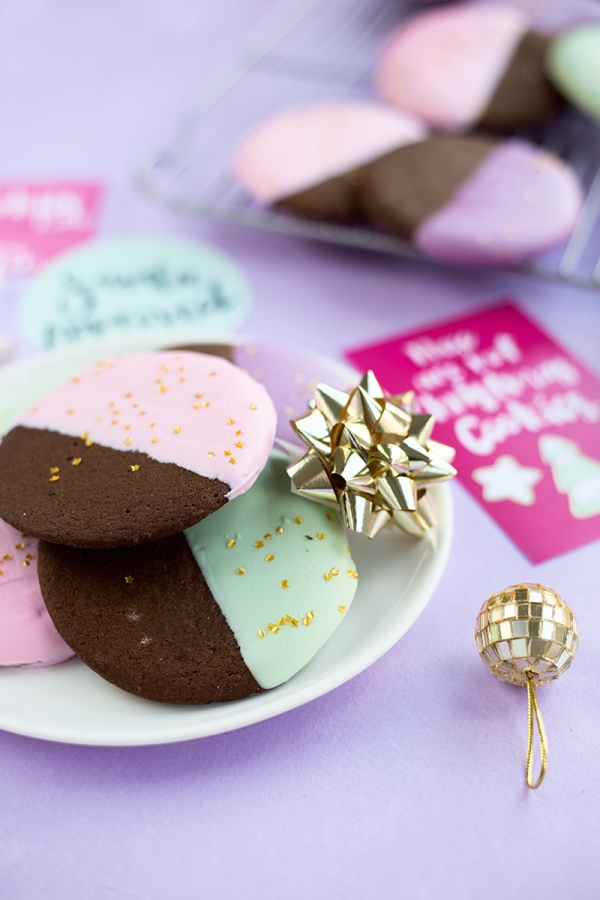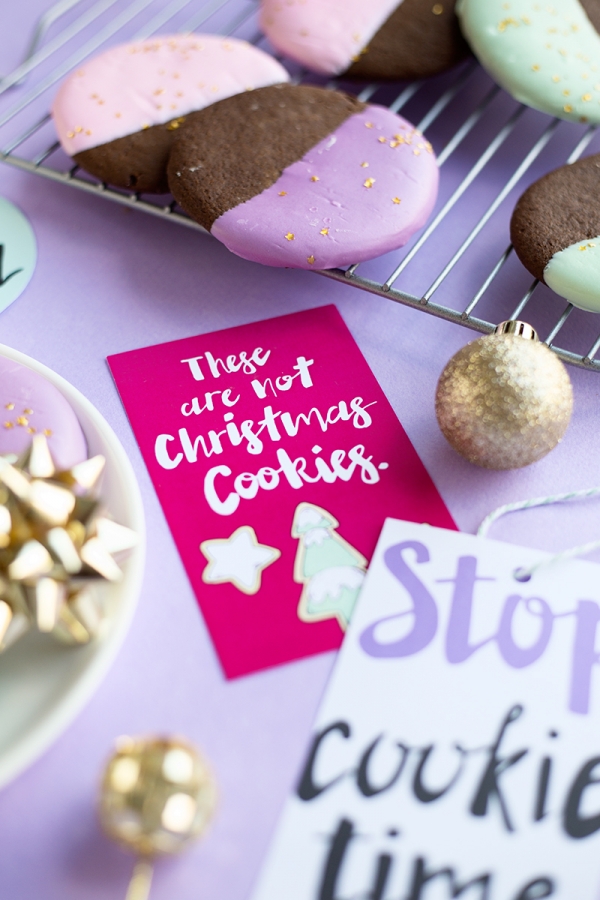 Photos by Jeff Mindell | Recipe by Theresa Rountree | Printables by Floating Specks | Styling + Creative Direction by Kelly Mindell
Like I said, my motto is More is More! So I'm pretty psyched Leah had this idea for a little cookie swap fun. Be sure to check out everyone's recipes below (and on insta at #ChristmasCookieSquad!!!) I'd pick a favorite… but I want them all. ALL!
Elf Quote Christmas Cookies on Lovely Indeed
Peppermint Drops on Julie Blanner
Linzer Christmas Cookies on Freutcake
Everything Sweet Sugar Cookies on Sugar & Cloth
Simple Almond Raspberry Cookies on The Effortless Chic
Blood Orange Vanilla Bean Meringues on Paper & Stitch
Cream Wafer Tree Cookies to Inspired by Charm
Italian Meatball Cookies on The Sweetest Occasion
Candy Cane Peppermint Bark Fudge on Sugar & Charm
And be sure to share your holiday cookies with the hashtag #ChristmasCookieSquad! We wanna see what you're making too!