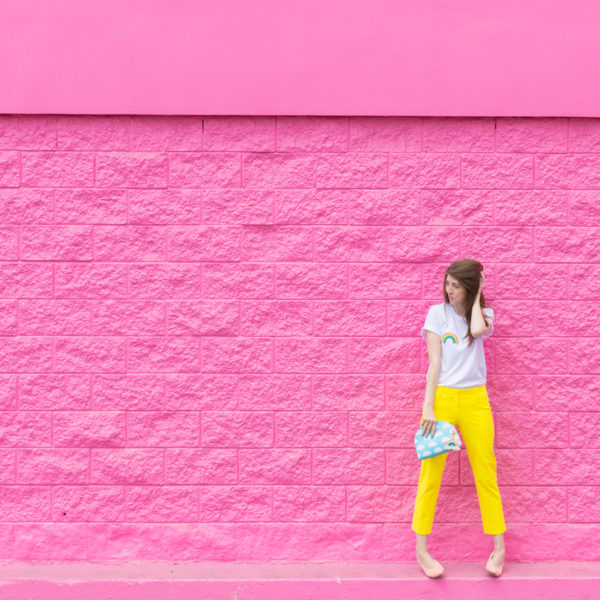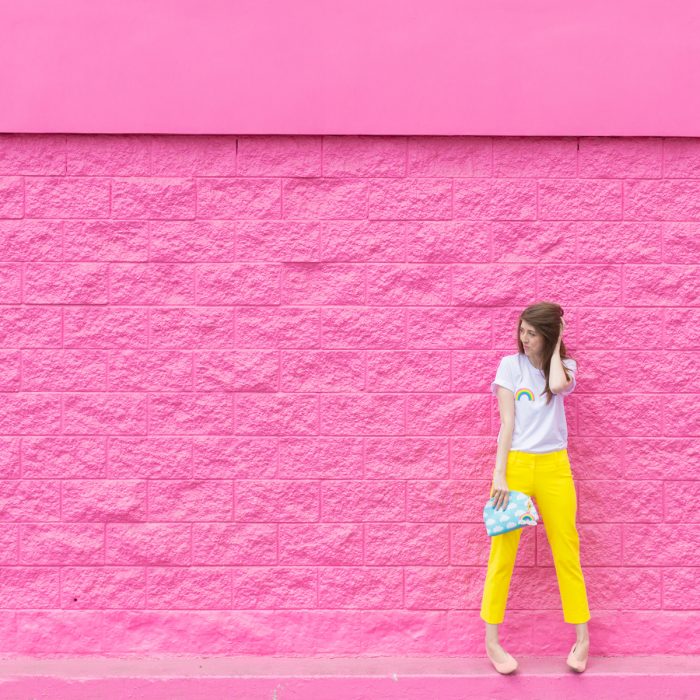 I learned a LOT from my fall capsule wardrobe (and talked about my lessons learned here!) and had so much fun putting it together with our stylist, Jordy. While I learned that sticking to a strict capsule may not be 100% for me, I still felt so inspired by the whole concept and loved how it challenged me to get out of my typical style "uniforms" and try some new combos. Luckily, you guys LOVED that post too, so we decided to go ahead and put together a colorful spring capsule wardrobe this time!!!
Of course, color for spring is much easier to come by, so we took the color levels up a notch for this one. I am SO IN LOVE with how this turned out. You can watch my video here for my top tips for creating your own capsule wardrobe. Unlike a traditional capsule, since we were going mostly for outfit inspiration for you guys here, we selected mostly new pieces. If you are doing a true capsule, you should try to build upon as many pieces from your past season capsule as possible. You'll see a few familiar ones here though!
If nothing else, I hope that this inspires you to try some new silhouettes, layers and color combos this spring!

Once again, we went with a 35 piece wardrobe. This time our color palette was light + deep blues, light + bright pinks, mint, yellow and denim and white as neutrals. We also focused on adding in some interesting textures (like velvet, seersucker and pleats) and patterns (like stripes and bold florals). I've broken down the entire thing below so you can snag your faves if you'd like!
Shirts
10 Total: 2 Tshirt, 2 Button Downs, 6 Blouses or Other Shirts
Pink Tank from Topshop (similar here) | Yellow Tank from Topshop (similar here)
Pom Pom Tank from Zara (similar here) | Blue Striped Button Down
Blue Blouse from H&M (similar here) | Rainbow Tee from Daisy Natives
Western Button Down (similar here and here) | Pink Striped Tee
Pink Kimono | Avocado Shirt
Sweaters + Jackets
5 Total: 2 Sweaters, 1 Cardigan, 2 Jackets
Sleeveless Sweater | Purple, Yellow, and Pink Sweater | Pink Cardigan
Pink Leather Jacket (similar here) | Jean Jacket
Bottoms
9 Total: 2 Jeans, 2 Skirts, 2 Shorts, 3 Pants
Mint Velvet Pants | White Jeans | Boyfriend Jeans | Yellow Pants
Flower Shorts (similar here) | Blue Scalloped Shorts
Floral Pants | Pink Pleated Skirt (similar here)
Blue Midi Skirt (similar here)
Full Pieces
5 Total: 2 Dresses, 3 Jumpsuits or Overalls
Striped Jumpsuit | Gingham Jumpsuit
Yellow Dress (similar here) | White Dress (similar here)
Pink Romper/Overalls
Shoes
6 Total: 3 Heels, 1 Sandal, 1 Oxford, 1 Mule
Mint Clogs (c/o) | Gold Mules | Yellow Heels
Blue Sandals (similar here) | Silver Oxfords | Pink Heels
We didn't include jewelry and other accessories in the wardrobe but you can find some of the pieces I'm wearing below:
Hot Pink Tassel Earrings | Pink + Blue Tassel Earrings | Peach Bead Necklace
Rainbow Hat | Gold Necklace from H&M | Gold Belt is Vintage
And nowwww! I've got about 40 outfits to inspire your spring wardrobe, capsule or not! What I love most about working with Jordy is how bold she is with layering. She layers things I never would expect, like a t-shirt under a jumpsuit and a long sweater over shorts!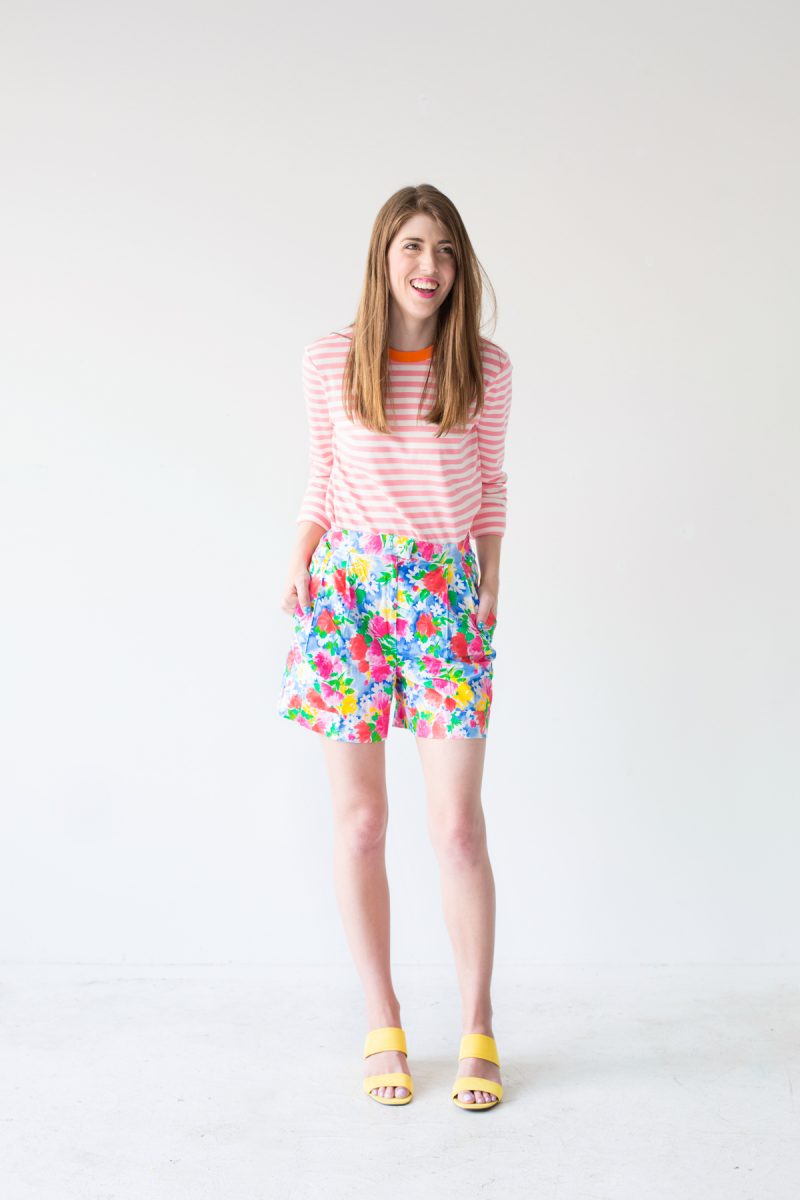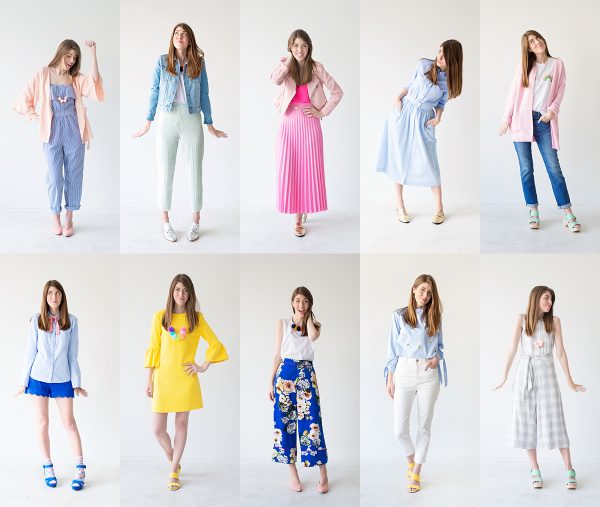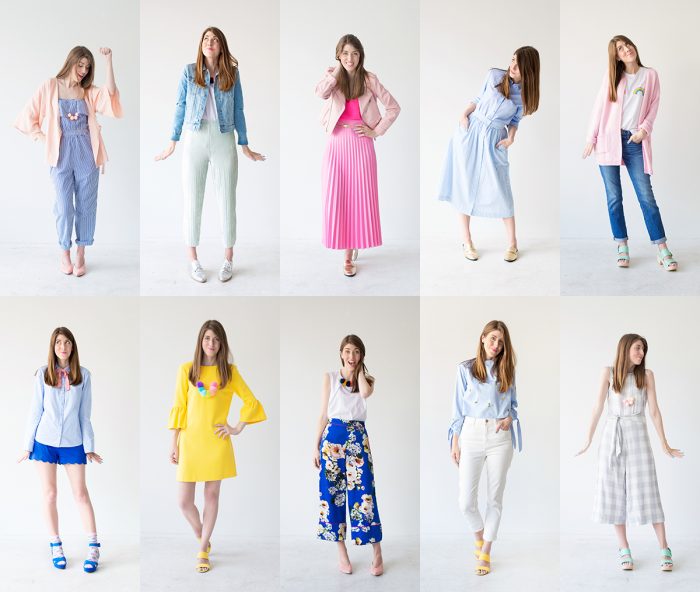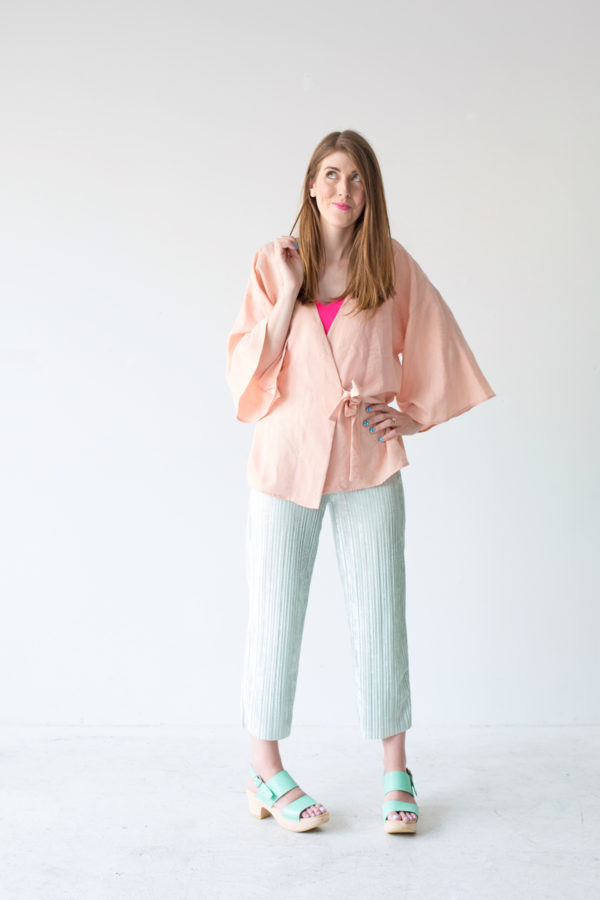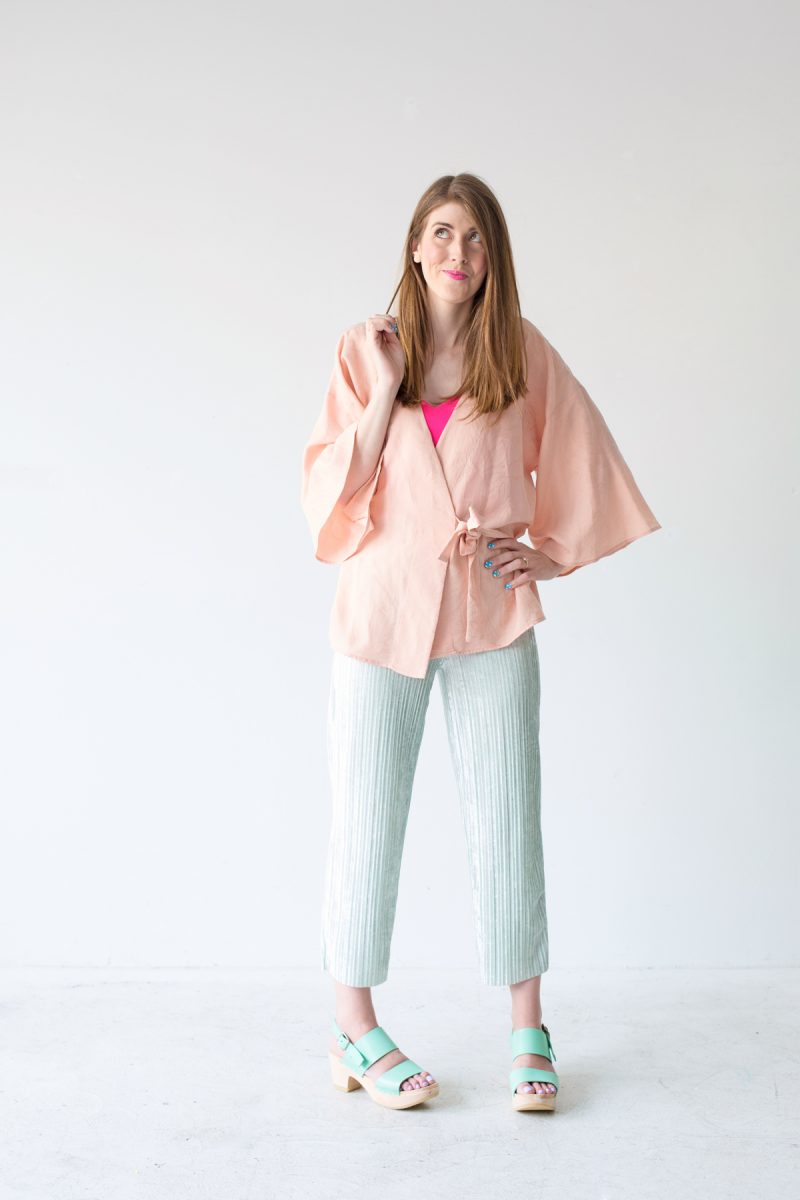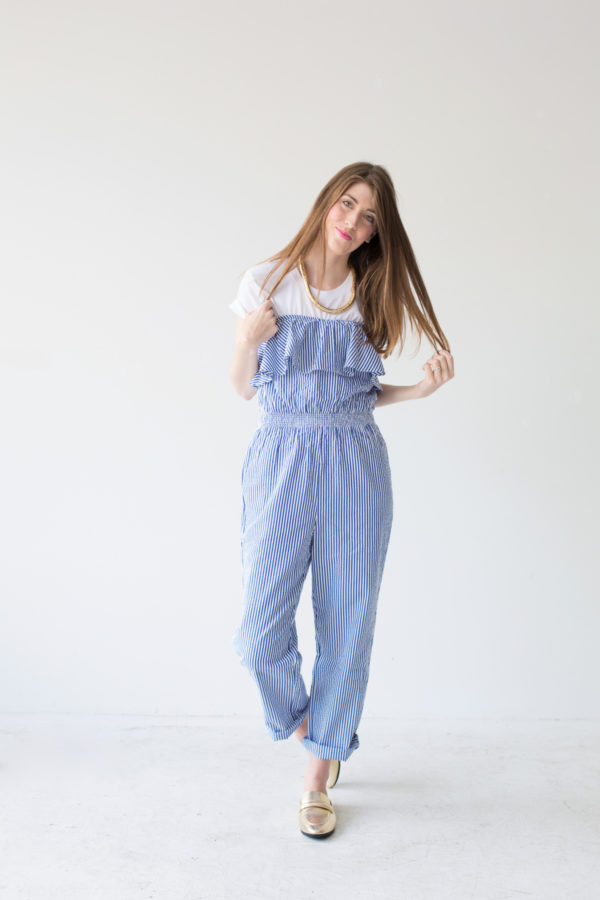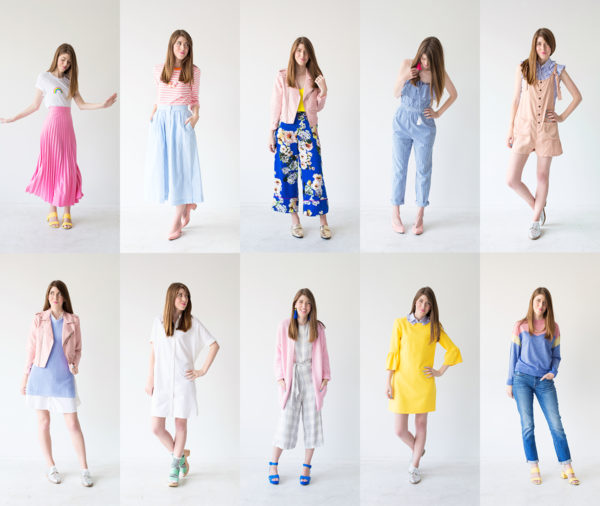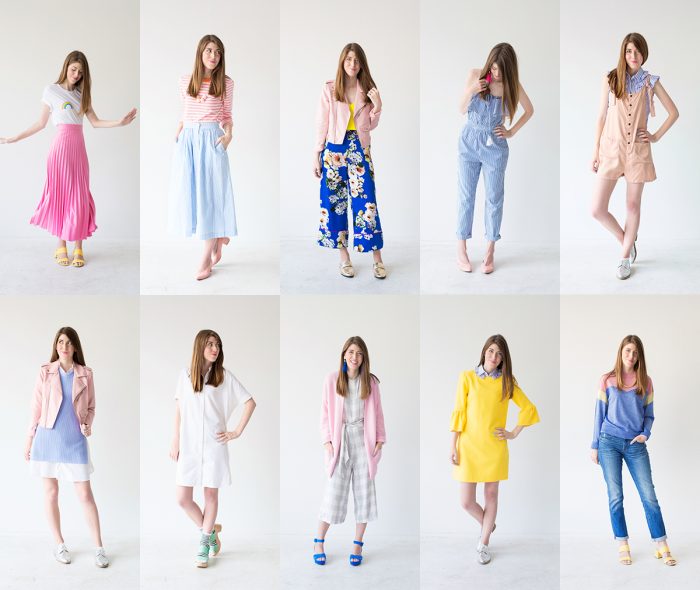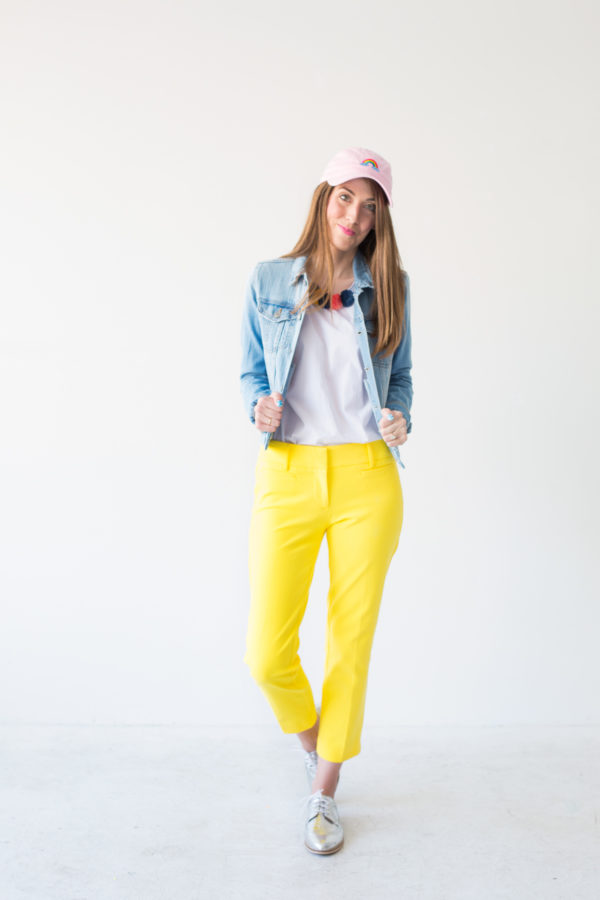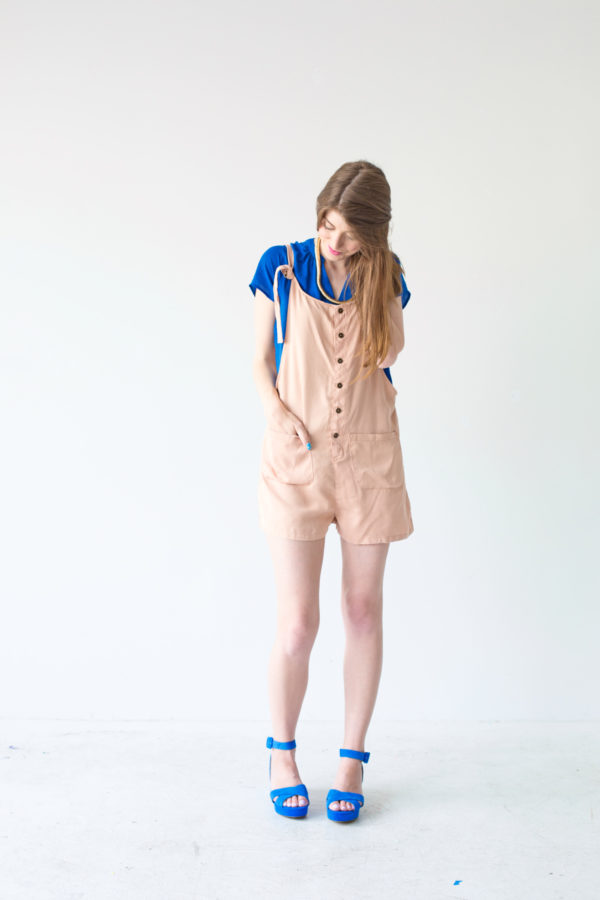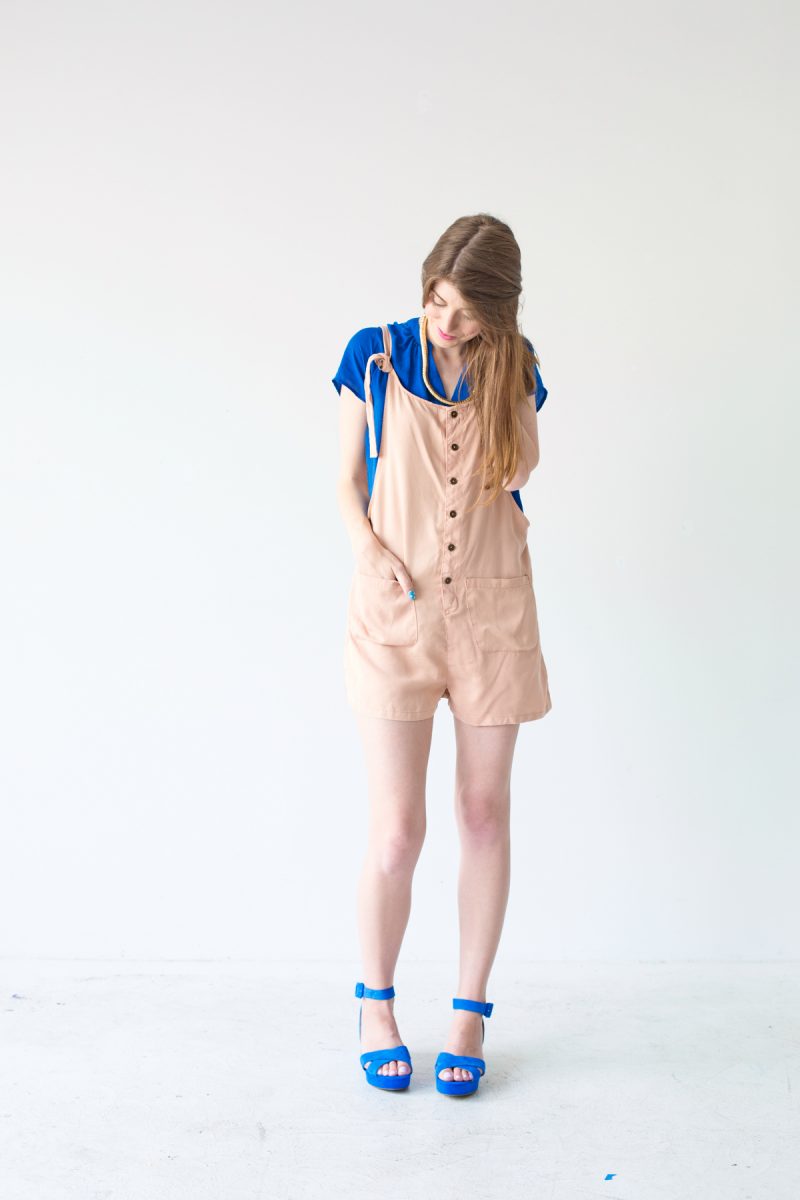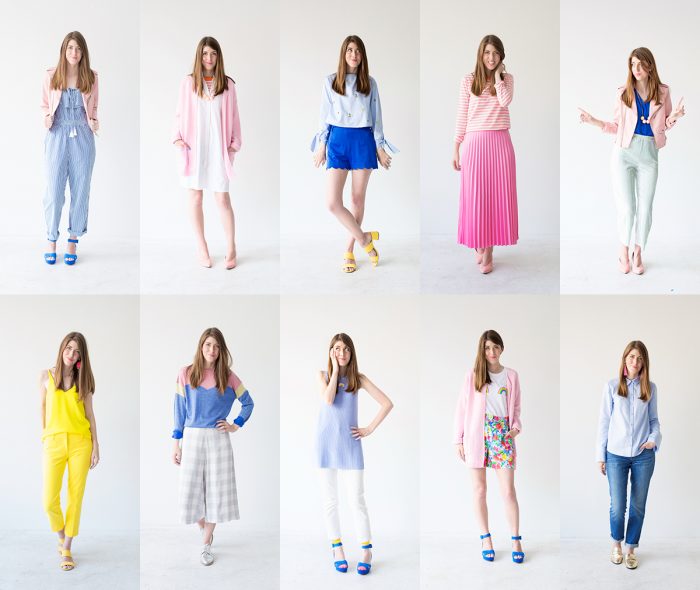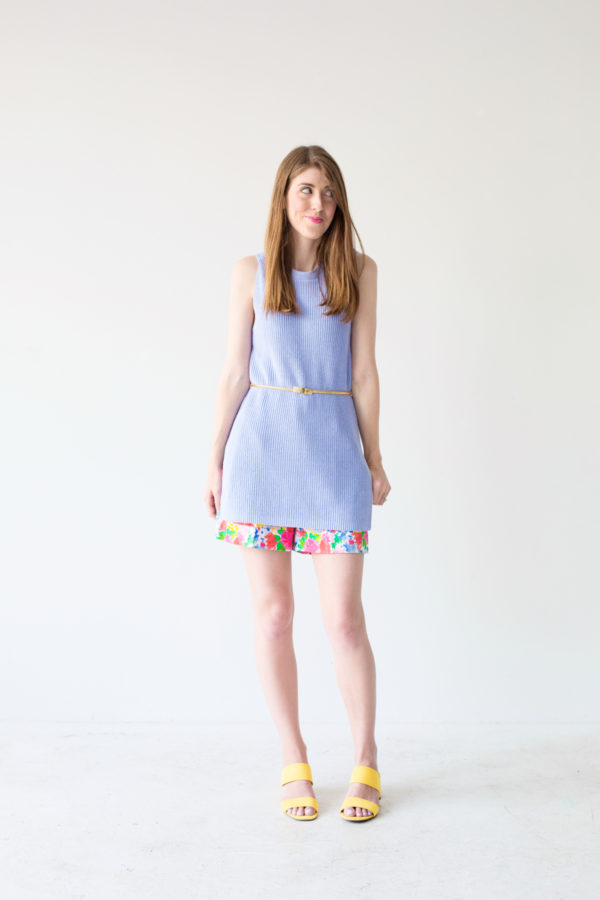 Photos by Jeff Mindell | Styling by Jordy Scheinberg
And there you have it!! Which outfit is your fave!??! Let me know in the comments below! I can tell you, I've already been living in that long sleeve striped shirt and those yellow pants!! Not surprising huh?
My weekly outfit posts will be coming back next month and you'll be seeing lots of these outfits in-action! =) Huge thanks to Jordy for putting together another AWESOME capsule!!