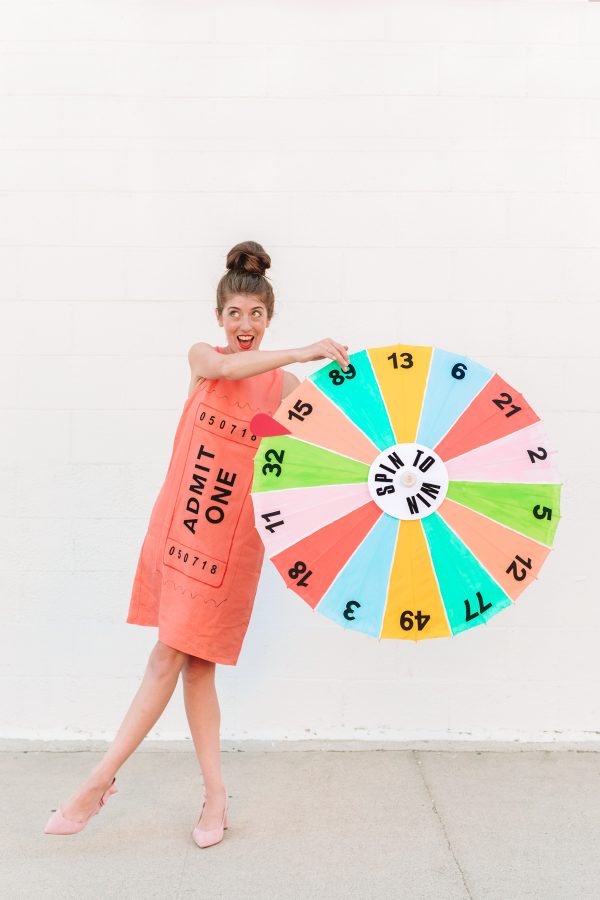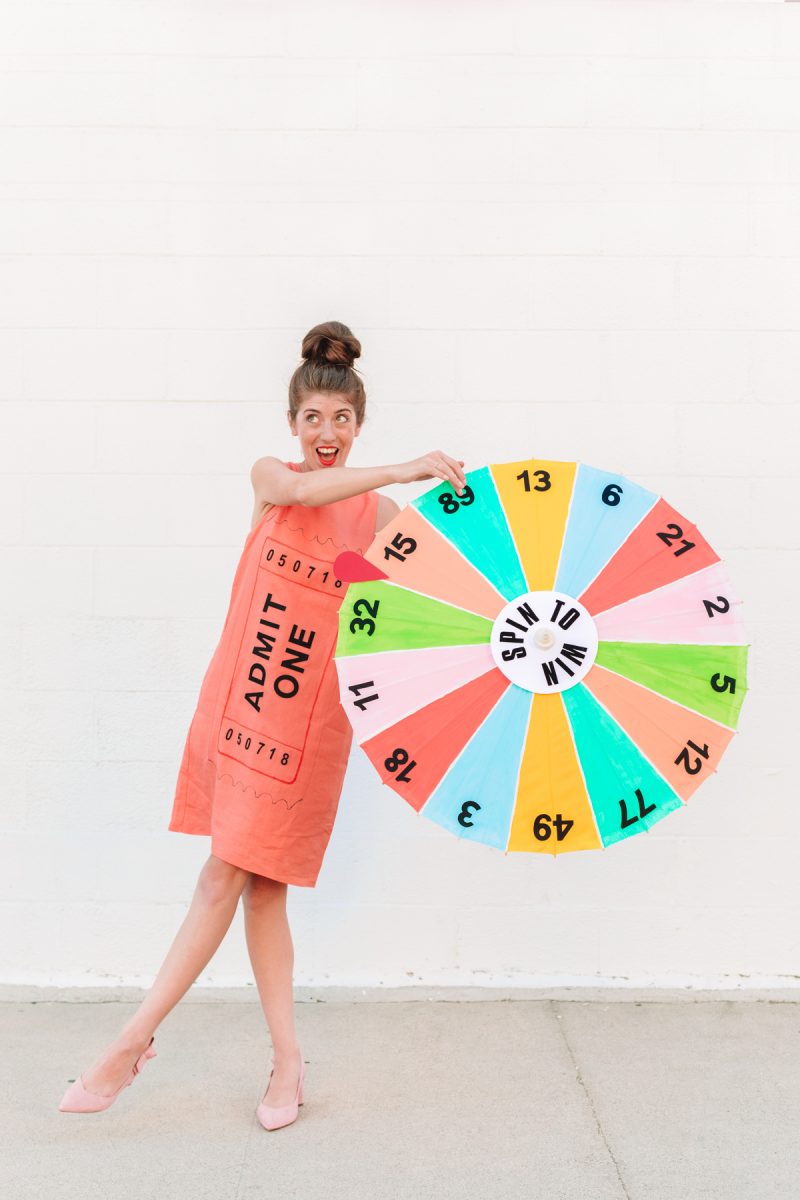 Hi my name is Kelly and at carnivals/boardwalks/state fairs I like to play the games instead of ride the rides. Anyone else!?!? My poor parents accumulated so many cheap stuffed animals from my boardwalk game addiction! Haha! You've seen me use parasols as props in costumes before and I just LOVED the idea of making this DIY carnival game costume out of an umbrella… with a carnival ticket as the costume itself!!!!
I didn't make mine actually interactive, because I tried to stay true to how a real "spin the wheel" game works, but you could totally make an actual arrow that people could spin. And you could give out prizes!!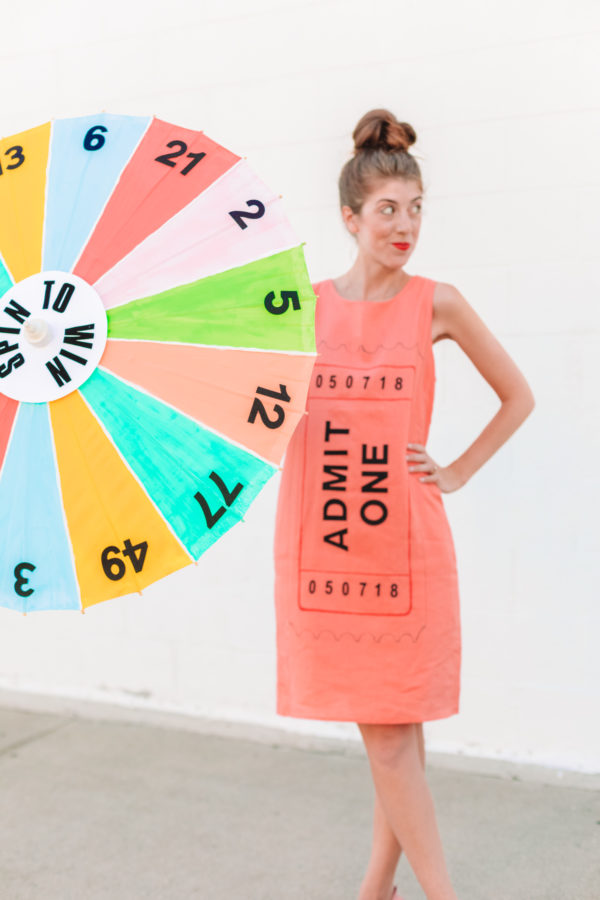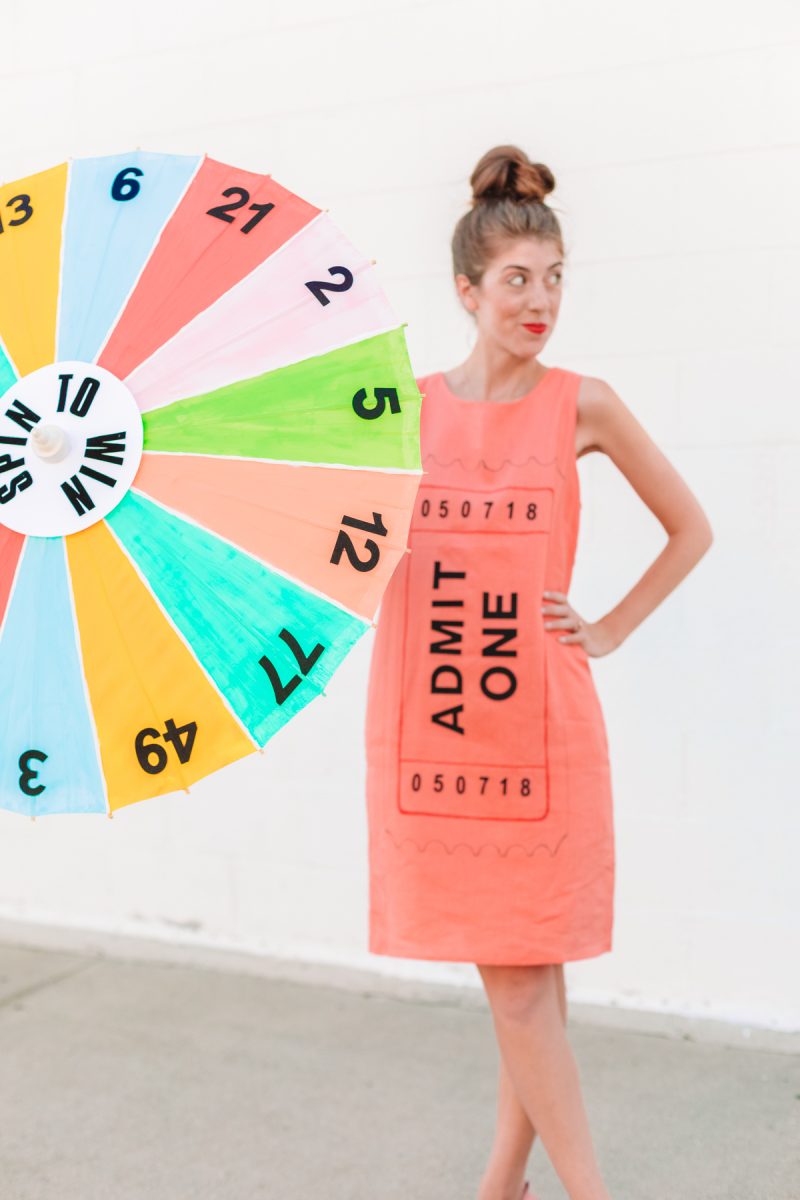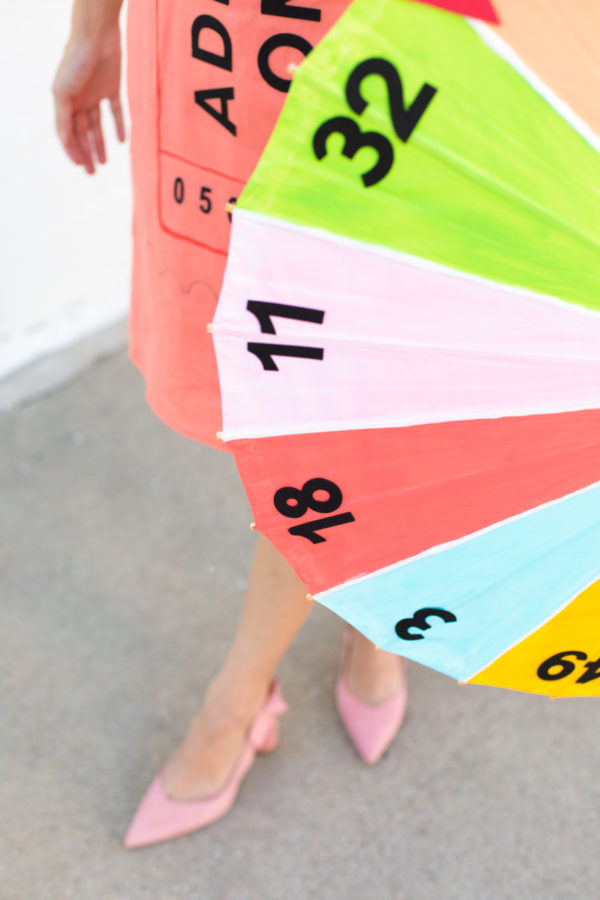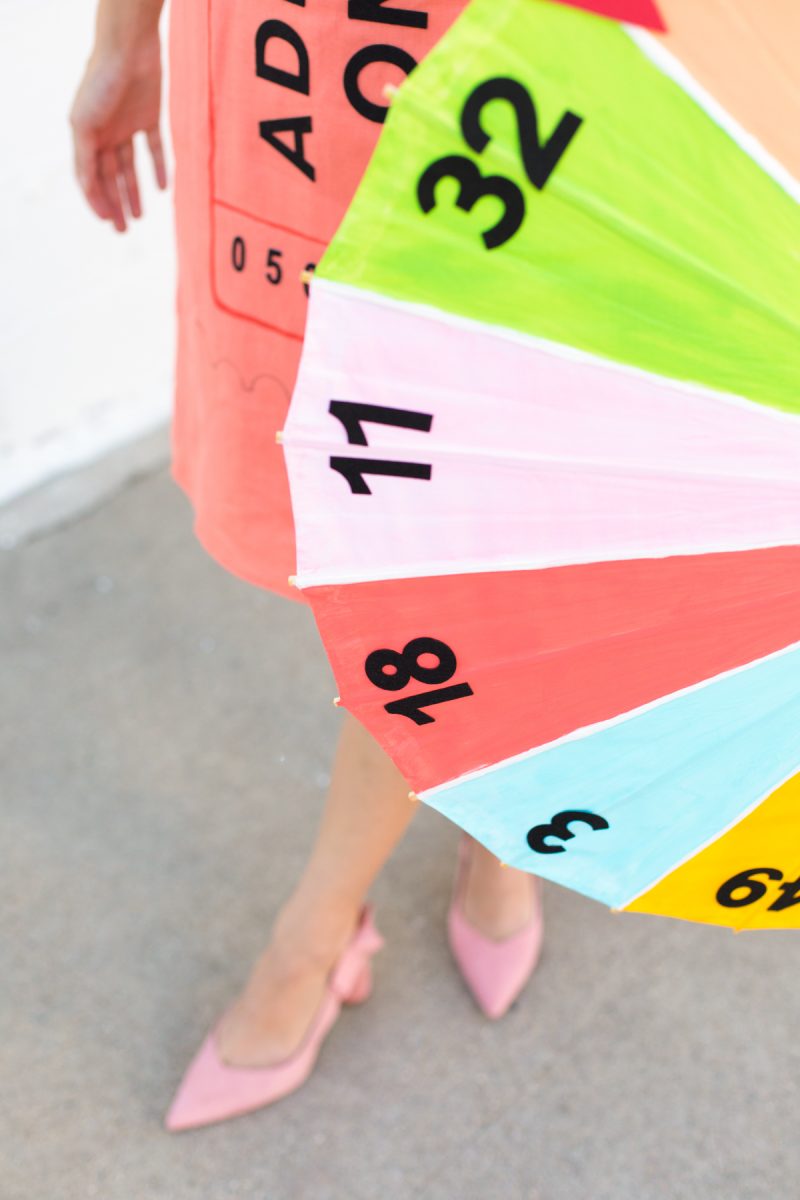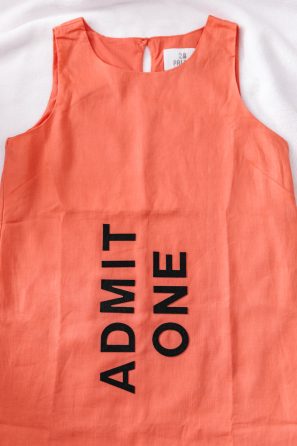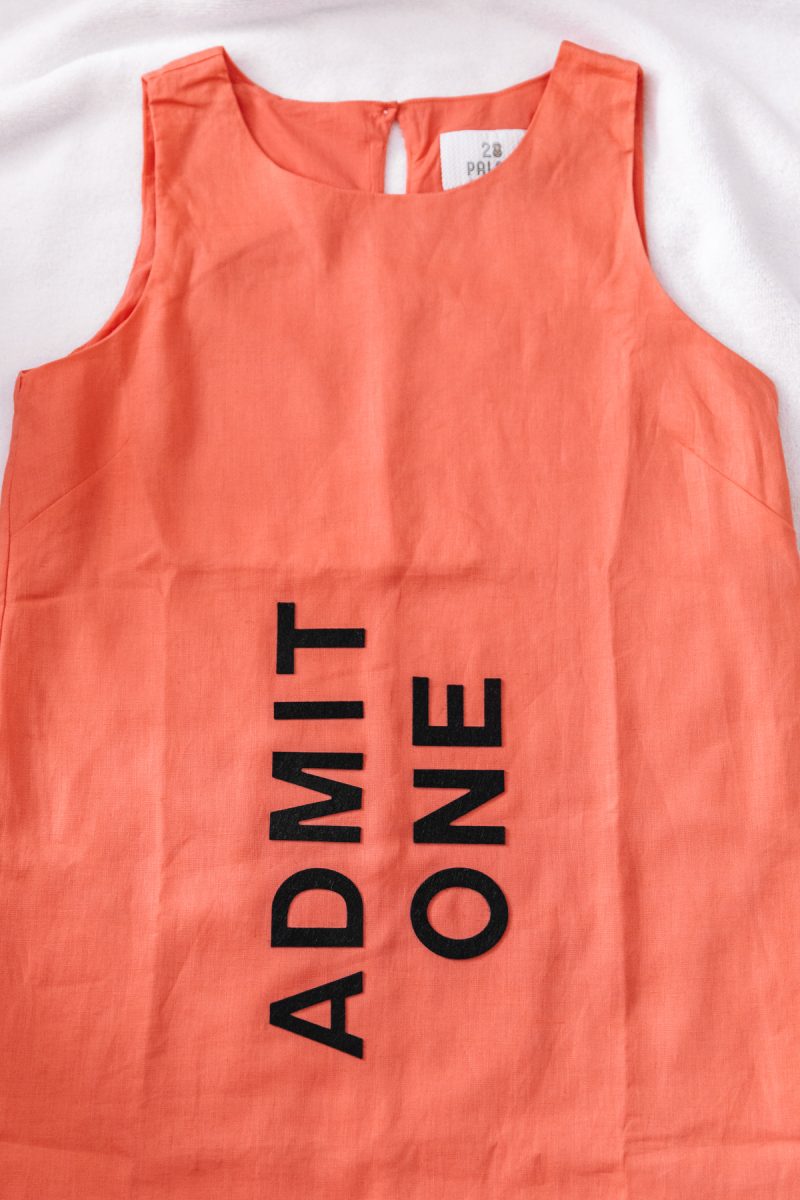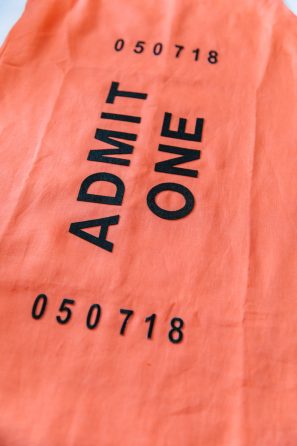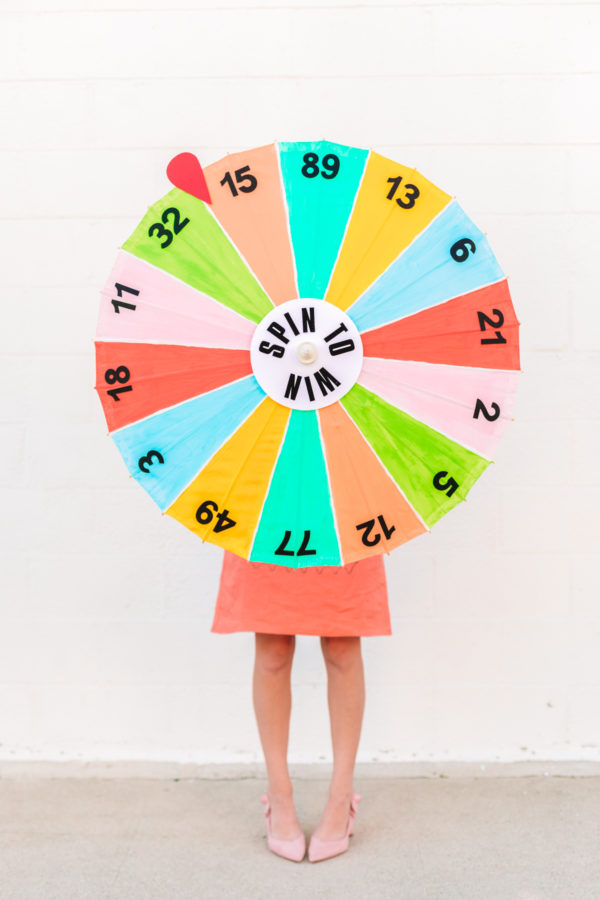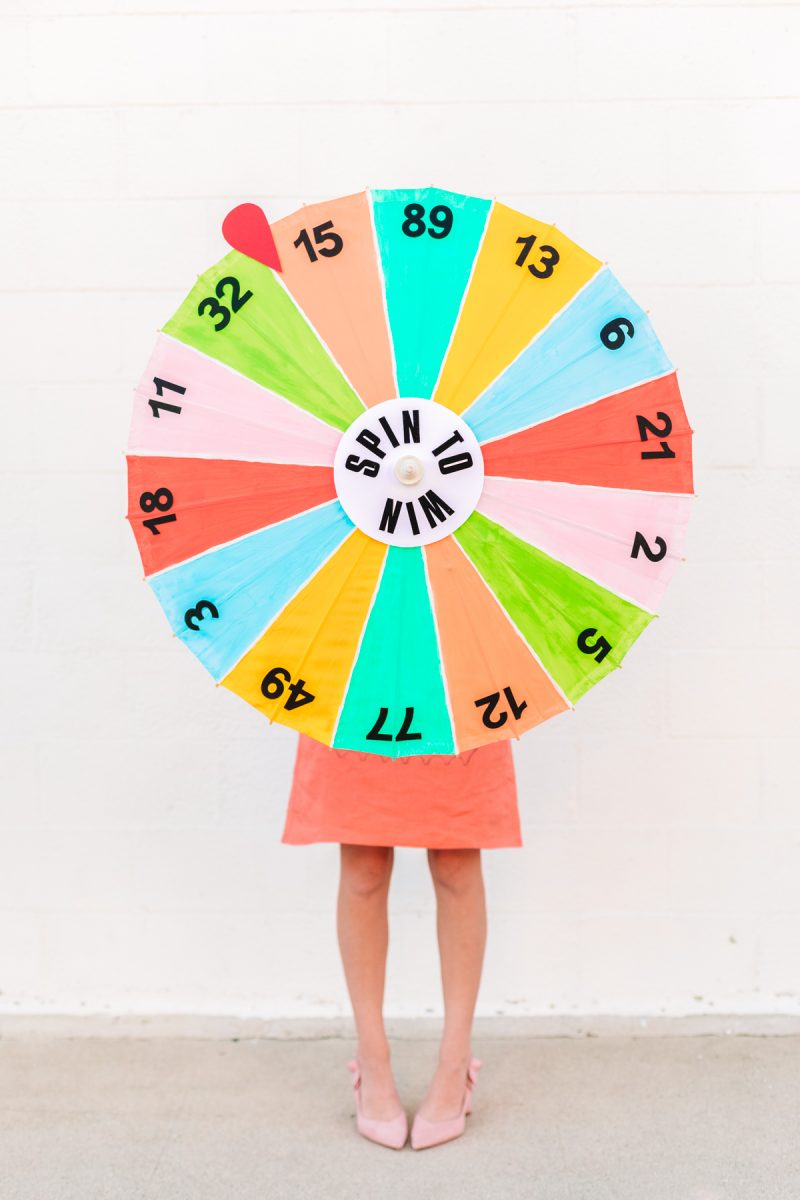 DIY Carnival Game Costume
Total Time:
Supplies
For the Carnival Ticket:
Shift Dress (Or T-Shirt)
2" Iron-on or Adhesive Felt Letters
1" Iron-on (I found mine at a craft store locally) or Adhesive Felt Numbers
Red and Black Fabric Markers
Hot Glue Gun (If using adhesive letters, for extra security)
Ruler
For the Carnival Game Umbrella:
White Parasol
Paint in various colors + white
Paint Brush
Adhesive Felt Numbers + Letters (Or leftover iron-on ones from your dress, just glue them on this time!)
White Cardstock
Red Cardstock
Scissors
Hot Glue
Directions
For the Carnival Ticket:
1. Iron, glue or adhere the 2" felt letters spelling "Admit One" or "Ticket" or other desired phrase, vertically on the center of the dress.
2. Iron, glue or adhere the 1" felt numbers (whatever numbers you like! Most actual tickets have a six number code on them, so that's what I did) above and below the letters, in a horizontal line. Don't worry about it being perfectly straight, the numbers on actual tickets never are!
3. Use a ruler to draw a red box with your fabric marker around the letters and numbers you just adhered, as shown! Don't connect the lines with hard corners though, instead, draw a curved corner to reflect what a ticket actually looks like!
4. Use the ruler again to draw a black vertical line one either side of the red box you just drew.
5. Use one of your paint bottles as a guideline to draw the scalloped top and bottom of the ticket. Space each half circle about 1/2" apart!
For the Carnival Game Umbrella:
1. Use the spokes of your parasol as guidelines for the different sections! I made each of my colors two "sections" wide, which left me with 14 different ones to paint. (Two per color) Paint your sections accordingly and let dry.
2. Adhere the adhesive numbers of your choice (you can hot glue them for extra security) in the center of each section.
3. Use a bowl or container (It should be about 8-10" wide) to make a white circle out of cardstock. Cut out a circle in the center that is the same width as the center of your parasol.
4. Adhere letters like "Spin to Win" around the circle.
5. Slip the circle over the center point of your parasol and glue it to the parasol.
6. Cut a teardrop or arrow shape out of your red cardstock and glue it to one of the spokes of the parasol.
Bonus Ideas to Adapt This Costume
First, I really wanted to make this blue and white and have it say things like "sis" and "pop"… it was my favorite wheel game on the boardwalk at the Jersey Shore!! Is that just a shore thing? Does anyone remember that? Jeff said it was too specific, ha, but if you're in NJ… you should do it!!
Pair this with our popcorn, hot dog or cotton candy costume for a full carnival/fair vibe!!!
You could adapt this into a Wheel of Fortune costume or even a board game costume, like The Game of Life!! A group could be the board game, the wheel and the little people that go in the cars (Just wear solid color blue or pink!!!)!!
Turn this concept into a roulette game, with a roulette dealer as the costume, plus a roulette umbrella!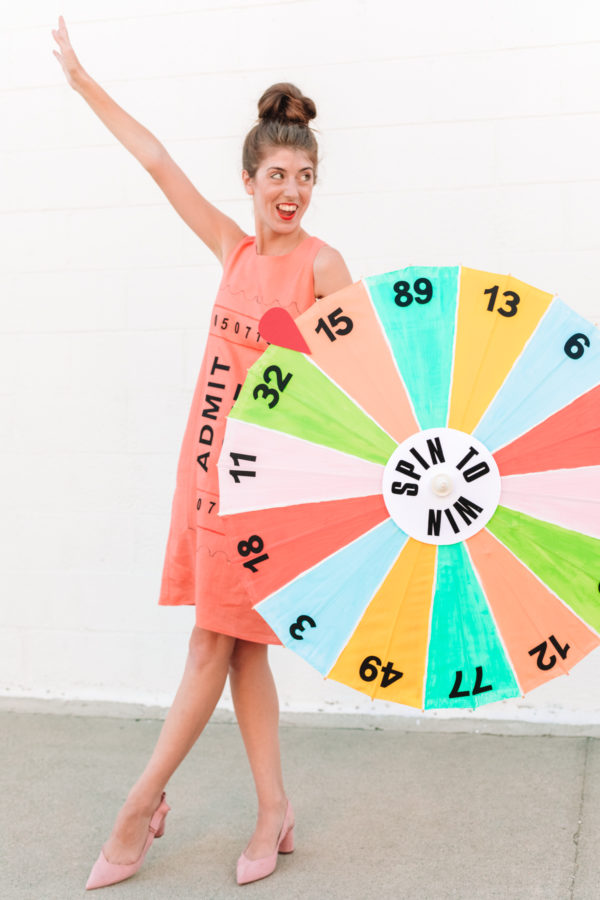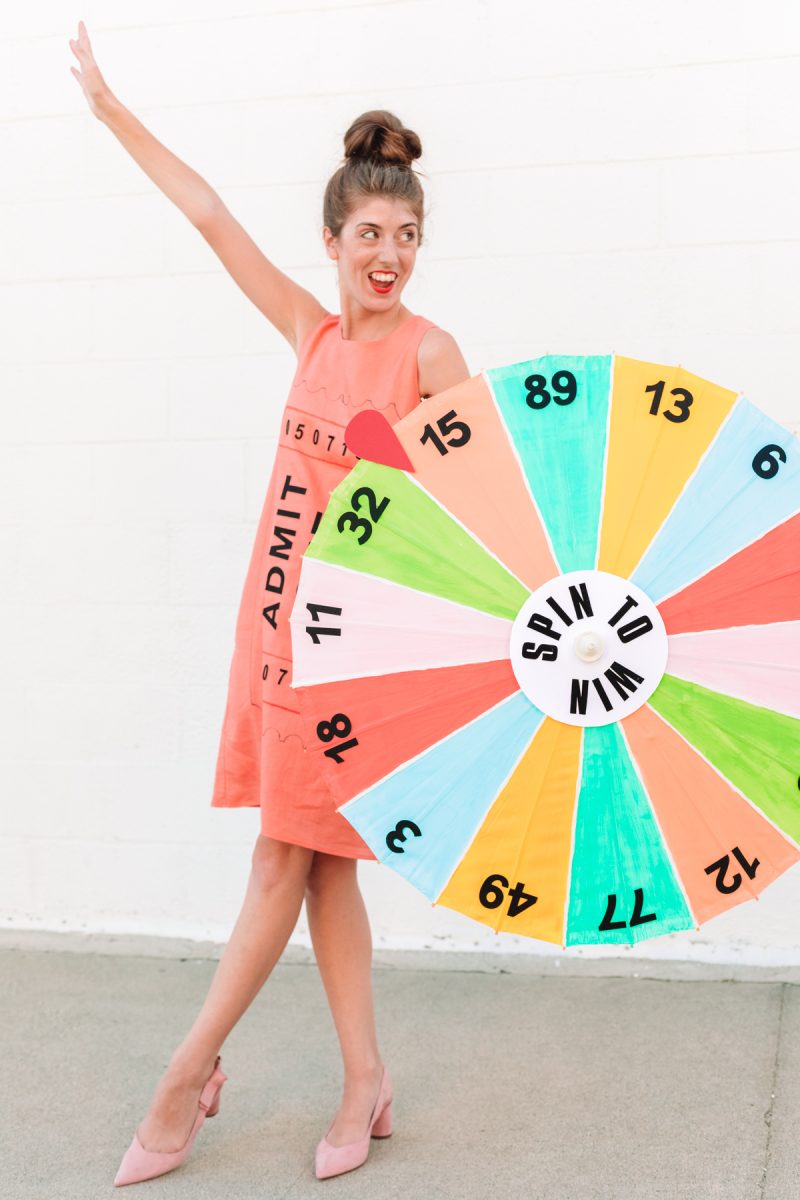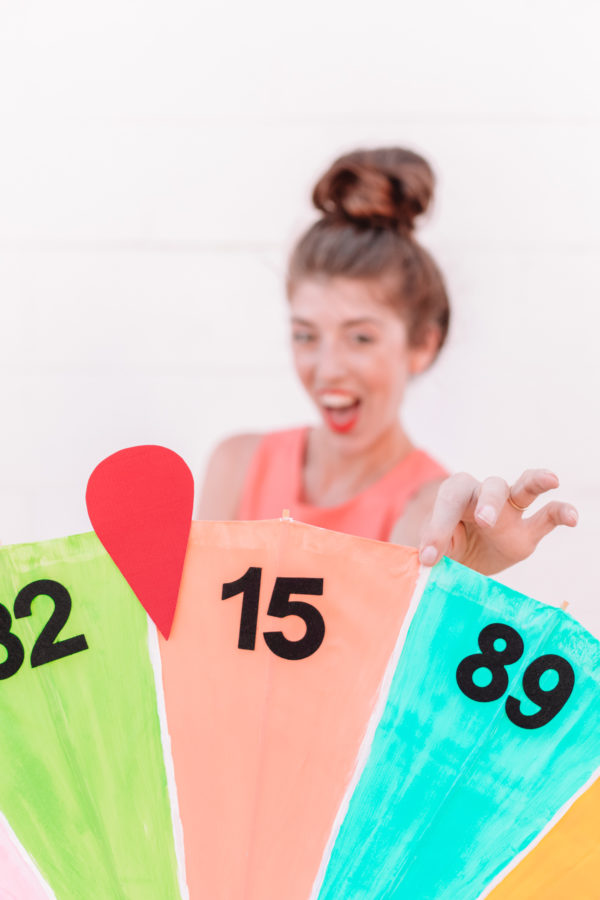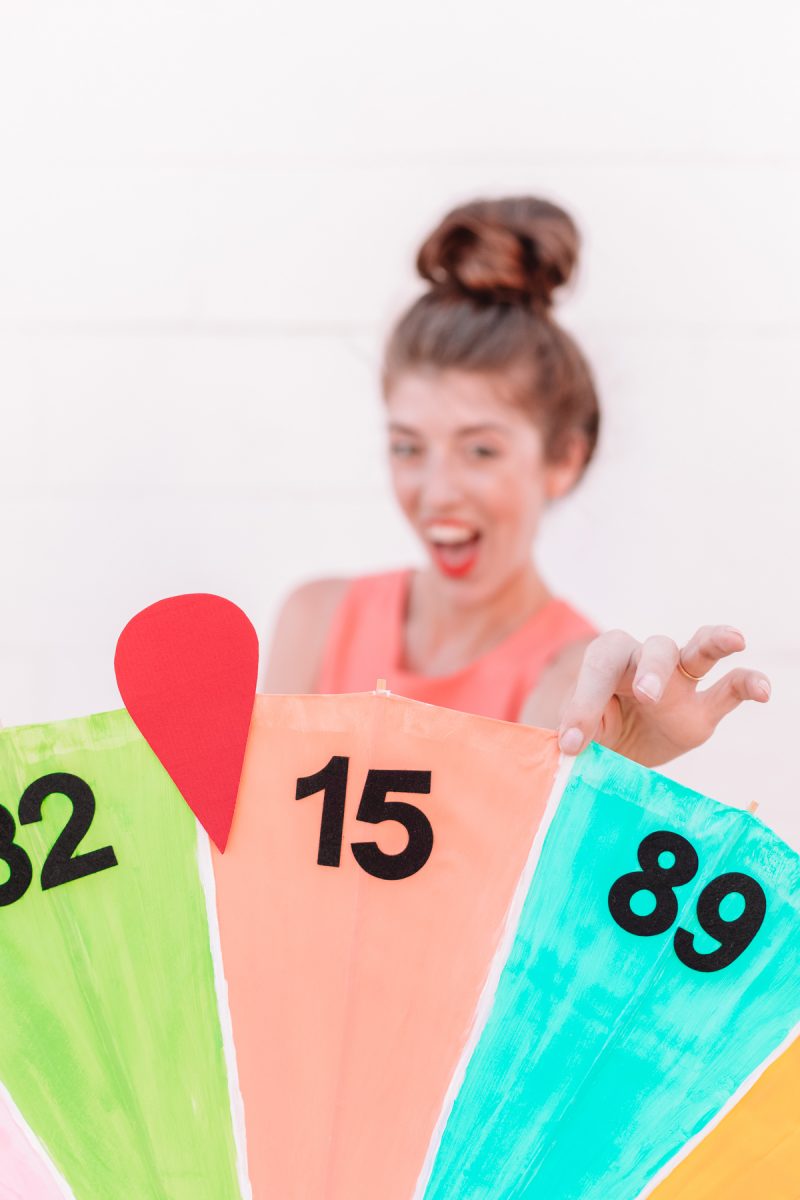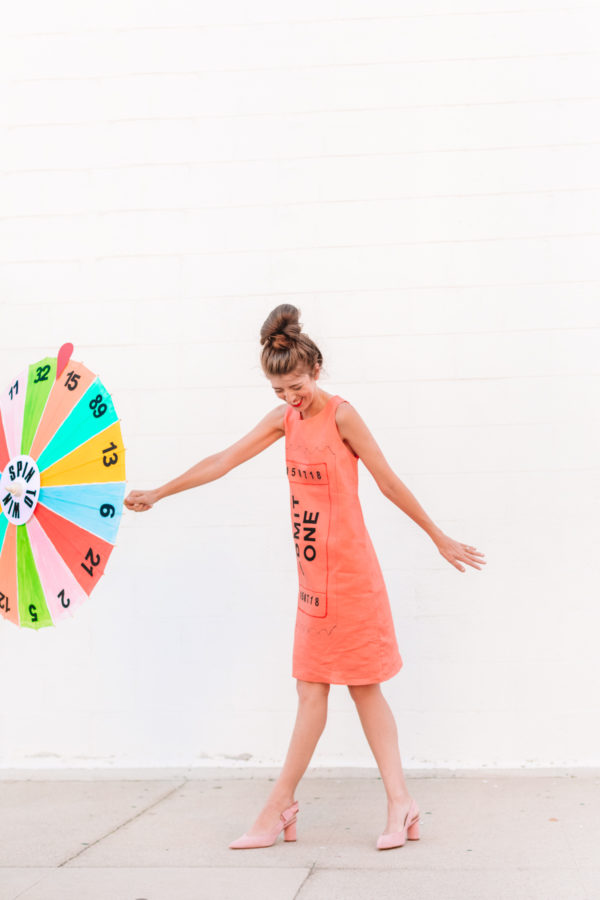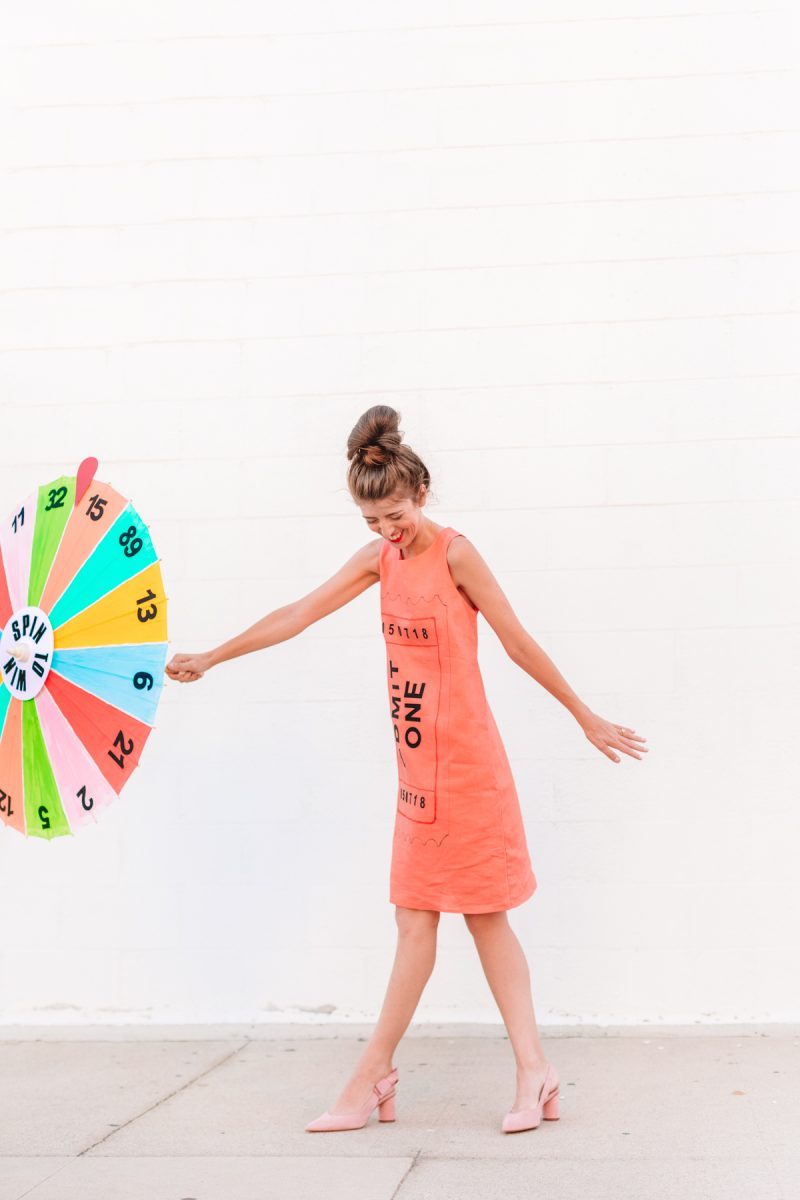 Photos by Jeff Mindell
Gosh I just LOVE a good costume prop. This game wheel was so so fun to make, and so nostalgic for me!
Need a costume for a partner, friend or child? How about a balloon animal!?
Remember, if you make a Studio DIY costume, be sure to share it on Instagram with #studiodiyincostume so we can see and share it, too!! For all our costume tutorials, click here.