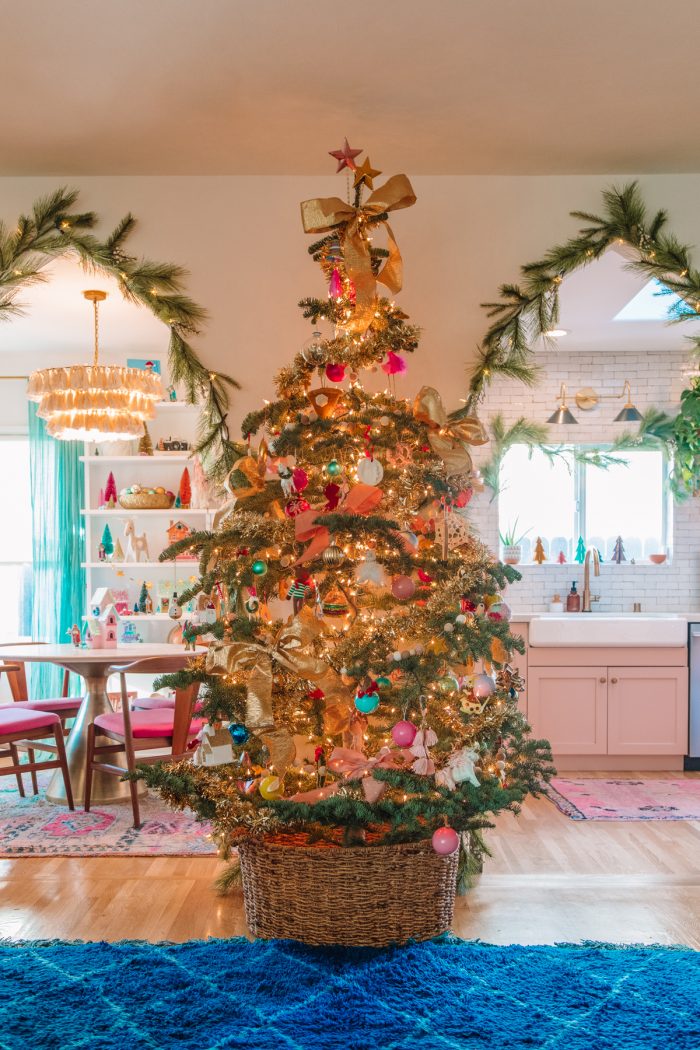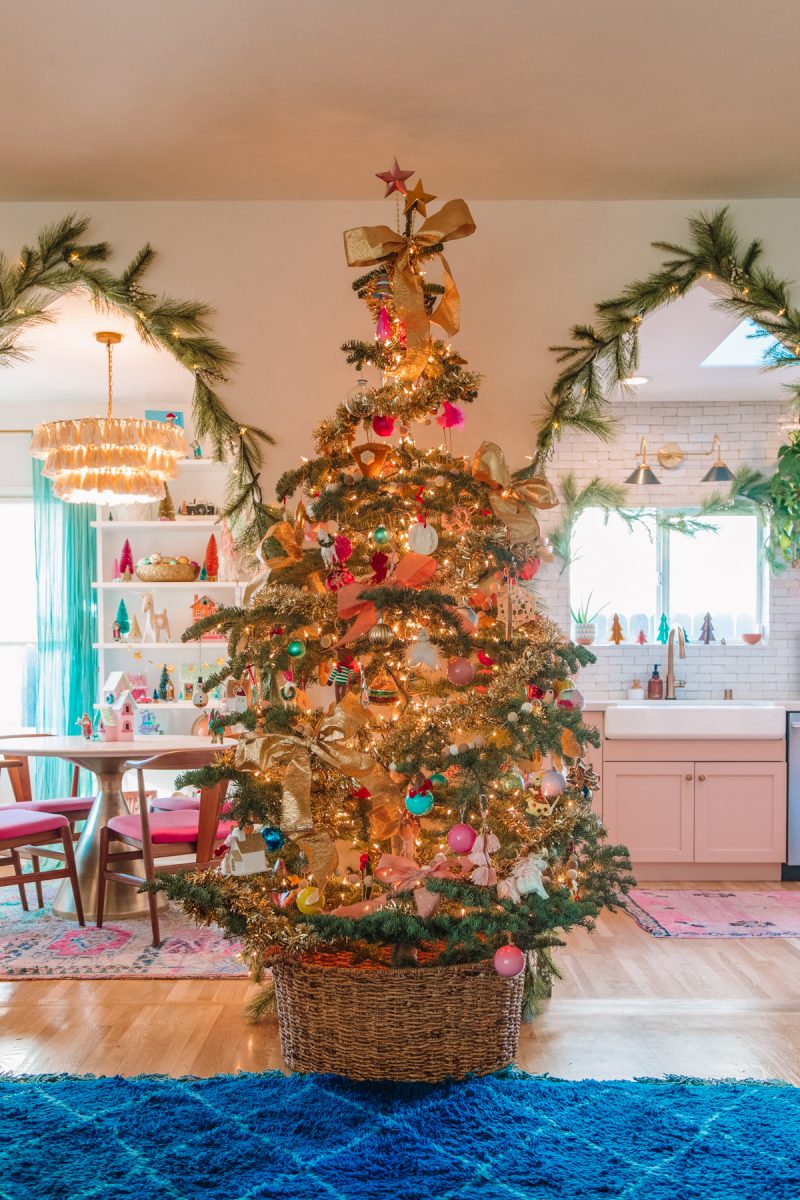 I've spent the last few weeks adding little (and sometimes over-the-top) Christmas touches to every room in our house! So today I wanted to share our 2019 holiday home tour with you!! It feels like Arlo *really* gets Christmas this year and is just SO excited anytime he says any lights, trees, etc. so it's been a BLAST decorating with him and letting him take the lead on a few things. 😉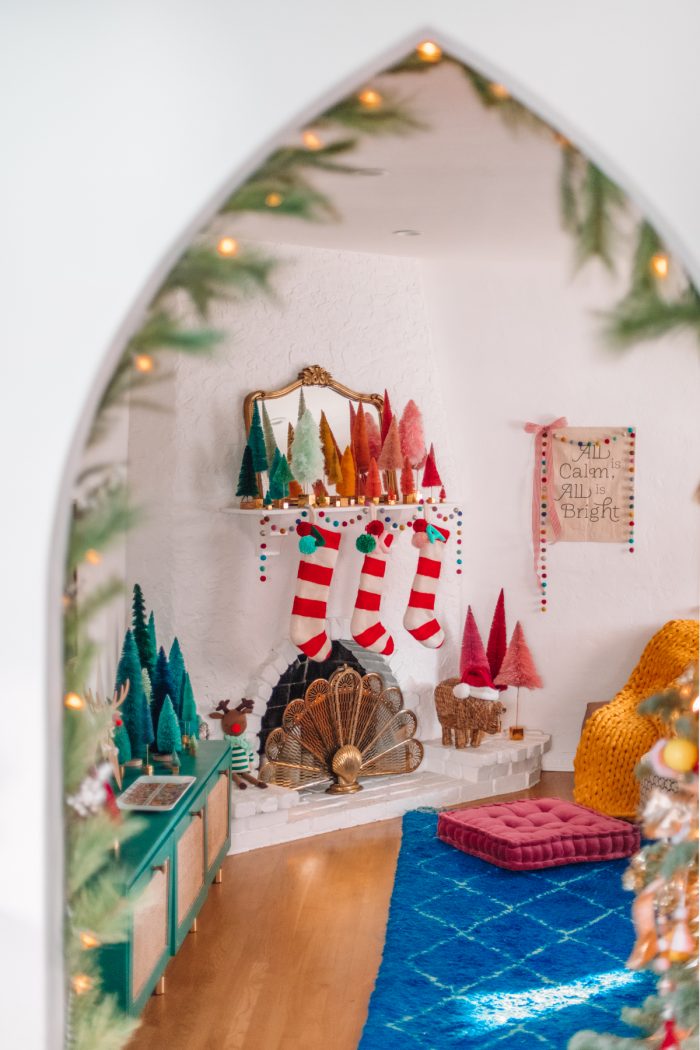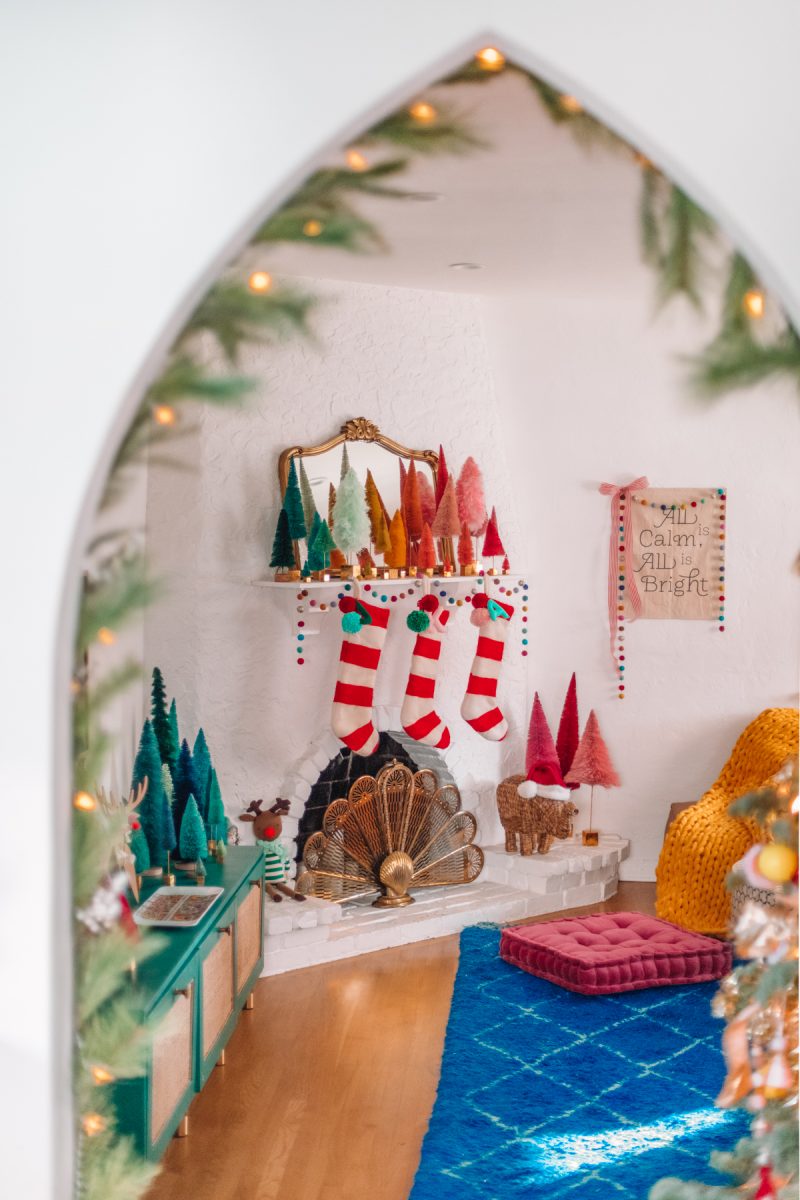 Colorful Living Room Christmas Decor
Now that we have the new arch, I've been dying to deck them out with garlands. So I did. I used these garlands and wrapped them with these battery-operated star twinkle lights! I love how it turned out so much.
There is not a single spot in our house that can fit a Christmas tree, aside from our bedrooms. Usually we put it in our master (which was great during the crawling stage because Arlo couldn't get to it! Highly recommend!), but now that Arlo is so pumped on Christmas, we wanted him to be able to enjoy it more. So we ended up moving our chairs to the guest room and putting the tree in between the arches. It's… fine? Ha! Not sure what we'll do once the guest room is a nursery but, one year at at time, right!? 😉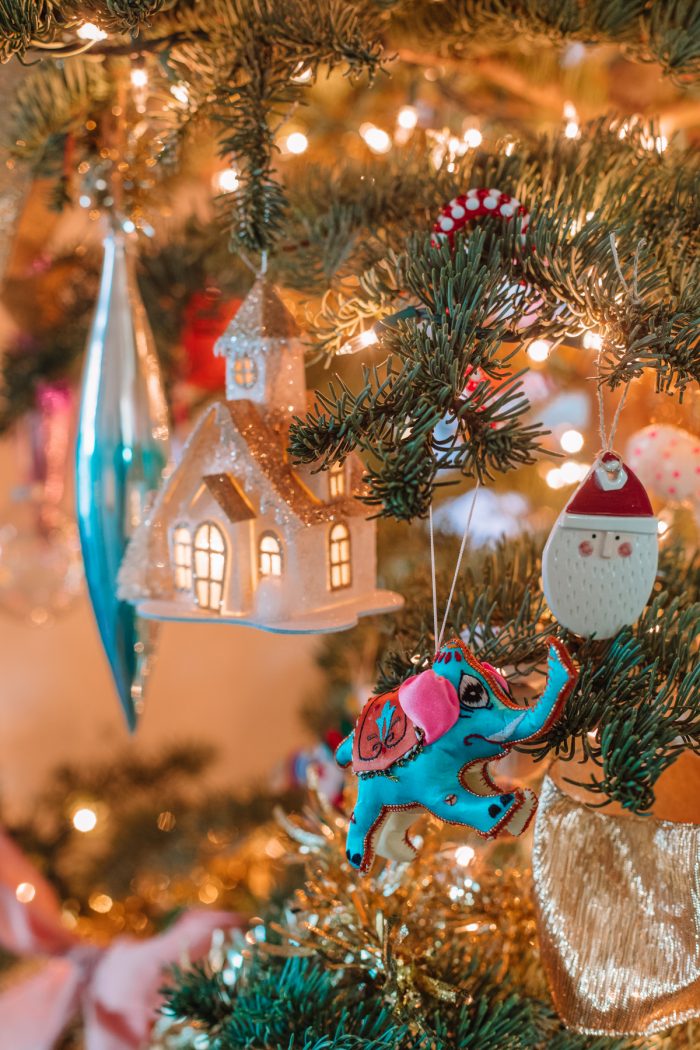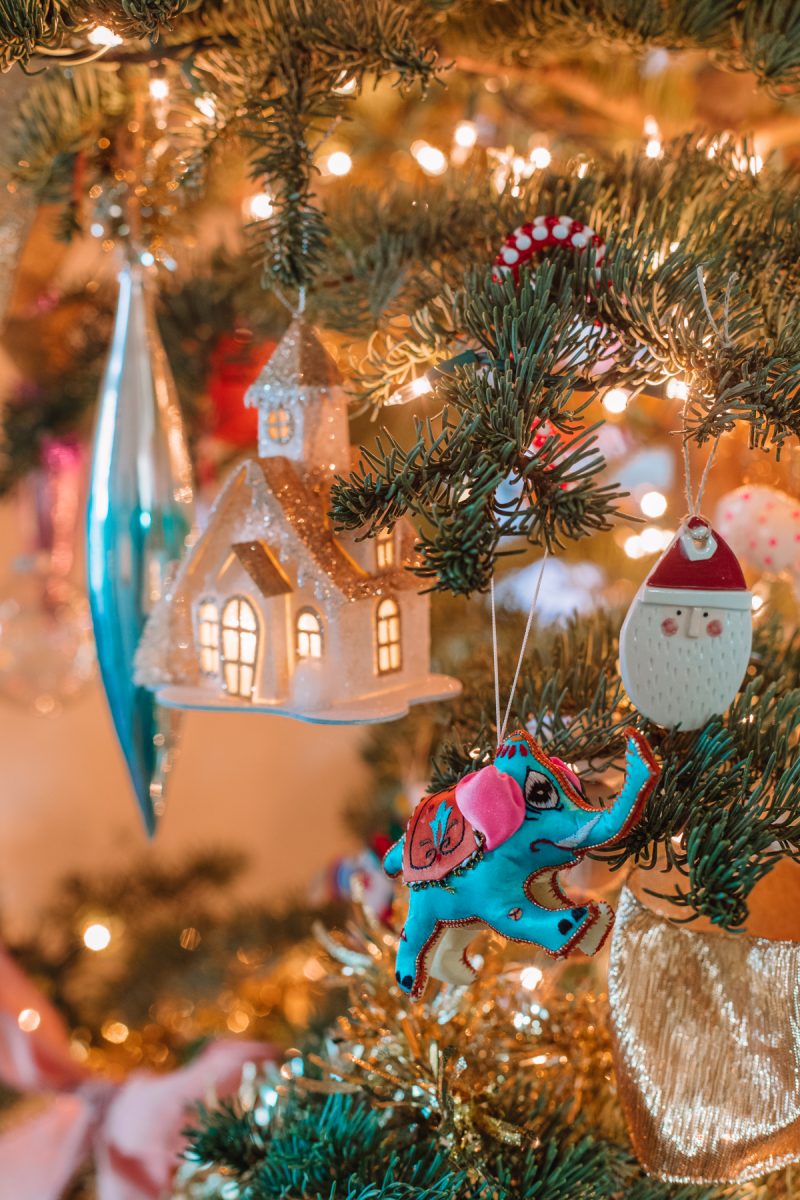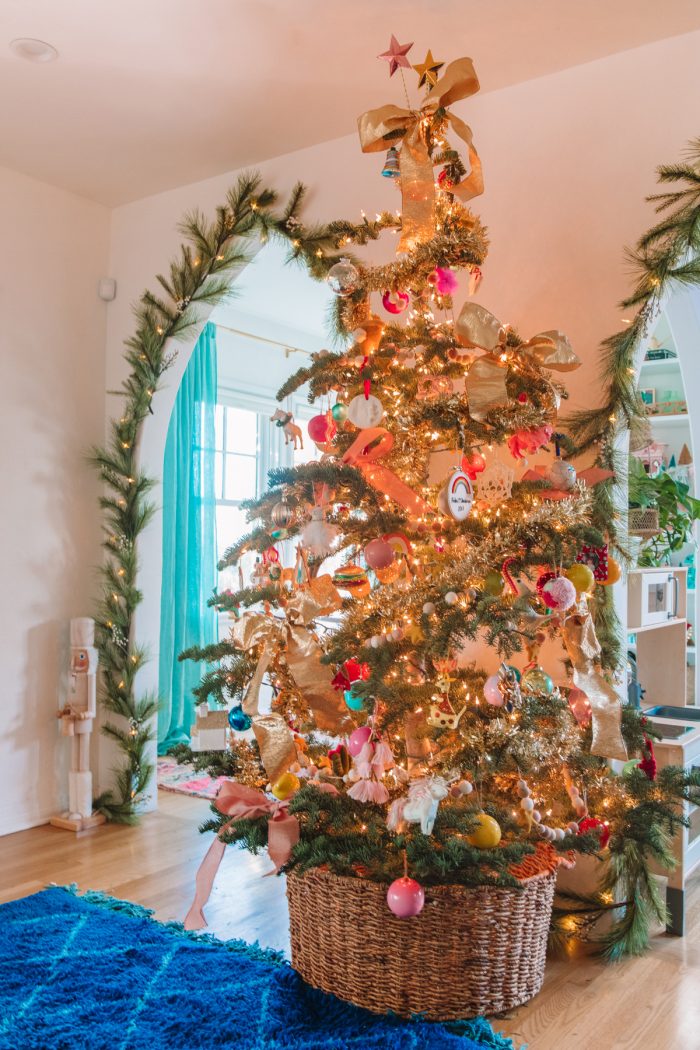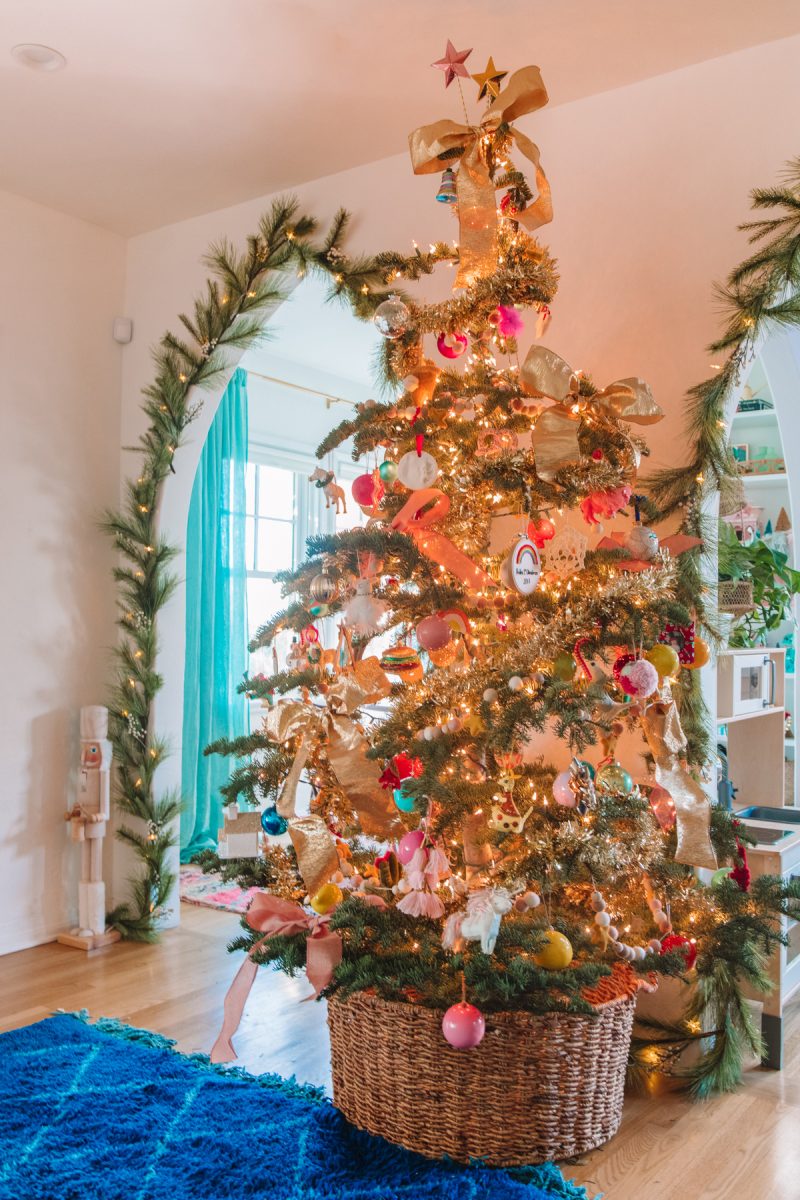 We picked one of those trendy sparse trees (it's called a Silvertip!) but then Arlo insisted on adding EVERY garland and ornament so you can't really tell. Haha! I love how quirky and not perfect it is. We watch the nutcracker (The 1990s NYC ballet version, you can rent it on Amazon!) while we decorate and it's the best.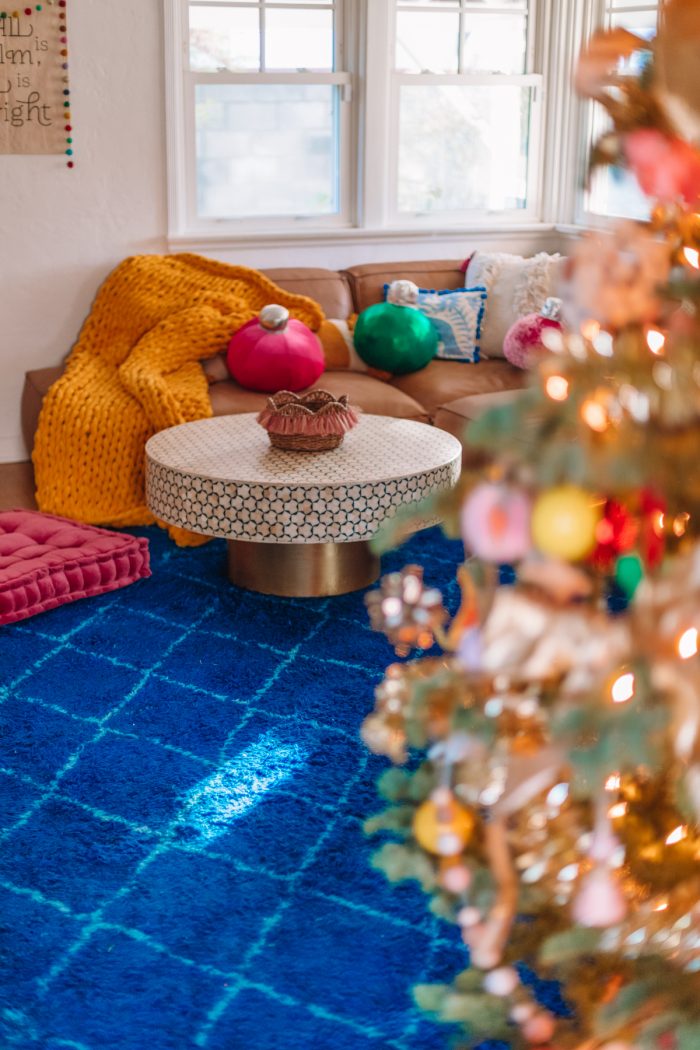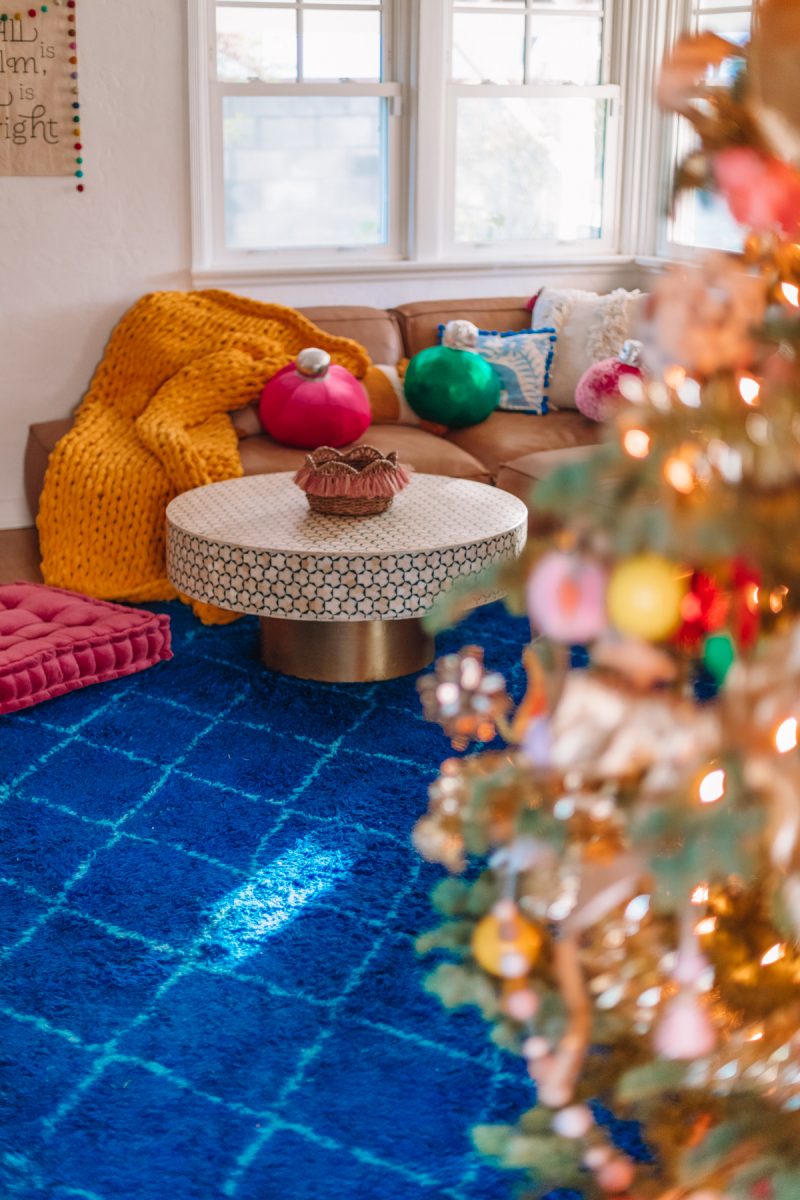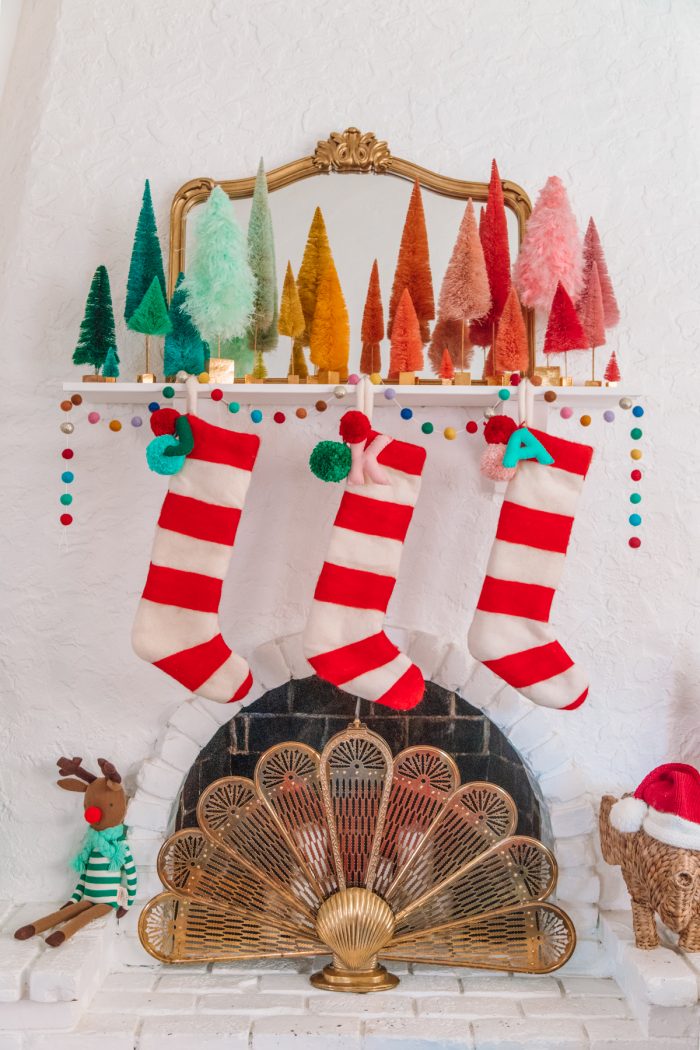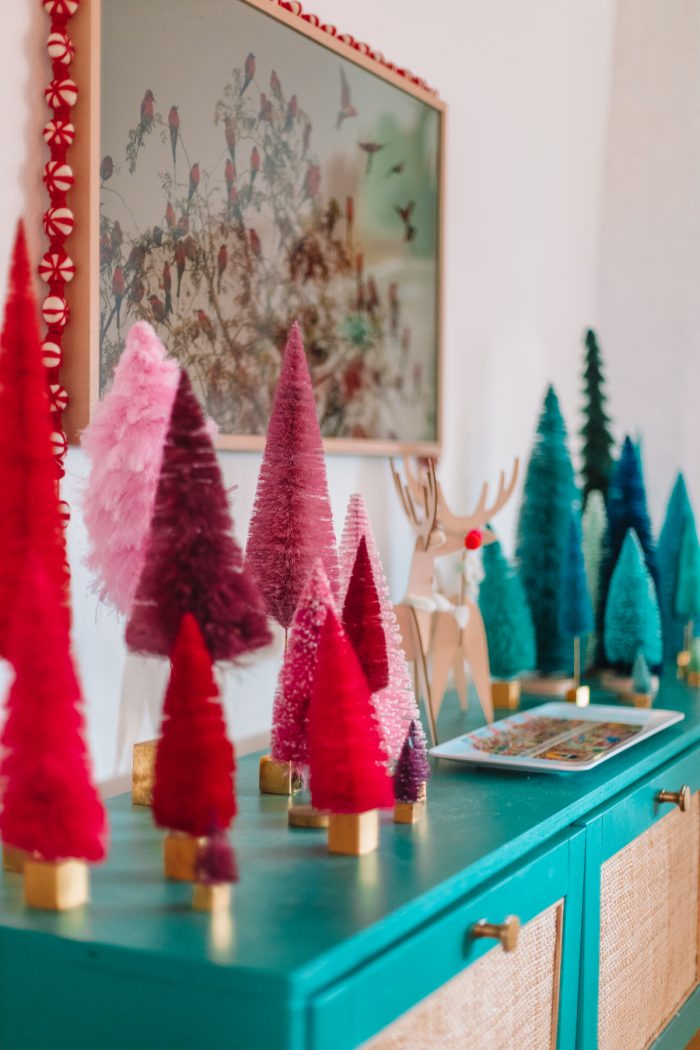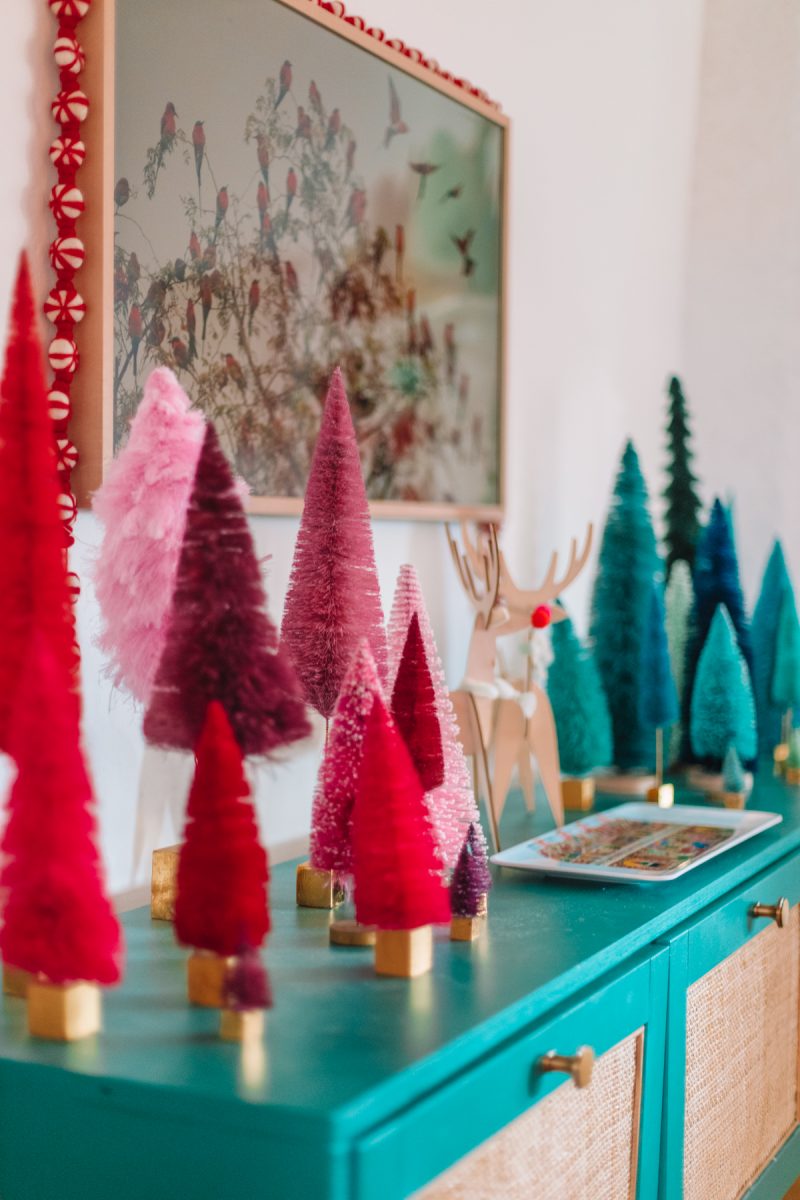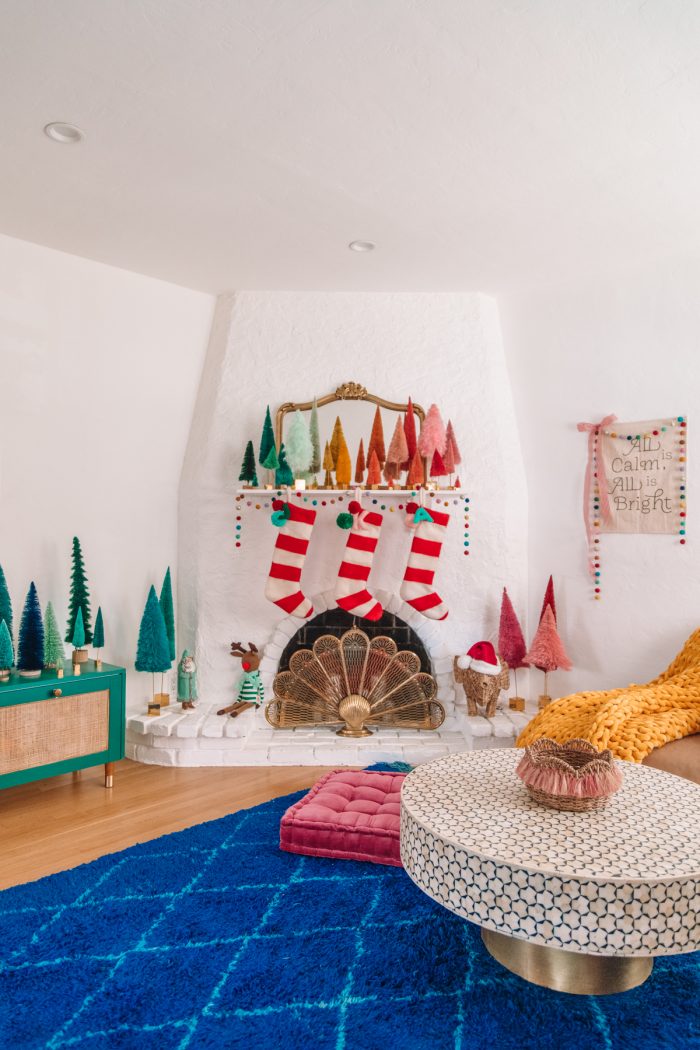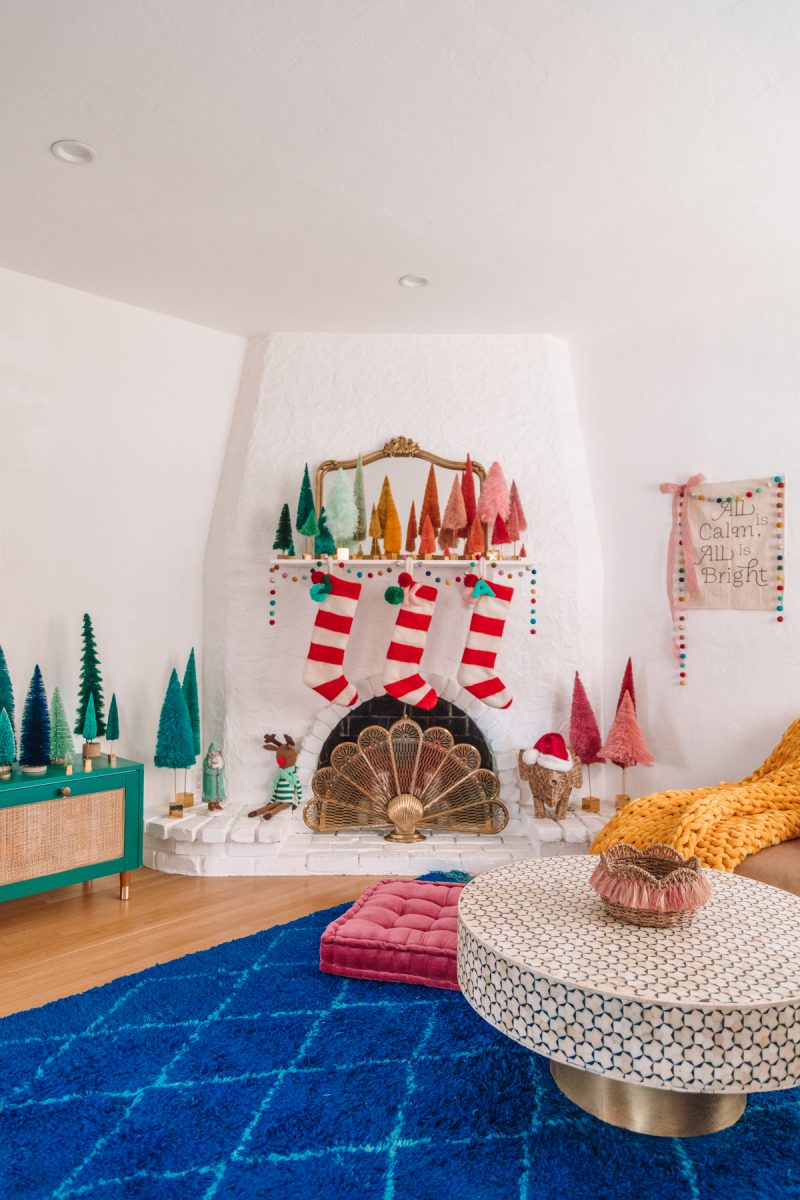 Now that we have a media console, I decided to spread out my growing bottle brush tree collection across it, in addition to the mantle. And I rainbow-ed it this year! This room isn't done (we're adding a gallery wall around the TV) so it was nice to have some trees to fill in in the meantime!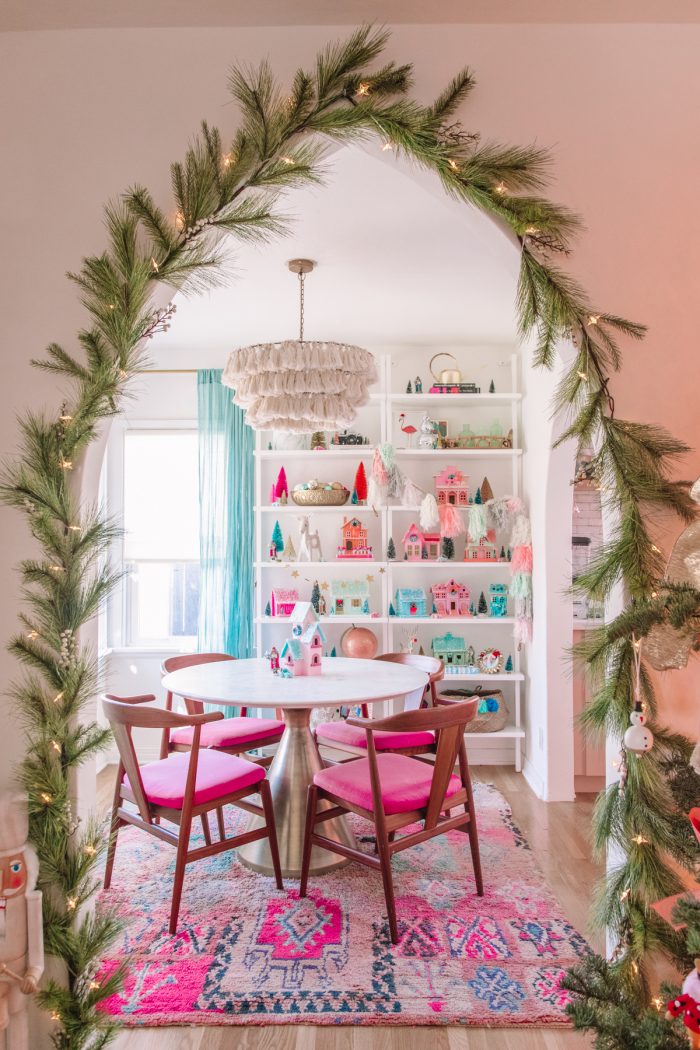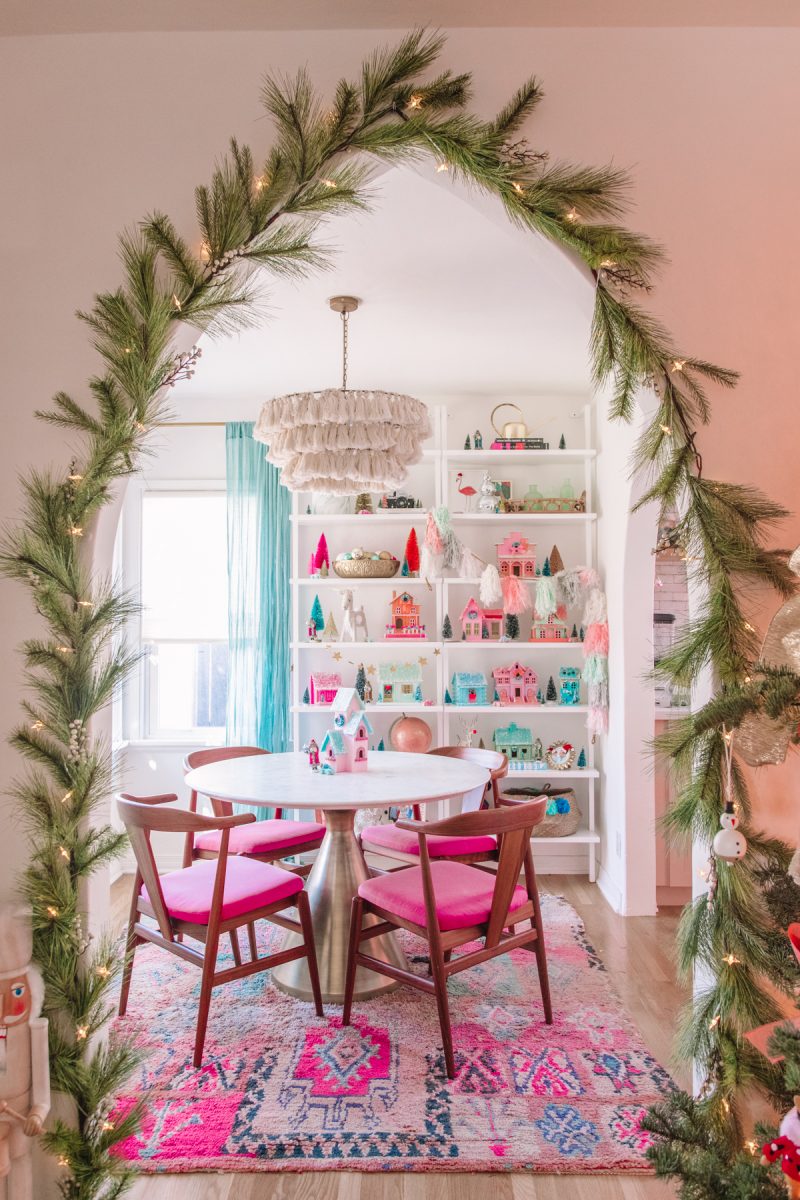 Pastel Dining Room Christmas Decor
We added two new houses to our Christmas village this year: a castle and a saloon! I also found a dozen wooden cars in a random craft supplies box and so we glittered those up too! Arlo is *SO* proud of his new additions and points them out every night at dinner!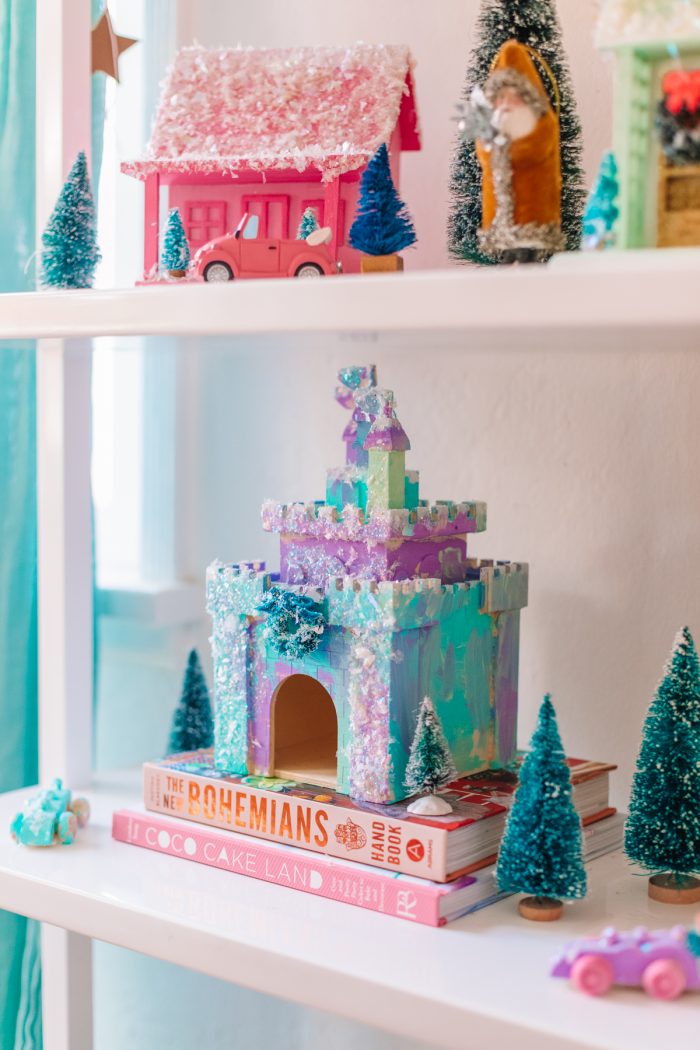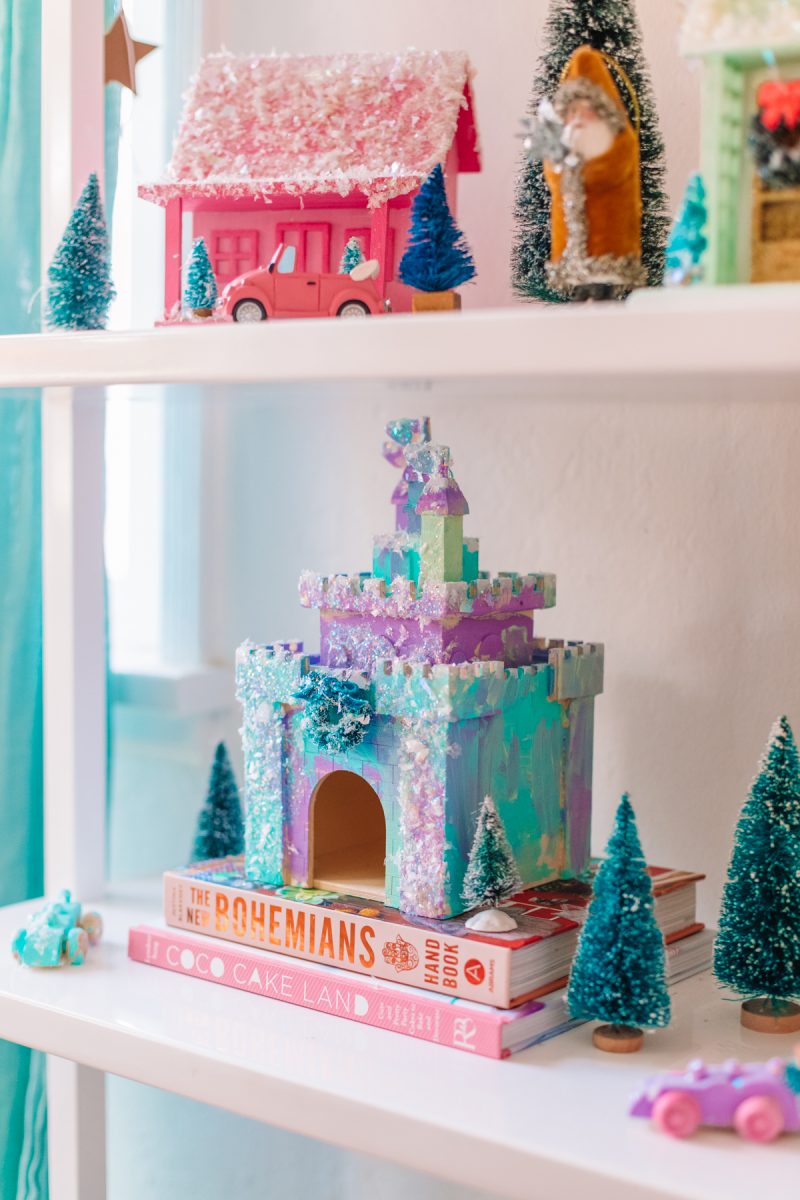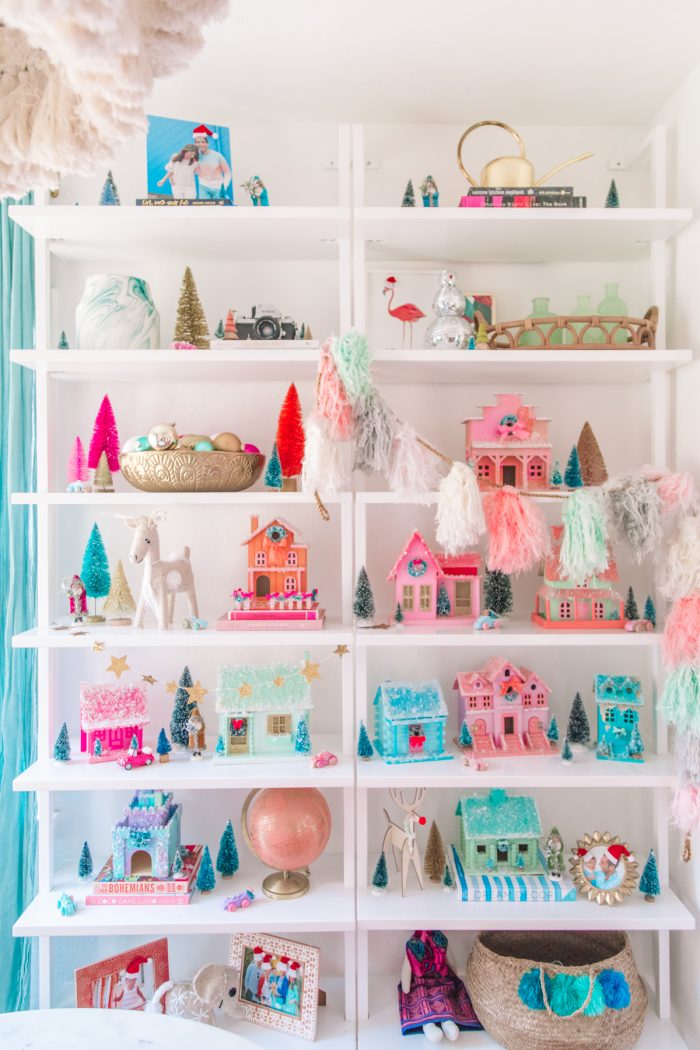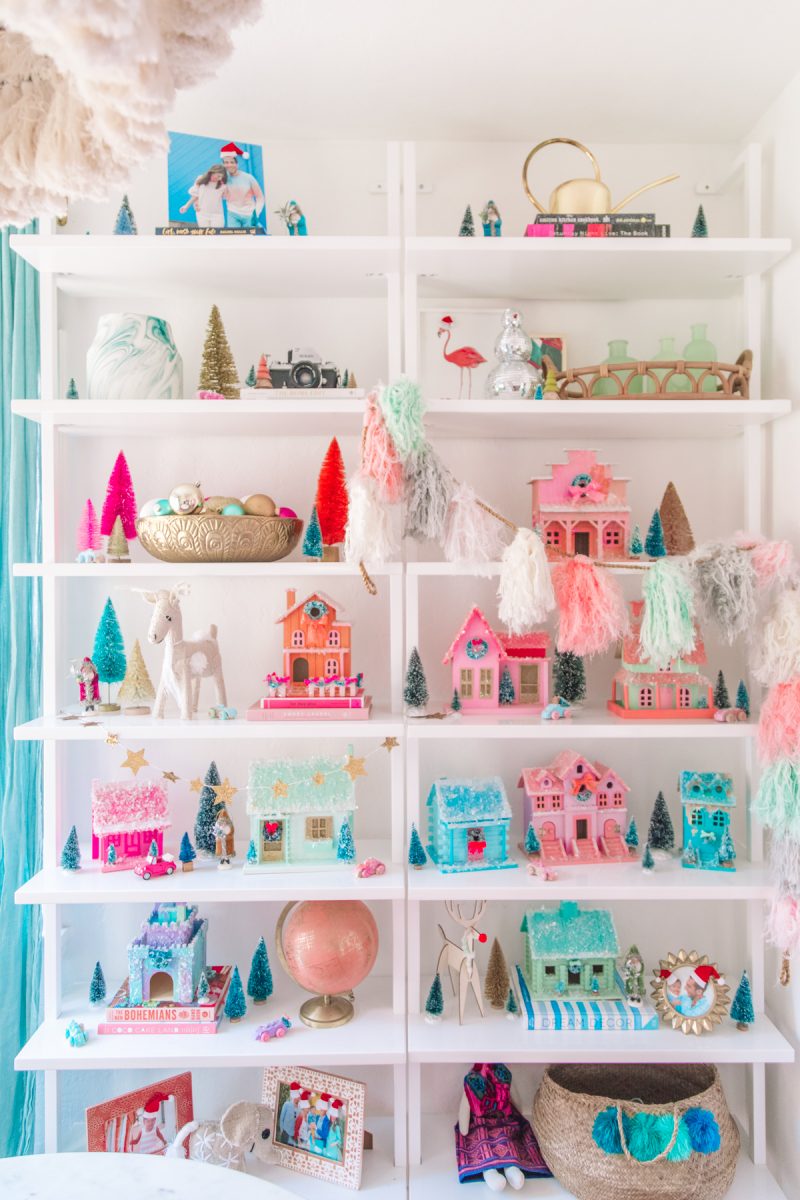 I'm very into how pastel this room ends up being at Christmas. I have a lot of fun theme-ing out the different rooms in our home and embracing that they all have their own vibe! Pastel in the dining room, rainbow in the living room and neutral in our bedroom!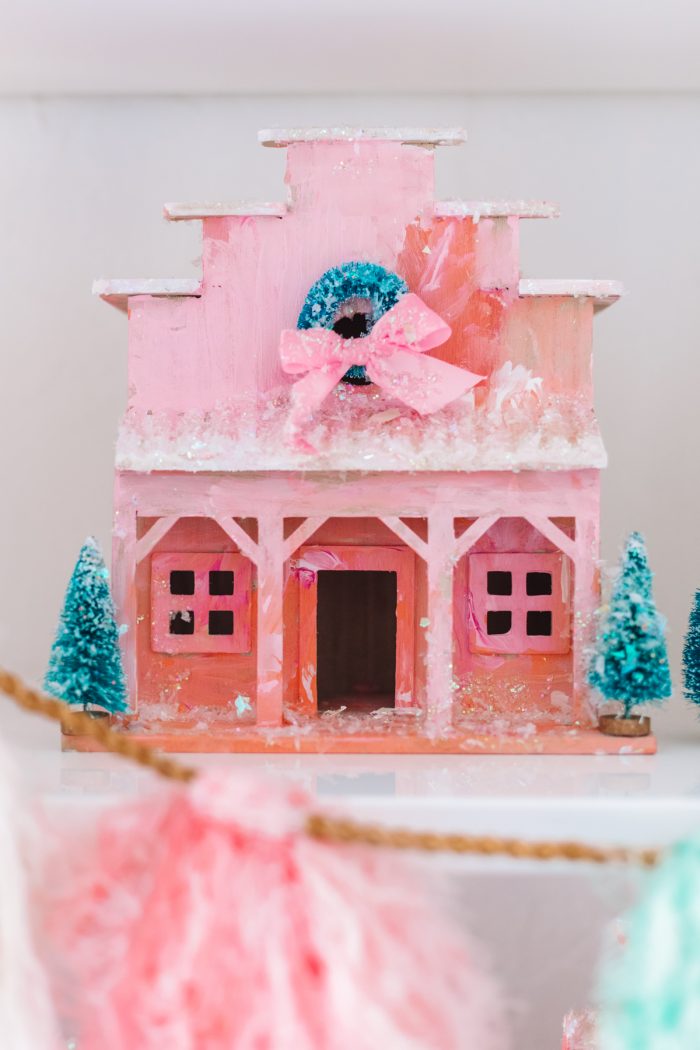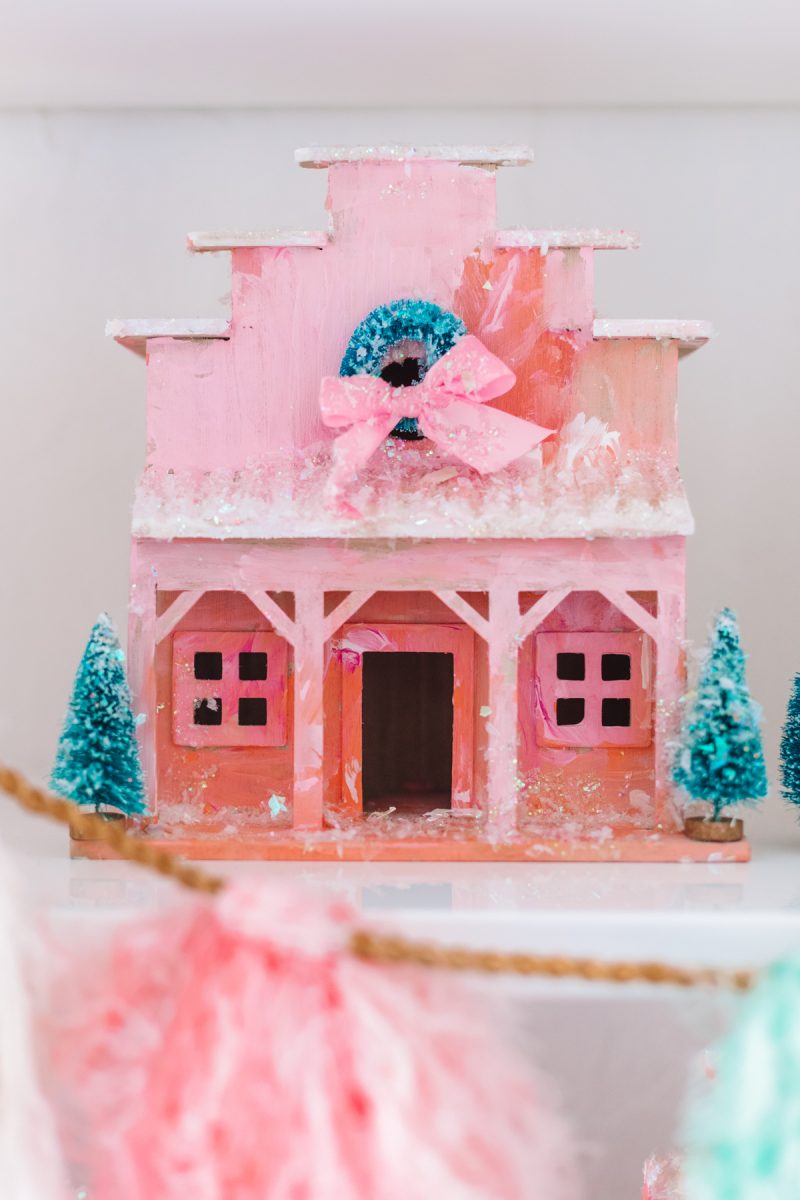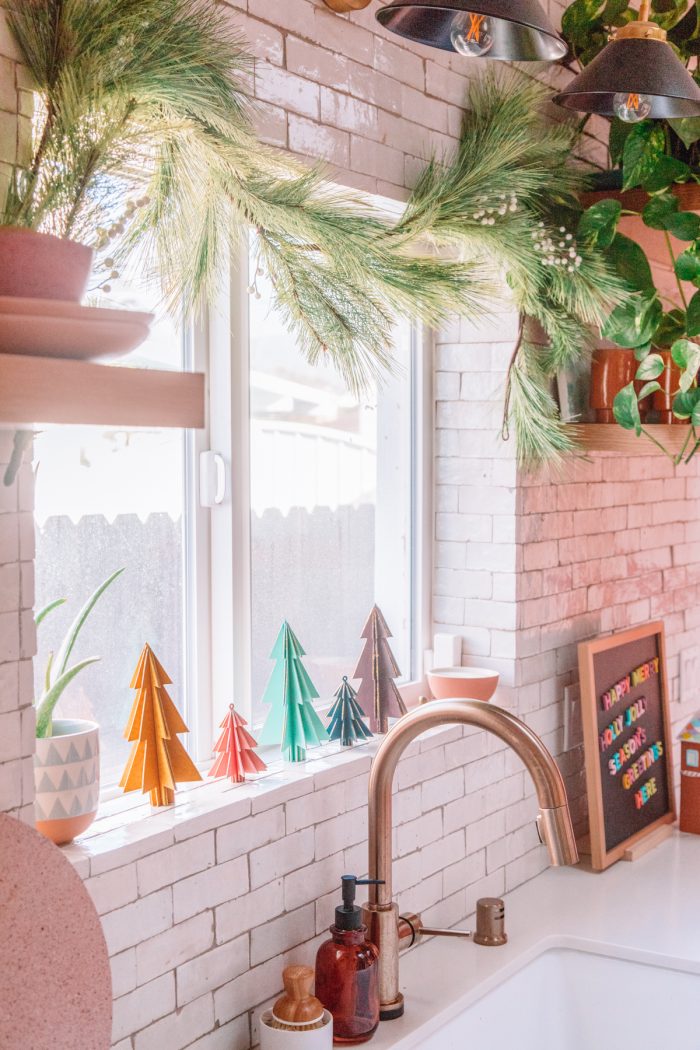 Kitchen Christmas Decorations
This was our first Christmas with the new kitchen and I'm happy to report, my red ribbons look WAY better on blush pink than coral and burgundy!!!! Haha!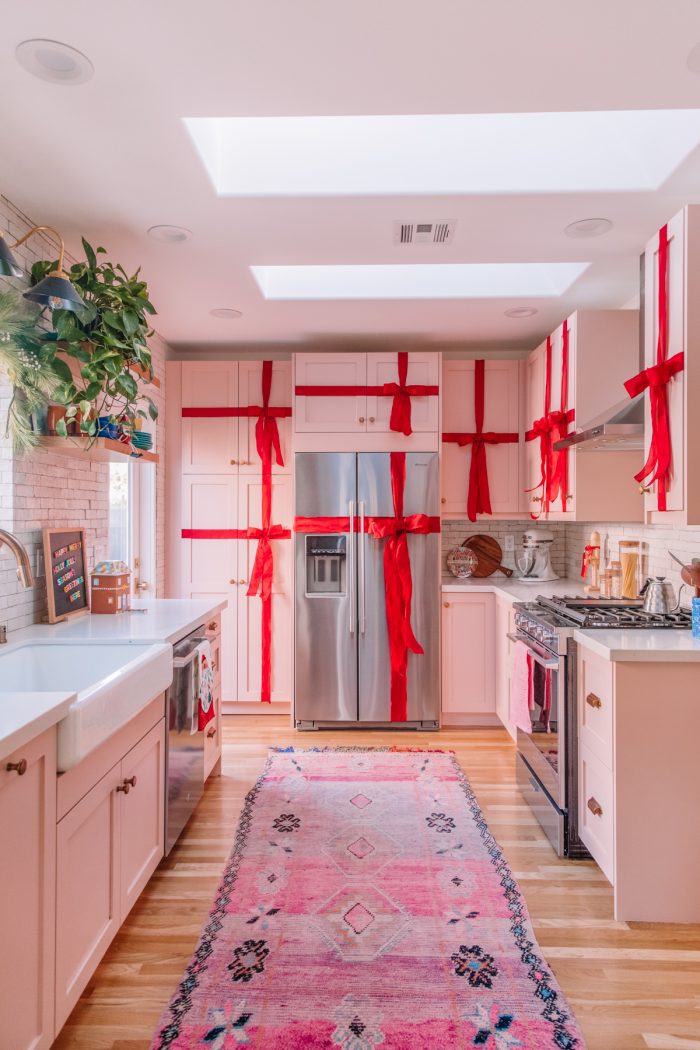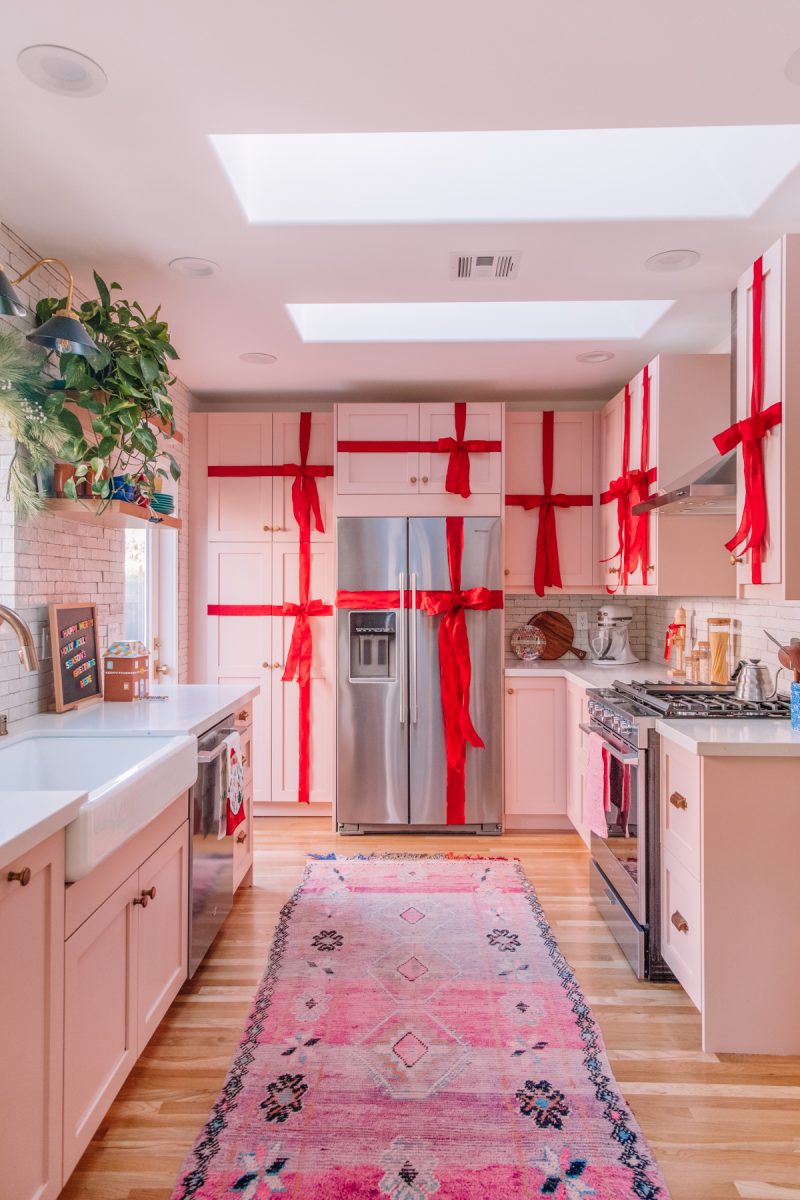 If you're new here, my mom wrapped our cabinets like presents every Christmas so I'm carrying on the tradition! I'm going to share a full post on how I do this next week because I always get a lot of questions about it!
It's such a great, simple touch, that makes a BIG impact. Arlo audibly GASPED when he walked into the kitchen the morning after I decorated them. Then he asked where Santa went! Haha! DON'T TRY TO GIVE SANTA THE CREDIT HERE, KID! 😉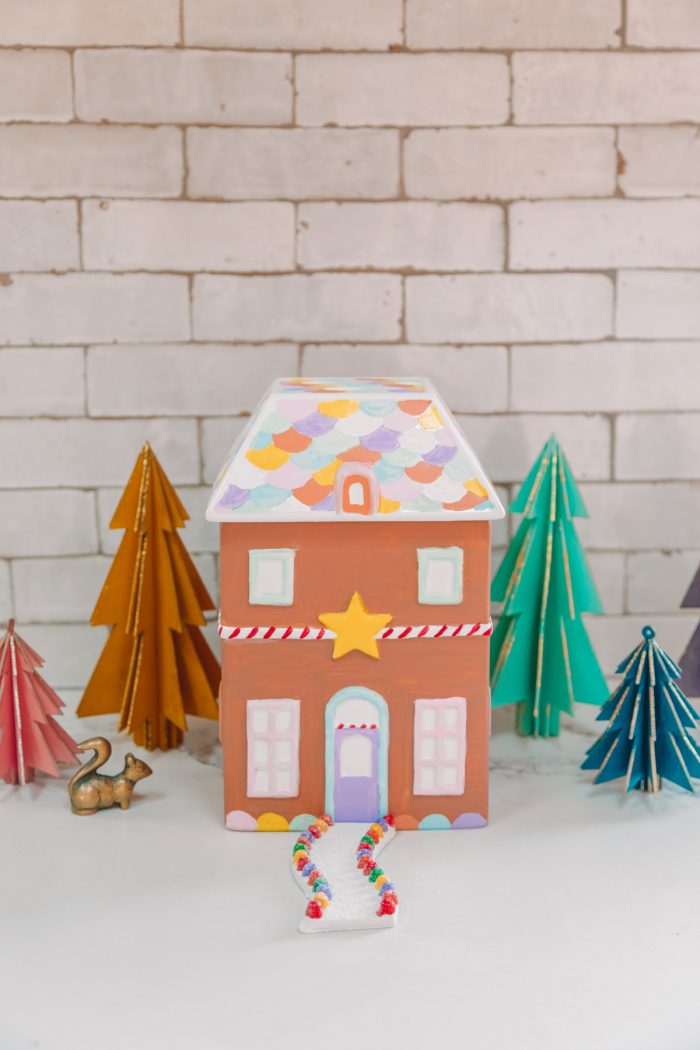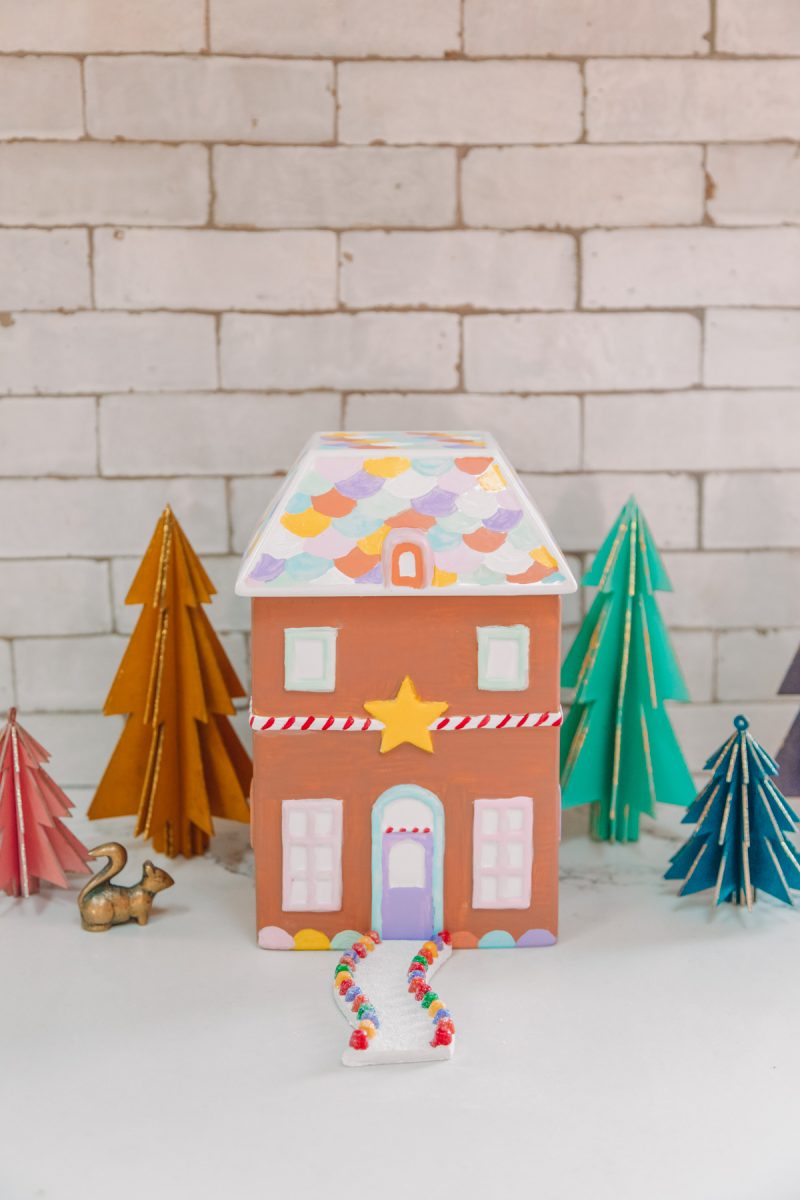 Saw this all-white house cookie jar at Target and thought it would be fun to turn it into a gingerbread house! Then I found a little gumdrop pathway at Michaels and added it in front. Cute right!?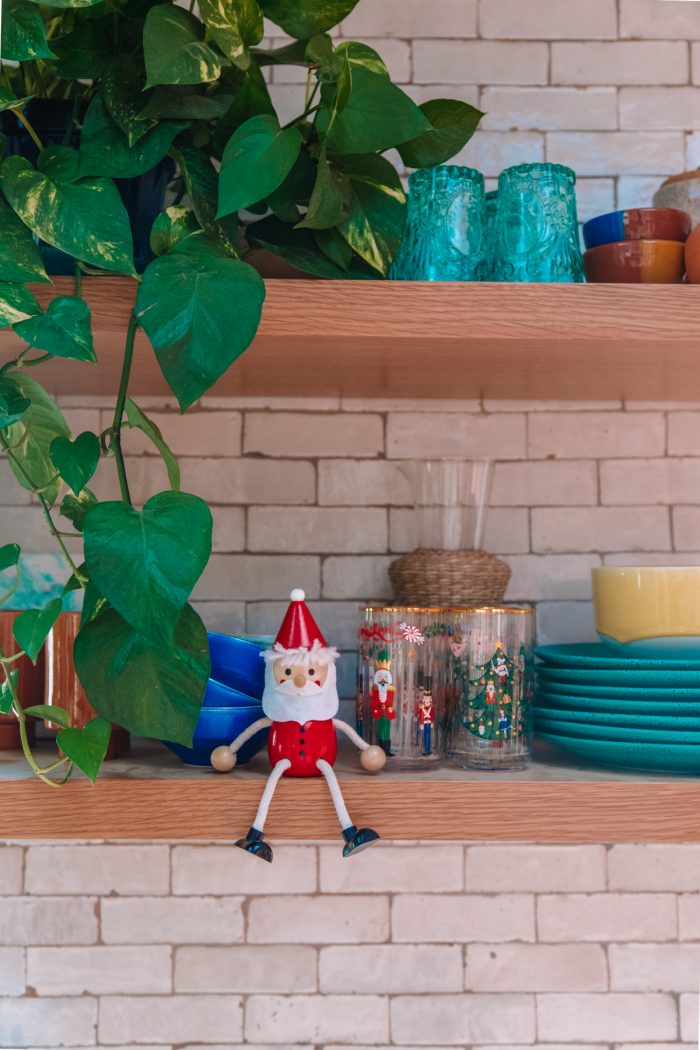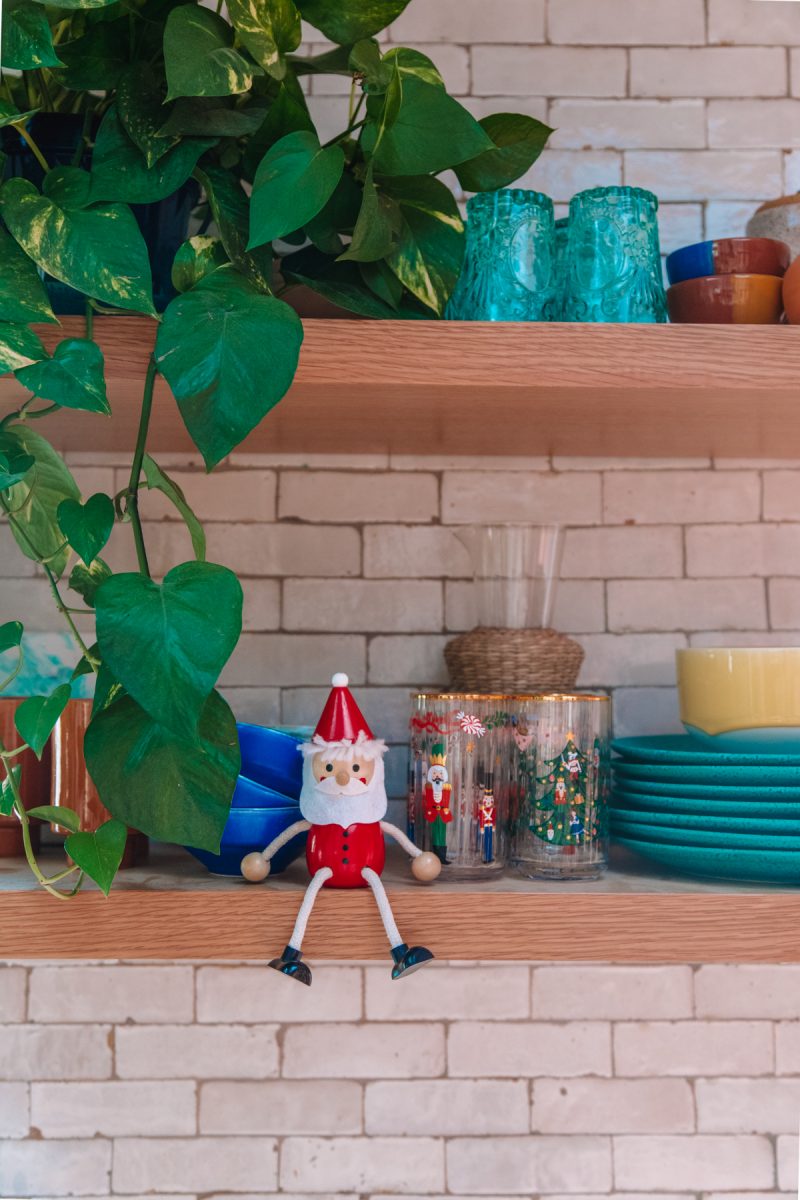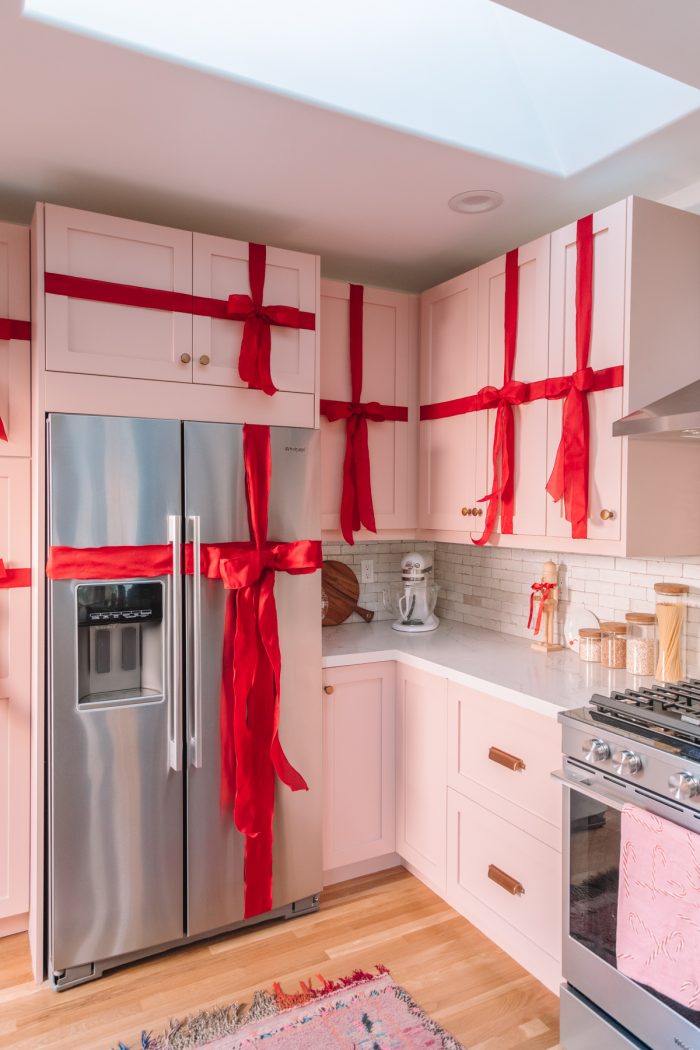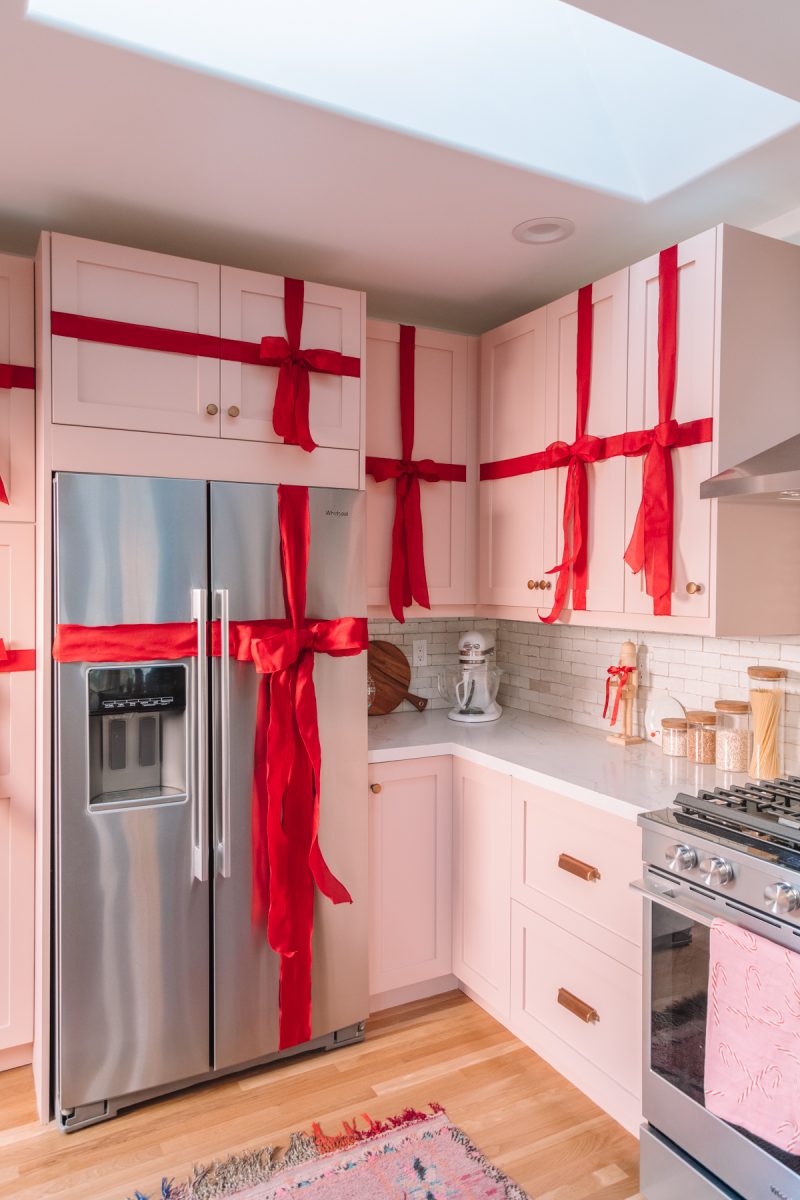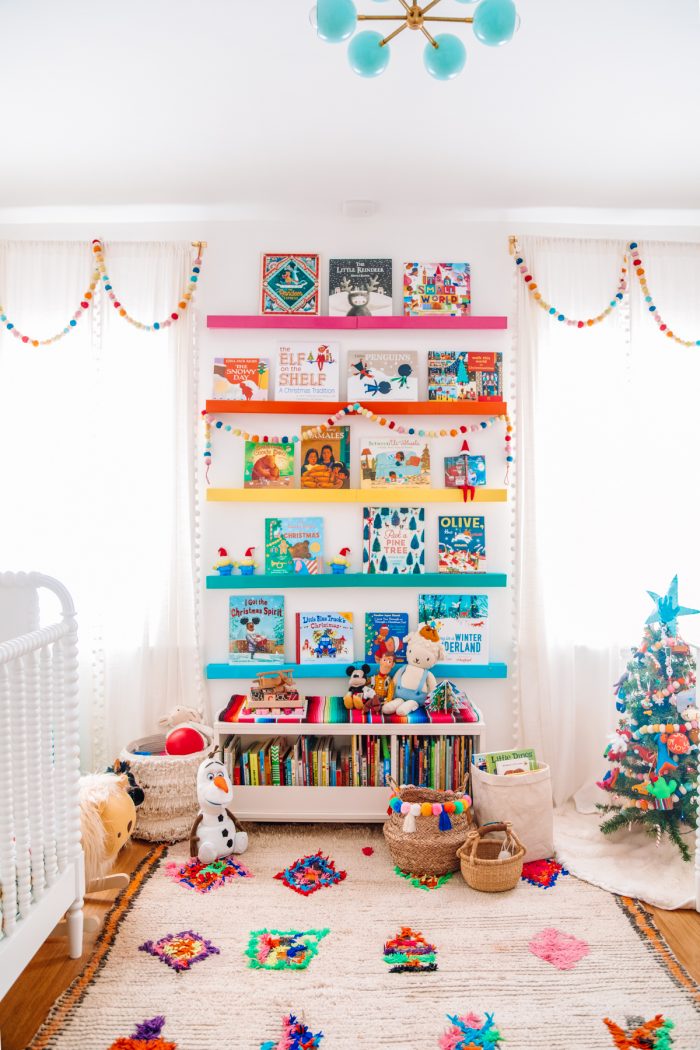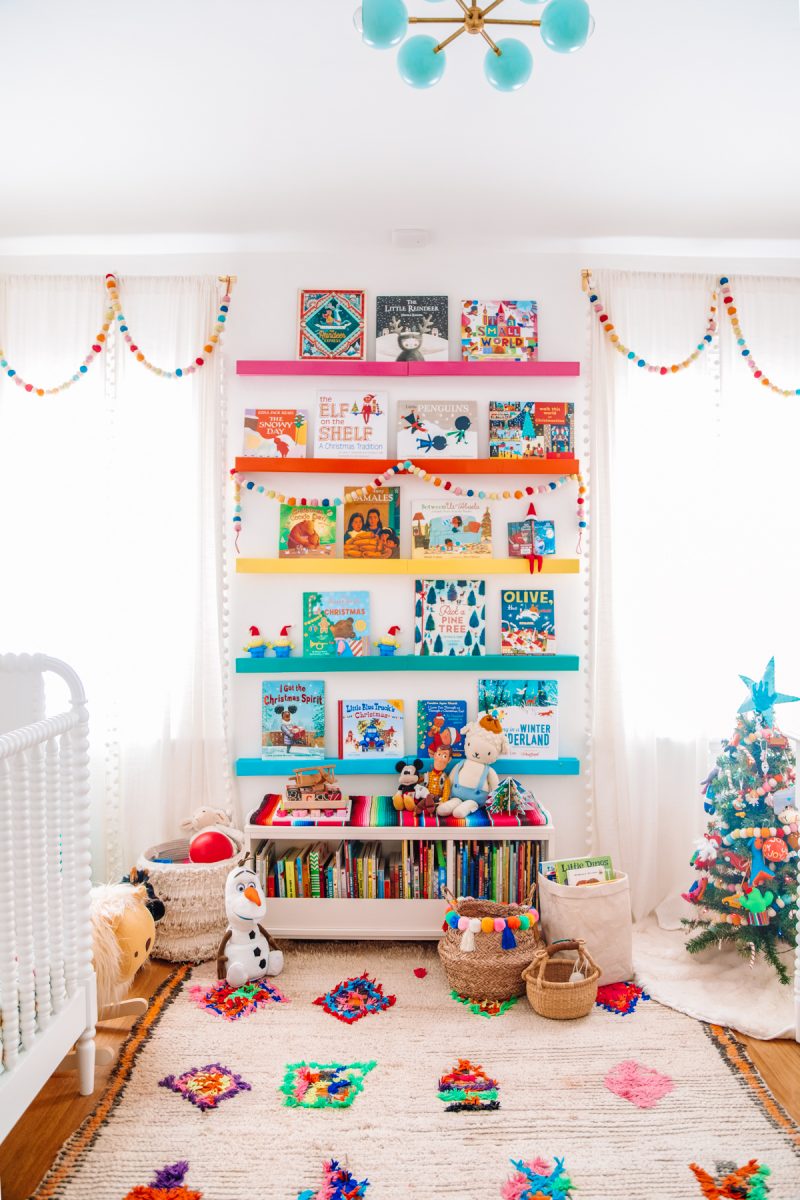 Kids Room Christmas Decor
I set Arlo's tree up and for a few days, any time I asked him if he wanted to decorate it he just said "NOPE!" But then we read our favorite book, where they decorate a tree, and he immediately hopped off my lap and put EVERY single ornament in the box on the tree. Then he started wrapping garland after garland around it.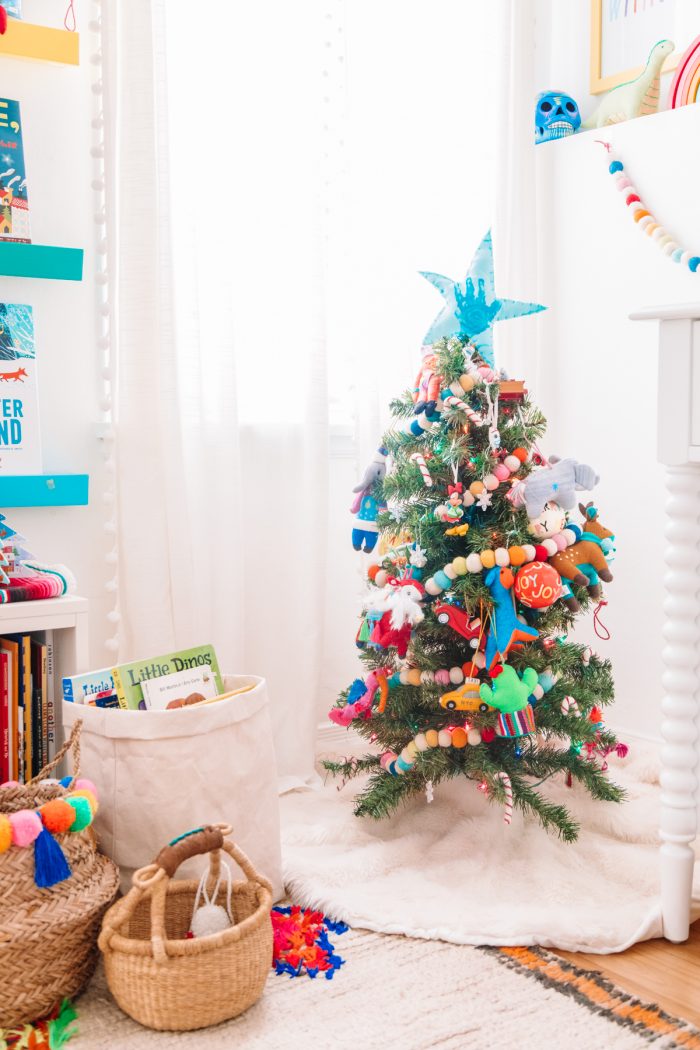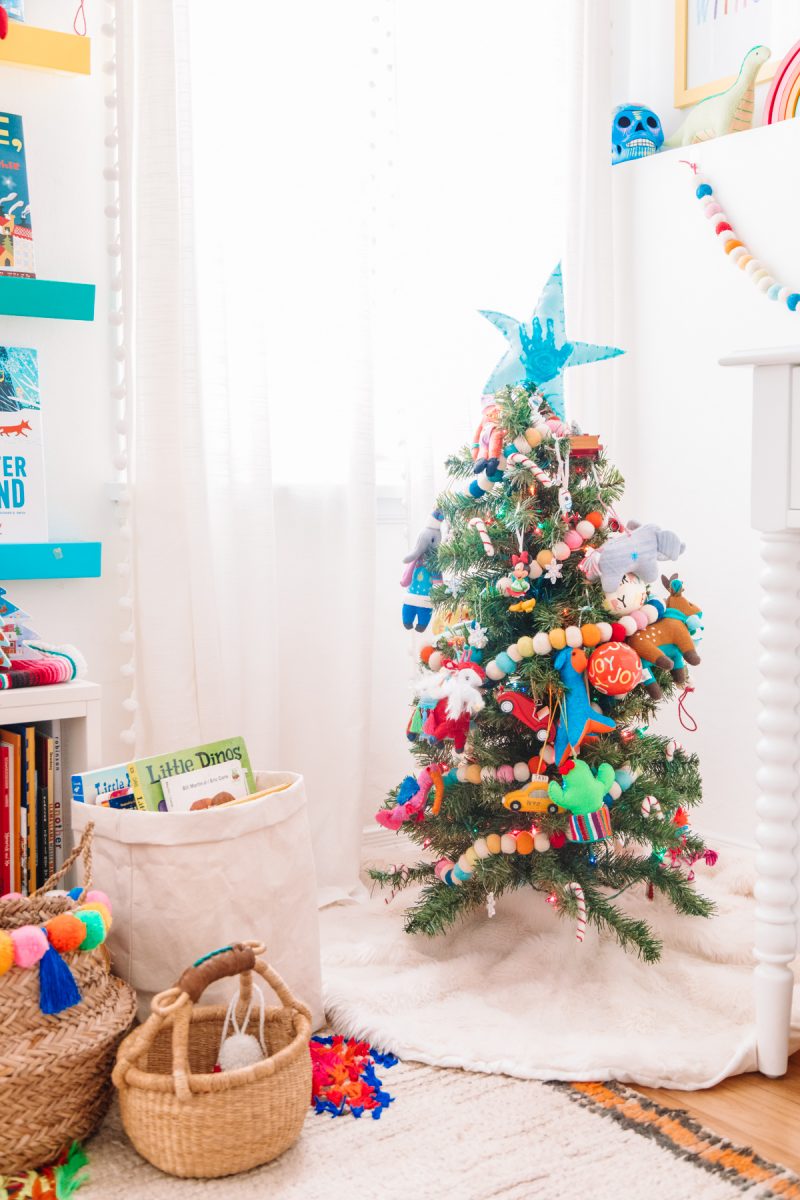 When I told him we were out of room, he asked me where the star was (like in the book), but we didn't have one. So I promised him the next day we could make one ("a blue star" was his request) and we did! It's simple and perfect and I love it! I need to embroider the date and his name on the back. Every time he sees it he said "Blue star! My Hand! Red star?" Hahaha!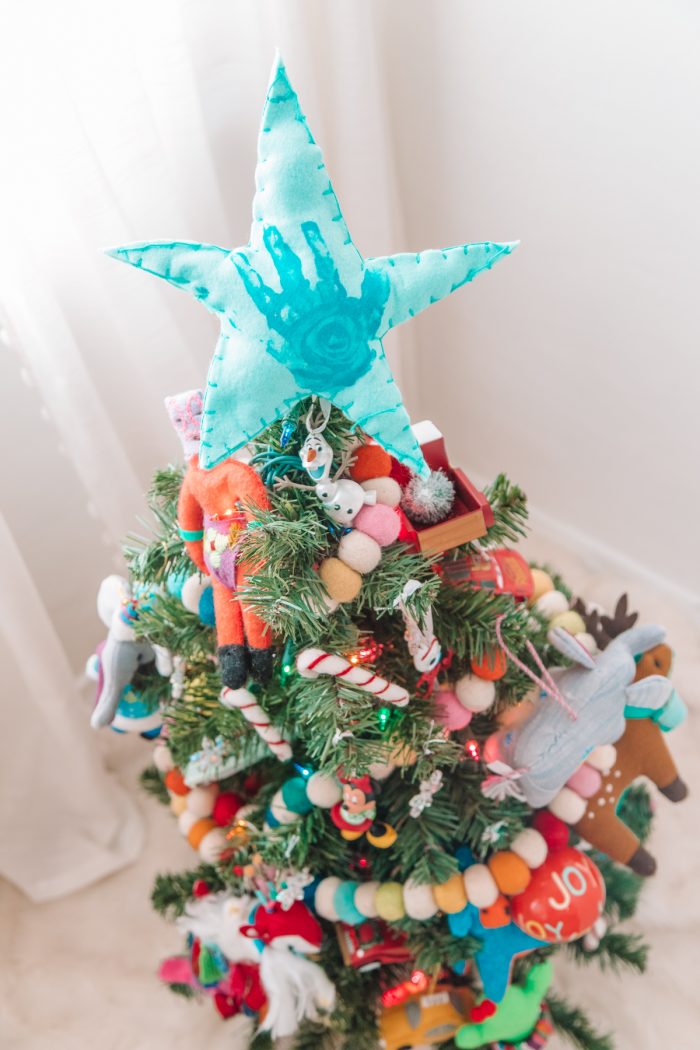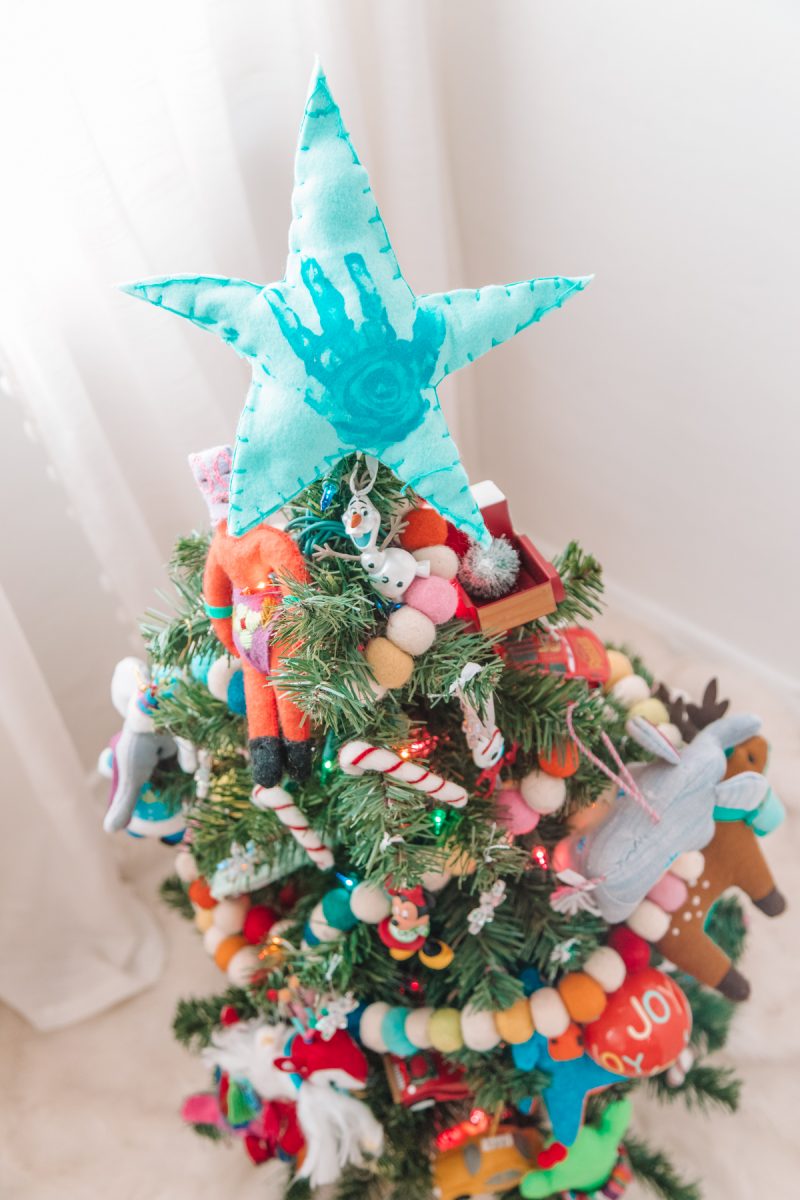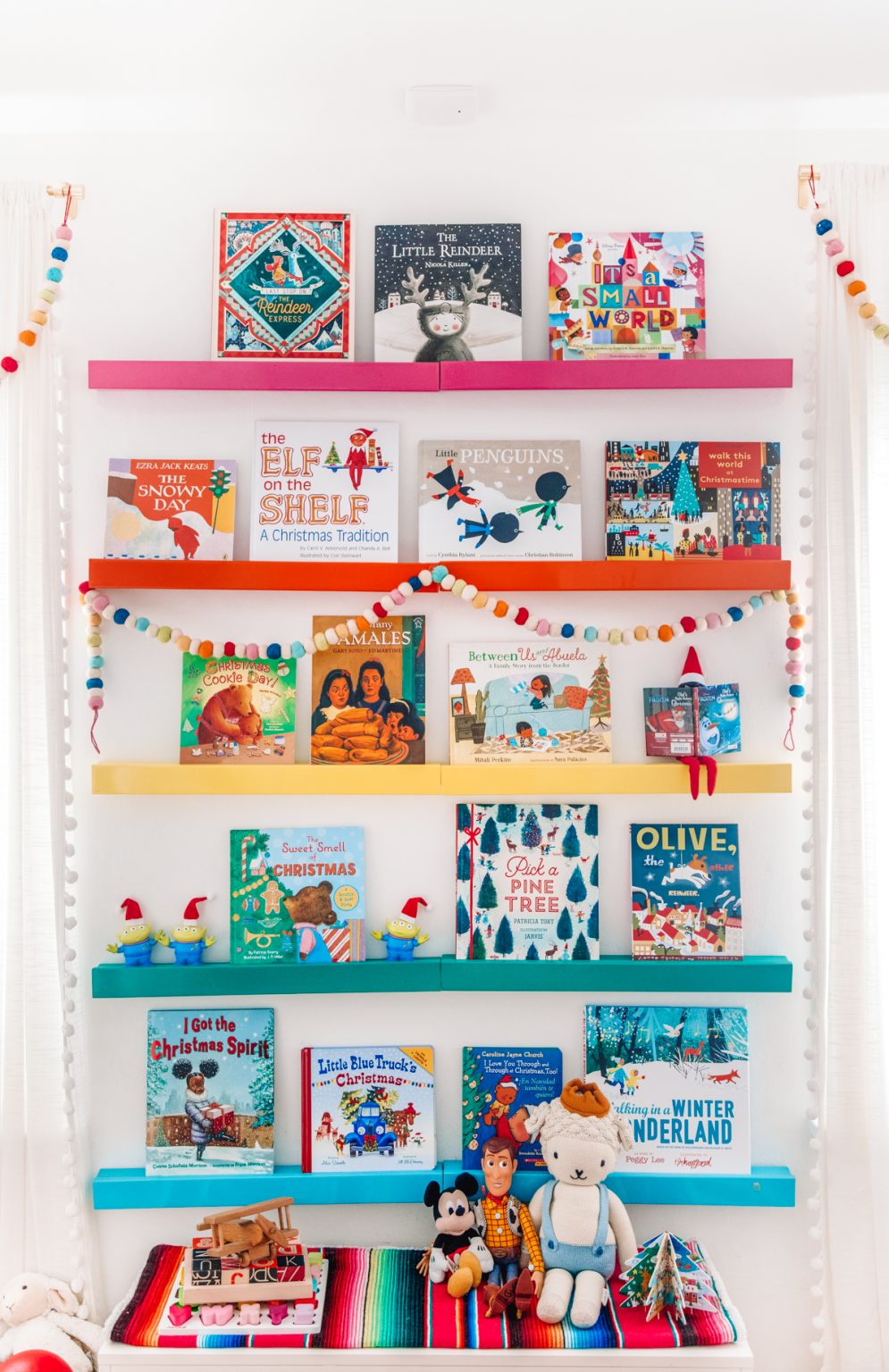 An Elf joined our family this year and it's been so fun seeing where he ends up each morning. 😉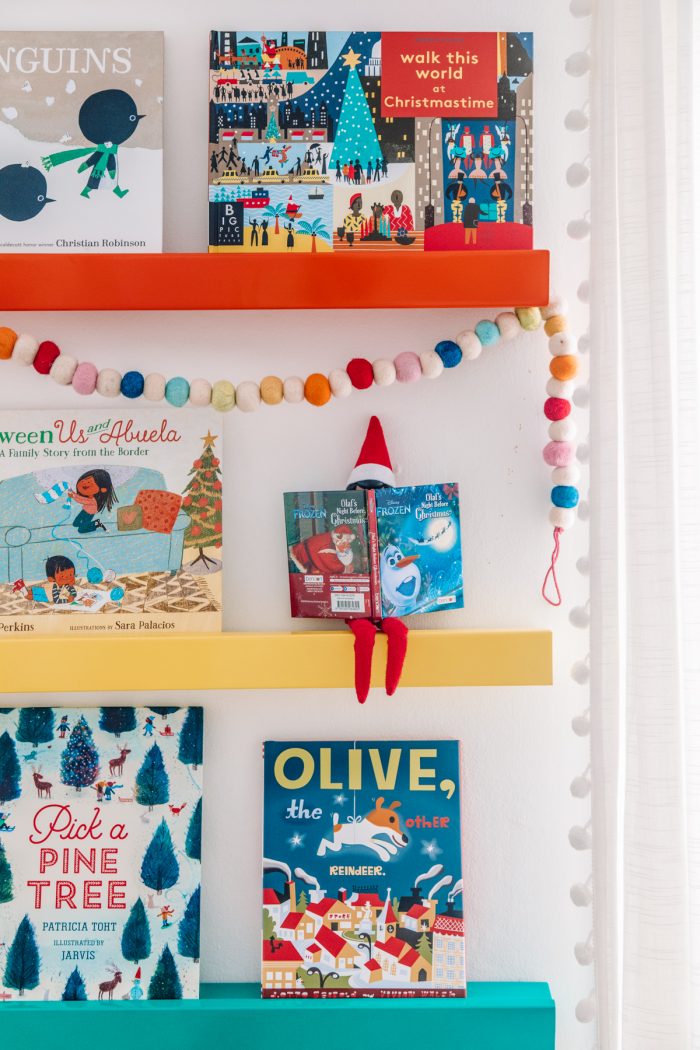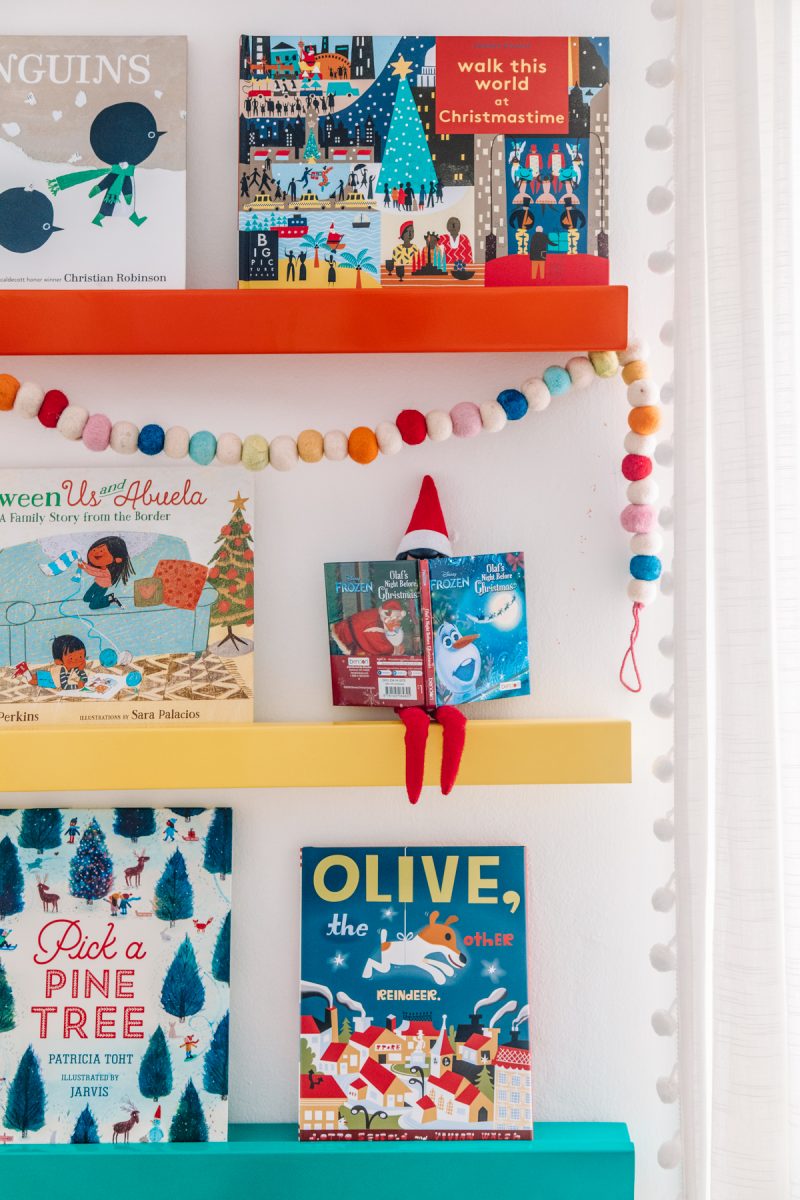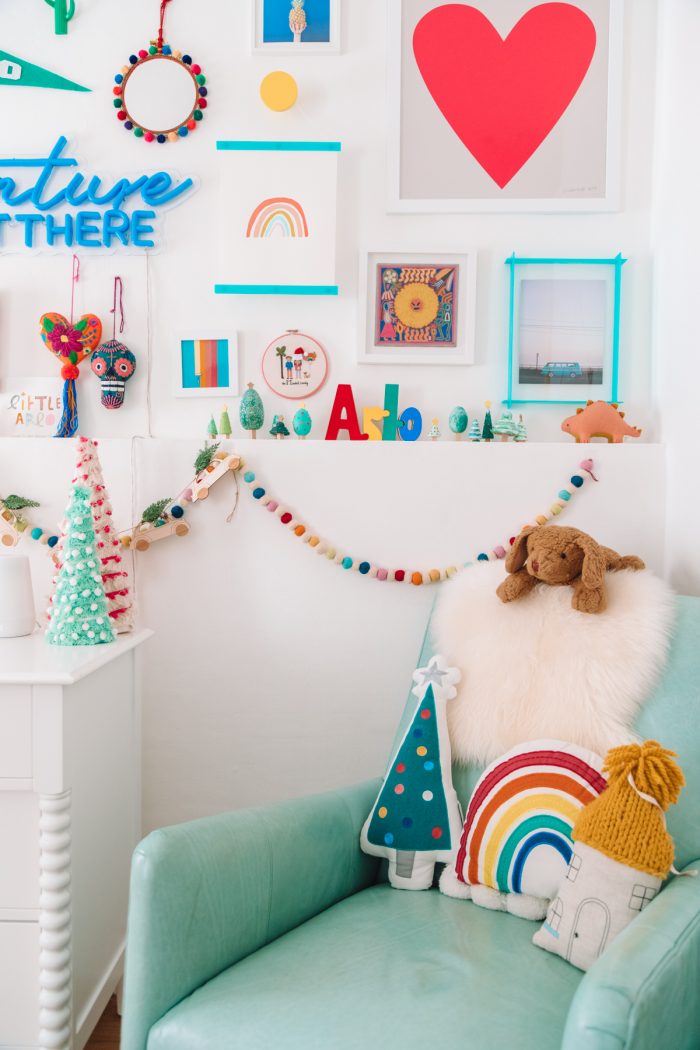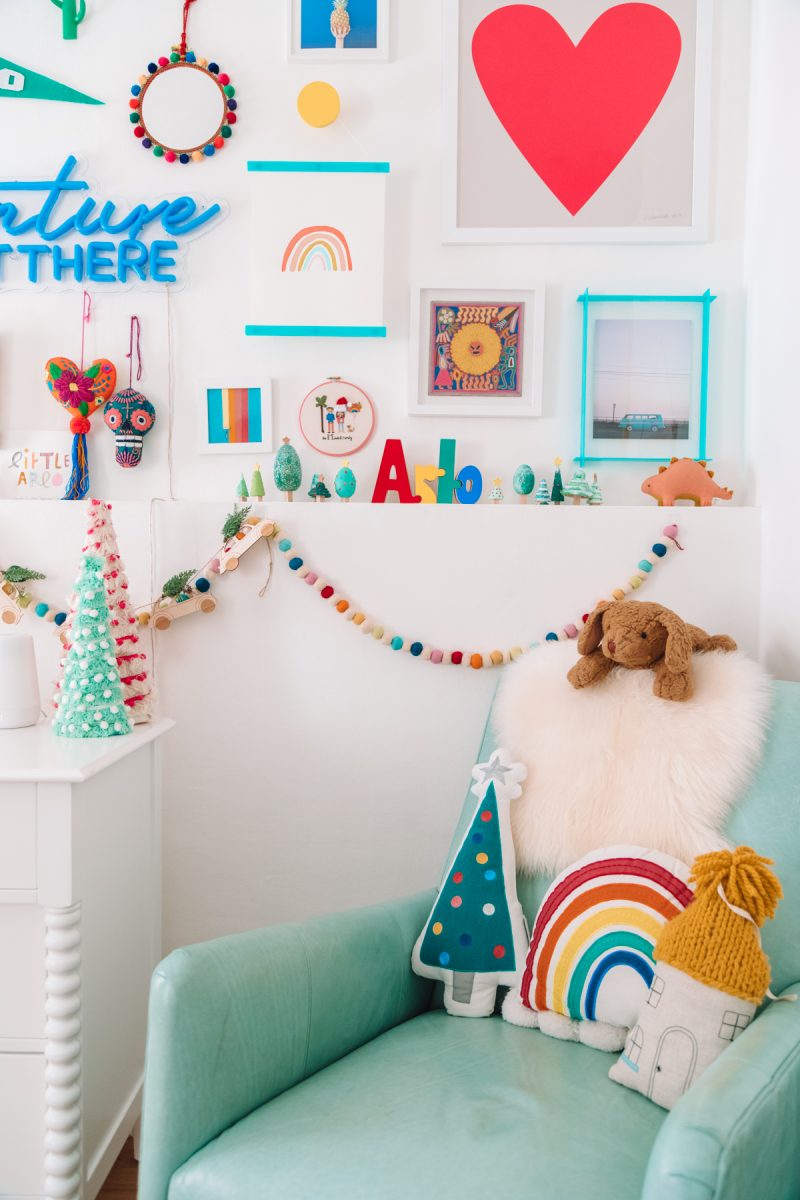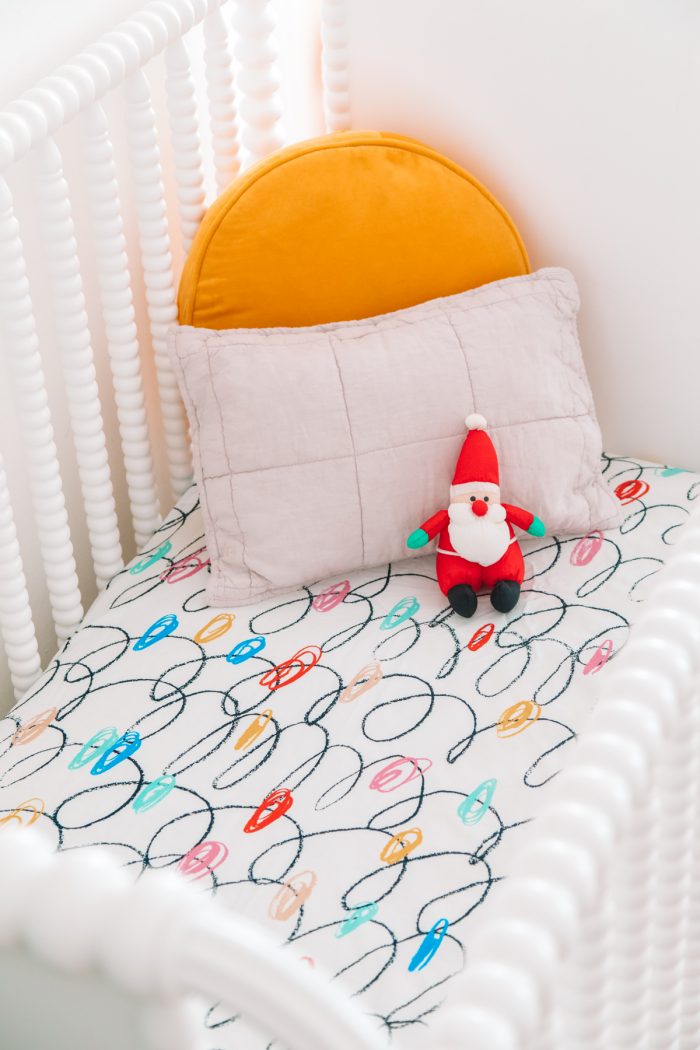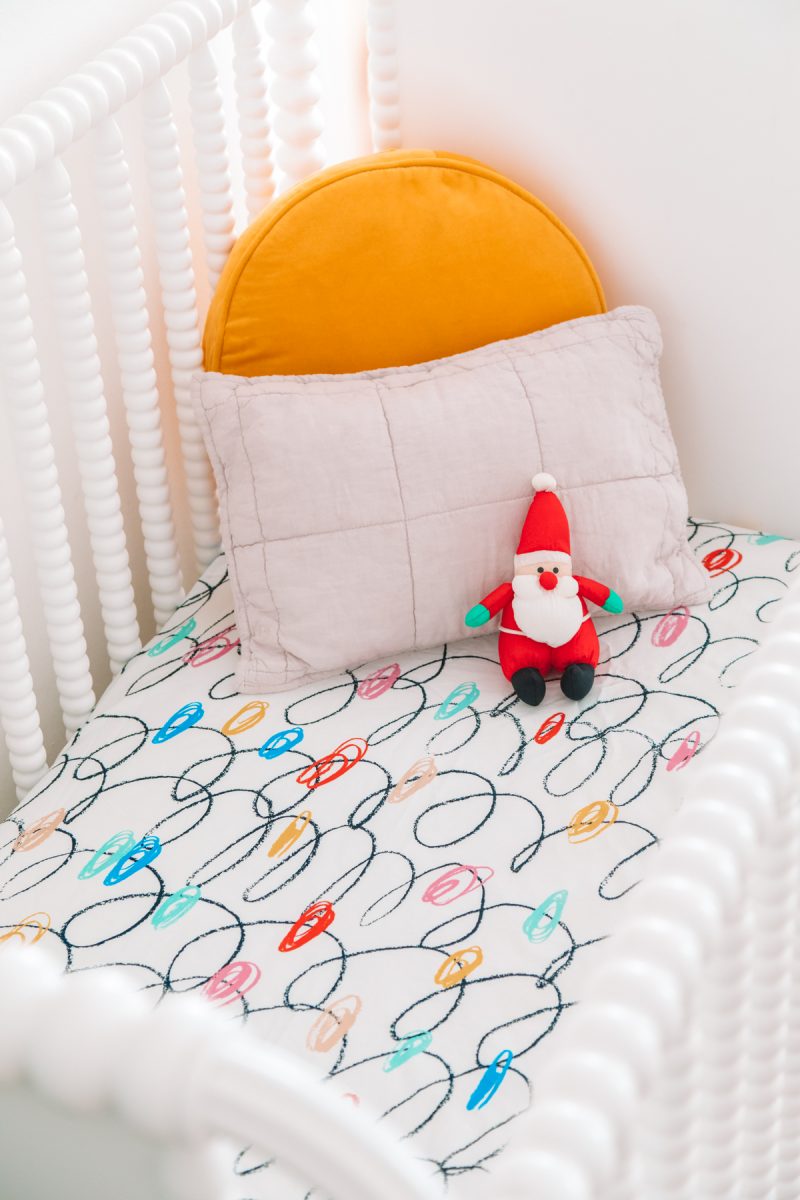 Arlo is super excited about his advent calendar this year too!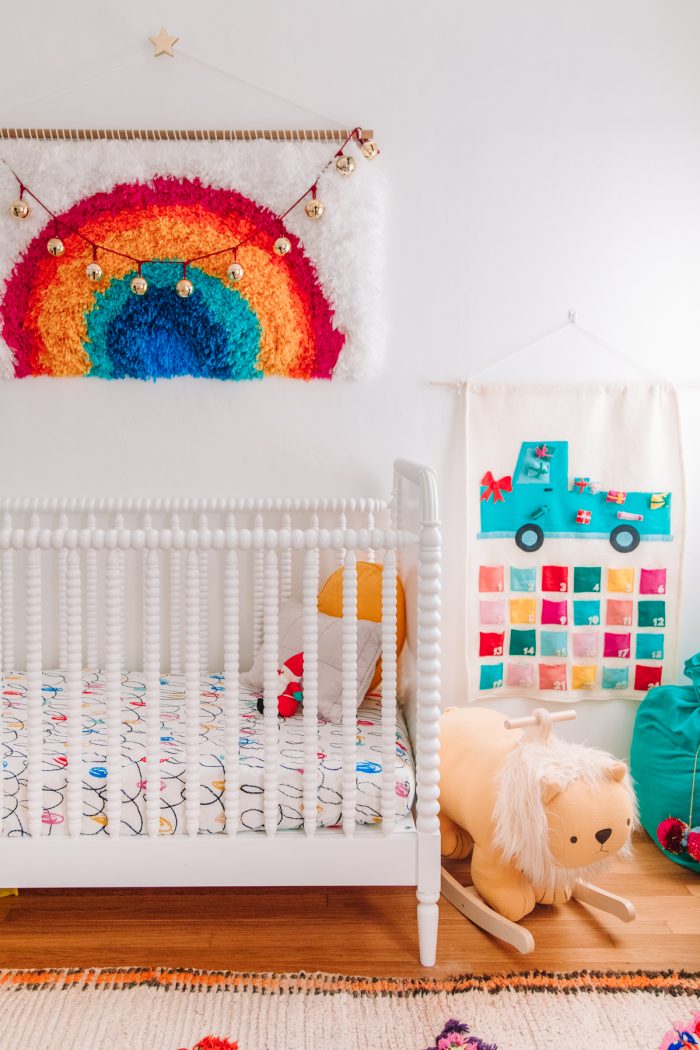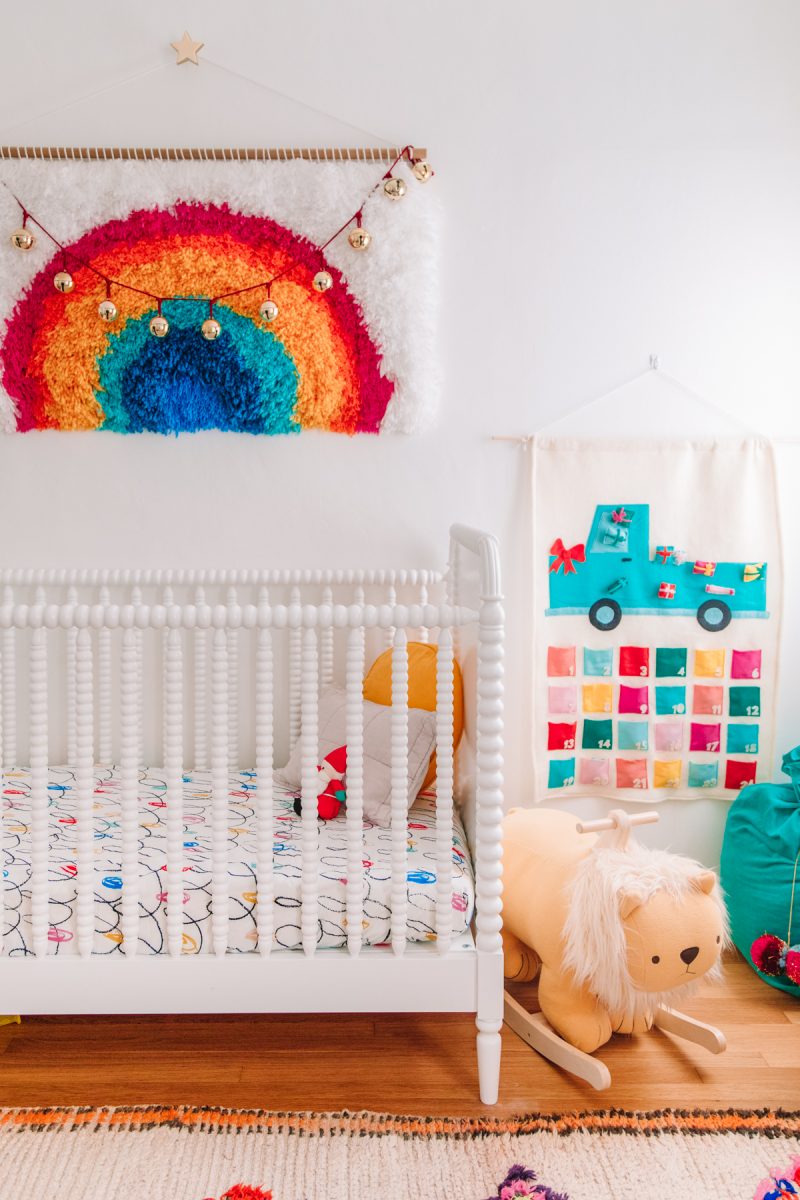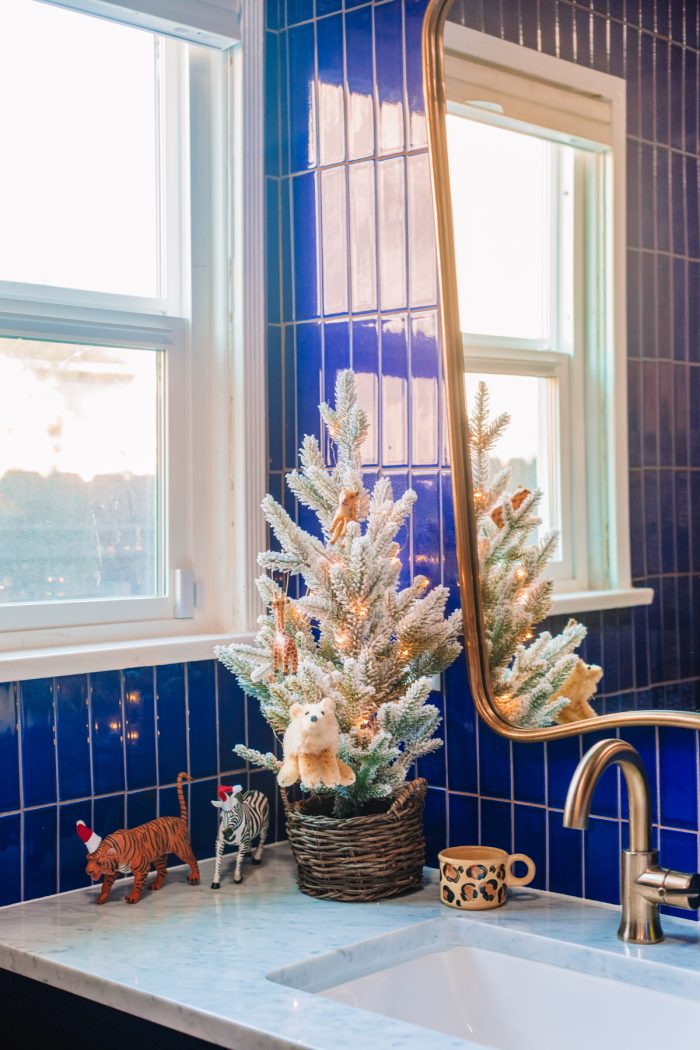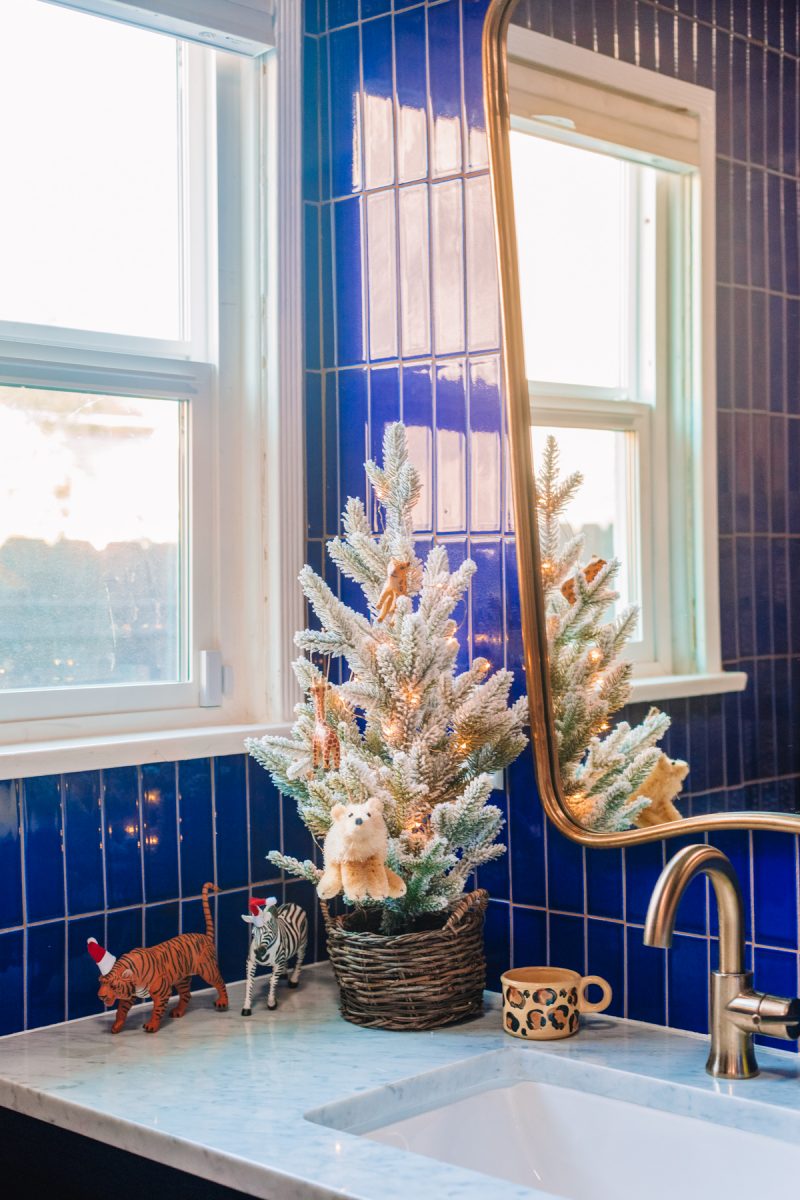 Christmas Decor in the Bathroom
The new bathroom seemed like the perfect place to do a themed tree, so I started a (very minimal) animal themed tree in there! Excited to add some new ornaments to it over the years! Also added some Santa hats to animal toys of Arlo's and popped them in there.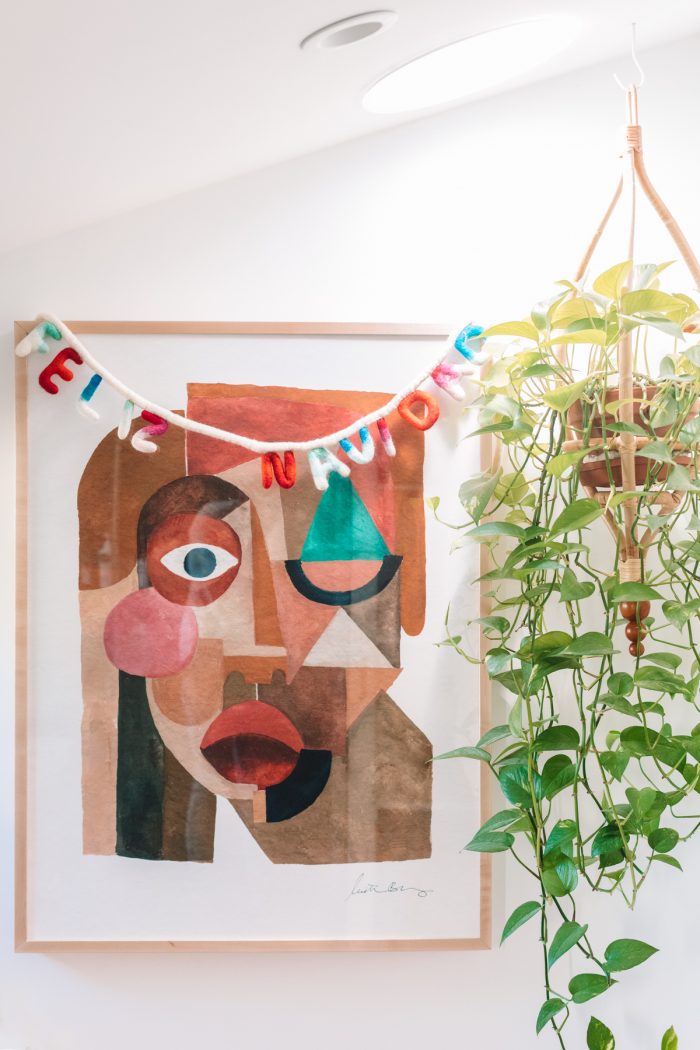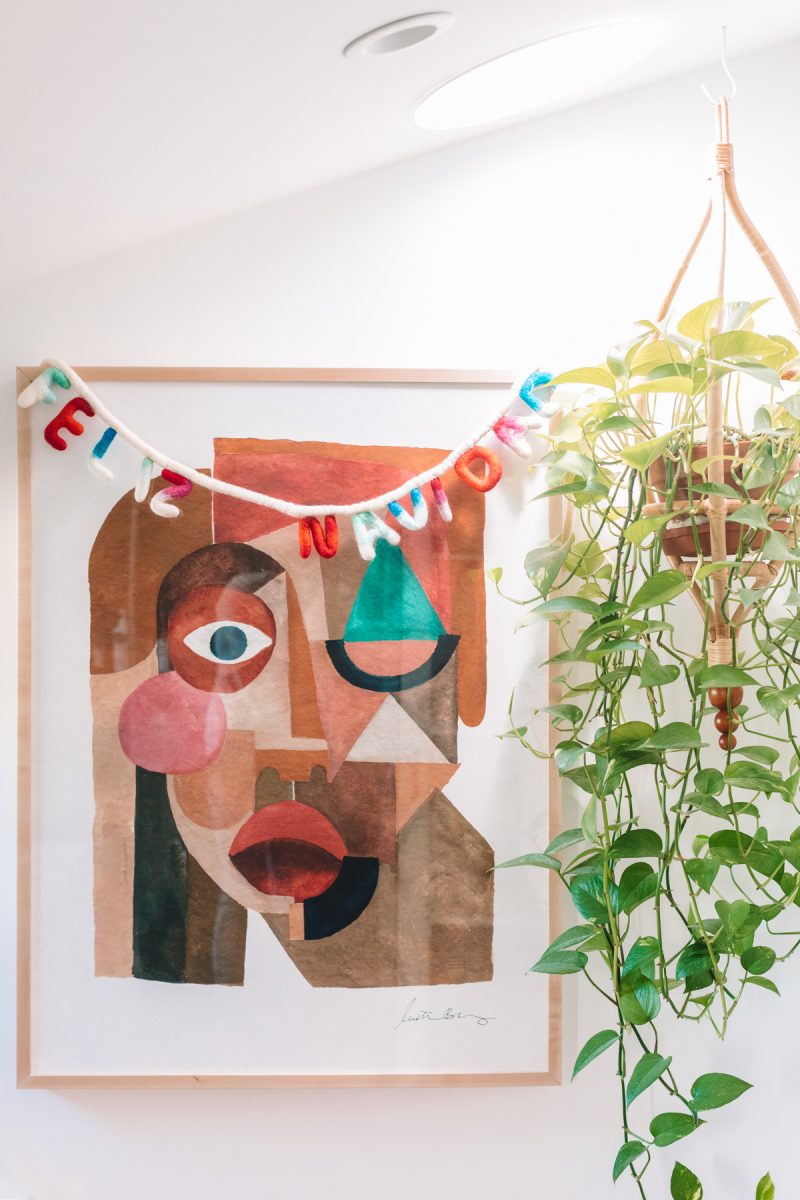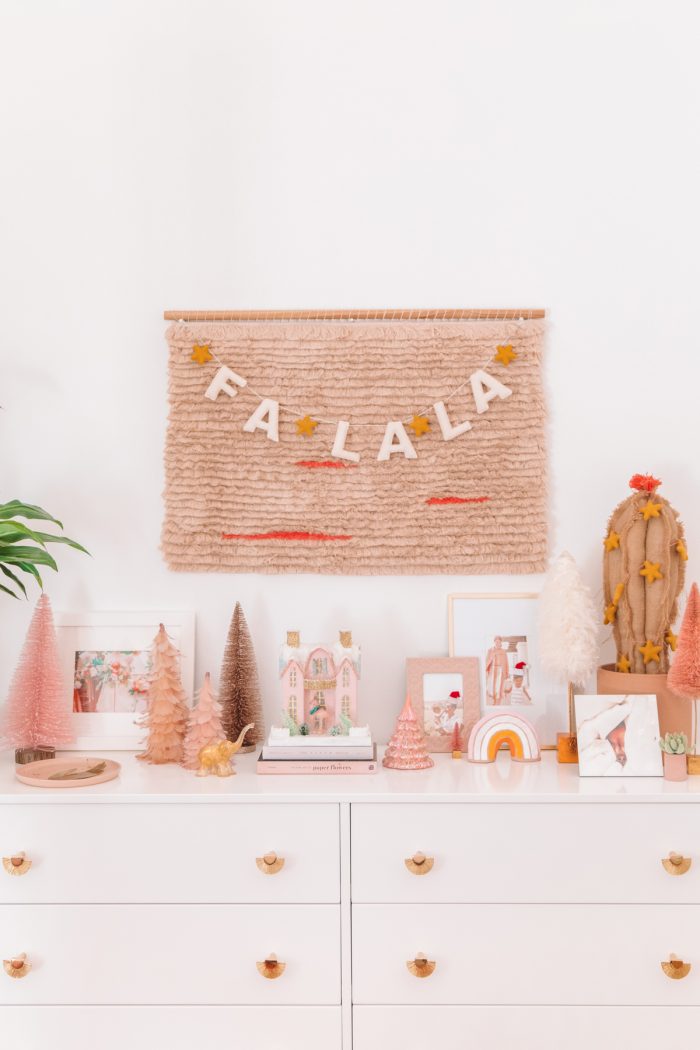 Master Bedroom Christmas Decor
Our bedroom is the most neutral of Christmas themes, assuming every shade of pink counts as a neutral. 😉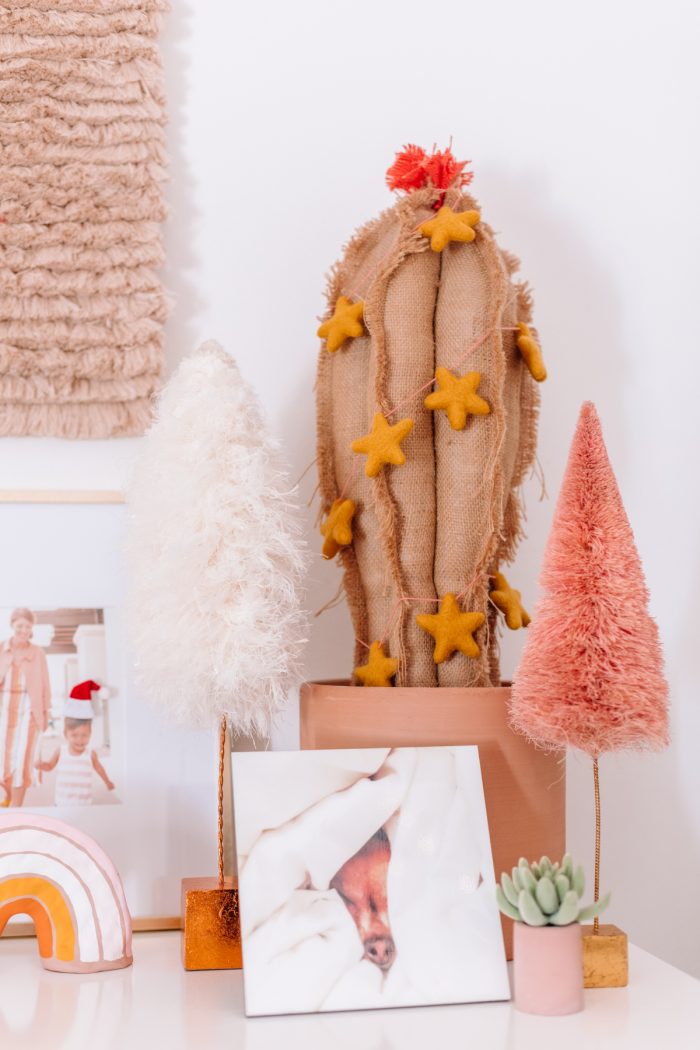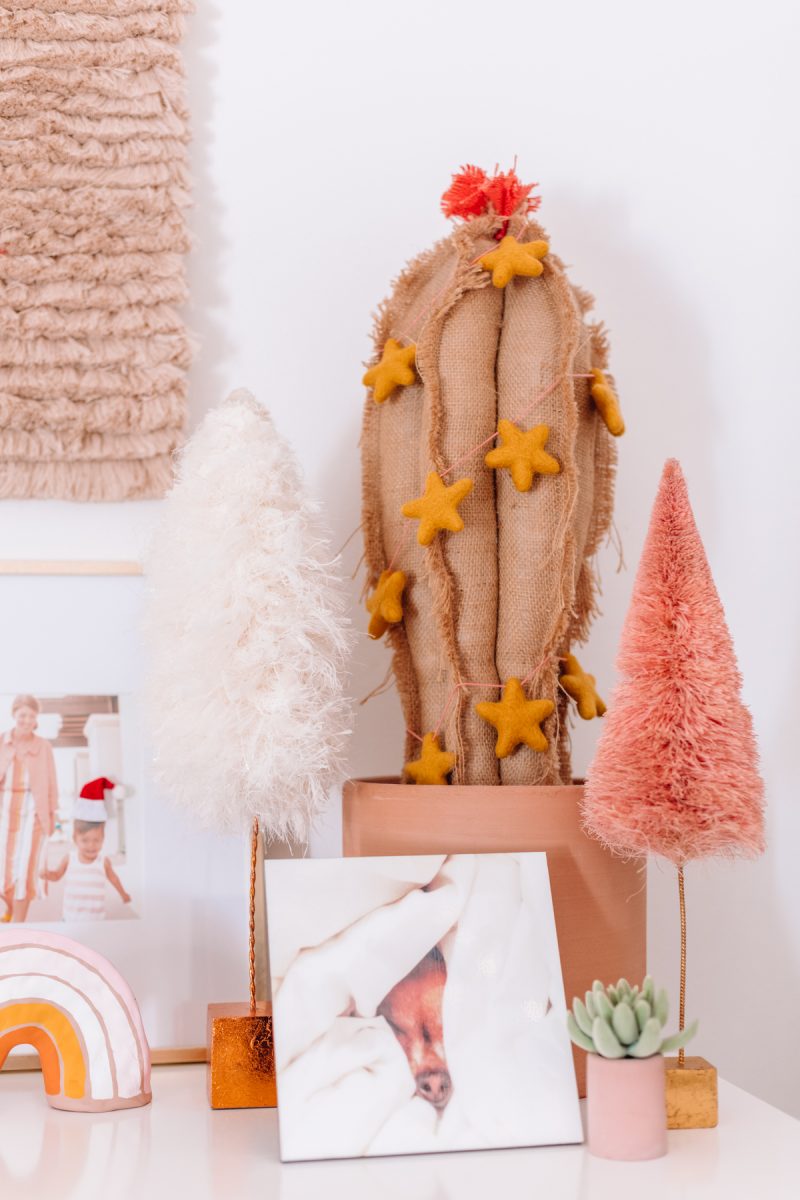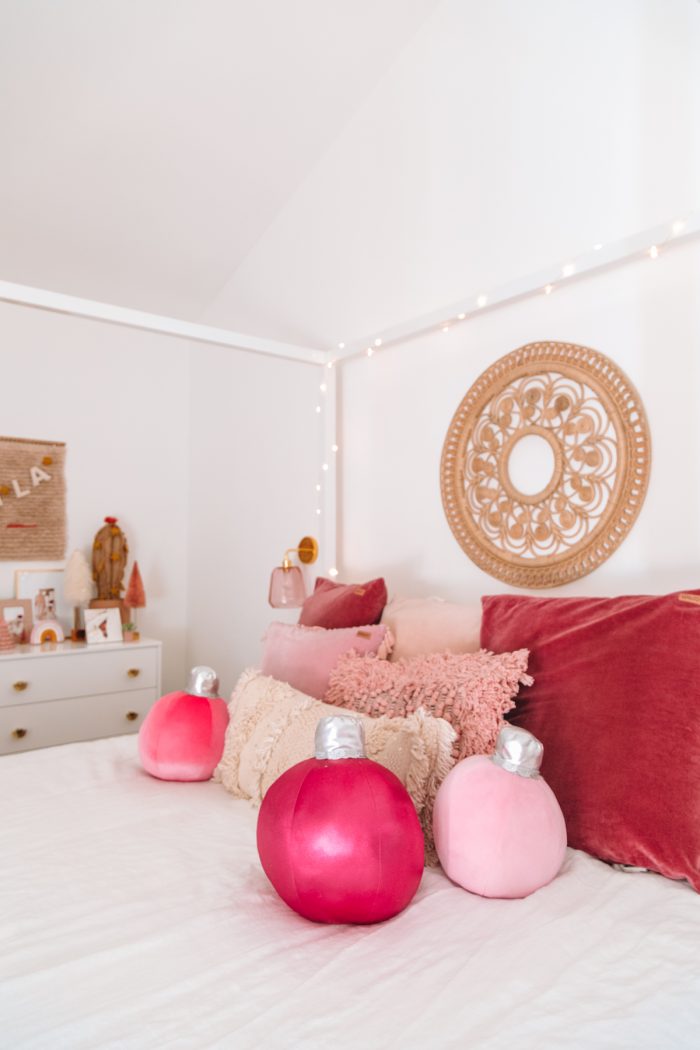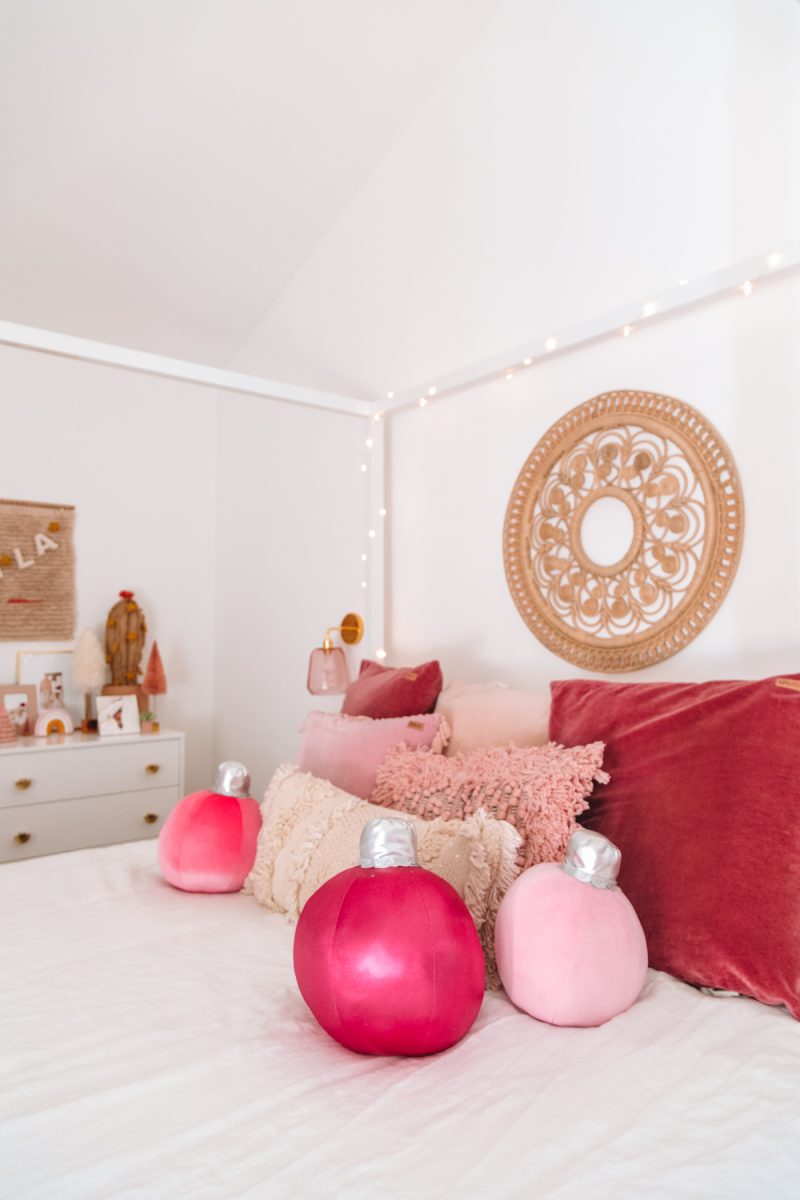 I stole this idea from a friend last year and it's so fun I did it again! You can make Santa hats out of scraps of paper or felt, or buy pre-made ones at the craft store. Then add them to every photo and piece of art (or even books!). Great way to get the kids involved, too. And they'll think it's hilarious. 😉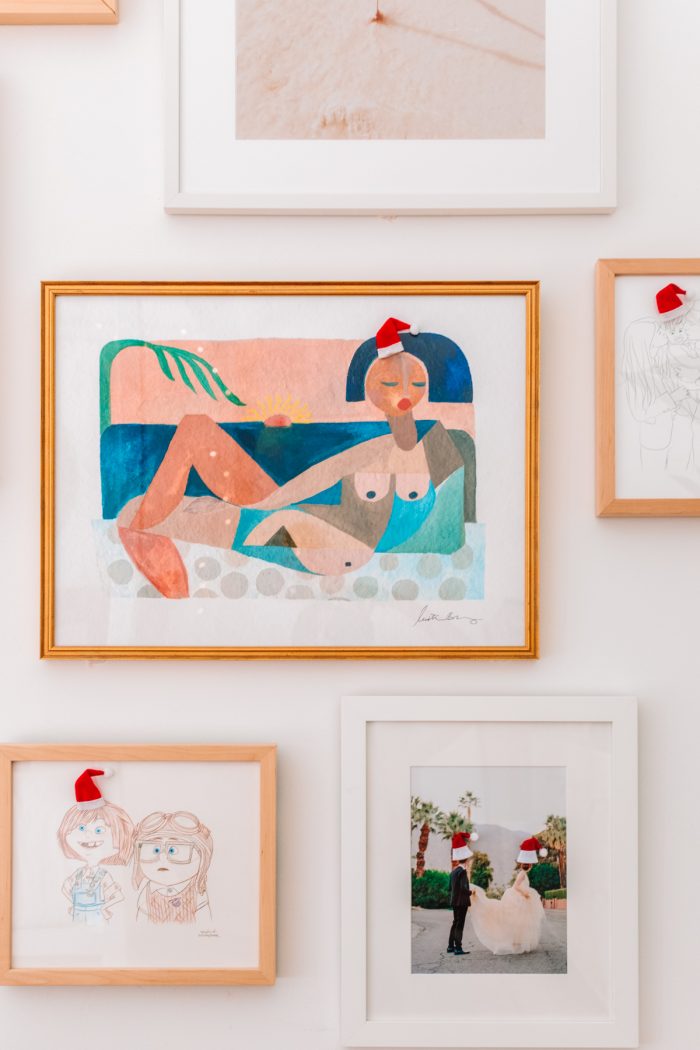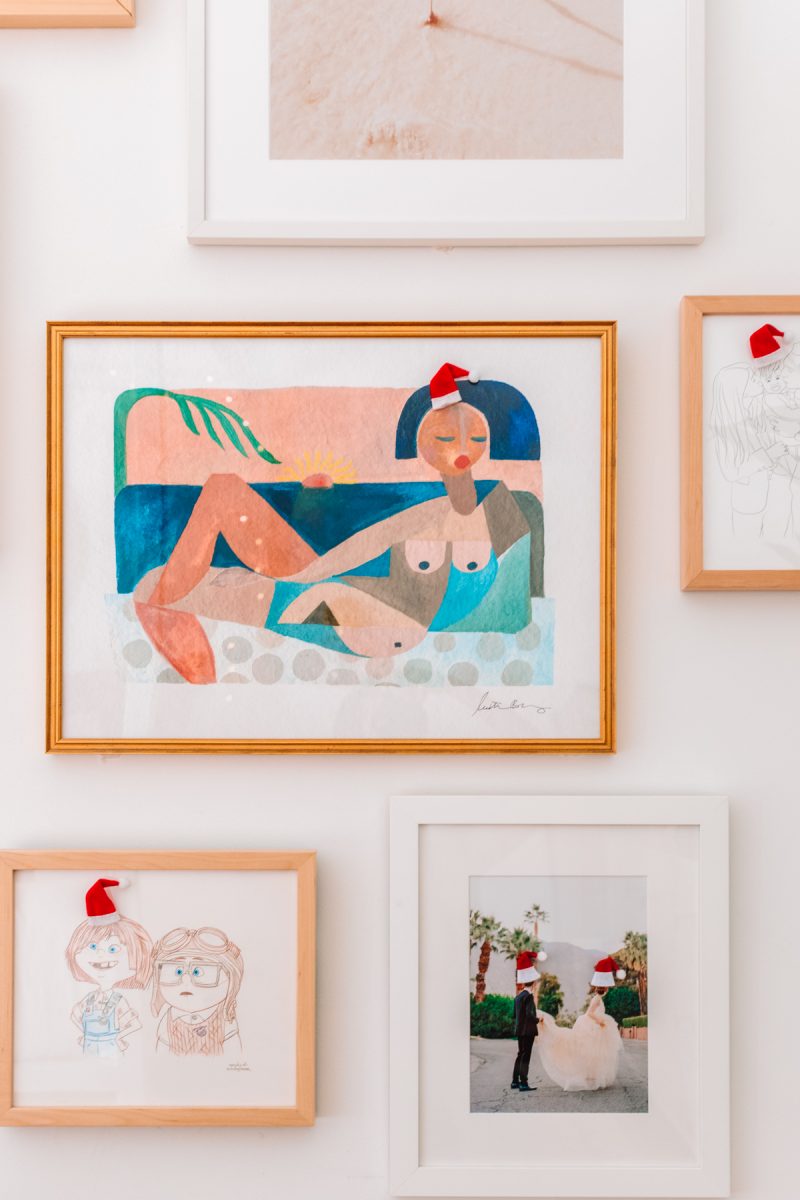 Arlo's Room Holiday Decor Sources
Rainbow Pom Pom Garlands | Wooden Car Garlands
DIY Wooden Christmas Tree Forest | Elf on the Shelf
Jingle Bell Garland from Target | Christmas Light Sheets
DIY Advent Calendar | Holiday Books
Master Bedroom Holiday Decor Sources
Fa La La Garland | Bottle Brush Trees
Marble Tree | Feather Trees | Christmas House
Mini Star Twinkle Lights | Ornament Pillows
Living Room Holiday Decor Sources
Pine Garlands | Star Twinkle Lights
Giant Nutcrackers from Michaels | Tree Basket
Felt Ball Garland |
Bottle Brush Trees | All is Calm Banner
Rainbow Pom Pom Garlands (Similar here and here) | DIY Felt Striped Stockings
Ornament Pillows | Weighted Blanket
DIY Felt Tree Wall Hanging
Dining Room Holiday Decor Sources
DIY Christmas Village | Wool Animals
Tassel Garland | Flocked Santas
Kitchen Holiday Decor Sources
House Cookie Jar | Magnetic Letter Board
Pine Garland | Colorful Wood Trees
Candy Cane Tea Towel | Santa Tea Towel
Bathroom Holiday Decor Sources
Feliz Navidad Garland | Mini Tree
Fairy Lights | Animal Ornaments from Pigment
And that's how our holiday decor is shaping up this year!! You just have to hop over a few construction piles to get to it. 😉 If you make any of our holiday DIYs or do any projects inspired by the ones I do in my own home, be sure to share+tag me so I can see them!! It really makes my day.