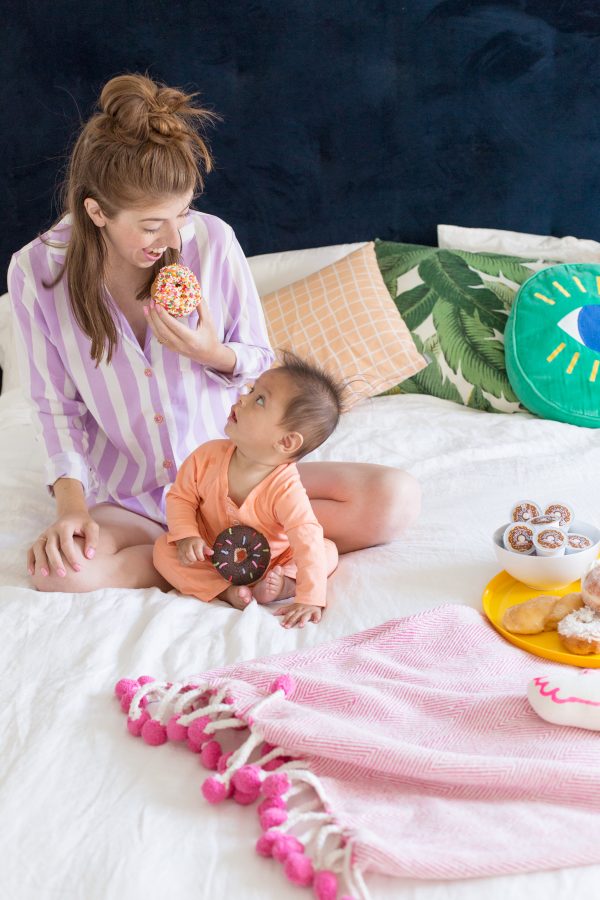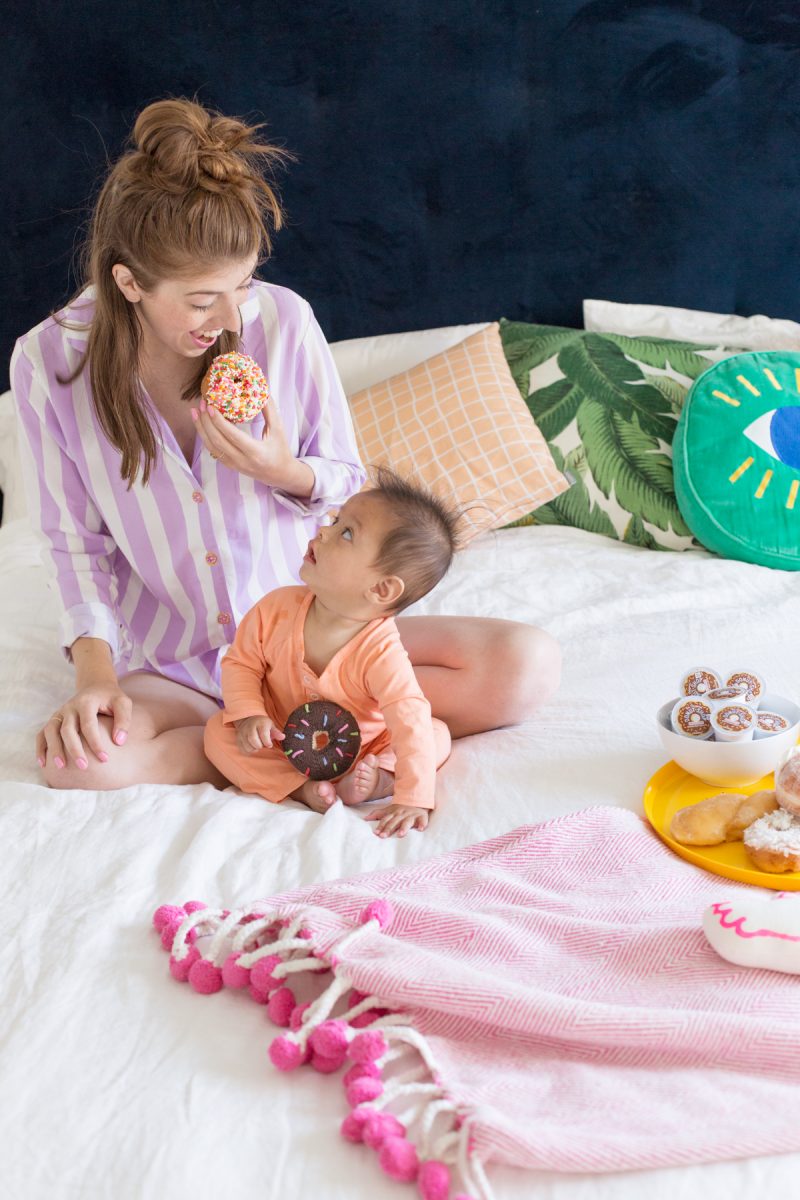 There are a few things in life that feel SUPER adult. One of them is wearing actual pajamas to bed. Not an old high school t-shirt and leggings with 8 holes in them, which is my typical attire. Ha! Do you agree?? Well, I figured a new house, baby and whole new life routine warranted a new pair of real life PJs!
Then I went and put DIY donut buttons on them because I don't want to adult too hard!!! Haha! I partnered with Keurig® and their Original Donut Shop® Coffee today to share the tutorial for my schnazzy PJs and talk a bit about our new weekend morning routine that's pretty darn close to my heart!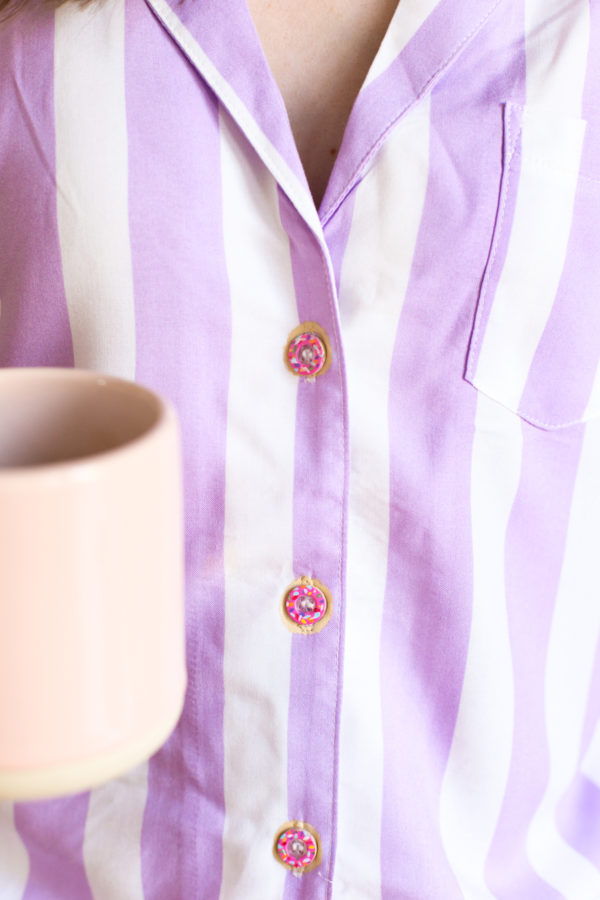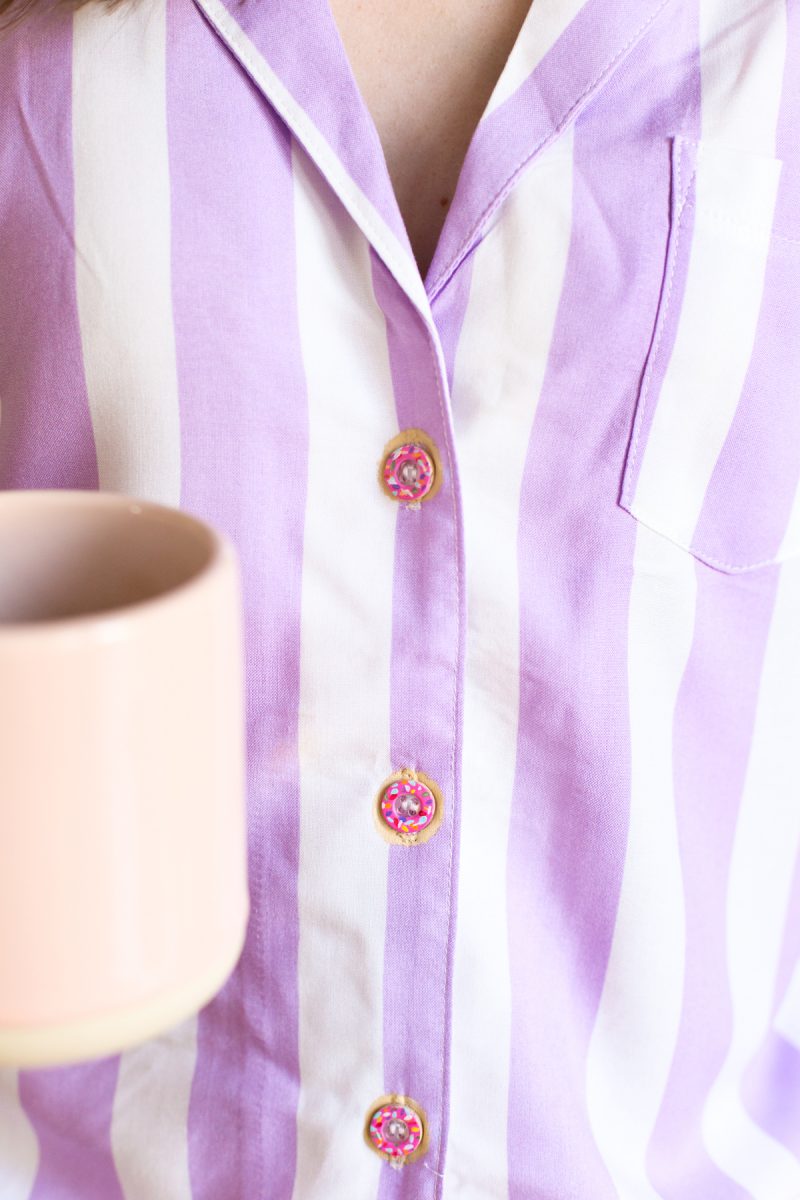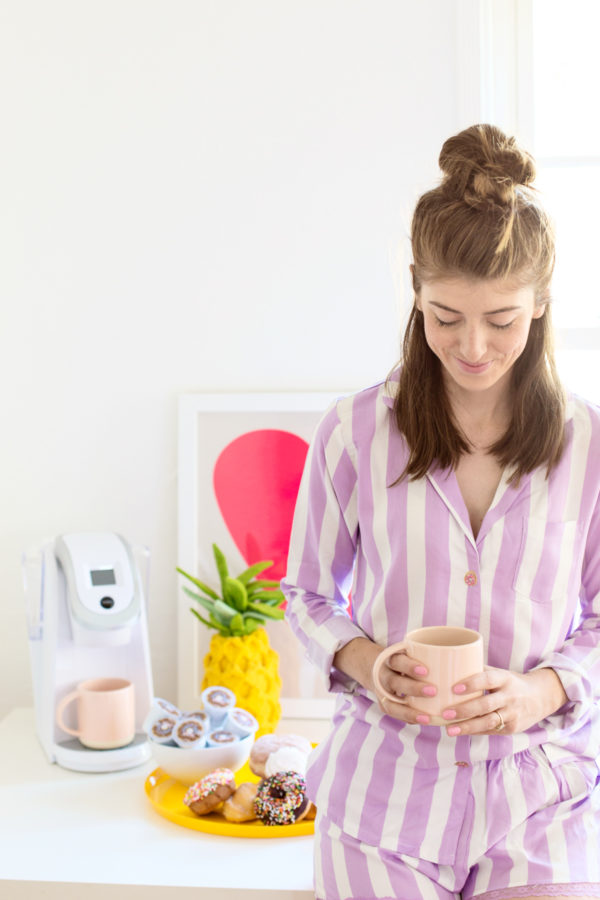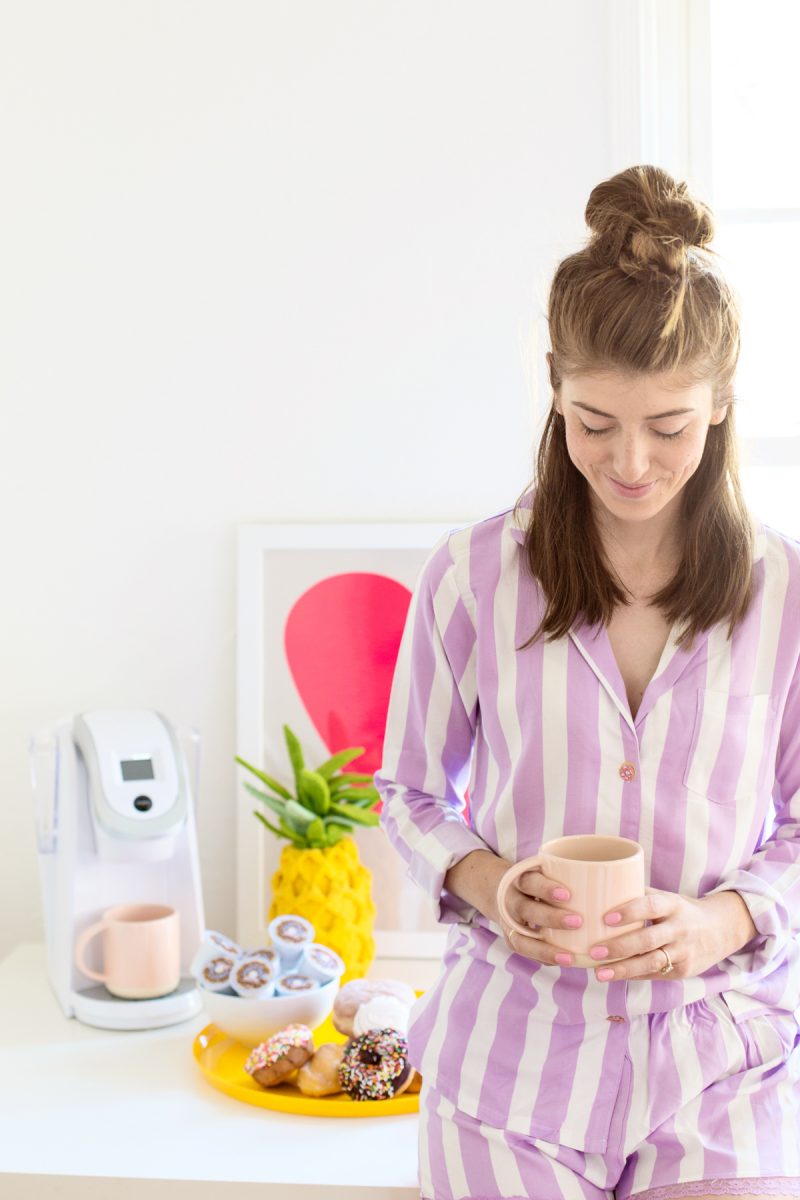 Arlo has a pretty solid daily alarm of about 6:30am, sometimes earlier. And while I didn't really sleep in before he arrived, I certainly wouldn't complain about seeing a "7" as the first number on my clock on the weekends. Ha! So on Saturdays and Sundays when he starts stirring, I've started grabbing him out of his crib and bringing him into bed with us for some morning snuggles.
He isn't a super cuddly kid and the snuggler in me is slightly sad about that, but in those early hours he still hasn't fully woken up and sometimes he'll even fall asleep on my chest and I JUST COULD DIE right there in that moment of complete happiness! Even better, Jeff will get up and make us coffee and breakfast and bring it back into bed so we can hang out for a little longer.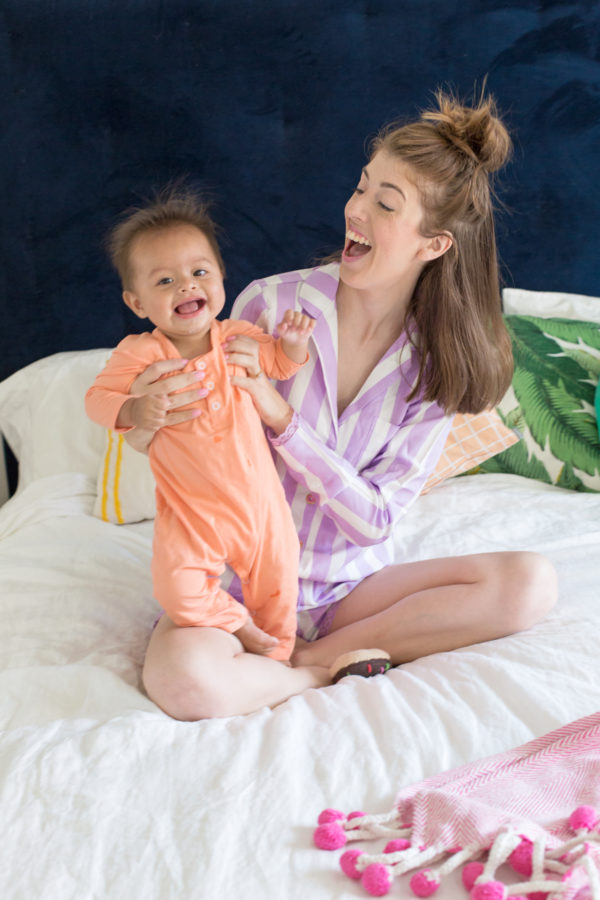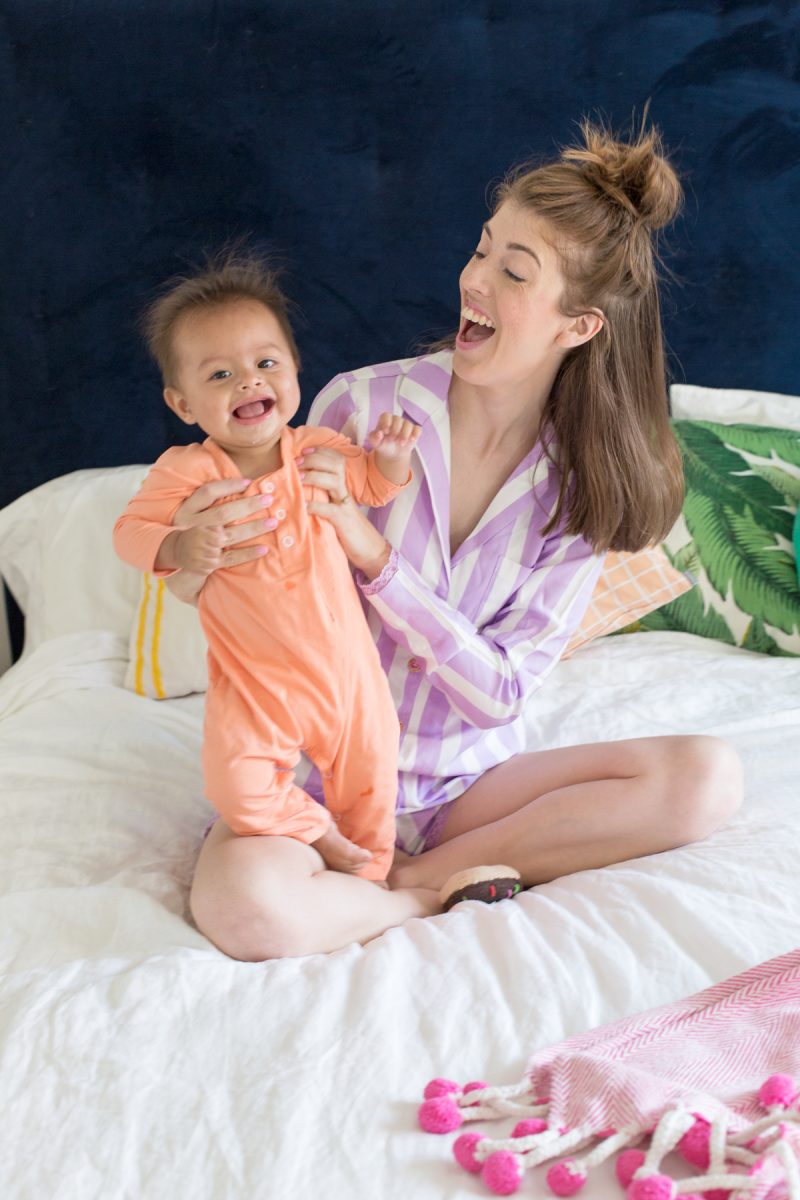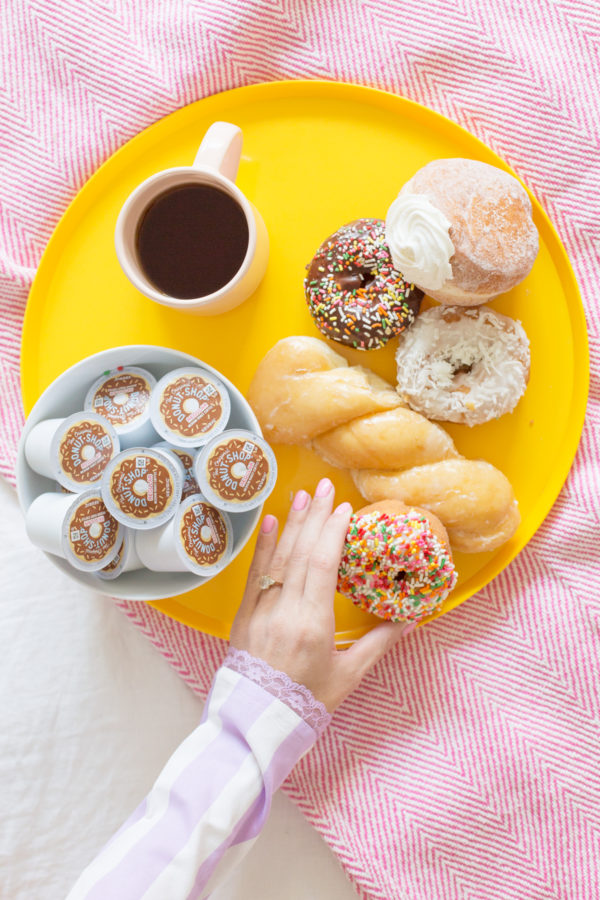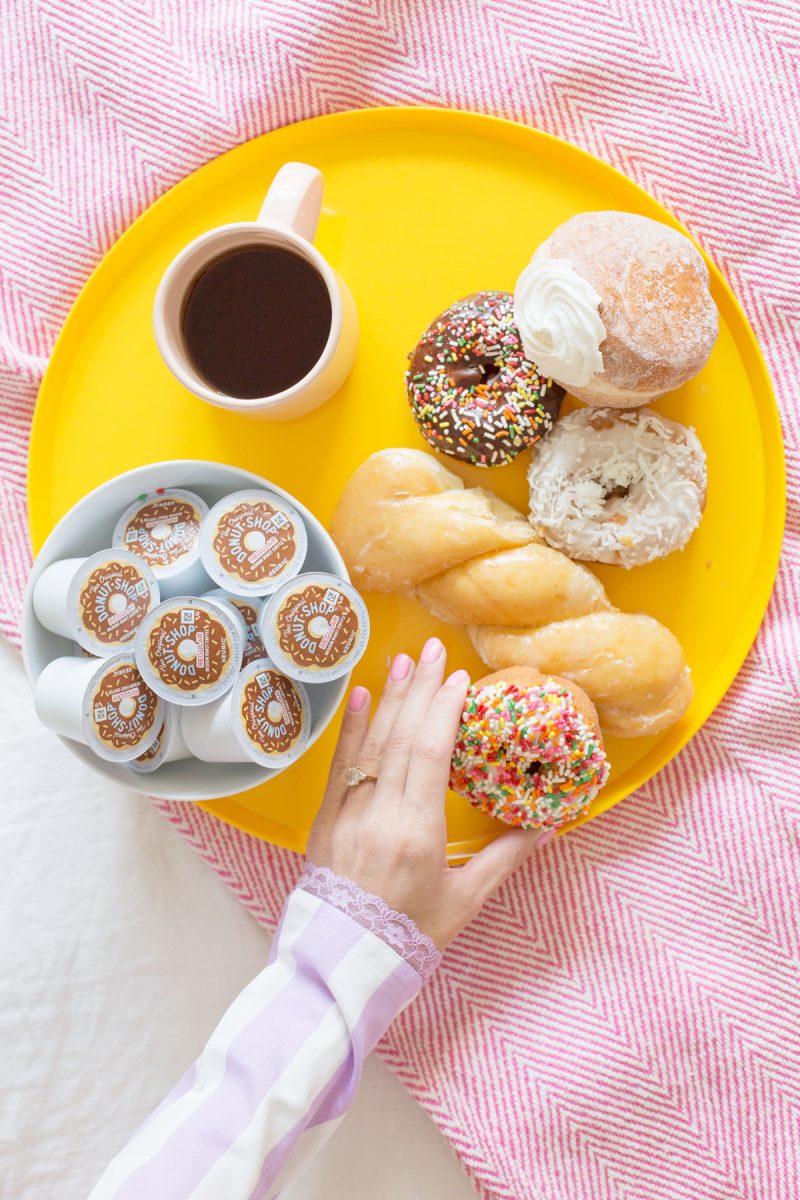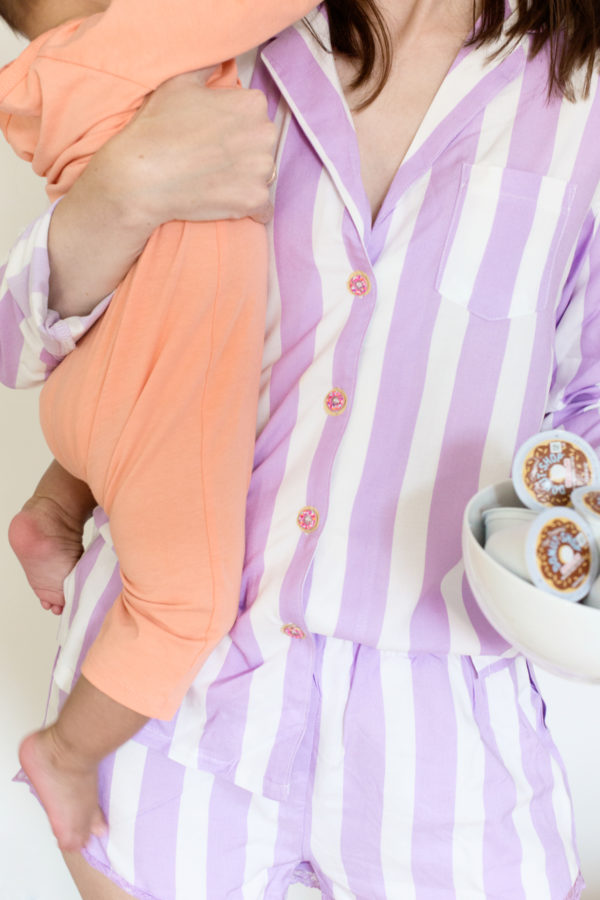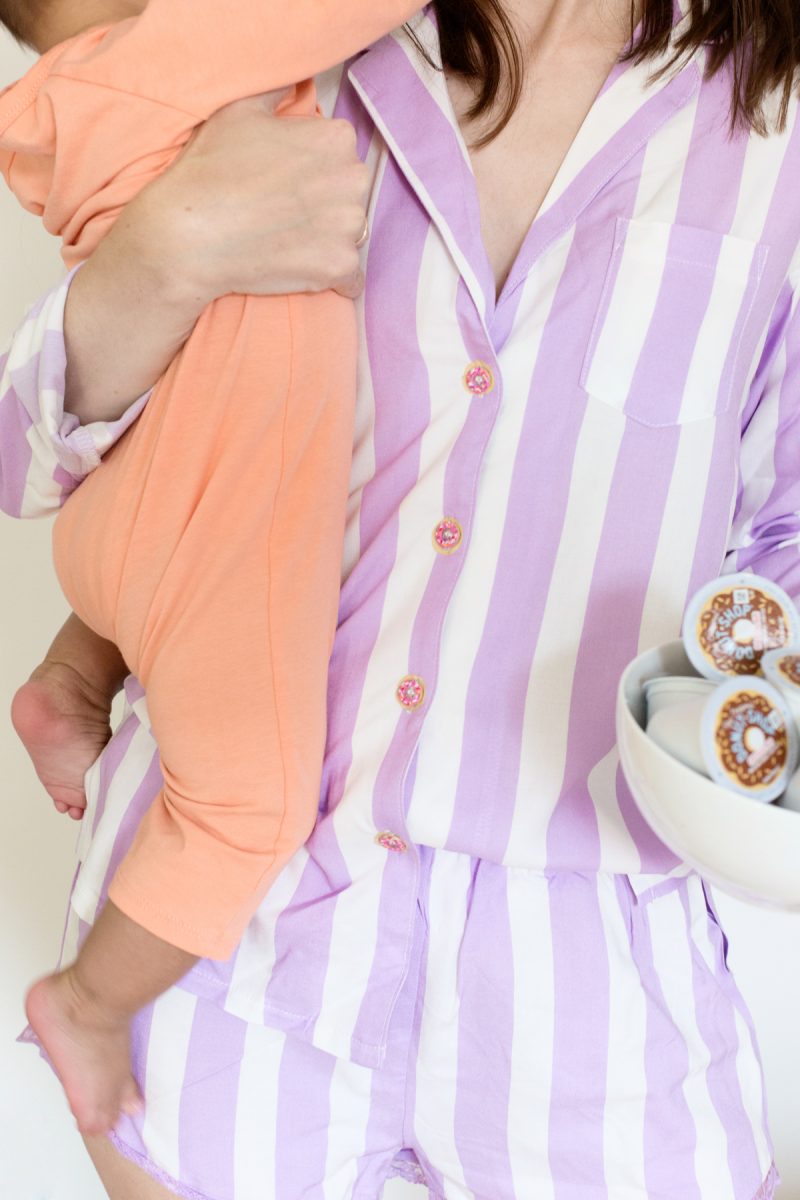 We've been making coffee at home on these mornings so we can get the MOST snuggle time in (And not gonna lie, save some money too. Owning and renovating a house is NOT cheap.). So we've been firing up our Keurig® and getting hooked on the The Original Donut Shop® coffee (Have you tried it!?) 'cause it's like taking a trip to your local donut shop except YOU'RE STILL IN YOUR PJS!
And you know, speaking of PJs, shall we add a hint of sweet there too? See what I did there! Let me tell ya how to make these!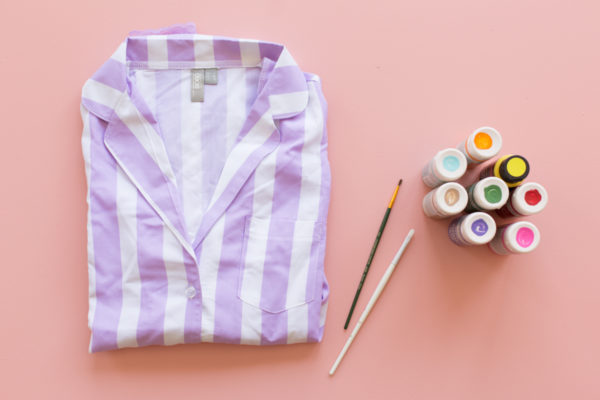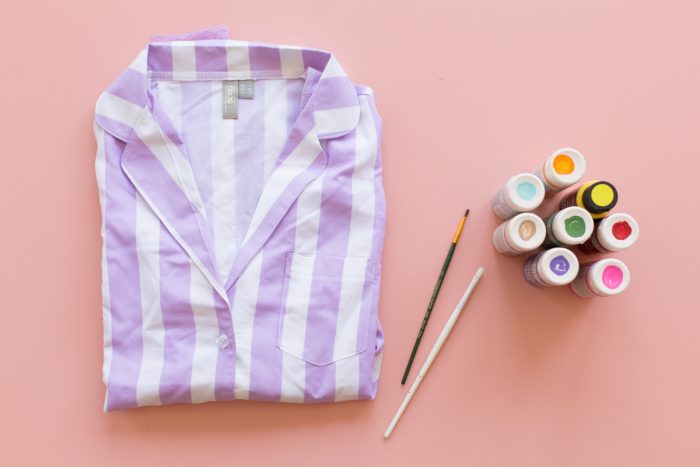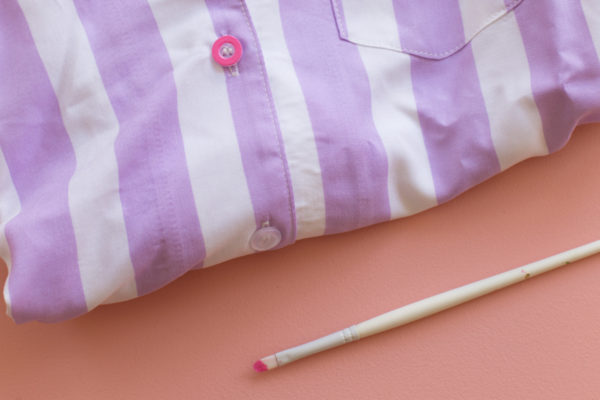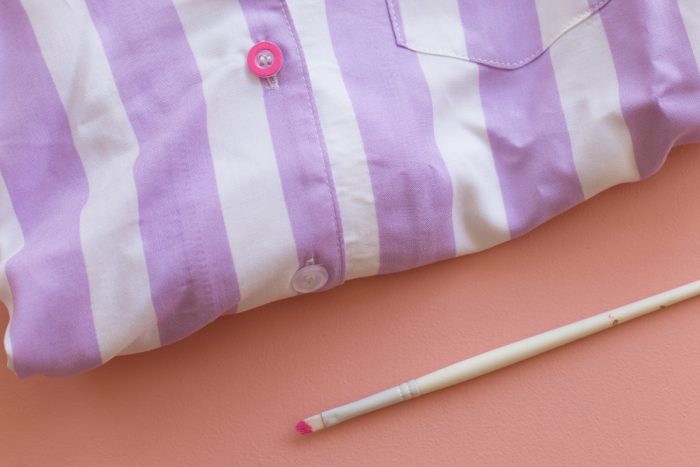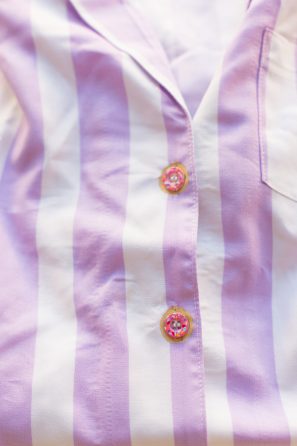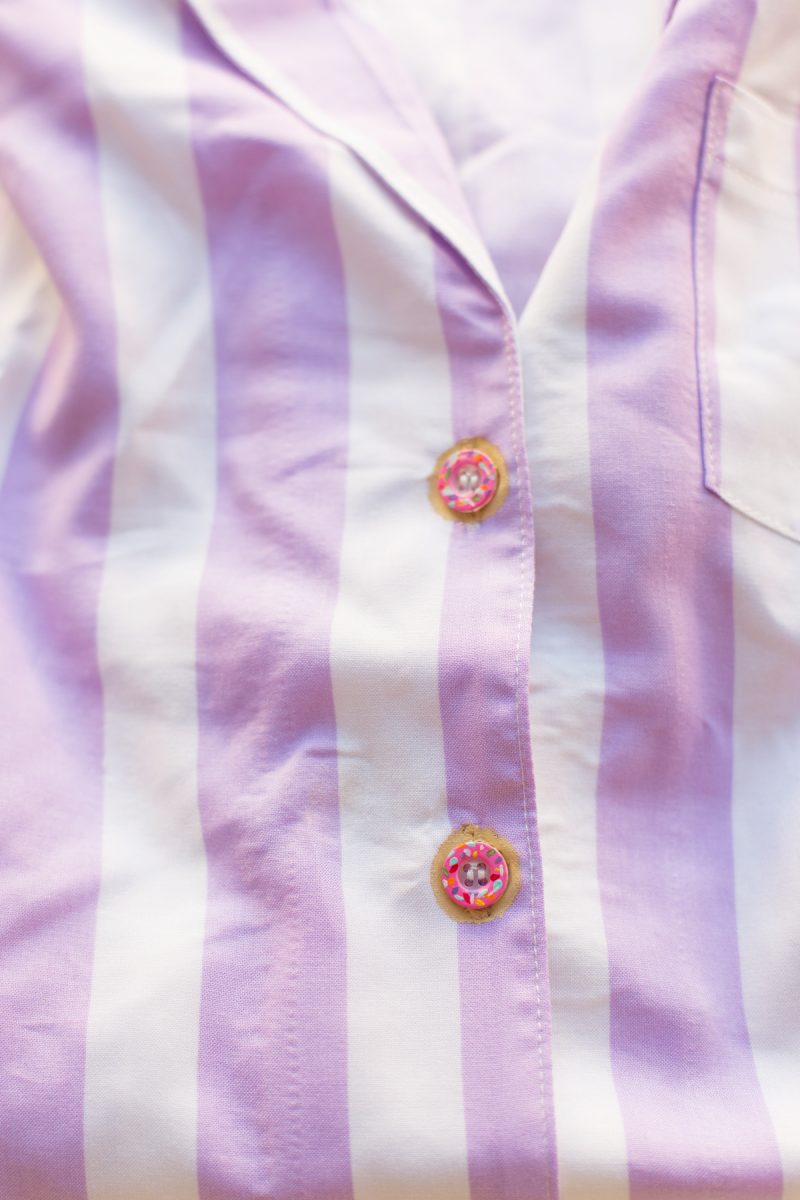 DIY Donut Button Pajamas - Inspired by The Original Donut Shop® Coffee from Keurig®
Total Time: One Hour (+ Dry Time)
Supplies
Button Down Pajama Set
Fabric-Safe Craft Paint in Pink, Tan, and A Variety of Sprinkle Colors
Small Paint Brushes
Directions
1. Paint your buttons pink and let dry completely. It's OK if you get some paint on the shirt right around the button because you'll be adding the tan donut ring that will cover it up!
2. Paint tan circles around each button. If you don't want to freehand it with the paint, you can use a pencil to lightly draw a circle as a guideline, then just paint over it! Let dry. You may need a second coat, depending on the paint you used!
3. Last step is the sprinkles!! Dip the very tip of your brush into on of your sprinkle paint colors and paint tiny dots onto the donuts. I recommend doing one color at a time for all the buttons, then moving onto the next color. You can always go back and add if you notice one of the buttons is lacking in one particular color! Let dry. You're done!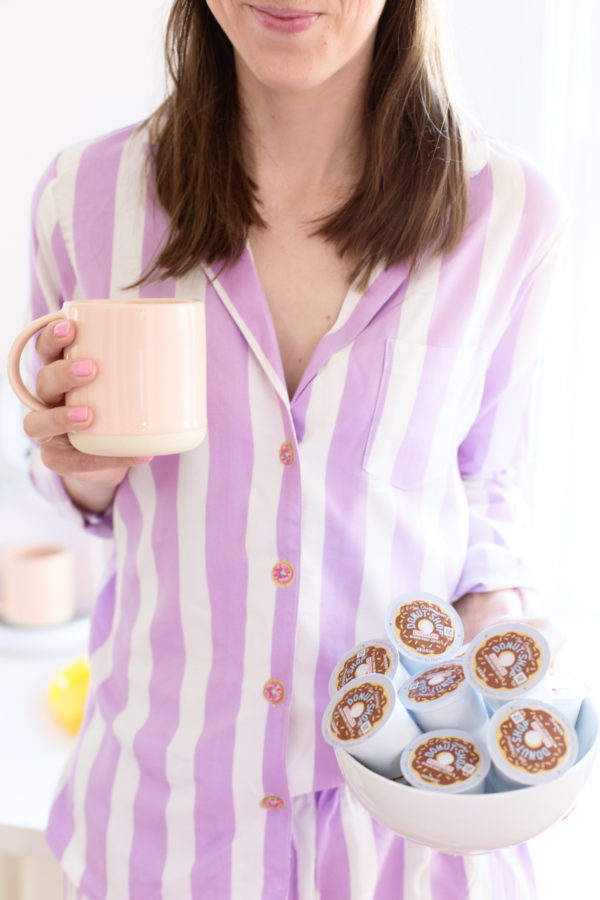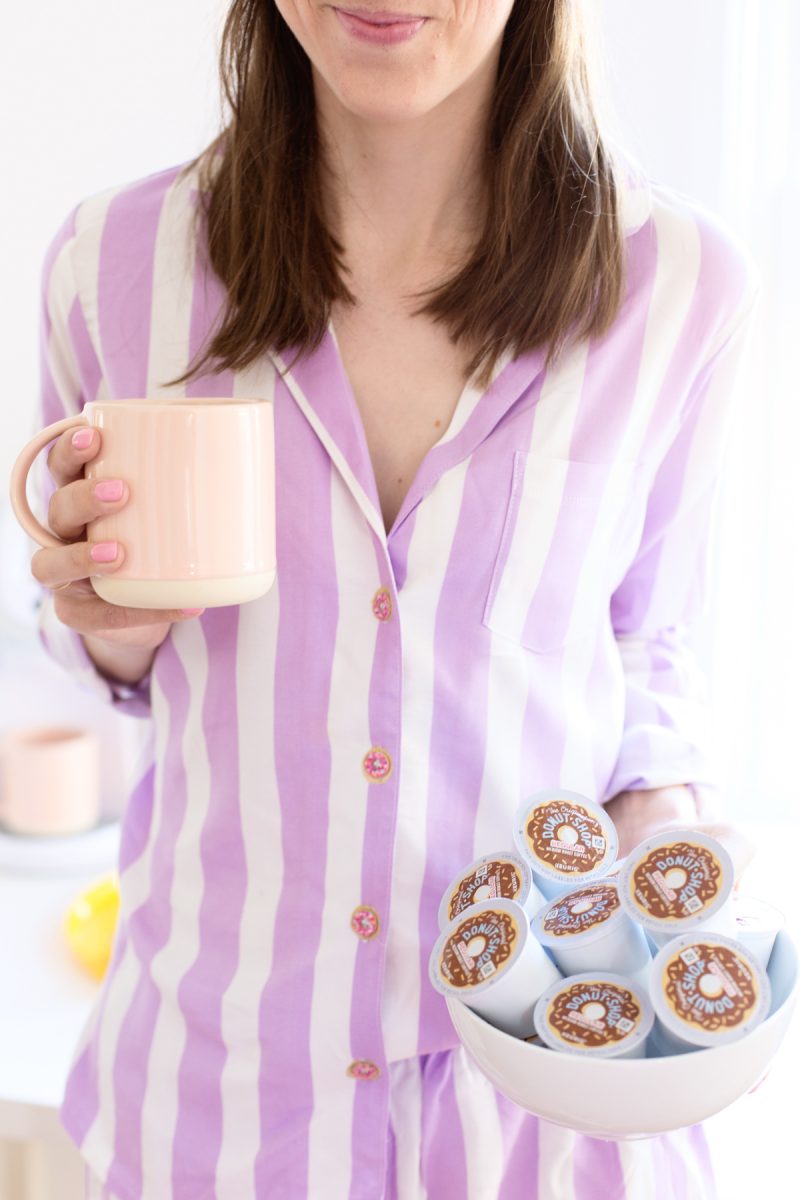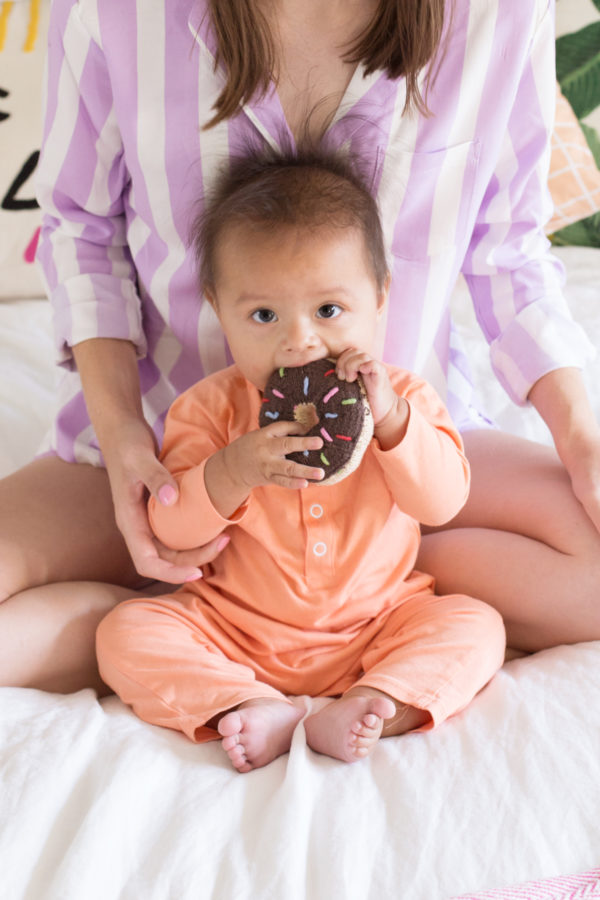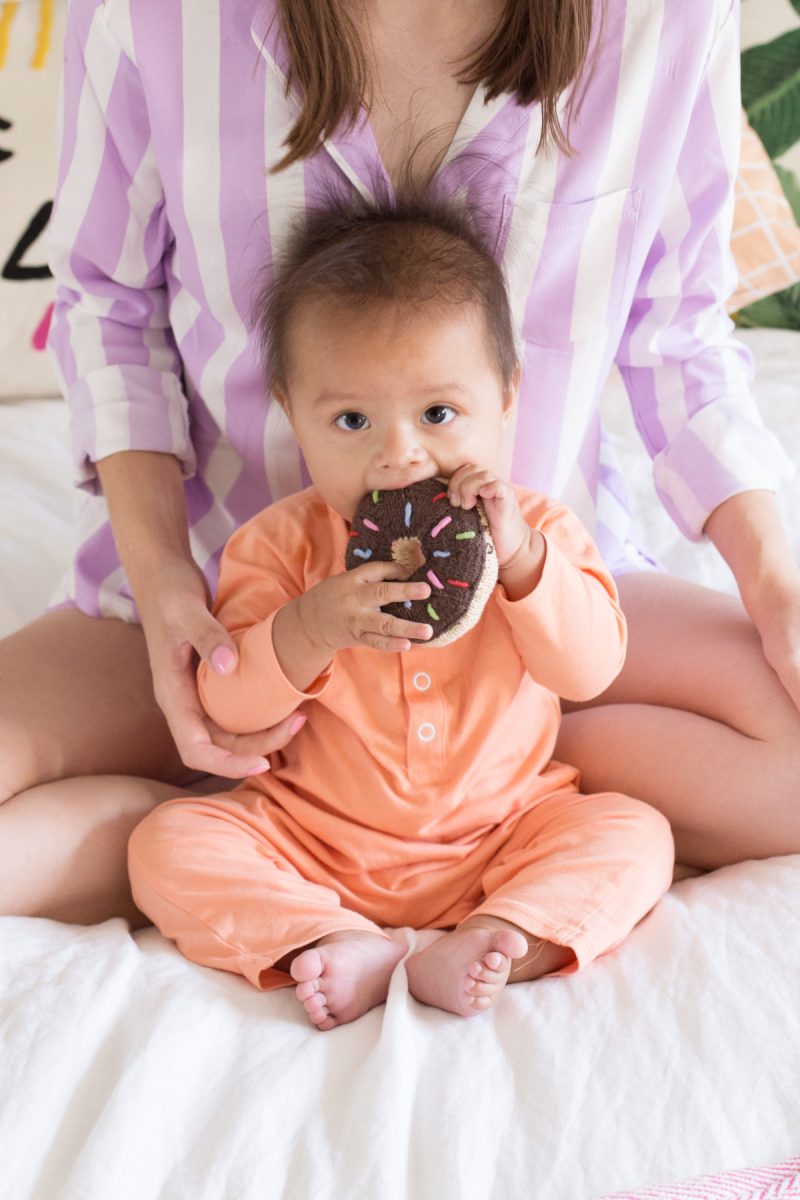 Photos by Jeff Mindell
I cherish these new weekend mornings. They're one of the only times of the week where we all get to relax together (Bella, too!) and soak in how lucky we are to have this family. And coffee. 😉
Curious, do you have a fun weekend morning routine or tradition?? I'd love to hear it!!
This post was created in partnership with Keurig. All content and opinions are that of my own! Thank you for supporting the sponsors that keep the Studio DIY party going! Read more about my editorial policies here.
SaveSave
SaveSave
SaveSave
SaveSave
SaveSave