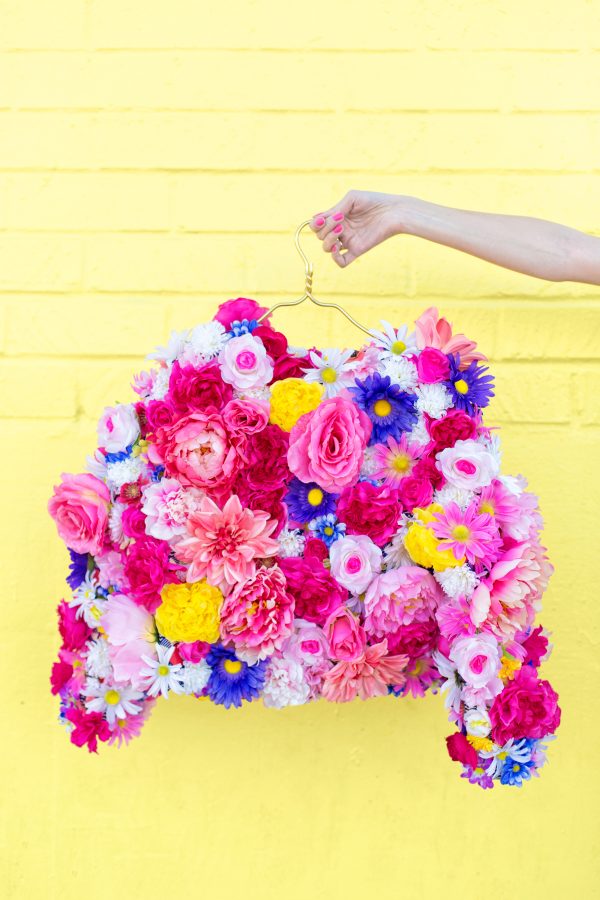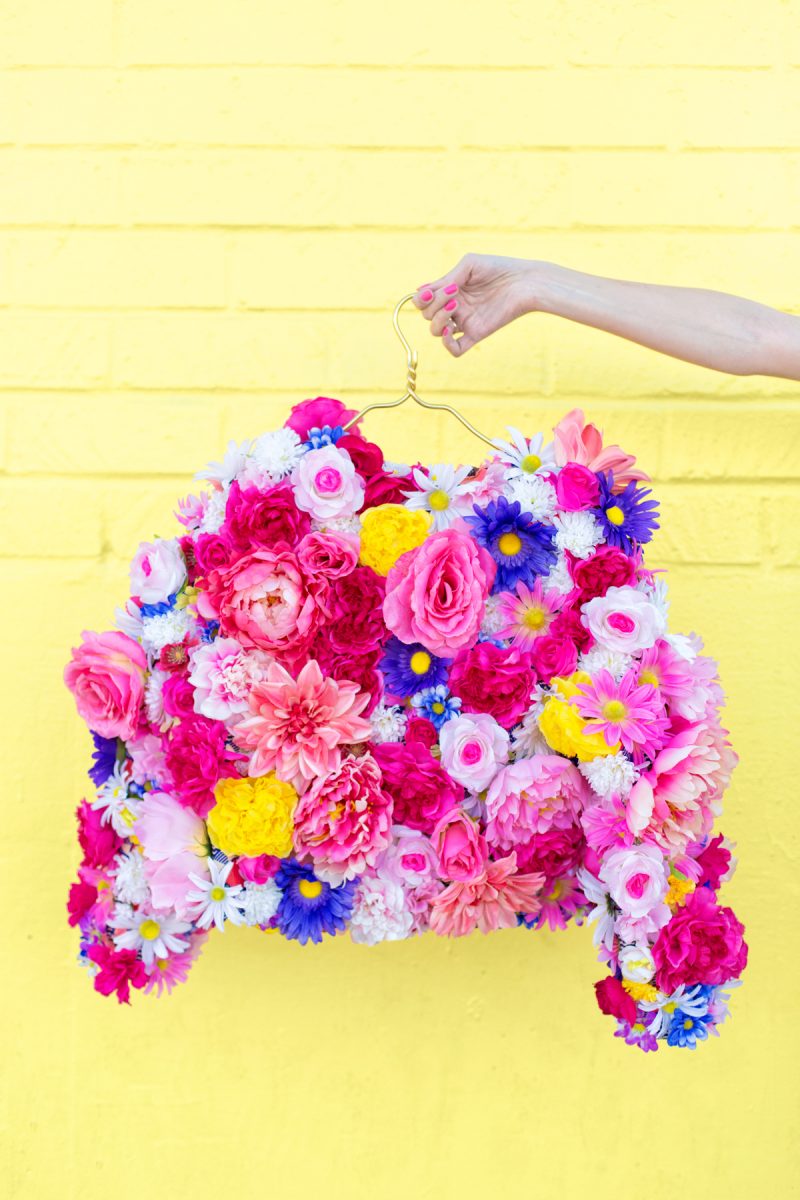 Sooooo, this happened? I walked into the studio one day and was like "I WANT TO COVER A COAT IN FAKE FLOWERS" and then everyone proceeded to get up and leave. JK! In my mind, this coat was to be like one of those big fur coats, or even those pom pom coats, but with FLOWERS! Channeling my inner Iris Apfel, perhaps? Anyway, the faux flower coat was born and I will be wearing this outfit every day from here on out. Even to the grocery store.
And if you can work a hot glue gun and snag some dollar store flowers… you can make this too. BA-BAM!
Before we jump into the tutorial lets discuss faux flowers. If you've ever bought them before, you know they can get really pricey. Most craft stores like Michaels and JoAnn's (We got some of ours at Moskatels in DTLA) run really big, frequent sales on their fake flowers. Like 50-60% off kind of sales. So here's what I recommend… pick a few big/important "must have" blooms and buy them from the craft store. Then, head to a dollar store (my fave is the 99cent store here in LA) and get the bulk of your flowers there. Buy flowers that come in bunches or on garlands from both places, don't buy individual stems.
I'd recommend going to Goodwill and buying a cheap jacket as it's going to get covered anyway. If you go with a solid color or floral print, it won't be too big of a deal if some of the blazer shows through the flowers.
All that sad, this is not the cheapest project around. If you follow all the steps above, you'll likely spend around $50-60+ dollars. It's an investment for sure but also an AMAZING statement piece for the right big event.
DIY Faux Flower Coat
Total Time: About 2-3 Hours
Supplies
Variety Faux Flowers (We used about 150 medium-large blooms plus some smaller fillers)
Hot Glue Gun
Jacket (Preferably collarless)
Scissors and Wire Cutters
Directions
1. Clip a bunch of the medium/large flowers you've purchased with wire cutters (or scissors if the stems aren't wire), about 1/4" from the bloom.
2. Start with the back of the coat. Hot glue your largest, favorite blooms sporadically across the back of the coat, saving some for the front a well. Then go back and continue gluing with the additional blooms.
3. Flip the coat over and repeat on the front and finally on the sleeves.
4. Once all your big blooms are on and the majority of the coat is covered, go back and fill in any gaps with small buds and blooms until your satisfied with how it looks. Sometimes it's helpful to put the coat on during this step, as it looks different on than it does flat!
Photos by Jeff Mindell
On me: Jumpsuit | Blouse | Pink Heels | Sunglasses from Urban (similar here and here)
Sorry that there's one million photos but we just had a LOT of fun shooting this one. I mean… it's a FLOWER COAT you guys!!!!! Don't you just feel like you NEED one!? Happy, happy spring!!!
After I posted this, a couple of you brought to my attention Rachel of I Make. You Wear It and her amazing flower jacket she made a few months back. And I'm so grateful you did! Sometimes two people have such similar ideas, and don't even know it (*Raises hand*) but I'm happy this introduced me to Rachel's amazing work! (And one of you might want to swipe up her flower shoes before I do! 😉 )
p.s. Edible flower donuts!