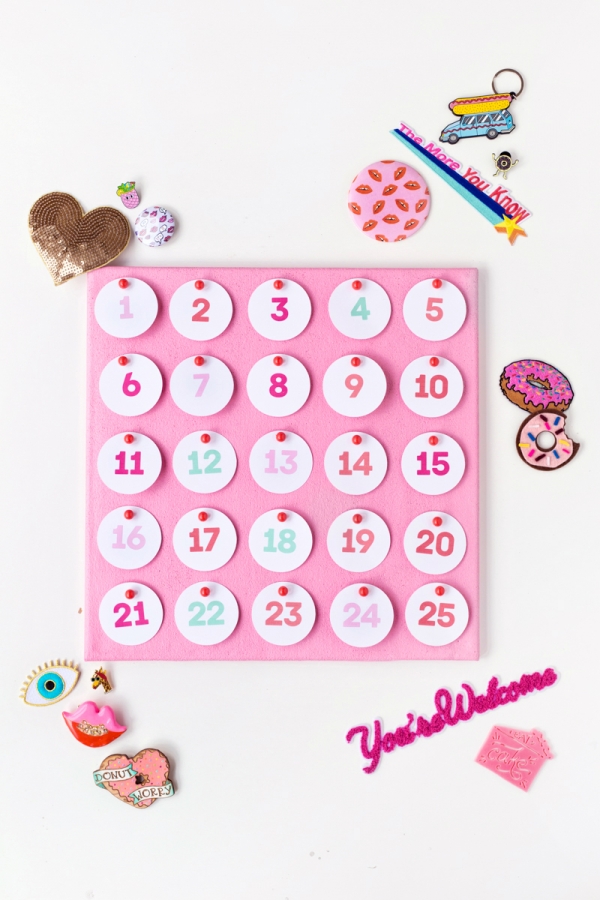 It's no secret that flair is a pretty big deal right now! The pins, the buttons, the patches… they're everywhere! I'm not complaining. And I couldn't help but think what FUN it would be to make a flair advent calendar!!! So we made one, and we used our trusty Cricut to cut those pesky circles so we could focus on picking out the PERFECT flashy flair!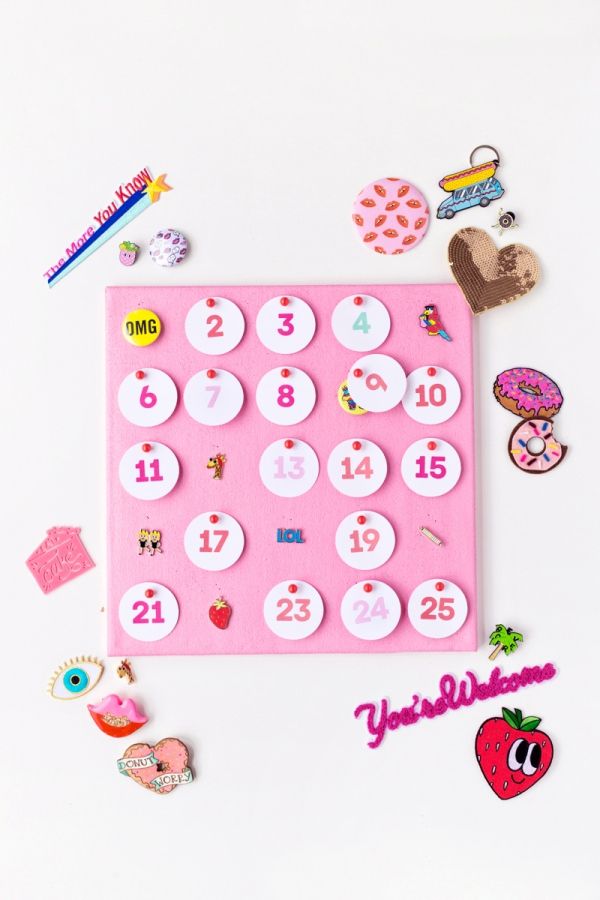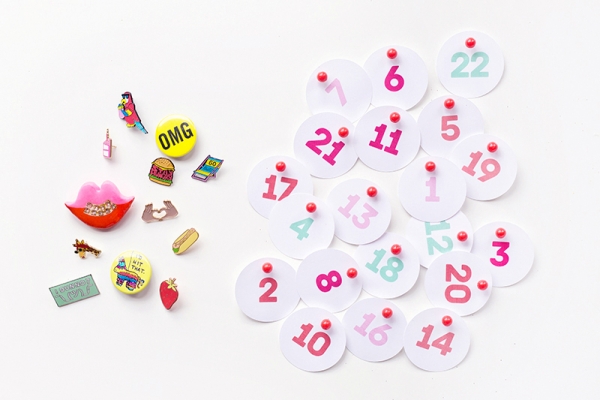 Cricut Explore
Cricut Design Space Software
12"x12" Standard Grip Cricut Mat
Cardstock
Printer
Square Bulletin Board
Paint
Paintbrush
Thumbtacks
25 Pins/Pieces of Flair
1. Open up this project in Cricut Design Space. Click the "Make It Now" button and print out the number designs. If this is your first time using the Print Then Cut feature, you'll have to calibrate your Cricut. (Super easy, just follow the instructions on the screen!) Otherwise, follow the instructions on the screen for printing.***
2. Place your printed design on the Cricut cutting mat and follow the instructions on the screen to cut it out.
3. Paint the bulletin board the color of your choice and let dry. It may need two coats, depending on the color used.
4. Pin the numbers to the board using the thumbtacks in five even lines and rows.
5. Spin each number to the side and pin one of your buttons/pins/pieces of flair to the board underneath, then spin the number back in place. Hang the board on a wall or display on a desk and let the recipient find a new pin each day!
This would be great for those of you with roommates (or close friends!), each of you could pick a number color and buy flair for those numbers, then each of you picks a different color and gets to keep the flair underneath those!
***A few of you have mentioned that you don't have a Cricut and would love a way to still be able to make the projects I share in partnership with them. Good news! I have a solution for you thanks to the Print and Cut feature. If you'd like to make one of these projects and you don't have a Cricut, follow the above steps through the printing step. Then, hand cut the design and continue with the remaining steps. I will warn you that this will be a bit more laborious as you will be hand cutting everything, but it's a great solution for those of you who've asked!
Photos by Jeff Mindell
Here's a list of the flair pictured in the calendar:
OMG | Heart Hands | Burger | Cake | Parrot | Pineapple Drink
Flamingo | Hot Dog | Piñata | Go Away | Heart | Giraffe | Lips | Taco
I Like Fun | Dancing Girls | I Dunno | LOL | Heart Sunnies | Smarties
Cadillac | Strawberry
And the other items pictured:
Lips Button | Lips Mirror | Hot Dog Car | Dancing Donut Pin | Sequin Heart | Donut Patch
Donut Pin | Palm Tree | Strawberry Patch | Donut Heart
Eye Patch | Cake Pin
You can also find a great selection of vintage pins at flea markets!
18 days until December 1st, go get your flair on!
This post was created in partnership with Cricut, All content and opinions are that of my own! Thank you for supporting the sponsors that keep the Studio DIY party going! Read more about my editorial policies here.