Today's DIY project is sponsored by Flower Muse.
Happy May!! I'm back talking gifts for Mom again today! When Flower Muse reached out to me wanting to join in on the Garden Party, how could I say no!? Gorgeous fresh flowers, shipped to my door? Well, OK! I knew I wanted to make a special bouquet, but I also wanted to select a few special blooms to make a bigger statement for Mom. Because Moms deserve big statements, they do so much for us! So I created this big ol' fancy banner that, if I had my way, would welcome Mom (along with her bouquet!) as she came down to a special little breakfast Mother's Day morning. What do you think? You know mom deserves it, so let's get crackin'!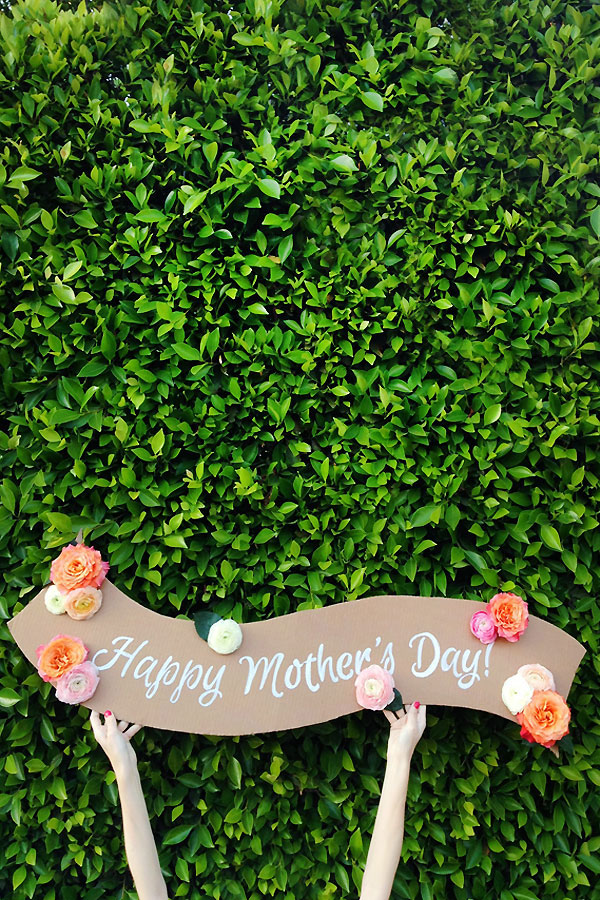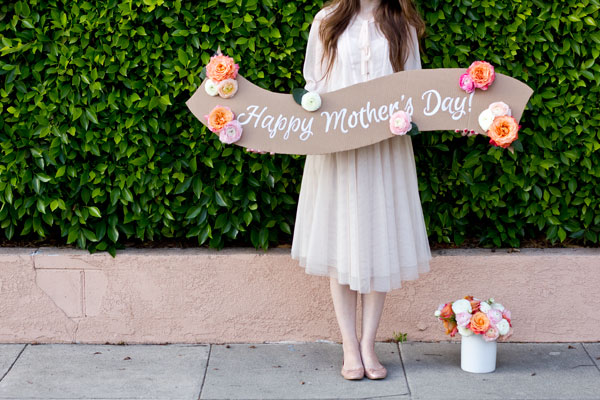 Before we get all crafty with these flowers, let's talk about Flower Muse, they deliver flowers to your door, in bulk for large parties and weddings, or in smaller quanities for occassions like Mother's Day. Their rose farm grows garden roses and ranunculus. Sold! (ps There's peonies too!) This is a great option for those of you who might not have access to such wonderful blooms locally. The flowers come just as you see below and after just a few hours of freshening up in water, they were already lookin' smashing! Our apartment has been smelling like roses for almost a week now and it's just glorious. I need a few hundred flowers in here every day. Ok, now back to the DIY…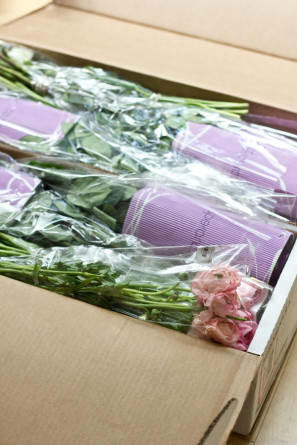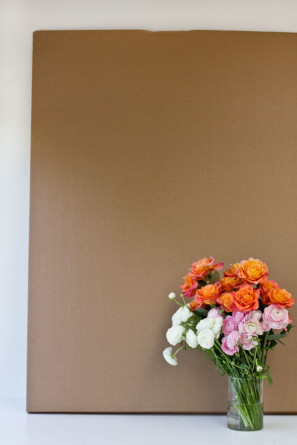 Fresh Flowers
Cardboard (My local art store, Blick, sells giant sheets of the stuff for $1.99!) or Other Sturdy Base (Like poster board or matboard)
Banner Template (FYI It's a little less than 50 inches wide)
Wording Template (Optional, write your own if you are more gifted in the handwriting department than me! Important: Set your printer to "borderless" for the paper option)
White Paint Pen
Pencil
Scissors
Hot Glue
Cut out your banner template and put it together using the letters as a guide. Lay it on top of your cardboard and trace. You can easily make this wider if you'd like, just use the template as your initial guideline.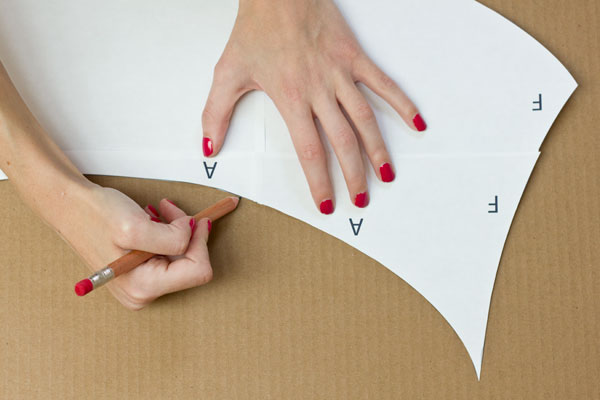 Cut out your cardboard, carefully! You want smooth edges here, unless you plan on covering them all.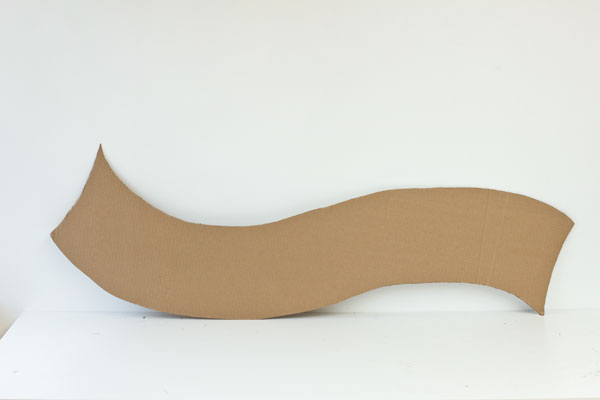 If you're using the wording template (or other printed words), flip the paper over and color over the backside of all the letters with a pencil. Then flip it back over and line it up on your banner.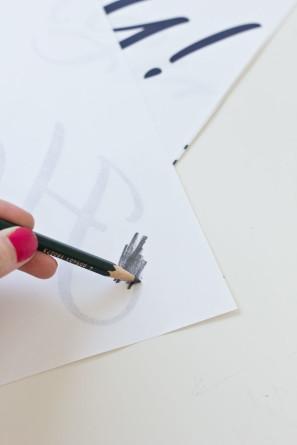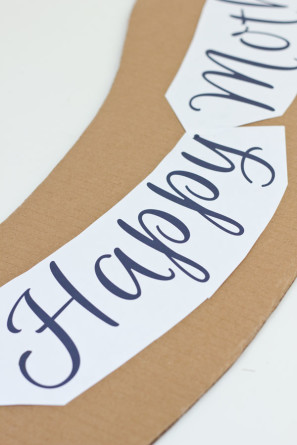 Trace over all the edges of your words. The pencil you colored on the back will allow it to transfer an outline to the cardboard…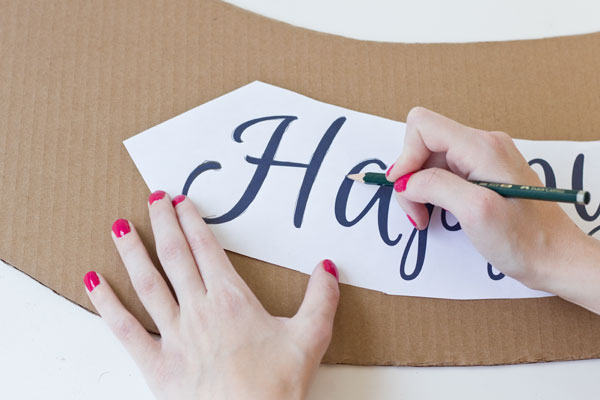 See! Awesome. Now fill in all of your letters with your paint pen.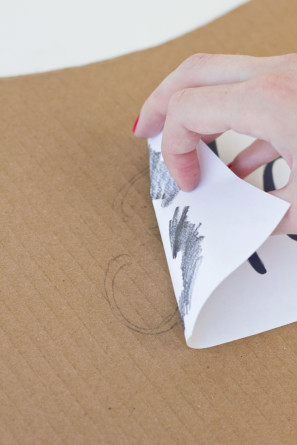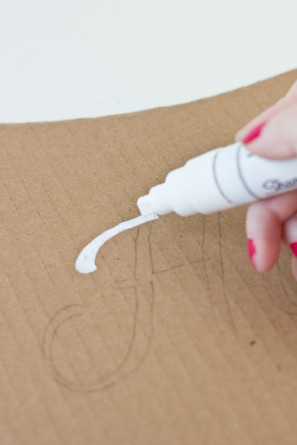 Let dry completely.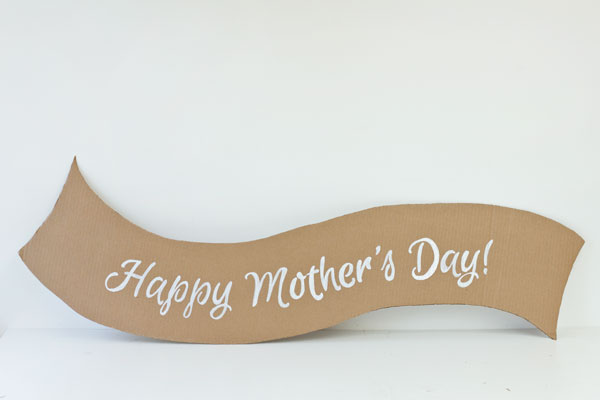 You can do all the above prep work in advance of Mother's Day, or any other celebration, but save the flowers for the morning of. To add flowers, snip your stems just below the bloom and use hot glue to adhere them to the banner. Try to touch the petals as little as possible, which sounds impossible, but if you hold the bloom from underneath, that's best!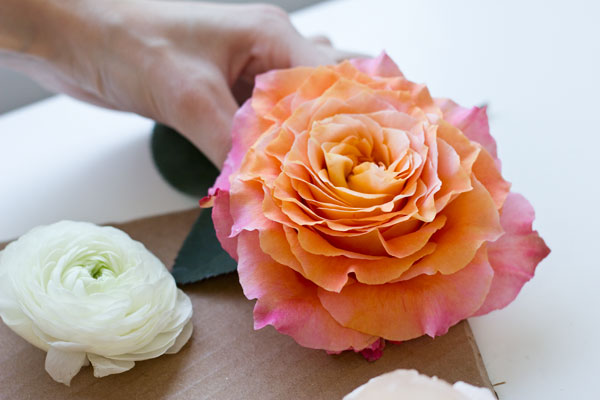 Keep adding flowers until you're happy…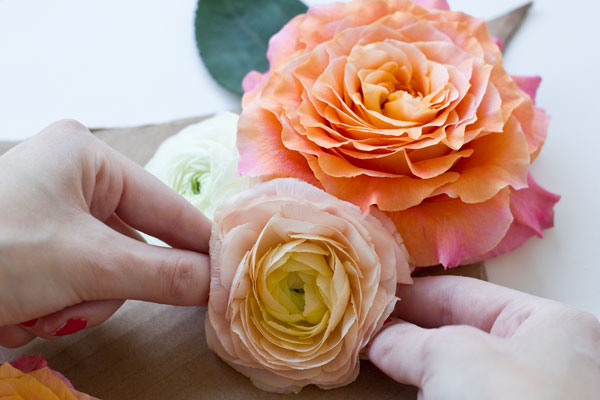 And BAM! A flower banner!!

To hang or display your banner, I recommend using Command poster strips, as they'll pop right off your walls easily. You can also rest the banner on a table or mantle if you don't want to actually hang it. Depending on the thickness of the coardboard or other board you use, be sure to support the banner in the middle when transporting. The ranunculus on my banner looked good for over 24 hours, the roses wilted a little faster than that. How long your flowers will last will depend on the type used, and their freshness.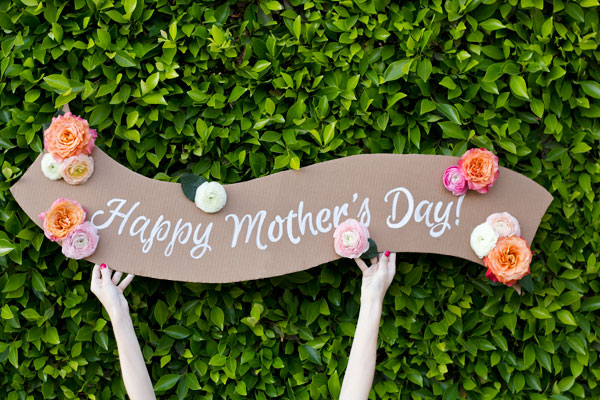 To pair with the banner, I wanted a gift for Mom that would last a little bit longer. With all the stunning flowers Flower Muse sent, I made a bouquet of ranunculus and garden roses. Preeetttyyy!
Can we just talk about that wall I'm in front of for a minute? It really is that green, folks. No photoshop there. Lately we've been scouting out of neighborhood for fun spots to shoot and this is definitely one of my new faves!!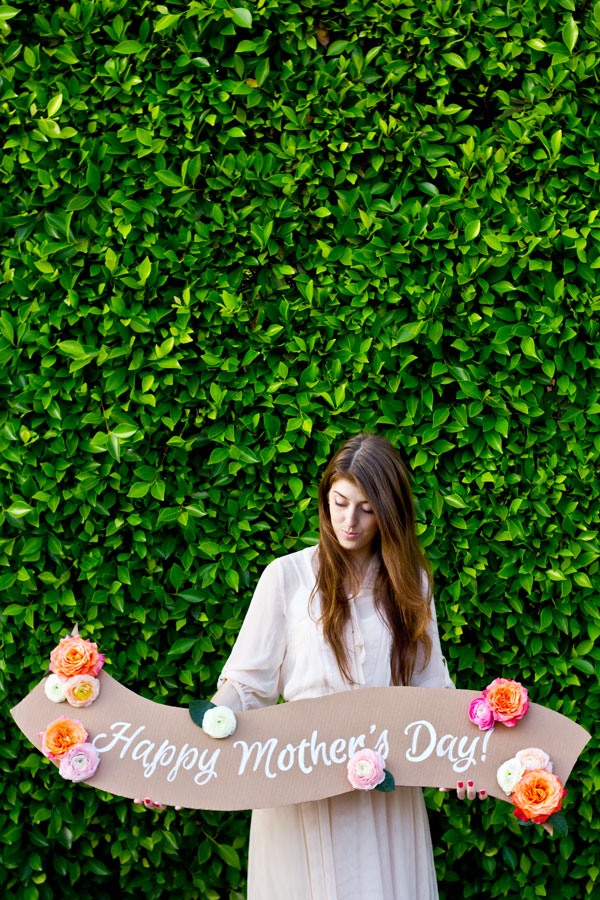 All Photos by Studio DIY
To order flowers for Mom in time for Mother's Day, head over to Flower Muse and check out their full selection.
To see the entire Garden Party series, click here! And for more DIYs all around, head this way!
This DIY project is sponsored by Flower Muse. All content and opinions are that of my own! Thank you for supporting the sponsors that keep the Studio DIY party going! Read more about my editorial policies here.