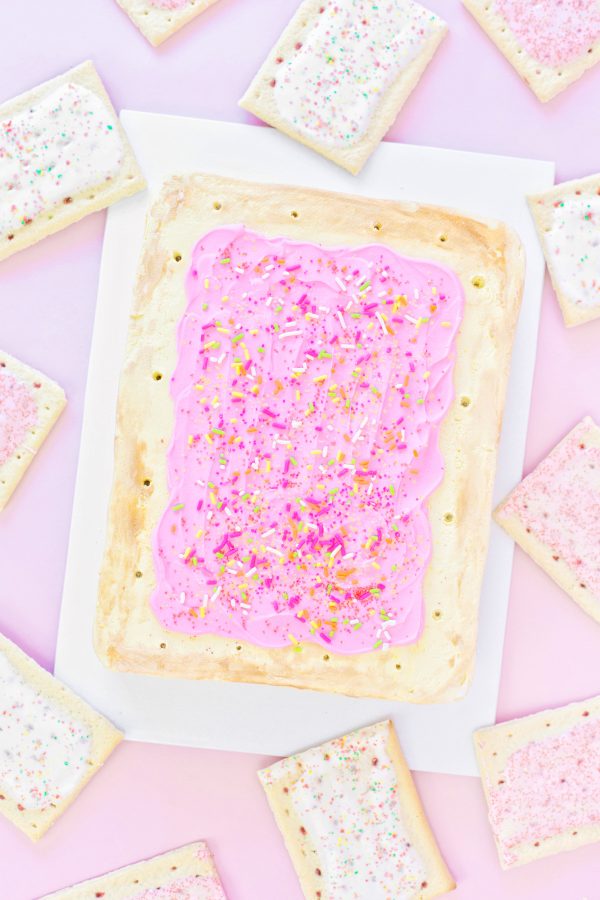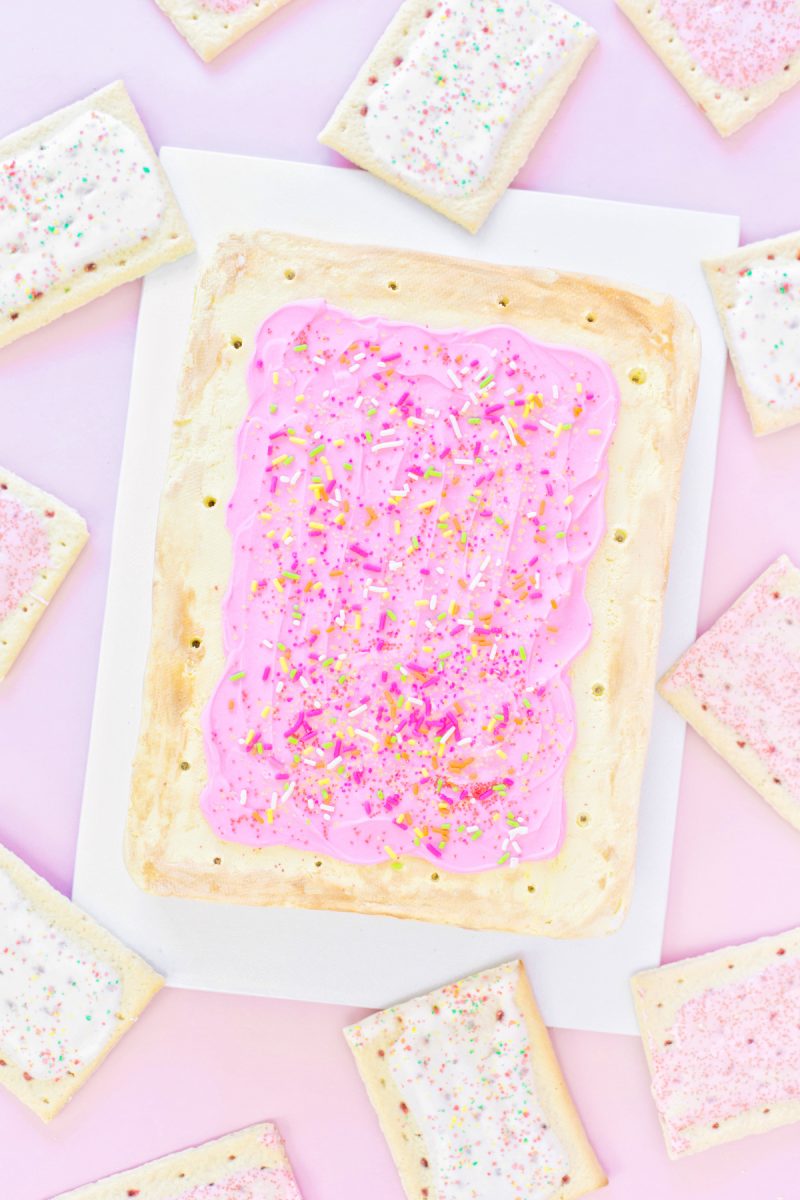 Who KNEW you guys loved Pop Tarts so much!? We did a little Snapchat survey about whether or not you toast your Pop Tarts and you were all VERY opinionated! (Umm.. I'm team #nottoasted, to be clear.) And then we did this pop tart chair and you loved that too. And we aren't one to quit on a good theme too soon so now we bring you… the (giant) pop tart CAKE! WHAM BAM BOOM!
And it's just a sheet cake!!! AKA It's SO EASY! It's also filled with jam, a la an actual Pop Tart, because we had to be true to our inspo, of course.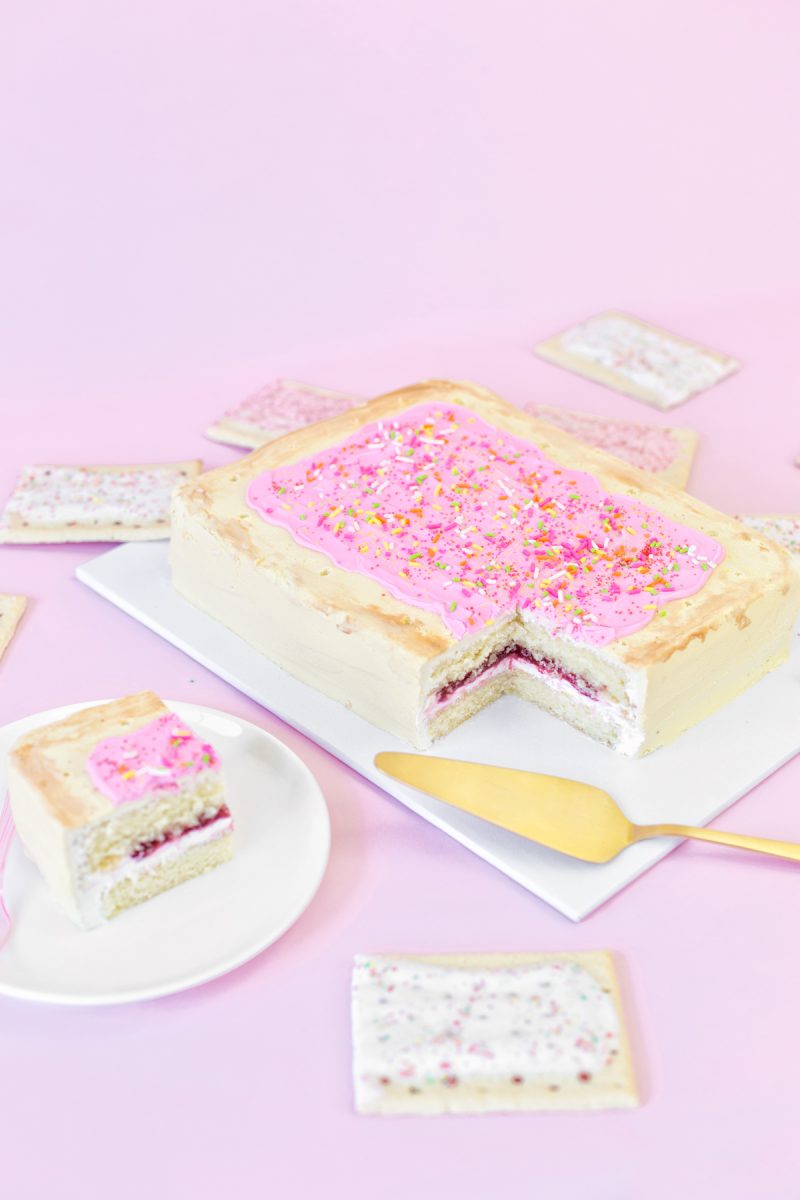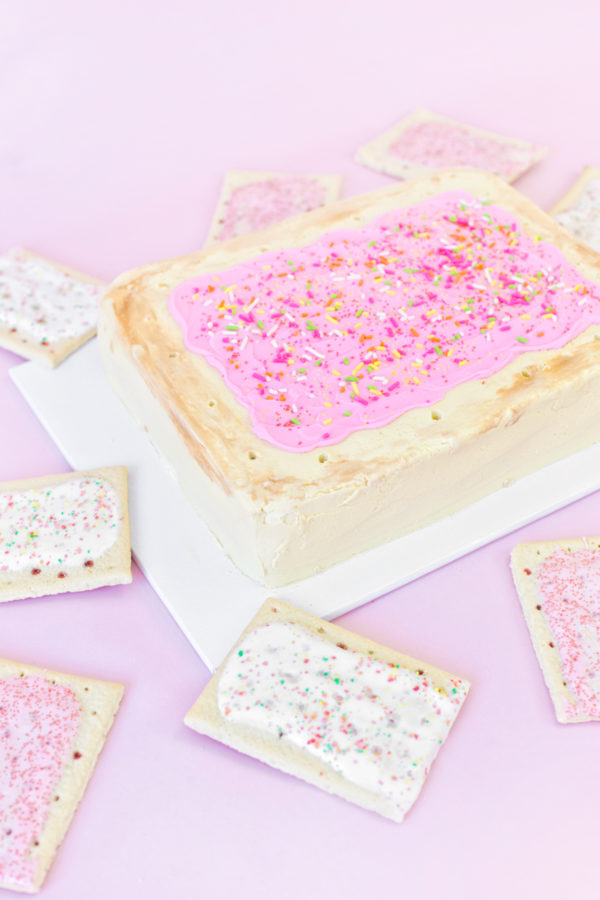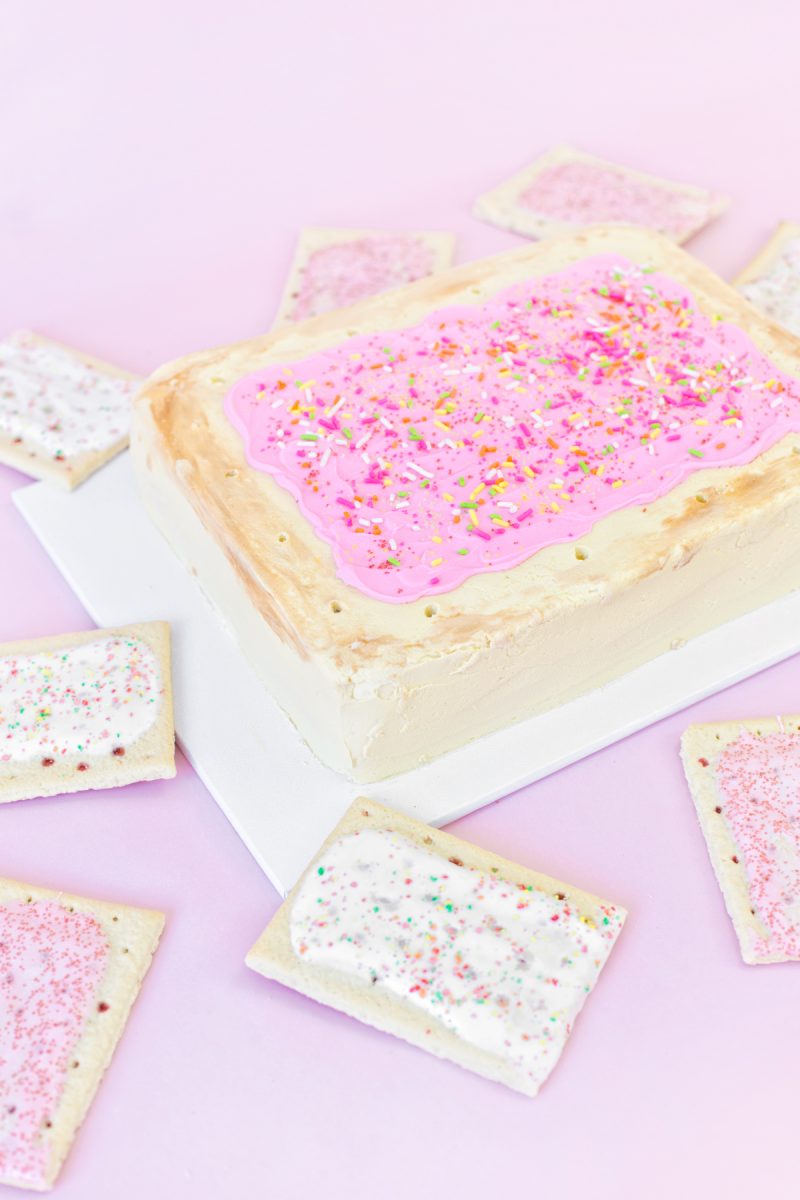 DIY Giant Pop Tart Cake
Ingredients
One 9x13" Vanilla Cake

Can be box mix or your favorite vanilla cake recipe!

Vanilla Frosting

Strawberry Jam

Food Coloring

Pink Royal Icing

Optional, see below

<br>

Royal Icing Ingredients:

<br>

3

tablespoons

meringue powder

4

cups

powdered sugar

5

tablespoons

warm water
Instructions
Using a long sharp knife, slice a 13 x 9 inch cake into 2 layers.

Spread a 1/4 to 1/2 inch thick layer of butter cream over the entire bottom cake layer. Spread a generous amount of strawberry jam on top of the buttercream, leaving a 1/2 inch border free of jam. Place the other layer of cake on top.

Dye the buttercream a light tan color. You can use tan food coloring to do this or, if you're using grocery store food coloring, add a the smallest bit of yellow and a touch of cocoa powder to get the color. Frost the entire cake, first with a very thin crumb coat. Chill in the fridge for about 30 minutes. Then do a final coat of buttercream. Spread a slightly darker colored buttercream just around the top edges to give the look of a toasted Poptart.

We used royal icing to frost our cake, as it gave a more realistic resemblance of what a pop tart frosting is. You could simply use buttercream instead if you prefer! To make with royal icing, prepare the icing by combining all ingredients in the bowl of a stand mixer and mixing on medium high for 7 to 10 minutes. Dye royal icing pink and place in a piping bag fitted with a small round tip. Pipe a smaller rectangle with curvy edges in the center of the cake, starting about 2 inches in from the edge. Fill in with royal icing and top with sprinkles.

Using a a skewer or chopstick, poke 12 small holes around the cake, where the tan buttercream is still showing, to give the same texture a pop tart has.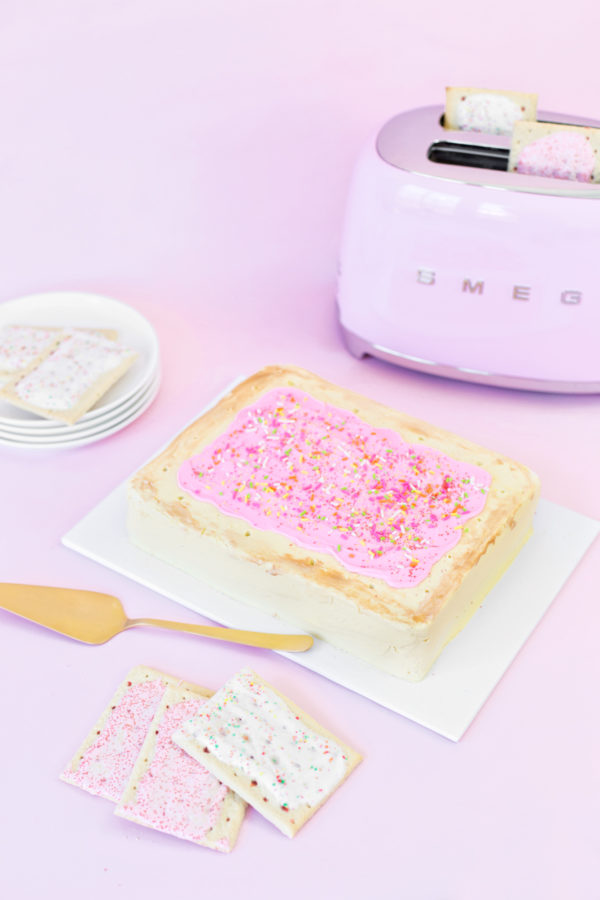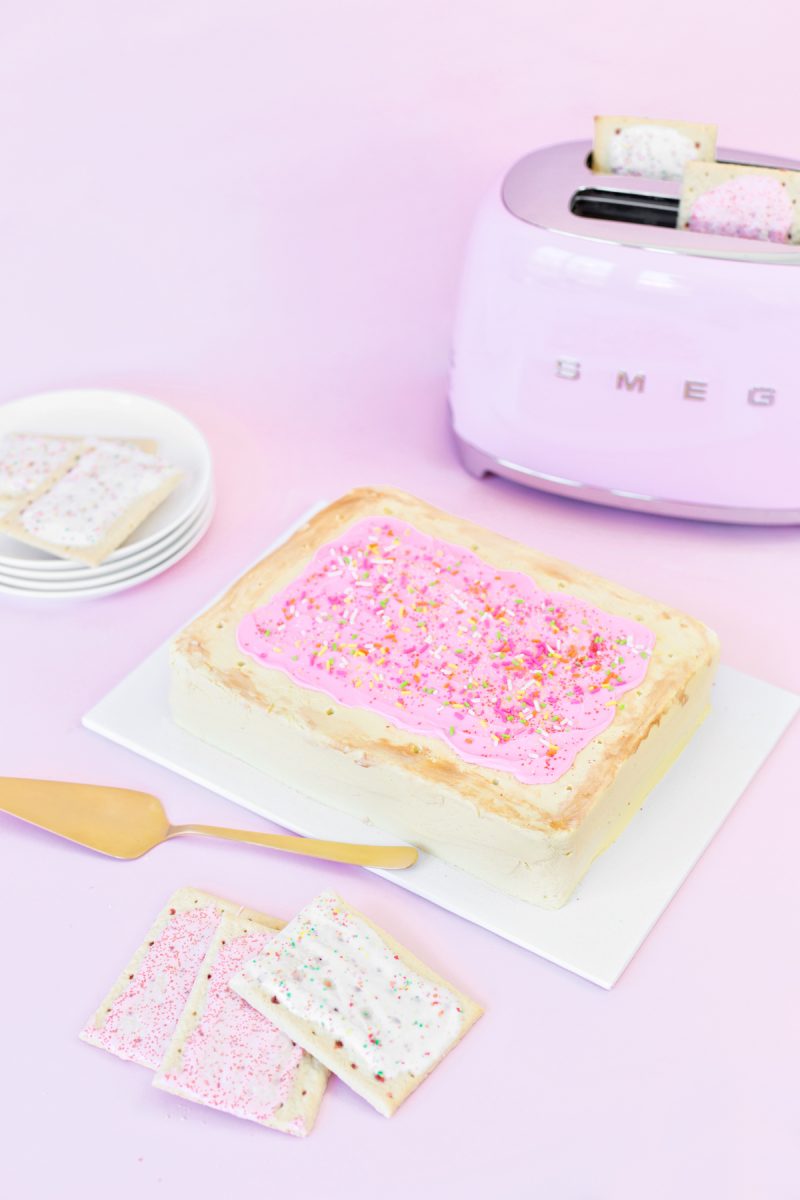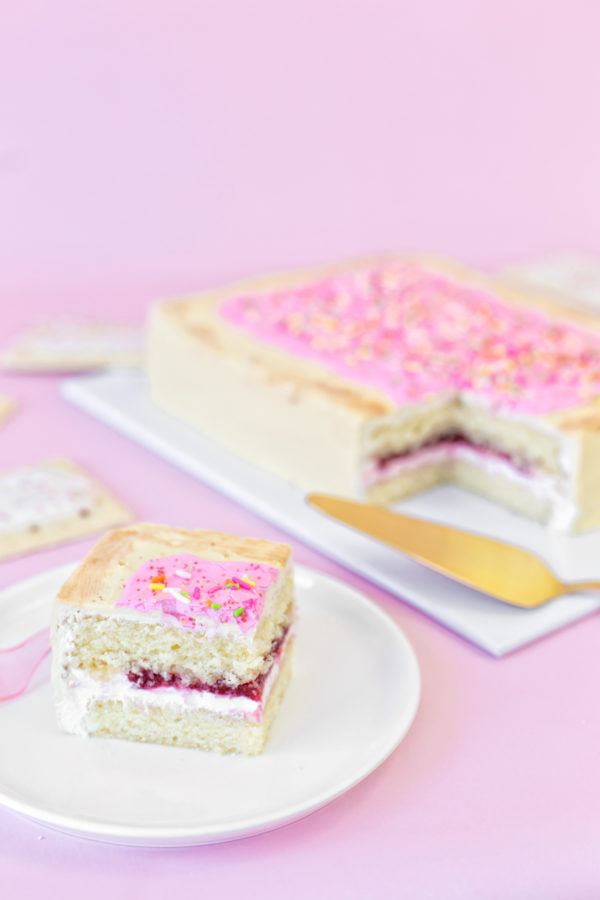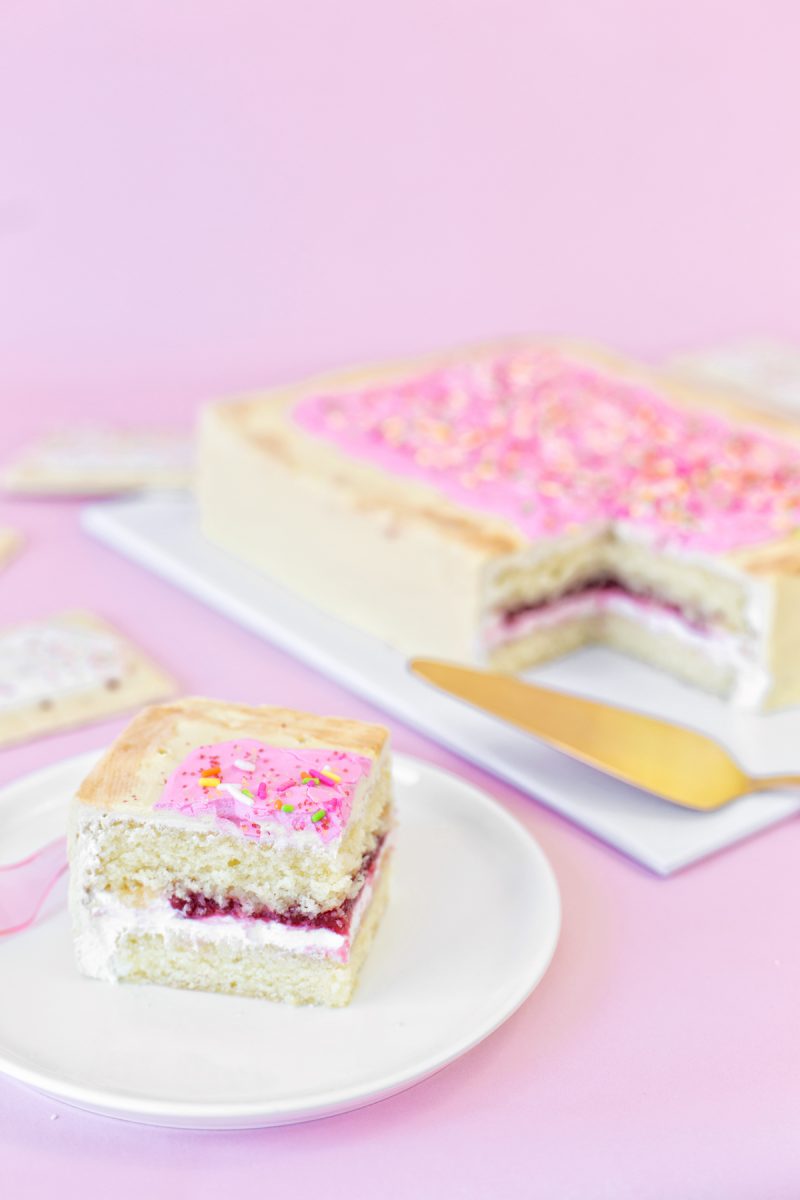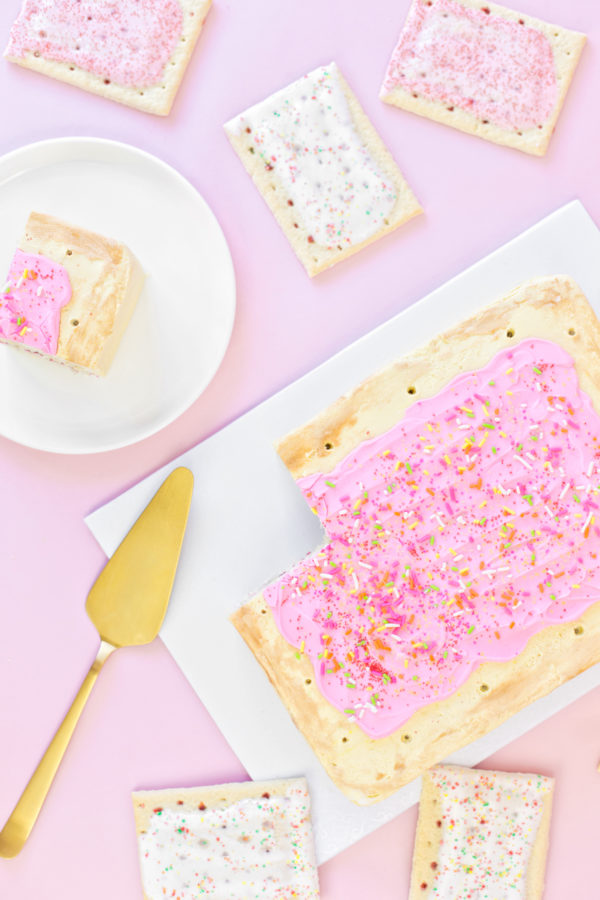 Photos by Jeff Mindell | Recipe by Theresa Rountree
BREAK OUT THE CAKE PANS, FOLKS! It's time for a pop tart cake. Oh and if you haven't weighed in yet… I gotta know, toasted or not toasted??
p.s. Popsicle cakes!