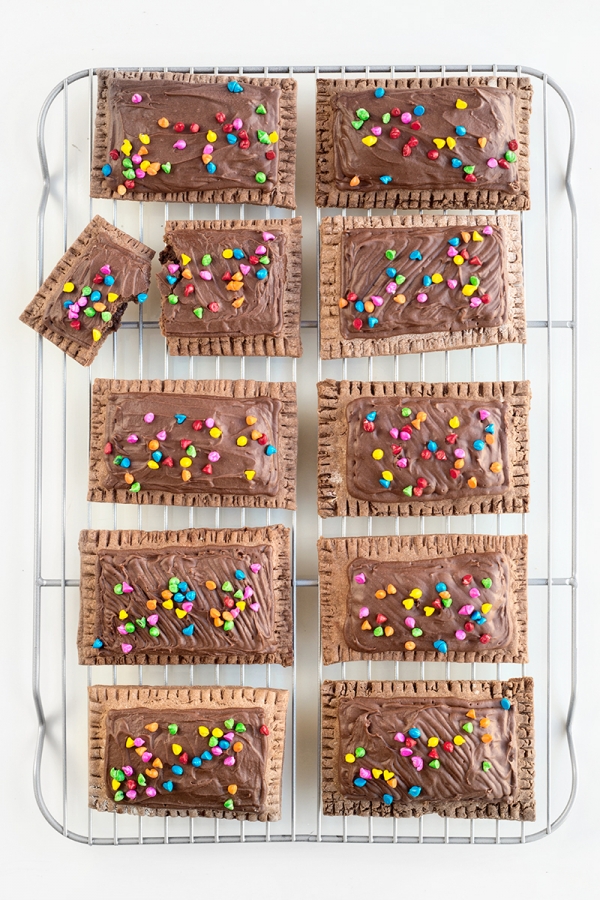 When you see those rainbow chips it can only mean one thing… COSMIC BROWNIES!! I know you remember them, but in case you don't (What!?), let this remind you. Well we just thought that we all needed an excuse to eat these colorful brownies for breakfast so we went ahead and made some cosmic brownie pop tarts! There's even a brownie batter filling. Are we all on board with this!? Ok, great. LET'S DO IT!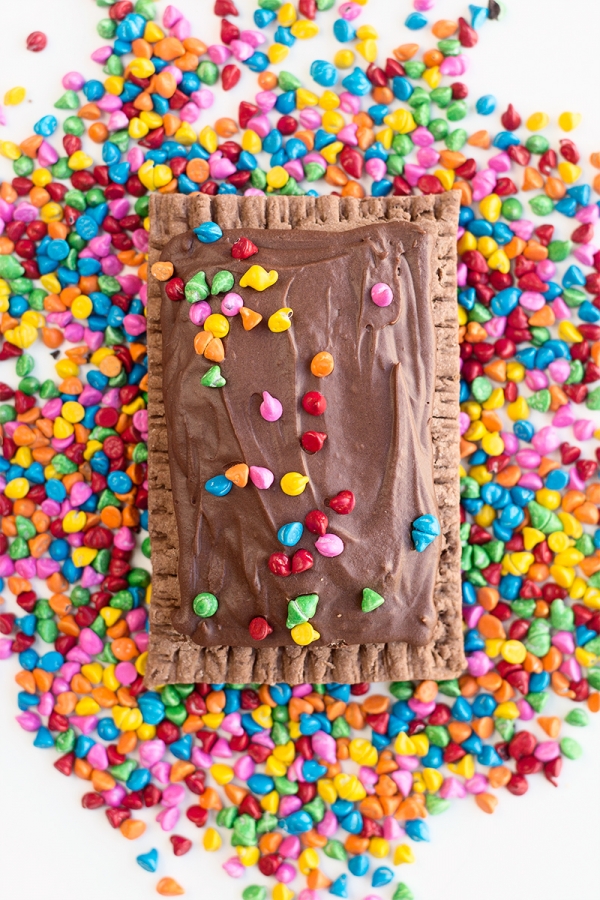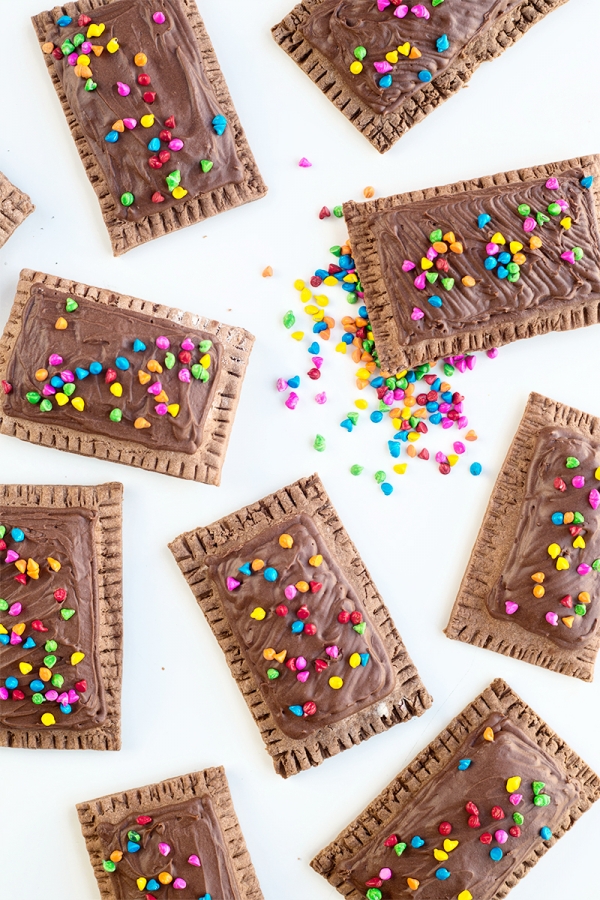 Brownie Batter Filling
1/4 cup unsweetened cocoa powder
1/2 cup packed brown sugar
1/2 cup cream
7 ounces semi sweet chocolate chips
2 tablespoons butter
1 teaspoon vanilla
1/4 cup boxed brownie mix (optional)
Pop Tart Dough
3 1/2 cups flour
4 tablespoons unsweetened cocoa powder
2 tablespoons sugar
1/4 teaspoon salt
1 3/4 sticks cold unsalted butter
1/2 cup ice cold water
Chocolate Royal Icing
2 cups powdered sugar
1 egg white (or substitute meringue powder)
3 tablespoons cocoa powder
4 ounces dark chocolate (melted)
1. For the filling, in a small saucepan, combine cocoa powder, brown sugar, cream, chocolate chips, and butter. Cover and set over low heat for about 10 minutes, or till the chocolate is melted. Whisk till smooth. Remove from heat, add in vanilla and brownie mix. Let cool completely.
2. Preheat oven to 400 degrees F.
3. For the pop tarts, combine flour, cocoa powder, sugar, and salt in the bowl of a food processor. Pulse till combined.
4. Cut cold butter into cubes. Add to food processor. Pulse about 15 times till the mixture becomes crumbly. Add in the cold water and mix just till combined.
5. Transfer dough to a lightly floured surface. Roll to about 1/8 inch think.
6. Cut out an equal number of the same sized rectangles. Place a heaping tablespoon of filling onto half of the rectangles. Brush edges with a little water. Place the other half of the rectangles on top of each filled rectangle. Crimp the edges with a fork to seal. Poke a few holes on top of each one to let air out.
7. Place on parchment lined baking sheet. Bake for 10 to 12 minutes. Let cool before icing.
8. Whisk together the powdered sugar, egg white (or 2 tablespoons meringue powder), cocoa powder, dark chocolate, and 5 to 7 tablespoons of water in a stand mixer till smooth. Transfer to a piping bag fitted with a small round tip. Pipe a rectangle of icing on each poptart. Finish with rainbow chocolate chip sprinkles.
Photos by Jeff Mindell | Recipe by Theresa Rountree | Styling + Creative Direction by Kelly Mindell
I would like to state of all the recipes we've shared here, this may be my personal favorite. These. are. DELICIOUS! Go make some!!!!! Brownies for breakfast, you guys!
p.s. Tie dye s'mores!