I quickly posted this photo on Instagram last week while I was packaging up my mom's birthday gift to ship (It's her birthday today, everyone! Happy Birthday Mom!!) and you guys went a little bananas over it! So, I decided to do a post about these cute gift toppers right here, too! I first made the honeycomb balloons in garland form, but I had a few extras lying around that inspired these. It's so easy to make 'em, and I love that you can pop the honeycomb off the gift and use it as decor. Perfect for a kiddo's gift or, in my case, my mom's! Imagine a giant present, covered in them! Oh my goodness. It must happen.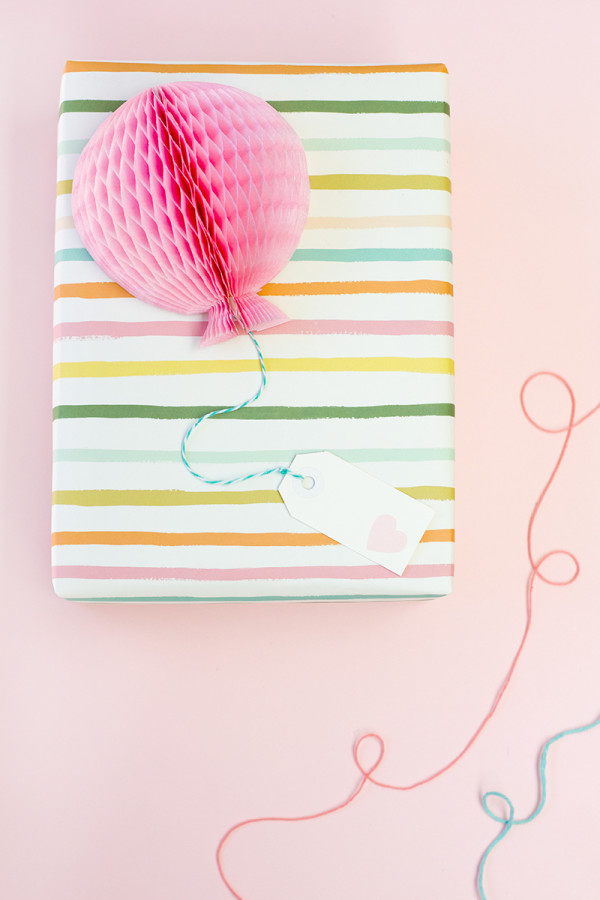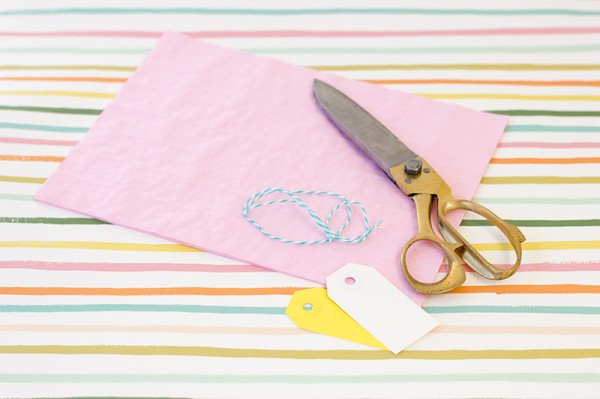 Honeycomb Paper or 5″ Honeycomb Balls (I'll give instructions for using honeycomb paper here. For a tutorial using the pre-made honeycombs, follow this one!)
Cardstock
Twine
Gift Tags
Scissors
Double Stick Tape
Pencil
Stapler
Sketch out your balloon shape on your honeycomb paper (the glue lines should be horizontally oriented) adding two tabs to the flat side for stapling. Cut out two of these.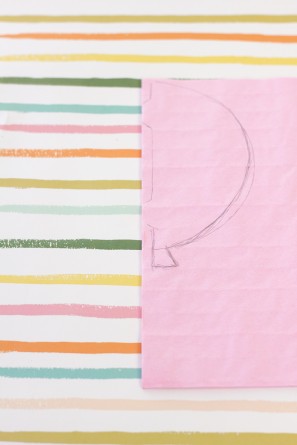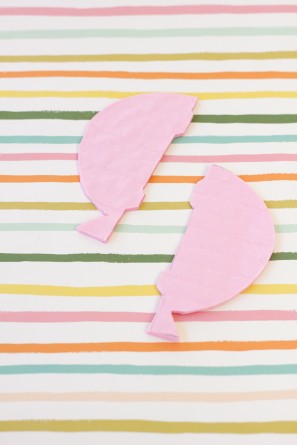 Also cut out two half-circle shapes, about 1/4″ smaller than your honeycomb, from cardstock. Using double-stick tape, adhere your two honeycomb pieces together. Staple each of the tabs (not pictured here, oops!) so it's nice and secure.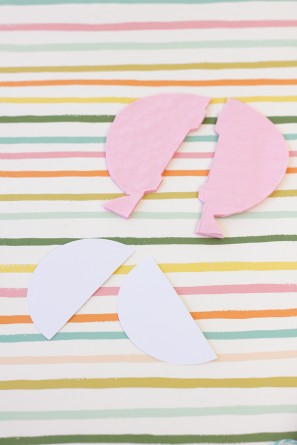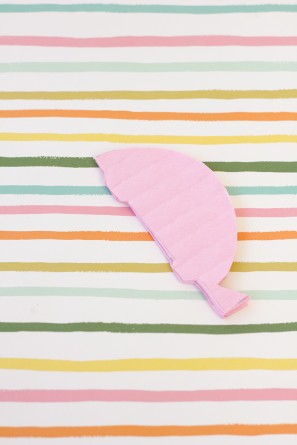 Using double-stick tape, adhere one half-circle to each side of your honeycomb. Then tape a piece of twine to the bottom to act as the balloon's string. To adhere the balloon to the gift, tape down one side with double-stick tape (you could use removable double-stick if you want to easily pop it off and reuse it) and then unfold halfway and tape down the other side.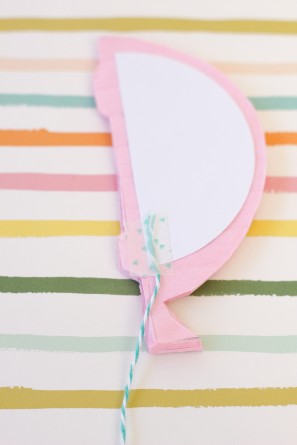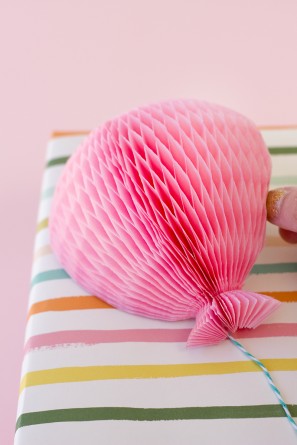 Tie a gift tag to the other end of the twine and tape that onto the package as well. Done!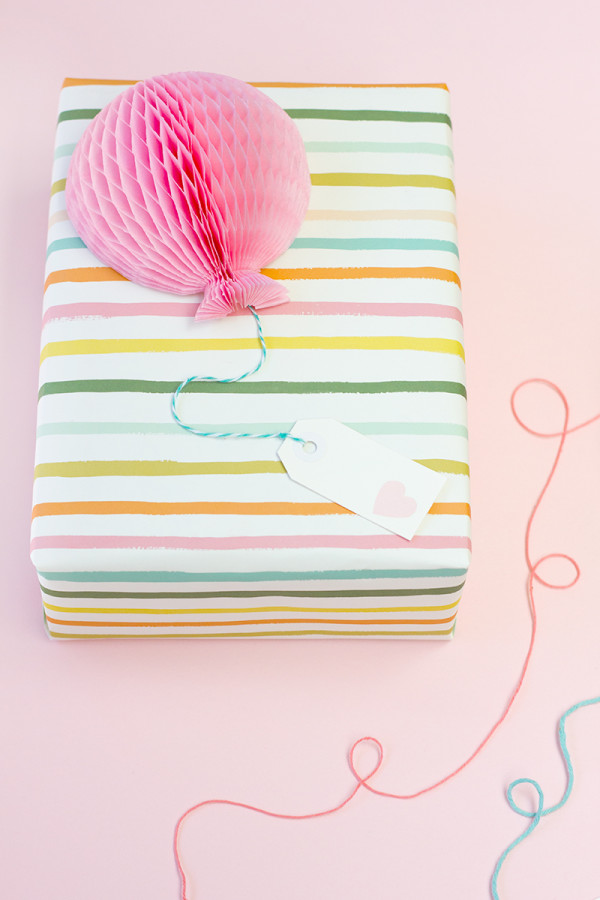 The sweetest little gift topper you ever did see! If you're birthday is coming soon and I owe you a gift, expect there to be a honeycomb balloon atop it!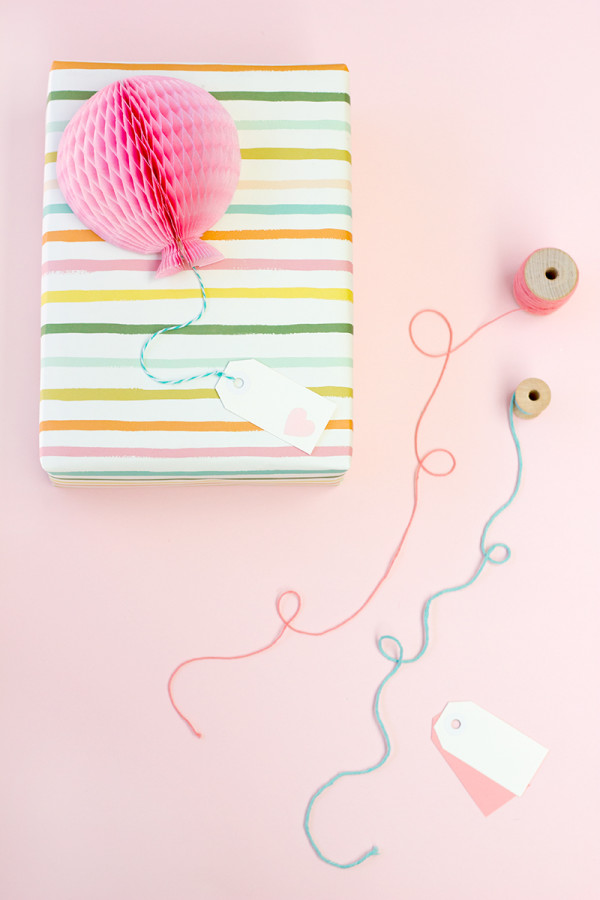 All Photos by Studio DIY
Anyone else out there have an end of September birthday!? I know so many people who do. Time to get wrapping!
For more honeycomb crafts and ideas, head here. And for more DIYs all around, head right here!