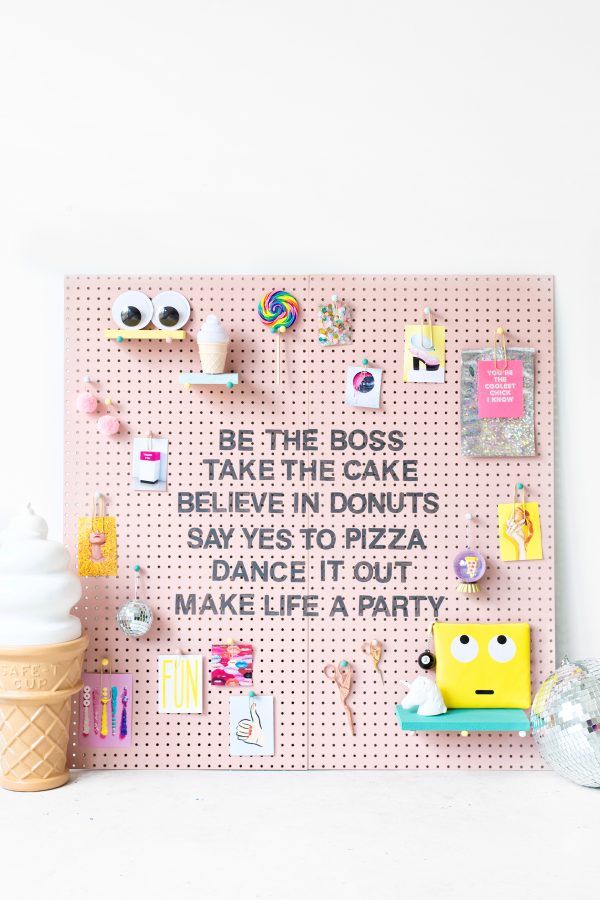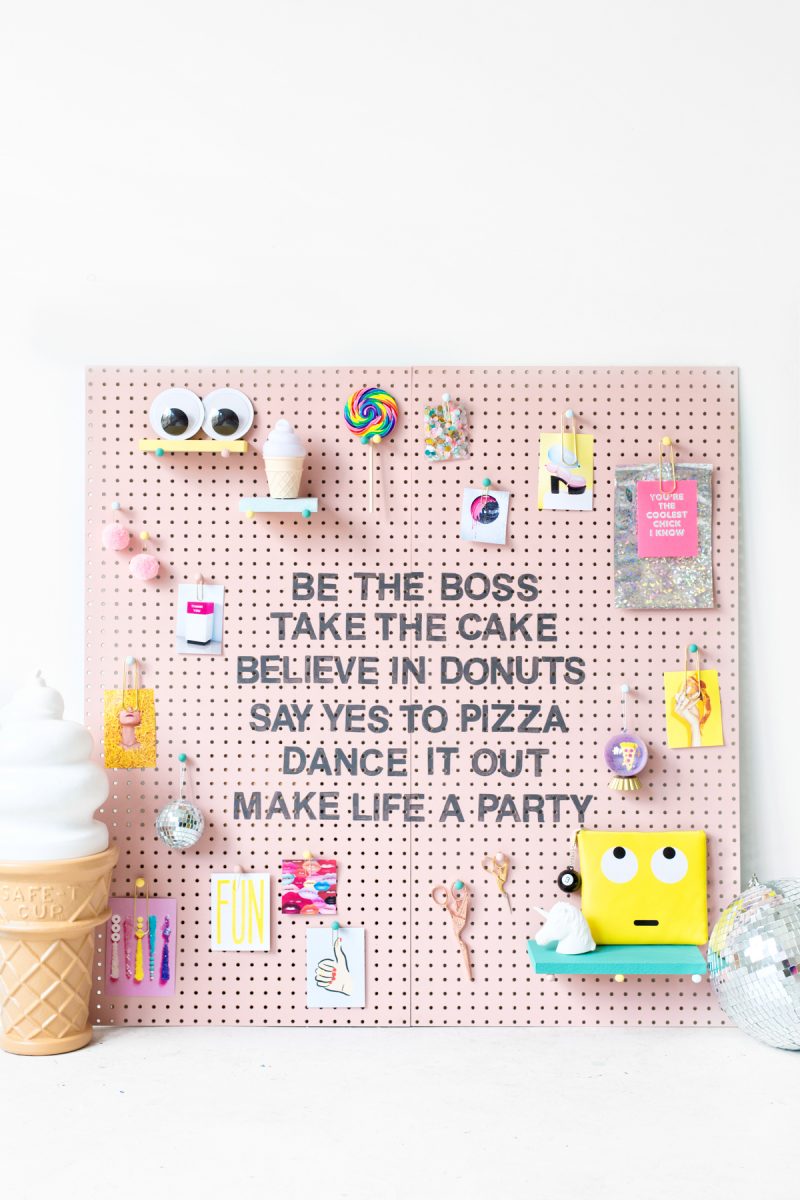 I have always been the #1 fan of inspiration boards! I took a fashion class at FIT during high school and our first assignment was to make an inspiration board. I went to a fashion book store (Wahhh! Miss you NYC!!) and bought a zillion international fashion magazines and spent hours making mine.
I've since been talking about making an inspiration board for the studio for years. While I love the internet as much as the next girl (I mean, it is the reason I have a job, right!?), sometimes it's just nice to see some inspiration in real life! We had the idea of turning a peg board into our inspiration board because we could hang items, easily move them around and add shelves, too!
We teamed up with BEHR® to help execute this project and I'm pretty impressed with how it turned out, if I do say so myself!! In addition to it housing our inspiration, we decided to put a few words that Studio DIY lives by on there, to ensure every time we look at it, we know what we're striving towards.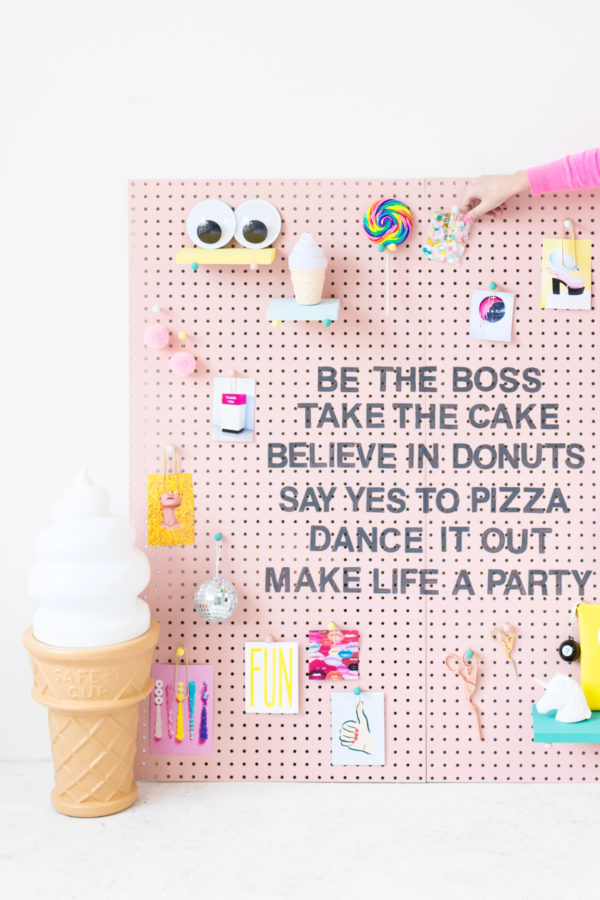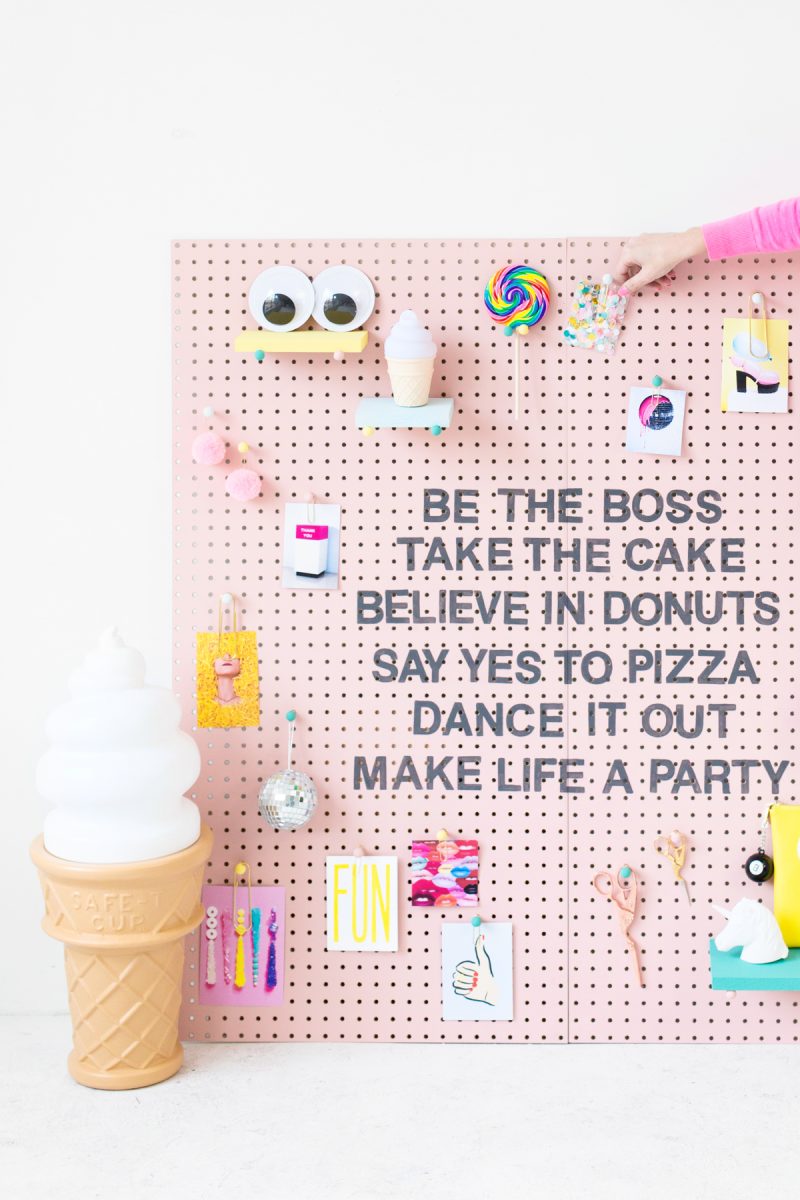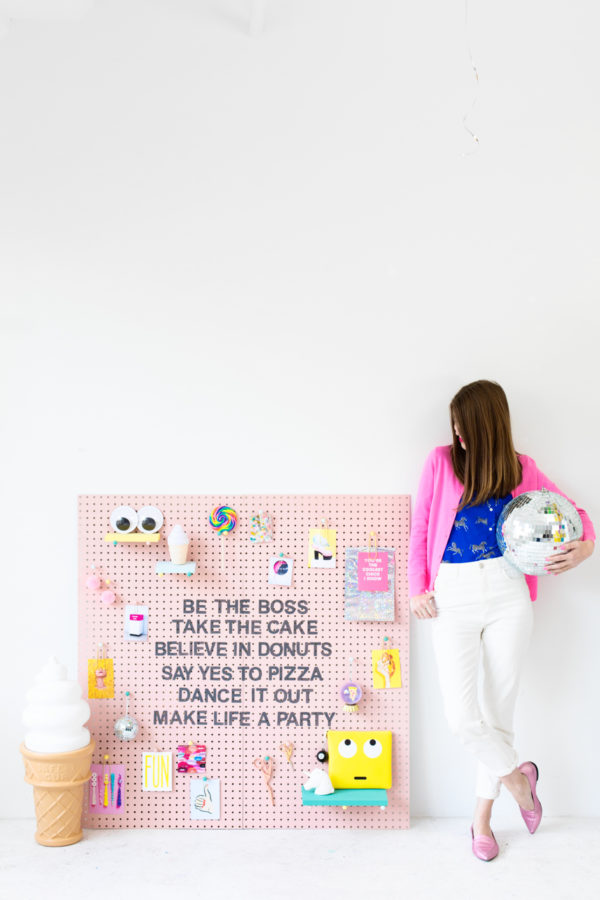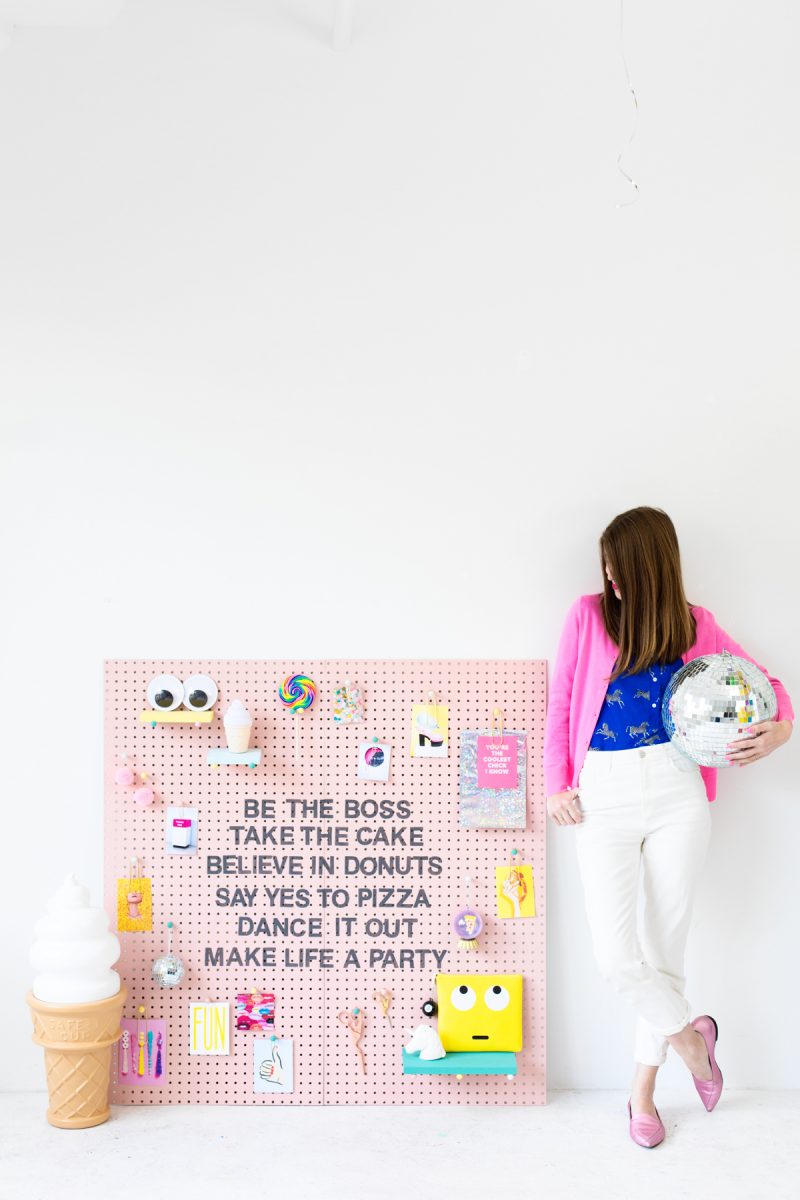 We used BEHR PREMIUM PLUS® Interior Flat Paint & Primer in some of their top 2017 colors and I gotta say, if this is what 2017's color palette is going to look like, I am ON BOARD. Bring on the PINK!
The paint is low odor and zero VOC (so the rest of the team didn't have to leave the studio when we were painting!) and it's a paint and primer in one… AKA this lazy girl's dream. If you're planning to use your board in a higher trafficked area than we are, I'd recommend trying BEHR PREMIUM PLUS ULTRA® Interior Paint & Primer which has scuff and scratch resistant technology in it.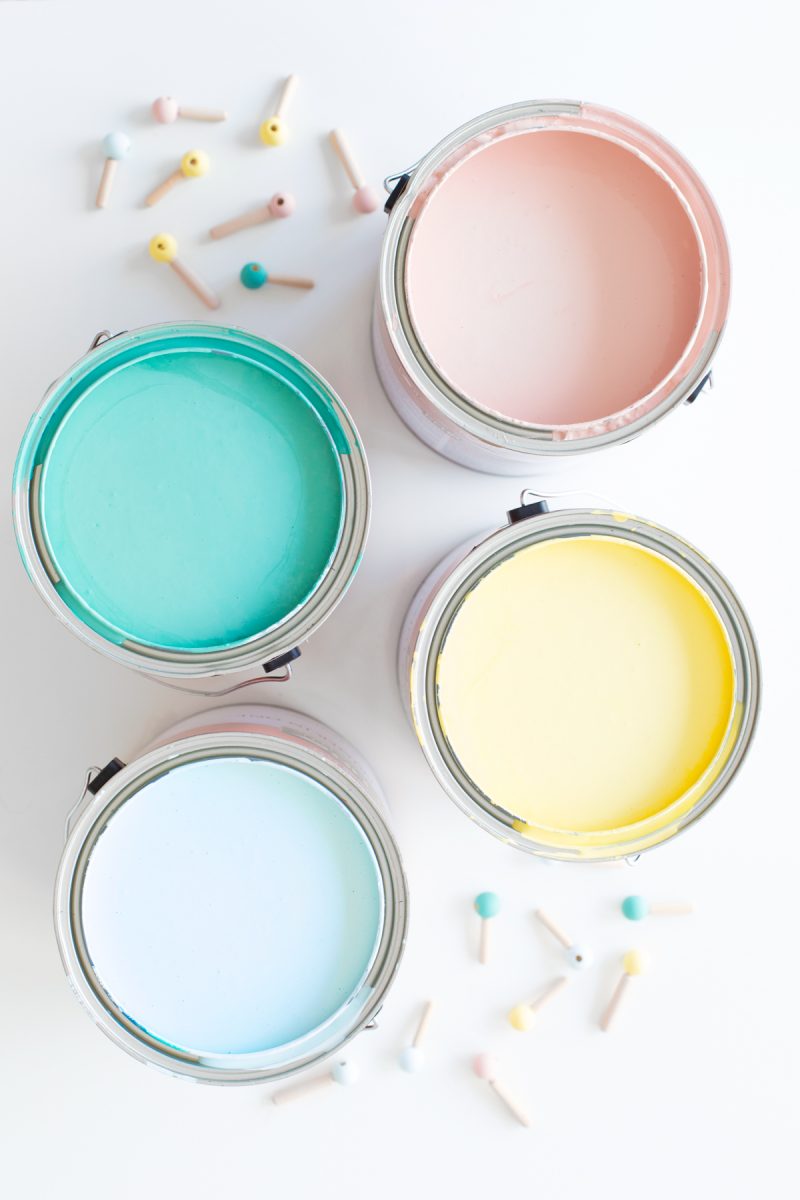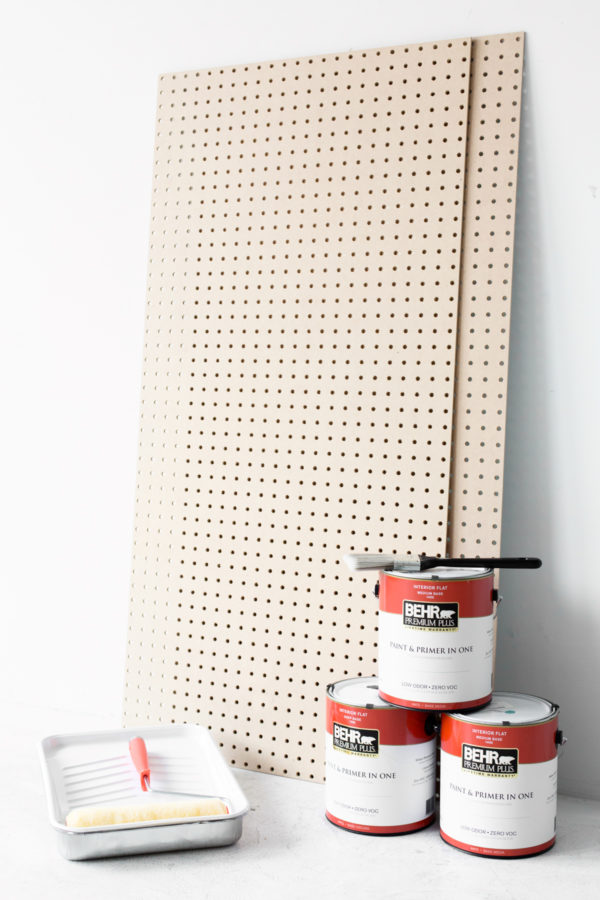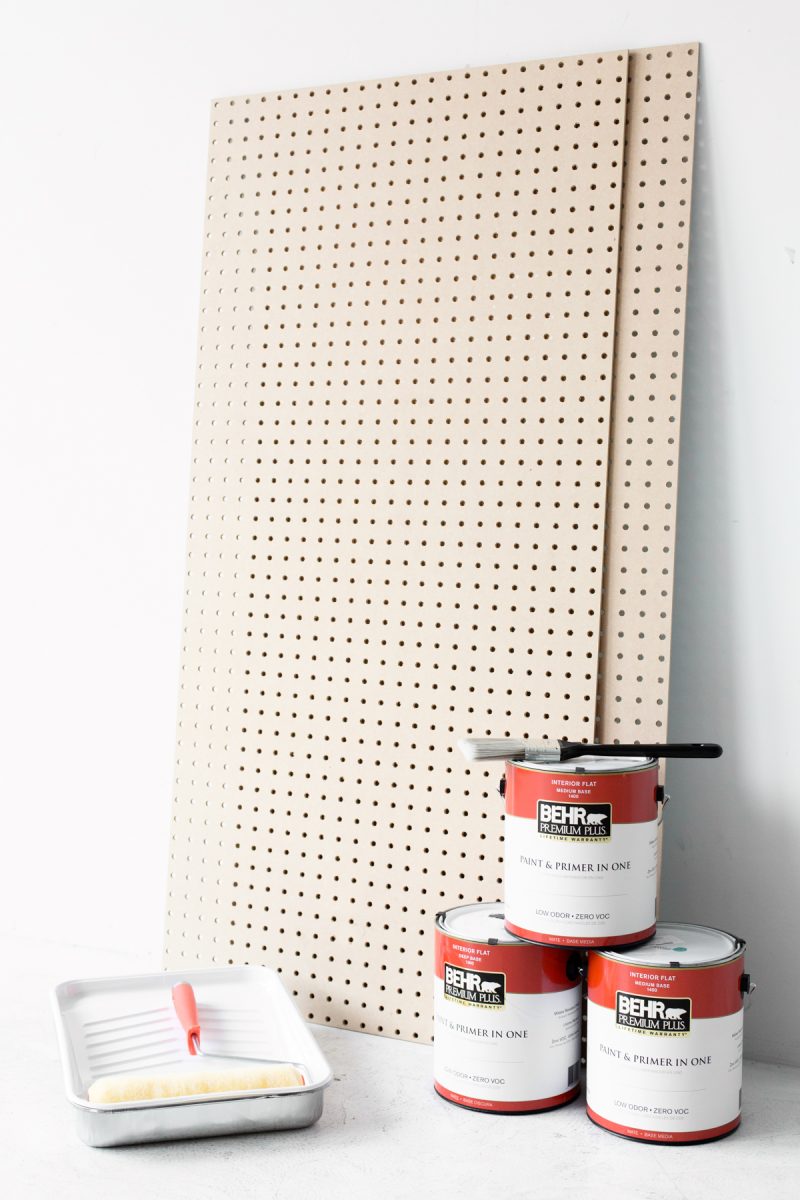 Supplies Needed
Two 2'x4′ Pegboards
BEHR® Premium Plus Interior Flat Paint (I used Everything's Rosy, Shades On, Peek a Blue, Jade Dragon and Lemon Burst)
Paint Roller or Large Paint Brush
Small Paint Brushes
1/4″ Thick Dowels or Pegs
Small Wood Spheres or Discs
Scrap Pieces of Lightweight Wood for Shelves (They often having these laying around in the lumber section at the hardware store and you can purchase them!)
Scissors
2″ Letter Stickers
Pencil
Strong Glue (Like E6000)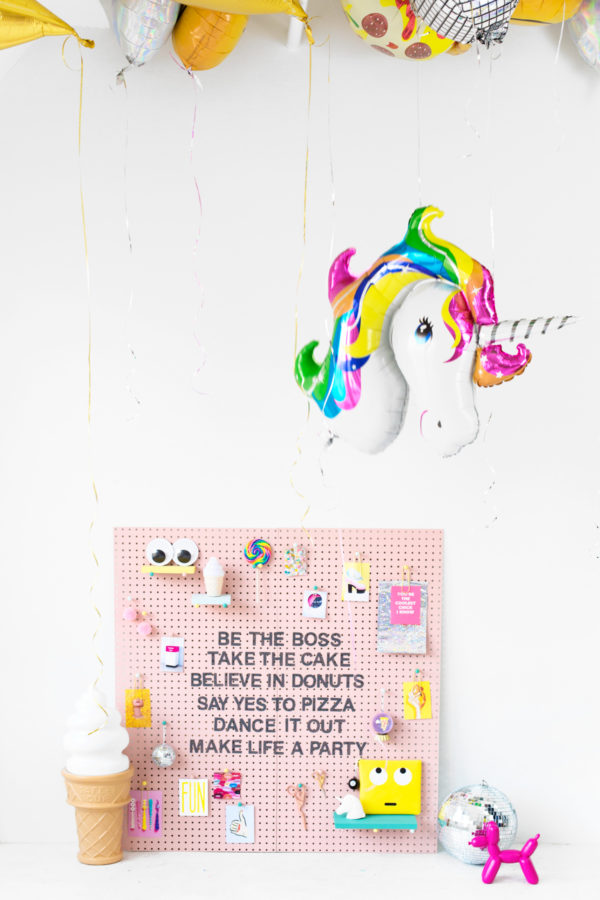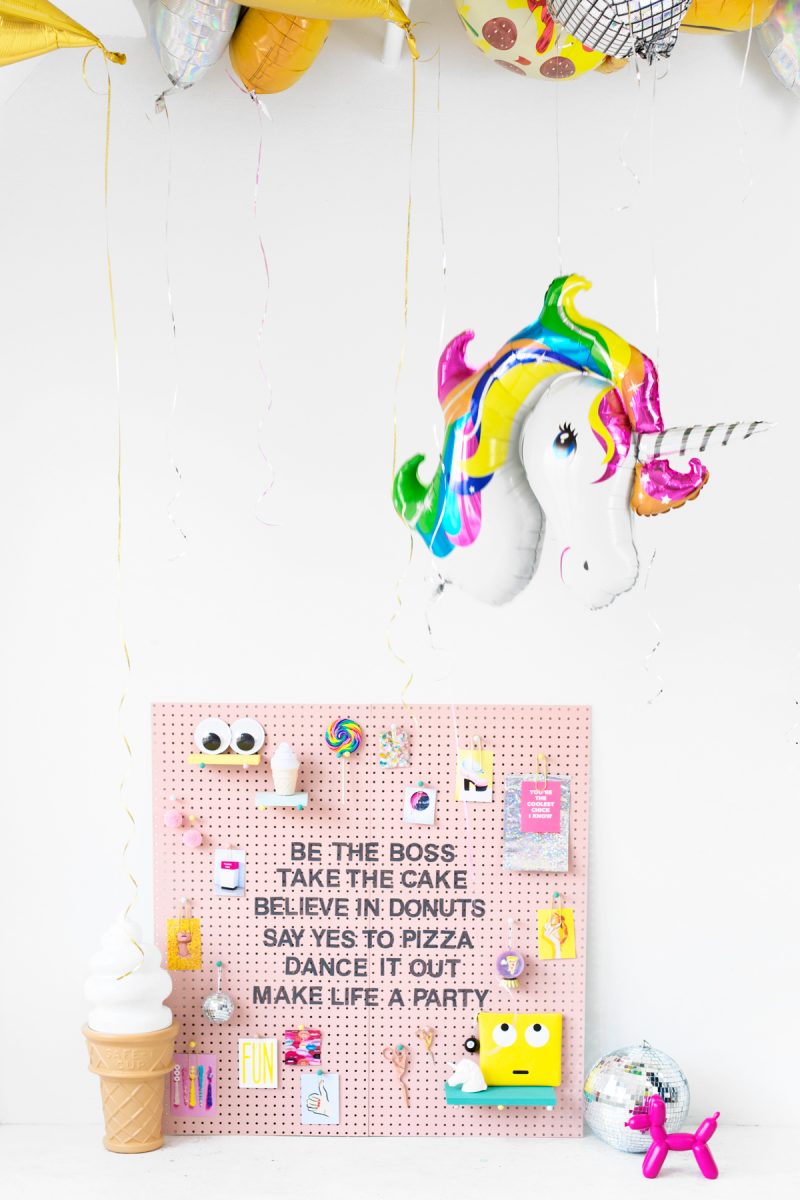 Step-by-Step Instructions
1. Use the paint roller (or large brush) to paint the entire pegboard your desired color (Ours was Everything's Rosy). Let dry completely.
2. Decide what phrase/quote/words you want on your board and use a scrap piece of paper to draw out how you want them laid out. We wanted ours centered in the middle of the board, so we could use the edges for hanging inspiration images/items.
3. Lay the two boards next to each other and find the middle point of your now-larger board. Use a light pencil mark to mark it. You'll want to place the center of your phrase/words here. Begin laying out your letter stickers lightly. (Don't press them all the way down, in case you want to move them!) If you don't have enough stickers to write your whole phrase at once, just do one line at a time. Once you're happy with how they look, use a pencil to trace around the letters.
4. Then, remove the stickers and continue placing and tracing until you've drawn out your entire phrase.
5. Use a small paint brush and a contrasting color of paint (Shades On, in our case!) to fill in the letters. Let dry.
6. Paint the small wood spheres various colors. These will go on the end of your pegs to help hold things on! Let dry. Additionally, Sand any uneven edges of your scrap pieces of wood and paint as desired.
7. To make regular pegs for hanging things, glue the spheres to one end of small wooden pegs. To make longer pegs for holding up shelves, trim longer dowels down to the same width of your shelf (plus about 1/2″ for inserting into the board). Glue spheres onto one end.
8. Assemble the board as desired and add all of your inspiration! We just leaned ours up against the wall, but you could hang yours or set it on a narrow table to display.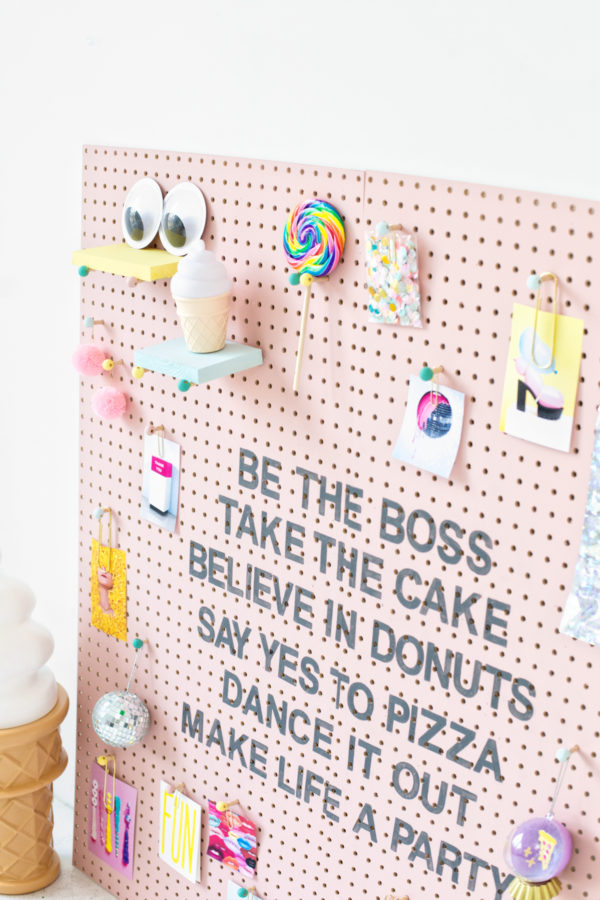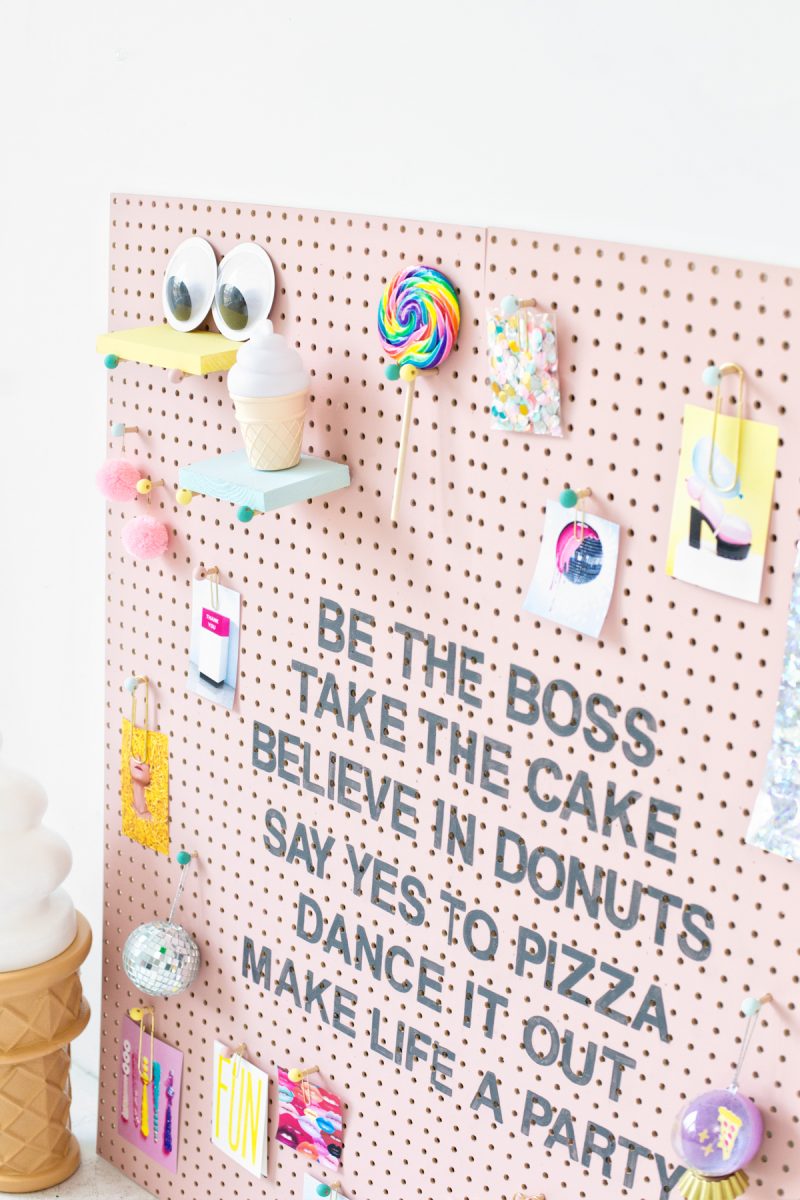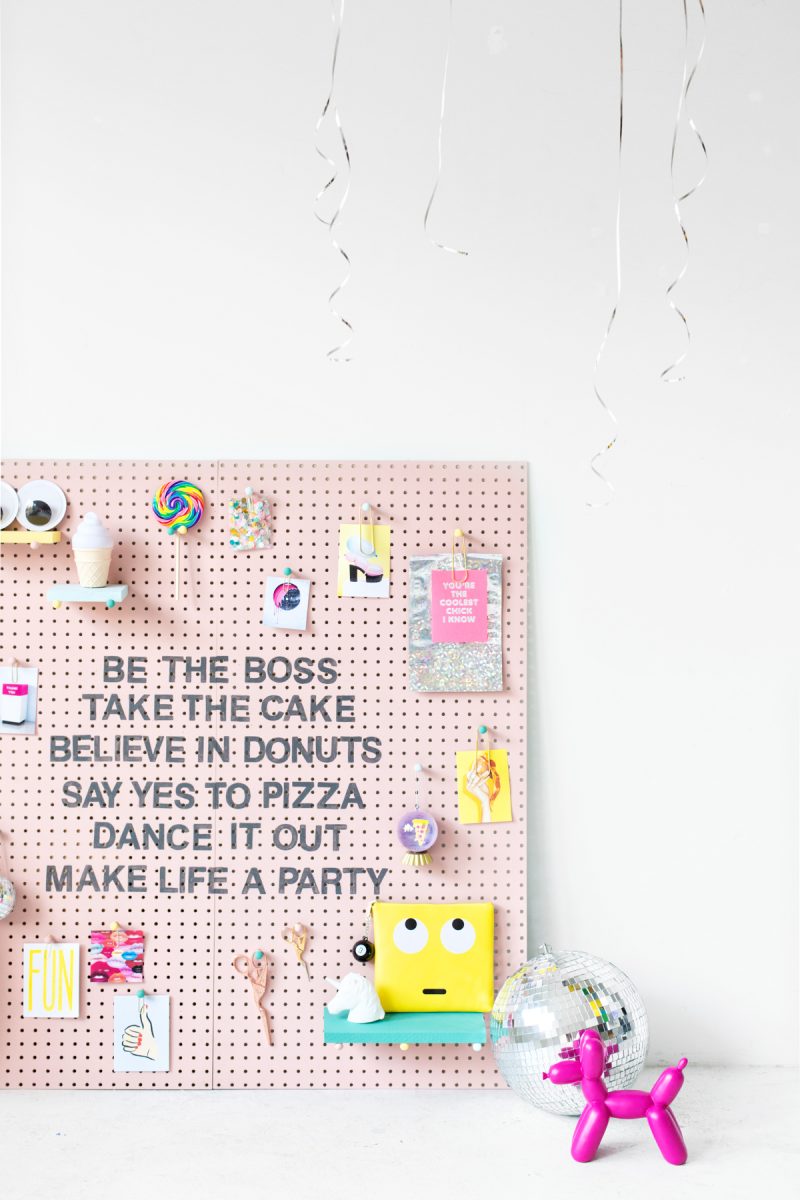 Photos by Jeff Mindell
I can't get over how fun it turned out!!! Oh, and yes, that is a lollipop on our inspiration board. In case you were wondering… haha!!
This post was created in partnership with BEHR® and ShopStyle. All content and opinions are that of my own! Thank you for supporting the sponsors that keep the Studio DIY party going! Read more about my editorial policies here.