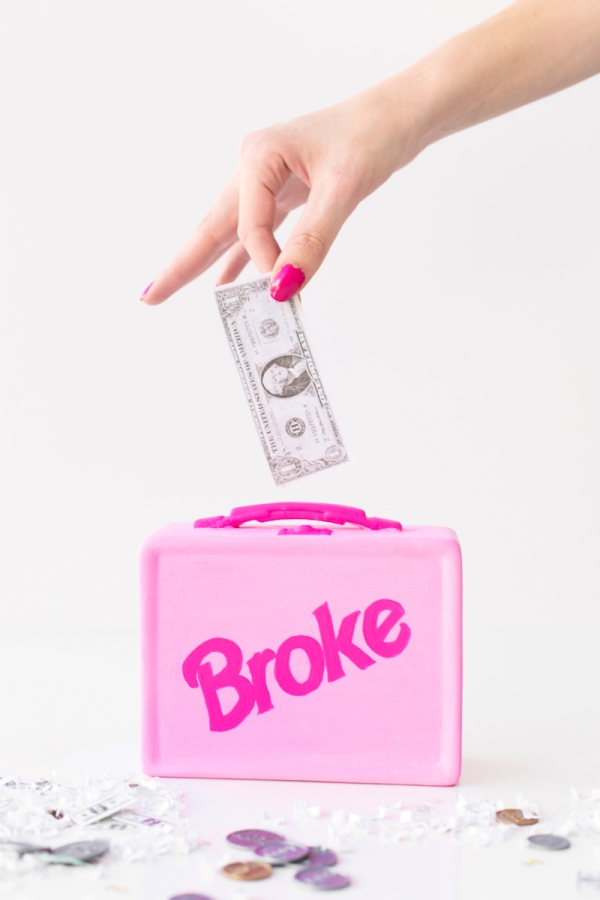 Did you ever go to one of those paint your own ceramics places? They were kind of my favorite for a hot second in middle school. Heck, I'd still drop everything and go to one today if someone asked! Well, we came across a lunchbox piggy bank and thought it needed a little PINK makeover. And since you want to make sure nobody steals it… we figured Broke was an appropriate sentiment. 😉 Wanna make one!?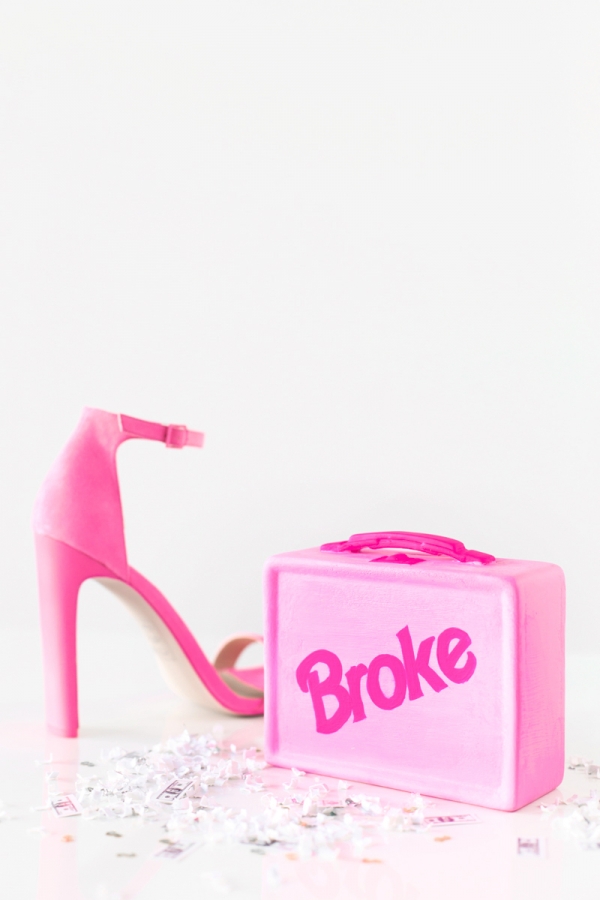 DIY Lunchbox Piggy Bank
Total Time: 1 hour
Supplies
Lunchbox Bank
Light Pink + Hot Pink Paint
Paint Brush
Printable "Broke" Phrase
Computer Paper + Printer
Pencil
Directions
1. Paint the lunchbox light pink and let dry completely. Then paint the handle and "lock" hot pink and let dry.
2. Print out the "broke" phrase onto computer paper and cut out a rectangle around it. Flip it over and color over the entire back of the letters with your pencil.
3. Flip the paper right side up and place it on top of the lunchbox where you'd like it. Then trace the outline of the letters, pressing firmly, and the pencil you drew on the back will transfer to the lunchbox, creating a guideline!
4. Paint in the letters with hot pink paint using a very thin paint brush. Let dry completely!
Photos by Jeff Mindell | Craft Production + Styling by Annie Steward | Creative Direction by Kelly Mindell
Another little known fact about me, I am obsessed with saving up my change and buying something fun with it. I love counting it out and rolling it in those coin wrappers after. HA! *Nerd Alert* I get it from my dad, who has purchased almost all of his camera equipment just with his loose change. Go figure!
p.s. A hairspray piñata!