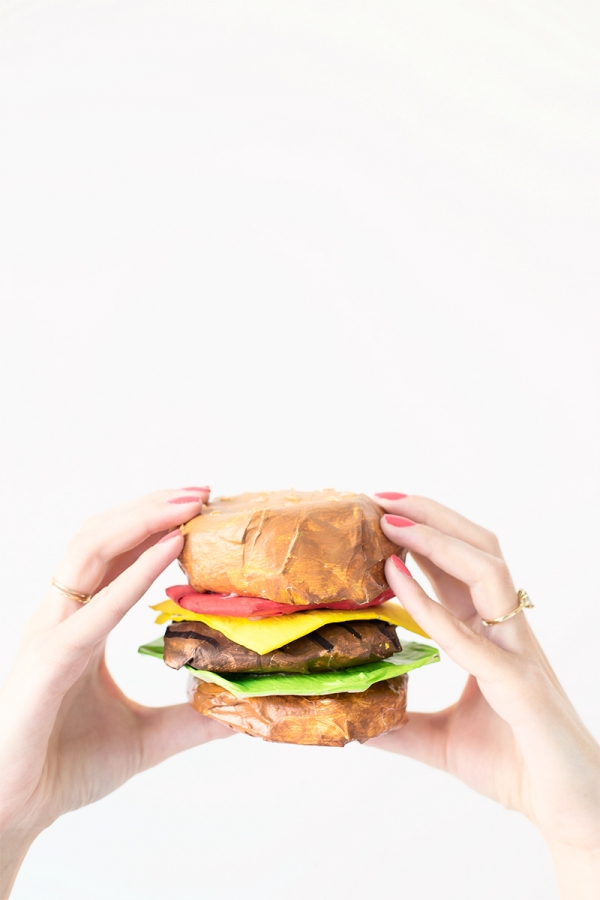 Told you last week we were having a major burger phase over here and I wasn't lying! And that one up there? It's PAPER MACHE! Amazing. We brought in fellow burger lover and resident (AMAZING) necklace maker, Karla of Twerkstorian, to teach us how to make one of her fun and hilarious food sculptures. I'm just obsessed you guys. There's even FRIES to match! These would make the funniest gifts, desk accessories… there's no occasion a paper mache cheeseburger is NOT appropriate for.
And BONUS! Karla is giving away one of her famed necklaces and it just so happens to say "Fryday". 'Cause we like a theme here! Scroll to the bottom to enter!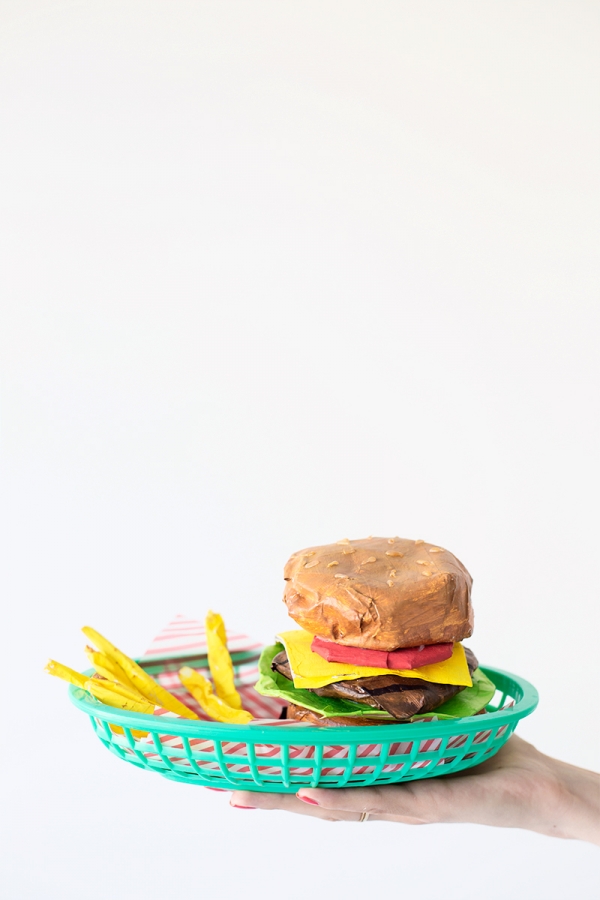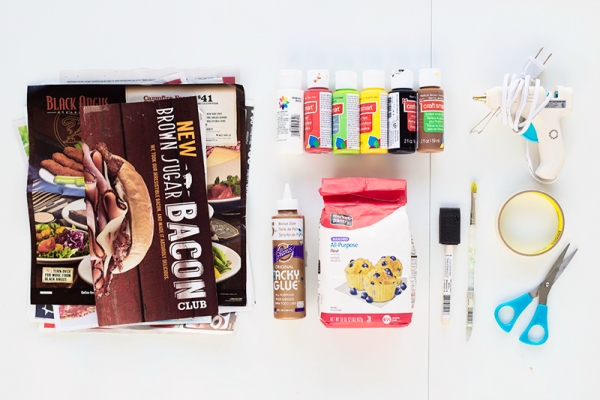 Newspaper
Masking Tape
Small Piece of Cardboard
Scissors
Acrylic Paint in White, Brown, Yellow, Red, Black and Green
Glue Gun
Paint Brushes
Paper Mache Glue Mix (1/2 cup of flour, 3/4 cup of water, dollop of school glue, pinch of salt)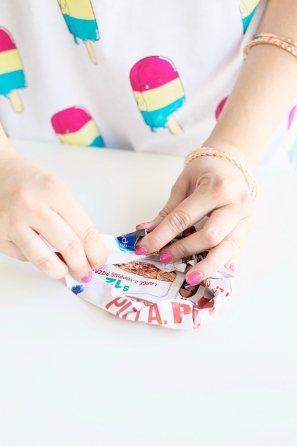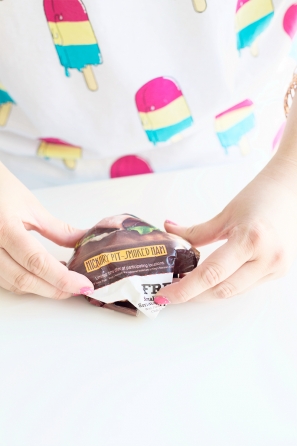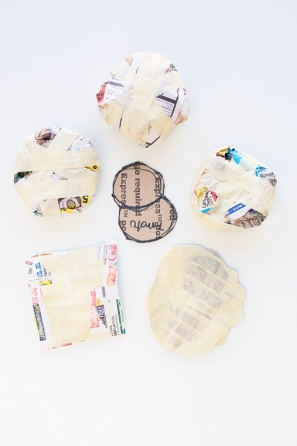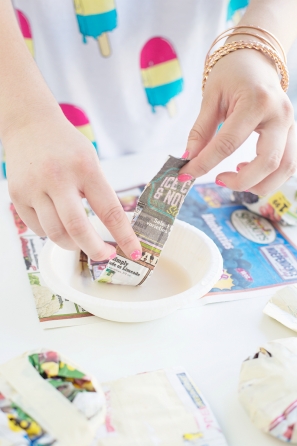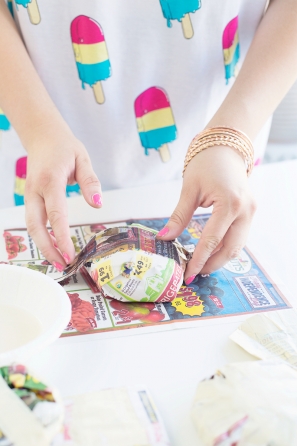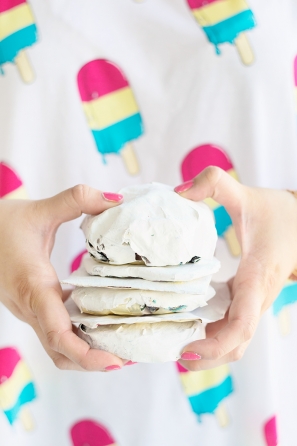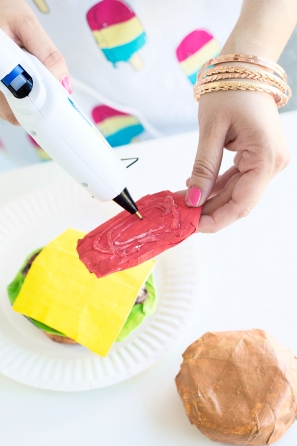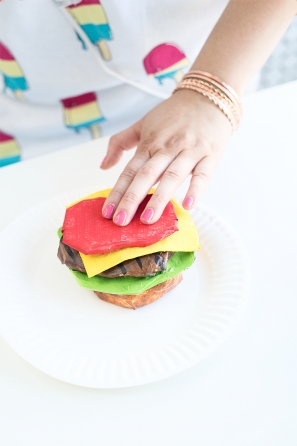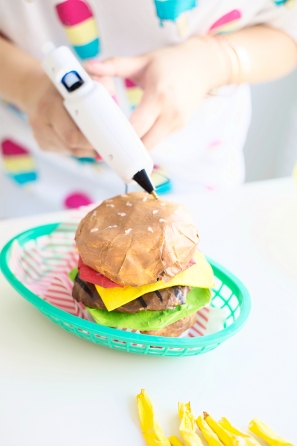 1. Mix your paper mache glue! Find a small bowl you don't mind getting a little messy. Add ½ cup of flour to the bowl. Slowly add the water in. Mix the batter until the texture is similar to that of paste. Finally, add in a dollop of school glue and pinch of salt.
2. Molding your cheeseburger elements. Take your newspaper and begin to ball up the paper until you achieve a shape that looks like a burger bun. Use the masking tape to round out any edges and to make the shape appear more even. Now mold the bottom bun, make sure this one has a flat base, this is where you will be layering your toppings.
3. Now for the fixings. Tomato: Cut the shape of two stacked tomato slices out of cardboard. I used the cardboard because I wanted the tomato to have a little bit more thickness. Then I covered the cardboard tomato with a layer of newspaper and tape. Chesse: Take a piece of the newspaper fold it in half and then cut a square. Make sure it is slightly larger than the bun you made so that the cheese can be visible. Take your masking tape and begin to lay straights all the way across it until it was covered in tape on both sides. This makes the material stiff but still malleable. Meat: Just like the bun, the meat is just a big ball of paper shaped into a patty. I used about 2 or 3 papers to make the shape and used the tape to round out any edges. Lettuce: Like the cheese, fold the paper and draw out a shape that resembles a leaf of lettuce. Then cut it and wrapped the leaf in masking tape until it's covered on both sides.
4. Mache-ing!! Time to cover all these bad boys with paper and glue. Take your newspaper, rip or cut (I like ripping, it's more dramatic) into strips.
5. Make sure to cover your workspace in some sort of plastic table cloth so that you don't make a mess. Take your newspaper strip, dip it into the glue and remove any excess glue by running your fingers over the paper. Cover your pieces with the strips and allow them to dry for about 6 hours. I used a fan to speed up the process.
6. Once everything is nice and dry, paint all your elements using white acrylic paint. Let your pieces dry.
7. Okay this is the best part, time to paint the burger in all its glory. It's helpful to look at a picture of a real burger while doing this so that you can copy some of the elements. OR, don't be afraid to get playful! Mix colors, make your burger hot pink! Whatever floats your boat. Let the paint dry again.
8. Use hot glue to glue together all the pieces in a big buger stack!
9. To finish it off, add a few dots of hot glue to the top of the bun to look like sesame seeds!
10. Okay now, to make the french fries! Follow the same steps as you would for the cheeseburger except that you want to just get strips of newspaper and roll them up, kind of like making sushi! (Without the filling, of course.)
And that's it! It's super simple, fun and chances are you might already have all the materials you needs to make this in your home!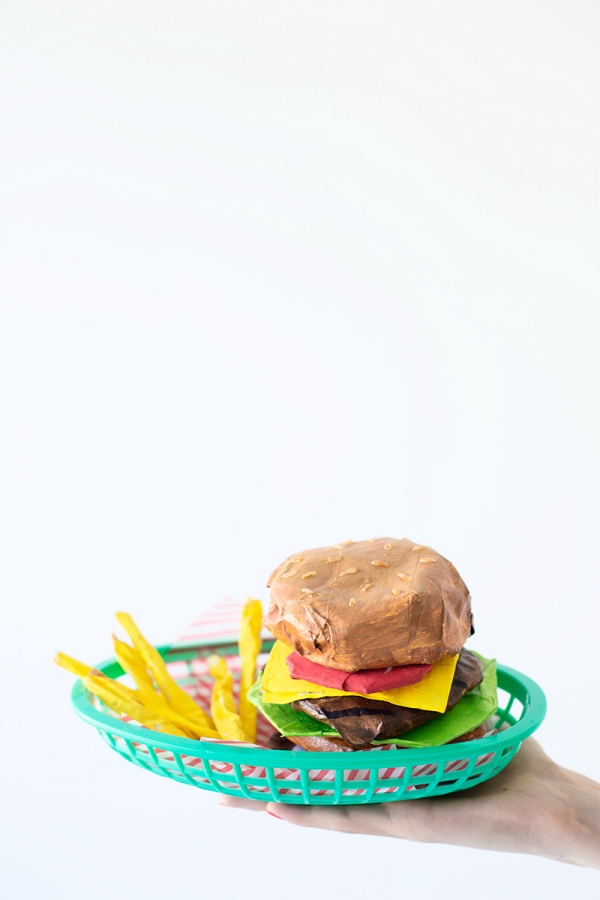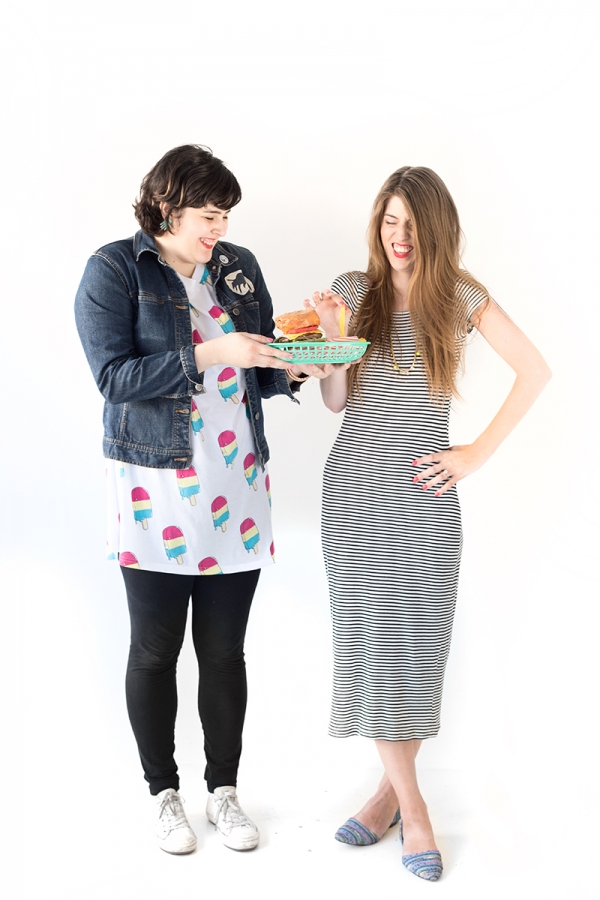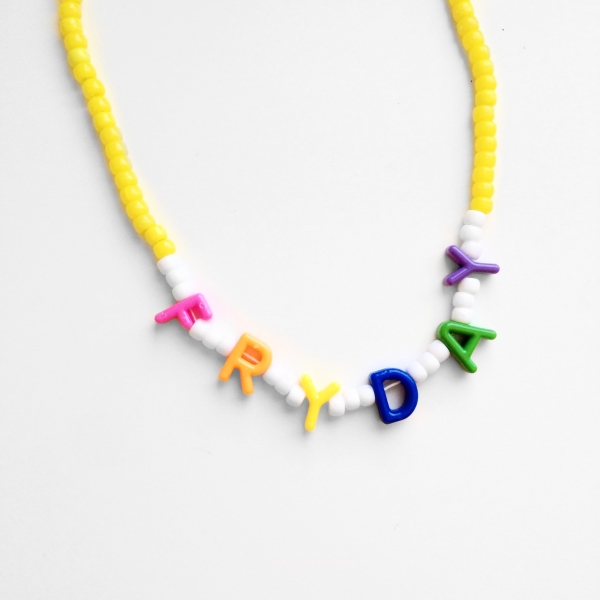 Photos by Jeff Mindell | Tutorial by Twerkstorian | Creative Direction + Styling by Kelly Mindell
There it is!!! GO MAKE SOME BURGERS! But first, the giveaway!!!!!!! To enter to win a "Fryday" necklace, use the rafflecopter below! Giveaway ends Friday July 17th at 9am PST and the winner will be announced here shortly thereafter. The giveaway is open to readers worldwide. Hooray!!
A huge thank you to Karla for teaching us how to paper mache the most delicious of foods! Don't forget to check out her amazing and hilarious necklaces and other goodies in her shop!