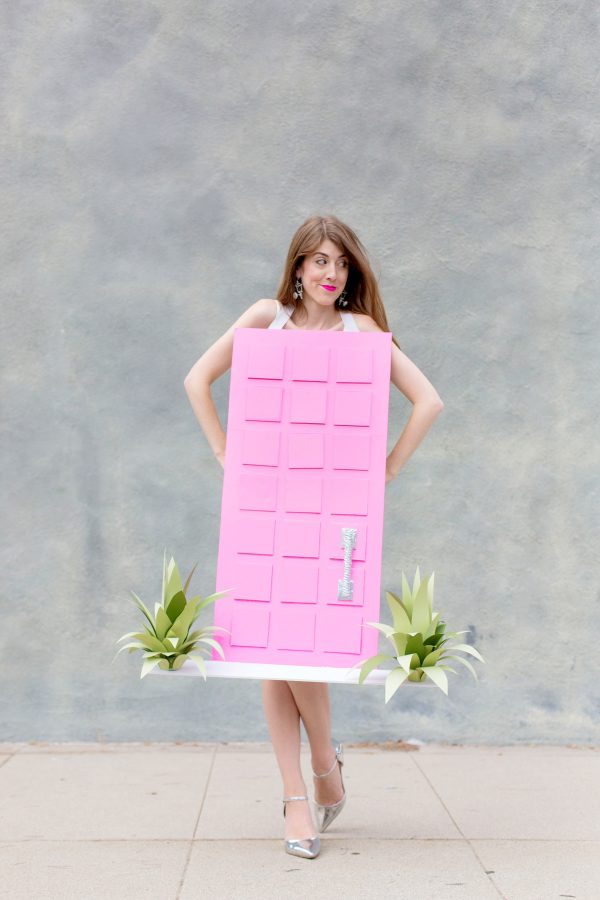 IT'S HERE!!!! Welcome to #studiodiyincostume 2017!!!! We've got SO many fun costumes in store for you guys this year starting with perhaps THE most infamous door of all time!!! A Palm Spring's "That Pink Door" costume!! Not gonna lie, I was in it for the details on this costume. The door handle, the plants, THE LANTERN EARRINGS!!! I die die die die die.
I know I say this a lot but it's crazy easy!!! We tried out a few new supplies for our costumes this year that made the construction even easier and more professional looking but I'm gonna share some even more budget friendly options too in the tutorial! Alright readyyyy BREAK!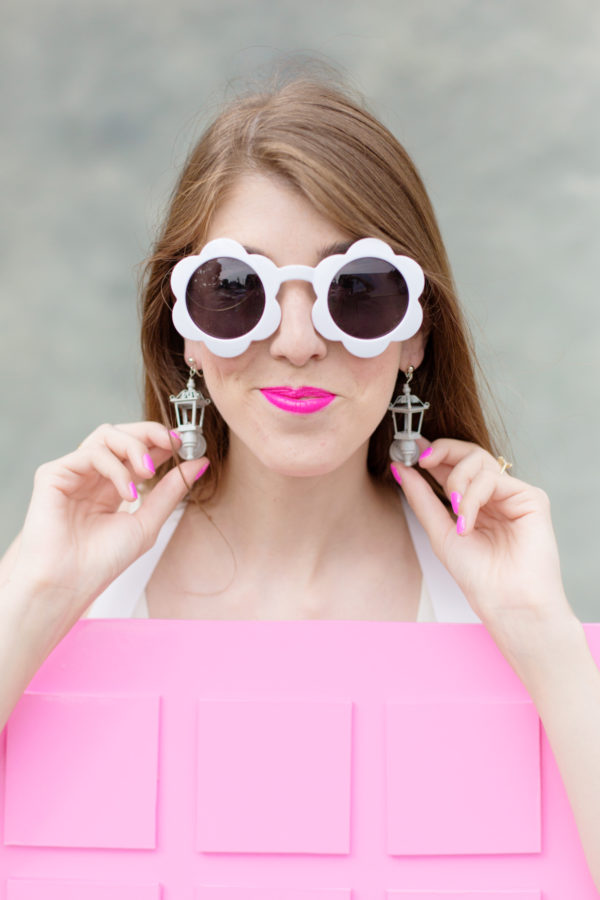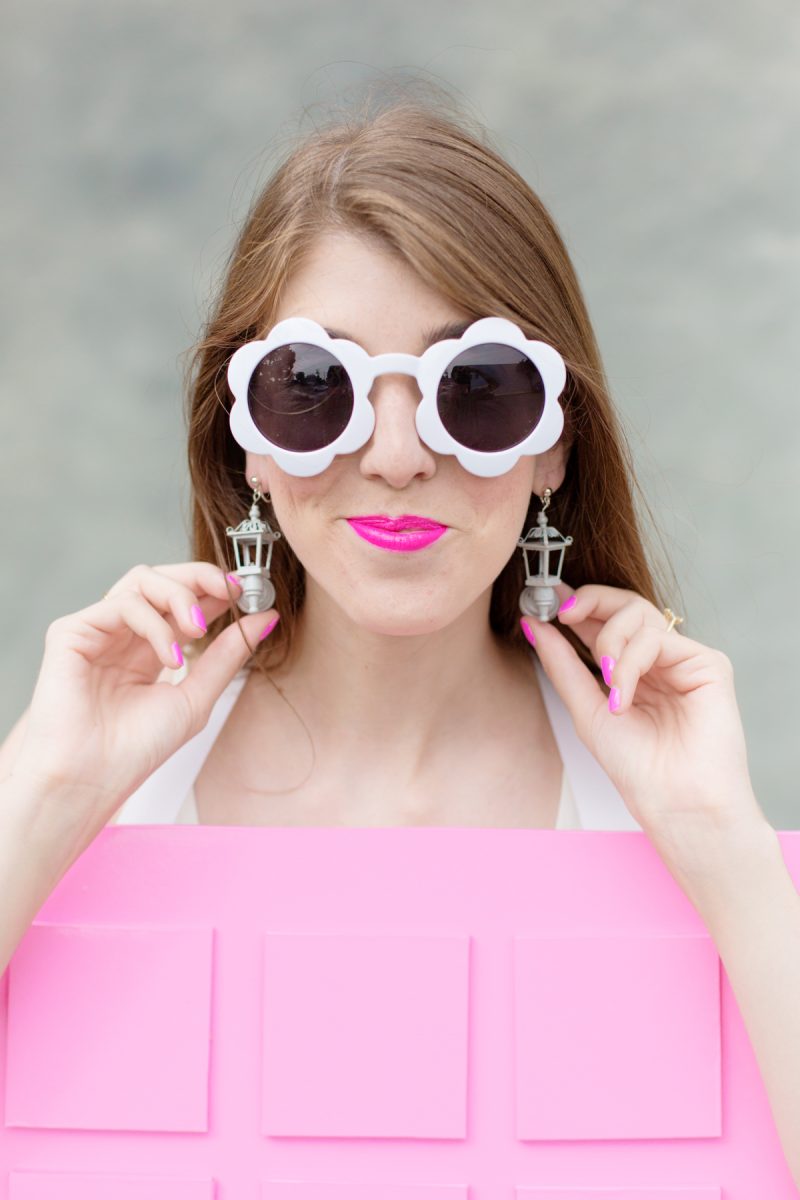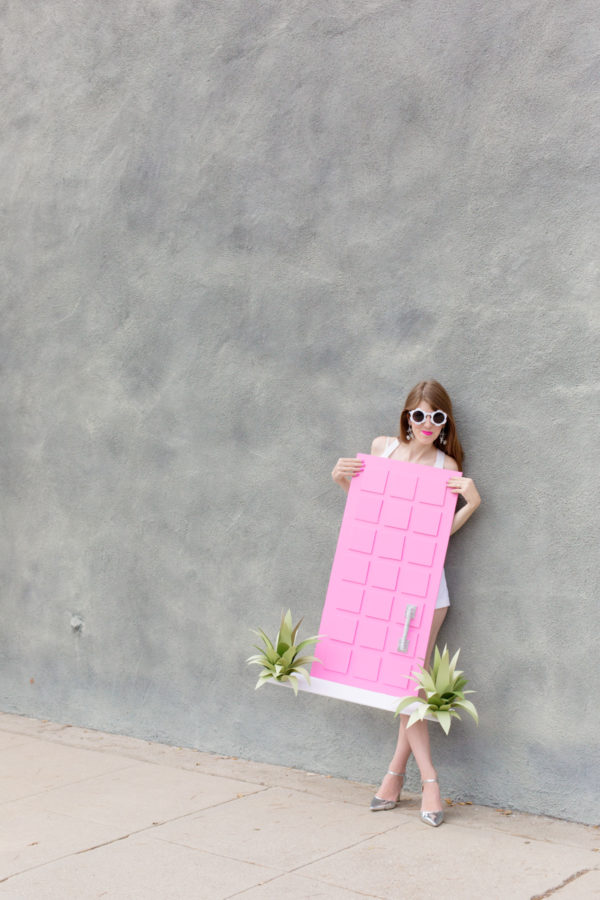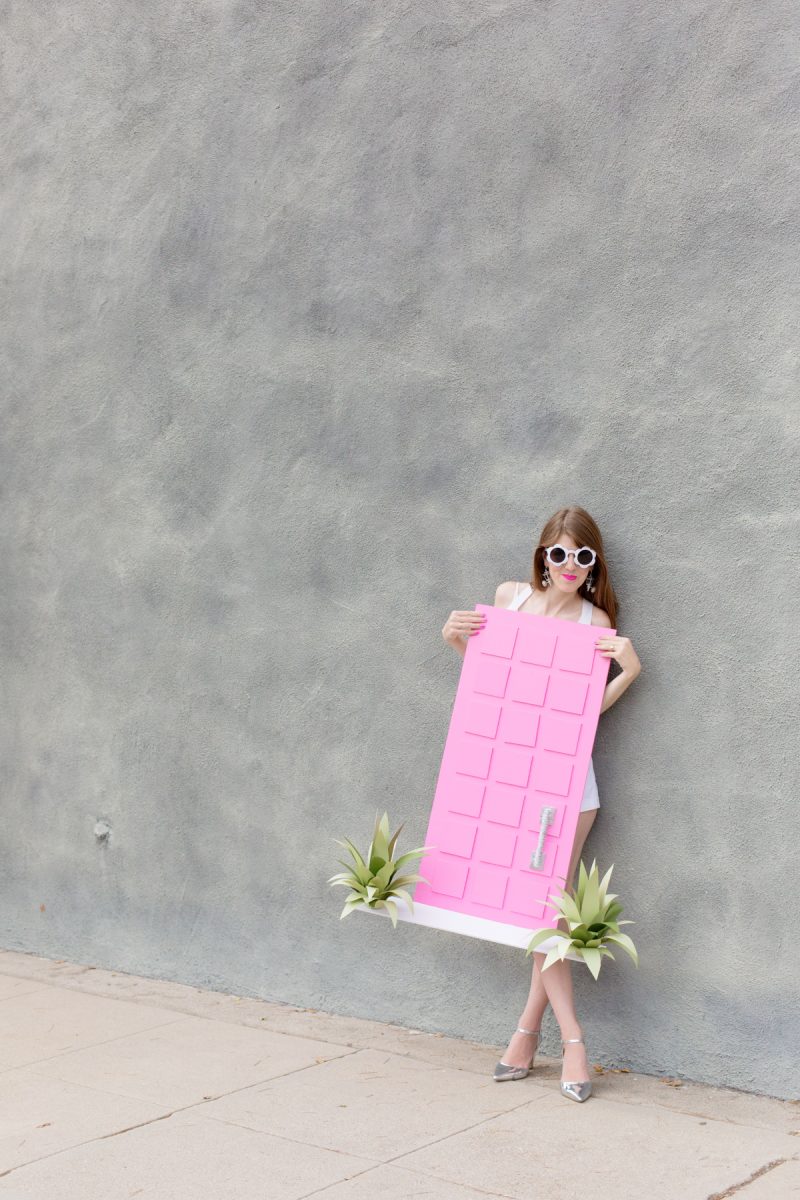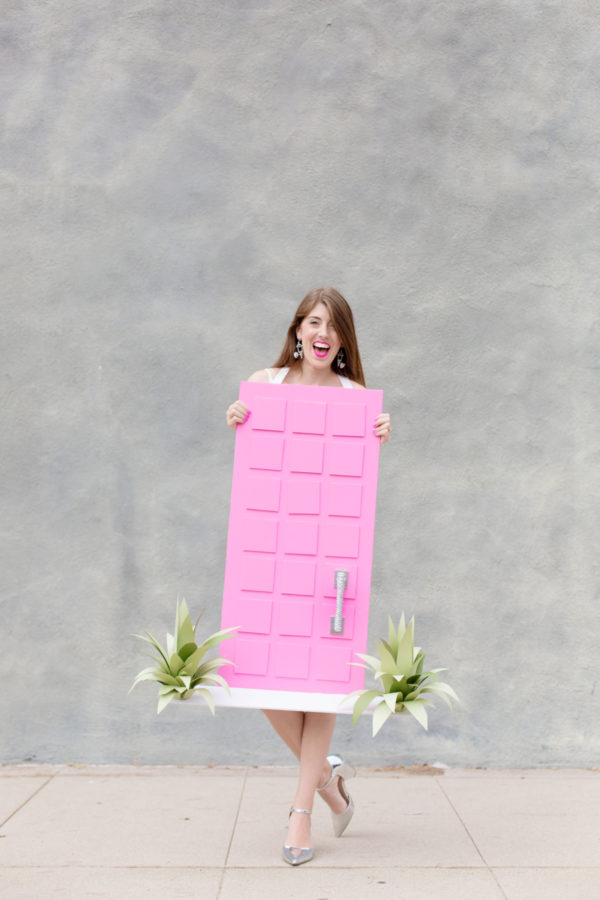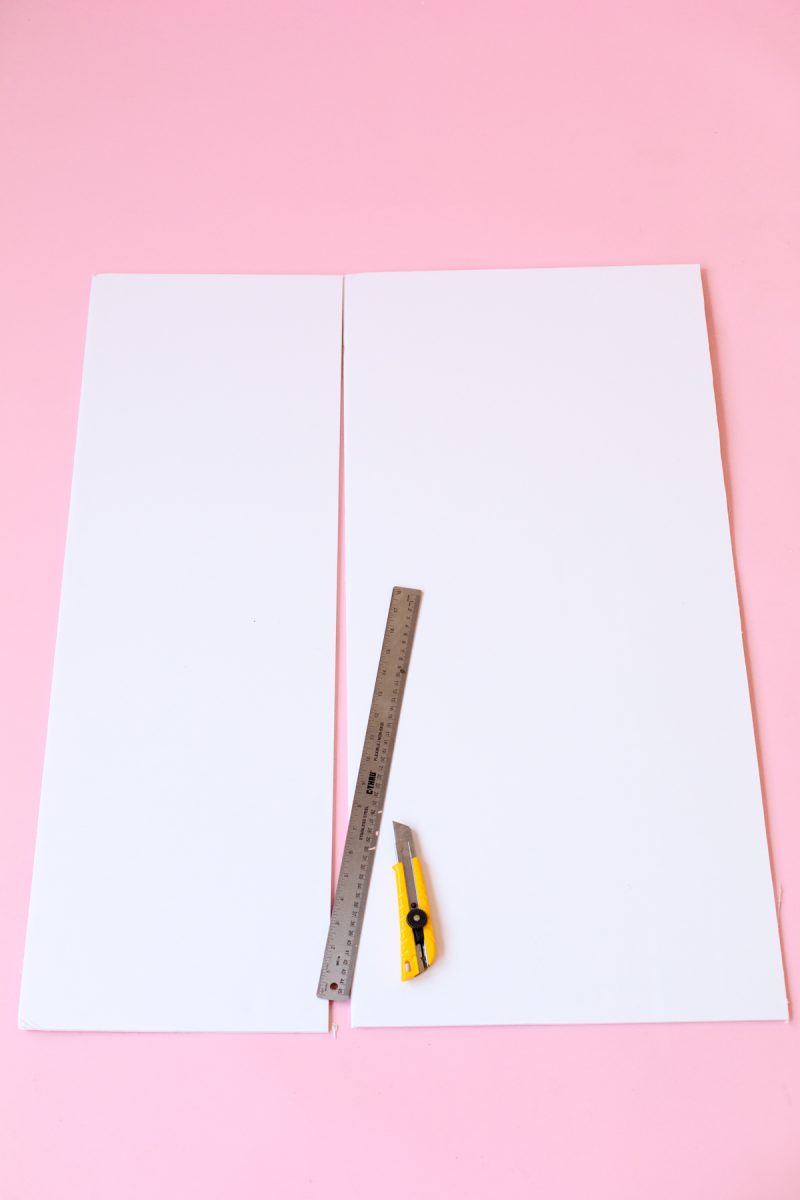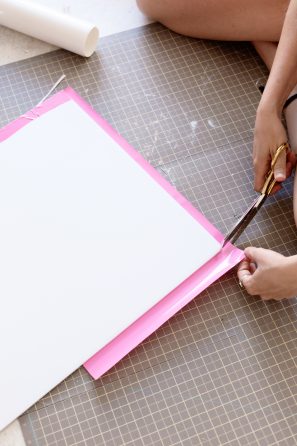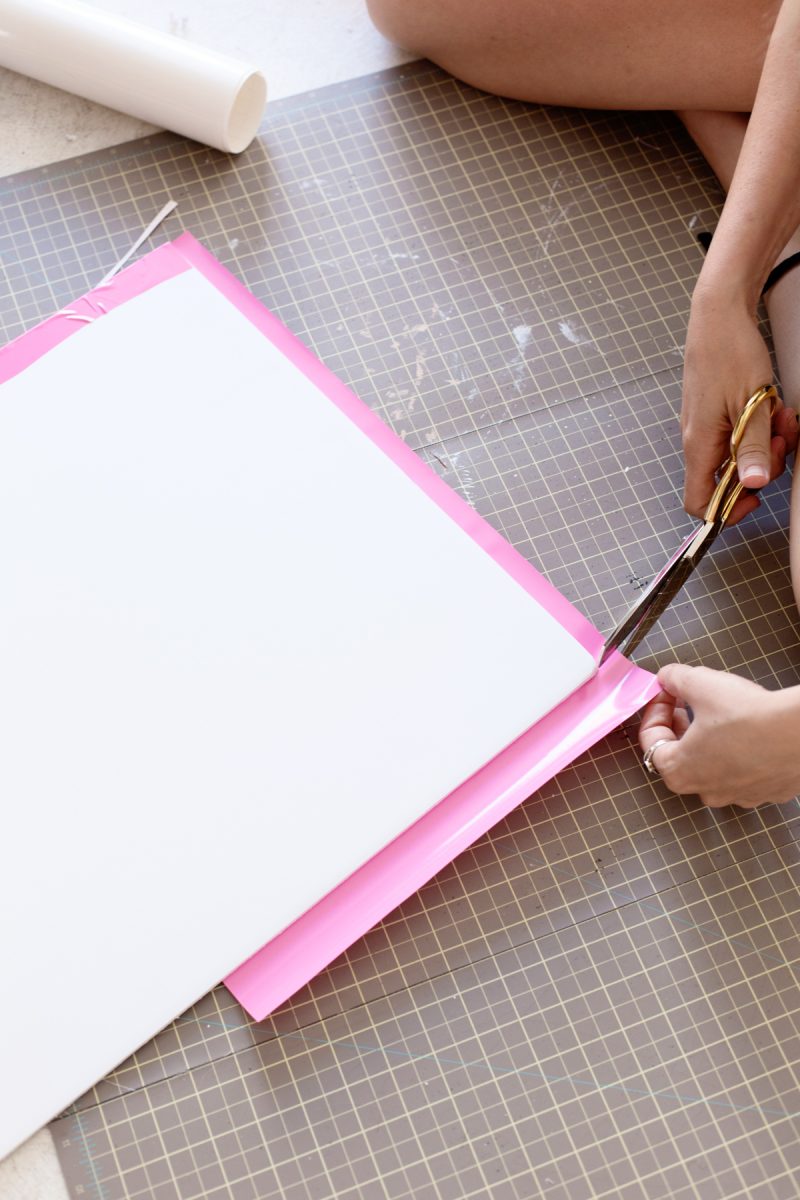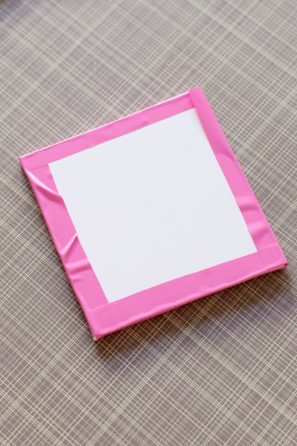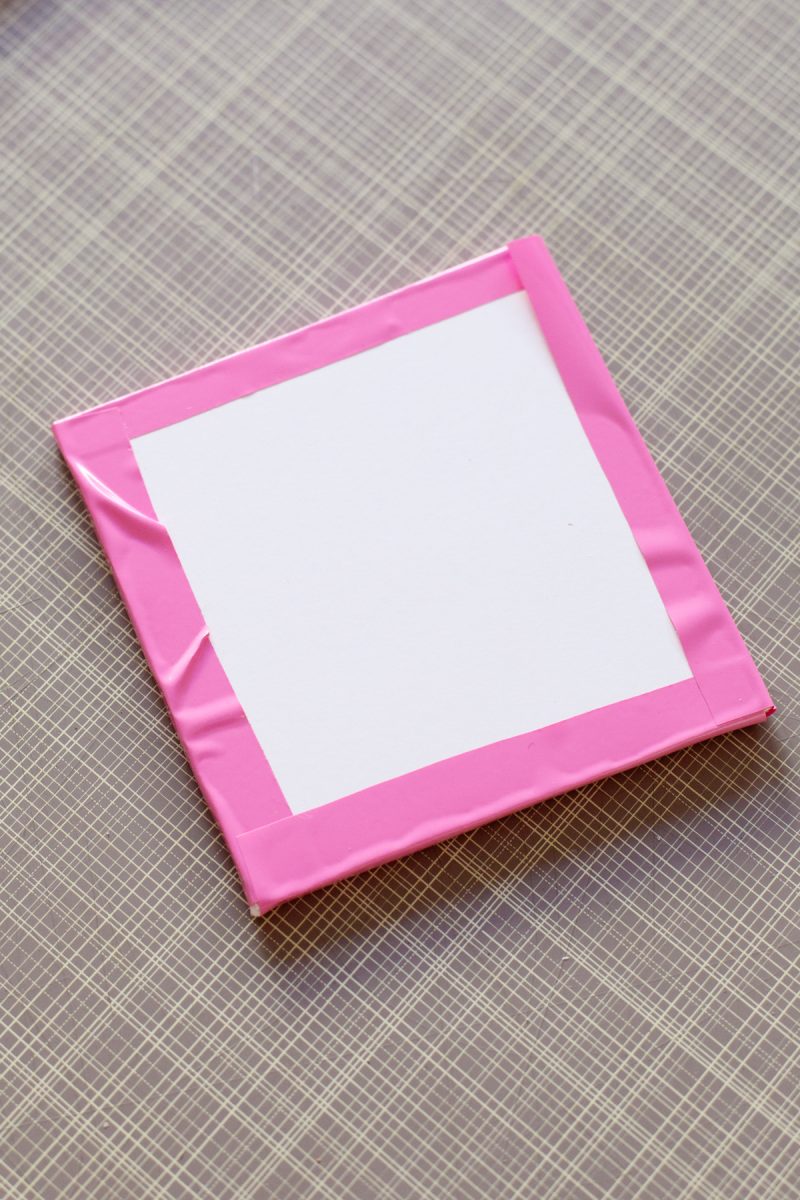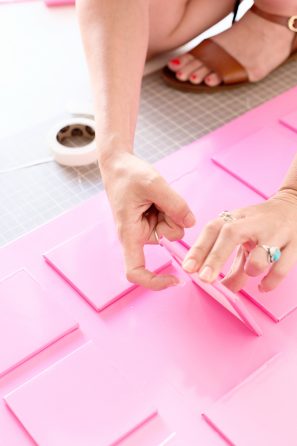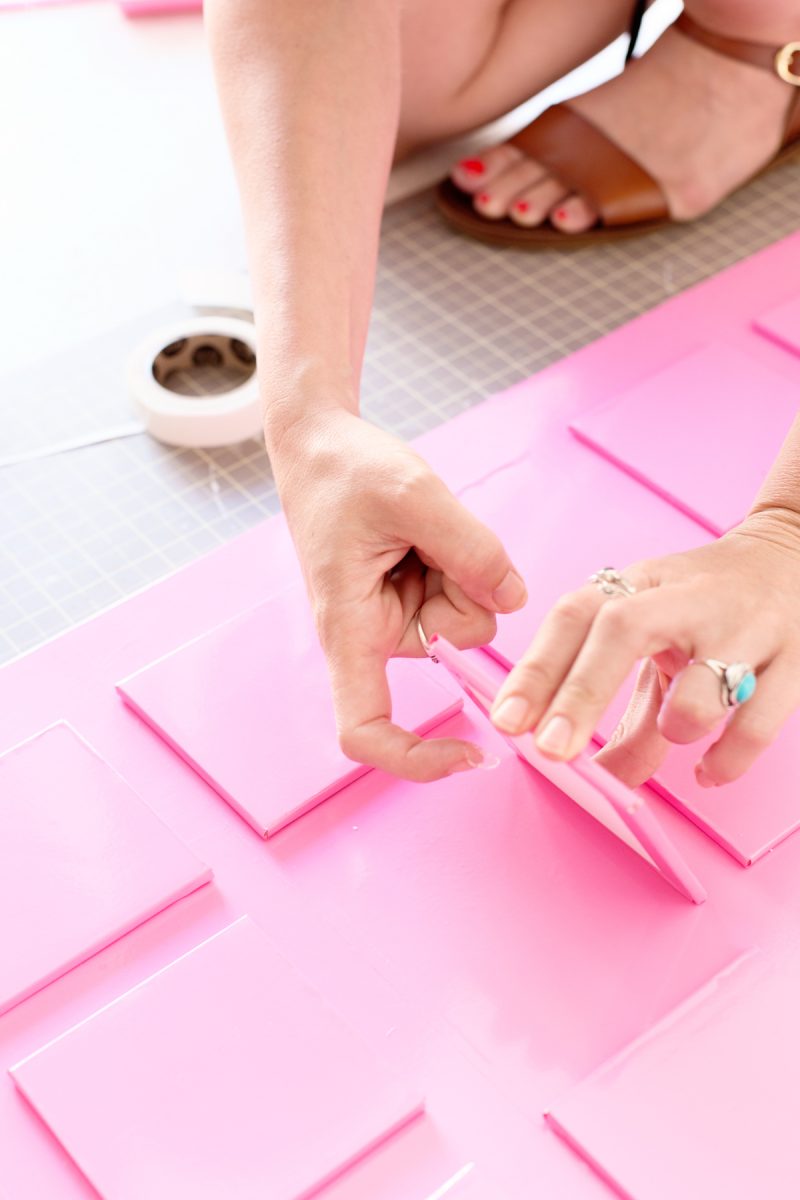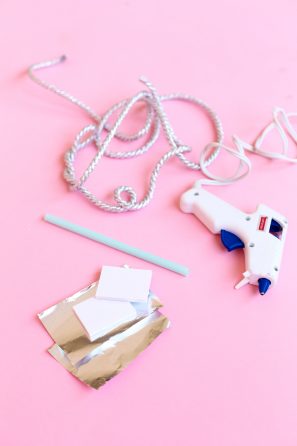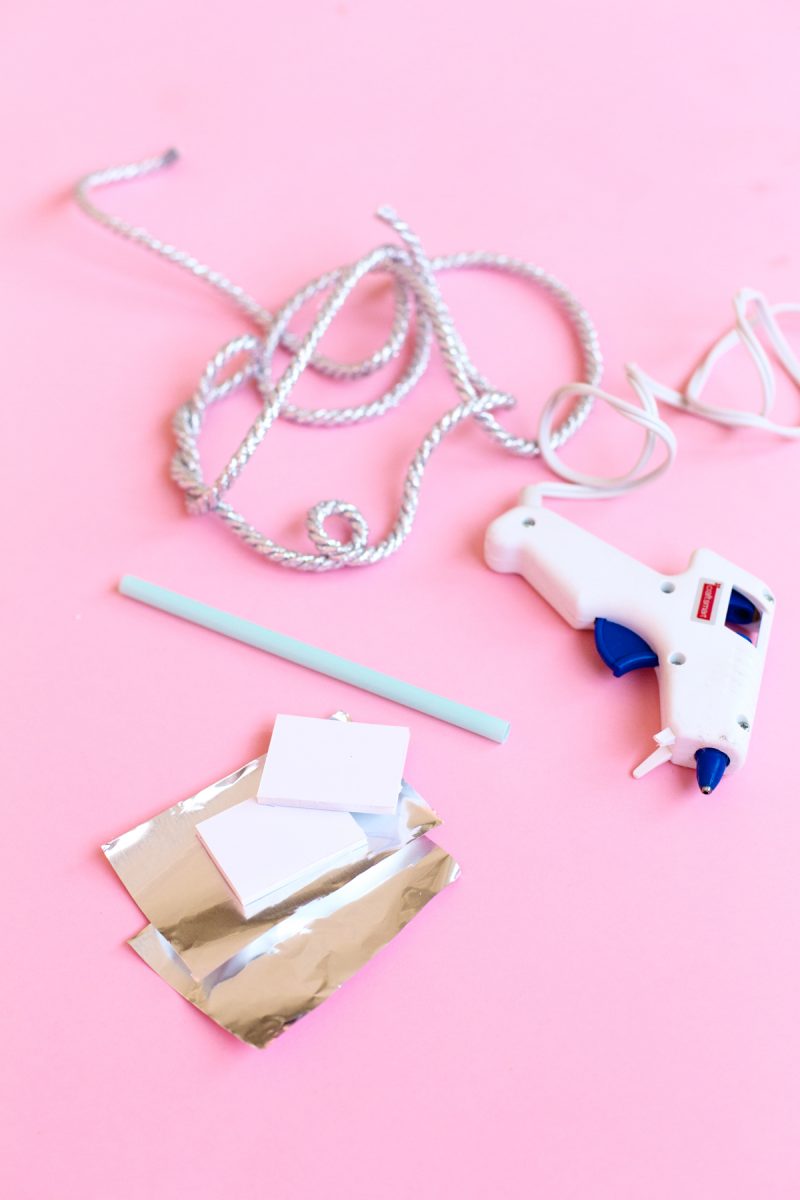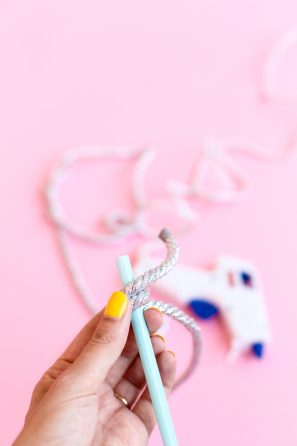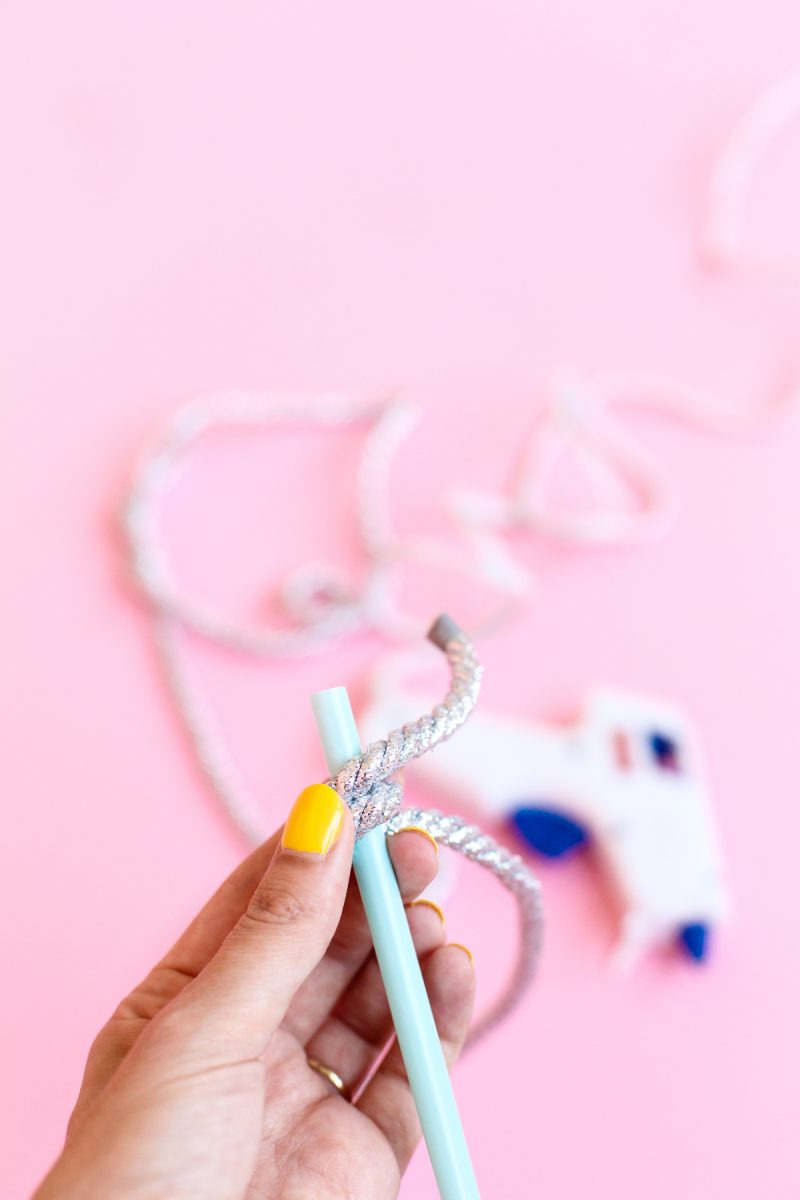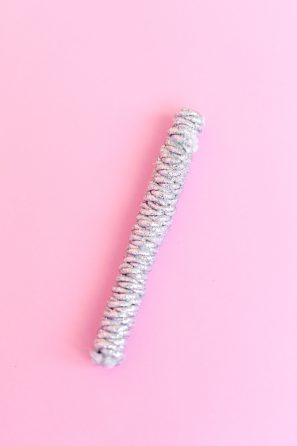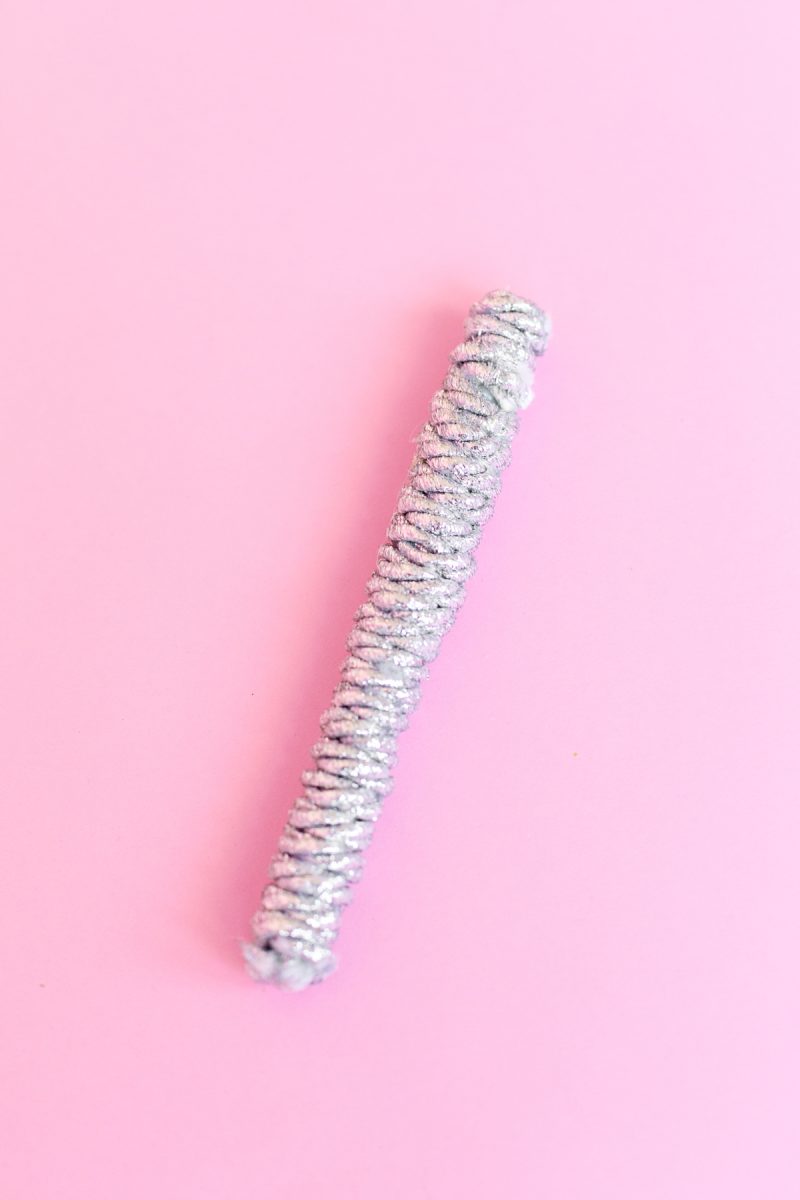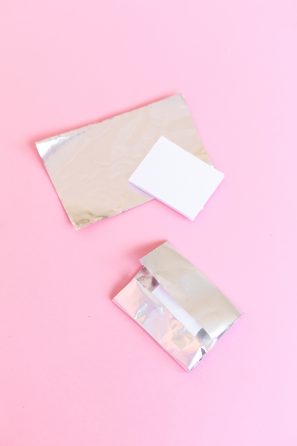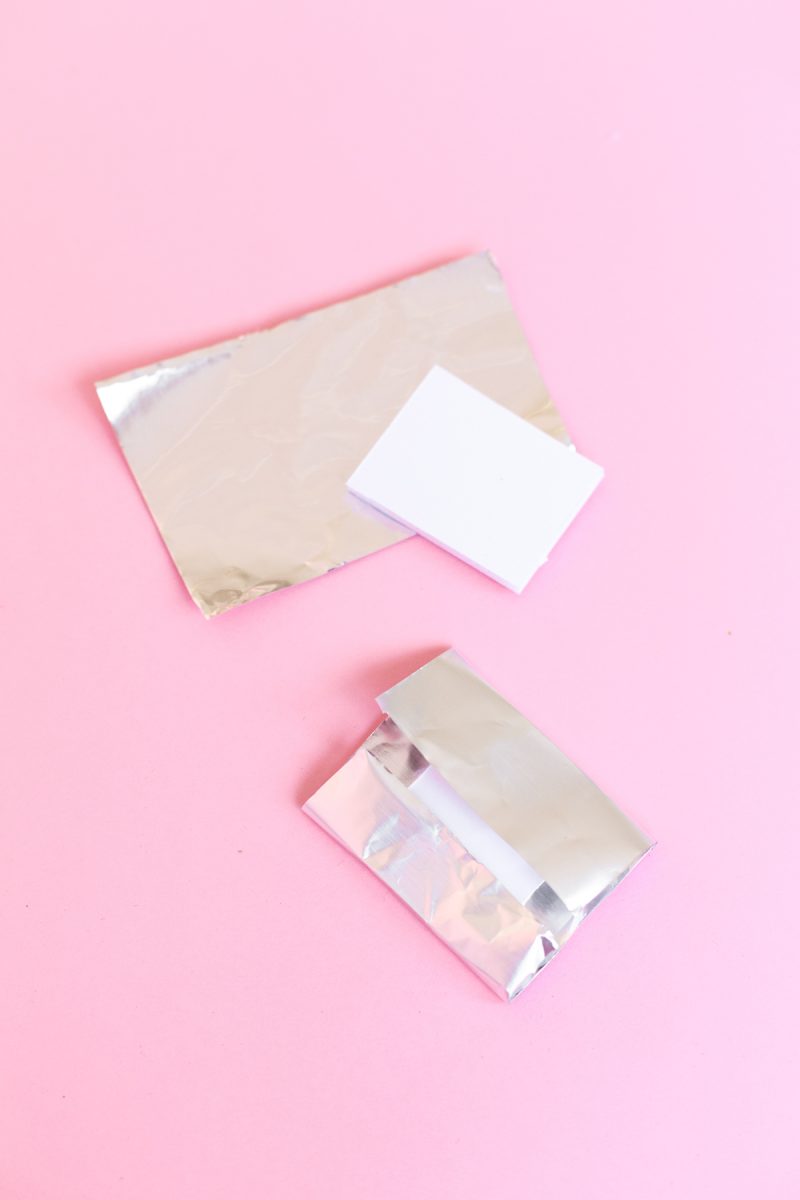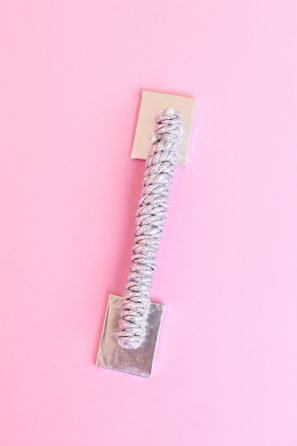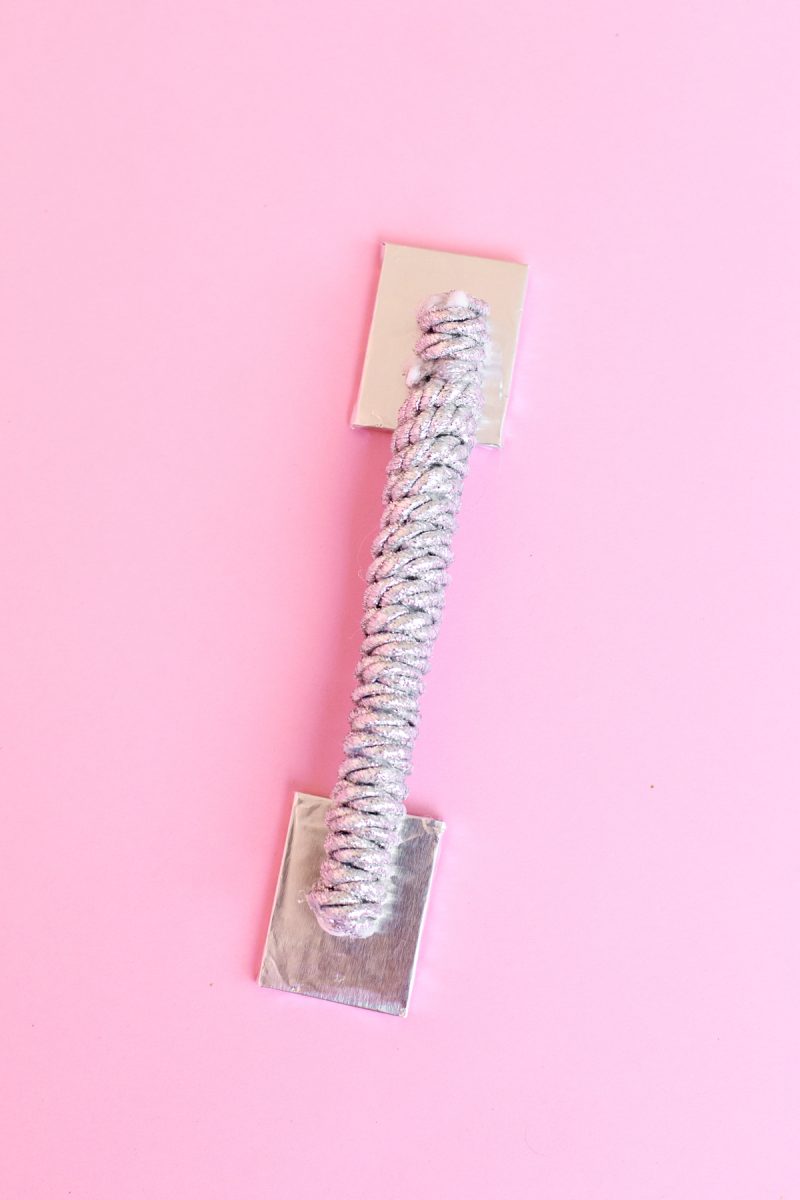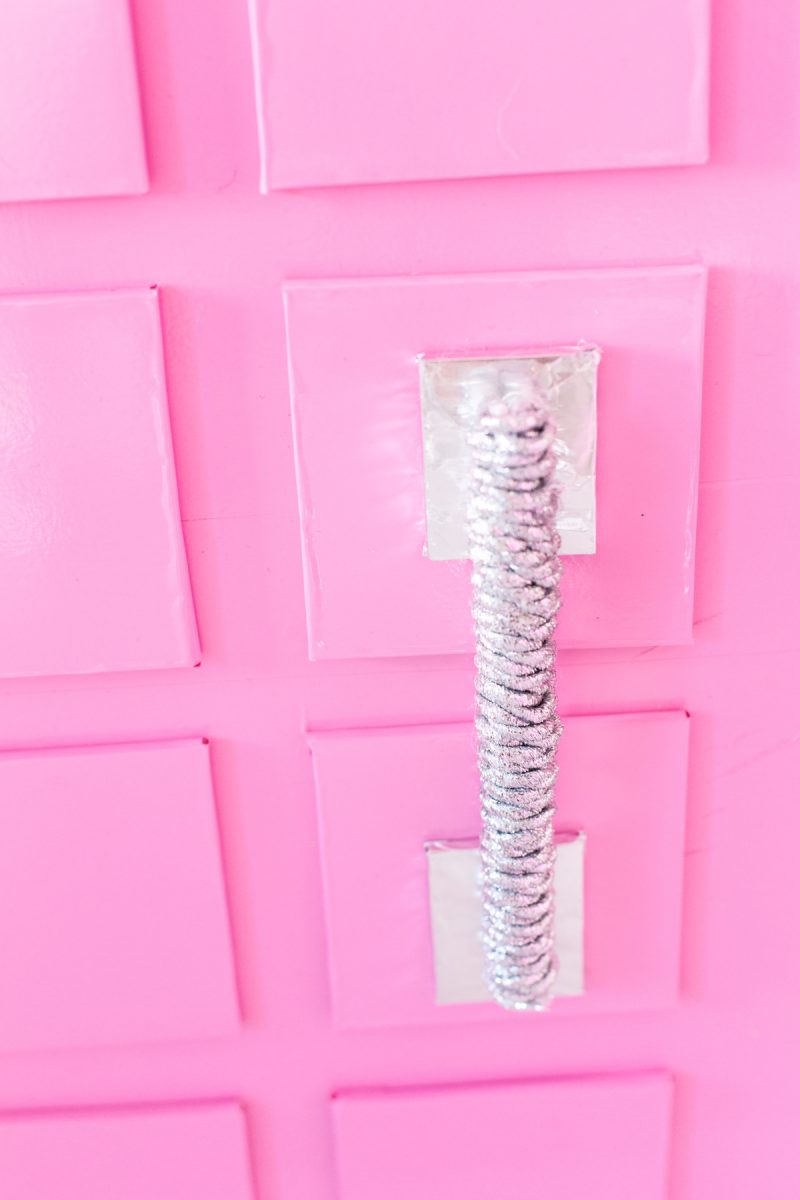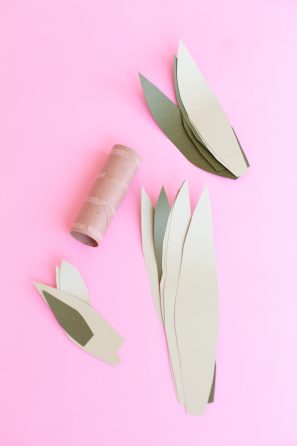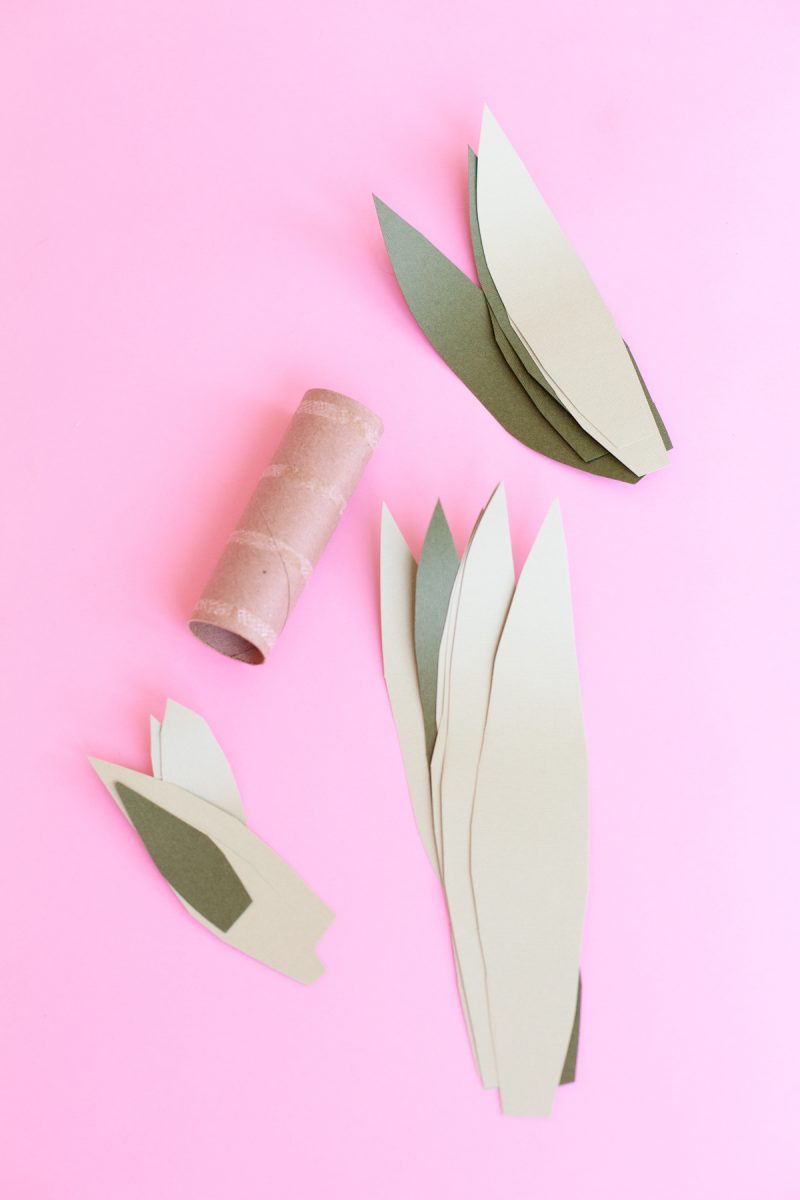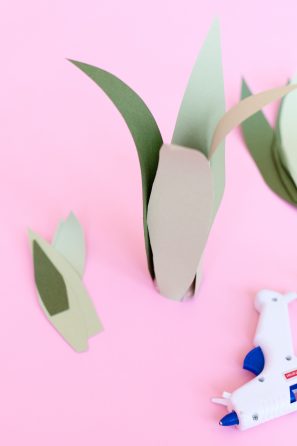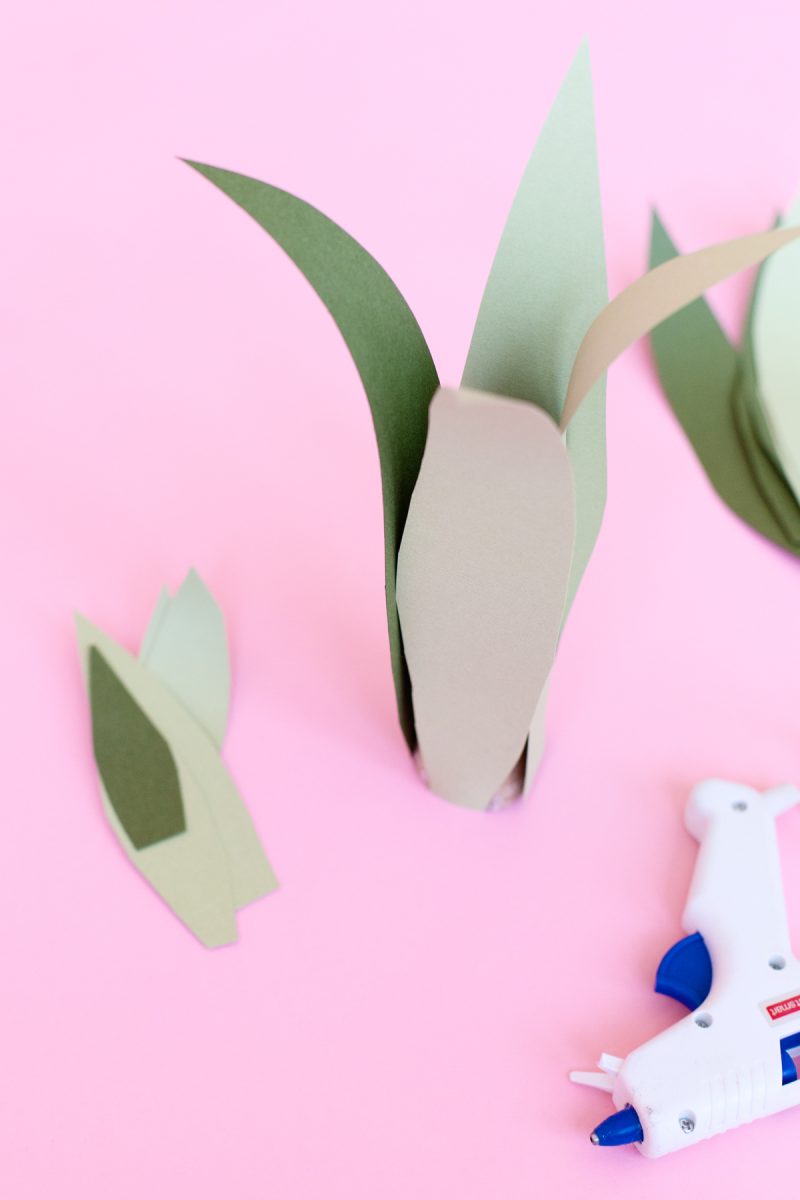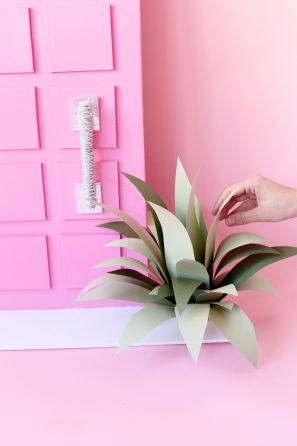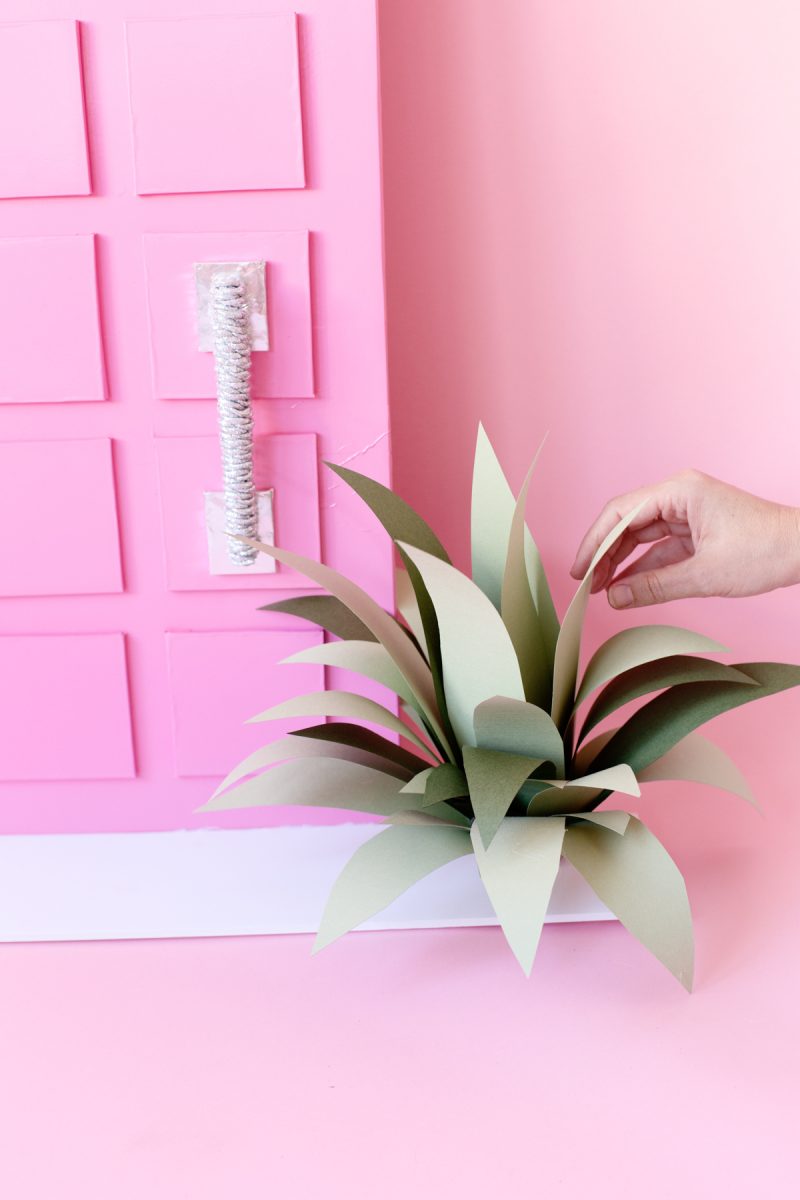 DIY "That Pink Door" Costume
Total Time: 2 Hours
Supplies
36"x48" Tri-Fold Foam Board (We used foam board because it was less likely to crease and cuts clean, but you can totally use cardboard too!)
Pink Adhesive Vinyl OR Paint (Vinyl works awesome with foam board, paint would be better on cardboard!)
Box Cutter
Cutting Mat
Ruler or Yardstick
Large/Boba Straw
Silver Rope
Aluminum Foil
Green Cardstock
Paper Towel Roll
Hot Glue Gun
Elastic
Two Dollhouse Lanterns
Silver Paint
Earring Hooks
Headpins
Round Nose Pliers + Wire Cutters
White or Pink Outfit
Silver Shoes
Directions
1. Cut your foam board to size. You'll need: One 36"x17" piece for the door, one 4.5"x30" piece for the base, twenty one 3.75" squares for the door detailing and two 2.5"x 1.5" rectangles for the handle. Here's how to cut foam board: Lay it on top of a large cutting mat. Use your ruler to measure everything and mark it, then use it as your guideline for your box cutter. DON'T try to freehand it! The key is to cut the top layer of the foam board first, then go back over the cut to cut through the bottom layer. Don't go back and forth, just make one straight cut.
2. Cover your door and door detailing pieces with vinyl.
3. The squares should have one inch between them and be 1.5" from the sides of the door. Using a ruler or measuring tape to measure accordingly, lay out where the squares should be and hot glue in place.
4. To make the handle, hot glue a piece of silver cord to the bottom of your straw and wrap tightly around the straw until completely covered. Hot glue at the top. (You can also hot glue intermittently in between if necessary.)
5. Cover the two small rectangles you cut out in foil.
6. Hot glue the rope handle to the silver rectangles. Then hot glue the rectangles to the door. As shown, we glued it to the far right 2nd and 3rd squares from the bottom. Yes, it looks low but if you look at the actual door, that's where it's placed because the upper half of the door isn't actually a door. Gotta be accurate, folks! 😉
7. Hot glue the white base you cut out to the door. If necessary, you can cut small "braces" out of cardboard to glue to the backs of each to hold the two together more securely.
8. To make the plants, we essentially used our pineapple hat tutorial. Cut your paper towel roll in half. Then cut out several leaf shapes in a variety of sizes.
9. Starting with the largest, glue them around the paper towel roll. Then glue the next tallest layer around that, and so forth, until you have a plant shape you're happy with!
10. Use your fingers to "curl" the tops of the leaves.
11. Glue a circle of green cardstock to the bottom of your plant and then glue that to the ends of your base.
12. Hot glue elastic straps in an "X" shape to the back of the door so you can slip it over your arms and still be able to wear a coat/sweater if it's cold!
13. To make the earrings: Paint the lanterns silver and let dry. Slide a headpin through the top of the lantern and make a headpin loop to attach the earring hook. (You can watch a video here about how to make a headpin loop.) NOTE: These are pretty heavy! If you have super sensitive ears, I'd recommend forgoing the earrings!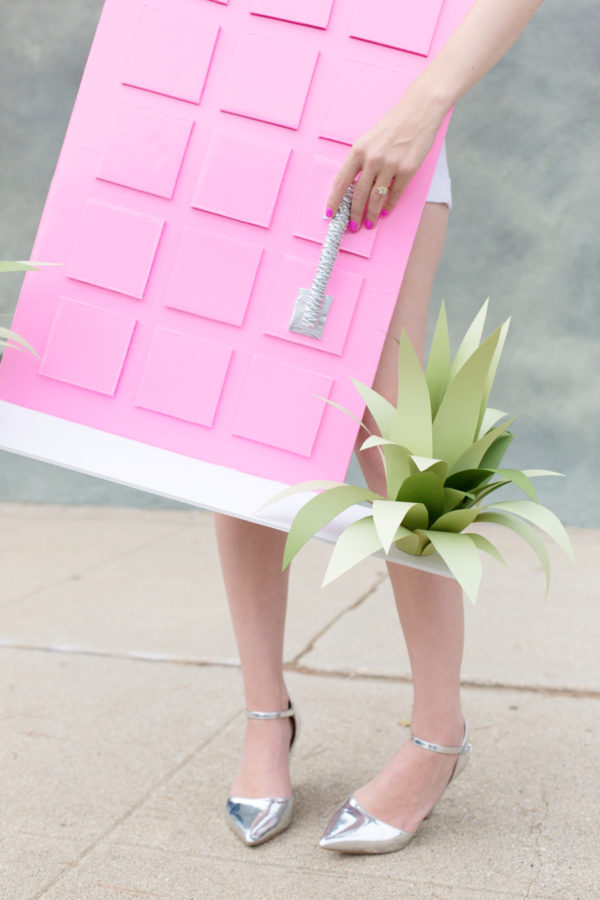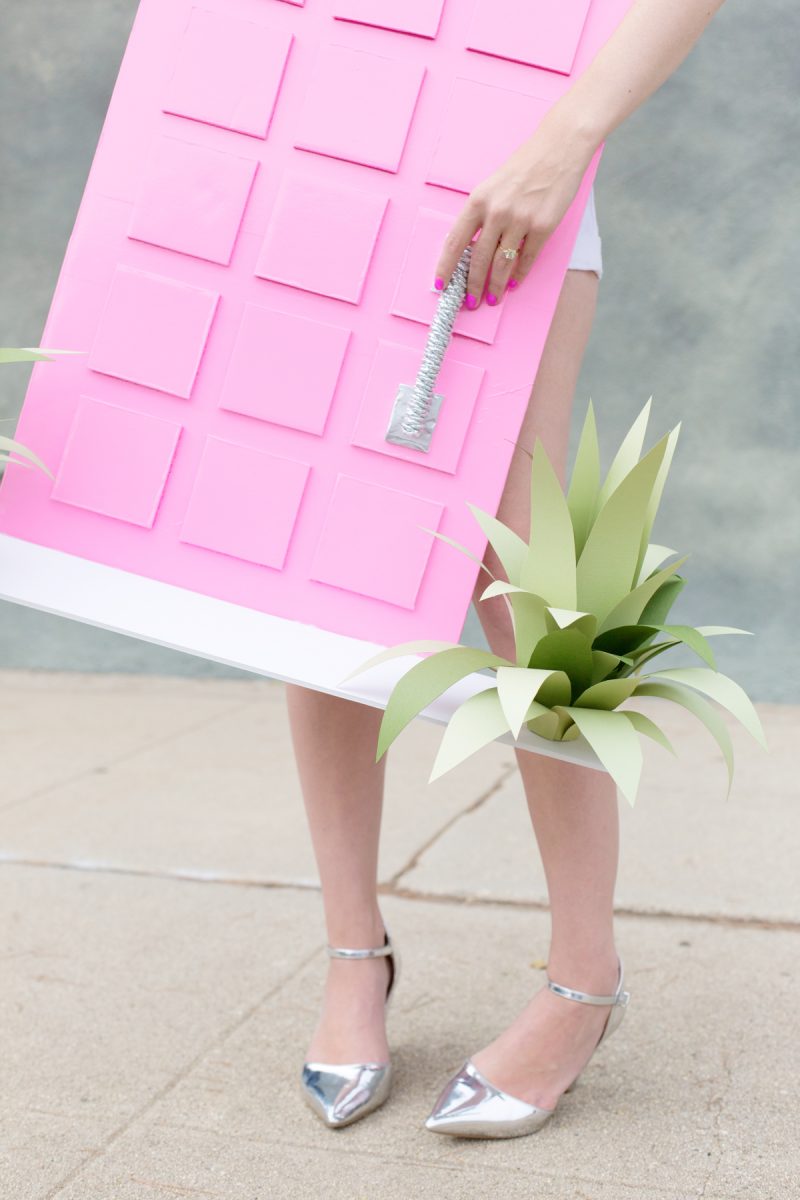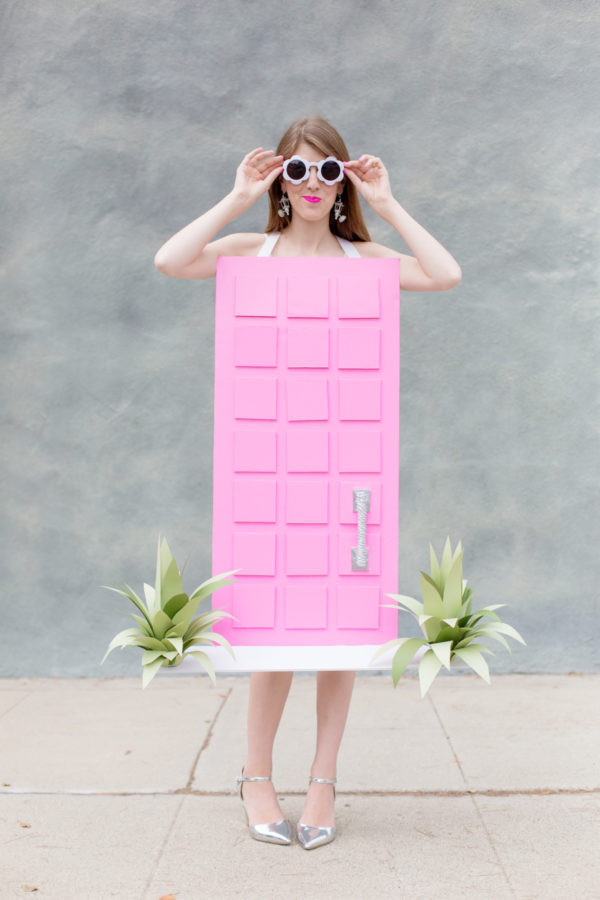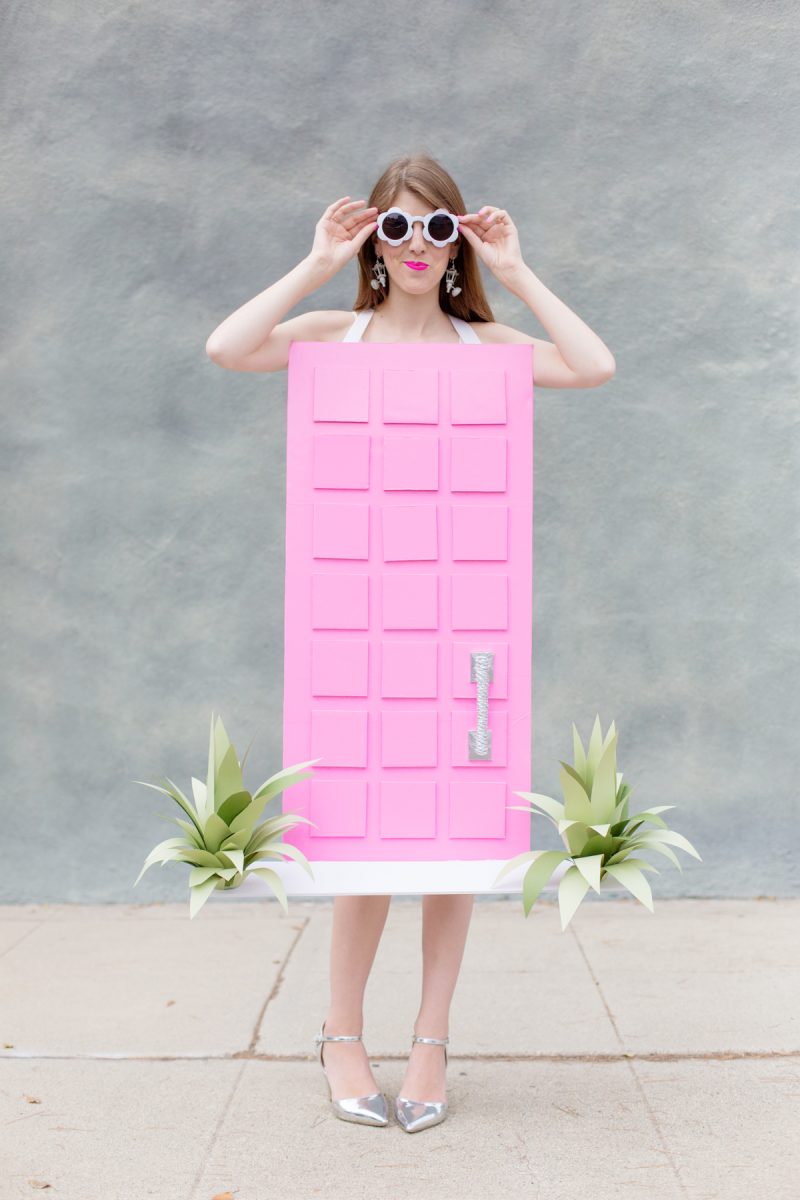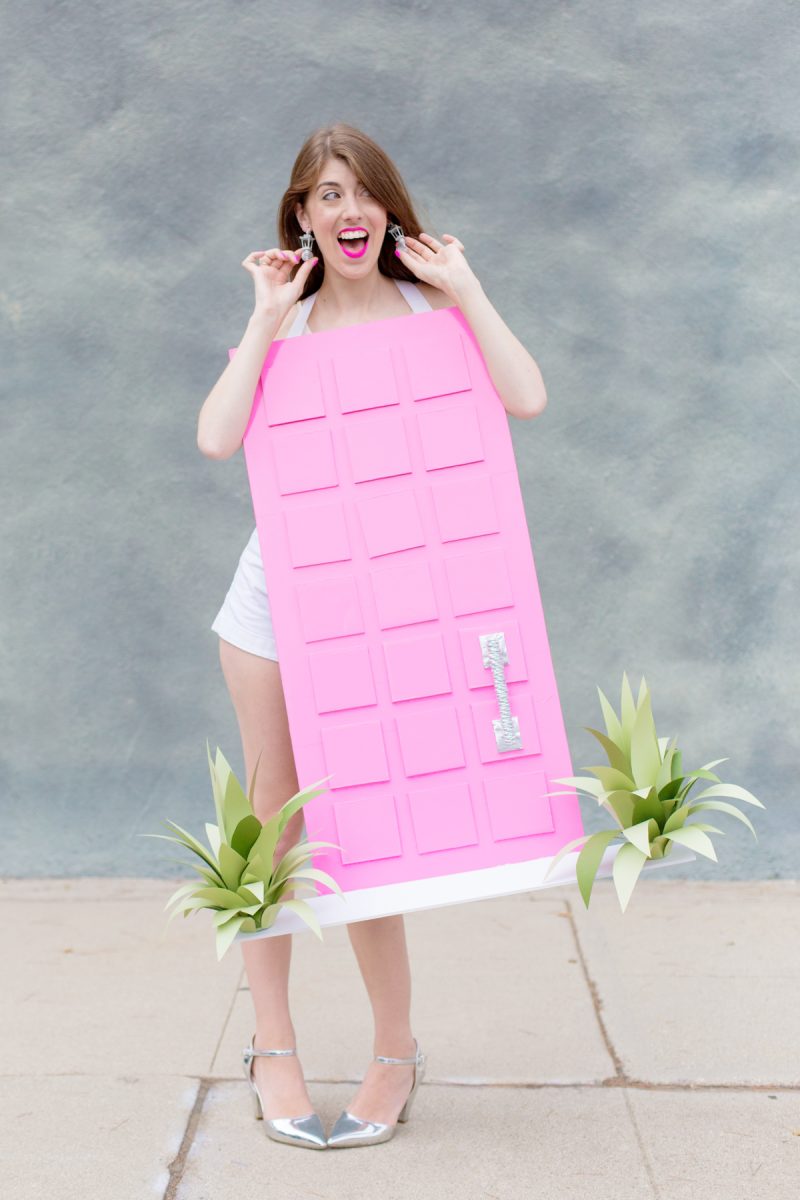 Photos by Jeff Mindell
And there you have it folks, another year of costume madness is underway!!! We'll be sharing 2-3 costumes a week from now until the big day!!!
I did want to address the many requests for baby Arlo to make an appearance! The answer is YES! Arlo will be donning several costume ideas this year alongside me! However, it was really important to me that all the costumes I share with him also be awesome stand alone costumes for anyone who doesn't have a little one in tow! And they are!!! GET READY!!!!
p.s. IF you make a Studio DIY costume, please share with #studiodiyincostume on Instagram! Every year I do a HUGE roundup of all your versions of our costumes that I find there and I'd love to include yours!!
SaveSave
SaveSave
SaveSave
SaveSave
SaveSave
SaveSave
SaveSave
SaveSave
SaveSave
SaveSave
SaveSave
SaveSave
SaveSave
SaveSave
SaveSave