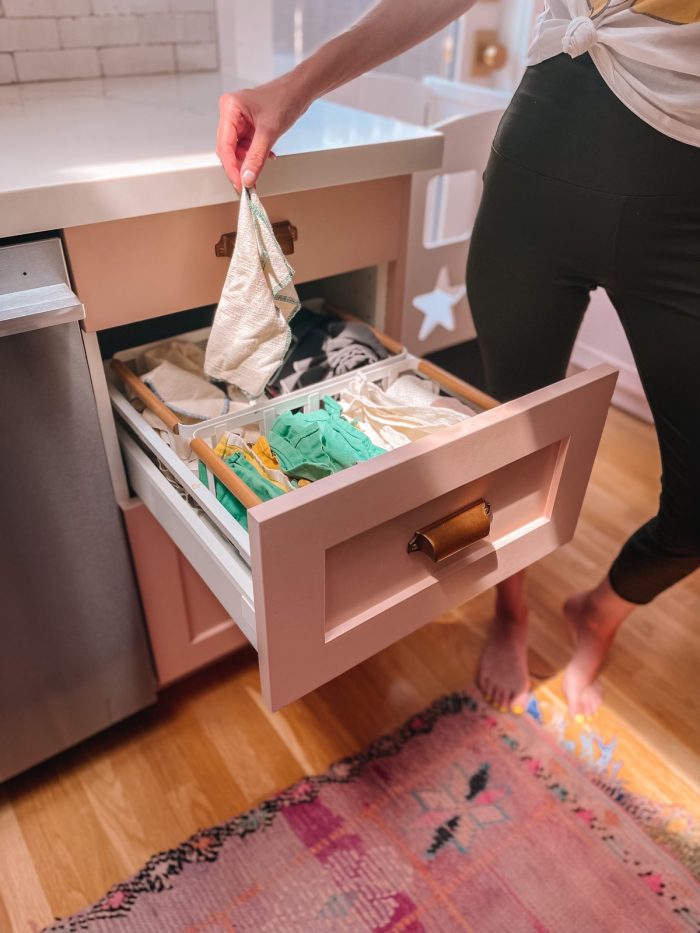 A few years ago, we decided to eliminate paper towels from our daily use. It felt like a small thing we could do to make our home more sustainable. I'm going to talk today about our favorite paper towel alternative (including an unpaper towels review!) and how we made the switch!
Our biggest hesitation at first was… we used a LOT of paper towels. I'm talking one to two rolls a week for our family of three. As napkins, for clean up, in place of sponges sometimes, the list goes on.
Ultimately, by doing the research up front, both my husband and I were SHOCKED out how quickly paper towels were out of sight out of mind for us. We now love using cloth "unpaper towels" and have only gone through two paper towel rolls for the entire past two years. Read on for how we made the switch.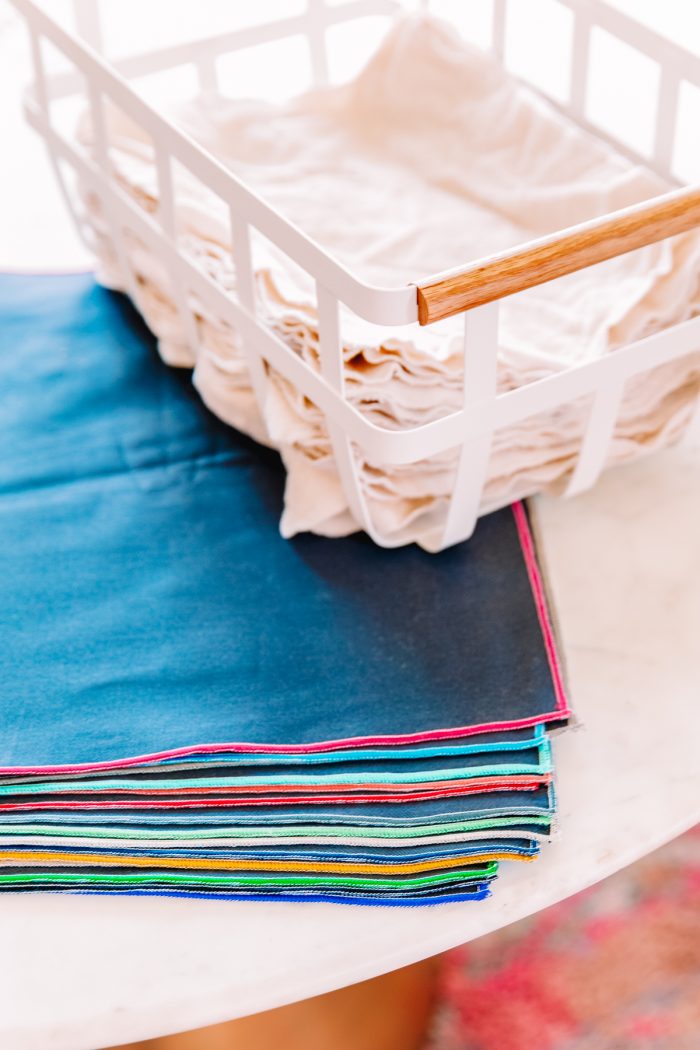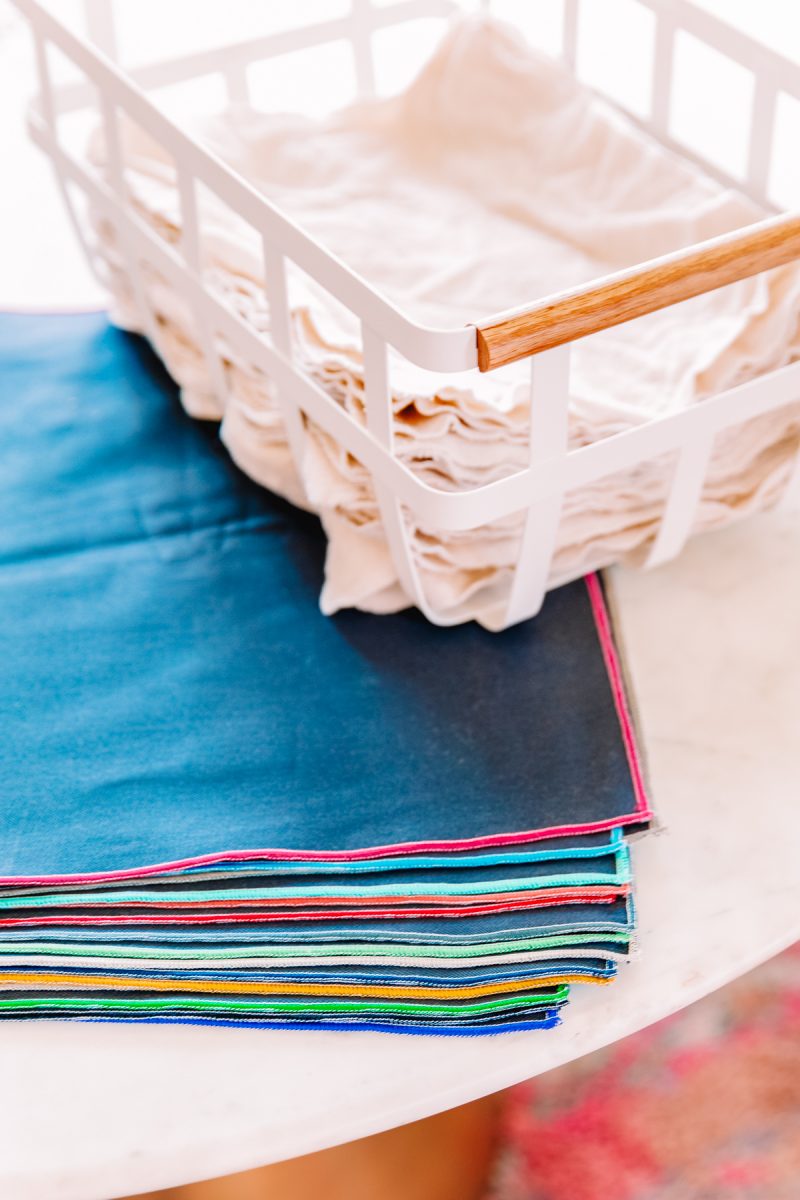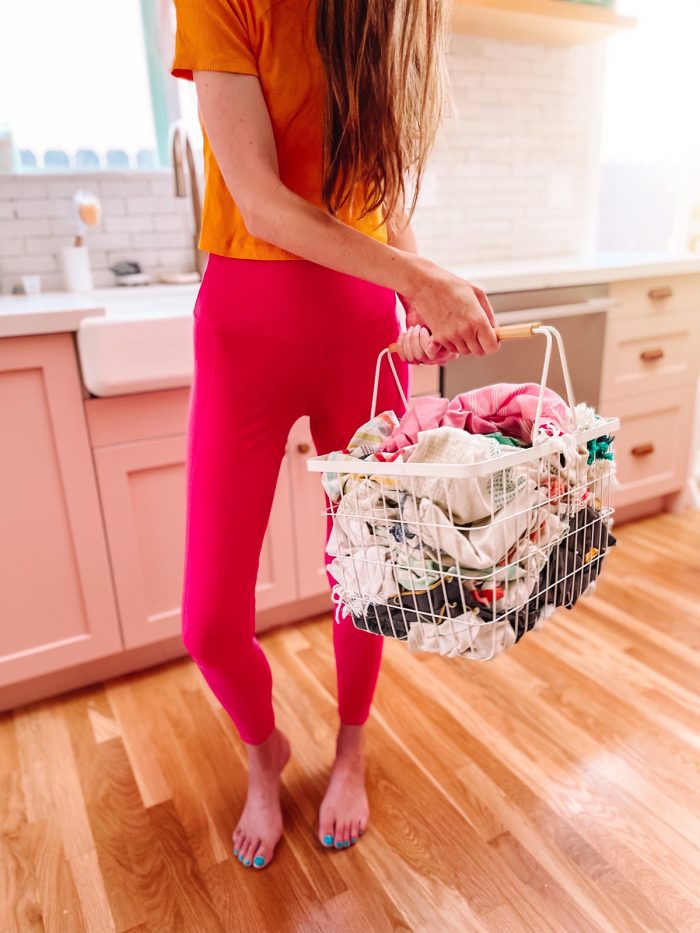 Different Towels for Different Uses
We previously used paper towels for three things in our kitchen:
Cleaning up messes
As napkins
To dry our hands or dishes (sometimes)
Those were the paper towel uses we knew we needed a reusable solution for. While you could absolutely use one type of towel for all three of these, we ended up with a different solution for each due to a combination of cost savings (trying to use what we already had) and ease of division. Here's what we use:
Unpaper towels for cleaning up messes (I'll share more about my favorite ones & why below!)
Cloth napkins for napkins at mealtimes and in school lunches
Dish towels for drying hands and dishes
We store each separately, which I'll also discuss further down in this post.
What are "Unpaper Towels"?
Unpaper towels are simply absorbent cloth reusable towels, usually made of cotton flannel or birds eye cotton, that are similar in size to a sheet of regular paper towels. Many companies even sell them in "rolls" just like a regular roll of paper towel, however we don't roll ours.
They make a great replacement for anything you previously used paper towels for, like kitchen messes and during mealtimes.
Our Favorite Unpaper Towels
We've tried a few brands and materials of unpaper towels and quickly learned that the birds-eye cotton ones are our favorite. They are extra absorbent, lightweight and wash up well.
These are the birds-eye cotton unpaper towels from Generation Me that we have and love the most, they come in a variety of color options. We have the organic unbleached ones with rainbow trim.
Marley's Monsters are also quite popular. They are made from a cotton flannel and a bit more pricey. We find the Birdseye cotton to be a bit more absorbent, but like these as well.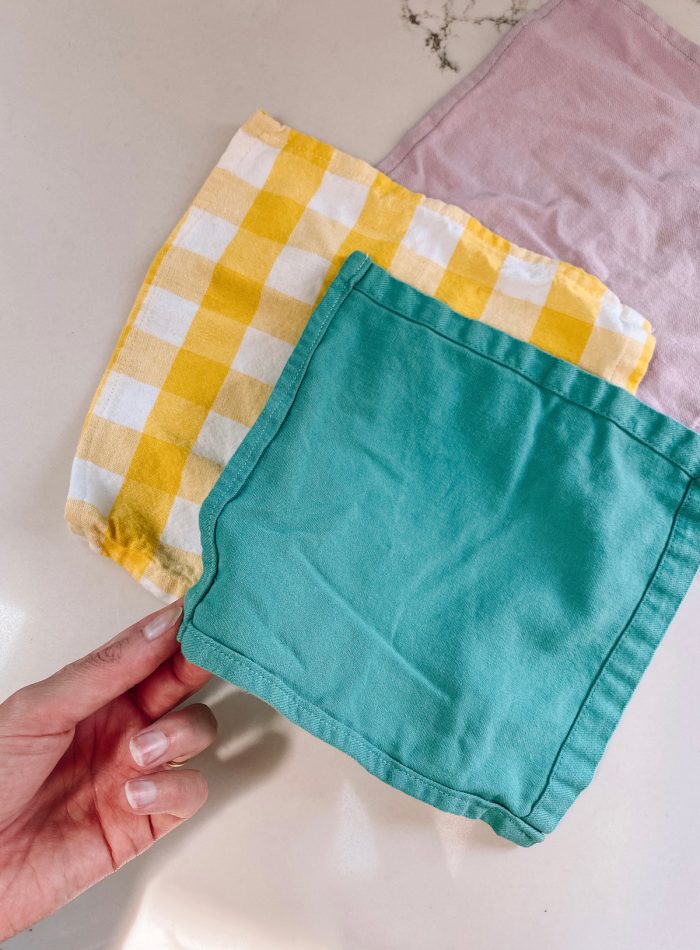 Napkins: Get more bang for your buck!
It's likely that you already have some cloth napkins somewhere in your house that you previously only used for special occasions. Consider using those for regular use instead! We did this and it saved us a lot of money buying new reusable napkins.
Cloth napkins (like these cotton napkins we had on hand) seem to big for the average meal or snack?
Try cutting them into fourths to make them a much smaller and more practical size for every day! Just cut and give the raw edges a simple hem.
This will give you quadruple the amount of napkins without having to buy more, too!
Don't sew? These cloth napkins come in all sizes from 5″ to 18″ so you can pick what works best for you!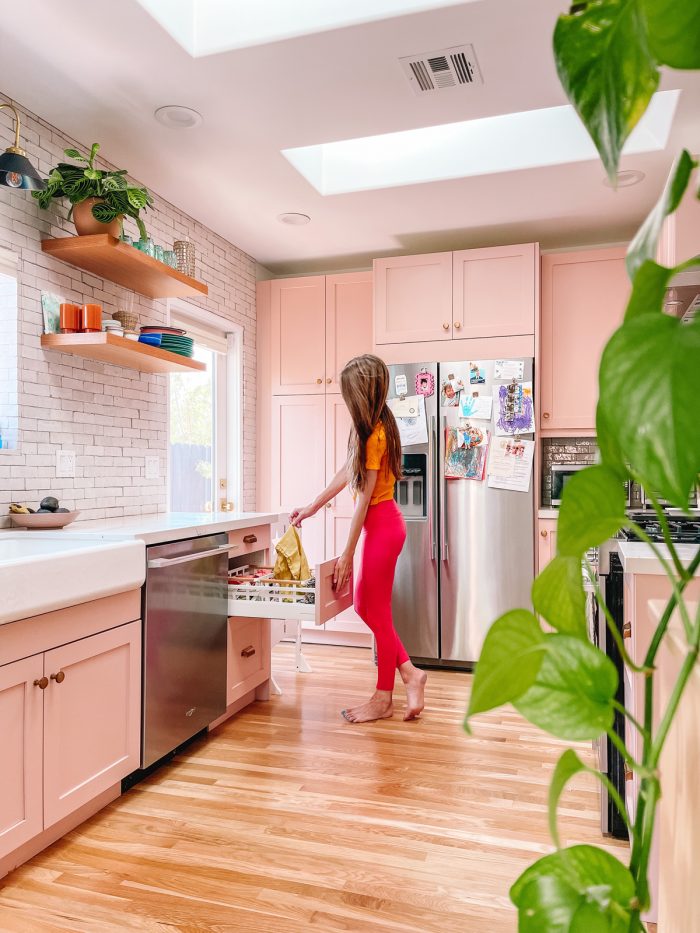 Storing Your Clean & Dirty Towels
We have dedicated a few small drawers in our kitchen to unpaper towel and napkins storage, but you could easily do this on the counter as well.
We have a drawer with these metal baskets for clean ones (we separate ours by "type" of use, but if you're using the same for everything, you can just use one larger basket!), plus a separate drawer with this larger metal basket with handles for dirty ones.
Here's a variety of great baskets for storing your paper towel alternatives: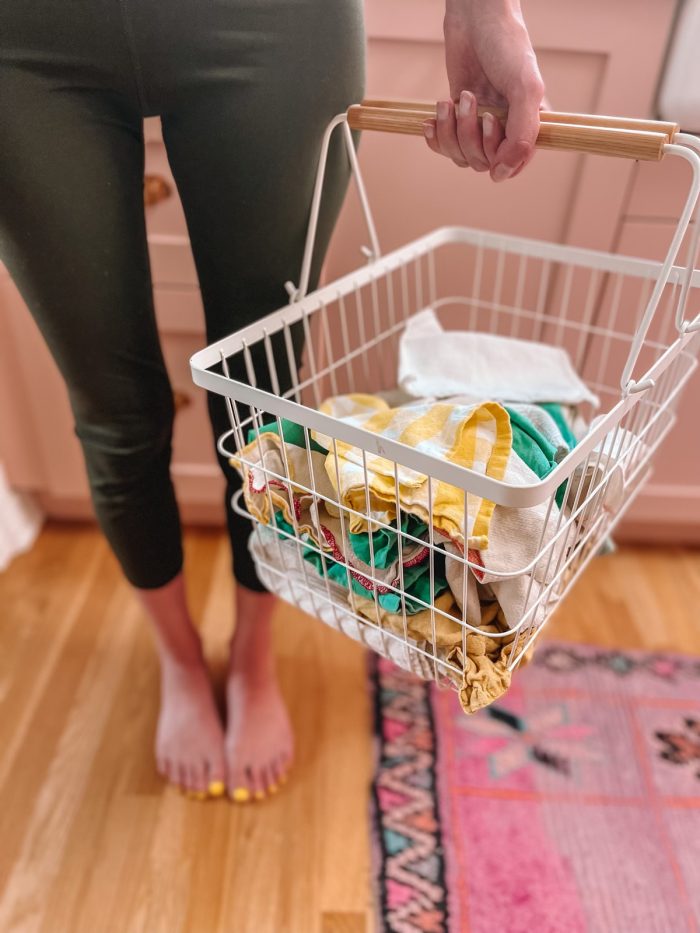 Washing the Dirty Unpaper Towels
In general, we just wipe up whatever mess we need to and then toss the towels into the "dirty" basket. However, if we wipe up something that would be a particular stain concern (like red sauce) or solid (like a piece of avocado) we will rinse it under the sink first.
If we do that, we leave the towel over the faucet to dry for a few hours and then toss it into the dirty basket to prevent mold from growing.
About 1-2 times per week, we wash our dirty towels in the washing machine with our regular detergent. We wash them on hot, to sanitize them, and then dry them in the dryer.
NOTE: The unpaper towels WILL shrink with the first wash! Most listings for them state this as well.
After they're dry, we just pop them back into the clean baskets. Done!
Make the process EASY to stick to!
We are lazy, plain and simple. I knew I had to minimize the effort involved or I'd never stick to using reusable towels. So we did a few things to make this process even easier:
We don't fold them. The only towels we fold are the larger dish towels (which we use only a few of each week). The rest, we just place into the clean baskets unfolded. Give yourself permission to do this if it will make your life easier!!
Color code. If you're using unpaper towels for multiple uses or rooms, consider getting different color ones so you (or your kids!) can easily sort them out.
Ensure your "dirty" basket has handles. This makes it easy to transport it to and from the laundry.
Do you still use regular paper towels for anything?
Yes. We still keep a roll of paper towels in the house for emergencies or if we find we have a mess to clean that we don't feel comfortable using the towels again afterwards. Or frankly, that we just don't want to have to deal with washing. This is quite rare for us though.
If being afraid of not having paper towels on hand for things like pet messes is what's stopping you, don't let it! Keep a roll on hand for those things, but work on eliminating them for your daily food and cleaning use.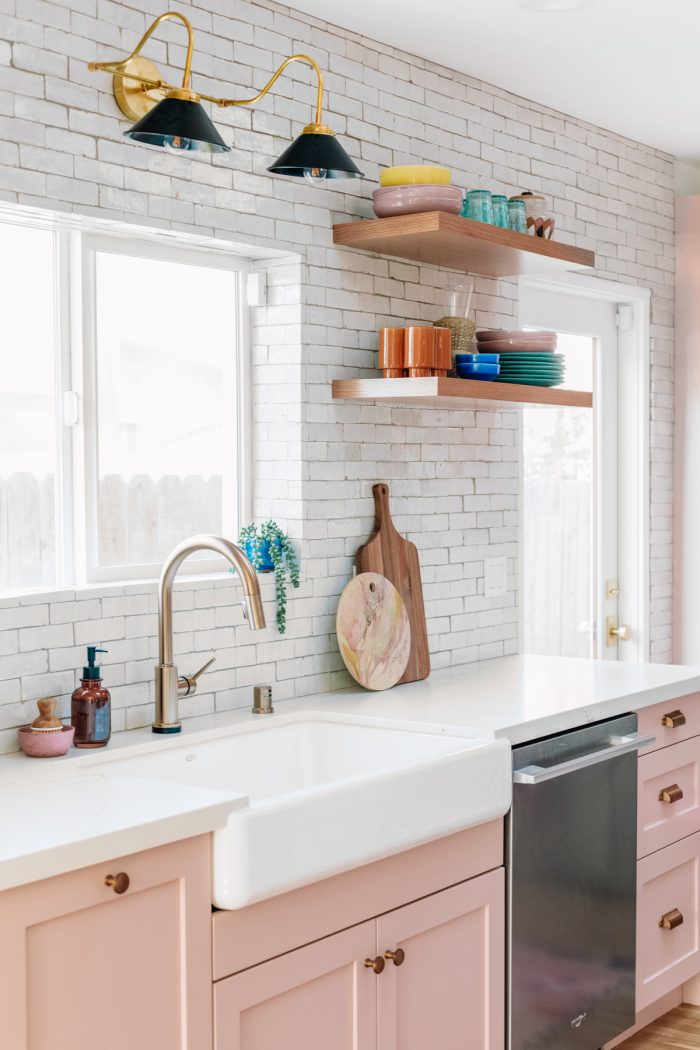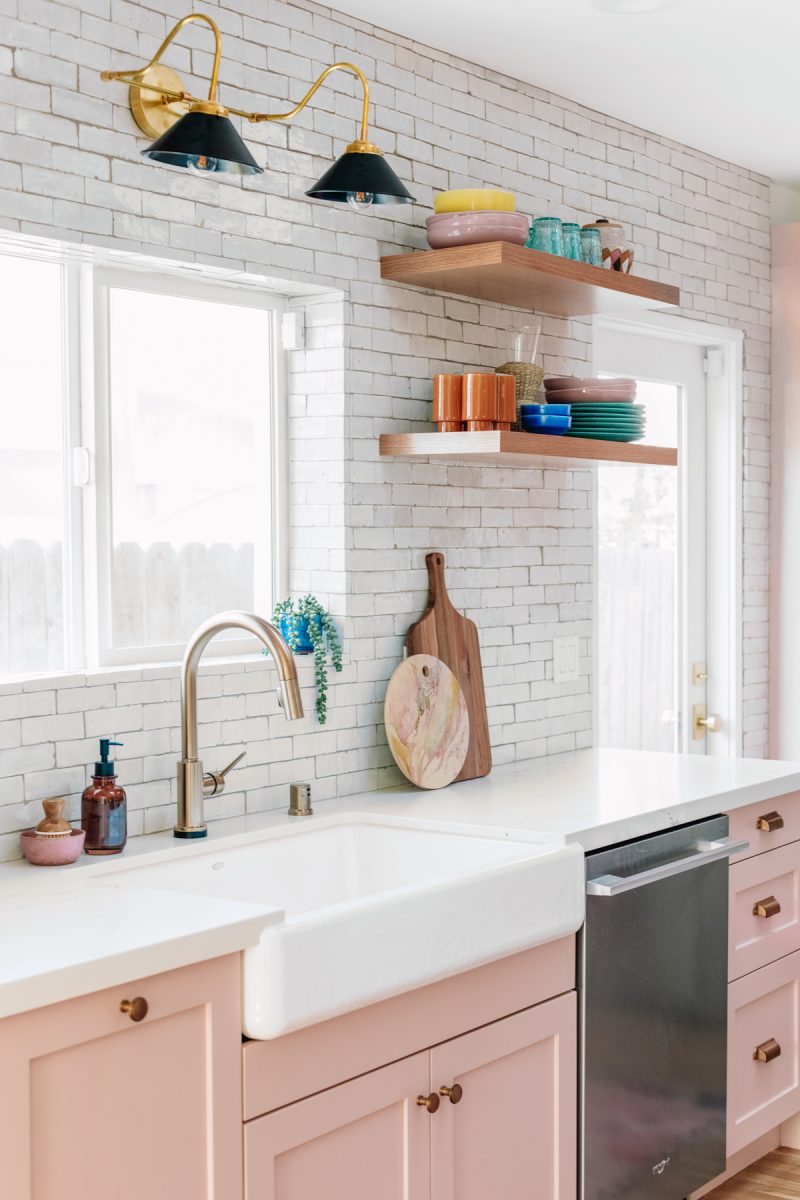 Out Of Sight Out Of Mind
Getting rid of paper towels altogether was too intimidating. I find an "all or nothing" approach very rarely works anyway! But once you have your unpaper towel set up ready, just put the paper towels out of your sight. We keep ours in a high cabinet above the fridge.
Not having them right there to grab is half the battle. I swear!
Have I convinced you!? I can't emphasize enough how dependent we were on paper towels before we just decided to give it a try. We are STILL shocked at how much easier it was to eliminate them from our daily use and incorporate some paper towel alternatives instead!