I have been wanting to make an egg hunt banner forever. Of course, I knew that Kate of Striped Cat Studio could do something far beyond my dreams and capabilities and, well, SHE DID! I don't know how many of you are hosting or attending Easter egg hunts this weekend, but I sure hope it's a lot of you! 'Cause this free printable banner is about to make it the best egg hunt of all time! Heck, even if you weren't planning an egg hunt, you know you want to now, right!? Grab the file below and get thee to a print shop!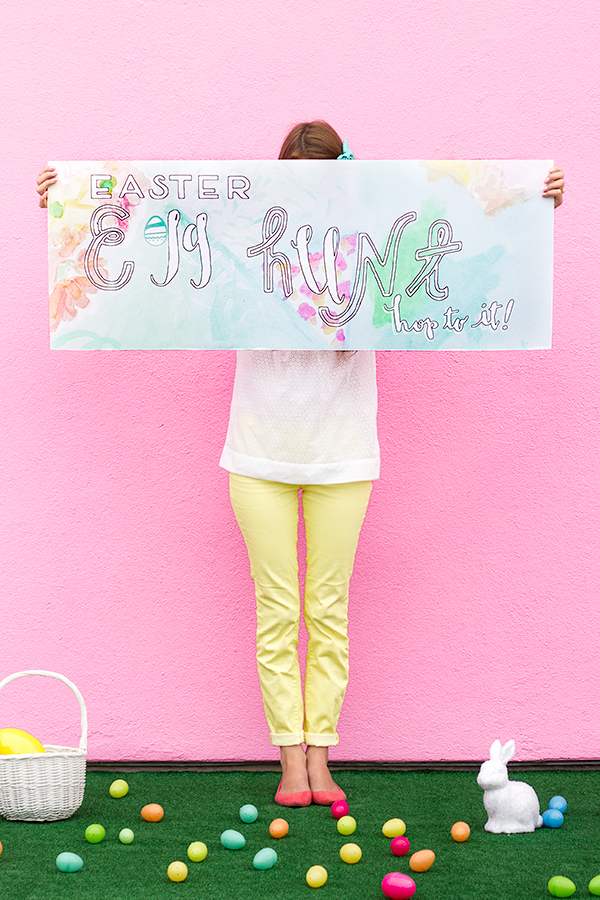 To download the free Easter egg hunt banner, click here!*
(Unlike usual, because this file is so large, this will take you to a dropbox link where you can download the file.)
The banner is 4 feet x 1.5 feet. I had my banner printed at Staples, where they printed it on their 4ft x 2.5ft standard size banner paper (which is a thick poly-paper) and cut it down for me. It was about $25. You can either email them the file directly (just send them that dropbox link!) or you can put it on a flash drive and bring it into the store. They generally say it takes an hour to print, but mine was done faster! To hang, you can punch holes in the corners (just make sure they aren't too close to the edges!) and tie to a tree, stake or fence (you name it!) with twine! If you are able to hang it high enough, it would be the perfect egg hunt starting line! You could also use non-permanent tape or adhesive to adhere it to a wall or garage.
Printables by Striped Cat Studio, Photos by Studio DIY
Sooo… who's ready for Easter Sunday!? Me! Me! Hope you all have an egg huntin' good time out there!