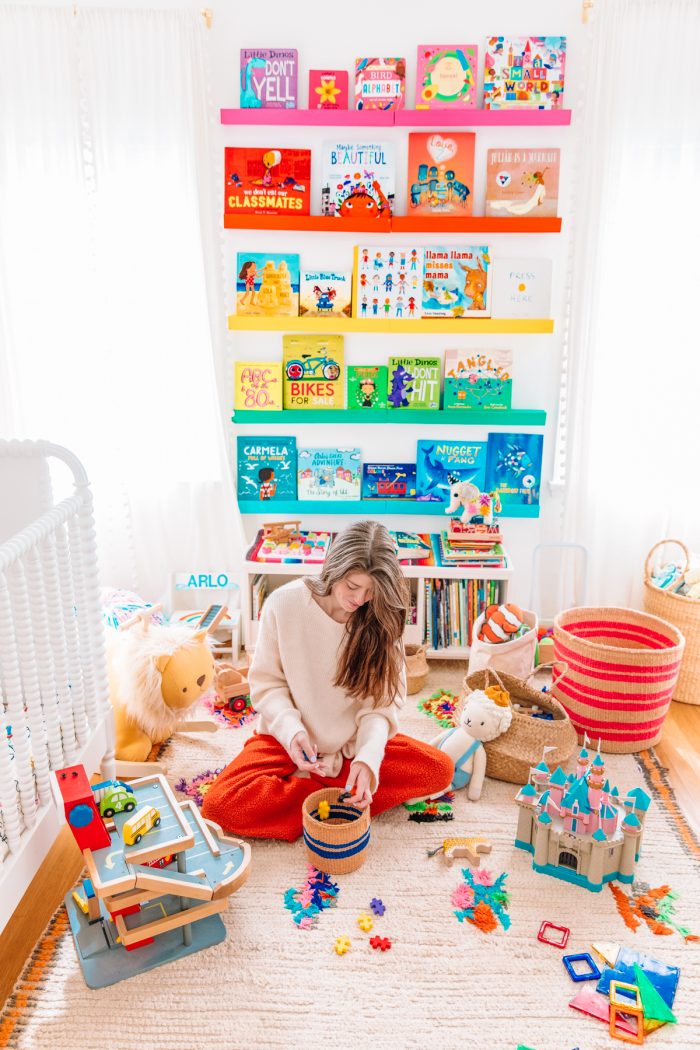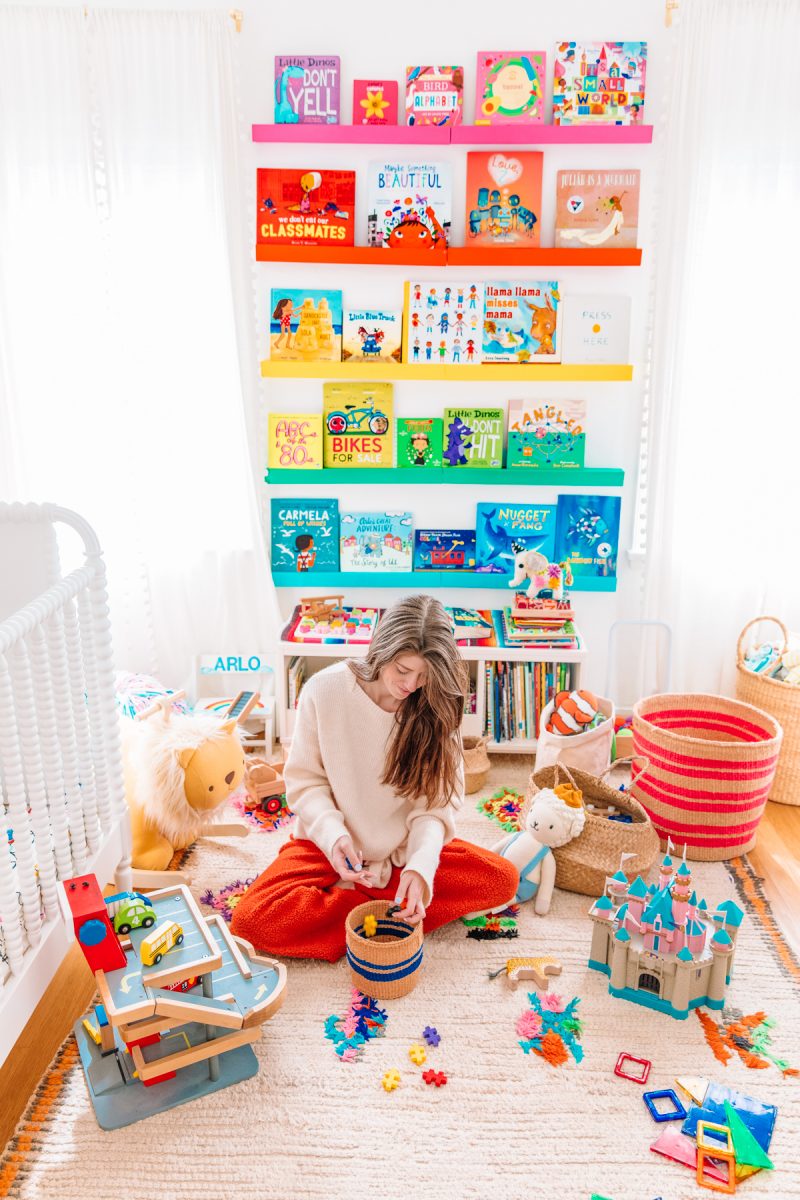 I've gotten a few questions or comments on Instagram about how "intentional" we seem to be about the toys we bring into our home for Arlo, which honestly feels like a huge compliment! I'm trying more and more, across the board, to be more intentional with items we bring into our lives and toys are a tricky one. You want your kids to be stimulated, but you also know that nothing lasts forever when it comes to childhood and every toy as a ticking clock on it, it seems.
So today I wanted to share our philosophy on toys, some things that have worked for us and some tips for how to get friends and family on board. I should note, since we have a toddler, a lot of my tips are toddler focused (and may ONLY work on toddlers) but not all of them. I'm aware that these may change or evolve as he gets older and will update our strategies accordingly as he does.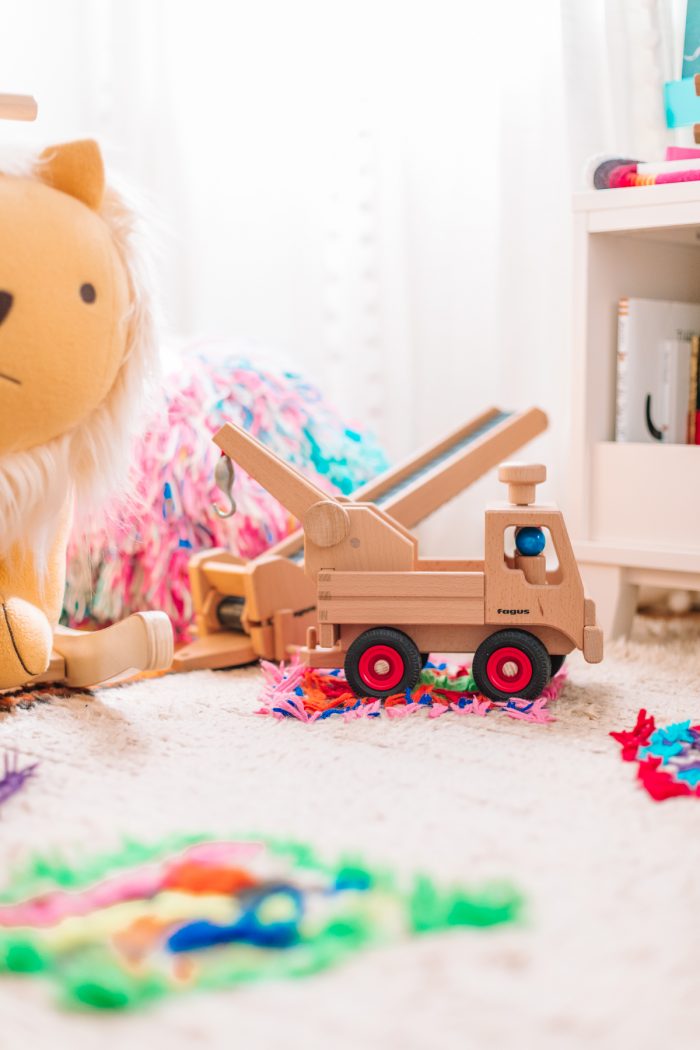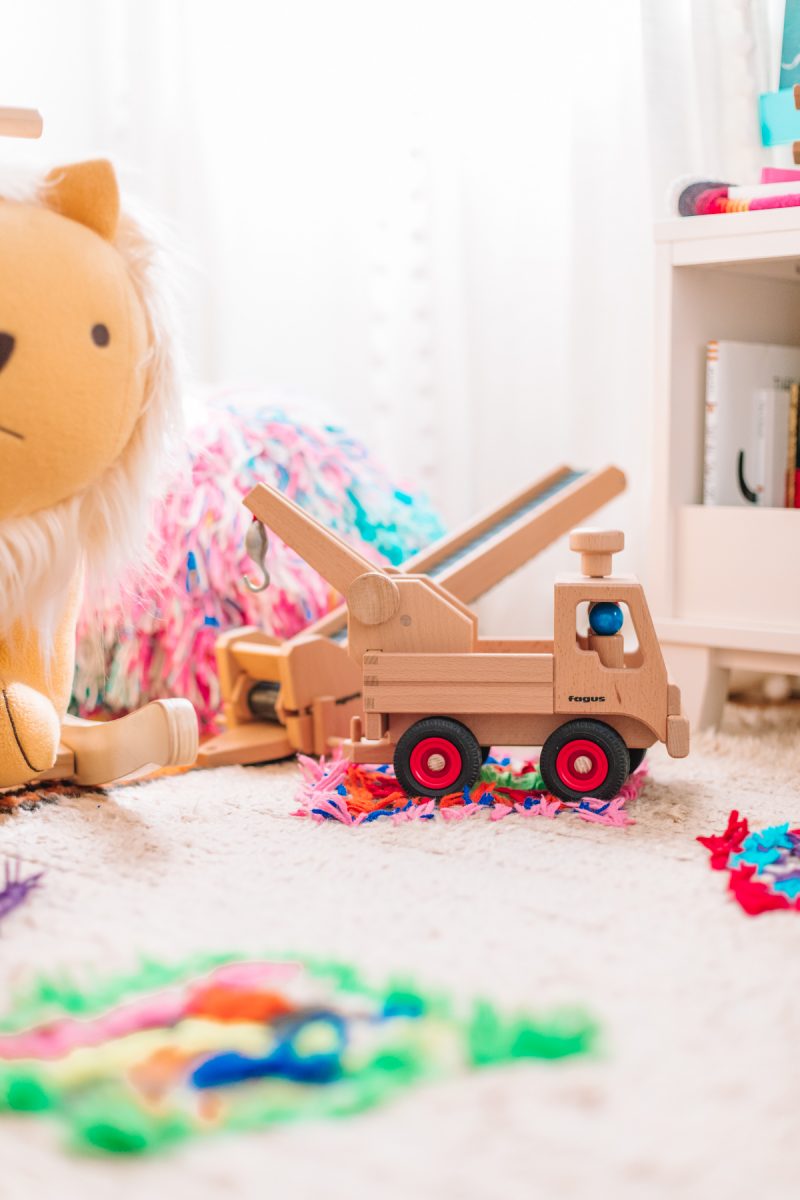 Our General Philosophy
I'll talk in detail about a lot of questions I get below but here's a quick overview of our philosophy: We don't buy a lot of toys and we don't make a big deal out of it if we do. We save up ideas and use those for birthday and holidays. We ask ourselves a lot of questions before we buy something, and focus on things that are open ended and will have longevity. We clean out things often that still make their way in somehow, and donate them to places we know can use them. We are honest with friends and family about limited space and easy overwhelm. We make a few rules and we also break them occasionally, because we're talking about toys here… not the end of the world. Keep that in mind! =)
Now for the long version!
Questions To Ask Before Buying A Toy
Before we buy any toy for Arlo, we ask ourselves a bunch of questions. Because we have limited space, and are trying to be conscious of minimizing waste, we DO try to be intentional about what we bring in, and that we'll get the biggest bang for our buck out of them. Here are a few of the questions we ask:
How many different ways can my child play with this toy?
What is it made of? How well is it made? Will it last?
How long will my child like this toy for? Can it grow with them?
Can my child play with this independently, and also with others?
Where will this go in my home?
Do I (the parent/guardian) like this toy?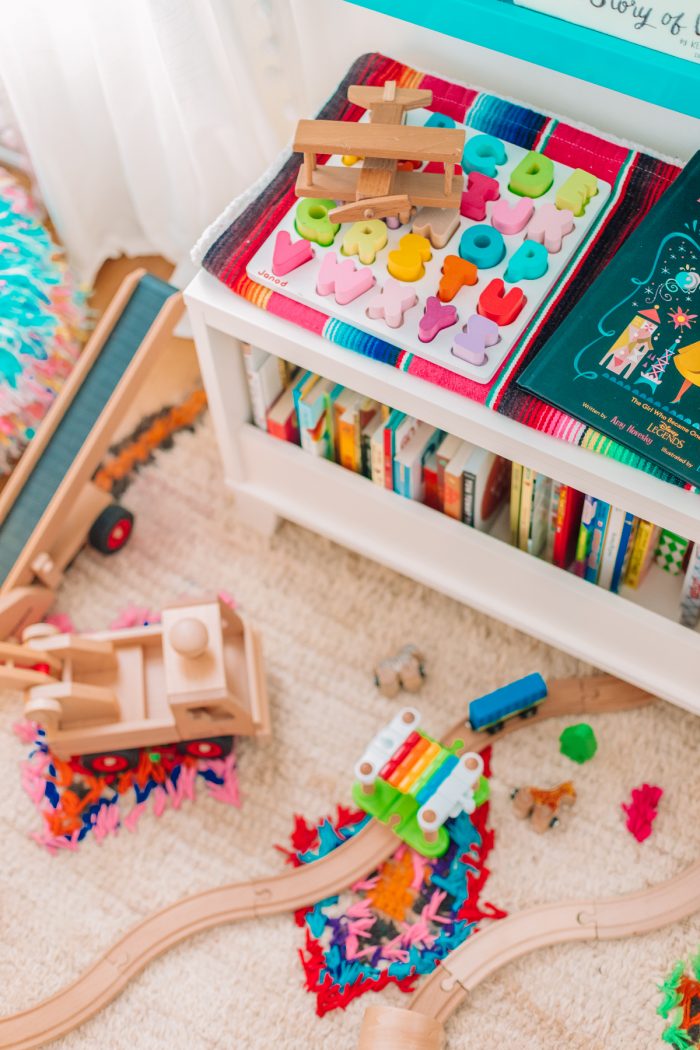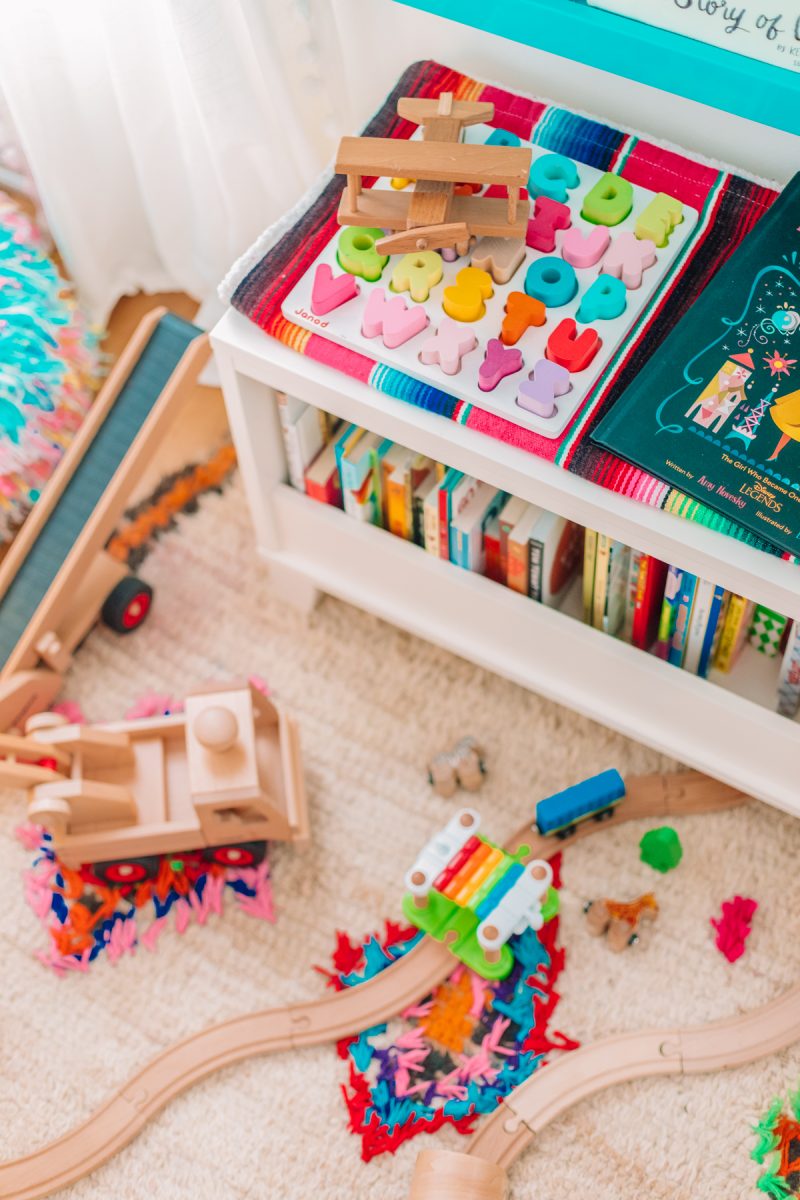 Toy Materials
I'm going to speak from an eco-standpoint here, not a safety standpoint. It's up to each of us to determine what materials we are comfortable with our children handling/chewing on/etc! Read labels and make the choice you're comfortable with!
We all know plastic isn't good for our world, period. It would be great if we could all afford to only buy wooden or sustainably made toys but those are often pricier and not a reality for everyone. I bend more on my thoughts on plastic when it comes to toys because plastic toys can have a real staying power. When we go to my parents house, Arlo now plays with my (plastic) toys that I played with 25-30 years ago. Things like LEGO bricks can be passed down from generation to generation. So my priority when it comes to toys is that the toy is something that will last when it comes to interest, especially if it's made out of plastic.
And if you can buy toys second hand, do it. Facebook mom groups are GREAT for this.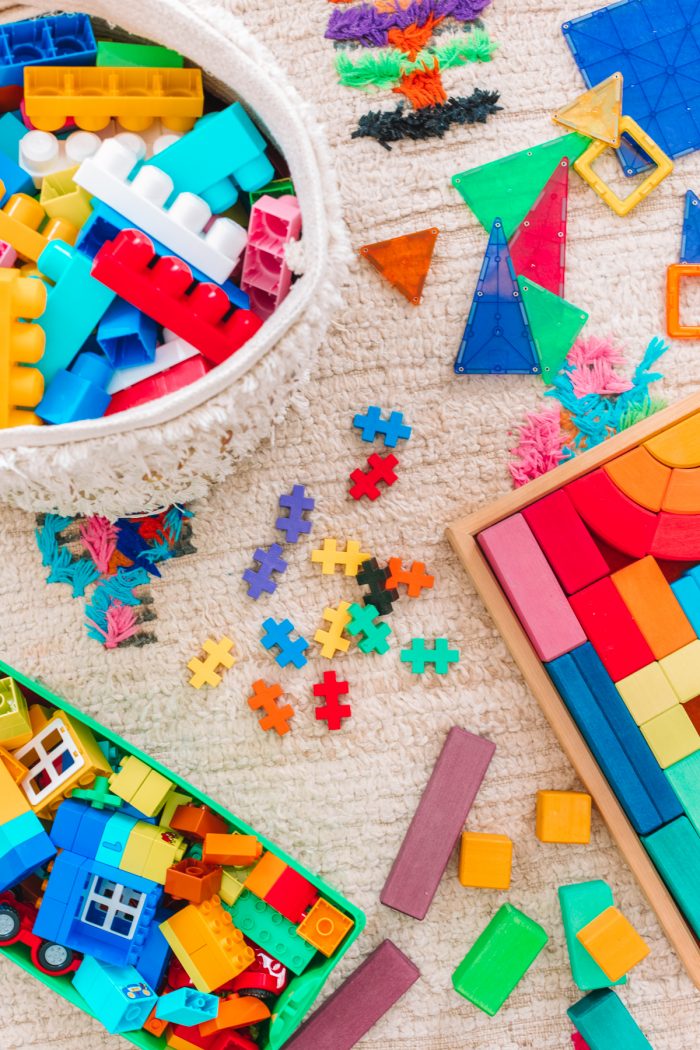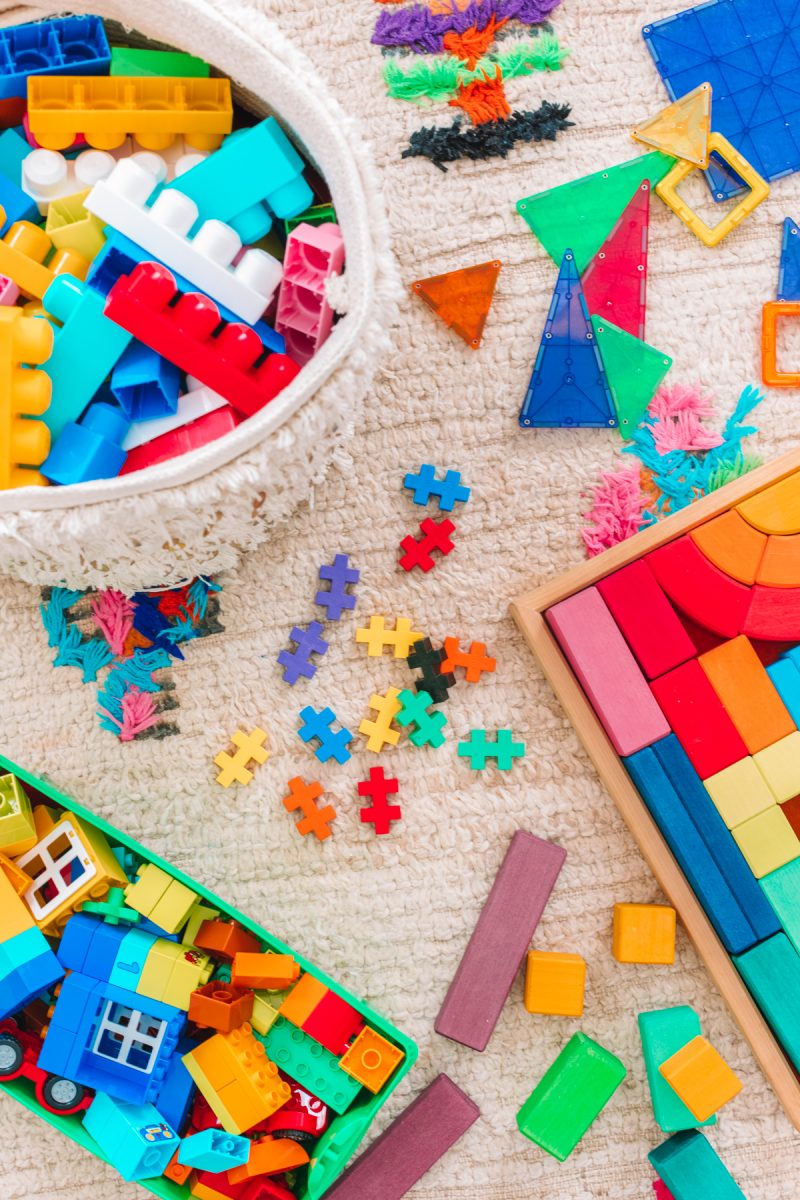 The Importance of Open-Ended Toys
When purchasing a toy, we almost always choose something that is open ended or promotes creativity. That means we gravitate towards blocks, puzzles, train sets, dolls/figurines or cars. We like having toys in our home that can be built or used differently every day. It's great for his creativity since there's no set "way" to play with them, and frankly it's more fun for us since we don't have to play the same exact thing over and over and over again.
Be extra careful when it comes to craft "kits" or block "kits" that only have one outcome. They end up being more "one and done" and don't promote as much creativity. I prefer to buy a big box of blocks, or a basic set of craft supplies (paper, crayons, felt) and come up with ideas on our own. We absolutely make exceptions for the right kit (I've shared a few we've loved over the years!) but I'm super picky about the ones we bring home.
The Toy Aisle
Simple: we almost never buy toys when we're at a toy store/Target/etc. with Arlo, therefore, he doesn't expect to take home a toy. Instead, he just LOVES playing with them while he's at the store.
When it's time to leave, we set a timer for two minutes and tell him he has two more minutes to play (showing him the timer) and when it rings, we ask him to say goodbye to the toys and we'll see them again another time. Does he still get upset when we have to leave? Sometimes, but it's only ever because he's sad he has to stop playing and not because he's mad we aren't taking it home. Major difference!
He is completely unmotivated by toys as a result though, which is great except for when you want to bribe him to do something with a toy. 😉 Ha! Kidding… mostly.
When we do buy him a toy while he's around, he gets SO excited and is very appreciative.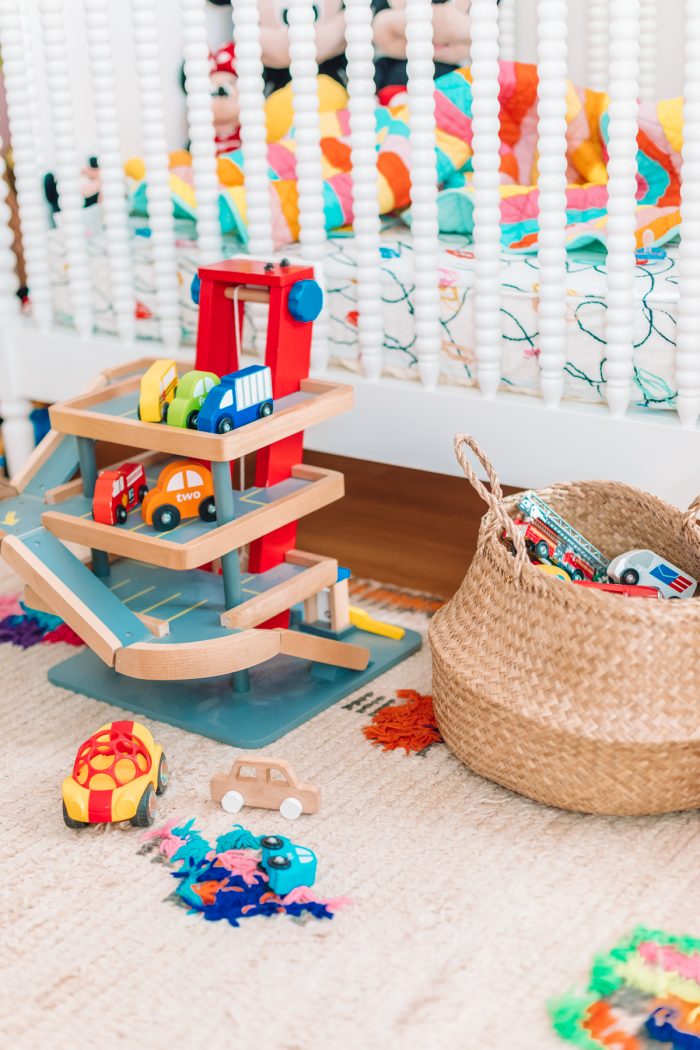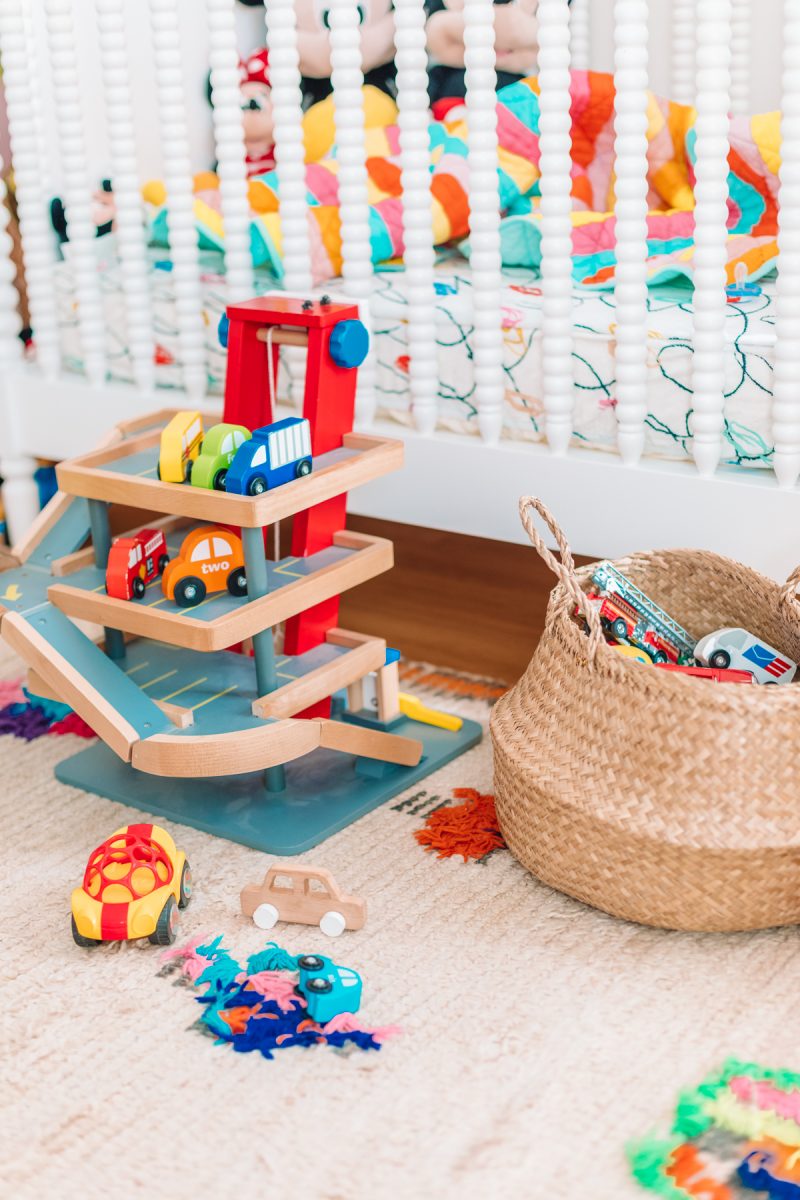 Birthday and Holiday Gifts: Getting Family + Friends On Board
You can have all the philosophies you want, but that doesn't mean friends or family will abide by them. People love to show their love through gifts (myself included!) and that can be tough, especially when you're trying to eliminate waste. Here's a few things that have helped us:
We don't buy Arlo many toys. We instead save up a list of "bigger" ticket things we think he'd want, and then send several ideas to each grandparent prior to his birthday or a holiday. We tell (close) family that we don't have room for a lot and we want to make sure Arlo loves everything.
We ask grandparents to only buy one or two gifts.
If the gift giver isn't there and we don't know what's in the present, we open the gift ourselves BEFORE giving it to Arlo. If it is something we don't want in our home, we just don't give it to him and he doesn't know the difference. (Again, this only works because he's so little…)
We mention to close family that we will donate anything he or we don't love and we follow through with that. People do NOT like to see their gifts being donated and it sounds harsh, but sometimes you just have to be honest with people. Nobody is happy if money is spent, waste is generated or space is wasted because you didn't want to be honest! Family still will buy him some random small items and that's totally fine with us, of course! Don't get TOO stressed about the little things unless it starts to get out of hand. Just focus on the big ticket items and making those fit your lifestyle.
We don't do gifts at birthday parties. We instead ask guests to bring a book to donate to an organization or school. This means that we don't end up with 20+ gifts we don't have room for or don't want.
If you have family that you know will want to pick out their own gift, here are a few ideas for how they can do so:

Ask them to add on to a collection you have! New trains or train tracks for your set, new animals or figurines/furniture for a dollhouse or barn, etc. The person gets to pick out something they love and feel more involved in the decision making, and you know your child already loves that category of toys and that you already have a spot dedicated to storing those items, too.
Craft supplies! Stickers, crayons, clay, pads or rolls of paper, you can never go wrong. I love putting together my own "craft kits" as gifts with various open-ended craft supplies.
Encourage them to pick books! You can never have too many books in my opinion and it's a great compromise!
Ask for experiences! Zoo passes, Disney tickets, movie tickets, membership to a museum or play gym are all great gifts that don't involve "stuff"!

Our Philosophy on Toys with Batteries
We, in general, do not buy or ask for toys for Arlo that have batteries (ie toys that light up or make sounds). If we do get them, we almost always remove the batteries. I get a lot of questions about why this is a rule and the answer is simple and selfish: I cannot stand toys that make noise, especially when toddlers love repetitive behavior and play it over and over for one thousand years. 😉
I also don't see the reason for things to constantly be motorized or make sounds. I'd rather see Arlo move a train around his train track himself, or make sounds in a book ourselves and talk about them.
A good tip for any toys you end up with that have batteries and don't really "function" without them: If they're small enough, leave them at your kiddos changing table or in a place where they have limited or timed access! Arlo has a dress-up monkey that says things like "Where is my RED SHIRT?" It was a gift and he only gets to play with it when he's getting his diaper changed. That way, there's a time limit on it, and it also distracts him so we can change his diaper in peace! He LOVES it.
Our Hard and Fast "Rules"
In addition to our thoughts on toys with noise, which I wouldn't say is exactly "hard and fast" anymore, we have two rules that are very much cemented in stone:
No video games and no weapons or toys that include weapons (that includes things that resemble or are used like a real weapon, such as light sabers, foam swords, water guns, etc.)
Arlo is a bit young for video games at this point, but it is a sticking point for me and unless we determine that there as an emotional or medical need for them, I don't plan on budging… even if he hates me for that. 😉 I know not all video games are one in the same, but I have a hard time with a lot of the subjects they depict and a lot of the research around them. I don't judge anyone whose kids play video games! And I am sure Arlo will play them at other kids homes at some point, but we won't have any in ours.
We don't allow weapons of any form, period. Even faux swords from dress-up costumes or light sabers from Disneyland. Arlo has started picking up a few "fighting" moves/games at school (pointing fake swords or weapons and making noises) and we IMMEDIATELY squash that behavior. "That is not allowed in our home. It hurts people and it hurts our feelings." We don't make it a bigger deal than that, or else he'd keep doing it.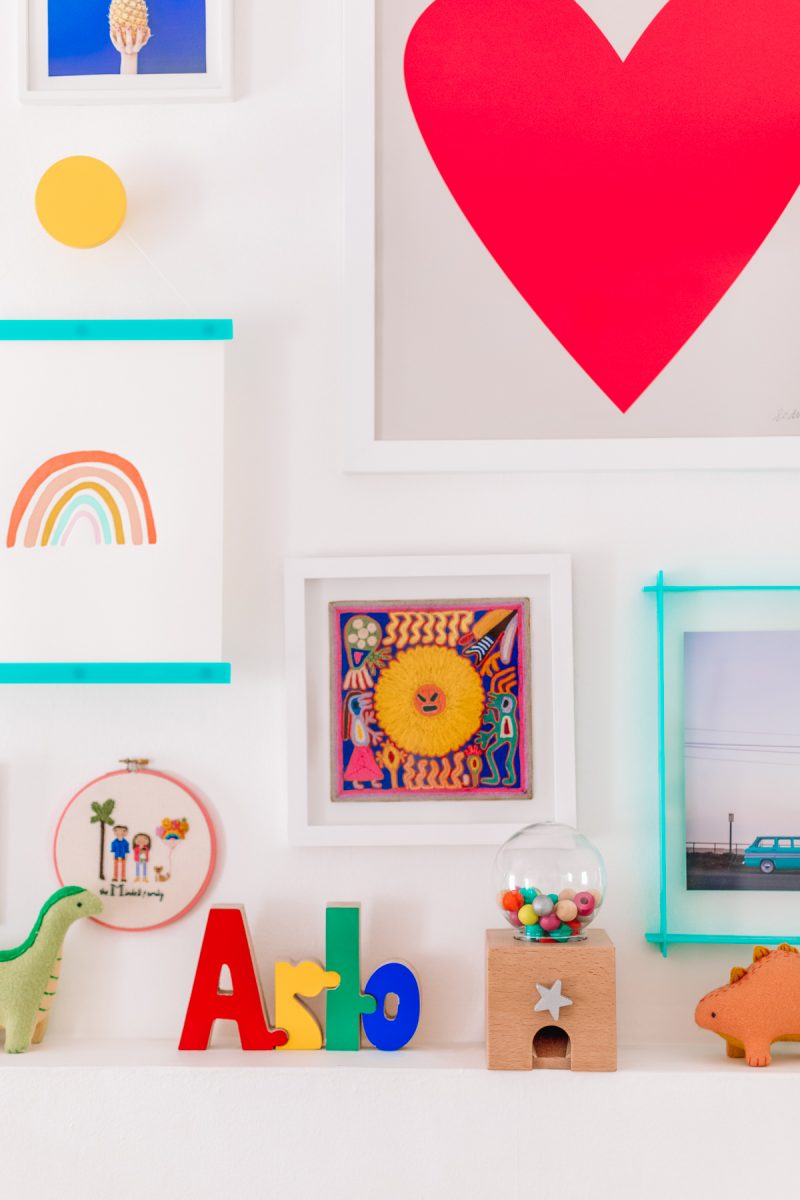 How Many Toys Is "Too" Many?
I don't think there's a perfect number of toys, it will really depend on your child and your space. I *do* think it's important to edit, starting with what you bring into the home to begin with. But we all know no matter how hard we try, things weasel their way into our homes anyway. We do regular, quarterly (if not more often) clean-outs of toys to donate. I currently do this when Arlo is not home or sleeping. He feels little too young to understand the concept of picking what you want. Within the next year or so, I'm hoping to incorporate him into this process so he has some autonomy over his belongings.
My brother had a strategy with his kids though that I loved, which was any time a new toy came in, another toy had to go out. This could work great with older kids who are asking for something. Do they want it ENOUGH to give up another toy they already have for it? Be sure to follow through.
Where To Donate or Sell Toys
We donate or sell toys Arlo no longer wants but we try to be really REALLY conscious of where and how we do this. Because if you donate items to a place before reading their rules, you may as well just throw the toy in the trash since that's exactly where it might go if it's not something that meets their guidelines. Here's a few great places to start:
Facebook mom groups or "buy nothing" groups
Friends and family
Local shelters
Baby2Baby or other charities supporting children
Preschools, daycares or church nurseries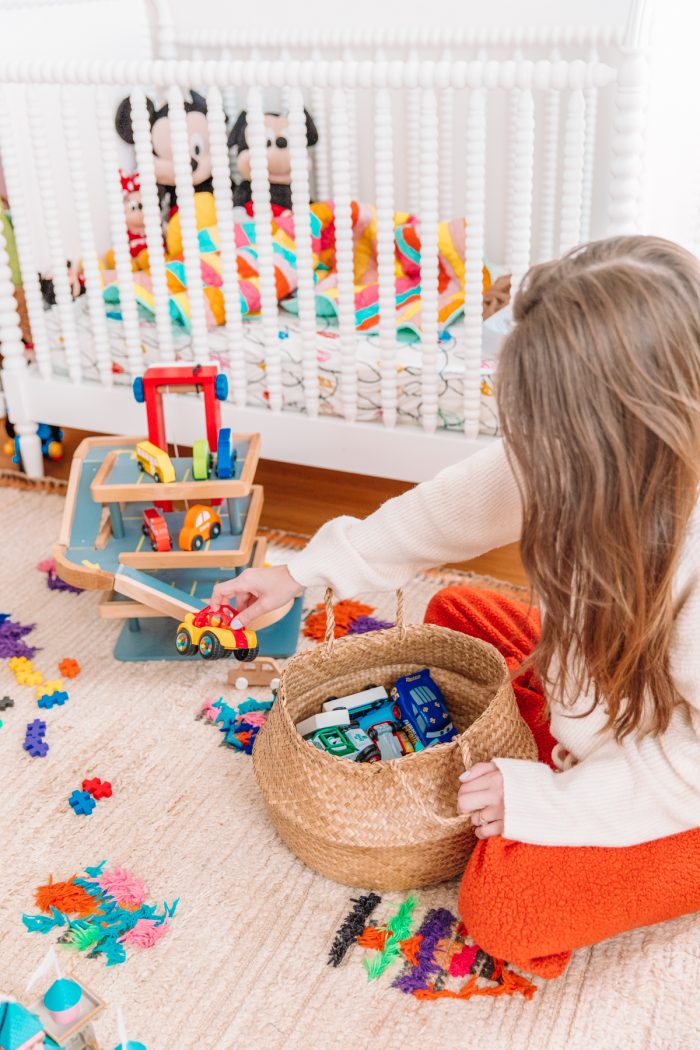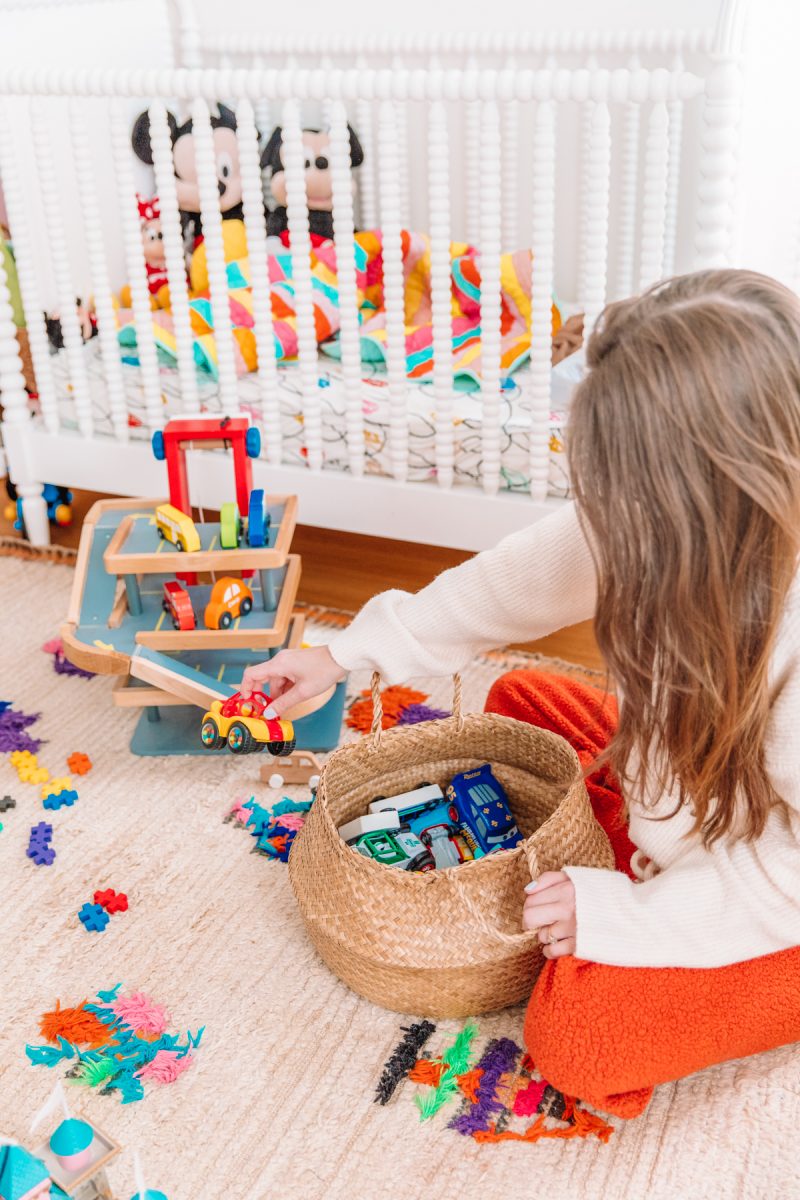 I'm curious to hear if you have any strategies or philosophies when it comes to toys? This has worked for us, but it won't work for everyone, and it will certainly change over time! I feel really good about the toys we bring in and the ways we ensure that happens and hope we can continue to pivot those principles as Arlo grows up!
Toys Pictured:
Wooden Truck + Conveyer Belt | Disneyland Castle (Similar)
Letter Puzzle (Similar) | Train Set
Mega Blocks | Magnatiles | Plus Plus Blocks
LEGO Duplo | Rainbow Wooden Blocks
Dress Up Monkey | Wooden Garage | Gumball Machine
I've written several posts on some of our favorite toys and activities, you can find those below:
Our Favorite Toys for Two Year Olds
Unique Gift Ideas for Toddlers
Five Free Toddler Actitives to do at Home
Books for One Year Olds, 18 Months Old, Two Year Olds