Hey now, hope you didn't think I'd let a holiday slip by without a donut-inspired project! This time I'm taking it to the Christmas cookies… and turning those classic gingerbread men into donuts instead! Truth be told, I'd never made anything gingerbread before. Those just were never a staple in my house, so I was starting from scratch. That's why when Bing challenged me to use the new Smart Search for a project of mine, I thought this would be the perfect tool to help me out in my gingerbread cookie-making quest. And by the look (and taste) of these gingerbread donut cookies, I'd say it done did it's job!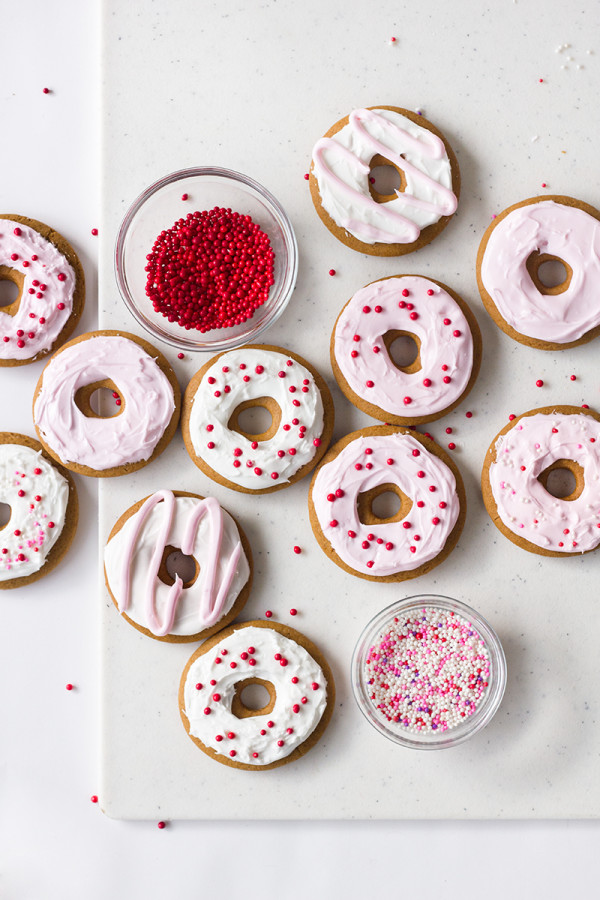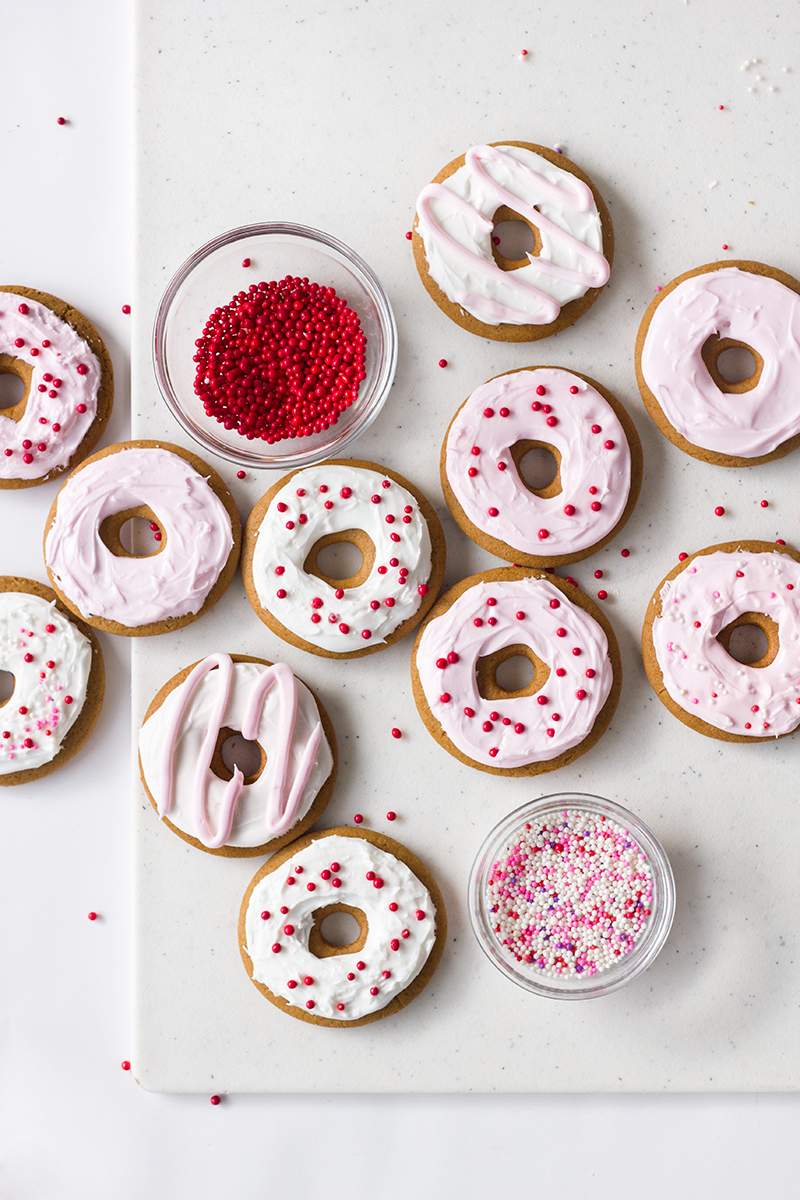 Bing Smart Search is pretty schnazy. It's very graphic and visual, just how I like it. I searched for a few things… gingerbread cookie recipe (check!), royal icing recipe (check!), and decorating gingerbread cookies (check!). I loved being able to see the snapshots of the sites, and I loved that I was able to see a real variety of inspiration images, versus the same ones over and over. And for those of you who do have a family recipe, maybe one that was emailed to you a few Christmas' a go, downloaded and lost in the depths of your files. Well! Smart Search can find that too, all in the same search. Told ya… schnazy.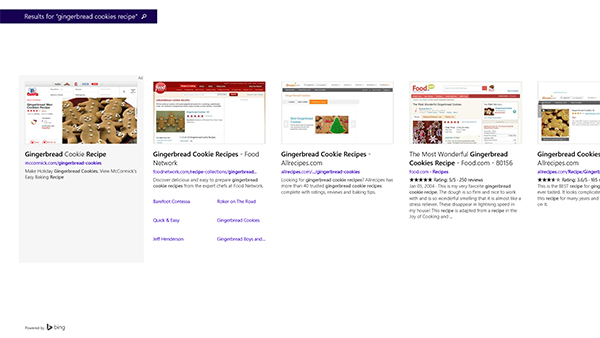 Once I had my recipes, I adapted the decorating ideas from gingerbread men to gingerbread donuts! Here's how I did it…
Gingerbread Cookie Recipe
Circle Cookie Cutter and/or Biscuit Cutter (For my donuts, I used a biscuit cutter for the outer ring, and my piping tip for the inner circle. For my mini donuts, I used the coupler from my piping bag and a smaller piping tip. Pretty much anything round + sized appropriately works!)
Royal Icing Recipe (I divided mine in half and added a bit of pink food coloring to one half.)
Piping Bag Fitted with a Large Tip
Sprinkles and/or Smaller Pastry Tip (Or just use a plastic sandwich bag like I did!) for Decorating
Whip up your gingerbread cookie recipe just as you would if you were making another shape. Roll it out according to the recipe instructions and cut large circles with your biscuit/cookie cutter. Then cut a smaller circle in the center of each. Keep re-rolling your dough until you've gotten all the donuts you can get out of it! Then pop 'em in the oven and bake. Depending on the size you make your donuts, you'll need to adjust your baking time. I baked the larger ones for 6-7 minutes, and the smaller for 5 minutes.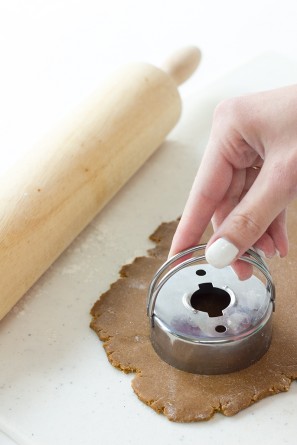 Now it's time to ice these babies! By the way, royal icing totally intimidates me. I was pretty scared of it, but through my searching, found Sweetopia's awesome illustration and video and it got me through! Now, I decided to make my icing thicker than directed because I wanted it to be a bit more organic looking than the typical perfect royal icing you see on cookies. I know, that's probably totally contradictory to the point of royal icing and all you pro bakers out there are shuddering… but I never liked rules anyway! To do that, I just added an extra 1/2 c of powdered sugar to my recipe.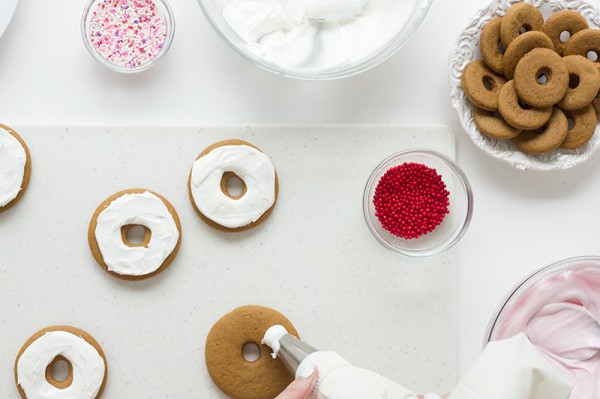 Fill up your piping bag and carefully ice each cookie. Then, use a knife to spread it out a bit and make it look more frosting-y. (Yep, that's a word.)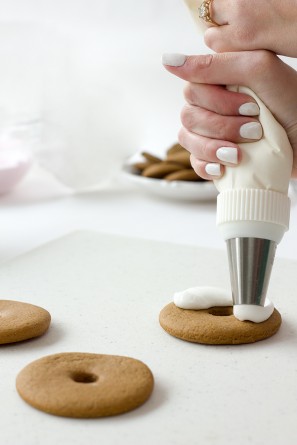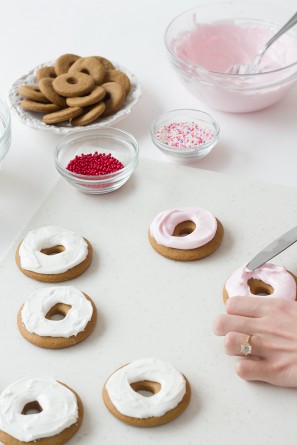 Done! Now, to decorate! Royal icing sets super fast so I recommend decorating as you go, every few cookies.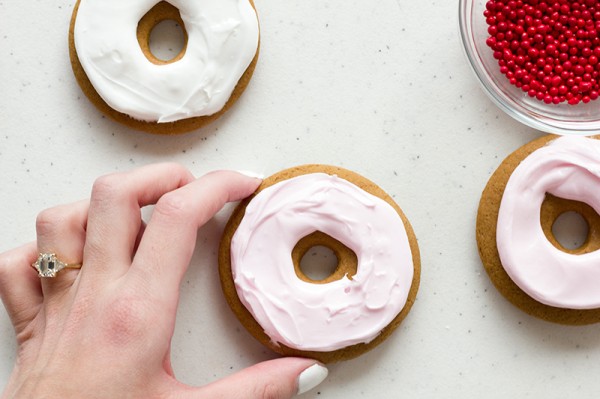 I did two different decorations. For one, I made my own smaller piping bag by cutting off the tip of a plastic sandwich bag. Then I piped back and forth across the "donut", just like you'd see on a real one! For the others, I just added some fun holiday sprinkles.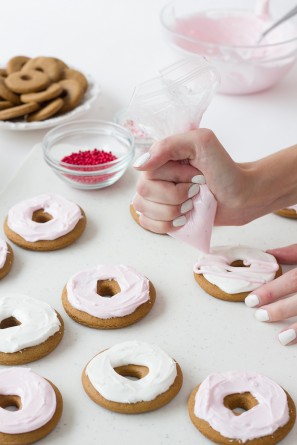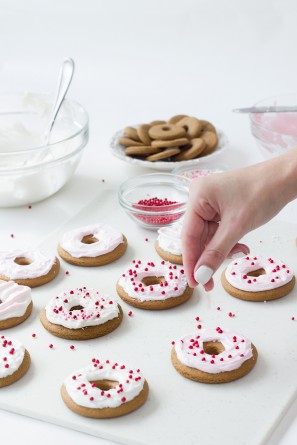 Tada!!!! You can repeat all the same steps, at a smaller scale, for the cute mini donuts. Then package them up, bring 'em to your cookie exchange and get ready to impress!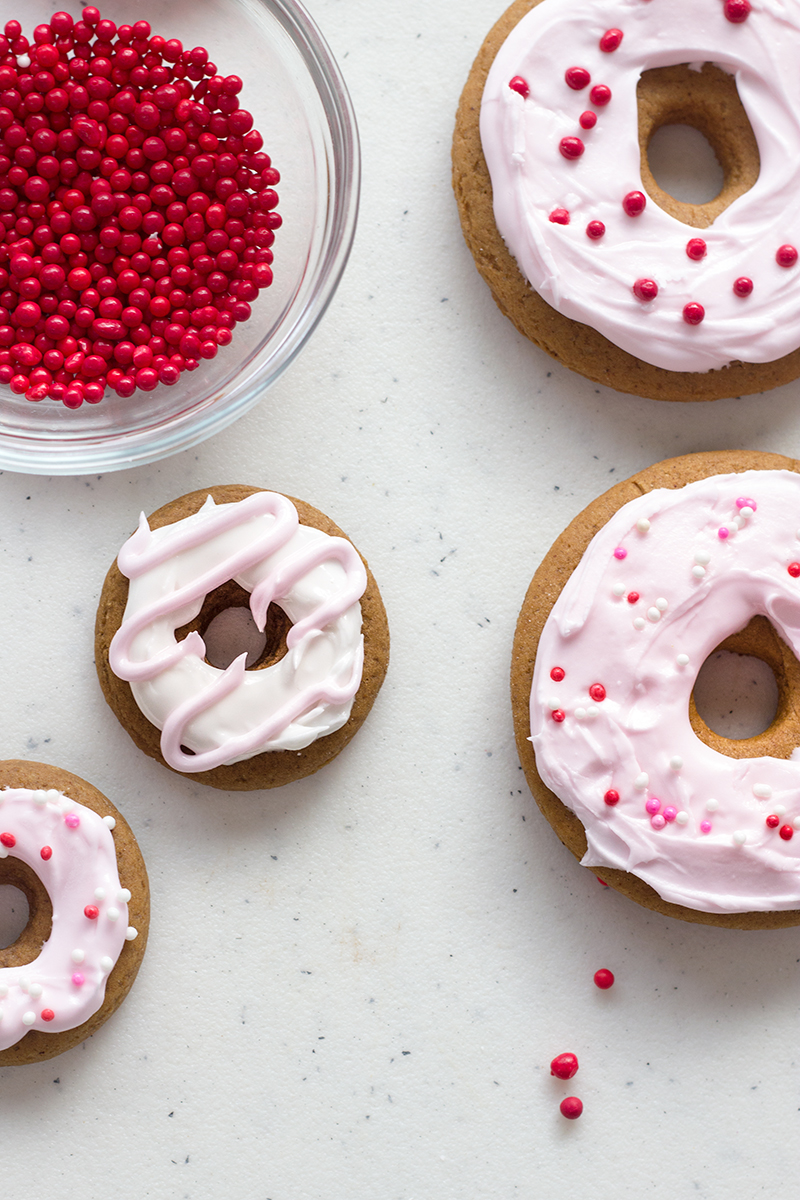 Mmmm donut cookies.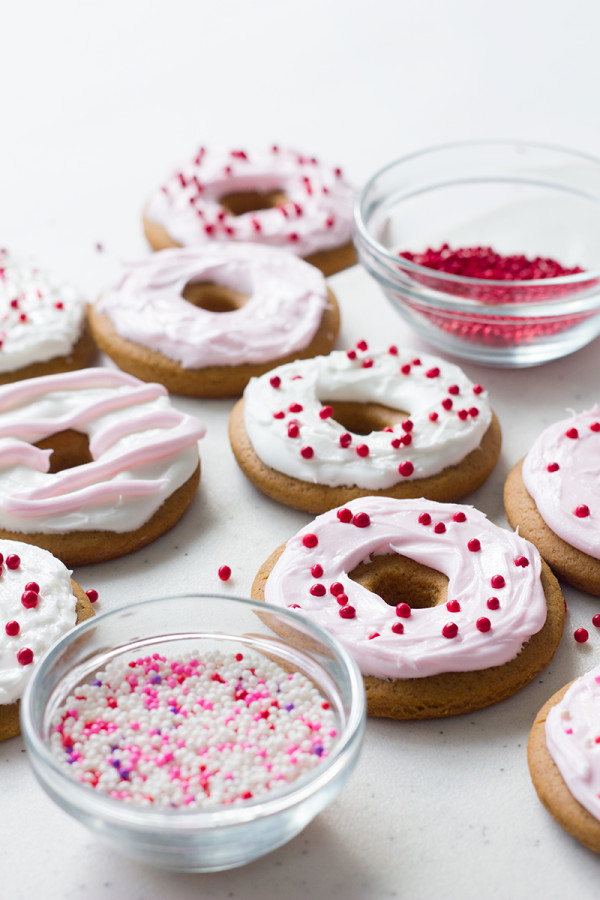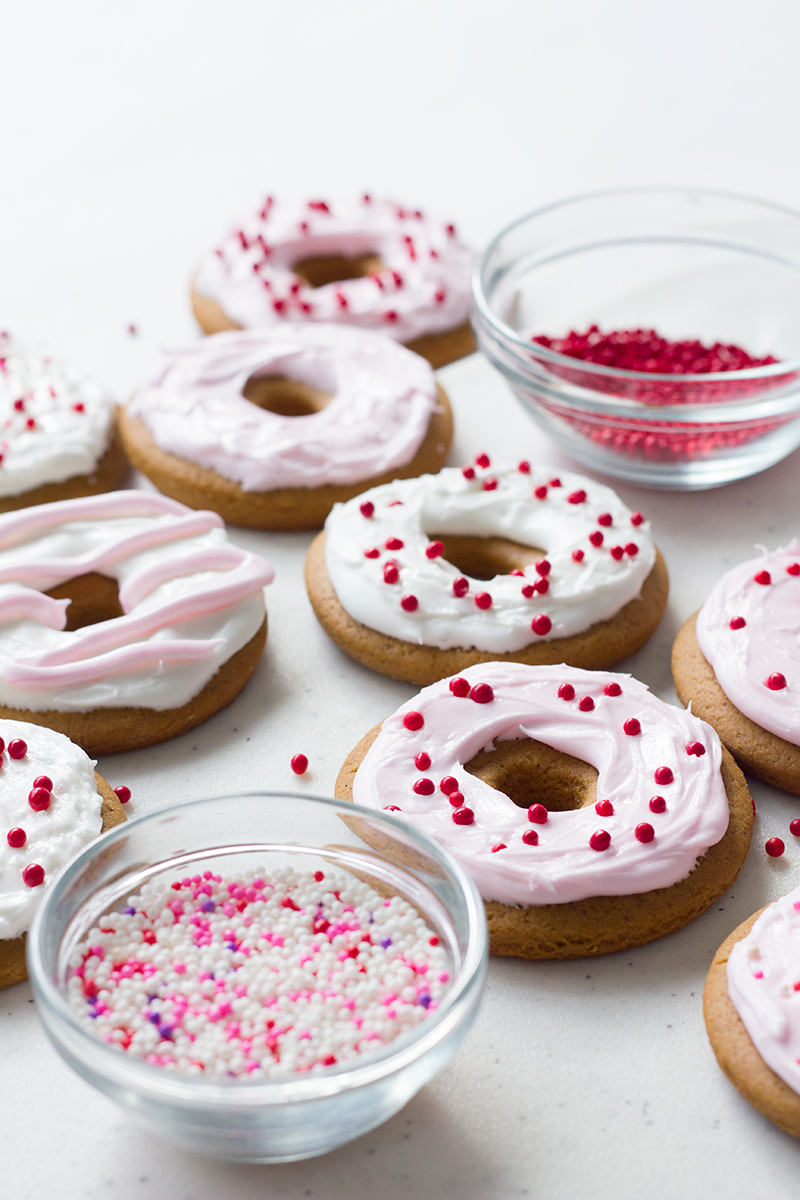 All Photos by Studio DIY
Did you guys grow up making gingerbread cookies? Or did you have another staple in your house? Perhaps this shall be a new staple in all of our holiday repertoires!?
I'm required to disclose a sponsored partnership between our site and Bing. I have been compensated in exchange for this post in the form of payment, product or experiences.
All content and opinions are that of my own! Thank you for supporting the sponsors that keep the Studio DIY party going! Read more about my editorial policies here.