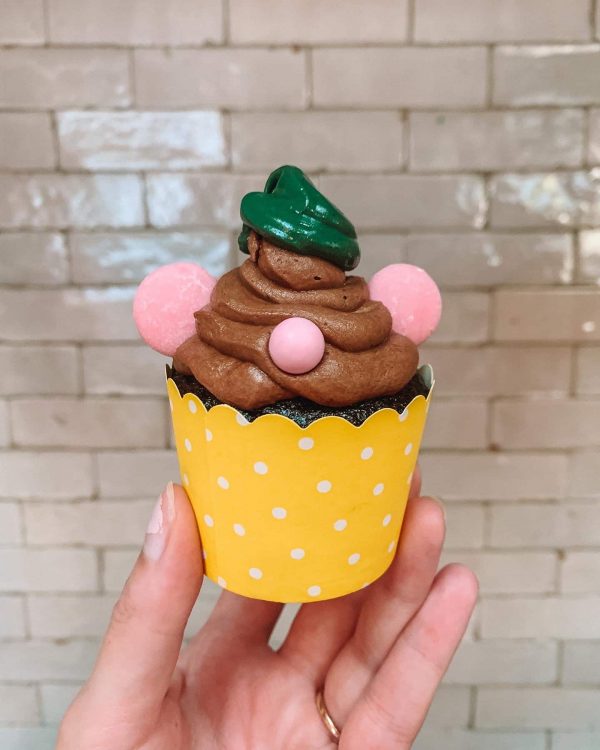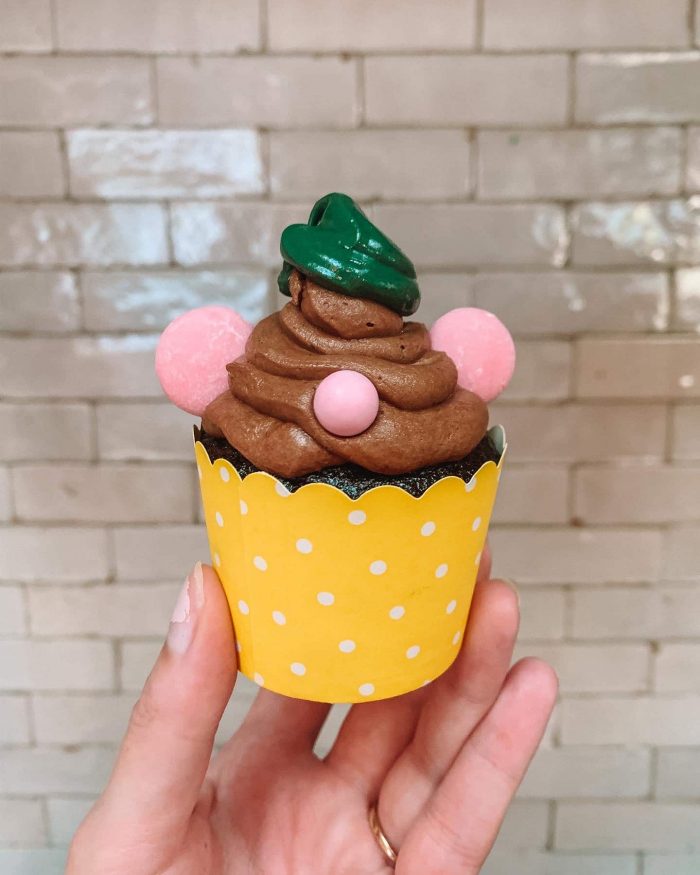 For Cinderella's 70th Anniversary, Walt Disney World was making these Gus Gus inspired Cinderella cupcakes! How cute are they? Luckily they happen to be quite easy to make at home, too! Perfect for a birthday celebration or Cinderella party for any Cinderella fan in your life!
I used our favorite chocolate cake and frosting recipe (more on that below!) and quickly turned that into the cutest little Gus Gus you ever did see!!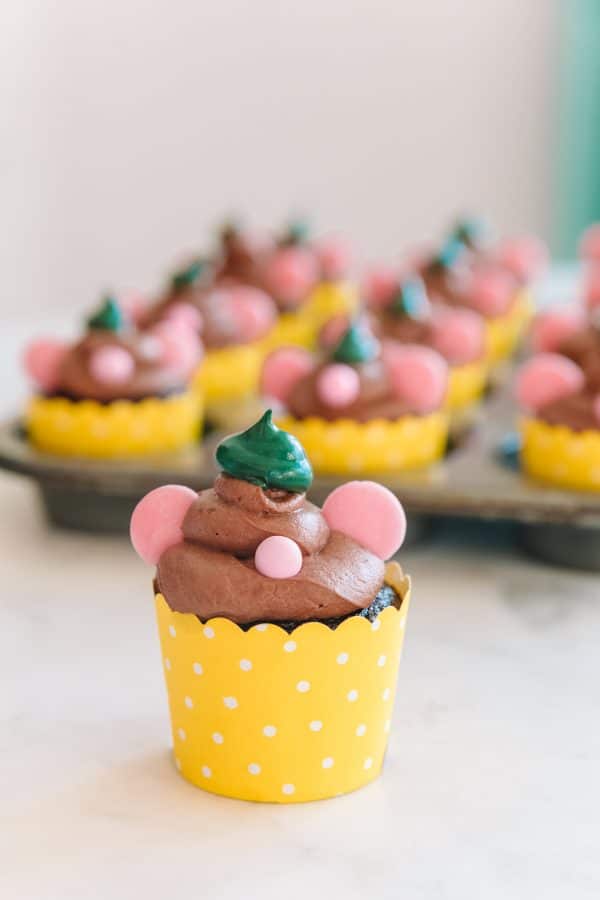 The Best Chocolate Cake + Chocolate Frosting
We found the best chocolate cake and chocolate frosting ever and there's no going back. It's our go to cake that we make for birthdays and at any excuse we get.
This is the chocolate cake recipe we use, made by the queen Ina Garten of course! We just use the cake recipe from her, NOT her frosting. Her frosting is delicious too but a bit too complex for us.
You can find the best ever chocolate frosting here. It is SO simple. You just toss all the ingredients in a food process and BOOM. Perfect chocolate frosting every time.
How To Bake Cinderella Cupcakes
I just used the above chocolate cake recipe but baked it in a cupcake tin! Bake for about 18-20 minutes, or until a toothpick inserted into the center of one Cinderella cupcake comes out clean.
Any yellow cupcake liners will work! I used these yellow cupcake "cups" and loved them because the cupcakes weren't quite as big as a normal cupcake, but not as small as the tiny mini ones.
You actually don't even need a tin with these, you can just line them up on a baking sheet! But I used one since I had one and it made it easy!
If you use regular cupcake liners, you'll want to add a second liner around your cupcakes after baking so that the color is nice and bright yellow like Gus Gus' shirt!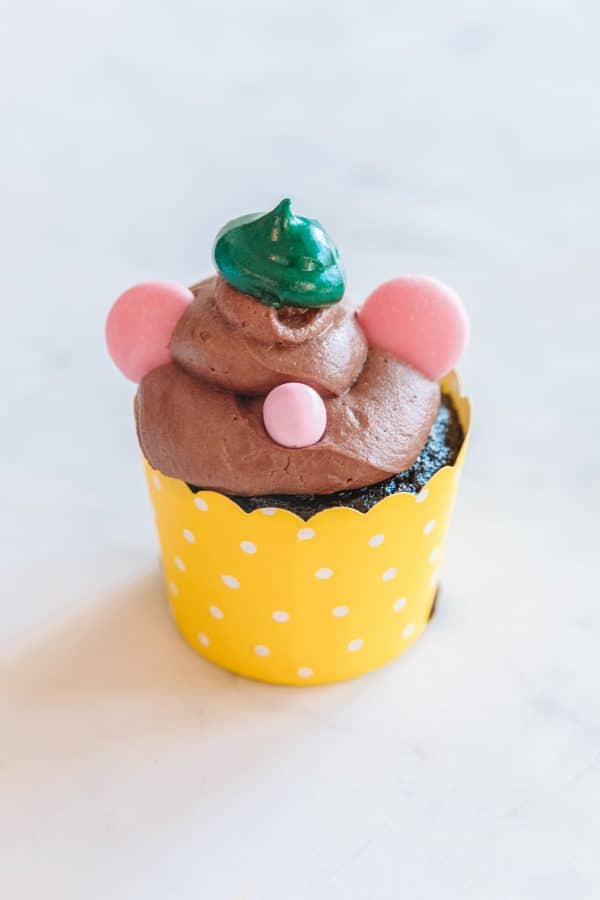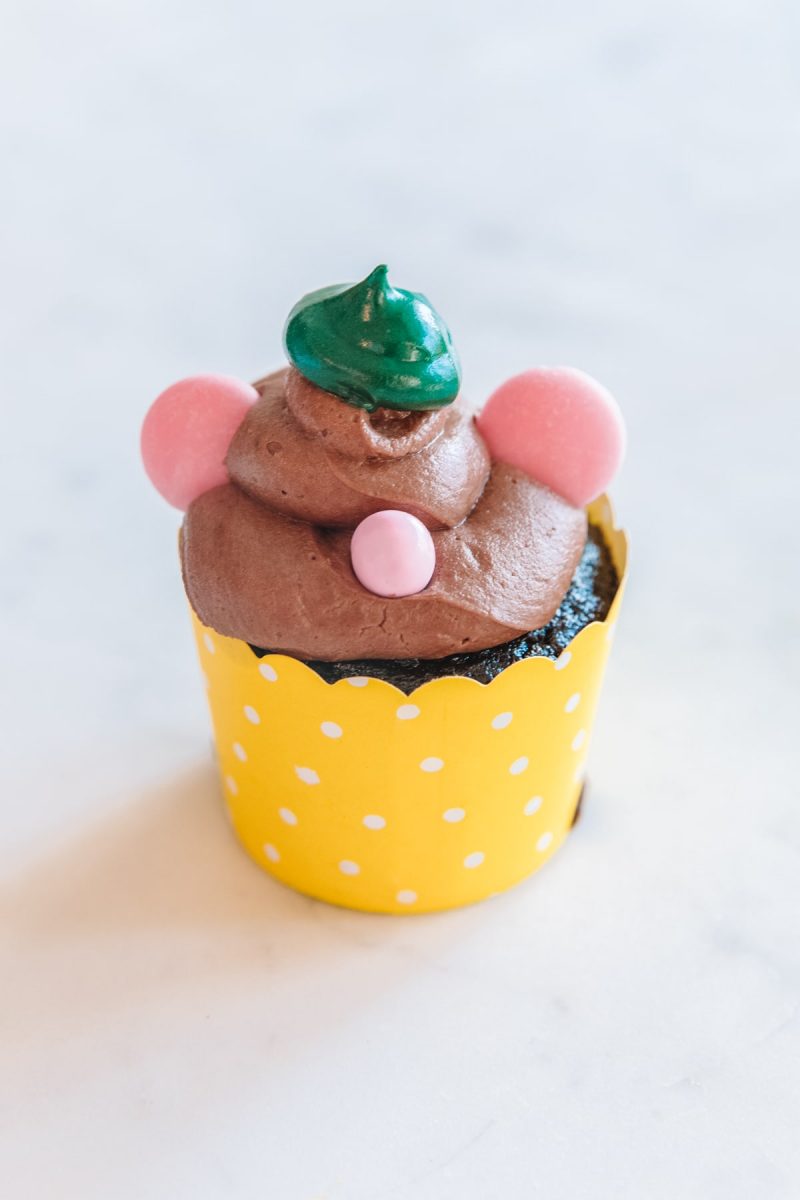 How To Frost Gus Gus Cupcakes
If you have a piping bag, great! Use that and just do a simple swirled frosting on top. If you don't, fill a ziplock bag with frosting and cut the corner off. Use that as a piping bag!
To make Gus Gus' "hat", I didn't want to make a whole batch of vanilla frosting just to do the hats so I ended up dyeing the chocolate frosting. It was a bit darker green as a result but worked just fine!
Simply mix several drops of green (I used a few drops of blue as well) into the frosting and stir until you get the color green you want!
In a clean piping bag or ziplock bag, add the green frosting and pipe in the same "swirl" motion just a little bit on top. Done!
How To Decorate Gus Gus Cupcakes
To add Gus Gus' mouse features, I used pink candy melts for his ears. Simply stick one in each side of the frosting!
For his nose, I used round pink sugar pearls. I just pulled them out of a larger sprinkle mix I had. You can get a whole jar of them here, or there's a great mix here that includes them. This shop has a ton of awesome sprinkle combos, including this one which would work great!
Just pop one on the front for his nose and that's it!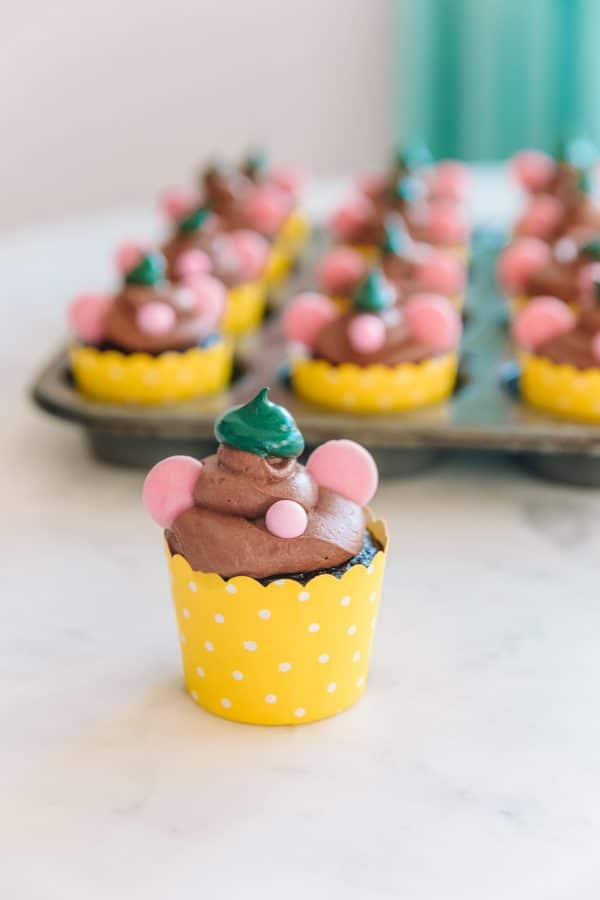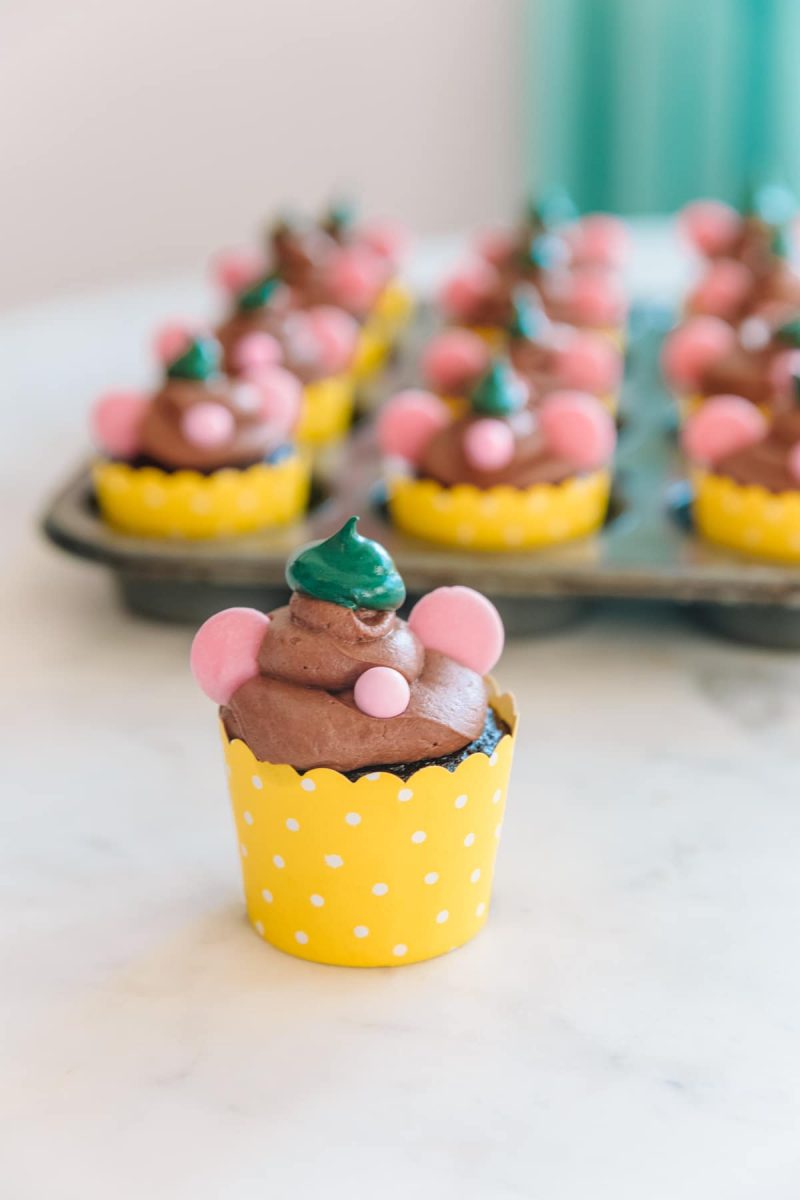 Gus Gus Cinderella Cupcakes
Learn how to make Gus Gus cupcakes (as seen in World Disney World!) easily with the best chocolate cake recipe, easiest chocolate frosting and simple decorations!
Instructions
Bake cupcakes per directions. I used a cake recipe, just divided into cupcake liners and baked about 15-20 minutes (depending on size).

If you used regular liners (versus the "cups" that I used) you'll want to set each cupcake in a second liner so the yellow is nice and bright!

Frost cupcakes with chocoalte frosting using a piping bag or ziplock with the corner cut off. Just a simple swirl works!

Dye a small portion of your chocolate frosting green. It will be a dark green, since you're starting with chocolate frosting.

In a clean piping bag or ziplock, pipe a small swirl of green frosting on top of the chocoalte frosting. This becomes Gus Gus' "hat"!

Add two pink candy melts for ears.

Add one pink sugar pearl for a nose.
These Cinderella cupcakes are such a fun activity for kids to join in on, since they're so simple to make! They also make a great birthday surprise or class treat.
Gus Gus will forever be one of my favorite Disney (animal) characters! He makes a fun addition to a family Cinderella costume, too for Halloween or any birthday celebration!