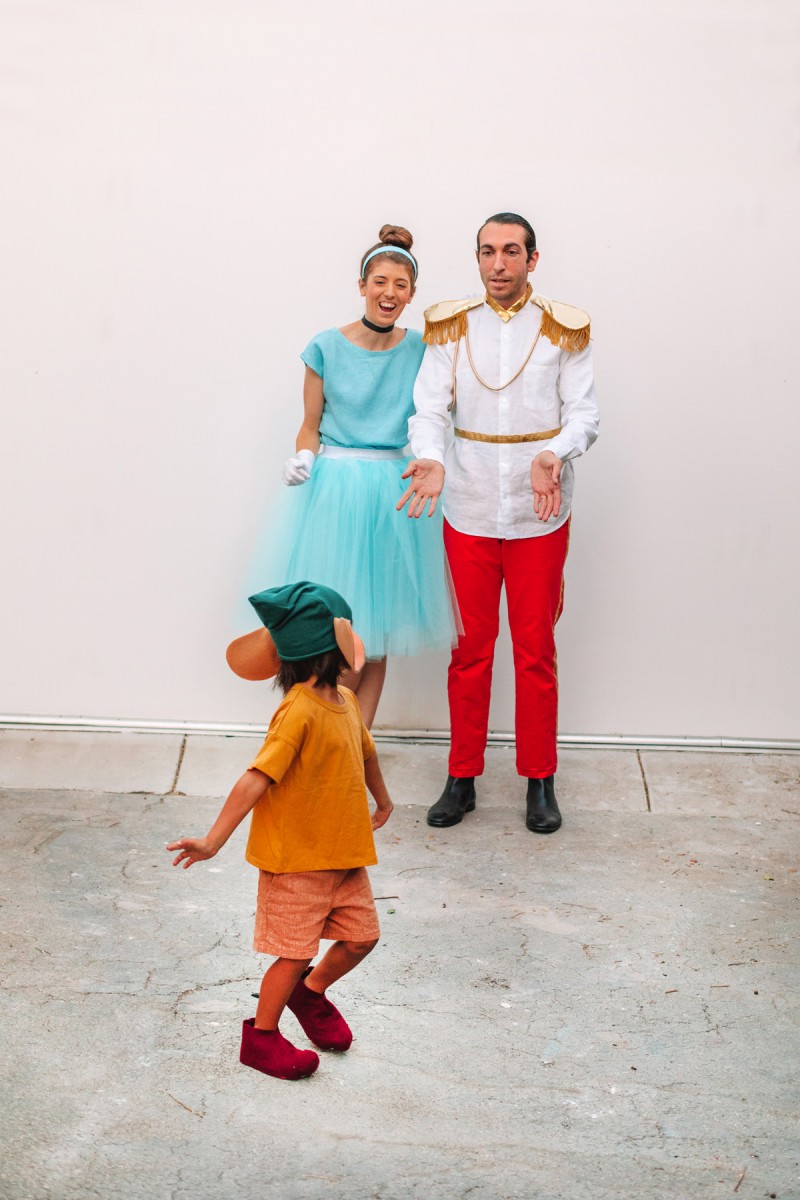 This DIY family Cinderella costume is quick to put together from items you can re-wear again (and may already have!) plus a few craft supplies from the store.
We love a family Halloween costume in our house, especially a Disney one. When our son requested to be one of his favorite characters, Cinderella's mouse friend Gus Gus, for his Halloween costume, it didn't take him long to ask us to join in as Cinderella and Prince Charming, too.
Here's how we pulled this DIY Cinderella costume theme together!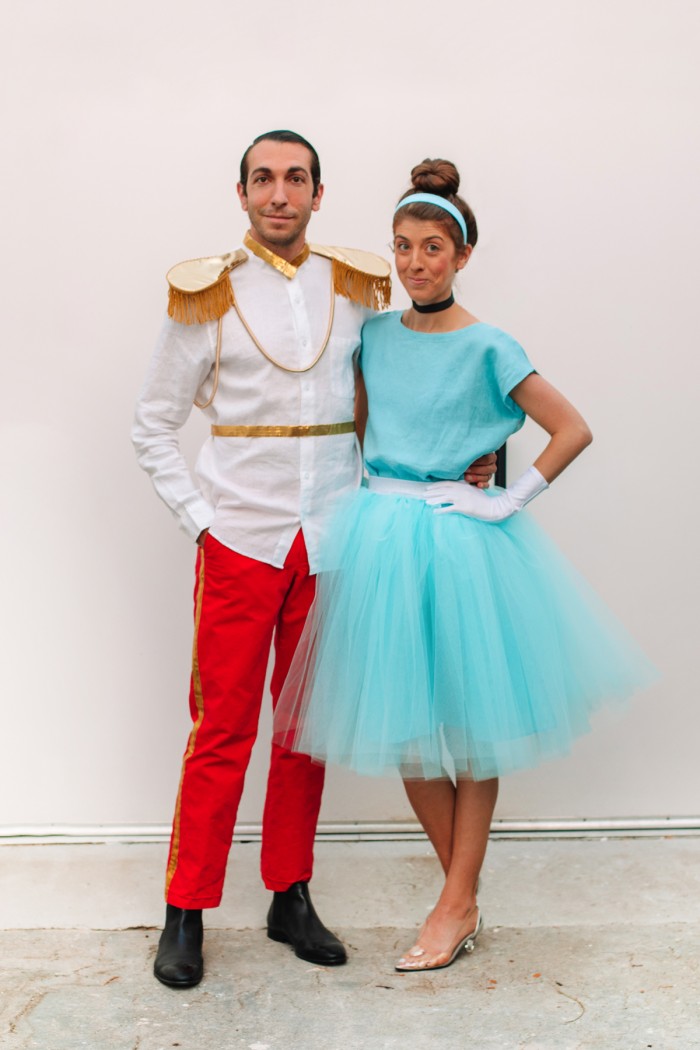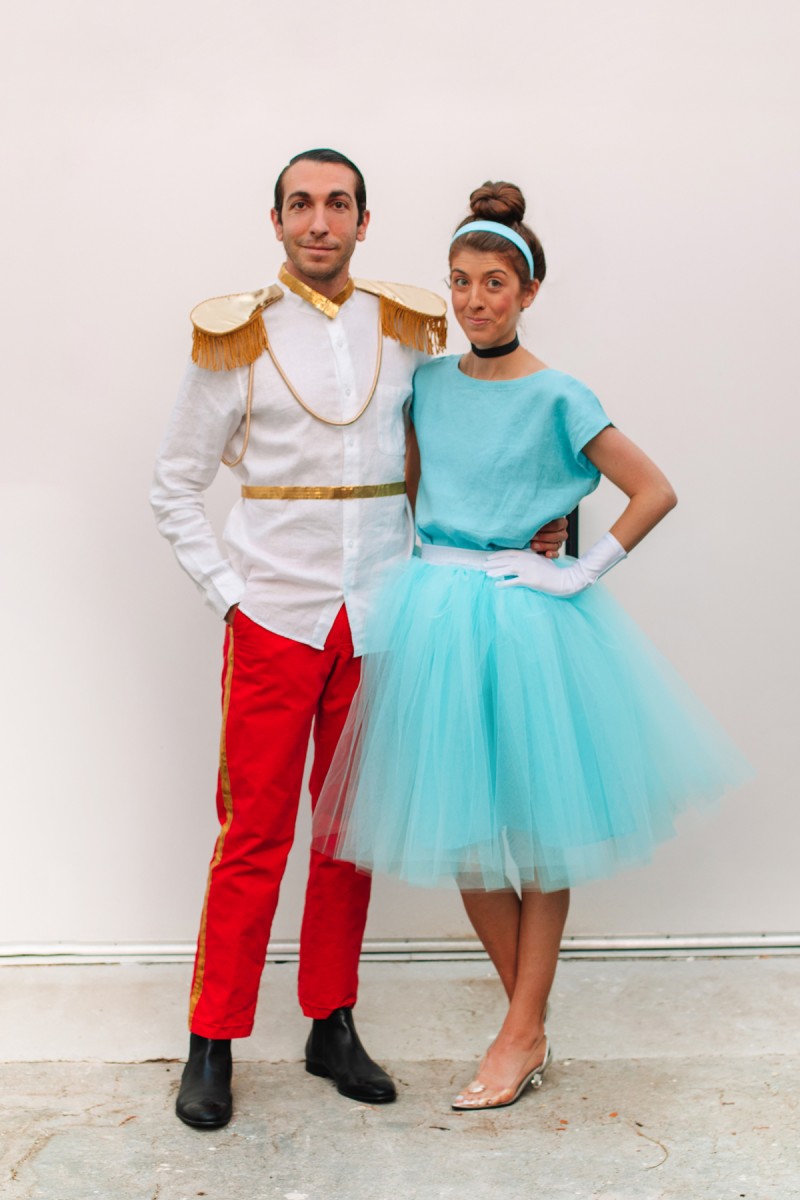 My Best Money Saving Costume Tip
Before you begin your costume making, I encourage you to look at your wardrobe and see if you have any items that could work for these costumes. All embellishments can be removed so you can go right back to wearing your clothing as normal afterwards.
Don't have what you need? Check local thrift stores, Buy Nothing groups, Goodwill or Poshmark to purchase second-hand. You'll often find better deals there and save a ton of money. That's how I found my perfect Cinderella glass slippers.
For everything you can't find secondhand, I have new items linked below at a variety of price points!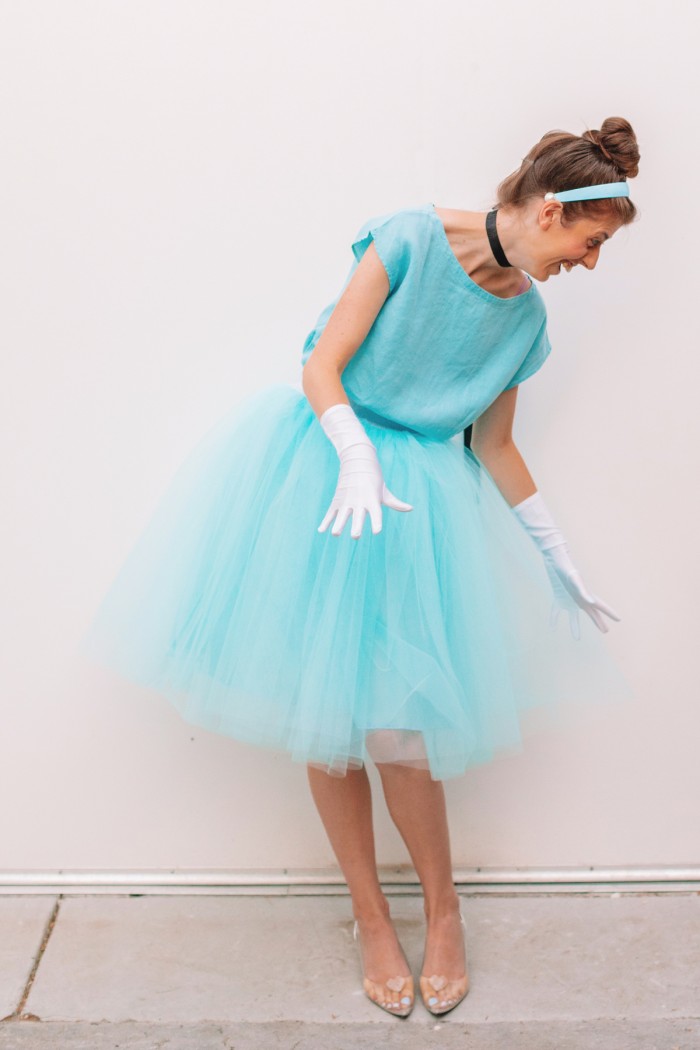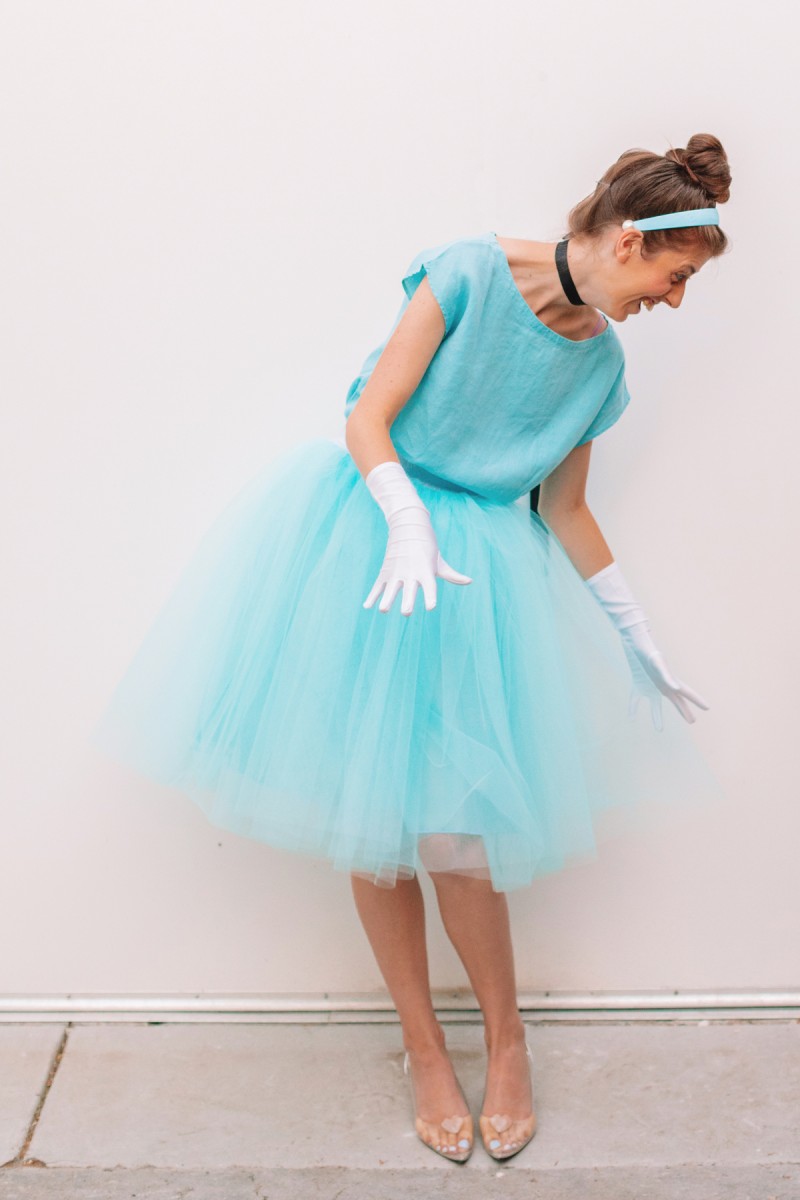 DIY Cinderella Costume for Adults
Instead of going for a full ballgown, for this costume I wanted to use pieces I would be more likely to wear again, like a blue t-shirt. While I may not need a blue tulle skirt in my every day life, I knew it would make a great addition to our costume box or could be repurposed for another future Halloween costume.
Don't be afraid to get creative with this! Maybe you have a blue dress that would work? A blue pencil skirt? If not, I've linked a few sources below to find the perfect pieces for this adult Cinderella Halloween costume.
Here's what you'll need:
To make:
To make Cinderella's headband: Add one flat-backed pearl to each end of your headband.
To make Cinderella's choker: Cut the black ribbon to fit around your neck like a chocker necklace, plus an additional one inch overlap. Glue velcro to each end.
To make Cinderella's glass slippers: Glue or use a temporary adhesive to attach the glass hearts to the top of your shoes.
Assemble your costume pieces!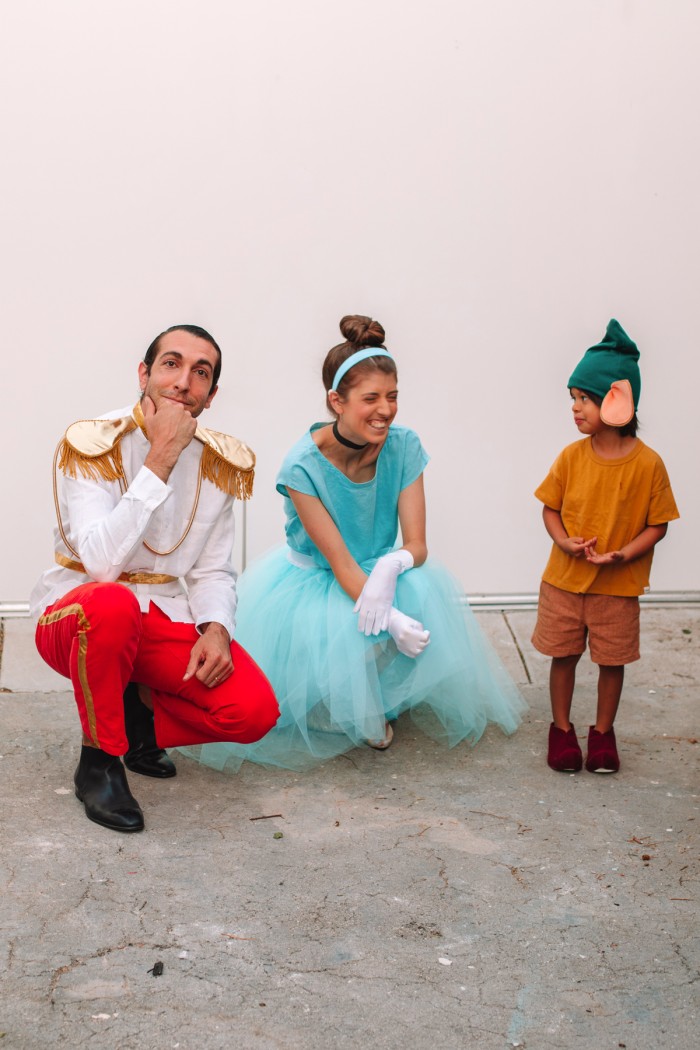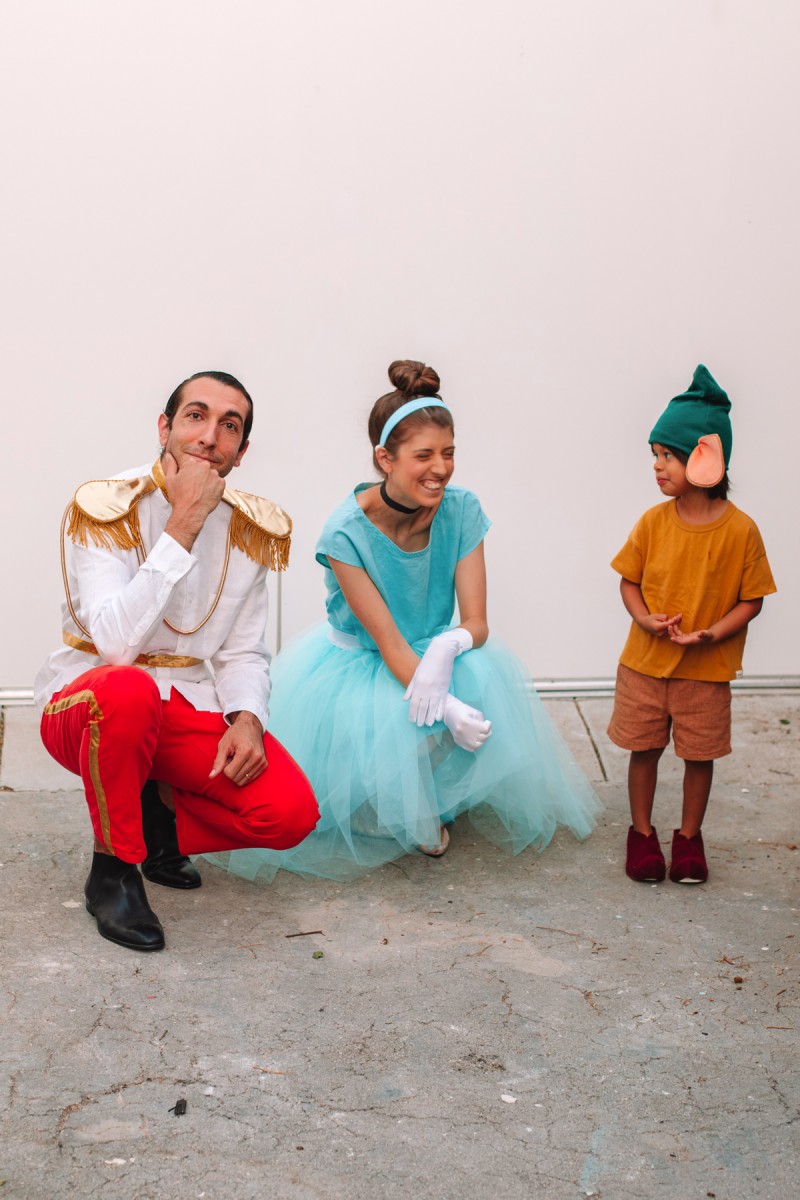 Easy DIY Prince Charming Costume
The Prince Charming costume is the most re-wearable costume of them all, just remove the epaulettes (his fancy gold shoulder pads!) and every piece can be reused. I imagine it's quite likely there's already a white button down in the future prince's closet somewhere.
Here's what you'll need: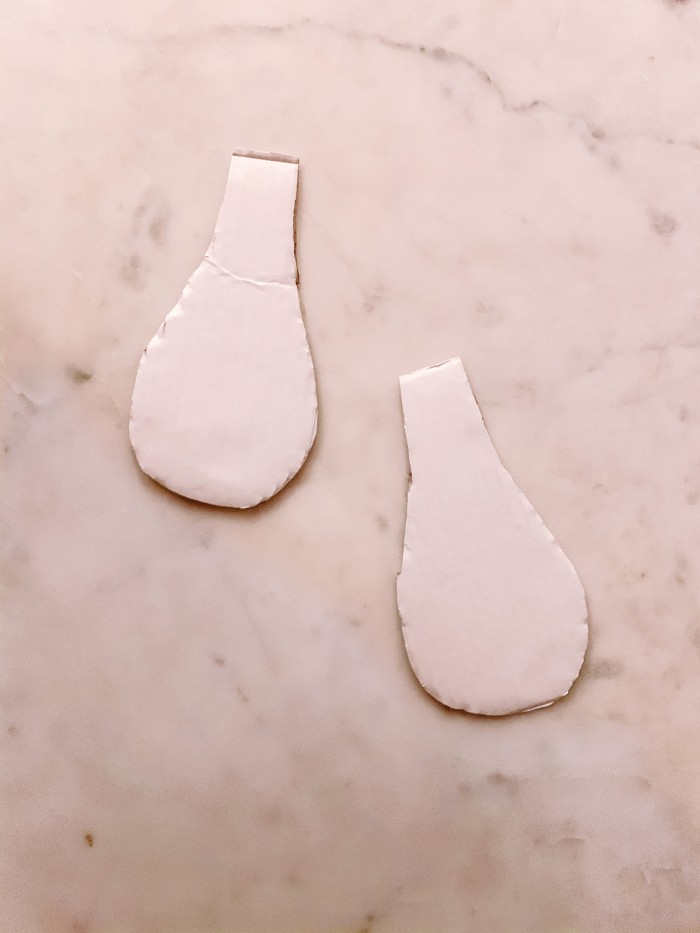 To make:
To make Prince Charming's epaulettes: Cut out two epaulette shapes from cardboard. Wrap each in gold fabric and hot glue the edges to the back.
Hot glue a piece of felt over the raw edges of the fabric.
Hot glue gold fringe around the edge of the epaulettes.
Hot glue a piece of cord, approximately 24″ long, and hot glue one end to the front of the right epaulette and the other to the back. Hot glue one end of a second piece of cord, approximately 24″ long, to the front of each epaulette.
Hot glue a piece of velcro underneath each epaulette and stitch (or use temporary adhesive, so you can remove the velcro and re-wear the shirt) the other side of the velcro to the shoulders of the white shirt. This is how you'll attach the epaulettes to the shirt.
Cut a piece of ribbon the size of the person's neck and waist and add velcro the ends.
Assemble costume!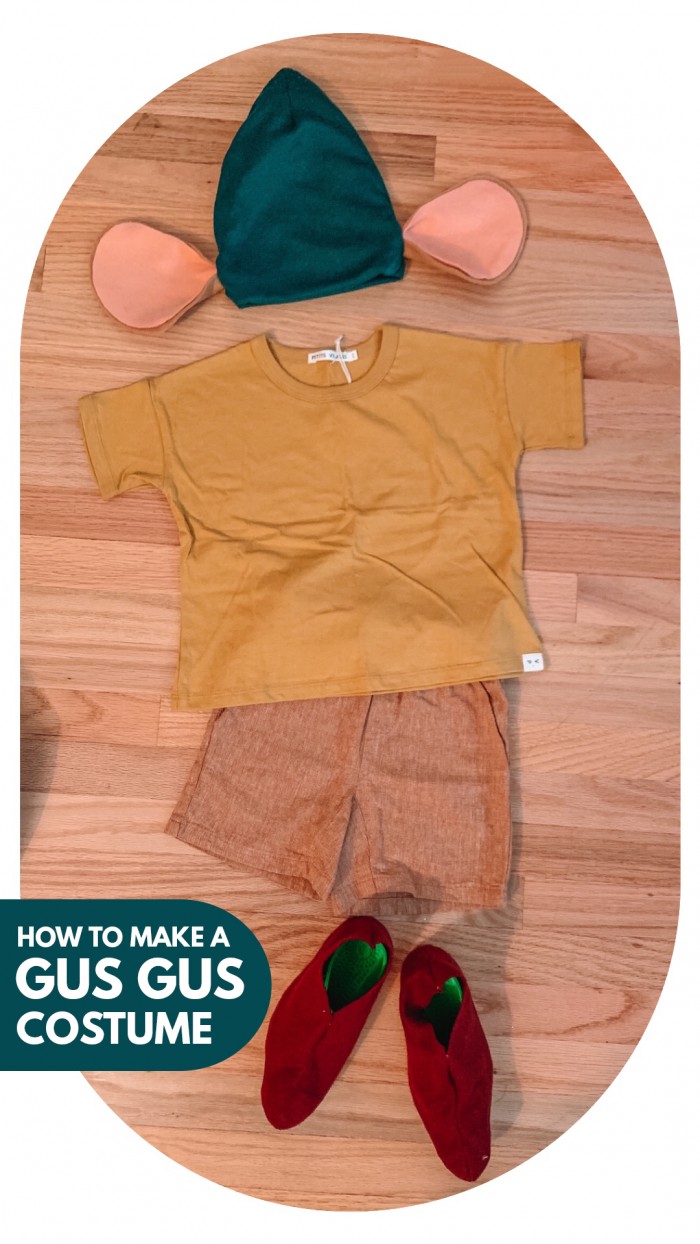 How To Make A Gus Gus Costume
For this kid or toddler Gus Gus costume, you luckily don't have to add anything to the outfit itself. The only addition you need to make are ears stitched to a hat (that can be swiftly removed!) and shoe covers, if you so choose. But regular brown or burgundy shoes work perfectly, too.
Here's what you'll need: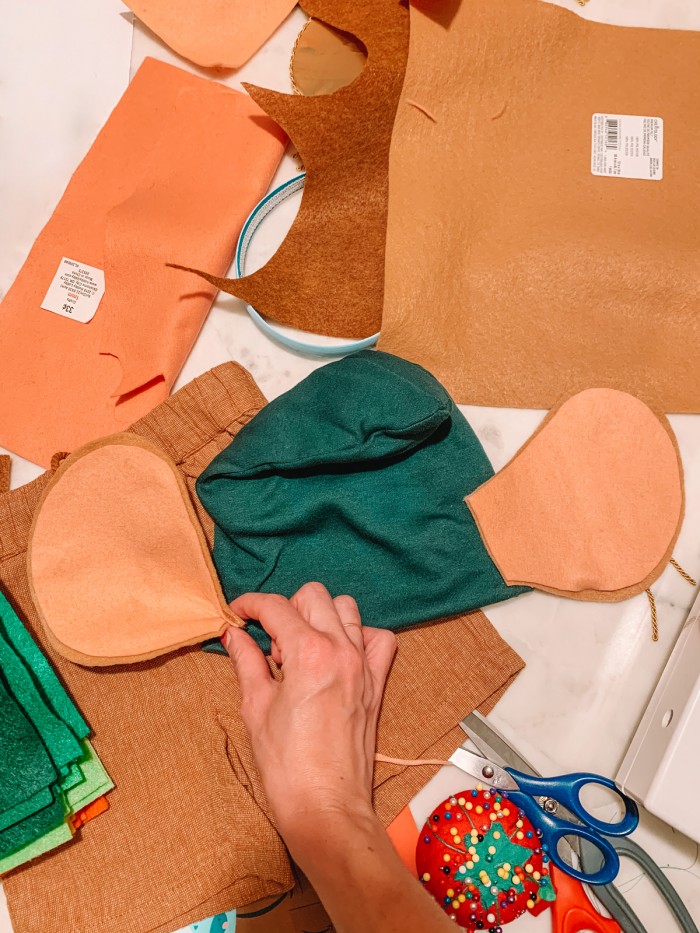 To make:
To make Gus Gus's hat: Cut two large ear shapes out of brown felt. Cut two large ear shapes out of peach felt, approximately 1/2″ smaller than the brown shapes.
Hot glue the peach ears inside the brown ears.
Hot glue or stitch the ears to each side of the green beanie.
To make Gus Gus's shoes: Grab the shoes the child will be wearing for the costume. Wrap a piece of felt around the shoe, aligning the edge of the felt with the bottom of the shoe, and pin alongside the back of the shoe and the top of the shoe as shown.
Cut the felt with approximately 1/2 seam allowence, plus an additional one inch length in front to create the quirky shape of Gus Gus's shoes.
Stitch the two pieces together.
Stitch velcro across the bottom to slip over the shoes.
Assemble costume!
With these quick DIY accessories, you transform your family with their Cinderella Halloween costumes just as quickly as the Fairy Godmother transformed a pumpkin into a coach! Happy Halloween!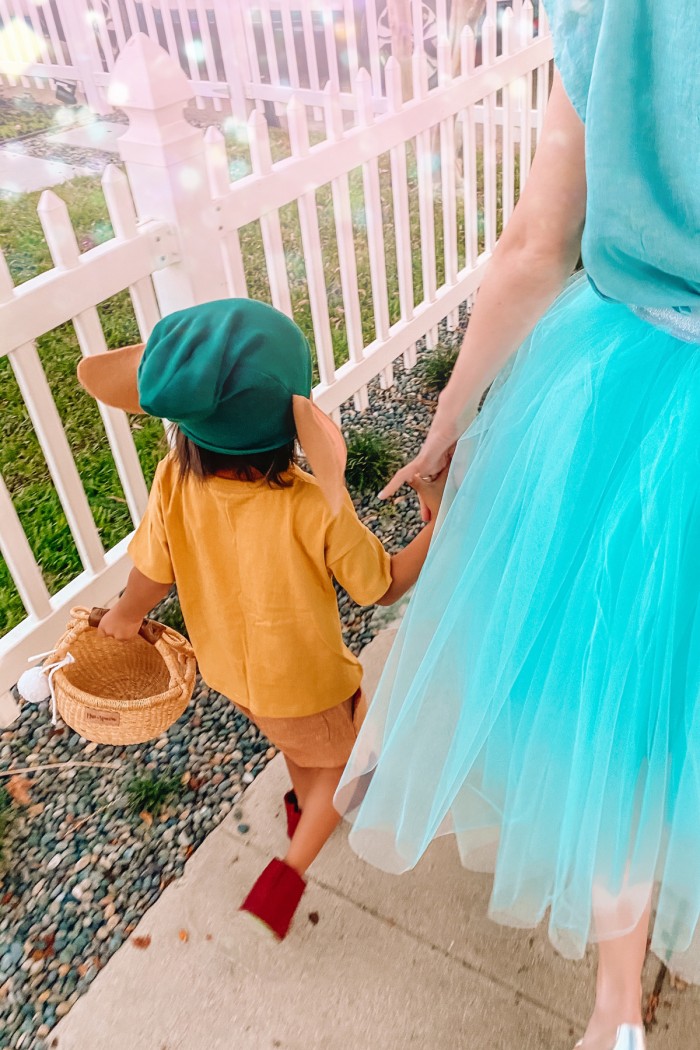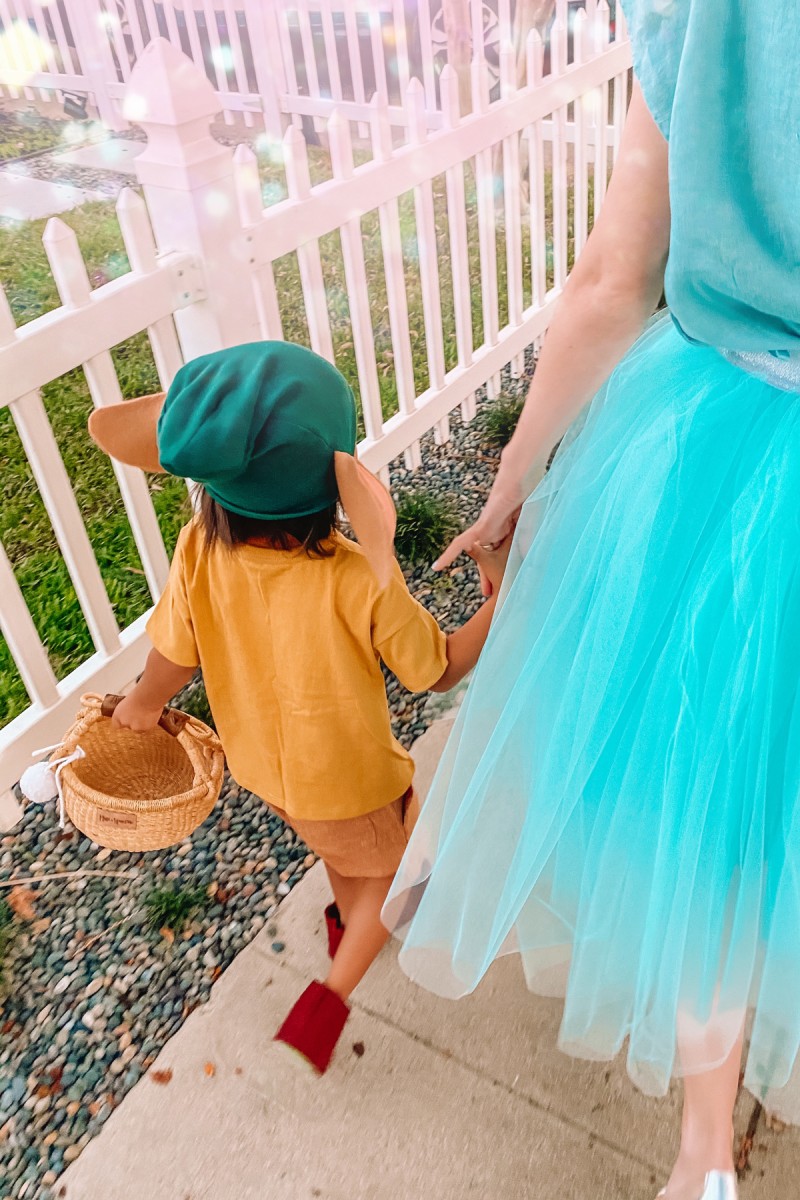 More Cinderella Costume Ideas
Need to add more members of the family to your DIY Cinderella costume? Try these ideas!
Jaq (the other mouse friend!) costume with a red beanie using the Gus Gus hat tutorial, a red turtleneck and orange sweater or jeacket
Fairy Godmother costume with a blue cape and big pink bow
Stepsisters costumes with two fancy dresses thrifted from Goodwill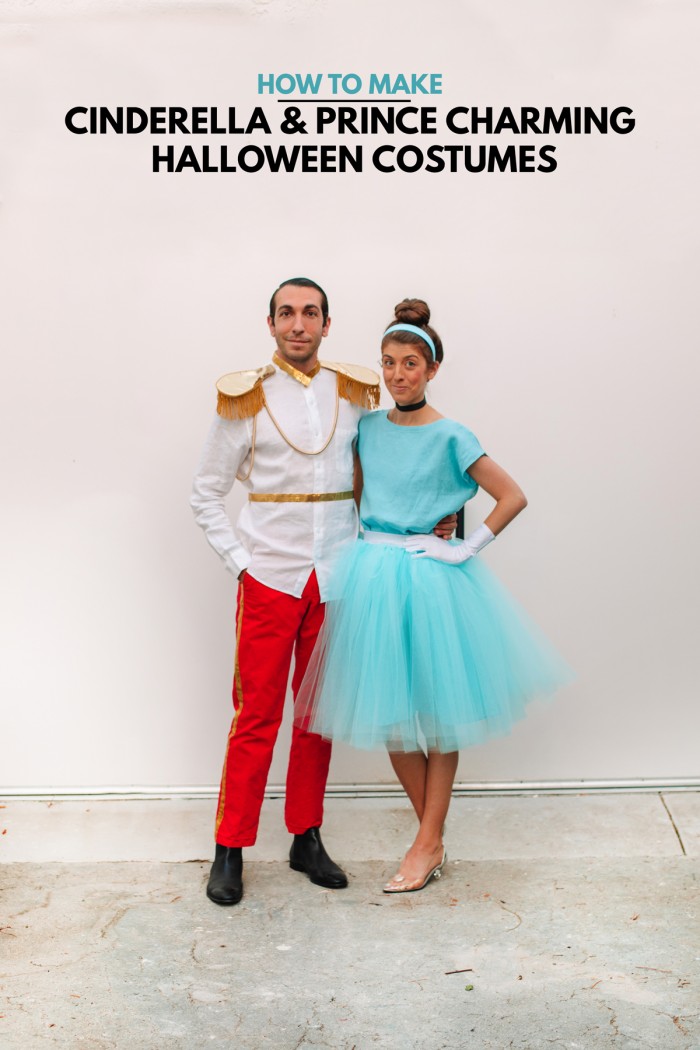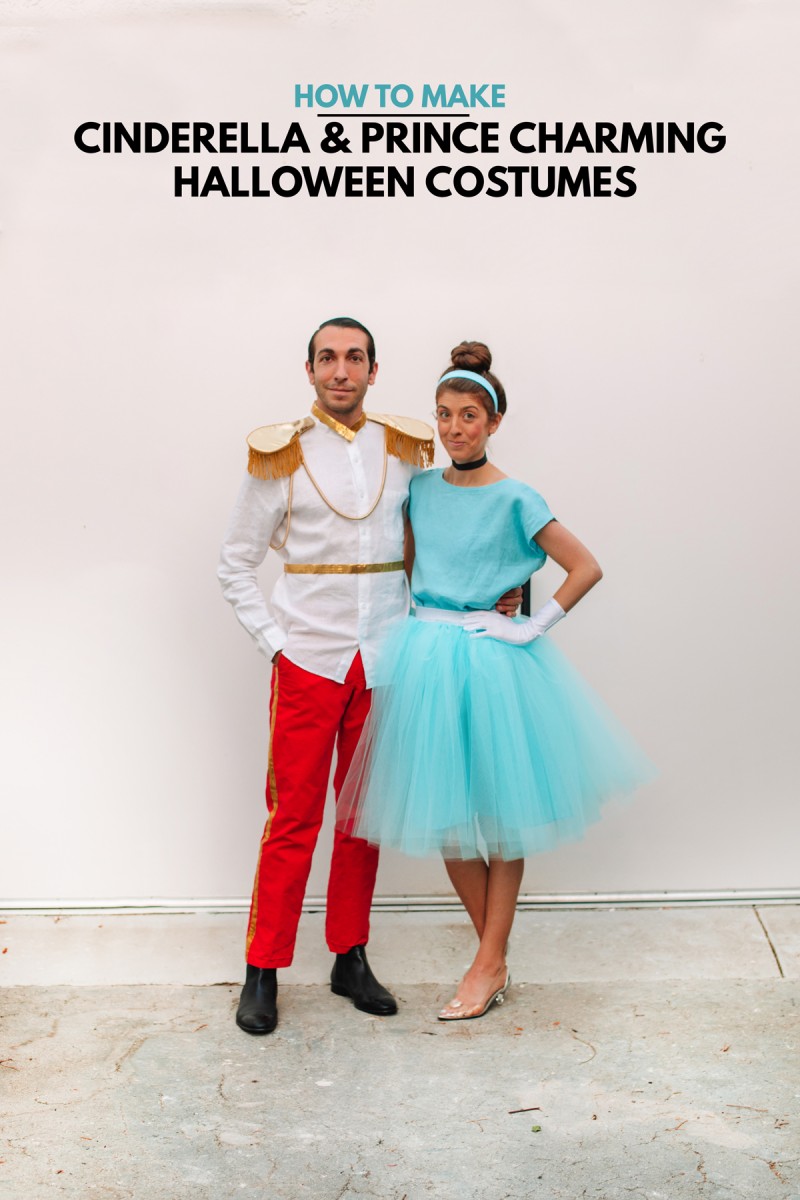 Looking for more family Halloween costume inspiration?
If you love this Cinderella family costume idea, save it by sharing on Pinterest!